Looking for our printable planner? It's here.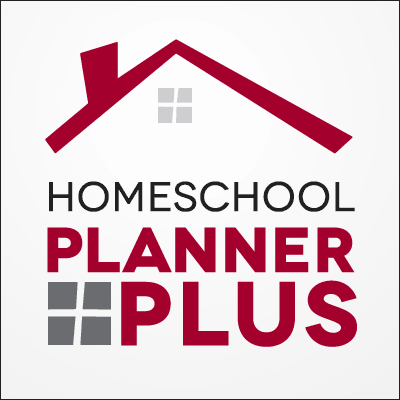 When I began homeschooling high school, I put together a simple spreadsheet to use to plan courses and keep track of credits needed for graduation. I gradually expanded that spreadsheet to a workbook that is a full digital planner for an individual homeschooled student.
Our transcripts have been moved to their own separate file below and are no longer in the main workbook.
I'm sharing the result with you and would love to hear how you use it. ~ Mary Ann
Get Homeschool Planner Plus for Excel »
Get Homeschool Planner Plus for Open Office »
Homeschool Transcripts
Homeschool Planner Plus formerly included an older version of our transcript template, but we now have a revised and updated the transcript and are making it available as a separate file. The transcript template workbook for Excel has options for creating a transcript either by year or by subject, and includes both 10 point scale and 10 point scale with +/- options. For questions, see the FAQ below. At this time, we are only offering the updated homeschool transcript template for Excel. You will find it at the link below.
Creating a Homeschool Transcript »
What this planner IS:
FREE!
Expandable to cover all years of a student's schooling from elementary grades through high school
A solution for producing simple, clean transcripts and report cards
A solution for keeping track of assignments given and completed, including the amount of time spent
A solution for keeping attendance
Printable (be sure to set your print area to only the portion that you want to print)
Compatible with Excel 2003+ and Open Office
What this planner ISN'T:
A comprehensive solution that will keep all information for all students in one file (it is designed to be used one workbook per student)
A database planner like Homeschool Tracker Plus (affiliate link)
Compatible with Excel reader (you must have the full version of Excel or plan to use the Open Office version)
Perfect. There are things that will need to be fixed and improved as the planner is used - we welcome your feedback for both error reports and suggestions.
Terms of Use: Our website and resources (including this planner) are offered without representation as to their fitness for any purpose, and without warranty of any kind, either express or implied, including without limitation the implied warranties of merchantability and fitness for a particular purpose. Your use of our website, e-books, and other resources is your agreement to these terms. If you do not agree with these terms, please do not use our resources.
Notes and FAQs about Homeschool Planner Plus:
I want to edit the planner but it is password protected. Can I have the password?
Yes. The spreadsheet's cells with formulas are locked to prevent unintentional changes to the formulas, which could cause incorrect calculations for GPA and credits earned. Unlock the pages at your own risk using the password letmein.
Will Homeschool Planner Plus calculate course grades based on the weight of different assignment types?
Yes. When you enter the course details for each course in Homeschool Planner Plus, you may customize the weight given to each type of assignment (homework, projects, tests, etc.). HPP will calculate the course grade from the weighted averages for the totals of each assignment type.
Will Homeschool Planner Plus calculate GPA and credits?
Yes. The planner is set up so that it will calculate a weighted GPA for the student based on the grade and weighting information entered into the spreadsheet. This means that in addition to calculating a standard GPA, Homeschool Planner Plus will also take into account the fact that AP and Honors classes carry weighted grades. HPP will account for half-year classes as well by weighting them as a half credit course.
I have Excel and the file says it cannot be opened because it is password protected. What is wrong?
If you have Excel, make sure you get the Excel version of the planner. The Open Office Version will work in Open Office but Excel seems to get confused when trying to open the Open Office version.
Why can't I keep track of all of my children in the same workbook?
Because of the way the spreadsheets are interconnected, and just one child will have dozens of spreadsheets within their own workbook by the time they graduate, it is inefficient to have more than one student per workbook. If you need to keep track of everyone in one file, I recommend Homeschool Tracker Plus (affiliate link) which is a much more complex and robust planner than Homeschool Planner Plus.
Why can't I enter the courses once in the Course Planner and have them show up in Course Details?
The workbook is large and adding course detail sheets for every course that might be taken from elementary through high school would make it extremely unwieldy. By allowing you to duplicate the Course Details sheet only enough times for the courses that your child is actually taking, we can keep the file more manageable. For someone only using Homeschool Planner Plus for high school, there will only be 24-30 courses and therefore 24-30 Course Detail sheets. For someone using Homeschool Planner Plus starting in elementary school, there could easily be 100+ Course Detail sheets. That's a lot of scrolling through tabs for someone who doesn't need it.
If you would like to only enter the information once on the Course Planner page, simply create a Course Details page for each course your student is taking. In the Course Description box on the Course Details sheet, type in a plus sign (+) and navigate to the cell on the Course Planner sheet that contains the Course & Provider for that subject. Click on the cell and then click the "enter" button on your keyboard. The contents of that cell will now appear on your Course Details sheet for that course and will update if you update the information on the Course Planner page. If you do this, remember not to move information around on the Course Planner page or you will change the contents of the Course Description on the Course Details page.
Why isn't there a calendar?
Since Homeschool Planner Plus is designed to be used for many years, it is better to use a hard copy of our printable homeschool planner with monthly and yearly calendars.
Is there an easy way to enter dates when I am creating assignments?
[Update: This functionality now seems to be broken. It could be because Excel updates have changed something on my version of the software, but I'm not sure and won't be doing any development on it to fix it. If it works for you with macros enabled, let me know.] If you have macros enabled on your copy of Excel, you will have the option to use a popup calendar when entering dates. The calendar can be called by right-clicking in a cell and choosing "Insert Date" or by using the "Insert Date" icon in the top menu of Excel 2007.
Why don't the grades from each Course Details Page automatically transfer to the Report Card sheets?
This is prevented for the same reason that you can't enter the courses once in the Course Planner and have them show up in Course Details. In order to create a workbook that would have enough Course Details pages for every course a child might take, there would be an excessive number of tabs across the bottom (possibly hundreds of tabs). Once the numerical grade for each course is manually transferred to the appropriate cell on the Report Card sheet, the formulas will automatically calculate the GPA for the student.
Save