It's almost summertime! Is a long summer vacation looming hot and bothersome in your mind? Why not transform that long and ordinary vacation into extraordinary summer learning?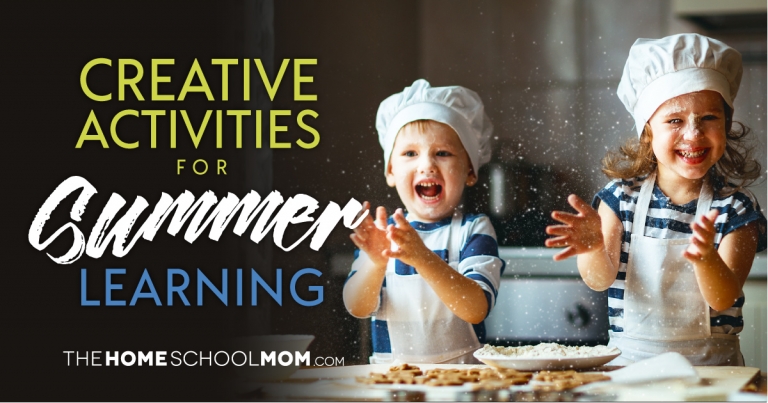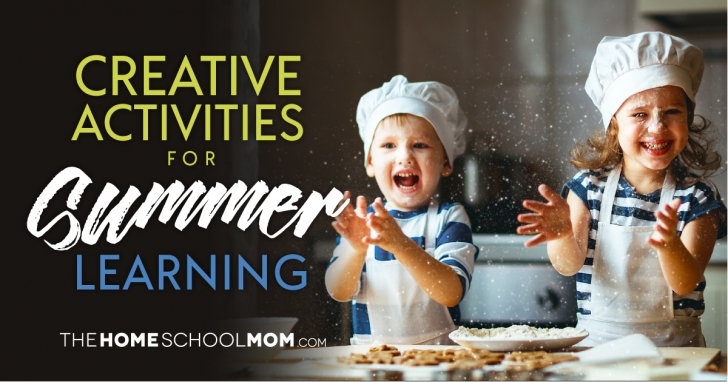 Many homeschoolers choose to continue schooling during the summer. Whether or not you homeschool year round, learning during the summer months is a great way to log in extra days, to spend quality time together as a family, or to just have fun—the more educational, the better.
Our family homeschooled during the summer months, but fortunately, summer learning doesn't have to follow a strict schedule. In fact, summer learning can be anything you want it to be--some summers we rolled up our learning into one big unit study, while other years, I had my kids respond to creative summery journal prompts and solve a couple of math problems a couple days a week and of course, they always read a LOT.
Here are some ways you can make summer learning fun.
Summer Learning Opportunity: Explore Other Cultures
Spend some time traveling to a foreign country this summer . . . from the comfort of your family room.
Ah, yes, armchair travel takes on a whole new meaning when touring an exciting, new country counts as learning. One summer we visited France. We immersed ourselves in the country's fascinating culture, exotic food, beautiful language, and magnificent landmarks. A simple map on the bulletin board served as our foundation. Library books, DVDs, and online resources gave us an up close and personal look at French culture.
Study individual countries that interest your children or choose a specific continent and study several of its countries. If you'd like to keep track of your country study, check out our subscriber exclusive country report (there are reports for states and provinces too). Try these hands-on activities to further explore each country or continent:
Make salt dough maps.
Draw the country's flag on a large piece of poster board.
Cook and eat traditional dishes.
Design and write up post cards depicting famous landmarks as if you've actually traveled to the country and send to family and friends.
Design and play a board game using games such as Risk © and Monopoly © as guides or make up your own.
How about taking a trip around the world? There are many wonderful geography resources available, both print and website based, that can be your family's ticket to a grand summer adventure.  A delicious example is Eat Your Way Around the World—a 30 country palate-pleasing extravaganza (affiliate link).
Why not read  Around the World in Eighty Days? (affiliate link) Follow Phileas Fogg, accompanied by his French servant, Jean Passepartout,  as they circumnavigate the globe, meet quirky, yet interesting new people, and even team up with Detective Fix who suspects that Phileas robbed a bank. Learn about cultures around the world while laughing hysterically with your kiddos.
Studying different cultures can also teach your children compassion, understanding, and tolerance.
Summer Learning Opportunity: Experiment in the Kitchen
Let's face it, science can be a complex subject to understand. Experimenting in the kitchen can reap delicious rewards while teaching your kiddos basic science concepts. Cooking and baking reinforce mathematical concepts related to fractions, measurement, volume and weight, chemistry basics such as chemical reactions, and the biology behind food preservation. You children can also learn about food and nutrition (affiliate link) while enjoying heaping tablespoons of FUN!
So, skip the dry textbooks and whip up some interesting culinary reactions  (affiliate link) this summer. Help your children to transform ordinary household products into extraordinary concoctions. Your children just might beg to study science!
Summer Learning Opportunity: Watch Movies
Watch movies together and learn.
Don't let classic movies be a thing of the past. Wonderful classic movies such as The Egg and I, Mr. Smith Goes to Washington, Bringing Up Baby, Yankee Doodle Dandy, The African Queen, Music Man, any Shirley Temple movie, and many more teach valuable lessons. With the help of the pause button, you can stop the action and point out important literary devices such as foreshadowing, flashbacks, conflict, personification, comic devices, climax, etc.
You can use movies as part of a homeschool literature curriculum that makes for fun summer learning. An excellent resource is Movies as Literature. While intended for high school age students, the lessons can be easily adapted for middle schoolers or even older elementary age students.
For a twist on this activity, do a summer film study. Learn about the evolution of film from the silent film era all the way up to Hollywood's present day myriad of special effects and digital creativity. I'm sure your kids will get a big kick out of watching Charlie Chaplin's vivid facial expressions and comic genius; there are many short versions of his silent films available online.
Summer Learning Opportunity: Learn a New Skill or Begin a New Hobby
One summer, my two kids and I learned to juggle. While we may have laughed more than we juggled, we definitely learned a thing or two about balance.
Gather everybody together and hold a brainstorming session to come up with a list. There are many skills or hobbies that you can learn together as a family such as the following:
American Sign Language
Cooking or baking: mastering the art of making the perfect crepe and/or omelet is a precise skill, and there's a science to it, to boot!
Canning and preserving fresh fruits and veggies from the garden
Roller skating or rollerblading
Computer programming
Automotive maintenance and repair
Household maintenance and repair
Craft making
Play music as a family band:non-musicians can shake a tambourine, beat a homemade drum, or sing.
Jelly making
Antiquing
For pool owners: master a new swim stroke, improve your time swimming the length of the pool, or try synchronized swimming
For dog owners: enroll in dog obedience class or spend the summer teaching your dog some great tricks and WOW family and friends
Learn to play chess
Make homemade ice cream (try a different flavor each week)
 Summer Learning Opportunity: Take Learning on the Road
Summer is the perfect time to take your learning on the road.
We live in an area of eastern Pennsylvania where there are many covered bridges. We even followed a tour we found online. Our children learned about the many different types of trusses or frameworks that form the foundation of covered bridges. We extended that study by letting them design original trusses with craft sticks (affiliate link).
If you have a summer vacation planned to another state or across country, read about interesting landmarks ahead of time, and visit them en route. Take photos and when you return, make some scrapbook pages—it's a nice mix of history and art. When our children were younger, we vacationed at Ocean City, MD for a week each year. Prior to each trip, we studied a different aspect of the ocean—ocean life, seashells, tides, coral reefs, etc.
Consider your children's interests and go from there.
Farm stays offer hands-on learning and an up close and personal view of farm animals, machinery, and chores with the added "ambiance" of country scents.
Hot air balloon festivals are always a big hit . . . oh, the science lessons to be learned.
Music festivals will introduce your kiddos to many different instruments and styles of music.
Camping is a sure fire way to spark some interest in many practical skills and in nature itself.
Summer learning at its best is learning disguised as FUN! So, have some fun and learn, too. What are some ways that you incorporate learning into your summers? Please, share your ideas in the comment section.