Ten years ago, we officially began our homeschool journey with a five-year-old and twin three-year-olds.  Time goes slowly and quickly and then warp speed and then you look up and realize it's your very last year with middle schoolers.
Our twins, now 13, are in eighth grade, and I am trying my best to keep up with them. I am trying my best to roll with it, to guide them, to feed them all the food, and to keep mental, emotional, physical, and spiritual health front and center.
When we started the academic year, I sat down with each twin (a boy and a girl) to discuss what they wanted to learn about this homeschool year and to share what I had planned for them as well. Homeschooling middle school is a fluid, flexible few years.
I have an older son, now in high school, and he was my test subject and helped me loosen up my rigid thoughts and fears that middle school had to JUST be a launching pad to high school.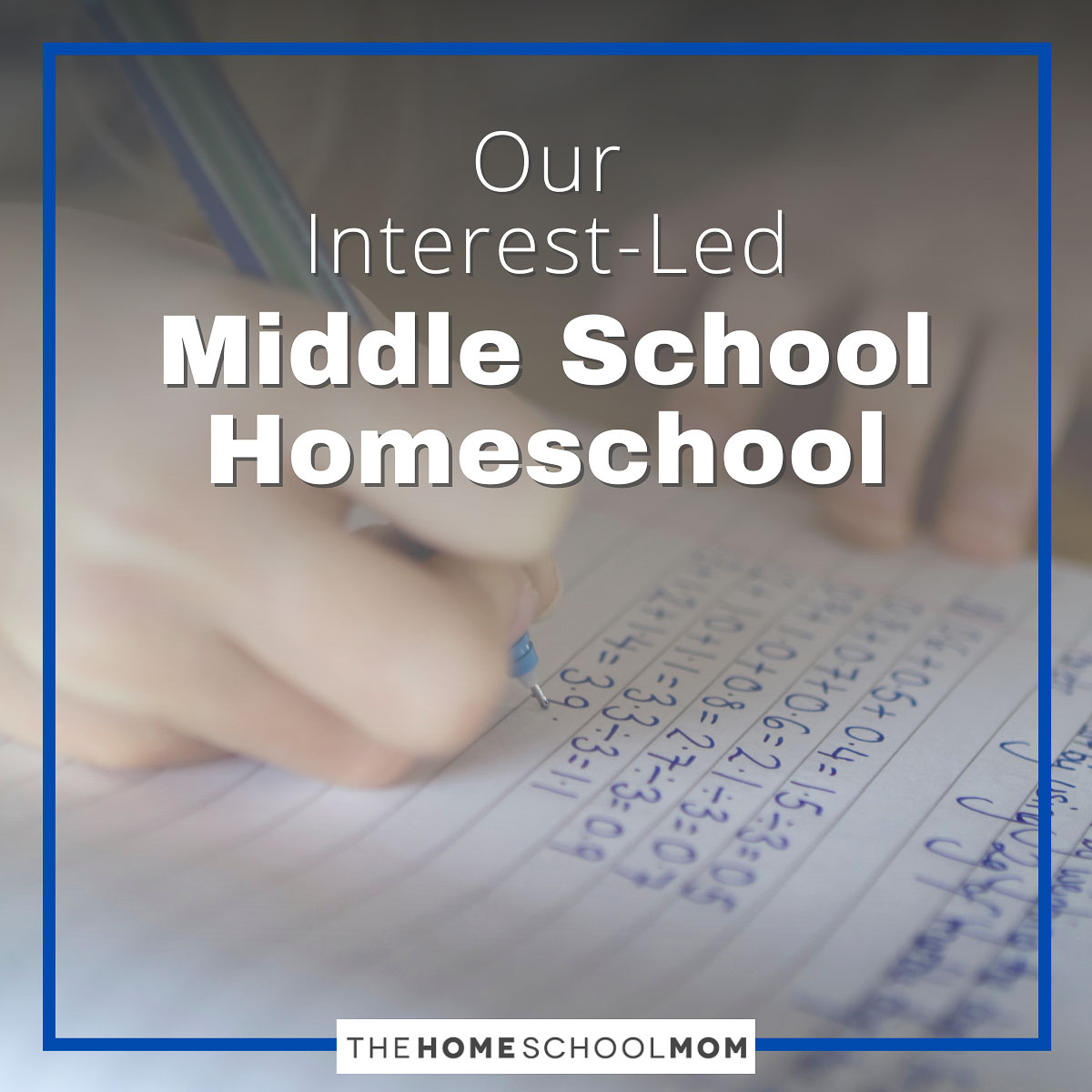 How We're Tackling Our Last Year of Middle School
We're interest-led with a dollop of what I call my "non-negotiables" (math and writing).  Check out my recent blog post if you're interested in getting started with homeschooling middle school.
Math
I've shared this before, but we're very lucky to have grandma as their math teacher. My mother-in-law is a retired high school math teacher and began teaching math to my oldest a few years ago. It saved my sanity! This past spring, the twins transitioned to Grandma Math (as we call it).
They call her via Zoom and she works with each kid separately and at their own pace. She preps the lessons and tests and grades them and encourages them. It has been a lifesaver.
Math is NOT my thing. Outsourcing is.
It's working well for all of my kids right now and grandma loves connecting with them nearly every day. They will continue with Math-U-See, the program we've used from the beginning.
Science
Our science has always been interest-led. My girl twin started with a human body unit study that we put together with items we already had in the house. We have a human body coloring book, a human body model she can put together and take apart, a human body encyclopedia to coordinate with her coloring book pages. We'll find some videos if needed.
My boy twin is not a huge science fan but is interested in primates. We'll put together a unit study on orangutans, including notebooking pages from Productive Homeschooling (affiliate link). We will add some YouTube videos and books as well. We will move in and out of science topics throughout the school year and follow any rabbit trails that feel interesting to each of them.
Language Arts, Literature, and Writing
One of my twins loves to read and the other loves to write. If the reader never had to write a story or paper or sentences, he would be fine with that. If my writer-girl didn't have to read a book, she'd be happy writing her OWN books and stories (she's been telling me this for years).
Each kid has their own Spectrum Language Arts 8th Grade (affiliate link) workbook. My daughter works independently through hers and I check it and I work together with my son a few times a week. This is our second year using these workbooks and they serve their purpose. They are well organized and cover a variety of topics. Done and done!
For writing, they are working through WriteShop I. Even though I write for my job and hold a degree in Professional Writing, teaching writing to older kids has not been my favorite thing. After exploring a few writing programs, I landed on WriteShop because it has structure and the flexibility I need with two different teens with different abilities.
Literature for my girl twin will coordinate with her social studies topic (global conflict and civil rights). We will be reading Brown Girl Dreaming and then Inside Out and Back Again (affiliate links) and I will find some book club ideas and projects to go along with each book to round out the experience.
My son and I will be reading The One and Only Ivan (affiliate link). Because he loves primates, I thought it would be a good one to start with and we can use the ideas here and then watch the Disney movie to compare.
History/Social Studies
My daughter has been working through unit studies from Moving Beyond the Page and is tackling global conflict and civil rights, which focuses on the 1950s and 1960s. I'm excited to learn alongside her as this wasn't a time period of history I studied in detail growing up.
The program is student-driven and includes wonderful books and projects. It's got enough variety to keep her engaged and we're able to take our time or speed up lessons.
My son is studying the election process to coordinate with the presidential election. We're using a program from iCivics. We can across this incredible and FREE website back in 2016 and my kids fell in love with it.  We ordered the activity workbook to coordinate with the election unit study and he will also use the website's games to stay engaged. We will also add Crash Course videos, CNN10, and lots and lots of discussions.
Electives and Activities
To round out their studies, each of my twins is following other interests including entrepreneurship, personal finance, sports card collecting, nail art, painting, baking, Spanish, designing houses (here's a great website), and more!
A Few Words of Encouragement...
Remember, you and your middle schoolers are growing and changing all the time. What worked last year might not work this year. Heck, what worked last month might not work this month. It's all good.
A bad day doesn't make a bad homeschool. The middle school years are a mix of hormones, growth spurts, newfound interests, and perhaps a desire to work more independently and to focus on topics that spark their imagination.
Go with it, friend.
Ask the questions. Drive them to the places. Find resources. Partner with them. And then curl up with a cup of hot tea and your secret chocolate stash and pat yourself on the back. You're doing great!