When we jumped aboard The Homeschooling Train (it's a real thing, friends), my kids were young. I was up to my elbows in wooden blocks, crayons, read-aloud books, and episodes of Dinosaur Train and Curious George.
Our homeschooling days were organized by whatever I pulled together and thought I needed to teach. We learned about the states and capitals, made sensory bins, read lots of great children's books, played tons of games, and went on so many field trips.
Things were going along smoothly (smooth-ish, let's be real). And then (queue the edgy music): MIDDLE SCHOOL!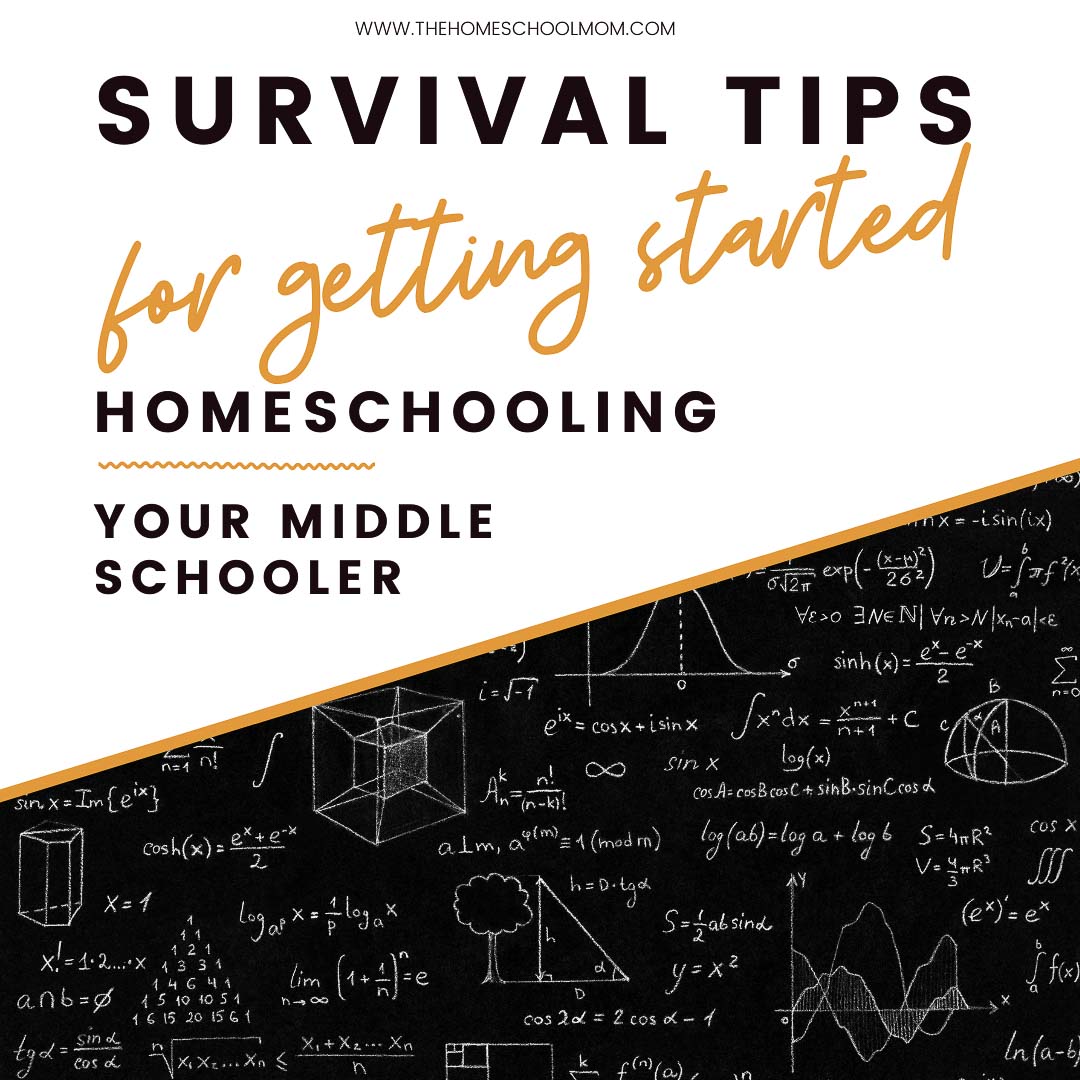 I don't know about you, but middle school conjures up images of braces, bad perms, book reports, new friendship dynamics, hormonal mood swings, and so much insecurity. It also brings up memories of acid-washed jeans, awkward school dances, and did I mention the bad perms? I digress. Homeschooling middle school can be a great thing because all the peer pressure, negativity, drama, etc. that comes along with these years can be lessened by choosing to home educate.
I'm not saying homeschooling middle school years is all cupcakes and rainbows, but it does offer balance, more time for interests, and a chance to focus on health and wellness during a time when tween and teen bodies are rapidly changing.
I've had three middle schoolers (all at once), and we have one more year to go with our 8th-grade twins. I'm sharing my top four tips to help make your transition into homeschooling middle school manageable—whether you're brand new to homeschooling or you've been homeschooling from the beginning.
My top 4 tips for homeschooling middle school without making you (or your kids) crazy!
Are you ready to take the leap?
Just like with any life change, shifting into a new season of homeschool can bring up all sorts of feelings. And that is OKAY! Lean into the feelings, friend. If you're closing the door on all things elementary school, I am giving you permission to grieve a bit. Your kid is growing up and experiencing new things! You are too!
Instead of looking at middle school as simply a time to panic and prepare for high school, think of it as a time for your tween or teen to explore and to step into themselves more. Yes, there will be tears (Dear Puberty, I'm talking to YOU!), there will be three times the amount of snacks because the growth spurts are no joke, and there will also be loads of interesting and challenging conversations.
I'm cheering for you and for your kid. Homeschooling middle school can be cool. I promise.