This post is from our contributing sponsor Time4Learning.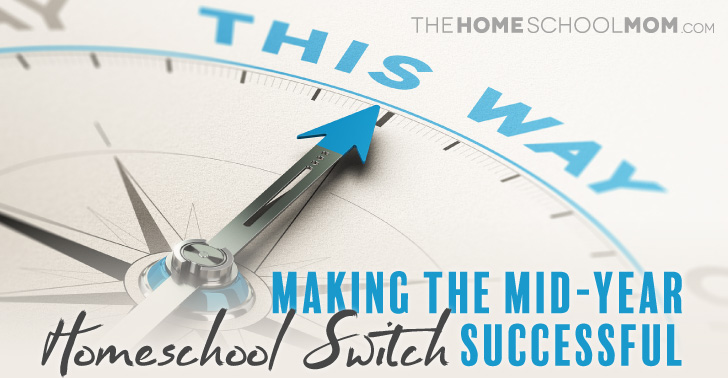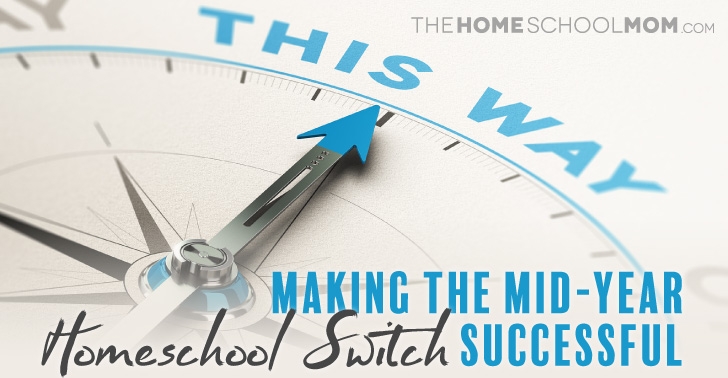 For whatever reason, and there are many possible reasons, you are choosing the homeschooling option this mid-year. Maybe your child has a learning disability and the teachers can't give him or her the necessary attention, or you don't agree with the curriculum, or perhaps there are bullying issues. The list goes on for parents but whatever your reason, remember this—it's the right reason for you. It may not be the easiest decision, especially mid-year with so much going on, but if it will help enhance your child's educational experience then go for it! But before you get started, review these tips for making your transition a smooth and successful one.
Make a Preliminary Plan
Don't rush into this process. You don't have to make a plan for the whole year. Things will be fluid for a while until you find your groove. Change is inevitable, so if you make a plan and set it in concrete, you'll find yourself stressed out and frustrated. Homeschooling is flexible; it's a benefit that many veteran homeschoolers love and appreciate.
For example, you may have scheduled math for the morning three days a week but slowly discover that your children prefer reading in the morning and math in the afternoons. Maybe you haven't scheduled in enough physical activities—and you know this because your children are bursting with energy.
With that in mind, create a basic plan and map out a few goals. Once you begin, discover your children's learning styles. There are seven styles:
Visual: Using pictures and images
Aural: Using sounds and music
Verbal: Using words for instructing, such as lectures and writing
Physical: Using sense of touch
Logical: Using math, logic and reasoning
Social: Learning in group settings
Solitary: Independent learning
Once you become more familiar with their learning styles, you can make a more informed decision about their curriculum options. After all, certain curricula are better suited for certain learning styles. This way, you won't waste money on a curriculum that you won't use. So, be flexible and patient—your nerves and your children will thank you for it.
Curriculum Options
One thing you'll learn very quickly as you're investigating different curriculum options is this: There are a ton to choose from.  They include traditional textbooks, online books, workbooks, CD-ROMs, DVDs, audio files, interactive TV, lapbooks, worksheets, YouTube lessons and more. Many veteran homeschoolers discover that there is no one perfect curriculum. What works for one family may not work for another. The best option is the one that works for you and your family.
It may take time, but if you understand your child's learning styles you'll at least whittle down the options. For example, many aural and visual learners love the online curriculum choice. It offers interactive lessons that actually act like  video games. They instruct students on everything from the core subjects to electives. Talia, a mother who homeschools two children ages nine and twelve says, "I incorporate a few different curriculum options including online tools, worksheets, and a few textbooks. My two children love the online lessons because they're fun and they can use them at any time during the day or evening. My oldest son prefers to learn on his own but I always review his work. With the online lessons, he learns independently while I give my younger daughter one-on-one lessons on things she's struggling with."
You can do a quick online search and find many choices. One tip, find out if the company offers a trial period. Why invest your hard-earned money if you don't have to? When the trial period ends, you'll know if the learning tools match your children's learning styles.
Understand Your State's Laws
Laws for homeschooling vary from state to state, but one thing is certain -- homeschooling is legal in the United States. Before you remove your child from the public school system, contact your local Department of Education. They will provide the necessary information that will help you get started. But don't only use them as a resource, you should also contact local homeschooling groups. After all, they have already done all the legwork and have the experience that will help you get started.
Some parents become concerned that they won't qualify as a homeschool teacher, but Karen, a mother who has successfully homeschooled three children says, "Some states require that the homeschool parents have a high school diploma or GED, but most states won't make a parent meet or have educational qualifications."
Ask for Help
As you begin your homeschooling adventure, problems that you didn't anticipate will arise. It's only natural, especially because you're new at this endeavor. But don't take it personally and don't lose your focus  over it—ask for help. There are many resources available, including homeschool groups, chat rooms, co-ops, and other homeschool communities which have members who can provide guidance and invaluable tips.
Finding a homeschool group that shares your outlook may take some time but once you find one , you'll not only benefit from their experience, you'll make new friends and have the option of joining them on group trips and other exciting and educational activities. That's why so many parents and children love homeschooling—it provides flexibility and offers a whole new outlook on education that extends beyond classroom walls.
So, as you make the mid-year transition remember that you have a whole community behind you and your children. A community that says "Welcome" and embraces you with open arms and without judgement.