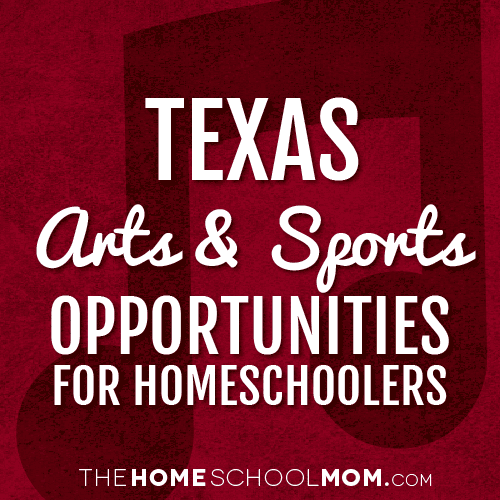 In addition to the opportunity to get out of the house and socialize, homeschool sports and arts programs can offer long-term benefits by developing characteristics like leadership, self-confidence, perserverance, and self-esteem. Many organizations and businesses have opportunities specifically for homeschoolers, while others invite homeschoolers to participate in their regular programs.
Not sure how to choose activity/activities for your children? Read how Rebecca narrows down the choice of extra-curricular activities.
Below is a list of homeschool sports and arts programs in Texas listed alphabetically by city, with arts resources in the first section and sports resources below. If you would like to submit a Texas arts or sports resource, you may do so using the red button above.
Use the secondary navigation menu above to quickly make your way to pages for Texas state organizations, local homeschool groups, classes, co-ops, field trips, and more.
Homeschool Arts Opportunities in Texas
Donnie's DrumsAllen, Dallas, Frisco, Plano
Experienced and professional drum set and percussion teacher offering in-home lessons.Donnie believes that success in music will afford success in life. He strives to instill discipline and am...
Drum Lessons by Rob TovarAllen, Dallas, Plano, Richardson
Experienced and professional drum set and percussion instructor offering private and group lessons. Rob Tovar is a member of Vic Firth Education Team, TMEA (Texas Music Educators Association) and P...
McKinney School of RockAllen, McKinney, Fairview
School of Rock offers students of all skill levels age 7-18 a performance-based music curriculum in a fun environment. Weekly private lessons are combined with structured group rehearsals. Student...
Group Piano Lessons with Salvation Army Youth EducationArlington
Quality and affordable music lessons for your child available at the Salvation Army Youth Education Town. The YET is offering a variety of music classes for different age groups; ages 6-8, ages 9-1...
Cliff Nelson Recreation CenterArlington
Cliff Nelson Recreation Center offers a variety of programs for Homeschool Students. Currently offer homeschool physical education and art courses. Both classes are taught by qualified, fun instruc...
Piano LessonsArlington
Teaching the Suzuki piano method to K-12 children and young adults.
Christian Youth Band of AustinAustin
A comprehensive band program for home school students and private school students who do not have a campus band program. Classes offered include beginning band, advanced band, wind ensemble and pri...
Svetlana Novikova Art Classes,Workshops and CampsAustin
Classes and workshops for homeschoolers, afterschool, summer camps, and regular classes for adults. Comprehensive classical curriculum combined with contemporary methods and history. Learn the fun...
Totally Cool Totally ArtAustin
Totally Cool Totally Art is a Free Teen Art Outreach Program. We have been bringing local artists to teach our teens at Recreation Centers around Austin since 1996. Emphasizing the importance of th...
AYO – Austin Youth OrchestraAustin
Established to enhance orchestral music education in the metropolitan Austin and central Texas area. Membership in the AYO program is an enriching, rewarding, and enjoyable experience in that stude...
Zachary Scott Theatre Center – Homeschool theater classesAustin
ZACH's Education Department is dedicated to entertaining while educating youth of all ages. Our year-round Performing Arts School offers an exciting and stimulating repertoire of programs and prod...
Dub Academy: After School Club for TeenagersAustin
Only dedicated, disciplined and passionate music loving teenagers many apply. Music courses offered for the following: Intro to Ableton Live, Music Theory, The Art of DJing (Serato and Traktor), Re...
Margaret Coltman Music StudioAustin
Margaret is a professional musician in Austin, teaching private and small group piano and cello to students as young as 4. She incorporates musicianship, ear training and theory and adapts lesson ...
Homeschool All ArtAustin
Homeschool Art class combining art instruction, art history, and famous artist. Class is for ages 5 to 15, all skill levels welcome. Register online or at 512-275-4040
Christian Academy of Performing ArtsAustin
CAPA Austin is a continuation of the former Christian Choral Society of Austin and is committed to quality musical and Christian education with an emphasis on teaching classical choral arrangements...
Move Your Tale at Cold Towne TheaterAustin
Move Your Tale is the youth program at Austin Comedy Stage and Conservatory, ColdTowne Theater. MYT offers classes and camps in Improvisation, Sketch Comedy and Storytelling for youth between 4 and...
American Robotics AcademyAustin
Offering after school classes integrating STEM into lessons and allowing the students to apply key concepts learned at school, such as friction, torque, motion, etc. Instructors bring all the mater...
Move Your TaleAustin
Move Your Tale is a nonprofit performance arts organization for youth, serving Austin and the Greater Austin Area. Move Your Tale was founded in 2007 and specializes in improv performance and inter...
Voice Lessons with LauraAustin
Private and group voice lessons are a fabulous way to explore the performing arts, gain confidence and public speaking skills, and learn how to read another language, music! Sign up today to start...
Austin Creative Art CenterAustin
Homeschool art classes are designed to increase skill and knowledge to propel mastery of materials and advanced concepts. Students are encouraged to study art history, develop more advanced concept...
French Horn LessonsAustin
Music lessons for the Austin area either in-studio or at your home. Katie and Carlos Rios own a small home studio where they offer music lessons for French horn, classical guitar, acoustic and elec...
Potter On WheelsAustin
Potter On Wheels mission is to bring the tactile and visual medium of clay to people of all ages. Various age groups and skill sets can be accommodated. Working in clay incorporates and facilitates...
Homeschool Band ProgramAustin
Beginner band geared towards ages 9-11. Each student will participate in two 1-hour sectionals each week as well as a full band class on Friday. The two-hour band class will cover ensemble playing ...
Dance Associates Austin, Inc.Austin
This resource is for students interested in a unique approach to learning dance and gymnastics for ages 3-12. The "Skilled Arts Program" is a creative, developmental and positive approach to teach...
Chad Tracy – Music TeacherAustin
Music Teacher, Chad Tracy, currently has two days--Tuesdays and Thursdays--available to teach music lessons to homeschool kids and/or adults. Chad Tracy has been teaching guitar, bass, and voice i...
REACH Math and Science AcademyAustin area
REACH offers one day per week academic classes in math, science, and writing for college bound middle school and high school homeschoolers. All science classes are laboratory based and use traditio...
Nichols Fine Arts StudioAustin Area
Paul and Alexis Nichols offer voice, acting, guitar, and bass lessons to students of all ages in the Austin area. Voice and acting lessons may be offered on a one-on-one basis, or as a class.
Kristen's Piano StudioAustin Texas
Piano Lessons in the North Austin area that focus on growing each child's love for music.
Betsy Sanders Cello StudioAustin/Round Rock/Cedar Park
Cellist Betsy Sanders teaches cello one-on-one to any age and level. She has over 40 years teaching experience, and performs professionally in the area. Lessons include note reading, theory, techni...
A Christian organization that provides activities for the Christian homeschool communities of the Fort Worth and Dallas Metroplex areas. Offering weekly Bible Studies, Dance Lessons, Family Dances ...
Vega GuitarsBell County
This resource provides personalized guitar lessons for beginner to advanced students. A curriculum will be made for each student based on skill and learning ability. The lessons are to be held week...
Music Institute at Carrollton SquareCarrollton
Music Institute at Carrollton Square is an exciting new music school in Historic Downtown Carrollton, TX offering private and group lessons in piano, voice, guitar, music theory, and a comprehensiv...
Carrollton Music ConservatoryCarrollton, Coppell, Lewisville, Plano, Corinth, Addison, Frisco, The Colony.
Carrollton Music Conservatory, a private music studio, seeks to serve more homeschool educated students and their families by providing high quality, individual piano or vocal lessons. The music in...
School of Rock Clear LakeClear Lake
School of Rock offers students of all skill levels age 7-18 a performance-based music curriculum in a fun environment. Weekly private lessons are combined with structured group rehearsals. Student...
Arts Unlimited SouthwestCleburne
The mission of Arts Unlimited Southwest is to develop the expressive and creative abilities of children and adults in music, art and language in a safe, supportive setting to empower individuals, i...
Suzuki School of the Brazos ValleyCollege Station
Violin & Viola program and early childhood music for students ages 3 to 93.
Bear Valley AcademyColleyville
BVA is excited to support and encourage the early education homeschool community through education partnership and co-op opportunities. Bear Valley Academy is dedicated to families who are choosing...
Homeschool Science, Entertainment, and DesignCoppell
Home School Science Enrichment Program for students grades K-12. Offering courses in Biology, Microbiology, Zoology, Health/Medicine, Behavioral Science,Ecology, Chemistry, Physics, Earth Science...
Piano lessons at Piano at Summers PlaceCorpus Christi
Offering one on one instruction for the piano. Lessons are weekly and students are offered two public recitals per year. Give your child the gift of music and a chance to shine!
Darbi Green Violin Lessons: Private lessons, Music theory & group lessonsCypress
Suzuki Violin instructor offering mini private, theory classes and group classes.
Arts & MindsDallas
Arts & Minds is an arts and education 501(c)(3) nonprofit organization with a mission to empower individuals to use their knowledge and talents for enriching themselves and their community. Envisio...
Sofia Art AcademyDallas
Sofia Art Academy provides private art classes to kids from 5 years old as well as to teens who are preparing their Art Portfolios for art colleges. Sofia Art Academy, founded in 1993, is tradition...
Balch Springs Visual & Performing Arts AllianceDallas
Art, craft, and photography classes for children ages 3 and up. Classes begin in October 2010. Full details can be viewed here: http://www.scribd.com/doc/37222865/Art-Classes-Flyer-b-amp-w
Dallas/MusicDallas
Dallas/Music offering music education for the homeschoolers in the Dallas area. Music education classes include: piano, voice, violin, flute, and guitar. Music Therapy Institute opening fall of 2...
Contemporary Ballet DallasDallas
The School of Contemporary Ballet Dallas is expanding its program to include "Ballet in the Day!" classes for Home School students ages 7-17yrs. Classes are on Monday and Wednesday mornings.
School of Contemporary Ballet DallasDallas
Dance studio offering many styles of dance classes for children and adults of all ages and skill levels. Programs available specifically for home school students.
Dallas Academy of Music and Performing ArtsDallas
DAMPA is conveniently located in Snider Plaza, near SMU in University Park, Dallas. The study of music and performing arts offers a vehicle for self-expression, heightened responsiveness to beauty,...
Art LessonsDallas
Offering art lessons by certified art teachers to K-12 students.Art Lessons • Home Studio art lessons with local artist. • Certified by the State of Texas • Over 10+ years of experience • ...
Music Lessons By SudieDallas
Sudie Abernathy is an SMU Alum looking for students interested in learning how to sing, play piano, read music, produce music, and/or perform. She has 20+ years of experience in music and is a loca...
Dallas Center for Suzuki StudiesDallas
The Dallas Center for Suzuki Studies offers Violin and Viola lessons rooted in the principles of Suzuki Talent Education, with the belief that every child is talented and capable of achieving a hig...
Geometric and MADI Art MuseumDallas
Located in Uptown Dallas, the Museum of Geometric and MADI Art (the MADI) is the only museum dedicated to MADI art and the primary point of focus for the MADI movement in the United States. Opening...
Emmick Music StudioDallas
The Emmick Music Studio provides private piano lessons, flute lessons and guitar lessons in Dallas, Texas. Welcoming students of all ages and all levels.
Innovative Dance Inc.Dallas / Fort Worth
Innovative Dance Inc. offers professional ballet instruction at the highest levels of training. The studio offers a pre-professional training program Monday through Friday from 12:30 TO 3:30PM. C...
The Childbloom Guitar ProgramDallas Counties
The Childbloom Guitar Program is a comprehensive musical education program through guitar for kids 5 and up that utilizes childhood cognitive development. It is currently being used by educators th...
The Dallas School of MusicDallas, Addison, Farmer's Branch
The Dallas School of Music offers private music lessons to all ages and skill levels, for any instrument! The world renowned faculty teach everything from voice, to guitar, to piano, to drums, to v...
Frisco Youth Symphony OrchestraDallas, North Dallas, Frisco
FYSO is a youth orchestra dedicated to serving the communities with performances, music education and community service. The Orchestra is a 501(c)3 nonprofit organization located in Frisco, Texas. ...
School of Rock DallasDallas/DFW
School of Rock offers students of all skill levels age 7-18 a performance-based music curriculum in a fun environment. Weekly private lessons are combined with structured group rehearsals. Student...
Figaro Academy of MusicDallas/Fort Worth
High-quality, structured lessons ensure learning. Internationally renowned faculty. All levels taught, from young beginner to professional. Lessons taught in English or Spanish. Homeschool discoun...
Artisan Center Theater classes for homeschoolersDallas/Fort Worth
Acting, dancing, musical theater, production, voice and private piano classes for kids ages 3 and up. Specific classes for homeschool students.
Sculpture ClassesDenton
Sculpture Classes for all ages 7 and up degree of dificulty depends on age and experience. Located at North Lakes Recreation Center.
Art lessonsDenton
Art lessons for ages 5 and up. Kids and youth will learn different styles and methods of art that are geared towards their age group. From Summer art camp to after school programs and more! Contact...
Art with LanieDenton
Art classes are broken down into 4-week modules, focusing on learning one technique at a time, and spend enough time to really learn it. This is not a craft or painting party art class; it is a foc...
The Art Truck will come to your home or school. The mobile art studio provides a teacher, supplies and studio space for up to 16 students. Curriculum is designed for 8 or 15 week courses beginning ...
Read Play Love theater and homeschooling resource centerDFW and surrounding areas
Musical theater and homeschooling resource center offering creative and educational outlets for the whole family.
Christian Youth Theater of Dallas-Fort WorthFlower Mound
Christian Youth Theater (CYT) is an after-school theater arts training program for students ages 4-18. Since its founding in 1981, CYT has grown to be the largest youth theater program in the natio...
Arts Fifth Avenue Homeschool Fine Arts ProgramFort Worth
Arts Fifth Avenue offers a variety of classes: may genres of dance, drumming, music, storytelling, and the visual arts. There are a wide variety of home-school classes available.
TAFA – Travis Academy of Fine ArtsFort Worth
Homeschool program offers classes and private lessons in ballet, theater arts, band, choir and art.
Fort Worth School of RockFort Worth
School of Rock offers students of all skill levels age 7-18 a performance-based music curriculum in a fun environment. Weekly private lessons are combined with structured group rehearsals. Student...
The Texas State Men & Boys ChoirFort Worth
Looking to recruit boys from ages 8-14 for choral group and music education programs that run throughout the year. The choir provides opportunities to perform all over the state, country, and inter...
The Dorothy Shaw Bell ChoirFort Worth
The Dorothy Shaw Bell Choir, founded in 1964, is a free opportunity for any student to experience handbell ringing by an internationally acclaimed and professional organization. Membership in the c...
Easterly Music StudioFriendswood
Music lessons for homeschool students. Providing piano, voice, preschool music and Grace Notes Homeschool Choir for ages 4 to Adult.
Frisco School of MusicFrisco
Frisco School of Music teaches lessons in piano, guitar, bass, voice, violin, fiddle, viola, drum, flute, trumpet, rock band, jazz band, classical band, music theory, and more.
Frisco Academy of Music and ArtFrisco
"Offering a free piano lesson and/or group music class to new members. I have been teaching piano lessons and music lessons for over 20 years and I would be delighted to share my passion for music...
Music Institute of North TexasFrisco, Plano, McKinney, Allen
Music lessons for all ages and levels. Special discounts specifically for home school students!
Frisco School of RockFrisco, Plano, Prosper, Little Elm
School of Rock offers students of all skill levels age 7-18 a performance-based music curriculum in a fun environment. Weekly private lessons are combined with structured group rehearsals. Student...
Galveston Homeschool Performing Arts Co-opGalveston
The Galveston Homeschool Performing Arts Co-op has been founded to provide quality education in performing arts to enrich the learning experiences of area home-educated students.
Breitling Performing ArtsGarland
Breitling Peforming Arts is a non-profit organization offering a wide selection of classes for homeschool and/or after school students. Offerings include beginning/advanced theater classes, comple...
TAPEDGarland
Providing services for actors such as Audition Taping & Coaching. Also providing other services in the arts arena such as Acting Workshops/Classes, Dramatic Play workshops and more.TAPED a...
Patricia Dolan PianoGeorgetown
Private piano lessons for beginners to advanced students, ages 7 and up. Lessons include technique (scales, chords, etc), theory, ear training and musicianship. Curriculum for beginners through i...
Brooke Ann Music StudioGeorgetown
As a piano teacher, Brooke is a classically trained pianist with the desire to pass on her love for music to young people through piano lessons.
Piano Lessons by StarinskyHouston
Private piano lessons using Suzuki and Traditional methods. Classes are for children ages 3 and up. Offering instruction in Ear Training, Musical Theory, and Piano Recitals. Schedule your compli...
Heaven Sent ChoirsHouston
We offer a Christian music education program designed to enrich and develop your child's natural talent with a solid musical experience. Music fundamentals, performance, and music ministry opportun...
Joyful Sound! Homeschool ChoirHouston
Joyful Sound! has been serving homeschool families in the Houston area since 1993. The choir is known for its excellence in performance and is afforded many opportunities to minister each year. The...
Sessions MusicHouston
Sessions Music helps people achieve their modern and classical music dreams through band programs, workshops, music technology, and live music performance opportunities. The music education progra...
Starinsky Music StudioHouston
The piano program at Starinsky is specifically created for children to have fun and enjoy their piano lessons. Your private piano teacher will make sure that your child enjoys each piano class and ...
Art Classes for StudentsHouston
Art classes offered weekly at Hobby Lobby by certified retired teacher. Learn about principles & elements of art within the Texas curriculum. Classes are offered every Wed from 12-1 pm for $25....
Art Class & Wine GlassHouston
Art Class & Wine Glass is a step-by-step instructor lead paint class! You may bring your favorite drinks and snacks, just no hard liquor or seafood. The options to paint on are canvas or a wine gla...
Monart School of ArtHouston
Monart is a teaching system that helps students to focus and concentrate, make decisions, solve problems, sequence and develop hand-eye coordination. In a peaceful environment students learn that d...
Abrakadoodle Educational Art ClassesHouston
Abrakadoodle Educational Art Classes now at Hobby Lobby for homeschoolers.
Dynamic Sound HoustonHouston
This resource is a multi-faceted Music Lessons, Rehearsal Space and Event Sound Rental facility located central to the Houston area. They are located close to the Heights, The Galleria, Memorial a...
Lessons In Your HomeHouston
Lessons In Your Home -- Music Teachers Who Come to Your Home or SchoolA family's best choice for fun in-home music lessons that inspire students. Instructors teach all instruments, including ...
Violin and Viola lessons by Nina BledsoeHouston
Enroll in violin or viola lessons with an experienced music teacher. Lessons are for students age 7-18. Beginners are encouraged to take 30 minute lessons, advanced students are encouraged to enrol...
Instruments of Praise, Homeschool band and orchestra,Houston and surrounding areas
Serving homeschool families in the Greater Houston area since 1995. Beginner Band and Beginner Piano/Keyboard Class (no experience necessary) Intermediate Band and Intermediate String Orchestra (fo...
The Scholars Connection Class CommunityHumble
The Scholars Connection offers Christian core and elective classes for middle and high school students on Tuesdays and Thursdays throughout the school year and will offer new electives in 2019/20 o...
Puss n BootsHurst
Play for children performed every Tuesday morning in January 2011 by an acting troupe of homeschooled children. Great for arts field trips. Tickets are only $5.
Texas Harmony Chorus, Patriotic Divas, SING!!Irving
Texas Harmony is an award winning a cappella chorus for women of all ages and walks of life. Texas Harmony's mission is to promote singing, harmony, friendship, self-esteem and the sense of belon...
For Home school families, Katy TX music teacher Ian Hammer is currently offering music lessons on Monday, Tuesday, Wednesday, and Friday morning and early afternoons. Mr Hammer will travel to your...
Heavenly Harp and Piano ClassesKaty, Houston, Pearland
Individualized harp and piano classes! Instructor Drew Cryer hasca degree from New England Conservatory of Music with a major in Harp Performance. She holds a Teacher's Certificate for the State of...
Keller Pointe Homeschool Drama ClassesKeller
Calling all creative homeschoolers! In this exciting class, students will be immersed in the world of theatre as they explore acting fundamentals. Each session draws from literature, colorful props...
North Central BalletKeller
North Central Ballet is the only professional ballet school in the Northeast Tarrant County area. Classes are available for ages 2- adult and beginner-professional levels. Located in Keller, Texas.
Private Guitar and Vocal Lessons with scheduling for homeschooling studentsKeller
Curtis Jones - Professional Guitar and Bass Guitar Teacher and vocal Instructor. Providing comprehensive instruction with over 30 years experience. Beginners welcome with scheduling for homeschoo...
Southlake/Keller School of RockKeller, Southlake
School of Rock offers students of all skill levels age 7-18 a performance-based music curriculum in a fun environment. Weekly private lessons are combined with structured group rehearsals. Student...
The Luckenbooth Theatre Collective & AcademyKeller/North Richland Hills
The Luckenbooth Theatre Collective is proud to partner with Stage Notes School of Music and Arts and the North Richland Hills Recreation Centre in their launch of The Luckenbooth Theatre Academy. C...
Hill Country Youth OrchestraKerrville
Bringing the joy of the orchestra experience to the youth of the Hill Country
Wilson Music Academy Piano LessonsKilleen
Homeschool graduate Jacob Wilson is a Music Theory and Composition major who has played piano for 15 years and studied under the esteemed Professor Bien S. P. Panganiban (the Professors teacher was...
LAHughesMusic Piano LessonsKyle, Buda, San Marcos
Lea Hughes has been teaching piano for 5 years but has been involved with music for 19 years. When she found herself teaching piano and guitar to kids who are deaf or are hard of hearing at No Limi...
Creative Guitar LearningLewisville
Private and Group Guitar Lessons.
Mary's Piano StudioLewisville, Carrollton, The Colony, Plano
Mary's teaches piano in her home in Castle Hills at 2804 Damsel Madison Lane, Lewisville, Tx 75056. Referrals available from the Castle Hills and surrounding neighborhoods.
The Beare CanvasLittle Elm
Private and group art classes for children( and adults) age 11+. Starts with very basic drawing techniques and adds with each lesson. Offers 1 hr and 90 minute lessons.
The Dance ConnectionMabank
Home School Dance for P.E now being offered. Age appropriate instruction, music, moves, and costumes. Special rate for home schoolers ages 5 to 11. Free trial. Ballet, Modern, Praise Dance, Hip-Hop...
Sanoon Violin AcademyMcKinney
Suzuki violin lessons in private or group setting. Students ages 3 and up learn at their own pace.
Collin County Homeschool Fine ArtsMcKinney, Collin County
It is the goal of Collin County Homeschool Fine Art to provide high-quality instruction and training in the various forms of fine arts. Currently, offering musical training in the areas of band, in...
Covenant Christian Academy School of the ArtsMid-Cities
Covenant Christian Academy's School of the Arts exists to provide students and parents with small group and private instruction in the arts, led by expert teachers. Lessons and classes are held on...
Stage Volume LLCMidlothian
Music School offering Private and Group Music Classes. Lessons scheduled throughout the day including Guitar, Drums, Piano, Violin/Fiddle, Mandolin, Bass, Sax, Banjo, Voice, Songwriting, Music Theo...
Revive 45 MusicNorth Dallas
Revive 45 Music is located in North Dallas and offers private one-on-one voice, violin and piano lessons at your home
Homeschool Choir, Lux Venit Choral AcademyNorth RIchland Hills, Keller, Euless, Fort Worth, Haslet
Choral Music Education for Homeschool Students. Choral music program especially designed for North Texas homeschool students and their families! Offering an affordable, Christian program for ages ...
NETAFA – Northeast Texas Academy of Fine ArtsNortheast Texas, Dallas, Rockwall, Hunt, kaufman Counties.
NETAFA is geared to homeschool families looking for an arts program for ages 3 to 18. The academy offers classes in band, orchestra, guitar, choir, elementary music, bucket drum line, dance, ballro...
Lux Venit Choral AcademyNorthern Tarrant County, Mid cities area, southern Denton County
A homeschool choir in northern Tarrant County and southern Denton County. Choral instruction for students grades K - 12 in 4 separate choirs.
TADA Homeschool Christian-based Dance ClassesOak Ridge North
TADA'S Christian-based classes for home schooled students ages 5 and up are held to the same standards and guidelines as all other TADA classes, yet class attire and movement is strictly regulated ...
Hillmann Piano Studio – Piano Lessons that kids love!Pearland/Houston
Kids love music. It is a big part of their lives. Mrs. Cixi Utecht has been teaching piano lessons for 16 years, and has taught Music in Aldine and Sheldon ISDs for 9 years. She is affiliated with ...
Joseph Kingma's Piano StudioPflugerville
Accepting students of all levels.
Piano Studio of Magen MillerPlano
Take piano lessons in the comfort of your home or in a private studio! Magen Miller has been an independent piano teacher in the Plano area for over 10 years. She is a member of the Dallas Music Te...
Williamson Music 1stPlano,Tx. North Texas Collin County
Williamson Music 1st in Plano,Tx. is opening a brand new Private Music Lessons Studio.My name is Dr. Rand Certain, I am the Director of Private Lessons https://www.wm1st.com/index.php/lessons/...
Ovation Academy of Performing ArtsProsper
Ovation Academy is a unique School of Performing Arts. They provide onsite training in the disciplines of Dance, Acting, Musical Theatre and Theatre Production & Design as well as the business ...
Core TheatreRichardson
The CORE theatre in Richardson,TX offers classes for Homeschooled children between the ages of 12-14 and 15-17. Classes run in 10 and 8 week cycles and are offered on Wednesdays and Saturdays.
Drama KidsRowlett, Dallas, Rockwall, Plano, Wylie, Mesquite, Garland, Richardson, Murphy
In Drama Kids everyone is a star! Students work together on structured improvisations, group activities, speech, creative movement activities, theater games and more. We provide a fun and fast pace...
Just ArtSan Antonio
Just Art offers a fun-filled, entertaining paint classes. Just Art provides the paint supplies and all the fun while children create a master piece of their own by following my instructions. Paren...
Homeschool Violin and Cello LessonsSan Antonio
Briana Page, a former homeschooler and have holder of a violin performance degree from UT Austin, is offering private teaching experiences for children and adults. Please request to set up a FREE t...
Crystal Sea Drama CompanySan Antonio
Crystal Sea Drama Company is a pre-professional theatre company that offers year-long classes, summer camps, and workshops for homeschool students ages 6-20. A variety of classes are offered each ...
Art Time classes for homeschoolers ages 6-12.San Antonio
Art classes include a warm-up exercise and an art project using variety of materials such as charcoal, paint, brass foil, wax,soft/oil pastels, watercolors, clay and more. For class information and...
European Piano StudioSan Antonio
Piano, Accordion, and Voice Instruction.
BlackBox Music & ArtsSan Antonio
Custom tailored classes and workshops for homeschoolers, afterschool, summer day camps, and regular ongoing classes. Comprehensive curriculum covers all essential principles and elements: Appreciat...
San Antonio Strings Violin, Viola, Cello and Voice LessonsSan Antonio
All levels and ages for Violin/Viola/Cello/Voice are welcome (5yrs old and up)! *Teaching Styles are tailored to each student whether beginner or advanced. *Offering both Suzuki and Traditional M...
San Antonio Homeschool Music ClassesSan Antonio
This resource is for San Antonio Homeschool parents who are looking to enrich their children's lives through learning music. Specializing in violin, viola, and cello lessons, offering guidance thro...
Sound Foundation AcademySouth West Houston, Katy, Sugar Land, Rosenberg
The mission of the Sound Foundation Academy is to offer the same opportunities for music education and performances found in public schools to home schooled students. The Sound Foundation Academy M...
Epicenter for the ArtsSouthlake
Epicenter for the Arts is a new performing arts complex in Southlake Texas "training and equipping this generation of performing artists from the inside out." Dance, art, acting, and music all unde...
Piano LessonsSpring
Piano lessons offered in my studio. Over 20 years experience with students of all ages and levels. I am currently accepting students age 4 -adult. Lessons materials are included in lesson cost, and...
Rhythm Music School; Guitar, Voice, Piano and Drum LessonsSpring
Music lessons offered from 11 a.m.-1 p.m. Monday-Friday. Offering quality music lessons in guitar, voice, piano, bass and drums for ages 5 and up.
Spring School of Music Singing LessonsSpring
Keturah Moller offers personalized private and group singing lessons for all skill levels age 5 and up at a reasonable price. Your child will gain confidence in their musicianship skills as they le...
The Art Bar Paint StudioSpring
A paint studio in Spring, Texas that understands the importance of exposing kids to the arts as it expands their minds and creativity. Instructors mostly teach acrylic painting on canvas, however ...
First Colony Homeschool EnsemblesSugar Land
First Colony Homeschool Ensembles provides homeschoolers the opportunity to make music together.
Kenya's Keys Voice & Piano StudioTemple, Belton, Killeen
Don't muddle through music anymore! Maximize your child's music mojo with this program designed exclusively with your diverse needs in mind. Hit the "Easy" button and let Kenya's Keys, LLC do thei...
Christian Youth Theater – HoustonThe Woodlands
CYT is an after-school theater arts training program for students ages 6 - 18. CYT offer training classes and full-scale musical productions.
The Woodlands Home School ChoirThe Woodlands
The Woodlands Home School Choir is tailor-made for home school students residing in The Woodlands and surrounding communities. Home schoolers twelve years or older can participate in this unique pe...
The Woodlands Children's MuseumThe Woodlands
Workshops offer age-appropriate activities that are especially designed to foster creativity and promote self-expression and develop a young child's imagination through the arts, dramatic play, squ...
The North Houston Boys ChoirThe Woodlands
The North Houston Boys Choir is for Boys with unchanged voices from the age of 8-14. Boys will be introduced to music theory, sight singing, vocal and performance techniques, and a lifelong love of...
Nancy Curtis Music StudioThe Woodlands
Piano Lessons (age 6 to adult) and Voice Lessons (age 12 to adult). Ms. Curtis has over 20 years of teaching experience and is dedicated to bringing the highest quality of music instruction to eac...
Legacy ArtsTomball
A language arts program which marries classical education to the connectivity of the Internet. Now teacher and student can work toward rhetorical fluency regardless of geographical distances. Hom...
Welcome to Tyler Area Home School Band. We are so pleased that you are considering giving your child the opportunity to play in a band. We are excited to have our children enrolled, too, and look f...
Homeschool Sports Opportunities in Texas
Cliff Nelson Recreation CenterArlington
Cliff Nelson Recreation Center offers a variety of programs for Homeschool Students. Currently offer homeschool physical education and art courses. Both classes are taught by qualified, fun instruc...
Dynorock Climbing ClubArlington
The Climbing Club at Dyno-Rock is a great way for kids to get started in the awesome sport of rock climbing. Our highly qualified instructors teach climbing skills that promote persistence, problem...
Family Krav Maga for HomeschoolersAustin
A self-defense and fitness class for children age 5 and up and their parents provided on Mondays from 10:00am - 11:00am. This class was developed to help families bond through activities that devel...
Sterling Hunter/Jumpers Riding StableAustin
Affordable horsemanship and riding programs specifically for home schoolers at a professional horse riding and training facility
YES! Youth Fitness and Sports PerformanceAustin
YES! encourages youth to become more active, fit, and to combat the growing obesity rate among children. YES! offers a specific hour just for home school families. Ages 5 and up can participate in ...
Bear Creek Stables Horseback Riding LessonsAustin
Bear Creek Stables offers several different types of riding lessons for both Western and English Riding styles. Whether you are just starting out with horses or already have some experience, we can...
Archery Training CenterAustin
Archery classes for kids and adults. Offering recreational, group and competitive classes.
Brazilian Top Team AustinAustin
Offering daytime classes for homeschooling kids in Brazilian jiu-jitsu for kids 5-12, Monday through Thursday.
Austin Sports Academy – Soccer TrainingAustin
Providing individual and group sports training with a special emphasis on soccer classes. Training is tailored to the player and provides the opportunity to learn technical, tactical, speed, and ap...
Austin Rock Gym; Homeschool Rock ClimbingAustin
Classes developed specifically for children who are home schooled. Students will spend an hour learning a new skill (like lead climbing, rappelling, anchors, Tyrolean traverse, knots, technique and...
Austin Royals Christian AthleticsAustin
Welcome to the Austin Royals Christian Athletics - commonly known as simply the Austin Royals. We are an organization of homeschool families in the greater area of Austin, Texas, that offers compe...
Waterloo SwimmingAustin
An indoor swim facility that is interested in networking with Austin area families to develop swim lesson classes and fitness programs during the morning weekday hours, specifically geared toward h...
Yoga with Sarah StudebakerAustin
Beginner level yoga to build strength, confidence, and calm. Classes are meant to develop knowledge of yoga and mindfulness while moving, having, fun, and staying safe. I come to you. Classes in yo...
Austin Aquatics and Sports AcademyAustin
This Home School Fitness Program is designed to engage children in physical activity and will include a rotation of swimming, team sports, and fitness activities that focus on fundamental skills an...
South Austin AikidoAustin
South Austin Aikido offers instruction to students from beginner to advanced levels. This organization sees aikido as more than just a system of defense, and does not train simply to defeat opponen...
Capital City Homeschool Football & CheerAustin / Round Rock / Georgetown and surrounding areas
Capital Christian Cougars Sports is an organization of homeschool tackle football and cheer in the greater Austin area. Offering competitive tackle football and cheer for Jr. High and High School s...
Christian Homeschool Athletic Association of TexasAustin and surrounding areas
C.H.A.A. The SAINTS, a professional athletic curriculum, is now available to Central Texas families with homeschooled children. This program is taught in county and city parks across the greater Au...
Aggieland Homeschool Association SportsBryan
Aggieland Homeschool Athletics, Inc. is a non-profit, incorporated Christian educational organization established to facilitate the development of the homeschool athletic programs in the Brazos Val...
Royal Legend Horse Center Riding LessonsBryan/College Station
Horseback riding lessons which teach not only how to ride and care for a horse, but leadership and communications skills, as well as teamwork. Improved posture and focus are added benefits, as well...
Deer Creek StablesBurleson/Fort Worth,
Deer Creek Stables is an equestrian facility specializing in horses and people that love and want to learn about horses. A kid friendly facility that welcomes the opportunity to work with children.
Homeschool PE at High Hopes SportsCedar Park
This Homeschool PE program is a great supplement to your child's education and physical health. For an hour per week from 11 AM to 12 PM for $8 a class, they'll stay fit and have fun while learning...
Harmony Meadows Riding SchoolCollege Station
Harmony Meadows Riding School in College Station, Texas offers English riding lessons to students ages 6 to adult. The school has a large selection of well trained and appropriate school horses ava...
Brazos Valley MMA & FitnessCollege Station
Brazos Valley MMA & Fitness is dedicated to teaching discipline, honor, respect, and courage to martial arts students of all ages. This gym offers a variety of martial arts, including Brazilia...
Conroe Diving ClubConroe
Classes for homeschooled children ages 6-14 interested in learning basic springboard diving skills and pool safety around the diving area. Children work on posture and correct body alignment associ...
Star Taekwondo Academy & Realistic Self-defenseCorpus Christi
Realistic Self-defense Program can be used for homedchoolers looking for physical education alternatives, famuly work outs, and all of the positive benefits of martial arts. Low fees, no contracts,...
WINGS AthleticsCorpus Christi
WINGS Athletics is a non-profit sports organization under HOST (Homeschool Organization of South Texas). WINGS offers mentorship and personal growth opportunities through competitive sports program...
TACA Storm BasketballDallas
The Texas Alliance of Christian Athletes (TACA) Basketball is a Dallas, TX based, competitive homeschool basketball organization that was formed by like-minded parents and coaches to give our playe...
Soccer PalzDallas
Soccer Palz is an enrichment program designed to introduce kids (ages 3-5) to the game of soccer in a creative, fun way. The program has had the opportunity to serve over 750 kids through local pre...
Dallas Tennis AssociationDallas
USTA Junior Team Tennis connects kids together in teams to play against other teams within a league. USTA Junior Team Tennis is designed for kids ages 6-18. Matches can be held anywhere from a loca...
Summit Climbing GymDallas
Summit Climbing, Yoga and Fitness is an indoor rock climbing gym based in the DFW. Summit offers classes for kids of all ages and climbing abilities. All of the Youth Programs at Summit Gyms fulfil...
King's Warriors Basketball ClubDallas - Ft. Worth
The King's Warriors Basketball Club was a homeschool basketball program founded by Dr. Greg Gist in 1996 to meet a need in the Dallas-Ft. Worth Metroplex to provide a competitive basketball program...
Home School Athletic AssociationDallas / North Texas Areas
HSAA was established to provide homeschooled youth with opportunities to compete in competitive athletic events in a Christian atmosphere. Through this athletic competition, HSAA is committed to ...
Dallas HSAA Homeschool GolfDallas, Fort Worth, DFW
A Christian based homeschool high school golf team that includes varsity and JV boys and girls. HSAA competes with DFW area private and public schools. Tournaments start at the end of Sept. Stude...
City of Dallas Homeschool swimteamDallas, Mesquite,Garland,Plano, Richardson
This Home school swim team program is for kids 6-18 years old. Those interested will need to be able to swim across the pool without stopping or touching the edge and know the basics in how to swim...
Dallas Homeschool Basketball, Inc.Dallas/ North Texas
Dallas Homeschool Basketball, Inc. was founded in 2003 to provide Dallas area homeschooled students with the opportunity to develop their basketball skills in a competitive basketball environment. ...
Martial Arts for Homeschool FamiliesDeKalb - New Boston - Avery - Simms - Texarkana
This is a faith based Martial Arts school run by a homeschool family with a family atmosphere. Quality instruction with reasonable prices is found at Infinity Martial Arts.Morning classes are a...
Run With Coach ShaniceDenton
The initial basketball assessment will ascertain student's current skill level. The inquiry will ask the parent and the players where they would like to see the student elevate. The basketball trai...
Youth Exercise Classes at Fitness 4 KidsEagle Mountain - Saginaw
Youth Exercise classes. Early Childhood: Ages 1 - 4, Young Childhood: Ages 5 - 8, Middle Childhood: Ages 9 - 12, and Adolescence: 13 - 16. $25 per class. Instructor is a Texas certified...
Grace Christian AcademyFlower Mound
Grace Christian Academy offers varsity sports teams competing in TCAF Division 2 District 3. If interested, please contact the Athletic Director (Phil Rabbito) at 214.223.4713
Game On Sports ComplexFort Worth
Game On Sports Complex offers Home School PE Classes for all home schoolers ages 6-18yrs. Home School PE classes allow students to explore multiple sports in a fun, learning environment. This prog...
The Little Gym of Fort WorthFort Worth
Offering gymnastics, dance (tap, ballet, hip hop), karate, sports skills and music classes for children between the ages of Newborn to 12 years of age. Birthday parties available on the weekends.
The First Tee of Fort Worth; Homeschool Youth Development Golf ProgramFort Worth
The First Tee of Fort Worth is a youth development organization that teaches kids how to play golf and how to learn the values that golf teaches to apply them to their lives. Homeschool group meets...
THESA/Texas Home Educators Sports AssociationFort Worth
THESA (Texas Home Educator's Sports Association) exists to support Dallas/Fort Worth area families with a calling to home educate their children by providing competitive sports programs, enabling c...
AquaKids Swimming lessons and open swim times for homeschoolersFort Worth
AquaKids has swim classes for the homeschool community. Classes are 30 minutes long and are offered Monday, Tuesday and Wednesday morning. We also have group and private lessons available and teach...
HCA Homeschool basketballFort Worth / Johnson County
Heritage Christian Athletics provides home-schooled students the opportunity to play competitive basketball. Based in Johnson County, players come from Fort Worth, Arlington, Burleson, Cleburne and...
Canyons Rock ClimbingFrisco
Canyon Climbing Gym offers indoor rock climbing to the public. Rock climbing is one of the fastest growing sports in the country and part of the 2020 Olympic Games in Japan. It is a sport people ...
KidStrong FriscoFrisco
What is KidStrong? KidStrong is an innovative 360-degree synergy training program designed to develop mental, physical, and character skills in kids from ages 15 months to 13 years old. A science-b...
Fancy Pants RanchFt.Worth/Keller
Offering Group/Semi-Private/Private horseback riding lessons. Pricing starts at $35. Contact fancypants.ranch@yahoo.com for information.
Round Rock/Georgetown Homeschool Swim ClassGeorgetown
Swim For All offers individualized swim instruction for children and adults of all abilities including those with special needs. Swim class focusing on fitness and stroke technique mixed in with so...
Georgetown Tennis Center Home School Programgeorgetown
Georgetown Tennis Center offers a home school tennis program for your child. Programs are individually tailored to your groups interest. Programs can be one day events or a series of instructiona...
British Swim SchoolGeorgetown/Round Rock
British Swim School's fun and gentle teaching methods will teach your child water survival and stroke advancement. Swimmers start at 3 month olds and up. Year round instruction available in indoo...
HCYA Swimming for High SchoolGulf Coast Region
Competitive High School swim team at the varsity and junior varsity levels. Serves Houston Metroplex and surrounding area swimmers interested in competing at the highest levels of Texas high scho...
Okuri Judo Club Homeschool Judo ClassesHaslet/Saginaw/Fort Worth
Homeschool Judo Classes for ages 5+. Why Judo? Judo teaches self discipline and control, builds confidence, physical conditioning, motor skills, and MORE all while having FUN!! Classes are offered ...
ATA Martial Arts AcademyHighland Village
Rodriguez ATA Martial Arts Academy is part of the American Taekwondo Association, located in Highland Village, and serving the surrounding areas of Flower Mound, Lantana and Lewisville in Martial A...
HCYA Homeschool Christian Youth Association – Sports programsHouston
Currently offering a broad range of support programs for homeschooled students including: Competitive Sports, Basketball - Boys & Girls, Volleyball - Girls, Baseball - Boys, and Track.
HCYA Lady WarriorsHouston
The HCYA Lady Warrior program is one of the oldest and largest home school basketball programs in the USA. We offer competitive junior high and high school basketball for home schooled girls from a...
Dynamic Extreme Athletics – Homeschool Groups Tumbling ClassHouston
This class is designed to offer customized gym time for Home School Groups in the area. With the main focus being on tumbling, there is an opportunity to work other skills. This class is one hour, ...
Salt and Light Homeschool SportsHouston
Salt & Light Homeschool Sports is a ministry for encouraging homeschool students in their Christian faith while participating in competitive athletics. Founded by three homeschooling families with ...
HCYA HurricanesHouston
The HCYA Hurricanes soccer program exists to provide homeschooled middle school and high school boys and girls with the benefits of participation in organized, competitive soccer in a setting that ...
Ice at the Galleria Homeschool ClassHouston
Figure skating and hockey learn to skate classes are offered in a quiet environment on Wednesday's at 10:00am weekly. This homeschool class starts with the basics and moves the students up as they ...
Houston Homeschool AthleticsHouston
Houston Homeschool Athletics (HHA) is a non-profit 501(c)3 organization formed to provide amateur competitive sports for homeschooled children, ages 8 to 18. HHA will provide, under Christian leade...
Iron Sports NinjasHouston
Iron Sports Ninjas is an indoor obstacle course facility focused on training children movement, strength, and all around body awareness. The gym is based off the hit TV show American Ninja Warrior ...
Northside FalconsHouston / Montgomery County
The Northside Falcons is a Christian Homeschool Baseball Program based in Conroe, Texas. It was formed in 2004 to address and fulfill the desire of homeschool boys in the North Houston / Montgomery...
Christian Home School AthleticsHouston and surrounding area
Mission: "To support families in training home school students to successfully participate in a competitive athletic environment. We will foster athletic teams that manifest the Fruits of the Spi...
Bay Area Equestrian CenterHouston-Bay area
Bay Area Equestrian Center offers a full-service riding academy. Offering classes in various styles and abilities of riding, including home school classes. With a combination of both individual and...
Bam Bam Martial Arts AcademyHouston, Southside Place, West University
Bam Bam Martial Arts Academy is owned and operated by a homeschooling family of ten. Homeschool classes meet Tuesday, Wednesday and Friday at 4:15pm. Brazilian Jiu Jitsu classes are 45 minutes long...
Houston MavericksHouston, Spring, The Woodlands, Conroe, Tomball, Humble, Montgomery, Magnolia, Willis, and New Waverly
Houston Homeschool Athletics, home of the Houston Mavericks, provides competitive sports programs for homeschool students (ages 8 to 18) under Christian leadership and guidelines. The Mavericks com...
Christian HomeSchool Sports MinistriesHouston, Spring, Tomball, The Woodlands, Magnolia, Montgomery, Conroe, Baytown, Dayton, Cypress, Willis
CHSM offers basketball and volleyball to serve and support homeschoolers and their families. Through competitive athletics, CHSM will teach foundation principles that are absolutely essential for s...
Soccer Tots HoustonHumble/Kingwood/Atascosita
SoccerTots is a franchised child physical development program that uses a variety of fun games to delight and engage kids - from 18 months to 6 years old - in physical activity. The curriculum is p...
Lake Houston ConquerorsHumble/Kingwood/Houston Area
Competitive Basketball with a Christian Spirit. Teams available for homeshooled boys and girls ages 8 -18.
Huntsville Junior High Boys BasketballHuntsville
A new junior high boys basketball team that will be playing as a Huntsville, TX team with the Houston Homeschool Athletic program. Always looking for homeschool boys in the 12 to 14 year-old range ...
The Dojo School of Martial ArtsKeller
Home School Classes Beginning Now! Enroll Today!At The Dojo School of Martial Arts, we understand the need to find curriculum choices that encourage socialization and promote physical fitness, ...
Transform U Fitness Kids or Teen Yoga &Boot Camp ProgramsLewisville
Private Training & Yoga Studio offers kids and teens yoga and bootcamp for homeschool enrichment. Bootcamp programs incorporate age appropriate exercises with certified personal trainers who love...
Lubbock Homeschool Christian Athletics AssociationLubbock
Currently we offer boys and girls basketball, track, girls volleyball, swimming and soccer. We play other homeschoolers, private schools and public schools. Our teams compete locally in the High Pl...
CLIMB WoodlandsMagnolia
CLIMB Woodlands Indoor Rock Gym & Adventure Course Facility is a great way to satisfy your child's PE credit! They offer CLIMBFit Home School on Tuesdays, Wednesdays, and Thursdays. CLIMBFit Ho...
White Fences Equestrian CenterManor
Welcome to White Fences Equestrian Center, where elegance meets functionality, strength meets grace, and where working with horses and the love of the equestrian lifestyle is at the heart of everyt...
Master Mun's Martial ArtsMcKinney
Tom Bousquet, a 3rd degree black belt, is co-owner of Master Mun's Martial Arts in McKinney. Tom is a radiology director and a dad and has a passion for helping students learn a skill that will tea...
AquaKids Swim School Swim lessons and field tripsMcKinney
AquaKids Swim School has swim lessons for homeschoolers on Monday, Tuesday and Wednesday mornings. We have both group and private lessons and teach skills from beginner through advanced. We are als...
CHANTMcKinney/Collin County
The Chargers are a competitive High School (9th-12th grades) and Junior High (6th-8th grades) 6-man football program for home-school students. CHANT is located in McKinney and caters to families in...
MtB MustangsMontgomery County and surrounding areas
The MtB Mustangs formed to address the desire of homeschooled young men in the Montgomery County and surrounding areas to participate in high school and junior high level competitive baseball.
Elite FC SoccerNorth Richland Hills
Elite FC is a program for the more committed player wishing to play at a competitive level. A player must reach their 10th birthday by December 31st of the current soccer year to be eligible for p...
Red River Athletic AssociationNorth Texas/Southern Oklahoma
The Red River Rattler Athletic Association is dedicated to providing home school students in the North Texas/Southern Oklahoma area with the opportunity to play competitive sports in a Christian en...
Parker-Tarrant Home School SportsParker and Tarrant Counties
Parker-Tarrant Home School Sports exists to promote and accomplish sports education for the Texas Home School student in a Christian environment. With a focus primarily in the Parker County and Wes...
Weatherford Express BasketballParker County
A non-profit corporation offering competitive basketball to home-educated students grades 4 through 12 in the Parker County area. We strive to provide opportunities for our students to develop ath...
The Aquatic AcademyPearland
Swim lessons that follow a Red Cross curriculum. The Aquatic Academy can also cover PE topics for homeschool individuals and groups. Group rates for homeschool groups. Flexible scheduling. Year ro...
MyDojo Martial Arts Fitness CentersPearland, Friendswood, and Texas city
A martial arts facility serving families in multiple locations. Specializing in after school care and home school martial arts.
Texas Karate InstituteRichardson
Teaching martial arts consistent with christian values. Texas Karate Institute believes the goal is to make disciples that make disciples. Teaching students how to protect themselves, their famili...
RISE – Rockwall Indoor Sports ExpoRockwell
Homeschoolers now have a 1st class P.E. program at a 1st class facility!! R.I.S.E. will facilitate a P.E. program designed to teach your child the basics of many sports and fitness. This program wi...
1A Soccer TrainingRound Rock
1A Soccer is an indoor soccer training facility that offers classes for all ages and skill levels! The experienced coaches are experts at making training sessions both engaging and efficient. From ...
Only The Elite: Athletic Performance TrainingSan Antonio
A Strength and Conditioning and Personal Training facility. OTE offer's Sport Specific Strength and Conditioning and Personal Training. OTE is currently training several athletes from area schools,...
FEAST Sports ProgramSan Antonio
The primary purpose for the FEAST sports program is to provide an opportunity for home school children to play sports in a supportive atmosphere.
San Antonio Nova HomeschoolSan Antonio
Nova is excited to provide competitive athletic opportunities for homeschool youth in San Antonio and the surrounding area.
Well FitSan Antonio
WellFIT offers personal training, group fitness classes, corporate wellness programs and much more. Let WellFIT help you customize your Physical Education program and exceed your home schooled stud...
Bandera Bowling Center Home School ClubSan Antonio/Leon Valley
Bandera Bowling Center Home School Club for youth ages 8-18). Wednesdays at 1:00pm. Youth will bowl 2 games per week, with instruction, for 8 weeks and have a celebration party on week 9. Youth can...
San Marcos Panthers Homeschool BaseballSan Marcos and surrounding areas
San Marcos Panthers Baseball is a Christian organization of homeschool families in the Central Texas area that offers competitive baseball to high school students. Serving kids from Kyle, San Marco...
Woodway Equestrian ClassesSpring
Bilingual equestrian teacher in the Spring area offering beginning equestrian classes.
Haru DojoSpring
Martial Arts is the perfect program to get PE for your child. In addition, with this program your children will be more attentive and focused. The program combines a study in martial arts, exercise...
CenTex Homeschool ChargersTemple/Belton/Killeen
A sports association started by homeschoolers in 2006 to serve the central Texas area. We have athletes from Temple, Belton, Killeen, and the surrounding communities, and do not limit our membershi...
Obstacle Warrior Kids- The WoodlandsThe Woodlands
This gym is inspired by the hit TV show American Ninja Warrior. It is a place for kids ages 1-17 to challenge themselves on a variety of obstacles in a safe, indoor environment. Dodgeball, parties,...
Horse riding lessons with Daniella GibsonTomball/ Spring
Bilingual (Spanish and English) horse riding lessons. The stable is located on 2920 close to Tomball.
Tyler HEATTyler
Home Education Athletics of Tyler (HEAT) main purpose is to glorify God through providing Christian Home School families the opportunity to participate in organized competitive sports at the Middle...
Capriole School of RidingWaxahachie
Private riding lessons and working student opportunities for equine enthusiasts. Classes on healthcare,disease prevention and riding theory available. P.E. credits
Flying G RanchWaxahachie, Midlothian, Red Oak, Ovilla, Ennis, Cedar Hill, Dallas and Fort Worth
Natural horsemanship classes and horse riding lessons in Waxahachie at family-friendly prices.
Coach Sam's Homeschool TennisWest Columbia
Learn the life long sport of tennis in a fast paced, games based learning environment. This program is designed so that Entire families can participate in the same class together. Classes are avail...
West Houston ThunderWest Houston
The Thunder is a high school level program designed to meet the needs of young men that desire to play competitive homeschool baseball.