Jump to: Homeschool Arts | Homeschool Sports
In addition to the opportunity to get out of the house and socialize, homeschool sports and arts programs can offer long-term benefits by developing characteristics like leadership, self-confidence, perserverance, and self-esteem. Many organizations and businesses have opportunities specifically for homeschoolers, while others invite homeschoolers to participate in their regular programs.
Not sure how to choose activity/activities for your children? Read how Rebecca narrows down the choice of extra-curricular activities.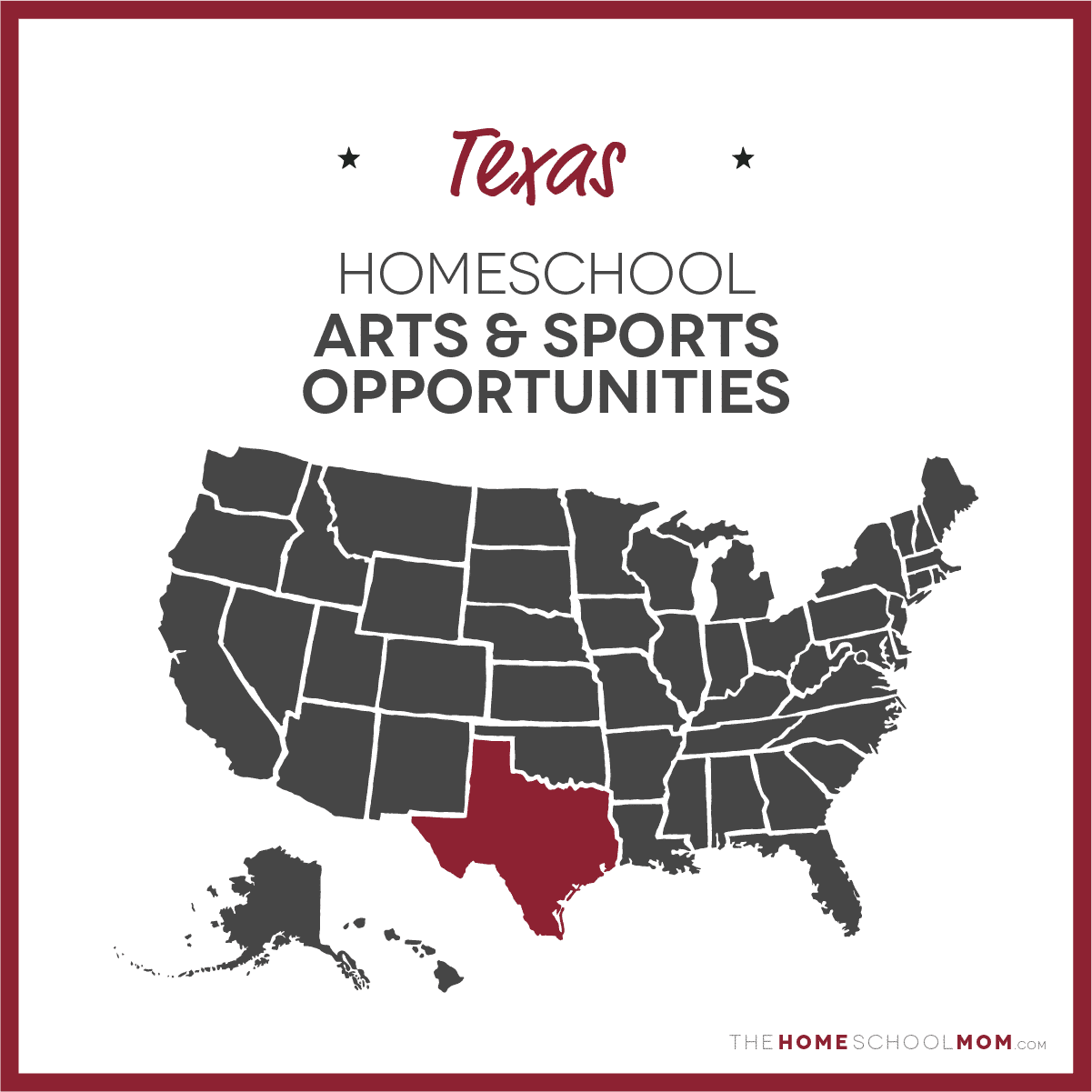 Submit a Local Resource
Our listing of Texas list of homeschool arts and sports programs is ordered alphabetically by city, with arts in the first section and sports in the second section. If you would like to submit an Texas arts or sports program, you may do so using the red button above.
Texas Homeschool Arts Programs
Drum Lessons by Rob Tovar

Allen, Dallas, Plano, Richardson

Experienced and professional drum set and percussion instructor offering private and group lessons. Rob Tovar is a member of Vic Firth Education Team, TMEA (Texas Music Educators Association) and PAS (Percussive Arts Society). Lessons are taught in his home studio near Coit and Parker in Plano. The teaching studio is setup with a PA system, and two drum sets for demonstrations to make the learning process easier. All age groups and experience levels are welcome. A custom lesson plan will be developed based on each student's learning style and experience. Students will learn proper technique, rudiments, music reading, and a variety of musical styles in a fun environment. Advanced skills like solos, and showmanship are also taught. Lessons are available on Snare Drum, Drum Set, and Latin Percussion Private lessons are $140 per month, last approximately 30 minutes and recur weekly. Afternoon, evening and weekend times are available.
McKinney School of Rock

Allen, McKinney, Fairview

School of Rock offers students of all skill levels age 7-18 a performance-based music curriculum in a fun environment. Weekly private lessons are combined with structured group rehearsals. Students prepare to perform live on stage. Areas of instruction range from guitar lessons to bass, vocals, keys and drums lessons. Also offers summer camps, monthly events, workshops, clinics, guest professors and additional performance opportunities through the local House Band and national All Stars programs. Call to schedule a trial lesson or a tour.. 214-856-4055. Location:1600 W. Louisiana Street, McKinney, TX 75069.
Suzuki Piano Basics of Arlington

Arlington

Teaching the Suzuki piano method to K-12 children and young adults.
Soulfull Sounds

Arlington

Soulfull Sounds provides music classes that focus on the individual creativity of each student. Students will learn to read and play music on the piano through songs, activities, and games.
Goodtimes Chorus

Arlington

Are you looking for an extracurricular program for your youngster(s)? If they enjoy singing you should consider the Goodtimes Chorus. We have had many youths as members of our chorus. They do not need to be trained singers or have outstanding voices. If they can match a note played on an instrument and like to sing then we can teach them the rest. If you have any questions or you need someone to give you a ride just call or text Gil at 817-nine 9 four-9213 or email gilcarrick AT gmail DOT com. https://www.facebook.com/GtChorus/. We met each Tuesday evening at 7 P.M.
TAFA - Texas Academy of Faith and Arts

Arlington

Homeschool program offers classes and private lessons in ballet, theater arts, band, choir and art.
Theatre Arlington

Arlington

Theatre Arlington regularly offers youth-friendly programming throughout the year, in addition to youth theatre classes in acting, musical theatre and so much more! Check in to see if any current programs might be a good match for your kiddos.
Christian Youth Band of Austin

Austin

A comprehensive band program for home school students and private school students who do not have a campus band program. Classes offered include beginning band, advanced band, wind ensemble and private lessons. Performance activities include two concerts as well as a solo recital and competition. Instruction is offered on flute, clarinet, alto saxophone, trumpet, trombone, baritone, tuba and concert percussion.
Svetlana Novikova Art Classes,Workshops and Camps

Austin

Classes and workshops for homeschoolers, afterschool, summer camps, and regular classes for adults. Comprehensive classical curriculum combined with contemporary methods and history. Learn the fundamentals of drawing and painting, different media, and various techniques. Classes are a great fit for beginners and intermediate students.
Totally Cool Totally Art

Austin

Totally Cool Totally Art is a Free Teen Art Outreach Program. We have been bringing local artists to teach our teens at Recreation Centers around Austin since 1996. Emphasizing the importance of the process of creation, TCTA values the hands-on learning approach and encourages all teens to participate and explore their creative side regardless of their experience level. Exhibition opportunities are made available to all TCTA students throughout the year. It is an evening program, the class time differ at each recreation center but they are typically between 6-8PM.
AYO - Austin Youth Orchestra

Austin

Established to enhance orchestral music education in the metropolitan Austin and central Texas area. Membership in the AYO program is an enriching, rewarding, and enjoyable experience in that students receive comprehensive and intensive orchestral instruction, including regular performances at various venues of the highest quality of literature in addition to opportunities to observe master classes by Austin Symphony Orchestra guest artists.
Zachary Scott Theatre Center - Homeschool theater classes

Austin

ZACH's Education Department is dedicated to entertaining while educating youth of all ages. Our year-round Performing Arts School offers an exciting and stimulating repertoire of programs and productions for all levels of students. Our shows for youth include original and touring shows for elementary students, and outreach to middle, high school and college levels. ZACH is proud to be a leader in creative education in Austin.

Zachary Scott Theatre Center - Homeschool theater classes details
Dub Academy: After School Club for Teenagers

Austin

Only dedicated, disciplined and passionate music loving teenagers many apply. Music courses offered for the following: Intro to Ableton Live, Music Theory, The Art of DJing (Serato and Traktor), Remix/Synth and Turntablism. Check website for ckass schedules.
Margaret Coltman Music Studio

Austin

Margaret is a professional musician in Austin, teaching private and small group piano and cello to students as young as 4. She incorporates musicianship, ear training and theory and adapts lesson plans to each child's unique learning style to help foster and develop a love of music and learning!
Homeschool All Art

Austin

Homeschool Art class combining art instruction, art history, and famous artist. Class is for ages 5 to 15, all skill levels welcome. Sign Up for a FREE Trial Class.
Christian Academy of Performing Arts

Austin

CAPA Austin is a continuation of the former Christian Choral Society of Austin and is committed to quality musical and Christian education with an emphasis on teaching classical choral arrangements, sight reading, and participating in challenging competitions as well as an annual musical theater production.
American Robotics Academy

Austin

Offering after school classes integrating STEM into lessons and allowing the students to apply key concepts learned at school, such as friction, torque, motion, etc. Instructors bring all the material needed for the students to build robots.
Move Your Tale

Austin

Move Your Tale is a nonprofit performance arts organization for youth, serving Austin and the Greater Austin Area. Move Your Tale was founded in 2007 and specializes in improv performance and interactive storytelling for kids of all ages. Partnered with Austin's ColdTowne Theater, Move Your Tale is offering a number of weekly classes during the traditional school year (Sept - May), specialized camps and workshops, and regular live performances featuring our students in a professional performance space.
Austin Creative Art Center

Austin

Homeschool art classes are designed to increase skill and knowledge to propel mastery of materials and advanced concepts. Students are encouraged to study art history, develop more advanced concepts and explore new ways to express their ideas, emotions, and experiences through visual arts. ACAC purposes to guide students in a way that enhances their skills and knowledge while building self-confidence. We believe that when students are encouraged to do and be their best, they exceed expectations and elevate to new heights.
Homeschool Band Program

Austin

Beginner band geared towards ages 9-11. Each student will participate in two 1-hour sectionals each week as well as a full band class on Friday. The two-hour band class will cover ensemble playing skills, music theory, basic piano, and more.
Chad Tracy - Music Teacher

Austin

Music Teacher, Chad Tracy, currently has two days--Tuesdays and Thursdays--available to teach music lessons to homeschool kids and/or adults. Chad Tracy has been teaching guitar, bass, and voice in the Austin area since 2003 and has worked with lots of homeschool families in the past.
Music Lessons of Austin, LLC

Austin

Music Lessons of Austin, LLC brings highly qualified music instructors to students in their homes in the Greater Austin, TX area. Students may choose from piano lessons, voice lessons, guitar lessons, drum lessons, violin lessons, and more, and they can enjoy 30, 45, or 60 minute lessons. Each instructor at MLOA has years of experience, advanced music education, and has passed a national background check. Interested parties may contact Music Lessons of Austin, LLC for a free 45 minute consultation before committing to lessons.
Nichols Fine Arts Studio

Austin Area

Paul and Alexis Nichols offer voice, acting, guitar, and bass lessons to students of all ages in the Austin area. Voice and acting lessons may be offered on a one-on-one basis, or as a class.
Harmony Lessons

Austin Texas

Piano Lessons in the North Austin area that focus on growing each child's love for music.
Elementally Functional Family Fitness

Austin/Central Texas

Elementally Intuitive Movement (EIM) is a flow arts-based functional movement program; kid-oriented & intended for the whole family. Margarita is available for in-person, masked outdoor sessions (Austin/Cedar Park), for groups of 12 or less. The aim of EIM is to teach you HOW to move your body effectively/efficiently, by honoring your biomechanical design; how to adapt to your changing proportions as you develop; and to establish a self-care practice that supports life-long mobility as you age. EIM was created by a massage therapist (17 years) who is also a flow artist (15 years); as a preventative care program.
Betsy Sanders Cello Studio

Austin/Round Rock/Cedar Park

Cellist Betsy Sanders teaches cello one-on-one to any age and level. She has over 40 years teaching experience, and performs professionally in the area. Lessons include note reading, theory, technique and repertoire, competition preparation, orchestra and/or chamber music skills, and critical listening. All lessons are tailor made to suit the student's goals and skill levels.
Vega Guitars

Bell County

This resource provides personalized guitar lessons for beginner to advanced students. A curriculum will be made for each student based on skill and learning ability. The lessons are to be held weekly with 2-3 sets of homework to take home for daily practice.
That Art Place

Belton

That Art Place is an art studio for all ages in Belton, TX. Homeschool art classes are offered in two formats. Limited in-studio classes are available. See website for dates and times. Digital versions of these classes will available via video for use at home. Free trial lessons are available. Lessons follow a standards-based art curriculum developed by certified art teachers. This curriculum is designed to increase your child's love of art while enhancing their ability to problem solve, think creatively, and truly see the world around them. Contains all supplies needed for the entire semester, including watercolor set, paint set, brush set, oil pastel set, metal tooling, watercolor pencils, canvases, papers, and more.
3J Farms OK - A Learning Farm

Blanchard

Thos family owned farm serves the local Oklahoma community through a holistic blend of classes, events and tours on the farm. Learners are exposed to both active and passive farm activities that encourage mind, body, heart and soul in union with the land. Sharing with others sustainable farming practices, farm arts & crafts, food preparations & preservation, and wellness through food, medicinal plants and physical exertion. Things are always growing and changing at the farm.
Music Institute at Carrollton Square

Carrollton

Music Institute at Carrollton Square is an exciting new music school in Historic Downtown Carrollton, TX offering private and group lessons in piano, voice, guitar, music theory, and a comprehensive musicianship program.
Music Classes with Dr. Grace

Carrollton

Dr. Eunhae Grace Lee offers piano and music theory lessons in Carrollton, TX. From classical music to worship music to jazz, students can explore all kinds of possibilities that interest them.
Encore Kids Theatre Production Classes

Carrollton, Lewisville, The Colony, Plano

Encore Kids is a process based Theatre Arts Company for children. Since 1997, Encore Kids has given students the opportunity to enrich their lives through the performing arts. At Encore Kids we offer a variety of theatre arts classes and performance opportunities for young people. Our curriculum includes teamwork, improvisation, movement, voice, theatre terminology and more! Encore Kids isn't just about acting, singing and dancing, it's about gaining confidence, keeping kids active, learning life skills and of course fun! All of our sessions end with a performance for family and friends. Encore Kids has produced well over 100 productions giving students the opportunity to learn and grow not only as a performer but also as an individual. We strive to supply students with material from diverse perspectives representing communities from a multitude of backgrounds and abilities. Our program includes need based scholarships. In addition, we are happy to work with families to meet students' individual physical, learning and social needs. Past productions include Cinderella, Aladdin, Charlie & the Chocolate Factory, Scrooge, Peter Pan, Alice in Wonderland, Shakespeare for Kids as well as an array of fairy tales, classic literature and even original scripts!
School of Rock Clear Lake

Clear Lake

School of Rock offers students of all skill levels age 7-18 a performance-based music curriculum in a fun environment. Weekly private lessons are combined with structured group rehearsals. Students prepare to perform live on stage. Areas of instruction range from guitar lessons to bass, vocals, keys and drums lessons. Also offers summer camps, monthly events, workshops, clinics, guest professors and additional performance opportunities through the local House Band and national All Stars programs.
Arts Unlimited Southwest

Cleburne

The mission of Arts Unlimited Southwest is to develop the expressive and creative abilities of children and adults in music, art and language in a safe, supportive setting to empower individuals, impact the learning of children that may be at risk, and foster greater artistic involvement in the wider community.
Suzuki School of the Brazos Valley

College Station

Violin & Viola program and early childhood music for students ages 3 to 93.
North Texas Homeschool Fine Arts

Collin County

Concert Band, Marching Band and Color Guard, Choir, Musical Theater, Orchestra and Elementary Music. We are still the only Homeschool Marching Band in North Texas! Founded as a small Marching and Concert Band, we have grown to include Choir and Musical Theater, Orchestra, Elementary Music, as well as Concert Band, Marching Band and Color Guard! Our programs are designed to cover all your student's musical needs. Our students range from those who have never read music to experienced and advanced student musicians. Please see our website for full descriptions of each.
Piano lessons at Piano at Summers Place

Corpus Christi

Offering one on one instruction for the piano. Lessons are weekly and students are offered two public recitals per year. Give your child the gift of music and a chance to shine!
Homeschool Sewing Classes

Cypress/Northwest Houston

Beginner weekly sewing classes offered morning or afternoon for ages 7 & up. Classes are 1hr and 15 minutes and are a maximum of 4 students to allow for plenty of 1-on-1 instruction. No experience needed. Sewing machines and tools will be provided. Some projects in class will be pocket pillows, aprons, scrunchies, bunting banners, etc. Contact Randy for more information at 832-422-6808
Contemporary Ballet Dallas

Dallas

The School of Contemporary Ballet Dallas is expanding its program to include "Ballet in the Day!" classes for Home School students ages 7-17yrs. Classes are on Monday and Wednesday mornings.
Dallas Academy of Music and Performing Arts

Dallas

DAMPA is conveniently located in Snider Plaza, near SMU in University Park, Dallas. The study of music and performing arts offers a vehicle for self-expression, heightened responsiveness to beauty, and great personal achievement. Offering Music Lessons, Piano Lessons, Flute Lessons, Violin Lessons, Voice Lessons, Guitar Lessons, Songwriting Instruction, Performance Coaching, Artist Marketing, and Music Therapy. Also provide Baby and Toddler Music Classes in addition to Preschool Music Classes. Lessons are available at the studio in Snider Plaza, via Skype, or in the convenience of your own home. DAMPA is a performing arts center committed to excellence in music education for all ages. We proudly offer talented and experienced faculty members who provide a well-balanced curriculum, including the latest technology. All classes are open-door and teachers are background checked. We also have a robust library of music and reference materials, and we instruct with the highest-quality instruments. Performance opportunities abound for DAMPA students. All students enjoy formal recitals, informal music parties, ensemble programs, master classes, Keyboard Olympics, Achievement Auditions, festivals, and contests. We have an exciting summer of classes and camps lined up - register soon! They are sure to fill up quickly!
Music Lessons By Sudie

Dallas

Sudie Abernathy is an SMU Alum looking for students interested in learning how to sing, play piano, read music, produce music, and/or perform. She has 20+ years of experience in music and is a local, traveling and performing artist. Sudie take students of all ages (parents included) and every individual lesson is tailor made for the students unique desire to learn. She holds lessons in her home located in the Lakewood area, and will travel to do lessons in-home.
Geometric and MADI Art Museum

Dallas

Located in Uptown Dallas, the Museum of Geometric and MADI Art (the MADI) is the only museum dedicated to MADI art and the primary point of focus for the MADI movement in the United States. Opening in 2003, the MADI has presented exhibitions of MADI art including MADI movement founder Carmelo Arden Quin, as well as works by contemporary artists working in geometric forms. Find out more about the Museum of Geometric and MADI Art at www.geometricmadimuseum.org, or call (214) 855-7802 Artist receptions, special music events, salons, tours, and workshops are just some of the programs that are happening at any given time. All programs of the MADI are free, but members have preference and some events are for members only. Visit the ATTEND section for a listing of all scheduled programs or the RESERVE section to schedule a workshop or tour.
Dallas Piano Academy

Dallas

Dallas Piano Academy teaches students from ages 5 through adult. Whatever you or your child wish to play, odds are we teach it! Piano, voice and singing, guitar and more are offered! Dallas Piano Academy offers special rates for home school families and provides private piano lessons in Northeast Dallas, Texas. Welcoming students of all levels.
Floyd Reels

Dallas

Floyd Reels is a Dallas based acting for TV/film studio. We offer classes for aspiring TV/film actors. Want your homeschooler to learn tv/film acting the proper way? Our class takes a deep dive into what it takes to perform on the next level. We at Floyd Reels understand the TV/film industry and have worked with A-list actors, coaches, agents, and casting directors. We want to provide all that insight to the homeschool community in a wholesome, professional, and competitive way. Our founder Chris, a graduated homeschooler himself from the Frisco area, started Floyd Reels to educate actors in TV/film acting and audition etiquette.
Shorman Music

Dallas

Shorman Music is a family-run private music studio with the goal to inspire, educate, and create a fun learning experience. We're a faith based company and teaching music is a way we can express the love of Jesus to others. Shorman music provides lessons for instruments including piano, guitar, bass guitar, voice, violin, drums, songwriting and audio production lessons, for all ages and a variety of skill levels. Dawson along with his 3 older siblings were homeschooled from PreK-12th. He attended Dallas Baptist University where he graduated with a Music Business Degree with a dual concentration in Songwriting and Recording. Dawson has been teaching for over 7 years and loves every second of it.
Megan's Studio Violin and Piano Instruction

Dallas

Megan's Studio offers music instruction in the Oak Cliff (Dallas) area offering instruction in both violin and piano. 30-45 minute private lessons are available during the school year between August and May. Mondays, Tuesdays and Thursdays lessons are held at an Oak Cliff location. On Wednesdays and Fridays, lessons are held at Turning Point Church in DeSoto, TX. The Suzuki instructional method is used for all violin students.
Schodowski In-Home Piano Studio

Dallas (Uptown/Highland Park)

Schodowski In-Home Piano Studio offers in-person piano lessons in the comfort of your own home to students of all ages from 2.5 years old to adult. In this studio, you'll have fun and engaging lessons where you'll learn to play the music you love from any genre, custom curriculums tailored to your musical goals, and seasonal studio recitals for regular performance opportunities. Most importantly, you'll gain musical skills that directly translate into valuable life skills in all areas of your life. Regarded as a pianist of "exceptional sensitivity and natural musicality," Michelle Schodowski has been honing her craft since the age of five. For Michelle, music has been an outlet of emotional and intellectual complexities and the perfect way to reach every person regardless of their age, nationality, or life experience. Nothing brings her more joy than passing along her love and knowledge of music to her students. She received her Bachelor of Music in Piano Performance and MBA from the University of North Texas. Aside from teaching, she's also the founder and owner of the music education startup Radda.
Innovative Dance Inc.

Dallas / Fort Worth

Innovative Dance Inc. offers professional ballet instruction at the highest levels of training. The studio offers a pre-professional training program Monday through Friday from 12:30 TO 3:30PM. Classes include ballet and pointe technique and variations training. Advanced level classes are also available in the evenings. Instructors have degrees in dance and have all danced or currently dance professionally.
The Dallas School of Music

Dallas, Addison, Farmer's Branch

The Dallas School of Music offers private music lessons to all ages and skill levels, for any instrument! The world renowned faculty teach everything from voice, to guitar, to piano, to drums, to violin and so much more. The facilities are exceptional, with beautiful individual studios, a coffee cafe open to all, and a comfortable and enjoyable waiting area. DSM is perfect for home-schoolers as they are not only open after school, but throughout the day starting at 9 am! Give your kid a break from math, and let them learn music. It will allow them to channel that energy and creativity all while continuing to work their brains to prepare them for more learning later! (Plus, music is mathematical, so they will only THINK they're getting a break from math. It's also a study of history, reading, movement, and most of all, self-discipline.)
Taylor Robinson Music

Dallas, Houston, Austin, San Antonio, El Paso, Amarillo

We provide private music education to both individuals and groups. We can teach both locally in-person and remotely through award winning live webcam classroom technology. Our staff of talented music instructors can cover any instrument at any level. We're certified, insured, background checked, highly vetted and have been open for business and teaching for the past ten years. Our motto is to "learn to play from the heart". We'd love to show you how.
Frisco Youth Symphony Orchestra

Dallas, North Dallas, Frisco

FYSO is a youth orchestra dedicated to serving the communities with performances, music education and community service. The Orchestra is a 501(c)3 nonprofit organization located in Frisco, Texas. The symphony accepts kids in the Dallas area with at least 2 years of playing experience and in grades 7th thru 12th grades and students that are homeschooled. FYSO is the fastest growing youth orchestra North Dallas and Colin County. FYSO offers college scholarships, master classes, community service performances or projects and social activities like bowling, picnics, and more. With donations from the community, local organizations and comedian Steve Harvey; FYSO is able to offer a low tuition without compromising the integrity and mission of the orchestra.
School of Rock Dallas

Dallas/DFW

School of Rock offers students of all skill levels age 7-18 a performance-based music curriculum in a fun environment. Weekly private lessons are combined with structured group rehearsals. Students prepare to perform live on stage. Areas of instruction range from guitar lessons to bass, vocals, keys and drums lessons. Also offers summer camps, monthly events, workshops, clinics, guest professors and additional performance opportunities through the local House Band and national All Stars programs. Call to schedule a trial lesson or a tour. 866-371-0557. Located at 5606 Dyer St, Dallas TX 75206.
Figaro Academy of Music

Dallas/Fort Worth

High-quality, structured lessons ensure learning. Internationally renowned faculty. All levels taught, from young beginner to professional. Lessons taught in English or Spanish. Homeschool discounts. Active Military and Law Enforcement Discounts.
Artisan Center Theater classes for homeschoolers

Dallas/Fort Worth

Acting, dancing, musical theater, production, voice and private piano classes for kids ages 3 and up. Specific classes for homeschool students.
Art with Lanie

Denton

Art classes are broken down into 4-week modules, focusing on learning one technique at a time, and spend enough time to really learn it. This is not a craft or painting party art class; it is a focused examination of each art technique, with practice and homework. Cost is $15 per class for the first student, $10 for each additional sibling student (so a 4-week unit would be $60 for the first student, $40 for each additional sibling student). Supplies extra but not prohibitive.
Stewart Academy of Music

Denton

Music Academy fostering a lifelong love of music through relevant literature and student directed performance opportunities.
Read Play Love theater and homeschooling resource center

DFW and surrounding areas

Musical theater and homeschooling resource center offering creative and educational outlets for the whole family.

Read Play Love theater and homeschooling resource center details
Cordovan Art School

Dripping Springs

Art classes for homeschooled children of all ages.
Instrument Lessons with Michael Ford

El Paso

Learn how to play Clarinet, Saxophone or Flute. From not knowing how to play to Improve your playing! I am a retired Army Clarinet player and performed around the world. I am also member of many local performance groups. The Paso Del Norte Big Band, Take Four Saxophone Quartet and The Mesilla Valley Concert Band. I also teach in Tornillo ISD as music director I have my Bachelors of Arts in Music from Thomas Edison State University. I also have a Master in Music Education from the University of Florida. I look forward to working with students of all ages to improve performance and performance ability.
Arts for Rural Texas

Fayetteville

Arts for Rural Texas offers free art programs for children living in Fayette and surrounding counties, currently enrolled in first grade through 12th grade. Communities currently served are Fayetteville, La Grange, Round Top, Carmine, Schulenburg, Weimar, and Flatonia. Students are offered small on-campus learning as well as virtual learning. It is ARTS goal to offer on-campus learning classes that are restricted to home schooled children and separate from public school children. Additional classes will be offered to public school children. ARTS recognizes the critical need for socialization of youth in a healthy and nurturing environment. Social distancing will be managed in the classrooms. ARTS seeks to provide a healthy environment that encourages and teaches children creative thinking through the arts. ARTS' offers ARTS On the Go, virtual art lessons and experiences that follow the lessons taught in the live classes.
Christian Youth Theater of Dallas-Fort Worth

Flower Mound

Christian Youth Theater (CYT) is an after-school theater arts training program for students ages 4-18. Since its founding in 1981, CYT has grown to be the largest youth theater program in the nation, with Affiliates across the country training thousands of students a year. Each local program conducts three ten-week sessions (Fall, Winter, and Spring) teaching drama, voice, dance, and specialty theatrical workshops at weekly two-hour classes. Enrolled students have the opportunity to audition and perform (or work behind-the-scenes) in a Broadway-style musical performed for the community.
Arts Fifth Avenue Homeschool Fine Arts Program

Fort Worth

Arts Fifth Avenue offers a variety of classes: may genres of dance, drumming, music, storytelling, and the visual arts. There are a wide variety of home-school classes available.
Fort Worth School of Rock

Fort Worth

School of Rock offers students of all skill levels age 7-18 a performance-based music curriculum in a fun environment. Weekly private lessons are combined with structured group rehearsals. Students prepare to perform live on stage. Areas of instruction range from guitar lessons to bass, vocals, keys and drums lessons. Also offers summer camps, monthly events, workshops, clinics, guest professors and additional performance opportunities through the local House Band and national All Stars programs. Call to schedule a trial lesson or a tour. 817-332-7625. Location: 905 University Drive, Fort Worth, TX 76107.
The Texas State Men & Boys Choir

Fort Worth

Looking to recruit boys from ages 8-14 for choral group and music education programs that run throughout the year. The choir provides opportunities to perform all over the state, country, and internationally with touring annually.
The Dorothy Shaw Bell Choir

Fort Worth

The Dorothy Shaw Bell Choir, founded in 1964, is a free opportunity for any student to experience handbell ringing by an internationally acclaimed and professional organization. Membership in the choir is open to any student that has the desire to participate and is willing to make the commitment. New member sign-up every September and January. More details are available at www.dorothyshawbellchoir.org or by calling 817-924-3640.
Rebekah's Music Studio

Fort Worth

This music teacher's passion is to train musicians, young and old to make a joyful noise to the Lord. They encourage their students to become equipped to minister to others through the gift of music. Getting to this point naturally takes hours and hours of diligent practice and hard work! Through this, students have the added benefit of developing godly character and a good work ethic, while gaining skills to last a lifetime.
Creative Soul Music School

Fort Worth

Creative Soul Music School offers music lessons throughout the Dallas-Fort Worth area at their 3 locations (Fort Worth, Keller-Watauga and Grapevine-Southlake). This music school offers Piano, Guitar, Drum, Voice, Violin, Clarinet and Ukulele Lessons for kids and adults of all ages.
Rejoice Dance Studio

Fort Worth

This resource is open to homeschool children and those attending traditional public schools. The owner is also one of the instructors. A small business with a big turn out. End of semester performances are optional, but highly attended. The Goal of Rejoice Dance is to inspire, teach technique with excellence, and use dance as a tool to bring joy, health, and beauty to our community and the world.
Danceline Academy Dance Classes at Studio 3:16

Fredericksburg

The Danceline Academy offers dance classes for school students as a PE or Fine Art credit at Studio 3:16 in Fredericksburg, Tx. --offering jazz, musical theater, beginning ballet, beginning tap, lyrical and dance team classes. Danceline is also offering adult and private lessons. The instructors are dance certified through the State of Texas for public and private schools as well as collegiate levels. Classes can be set up 6 or 8 week units or other class schedules that may work for students during the school hours. Danceline can work with theater or music classes as an added feature or teach different units based on various types of dance genres. The studio used is over 2500SF and is large enough for at least 10 to 12 dancers to be in the room and remain 6 feet apart for social distancing. This is a challenging time for kids and this is one form of art that can continue to be pursued with the amount of space available. Additionally, the studio can also be rented if a larger space for fine art activities is needed. The studio is equipped with a cushioned wood floor and mirrors. For more information visit the website to see other events offered throughout the year with Danceline at www.dancelineusa.com.
Frisco School of Music

Frisco

Frisco School of Music teaches lessons in piano, guitar, bass, voice, violin, fiddle, viola, drum, flute, trumpet, rock band, jazz band, classical band, music theory, and more.
Frisco Academy of Music and Art

Frisco

"Offering a free piano lesson and/or group music class to new members. I have been teaching piano lessons and music lessons for over 20 years and I would be delighted to share my passion for music with your child. I offer morning, afternoon, and evening classes to accommodate your family's needs." Call now for a FREE first lesson 972-523-8851
Children's Chorus of Collin County

Frisco and Plano Area

The Children's Chorus of Collin County provides excellent choral opportunities for children and young people to grow musically, artistically, and personally. This year the Chorus is celebrating our 15th anniversary season. The Children's Chorus is an auditioned, tuition-based, non-profit founded in 2006. We enroll approximately 100 singers annually from Collin County and the surrounding Metroplex. Our Chorus consists of three groups divided by age: Prelude Chorus - Grades 3-5, Children's Chorus - Grades 6-8, Youth Chorus - Grades 9-12. The Chorus performs locally, nationally, and internationally. We present several major concerts per season. Our choral season runs from August through May each year. Touring takes place during the Summer. The Chorus has performed three times in New York's famed Carnegie Hall, including a stand-alone performance in 2018. In 2016, the Chorus performed at the International Choral Festival in Canterbury Cathedral, England. We will perform stand-alone concerts in Salzburg, Vienna, and Prague in 2023.
Music Institute of North Texas

Frisco, Plano, McKinney, Allen

Music lessons for all ages and levels. Special discounts specifically for home school students!
Frisco School of Rock

Frisco, Plano, Prosper, Little Elm

School of Rock offers students of all skill levels age 7-18 a performance-based music curriculum in a fun environment. Weekly private lessons are combined with structured group rehearsals. Students prepare to perform live on stage. Areas of instruction range from guitar lessons to bass, vocals, keys and drums lessons. Also offers summer camps, monthly events, workshops, clinics, guest professors and additional performance opportunities through the local House Band and national All Stars programs. Call to schedule a trial lesson or a tour. 214-872-2878. Location:6891 West Main Street, Frisco, TX 75034.
Galveston Homeschool Performing Arts Co-op

Galveston

The Galveston Homeschool Performing Arts Co-op has been founded to provide quality education in performing arts to enrich the learning experiences of area home-educated students.
Breitling Performing Arts

Garland

Breitling Peforming Arts is a non-profit organization offering a wide selection of classes for homeschool and/or after school students. Offerings include beginning/advanced theater classes, complete homeschool curriculum, dance classes, art classes, health classes and more. Ages 2-23. Free trial class. Contact 972-658-3915 or actingforchildren@hotmail.com
Patricia Dolan Piano

Georgetown

Private piano lessons for beginners to advanced students, ages 7 and up. Lessons include technique (scales, chords, etc), theory, ear training and musicianship. Curriculum for beginners through intermediate players is Piano Adventures (Faber). Late intermediate to advanced students are introduced to great original music from the classical repertoire in a graded approach. This music is supplemented with jazz, popular, and/or church music - a musical style that the student shows interest in. A large lending library is available to every student to cut down on parent expenses. Christmas/winter and spring recitals, as well as a concerto recital for older students, provide performance experience. Teaching is done using 2 grand pianos. Visit/contact www.patriciadolanpiano.com for more information. Over 30 years of experience. Member MTNA, TMTA, and ADMTA. Degrees in Sacred Music and Piano Performance. References can be provided.
Georgetown Regional Area Christian Educators (GRACE)

Georgetown

A Christian homeschool co-op, a band program and a support group in the Georgetown, Texas area.

Georgetown Regional Area Christian Educators (GRACE) details
In Hymn Choir

Harlingen

In Hymn Choir is a music program in the Rio Grande Valley for K-12th students who share a love of music and ministry. Students gain musical education and practice essentials such as sight-singing, solfege, and ear training. The choir performs two concerts a year and offers ministry and social opportunities as well as occasions to compete in various vocal contests through the Texas Private School Music Educators Association. Students are challenged to excel while enjoying the fruits of teamwork with friends. This choir meets during fall and spring semesters, and breaks for the summer.
Just Art

Houston

Looking for something different? Add a little color to your life. Enjoying a fun paint night with friends and family at Just Art.
Piano Lessons by Starinsky

Houston

Private piano lessons using Suzuki and Traditional methods. Classes are for children ages 3 and up. Offering instruction in Ear Training, Musical Theory, and Piano Recitals. Schedule your complimentary piano lesson today. (Limited time availability Receive one free piano lesson) Call 832-248-7764 for more information.
Heaven Sent Choirs

Houston

We offer a Christian music education program designed to enrich and develop your child's natural talent with a solid musical experience. Music fundamentals, performance, and music ministry opportunities are the primary focus of these choirs! Come join us for a quality music educational experience within our choirs. These choirs are a collection of some of the finest young voices around Houston: with a love for music and ministry. The students are regularly exposed to general music education and essentials ( such as sight-singing [sol fege'] training), a winter and spring concert, and also ministry opportunities at Christmas time as well as in the spring. Your child will have a very challenging, yet enjoyable experience with others that will make lasting friendships and memories for years to come.
Joyful Sound! Homeschool Choir

Houston

Joyful Sound! has been serving homeschool families in the Houston area since 1993. The choir is known for its excellence in performance and is afforded many opportunities to minister each year. The choir is well known across Houston and the nation as ambassadors of the homeschool community. Joyful Sound! is frequently the recipient of invitations to perform at prestigious events locally, throughout Texas and nationally.
Sessions Music

Houston

Sessions Music helps people achieve their modern and classical music dreams through band programs, workshops, music technology, and live music performance opportunities. The music education programs include guitar, violin, drums, piano, voice, and classical instruments.
Starinsky Music Studio

Houston

The piano program at Starinsky is specifically created for children to have fun and enjoy their piano lessons. Your private piano teacher will make sure that your child enjoys each piano class and stays motivated during the practice time. The rewards on that motivations come twice a year in the form of a piano performance and a celebration of your child's piano skills. Starinsky Music Studio believes that all children can play piano and that the talent can be developed as so said by famous Dr Suzuki. For more information please send an email to starinskymusic@gmail.com
Monart School of Art

Houston

Monart is a teaching system that helps students to focus and concentrate, make decisions, solve problems, sequence and develop hand-eye coordination. In a peaceful environment students learn that drawing is a teachable subject in which anyone can be successful. The Monart Method teaches the individual to draw using the five basic Elements of Shape. Once students recognize these elements, they are guided as to how they might combine them on paper so that their drawings represent what they see. Each week students work with highly qualified, supportive instructors on projects designed to teach the Elements of Shape and to create a unique and fully-developed composition. In classes at Monart, students explore a wide range of subject matter, media, and artistic techniques so that they may continually develop their skills at their own pace. Monart's classes seamlessly integrate relevant, age-appropriate academic curriculum in inviting and interesting ways. Their curriculum includes academic subject matter such as reading, math, science, social studies and geography. Students not only learn to draw, for example, a toucan, but they also learn about its features, habitat, and feeding habits. At Monart every student receives a well-designed art lesson, individualized attention, academic information of interest.
Abrakadoodle Educational Art Classes

Houston

Abrakadoodle Educational Art Classes now at Hobby Lobby for homeschoolers.
Dynamic Sound Houston

Houston

This resource is a multi-faceted Music Lessons, Rehearsal Space and Event Sound Rental facility located central to the Houston area. They are located close to the Heights, The Galleria, Memorial and Garden Oaks. They specialize in Music Lessons in Drum Set & Percussion, Guitar, Music Production, DJ'ing and Piano. This resource teaches ALL ages and skill levels and welcomes all those interested in lessons, whether beginner or advanced. This resource also enables students to learn to read music, play popular songs of ALL genres and play by ear! They hold recitals approximately every 4-6 months so students can play what they've been working on in front of parents/friends alike. Also, there will be sign ups to join a band as well as rehearsal times so the students can play in a band of their peers and perform at the recitals as well.
Lessons In Your Home

Houston

Lessons In Your Home -- Music Teachers Who Come to Your Home or School A family's best choice for fun in-home music lessons that inspire students. Instructors teach all instruments, including the most popular -- piano, guitar, violin, drums and voice to children of all ages. Offering lessons from 9am-9pm, 7 days a week in the comfort of your own home. Lessons are month-to-month with no long-term contract.
Violin and Viola lessons by Nina Bledsoe

Houston

Enroll in violin or viola lessons with an experienced music teacher. Lessons are for students age 7-18. Beginners are encouraged to take 30 minute lessons, advanced students are encouraged to enroll for hour long lessons. Lessons occur on a weekly basis in Houston, TX.
Bay Area Performing Arts Co-op (BAPAC)

Houston

Bay Area Performing Arts Co-Op (BAPAC) is for homeschooling families in the Greater Houston Area. We endeavor to offer comprehensive, high quality music education to home educated students. Our goals are to glorify God in all we do, work together as a community offering our musical talents as instruction to our children and coming together in fellowship, supporting one another in our performing arts educational pursuits. While we are a Christian organization, this is not a requirement for participation in this co-op. We currently meet at Hope Church, located at 770 Pineloch Dr., on Thursdays teaching and training children in the arts. Classes start at 8:30AM and end at 2:00PM. We offer instruction in choir, band, general music, recorder, music theory, beginning piano, guitar, strings, art, dance and drama.
Violin Lessons by Vivian D'Amelio

Houston

Violin Lessons by Vivian D'Amelio Music offered to students of all skill levels (beginners to advanced) ages 5 and up! Private lessons are scheduled weekly in 30- and 60-minute formats. Group and private lessons are available; parents are encouraged to take lessons with their child. Group lessons are offered in 30-, 60- and 90-minute formats. Lessons are taught with a blend of methods: traditional, Suzuki, Mark O'Connor and Mimi Zweig methods are all drawn upon to create an experience that is unique to your child. Healthy technique, curiosity and a holistic approach to learning the violin are the top emphases in the studio, in addition to a gentle, positive learning atmosphere. Lesson packages include 30- or 60- minute weekly lessons; 15 minute weekly virtual check-ins mid-week; subscription to a monthly newsletter filled with resources for music education; participation in studio events, performances and field trips; access to database of valuable resources for practicing music while staying healthy; activities for learning music history, global music, music theory and musicians' health; a database of lesson resources and the option to submit videos to the teacher for further feedback. Contact Vivian at (651)-352-1399 or vivian@viviandamelio.com to schedule a free trial lesson. Serving Montrose, Midtown, Museum District, River Oaks, The Heights, Medical Center and surrounding areas.
Invicta Arts and Training Center

Houston

Invicta Arts and Training Center offers elite training and performance opportunities in acting, dance, fitness, nutrition and voice to Houston Artists age 8-18. Created and led by a Broadway Industry Professional and a Certified Personal Trainer, Invicta's innovative training combines Artistry with Health and Fitness Education to empower the next generation. This resource is perfect for arts, physical education, and sports opportunities.
Cixi Music Studio

Houston

Cixi Music Studio, an arts organization serving the Greater Houston area, accepts children and teens for piano, guitar, violin, and voice lessons. Families may attend lessons at Cixi's Houston, Katy, or Pearland storefronts, and there is no audition process to get started. Enrollment is open year-round, and the studio hosts recitals and studio classes each semester. Young children enjoy fun group piano and violin classes at the studio, and once that curriculum has been completed, they can "roll over" into private lessons with a degreed teacher. Feel free to contact Cixi Music Studio about enrollment at any point during the semester.
Instruments of Praise, Homeschool band and orchestra,

Houston and surrounding areas

Serving homeschool families in the Greater Houston area since 1995. Beginner Band and Beginner Piano/Keyboard Class (no experience necessary) Intermediate Band and Intermediate String Orchestra (for students who have played for at least one year) Advanced Band (placement in this band will be determined by Mr. Sommer) Advanced String Orchestra (by audition only) Honor Full Orchestra (by audition only). The ultimate goal of Instruments of Praise is to develop and prepare each student to minister to the Lord and others on their musical instrument. Learning to play an instrument is a new adventure for students. It is an enriching experience for all children. It is our sincere desire to do all we can to make this a gratifying and worthwhile experience. The student playing an instrument learns discipline, cooperation with others, and a new way to a fuller, richer life.

Instruments of Praise, Homeschool band and orchestra, details
Spring Singers Homeschool Choir

Houston,

Spring Singers Choir is full of teens & tweens whose mission is to sing for the seniors & special needs members of Spring, Texas. Taught by a seasoned music teacher, we sing rock, pop, and mainstream music through the decades!
Piano Studio at Nassau Bay

Houston/Clear Lake

Piano lessons available for various levels - from beginner to advanced. Private lessons offered by an experienced pianist who has been teaching piano to all ages for 7 years. Visit the website for more details!
Piano Studio at Nassau Bay

Houston/Clear Lake

Private music lessons offered in Clear Lake area! The instructor has a B. A. in Music, piano performance, and is pursuing a Masters in Music. Lessons are tailored to each individual's age and level, from beginner to advanced. Lessons start at $25. Visit the website to learn more information!
The Scholars Connection Class Community

Humble

The Scholars Connection offers Christian core and elective classes for middle and high school students on Tuesdays and Thursdays throughout the school year and will offer new electives in 2019/20 on Fridays. TSC has an encouraging atmosphere with qualified professional teachers.
St. Paul Institute

Irving

A private, Catholic fine arts cooperative for grades 3-12.
North Central Ballet

Keller

North Central Ballet is the only professional ballet school in the Northeast Tarrant County area. Classes are available for ages 2- adult and beginner-professional levels. Located in Keller, Texas.
Curtis Jones Bass Guitar Teacher and Vocal Instructor

Keller

Private Guitar and Vocal Lessons with scheduling for homeschooling students. Providing comprehensive instruction with over 30 years experience. Beginners welcome with scheduling for homeschoolers.

Curtis Jones Bass Guitar Teacher and Vocal Instructor details
Southlake/Keller School of Rock

Keller, Southlake

School of Rock offers students of all skill levels age 7-18 a performance-based music curriculum in a fun environment. Weekly private lessons are combined with structured group rehearsals. Students prepare to perform live on stage. Areas of instruction range from guitar lessons to bass, vocals, keys and drums lessons. Also offers summer camps, monthly events, workshops, clinics, guest professors and additional performance opportunities through the local House Band and national All Stars programs. Call to schedule a trial lesson or a tour. 682-593-0990. Location:3220 West Southlake Blvd, Southlake, TX 76092
The Luckenbooth Theatre Collective & Academy

Keller/North Richland Hills

The Luckenbooth Theatre Collective is proud to partner with Stage Notes School of Music and Arts and the North Richland Hills Recreation Centre in their launch of The Luckenbooth Theatre Academy. Classes are available for children, teens and adults of all experience levels! The Academy will also produce multiple productions for actors age 5 to 18 each year.
Music Together Classes with Wendy Valentic

Kerrville

Music Together is early childhood family music classes for ages 0-5...sing, dance and play instruments as a family
Hill Country Youth Orchestra

Kerrville, Fredericksburg, and Boerne

Bringing the joy of the orchestra experience to the youth of the Hill Country.   Now offering fabulous music making at three campus; Kerrville, Fredericksburg, and Boerne
Mission: Renaissance Fine Art Classes

Lewisville

Mission: Renaissance provides fine art instruction for children, teens and adults. Each instructor is extensively trained and certified in The Gluck Method of fine art instruction to work one-on-one with students to help them gain a solid foundation in fine art. The Gluck Method follows in the classic tradition by instructing students in the time-honored sequence, and provides the first complete series of courses which provide a thorough grounding in fine art skills. Larry Gluck, himself a successful representational painter, dedicated more than twenty-five years to unearthing and codifying the exact steps required to take anyone from novice to artist. This easy to follow, step-by-step program provides each child with the knowledge and skills they need to unleash his or her creativity and the ability to produce beautiful works of art.
Charlotte Mason Gathering at Biblio Garden

Little Elm/ West Frisco

Mother culture is a priority at our CM-style gatherings. Passion for learning is contagious! Designed for upper elementary and older students, we explore classes like Financial Literacy, Survival skills, Permaculture gardening, holistic nutrition, teen book club, nature study and more. Near gorgeous Lake Lewisville in Little Elm, TX, we come together to learn in a holistic, Christ-centered way. Abundant grace & insatiable curiosity required. Shoes are optional.
Collin County Homeschool Fine Arts

McKinney

CCHFA offers fine arts training for Beginning Orchestra, Intermediate Orchestra, Advanced Orchestra, Beginning Band, Intermediate Band, Concert Band, Jazz Band, Pep Band and Elementary Music (Ages 5-6, 7-8, 9-10) We welcome homeschoolers, university model students and private school students who want to enhance their educational training with the fine arts. Instrument Fitting Sessions for new instrumental students will begin in March. We look forward to meeting you!
Young At Art Children's Creative Center

McKinney

Young At Art Children's Creative Center is committed to providing a nurturing and positive atmosphere in which children can express themselves freely while engaging in the arts. Students learn drawing, painting, pottery, sculpture & crafts in a unique and comfortable home environment. The teacher-to-student ratio is unbeatable and the staff is comprised of talented and experienced artists. Young At Art aims to: Inspire the life of a child by providing an opportunity to express, nurture, & trust their own creativity; encourage by using the arts to establish common values of self-worth, confidence, dignity & a respect for themselves & each other; and provide opportunities & validation through art scholarships and community projects. Since 2006 Young At Art has received 7 local, regional and state awards and recognitions & 4 grants.
Collin County Homeschool Fine Arts

McKinney, Collin County

It is the goal of Collin County Homeschool Fine Art to provide high-quality instruction and training in the various forms of fine arts. Currently, offering musical training in the areas of band, orchestra and instrumental private lessons. Instructors are professionals in their fields with appropriate degrees, years of performing and decades of teaching experience. They bring their passion for the fine arts and their highest desire for excellence to the instruction and training to each student. CCHFA is dedicated to sharing experience, knowledge and to spark the joy of being creative. Offering a full year curriculum program that is progressive and comprehensive. Students who continue through high school and are interested in seeking a profession in the Fine Arts field, will be prepared to successfully audition for college entrance requirements.​ Now offering Beginning, Intermediate and Advanced Orchestras, Beginning, Intermediate and Concert Bands Jazz Band and Pep Band. All classes are held at the McKinney Performing Arts Center, downtown McKinney.
Covenant Christian Academy School of the Arts

Mid-Cities

Covenant Christian Academy's School of the Arts exists to provide students and parents with small group and private instruction in the arts, led by expert teachers. Lessons and classes are held on the CCA campus on weekday afternoons and evenings.
Stage Volume LLC

Midlothian

Music School offering Private and Group Music Classes. Lessons scheduled throughout the day including Guitar, Drums, Piano, Violin/Fiddle, Mandolin, Bass, Sax, Banjo, Voice, Songwriting, Music Theory and Audio Engineering. Enrollment for Private Lessons is open year round. Enrollment for classes is quarterly. New students can take advantage of a 10% discount for TheHomeSchoolMom users! Use promo code "HOMESCHOOL10" at checkout on STAGEVOLUME.COM.
Homeschool Choir, Lux Venit Choral Academy

North RIchland Hills, Keller, Euless, Fort Worth, Haslet

Choral Music Education for Homeschool Students. Choral music program especially designed for North Texas homeschool students and their families! Offering an affordable, Christian program for ages 5-18, emphasizing music concepts and singing skills. In addition to performing in various venues, the older students qualify for local, regional, and all-state singing competitions. No audition required!
Lux Venit Choral Academy

Northern Tarrant County, Mid cities area, southern Denton County

A homeschool choir in northern Tarrant County and southern Denton County. Choral instruction for students grades K - 12 in 4 separate choirs.
TADA Homeschool Christian-based Dance Classes

Oak Ridge North

TADA'S Christian-based classes for home schooled students ages 5 and up are held to the same standards and guidelines as all other TADA classes, yet class attire and movement is strictly regulated for appropriateness and modesty, and music is limited to Christian, classical, or instrumental genres. Classes include hip hop, ballet, lyrical, acrobatics, jazz, and tap.
Hillmann Piano Studio - Piano Lessons that kids love!

Pearland/Houston

Kids love music. It is a big part of their lives. Mrs. Cixi Utecht has been teaching piano lessons for 16 years, and has taught Music in Aldine and Sheldon ISDs for 9 years. She is affiliated with Music Teachers National Association. She would love to share the JOY of music with you. Sign up for an exciting time of learning. Schedule your lesson today! 281-826-2256

Hillmann Piano Studio - Piano Lessons that kids love! details
Piano Lessons with Brittany Ruhmann

Pearland/Houston

Private Piano Lessons in the Pearland/Houston area. Teacher has a Masters degree, 12+ years of experience, and is a member of Texas Music Teachers Association. Lessons are tailored to each students' unique needs and goals, but all feature a combination of theory, technique work, and repertoire selections designed to teach independent note-reading and develop artistry at any age. Contact Brittany for more information or to set up a free consultation lesson!
Joseph Kingma's Piano Studio

Pflugerville

Accepting students of all levels.
Piano Studio of Magen Miller

Plano

Take piano lessons in the comfort of your home or in a private studio! Magen Miller has been an independent piano teacher in the Plano area for over 10 years. She is a member of the Dallas Music Teacher's Association, an affiliate of Steinway Hall Plano, and a graduate of Southern Methodist University. Magen has worked with many gifted and talented home-schooled children over the years. She also has extensive experience working with special needs children. For more information, please call (214) 697-1091.
North Texas Homeschool Fine Arts

Plano

Concert Band, Marching Band and Color Guard, Orchestra, Choir, Musical Theater, Elementary Music Our organization was established to give homeschool students the opportunity of a musical education by participating in a fine arts program. We have grown to include Choir programs for multiple ages, an elementary music program Music and Movement, Showtime!, a musical theater class, Jazz Ensemble, and a Drum Line class. We have been blessed by fantastic and talented directors that continue to help our students and organization grow. We have had many students participate in TPSMEA solo competitions receiving Excellent And Superior Ratings. We have also had students who participated in All Region Band and Choir, placed in All State Band, and students who have received Excellent and Superior ratings at the State Solo Competition level. We are the only homeschool marching band in North Texas. We are proud of our history and growth.
Lane Studio Art Lessons

Plano, Dallas, Richardson, Frisco, Allen

The journey of each artist is never-ending and full of discovery, beauty, perseverance, and excitement. Whether you're just beginning to discover drawing, or have experience with drawing and painting and are looking for a challenge, the resource offers individual lessons in the studio featuring a variety of drawing and painting medium choices to use and learn from. Drawing and painting from observation using still life props and self-portraiture are also featured, as well as working from photographs for subject content. Drawing lessons, for both individual and group students, consist of learning and using various drawing mediums such as pencil, pen & ink, marker, charcoal, conté crayon, oil pastel, chalk pastel, crayon, and colored pencil. Individual lessons for children 5-11 are 30 minutes each week. Individual lessons for ages 12 and older are 1 hour each week. Group lessons (2-4 students) are 1 hour each week. Painting lessons for individual and group students consist of creating paintings in various paint mediums such as oil, acrylic, watercolor, and gouache. More time is recommended for students engaged in painting lessons due to the nature of the materials. Individual and group lessons for children 5-11 are 1 hour each week. Individual and group adult lessons are for 2 hours each week.
Scalzitti Piano Lessons

Plano, North Dallas

Sara Scalzitti of Scalzitti Piano Lessons provides private piano lessons for all ages and skill levels. Through engaging theory and incentive games as well as reading, playing, describing, and composing music, Scalzitti Piano Lessons strives to make music fun and enjoyable for all students. Having taught piano lessons for over 12 years, Sara adapts each lesson to the student's needs. Instructor teaches lessons in her home in North Dallas or will travel to provide lessons in home.* *Travel to home subject to variability, depending on location of the home.
Williamson Music 1st

Plano,Tx. North Texas Collin County

Williamson Music 1st in Plano,Tx. is opening a brand new Private Music Lessons Studio. My name is Dr. Rand Certain, I am the Director of Private Lessons https://www.wm1st.com/index.php/lessons/private-lessons
A Joyful Mess Art Studio

Prosper

A Joyful Mess is a children's art studio located in Prosper, TX. They offer Home School Classes, after school classes, birthday parties, Ladies Nights, private events and preschool play groups.
Core Theatre

Richardson

The CORE theatre in Richardson,TX offers classes for Homeschooled children between the ages of 12-14 and 15-17. Classes run in 10 and 8 week cycles and are offered on Wednesdays and Saturdays.
North Texas Dance Arts

Roanoke

North Texas Dance Arts is a dance academy located in Roanoke, Tx. Beginning this fall, classes in ballet and modern technique will be offered to homeschool students in 3-12th grade. Classes will be offered in the mornings on M/W/F. North Texas Dance Arts aims to provide quality dance education while focusing on the social, emotional, and mental well being of our students. No previous experience is required, we love working with beginners. The NTDA Academy Faculty hold their undergraduate and graduate degrees in dance. We can't wait to dance with you all!
In-Home Piano & Voice + Tutoring for All Ages with Thomas S. Knecht

Rosharon

Thomas Knecht is a passionate teacher with over a decade of teaching experience. He began playing violin at age 5 and quickly developed an ear for music. His mother would laugh about a young Thomas falling asleep during Houston Symphony concerts, telling friends that "he could still hear every note." Throughout his youth, he learned drums, guitar, bass guitar, keyboard, and voice. Thomas' passion for voice was intensified after his 8th Grade performance of Your A Good Man Charlie Brown. As Snoopy, Thomas was applauded as a natural talent. While attending high school at Strake Jesuit, Thomas joined the prestigious Triple Trio which performed at the Texas Renaissance Festival, Carnegie Hall in New York, and toured Italy. These experiences helped equip Thomas for his undergrad at the University of Denver, Lamont School of Music. There, he performed in The Magic Flute, The Marriage of Figaro, The Gondoliers, The Princess and the Pea, along with dozens of choral performances and solo recitals featuring French, Italian, German, Spanish, Russian, and English repertoire. In his professional career, Thomas taught Music and Theater for over a decade for YES Prep Public Schools. His knowledge of musical theory, sight reading, and vocal pedagogy offer an excellent foundation for any musician. Today, Thomas performs at the Church of St. John the Divine which will be touring to Salisbury Cathedral during the summer of 2024.

In-Home Piano & Voice + Tutoring for All Ages with Thomas S. Knecht details
Drama Kids

Rowlett, Dallas, Rockwall, Plano, Wylie, Mesquite, Garland, Richardson, Murphy

In Drama Kids everyone is a star! Students work together on structured improvisations, group activities, speech, creative movement activities, theater games and more. We provide a fun and fast paced environment that teaches valuable academic and social skills, such as team work, leadership and public speaking. This award winning program is the most popular children's drama program in the world, with over 80.000 children enrolled, world wide. Drama Kids can tailor a class to meet the needs of your group, or help you find an appropriate class. Get in the ACT! Drama develops kids!
Homeschool Violin and Cello Lessons with Briana Page

San Antonio

Briana Page, a former homeschooler and have holder of a violin performance degree from UT Austin, is offering private teaching experiences for children and adults. Please request to set up a FREE trial lesson. Studio Location: North star Mall Area (San Pedro/410) Contact: 210-912-9293 or email brianapage7@gmail.com

Homeschool Violin and Cello Lessons with Briana Page details
Crystal Sea Drama Company

San Antonio

Crystal Sea Drama Company is a pre-professional theatre company that offers year-long classes, summer camps, and workshops for homeschool students ages 6-20. A variety of classes are offered each year including Production Classes, Acting, Shakespearean Theatre, Musical Theatre. Technical Theatre Arts, Scenic Design and more.
Art Time classes for homeschoolers ages 6-12.

San Antonio

Art classes include a warm-up exercise and an art project using variety of materials such as charcoal, paint, brass foil, wax,soft/oil pastels, watercolors, clay and more. For class information and current class schedule, email ArtTimeParty@yahoo.com or call 830-481-7378
BlackBox Music & Arts

San Antonio

Custom tailored classes and workshops for homeschoolers, afterschool, summer day camps, and regular ongoing classes. Comprehensive curriculum covers all essential principles and elements: Appreciation, History, Multiculturalism and Self Expression. Learn the fundamentals of art, music, dance and acting. Classes are a great fit for beginners and intermediate students. Voice, piano, guitar, violin, flute, saxophone, music theory, jazz, hiphop, contemporary, modern, line dance, praise dance, musical theatre, commercial acting, film acting, public speaking, stage performance.
San Antonio Strings Violin, Viola, Cello and Voice Lessons

San Antonio

All levels and ages for Violin/Viola/Cello/Voice are welcome (5yrs old and up)! *Teaching Styles are tailored to each student whether beginner or advanced. *Offering both Suzuki and Traditional Methods. *Also offer: Orchestra Preparation, All State/Region Auditions, Fiddle Lessons, Sight Reading Skills, and Scales & Technique. *2 recitals per year (Spring & Fall) at a local university Recital Hall. **Call today for a FREE 30 minute trial lesson!**

San Antonio Strings Violin, Viola, Cello and Voice Lessons details
San Antonio Homeschool Music Classes

San Antonio

This resource is for San Antonio Homeschool parents who are looking to enrich their children's lives through learning music. Specializing in violin, viola, and cello lessons, offering guidance through the whole process from beginner to advanced -Morning/afternoon options -Free Trial Lesson -Located near 410/Blanco -2 Recitals per year
Alma Gitana Dance

San Antonio

Alma Gitana Dance Company offers Flamenco and Folklorico dance classes to ages 3-14 years old during the day, Monday-Thursday. We offer studio classes, virtual dance classes, and will also bring quality dance instruction to you. Our goal is to offer a dance community that develops the potential, discipline, confidence, art, and joy any child needs not only to be a dancer, but to be successful in school and daily life. Our mission to enrich and educate the community by presenting innovative, contemporary, and, traditional works of Spain and Mexico. Through performances, we strive to not only promote dance as an art, but also to bring cultural awareness to the public. Please contact us for details.
DeCruz Ballet

San Antonio

DeCruz Ballet offers beginner to pre-professional ballet training, fitness classes, and recreational dance. Take a class at our San Antonio studio, located in Alamo Heights, or from the comfort of your home via Zoom.
Kosha Music Academy

San Antonio

Kosha Music Academy, located in the heart of San Antonio, TX, offers a holistic music education class for children at the studio. Called the Junior Maestros program, these classes include dance, singing, rhythm instruments, and exposure to real instruments like keyboards and guitars. The intent behind the Junior Maestros program is to instill a sense of curiosity around music - young students in this program often enroll in private lessons in the years thereafter. Classes are grouped by age: 3-4 year olds, 4-5 year olds, and 7-12 year olds.
Castillo Piano Studio

San Antonio

Castillo Piano Studio offers piano lessons for ages 6 and up in a private home studio setting. Beginners and advancing musicians will learn through weekly lessons and home practice. Students will have many performance opportunities to share their music regularly, such as recitals, nursing home visits, performance classes, NFMC Gold Cup Festival, San Antonio Ragtime Festival, and RCM exams. Come make music with us!
Freudigman Viola/Violin Studio

San Antonio and Kerrville

One-on-one instruction for viola students, beginner to most advanced (or violin beginners). Emily Freudigman is a veteran of the San Antonio Symphony and co-founder/violist of Grammy-nominated string quartet Camerata San Antonio. With over 15 years of studio teaching experience, Mrs. Freudigman has a proven track record of success with her students, whether success is learning Twinkle, Twinkle or finding placement in a college music degree program.
Epicenter for the Arts

Southlake

Epicenter for the Arts is a new performing arts complex in Southlake Texas "training and equipping this generation of performing artists from the inside out." Dance, art, acting, and music all under one roof. Group classes and private lessons available for all ages. Go to www.epiarts.com for more info or call 817-778-8828 today!
Mitsi Dancing school Classical Ballet Training for Homeschoolers

Southwest Houston

Interested in daytime classical ballet classes specifically for homeschoolers? Mitsi Dancing school has been around for many years and is popular for its many robust evening and weekend programs. However, Mitsi Dancing School is considering opening DAYTIME ballet classes if there is enough interest from the homeschooling community. At least 6 students are needed to form a DAYTIME class (based on interests). Mitsi Dancing school specializes in Vaganova-style classical ballet training, follows the American Ballet Theatre (ABT) National Training Curriculum (NTC), and their elite coaches can solidly prepare students for pre-professional & professional ballet companies as well as competitions. Any homeschoolers interested should contact the Mitsi Dancing Company at 832-638-2185.

Mitsi Dancing school Classical Ballet Training for Homeschoolers details
Piano With Jennifer

Spring

Piano lessons offered in my studio. Over 20 years experience with students of all ages and levels. I am currently accepting students age 4 -adult. Lessons materials are included in lesson cost, and two recitals per year are included at no additional charge. 734-624-7819 Rosati.jen@gmail.com
Spring School of Music Singing Lessons

Spring

Keturah Moller offers personalized private and group singing lessons for all skill levels age 5 and up at a reasonable price. Your child will gain confidence in their musicianship skills as they learn to read music and sing from their heart.
The Art Bar Paint Studio

Spring

A paint studio in Spring, Texas that understands the importance of exposing kids to the arts as it expands their minds and creativity. Instructors mostly teach acrylic painting on canvas, however are able to offer more than that. Homeschool classes would focus on a specific medium, a style, or an artist and each student would create something in the studio to take home.
First Colony Homeschool Ensembles

Sugar Land

First Colony Homeschool Ensembles provides homeschoolers the opportunity to make music together.
A Brush of Class Art Studio

Sulphur Springs

A Paint Party with your choice of the painting. It can be at my Art Studio or we can bring the party to you! A great morale booster. Each child paints a 16"X20" canvas art the end of the two hours they take home their Masterpiece! A Brush of Class Art Studio also offers art classes.
Kenya's Keys Voice & Piano Studio

Temple, Belton, Killeen

Don't muddle through music anymore! Maximize your child's music mojo with this program designed exclusively with your diverse needs in mind. Hit the "Easy" button and let Kenya's Keys, LLC do their job of immersing your child in a music wonderland packed with super savvy music lessons. Your child will experience the freedom of creativity in a controlled environment. Science facts repeatedly agree on the lifelong benefits to be gained from music instruction. Set your child up for even more success by placing them in our Harmonic Homeschoolers program. Ages 5 and up, please. These awesome lessons take place at Wheels Family Skating Center.
Christian Youth Theater - Houston

The Woodlands

CYT is an after-school theater arts training program for students ages 6 - 18. CYT offer training classes and full-scale musical productions.
The Woodlands Home School Choir

The Woodlands

The Woodlands Home School Choir is tailor-made for home school students residing in The Woodlands and surrounding communities. Home schoolers twelve years or older can participate in this unique performing group that combines music education with ministry. Sight-reading skills, good vocal production, music appreciation, and expressive delivery are all taught.
Nancy Curtis Music Studio

The Woodlands

Piano Lessons (age 6 to adult) and Voice Lessons (age 12 to adult). Ms. Curtis has over 20 years of teaching experience and is dedicated to bringing the highest quality of music instruction to each student in a caring and nurturing environment. Please visit her website for more information.
Texas Academy of Dance Arts

The Woodlands

Texas Academy of Dance Arts offers a variety of daytime dance classes for young students just starting out in dance. Our classes include ballet, jazz, tap, acrobatics, and hip hop for homeschool students interested in learning and participating in dance classes. We even offer and all-genre, open dance and acrobatics class for students interested in taking a variety of genres.
The Woodlands Performing Arts Academy

The Woodlands

Music and Arts Education school for all ages and genres. Teach and promote Music Theory, as well as competitions, festivals, master classes, recitals, collaborative opportunities, and theatre study. Instruments offered include piano, voice, guitar, other instruments. Develop love and appreciation for the arts. Many award-winning students.
Arts & Music Program of Tomball

tomball, woodlands, cypress

Located on the campus of Salem Lutheran School, The Arts & Music Program of Tomball is one of the most unique music and theatre arts programs of its kind. We welcome students from all over the Houston area and we also work closely in partnership with Salem Lutheran School and Salem Lutheran Church, allowing students many avenues to exercise and develop their talents. Unlike other programs, The Arts and Music Program of Tomball provides students with a range of opportunities surrounding their area of study. This program has the unique ability to teach private lessons during the day. In addition to our individual disciplines of Piano, Voice, Guitar (Electric and Acoustic), Drums, Violin, Viola and Harp, we offer a Lab Band for students to learn to play in a band setting. Additionally, we train them to lead worship and chapels at Salem Lutheran Church. We also produce a musical each spring, giving students the experience of putting together a full scale production. For more information visit amptomball.com or call 281-351-8223 x1020.
Tyler Area American Band

Tyler

Welcome to Tyler Area Home School Band. We are so pleased that you are considering giving your child the opportunity to play in a band. We are excited to have our children enrolled, too, and look forward to the opportunity to serve you. Our band program includes a great place to rehearse. Our band hall is well lighted, safe, and easily accessible.
Songbird Kids

Waco

Songbird Kids is an independently owned and operated music education company in Waco dedicated to nurturing the ongoing development of every young child's innate musicality using movement, music, instruments, & play. In addition to weekly/bi-weekly classes, Songbird Kids offers family summer camps for families with children up to age 6.
Real Theatre Company Waco

Waco

Real Theatre Company Waco provides theatre opportunities to youth in the Waco area. Theatre classes are available in the fall and spring. Topics include singing, acting, improv and dancing. During the summer, the company runs 2 summer camps where the students produce a musical in just 6 days. Homeschoolers are invited and very welcome to join in on any part of the theatre company!
Ellis County Christian Homeschool Organization

Waxahachie

ECCHO is a 501c3 support group for over 100 homeschooling families in and around Ellis County. We offer many activities including, but not limited to, Mom's Night Out, field trips, a mentor program, theater program, and enrichment classes. All of these activities are available to any member of ECCHO. We also offer a meal support ministry to ECCHO members in need. We offer two different options for classes for those who want to participate--Enrichment Classes (EC) and ECCHO PREP High School Classes. Enrichment Classes or EC (elementary/jr. high) meet bi-weekly on Fridays in Waxahachie. Enrichment Classes have a registration fee of $15 per semester, along with a small supply fee for each class, determined by the teacher. EC is a true cooperative with everyone pitching in & participating in various ways. Parents must stay on campus. ECCHO Camp Classes (ages 5+) meet weekly on Tuesday in Midlothian at Camp Hoblizelle. Camp Classes have a monthly fee paid to The Salvation Army. Some classes carry a one time supply fee. Students may take as many or as few classes as they wish. ECCHO PREP high school classes (age 13+) meet weekly on Fridays in Waxahachie. High school classes have a monthly participation fee and monthly class fees, determined by each teacher. There may be a one-time class supply fee at the beginning of the semester, also. Students may take as many or as few classes as they wish.
Making Music with Miss Susan-Piano and Harp Lessons

Westlake Hills,/Austin

Private music lessons Making Music with Miss Susan will unleash you or your child's inner music maker. Lessons are targeted to the individual's capabilities and learning style. All ages and abilities are welcome. Lessons are traditional with scales and theory taught alongside music reading, good technique and fun performance opportunities, if desired. Miss Susan has several decades of teaching experience and loves to see her students experience the JOY of both making music and sharing music with others. A piano or quality keyboard is required at home for piano study. The teacher has student harps available for monthly rental for beginning harp students as well, if the family does not own a harp currently. Miss Susan has taught both instruments for over three decades, as well as an extensive performance background in playing the harp professionally in classical, pop, jazz and R & B styles, solo and with stage orchestras. 45 minute lessons are recommended for beginners on harp, 30 minute lessons for beginners on the piano.
Texas Homeschool Sports Programs
PCHEA Warriors

Amarillo

PCHEA (Pandhandle Christian Home Educators) Warriors is a competitive sports organization for the Texas Panhandle area homeschool community. PCHEA Warriors exist to help Panhandle area families with a calling to home educate their children by providing competitive sports programs, enabling children to grow in Godly character and skills at the junior and senior high level. PCHEA Warriors offers several sports.
Dynorock Climbing Club

Arlington

The Climbing Club at Dyno-Rock is a great way for kids to get started in the awesome sport of rock climbing. Our highly qualified instructors teach climbing skills that promote persistence, problem solving, creativity, concentration, and of course, strength and flexibility; and they do so in a fun and relaxed atmosphere. Club members are sure to have a good time, make some new friends, and learn something about both climbing and themselves. For those members that show exceptional talent or drive, the Climbing Club is also a springboard into our youth climbing team. The Climbing Club meets on Tuesday and Thursday evenings from 6:00 to 8:00 p.m. The cost is $100 per month, which includes unlimited climbing. Kids Climbing Club members also receive a discount on any merchandise sold at Dyno-Rock. For more information or to reserve a spot, you can call us at 817-461-3966.
Texas Black Belt Academy of Arlington

Arlington

Mike Johnson's Texas Black Belt Academy offers self-defense lessons for children ages 3 and up as well as adults. Classes are held Monday through Friday evenings, Saturday mornings and Lunch time classes on Monday, Wednesday & Friday. Mike Johnson has 40 years of experience in the martial arts. 35 of those years teaching at the University of Texas at Arlington. Our Mission Statement: Provide our students with quality martial arts instruction in a positive and family friendly environment.
Family Krav Maga for Homeschoolers

Austin

A self-defense and fitness class for children age 5 and up and their parents provided on Mondays from 10:00am - 11:00am. This class was developed to help families bond through activities that develop confidence, goal-setting, discipline, respect, and leadership.
Bear Creek Stables Horseback Riding Lessons

Austin

Bear Creek Stables offers several different types of riding lessons for both Western and English Riding styles. Whether you are just starting out with horses or already have some experience, we can help you improve your riding skills.
Archery Training Center

Austin

Archery classes for kids and adults. Offering recreational, group and competitive classes.
Brazilian Top Team Austin

Austin

Offering daytime classes for homeschooling kids in Brazilian jiu-jitsu for kids 5-12, Monday through Thursday.
Austin Sports Academy - Soccer Training

Austin

Providing individual and group sports training with a special emphasis on soccer classes. Training is tailored to the player and provides the opportunity to learn technical, tactical, speed, and application to the game in an environment with a special focus on player development.
Austin Royals Christian Athletics

Austin

Welcome to the Austin Royals Christian Athletics - commonly known as simply the Austin Royals. We are an organization of homeschool families in the greater area of Austin, Texas, that offers competitive sports to our elementary through high school students. Our primary purpose, however, is to help them become obedient followers of Jesus Christ who love God above all and will likewise encourage others to follow Christ.  Supporting the following sports:Baseball, Basketball, Cheer, Cross Country, Flag Football, Football, Soccer, Softball, Track, and Volleyball.
Waterloo Swimming

Austin

An indoor swim facility that is interested in networking with Austin area families to develop swim lesson classes and fitness programs during the morning weekday hours, specifically geared toward homeschooling families to facilitate a love for swimming and a social environment.
Austin Aquatics and Sports Academy

Austin

This Home School Fitness Program is designed to engage children in physical activity and will include a rotation of swimming, team sports, and fitness activities that focus on fundamental skills and team building experiences. Instructors will keep your kids moving and having fun! All classes will be taught by our certified and degreed strength and conditioning coaches and USA swimming certified coaches. While the kids are busy with their program, come take a group fitness class for the parents! The group fitness class is held in our indoor facility and taught by our certified strength and conditioning coaches. Workouts are 55 min sessions and will include everything from barbells to sleds to TRX bands and so much more!
South Austin Aikido

Austin

South Austin Aikido offers instruction to students from beginner to advanced levels. This organization sees aikido as more than just a system of defense, and does not train simply to defeat opponents. Instead, they train students to understand themselves, to improve their response to adversity, and to grow through their practice. Beginners and new faces are always welcome. The progress of each individual student is nurtured and celebrated by everyone at the dojo. South Austin Aikido is an affiliate of the Aikido Shimbokukai under the Direction of Lisa Tomoleoni Sensei. Aikido Shimbokukai is affiliated with World Aikido Headquarters in Tokyo, Japan. "Aikido is not an art to fight with enemies and defeat them. It is a way to lead all human beings to live in harmony with one another, as though everyone was part of one family." = Morihei Ueshiba, Founder of Aikido
Austin Kula Karate

Austin

Austin Kula Karate teaches discipline, self defense goal setting and focus to kids of all ages. Taught by Master Wayne who has 29 years of martial arts experience. These classes are well enjoyed by kids and parents alike. They teach kicks, blocks avoiding.
Texas Lions Homeschool Basketball

Austin

The Texas Lions is a competitive homeschool basketball program throughout Greater Austin featuring both boys and girls teams ranging from 10U to 18U.
Austin Royals

Austin and surrounding area

We are an organization of home-school families in the greater area of Austin, Texas that offers competitive sports to our elementary through high school students. Our primary purpose is to help these students become obedient followers of Jesus Christ who love God above all else and will likewise encourage others to follow Christ.
Christian Homeschool Athletic Association of Texas

Austin and surrounding areas

C.H.A.A. The SAINTS, a professional athletic curriculum, is now available to Central Texas families with homeschooled children. This program is taught in county and city parks across the greater Austin area. Please review the locations page for specific locations and times. A variety of sports and activities are offered. Children may be dropped-off or parents may stay and watch. We teach children ages 5 to 17.
CJ's Legacy Ranch

Bartonville/North Texas

CJ's Legacy Ranch is a division of the ELTS Foundation. We strive to create an environment where children get hands-on, real-world experience, and our equine program is no exception. ELTS has a competitive Equestrian sports program for elementary, middle and high school students. Those who partake in horseback riding and caring for a horse develop several positive traits, including responsibility, accountability, patience, level-headedness, empathy, kindness, and self-discipline. Riders develop coordination, balance, fine motor skills, muscular strength and endurance, flexibility, and can improve posture and cardiovascular health. Working with horses is one of the most rewarding and exciting experiences a person can have, though it also takes a lot of hard work and dedication. It's by allowing your child to explore his or her interest in horseback riding, you are offering them the opportunity to learn valuable life skills while doing something they love. Riding helps support healthy physical and emotional growth, and it teaches kids to work together, support their friends, and take on more responsibility.
Aggieland Homeschool Association Sports

Bryan

Aggieland Homeschool Athletics, Inc. is a non-profit, incorporated Christian educational organization established to facilitate the development of the homeschool athletic programs in the Brazos Valley area of central Texas. The mission of Aggieland Homeschool Athletics is to create, facilitate, and operate athletic programs for homeschool families in the Brazos Valley area in Central Texas. The association believes that competitive athletics provide young people with invaluable life experiences and lessons that are part of a well-rounded education. Through these competitive programs mentors desire to work with parents to see homeschool students grow in character, discipline, self-control, humility, respect for authority, and faith in God. Sports: Basketball, Track & Field, Cross Country, Volleyball
Royal Legend Horse Center Riding Lessons

Bryan/College Station

Horseback riding lessons which teach not only how to ride and care for a horse, but leadership and communications skills, as well as teamwork. Improved posture and focus are added benefits, as well as introductions to the wonderful world of physics, all while having fun and in the company of an amazing creature. Group and private lessons are available. Mornings and afternoon times. Lessons are normally once or twice per week.
Buda Shotokan Karate

Buda, Austin, South Austin

Buda Shotokan Karate teaches a practical martial arts. Shotokan is a traditional martial art that strengthens both mind and body. Teaches persistence, respect, and humbleness. Buda Shotokan Karate is open to everyone. Classes are Monday and Wednesday 6:30-3:70PM and 7:30-8:30PM. Ages 7+
Deer Creek Stables

Burleson/Fort Worth,

Deer Creek Stables is an equestrian facility specializing in horses and people that love and want to learn about horses. A kid friendly facility that welcomes the opportunity to work with children.
Homeschool PE at High Hopes Sports

Cedar Park

This Homeschool PE program is a great supplement to your child's education and physical health. For an hour per week from 11 AM to 12 PM for $8 a class, they'll stay fit and have fun while learning new games and sports. Program runs August through June
Peak Performance After School

Cedar Park

Peak Performance After School and Training Center wants to offer its services to the Austin, Cedar Park, Leander, and Round Rock area for Martial Arts classes, Sports Training, After School, Summer Camps, and so much more. We have been helping families for more than 20 years of building life skills, confidence, improving social, mental, and emotional development. We offer various Martial arts classes as well as Sports Training. After School designated classrooms with board-certified school teachers and assistants, we also have a registered nurse on staff.
V.O.W. BJJ Martial Arts

Central Austin

This is a JiuJitsu school that offers kids classes 7 and up! Learning self defense techniques and JiuJitsu philosophy. Accepting new students! Come check it out!
Harmony Meadows Riding School

College Station

Harmony Meadows Riding School in College Station, Texas offers English riding lessons to students ages 6 to adult. The school has a large selection of well trained and appropriate school horses available to meet the needs of all ages and stages of riders. Offering instruction in horsemanship,elementary dressage, jumping and mounted games using the basic balance seat.
Brazos Valley MMA & Fitness

College Station

Brazos Valley MMA & Fitness is dedicated to teaching discipline, honor, respect, and courage to martial arts students of all ages. This gym offers a variety of martial arts, including Brazilian Jiu jitsu and Kickboxing. Their children's kickboxing class combines the best techniques from Karate, Muay Thai, and boxing in order to offer an intuitive and applicable martial art. Self defense skills are broken down into combinations created specifically for children, and taught through learning games, tactile practice, and direct instruction. In addition to the obvious life skills learned, students grow their coordination, body control, and physical fitness. Brazos Valley MMA & Fitness is a certified and approved Physical Education resource.
Conroe Diving Club

Conroe

Classes for homeschooled children ages 6-14 interested in learning basic springboard diving skills and pool safety around the diving area. Children work on posture and correct body alignment associated with the sport of diving and progress through a structured sequence of skills designed for the beginner diver.
Infinitum Jiu Jitsu Academy

Conroe

We are Brazilian Jiu Jitsu School based in Conroe, Texas. We love sharing with our students knowledge that helps them not only develop technical skills that allows them to learn how to defend themselves, but also helps them maintain good health, and develop values like disciple, group work, solidarity, and friendships.
Dream Art Conroe

Conroe

Dream Art Conroe is a martial arts school located in Conroe,TX . We combine passion and expertise to provide a service to the community where kids learn how to defend themselves, and have fun at the same time. We believe that martial arts help kids develop life skills such as: self confidence, discipline, wellness and much more.
Dream Art Conroe - Martial Arts School

Conroe

We have combined a life long passion with years of competitive experience to offer a world class jiu jitsu and martial arts program for all ages. Our number one goal is to help YOU to become the best version of yourself. We are more than a school, we are a community that helps each other grow every single day as martial artists and individuals. Our instructors first priority is to make sure that no matter if you are training to be a world champion or for health and self defense, that you have the tools to reach your goals.
Star Taekwondo Academy & Realistic Self-defense

Corpus Christi

Realistic Self-defense Program can be used for homedchoolers looking for physical education alternatives, famuly work outs, and all of the positive benefits of martial arts. Low fees, no contracts, well rounded system and can be modified for certain conditions and or disabilities. Twenty-two years experience and indicted member of the United States Martial Arts Hall of Fame. Star Taekwondo Academy focuses on Christ like values.
WINGS Athletics

Corpus Christi

WINGS Athletics is a non-profit sports organization under HOST (Homeschool Organization of South Texas). WINGS offers mentorship and personal growth opportunities through competitive sports programs. We currently offer: 6-Man Football, Cheerleading, Basketball, Crosscountry, Girls Volleyball, and Track & Field.
Coastal Christian Homeschool

Corpus Christi

Coastal Christian Homeschool is a non-profit 501(c)(3) organization, open to all homeschooling families, with no membership fees required. CCHS provides support to homeschooling families through various athletic, social, and academic opportunities. Badgers athletic opportunities are available to homeschoolers ages 11-18, and include: 6-man football, cheer, basketball, cross country, track & field, and volleyball, with more additions on the horizon. Our athletes are not only physically trained by our volunteer coaches, but are also mentored spiritually in a Christian environment. Social opportunities include a homecoming dance, valentines dance, prom, graduation ceremony, and more!
Cypress Homeschool Association

Cypress

Cypress Homeschool Association is an all-inclusive organization of around 300 homeschooling families in the Cypress area outside of Houston, TX. We accept members of all beliefs and backgrounds. Our group is supplemental to the homeschooling you already do in your home. Our fun co-op classes, in addition to field trips, science fair, and more, are meant to add to the complete learning you already do at home.
TACA Storm Basketball

Dallas

The Texas Alliance of Christian Athletes (TACA) Basketball is a Dallas, TX based, competitive homeschool basketball organization that was formed by like-minded parents and coaches to give our players the opportunity and benefits of good fellowship and competition with Christ-centered peers, families and coaches. All coaches and student athletes are expected to encourage and grow in Christ-like character. Having the opportunity to play sports is simply a platform for character development.
Soccer Palz

Dallas

Soccer Palz is an enrichment program designed to introduce kids (ages 3-5) to the game of soccer in a creative, fun way. The program has had the opportunity to serve over 750 kids through local preschools and private groups around Dallas. Soccer Palz generally runs 30-40 minute sessions, once a week for groups of 7-12 kids.
Dallas Tennis Association

Dallas

USTA Junior Team Tennis connects kids together in teams to play against other teams within a league. USTA Junior Team Tennis is designed for kids ages 6-18. Matches can be held anywhere from a local park or school to a commercial or private club. Teams are preferably co-ed but can also be single gender (boys only or girls only). Offering play for all ages and skill levels. Please contact Mark Hodge (jtt@dta.org) for more information on how to participate.
Summit Climbing Gym

Dallas

Summit Climbing, Yoga and Fitness is an indoor rock climbing gym based in the DFW. Summit offers classes for kids of all ages and climbing abilities. All of the Youth Programs at Summit Gyms fulfill the states physical education requirements. They have locations in Carrollton, Dallas, Denton, Grapevine, Fort Worth and will soon be in Plano.
JewMonte Lewis Fitness & Training Empowerment

Dallas

This 12-week program is coached by JewMonte Lewis of JewMonte Lewis Fitness & Training Empowerment. This camp is designed for student-athletes of all ages who are looking to train their mind, body and spirit. Join anytime for an impactful and elite experience. Instruction from Coach Jew will include proper body mechanics, free weight instruction and multi-sport specific fundamentals.
Home School Athletic Association

Dallas / North Texas Areas

HSAA was established to provide homeschooled youth with opportunities to compete in competitive athletic events in a Christian atmosphere. Through this athletic competition, HSAA is committed to providing parents with support in their responsibility of developing high moral character within each student-athlete. Programs in Basketball, Soccer, Baseball, Track and Field, Volleyball and Football.
Dallas Thunder Homeschool Basketball Program

Dallas East

Develop your Dallas area homeschoolers' basketball skills in a competitive environment. Dallas Homeschool Basketball, Inc. (Dallas Thunder) was established in 2003 to provide Dallas area homeschool students with the opportunity to develop their basketball skills in a competitive basketball environment. Dallas Thunder is a non-profit homeschool basketball organization and we play our games during school season and compete versus public schools, private schools and in the National Christian Homeschool Basketball Championship (Districts, Regionals & Nationals). We start practice in September and play games from November – March. Ages 9-19
Summit Climbing, Yoga, and Fitness Home School Programs

Dallas Fort-Worth

Summit's Homeschool program is a great way to learn about climbing and offers a unique PE experience! These multi-leveled classes offered throughout the day and the DFW metroplex, offer flexibility and the right fit for everyone. Summits Homeschool classes follow the traditional school semesters through Spring and Fall.  At this time, Summit offers two different age levels of Homeschool classes: L1 for 6-10-year-olds, and L2 for 11-17-year-olds.

Summit Climbing, Yoga, and Fitness Home School Programs details
Dallas HSAA Homeschool Golf

Dallas, Fort Worth, DFW

A Christian based homeschool high school golf team that includes varsity and JV boys and girls. HSAA competes with DFW area private and public schools. Tournaments start at the end of Sept. Students will also compete in the homeschool golf nationals in May. There is also a middle school boys team, but currently does not compete in school tournaments.
Cheer Athletics Plano

Dallas/ Fort Worth

Cheer Athletics Plano is here to provide a physical activity opportunity for your homeschoolers as well as the opportunity to meet other homeschoolers that share the same passion for physical wellness. This class is offered to homeschoolers grades K-12. In this 2 hour class your homeschooler will receive tumbling instruction, an introduction to physical fitness, as well as other fun activities. The first hour of the class will include instructor-led activities while the last hour will be a supervised open gym.
Dallas Homeschool Basketball, Inc.

Dallas/ North Texas

Dallas Homeschool Basketball, Inc. was founded in 2003 to provide Dallas area homeschooled students with the opportunity to develop their basketball skills in a competitive basketball environment. In order to help our students strengthen their Christian walk and develop Christ-centered relationships, we combine the leadership of experienced, paid coaches with that of like-minded parents to model Christian values.
Mansfield Knights Homeschool Baseball

Dallas/Fort Worth

The Mansfield Knights are a competitive varsity baseball program for homeschool student athletes. We have grades 8th through 12th. The team is small, less than 15 players. We practice in Mansfield and at Dallas Baptist University. In the spring we play a full varsity baseball schedule against private, public, charter, and other homeschool teams.
Texas Storm Homeschool Athletics

Dallas/Ft. Worth Metroplex

Texas Storm Homeschool Athletics is a newly formed sports organization in the DFW metroplex. TSHA is a 501c-3 non-profit Christian organization that gives homeschool athletes the opportunity for competitive sports. Currently we are competing with our women's varsity soccer team. Our mission at TSHA is to provide the best, most uplifting experience for homeschooled families to choose athletics for their children.
Martial Arts for Homeschool Families

DeKalb - New Boston - Avery - Simms - Texarkana

This is a faith based Martial Arts school run by a homeschool family with a family atmosphere. Quality instruction with reasonable prices is found at Infinity Martial Arts. Morning classes are available for busy homeschooling families! Students can overcome shyness, insecurities and anxiety. They will develop physically, socially and emotionally as they train. Balance, coordination, endurance and learning skills will increase. Students may get in shape no matter their age! PE requirements can be fulfilled. Students will meet new families, hear the Word of God and memorize scripture as they progress. Promotions are based on the student's individual progress just like homeschool! Program requirements are adjusted according the student's age and ability. (many students have started in their 40's & 50's and are succeeding at their own pace just as children do!) Families are encouraged to train together but individuals are welcome too. Classes will be held on Tuesday mornings and each one includes a short devotional. There are no limits with God at Infinity Martial Arts & Fitness. Family discounts are available.
Run With Coach Shanice

Denton

The initial basketball assessment will ascertain student's current skill level. The inquiry will ask the parent and the players where they would like to see the student elevate. The basketball training will be a comprehensive plan to help realize the goals set by Coach Shanice and the family. The diverse training methods will keep the athlete challenged while motivated to continue getting better. Trainer's resume includes collegiate coaching careers at Rice University, Clemson University, UNT, and Jackson State.
KIT Taekwondo

Denton

KIT Taekwondo is a Olympic style martial arts facility located in Denton, Texas that provides world-class athletic education to children of all ages. We want to help build a foundation for you so no matter what you do, you can have the flexibility, mobility and endurance to do whatever athletic pursuit you choose. We want to provide top notch training principles and fun engaging classes to anyone who wants to learn.
The Warehouse Training Facility Softball/Baseball Lessons

Denton

Billy Coleman will be offering hitting lessons at The Warehouse beginning Tuesday, Sept 7th. Here is his scheduler - https://www.signupgenius.com/go/5080D45A9A72BA5FE3-hitting Coach Coleman has twenty years of high school coaching experience and sixteen years as a head softball coach. However, he has spent many years working one on one with athletes who would like to reach the next level. He loves to inspire and mentor young athletes from all cultures and lifestyles and is a forever Coach to his kids. He will be available to work with girls and boys ages 10-18. For more information, call 972-832-1223.

The Warehouse Training Facility Softball/Baseball Lessons details
Bowmen Sports

DFW Meteoplex

Bowmen Sports has PE classes for homeschool groups. They have listed over 30 class offerings in 20 areas ind DFW from Fort Worth to McKinney. Classes are 90 minutes long for students aged 5-11, 12 and up. Classes meet weekly from September through May.
Youth Exercise Classes at Fitness 4 Kids

Eagle Mountain - Saginaw

Youth Exercise classes. Early Childhood: Ages 1 - 4, Young Childhood: Ages 5 - 8, Middle Childhood: Ages 9 - 12, and Adolescence: 13 - 16. $25 per class. Instructor is a Texas certified teacher in Generic Special Ed. and Early Childhood Ed.
Texas Wildfire Homeschool Archery

East DFW (Rockwall/Talty)

Homeschool Archery classes and team
Capriole School of Riding

Ennis

Private riding lessons and working student opportunities for equine enthusiasts. Classes on healthcare,disease prevention and riding theory available. P.E. credits
Grace Christian Academy

Flower Mound

Grace Christian Academy offers varsity sports teams competing in TCAF Division 2 District 3. If interested, please contact the Athletic Director (Phil Rabbito) at 214.223.4713
Game On Sports Complex

Fort Worth

Game On Sports Complex offers Home School PE Classes for all home schoolers ages 6-18yrs. Home School PE classes allow students to explore multiple sports in a fun, learning environment. This program is designed for students to be active while learning about athletics and team sports. Weekly programs include sport specific drills and games, including rules of the game, strategy and the fundamentals required to play.
The Little Gym of Fort Worth

Fort Worth

Offering gymnastics, dance (tap, ballet, hip hop), karate, sports skills and music classes for children between the ages of Newborn to 12 years of age. Birthday parties available on the weekends.
The First Tee of Fort Worth; Homeschool Youth Development Golf Program

Fort Worth

The First Tee of Fort Worth is a youth development organization that teaches kids how to play golf and how to learn the values that golf teaches to apply them to their lives. Homeschool group meets on Thursday mornings and programs are offered in the Winter, Spring, Summer and Fall. Scholarships are available.

The First Tee of Fort Worth; Homeschool Youth Development Golf Program details
THESA/Texas Home Educators Sports Association

Fort Worth

THESA (Texas Home Educator's Sports Association) exists to support Dallas/Fort Worth area families with a calling to home educate their children by providing competitive sports programs, enabling children to grow in Godly character and skills at the junior and senior high level. THESA offers cheer, volleyball, basketball, softball, and tennis for girls and football, basketball, baseball, and tennis for boys.
AquaKids Swim School Fort Worth

Fort Worth

AquaKids has swim classes for the homeschool community. Classes are 30 minutes long and are offered Monday, Tuesday and Wednesday morning. We also have group and private lessons available and teach beginners through swim team. Open swim times available for your homeschool group on Thursday and Friday.
Aqua-Tots Swim Schools P.E. at the Pool! - Fort Worth

Fort Worth

Aqua-Tots Swim Schools is a locally owned and operated swim school, run by a 2 generation home schooling family! We are excited to offer a new program, called 'P.E. at the Pool!' This small group class is designed for students ages 5-6 and 7-10 to enjoy a structured fun, engaging, active time in the safe environment of our indoor swimming pool. We will begin to have classes the first week of September, offering Monday/Wednesday or Tuesday/Thursday class options between 1 and 4PM. If there are groups of 8 or more interested we are open to creating additional class times that fit with your group schedule! This is not a swim lesson - swimming ability preferred but is NOT required. Best of all, this class offering has a monthly tuition that comes out to only $10/class! We are offering this at three different locations: Alliance/Keller - 817-439-7700 - 3529 Heritage Trace Pkwy, Ste 103, Fort Worth, TX 76244 North Richland Hills - 817-766-7777 - 6039 Precinct Line Rd, Ste 160, NRH, TX 76180 Fort Worth/Bryant Irvin - 817-953-8611 - 4736 Bryant Irvin Rd, Ste 718, Ft. Worth, TX 76132

Aqua-Tots Swim Schools P.E. at the Pool! - Fort Worth details
HCA Homeschool basketball

Fort Worth / Johnson County

Heritage Christian Athletics provides home-schooled students the opportunity to play competitive basketball. Based in Johnson County, players come from Fort Worth, Arlington, Burleson, Cleburne and other areas.
Canyons Rock Climbing

Frisco

Canyon Climbing Gym offers indoor rock climbing to the public. Rock climbing is one of the fastest growing sports in the country and part of the 2020 Olympic Games in Japan. It is a sport people of all athletic abilities can do, building strength and problem solving skills. Discounts to home school students!
KidStrong Frisco

Frisco

What is KidStrong? KidStrong is an innovative 360-degree synergy training program designed to develop mental, physical, and character skills in kids from ages 15 months to 13 years old. A science-based curriculum, leveraging experts in the field of pediatric occupational therapy, sports physiology, and physical education. How does KidStrong work? Children are exposed to challenging physical skill progressions, mental activities, and character development during 45 min classes. Classes are designed to: Develop confidence, leadership, teamwork, and problem solving skills, through mental and physical challenges
Eagle Gymnastics Academy Classes

Frisco

Eagle Gymnastics Academy offers classes on Tuesdays at 11:00 and Friday at 1:00 for ages 3 and up. The structured gymnastics classes are 55 minutes long and children are placed in class by age and ability. The kindergym classes are for age 3 & 4, and are co-ed - the children work on all apparatus - vault, bars, beam, floor, trampoline and do a lot of gross-motor development needed for this age. Children ages 5 and up are separated - the boys focus on the men's apparatus - vault, bars, pommels, parallel bars, rings, floor and trampoline, and the girls focus on vault, bars, beam, floor and trampoline. Eagle Gymnastics offers a Free trial class, call 972-712-4644 to check for availability.
Eagle Gymnastics Academy

Frisco, Collin County

Eagle Gymnastics Academy has celebrated 15 years serving the Frisco, Prosper, McKinney and Little Elm Communities. EGA offers recreational through competitive gymnastics in 3 different disciplines: Women's, Men's and Tramp & Tumble for athletes of all ages starting at 18 months. The Homeschool program runs September through May and includes 1 hour of Gymnastics and 30 minutes of Open Gym. Homeschool classes are Tuesdays from 1230 - 2 and Fridays from 1 - 230. The Staff are USAG Professional Members and USAG Safety Certified with over 85 years combined coaching experience. Classes range from beginner through advanced where students move up based on their abilities and their own pace. Classes combine games with skills focusing on the technical and correct body positions of each skill. All classes are interchangeable and can easily accommodate most schedule changes throughout the calendar year.
Fancy Pants Ranch

Ft.Worth/Keller

Offering Group/Semi-Private/Private horseback riding lessons.  Contact fancypants.ranch@yahoo.com for information.
Sea Star Base Galveston

Galveston

Thursday Homeschool Afterschool Sailing! When: Every Thursday 15:00 – 18:00 (3:00-6:00) Where: Sea Star Base Galveston. 7509 Broadway, Galveston TX Cost: New Students rate is $200 a year membership or $40 per lesson Who: Homeschool Students Age 8-18 (Consideration will be made if a sibling is also attending, or for students with previous sailing experience) What: Students will be sailing small boats on their own under close supervision, switching to larger boats as the weather turns colder. They will learn the fundamentals of sailing such as knots, parts of the sailboat, rigging, points of sail, wind and tides, steering maneuvers, and sail trim on the sheltered waters of Offatts Bayou. As they advance, students will focus on developing good form, practicing strategies, and challenging each other around different racecourses. Students will get wet! Bring a swimsuit, towel, hat, sunglasses, sunscreen, and tennis/water shoes that can get wet. Safety: Lifejackets will be worn at all times. Covid-19 precautions including wearing of masks and social distancing are in effect Registration: Email SSBG Youth sailing Coordinator Clement Jardin: youthsailing@ssbgalveston.org or phone: (713) 392-4510 with any questions
Round Rock/Georgetown Homeschool Swim Class

Georgetown

Swim For All offers individualized swim instruction for children and adults of all abilities including those with special needs. Swim class focusing on fitness and stroke technique mixed in with some fun for homeschoolers. Two class levels will be offered. Level 1: Child can at least swim 25 yards freestyle and 25 yards backstroke kick. Level 2: Child can swim 50 yards freestyle efficiently, 25 backstroke, and has been introduced to breaststroke and butterfly.
British Swim School in Georgetown/Round Rock

Georgetown/Round Rock

British Swim School's fun and gentle teaching methods will teach your child water survival and stroke advancement. Swimmers start at 3 month olds and up. Year round instruction available in indoor heated pools in Round Rock and Georgetown. Classes available during the school day for home schooled students. British Swim School also offers free group presentations on water-survival as drowning is the second leading cause of accidental death in children under 4 years old.
LambLight Faith Academy

Greenville

LambLight Faith Academy (LFA) is a part time academy. Classes meet on Tuesdays and Thursdays. Students may choose from full days, half days, or individual classes. Academic, Extracurricular, and Social. After school programs are also offered along with PE/Fitness classes for the whole family.
Lone Star Martial Arts Center

Greenville

This Resource offers Traditional Tae-kwon-do classes for children preschool ages and above. The classes promote self-defense as well as courtesy, integrity, indomitable spirit, perseverance, respect, and self-control. Little Dragons are ages 3-5 years. Juniors ages 6-12 years and Teen/Adults 13+. The classes offer a great opportunity for physical education, fitness, and socialization. Specialized Women's Self-Defense classes are also offered at this location for young ladies who are preparing for entering college or the workforce. Classes are offered year around and students may join at anytime.
HCYA Swimming for High School

Gulf Coast Region

Competitive High School swim team at the varsity and junior varsity levels. Serves Houston Metroplex and surrounding area swimmers interested in competing at the highest levels of Texas high school swimming. Team trains with respective USA Swimming club teams or alternative programs then comes together to compete. HCYA Swimming is under the umbrella of HCYA Houston as one of its sport programs.
Okuri Judo Club Homeschool Judo Classes

Haslet/Saginaw/Fort Worth

Homeschool Judo Classes for ages 5+. Why Judo? Judo teaches self discipline and control, builds confidence, physical conditioning, motor skills, and MORE all while having FUN!! Classes are offered on a weekly basis for one hour for just $25 per month per student! Classes are taught by USA Judo certified 6th degree black belt, Kim Mesa. Mrs. Mesa has been teaching judo for over 30 years! Ready to give judo a try? Give us a call at 817-909-7017, email kjmesa@hotmail.com, or check out our Facebook page @okurijudo for more info. Classes are ongoing with new students beginning the first of the month.
ATA Martial Arts Academy

Highland Village

Rodriguez ATA Martial Arts Academy is part of the American Taekwondo Association, located in Highland Village, and serving the surrounding areas of Flower Mound, Lantana and Lewisville in Martial Arts instruction. The Academy is a family where Martial Arts is a daily passion and a way of life. A family atmosphere with many programs available for all age groups. The Philosophy of this academy is to promote good health, confidence, life skills, and of course how to defend yourself. ATA is now offering services as a alternative to conventional sports and physical education for children that participate in home school activities. Questions please contact Felix Rodriguez @ 972-317-0303 or email tkd@rodriguezata.com
HCYA Homeschool Christian Youth Association - Sports programs

Houston

Currently offering a broad range of support programs for homeschooled students including: Competitive Sports, Basketball - Boys & Girls, Volleyball - Girls, Baseball - Boys, and Track.

HCYA Homeschool Christian Youth Association - Sports programs details
HCYA Lady Warriors

Houston

HCYA ((Homeschool Christian Youth Association) Basketball provides an opportunity for boys ages 9 through the Varsity Level to play competitive basketball against public, private and other Homeschool organizations.
Cheer Factory Cypress - Homeschool Groups Tumbling Class

Houston

This class is designed to offer customized gym time for Home School Groups in the area. With the main focus being on tumbling, there is an opportunity to work other skills. This class is one hour, once a week, for up to ten members. DEA will add more time, and an extra coach, for squads with more than 10 members. Each group will receive 1 hour of instruction per week. They will work on the following: * Motion Technique * Stunt Technique * Tumbling Technique * Jump Technique Call now for details on being part of this exciting training opportunity for all Home School Groups.

Cheer Factory Cypress - Homeschool Groups Tumbling Class details
Salt and Light Homeschool Sports

Houston

Salt & Light Homeschool Sports is a ministry for encouraging homeschool students in their Christian faith while participating in competitive athletics. Founded by three homeschooling families with a combined total of 22 children and 49 years of homeschooling, Salt & Light serves the North Houston, Texas metro area, including The Woodlands, Spring, Tomball, Magnolia, Montgomery and Conroe. Currently offering opportunities in competitive Basketball and Track & Field.
HCYA Hurricanes

Houston

The HCYA Hurricanes soccer program exists to provide homeschooled middle school and high school boys and girls with the benefits of participation in organized, competitive soccer in a setting that honors the God who created them. These players have come together forming strong teams and providing competitive play for local private schools. HCYA players include those with a lot of club soccer experience as well as new soccer aficionados. Regular Season: October-February Post-Season: March-April Indoor Soccer: Summer Pre-Season: September-October
Ice at the Galleria Homeschool Class

Houston

Figure skating and hockey learn to skate classes are offered in a quiet environment on Wednesday's at 10:00am weekly. This homeschool class starts with the basics and moves the students up as they are ready to advance. Badges and certificates are achieved after completion of each level. Competitions and shows are offered as well.
Houston Homeschool Athletics

Houston

Houston Homeschool Athletics (HHA) is a non-profit 501(c)3 organization formed to provide amateur competitive sports for homeschooled children, ages 8 to 18. HHA will provide, under Christian leadership and guidelines, competition with teams from other types of programs--homeschool, private school, and public school. HHA currently offers sports teams for cross country, volleyball, basketball and track and field. HHA's mission is to compete in amateur sports at the highest level and be a witness for our Lord Jesus Christ. We are a parent run, family oriented organization that wants to encourage and develop all kids, of all levels, not only in their athletic endeavors, but in their over-all development as young men and woman. WE HAVE FUN!
Iron Sports Ninjas

Houston

Iron Sports Ninjas is an indoor obstacle course facility focused on training children movement, strength, and all around body awareness. The gym is based off the hit TV show American Ninja Warrior so majority of the classes are focused on strength, agility, flexibility, and body coordination. Iron Sports provides homeschool classes Tuesday through Friday at 12:00pm and 1:30pm.
Activefit Youth Functional Training

Houston

This Youth Functional Program is focused on helping kids improve their overall health and develop their motor skills. Whether looking to enhance their performance in sports, walk in a straight line or increase their energy, there is a program for them. These exercises are specifically optimized for each participant, with each set of movements having its own progressions and regressions to fit the current functional level. Classes consist of five attendants max, so bring a friend!
Invicta Arts and Training Center

Houston

Invicta Arts and Training Center offers elite training and performance opportunities in acting, dance, fitness, nutrition and voice to Houston Artists age 8-18. Created and led by a Broadway Industry Professional and a Certified Personal Trainer, Invicta's innovative training combines Artistry with Health and Fitness Education to empower the next generation. This resource is perfect for arts, physical education, and sports opportunities.
PowerPacked Swimming

Houston

An indoor swim facility that offers morning weekday swim classes specifically geared toward homeschooling families to facilitate a love for swimming and a social environment. PowerPacked Swimming offers group and private lessons to all ages and all swim levels. Let PowerPacked Swimming help you meet your P.E. credit.
Northside Falcons

Houston / Montgomery County

The Northside Falcons is a Christian Homeschool Baseball Program based in Conroe, Texas. It was formed in 2004 to address and fulfill the desire of homeschool boys in the North Houston / Montgomery County, Texas area to participate in High School and Junior High level competitive baseball activities, including training programs, camps, tryouts and select team competition.
Christian Home School Athletics

Houston and surrounding area

Mission: "To support families in training home school students to successfully participate in a competitive athletic environment. We will foster athletic teams that manifest the Fruits of the Spirit on and off the court. Players come from the Greater Houston area. This programs currently supports Basketball, Golf, and Volleyball."
Bay Area Equestrian Center

Houston-Bay area

Bay Area Equestrian Center offers a full-service riding academy. Offering classes in various styles and abilities of riding, including home school classes. With a combination of both individual and group instruction, parents can customize a program that fits each student.
Bam Bam Martial Arts Academy

Houston, Southside Place, West University

Bam Bam Martial Arts Academy is owned and operated by a homeschooling family of ten. Homeschool classes meet Tuesday, Wednesday and Friday at 4:15pm. Brazilian Jiu Jitsu classes are 45 minutes long. Brazilian Jiu Jitsu is the best form of self defense for anyone, big or small. Open enrollment all year, beginners welcome! The academy focus is character development as well as self defense.
Houston Mavericks

Houston, Spring, The Woodlands, Conroe, Tomball, Humble, Montgomery, Magnolia, Willis, and New Waverly

Houston Homeschool Athletics, home of the Houston Mavericks, provides competitive sports programs for homeschool students (ages 8 to 18) under Christian leadership and guidelines. The Mavericks compete against teams from others homeschool programs, private schools, and public schools in basketball, track and field, cross country, and volleyball, with plans underway for soccer in the future.
Christian HomeSchool Sports Ministries

Houston, Spring, Tomball, The Woodlands, Magnolia, Montgomery, Conroe, Baytown, Dayton, Cypress, Willis

CHSM offers basketball and volleyball to serve and support homeschoolers and their families. Through competitive athletics, CHSM will teach foundation principles that are absolutely essential for successful careers, relationships, and most importantly, a vibrant, life-giving and personal relationship with God through the Lord Jesus Christ by the power of His Holy Spirit.
HCYA Warriors Basketball

Houston/Katy/Sugarland/Richmon

HCYA Homeschool Basketball has been in existence for 25 years and our coaching staff has over 30 years of experience with HCYA. We have teams to accommodate boys ages 8 through the High School Varsity Level. We compete against public schools, private schools and other homeschool organizations. We practice at Katy Hustle Gym located at 23441 Clay Road. Condition and Tryout camps starts Sept 20, 2021. www.hcyawarriors.com
Fencing Beginner Classes

Houston/Pearland

Cavalier Class for Youth (AGES 6-12) Looking for an exciting new physical activity for your child? Now, they can participate in a sport that develops athleticism, critical thinking, sportsmanship and competitiveness. Fencing provides children a dynamic and creative outlet for their energies. Its intensity and fast pace will keep them coming back for more. Teen Fencing Class (AGES 13-17) Whether you've been searching for a fencing academy near me or want private lessons, Space City Fencing is here to help! We offer a one-time free tryout session to see if this is the academy you've been looking for. Contact us today to schedule this session or sign up for a class. Fencing is one of the best sports to develop your college resume. *This Class can be used for P.E. Credit What to wear: Dress in athletic clothes and tennis shoes & bring a water bottle *All fencing equipments provided. *Monday-Saturday: 5-6pm *$155 per month
SwimLabs

Houston/Sugar Land

A homeschool program needs a physical education component. Swimming is not only a great activity, but a life skill. SwimLabs provides swim instruction in a highly specialized environment, using mirrors at the bottom of the pools, underwater cameras, monitors and software. The coaches are professional, CPR and curriculum certified. SwimLabs provides services starting at 6 months of age. Swimming lessons are available for kids of all ages, adults, competitive swimmers and triathletes.
Fort Bend Basketball Association (FBBA)

Houston/Sugar Land

FBBA offers recreational-based leagues designed to introduce the game of basketball beginning with players at age 5 to 17 years old. The recreation leagues are in session for Fall, Spring and Summer; they focus on the teaching youth the foundational skills of the game while allowing the players to compete in a safe and family friendly environment. We host (7) week basketball leagues in the Missouri City, Sugar Land and Fresno areas and provide opportunities for male and female recreational players looking to enhance their skills while playing for fun!
Soccer Tots Houston

Humble/Kingwood/Atascosita

SoccerTots is a franchised child physical development program that uses a variety of fun games to delight and engage kids - from 18 months to 6 years old - in physical activity. The curriculum is professionally designed to develop motor skills, promote physical fitness, and create self confidence in kids and younger children. It stresses a non-competitive environment and promotes fun above all else.
Lake Houston Conquerors

Humble/Kingwood/Houston Area

Competitive Basketball with a Christian Spirit. Teams available for homeshooled boys and girls ages 8 -18.
Huntsville Junior High Boys Basketball

Huntsville

A new junior high boys basketball team that will be playing as a Huntsville, TX team with the Houston Homeschool Athletic program. Always looking for homeschool boys in the 12 to 14 year-old range that might be interested in playing junior high basketball. Practices and home games in Huntsville. Away games will be in the Houston metro area. Contact David Jones at 936-581-5608.
Pure Soccer Katy

Katy

Pure Soccer Katy is an indoor/outdoor soccer training facility. They Specialize in one-on-one and group skills training classes. They are open from 8am - 10pm everyday. They have programs for 18-month-olds all the way to 30-year-olds.
USA Ninja Challenge

Keller

USA Ninja Challenge is a year-round obstacle course training program that combines basic skill sets from gymnastics, climbing, cross-training and track and field. Each Ninja progresses according to their own abilities. The purpose of the program is to build children's self-esteem, confidence and sense of accomplishment, one obstacle at a time. We have dedicated classes for homeschool students at 3pm on Wednesday and 2.45pm on Thursdays on an ongoing basis.
Lubbock Homeschool Christian Athletics Association

Lubbock

Lubbock Homeschool Christian Athletic Association (LHCAA) was organized in 2004 by families of homeschooled children to provide athletic opportunities for their children. We are a Christian, membership-based organization that provides assistance in organization, fundraising, and communication.

The Titans play other homeschool teams, private schools and public schools in the west Texas area. Some of our teams also compete in state, regional and national tournaments. Currently we field teams in seven different sports: football, volleyball, boys' and girls' basketball, soccer, cross country, and cheer. We are a parent-based organization. If you are interested in organizing an individual or team sport that is not currently offered, please contact us.
CLIMB Woodlands

Magnolia

CLIMB Woodlands Indoor Rock Gym & Adventure Course Facility is a great way to satisfy your child's PE credit! They offer CLIMBFit Home School on Tuesdays, Wednesdays, and Thursdays. CLIMBFit Home School is a group workout program that allows your children to socialize with other home schooled children their age, all while keeping their mind and body active!
White Fences Equestrian Center

Manor

Welcome to White Fences Equestrian Center, where elegance meets functionality, strength meets grace, and where working with horses and the love of the equestrian lifestyle is at the heart of everything. For over 25 years, White Fences Equestrian Center, has put the needs of horses and riders as the top goal and priority. The center has carefully designed a beautiful 50-acre facility with an eye toward quality, craftsmanship and safety to ensure the highest quality of care for both horse and rider. Offering riding lessons for beginners, advanced and medal winning riders. We have wonderful high-end boarding facilities, friendly riding horses, picturesque pastures, indoor and outdoor arenas, paired with patient and knowledgeable instructors. White Fences provides boarding and lessons for children from 7 on up. Many teenagers take Hunter Jumper classes with after school and on weekends. Also teach Dressage. There are horses available for lease for families that want to try it out without the major commitment of buying a horse.
Yogi Cubs - Yoga for Kids

Mansfield

Our mission is to help children find balance through the self-empowering practice of yoga, mindfulness, and play. A kids yoga class is quite different from a yoga class for grown-ups. We don't do pose after pose after pose for 45 minutes and then rest quietly in savasana for another 15 minutes. We don't squeeze 40 people side-by-side into the studio with an instructor at the front. A class like that would never hold a child's attention for too long. Yogi Cubs classes are sized small and highly personal. Our fast-paced classes incorporate several components in short spurts to keep young minds actively engaged. In a typical kids yoga class, we introduce ourselves with an ice-breaker, play yoga/ mindfulness games, work through a story time yoga flow, and end with a guided relaxation. Our classes for 4-12 year old children include mindful crafting, gardening, or music activities. All of this fun is grounded in a curriculum that empowers our kids with skills to help them cope with the stresses of everyday life, develop healthy habits, practice empathy, and take some time out to JUST BE in the present moment.
AquaKids Swim School Swim McKinney

McKinney

AquaKids Swim School has swim lessons for homeschoolers on Monday, Tuesday and Wednesday mornings. We have both group and private lessons and teach skills from beginner through advanced. We are also available for field trips and parties on Thursday and Friday.
Chang Lee's Taekwondo - Mesquite

Mesquite

At Chang Lee's Taekwondo offers taekwondo for all ages and levels of experience. Grand Master Chang Lee has been teaching taekwondo for 50 years. Our dojangs have produced many state, national, and international champions. Grand Master Lee's system teaches students discipline, self control, and respect. Whether your goal is fitness, self-defense, competitive taekwondo, or just an interest in martial arts our classes can help you meet that goal. We accept students at all ages and levels of experience. Our classes are family oriented and parents are encouraged to take classes with their children. ​Chang Lee's Taekwondo currently has dojangs in Dallas, Mesquite, Rowlett, Garland, Allen, Keller, Weatherford, and Desoto. Contact us today for your FREE trial class.
Chang Lee's Taekwondo - Dallas

Mesquite, Dallas, Garland

Taekwondo training to help develop the areas of mental and physical well-being. Physically Taekwondo will help strengthen the body, develop coordination, balance, agility and body control. Mentally Taekwondo will help develop mental discipline, focus and concentration along with a positive attitude that will build confidence and character. In-person and virtual class options.
The Dojo of Mineola

Mineola/East Texas Area

Kids and adults alike are invited to learn the value of a lifestyle of awareness, fitness, and grow in confidence. At the core of every lesson is our bullying and predator prevention curriculum specifically designed to keep you and your children safe and to prepare our students to face the unknown in our ever changing world with knowledge and skills needed to survive whether they're facing a bully or an attacker. We offer opportunities to compete in tournaments, self-defence seminars, and fitness training. We teach martial arts and have developed a strong beginner to black belt program that focuses on principles of character including: integrity, perseverance, respect, and self control. We offer classes for ages 4 and up, have an adaptive martial arts program for students with special needs, women's fitness and self defense, and traditional martial arts classes.
Dream Art Conroe- Jiu Jitsu & Muay Thai

Montgomery

We combine passion and years of experience in the martial arts community to offer world class jiu jitsu and muay thai. Our main goal is to help YOU meet the best version of yourself. More than a school we are a community that helps each other grow every single day. Our instructors first priority is to make sure that no matter if you are training to be a world champion or for health and self defense, you will acquire the skills to reach your goals.
MtB Mustangs

Montgomery County and surrounding areas

The MtB Mustangs formed to address the desire of homeschooled young men in the Montgomery County and surrounding areas to participate in high school and junior high level competitive baseball.
NB Thunder

New Braunfels

New Braunfels THUNDER is a 501(c)(3) nonprofit organization aimed at creating and improving access to educational and recreational opportunities for homeschoolers in the New Braunfels area. THUNDER is an acronym for Texas Homeschoolers United in the Need to Develop Education and Recreation. The organization was founded in 2022 by a collaboration of homeschool parents who sought to replicate the athletic and extracurricular opportunities that could only be found in San Antonio or Austin at that time. The growing organization currently provides opportunities for Middle School and High School athletes in Basketball, Football, Strength & Conditioning and Volleyball. We are a Christian organization. We exist to glorify God by developing Christian character and providing opportunities for homeschool families in New Braunfels and beyond to develop skills through competitive programs under unified Christian leadership. We welcome any interested family to check out our website https://nbthunder.org or email laura@nbthunder.org for more information.
Elite FC Soccer with Bedford Euless Soccer Association

North Richland Hills

Elite FC is a program for the more committed player wishing to play at a competitive level. A player must reach their 10th birthday by December 31st of the current soccer year to be eligible for participating in tryouts to be held the beginning of July. Selected players will be offered a contract based upon tryout results. Players will commit to playing on one soccer team per soccer season from July 1 through June 30 when the parents and player sign a contract and financial statement. Once a team is formed and registered with BESA as the home association, the team will compete in one of the area's Select soccer leagues, e.g. Arlington Premier Invitational, Plano, Lake Highlands, etc. Players are expected to attend a minimum of two practices per week at a designated practice facility with a contracted Elite FC soccer coach. Game schedules will be posted by the playing league; with possible games to be played Saturdays and/or Sundays starting as early as 8:00 a.m and Monday through Friday after 6 p.m..

Elite FC Soccer with Bedford Euless Soccer Association details
Olympic Sabre Fencing Homeschool Class

North Richland Hills

Have you ever dreamed of wielding a light saber? Of dueling at dawn? Of rattling sabres aboard a pirate ship? Come to Cutting Edge Fencing for a taste of the Olympic sport of fencing and feel like you're bringing movie fights to life! All equipment is provided. Wear long workout pants, a t-shirt, and lace-up tennis shoes. Ages 8-18. The Homeschool Class is offered on Tuesdays and Thursdays from 2:30-4:00 pm. It's designed to give homeschool families the chance to try a new sport and help their kids get active. CEFC offers the opportunity to earn PE credit as well. This is a class offered to the Homeschool Community from September to May every school year.
Red River Athletic Association

North Texas/Southern Oklahoma

The Red River Rattler Athletic Association is dedicated to providing home school students in the North Texas/Southern Oklahoma area with the opportunity to play competitive sports in a Christian environment. The purpose is to provide a positive, Christ-centered experience for all players; honoring Christ and keeping Him first. Red River Rattlers offers Boys and Girls Basketball and Girls Volleyball to home-schooled athletes Middle School aged through High School. Check the website often for sign-up information.
Parker-Tarrant Home School Sports

Parker and Tarrant Counties

Parker-Tarrant Home School Sports exists to promote and accomplish sports education for the Texas Home School student in a Christian environment. With a focus primarily in the Parker County and West Tarrant County areas of North Texas, the organization's objective is to provide a competitive environment for middle school and high school sports competition that is not normally provided by traditional home school organizations or support groups. PTHSS organization offers the following sports programs: Boys' Varsity and Junior Varsity Baseball, Boys' Basketball from middle school through high school, Girls' high school basketball, Girls' Volleyball from middle school through high school, and Boys' six-man football from middle school through high school.
Weatherford Express Basketball

Parker County

A non-profit corporation offering competitive basketball to home-educated students grades 4 through 12 in the Parker County area. We strive to provide opportunities for our students to develop athletically, socially and spiritually.
The Aquatic Academy

Pearland

Swim lessons that follow a Red Cross curriculum. The Aquatic Academy can also cover PE topics for homeschool individuals and groups. Group rates for homeschool groups. Flexible scheduling. Year round instruction.
Pflugerville Martial Arts Academy

Pflugerville, North Austin

Our program is designed and developed to provide children with the fundamentals of martial arts, fitness, self defense, bully response, cyber bullying and anti-abduction and more. The development of a Positive Self Image and a balance of Modesty and Self Confidence helps prepare children for societal success.
Lords indoor sports

Plano

Lords indoor sports can be used to practice soccer, baseball and cricket by home schooling kids
NV Gymnastics

Plano

NV Gymnastics is a recreational and competitive gymnastics facility that offers a variety of gymnastics class as well as open gyms for kids to go where they wish. NV was previously Golden Grip Gymnastics, so it has come under new management with a new dream: to help as many kids learn as possible with gymnastics as the vehicle. They have many experienced and licensed instructors on staff determined to see every kids that comes through the door has a happy and educational experience at NV. They have trampolines, tumble tracks, bars, beams, a bouncy tumbling floor, and a foam pit.
Texas Karate Institute

Richardson

Teaching martial arts consistent with christian values. Texas Karate Institute believes the goal is to make disciples that make disciples. Teaching students how to protect themselves, their families, and those who are weaker than themselves.
Texas International Fencing Center

Rockwall

Welcome to the fun and exciting sport of fencing! Located in Rockwall and serving all surrounding cities, TIFC caters to all individuals ages 7 to Adult; from the recreational fencer to those looking for future athletic scholarships, NCAA competition and/or the Olympics. They offer group classes and private lessons. Homeschool daytime classes are available as well as a variety of evening classes for any skill level. FREE one week trial classes are available during the first week of every month. Contact Coach Hector or Coach Andrew to set up an appointment. Coach Hector Florencia - (214) 415-5007 Coach Andrew Gregory - (903)-348-2744 texasintfencingcenter@yahoo.com Facebook - texasinternationalfencing_fc_
1A Soccer Training

Round Rock

1A Soccer is an indoor soccer training facility that offers classes for all ages and skill levels! The experienced coaches are experts at making training sessions both engaging and efficient. From the Tots Program to the Advanced Skill Class, there are classes designed for all players. The facility also offers specific skill classes such as a Speed and Agility Class taught by Ex-Olympiad Henry Tabarie. The facility is indoors and equipped with A/C, so players can train in any weather. There's also a raised viewing area for parents to comfortably watch their players train.
Only The Elite: Athletic Performance Training

San Antonio

A Strength and Conditioning and Personal Training facility. OTE offer's Sport Specific Strength and Conditioning and Personal Training. OTE is currently training several athletes from area schools, as well as college bound graduates, and adults. Now building home schooling programs!
FEAST Sports Program

San Antonio

The primary purpose for the FEAST sports program is to provide an opportunity for home school children to play sports in a supportive atmosphere.
Well Fit

San Antonio

WellFIT offers personal training, group fitness classes, corporate wellness programs and much more. Let WellFIT help you customize your Physical Education program and exceed your home schooled students needs.
Bandera Bowling Center Home School Club

San Antonio/Leon Valley

Bandera Bowling Center Home School Club for youth ages 8-18). Wednesdays at 1:00pm. Youth will bowl 2 games per week, with instruction, for 8 weeks and have a celebration party on week 9. Youth can use the house bowling ball and house bowling shoes for free during 2 game instruction. The total cost for the 9 weeks session is $50.00 per youth. Please call Bandera Bowling Center 210-523-1716 for more information.
San Marcos Panthers Basketball

San Marcos

We are a homeschool Christian oriented basketball organization. We splay hard and are competitive while maintaining Christ as our guide. We have almost all age groups boys and girls teams 12u and up. Please contact us if you are interested in playing basketball with a great group of people. All experience levels are welcome.
Woodway Equestrian Classes

Spring

Bilingual equestrian teacher in the Spring area offering beginning equestrian classes.
Haru Dojo

Spring

Martial Arts is the perfect program to get PE for your child. In addition, with this program your children will be more attentive and focused. The program combines a study in martial arts, exercise, injury prevention, and healthy lifestyles with actual physical activity. This is a fantastic program for parents and kids to do together. Aikido's emphasis on proper breathing, balance, and posture results in the steady improvement of physical and mental conditioning in one's daily life, and provides a sense of being energized and centered.
Youth Wrestling Training Center

Spring

The Firebird Training Center is a state-of-the-art training facility designed for youth wrestling. Our mission statement – Firebird serves as an athletic educational organization that teaches the sport of wrestling and the disciplines of hard work, leadership, mental toughness and character building.
Summit Golf School

Spring and The Woodlands

This resource gives homeschoolers access to golf. A monthly membership for juniors; get 2 hours of private instruction, a set of US Kids golf clubs with a 6 month commitment, free access to afterschool classes 5 weeks one hour per week, 4 sessions per year, free play days, and 3 summer camps! Can't be beat for $300, discounts for multiples in one family.
Summit Golf School

Spring, TX

Specifically engineered junior golf programs that focus on developing your junior golfer in a game based approach. With the programs, students from beginner to advanced are evaluated on a weekly basis using measurable teaching techniques and challenges. Instruction takes on many shapes and sizes based on the student in front of us. Timeless fundamentals are our foundation to lessons with modern technology as catalyst to your success. Each student is evaluated based on their swing and individual needs. Summit Golf School has 2 locations at Gleannloch Pines Golf Club in Spring, TX and Augusta Pines in The Woodlands, TX.
Sideline Spirit Cheer Company

Spring/Woodlands

Sideline Spirit is a boutique cheerleading company located in Spring, TX. Our mission is to develop cheerleaders and aspiring cheerleaders into leaders. Specializing in Game Day cheer, they not only offer classes at our gym, but also work closely with local school teams and cheerleaders to support their growth and success on and beyond the sidelines. The benefits of cheerleading are invaluable and will serve your child well beyond their youth. At Sideline Spirit, they've created a space that cultivates growth not only in their athletes skills, but also their character. This season, Sideline Spirit is launching a homeschool team that will have the opportunity to cheer at local games and events. Practices will take place twice a week and you can expect 1-2 performances per month. Visit gosidelinespirit.com to register!
CenTex Christian Homeschool Community (CCHC)

Temple

Centex Christian Homeschool Community , CenTex Christian Homeschool Co-op, and CenTex Chargers homeschool sports teams.
CenTex Homeschool Chargers

Temple/Belton/Killeen

A sports association started by homeschoolers in 2006 to serve the central Texas area. We have athletes from Temple, Belton, Killeen, and the surrounding communities, and do not limit our membership geographically. We currently field middle school teams in six-man football, cross country, and track and field, and high school teams in six-man football, baseball, track and field, and cross country. We are open to offering more sports if coaches volunteer for those sports.
TotalTech Home school Soccer

The Woodlands

TotalTech Soccer training has a 1 and 2 day option of 45 minute sessions for our homeschoolers in your area. Our classes are taught by Professional Coaches from across the globe. The sessions focus on:Soccer History, Ball Mastery, Game Rules, Skills Training and Soccer Scrimmages.
Global Martial Arts

Tomball, cypress

Global Martial Arts offers a family friendly environment for martial arts with day time classes available for those who homeschool! Our 4-6 year old class is held Tuesdays and Thursdays at 10:30am and our 7-12 year old program is held at 11:00am on Tuesdays and Thursdays with evening time options as well for all ages!
Tyler HEAT

Tyler

Home Education Athletics of Tyler (HEAT) main purpose is to glorify God through providing Christian Home School families the opportunity to participate in organized competitive sports at the Middle School and High School Level. Offering the following sports: boys: 6 Man tackle football, cross country, track, and basketball girls: volleyball, cross country, track, basketball, and Cheer.
Waco Liberty Volleyball

Waco

This Middle school and High school volleyball program strives to offer competitive volleyball, while focusing on Christlike character. It is a Christian organization that has short scripture based devotions & prayer at each practice. This team does at least one service project for the community each volleyball season. The season begins around Aug. 1 each year and ends about Oct. 20th. The head coach, Julie Spann has been coaching for over 25 years and does things with excellence and integrity. The girls are challenged by her and respect her greatly. She has a record of keeping in touch with her players even after they graduate and cares deeply for each athlete.
CENTEX Bearcats

Waco

CENTEX Bearcats is a Christian homeschool organization established to encourage, support and build Christian character through the participation in extracurricular activities related to athletics. CENTEX Bearcats is committed to providing quality athletic instruction and seeks to encourage the development of honorable character qualities and leadership skills within a team environment that will intentionally honor and glorify Christ. Participation is open to families of all races and religions. All CENTEX BEARCATS teams and activities are governed by policies based on traditional Biblical principles. Members and participating families agree to abide by these principles.
CenTex Sports Association

Waco-Temple

Youth Sports organization for ages 11-18
Ellis County Christian Homeschool Organization

Waxahachie

ECCHO is a 501c3 support group for over 100 homeschooling families in and around Ellis County. We offer many activities including, but not limited to, Mom's Night Out, field trips, a mentor program, theater program, and enrichment classes. All of these activities are available to any member of ECCHO. We also offer a meal support ministry to ECCHO members in need. We offer two different options for classes for those who want to participate--Enrichment Classes (EC) and ECCHO PREP High School Classes. Enrichment Classes or EC (elementary/jr. high) meet bi-weekly on Fridays in Waxahachie. Enrichment Classes have a registration fee of $15 per semester, along with a small supply fee for each class, determined by the teacher. EC is a true cooperative with everyone pitching in & participating in various ways. Parents must stay on campus. ECCHO Camp Classes (ages 5+) meet weekly on Tuesday in Midlothian at Camp Hoblizelle. Camp Classes have a monthly fee paid to The Salvation Army. Some classes carry a one time supply fee. Students may take as many or as few classes as they wish. ECCHO PREP high school classes (age 13+) meet weekly on Fridays in Waxahachie. High school classes have a monthly participation fee and monthly class fees, determined by each teacher. There may be a one-time class supply fee at the beginning of the semester, also. Students may take as many or as few classes as they wish.
Flying G Ranch

Waxahachie, Midlothian, Red Oak, Ovilla, Ennis, Cedar Hill, Dallas and Fort Worth

Natural horsemanship classes and horse riding lessons in Waxahachie at family-friendly prices.
Weatherford Express

Weatherford/Parker County and surrounding area

Weatherford Express is a Christian-based, not-for-profit organization that provides home schooled students the opportunity to participate in team sports. We currently offer Volleyball (girls, ages 12-18) and Basketball (girls and boys, ages 8 - 18). Season for Volleyball runs from July - October. Basketball runs from September - March. Other sports may be entertained as players, volunteers, and facilities are available.
Coach Sam's Homeschool Tennis

West Columbia

Learn the life long sport of tennis in a fast paced, games based learning environment. This program is designed so that Entire families can participate in the same class together. Classes are available Year-Round in three different locations. Coach Sam has been involved in the tennis industry for over 20 years as a player, club manager, and coach. He is certified by the United States Professional Tennis Association.
West Houston Thunder

West Houston

The Thunder is a high school level program designed to meet the needs of young men that desire to play competitive homeschool baseball.