Field trips are a great way to reboot a bad homeschooling week, get out of the house when everyone has cabin fever, and learn about your local area. Before heading out, check out Jeanne's tips for improving homeschool field trips.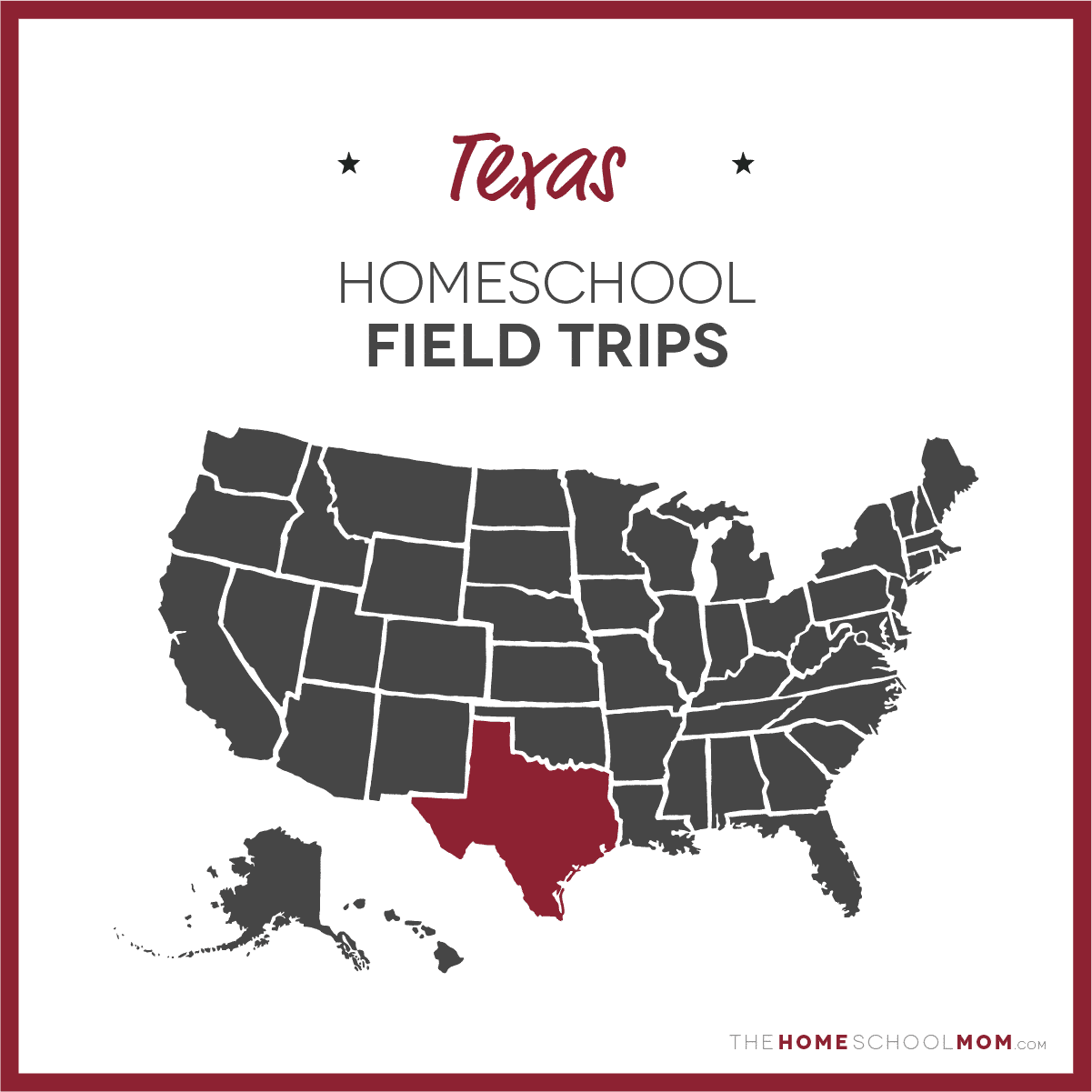 Submit a Field Trip Destination
Our listing of Texas field trips for homeschoolers is ordered alphabetically by city. If you would like to submit a Texas field trip destination, you may do so using the red button above.
An asterisk * after the title indicates that a virtual field trip is also available.
El Camino Real de Los Tejas National Historic Trail

Hola! Bienvenidos al Camino Real de los Tejas National Historic Trail. Come on a journey that will carry you through 300 years of Texas and Louisiana frontier settlement and development.
Abilene Zoo

Abilene

Bring a new meaning to the wild wild west and take your kids on an adventure to the only zoo in West Texas! We'll be sure to inspire the future conservationist in your students with the wonder and amazement of the Abilene Zoo.
Imagination CIty

Abilene

We offer a safe and imaginative kids indoor play area for the simple reason that it is fun for children. The evidence supporting the significant developmental benefits of open and pretend play for young children continues to be added to by comprehensive research in the field of child development and educational psychology. We offer a new way for parents to lessen the amount of screen time for their children. We offer group rates for homeschool students.
The Grace Museum

Abilene

The Grace Museum houses three museums in the historic Hotel Grace -- an art museum featuring five gallery spaces, a historical museum and a state-of-the-art children's museum.
The American Fallen Soldiers Project National Gallery

Addison

The American Fallen Soldiers National Gallery, a place of peace, comfort and patriotism to all Veterans, family members and civilians alike. The Gallery also serves as a place of inspiration and education for returning soldiers, civic groups and educational institutions. We provide a comforting place of peace, remembrance and healing while honoring the service and sacrifice of our nation's heroes. Each portrait tells the stories of the men and women who made the ultimate sacrifice protecting our freedoms. Tours recommended for 4th grade and up . Admission is free and donations are welcome.

The American Fallen Soldiers Project National Gallery website
Big Bend National Park

Alpine

Sometimes considered "three parks in one," Big Bend includes mountain, desert, and river environments. An hour's drive can take you from the banks of the Rio Grande to a mountain basin nearly a mile high. Here, you can explore one of the last remaining wild corners of the United States, and experience unmatched sights, sounds, and solitude.
Amarillo Museum of Art

Amarillo

The purpose of the Amarillo Museum of Art (AMoA) is to provide quality visual arts programming to the residents of the Texas Panhandle, eastern New Mexico, and western Oklahoma through collections, temporary exhibitions representing a variety of media and periods, educational programming, preservation and research.
Fanthorp Inn State Historic Site

Anderson

Experience 19-century life as an early Texas stagecoach stop and family home. Activities: Attractions include tours of the historic Fanthorp Inn and rides on the authentic replica of an 1850 Concord stagecoach.
River Legacy Nature Center

Arlington

Groups of 10 or more can explore the River Legacy Nature Center with a self-guided group visit including an interactive exhibit about the Trinity River ecosystem. The Homeschool/Multi-age Group program is a native animal exploration presented by a Naturalist. Visits are by appointment and have a small per person fee. The Discovery Trail offers a self-guided walk through the woods with a map explaining eleven posts highlighting the sights and sounds of the trail. The atrium area hosts live and taxidermy animals native to the Trinity River ecosystem. Please see the website for more information.
Atlanta State Park

Atlanta

Activities: The park offers swimming in a designated sandy beach area (no lifeguard on duty) on Wright Patman Lake, a nature trail and a hiking trail of five miles, water skiing, boating (canoe rentals are available at the park), and fishing. Wright Patman Lake is also a popular fishing spot. The reservoir covers 20,300 acres and has an average depth of 7.6 feet. There are 170 miles of shoreline. On shore, the activities include walking, nature study, hiking, camping, picnicking, or jogging along roads, trails or shorelines. Bicycling is popular along the hilly park and area roads.
McKinney Falls State Park

Austin

The park is named for Thomas F. McKinney, who came to Texas in the early 1820s as one of Stephen F. Austin's first 300 colonists. Sometime between 1850 and 1852, McKinney moved to Travis County and his property on Onion Creek, where he became a prominent breeder of race horses with his own stable and private track. He built his large two-story home, stone fences, and the first flour mill in the area with slave labor. View a larger version of this image. Activities: Preserved in the park are the ruins of his trainer's cabin and the stabilized ruins of his own homestead. Information on Thomas F. McKinney and the history of the park's land use is interpreted in the Smith Visitor Center. Camping, hiking, mountain biking, road biking, picnicking, fishing, and wildlife observation are other activities. Swimming is now allowed in Onion Creek; call 512/243-1643 for current creek conditions.
Warren Wildlife Gallery

Austin

Come see animals from all around the world! Warren Wildlife Gallery is a natural history museum that allows viewers to experience a rare approach to wildlife. From all around the world, this collection acknowledges more than 700 mammals and over 1,200 exotic birds. It includes pieces from Teddy Roosevelt's 1909 safari expedition revealing a glimpse into his pioneer efforts towards conservation. The Warren Wildlife Gallery will leave you with knowledge of these exotic animals from all over the world.
The Escape Game Austin

Austin

The Escape Game Austin is a live 60-minute adventure. You and your team will select your challenge and will have one hour to complete your mission and escape. This experience is perfect for developing problem-solving skills, and it is also a great team building activity. The Escape Game is recommended for ages 13 and up, though all ages are welcome (14 and younger must be accompanied by an adult).
Women & Their Work

Austin

Women & Their Work offers tours that include an art-making workshop with materials provided. As a non-profit gallery, we have provided the Austin area the opportunity to connect with contemporary art for over 40 years, with a particular focus on Texas-based women artists. Education has been a long-standing pillar of the gallery, and we would love to have your students visit us this school year. Admission is free, and we have funding to provide transportation by bus for your students. Tours are typically one hour and are available Monday to Friday from 10 to 6. Our tours are open to all ages.
Austin Museum of Art

Austin

With two locations to welcome our city and its visitors, the Austin Museum of Art presents an array of art experiences in the fun, informal, and collaborative spirit of Austin. As a community-oriented museum, we reflect the character and vibrancy of our city. We're Austin's Museum of Art!
Neill-Cochran House Museum

Austin

The Neill-Cochran House is considered to be one of Austin's three most important historic residences. Built in 1855 as a suburban estate, this impressive Greek Revival house has survived war, neglect, and the immense growth of the University of Texas area and the capital city.
Umlauf Sculpture Garden & Museum

Austin

The Umlauf Sculpture Garden & Museum features sculpture by 20th century American sculptor Charles Umlauf and other contemporary sculptors, several of whom were Umlauf students at the University of Texas.
Hill Country State Natural Area

Bandera

Tucked away in the rugged terrain southwest of Bandera is Hill Country State Natural Area, an undeveloped and secluded retreat. Approximately 40 miles of multi-use trails wind up grassy valleys, cross spring-fed streams, and climb steep limestone hills. Equestrians, hikers and mountain bikers can enjoy exploring the trails. Primitive and backcountry camping areas are available to equestrian and non-equestrian campers. Activities: Recreational activity centers around 40 miles of designated, multi-use trails. The park offers a backcountry setting for activities such as primitive camping, backpacking, mountain biking, hiking, horseback riding, equestrian camping, flora and fauna observation, and limited swimming and fishing (3 designated swimming areas are on West Verde Creek. Moderate fishing opportunities for catfish, perch, and large-mouth bass.
Bastrop State Park

Bastrop

Activities: The park provides opportunities for backpacking, camping, picnicking, canoeing (park rents canoes), swimming (pool), golfing, wildlife viewing, hiking, and interpretive programs. Biking - Whether you are a beginner or an expert rider, you will find what you are looking for on Park Road 1C between Bastrop and Buescher State Parks. Enjoy the 12 mile scenic ride through the Lost Pines of East Central Texas. This roller coaster ride is part of the MS-150 (famed bike race from Houston to Austin.).
Matagorda Island (WMA)

Bay City

The island is 38 miles long and varies in width from less than a mile to about four and a half miles. The island supports a wide variety of migratory birds, some 19 state or federally listed threatened or endangered species, a large herd of white-tailed deer, alligators and other wildlife. Activities include salt-water fishing, hunting (in season), birding, picnicking and historical interpretation. A lighthouse dating from 1852 still stands at the north end of the island. Matagorda Island is known for its seclusion and untouched natural beauty.
McFaddin-Ward House Visitor Center

Beaumont

The McFaddin-Ward House was built in 1905-06 in the striking and distinctive Beaux-Arts Colonial style. The structure and its furnishings reflect the lifestyle of the prominent family who lived in the house for seventy-five years. Today, visitors to the house receive guided tours of three lavishly furnished floors in the home. Trained guides combine family stories and local history with information about the house and its furnishings to tell the story of the McFaddin family and the era 1906-1950.
Colorado Bend State Park

Bend

Activities: The park currently offers the outdoor enthusiast access to primitive camping, hiking, fishing, which at certain times is terrific, swimming, mountain biking, birding, and nature watching, and guided tours. The park has 15.8 miles of hiking trails and 14 miles of mountain bike trails. When Lake Buchanan is near normal levels, the river is navigable from the park's boat ramp all the way to the lake, approximately 10 miles. This is a trip on slow moving water through the beautiful canyon lands of the Colorado.
Rio Grande Wild & Scenic River

Big Bend National Park

A River Wilderness - The Rio Grande flows from its headwaters in the San Juan Mountains of southern Colorado for 1,865 miles to the Gulf of Mexico near Brownsville, Texas. For 1,250 miles, the Rio Grande is the boundary between the United States and Mexico. In a remote stretch in west Texas, the river makes a curve to the northeast to form the "big bend." It is here that the wild character of the river lives on.
Big Spring State Park

Big Spring

Comanches and earlier Indian groups frequently visited the park area in the past, probably attracted by the permanent source of spring water. Spaniards may have first visited the area as early as 1768. However, the first recorded mention of the spring is from an October 3, 1849 entry in the journal of Captain R. B. Marcy of the U. S. Cavalry on his return excursion from Santa Fe, New Mexico to Fort Smith, Arkansas. Other visitors to the park and spring include cattle drovers, and immigrants moving to new territories, as can be seen by carvings they left behind (circa 1917, turn of the century). Today the City of Big Spring occupies the area and is involved in several businesses such as agriculture, tourism, and the refining of petroleum. Activities: Dramatic views off of the 200-foot bluff and from the CCC-built loop road is one of the featured attractions of the 382-acre park. Early morning or sunset, joggers, walkers, and cyclists circle the loop, enjoying these views as they exercise. An elaborate Fourth of July fireworks display is one of the largest in the region. Other activities include picnicking, nature study, and sightseeing.
Blanco State Park

Blanco

The park area was used as a campsite by early explorers and settlers. A spring in the park made the location ideal when the river was dry. Activities: Activities include camping; swimming; picnicking; hiking; nature study; boating (electric motors only); and fishing. Tube, canoe and kayak rentals are available at the park. Annual Events: Blanco Classic Car Show - 3rd Saturday in May.
The Cave Without A Name

Boerne

Hidden in the hills northeast of Boerne lies a true Texas marvel, the Cave Without A Name. Your tour begins on a stairwell spiraling down the original sinkhole opening. Emerge into an expansive chamber that sets the pace for the adventure ahead. Spend an hour experiencing the diversity of natures artistic creations. Six major rooms offer sparkling crystalline formations that will evoke your imagination. End with the sights and sounds of a clear subterranean brook. Bring your camera to explore this true Texas marvel. Experience a guided tour of our six major rooms. Explore the unique gift shop and pan for gems and fossils. The Cave without A Name is dedicated to education and preservation. Experienced guides take you on a tour, which is both entertaining and educational for visitors of all ages.
Bonham State Park

Bonham

Activities: There is (unsupervised) swimming and fishing in the man-made lake, built in 1935, as well as camping, picnicking, mountain biking, boating (5 mph speed limit).
Kickapoo Cavern State Park

Brackettville

The park is currently in an undeveloped state. The park is currently open by guided tour only. Access to the park is available through guided bird walks, wild cave tours, and evening bat flights on specified tour dates throughout the spring and summer. Activities: Interesting features of the park include 15 known caves, two of which are large enough to be significant. Kickapoo Cavern is approximately one-quarter mile in length (1400'). It boasts some impressive formations and can be toured by special arrangement. Stuart Bat Cave (formally Green Cave), slightly shorter than Kickapoo at 1068', serves as a migratory stopover for large numbers of Brazilian Freetail Bats from mid-March to about the end of October. Bat flights are often spectacular, and observations are available on the same basis as Kickapoo Cavern tours. Birding opportunities abound in this area. Park facilities include 14 miles of mountain biking trails, and 18 miles of undesignated hiking & birding trails.
Resaca de la Palma State Park

Brownsville

This State Park boasts the largest tract of native habitat in the World Birding Center network.
Palo Alto Battlefield National Historic Site

Brownsville

On May 8, 1846 troops of the United States and Mexico clashed on the prairie of Palo Alto. The battle was the first in a two-year long conflict that changed the map of North America. The website offers historical information about the park for those who cannot visit in person.
Stillman House Museum

Brownsville

Surrounded by a black metal fence, the Stillman House Museum is among the oldest surviving structures in Brownsville. The house seen today is the result of additions made by the Trevino family during their time in the house. The original windows, shutters and doors are still in place and the breezy courtyards enjoyed by the Stillman and Trevino families still offer a respite from the hot Texas sun.
Brownsville Heritage Museum

Brownsville

Brownsville Heritage Museum portrays visual images of the historical evolution of the city and surrounding regions from discovery and exploration up to the first half of the 20th Century. The photographs, maps, costumes, and artifacts provide a unique perspective on various aspects of Brownsville life, ranging from street scenes and education to transportation and ranching. The museum opened in 2002 and was reinterpreted in 2009 with hands-on interactive displays. The Heritage Museum also houses La Tienda Gift Shop and the administrative offices of Brownsville Historical Association. The Brownsville Heritage Museum hosts numerous presentations, musical performances, and book signings throughout the year.
Old City Cemetery Center

Brownsville

The mission of the Old City Cemetery Center is to advance lifelong learning opportunities about the history, architecture, art, genealogy and folk art customs of the Brownsville Historic City Cemetery and the surrounding Buena Vida Neighborhood through exhibitions, cultural events, and educational programs.
Market Square Research Center

Brownsville

The vaults of Market Square house one of the largest South Texas photograph collections in the Rio Grande Valley. Additionally, the archives are home to numerous documents include the Frank Cushman Piece Papers and the A.A. Champion Collection. The collections houses fine art, historical costumes, furniture, sculpture, and the extensive Backal art collection. Artists include Frederic Remington, Charles M. Russell, Armando Garcia Nunez, and Carlos Romero Orozco.
The Chocolate Gallery of B/CS

Bryan

The Chocolate Gallery in Downtown Bryan is a popular destination for tours and school field trips. The Chocolate Gallery offers tours for elementary (ages 5=), middle school, and high school. The cost is $6.00 per student (no charge for teachers and teacher's aides) Parent chaperons will be charged $6.00 each. The tours and field trips consist of a short video on how chocolate is made, as well as, a hands-on presentation about chocolate and candy making. Tours last approximately 1 hour. Upon request, the Chocolate lecture can focus on how chocolate relates to current subjects of study.
Brazos Valley Museum of Natural History

Bryan

The Brazos Valley Museum hosts tours, lectures and classes. Educational programs for children include Nature Camps (held every spring/winter break, and summer), Game Day Learn & Play programs (held during every Aggie home football game), Birthday Parties, and school field trips (or if your school is in the area, have us come visit you!). Discovery Kits are available to teachers, home schoolers, scouts and others for their own use. We provide guides to the adjacent Carter's Creek Nature Trail, picnic area, and restored wildlife habitats.
The Children's Museum of the Brazos Valley

Bryan

The mission of The Children's Museum of the Brazos Valleyis to provide a child-centered, hands-on, interactive environment for discovery and learning for children.
Inks Lake State Park

Burnet

Inks Lake State Park is 1201 acres of recreational facilities adjacent to Inks Lake on the Colorado River in Burnet County. The park area has been used for cattle ranching since the mid-1800s. Activities: Visitors enjoy camping, backpacking, hiking, and golf. Since Inks is a constant level lake, droughts do not affect water-related activities such as lake swimming (unsupervised beach), boating, water skiing, scuba diving, and fishing.
Longhorn Cavern State Park

Burnet

The cave was first formed when the ground levels of water began to drop. As this downward movement occurred, the water began to dissolve the limestone. This downward drainage continued until great underground stream beds were cut out of solid rock. It is this unusual combination of dissolving and cutting by water that makes Longhorn Cavern one of the most unique caves of the world. The cave has been used as a shelter since prehistoric times. Among legends about the cave is one that the outlaw Sam Bass hid a $2 million cache of stolen money inside. Confederates made gunpowder in the cave during the Civil War. Legend also says Texas Rangers rescued a kidnapped girl from Indians in the cave. Activities: The park features historical and nature study. Located in the heart of the Highland Lakes, Longhorn Cavern is near four different lakes and communities that offer excellent opportunities in camping, fishing, and hunting.
Possum Kingdom State Park

Caddo

Activities: Activities include camping, picnicking, lake swimming, fishing, hiking, biking, nature study, boating, and water skiing.
Choke Canyon State Park

Calliham

From scant evidence available, we know that Paleo Indians crossed the Frio River Valley more than 10,000 years ago following game such as bison and mammoth. After the disappearance of large game, more than 8000 years ago, nomadic hunters and gatherers associated with the archaic culture camped near the river making tools, building fires, processing, and gathering food. Numerous Archaic sites in the Choke Canyon area have been recorded. Activities: The South Shore Unit is a day-use only park (6 a.m.-10 p.m.) and offers boating, fishing, picnicking, wildlife viewing and birding. The Calliham Unit offers camping, picnicking, boating, hiking, wildlife viewing, birding, fishing, lake beach and softball and volleyball areas. Seasonal guided bird walks are conducted on scheduled days. Day use equestrian is allowed in the North Shore Equestrian Area on Saturday's and Sunday's.
Palo Duro Canyon State Park

Canyon

Welcome to the "Grand Canyon of Texas" ! Activities: Park activities include camping, horseback riding, hiking, nature study, bird watching, mountain biking, and scenic drives. While in the park, stop by and enjoy our Visitor Center located on the Canyon Rim. This rustic native stone building was constructed by the CCC in 1934 and houses a Museum and Museum Store. The store is located in the Visitor Center and features books, potter, jewelry, and educational items pertaining to the Canyon.
Dogwood Canyon Audubon Center

Cedar Hill

At Dogwood Canyon Audubon Center, the ecosystems of east, west and central Texas converge, making the canyon an ideal location for teaching and learning about environmental science and nature. Hiking trails, native plants, birds, insects, wildlife, Nature Play area, picnic tables, bird blind w/rain catchment system, indoor bird viewing area, store w/educational materials, special events, programs. Free general admission (donations accepted.)
Cedar Hill State Park

Cedar Hill

Activities: Camping - Features 355 mostly wooded campsites with a shade shelter over some of the picnic tables. Each site has water, electricity, a fire-ring, a lantern pole, and a picnic table. All campsites are within walking distance of restrooms with hot showers. Additionally, there are 30 primitive campsites. Penn Farm Agricultural History Center pays tribute to the disappearing Texas' family farm and affords a glimpse into agrarian history as farm machinery took the place of the horse and mule almost a century ago. The Farm is open 7 days a week to self-guided tours. There are reconstructed and historic buildings from the mid 1800s through the mid 1900s. The Penn Farm has a very relaxing atmosphere and is perfect for family walks. Self-guided and guided tours are available. Special tours can be set-up for school groups or other groups. Call 972-291-5940 for more information
Fort Boggy State Park

Centerville

Activities: Swimming, fishing, hiking and mountain biking is allowed. There is a boat ramp and the lake (approximately 15 acres) is open to small boats, canoes, kayaks, etc.
Chisholm Trail Outdoor Museum

Cleburne

The Chisholm Trail Outdoor Museum sits on the Chisholm Trail which was a trail used in the late 19th century to drive cattle overland. The museum includes a life size cattle drive silhouettes, Johnson County's original courthouse, a working blacksmith shop, a stagecoach station, teepees and more.
Cleburne State Park

Cleburne

Activities: Cleburne State Park mountain bike trails offer 5.5 miles of beautiful scenery with a variety of challenges for all experience levels. The terrain on the trail is as diverse as the hills. You will experience treacherous downhills, fast smooth flats, and everything in between. The technical and wooded trails form an entire loop that has made this trail one of the favorites for mountain bikers in training or those who enjoy a challenging ride. The trail will test your skills and endurance and is well worth your time! Fishing and boating the clear blue waters of Cedar Lake is a wonderful way to spend the day with your family.
The Museum at the George Bush Presidential Library

College Station

The 69,000-square-foot library and museum is dedicated to the preservation, research and exhibit of official records, personal papers and memorabilia from the life and career of George H.W. Bush. Every presidential library has items unique to the presidency. Here you'll find a replica of Bush's Camp David office and his Air Force One office.
Camp Tonkawa Outdoor Learning Center, Inc.,

Collinsville

Our mission is to reconnect mankind with nature with our "hands on" teaching of ancient Native American skills of nature awareness and primitive wilderness survival.
Lake Colorado City State Park

Colorado City

Activities: Activities include picnicking, camping, fishing, and lake swimming (unsupervised). Containing more than five miles of shoreline, the 500 acres of park land afford numerous outdoor activities for lake swimmers, fisherman, skiers, jet-skiers, campers, hikers, and naturalists. Park visitors of all ages enjoy seeing part of the Texas Longhorn herd.
Seminole Canyon State Park & Historic Site

Comstock

Activities: Hiking, mountain biking, camping, historical study, and nature/interpretive attractions are enjoyed. Fate Bell Shelter, in the canyon, contains some of North America's oldest Indian pictographs and is one of the oldest cave dwellings in North America. Note: No hiking is allowed in the canyon area without a guide
Garner State Park

Concan

Activities: Hundreds of thousands of visitors flock here each year to enjoy its matchless vacation facilities. They swim in the clear waters of the Frio River, scoot its rapids on inner tubes, rent pedal boats, and hike its fascinating nature trails. On long summer evenings, young folks (and the young at heart) meet at the concession building for jukebox dancing every night during the summer season. Nearby is a miniature golf course, which is lighted for nighttime playing. Meals and snacks are served in the concession building, though many families prefer to take advantage of the many camping sites and do their own cooking. A limited number of cabins are available for rent. The park offers camping, hiking, nature study, picnicking, canoeing, fishing, swimming in the Frio River (unsupervised), seasonal miniature golf, paddle boat and kayak rentals (mid-March through Labor Day weekend), bike riding (surfaced).
Conroe's Incredible Pizza Company

Conroe

We specialize in bringing people together. IPC offers a variety of group packages customized to the type of event you're planning. We host corporate meetings, church groups, schools, youth sports teams, lock ins and company picnics. We'll prepare a customized package to meet your budget and event needs. Games and Attractions include video and arcade games, virtual reality, go karts, laser tag, bumper cars, mini-golf, mini-bowling, and a kid's playland.
Cooper Lake State Park

Cooper

Activities: Features include camping, fishing, water skiing, picnicking, boating, unsupervised swimming, bird watching, nature study, fun and educational nature programs and tours. The South Sulphur Unit offers equestrian camping and horseback riding trails.
Mustang Island State Park

Corpus Christi

The earliest known inhabitants of Mustang Island were Karankawa Indians, known for their fierceness and cannibalism. The Karankawas were a hunter-gatherer people, and depended heavily on shellfish and mussels for food. Encountered first by Spanish explorers, the Karankawas survived in the region until the 19th century. The island was first named "Wild Horse Island," then "Mustang," because of the wild horses, called "Mestenos," brought to the island by the Spaniards in the 1800s. Activities: Activities include camping, picnicking, fishing, swimming, hiking and mountain biking on 5 miles of open beach, sunbathing, surfing, kayaking and excellent birding, especially during spring and fall migrations. Tours: Interpretive ecological tours done on request.
Texas State Aquarium

Corpus Christi

The Texas State Aquarium is a nonprofit aquarium located in Corpus Christi, Texas, United States. The mission of the Texas State Aquarium is to engage people with animals, inspire appreciation for our seas, and support wildlife conservation. It has been accredited by the Association of Zoos and Aquariums since 1995.
Padre Island National Seashore

Corpus Christi

Padre Island National Seashore, encompassing 130,434 acres, is the longest remaining undeveloped stretch of barrier island in the world.
Art Museum of South Texas

Corpus Christi

The permanent collection of the Art Museum of South Texas contains more than 1,300 works of art in the media of painting, sculpture, prints, drawings, collages, mixed media, ceramics, and textiles. The focus of the Permanent Collection is on fine art and craft of the Americas with particular interest in Texas and surrounding states, including those in Mexico.
Pearce Museum at Navarro College

Corsicana

The museum is divided into two distinct exhibit areas. The Civil War Gallery is an interactive experience designed to give the visitor a humanistic overview of the Civil War, including issues, causes, battles, leaders, plight of the common soldier, the home front, and the aftermath. There are currently more than 15,000 items in the Civil War collection, while less than five percent are on display at any one time. The Western Art Gallery features two- and three-dimensional works of art depicting many aspects of the historical and contemporary Western experience including cowboys, Indians, settlers, and pioneers. There are 228 works in the Western Art collection; with not quite fifty percent of those pieces on exhibit at any one time.
Chisholm Trail Heritage Museum

Cuero

The Chisholm Trail Heritage Museum's mission is to preserve the ranching and Western culture of South Central Texas. We welcome students from 1st grade to 12th grade. We have a small theater, interactive modules and hands-on activities along with our excellent history exhibits. The museum also has a restored one-room school house built in the 1880's by a German Association to educate German immigrants in Cuero. Our fee for school groups is $2.00 per student and teachers are free.
Daingerfield State Park

Daingerfield

Activities: The park offers picnicking; camping; boating (5 MPH speed limit); fishing; swimming in an unsupervised swimming area; hiking; and nature study. A seasonal concession (March - October) rents pedal boats and canoes. Tours may be arranged by special request. Year-round boat rentals are available.
Old Red Museum

Dallas

Who knew history could be so much fun? The Old Red Museum of Dallas County History & Culture sees thousands of students each year. With four galleries, four theaters, a hands-on Children's Education Center, 41 interactive computer touch screens and more than 1,000 artifacts and photos, the Old Red Museum is an exciting place to learn about regional Texas history from pre-historic times to the present day. With artifacts ranging from fossils and a mammoth tusk to J.R. Ewing's cowboy hat and the first integrated computer circuit, your students can hear the stories of their heritage from Old Red.
Dallas Heritage Village

Dallas

Dallas Heritage Village is a living history museum portraying life in North Texas from 1840-1910. The museum is composed of 38 historic structures & boasts a working Civil War era farm, a traditional Jewish household, elegant Victorian homes, a school, a church & commercial buildings.
Dallas Holocaust Museum

Dallas

The Dallas Holocaust Museum does more than most history museums. Here, students not only encounter the inhumanity of the Holocaust but also realize that it was perpetrated by people just like them who turned a blind eye to the suffering of those around them. This encourages them to think through some of the most fundamental questions about human nature. We inspire students to consider the real consequences of their choices. We open minds, one student at a time. We challenge them to think critically and become UPSTANDERS.
Dallas Museum of Art

Dallas

The Dallas Museum of Art collects, preserves, presents, and interprets works of art of the highest quality from diverse cultures and many centuries, including that of the current time. Igniting the power of art, embracing a responsibility to engage and educating the community, to contribute to cultural knowledge, and to advance creative endeavor.
Frontiers of Flight Museum

Dallas

Embark on a memorable aviation journey - a tour of the Frontiers of Flight Museum. During your experience, you will bridge several lifetimes starting with the pioneers who realized their earliest dreams of flying; identifying with the aviators of the 20's and 30's, known as the "Golden Age of Flight"; understanding the sacrifices of the fliers of World War II; and progressing to the jet and rocket age of today.
Museum of Geometric and MADI Art

Dallas

Featuring displays of art form of whimsy and joie de vivre combined with complexity and geometrics.
Nasher Sculpture Center

Dallas

The Nasher Sculpture Center is one of the few institutions in the world devoted to the exhibition, study, and preservation of modern sculpture. The collection -- which numbers more than three hundred sculptures together with twentieth-century paintings and drawings -- rotate in thematic installations throughout the Center's seamless blend of indoor and outdoor exhibition spaces: an elegant, light-filled 55,000 ft2 building designed by Renzo Piano and a spacious garden created by Peter Walker.
Meadows Museum

Dallas,

The Meadows Museum is committed to the advancement of knowledge and understanding of art through the collection and interpretation of works of the greatest aesthetic and historical importance, as exemplified by the founding collection of Spanish art.
The George Observatory

Damon

The George Observatory, located about one hour's drive south of Houston in the attractive Brazos Bend State Park, is a satellite facility of the Houston Museum of Natural Science. The Observatory houses a Challenger Learning Center for Space Science Education, which takes participants on simulated space missions, complete with a mission control center and a spacecraft simulator. A meteorite exhibit features fragments of several famous meteorites, including a piece of the Allende, Chihuahua, Mexico carbonaceous chondrite meteorite, which fell to the Earth on Feb. 8, 1969. This is the most primitive type of meteorite known contains interstellar grains (stardust) and is believed to have formed during an explosion of a supernova/red giant star before the birth of the solar system, making it one of the oldest substances known to man.
Devils River State Natural Area

Del Rio

Activities: The park's large size and remoteness support day hiking, primitive camping, nature study, mountain biking, and canyon tours. Access to the river (1.5 miles) is by hiking, biking, or park tour only; no vehicle access permitted. The park is a put-in point (no take out) for canoes and kayaks. Nearest take out point is about 10 miles downriver from the Park and only outfitters are allowed to take boats out on these private lands. Lake Amistad is about 32 miles downriver from the Park, no cost to take boat out there. Catch and release fishing only. No live bait is permitted. No boats or motorized watercraft are allowed, only canoes or kayaks are allowed in the water. This is a FLASH FLOOD AREA, exercise caution. The nearest hospital is 70 miles away. Only containerized fuel fires allowed. No pets are allowed at this park.
Amistad National Recreation Area

Del Rio

A Borderland Paradise - Amistad NRA is the United States portion of International Amistad Reservoir, formed on the Rio Grande along the border of the US and Mexico. The reservoir is known for excellent water-based recreation and is surrounded by a landscape rich in prehistoric rock art, a vibrant border culture, along with a wide variety of plant and animal life.
Eisenhower State Park

Denison

Activities: Some of the activities include picnicking, hiking, biking, nature study, fishing, boating and boat rentals, water skiing, swimming, wildlife observation, ATV and mini bike use (OHV permit required), and a variety of camping.
Explorium Denton Childrens Museum

Denton

Explorium Denton Children's Museum is a grassroots children's museum located in Denton Texas. Our mission is to Engage. Explore. Educate. Learning through play is what we do. Nearly all of our exhibits are interactive and designed for ages 2-12 years.
The Battlefield/Nerf wars

Denton

An indoor Nerf war facility located in Denton hosting Homeschool groups for events. The kids run around and Nerf battle under the supervision of staff refs. A great way for the kids to bond and meet new kids as well as release some energy. Contact Todd to set up a time and date for your group. 972-657-0278
Lake Texana State Park

Edna

Lake Texana was named for the historic town of Texana, founded in 1832, near the junction of the Navidad and Lavaca rivers downstream from the present dam site. Activities: Activities include camping; boating; water skiing; jet skiing; sailing on the main lake; canoeing; picnicking (tree-shaded tables and grills); lake swimming (no designated area or lifeguard); hiking; good birding; and fishing. Tours: Interpretive programs are available for groups by special arrangements. Summer interpretive programs are held on Saturday mornings and afternoons. Topics vary; contact the park for details.
Hueco Tanks State Historic Site

El Paso
Franklin Mountains State Park

El Paso

Activities: Two hiking trails are currently accessible off of Loop 375/Trans-Mountain Road. Work is underway for a trail network that will ultimately offer over a 100-mile system. Rock climbing is just one of the park's newest recreational activities. With established climbing areas in McKelligon Canyon.
Chamizal National Memorial

El Paso

The Chamizal Convention of 1963 was a milestone in diplomatic relations between Mexico and the United States. Chamizal National Memorial was established to commemorate this treaty which resulted in the peaceful settlement of a century-long boundary dispute. The Memorial provides visitors with an opportunity to better understand the culture of our borderland.
El Paso Museum of Art

El Paso

Founded in 1959, the El Paso Museum of Art (EPMA) is a major cultural and educational resource for West Texas, New Mexico, and Mexico. The Museum houses a permanent collection of over 5,000 works of art. In addition to displaying works from its holdings, the Museum offers a diverse schedule of temporary exhibitions, films, lectures, concerts, and other educational programs to the general public.
Wyler Aerial Tramway

El Paso

The Wyler Aerial Tramway at Franklin Mountains State Park features an aerial cable car situated on 195.742 acres of rugged mountain and rock formations on the east side of the Franklin Mountains.
Purtis Creek State Park

Eustace

Activities: Activities include camping, picnicking, fishing, boating, and hiking. The park rents paddle boats, kayaks and canoes. Tours: Please check the Calendar of Events for Interpretive programs and tours. Special programs are given for groups upon request.
Fairfield Lake State Park

Fairfield

Activities: Activities include camping, backpacking, hiking, day use equestrian, nature study, bird watching, boating on this 2400-acre lake, water skiing, jet skiing, fishing, and lake swimming in a large, buoyed, sandy area.
Falcon State Park

Falcon Heights

Falcon Dam was dedicated by Mexican President Adolfo Ruiz Cortines and President Dwight D. Eisenhower in October 1953. The waters of the Rio Grande River have formed a beautiful 60-mile-long lake behind the dam. This dam was built for conservation, irrigation, power, flood control, and recreational purposes. Activities: The park features camping, swimming, fishing, water skiing, and boating. There is a 1-mile, self-guided nature trail
Indian Lodge

Fort Davis

Activities: Rest, relaxation, good food, swimming, mountain biking and hiking are among the activities the Lodge has to offer. There are foot-trails into the mountains that cross Davis Mountains State Park and a scenic trail to the Fort Davis National Historic Site. A swimming pool is available for registered Lodge guests.
Davis Mountains State Park

Fort Davis

Activities include camping, sightseeing, nature study, picnicking, hiking, backpacking, day and overnight equestrian use, mountain biking, and interpretive programs. Attractions include scenic drives, two scenic overlooks, and 4 miles of hiking trails connecting with Fort Davis National Historic Site. Stargazing after closed hours on Skyline Drive is allowed; registration required at headquarters - activity fee applies.
Fort Davis National Historic Site

Fort Davis

Fort Davis: Frontier Post - Fort Davis is one of the best surviving examples of an Indian Wars' frontier military post in the Southwest. From 1854 to 1891, Fort Davis was strategically located to protect emigrants, mail coaches, and freight wagons on the Trans-Pecos portion of the San Antonio-El Paso Road and on the Chihuahua Trail.
U.S. Army Medical Museum

Fort Sam Houston

The Museum Today... Since its dedication in 1989, the U.S. Army Medical Department Museum has continued to enhance its reputation as one of the most outstanding facilities of its kind in the world as an ideal venue for the restoration, preservation and exhibition of significant historic medical items. Military medical artifacts and memorabilia are proudly displayed in an environment that blends visualization of history with the appropriate presentation of the Army's contributions to medicine during times of both war and peace.
Botanical Research Institute of Texas (BRIT)

Fort Worth

Make connections in BRIT's living laboratory and the Fort Worth Botanic Garden with this custom experience for homeschoolers. Learners from K-2nd and 3rd-5th will engage in meaningful explorations in our soil lab, herbarium, and urban prairie in the morning and then explore the Fort Worth Botanic Garden in the afternoon.
Fort Worth Aviation Museum

Fort Worth

The Fort Worth Aviation Museum (formerly the Veterans Memorial Air Park) (FWAM) is a group of organizations dedicated to preserving and promoting the history of aviation in Fort Worth, the North Texas region, and around the world. The aircraft collection consists of twenty-one warbirds dating from 1943 to the present.
The Vintage Flying Museum

Fort Worth

The museum spans 2 hangars and has exhibit collections with items from WW1 thru the Vietnam War. The aircraft hangars house a large variety of vintage aircraft, some of which are extremely rare. Many of the aircraft are in flying condition and visitors can watch how aircraft are maintained and operated. The museum also has an extensive collection of piston and jet engines. The museum offers individualized tours and aviation related science activities and experiments by pre-arrangement. The museum has Jackie Cochran's last aircraft and an exhibit on her as well as the WASP program.
American Airlines C.R. Smith Museum

Fort Worth

The American Airlines C.R. Smith Museum preserves the history of American Airlines and interprets the air transportation industry. Through its activities, the museum serves active and retired and interested members of the general public. Because of the museum's commitment to education, its exhibits stress hands-on learning through hands-on displays. The museum collects artifacts and archival materials that are suitable for its educational and exhibit programs.
Amon Carter Museum

Fort Worth

The Amon Carter Museum was established through the generosity of Amon G. Carter Sr. (1879--1955) to house his collection of paintings and sculpture by Frederic Remington and Charles M. Russell; to collect, preserve, and exhibit the finest examples of American art; and to serve an educational role through exhibitions, publications, and programs devoted to the study of American art.
Thistle Hill & McFarland House

Fort Worth

Historic Fort Worth, Inc., a preservation charity, owns and restores Fort Worth's first and second landmarks, Thistle Hill (1904) and McFarland House (1899). Collectively, these two cattle baron mansions function as tangible storybooks on local architecture, architects, decorative arts, cultural history and heirloom gardening. Students ages 8 through 18 may be guided through each property at a group tour rate, and they can make and design buildings for a city they create.
Kimbell Art Museum

Fort Worth

The Kimbell Art Museum is widely regarded as one of the most outstanding architectural achievements of the modern era. Designed by the American architect Louis I. Kahn (1901--1974), the Museum has won wide acclaim for its classic modern building since its opening in 1972. A small collection of less than 350 works, the Kimbell Art Museum has become a byword for quality and importance at the highest level. The Museum's holdings range in period from antiquity to the 20th century, including European masterpieces from Fra Angelico and Caravaggio to Cezanne and Matisse, and important collections of Egyptian, Near Eastern, Greek, and Roman antiquities, as well as Asian, Mesoamerican, and African arts.
Modern Art Museum of Fort Worth

Fort Worth

Mission The Modern Art Museum of Fort Worth is dedicated to collecting, presenting, and interpreting international developments in post--World War II art in all media and creating a welcoming environment for its public appreciation. The Modern promotes understanding and interest in art and artists through curatorial research and publications, and a variety of educational programs, including lectures, guided tours, classes, and workshops.
Forward Air Controller Museum

Fort Worth

Preserve and perpetuate the history and heritage of Forward Air Controllers, both ground and airborne, of all eras and countries through educational programs and displays.
National Museum of the Pacific War

Fredericksburg

The only institution in the continental United States dedicated exclusively to the story of Fleet Admiral Chester W. Nimitz and World War II in the Pacific Theater is located on a nine-acre site in Fredericksburg, Texas. The complex includes The National Museum of the Pacific War -- George Bush Gallery, the Admiral Nimitz Museum, the Japanese Garden of Peace, the Pacific Combat Zone, the Plaza of the Presidents, the Surface Warfare Plaza, the Memorial Wall, the Veterans Walk of Honor and the Center for Pacific War Studies.
Enchanted Rock State Natural Area

Fredericksburg

Enchanted Rock was designated a National Natural Landmark in 1970 and was placed on the National Register of Historic Places in 1984. The Rock is a huge, pink granite exfoliation dome, that rises 425 feet above ground, 1825 feet above sea level, and covers 640 acres. It is one of the largest batholiths (underground rock formation uncovered by erosion) in the United States. Tonkawa Indians believed ghost fires flickered at the top, and they heard weird creaking and groaning, which geologists now say resulted from the rock's heating by day and contracting in the cool night. A conquistador captured by the Tonkawa described how he escaped by losing himself in the rock area, giving rise to an Indian legend of a "pale man swallowed by a rock and reborn as one of their own." Activities: Visitors can enjoy primitive backpacking, camping, hiking, technical and rock climbing, picnicking, geological study, bird watching, and star gazing (minimal light pollution). Remember, at Enchanted Rock State Natural Area, do not disturb plant or animal life, geological features, or Indian or historical artifacts. These park resources are protected by law! Bring your own firewood. Rock climbers must check in at headquarters; route maps and climbing rules available.
National Museum of the Pacific War

Fredericksburg

The National Museum of the Pacific War is dedicated to perpetuating the memory of the Pacific Theater of WWII in order that the sacrifices of those who contributed to our victory may never be forgotten.
iFLY Indoor Skydiving Dallas

Frisco

Our STEM program is a thrilling, immersive adventure perfect for all types of organizations. Fly with us as an elementary, middle, or high school class. Here is why over 270,000 students and educators love iFLY STEM Field Trips. Exclusive behind the scenes look at iFLY technology. Real world applications of STEM. Flexible packages and scheduling for your organization. Dynamic learning for all age groups aligned to your state standards. POC is Alex Einhorn. His email is aeinhorn@iflyworld.com
Alibates Flint Quarries National Monument

Fritch

Alibates - Imagine yourself standing where an ancient civilization once lived, surrounded by colorful flint that was used to make weapons and tools. Alibates flint is a multi-colored stone with the ability to hold a sharp edge. Alibates flint was highly prized and traded throughout much of North America.
Lake Meredith National Recreation Area

Fritch

Lake Meredith - Contrasting spectacularly with its surroundings, Lake Meredith lies on the dry and windswept High Plains of the Texas Panhandle. Dramatic 200 foot canyons carved by the Canadian River surround this 10,000-acre reservoir. The lake was created to supply water for 11 Panhandle cities and to create recreational opportunities such as fishing, boating, waterskiing, sailing, sail-boarding, scuba diving, and swimming. The backcountry surrounding the lake provides areas for hunting, camping, horseback riding, wildlife viewing and hiking.
Galveston Island State Park

Galveston

Activities: The park offers camping, birdwatching, nature study, hiking, mountain bike riding, fishing, and unsupervised beach swimming. Tours: Educational tours of the flora and fauna of the beach and bay areas of the park are given by appointment only. Contact the park to make arrangements. Due to severe damage from Hurricane Ike, Galveston Island State Park is currently closed. An opening date has not been set but the park will be closed through 2008.
Sea Star Base Galveston

Galveston

Climb aboard a 110 foot floating classroom the Baysmart Express. A 3-HOUR S.T.E.M. to STERN field trip starts at Sea Star Base Galveston on Offatts Bayou and leads out into the Intracoastal Waterway, past a national wildlife sanctuary. Continue through Pelican's Cut into the Texas City and Houston Ship Channels. Topics include the History of Galveston, the value of the Maritime Industry, the Economic Impact of Hurricanes, Nautical Vocabulary, Inland Navigation, the U.S. Buoy System, Shore Birds and Marine Life, the Archimedes Principle and Buoyancy, and Galveston Bay's watershed.
Ocean Star Offshore Drilling Rig and Museum

Galveston

Visitors board the retired jackup drilling rig and view a video about the offshore industry. The museum features three floors of models and interactive displays illustrating the story of offshore oil and gas from seismic technology to exploration and production. Scale models of production platforms, actual drill bits and remotely-operated vehicles (ROVs) as well as videos and exhibits explain drilling, geology, seismic, well servicing and production.
Hapik

Garland

Rock climbing at HAPIK does not require experience. It is safe, fun and accessible to everyone. Field Trips at HAPIK are exciting and create unique memories. How often do you climb to 26ft? We can accommodate small groups (10+) to 150 people (depending on locations). We can even make your event private. We have a versatile seating area that can be used for snacks and drinks or meetings.
Sweet Eats Fruit Farm

Georgetown

Sweet Eats field trips are fun and educational. Your group will be taken on a guided tour of the farm. Students will learn about the peaches trees, the strawberry field, the petting zoo animals, and many other things around the farm. Most groups bring a sack lunch and enjoy it at the numerous picnic tables and then stay for some free time to play. Hosting Homeschool Days once a month at the farm.
Country Woods Inn

Glen Rose

Welcome to an adventure! Secluded cabins, century old guesthouses, Main Lodge, even a restored Santa Fe Railroad Car or an authentic Airstream Land Yacht. 40 wooded acres on the Paluxy River with a river walk to the historic downtown square. We are a country inn on the Paluxy River in Glen Rose TX. BUT you don't have to stay the night or rent cabins! We have homeschool groups that come down from Fort Worth or surrounding areas just to spend 1/2 day or so. They can fish/swim at Big Rocks Park, feed and brush our barnyard animals (goats, horses, donkeys, baby bunnies, pigs etc), have a picnic, explore our walking trails (sometimes find fossils!), all kinds of fun stuff!
Dinosaur Valley State Park

Glen Rose

Activities: Dinosaur Valley State Park contains some of the best preserved dinosaur tracks in the world. The dinosaur tracks are located in the riverbed, so please call ahead to check on river conditions. There are two fiberglass models; a 70-foot Apatosaurus and a 45-foot Tyrannosaurus Rex. They were built, under commission of the Sinclair Oil Company, New York World's Fair Dinosaur Exhibit of 1964 - 1965. Other activities include camping, picnicking, hiking, mountain biking, Equestrian use in a separate 100-acre area (no horses furnished), river swimming and fishing, and wildlife observation.
Goliad State Park & Historic Site

Goliad

A wonderful opportunity to experience a blending of natural and cultural resources awaits visitors to Goliad State Park. Situated within three ecological zones and located on the San Antonio River, the park offers a variety of flora and fauna blending with tangible remains of Texas history and culture. The park serves as a hub for visiting the Mission Espiritu Santo State Historic Site (located in the park), the Presidio La Bahia, the Ignacio Zaragoza Birthplace State Historic Site, Fannin Battleground State Historic Site, the Goliad Historic District, and Mission Rosario State Historic Site. Surrounding ranches and oil fields remind visitors of the role the area played in the unfolding of Texas' history and economy. The park offers outstanding recreational activities and facilities.Activities: Activities include camping, picnicking, hiking, fishing, boating (no ramps provided for river access), swimming (a junior olympic swimming pool, operated by the City of Goliad is across from the park), nature study, and historical study. The park is a take-out point for the Goliad Paddling Trail.
Goliad Area Historic Sites

Goliad

Goliad is one of the few places in North America where you can visit both an 18th century Spanish-Colonial mission and presidio (fort) complex, to understand the roles of the Catholic Church and the Spanish military in settling the New World.
Palmetto State Park

Gonzales

Palmetto State Park, 270.3 acres, named for the tropical Dwarf Palmetto plant found there, is located in Gonzales County, northwest of Gonzales and southeast of Luling. Activities: Activities include camping, picnicking, hiking, fishing, birding, nature study, pedal boat and canoe rentals, swimming, tubing, and canoeing.
Main Event Grand Prairie

Grand Prairie

All ages (2 & up). STEAM Programming, bowling, laser tag, gravity ropes, arcade and virtual reality. Snack bar and restaurant for meals. Daytime group packages for schools and home school groups.
Mission Tejas State Park

Grapeland

Activities: Activities include camping; picnicking; hiking; and fishing. A pond located near the picnic area offers an excellent opportunity to explore aquatic life and fish. Hiking and nature trails provide access to the natural beauty of the east Texas Pineywoods. The dogwood are beautiful the last week or so of March, usually around the 25th. Tours: School tours of the two historic structures can be arranged by calling the park headquarters in advance.
LEGOLAND® Discovery Center Dallas-Fort Worth

Grapevine

The ideal place to let your students experience a world of fun, creativity and imagination.
Great Wolf Lodge

Grapevine

Great Wolf Lodge is North America's Largest Family of Indoor Waterpark resorts, and the ultimate destination for your next family getaway. Designed to capture the atmosphere of the Northwoods, our waterparks offer an amazing guest experience in a one-of-a-kind, rustically elegant setting. The perfect place for families to re-connect, and create lifelong memories. With one of our fully-themed resort suites as your family's base camp, you can set out on your Great Wolf adventure. You'll likely first discover our gigantic indoor waterpark, where it's always 84 degrees. And that's just the beginning. Besides our waterparks, don't miss our themed restaurants, interactive arcades, full service spas (and even a version for kids!), fitness centers, and so much more. And with more than 10 locations coast to coast, Great Wolf Lodge is the perfect, weatherproof, year-round destination for your busy family. So whether your family splashes the day away in the waterpark, enjoys a delicious family meal in our restaurant, or enjoys our nightly Storytime together before calling it a night, we think you'll agree, there's no time, like a Great Wolf time.
Old Fort Parker

Groesbeck

Activities: Activities include historical study and picnicking. Visitors can explore cabins, climb the blockhouse, and recapture the atmosphere of that fateful spring day in 1836.
Sheldon Lake State Park & Environmental Learning Center

Houston

Sheldon Lake State Park and Environmental Learning Center is a 2,800 acre outdoor education and recreation facility located in northeast Harris County. Activities include fishing, and wildlife observation. Activities at the Environmental Learning Center include group programming, birding, wildlife/nature study and fishing for children. Free catch-and-release "Family Fishing" is permitted on Saturdays and Sundays only, for children accompanied by adults, in the two fishing ponds. Alternative energy technologies and green building techniques (photovoltaic, solar hot water, wind turbine, & ground coupled geothermal) are demonstrated at the Learning Center. A Wildscape demonstration garden shows techniques to use native plants and wildflowers that attract birds, butterflies and other wildlife to your backyard. A composting demonstration area shows easy means of "recycling" household leaves and grass.

Sheldon Lake State Park & Environmental Learning Center website
iFLY Indoor Skydiving Houston

Houston

Our vertical wind tunnel is a marvel of engineering and provides a one-of-a-kind laboratory for your students to get immersed in real world applications of STEM. Each iFLY STEM field trip provides an interactive presentation, live lab experiment, lab activity and flights for your participants! We offer programs with focus and objectives for Pre-K-College level physics and align with all state education standards. Minimum of 15 participants required. Please reach out for more details! Email Ellie David: edavis@iflyworld.com
Houston Museum of Natural Science

Houston

The Houston Museum of Natural Science offers custom field trips for every grade level. We have a state of the art Planetarium, a Giant Screen Theatre, a two story rainforest inspired Butterfly Center and four levels of fascinating exhibits, including the largest Hall of Paleontology in the U.S., Hall of Texas and Africa Wildlife, Cabinet of Curiosity, Gem Hall, Hall of Ancient Egypt, Energy Hall, and much more! We have TEKS aligned curriculum for each part of the museum. We also offer lab classes onsite as well as outreach programs that can visit your venues. Virtual programming upon request.
Museum of Fine Arts, Houston

Houston

The MFAH presents a host of exciting, engaging, and educational programs and resources for children, adults, educators, and students to learn about and enjoy art. Opportunities are available both at the MFAH and throughout the community.
The Health Museum

Houston

The John P. McGovern Museum of Health & Medical Science, also known as The Health Museum, is Houston's most interactive science learning center and a member institution of the world-renowned Texas Medical Center.
Cosmic Air Adventure Park

Humble

In a galaxy not so far away, you are invited to come out and play. Deals of an intergalactic kind, fun and adventure you will find! Join us for our Homeschool Days, Tuesdays and Wednesdays from 10am-1pm for an amazing $15.99 deal for up to 3 hours of jump time! Additional meal tickets for only $3, giving your adventurers 2 slices of pizza and bottle of water!
Huntsville State Park

Huntsville

Activities: The heavily-wooded park adjoins the Sam Houston National Forest and encloses the 210-acre Lake Raven. The park offers camping, hiking, biking, boating (Motor size unrestricted; speed is limited to idle speed), Guided Horseback Trail Rides and "Eat and Rides" with horses provided by Lake Raven Stables, fishing, swimming in unsupervised swimming area, boat & Hydrobike rentals, and nature study.
iFLY Indoor Skydiving Fort Worth

Hurst

Our STEM program is a thrilling, immersive adventure perfect for all types of organizations. Fly with us as an elementary, middle, or high school class. Here is why over 270,000 students and educators love iFLY STEM Field Trips. Exclusive behind the scenes look at iFLY technology. Real world applications of STEM. Flexible packages and scheduling for your organization. Dynamic learning for all age groups aligned to your state standards. POC is Alex Einhorn. His email is aeinhorn@iflyworld.com
National Scouting Museum

Irving

Boy Scouts of America official museum, includes exhibit and program information, location, contacts, hours, and trading post.
Fort Richardson State Park, Historic Site & Lost Creek Reservoir State Trailway

Jacksboro

Activities: Fort site structures include seven of the original buildings which have been restored: the post hospital; the officers' quarters (Commanding Officer); a powder magazine; a morgue; a commissary; a guardhouse; and a bakery, which baked 600 loaves per day. There are also two replicas: officers' and enlisted men's barracks. The officers' barracks houses the Interpretive Center. Activities include historical study, picnicking, camping, fishing, hiking, biking, day-use equestrian, nature study, wading in the creek (seasonal), and swimming (accessible via Lost Creek Reservoir State Trailway or by road). Tours/Events: Guided historical tours are held daily at 10 am and 2 pm; tour fees apply. Special events held throughout the year include Military Reenactments (pictured above), Bar-B-Que Cookoff, a Trout Fishing Tournament, and Living History Presentations.

Fort Richardson State Park, Historic Site & Lost Creek Reservoir State Trailway website
Martin Dies, Jr. State Park

Jasper

Activities: Visitors can enjoy camping, hiking, boating, canoeing, fishing, swimming, mountain biking and wildlife and bird watching. There are canoes, bicycles, a flat bottom boat, volleyballs and horseshoes for rent.
Battle of Port Jefferson

Jefferson

The largest reenactment in Texas with battles, ball, parade and tour of homes. At the Tuscumbia Ranch. Annually in May. Check Website for details
Pedernales Falls State Park

Johnson City

Located along the banks of scenic Pedernales River. This area, formerly the Circle Bar Ranch, typifies the Edwards Plateau terrain. Activities: Activities include camping; picnicking; hiking; river swimming; tubing; wading; mountain biking; fishing; bird watching (checklist available); and horseback riding (Customers must bring their own horses and no overnight equestrian camping is allowed.) River recreation is in a limited area beginning at the Youth Group Camping area and down river to the park boundary. WARNING - The Pedernales River running through the park can flash flood with little or no warning. Flash flooding is a common phenomenon in the Texas Hill Country.
Lyndon B. Johnson National Historical Park

Johnson City

Lyndon B. Johnson National Historical Park tells the story of our 36th President beginning with his ancestors until his final resting place on his beloved LBJ Ranch. The website offers historical information about the park for those who cannot visit in person.
Hill Country Science Mill

Johnson City

Engage your students in a day of hands-on discovery and inquiry! Spark the curiosity and creativity of your students with the Science Mill's unique style of inquiry-based, hands-on learning.
South Llano River State Park

Junction

Activities: Activities include camping, picnicking, canoeing, tubing, swimming, fishing, hiking, mountain bike riding, and bird and nature study. From October 1 - March 31 a large portion of the park is closed to protect Rio Grande Turkey roosting habitat. Hiking & biking trails in this area will be closed during this time. Campgrounds remain open & 16+ acres of the river at the low-water crossing bridge are accessible during the closed dates.
Caddo Lake State Park

Karnack

Thick bald cypress and a tangle of aquatic plants thrive in the waters at Caddo Lake State Park. Because the vegetation is so lush, much of the lake is really a maze of sloughs, bayous, and ponds. The park affords excellent access to the diverse fishing in Texas. Activities: Activities enjoyed include camping, hiking, swimming, picnicking, nature study, fishing, and boating. There are canoe rentals in the park, Jon boat with motor rentals (outside the park about 6 miles away), and pontoon boat tours daily except Wednesday.
Turquoise Acres Ranch

Katy

Turquoise Acres Ranch is a popular field trip destination in Katy, Texas just west of Houston. If you're looking for a short field trip to allow your students to get outside and enjoy the fresh air our field trip venue is perfect. Day care centers, preschools, montessori, homeschool groups, and private schools have all visited and enjoyed petting our farm animals, pigs, goats, donkeys, cows, and longhorns. Contact us to learn more about our affordable pricing or to book a date and time before your preferred dates are already taken.
Funtastik Labs

Katy

Focused on inspiring kid's interest in STEAM (STEM + Arts), Funtastik Labs offers field trips for elementary and preschools kids at their Lab and also in-schools. With field trip options offering hands-on science with graduated cylinders and flasks, technology field trips offering 3-D printing, arts projects including pre-sketched and stenciled canvases, LEGO robotics challenges, and dissections, schools can select fabulous field trips that cater to their educational objectives.
Thomsen Observatory

Keene

The Southwestern Adventist University Thomsen Observatory is a place to experience the galaxy like never before! This fully-functioning observatory in Texas boasts a 10-inch refractor telescope. Managed by a retired school teacher, Jerry Becker, kids of all ages are welcomed to view the night skies. Regularly scheduled viewing: first and third Friday nights of each month. If weather is marginal during the day, call the observatory at 817-202-6573 and leave a message with your questions and phone number.Viewing begins about a half hour after sundown and admission is a donation.
Museum of Western Art

Kerrville

The cowboys, the Native Americans, the settlers, the mountain men and others who tamed the West...share their adventure through the rotating exhibits on display at the Museum of Western Art where the legend of the American West lives on. The Museum of Western Art is dedicated to the appreciation, presentation and promotion of Western American heritage as expressed through art and artifacts. It is a showcase for Western art and artists, past and present, and provides art and history education for all ages, focusing on the American West.
Big Thicket National Preserve

Kountze

Big Thicket: A Biological Crossroads - Strands of sun, soil, and air are woven into a beautifully connected patchwork of plants and animals. The last Ice Age pushed plants from other parts of the country into a close neighborhood. An amazing diversity of plants and animals from many parts of North America live in the Big Thicket region of southeastern Texas.
Monument Hill & Kreische Brewery State Historic Sites

La Grange

Activities: The activities at this park include picnicking, nature study, and historical study. Arrangements can be made with the park staff to have weddings, family reunions, or other group functions that may use the picnic area and/or the historical facilities. Group tours by staff and volunteer docents are available with advanced scheduling, and regularly scheduled tours of the brewery are available on the weekends.

Monument Hill & Kreische Brewery State Historic Sites website
San Jacinto Museum of History

La Porte

The San Jacinto Museum of History is operated by the San Jacinto Museum of History Association--a non-profit organization--in association with the Texas State Parks and Wildlife Commission.
Lake Brownwood State Park

Lake Brownwood

Activities: Activities are picnicking; camping; hiking (2.5 miles of hiking trails and a .5-mile nature trail.); boating (motors allowed); water skiing (jet skis allowed); fishing; nature study; swimming (in an unsupervised swimming area); and bird watching.
Battleship Texas State Historic Site

LaPorte

In 1948, the Battleship Texas became the first battleship memorial museum in the U.S. That same year, on the anniversary of Texas Independence, the Texas was presented to the State of Texas and commissioned as the flagship of the Texas Navy. In 1983, the Texas was placed under the stewardship of the Texas Parks and Wildlife Department and is permanently anchored on the Buffalo Bayou and the busy Houston Ship Channel. The Texas Parks and Wildlife Department's 1,200-acre San Jacinto Battleground State Historic Site consists of the Battleground, Monument and Battleship Texas. These sites are located within minutes of downtown Houston and a short distance to the beaches of Galveston Island. Millions of visitors come to this area each year to enjoy the mild coastal climate and cultural and sports activities. Students and visitors alike are most fortunate to be able to experience history first hand through living history at the San Jacinto Battleground and Battleship Texas.
San Jacinto Battleground State Historic Site

LaPorte

The San Jacinto Battleground State Historic Site holds a significant responsibility to preserve the proud history of the State of Texas and the United States. The famous Battle of San Jacinto that brought TEXAS its independence was fought on this site. Because of the great importance of the Battle to the course of history, the Battleground is of state, national and international significance, a fact that is attested to by the site's National Historic Landmark status. The Monument and Museum elevator to the newly renovated Observation Floor is now open.
The San Jacinto Monument

LaPorte

The San Jacinto Monument is dedicated to the "Heroes of the Battle of San Jacinto and all others who contributed to the independence of Texas." The monument is a 570-foot shaft topped by a 34-foot star symbolizing the Lone Star Republic. The building incorporates a number of innovative engineering features not common during the period of its construction. The American Society of Civil Engineers recognized this technology with the prestigious designation of State and National Historic Structure. The monument is listed as the tallest stone column memorial structure in the world, 15 feet taller than the Washington Monument in Washington, DC.
Lake Casa Blanca International State Park

Laredo

Lake Casa Blanca International State Park consisting of 371 land acres and 1650 lake surface acres, is located on Lake Casa Blanca, east of Laredo in Webb County. The park was operated jointly by the City of Laredo and Webb County before it was acquired by the state in 1990 and opened in March 1991. Activities: Attractions include camping, picnicking, lake swimming, boating, mountain biking, and fishing.
Wolf Creek Heritage Museum

Lipscomb

Wolf Creek Heritage Museum has as its mission, to preserve the history of Lipscomb County. The museum attempts to do this by telling the story of its people and the evolution of the immigration of these people to the Panhandle. The museum's exhibits explore the social and historical significance of the early settlers through current day. The museum also sponsors art exhibits featuring local artists. Preserving the work of local artists is another of the museum's major goals.
Lake Livingston State Park

Livingston

Activities: The park offers camping; picnicking; swimming pool (Memorial Day to Labor Day); mountain biking; nature study; fishing (crappie, perch, catfish, and bass); and boating; Day use equestrian is now available: Visitors use the horses provided by Lake Livingston stables and are not allowed to bring their own horses.
Lockhart State Park

Lockhart

Activities: Activities include picnicking; camping; fishing; hiking; nature study; and a 9-hole golf course (the only staff-operated course in the Texas State Park System.)
American Wind Power Center and Museum

Lubbock

A Museum for the American Style Water Pumping Windmill and Related Exhibits on Wind Electric.
Buddy Holly Center

Lubbock

The Buddy Holly Gallery features a permanent exhibition on the life and music of Buddy Holly. Artifacts owned by the City of Lubbock, as well as other items that are on loan, are presented in this exciting exhibition. Included in the display are Buddy Holly's Fender Stratocaster; a songbook used by Holly and the Crickets, clothing, photographs, recording contracts, tour itineraries, Holly's glasses, homework assignments, report cards, and much more.
Museum of Texas Tech University

Lubbock

The Museum is a multi-faceted institution that includes the main building, the Helen Devitt Jones Auditorium and Sculpture Court and Auditorium, Moody Planetarium, Natural Science Research Laboratory, Lubbock Lake Landmark, research acreage in Val Verde County, and the Center for Advanced Study of Museum Science and Heritage Management.
Silent Wings Museum

Lubbock

The Silent Wings Museum, a public institution, preserves and promotes the history of the World War II military glider program by creating an environment for collecting, documenting, interpreting and exhibiting artifacts and information for public education and enjoyment.
Village Creek State Park

Lumberton

Activities: Activities include camping, picnicking, swimming (1 mile hike to sandbar swimming area), hiking, fishing, nature study, and bird watching. 10/23/08 - This Park is currently closed until further notice, due to Hurricane Ike. Contact the park for the latest information.
Oliver Nature Park

Mansfield

Nature Park is a unique and beautiful place to connect with nature. Students explore scientific concepts in a hands-on, inquiry-based experience through the park with a trained naturalist. Field trips follow grade-appropriate TEKS and are an affordable, exciting opportunity to get outside and explore the world of science right in your hometown.
Big Bend Ranch State Park

Marfa

A Wild West Experience you can only find at the Biggest State Park in Texas!
Lake Corpus Christi State Park

Mathis

The present site of Lake Corpus Christi State Park overlooks an impoundment of the Nueces River, which was a the disputed boundary between Texas and Mexico after the Texas Revolution. The Rio Grande became the boundary at the end of the war between the two nations, officially making this area a part of Texas. Once inhabited by Karankawa and Lipan Apache Indians, this area became the site of several settlement attempts in the 18th and 19th centuries. In 1858, Lagarto, now a ghost town a few miles northwest of the park, evolved from a Mexican settlement of grass-thatched huts. Today, there are a few remains of this town, which began a steady decline when its leaders rejected the building of a railroad through the community in 1887. Activities: Activities are camping; picnicking; boating (motors allowed); water skiing; fishing; swimming (unsupervised beach); bird watching; and hiking.
Lipantitlan State Historic Site

Mathis

Near this area, a wooden picket fort was constructed around 1831 by Mexican forces in anticipation of trouble with Anglo immigrants. The fort apparently was named for a camp of Lipan Apaches in the vicinity. In 1835, the small guard force that held the fort surrendered it to Texan forces without a shot being fired. In 1842, a battalion of Texas volunteers camped in this area. In an attempt to lay claim to the territory between the Nueces River and the Rio Grande, the camp was seized by Mexican general Antonio Canales, but the Mexican forces later retreated. Around 10 years later, during the Mexican War, troops under General Zachary Taylor passed through this area on their way to the Rio Grande Activities: The park offers picnicking; historical study; and nature study.
Heard-Craig Center for the Arts

McKinney

The Heard-Craig Center for the Arts is an Art Museum in downtown McKinney, Texas. The museum gives historical tours and art tours during the week (Tuesday and Thursday at 1:00 PM), by appointment, or on Saturdays at 1:00 PM and again at 2:00 PM. The tours highlight the many accomplishments of the Heard family, the Art Club of McKinney, local artists, and more. The Center is an elegant venue and there is a Garden which can accommodate blankets and a sack lunch, reminiscent of the early days. There are FREE Art History Lectures the first Wednesday of each month at 12:30 PM. We welcome all home schoolers and are here to answer any questions you might have! Call 972-569-6909 for more information and to schedule a tour.
Meridian State Park

Meridian

Activities: Camping, fishing, picnicking, hiking, lake swimming (unsupervised), boating, bird watching, fishing, and bicycling on park roads.
Fort Parker State Park

Mexia

Activities: Fort Parker offers camping, picnicking, swimming in an unsupervised swimming area, fishing, birdwatching, hiking, biking, canoeing, nature study, and baseball/softball.
Museum of the Southwest

Midland

The Museum of the Southwest services its community as a unique regional resource for cultural enrichment. In its Art Museum, Children's Museum, and Planetarium, and on its park-like grounds, the Museum provides opportunities for enjoyment and enlightenment to people of all ages. Using tools of education and entertainment, the Museum fosters appreciation of art and science and nurtures the spirit of creativity, sensitivity, and discovery.
Lake Mineral Wells State Park & Trailway

Mineral Wells

Activities: Activities include camping; lake swimming (unsupervised); fishing; boating (boat, canoe, paddleboat rental - no skiing, jet skis, or tubing permitted); rock climbing (climbers and rappelers must check in at headquarters); mountain biking; equestrian camping, horseback riding (visitors must provide their own horses); and hiking. Note: Trails may be closed during wet weather. Climbing is prohibited when the rock formations are wet (Call the park to verify climbing area is open, if it has rained in the last 48 hours of your planed arrival.)
Bentsen-Rio Grande Valley State Park

Mission

Bentsen-Rio Grande Valley State Park boasts of being the headquarters of the World Birding Center. Birders come to see those birds found only in South Texas and Northern Mexico.
Monahans Sandhills State Park

Monahans

Activities: Activities include camping; hiking; picnicking; equestrian; bird and wildlife watching from the interpretive center windows, as they come to the watering stations; and sand surfing. Texas Camel Treks are held at the park.
Mother Neff State Park

Moody

Activities: The main activities are camping, hiking, picnicking, fishing from the river bank, and wildlife observation.The park provides a junior ranger program that allows children from ages 4-12 to earn a special badge & certificate. For interested hikers a tree guide is available at the park headquarters which provides a self guided tour along the lost trail.
Ripley's Believe It Or Not Museum

Multiple Locations

Offers museums and attractions in multiple countries focusing on odd and amazing things. Provides videos, details about exhibits, and their history.
Medieval Times

Multiple locations

Exciting, family friendly dinner theater featuring an authentic medieval tournament and feast with jousting knights, and live horses.
Brazos Bend State Park

Needville

Activities: Activities include camping, picnicking, hiking, biking, equestrian, and fishing. Six lakes are easily accessible to fishermen, with piers located at 40-Acre, Elm and Hale Lakes. Visitors are cautioned to pay due respect to alligators, which are numerous in some areas of the park. There are at least three free interpretive programs and hikes offered every weekend. Interpretive staff and volunteers offer weekday guided hikes and programs for schools and other educational organizations. Fees and reservations required. The Nature Center is open Monday - Friday from 11 a.m - 3 p.m. and Sat & Sunday from 9 a.m to 5 p.m. It's "Habitats and Niches" display offers an unusual "hands-on" alligator discovery area, a tactile model of the park, freshwater aquarium, live native snake species, a touch table and an open-captioned orientation video for all visitors including those with hearing impairments. The George Observatory is located in the park and is open Saturdays from 3 p.m. to 10 p.m. For information on stargazing programs/passes and other programs, call the Observatory at 979/553-3400 or at 281/242-3055 (as a satellite of the Houston Museum of Natural Science) or visit the George Observatory web site. Shop for gifts at the headquarters gift shop, the Visitor Center, and at the George Observatory.
Ellen Noel Art Museum

Odessa

The Ellen Noel Art Museum of the Permian Basin connects people with art through changing exhibitions and growth of the permanent collection. The Museum collaborates with schools, colleges and universities, and provides child and adult art classes, artist workshops and family activities.
Stark Museum of Art

Orange

The Stark Museum of Art houses one of the nation's most significant collections of American Western art.
The W.H. Stark House

Orange

The 14,000 square-foot home was built in 1894 in Orange, Texas, by William Henry Stark and his wife, Miriam M. Lutcher Stark, prominent philanthropists who occupied the home until 1936. Designed in the Queen Anne architectural style, the house features a distinctive turret, stained glass windows, and ornate woodwork in cypress and long leaf yellow pine. Today, the three-story structure stands much as it did at the turn of the 20th century, with fifteen rooms of original family furnishings, personal effects and decorative arts, including antique rugs, original textiles, silver, cut glass, and antique porcelain.
Museum Of The Plains

Perryton

General history exhibits of the Texas and Oklahoma Panhandles; railroad depot, old store, pioneer home from Ochiltree, covered wagon, barbed wire.
Ray Roberts Lake State Park

Pilot Point

Situated along the shores of a 30,000-acre reservoir Ray Roberts Lake State Park Complex consists of two state park units (Isle du Bois and Johnson Branch), six satellite parks (Jordan Unit, Pond Creek, Pecan Creek, Buck Creek, Sanger, and Elm Fork), Wildlife Management Areas, wetlands, waterfowl sanctuaries and the 20 mile Ray Roberts Lake/Lake Lewisville Greenbelt Corridor. Birdwatching, water sports, riding horses or backpacking along a scenic trail, Ray Roberts has something for everyone.
Lake Bob Sandlin State Park

Pittsburg

Activities: Activities include picnicking; hiking; swimming; mountain biking; in-line skating; and fishing for largemouth bass, catfish, and crappie. Eagles can be spotted during winter months. A variety of birds and wildlife can be viewed year round. Tours: Interpretive tours and nature walks are given on some weekends and by request
Crayola Experience Plano

Plano

Crayola Experience Plano is where the magic of Crayola comes to life! With 60,000 square feet of attractions, Crayola Experience is Texas' most colorful destination for interactive, creative play! Families and schools typically spend 3-4 hours exploring our 25 hands-on attractions. Go on a wonderful, whimsical adventure with our unique experiences, such as: Star in your very own coloring page, Name and wrap your very own Crayola crayon, Embark on a 4-D coloring adventure, Learn how crayons are made in a live manufacturing show, And so much more!
Port Isabel Lighthouse State Historic Site

Port Isabel

In the 1800s, the low-lying Texas coast made charting a seagoing course extremely difficult, and a number of captains requested that something be done. The Port Isabel Lighthouse was constructed in 1852, near sites of Civil War Battle of Palmito Ranch (1865) and Mexican War Battles of Palo Alto and Resaca de la Palma. Activities: Of the 16 lighthouses originally constructed along the Texas coast, Port Isabel is the only one open to the public. With a perch 50 feet above the ground, it is always popular with photographers and other visitors, because they can enjoy great views of South Padre Island and the beaches. In fact, a number of couples have climbed the 75 winding stairs, including 3 short ladders, to exchange wedding vows on top of the tower.
Fort Leaton State Historic Site

Presidio

Activities: The park is day-use only and offers picnicking areas, guided tours, plus exhibits on the history from 15th century, natural history, and archaeological history of the area. The site serves for historical study activities.
Cathy's Critters

Princeton

Tour a working farm with lots of hand-on interaction with farm and exotic animals. Schools and larger, multi-family homeschool groups may break the trip up into rotating stations including a choice of many learning opportunities: "The Outback" (feed and touch kangaroos and emus, learn about their habitat and behaviors), "The Dairy" (milk a goat and learn about milk products and our relationship with dairy animals), "The Rainforest" (see and touch animals native to South America), "Farming" (help with day-to-day chores and learn about the responsibilities of caring for animals), and more!
Southern Ink and Clay

Prosper

Southern Ink and Clay is a creative space. We offer pottery painting and glass fusing. In our studio we can accommodate 40 students. In our large space (in the back) we are a fully functioning screen printing and embroidery shop. When kids visit they get an educational tour of the back area with the pottery kilns, screen printing machine, embroidery machines and a few other large machines. Most of these are in action when kids are visiting. Kids can see how these large machines work. They can see how products are made and how pottery is glazed and fired.
Copper Breaks State Park

Quanah

Activities: Activities include camping, picnicking, boating, fishing, mountain biking, swimming, wildlife viewing, backpacking, kite flying, summer educational/interpretive programs, horseback riding (horse rental not available), astronomy, and natural and historical exhibits. A portion of the official Texas longhorn herd is maintained at the park.
Caprock Canyons State Park & Trailway

Quitaque

Activities: The park offers day-use and camping facilities; hiking; horseback riding; mountain biking; boating on a no-wake lake (120-surface-acres, 30' when full); fishing; lake swimming; a scenic drive; guided tours; and seasonal concessions offering horse rentals. Almost 90 miles of multi-use trails range from the very difficult in rugged terrain to trails with less than 3% grade. About 25 miles of the trails include cliffs and drop-offs, with steep climbs and descents that are recommended only for the experienced equestrian and mountain bike riders. When visiting Caprock Canyons State Park, be sure to check out the recently completed audio driving guide to the park. It's like having a tour guide on your own schedule and it's free! The audio guide is available for check-out, at the park headquarters, on tape or CD ($5 deposit).
Goose Island State Park

Rockport

The "Big Tree" named State Champion Coastal Live Oak (Quercus virginiana) in 1969, is thought to be one of the largest in the nation. Estimated to be over 1000 years old, the "Big Tree" has a circumference of 35 feet, is 44 feet in height and has a crown spread of 90 feet. Activities: Although located on Aransas Bay, there is no swimming area at this park. The shoreline is comprised of concrete bulkhead, oyster shell, mud flat, and marsh grass. The main recreational activities are camping, excellent birding, and fishing (the park participates in the "Loan A Tackle Program" and lends out fishing tackle to visitors.) Other activities include picnicking, boating (motors allowed), nature study, wildlife observation, and photography. Tours: Guided nature hikes are held year round. Guided birding tours are held from January through April.
Texas Maritime Museum

Rockport

This source is for those who want to take a deeper look into Texas and Texas' Maritime History will start with Texas' early inhabitants and then progress to the French and Spanish explorations of the Texas Gulf Coast, Texas Navy, Texas in the Civil War, and finally ending with Texas Shrimping/Fishing Industry and the Oil/Gas industry.
Devil's Sinkhole State Natural Area

Rocksprings

The Sinkhole, discovered by Anglo settlers in 1867, is a registered National Natural Landmark. Activities: The main attraction is the Devil's Sinkhole itself. It is a vertical cavern with an opening measuring approximately 40x60 feet and a vertical drop to the main cavern of about 140 feet. The main cavern is circular and reaches a total depth of 350-400 feet.
Rosenberg Railroad Museum

Rosenberg

The Rosenberg Railroad Museum's railroad bell is a favorite of Museum patrons both young and old. Nestled up against three active train lines in downtown Historic Rosenberg, RRM is a hidden gem within city limits. With our park-like grounds, HO scale and G Scale layouts.
Sea Rim State Park

Sabine Pass

Activities: Attractions include camping, wildlife observation, birding, beach combing, the Gambusia Nature Trail, canoeing, kayaking, airboat tours, beach swimming, fishing, year round canoe and paddle boat rentals, and public waterfowl hunting (in season). Tours: The park offers an interpretive airboat tour during the spring, summer and fall. This one-hour tour through the marsh offers the visitor interesting views of spectacular beauty and diversity of the park.
Guadalupe Mountains National Park

Salt Flat

Guadalupe Mountains National Park safeguards the world's finest example of a fossilized reef, a surprisingly complex and unique assemblage of flora and fauna, and West Texas' only legally designated wilderness. Here, one can experience solitude, tranquility, and the joy of finding plants and animals whose mastery of survival renews our sense of wonder.
San Angelo State Park

San Angelo

Activities: Activities include camping, picnicking, hiking, mountain biking and horseback riding on multi-use trails, lake swimming and wading, fishing, boating, a three level orienteering course, and bird and wildlife observation. The park has a hunting program with a State Park Annual Hunting Permit and special drawing hunts for deer and spring turkey.
Government Canyon State Natural Area

San Antonio

The canyon was on the "Joe Johnston" Road from San Antonio to Bandera which was blazed by the military at Ft. Sam Houston in the 1850s. The canyon is a part of the rich ranching history of Texas. Activities: Check the Calendar for events and access restrictions scheduled within the next 3 months to get current information on upcoming interpretive programs.
iFLY Indoor Skydiving San Antonio

San Antonio

Our vertical wind tunnel is a marvel of engineering and provides a one-of-a-kind laboratory for your students to get immersed in real world applications of STEM. Each iFLY STEM field trip provides an interactive presentation, live lab experiment, lab activity and flights for your participants! We offer programs with focus and objectives for Pre-K-College level physics and align with all state education standards. Minimum of 15 participants required. Please reach out for more details! Email Ellie David: edavis@iflyworld.com
San Antonio Missions National Historical Park

San Antonio

The legacy and history of San Antonio and this region began with a simple ceremony when...- in 1718 Franciscans and Spanish representatives established the first mission. Within 13 years, five were located along the San Antonio River. The missions' purpose? To acculturate and Christianize the native population and make them Spanish citizens. Today, visitors can retrace the footsteps of the mission Indians and friars. And, possibly, meet descendants of those first inhabitants.
McNay Art Museum

San Antonio

The McNay Today: Since Mrs. McNay's bequest of 700 works of art, the collection has expanded to nearly 20,000 works including: Medieval and Renaissance art. 19th- through 21st- century European and American paintings, sculptures and photographs. One of the finest collections of prints and drawings in the Southwest. The exceptional Tobin Collection of Theatre Arts.
Southwest School of Art & Craf

San Antonio

The Ursuline Campus of the Southwest School of Art & Craft, now on the National Register of Historic Places, is open to the public and can be approached from the scenic Riverwalk. The convent was established in 1851, when seven Catholic nuns arrived in San Antonio to start San Antonio's first school for girls. Among the highlights of the historic site are the elegant architecture of the two-story buildings which are constructed of local limestone, the beautiful chapel with some of the original stained glass windows, and the surrounding gardens and courtyards.
San Antonio Fire Museum

San Antonio

The San Antonio Fire Museum is, as many visitors say, one of San Antonio's hidden gems and is one of the most notable Fire Museums in the country. At the San Antonio Fire Museum, visitors will see antique fire trucks and fire-fighting equipment, artifacts dating back to the mid-1800s and beautifully archived documents and photos. A 1953 International fire truck, built by the Simms Fire Equipment Company, is available for kids to climb on and dress up in authentic replicas of firefighters' turnout gear.
Stephen F. Austin State Park

San Felipe

Twelve acres of the park are set aside in honor of the area's past. Located on the Brazos River, adjoining the old ferry site and a part of the Commercio Plaza de San Felipe, this is the site of the township of San Felipe, the seat of government of the Anglo-American colonies in Texas. It was here Stephen F. Austin, the "Father of Texas," brought the first 297 families to colonize Texas under a contract with the Mexican Government. Activities: Activities include picnicking, camping, fishing, hiking, golf, and nature and historical tours.
Sebastopol House State Historic Site

Seguin

Sebastopol House State Historic Site, located in Seguin, Guadalupe County, is a an 1856 Greek Revival-style house sitting on 2.2 acres of its original 4-acre site. Sebastopol House is listed as a Registered Texas Historic Landmark and is in the National Register of Historic Places as a result of its unusual limecrete construction and its architectural style. Activities/Events: Sebastopol's programs focus on the natural, cultural, and built environments of nineteenth century South central Texas. Permanent exhibits include family furnishings, archeological artifacts from the site, as well as the building process and restoration of limecrete. Temporary exhibits are displayed on a regular basis; call the park for details.
The Sherman Museum

Sherman

Formerly the Red River Historical Museum, features objects of historical significance to Grayson County and the greater North Texas Region.
Buescher State Park

Smithville

Activities: Activities are non-motorized boating permitted (no ramp/small lake); fishing in a stocked lake; nature study; hiking; interpretive tours (call park or check Calendar of Events) and biking (The scenic, 12-mile-long, winding, and hilly, paved road between Buescher and Bastrop State Parks is ideal for biking, but should be used only by experienced cyclists.) Approximately 6 miles between the parks is private land; no camping between parks or trespassing on private land.
Scurry County Museum

Snyder

The Scurry County Museum in Snyder, Texas is dedicated to increasing the knowledge and understanding of the history of Scurry County and the surrounding area of the Southern Rolling Plains. Through an active program of collections, exhibits, educational opportunities, and special events, the Museum seeks to stimulate creative thought and provide a sense of place, time, and space for residents of and visitors to Scurry County.
Lake Somerville State Park & Trailway

Somerville

Activities: Both units offer a multitude of recreational opportunities such as camping, picnicking, boating, fishing; hiking and biking, volleyball, horseshoes, basketball, backpacking, and equestrian use (visitors must bring their own horses). More than 20 miles of trail are open to hikers, mountain bikers, and equestrians affording visitors the opportunity to exercise and enjoy the beauty of the parks. Water lovers can enjoy boating, fishing, swimming, and skiing on Lake Somerville.
Caverns of Sonora

Sonora

Where the Texas Hill Country meets the Chihuahuan Dessert sits thousands of acres of limestone rich ranch country. Found below the boots and hooves of those who inhabit and work the land is one of Earth's most revered underground treasures, The Caverns of Sonora. The Caverns of Sonora is internationally recognized as one of the most beautiful show caves on the planet.
Guadalupe River State Park

Spring Branch

Activities: The park has 4 miles of river frontage and is located in the middle of a 9-mile stretch of the Guadalupe River. Park visitors may enjoy a variety of outdoor activities including canoeing, fishing, swimming, tubing, picnicking, hiking, and camping. The park recently opened a 5.3 miles equestrian trail that is also open to mountain biking. No equestrian camping is available at the park. Opportunities also exist for less vigorous but more serene pursuits, such as bird watching and nature study. Tours: There is a two-hour guided interpretive tour of the adjacent Honey Creek State Natural Area. The tour emphasizing history, geology, flora, and fauna is given Saturday at 9:00 a.m.; call park to confirm.
Honey Creek State Natural Area

Spring Branch

Chipped stone tools are all that remain to attest to the use of Honey Creek by early hunter-gatherers, who roamed throughout the Edwards Plateau region. Artifacts which have been found on the property give silent testimony of later Indian tribes spending time on the land. Activities: Entry into Honey Creek is for guided tours only. The diverse geology, flora, and fauna make Honey Creek a special place for all visitors using 2 miles of nature/interpretive trails.
Lyndon B. Johnson State Park & Historic Site

Stonewall

The park's location is historically significant since it is in the heart of the former President's home country. The area has been influenced by three major cultures: Native Americans, Spanish and German. Indians roamed the Hill Country first, leaving behind artifacts which tell of their nomadic life. The Spanish conquistadors followed, bringing a culture which was to endure to the present. German immigrants settled the Hill Country in the early 1800s and their descendants still call it home. Activities: Visitors to this day-use park can enjoy historical study, picnicking, nature study, fishing, swimming and view Texas longhorn cattle. The abundant wildlife of the Hill Country is highlighted by enclosures containing buffalo, longhorn, and white-tailed deer. These animals have played a part in the park's history and the local wildlife continues to be an important attraction for visitors. The park is famous for its spring wildflower display. The Visitor Center is the focal point of Lyndon B. Johnson State Historical Park. It contains memorabilia from President Johnson's presidency and interactive displays about the Land and People that shaped a president.
Martin Creek Lake State Park

Tatum

Activities: Activities include excellent, year-round fishing; camping; wildlife observation and photography; picnicking; boating; water skiing; unsupervised lake swimming; backpacking; hiking; and interpretive programs on Saturday (when staffing allows). An annual perch fishing contest is held for children ages 4 to 12 is held first Saturday in September.
Railroad & Heritage Museum

Temple

The Railroad and Heritage Museum was founded in 1973 to collect, preserve and exhibit the history of the railroads and local history of Central Texas.
Barton Warnock Environmental Education Center

Terlingua

The Center presents an archeological, historical, and natural history profile of the Big Bend region. It houses a book store and gift shop. The book store includes guides for area interest, as well as books on the history and the natural environment of the Big Bend Region. The gift shop has a variety of T-shirts, post cards, and souvenirs. A self-guided 2 -acre botanical garden allows visitors to walk among the characteristic plants of the Chihuahuan Desert.
Texas City Museum

Texas City

The Texas City Museum is a History Museum featuring artifacts from the USS Westfield (including a real Civil War cannon), exhibits on the founding of Texas City and the 1947 Disaster, Children's Discovery Room, and model train layouts. Special exhibits are offered each month and the Afternoon Family Activity (1 craft for each child present, included with admission) is held the last Friday of every month from 1pm-3pm.
The Woodlands Children's Museum

The Woodlands

The Woodlands Children's Museum creates opportunities that educate, empower and excite children and their families through play while inspiring a life long sense of wonder.
Balmorhea State Park

Toyahvale

Along with motel-type accommodations, the park's main attraction is a large (77,053 sq. ft.) artesian spring pool that is open daily and fed by San Solomon Springs. The springs also fill a 'cienega' (desert wetland) and the canals of a refugium, home to endangered species of fish, assorted invertebrates, and turtles. The pool differs from most public pools in several respects: the 1 3/4-acre size, the 25-foot depth and the 72 to 76 degree constant temperature. It also has a variety of aquatic life in its clear waters. With a capacity of more than 3 1/2 million gallons, the pool has plenty of room for swimmers, while offering a unique setting for scuba and skin diving. Visitors can enjoy swimming, picnicking, and camping. An honor box is located at the park entrance for those arriving after hours. Scuba divers must meet safety regulations. Scuba diving rules and regulations for Balmorhea State Park.
The Outdoor Education Center at Camp Olympia

Trinity

The Outdoor Education Center at Camp Olympia is an outdoor learning experience that can last from one day to a 4 day experience. Facilitating hands on lessons where students from early childhood to high school can challenge themselves to problem solve and get more in touch with nature. In addition there is a full cafeteria, several bunk houses, ropes course, swimming pool, horses, sports fields and more. One of the first outdoor learning schools in Texas focused on reaching more students and families each year. Come visit and have an O-mazing time!
Abilene State Park

Tuscola

Abilene State Park, southwest of Abilene, in Taylor County, is among a low range of hills called the Callahan Divide, in the extreme western portion of North Central Texas. Original park construction was done by the Civilian Conservation Corps (C.C.C.) in the early 1930's. A portion of the official Texas longhorn herd and one buffalo are located on site. Comanches frequented what is now the park, using the groves of native pecan trees as campgrounds, much like the present park's picnic area. Abilene State Park Activities: The park offers camping, hiking, nature study, swimming (summer), picnicking, fishing in Buffalo Wallow Pond in the park and nearby Lake Abilene, and biking and walking on park roads. Interpretive Programs: Held both on and off site. Nature trail tours are given upon request. Call the park for more information.
Tyler State Park

Tyler

Activities: Activities include picnicking; camping; boating (motors allowed - 5 mph speed limit); boat rentals; fishing; birding; hiking; mountain biking; lake swimming (in unsupervised swimming area); and nature study.
Tyler Museum of Art

Tyler
Lost Maples State Natural Area

Vanderpool

Archaeological evidence shows that this area was used by prehistoric peoples at various times. In historic times, which began with Spanish exploration and colonization efforts in the late 17th century, the Apache, Lipan Apache, and Comanche Indians ranged over the land and posed a threat to settlement well into the 19th century. Activities: Visitors enjoy picnicking, camping, backpacking, sightseeing, hiking, photography, birdwatching, fishing, swimming, and nature study. People should stay on designated trails, because maples have a shallow root system, and soil compaction from walking can damage the trees. Also, many natural hazards exist due to the steep/rugged terrain. Do not hike or climb on rocks or hillsides.
Children's Discovery Museum of the Golden Crescent

Victoria

To create dynamic educational experiences that foster lifelong learning for children and families through the joy of play.
Texas Ranger Hall of Fame and Museum

Waco

The Texas Ranger is one of the most cherished symbols of the Lone Star State, a positive and enduring icon of Texas and America. Very few have ever worn the Texas Ranger badge, but anyone can be a Texas Ranger in spirit by adopting the ideals of the service. The Texas Ranger Hall of Fame and Museum offers guided tours and self-guided visits of its exhibits throughout the year. Special rates are available for groups of 10 or more paid admissions. All groups are invited to participate in one of our grade-appropriate museum scavenger hunts!
Washington-on-the-Brazos State Historic Site

Washington

A marriage of history and nature. Visiting Washington-on-the-Brazos State Historic Site is an enjoyable experience on two levels. First, the expansive park grounds along the Brazos River provide a beautiful setting for picnicking, sightseeing and birdwatching. And secondly, the Star of the Republic Museum, Independence Hall and Barrington Living History Farm, offer the visitor a unique insight into the lives and times of the men who fought and won Texas' independence from Mexico.
Star of the Republic Museum

Washington

Located at the site where 59 delegates gathered on March 2, 1836 to declare Texas' independence from Mexico, the Star of the Republic Museum depicts the colorful saga of the Texas Republic, the story of Texas and its heritage of cotton and cattle and legends of blood and iron using vast resources and vast lands.
Barrington Plantation

Washington

The Last President of Texas: The Washington area was the site of the final home of the last president of the Republic of Texas. With Jones's daybook as their guide, the interpreters at Barrington Living History Farm conduct themselves much as did the earliest residents of the original farmstead. The Jones home is original; the outbuildings are replicas constructed by Texas Parks and Wildlife using Jones's own journal and drawings. Step into the lives of Barrington Farm's earliest residents. Experience the sights, smells, and sounds of the 19th century. The scene is complete with heritage breeds of livestock. Interpreters, dressed in period style clothing, help visitors better understand what life was like 150 years ago.
Doss Heritage and Culture Center

Weatherford

Parker County's rich tapestry of cattle barons and cowboys. Broadway and television stars, chuck wagon and stagecoaches are shared and showcased in galleries that are truly awe-inspiring and reflects all that is Parker County. The Doss Center incorporates three distinct and educational galleries that display impressive presentations, including exhibitions from local to world-renowned artists and craftsmen.
Estero Llano Grande State Park

Weslaco

Estero Llano Grande State Park offers beginning birders and nature lovers a chance to explore 176-acres.
Lake Whitney State Park

Whitney

Activities: Activities include camping; hiking; mountain biking; picnicking; boating; fishing; swimming (buoyed area - no life guard on duty); scuba diving; water skiing; nature study; and excellent birding. Tours/Events: An annual youth fishing tournament is held on the first Saturday in June, and "aircraft fly-ins" are held at various times.
Lake Arrowhead State Park

Wichita Falls

The park offers fishing and is a participant in the "Loan A Tackle Program" (the park lends out fishing tackle to it's visitors); lake swimming on unsupervised beach; water skiing; disc golf; picnicking; camping; nature study; hiking; horseback riding, boating.
Lake Tawakoni State Park

Wills Point

Activities: Swimming, fishing, hiking, boating, mountain biking.