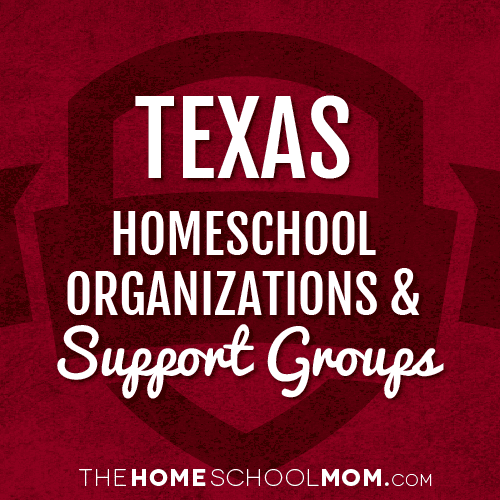 Since homeschooling is regulated at the state level, connecting with local homeschoolers is an important step to start homeschooling in Texas. State homeschool organizations and local homeschool groups are not just a good place to learn the specifics of legally homeschooling in Texas—they can also help you to get connected with the local homeschooling community. Many homeschool groups offer co-ops, classes, sports and arts opportunities, and social get-togethers.
Our listing of Texas state organizations and local homeschool groups is ordered alphabetically by city, with statewide organizations listed first. If you would like to submit a group, you may do so using the red button above.
Use the secondary navigation menu above to quickly make your way to pages for Texas state organizations, local homeschool groups, classes, co-ops, field trips, and more.
Texas Homeschool Organizations
Catholic Family Educators of Central TexasAustin, San Marcos, Waco
A resource for Catholic homeschoolers in Central Texas, with listings of support groups, suppliers, and more. CFE also does a small annual convention; information is on the web site.
Texas Home School CoalitionTexas Statewide
The Texas Home School Coalition is dedicated to serving the home-school community of Texas and promoting a greater knowledge, understanding and acceptance of home education in our state.
Texas Home EducatorsTexas Statewide
A Statewide NonProfit Organization Serving the Texas Homeschool Community
Texas Local Homeschool Groups
Big Country Home EducatorsAbilene
The purpose of this organization is to support the efforts of Christian home educators by disseminating information of interest, pooling resources to provide supplemental educational opportunities,...
PCHEA – Panhandle Christian Home Educators AssociationAmarillo
Located in Amarillo, Texas, the Panhandle Christian Home Educators Association (PCHEA) is a home school support group whose purpose is to encourage people in the process of teaching their children ...
Panhandle Christian Home Educators AssociationAmarillo and surrounding towns
A networking tool. PCHEA provides a monthly newsletter, a phone directory, monthly mentor meetings and an annual Back-to-School Extravaganza in August.
AAHE – Arlington Association of Home EducatorsArlington
A nonprofit corporation operating as a home school support group that is Christ centered, doing all things in a manner which honors Biblical principles, bringing glory and honor to His name. AAHE u...
Austin Area HomeschoolersAustin
A network of families who homeschool or are exploring the possibility. We are an inclusive group composed of members who are willing to share their homeschooling experiences. Each member speaks onl...
Austin Area Homeschoolers Newcomers GuideAustin
Presented for parents to use for Austin Area Homeschoolers (AAH) support group. The group serves all types of homeschoolers, without regard to their lifestyles, religions or beliefs, cultures, rac...
SOTRhomeschoolersAustin
Austin Homeschoolers, South of the River. We're a group of homeschooling moms in Austin, TX who live "south of the river" and are looking for a more localized group to avoid the northward traffic. ...
Austin-Charlotte Mason Living EducationAustin
This group is for the purpose of supporting one another in the pursuit of a "living education," both for ourselves and for our children, by discussing and implementing the Charlotte Mason-style of ...
Holy Family HomeschoolersAustin
Holy Family Homeschoolers is an organization of Catholic homeschooling families in the greater Austin area. We work together to provide educational field trips and social activities for our homesch...
Smoothing the WayAustin and San Antonio
A support group dedicated to serving first-year homeschooling mothers. Each month a topic of specific interest to the new homeschooler is offered. Veteran homeschooling moms and guest speakers are ...
Christian Home Education Association of Central TexasAustin and Surrounding areas
CHEACT-The purpose of the Association is two-fold. First, to provide a Christian support group for parents and others involved and/or interested in teaching their children and to encourage the high...
A Christian organization that provides activities for the Christian homeschool communities of the Fort Worth and Dallas Metroplex areas. Offering weekly Bible Studies, Dance Lessons, Family Dances ...
BACHOSBastrop County
Bastrop Area Christian Home Schoolers. This group is for Christian homeschooling moms in Bastrop County. This is group for prayers requests, helping each other with homeschooling & child rearing an...
Bastrop County HomeschoolersBastrop County
We welcome all homeschooling families in Bastrop County to this list. There are no religious requirements in order to join. There are no requirements of other memberships in order to join. We welco...
Hurst Euless Bedford Area Teen Homeschool Families GroupBedford
This group is located in the HEB and surrounding areas. HEB welcomes teen homeschool families with children in 6th grade to 12th grade (age not curricula which means almost 11/12-18). Siblings are ...
Big Spring Association of Christian Home EducatorsBig Spring
Support group that focuses on Godly-based home education for Christian homeschooling families in the Howard County area.
Brazos Valley Catholic HomeschoolersBrazos Valley
Catholic Homeschoolers of Brazos Valley, Texas, are gathering together and sharing activities, prayers, hopes and information about our Catholic homeschooling.
Brazos Valley Christian Home Educators Association (BVCHEA)Brazos Valley (Bryan/College Station)
BVCHEA supports Christian home school families in the Brazos Valley area of central Texas by facilitating communications across the home schooling community, providing information and support to ne...
Bluebonnet Country Christian Home EducatorsBrenham/Bellville and surrounding area
BCCHE is a Christian support group for people interested in and currently educating at home. Annual activities include a swimming party at Blue Bell Aquatic Center, a Back to School Skate party, an...
SHAREBrownwood
SHARE (Supporting Homeschooling And Reaping Excellence) is a homeschool support group serving the Brown, Coleman, and Mills counties. Join SHARE for field trips, get-togethers, and help in the educ...
BCS-HEARTnetworkBryan/College Station
BCS-HEART Network Bryan/College Station HEART -- "Home Education Anchored in Restored Truth" HEART was created as an area-wide forum for exchange of information between Christian homeschoolers in ...
Sojourn Home School Group – SHSGCarrollton
The Sojourn Home School Group is a "life group" of Sojourn Church in Carrollton, TX. We meet regularly to provide support and encouragement for families that home educate. We have several extracu...
Gulf Coast Christian Home ScholarsClear Lake and Surrounding Areas
Mission: GCCHS is a support group of Christian families sharing friendship, emotional support, prayer, home education resources, and group activities. We welcome all families who are seriously cons...
Frisco H.I.S.- Home is SchoolCollin and Denton Counties
A Christian home school support group providing opportunities for fellowship and dialog among home schooling families and those interested in learning more about home schooling by offering fellowsh...
Conroe Area Christian HomeschoolersConroe
CACHE has been a cooperative effort supporting the home schooling community in Montgomery County, Texas. CACHE is now represented by more than 200 families who wish to educate their children indepe...
Conroe Area Christian Home EducatorsConroe/Montgomery County
CACHE has been a cooperative effort supporting the home schooling community in Montgomery County, Texas. CACHE is now represented by more than 250 families who wish to educate their children indepe...
Red River Christian HomeschoolersCooke County/Gainesville
Red River Christian Homeschoolers include families from Gainesville, Lake Kiowa, Collinsville, Whitesboro, Tioga, Mountain Springs, Valley View, Era, Muenster and Lindsay, TX. Thackerville and Mari...
CHSA – Coppell Homeschool AssociationCoppell and surrounding areas
Coppell Homeschool Association (CHSA) members are those families residing in the Coppell, Texas, area (including Lewisville, Flower Mound, Grapevine, Carrollton and Irving) who have decided to scho...
WHHE (West Houston Home Educators) Teen GroupCypress, Houston NW & W, Katy
This group offers a welcoming atmosphere for teens aged 13 & up who are homeschooled & wish to develop friendships as they participate in socials, service, & learning opportunities over the course ...
Common Ground Homeschoolers of DallasDallas
Common Ground Homeschoolers offers homeschooling families the opportunity for activities and interaction, support and friendship through clubs, park days, mom's nights, cooperative classes and more.
Dallas Christian Home EducatorsDallas
DasCHE - offers monthly support group meetings throughout the academic year in order to better equip, prepare and encourage homeschooling families. You do not need to be a member of our association...
Homeschoolers EastDallas
"Homeschoolers East is a secular, inclusive, community based homeschooling group east of Dallas Hwy. 75 in Dallas, Texas. We are a thriving group of families with a wide variety of homeschooling me...
HomeSchool HUB – Dallas/Fort WorthDallas
HomeSchoolHUB is a homeschool social network currently focusing on local homeschoolers in the Dallas-Fort Worth metroplex. It lets families find each other based on their zip code, interests and su...
Christian Family HEAD(Homeschool Educators Association of Dallas)Dallas and Collin County cities near Garland, Mesquite, Rowlett, Sachse, Forney
HEAD is a group of Christian families who are very passionate about educating children. HEAD is a non-profit group. All volunteers leadership with a Board of Directors, Field Trip Coordinators, Spo...
Home Educator's ResourceDallas and Ft. Worth
Used homeschool curriculum store in Dallas/FW that also sponsors events and rents educational videos and unabridged audio books.
Homeschoolers Hearts and HugsDallas-Fort Worth Metroplex
A Homeschool Community Volunteer Program based in the Dallas-Fort Worth Metroplex. Goals are to provide homeschooling students with character building and learning opportunities while enriching the...
L.D.S.-S.H.A.R.E.Dallas/Fort Worth
Latter Day Saints Supporting Homeschooling And Righteous Education. The L.D.S.-S.H.A.R.E. group was established in August 1993 to promote understanding of and provide information about homeschoolin...
DFW Homeschool CafeDallas/Fort Worth
DFW Homeschool Cafe is a support group for minority homeschool families.
Heart of TexasDallas/Fort Worth
A homeschooling support group with a mission to provide leadership, support, and information, to link people with resources, the encourage networking and relationship-building withing the homeschoo...
Homeschoolers EXCELDallas/Fort Worth Metroplex
We are an inclusive support group for homeschoolers seeking cooperative, non-sectarian, non-partisan educational and social opportunities. We get together for field trips, co-op classes, parties an...
Texas HOPE Del RioDel Rio and Laughlin AFB
A group for those who homeschool in and near Del Rio, including . We organize field trips, park days, and social events throughout the year. Usually there is someone in the group who will arrange o...
Christian Homeschool Alliance of TexasDeSoto, Duncanville, Lancaster, Cedar Hill and surrounding areas
Christian Homeschool Alliance of Texas provides a support ministry to Christian homeschooling families in south Dallas County and the surrounding area.CHAT is a group of homeschooling families ...
North Texas Homeschooled Teens Social GroupDFW Metroplex
NTHTSG is a social group for home schooled teens, their families, and friends, who live in the Dallas/Fort Worth area of North Texas. Activities may include, but are not limited to: meet-ups at mem...
Mid-Cities Homeschool MisfitsDFW Mid-Cities
An inclusive group in the heart of the DFW Metroplex. A community page for the homeschoolin' misfits on DFW! Join our awkward but enthusiastic fun!
Dripping Springs Area Homeschool AssociationDripping Springs
A Network for Home Education in the Dripping Springs, Texas Area - providing a way for area homeschoolers, as well as those families considering homeschooling, to connect with other homeschoolers a...
Vista Hills Homeschool MinistryEl Paso
Interative group of loving homeschool moms! Homeschool library and services
WEHST in El Paso-Yahoo groupEl Paso
An Inclusive, Non-discriminating group of homeschooling families. Our primary focus is on the home-educated child of all ages. WEHST Members come from a variety of backgrounds, lifestyles, religion...
Red Oak Home Schoolers of TexasEllis County and surrounding areas
A secular Yahoo groups used to announce park days, schedule field trips, plug different co-ops, or scout out local happenings. Post for sale ads, requests, and free stuff. Especially Free Stuff! Lo...
Kids UnleashedEuless
Local Homeschool Group looking to enrich social interactions for homeschool students through various events such as; field days, show and tells, science fairs, book fairs, seasonal parties, graduat...
Mosaic AcademyFort Worth
A private part time school for home educators
NETCACHEFort Worth
The Northeast Tarrant County Association of Christian Home Educators. We are an organization of Christian home school families who are bound together by a common belief that the responsibility for ...
Westside Association Of Christian Home EducatorsFort Worth
North TX Homeschooled Teens Social GroupFort Worth
This is a planning and social group for home schooled "teens" who live in and around the Fort Worth area of north Texas.
CATH (CAtholics Teaching at Home)Fort Worth/Arlington
CATH is a Catholic Christian homeschool support group in Fort Worth, Arlington, and surrounding communities. We welcome all interested families. We offer weekly PE, field trips, information meeting...
Learning Adventures of Fort BendFt. Bend County
Whether you are just starting to research the possibility of alternative education, have recently chosen homeschooling, or discovered the joys of family-based education a long time ago, we are glad...
Holy Family Homeschool AssociationGalveston-Houston
Holy Family Homeschool Association of West HFHAWH is a family-to-family Apostolate non-profit organization. The purpose of the association will be to provide Catholic homeschooling parents and th...
Apostolate of Roman Catholic HomeschoolersGalveston/Houston
The purpose of ARCH is to provide support for Catholic homeschooling families through a network of friends and to provide aid to the parents as they fulfill their vocations as the primary educators...
Garland/Richardson Homeschool Parents and Teens Social GroupGarland/Richardson
This is a Secular Homeschooling group for families and teens in the Garland/Richardson area. Offering weekly park days and other activities for ALL ages. Members meet every Tuesday and Thursday mor...
Georgetown Christian Home EducatorsGeorgetown
We are a group of Christian families interested in providing a Christ-centered education in the home.
GROW Homeschool GroupGeorgetown
GROW Ministries is a Christian Non-Profit Homeschool Organization serving the Austin, TX community and surrounding area since 2013. GROW Homeschool Group offers a variety of activities to enrich yo...
Heritage Christian AcademyGranbury
Heritage Christian Academy (HCA) is a hybrid homeschool program for students, pre-k - 12th grade, located in Granbury, Texas. HCA offers 3 membership opportunities for homeschool families interest...
Fellowship Church Homeschool NetworkGrapevine
FCHN - Fellowship Church Homeschool Network is a ministry of Fellowship Church in Grapevine, Texas. Our support group maintains Christian beliefs and values. FCHN is committed to serve as an outrea...
Horizon HomeschoolersGrapevine
We are a group of Christian homeschooling parents living in the middle of the Metroplex between Dallas and Fort Worth. This list is for discussion of any topics related to homeschooling and how it ...
Harlingen HomeschoolersHarlingen
We are a Christ-centered homeschooling organization in Harlingen, Texas whose main purposes include: Promoting an education with Christian Character, Biblical standards, and a personal relationship...
Hill Country Christian HomeschoolersHill Country
HCCH is a Christian organization established to provide support, education, and fellowship for local homeschooling families who are striving to train up their children in the Lord. Our existence d...
The NetworkHill Country:New Braunfels, San Marcos, Austin, San Antonio, Schertz, Cibolo, Seguin, Wimberley and Canyon Lake.
THE NETWORK is a support network for families using or considering the KONOS unit study curriculum to home educate their children. We will share how to plant those (carrot) seeds, for your treasure...
Homeschool Christian Youth AssociationHouston
HCYA is one of the oldest and largest homeschool support organizations of its kind in Texas and the United States. For over 14 years HCYA has been serving homeschoolers in the greater Houston area ...
Homeschool In HoustonHouston
Information hub Homeschool In Houston, Where Kids Are Parent Taught and Naturally Socialized
Home WorksHouston
A small group of families that cooperatively homeschool our children using Attachment Parenting principles in Houston, Texas.
FREE – Houston UnschoolersHouston
FREE: Fun and Relaxed - The Essence of Education FREE is a community of advocates for child-led learning. As families who practice or are exploring the unschooling lifestyle, we support and respect...
Garden Oaks Home School Support GroupHouston
Thank you for your interest in the Garden Oaks Home School Support Group (GOHSSG). It is our desire to support all families in their home schooling endeavors. We are a Christian group, with our lea...
Heritage Christian Home School Support GroupHouston
Christian Home School Support Group meeting in Houston.
Secular Homeschoolers of HoustonHouston
This group is for homeschoolers in and around Houston who are interested in getting to know and connecting with other homeschoolers in a non-overtly-religious/political environment.I encourage me...
SCCHE – Sugar Creek Christian Home EducatorsHouston
Sugar Creek Christian Home Educators is a cooperative of Christian families committed to supporting and encouraging one another to teach our children at home.SCCHE serves the southwest Houston, T...
JourneysHouston
A homeschool group especially for families raising special needs children and teens. They offer a variety of social opportunities for kids and families, a monthly parent support group, and moms-onl...
Learning Differences Homeschool Network of Southeast TexasHouston
A homeschool social group for anyone in the Houston metro area homeschooling one or more children with any diagnosis that affects learning. The group is especially geared to extremely-high-function...
CHA – Cypress Homeschool AssociationHouston/Cypress
CHA is dedicated to the support of parents and students homeschooling in the Cypress area. Through field trips, social outings, teaching co-ops and various clubs and events we seek to create many o...
Home Education, Learning and Development LLCHouston/Fort Bend County
Home Education, Learning and Development is a community exclusively for Texas families in Fort Bend County and surrounding areas, who choose to educate their children at home. This group is committ...
Suburban Southwest Homeschool Field Trips- HoustonHouston/Missouri City
This group is for families in the Missouri City, TX and surrounding areas who are homeschool families. Monthly field trips scheduled throughout the year to give homeschoolers the opportunity to me...
Irving HOME SchoolersIrving
An all-inclusive group of homeschooling families based in Irving,Texas, sharing resources and offering activities that enhance and support the homeschooling experience. We are open to new and expe...
NICHE – North Irving Christian Home EducatorsIrving
Our group is comprised of home school families from the Irving, Texas and the surrounding D/FW area. It is the mission of NICHE to glorify God, by coming along side Christian home school families, ...
CVHEA – Cypress Valley Home Educators AssociationJefferson
Welcome to the Cypress Valley Home Educators Association. Whether you're a first-time home schooler seeking information on how to get started, or a veteran looking for resources, we hope you find u...
Christian Homeschooled Teen Katy/Fulshear AreaKaty and Fulshear Area
Social Events for Christian Teen Homeschoolers and their Parents in the Katy/Fulshear Area. This is a Facebook group for those looking for ways to connect Christian Homeschooled together. Monthly ...
Hill Country Home School AssociationKerrville
A Christian-based organization formed since the early 1990's as a support group to encourage home educating families in the task of teaching their children at home. The group is administered by a b...
Christian Home Educators Support SystemKilleen
CHESS is a group of more than 100 families who have chosen to homeschool our children for a variety of reasons. Our membership is culturally diverse, representing the presence of a local and milit...
H.E.A.R.T. HomeschoolersKingwood
A home educator's support group affiliated with the South East Texas Home School Association (SETHSA). H.E.A.R.T. provides information, support, encouragement, and opportunities for homeschooling ...
HEART – Home Education and Responsible TeachingKingwood
Home Education and Responsible Teaching (HEART) welcomes you! Whether you are a new home schooler or a veteran home schooler who is new to our area, here is some information you may find helpful. H...
Bayshore Christian HomeschoolersLaPorte
Bayshore Baptist Church
Longview Area Relaxed Home EducatorsLongview
LARHE is a diverse east texas homeschool group welcoming all regardless of their race, religion, political views, or homeschooling methods.
Collin County Homeschoolers Sharing Adventures In LearningMcKinney
SAIL is a member-governed, inclusive community of homeschooling families in the McKinney, Texas area. We encourage and respectfully support a membership diverse in homeschool style, race, religion,...
McKinney Area Christian HomeschoolersMcKinney and surrounding area
MArCH is a volunteer, non-profit homeschool organization where our first priority is to glorify God and pursue Godly character. MArCH provides support meetings, newsletters, fall and spring co-op c...
Mesquite Christian Home School AssociationMesquite
MCHSA exists to answer the objections to home schooling. We currently have over fifty families enrolled. We provide a monthly news letter and bi-monthly meetings with special speakers and activitie...
Midland Association of Christian Home EducatorsMidland
Our mission is to encourage, strengthen, support, and educate home schooling families.
Christian Home Educators of the Mt. Pleasant AreaMt. Pleasant
CHEMPA is a volunteer, non-profit homeschool organization serving the Mt. Pleasant area. We offer: Monthly Newsletters, Yahoo Group, Yearbook, Stanford Testing (certified testers), Teen Banquet (7...
Homeschool HappeningsNew Braunfels
This is a homeschool group designed to provide support for families in and around New Braunfels (Seguin, San Marcos, Canyon Lake & NE San Antonio). If you are new to homeschooling, we would like ...
North Texas Home Educators NetworkNorth and Northeast Texas
NTHEN provides services and support to homeschool families and homeschool support groups in north and northeast Texas. Our goal is to ensure homeschool leaders and parents have the proper tools and...
North Houston Charlotte Mason Support GroupNorth Houston
The North Houston Charlotte Mason Homeschool Support Group has been in existence since 1999. Our group consists of members located all around the Houston area, but our moms meetings are in the nort...
Pals North of HoustonNorth Houston, Kingwood, the Woodlands
An inclusive homeschool support group meeting north of Houston and serving Kingwood, the Woodlands and everything in between. No fees to join. Low cost or free field trips. All welcome regardless o...
Homeschooler's in ActionOdessa
The purpose of Homeschooler's in Action is to provide fellowship and encouragement to unschoolers and homeschoolers who regularly meet for exploration, fun, child-led classes and adventure. Members...
Parker County Christian Home EducatorsParker County
PCCHE is an organization that exists to help home school families share information and support one another. We meet several times a year to go over group topics, share experience, sell used mater...
Homeschoolers in Pearland Yahoo GroupPearland
A group for promoting activities for homeschoolers in Pearland, Texas.
Pflugerville Christian HS Support GroupPflugerville
Pflugerville Christian Homeschoolers (and surrounding areas) meet for park day every Wednesday afternoon at alternating parks around town, attend monthly field trips, plus a mom's breakfast and din...
PEACH – Plano Educational Association of Christian HomeschoolersPlano
The Plano Educational Association of Christian Homeschoolers is a volunteer, non-profit organization committed to serving homeschoolers in Plano and the surrounding North Texas communities. Offers ...
Plano Area Texas HomeschoolersPlano
The mission of PATH is to partner with like-minded, Christ-following homeschool families to create an environment that enhances their childrens education by providing a balance of enrichment and ac...
Plano Educational Association of Christian HomeschoolersPlano
PEACH is a volunteer, non-profit organization committed to serving homeschoolers in Plano and the surrounding North Texas communities, including every town in southern Collin County.
Plano Family Unschoolers NetworkPlano
Plano FUN
Lighthouse Home School SupportPort Arthur
Lighthouse offers an array of homeschool resources. At the home in Port Arthur, TX, there is a homeschool co-op, Christian Home School Enrichment Labs, an athletic group, Lighthouse Home School Ath...
Richardson Home School AssociationRichardson
RHSA exists to provide support and encouragement to families who are educating and training their children at home. Richardson Home School Association is a local homeschool support group that offer...
HOPE for Hidalgo Co., Inc. Homeschool GroupRio Grande Valley
Home Oriented Private Education (HOPE) for Hidalgo County, Inc. is a Christ centered, biblically sound, homeschool support group located in the Rio Grande Valley (RGV) of Texas. Through athletic, e...
Home Education Associational Resources, Inc.Rockwall County
H.E.A.R. of Rockwall Texas, is a multi-denominational, Christian based home school support group. Our mission is to offer information, assistance, group activities, and emotional as well as social ...
RRHomeRound Rock
Home Educators Offering Moms Encouragement - Our mission is to provide Christian-based support for home schooling families in the Round Rock area.
San Angelo Christian Homeschool AssociationSan Angelo
SACHSA was created to help support parents in home educating their children in San Angelo and the surrounding area. SACHSA's members include about 120 families with over 250 children in our area.
San Angelo Homeschool NewsSan Angelo
San Angelo Homeschool News can answer your questions about homeschooling in the Concho Valley. Helping you learn how to homeschool and offer you support and encouragement throughout your homeschool...
SACHSA – San Angelo Christian Home School AssociationSan Angelo
The purpose of Homeschooling and the San Angelo Christian Home School Association is to provide support to parents who educate their children at home. Support may include (but not be limited to): A...
Family Educators Alliance of South TexasSan Antonio
FEAST- A clearing house of information and support services for the home schooling community
Alamo Area Christian EducatorsSan Antonio
Offers Homeschooling support and a Friday School
HCentralSA.orgSan Antonio
Homeschool in San Antonio. A central location website where homeschoolers come together as one
Homeschoolers4ChristSan Antonio
A group for Christian homeschooling mothers who live in or around the San Antonio area. It's a place where we can come together and discuss issues dealing with homeschooling, family, or any other a...
SA Homeschool Fun and Learning (Yahoo group)San Antonio
S.A.H.F.L. is a secular homeschooling group striving to provide a tolerant place for ALL homeschoolers. We get together several times a month for arts and crafts, field trips, park days, chess, a...
San Antonio Home EducationSan Antonio
Your homeschooling guide and resources for those who are home educating their children in San Antonio and the surrounding areas.
Haven Home Educators Information BoardSan Antonio
A network of home schooling families in the San Antonio metropolitan area who wish to foster lasting friendships and positive experiences for our children. We generally have a field trip each month...
NW HomeschoolersSan Antonio
Join the fun at Raymond Russell Park on the northwest side of San Antonio, Texas! We're a group of home schooling families that meet for a fun park day, make friends and learn! We welcome everyone....
SHINE Homeschool Support GroupSan Antonio
SHINE is a non-profit organization designed to provide cooperative opportunities and a support network to families educating their children at home in the Northeast San Antonio, TX area.Our mi...
Christian Homeschool Field Trip GroupSan Antonio
Homeschool field trip group for Christians on the NE side of San Antonio and surrounding areas. Most members have children between the ages of 1 month to 16 yrs of age. We get together mostly on Tu...
North West Home EducatorsSan Antonio
We are a Christian support group, located in San Antonio, Texas, for families who are educating their children at home. Co-ops offered.
TEAMS Homeschool Co-opSan Antonio
This is a TEAMS oriented co-op. Parents working together to help our children grow both academically and in character. Setting positive examples of working as a team. Together we come up with new ...
Latter-Day Heritage Home School AssociationSan Antonio
Latter-Day Heritage Home School Association is located in San Antonio, Texas. Although most of our membership consists of Latter-Day Saints, we are not an exclusive group and require no statement ...
PowerHouse HomeschoolingSan Antonio
An online resource and e-zine for homeschoolers in the South/Central Texas region. Offering current events, places to go, local groups to join, curriculum and book reviews, and much more.
The Well Homeschool Enrichment ProgramSan Antonio
The Well provides families with an opportunity for growth and fellowship with other like-minded individuals who are also dedicated to homeschooling their children. It's an opportunity to support a...
San Antonio Christian HomeschoolersSan Antonio and surrounding areas
SACH is a Christian based group open to all homeschooling families in the San Antonio and surrounding areas. We meet for Park Dyas, Field trips, Mom's Night Out and have a monthly Newsletter, Onli...
RAMCHE – Randolph Area Military Christian Home EdSan Antonio/Randolph Air Force Base
This group is for Christian military homeschool families living on or near Randolph Air Force Base, just northeast of San Antonio, TX. Here you can find details about RAMCHE activities, and resourc...
Southeast Texas Home School AssociationSoutheast Texas
Home Education Resources
Sugar Creek Christian Home EducatorsSouthwest Houston, Missouri City, Richmond and Sugar Land
SCCHE is a cooperative of Christian families committed to supporting and encouraging one another to teach our children at home.
CHESS – Christian Home Educators of Sulphur SpringsSulphur Springs
Christian Home Educators of Sulphur Springs (CHESS) is a private organization composed of home schooling families in and around Sulphur Springs, Texas, who offer support in educating their children...
Texarkana Organization for Resolute Christian HomeschoolersTexarkana
TORCH is a local homeschool support group, serving Texarkana, AR/TX and the surrounding area. Organized and operated by parent volunteers, our mission is to support and encourage those pursuing the...
Texas Home School Coalition Support GroupsTexas Statewide
Support Groups
Texas Home Educators Support GroupsTexas Statewide
Homewood Christian AssociationThe Woodlands
Providing educational and social enrichment opportunities for Christian home schoolers in The Woodlands area since 1996. A homeschooling support group located north of Houston in The Woodlands, Te...
P.A.L.S. Parenting, Academics and Leadership SupportThe Woodlands/Spring/Humble
PALS is an all inclusive, secular, homeschool support group meeting in Humble, Spring and The Woodlands, Texas. All are welcome regardless of race, religion, homeschool style, etc... No fees or sta...
TCH – Tomball Christian HomeschoolersTomball
TCH is an association of families in the greater Northwest Houston, Texas area who support and encourage each other to pursue excellence in learning together at home.TCH is a Christian organizati...
Tyler Area Christian Home EducatorsTyler
TACHE association coordinates activities of interest to its membership. We have skating, bowling, soccer, Moms' Night Out (dinner and a speaker), e-newsletter, history co-op, field trips, Recogniti...
TACHE – Tyler Area Christian Home EducatorsTyler
The purpose of the Tyler (Texas) Area Christian Home Educators Association is threefold.1. To provide a support group for parents and others involved and/or interested in teaching their childr...
Homeschool VictoriaVictoria and surrounding areas
An inclusive network of independent homeschooling families sharing creative ideas, knowledge of educational and community events, personal support and social opportunities with other families who h...
Greater Waco Christian Home EducatorsWaco
GWCHE is a Christian volunteer support group in Waco, Texas dedicated to helping families who have chosen to educate their children at home.
West Dallas Home School Think TankWest Dallas
Share curriculum, teaching strategies, and other homeschooling ideas with local homeschool parents. Board games and coloring sheets will be available for children during the meeting. Meetings are h...
Home Educators Around TexomaWichita Falls
HEAT: Supporting Home Educators in the Wichita Falls area. Formerly Wichita Falls Area Home School Support Group (WFAHSSG).
Home Educators Around Texoma – H.E.A.T.Wichita Falls
Homeschool families in the Texoma Area are awesome! We work together to support each other in our efforts to homeschool, and we welcome you to join in the fun! There are lots of exciting classes, ...