Our listing of Texas jobs and volunteer opportunities for homeschoolers is ordered alphabetically by city. If you would like to submit a Texas co-op or academic resource, you may do so using the red button above.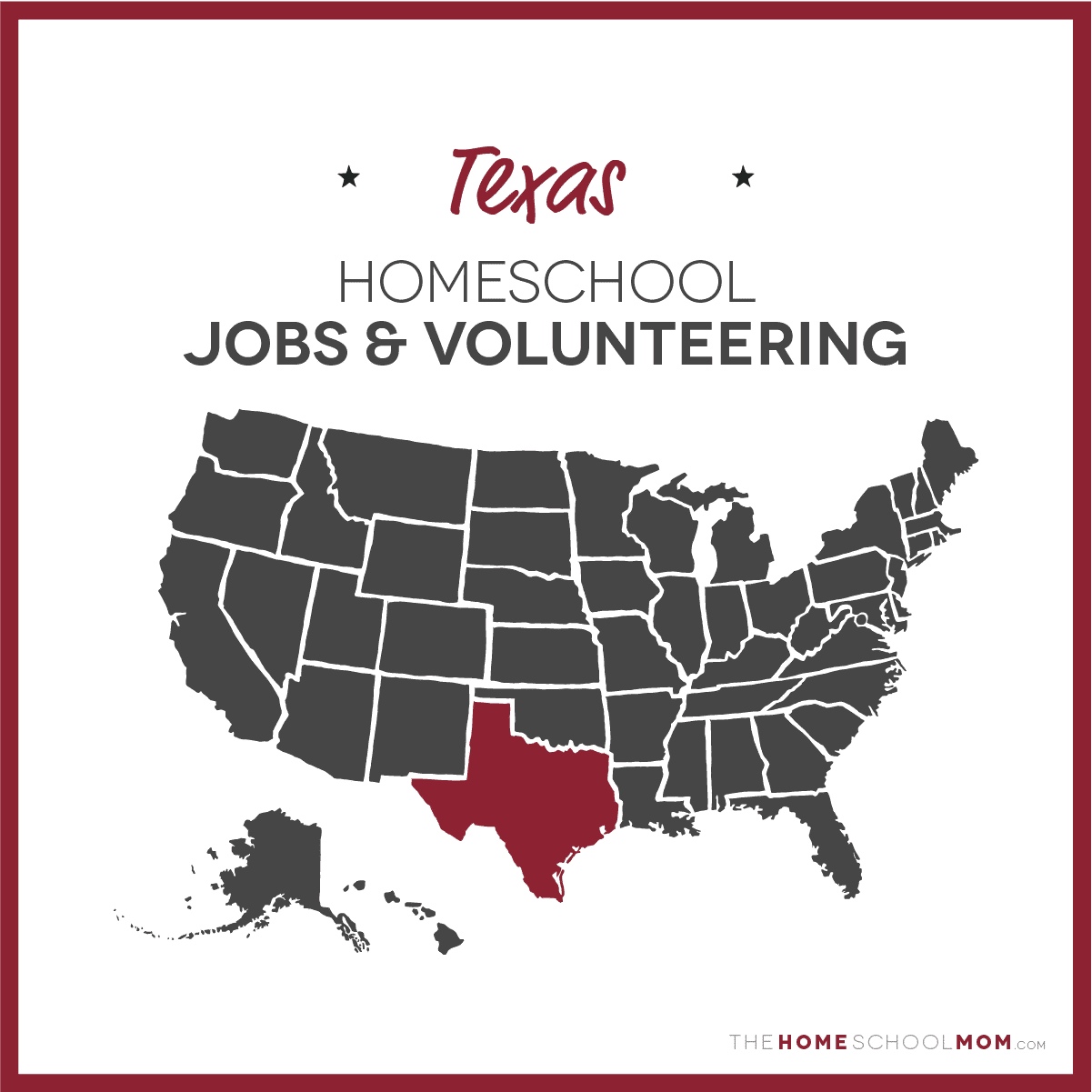 Submit a Local Resource
7 Star Horse Therapy

Amarillo,, Canyon

7 Star horse therapy is a program that helps kids with disabilities and also veterans. Are clients that come out to our program need help with multiple things like core strength, walking, or even just sitting up right. The clients have a 45 minute session where they are riding the horse doing stretches and going through a small obstacle course. We need volunteers to help lead the horses and side walk beside the kids. Are focused on these kids working on becoming able to do tasks on their own and many even being able to control their horse by themselves one day. People who are volunteering or helping have to be at least 16 years old.
CJ's Legacy Ranch

Bartonville/North Texas

CJ's Legacy Ranch is a division of the ELTS Foundation. We strive to create an environment where children get hands-on, real-world experience, and our equine program is no exception. ELTS has a competitive Equestrian sports program for elementary, middle and high school students. Those who partake in horseback riding and caring for a horse develop several positive traits, including responsibility, accountability, patience, level-headedness, empathy, kindness, and self-discipline. Riders develop coordination, balance, fine motor skills, muscular strength and endurance, flexibility, and can improve posture and cardiovascular health. Working with horses is one of the most rewarding and exciting experiences a person can have, though it also takes a lot of hard work and dedication. It's by allowing your child to explore his or her interest in horseback riding, you are offering them the opportunity to learn valuable life skills while doing something they love. Riding helps support healthy physical and emotional growth, and it teaches kids to work together, support their friends, and take on more responsibility.
YMCA of Metropolitan Dallas - Lifeguards wanted

Dallas

Be a leader. Be a lifeguard! Millions of people of all ages and backgrounds come to the Y for water safety education, to learn to swim, and to meet their health and wellness goals in the pool. Lifeguards are essential to ensuring a safe environment for those millions of individuals. Lifeguards maintain safe swimming conditions in and around the pool and create a positive atmosphere that promotes member safety and engagement. Their presence allows us to offer life-changing programs in the areas of youth development, healthy living, and social responsibility. When we do this effectively, we deliver on our cause as a nonprofit; strengthening community. Responsibilities if a lifeguard:: Candidate will act as a lifeguard during recreational, instructional and exercise usage of the pool; must be alert at all times, keeping in mind that the safety of program participants is your primary responsibility must keep a neat and clean appearance; must work at peak efficiently in all aspects of the aquatic program assigned; must arrive and leave work at the assigned times; should be ready to go to work at least 5 minutes prior to scheduled guarding time; must be properly dressed according to set standards; must enforce pool regulations for swimmers promptly and courteously; must test pool for chemistry and temperature, to log chemical levels, temperatures, water clarity, bather load and any actions taken hourly on the proper recording forms; must provide vigilant, undistracted supervision of the pool; must read and be familiar with staff aquatic manual; must understand and be able to carry out first aid and branch emergency procedures; must report fully all accidents and incidents on the correct forms; must check safety equipment when coming on duty and report any problems to the pool manager; must lock and unlock doors/gates to control entrance or exit of swimmers; must be able to perform all skills constituting a part of the training program for life guarding certifications; must clean up equipment and make sure all equipment is stored in its proper place.
Meals on Wheels of Denton County

Denton County

For any homeschool families that are looking to expose their kids to community service, please consider Meals on Wheels. Their mission to to help elderly, homebound people stay in their homes by delivering a hot meal and providing much-needed social contact 5 days a week. It's a minimal commitment (1.5-3 hours to deliver a typical route). You can sign up for a regular route 1 day a week, or just sign up from the weekly emails that list the "open" routes. It's very flexible that way. There is a 1-2 hour training session plus a background check.
Flexible schedule jobs at Rush Bowls

Flower Mound

Homeschooling and first job friendly employer. Position is as a crew member of the Lakeside Rush Bowls.
Texas Duck Dogs - full time and part time job opportunities

Gainesville

Jobs available at our dog training kennel. Flexible shifts available. Weekends or weekdays. Pay ranging $10per to $15per hour depending on the job and experience. Kennel cleaning, field assistant for training, feeding dogs, bathing dogs, training apprenticeships, property maintenance, etc. Feel free to call or text me with questions. Owner: Wade Cashion - cell 903-271-3647 I have a degree in Biblical Studies and was a full time minister for 12 years (southern baptist) prior to opening the kennel full time in 2014. We have hired numerous homeschoolers in the past and we appreciate their faith, work ethic and honesty.

Texas Duck Dogs - full time and part time job opportunities details
Aqua-Tots Swim Schools - Keller/Alliance

Keller/Alliance

AQUA-TOTS IS HIRING SWIM INSTRUCTORS! Aqua-Tots offers a really fun work environment, flexible schedules, competitive pay, and you will have the pleasure of working with a close-knit group of team members! If you don't have experience as a swim instructor, no problem! Aqua-Tots will teach you everything you need to know to become an incredible swim instructor! If you enjoy working with kids, want to make a big impact on your community, and like being in the pool, click the link to apply! Click it now (you will love it)! Hope to talk with you soon! :) #bestjobever
Chick-fil-a Lake Highlands

Lake Highlands

Chick-fil-a Lake Highlands welcomes homeschool students started at 14 years old! Our owner, Lori Canales, is a homeschool graduate herself. It would be our pleasure to come alongside your son or daughter and teach them the Chick-fil-a way!
Chick-fil-A Spring Creek & 121 Plano

Plano

We're looking for talented individuals that want to join our award winning team. We're looking for people passionate about service, hospitality and operational excellence. Why work at Chick-fil-A Spring Creek & 121? It is a great place to work, competitive pay, closed Sundays, and we have scholarship opportunities.  Text "joinus" to 77948
SUBWAY

Rockwall, Rowlett, Richardson

We are now hiring at our Subway locations at Rockwall and Rowlett. We offer flexible schedules and can work around your class schedule. Starting pay is $11+ an hour depending on availability and experience *Free meals *Free uniforms *Flexible scheduling *Bonuses and incentives *Refer a Friend and Get Rewarded $$ *Awesome work environment *Make great friends *Discounts on car rentals, hotels, electronics, and more *Locally owned and family operated *Opportunities to grow into management
Corner Bakery Cafe

Southlake

Join The Corner Bakery Cafe Team! Welcome to our amazing world. A brand that is filled to the brim with passionate people, creative thinkers, overachievers, servant leaders and folks having a blast doing what they do best – helping others. In November of 1991, we started as a small bakery supplying artisan breads to guests throughout Chicago. Over time we have evolved into a neighborhood gathering spot serving up made-to-order breakfasts, lunches, dinners and everything in between. Get it to go, dine in or have it catered. We do it all!
Scott and White Standardized Patient Program - Standardized Patient Actors

Temple

The SP Program is actively recruiting male and female standardized patients ages 12 weeks to 17 years old, to become educators for the new generation of Health Care Providers. Pay for activities range from $10-$25 an hour based on the requirements for the activity. See website for more details.

Scott and White Standardized Patient Program - Standardized Patient Actors details