Our listing of Texas jobs and volunteer opportunities for homeschoolers is ordered alphabetically by city. If you would like to submit a Texas co-op or academic resource, you may do so using the red button above.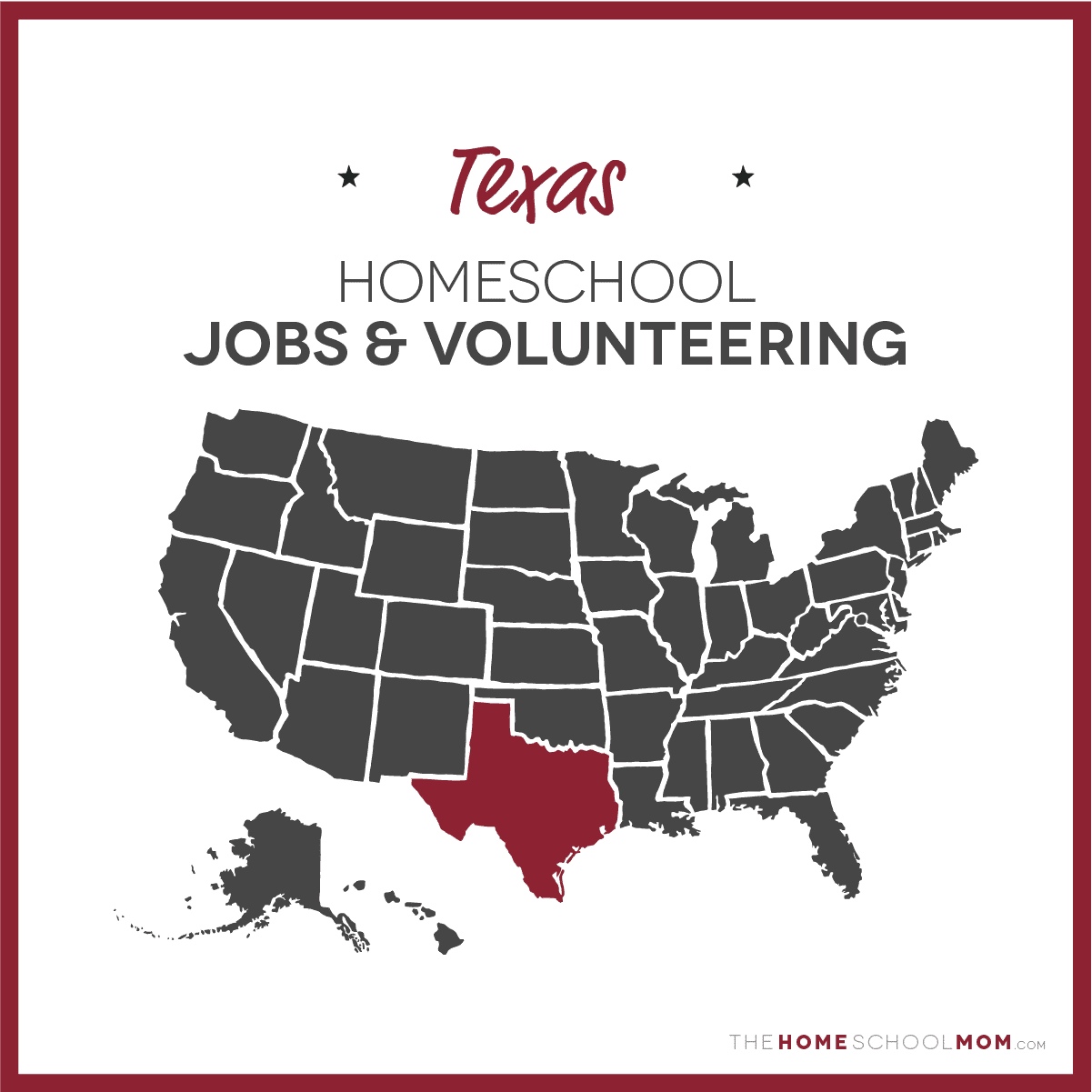 Submit a Local Resource
City of Austin Parks and RecreationAustin
The City of Austin Parks and Recreation Department has several postings listed for positions within the parks starting at $15/hr and a $500 summer completion bonus for staff that meet a certain cri... [Read more...]
Freebirds World Burrito job opportunitiesAustin
Freebirds World Burrito is hiring for daytime Tribe to join our new restaurant in Ledge Stone in Dripping Springs! We would love to invite you to learn more about our job opportunities. Apply onlin... [Read more...]
CJ's Legacy RanchBartonville/North Texas
CJ's Legacy Ranch is a division of the ELTS Foundation. We strive to create an environment where children get hands-on, real-world experience, and our equine program is no exception. ELTS has a com... [Read more...]
YMCA of Metropolitan Dallas - Lifeguards wantedDallas
Be a leader. Be a lifeguard! Millions of people of all ages and backgrounds come to the Y for water safety education, to learn to swim, and to meet their health and wellness goals in the pool. Life... [Read more...]
Chick-fil-A Preston & Beltline (North Dallas)Dallas
We are looking to hire talented individuals to work at our Chick-fil-A at 14897 Preston Road, Dallas, TX, 75254. We offer flexible schedules and can work around your class schedule. We pride oursel... [Read more...]
The Bair FoudnationDallas, Fort Worth, DFW
"The Bair Foundation is a Christ-centered foster and foster-to-adopt agency serving therapeutic level kiddos that are coming out of crisis and need a stable and loving home. The Bair Foundation has... [Read more...]
The Barrington GroupDallas/Garland/Grand Prairie
Seeking to hire someone who is teachable and has good work ethic. Great opportunity to learn graphic design, sublimation printing and heat press operation. Must have computer skills. Monday - Frida... [Read more...]
Meals on Wheels of Denton CountyDenton County
For any homeschool families that are looking to expose their kids to community service, please consider Meals on Wheels. Their mission to to help elderly, homebound people stay in their homes by de... [Read more...]
Aqua-Tots Swim Schools - Keller/AllianceKeller/Alliance
AQUA-TOTS IS HIRING SWIM INSTRUCTORS! Aqua-Tots offers a really fun work environment, flexible schedules, competitive pay, and you will have the pleasure of working with a close-knit group of team ... [Read more...]
Chick-fil-a Lake HighlandsLake Highlands
Chick-fil-a Lake Highlands welcomes homeschool students started at 14 years old! Our owner, Lori Canales, is a homeschool graduate herself. It would be our pleasure to come alongside your son or da... [Read more...]
Chick-fil-A Spring Creek & 121 PlanoPlano
We're looking for talented individuals that want to join our award winning team. We're looking for people passionate about service, hospitality and operational excellence. Why work at Chick-fil-A S... [Read more...]
Corner Bakery CafeSouthlake
Join The Corner Bakery Cafe Team! Welcome to our amazing world. A brand that is filled to the brim with passionate people, creative thinkers, overachievers, servant leaders and folks having a blast... [Read more...]
Scott and White Standardized Patient Program - Standardized Patient ActorsTemple
The SP Program is actively recruiting male and female standardized patients ages 12 weeks to 17 years old, to become educators for the new generation of Health Care Providers. Pay for activities ra... [Read more...]
Go to Texas...