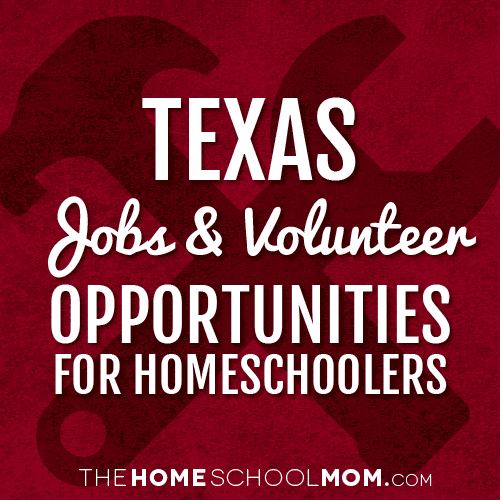 Our listing of Texas jobs and volunteer opportunities for homeschoolers is ordered alphabetically by city. If you would like to submit a Texas co-op or academic resource, you may do so using the red button above.
Use the secondary navigation menu above to quickly make your way to pages for Texas state organizations, local homeschool groups, classes, co-ops, field trips, and more.
Texas Homeschooling Jobs & Volunteer Opportunities
Smoothie KingAllen
If you are interested in working in a fun and energetic environment while helping others become more health conscious, Smoothie King in Allen is the place for you! Currently, Smoothie King is seeki...
Jamba JuiceAustin
Jamba Juice is a health-conscious smoothie bar. The menu has a combination of nearly 100 different smoothies, freshly squeezed juices, and a variety of snacks. Jamba Juice is looking for friendly, ...
Firehouse Subs Austin Now Hiring!Austin, Cedar Park,South Austin, and Kyle
Firehouse Subs has 10 Greater Austin Area locations that are hiring home schooled students for part time employment. Minimum age for employment with Firehouse Subs is 16 years old. Check out our hi...
The BentleyDallas
Dallas Senior Living at The Bentley is looking for pm servers and weekend servers
The Bair FoudnationDallas, Fort Worth, DFW
"The Bair Foundation is a Christ-centered foster and foster-to-adopt agency serving therapeutic level kiddos that are coming out of crisis and need a stable and loving home. The Bair Foundation ha...
SOS LocalDFW
SOS Local is the local outreach arm of S. O. S. International. The mission of SOS Local is to create meaningful opportunities where church members can find areas to plug into and use their gifts an...
Clean Juice – Fort WorthFort Worth
Juicerista Clean Juice - Fort Worth, TX $8.50 - $9.50 an hour - Full-time, Part-time Clean Juice is hiring full time and part time Juicerista's to join the team at Clean Juice in the Shops at C...
Erica's inHome ChildcareFort Worth
Looking for 2-4 homeschoolers interested in practicing and learning about child development using the Montessori Method for infants. I run an inHome Childcare focused on infants 0-3 with a ratio o...
Aqua-Tots Swim Schools – Keller/AllianceKeller/Alliance
AQUA-TOTS IS HIRING SWIM INSTRUCTORS!Aqua-Tots offers a really fun work environment, flexible schedules, competitive pay, and you will have the pleasure of working with a close-knit group of te...
Corner Bakery CafeSouthlake
Join The Corner Bakery Cafe Team!Welcome to our amazing world. A brand that is filled to the brim with passionate people, creative thinkers, overachievers, servant leaders and folks having a bl...
Scott and White Standardized Patient Program – Standardized Patient ActorsTemple
The SP Program is actively recruiting male and female standardized patients ages 12 weeks to 17 years old, to become educators for the new generation of Health Care Providers. Pay for activities ra...