Jump to: Homeschool Co-ops | Homeschooling Classes & Academic Enrichment
Looking for someone to teach physics to your teen? Need a way to avoid teaching algebra? Want to enroll your Kindergartener in a co-op for social time? Homeschool classes and co-ops are a great way to spend time with other homeschoolers and skill-share with other homeschool parents.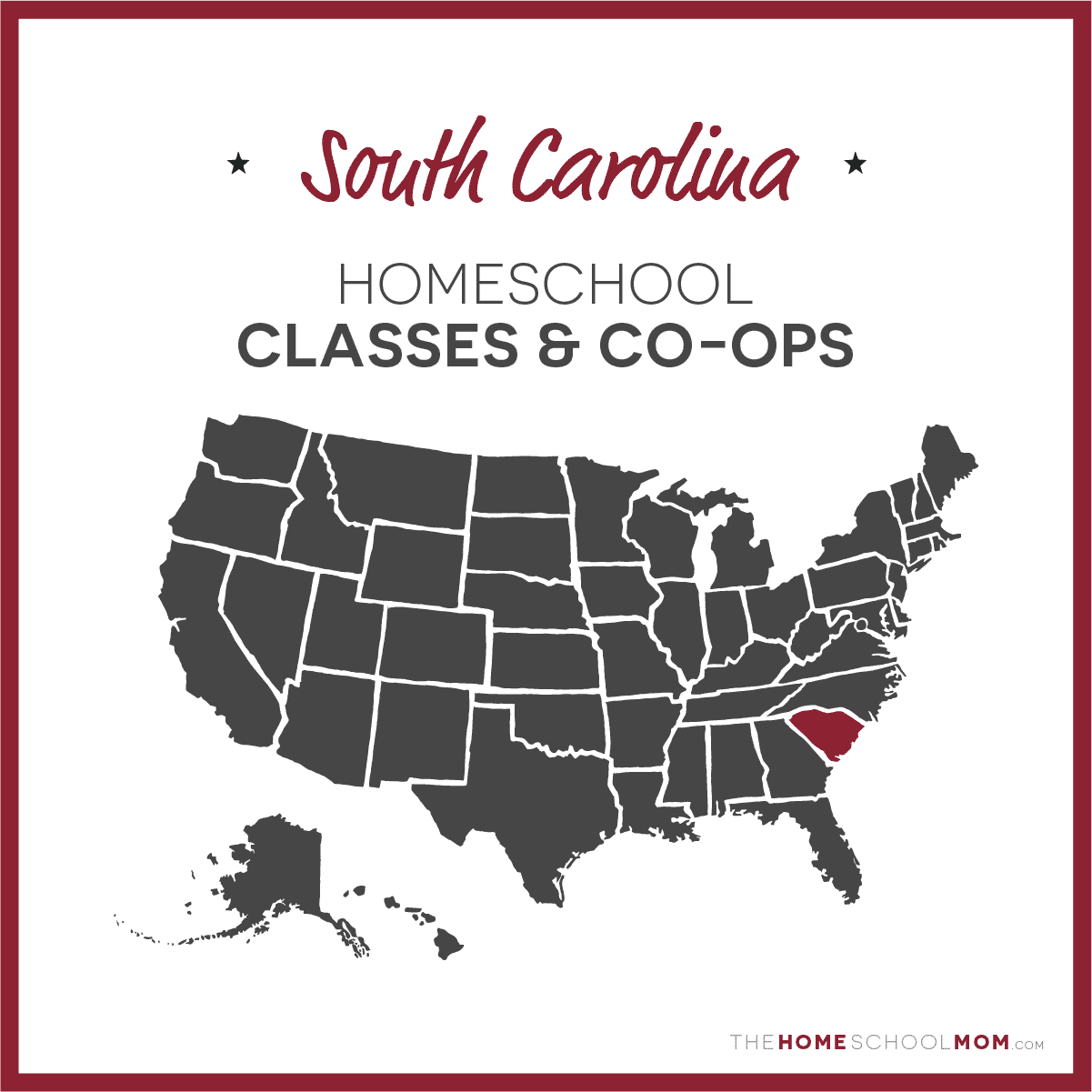 Submit a Local Resource
Our listing of South Carolina co-ops and academic classes for homeschoolers is ordered alphabetically by city, with co-ops in the first section and all other academic resources below. If you would like to submit a South Carolina co-op or academic resource, you may do so using the red button above.
South Carolina Homeschooling Co-ops
Upstate Homeschool Co-op Greenville/Spartanburg
To glorify God by providing spiritual, social, emotional, and academic enrichment to the homeschool families in our community. (Luke 2:52)
CHOICE Homeschool GroupAnderson
CHOICE is a homeschool support group and it offers an exceptional co-op!
Upstate Homeschool HybridAnderson
This homeschool hybrid drop-off exists to partner with families in the Upstate in order to cultivate curious learners. The purpose is to empower learners to use creative thinking, be confident leaders, & thrive in...
Learn Together LowcountryBluffton
Learn Together Lowcountry is a place to learn, connect, and grow in a class or group setting. This project is a group project. Parents work together to create a hands-on learning environment in order to provide option...
Gastonia Freedom SchoolCharlotte
Gastonia Freedom School is a homeschool resource center in Gastonia, NC. We are an Agile Learning Center that does self-directed learning. We have a drop in program for local homeschoolers and co-op day on Wednesdays....
HERO Homeschool GroupColumbia/Irmo
HERO is a homeschool group based in Irmo providing supportive activities and resources designed to benefit all home educators in the greater Columbia area regardless of religious preference, political affiliation, eth...
Bridge Builders Faith Based Homeschool Co-OpDalzell
Easley Home EducatorsEasley
Easley Home Educators is a support group seeking to provide support and encouragement to those families who are homeschooling their children in an environment conducive to good moral and philosophical instruction, wit...
Brook Ridge Preparatory Homeschool CooperativeFort Mill/Tega Cay
Brook Ridge Preparatory is a homeschool cooperative that meets once a week to provide academic support along with the development of Christian Character. Brook Ridge utilizes Classical Education based methods to deliv...
Hartsville Home EducatorsHartsville
Known as HHE, we are a non-profit, multi-denominational, member-run support group for families who homeschool throughout the Pee Dee area of South Carolina. We are a diverse group of families united together to provid...
Vine & Branches Home EducatorsMyrtle Beach
Our mission is to assist South Carolina Homeschooling families, particularly those of Horry and Georgetown Counties, in maintaining legal homeschooling status based on requirements established under South Carolina Cod...
Trinity Homeschool Academy Co-opNortheast Columbia and Elgin
This co-op was created to help lift the burden many families face while homeschooling. Many families struggle to find an enriching, edifying, classical, and Godly educational community for their families. This co-op w...
HOPE Homeschool Co-opSimpsonville
We are a Christian Co-op that meets once a week on Fridays for 12 weeks per semester. We offer both academic and non-academic classes for all grades through 12th. A typical day starts at 9:00am and lasts through 3:00p...
South Carolina Homeschooling Classes & Academic Enrichment
Arrows AcademyAcworth, Kennesaw, Marietta
Partnering with families to sharpen children's hearts and minds to make a big impact for God's kingdom.
Ruth Patrick Science Ed. Ctr.Aiken
The Science and Technology Enrichment Program (STEP) is a long-standing, cooperative effort between Savannah River Nuclear Solutions, Silver Bluff Audubon Center, and the Ruth Patrick Science Education Center. The pur...
Classical Conversations Coastal SouthBeaufort
Classical Conversations is a homeschool community that seeks to come alongside homeschool parents in their desire to educate their children with a Classical Christian curriculum. Locally, there are groups in Beaufort,...
Classical Conversations of Beaufort, SCBeaufort
Classical Conversations is a community of families drawn together by their desire to educate their children classically at home with a Biblical worldview. Classes are available for children ages 4-12th grade. Followin...
3:17 Hybrid School of BlythewoodBlythewood
We desire to partner with families as they model and teach godly wisdom to their children so that they can better represent Christ's pure, peaceable, and gentle qualities to our world. This is our primary mission unde...
ClasseteriaCharleston/West Ashley
We are a homeschool group uniquely located in the Citadel mall of Charleston. We collaborate with local teachers to teach with who have a passion for teaching and working what they do. Our mission is provide support t...
The Charlotte Museum of History Homeschool Educational ProgrammingCharlotte
The Hezekiah Alexander Home Site is a culturally significant and powerful setting for educational programs and brings to life important themes in our national history. Here students, residents, and visitors can explor...
Gastonia Freedom SchoolCharlotte
Gastonia Freedom School is a homeschool resource center in Gastonia, NC. We are an Agile Learning Center that does self-directed learning. We have a drop in program for local homeschoolers and co-op day on Wednesdays....
Carowinds Student and Youth ProgramCharlotte, NC
Whether it's for a reward, end-of-year celebration or educational experience, Carowinds provides the perfect adventure for your students. The Carolinas come together with our park residing in both North & South Ca...
Clemson Area Classical AcademyClemson, Seneca, Easley, Liberty
Clemson Area Classical Academy is a Christ-centered education program which combines the best aspects of a home and traditional education. As a hybrid model, the Academy exists to partner with parents to provide a rig...
Classical Conversations in ColumbiaColumbia
Classical Conversations is a community to equip parents and encourage students. Weekly meetings with a trained parent director and trained parent tutors, learning from the classical model. For ages 4-11, tutors may us...
Gaston County STEM Education & Outreach CenterGastonia
Gaston County STEM Education & Outreach Center offers supplemental instruction in science and mathematics for homeschoolers. Classes are taught by a former college professor. The center also offers summer camps, w...
Artios Academies of GreenvilleGreenville
Artios Academies of Greenville partners with parents to provide an education where students become Artios (II Tim 3:16). Artios' creative approach to education seeks to educate the whole-heart of the child. This uniqu...
Crestview Christian Homeschool AcademyGreenville
Crestview Christian Homeschool Academy offers full day to à la carte academic & enrichment classes on Thursdays. Classes are for K-High school and meets at Riverside Baptist Church, in Greer SC. Parents may drop o...
Classical Conversations of GreenwoodGreenwood
Classical Conversations of Greenwood meets on Tuesdays in Greenwood, SC. This is a classically based homeschool group where tutors introduce material to their students and families go home and work on this material th...
One on One Learning Center, Inc.Lancaster
We provide a varity of classes for homeschoolers and adults including but not limited to chemistry, Spanish, algebra, biology, and more. We also offer individualized tutoring, SAT prep, ACT prep, study skills lessons,...
Eagle's Wings Therapies, LLCLexington
This resource provides one-to-one and small group support to struggling learners using NILD therapy approaches. Students who have been diagnosed with a specific learning disorder would benefit from the approaches used...
SEA Educational SupportMyrtle Beach/Horry County
This resource offers social, emotional, and academic support to students of elementary, middle, and high school age. Office location is Myrtle Beach and can travel to homes within 30 minute drive from Myrtle Beach. Th...
Voyager QuestPickens/Greenville
Through this STEAM program, students will dive into the realm of coding through experimenting with a variety of robots. Students will be challenged to create their own block-coding programs while working with their pe...
Camp LeopoldPinewood
Camp Leopold is named after Aldo Leopold who is recognized as the father of wildlife conservation and management. Camp activities are designed to provide a creative outdoor classroom focusing on wildlife, wetland and ...
5th Company, 4th SC Regiment - Artillery Demonstration TeamRidgeway
Liberty Live can provide an interactive, hands on program, with period demonstrators, to meet the SC education standards for the Revolutionary War in SC. We have the capability to come to your location or meet at a hi...
South Carolina Classical ConversationsSouth Carolina Statewide
CC is a national homeschooling program that uses a Bible based curriculum taught in a christian, classical tradition. Classes are geared for age 4 through high school.
American Heritage Girls - South CarolinaSouth Carolina Statewide
American Heritage Girls is the premier national character development organization for girls ages 5 to 18 that embraces Christian values and encourages family involvement usually provided through Charter Organizations...
Pine Grove PressStatewide
Pine Grove Press is a resource to connect the homeschoolers of the Carolinas together using words, ideas and stories. Growing up as homeschoolers, one thing one never gets is a school newspaper, and that is where Pine...
Go to...