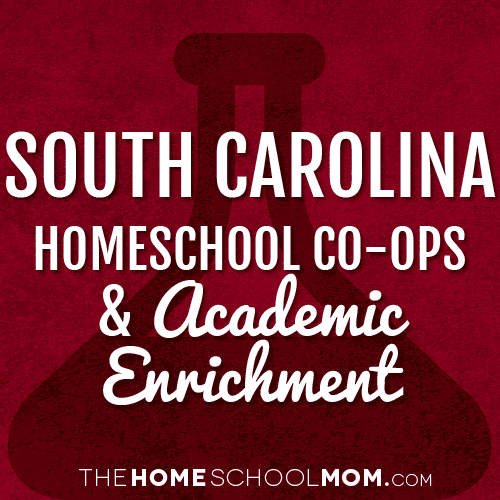 Looking for someone to teach physics to your teen? Need a way to avoid teaching algebra? Want to enroll your Kindergartener in a co-op for social time? Homeschool classes and co-ops are a great way to spend time with other homeschoolers and skill-share with other homeschool parents.
Our listing of South Carolina co-ops and academic classes for homeschoolers is ordered alphabetically by city, with co-ops in the first section and all other academic resources below. If you would like to submit a South Carolina co-op or academic resource, you may do so using the red button above.
Use the secondary navigation menu above to quickly make your way to pages for South Carolina state organizations, local homeschool groups, classes, co-ops, field trips, and more.
South Carolina Homeschooling Co-ops
Learn Together LowcountryBluffton
Learn Together Lowcountry is a place to learn, connect, and grow in a class or group setting. This project is a group project. Parents work together to create a hands-on learning environment in or...
Newberry Christian Homeschoolers Co-opNewberry
Newberry Christian Homeschoolers is a support group and co-op for families in the Newberry area. This weekly co-op offers fun and educational classes each semester. All homeschooling families are w...
Pee Dee Christian Home Educators Association, PDCHEAPee Dee
Offering co-op classes, field trips, activities and more.
South Carolina Homeschooling Classes & Academic Enrichment
Arrows AcademyAcworth, Kennesaw, Marietta
Partnering with families to sharpen children's hearts and minds to make a big impact for God's kingdom.
Ivery Steps Enrichment & TutoringAtlanta, McDonough, Fayetteville, Decatur
This resource offers private and group tutoring, both in person and virtually. They offer private and group Home School Classes for Middle and High School Math, Science, and STEAM Activities. Addit...
Classical Conversations Coastal SouthBeaufort
Classical Conversations is a homeschool community that seeks to come alongside homeschool parents in their desire to educate their children with a Classical Christian curriculum. Locally, there are...
Classical Conversations of Beaufort, SCBeaufort
Classical Conversations is a community of families drawn together by their desire to educate their children classically at home with a Biblical worldview. Classes are available for children ages 4-...
The Charlotte Museum of History Homeschool Educational ProgrammingCharlotte
The Hezekiah Alexander Home Site is a culturally significant and powerful setting for educational programs and brings to life important themes in our national history. Here students, residents, and...
nJoy Science ClassesCharlotte, Concord, Harrisburg, Indian Trail, Mint Hill, Waxhaw, Huntersville,Matthews, Fort Mill, Rock Hill
nJoy Science offers quality, engaging hands-on science classes and labs for homeschooled children from age 6 to 18. Flexible programs that fit with a variety of educational styles. Professional and...
Carowinds Student and Youth ProgramCharlotte, NC
Whether it's for a reward, end-of-year celebration or educational experience, Carowinds provides the perfect adventure for your students. The Carolinas come together with our park residing in both ...
Clemson Area Classical AcademyClemson, Seneca, Easley, Liberty
Clemson Area Classical Academy is a Christ-centered education program which combines the best aspects of a home and traditional education. As a hybrid model, the Academy exists to partner with par...
Classical Conversations in ColumbiaColumbia
Classical Conversations is a community to equip parents and encourage students. Weekly meetings with a trained parent director and trained parent tutors, learning from the classical model. For age...
STEM Education & Outreach CenterGaston County
Gaston County STEM Education and Outreach Center offers supplemental instruction, math circles, and summer camps in STEM and STEAM subjects. The center hosts summer camps in mathematics, astronomy,...
Gaston County STEM Education & Outreach CenterGastonia
Gaston County STEM Education & Outreach Center offers supplemental instruction in science and mathematics for homeschoolers. Classes are taught by a former college professor. The center also o...
Artios Academies of GreenvilleGreenville
Artios Academies of Greenville partners with parents to provide an education where students become Artios (II Tim 3:16). Artios' creative approach to education seeks to educate the whole-heart of t...
Boy Scouts of America in South CarolinaGreenville and Surrounding Counties
The Blue Ridge Council, Boy Scouts of America provides Scouting programs to youth in the Upstate of South Carolina. This Council serves 8 counties in the Upstate (Abbeville, Anderson, Greenville, G...
One on One Learning Center, Inc.Lancaster
We provide a varity of classes for homeschoolers and adults including but not limited to chemistry, Spanish, algebra, biology, and more. We also offer individualized tutoring, SAT prep, ACT prep, ...
South Carolina Classical ConversationsSouth Carolina Statewide
CC is a national homeschooling program that uses a Bible based curriculum taught in a christian, classical tradition. Classes are geared for age 4 through high school.
American Heritage Girls – South CarolinaSouth Carolina Statewide
American Heritage Girls is the premier national character development organization for girls ages 5 to 18 that embraces Christian values and encourages family involvement usually provided through C...
Plus Plus Tutoringvarious locations Statewide
Plus Plus Tutoring offers private personal K-12 one-on-one in-home tutoring services. Plus Plus Tutoring offers subject tutoring, exam and test preparation, homework help, organization skills, stud...