Field trips are a great way to reboot a bad homeschooling week, get out of the house when everyone has cabin fever, and learn about your local area. Before heading out, check out Jeanne's tips for improving homeschool field trips.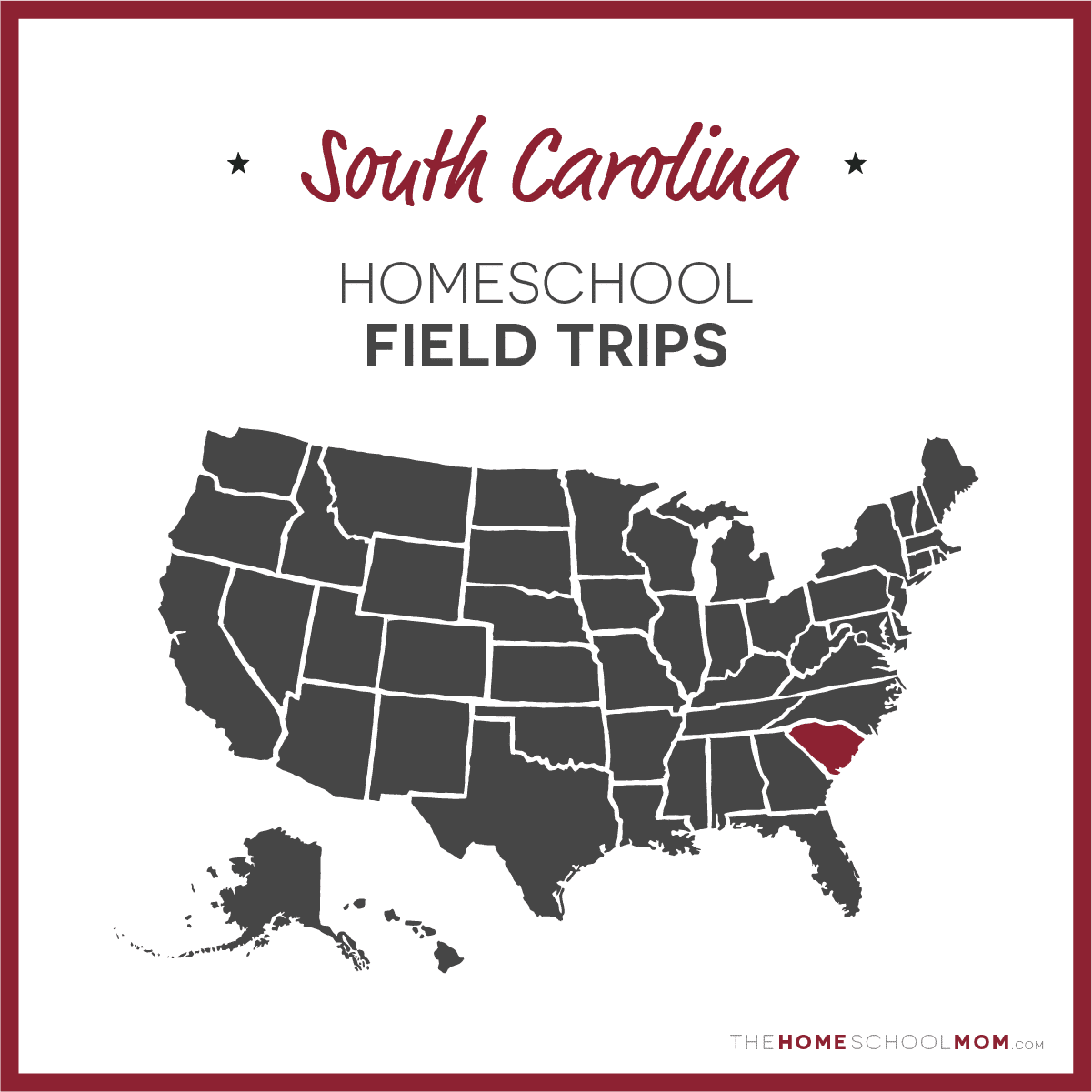 Submit a Field Trip Destination
Our listing of South Carolina field trips for homeschoolers is ordered alphabetically by city. If you would like to submit a South Carolina field trip destination, you may do so using the red button above.
An asterisk * after the title indicates that a virtual field trip is also available.
The Overmountain Victory National Historic Trail

It recognizes the Revolutionary War Overmountain Men, Patriots from what is now East Tennessee who crossed the Great Smoky Mountains and then fought in the Battle of Kings Mountain in South Carolina. The website offers historical information about the park for those who cannot visit in person.
Hitchcock Woods

Aiken

Once privately owned and enjoyed exclusively by Aiken's storied winter colony set, Hitchcock Woods is now owned by the Hitchcock Woods Foundation, a nonprofit organization that makes the Woods available to the community. This nearly 2,100-acre longleaf pine forest has 65 miles of marked trails available to hikers, runners, equestrians, and carriage drivers. The Woods are home to the rustic Aiken Horse Show in late March and early April, one of the oldest annual horse shows in the country.
ARTworks

Beaufort

ARTworks is a County-wide Community Arts Center, Gallery & Theater located in Beaufort Town Center. ARTworks is the home to the offices of the Arts Council of Beaufort County, 11 Resident Artists, a professional art supply store, and a community gallery, theater, and workshop space where quality artists & educators can share their artform in a safe and family-friendly environment.
Kings Mountain National Military Par

Blacksburg

"The turn of the tide of success" - Thomas Jefferson called it "The turn of the tide of success." The battle of Kings Mountain, fought October 7th, 1780, was an important American victory during the Revolutionary War. The battle was the first major patriot victory to occur after the British invasion of Charleston, SC in May 1780. The park preserves the site of this important battle.
Guignard Park

Cayce

This wooded park, located in the heart of Cayce, provides a relaxing getaway for adults and children. Visitors will find a stream running through the middle of the park, picnic tables and a play area.
The Powder Magazine

Charleston

Completed by 1713, The Powder Magazine is the oldest governmental building in South Carolina. This facility was used as an arsenal from 1713 - 1748 to defend the colony from the Spanish, French, pirates, slave rebellion and native attacks. It was then temporarily reinstated by the Continental Army during the American Revolution. Now a colonial military history museum, The Powder Magazine is available every day for general admission and school groups of all ages! School programs are available to meet South Carolina standards.
James Island County Park & Splash Zone Waterpark

Charleston

This 643-acre park offers recreational opportunities from tidal creek fishing to trails for walking, biking and skating. The 50-foot tall Climbing Wall facility features more than 4,500 square feet of climbing space and up to 14 top ropes available for climbing. The Splash Zone Waterpark offers two 200-ft tube slides, a 500 ft lazy river, a leisure pool and a Caribbean play structure. A campground, picnic center with shelters, vacation cabins, meeting facilities, and boat and bike rentals are other amenities.
Gibbes Museum of Art

Charleston

The Gibbes Museum of Art exists to link the art of our past with the art of our future through innovative exhibitions, acquisitions, interpretation and educational programs that preserve and promote the art of Charleston and the American South.
Wild Blue ropes

Charleston

Wild Blue is a ropes course facility offering an exciting and unforgettable outdoor adventure for groups of all sizes.
Magnolia Plantation and Gardens

Charleston

Magnolia Plantation and Gardens is a fun and educational field trip! Learn about this historic property and it's role in the Revolutionary and Civil War and get some cool animal sightings on our nature train tour, tour cabins restored to different time periods of those who were enslaved on property, or get up close and personal with the rescue animals at Magnolia! We also offer education classes on topics like science, history and ecology during different times of the year. Don't miss this low-country gem for your next field trip. Special group pricing available for our homeschool families!
Dizzy Gillespie Birthplace Park

Cheraw

This park marks the site of jazz great Dizzy Gillespie's birthplace in Cheraw. The park includes a historical marker on his life and features sculpture and park benches that symbolize his life. The park is open from dawn to dusk. There is also a statue of Gillespie on the Cheraw Town Green on Market Street.
Cowpens National Battlefield

Chesnee

The Only Double Envelopment in the American Revolution - A pasturing area at the time of the battle, this Revolutionary War site commemorates the place where Daniel Morgan and his army turned the flanks of Banastre Tarleton's British army. This classic military tactic, known as a double envelopment, was one of only a few in history.
South Carolina Botanical Garden

Clemson

The SCBG is a 300 acre free public garden which includes ponds, streams, woods, a butterfly garden, and Natural Heritage Garden (a reconstruction of all the habitats of SC from the mountains to the sea). We offer hour-long guided programs for all ages, the cost is $4 per student - we can tailor your visit to the grade level of your group. We are experienced in giving tours to home school groups. Programs include, but are not limited to, plant parts, plants and their animal partners, ecology.
Brooks Center for the Performing Arts

Clemson

Annually, the Brooks Center presents nearly 20 interactive morning performances by world-renowned musicians, singers, theater companies, and Clemson student ensembles on the Bill and Donna Eskridge Tri-ART Series. Students, ages 3-18, from public, private, and home schools in South Carolina, North Carolina, and Georgia experience both entertaining and inspiring presentations. Please contact our Tri-ART box office at 864-656-8278 for more information.
Fit Columbia

Columbia

Fit Columbia offers a unique approach to physical education for ages 4 and up in our aim to make fitness fun. We practice mindfulness, yoga, aerial yoga (perfect for therapeutic/sensory cocooning) and movement in a safe environment. Angela Sellers and Kiley Prevatte will be the instructors for this "Fit" Trip. Angela is a former physical education teacher with over 20 years of experience and is a 500 E-RYT yoga instructor. Kiley leads our kids yoga program and is certified in Kids Yoga and Mindfulness, Trauma Sensitive Yoga and is a 200 hour certified yoga instructor. Group specials available!
SC Military Museum

Columbia

The South Carolina Military Museum is located in Columbia, SC and its mission is to preserve the legacy of the State's military history and heritage from the Colonial era to the present day. When partnering with the South Carolina Military Museum, teachers and students can explore a wide variety of subjects ranging from the Revolutionary War to the science involved in jet engines. Working off of your lesson plans, we can customize free group tours to reinforce classroom curriculum and bring history to life. When scheduling a tour, please limit groups to three classrooms per visit.
Finlay Park

Columbia

One of the best known parks in the state, Finlay has hosted just about everything from festivals and political rallies to road races and Easter Sunrise services. It serves as the site for such events as Kids Day, The Summer Concert Series, plus many more activities. The park is named for Kirkman Finlay, Mayor of Columbia who had a vision to reenergize the area known as the Vista, between Main Street and the river. A statue of Finlay has been placed in the park, showing him sitting on a bench.
Granby Park

Columbia

This gateway to the rivers of Columbia adds another access to the many river activities available to residents. Granby is part of the Three Rivers Greenway, a system of green spaces along the banks of the rivers in Columbia,that eventually will connect to the existing Riverfront Park. The 24-acre linear park has canoe access points, fishing spots, bridges and a half mile of nature trail along the banks of the Congaree River. The park is at the end of Catawba Street off Huger Street and has wonderful views of the river from its overlooks.
Lake George Warren

Columbia

This 200-acre man-made lake is known for great fishing - catfish, bass, sunfish - and it's a great place to view alligators. Public access is through Lake Warren State Park, with fishing also available from the banks.
Memorial Park

Columbia

The largest monument of its type outside of Washington D.C., stands here as a memorial to 980 South Carolinians who died in Vietnam. The park also features a new Holocaust monument. Designed by renowned sculptor Irwin Hyman, the monument stands on a granite Star of David and features the names of Holocaust liberators and survivors of South Carolina engraved on its granite walls. The memorial includes a map of the death camps across Europe and a chronology of World War II, and has a Korean War Memorial.
Palmetto Falls Water Park

Columbia

Palmetto Falls Water Park, located on Fort Jackson, features a 10,000-square foot main pool, lazy river, large corkscrew water slide, two large speed-slides, two small speed-slides for the children's activity pool, a toddler pool and a four-lane lap pool. A snack bar is also onsite. Palmetto Falls Water Park is open to the public Tuesday-Sunday. Children younger than 6th grade must have an adult present. Driver's license, registration and proof of insurance are required to enter Fort Jackson.
Lynches River County Park

Coward

This popular 680-acre park on Lynches River features a river swamp with towering cypress trees as well as sandhills offering a variety of vegetation. Activities include river fishing, canoeing, nature trails, and picnicking. An 11,000-square-foot community building can accommodate groups of 20 to 400 persons. Overnight facilities include cabin rentals, RV campsites (no dump station), campsites with access to restrooms with showers. Other amenities; Environmental Discovery Center, Splash Pad, canoe launch, canoe/kayak rentals and riverwalk.
Williamson Park

Darlington

This quiet park offers a three-mile boardwalk, five miles of nature trails, countless birds, and a statewide variety of plants and trees, providing a most rewarding spot for hiking, nature study and picnicking.
Liberty Lane Walk Of Fame

Darlington

This beautiful outdoor area houses the Winston Walk of Fame, honoring NASCAR stock car drivers who have won at Darlington Raceway. Visitors can compare their hands with those of NASCAR greats like as Neil Bonnett, Dale Earnhardt, Bill Elliott, Harry Gant and Richard Petty who have left their handprints in the cement of the Lane.
Indian Bluff Park

Eutawville

On the "big water" of Lake Marion.
The Skirmish At Gamble's Hotel

Florence

The 20th annual Skirmish Of Gamble's Hotel, presented by the 23rd SC Infantry. Things to expect: Military and civilian camps, Sutlers (10 to 15), Modern vendors with food and drinks, A barn dance on Saturday, A church service (actual service on Sunday morning), Tours of an antebellum plantation house, Battle between Federal and Confederate armies. Proceeds to benefit local and national preservation, and a History Scholarship at Frances Marion University. March - see website for details
Freedom Florence Recreational Complex

Florence

As well as providing championship caliber softball fields, the 100-acre Freedom Florence complex boasts a large parking area, two miles of walking/jogging/bike trails which wind their way around a five-acre lake and through the boundaries of the complex. Landscaped trails and strategically placed picnic tables and grills enhance public areas. Three covered picnic areas and a children's playground are also adjacent to the control tower.
Folly Beach County Park

Folly Beach

This park offers beach access with over 4,000 ft. of ocean frontage. The park includes over 100 acres of highland, 2,000 ft. along the Folly River, sand bars and marsh. A picnic area, boardwalks, showers, dressing areas, and restrooms are among the amenities that are provided year round. Lifeguards, chair and umbrella rentals, and a snack bar are available seasonally.
Anne Springs Close Greenway

Fort Mill

This 2,300-acre natural area provides opportunities for all types of trail activity, from an easy stroll to horseback riding. Trails of various length wind through forests of oak, hickory, and dogwood and can be combined to suit any trail user. Several stream crossings on swinging bridges provide a bit of diversity to your hike or ride. Several rental facilities are available for meeting or gatherings.
Historic Georgetown Food Tour

Georgetown

Learn about the history of Georgetown and coastal South Carolina. Tour will visit 2 small museums and dine at 3 restaurants, during this 3.5 hour guided tour. The tour is best suited for students age 10 and up. Although it is a walking tour, it is a very short walk along Front Street. Student price is $49, Parent price $55. and includes all food and stops. This special pricing is not available on the website. For more information or to reserve your tour, email info@carolinafoodtours.com
Cleveland Park

Greenville

This 126-acre park along the Reedy River features tennis and volleyball courts, softball fields, playground, fitness trail, and picnic shelters. The park also contains the Rock Quarry Garden, the Fernwood Nature Trail, the Vietnam Veterans Memorial and the Greenville Zoo.
Falls Park On The Reedy River

Greenville

Falls Park on the Reedy provides an oasis in the heart of downtown Greenville in the historic West End. The park features a one-of-a-kind curved suspension footbridge and scenic overlooks, outdoor amphitheaters, world-class works of public art, nature trails, picnic areas, excavated mill ruins, several distinct garden areas, and of course the beautiful Reedy River with its impressive series of falls. The park has a self-guided walking tour with historic markers
Tales on the town

Hartsville

Tales on the Town is a downtown scavenger hunt which celebrates Hartsville's art, history, education and economic development. After traveling the world, Hart Fox decided to settle down in her favorite place, a small town called Hartsville. She saw that Hartsville is kind and compassionate-a perfect place to raise her thirteen pups. Mama Fox, as her pups call her, watches over her little foxes as they play and scamper in town. However, those mischievous pups love to play hide and seek. Can you help her find all thirteen little foxes hidden in plain sight?
Byerly Park Recreation Complex

Hartsville

This 93-acre multi-use recreation complex features six soccer fields, four softball/baseball fields, a one-fourth-mile eight-lane track and field facility, picnic area, concessions (during special events/tournaments) and two playgrounds. Future plans call for the addition of four youth softball/baseball fields, two youth football fields, walking/jogging/biking trails and six tennis courts.
Battle of Anderson County

Honea Path

The Battle of Anderson County was fought in the closing days of the Civil War... after the issue had largely been decided. The Battle of Anderson has drawn sufficient interest, from those with a love of history, for there to be a reenactment of the clash which featured the Citadel Cadets. The battle... according to reenactment organizers was the last Civil War battle, or skirmish... east of the Mississippi River. Educational Day each May. Check website for details.
Congaree National Park

Hopkins

Home of Champions! - Welcome to the largest remnant of old-growth floodplain forest remaining on the continent! Experience national and state champion trees, towering to record size amidst astonishing biodiversity. Walk, paddle or just relax within this dynamic floodplain ecosystem. Beauty and tranquility reign supreme in the midst of this natural treasure.
Stars and Strikes

Irmo

Stars and Strikes of Irmo is a family orientated entertainment complex for all ages. Offering bowling, arcade, laser tag, bumper cars, a full restaurant and snack bar. Host birthday parties and have meeting space that can be catered to your group needs. We are a proud host of bowling leagues and team building activities that can be great learning opportunities for any and all ages.
Isle Of Palms County Park

Isle of Palms

Over 600 feet of oceanfront awaits visitors to this county park. Boardwalks, a picnic area, sand volleyball, children's play area, snack bar and other facilities for enjoying the beach area also available.
Silver Bluff Audubon Center & Sanctuary

Jackson

Audubon's Silver Bluff Sanctuary is a 3,400-acre woodland overlooking the Savannah River. Here you'll find extensive pine forests and bottomland hardwood forests; 22 miles of horse and walking trails; 50 acres of lakes and ponds; 100 acres of grassland; and all manner of birds and wildlife. And that's just above ground - underfoot are archaeological sites from nearly every period in American history. Visiting Silver Bluff is FREE
Angel Oak

Johns Island

This is one of the largest living oak trees in the world. More than 1,400 years old, the Angel Oak is more than 65 feet high with a circumference of 25.5 feet; provides more than 1,700 square feet of shade; the largest limb measures 11.25 feet in circumference, stretching 89 feet in length. Angel Oak acquired its name from the Angel family, descendants of Abraham Waight, the original owner of the land.
Mullet Hall Equestrian Center At Johns Island County Park

Johns Island

This 738-acre facility is the host site for competitive horse shows, festivals, events and exhibits, featuring four show rings and two 98-stall barns. Also a great spot for trail riding, the site boasts some 20 miles of trails winding through Southern pines and moss-draped oaks, open meadows and farm fields.

Mullet Hall Equestrian Center At Johns Island County Park website
St Christopher Camp & Conference Center

Johns Island

Make your next field trip one they'll never forget! St Christopher offers a fully immersive educational island experience. Come hike our maritime forest, walk the beach to our mud pit, seine in the estuary, and so much more. Class descriptions can be found on our website. Please reach out to hear about our school, field group and family options. Meals and lodging are provided. We look forward to seeing you soon!
Kiawah Island: Beachwalker Park

Kiawah Island

Located on Kiawah Island, Beachwalker Park offers 11 miles of unspoiled beach on one of the country's most beautiful barrier islands. Located between the Bohicket River and the ocean, the park features a wide boardwalk that weaves through live oaks, pines, palmettos, and yucca plants. Originally purchased in 1951 by the Royal family of Aiken for $125,000. Amenities include a picnic area, snack bar, beach access, restrooms, dressing areas, showers, and various beach rentals. Seasonal.
Langley Pond Park

Langley

The only Olympic size course in SC draws visitors worldwide to compete in national and regional competitions annually. The pond is the perfect venue to waterski, jet ski, swim, fish, picnic, row, hold special events or host a regatta. Complete with a bathhouse, concession stand, boat ramp, special events area, swim area and dock, you are sure to find pleasure along the banks or in the water!
Gibson Pond

Lexington

15-acre heavily wooded park with an easy to follow loop trail. Picnic shelters, rest rooms, and a fishing dock.
Playcard Environmental Education Center

Loris

Playcard Environmental Education Center offers on-site and virtual field trips for all ages on topics in the natural sciences, wildlife, fisheries, Native American and pioneer history, outdoor skills, and adventure based curricula. The site has 200 acres of interactive learning trails, a ropes challenge course, overnight adventure camps, special events, Staff Development opportunities, and kayaking/fishing by appointment. Small Use of Facility fee. If one can not attend please see the "Forever Wild!" Video series aligned to State Academic Standards. Groups are scheduled by appointment.
Pleasant Ridge County Park

Marietta

This 240-acre park is nestled in the foothills of the Blue Ridge Mountains. A pristine five-acre lake, stocked with rainbow trout, offers kayaks, small fishing boats and pedal boats. There is a 25-site family campground as well as primitive sites; two large picnic shelters have fireplaces and grills. Other amenities include completely furnished rustic cabins with fireplaces, a playground and a one-mile hiking trail.
Jim Rampey Recreational Area

McCormick

Nestled on a picturesque sliver of the lake, the Jim Rampey Recreational Area offers a playground, picnic area and access to some fine fishing and other water sports.
Old Santee Canal Park

Moncks Corner

Opened in 1800, the Santee Canal was the first true canal built in America. Four miles of boardwalks and trails provide an up-close view of the park's natural beauty and wildlife. Canoe rentals are available to explore Biggin Creek and the southern terminus of the Santee Canal. The Interpretive Center houses exhibits on the cultural and natural history found on the historic Stony Landing Plantation. A 19th-century plantation house and picnic facilities are on site. Also at the park is the Berkeley Museum, which records county history. Special programs and events are held throughout the year.
Palmetto Islands County Park & Splash Island Waterpark

Mount Pleasant

This 943-acre nature-oriented park is built in a tropical setting with bike paths, boardwalks, picnic sites, fishing and crabbing docks, nature trails and a big toy playground. Pedal boat and bike rentals available. The Splash Island Waterpark offers a thrilling 200-ft. slide, a 16-ft. otter slide, sprays, waterfalls, geysers and the Cyclone water ride.

Palmetto Islands County Park & Splash Island Waterpark website
Ripley's Believe It Or Not Museum

Multiple Locations

Offers museums and attractions in multiple countries focusing on odd and amazing things. Provides videos, details about exhibits, and their history.
3Quest

Myrtle Beach

3 Quest Challenge is a digital adventure game that takes you around the city to complete 3 Quests using your smart phone. You'll start out at a Home Base, then the game will lead you on 3 Quests around the city. At each checkpoint, you'll answer a question to collect a clue, and then perform a challenge. For each question you answer correctly, you score a point! After you've completed the Quests, you'll come back to your Home Base to solve your final puzzle using the clues you've collected, and get even more points by solving the final puzzle correctly!
Ninety Six National Historic Site.

Ninety Six

Walk Where Battles Were Fought & Heroes Were Forged! - Here settlers struggled against the harsh backcountry to survive, Cherokee Indians hunted and fought to keep their land, two towns and a trading post were formed and abandoned to the elements, and two Revolutionary War battles that claimed over 100 lives took place here.
North Augusta Greeneway

North Augusta

Grab your bike, your rollerblades or your running shoes and set your own pace as you meander through the natural terrain, the neighborhoods and the Savannah riverfront on the North Augusta Greeneway Trail.
Glass Bottom Kayak Tours

North Myrtle Beach

We offer a variety of Kayak Tours in the North Myrtle Beach area. Including the Cherry Grove Salt Marsh Kayak Tour, Private Island Shelling and Kayaking Tour, the Main Channel Sunset Tour, or the Sea Turtle Nesting Tour.
Horne Wetlands Park

Orangeburg

The gardens take visitors over a 2,700-foot boardwalk for a closeup look at the plants and wildlife found in the wetlands of this area.
Hagood Mill Historic Site

Pickens

The Hagood Mill Historic Site offers a variety of educational field trip opportunities for all ages, preK-12. Our site features an 1845 grist mill and prehistoric petroglyphs protected in a museum with Native American art and artifacts. Custom design you field trip and choose from an array of subject matter: tour the historic mill, tour the petroglyph site, explore "Our Native Roots, An Interpretive Trail", blacksmith shop, hearthside cooking, pottery, early American artifacts, archaeology and fiber arts. Visit our website for more info, costs and to complete a field trip inquiry form!
Mill Creek Park

Pinewood

Mill Creek Park is the access point for the SC Palmetto Trail. This portion, "High Hills of Santee Passage," provides one of the few areas of the trail open to equestrian activities. Mill Creek also offers an unusual turn-of-the-century, hand-hewn lodge with kitchen facilities in a rustic Southern setting. The park facilities include fishing pier, lake access, picnic areas, campsites, equestrian facilities/stables and trails through Manchester State Forest.
Carolina Pride Pastures

Pomaria

Carolina Pride Pastures is a huacaya alpaca farm. Students visiting will experience a new outdoor adventure, have fun, and learn all at the same time. During the life science presentation, students will explore the history of alpacas in the United States, the camelid family, how fleece is made into yarn, how yarn produces clothing and other items, and much more. Basic field trips start at $4 per student and include a tour of the farm, tons of picture opportunities with the alpacas, and a short educational presentation. Leaders have a choice of a take home booklet for each student or materials to take back to the classroom to make everyone their own alpaca. Field trips can be customized to include alpaca crafts, a comprehensive educational presentation, and more.
Cherry Park

Rock Hill

This is Rock Hill's state-of-the-art recreational complex where five softball fields and five multipurpose fields draw happy crowds throughout the year. Cherry Park is a popular venue for softball and baseball tournaments during the warm weather. This 68-acre facility includes a secure 1.5-mile lighted, walking, biking and jogging trail as well as playgrounds and picnic shelters. "Mighty Casey," a 14-foot bronze replica of fictional hero created by Colorado sculptor Mark Lundeen, welcomes visitors to Cherry Park.
Historic Rock Hill at the White Home

Rock Hill

Built in 1839 in the historic East Town District, the White Home, located at 258 East White Street, was one of the first homes constructed in Rock Hill, South Carolina. Through exhibits and programs, the story of a family that was instrumental in the birth and development of Rock Hill is told. Offering guided educational tours for groups of all ages as well as a guided walking tour of downtown Rock Hill.
Huckle Grove

Rock Hill

A restful, beautiful pedestrian park located in downtown Rock Hill, the Grove offers visitors a unique look into our country's past. Many of the trees in the park were cultivated from trees that witnessed historic events in the founding of our country and each has its own story to tell. Huckle Grove includes a walking trail and benches. Brick walkways carve a path through the park where names of ancestors and park supporters are etched into history and red clay.
Eudora Wildlife Safari Park

Salley

We offer group field trips for schools, churches and any other groups. These trips come with a wagon ride through our safari with a tour guide and one bucket of feed per person. The Safari Wagon Tour takes about 1 hour and the Walk Thru Safari takes about 30 minutes. Picnic tables for lunch are available at our giraffe exhibit.
High Falls County Park

Seneca

High Falls County Park is nestled in the foothills of the Blue Ridge Mountains. It serves as a gateway to a variety of recreational activities. This 44 acre park, established in 1971, is located on the beautiful waters of Lake Keowee. At High Falls, visitors are not limited to activities on the lake as the park provides many facilities and programs to suit every recreational need. The park store offers a variety of convenient items and is located in the park's focal point, the Alexander/Cannon/Hill House. The house was built in 1830, and is one of the last remaining pieces of the area's history. Park Facilities include: 94 campsites, fishing pier, boat ramp, 2 shelters, recreation building, volleyball, horseshoes, playground and ball field.
Discovery Island Waterpark

Simpsonville

Greenville County's splashtacular waterpark features an interactive play structure, a lazy river, body slide,tube slide, a leisure pool area, splash play area with slides, geysers and more.
Cleveland Park

Spartanburg

The park includes picnic shelters, a lakeside promenade and amphitheater, an island gazebo, miniature train, spacious playground, walking trails, and a 3,400 square foot Event Center. Facilities within the park are available to rent for the special occasions in your life such as family reunions, weddings, receptions, banquets, school parties, and birthday parties. The Event Center is also a great place for your business meetings and training sessions.
Charles Pinckney National Historic Site

Sullivan's Island

The Forgotten Founder - Charles Pinckney was a principal author and a signer of the United States Constitution. This remnant of his coastal plantation is preserved to tell the story of a "forgotten founder," his life of public service, the lives of enslaved African Americans on South Carolina Lowcountry plantations and their influences on Charles Pinckney.
Fort Sumter National Monument

Sullivan's Island

Where The American Civil War Began. On April 12, 1861, Confederate artillery opened fire on this Federal fort in Charleston Harbor. Fort Sumter surrendered 34 hours later. Union forces would try for nearly four years to take it back. Fort Sumter is located on an island in Charleston harbor and is only accessible by boat. The website offers two brochures to download: Slavery: Cause and Catalyst of the Civil War, and Hispanics and the Civil War.
Gen. Thomas Sumter Memorial Park

Sumter

Burial place for Gen. Thomas Sumter, "The Gamecock," a friend of the Cherokee, a Revolutionary War hero, planter, congressman and senator. A town, county, national forest and a fort in Charleston are named after him.
Arabella Farm

Sunset

Arabella Farms feature 2 and 4 hour field trips. Our trips consist of hands on stations taught by real teachers and knowledgeable volunteers. Our stations can be tailored to grade levels and interests. The stations include: Observation bee hive, milking cow, making butter from cream, petting zoo, aquaponics gardening, apple picking (in season), Farm Playground, mushroom cultivation, gem mining and solar energy. Serving Groups of 20 to 100. Price ranges 12-20 dollars depending on times, and take home activities.
All Children's Park

Surfside Beach

A barrier-free playground especially designed for the enjoyment of handicapped children.
The Logos Theatre

Taylors

The Logos is a family-friendly theatre that is located in Taylors, SC. Mostly known for their performances of C.S Lewis' The Chronicles of Narnia, they also perform musicals and historical plays throughout the year. You won't want to miss what this season has to offer! Call now for more information and how you can bring your homeschool group for our special tour and show deal!
Chau Ram County Park

Westminster

Chau Ram County Park is located west of Westminster, SC on 200 acres running along the Chauga River. Ramsey Creek Falls is a beautiful 30 foot cascading falls in the center of the park. There are 5 other falls located on the Chauga River which are accessible by crossing the 175 Ft. pedestrian suspension bridge over the Chauga River and following the hiking trails. The campground has 27 sites with water and power on each site, shower house, playground for the kids, three picnic shelters, two gazebos, and a large recreation building which is used for weddings, family reunions, and church gatherings.
Carolina Adventure World

Winnsboro

This 2,600-acre family park offers 100 miles of groomed trails that wind through deep woods, into steep valleys and along flowing streams. The motocross facility features a championship course, vintage course, Jr. motocross track, mini moto and a permanent "enduro" course. Soon to come will be campsites for tents and RVs as well as cabins.