Our listing of South Carolina jobs and volunteer opportunities for homeschoolers is ordered alphabetically by city. If you would like to submit a South Carolina co-op or academic resource, you may do so using the red button above.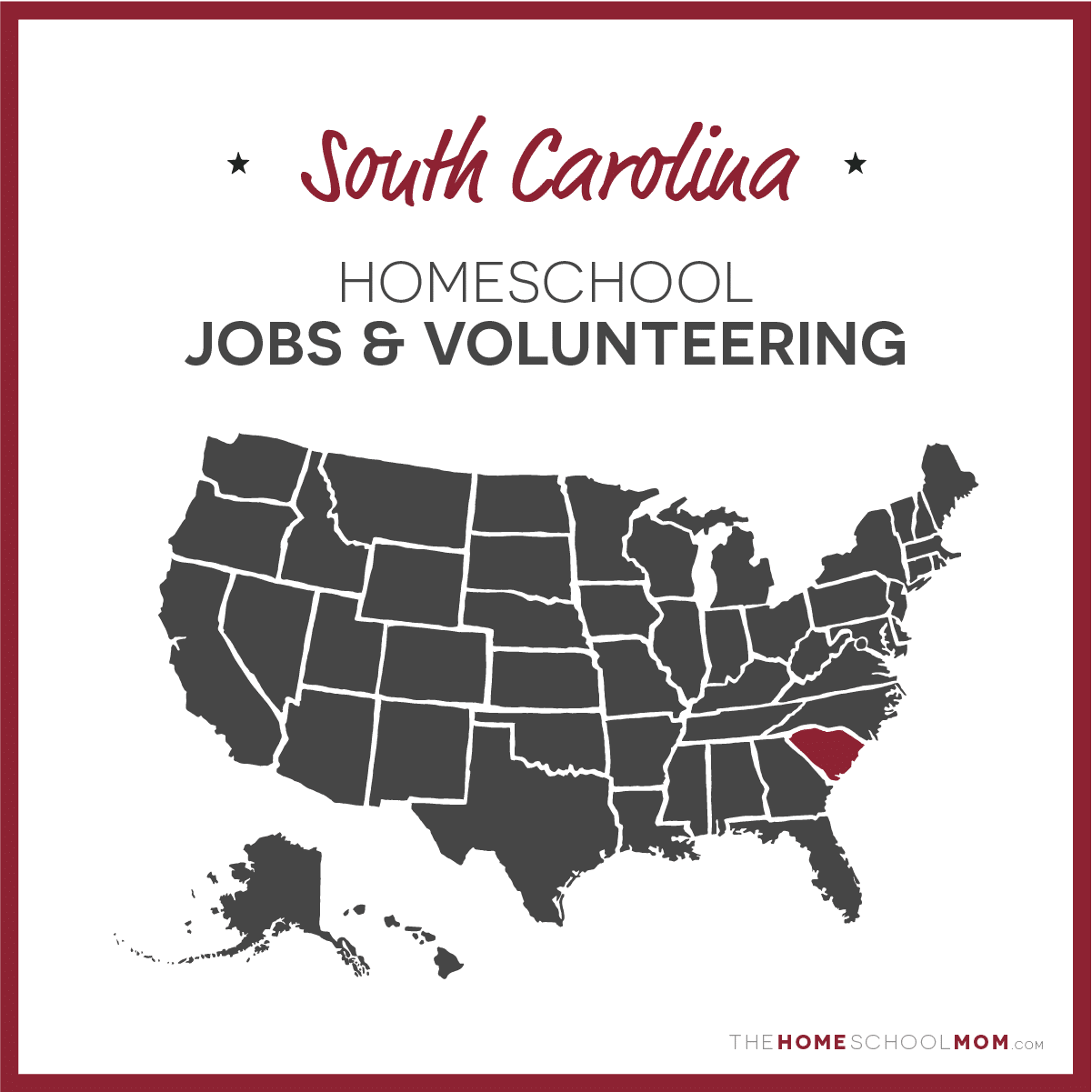 Submit a Local Resource
SNO CAP RestaurantAugusta
SNO CAP has open positions for servers, cooks, and a floater between the kitchen and service areas. Applicants must be at least 16 years old. These are part-time positions with a normal shift six h... [Read more...]
Chick-fil-A Five PointsColumbia
At Chick-fil-A, the team member roll is more than just a job, it's an opportunity. In addition to working directly for an independent Operator, team members gain life experience that goes far beyon... [Read more...]
Friends of the Greenville County Library System Used Book WarehouseGreenville
If you love BOOKS, this is the place for you. On Tuesdays and/or Thursdays from 9 am to 12 noon, books which are donated by the public as well as the Greenville County library are sorted, priced, s... [Read more...]
Rolling Green VillageGreenville
Rolling Green Village is looking for servers Are you a friendly, upbeat, and an energetic person? Can you work 4pm-8pm during the week and 9am-3pm on the weekends? Starting pay is $10.00 per hour. ... [Read more...]
Palmetto Athletic CenterLexington
Job Opportunity for anyone that is energetic and loves kids. Applicants need to be available to work in our after school care program from 2:00 - 6:00 M-F. Starting pay is $9/hr with growth opportu... [Read more...]
Subway on Sam RittenbergWest Ashley
Subway on Sam Rittenberg is hiring for full or part time positions. Flexible schedules and great work environment. Apply at www.mysubwaycareer.com Location: 1704 Sam Rittenberg Blvd [Read more...]
Subway Restaurants # 4768, 23639, 17477, 7342, 29588-1, 29588-0West Columbia and Lexington
Now hiring outgoing, honest, hardworking part-time employees, Flexible hours and a great work environment. Free employee meals! No experience required, we will train you. Applicants must be able to... [Read more...]
Go to South Carolina...