Our listing of South Carolina jobs and volunteer opportunities for homeschoolers is ordered alphabetically by city. If you would like to submit a South Carolina co-op or academic resource, you may do so using the red button above.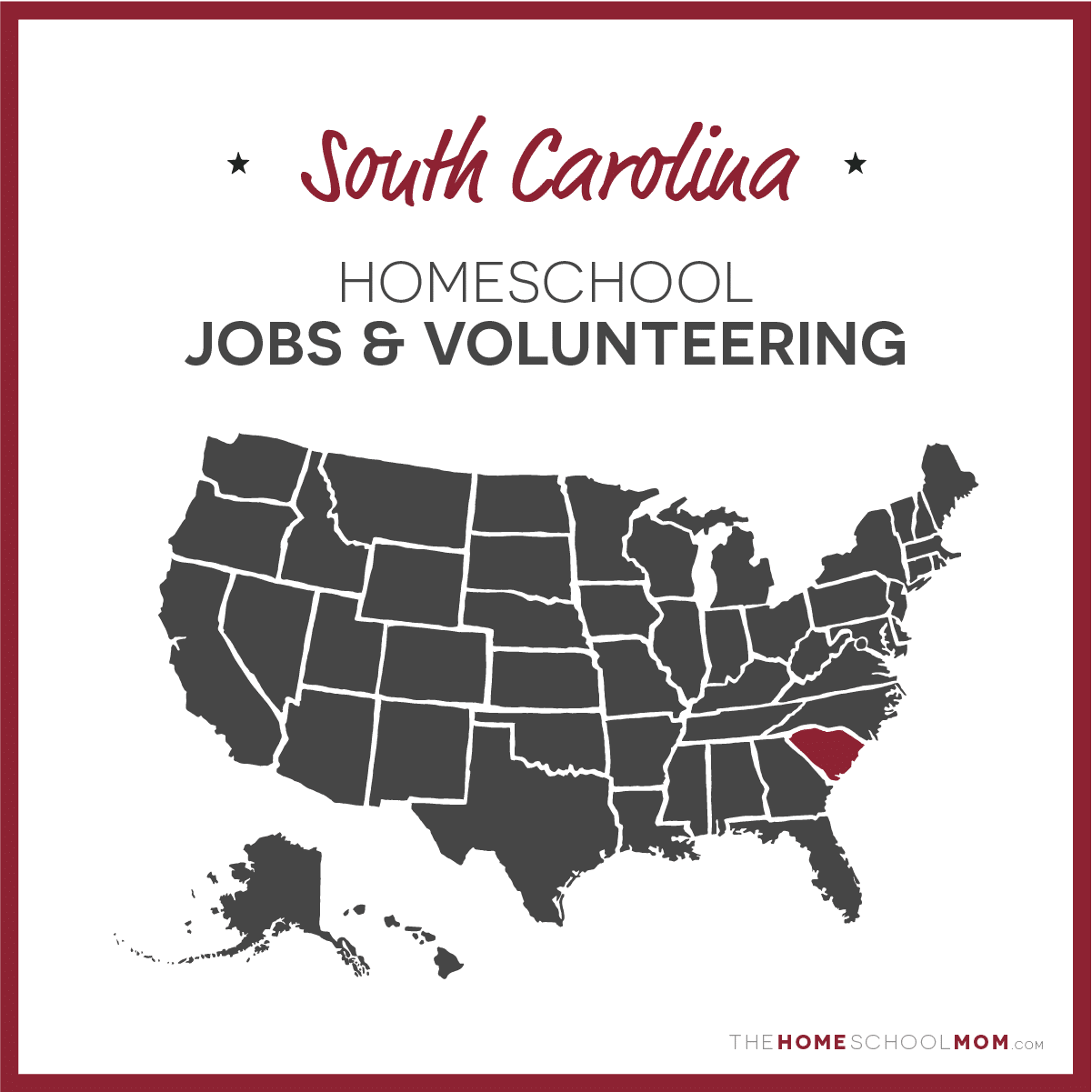 Submit a Local Resource
SNO CAP Restaurant

Augusta

SNO CAP has open positions for servers, cooks, and a floater between the kitchen and service areas. Applicants must be at least 16 years old. These are part-time positions with a normal shift six hours in length. Applicants must be able to multi-task, work in a fast paced work setting,, be responsible and work a set schedule yet be flexible. Applicants should be willing to work as a team player, follow through with tasks and desire to work with the general public in a friendly manner. A training period is provided. Apply in person at 618 West Avenue, North Augusta, SC or email snocap@comcast.net. SNO CAP is celebrating its 52nd year in business and is an equal opportunity employer.
Chick-fil-A Five Points

Columbia

At Chick-fil-A, the team member roll is more than just a job, it's an opportunity. In addition to working directly for an independent Operator, team members gain life experience that goes far beyond just serving a great product in a friendly environment. Chick-fil-A is a great opportunity for people of all ages and backgrounds, and no experience is necessary!
Friends of the Greenville County Library System Used Book Warehouse

Greenville

If you love BOOKS, this is the place for you. On Tuesdays and/or Thursdays from 9 am to 12 noon, books which are donated by the public as well as the Greenville County library are sorted, priced, shelved and sold to raise money for the Library system.ᅠ Student Volunteers are welcome. Book sales are the First and Third Thursdays from 9 am to Noon. The Friends of the Greenville County Library System is a 501(c)(3) organization that provides financial and volunteer support for public programs and publications of the Greenville County Library System through various fundraising projects.

Friends of the Greenville County Library System Used Book Warehouse details
Rolling Green Village

Greenville

Rolling Green Village is looking for servers Are you a friendly, upbeat, and an energetic person? Can you work 4pm-8pm during the week and 9am-3pm on the weekends? Starting pay is $10.00 per hour. No experience needed! How to apply: Come in and apply in person for an immediate interview Or Visit our website Rollinggreenvillage.com Must be at least 17 years old to apply Rolling Green Village 1 Hoke Smith Blvd Greenville, South Carolina 29615 864-987-9800 EEOC Employer
Subway Restaurants # 4768, 23639, 17477, 7342, 29588-1, 29588-0

West Columbia and Lexington

Now hiring outgoing, honest, hardworking part-time employees, Flexible hours and a great work environment. Free employee meals! No experience required, we will train you. Applicants must be able to thrive in a fast paced environment, have great customer service skills, a positive attitude and be able to work as part of a team. Please apply online at www.mysubwaycareer.com and apply for store numbers 4768, 23639, 17477, 7342, 29588-1, 29588-0. Starting pay is $7.25/hr with bonus provisions You will be contacted by phone for an interview. Thank you!

Subway Restaurants # 4768, 23639, 17477, 7342, 29588-1, 29588-0 details