Our listing of South Carolina jobs and volunteer opportunities for homeschoolers is ordered alphabetically by city. If you would like to submit a South Carolina co-op or academic resource, you may do so using the red button above.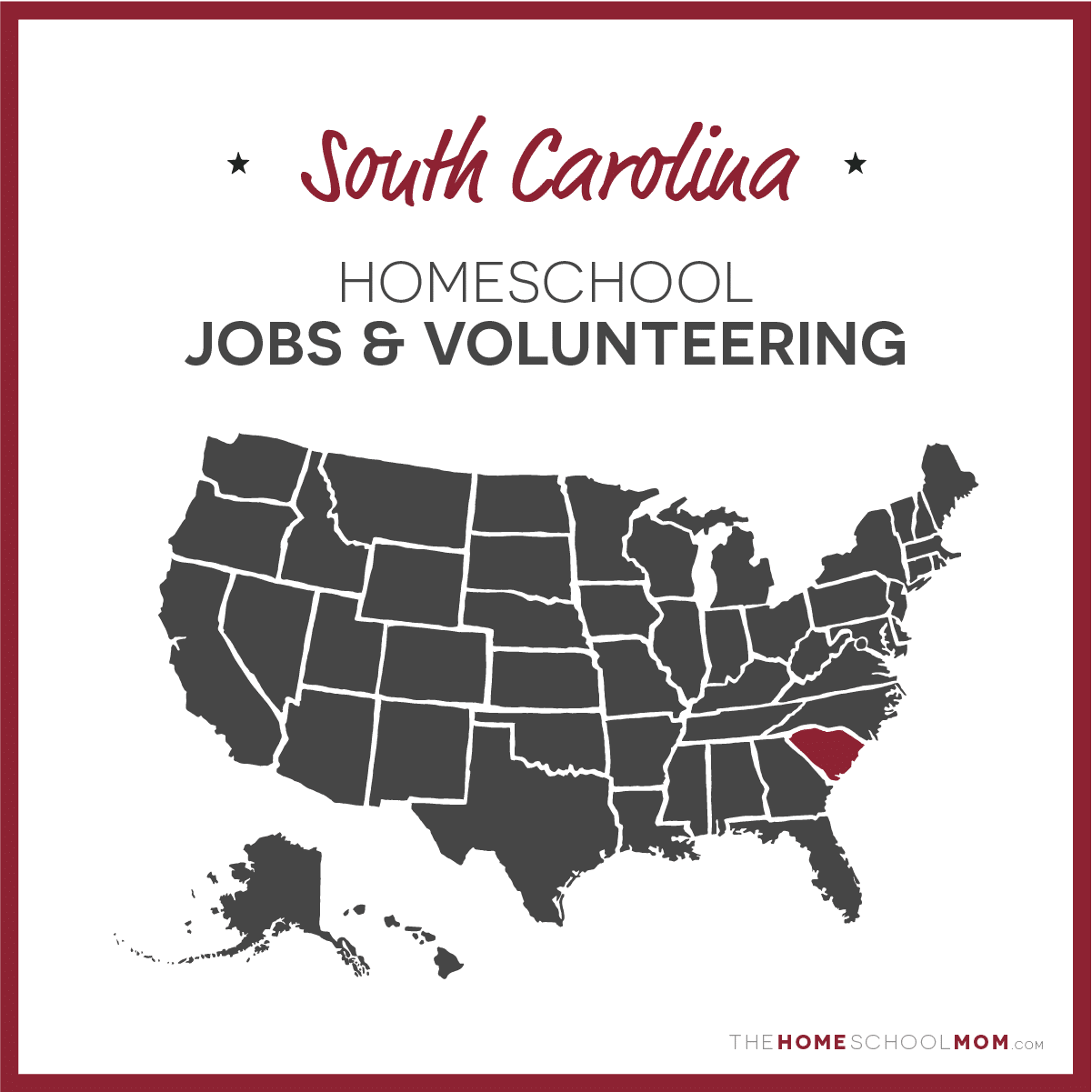 Submit a Local Resource
SNO CAP RestaurantAugusta
SNO CAP has open positions for servers, cooks, and a floater between the kitchen and service areas. Applicants must be at least 16 years old. These are part-time positions with a normal shift six h... [Read more...]
Chick-fil-A Five PointsColumbia
At Chick-fil-A, the team member roll is more than just a job, it's an opportunity. In addition to working directly for an independent Operator, team members gain life experience that goes far beyon... [Read more...]
Friends of the Greenville County Library System Used Book WarehouseGreenville
If you love BOOKS, this is the place for you. On Tuesdays and/or Thursdays from 9 am to 12 noon, books which are donated by the public as well as the Greenville County library are sorted, priced, s... [Read more...]
Rolling Green VillageGreenville
Rolling Green Village is looking for servers Are you a friendly, upbeat, and an energetic person? Can you work 4pm-8pm during the week and 9am-3pm on the weekends? Starting pay is $10.00 per hour. ... [Read more...]
Menchie's Kitty's Korner - LexingtonLexington
Menchie's Kitty's Korner is looking to hire one or two team members for the noon to 5pm shift, Monday through Friday. Duties include cashier, keeping the toppings bar and floor clean, cleaning tabl... [Read more...]
Subway on Sam RittenbergWest Ashley
Subway on Sam Rittenberg is hiring for full or part time positions. Flexible schedules and great work environment. Apply at www.mysubwaycareer.com Location: 1704 Sam Rittenberg Blvd [Read more...]
Subway Restaurants # 4768, 23639, 17477, 7342, 29588-1, 29588-0West Columbia and Lexington
Now hiring outgoing, honest, hardworking part-time employees, Flexible hours and a great work environment. Free employee meals! No experience required, we will train you. Applicants must be able to... [Read more...]
Go to...