Jump to: Homeschool Arts | Homeschool Sports
In addition to the opportunity to get out of the house and socialize, homeschool sports and arts programs can offer long-term benefits by developing characteristics like leadership, self-confidence, perserverance, and self-esteem. Many organizations and businesses have opportunities specifically for homeschoolers, while others invite homeschoolers to participate in their regular programs.
Not sure how to choose activity/activities for your children? Read how Rebecca narrows down the choice of extra-curricular activities.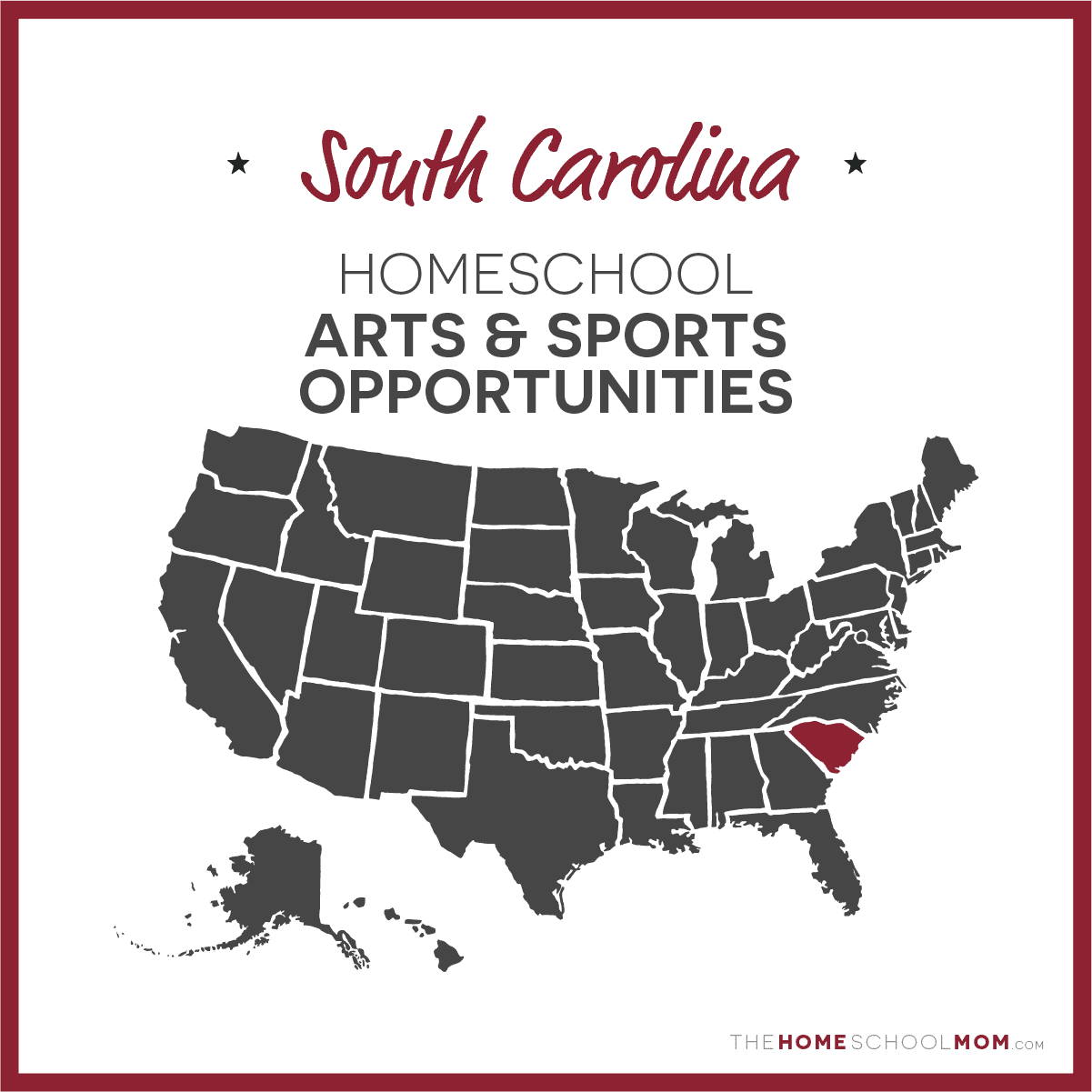 Submit a Local Resource
Our listing of South Carolina list of homeschool arts and sports programs is ordered alphabetically by city, with arts in the first section and sports in the second section. If you would like to submit an South Carolina arts or sports program, you may do so using the red button above.
South Carolina Homeschool Arts Programs
Stagecraft Theatre for Kids

Anderson

Stagecraft Theatre for Kids provides youth in Upstate South Carolina with a unique opportunity to participate in and study theatre arts in a welcoming, inclusive, Christ-centered environment. Stagecraft is an after-school theatre arts training program for students ages 4 to 18. Offering 2 mainstage musical productions each year, in addition to theatre arts classes, workshops, camps, leadership programs, parties, and fundraising events, Stagecraft creates endless opportunities for students to build character, confidence, and community!
SC Music Lessons LLC

Charleston

The mission of SC Music Lessons LLC is to unlock, develop, and inspire the musician in each of us. SC Music Lessons provides in-person and virtual private music lessons for all ages on a variety of instruments. All instructors either have a degree in music or have 4+ years of teaching experience. You can learn more by visiting www.scmusiclessons.com.
Holt School of Fine Art

Charlotte and Pineville

Our classroom is a traditional studio environment with each student working at an easel or drawing horse. We aim to give our students the highest quality of art education by staffing our studio with professional artists and trained instructors who have a degree in art or are pursuing a degree in art. We keep our teacher to student ratio low at 1:6 so that each student is able to have their individual needs met. This intimate environment enables us to tailor our program to help them achieve their personal artistic goals. Our program is built on a foundation in drawing; the more confident one feels with drawing the better they can conquer any other art medium. Once they have a basic knowledge of drawing we experiment with watercolors, charcoal, and eventually oil painting.
NarroWay Homeschool Drama Classes

Charlotte, Fort Mill

NarroWay offers homeschool theatrical classes for ages 6-18. In addition, seasonal classes are offered in dance, aerial arts and other theatrical disciplines. As our educational arm continues to grow, watch for workshops and events for all ages to educate, inspire and transform the future.
Private Piano and Voice lessons with Sandra Effert

Clemson

Private, individualized piano and voice lessons from an experienced and compassionate teacher. Sandra has been playing piano for 23 years, teaching for 5, and performing for 13. Using one of three different curricula, every lesson is individualized to the student's learning style. Beginner, intermediate, and advanced students are welcome.
Classical guitar and piano lessons with Marina Alexandra

Columbia

Guitar and piano lessons by internationally recognized musician with over 20 years of teaching experience and Masters Degree in Performance.

Classical guitar and piano lessons with Marina Alexandra details
Columbia Arts Academy Guitar, Voice, Piano & Drum Lessons

Columbia

Join the many homeschoolers in Columbia, who music get lessons for their children from 11 a.m.-1 p.m. Monday-Friday. Offering quality music lessons in guitar, voice, piano, bass and drums for ages 5 and up.

Columbia Arts Academy Guitar, Voice, Piano & Drum Lessons details
Keiki Hula (Hula for Kids)!

Columbia

Traditional hula in non-traditional settings (in the park, at school, at home, in libraries, and more). With 35 years of hula studies, the Kumu (instructor) is qualified to provide instruction in proper techniques of hula for boys and girls ages 5 to 15, with focus on fun while learning. Cultural aspects include but are not limited to history, geography, language, food preparation, and crafts.
Shelby Nord Piano Studio

Columbia

Shelby Nord Piano Studio is an active music school in the Columbia, SC area. Private lessons are available, and there are some available spots for group classes. Recital performances are held multiple times per year.
Columbia City Ballet

Columbia

When you're mapping your curriculum for the 2023-2024 school year, consider including Columbia City Ballet's unique educational programs in your science, math, and language arts planning. Frosty the Snowman and Alice in Wonderland meet the intent of the Profile of the South Carolina Graduate, College and Career Ready standards, and SC Ready Test data. Additionally, these extended opportunities incorporate the interrelated nature of the elements of STEAM (Science, Technology, Engineering, the Arts, Math). Performances last approximately 1 hour and include a Q&A session. Productions are narrated, providing students a clear understanding of the story and allowing them to fully appreciate the professional dancers of Columbia City Ballet and its high artistic and production standards.
Criss Cross Mangosauce Bilingual Storytime & Music

Greater Charlotte area plus

Bilingual (Spanish/English) storytelling & music virtual shows, interactive Zoom shows, or in person shows. Immersion in the Latin-American culture where music & rhythm are the translators. Students sing, play, guess riddles, & dance using easy home props and imaginary objects. These programs include learning about traditional instruments from Latin-America. This bilingual approach introduces children to Spanish in a creative way. In these programs children will learn concepts with numbers, names of food, names of animals, colors, body parts, action words and Latin-American Traditional stories, games, riddles, rhymes and songs. Classes are on-going.
Kroc Center Homeschool Youth Programs

Greenville

Programs designed to provide home-schooled students ages 5-12 the opportunity to interact with other children in a fun and active environment. Currently offering PE, Art, and Music Classes broken down into 4 8 week sessions throughout the year.
Studio of Ranessa Fernander

Greenville

As a retired music teacher of 28 years, I am continuously excited to add new students for beginning piano and voice lessons. Music has been such an amazing part of my life. I want to share my love of music with those interested. I currently work at Memorial Methodist in Greer, SC and teach my classes there. I am the Director of Traditional Choir, Handbells and Children's music at the church. I create a plan with students that lead them to success based on their needs and interests. I offer 30 minute lessons weekly or 45 minute bi-weekly lessons.
Noteability Music School

Greer

Noteability Music School offers music classes and private lessons to young children, school-age children, and adults. Preschoolers are enrolled in interactive music classes with hand drums, prerecorded music, and more, and young beginning pianists participate in group piano classes. Notebility also offers continuing education for guitar players, drum players, violinists, vocalists, and number of other musical disciplines. Classes and camps are held year round at our Greer, SC location.
On a Positive Note Piano Studio

Inman

On a Positive Note Piano Studio is offering group piano lessons. Group lessons give children the opportunity to interact with other young musicians. Being part of a team in a safe, positive and creative environment builds self-confidence, encourages and motivates regular practice, and develops performance skills in a very organic way. Lessons include music theory, ear training, improvisation and arrangement. Music-based activities and games reinforce the concepts in a fresh way and are designed to facilitate retention, as well as practical application. Lessons are two hours long, once a week. Morning and afternoon times available. Contact Mariya Karpovich at 864-921-5879, or email OnaPositiveNotePianoStudio@gmail.com for more information.
Highschool Homeschool YogaFaith and Dance

Murrells Inlet

Registered YogaFaith Trainer, dance teacher, and homeschool veteran mom will be offering 4-6 week in-person YogaFaith and Hebraic/Messianic Dance classes to high school homeschool groups in your location (church, community clubhouse, home). Classes offered are Introduction to YogaFaith, YF Gentle Flow, YF Vinyasa Beginner, YF Power Yoga, YF Yin, YF Hatha, YF Restorative, Worship in Dance Level I, Worship in Dance Level II, and YF for Moms.
The Voice Workshop

Myrtle Beach

Voice, Piano and Guitar lessons from a classically trained opera singer, pop/rock singer and performer. Kate Brown, "My goal is share musical and vocal knowledge through joy and spirit. To teach students competency in musical, vocal aptitude and performance." Specializing in vocal auditioning process for American Idol.
CAC Children's Art Classes

Simpsonville

Children's Art Classes is an award-winning art school that has been around for 20 years. The school's mission is to provide a comprehensive art education program that enriches lives, raises self-esteem, and improves the academic performance of our students. It offers nine-month programs of study that include painting, drawing, design, printmaking, sculpture, ceramics, and much more. Students age 3 and up will experience over 40 different areas of art to feed their passion and enhance their skills.
South Carolina Homeschool Sports Programs
Homeschool PE with Mr. C

Anderson

A homeschool P.E. option for K4-12th grades where P.E. stands for Playtime Extravaganza!
Charleston Taekwondo

Charleston

Charleston Taekwondo has an excellent homeschool class that uses the martial arts to mesh character development with physical activity to help students achieve the best version of themselves possible. Located at 568 Belle Station Blvd. Mt. Pleasant, SC 29464. Serve students ages 4-13. Homeschool classes meet: Tuesday and Thursday at 2:00-2:45. You can register for a trial on our website. It is $69 for 6 weeks of classes plus a FREE uniform.
Beach Cowboy Fitness

Charleston

Beach Cowboy Fitness offers a managed and inclusive gym class for homeschooled students grades K-5. If you wish to gain PE credits, we handle the paperwork for submission. We follow the South Carolina Dept of Education Physical Education guidelines which include a minimum of 100 minutes (2 classes) of documented PE per week for each semester of 18 weeks. Not interested in earning credits? Then just sign up for class and we'll teach your student a variety of games (incl. badminton, volleyball, basketball, relay races), dancing (line and tap), team building fun activities, leadership skills, communications skills, and physical acuity skills. Why just focus on one game or activity (ie Karate,gymnastics or dance) when your student will learn that and how to be a team player, empathy, communications and leadership.
Gym Class for K-5 Homeschooled Kids

Charleston

Are your kids enjoying the benefits of an actual gym class? At Beach Cowboy Fitness, their K-5 gym classes go beyond just exercise and learning one sport at a time.  Students master a variety of popular games and challenges, participating in structured activities that build their skills in teamwork, leadership, and goal achievement, to name a few. For parents who want their children to earn P.E. credits, their studio follows the S.C. Department of Education guidelines. In addition, they can provide the paperwork you need to file quickly with your accountability organization. At Beach Cowboy Fitness, they place emphasis on your child excelling at the 4 C's" of Communication, Concentration, Collaboration, & Confidence. Fifty minute Gym Classes offered 5 days a week from 10am until 5pm. Classes have a maximum of 10 students with 2 certified coaches leading them. You will need to register your profile on MindBodyFitness app and choose Beach Cowboy Fitness to see the current schedule and register for classes. An introductory 2 class package is available as well as other packages.
South Charlotte Thunder

Charlotte and surrounding area

The South Charlotte Thunder is an organization for homeschool students so they can participate in school sports. The Thunder currently has basketball teams for boys and girls that are in middle school and high school. Players can live in North Carolina or northern South Carolina.
Blythewood Tae Kwon Do USA

Columbia

Special classes just for homeschoolers taught on Mondays and Thursdays from 11:00 to noon. Also offering special monthly individual and family pricing.
Kroc Center Homeschool Youth Programs

Greenville

Programs designed to provide home-schooled students ages 5-12 the opportunity to interact with other children in a fun and active environment. Currently offering PE, Art, and Music Classes broken down into 4 8 week sessions throughout the year.
Shorin Ryu Kensankai Karate

Greenville

Shorin Ryu Kensankai Karate offering Homeschool karate classes from 10:30am - 11:30am on Mondays, Wednesdays, and Fridays
Carolina Elite Soccer Academy

Greenville

CESA is a full service youth soccer club offering programming from U6 to U19. Our Recreation program competes in-house while our other programs compete locally, regionally, and nationally depending on the age and level. CESA offers a wide range of tournaments and events throughout the year from our club-run tournaments to our hosting of Southern Regionals and ECNL National Showcase events. We also host many other events to serve our members. CESA offers supplemental programs throughout the year to enhance the development of our players at all levels and abilities.
Wild Blue Ropes Adventure Park

James Island

Wild Blue Ropes is a 72 element high and low ropes challenge course on Folly Road open every Friday for home schoolers!! Programs are specifically tailored to cultivate social and emotional learning skills through unique character development challenges.
Taekwondo Classes at Martial Fitness Center

Longs

Martial Fitness Center offers Taekwondo classes from 5 pm to 7 pm Monday through Thursday. Homeschoolers have an opportunity to schedule private lessons or private group classes by appointment Monday through Saturday.
Homeschool Hikers

Marietta

Homeschool Hikers strives to get students involved in the outdoor play, exercise, experiential learning, and fun. Homeschool Hikers meets 2 times each week for PE classes on Tuesday and Thursdays. Classes are split between grades to insure participants enjoy the experience. Homeschool Hikers also offers special event classes once per month that students can register for such as campfire cooking, campsite crafts, family day hikes, water purification and more. The instructor for Homeschool Hikers has a Outdoor Education and Leadership degree from North Greenville University, is the Director of an Outdoor Adventure Center, and holds a current certification in Wilderness First Responder. He is passionate about getting families outside in a fun and safe environment. In addition to classes, Homeschool Hikers facility offers an indoor space for students and parents to enjoy while classes are going on. This space is perfect for finishing class work, grabbing a cup of coffee, or planning out the rest of your day. This is a free space, with wifi, for those who have students participating in our classes.
Deep Sigh Horse Farm and Riding Academy Homeschool PE program

Seabrook

Deep Sigh Horse Farm offers weekly riding lessons as a PE credit for homeschool families. These l-ssons are offered in small groups of 4-6 students on Tuesdays and Thursdays from 10:00 to 11:00. This is a specialized program to increase balance and confidence utilizing horse back riding skills to increase student athleticism and social skills. Lessons are offered at a special low rate of $20.00 per student for a one hour session. Call (843) 368-7309.

Deep Sigh Horse Farm and Riding Academy Homeschool PE program details
Upstate Archery Academy

Taylor's, Greer, greenville

Offer archery classes for beginners or archers wanting to improve their shoot. Also open range, pro shop and retail store.