Jump to: Homeschool Arts | Homeschool Sports
In addition to the opportunity to get out of the house and socialize, homeschool sports and arts programs can offer long-term benefits by developing characteristics like leadership, self-confidence, perserverance, and self-esteem. Many organizations and businesses have opportunities specifically for homeschoolers, while others invite homeschoolers to participate in their regular programs.
Not sure how to choose activity/activities for your children? Read how Rebecca narrows down the choice of extra-curricular activities.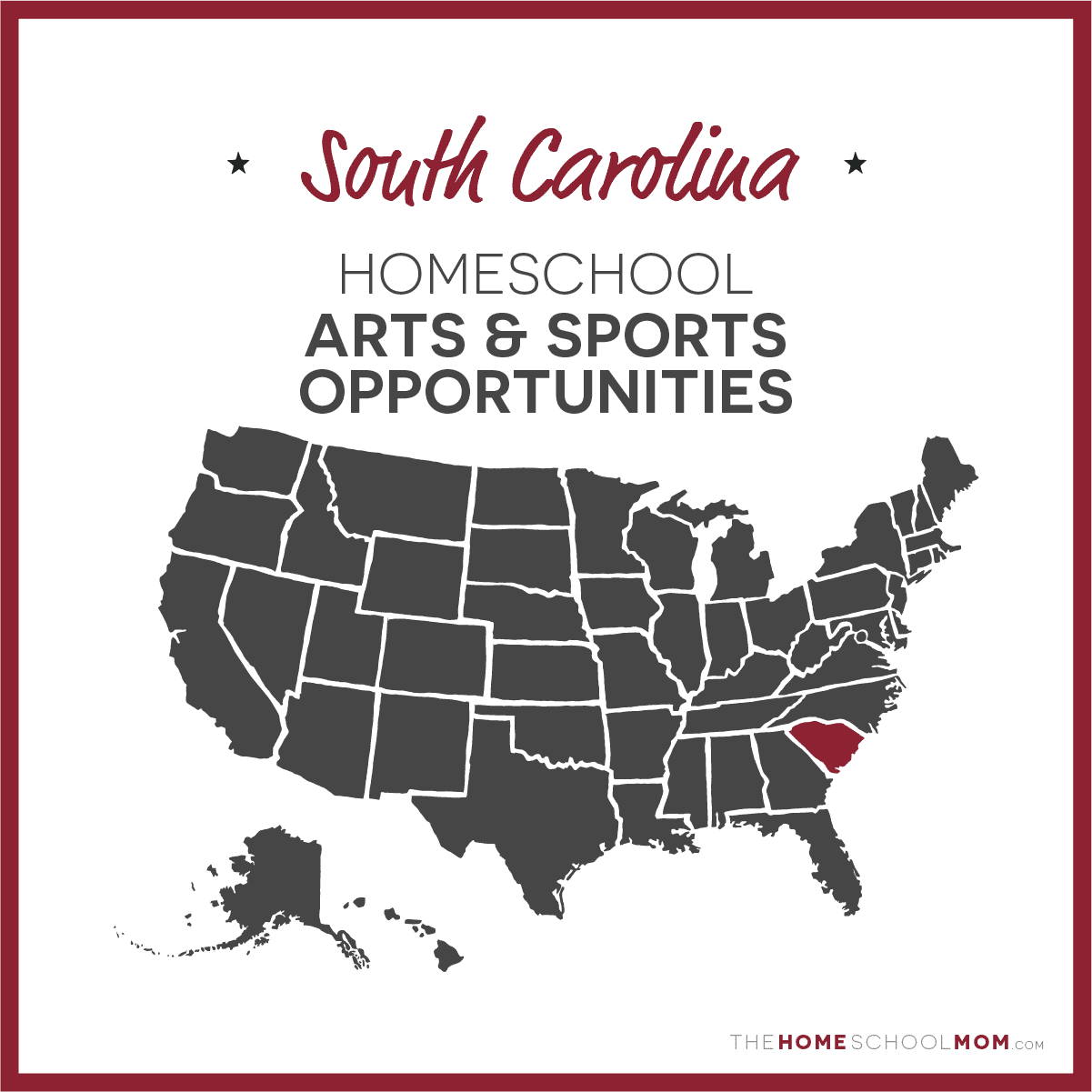 Submit a Local Resource
Our listing of South Carolina list of homeschool arts and sports programs is ordered alphabetically by city, with arts in the first section and sports in the second section. If you would like to submit an South Carolina arts or sports program, you may do so using the red button above.
South Carolina Homeschool Arts Programs
Stagecraft Theatre for KidsAnderson
Stagecraft Theatre for Kids provides youth in Upstate South Carolina with a unique opportunity to participate in and study theatre arts in a welcoming, inclusive, Christ-centered environment. Stagecraft is an after-sc...
Play It Forward, strings educationChapin
Play It Forward offers both private lessons and ensemble practices to stringed instrument students between the ages of 7 and high school. The teachers are excellent and able to teach beginners thru advanced students. ...
SC Music Lessons LLCCharleston
The mission of SC Music Lessons LLC is to unlock, develop, and inspire the musician in each of us. SC Music Lessons provides in-person and virtual private music lessons for all ages on a variety of instruments. All in...
Charleston Gaillard CenterCharleston
The Charleston Gaillard Center is a local Charleston, SC non-profit with a strong education mission. As part of this mission, we offer live performing arts to students throughout the school year. We offer varying time...
Holt School of Fine ArtCharlotte and Pineville
Our classroom is a traditional studio environment with each student working at an easel or drawing horse. We aim to give our students the highest quality of art education by staffing our studio with professional artis...
Private Piano and Voice lessons with Sandra EffertClemson
Private, individualized piano and voice lessons from an experienced and compassionate teacher. Sandra has been playing piano for 23 years, teaching for 5, and performing for 13. Using one of three different curricula,...
Classical guitar and piano lessons with Marina AlexandraColumbia
Guitar and piano lessons by internationally recognized musician with over 20 years of teaching experience and Masters Degree in Performance.
Columbia Arts Academy Guitar, Voice, Piano & Drum LessonsColumbia
Join the many homeschoolers in Columbia, who music get lessons for their children from 11 a.m.-1 p.m. Monday-Friday. Offering quality music lessons in guitar, voice, piano, bass and drums for ages 5 and up.
Keiki Hula (Hula for Kids)!Columbia
Traditional hula in non-traditional settings (in the park, at school, at home, in libraries, and more). With 35 years of hula studies, the Kumu (instructor) is qualified to provide instruction in proper techniques of ...
Shelby Nord Piano StudioColumbia
Shelby Nord Piano Studio is an active music school in the Columbia, SC area. Private lessons are available, and there are some available spots for group classes. Recital performances are held multiple times per year.
Criss Cross Mangosauce Bilingual Storytime & MusicGreater Charlotte area plus
Bilingual (Spanish/English) storytelling & music virtual shows, interactive Zoom shows, or in person shows. Immersion in the Latin-American culture where music & rhythm are the translators. Students sing, play...
Kroc Center Homeschool Youth ProgramsGreenville
Programs designed to provide home-schooled students ages 5-12 the opportunity to interact with other children in a fun and active environment. Currently offering PE, Art, and Music Classes broken down into 4 8 week se...
Studio of Ranessa FernanderGreenville
As a retired music teacher of 28 years, I am continuously excited to add new students for beginning piano and voice lessons. Music has been such an amazing part of my life. I want to share my love of music with those ...
Noteability Music School offers music classes and private lessons to young children, school-age children, and adults. Preschoolers are enrolled in interactive music classes with hand drums, prerecorded music, and more...
On a Positive Note Piano StudioInman
On a Positive Note Piano Studio is offering group piano lessons. Group lessons give children the opportunity to interact with other young musicians. Being part of a team in a safe, positive and creative environment bu...
The Voice WorkshopMyrtle Beach
Voice, Piano and Guitar lessons from a classically trained opera singer, pop/rock singer and performer. Kate Brown, "My goal is share musical and vocal knowledge through joy and spirit. To teach students competency in...
South Carolina Homeschool Sports Programs
Charleston TaekwondoCharleston
Charleston Taekwondo has an excellent homeschool class that uses the martial arts to mesh character development with physical activity to help students achieve the best version of themselves possib... [Read more...]
Beach Cowboy FitnessCharleston
Beach Cowboy Fitness offers a managed and inclusive gym class for homeschooled students grades K-5. If you wish to gain PE credits, we handle the paperwork for submission. We follow the South Carol... [Read more...]
Gym Class for K-5 Homeschooled KidsCharleston
Are your kids enjoying the benefits of an actual gym class? At Beach Cowboy Fitness, their K-5 gym classes go beyond just exercise and learning one sport at a time.  Students master a variety of po... [Read more...]
South Charlotte ThunderCharlotte and surrounding area
The South Charlotte Thunder is an organization for homeschool students so they can participate in school sports. The Thunder currently has basketball teams for boys and girls that are in middle sch... [Read more...]
Blythewood Tae Kwon Do USAColumbia
Special classes just for homeschoolers taught on Mondays and Thursdays from 11:00 to noon. Also offering special monthly individual and family pricing. [Read more...]
Kroc Center Homeschool Youth ProgramsGreenville
Programs designed to provide home-schooled students ages 5-12 the opportunity to interact with other children in a fun and active environment. Currently offering PE, Art, and Music Classes broken d... [Read more...]
Shorin Ryu Kensankai KarateGreenville
Shorin Ryu Kensankai Karate offering Homeschool karate classes from 10:30am - 11:30am on Mondays, Wednesdays, and Fridays [Read more...]
Carolina Elite Soccer AcademyGreenville
CESA is a full service youth soccer club offering programming from U6 to U19. Our Recreation program competes in-house while our other programs compete locally, regionally, and nationally depending... [Read more...]
Wild Blue Ropes Adventure ParkJames Island
Wild Blue Ropes is a 72 element high and low ropes challenge course on Folly Road open every Friday for home schoolers!! Programs are specifically tailored to cultivate social and emotional learnin... [Read more...]
Taekwondo Classes at Martial Fitness CenterLongs
Martial Fitness Center offers Taekwondo classes from 5 pm to 7 pm Monday through Thursday. Homeschoolers have an opportunity to schedule private lessons or private group classes by appointment Mond... [Read more...]
Kids Fitness Classes at Martial Fitness CenterLongs
Martial Fitness Center offers homeschoolers an opportunity to schedule personal training or private group classes for homeschoolers by appointment Monday through Saturday. [Read more...]
Homeschool HikersMarietta
Homeschool Hikers strives to get students involved in the outdoor play, exercise, experiential learning, and fun. Homeschool Hikers meets 2 times each week for PE classes on Tuesday and Thursdays. ... [Read more...]
Deep Sigh Horse Farm and Riding Academy Homeschool PE programSeabrook
Deep Sigh Horse Farm offers weekly riding lessons as a PE credit for homeschool families. These l-ssons are offered in small groups of 4-6 students on Tuesdays and Thursdays from 10:00 to 11:00. Th... [Read more...]
Go to...