TheHomeSchoolMom's local resource listings are sponsored by Time4Learning, where you can find resources, support groups, test prep info, and more.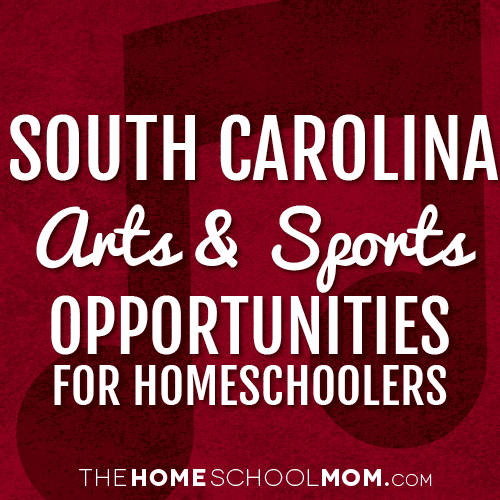 In addition to the opportunity to get out of the house and socialize, homeschool sports and arts programs can offer long-term benefits by developing characteristics like leadership, self-confidence, perserverance, and self-esteem. Many organizations and businesses have opportunities specifically for homeschoolers, while others invite homeschoolers to participate in their regular programs.
Not sure how to choose activity/activities for your children? Read how Rebecca narrows down the choice of extra-curricular activities.
Below is a list of homeschool sports and arts programs in South Carolina listed alphabetically by city, with arts resources in the first section and sports resources below. If you would like to submit a South Carolina arts or sports resource, you may do so using the red button above.
Homeschool Arts Opportunities in South Carolina
Stagecraft Theatre for KidsAnderson
Stagecraft Theatre for Kids provides youth in Upstate South Carolina with a unique opportunity to participate in and study theatre arts in a welcoming, inclusive, Christ-centered environment. St...
Music Lessons by AnnieCharleston Area, Mt. Pleasant, West Ashley, Downtown
Passionate about teaching music, particularly the guitar, Annie has been teaching for the past 3+ years. Offering lessons in Music Theory, Technique, Maintenance, and general lessons in beginner to...
Michael Bies Piano lessonsColumbia
Weekly piano and composition lessons are available in the comfort of your own home or in our home studio in Columbia, SC. Provides comprehensive private instructions to cultivate students interest ...
Classical guitar and piano lessonsColumbia
Guitar and piano lessons by internationally recognized musician with over 20 years of teaching experience and Masters Degree in Performance.
Columbia Arts Academy Guitar, Voice, Piano & Drum LessonsColumbia
Join the many homeschoolers in Columbia, who music get lessons for their children from 11 a.m.-1 p.m. Monday-Friday. Offering quality music lessons in guitar, voice, piano, bass and drums for ages ...
Keiki Hula (Hula for Kids)!Columbia
Traditional hula in non-traditional settings (in the park, at school, at home, in libraries, and more). With 35 years of hula studies, the Kumu (instructor) is qualified to provide instruction in ...
Drama Kids of Berkeley, Dorchester and Charleston CountiesGoose Creek
Educators worldwide agree that communication skills, to include public speaking, along with creative and "on your feet" thinking skills are critical for academic and long-term professional success....
Kroc Center Homeschool Youth ProgramsGreenville
Programs designed to provide home-schooled students ages 5-12 the opportunity to interact with other children in a fun and active environment. Currently offering PE, Art, and Music Classes broke...
Studio of Ranessa FernanderGreenville
As a retired music teacher of 28 years, I am continuously excited to add new students for beginning piano and voice lessons. Music has been such an amazing part of my life. I want to share my lov...
Joyful Melody in Our Hearts StudioGreenville/Spartanburg
This resource offers piano, violin, and early childhood music lessons for ages 0-18. The goal for all students is to help them build a strong foundation of music skills and understanding so that s...
On a Positive Note Piano StudioInman
On a Positive Note Piano Studio is offering group piano lessons. Group lessons give children the opportunity to interact with other young musicians. Being part of a team in a safe, positive and c...
Music Makers of the Midlands, LLCIrmo
Piano, voice, guitar and ukelele lessons available at Music Makers in Irmo (401 Western Lane, Suite B) or Chapin (at Abner Montessori School, 432 Boundary St.) Some morning hours available, many a...
The Voice WorkshopMyrtle Beach
Voice, Piano and Guitar lessons from a classically trained opera singer, pop/rock singer and performer. Kate Brown, "My goal is share musical and vocal knowledge through joy and spirit. To teach st...
Homeschool Sports Opportunities in South Carolina
Charleston TaekwondoCharleston
Charleston Taekwondo has an excellent homeschool class that uses the martial arts to mesh character development with physical activity to help students achieve the best version of themselves possib...
Blythewood Tae Kwon Do USAColumbia
Special classes just for homeschoolers taught on Mondays and Thursdays from 11:00 to noon. Also offering special monthly individual and family pricing.
Kroc Center Homeschool Youth ProgramsGreenville
Programs designed to provide home-schooled students ages 5-12 the opportunity to interact with other children in a fun and active environment. Currently offering PE, Art, and Music Classes broke...
Shorin Ryu Kensankai KarateGreenville
Shorin Ryu Kensankai Karate offering Homeschool karate classes from 10:30am - 11:30am on Mondays, Wednesdays, and Fridays
CESA HomeSchool ProgramGreenville
The Carolina Elite Soccer Academy is pleased to announce the creation of a new Home School Training Program. This small group training program will be led by Danny Murphy at the MeSA Soccer Complex...
Wild Blue RopesJames Island
Wild Blue Ropes is a 72 element high and low ropes challenge course on Folly Road open every Friday for home schoolers!! Programs are specifically tailored to cultivate social and emotional learnin...
Homeschool HikersMarietta
Homeschool Hikers strives to get students involved in the outdoor play, exercise, experiential learning, and fun. Homeschool Hikers meets 2 times each week for PE classes on Tuesday and Thursdays. ...
Deep Sigh Horse Farm and Riding Academy Homeschool PE programSeabrook
Deep Sigh Horse Farm offers weekly riding lessons as a PE credit for homeschool families. These l-ssons are offered in small groups of 4-6 students on Tuesdays and Thursdays from 10:00 to 11:00. Th...