Homeschooling is regulated at the state level, so connecting with local homeschoolers is an important step to start homeschooling in South Carolina. Find the South Carolina homeschool groups closest to you and get connected with your local homeschooling community, learn about the homeschool requirements in South Carolina, and discover the co-ops, classes, sports and arts opportunities, and social get-togethers in your area.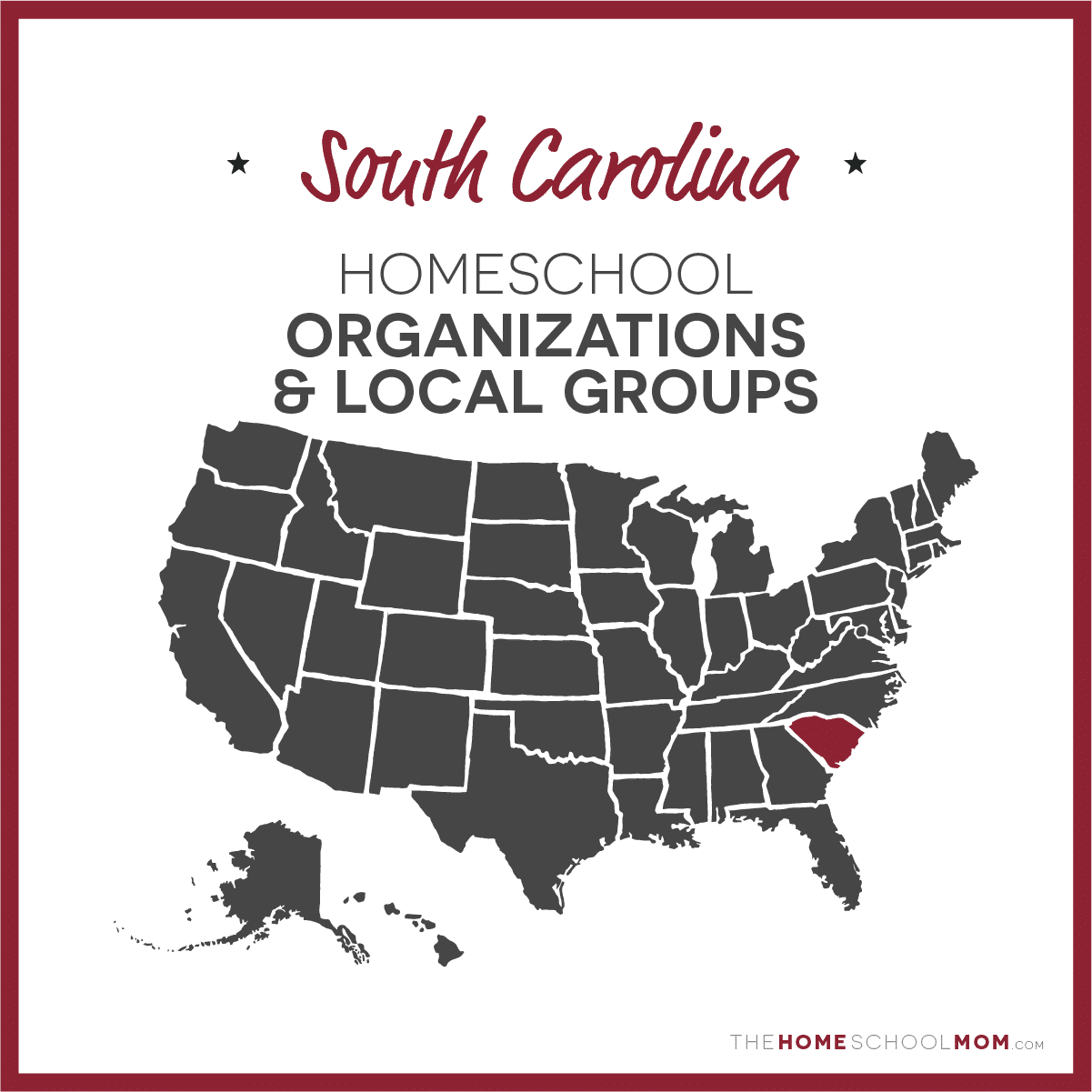 Submit a Local Resource
Jump to: State Organizations | Local Groups
Our listing of South Carolina state organizations and local homeschool groups is ordered alphabetically by city, with statewide organizations listed first. If you would like to submit a group, you may do so using the red button above.
South Carolina Homeschool Organizations (Statewide)
Christian Homeschoolers' Association of South Carolina (CHASC)

All of South Carolina

CHASC is a state-wide third option homeschool accountability association for South Carolina families who wish to homeschool with minimal restrictions. Members are free to choose the schedule, curriculum, and record keeping methods that best fit their family's needs, styles, and beliefs.

Christian Homeschoolers' Association of South Carolina (CHASC) details
Grace School Associations

South Carolina Statewide

The purpose of Grace School Association is to offer an option, as stated in the SC Code of Laws (59-65-47), to those who desire to educate their children unencumbered by unnecessary restrictions, requirements, and expense. Grace is a legal, alternate source of approval for home schooling parents. https://www.facebook.com/Graceschoolassn
Homeward Education Association

South Carolina Statewide

A great way to legally home school in South Carolina with the minimum amount of restrictions placed on the home schooling family! By home schooling through an association, a family has more freedom in the choice of their curriculum and style of learning. The low cost of third option associations are also a plus! Home schooling has never been easier in South Carolina!
SCHEA- South Carolina Home Educators Association

South Carolina Statewide

SCHEA - South Carolina Home Educators Association is a state-wide support group and resource for all home schooling families, 3rd option accountability associations, 2nd option SCAIHS, and support groups in South Carolina. SCHEA works to assist families and groups with homeschooling needs and endeavors. SCHEA acts as legislative "watch dogs" of SC, watching for potentially harmful legislation as well as creating a pro-active presence at the Statehouse in Columbia and encouraging home schooling families to support home school friendly legislation. SCHEA is available to speak at home school conferences across the state, workshops for support groups, support accountability associations, and offer special events throughout the year.
Carolina Homeschooler

South Carolina Statewide

A statewide support group providing information, support, and encouragement for SC homeschooling families. Offers print and email newsletters, message boards, mailing lists, trips, courses, contests, and more.
The South Carolina Homeschool Accountability Association, LLC

South Carolina Statewide

TSCHAA is a state-wide Third Option homeschool accountability association offering diploma and transcript services, field trips, and online support groups for SC homeschoolers.

The South Carolina Homeschool Accountability Association, LLC details
SC TOP Homeschool Association

Statewide in South Carolina

Homeschool Accountability services under the 3rd Option code of law SC 59-65-47. SC TOP is open to all homeschoolers, regardless of religious preference, political affiliation, ethnic background, family structure or educational philosophy.
Upcountry Homeschool Association, LLC

Statewide in South Carolina

Upcountry Homeschool Association operates as a South Carolina Option 3 Homeschool Accountability Association. They are recognized by the SC Department of Education as an operable accountability association.
South Carolina Local Homeschool Groups
The Christian Curriculum Connection

Aiken

TCCC is a used homeschool book consignment store. We have been in business since 2001. We shipped books all over the US. Shop online at www.homeschoolbooksforless.com
Palmetto Independent Educators

Aiken

Palmetto Independent Educators is a third option home school association in Aiken, SC. We have been serving homeschool families for over 25 years. We accept applications throughout the year from all of SC. PIE offers online registration as well as many services to include transcript and ranking for scholarships, diplomas, high school counseling and much more.
CHOICE Homeschool Group

Anderson

CHOICE is a homeschool support group and it offers an exceptional co-op!
HEART Homeschool Group

Anderson

HEART is an Option 3 accountability group which offers families legal homeschool status in the state of South Carolina (section 59-65-47). Heart was formed in 1998 by the Anderson Homeschool Association. Meetings, assistance, transcripts, letters, ranking, and forms are all included in your family membership! HEART serves families throughout the state of South Carolina, and although our Board has a Christian worldview, a statement of faith is not required to join Heart.
CSRA HEA

Augusta

The mission of the Central Savannah River Area Home Education Association (CSRA HEA) is to provide resources to homeschooling parents. The organization hopes that this website will promote study of all aspects of God, His creation, His laws, and His grace.
Lowcountry Christian Home Educators Association

Berkeley, Charleston and Dorchester Counties

LCHEA is a non-profit, Christian support group established for home-educating parents in the Berkeley, Charleston and Dorchester Counties of South Carolina. Our purpose is to provide support, guidance and encouragement to one another as home educators based on closely held Christian principles. Formed in 1988 by 20 homeschooling families, it has now grown to over 350 !
FREEDOM Home School Support Group

Columbia and surrounding areas

We are a FREE Independent Christian Home School support group where families support each other .
HERO Homeschool Group

Columbia/Irmo

HERO is a homeschool group based in Irmo providing supportive activities and resources designed to benefit all home educators in the greater Columbia area regardless of religious preference, political affiliation, ethnic background, family structure, or educational philosophy. This discrimination-free society allows the development of a nurturing family of homeschoolers who can build lifelong relationships through learning together. Our Vision is to be a source of innovative resources and timely support to those who share our passion for educating our children at home. We provide co-op classes, field trips, and special events Monday-Friday. Summer camps are available as well.
Easley Home Educators

Easley

Easley Home Educators is a support group seeking to provide support and encouragement to those families who are homeschooling their children in an environment conducive to good moral and philosophical instruction, with a traditional Judeo/Christian emphasis. This support group also offers an educational Co-op, Clubs, and High School level activities.
Academic Advantage Association

Greenville

We are one of the largest associations in South Carolina. We have an actual office and are open 10 to 5, Monday through Friday. We provide everything a parent needs to make sure their child finishes their high school years with success. We provide transcripts and help with state scholarships.
Upstate Field Trip Friends

Greenville, Clemson

Upstate Field Trip Friends is a non-profit, inclusive activities and social group for homeschooling families in the Greenville, Clemson, Oconee, Pickens, and Greenville areas of South Carolina. Find and join us on Facebook for field trips, classes, park days, parties, community service projects and more.
Classical Conversations of Greenwood

Greenwood

Classical Conversations of Greenwood meets on Tuesdays in Greenwood, SC. This is a classically based homeschool group where tutors introduce material to their students and families go home and work on this material throughout the week. Fine arts are also included. Please go to www.classicalconversations.com for more information and to find other local groups. Classical Conversations groups can be found all over the US and in several foreign countries as well.
Greenwood Christian School Home Educators Association

Greenwood

GCSHEA is a non-profit, full service Home School Accountability Group that serves homeschoolers in the western half of South Carolina. Annual membership includes supports for transcripts, counseling, college scholarship applications, etc. Every student with GCSHEA receives a high school transcript, GPA calculations, and permanent record keeping. GCSHEA is listed with the SC Department of Education as a third option accountability group.

Greenwood Christian School Home Educators Association details
Hartsville Home Educators

Hartsville

Known as HHE, we are a non-profit, multi-denominational, member-run support group for families who homeschool throughout the Pee Dee area of South Carolina. We are a diverse group of families united together to provide support, educational programs through our co-op and fun activities for the whole family. While our mission is distinctively Christian, we welcome all homeschool families who are comfortable within a Christian environment.
The SC Homeschooling Connection

Irmo

Cross-promoting and networking with local homeschool groups and associations. Bringing awareness of current news and issues in the Palmetto State. Promote National School Choice Week and Pinwheels for Prevention.
Legacy Christian Home Schools

Mt. Pleasant

Legacy Christian Home Schools is a non-profit cooperative venture designed to help families provide guidance and support to one another in the vitally important job of educating their children in a manner that is consistent with their profession of faith in God.
Vine & Branches Home Educators

Myrtle Beach

Our mission is to assist South Carolina Homeschooling families, particularly those of Horry and Georgetown Counties, in maintaining legal homeschooling status based on requirements established under South Carolina Code law Section 59-65-47
Network of Inclusive Coastal Home Educators

Myrtle Beach, Pawley's Island

N.I.C.H.E.: A Myrtle Beach to Pawley's Island Home Schooling Support Group
Trinity Homeschool Academy Co-op

Northeast Columbia and Elgin

This co-op was created to help lift the burden many families face while homeschooling. Many families struggle to find an enriching, edifying, classical, and Godly educational community for their families. This co-op will serve as a springboard for families who homeschool. By providing a Godly community for children and parents, families will be encouraged by one another in the trenches during the homeschooling years. Parents will model servant leadership by teaching their children or other students, assisting in classrooms, and volunteering for various aspects of community leadership.
Tri-County Home Educators

Seneca

Tri-County Home Educators is a Christian organization, the members of which are like-minded Christian home educators dedicated to observing the Biblical commands of Deuteronomy 6:4-10, Proverbs 22:6, and Ephesians 6:4.
Carolina Homeschooler - Educational Travel

South Carolina Statewide

We enjoy coordinating economical trips for homeschooling families. With group discounts for travel, hotel, and admission tickets, we're working to make US and international trips more affordable.
Faithful Scholars, option 3 accountability association

South Carolina Statewide

Faithful Scholars is an Option 3 Accountability Association helping homeschoolers navigate legally and confidently in South Carolina. Offering support for all grade levels and homeschool styles in the forms of workshops, retreats, e-mail alerts, newsletters, and reminders, as well as specializing in guiding college-bound students, formal transcripts, diplomas, and ranking in order to receive lottery-funded scholarships.

Faithful Scholars, option 3 accountability association details
Hometown Homeschool Association of South Carolina

Statewide in South Carolina

Hometown Homeschool Association of South Carolina (HHASC) is an inclusive, minimally-invasive option 3 homeschool association for South Carolina residents. We accept enrollment year-round for students K-12th.
Sumter Area Family Educators (SAFE)

Sumter

The purpose of the Sumter Area Family Educators is to offer information and support from a distinctly Christian perspective to all families interested in homeschooling in Sumter and the surrounding areas.
Homeschool Community of the Upstate

Upstate

A collaborative community of homeschoolers in the Upstate area of South Carolina. ​Families have access to regular meet-ups for relationship development among children (both in & out of their own peer group), as well as interesting & educational field trips, & exciting events.