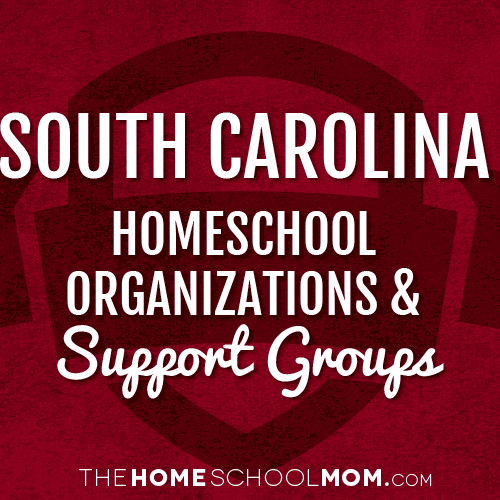 Since homeschooling is regulated at the state level, connecting with local homeschoolers is an important step to start homeschooling in South Carolina. State homeschool organizations and local homeschool groups are not just a good place to learn the specifics of legally homeschooling in South Carolina—they can also help you to get connected with the local homeschooling community. Many homeschool groups offer co-ops, classes, sports and arts opportunities, and social get-togethers.
Our listing of South Carolina state organizations and local homeschool groups is ordered alphabetically by city, with statewide organizations listed first. If you would like to submit a group, you may do so using the red button above.
Use the secondary navigation menu above to quickly make your way to pages for South Carolina state organizations, local homeschool groups, classes, co-ops, field trips, and more.
South Carolina Homeschool Organizations
Christian Homeschoolers' Association of South Carolina (CHASC)All of South Carolina
CHASC is a state-wide third option homeschool accountability association for South Carolina families who wish to homeschool with minimal restrictions. Members are free to choose the schedule, curri...
Grace Home School AssociationSouth Carolina Statewide
The purpose of Grace Home School Association is to offer an option, as stated in the SC Code of Laws (59-65-47), to those who desire to educate their children unencumbered by unnecessary restrictio...
Homeward Education AssociationSouth Carolina Statewide
A great way to legally home school in South Carolina with the minimum amount of restrictions placed on the home schooling family! By home schooling through an association, a family has more freedom...
SCHEA- South Carolina Home Educators AssociationSouth Carolina Statewide
SCHEA - South Carolina Home Educators Association is a state-wide support group and resource for all home schooling families, 3rd option accountability associations, 2nd option SCAIHS, and support ...
Carolina HomeschoolerSouth Carolina Statewide
A statewide support group providing information, support, and encouragement for SC homeschooling families. Offers print and email newsletters, message boards, mailing lists, trips, courses, contest...
The South Carolina Homeschool Accountability Association, LLCSouth Carolina Statewide
TSCHAA is a state-wide Third Option homeschool accountability association offering diploma and transcript services, field trips, and online support groups for SC homeschoolers.
South Carolina Local Homeschool Groups
The Christian Curriculum ConnectionAiken
TCCC is a used homeschool book consignment store. We have been in business since 2001. We shipped books all over the US. Shop online at www.homeschoolbooksforless.com
CSRA HEAAugusta
The mission of the Central Savannah River Area Home Education Association (CSRA HEA) is to provide resources to homeschooling parents. The organization hopes that this website will promote study of...
Lowcountry Christian Home Educators AssociationBerkeley, Charleston and Dorchester Counties
LCHEA is a non-profit, Christian support group established for home-educating parents in the Berkeley, Charleston and Dorchester Counties of South Carolina. Our purpose is to provide support, guida...
Holy City HomeschoolingCharleston
Holy City Homeschooling is a Christian, 3rd option support group located in the Charleston, SC area.
FREEDOM Home School Support GroupColumbia and surrounding areas
We are a FREE Independent Christian Home School support group where families support each other .
Upstate Field Trip FriendsGreenville, Clemson
Upstate Field Trip Friends is a non-profit, inclusive activities and social group for homeschooling families in the Greenville, Clemson, Oconee, Pickens, and Greenville areas of South Carolina. Fi...
The SC Homeschooling ConnectionIrmo
Cross-promoting and networking with local homeschool groups and associations. Bringing awareness of current news and issues in the Palmetto State. Promote National School Choice Week and Pinwheels ...
REACH (Resources, Encouragement and Activities for Columbia Homeschoolers)Midlands/Metropolitan Columbia
REACH is a support group open to all homeschoolers, regardless of religious preference, political affiliation or educational philosophy. REACH (Resources, Encouragement and Activities for Columbia ...
Network of Inclusive Coastal Home EducatorsMyrtle Beach, Pawley's Island
N.I.C.H.E.: A Myrtle Beach to Pawley's Island Home Schooling Support Group
Pee Dee Christian Home Educators Association, PDCHEAPee Dee
Offering co-op classes, field trips, activities and more.
Carolina Homeschooler – Educational TravelSouth Carolina Statewide
We enjoy coordinating economical trips for homeschooling families. With group discounts for travel, hotel, and admission tickets, we're working to make US and international trips more affordable.
Homeward Education Association Support GroupsSouth Carolina Statewide
Faithful Scholars, option 3 accountability associationSouth Carolina Statewide
Faithful Scholars is an Option 3 Accountability Association helping homeschoolers navigate legally and confidently in South Carolina. Offering support for all grade levels and homeschool styles in ...
Homeschool book store; consign or buy homeschool materials.