Jump to: Homeschool Arts | Homeschool Sports
In addition to the opportunity to get out of the house and socialize, homeschool sports and arts programs can offer long-term benefits by developing characteristics like leadership, self-confidence, perserverance, and self-esteem. Many organizations and businesses have opportunities specifically for homeschoolers, while others invite homeschoolers to participate in their regular programs.
Not sure how to choose activity/activities for your children? Read how Rebecca narrows down the choice of extra-curricular activities.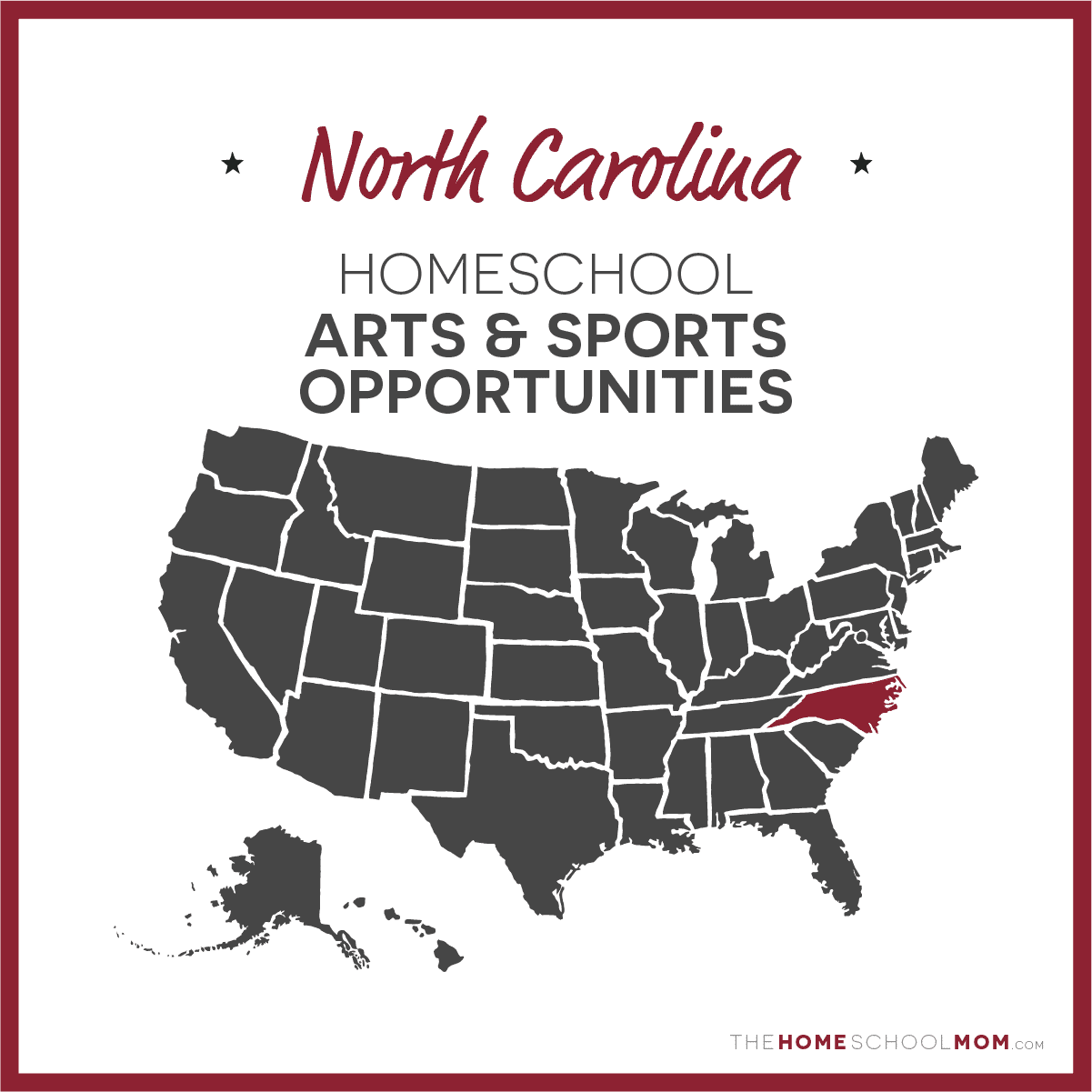 Submit a Local Resource
Our listing of North Carolina list of homeschool arts and sports programs is ordered alphabetically by city, with arts in the first section and sports in the second section. If you would like to submit an North Carolina arts or sports program, you may do so using the red button above.
North Carolina Homeschool Arts Programs
Bach to Rock Apex Music School Group Classes and Camps

Apex

Now offering home school music classes! Curriculum includes music history, theory, and of course instruction on instruments. Classes are grouped by age. This 10 week group class is being offered Tues & Thurs starting fall 2018. Looking for private lessons? Come in before 3:00pm and receive 20% discount! We offer lessons for all instruments and all ages.

Bach to Rock Apex Music School Group Classes and Camps details
RnRHS Youth Orchestra

Apex

Join the RnRHS Youth Orchestra! This program caters to string and woodwind players ages 10 and up. This class is taught and conducted by NCCU masters composition and double bass performance student Andy Powell. The orchestra will practice and perform selections from classical repertoire to today's popular music! Arrangements will be customized to encompass all skill levels, giving each student an opportunity to play manageable yet challenging music. Students will learn to play in a group setting, read music, follow a conductor, and perform live on the RnRHS auditorium stage! Two class times are being offered, Thursdays from 3:30-4:30 and 5:00-6:00. Instrument rentals are available! RnRHS is offering a youth orchestra class on Thursdays from 3:30-4:30 specially for homeschool students.
Rock Band

Apex

Experience a Rock Band group class (best for ages 7+). NO experience necessary. We teach you everything you need to know! The group is broken off by preferred instrument, you rehearse your parts, then do a recording in our start-of-the-art studio! Everyone goes home with a CD of their music! Need more info, check out the description for Rock Band Parties. We offer this same experience as a field trip. Apex.BachtoRock.com/parties
Glee Club

Apex

oin us for a Karake experience (best for ages 6+)! During the field trip, students will work with a vocal instructor on learning a song, as well as receiving proper singing and breathing techniques. With the help of B2R's sound engineer, the students will record the song in our professional recording studio! At the end of the field trip every student will receive a CD of their recording. There's almost always time for our DJ to break out the tunes and start a freeze dance or two.
DJ Field Trip

Apex

DJ Field Trip (best for ages 10+) is a two-hour jam/recording session where the student becomes a DJ Superstar. Students pair up to create their own mashups using industry standard DJ gear and remix software. Each field trip ends with a performance! We provide a Field Trip Director and an Audio Technician/Music Director, and all equipment.
Art by Mommy Art Classes

Apex, Cary, Raleigh, Wake County

Art by Mommy TM is a resource that provides supplemental instruction for students in Fine Arts subjects. The instructor is a mother with her degree in Fine Arts, hence the name and is interested in assisting other homeschooling mom's who feel less in-touch with their creative side. Subjects instructed include painting with watercolor, acrylic, oil. Drawing instruction also included in drawing with pastel, ink, charcoal and graphite.
Lune Spark

Art Academy in Apex , NC

Imagine a place where the world revolves around creativity. A place that serves as a home base for creative exploration through a curated course selection, a best-in-class physical space, and dedicated teachers who are there to guide and support you along the way. A place where young creatives are able to pursue their passions, discover new ones, and collaborate with like-minded children to create masterpieces, ultimately receiving real-world opportunities to show and sell their work. It's a place filled to the brim with expression, collaboration, mentorship, and — above all — growth. ​ Lune Spark is a creative center providing space for creative exploration. Lune Spark students have the opportunity to explore and discover their creative passions, collaborate with like-minded students, and grow with the support of dedicated teachers. Join us at our state-of-the-art facility to explore, collaborate, and spark your creative passion. Classes, Camps, and Events Dive deep with our talented instructors to develop and nurture your creative brain with our ongoing art academy programs. Free Trial with Registration! Just $185/month for weekly, 50-minute classes
Odyssey Ceramic Arts Kids Classes

Asheville

Odyssey Center for the Ceramic Arts offers classes for kids.
Richmond's Studio

Asheville

Fine art classes
Odyssey Center for Ceramic Arts

Asheville

Adventures in Clay, Kinder Klay, Captain Gabe's Clay Creations and Characters in Clay
Windmill Music Studios

Asheville

We are a family of musicians who would love to share the wonderful joy of music with you! We offer lessons for a variety of instruments including; piano, guitar, accordion, organ, tuba, and bass. You can learn several different styles and techniques including: Classical, Jazz, Rock, Blues, Pop, and Gospel Everyone is unique, so we tailor our lessons to our students individual needs and personality. We teach theory, ear training, rhythm, arranging, composing, chords, and much more!
Asheville Community Theatre

Asheville

Student Matinee performances of upcoming shows in the Fall of 2010.
Music Academy Asheville

Asheville

Homeschool families love the Asheville Music School for its diversity of offerings, fantastic instruction and ease of scheduling. Private lessons are taught on all instruments and voice. 35 Instructors and two locations (downtown and West Avl).
Asheville Music School

Asheville

Strengthening WNC communities through music education and outreach. Asheville Music School, located on Pack Square in downtown Asheville, is open 7 days a week and lessons can be scheduled any time of the day or evening. AMS strives to provide a family-friendly, all ages, supportive environment. Instructors are professional music educators, many of whom also perform at local and regional venues. AMS core programs include: *Private music lessons for students of all ages and skill levels in piano, guitar, violin, cello, bass, voice, saxophone, flute, trumpet, drums, percussion, and more. *Student ensembles that rehearse regularly and perform as part of the Sound Education Outreach program throughout the community. *Summer Camps for ages 4 – 18 where students learn to play in an ensemble, take field trips, and record songs. *Group Classes and Workshops with AMS faculty and guest artists. *A Scholarship program based on need providing financial assistance for music lessons. *Community outreach, providing music in much needed ways throughout the Western NC community
H.I.S. Homeschool Band

Asheville

H.I.S. Homeschool Band began in February 2013 and offers 3 levels of concert band: Beginner, Intermediate, and Advanced. Homeschooled students ages 8 and up learn how to play woodwind, brass, or percussion instruments with no previous music experience at a very reasonable price. Rehearsals are held in Weaverville on Monday afternoons with two performances per semester. Focus is on using one's God-given talents for His glory (H.ands on I.nstruments S.erving).
Aerial Arts Studio

Belmont

Located in Belmont, NC, this studio focuses on beginner-friendly circus arts classes that are approachable for all kinds of backgrounds & body types. Intro level silks, Lyra, trapeze, & flexibility classes are all available. Weekday mornings (T, W, Th) have new availability. Morning classes from 9:30am-1pm youth & adult classes combined.
Private Piano, Theory or Composition Lessons at Charles Wolf Studio

Cary

Charles Wolf Studio is a professional, private music studio that provides high quality, technical instruction on the piano in a fun and safe learning environment with an expert instructor. This studio also offers lessons and tutoring in music theory, composition, and music history. Every lesson is specifically crafted to enhance each student's abilities, enabling them to achieve success and develop a life-long love for music during the process. Charles Wolf Studio is currently accepting students.

Private Piano, Theory or Composition Lessons at Charles Wolf Studio details
smART Room Studio

Cary

The smART Room Studio is a home art studio specifically for homeschooled students, ages 5 - 18 yrs. Classes are taught by a professional artist with a NC teacher's license for Art K-12th. Each class has a maximum of 5 students arranged by age and ability. It is a curriculum based art program where students can explore many different mediums, increase their skills, and be introduced to art history and cultures. Students are creating original artworks while learning art as a process. These are not make and take, one day projects. No art experience is needed to take these classes. This art studio also has a facebook page /www.facebook.com/smARTRoomStudio
ART of Stem

Cary

Weekly Art of S.T.E.M. Classes = Focus on a large array of art projects chosen to specifically expose and interest children in science, technology, engineering, and math. *New camps are featured each week. *Highly qualified and specially trained teachers USE the Art disciplines to interest and engage kids in S.T.E.M. skills. *On-Site Camp Field Trip each week.(Magician, Puppet Show, ie)
Heather Byrum Piano Studio

Cary, Holly Springs, Raleigh

Offering beginner through moderately advanced private piano lessons in southern Wake County. Morning lessons available! Quality lessons with nurturing instructor who has music teacher license and Music Education/piano degree. The lessons are contoured to meet each student's learning style to help them reach their personal goals. Each student has the opportunity to study a variety of musical genres along with their core lesson material. Piano Lessons Include: Music Theory Scales Sight Reading Composition Duet Playing Ear Training Variety of Repertoire Styles Contoured to Each Student's Needs (Jazz, Pop, Seasonal, Classical Themes, Favorites, Church Music, Movie Themes) Performance Opportunities Electronic Keyboard or Acoustic Piano See Studio website for more information: https://heatherbyrumpianostudio.duetpartner.com/
Voice & Piano Lessons with Amber Nicole Dilger

Cary/Apex/Raleigh

Helping unique learners discover their most confident and powerful voice! Private lessons are built around your musical goals, ability level, and interests. Amber Nicole has been guiding learners of all ages for 20+ years, and is a proud recipient of the 2020 National Association of Teachers of Singing Independent Studio Teacher award. Amber Nicole also specializes in coaching to help performers and presenters overcome performance anxiety/stage fright. Teaching studio is on the north side of Cary, just south of Interstate 40.
Southern Park Music School

Catawba County

Piano teacher, Nicole Niederer, has recently relocated to Hickory. She has taught homeschoolers for over 25 years. Please contact 281-468-1417 for more information.
music4life - Music Classes & Kindermusik

Charlotte

Music4life presents an innovative approach to music education for all ages by integrating the most up-to-date research concerning music and human development to provide a well-planned, age appropriate continuum to build a life long love of music for its students. Music4life offers both private and group instruction to all ages, including the internationally acclaimed Kindermusik curriculum for babies through age seven; private instruction in guitar, bass, piano, violin and viola, brass, woodwinds and voice. Additionally, the school's distinctive approach includes customized learning for special needs children, a beginners band for home schooled children, the launch of a community band for seniors, and coaching for rock or jazz bands.
Charlotte Academy of Music Music Classes

Charlotte

Welcome to Charlotte Academy of Music, a privately owned music school providing music instruction for students of all ages in a fun and professional environment. We are proud to be a licensed Musikgarten school, and offer early childhood music classes for children birth to age five! For our older students the Academy offers a wide variety of music lesson programs in Piano, Guitar, Voice, Brass, String, Percussion and Woodwind instruments. Private and Small Group classes are both offered, as well as the Academy Children's Choir and the Chamber Ensemble. Our state-of-the-art Music Technology Lab is a unique feature to our school, and an exciting, interactive way for students to learn music theory.
Rock University

Charlotte

Music Lessons- Performance Band Lessons Individual Lessons Guitar Bass Drums Vocals Keyboards Performance based music lessons. Existing Band Improvement with Professional Artist. Band Rehearsal Space Full Stage setup State of the art Professional Equipment PA and Lights A fun compliment to traditional music lessons keeps students interest. Student Performances every 11 weeks in front of a live audience Its a real show on a real stage with professional sound system and lights. First lesson is allways free. Rock Universitys Professional Artist and instructors encourage students to move from lessons to playing in a real band setting with the goal of playing a live show on a working concert stage in front of cheering fans this will be the most fun you will ever have playing music or watching someone you know playing a concert on stage for the first time.Rock University is here helping you realize your dream of being a ROCK STAR.
Arts Delivered Homeschool Classes

Charlotte

Offering ceramics and mixed media classes at McDowell Art center in Matthews. Classes are held Wednesdays in January.
Bold Music

Charlotte

Bold Music offers private, in-home music lessons for a variety of disciplines: everything from guitar to piano, voice, drums, music production, and more. Learn more at https://boldmusiclessons.com/
Kids' Day @ Dish It Out Pottery Painting

Charlotte

Dish It Out Pottery Painting studio provides art enrichment at an affordable price. Each Monday, September to May, Studio Time for children 16 and under is just $3 an hour, half off the normal $6/hour rate.
Homeschool Dance Classes - Miller Street Dance Academy

Charlotte

Miller Street Dance Academy is excited to introduce their new Homeschool Dance Classes! These classes will be held on Wednesdays 11:30-12:15 for those 5-12 years old, separated into two groups by age. The program will consist of two parts. One portion of the class will be dedicated to stretching, conditioning, and cardio. The other portion of the class will be dedicated to rotating genres of dance. Dance genres will include Hip Hop, Jazz, Acrobatics, Lyrical, Musical Theater and more! This program will not participate in recital, and the only clothing requirement will be active wear, sneakers, and eclipse shoes. This can be used towards your homeschooler's PE credits, while simultaneously learning a new fun skill. Please contact the office at (704) 889-TOES (8637) for any questions you may have. Registration is now open on our website for the 2023-24 season! Classes run August through May for the homeschooling program.

Homeschool Dance Classes - Miller Street Dance Academy details
Holt School of Fine Art

Charlotte and Pineville

Our classroom is a traditional studio environment with each student working at an easel or drawing horse. We aim to give our students the highest quality of art education by staffing our studio with professional artists and trained instructors who have a degree in art or are pursuing a degree in art. We keep our teacher to student ratio low at 1:6 so that each student is able to have their individual needs met. This intimate environment enables us to tailor our program to help them achieve their personal artistic goals. Our program is built on a foundation in drawing; the more confident one feels with drawing the better they can conquer any other art medium. Once they have a basic knowledge of drawing we experiment with watercolors, charcoal, and eventually oil painting.
Square Dance Lessons

Charlotte Metro Area

Square Dance is a dying activity that has many benefits to folks of all ages. It promotes physical activity as well as social skills, etiquette, commitment and brain function. There are a number of clubs dancing in the Charlotte Metro Area. Club members range in age from 11-80! There are also a number of state conventions and weekend dances as well as service opportunities for dancers. Clubs pray at the start of each dance, follow certain etiquette and often say the pledge. Offering square dancing lessons for students in the Fall, one evening a week. Courses are 10-12 weeks long. Completion of courses can lead to PE credits.
Opera Carolina Academy

Charlotte metro region

The Opera Carolina Academy offers vocal instruction to regional youth through its Academy Chorus (rising 3rd-7th graders) and its annual summer Music-Drama Workshop (rising 8th-12th graders). From introductory music and vocal skills to focused sessions for the aspiring singing-actor, the Opera Carolina Academy offers musical instruction and inspiration for young singers at all levels.
String and Woodwind Ensemble - Charlotte Academy of Music

Charlotte/Matthews, NC

An ensemble opportunity for string and woodwind students of all ages! This particular class will culminate in a patriotic performance for local veterans as well as family and friends of our ensemble members. The ensemble will provide invaluable experience in learning to follow a conductor, sharpening listening skills, and understanding how an individual part fits into the score. Music is meant to be shared! Experiencing music as an ensemble member is motivating and invigorating. All costs for the class, including each student's book, are included in the class tuition,

String and Woodwind Ensemble - Charlotte Academy of Music details
Sara's Art Classes for Kids

Clayton/Garner

Art Classes taught by Sara a former kindergarten teacher and current homeschool mom. The one and a half hour classes give the kids many opportunities to paint and draw and use several different creative mediums. The students create 3-4 projects per class. Please see website for schedule and to see the different themed classes to choose from. For kids ages 5-10.
Drawn2Art Cornelius

Cornelius

Drawn2Art is devoted to teaching skill-based fundamentals. Students, ages 4 – 12, teens and adults, begin by using drawing mediums and then move onto painting. Students receive extensive instruction in the use of each painting medium, including color-mixing, painting techniques, and the proper use and care of materials. Simple step-by-step instruction avoids frustration, and makes learning enjoyable for all ages.
Discover Academy

Denver

Discover Academy offers private music lessons in piano, ukulele, and flute. Discover Academy is also available to offer group music classes at the client's location. This music studio is located in Denver, NC.
Violin Lessons with Philip Oja

Durham

Professional violinist and teacher of 10 years, offering private instruction to students of all levels, from beginner to advanced. Teacher is classically trained with a bachelor's and master's degree in Violin Performance. Students may either travel to the location or have the teacher come to home. Free trial lessons and sibling discounts available!
Angela Sigl Voice Lessons

Durham, Raleigh, Chapel Hill

CALLING ALL GLEEKS! Are you thinking about auditioning for your school musical? Are you preparing for a talent show, audition or contest? Angela Sigl offers voice, piano and acting lessons for aspiring performers of all ages & specializes in safe vocal technique for Broadway, rock, country and pop, as well as classical voice.
Creator's Christian Bands

Eastern Wake County

The goal of the Creator's Christian Academy Band is to provide a rehearsal and performance experience for homeschool students (public, charter or private students also!) who are passionate about music. Participants will enjoy playing in concerts, ensemble performances and community events with like minded fellow musicians. $10/class for Group Classes. Rehearsals take place on Tuesday evenings in the Zebulon area. For more information contact us at creatorsbands@gmail.com or call 919-539-4066.
Spiritual Twist Art Classes

Garner

Students will explore the fundamentals of art and design with fun a abstract art projects then try out graphic design, set design, and fine art projects. Courtney Sanford, artist, author, and graphic designer will be teaching high school level classes on Friday from noon to 1:39.
Rogers Music Academy

Gastonia

The Rogers Music Academy serves students ages 4-17 in the Gastonia, NC area. Children learn how to play the keyboard and guitar in fun group classes, and as students advance, they can learn how to play the Bass as well. The curriculum at Rogers Music Academy is specifically designed to allow students to come home with brand new music to share with friends and family each week.
Lovelace Voice Studio

Gastonia and Hickory

Learn to sing one on one in private voice lessons or with a friend in a small group setting. Enjoy lessons in voice rooted in healthy vocal technique from a classically trained opera singer. Styles offered include classical, musical theater, and worship/praise music. Mrs. Lovelace brings years of experience and education to her students. This includes; helping students prepare and train for college entrance/music scholarship auditions, community musical theater auditions, as well as those who simply wish to improve their singing skills. Visit the Lovelace Voice Studio on Facebook for more information.
BGoodMusicStudios

Gastonia, Kings Mountain, Shelby

Bridget Goodwin CT ABRSM is a Music Tutor, Arranger, Composer, Mentor & Performer. Certified and qualified with over 25 Years of experience. Lessons are informative, engaging and fun. Offering private lessons in voice, piano, brass wind, woodwind and beginning strings. Please call: (704) 231-0689
Criss Cross Mangosauce Bilingual Storytime & Music

Greater Charlotte area plus

Bilingual (Spanish/English) storytelling & music virtual shows, interactive Zoom shows, or in person shows. Immersion in the Latin-American culture where music & rhythm are the translators. Students sing, play, guess riddles, & dance using easy home props and imaginary objects. These programs include learning about traditional instruments from Latin-America. This bilingual approach introduces children to Spanish in a creative way. In these programs children will learn concepts with numbers, names of food, names of animals, colors, body parts, action words and Latin-American Traditional stories, games, riddles, rhymes and songs. Classes are on-going.
Art Alliance Greensboro

Greensboro

Art Alliance Greensboro offers workshops and youth classes in pottery and fine arts during the weekdays geared for the homeschooled student. Class size is limited. Preregistration is required. Scholarships may be available. For further information please call 336-373-2725 or email artalliancegso@gmail.com.
Guitar Lessons with Andy Lemaire

Greensboro

Andy Lemaire teaches guitar lessons in Greensboro, NC with an approach that is fun, practical, focused and relaxed. All ages and skill levels are welcome.
The Mindfull Mentor (Homeschool math and enrichment classes)

Greensboro

At The Mindfull Mentor, I offer in person homeschool math classes, in person ukulele workshops, and other fun enrichment workshops and events for homeschool students to explore their interests, learn fun new skills, and meet other local students! I have math classes available for grades 3-8, and my ukulele workshops are available for students age 6 and up. Classes are currently located in South Greensboro. I also offer volunteer opportunities throughout the year as well to allow homeschool students to get involved in the community.

The Mindfull Mentor (Homeschool math and enrichment classes) details
Dance Education by design

Greensboro/Burlington

Dance education by design offers classes specifically for home school families that follow the NC Essential Standards for Arts Education, allowing the students an arts experience of similar scope to conventional schools, taught by qualified, experienced arts educators. in addition to dance technique, students will learn and experience: creation & performance, critical evaluation, and cultural, historical, and interdisciplinary connections. dance education by design's educators hold a NC Teaching License and have experience in both the public and private sector of education.
The Drawing Table

Harnett/Johnston/ Wake Counties

A non-competitive, step-by-step drawing method for children and adults where self-expression and creativity can flourish. Can hold classes at your homeschool coop location or classes can be held at the Fuquay Varina Art Center.
Lanti Music Studio

Indian Trail

The objective of Lanti Music is to offer the highest standard of music instruction while allowing creativity & imagination to lead the way. Uses a multi-sensory approach to teaching. Students learn successfully and have a blast doing it.
Robin Antoinette's Arts for All

Lake Norman

Offering reasonably priced private music lessons, art classes, and drama classes. Arts for All is a local non-profit that uses all proceeds to serve local students and teachers with quality continuing education and arts enrichment programs.
Fine Art & InterArts Classes with Wild Root Creations

Matthews/South Charlotte

InterArtist Jen Haefeli, owner of Wild Root Creations, teaches private and group art classes weekly. Each class covers a studio art, musical performance, performance art, historical discussion, social action component, design or writing assignment. Material and tool use is covered in every class. A list of supplies can be supplied.

Fine Art & InterArts Classes with Wild Root Creations details
No Limits Dance Company

Monroe

No Limits Dance Company is a dance studio catering to ages 2 and up! Offering Ballet, Tap, Tumbling, Lyrical and Hip Hop Classes! Come dance with us!
In His Steps

Mooresville

Dance classes for girls 6th-12th grade. Performing arts ministry for girls.
Cara Bailey Studios

Mooresville

Art studio owned by local artist with art education certification and experience! Group classes available as well as private courses for enrichment or home school students. Flexible availability!
Music Fun

Mooresville, Lake Norman

Music history, music appreciation, and private music lessons for guitar and piano. Music Fun is available for classes and individuals. Instructors hold degrees from Berklee College of Music and Peter Tchaikovsky Music Academy (Kiev, Ukraine). Jazz and Classical background with an appreciation of contemporary styles.
Spindrift Studio (Art lessons)

Morehead City /Carteret County

Spindrift Studio is owned and operated by a homeschool mom that recognized the need for more art in homeschool curriculum. Offering one on one lessons during the week as well as art camps in the summer months.
HD Melodies

North Charlotte

Are you looking for some music classes or music lessons to supplement your school classes? This resource offers both in-person or virtual lessons or music classes to meet your needs. Summer music and art camps are available also. For more information, visit HDMelodies.com
ARTHOUSE

Raleigh

ARTHOUSE, is an art studio for children focusing on teaching artistic creativity through the combination of sensory stimulation (sound through music, sense of touch, smell, taste and sight). Mediums include watercolor, paint, pastels, pencil and recycled found objects. Lessons are taught in private small classes by the Director, Kalesia Kuenzel, providing the ability for individual attention to each students interest and skill level, while allowing experimentation with color, shape, texture and composition.
Raleigh Piano

Raleigh

In-home piano lessons for those in the North Raleigh area. Now accepting new students!
Kid Lab Raleigh

Raleigh

Kid Lab is a play space and art studio in downtown Raleigh, NC. Kid Lab offers unique indoor and outdoor stations suited for creative play and maximum learning. Classes are intentionally small and emphasis is always on following the child's lead. Homeschool instruction and private lessons are also available upon request.
Erin Bartow's Scottish Highland Dancers

Raleigh

Scottish Highland Dance Classes available all ages. A wholesome and traditional dance form. Instructors travel and teach classes at different Co-Ops around the Triangle as well as teach in Studio. Classes available: Scottish Highland, Ballet, Tap, Jazz, Barre and Kinder Dance.
Falls River Music

Raleigh

Offering private and group Music Lessons for Guitar, Drums, Piano, Voice, Violin, Woodwinds and Brass, and more. Most lessons are conducted at the Music Lesson Studio in N Raleigh, but special Group Sessions for you or your group or co-op can be at your location. Teaching a variety of musical styles, including Rock, Pop, Blues and Jazz, Classical, and Christian Worship music, to fit your needs and tastes.
Robertson Music Studio

Raleigh

Private instrumental lessons all ages! Piano, bassoon, flute, clarinet, saxophone and beginning brass. 30, 45 and hour lessons available!
Raleigh Boychoir, Inc.

Raleigh

The Raleigh Boychoir was founded in 1968 and has become a cornerstone of the Triangle arts scene. The mission of the RBC is to train school-aged boys in the art of choral singing and keep them singing throughout their teen years. Ensembles are available for boys in grades 1-12. An excellent music education gives rise to national and international touring opportunities and world-class performing opportunities. Low-key auditions are held multiple times a year and the RBC also hosts a summer day camp for boys in grades 1-5. For more information go to www.raleighboychoir.org.
Flute Lessons with Marissa Rose Stygles

Raleigh

Marissa Rose Stygles is a classical flutist who performs and teaches in the beautiful City of Oaks: Raleigh, North Carolina. She is an experienced flute teacher with a Masters degree from the Cleveland Institute of Music.
Flour Power North Hills

Raleigh

Flour Power North Hills is a local cooking studio that caters to a wide range of ages, from preschool children to adults. In addition to parties, classes and special events, Flour Power works closely with many educational groups with Outreach Programs and Field trips. All programs and field trips are interactive, hands on fun with focus on developing life long skills including math, science, reading and chemistry! The Lil' Chefs program builds confidence by working independently as well as cooperatively in a group. Children create and cook recipes that they love to eat and learn useful skills that they will be proud of!
Body & Brain Yoga Kids Classes

Raleigh

Can provide "power brain" yoga group classes for children ages 5-14 with or without moms/dads. These classes help children develop physically with yoga and tai chi training within an environment which places high value on character development and social-emotional wellness. The students will benefit by increasing their physical power and mental power, as well as, emotional regulation. Each class is designed to strengthen the body, balance brain function and awaken latent brain potential. The classes are fun, engaging and help foster a sense of cooperation between the students. Classes can be held at our facility in Raleigh or at your location depending on distance.
Carolina Youth Dance Academy

Raleigh

Partner dancing teaches wonderful social interaction, grace and confidence - all things that help our youth succeed in today's world.  Our mission is to offer professional dance training in several genres of dance to the young as a way to unite people across racial, ethnic, and social barriers. Our hope is to increase awareness, respect, friendship, and community-wide social change.
Anders Music

Raleigh

Anders Music offers 30 minute private lessons in voice, piano, and ukulele. Kaitlin Anders has her degree in music education from Texas State and specializes in teaching young students the love of music.
Keys to Success

Raleigh

Private Piano Lessons with Deborah Martin. Ms. Martin has over 25 years experience teaching Christian school, public school, and homeschool students. She also teaches several adult students. Students have won local, state and national competitions.
Creator's Christian Academy Band

Raleigh

The Creator's Christian Academy Band program provides a path for homeschool or traditionally-educated students (ages 9 and up) with limited access to music education to learn, perform, and express creativity through the incredible gift of music. The priority is to help students realize the personal, cognitive, and spiritual benefits that music offers. Students will learn basic musicianship, receive opportunities to perform with other talented musicians, and have the option to audition for honors band clinics. Whether your student is just getting started or has years of experience, they will find an encouraging, Christ-centered environment, and welcoming community through Creator's Christian Academy Band.
Homeschool DANCE Class with Lauren Johnson

Raleigh

Always wanted to take a dance class but never did.......now's your chance. This class is for those who have little to no dance experience. We will work on stretching, simple Jazz, Lyrical, and Hip Hop moves. Have fun learning combinations that will blend together. You will also learn how to create your own 8 counts and teach them to your peers. Let's get lost in the music together!
Modern Edge Music School - Guitar Classes

Raleigh

Our Guitar Program is designed to help beginner level kids and teens learn to play guitar as fast as possible. We've created a comprehensive program that provides students with everything they need to become great guitarists. Our program uses the proven G4 Guitar Method, which has over 30 years of research and testing behind it, making it one of the most effective guitar teaching methods available. Students complete their books faster than traditional guitar programs because more material is covered in each lesson. Home practice is easier because students learn their exercise drills and songs during the lesson. Improved sight reading is emphasized in the program, which sets students up for success in all areas of music. Our program is perfect for students who want to learn to play guitar quickly and effectively.
Egg in Nest Art Studio

Raleigh

Egg in Nest is a unique Art Studio offering Art Classes for children in the Southwest Raleigh, Cary and Apex area. Children of all ages gather in small groups to make art and enhance creativity. Each student works independently on art projects of their choice! There are no "canned" art lessons here. Instead the projects are chosen by the artists and reflect each student's interests and personality (age 5-adult). We offer after-school, home-school and track-out art class times and evening hours for teens and adults. Painting, drawing and portfolio prep classes are held weekly during the school year. Painting lessons include watercolor, oils and acrylic. Drawing lessons explores graphite, charcoal, pastel and mixed media materials.
Bach to Rock Homeschool Class

Raleigh Triangle Area

Offering a homeschool music experience! Students will meet every Monday from 1-2:00 pm. It's a twelve week curriculum: the first four weeks piano, four weeks learning guitar, three weeks learning drums, and the final week students will pick their favorite instrument and learn a song together as a band! The cost for each student is $28/class. Siblings are 50% off. Fees are due at the time of enrollment.
Meredith Mitchell Music School; Suzuki Violin and Piano Lessons

Raleigh, North Carolina

Certified Suzuki Instructor, Meredith Mitchell, has built a robust private music studio practice with 30 violin and piano students over the last 5 years. In addition to piano and violin technique in the Suzuki method, Meredith Mitchell emphasizes the fundamentals of music theory, self-motivated learning, and the importance of having a growth mindset. One-on-one instruction is provided to music students ranging in age from 3 to 18, as well as group classes. After school slots are currently full but will be taking new students between the hours of 10:00 and 2:00 starting in 2018. Refer to the website: www.MeredithMitchell.com for further information.

Meredith Mitchell Music School; Suzuki Violin and Piano Lessons details
Trinity Music of Sanford

Sanford / Lee County

Providing instrumental music lessons for beginners to intermediate students with a focus on Violin/Fiddle, and Guitar. Also offering instruction in Trumpet, French Horn, Trombone, Tuba, Flute, Clarinet and Saxophone. Well Experienced Teacher with Master's in Music and Nationally Certified Music Instructor with a Musical Ear. Contact Michael Flagg (207) 249 8682 of mikailflagg@windstream.net for more information.
STARworks After School Program

Star

STARworks after school programs are designed for motivated high school students who want to pursue artistic opportunities that are not readily available in typical high school settings. Instructors have education backgrounds and years of experience in their mediums. These programs are intended for ages 14-18. No experience necessary. Space is very limited. Early registration is encouraged. A limited number of scholarships are available.
Media Arts Education & Career Day + Fair

Tryon

The TRIFF23 Media Arts Education & Career Day is available to Western NC and Upstate SC middle and high school age students, including students attending public, charter, private and homeschools. The Media Arts Day will be held at the Tryon Fine Arts Center at 34 Melrose Avenues, Tryon, NC on Friday, October 6, 2023 between 9 AM – 2 PM. Students will begin their day being guided through an Education & Career Fair by a volunteer College film student, stopping at each booth to allow our educators and potential film industry employers a chance to share how they can assist students and emerging artists learn about everything from costume design to being on a film set. Keynote Speaker, Linda Burns of the Atlanta PA Academy, Atlanta Film Society, and the Atlanta Film Festival will provide attendees with information on how to become a Production Assistant, the first stop in a career in the film industry. Attendees will also take part in mini-filmmaking classes and workshops. At 1:30 PM, the TRIFF23 "Awe" Project film competition will show short films created by area High School and College students on the big screen at the Tryon Fine Arts Center. Awards will be given out on Friday afternoon after the film screenings by keynote speaker, Linda Burns. Thanks to the support of the Carolina Foothills Foundation and Town & Country Realty of the Carolinas TRIFF23 will be providing free registration for up to 60 Polk and Rutherford County youth to participate in the Media Arts Education & Career Fair. To learn about this grant and/or for help with booking large groups, please contact Ashley Crane at TRIFFEducation@gmail.com. Career Day is available to the public! $5/Person or $45/ Student: Media Arts Day Pass + Hot Dog Lunch + T-Shirt + Tryon International Film Festival Weekend Pass
Tryon International Film Festival - Education Institute

Tryon

TRIFF23 Education Institute hosts two days of workshops, panels, discussion groups and more for both aspiring and working artists and for those interested in learning more the industry. With filmmakers joining us from near and far to bring their expertise, these sessions are accessible to all ages and levels of expertise and/or interest. A Festival Pass and Pre-registration are required. A limited number of free passes are availble for Polk and Rutherford County, NC residents. Email Ashley Crane @ triffeducation@gmail.com to request more information. Tickets range from $5 - $45 for students.

Tryon International Film Festival - Education Institute details
Saxophone and Piano Lessons by Dr. Nicolas Lira

Wake County

As a music teacher, Dr. Nicolas Lira seeks to help his students discover their own love of music. Students build an appreciation for the breadth of musical styles that grace the world, past and present, through playing, listening, and discussion. His goal is that they appreciate the positive effects music can have on their lives as a performer, listener, and an audience member. He offers 30, 45, and 60 minute lessons in saxophone, clarinet, and piano. Lessons consist of exercises to develop tone and technique, as well as learning repertoire and developing musicality. Other skills and topics include improvisation, listening, and music theory. He teaches classical, popular, and jazz styles. Dr. Lira taught homeschool students in Kansas, before moving to North Carolina in 2018.
Destiny Dance Institute

Wake Forest

Dance classes for all ages! Come experience the difference.
The Artful Mind

Wake Forest

The Artful Mind is a unique fine art education program for children.
Capital Christian Homeschool Bands

Wake Forest/Youngsville/Franklinton

Capital Christian Homeschool Bands offers a comprehensive wind band program in a Christ-centered environment for homeschooled students ages 9 to 18 (grades 4-12) in the Wake Forest/Youngsville, NC area. There is a Beginning Band where no experience is necessary, a Concert Band for students with some experience, and a Wind Ensemble and Jazz Band for our most advanced students.
Oksana McCarthy Private cello instructor

Waxhaw

Lessons are tailored individually for students of all ages accommodating beginners to advanced students. University music majors, who are looking for additional coaching or a Master Class setting to augment their current private sessions, are also welcome. Lessons are provided at my home studio, located in Waxhaw, approximately 10 minutes from the Blakney shopping. Lessons are offered in classes of 30, 45 or 60 minutes.
Affordable Community Flute Lessons

Willow Spring

Flute lessons for all ages. Students will learn to play the flute read music and read rhythms. Flexible times.
Little Rockers Ages 3-6

Wilmington

Weekly music appreciation class designed specifically for parents and pre-schoolers ages 3-6. Call Carol at 302-656-ROCK (7625) for more information.
Grace Note Music Studio

Wilmington

Piano lessons offered in private studio for students of all ages. Music theory, composition, technique, ear training are taught in a fun way and personalized to help the student develop their own unique style. Daytime openings are available to work with your homeschool schedule.
Kristen Bruce Music - Harp Lessons

Winston-Salem

Are you looking for a unique music experience for your child? The harp is one of the oldest, most beautiful instruments in existence. Harp teacher Kristen's pedagogical approach focuses on musicality and technique, valuing each student's individual learning style and goals. Guidance on renting or purchasing a harp will be provided. Lessons are designed to foster confidence, thinking skills, collaboration, creativity, and fun!
North Carolina Homeschool Sports Programs
Apex Martial Arts Center

Apex

Apex Martial Arts Center is a family-friendly martial arts center in Apex, North Carolina offering world-class instruction in Kickboxing, Muay Thai, Brazilian Jiu-Jitsu and Grappling. Whether you are new to martial arts, a seasoned practitioner, or a competitor – Apex Martial Arts Center has a place for you! We offer classes for ages 6 & up - all skills levels welcome.
Budo Mountain Family Martial Arts

Asheville

Every aspect of our program – from the martial arts, yoga and Ninja Flips classes, to the Nature Discovery days and art projects – works together to progress kids through the Budo Mountain leadership and safety curriculum. Each week, these various parts of the program coordinate to weave the same lesson into their unique classes. After School is open for K-5th Grade. Available to Homeschoolers at 10% OFF. We offer an award winning Martial Arts program as well as super fun Yoga and "Ninja Flips" Parkour Classes! At the dojo, we work through a Leadership Curriculum supplemented by Art and Story Times that match the Leadership Ideals. We meet twice weekly at some of Asheville's awesome parks in town, like the Botanical Gardens and the Bird Sanctuary at Beaver Lake. Every Nature Discovery lesson also weaves in the Leadership Lesson of the week that we teach in our circle time and martial arts classes.
Equine Studies/ Breeding Internship

Bahama

Hidden Hill Farm working student program for homeschoolers is going into its 7th year. The program was originally started in 2001, and later converted to a homeschool program. This program provides hands on experience with a real equine breeding program including assisting with mare monitoring / foal watch, foaling, neonatal care and beyond.
King Tiger Tae Kwon Do - Belmont

Belmont

FUN and engaging, youth martial arts classes teach focus and respect in an environment that is designed to build confidence. These classes are both structured and motivating and leaves your child feeling balanced and exhilarated. The physical curriculum develops gross motor and bilateral coordination, strength, and endurance. Students are encourage to participate and become young leaders by leading specific activities.
Appalachian Ski Mountain

Blowing Rock

French-Swiss Ski College at Appalachian Ski Mountain has Homeschool days at specific dates throughout the winter. Homeschool families can get an 8 hour slope pass, equipment rental and a 1 hour group lesson for $21 (skiing) or $29 (snowboarding). There is a restaurant on-site (or you can bring lunch) and an ice rink. French-Swiss has taught over 1 million people to ski and snowboard. It's the place to learn!
NC Lions Sports Organizations

Burlington

Highly Competitive Home school Sports that compete against other home schools, charter schools, private schools, faith based institutions, and some public schools. This level of sports is just as competitive or more competitive as public schools so your children will not miss a beat in terms of feel. Currently offering Football and basketball for 6th- 10th grades.
The Kid's Gym

Chapel Hill, Durham, Pittsboro, Apex, Cary

The Kid's Gym is a gymnastics facility that offers classes to children who are 6 months - 12 years of age. The gym has state of the art equipment that can be modified to accommodate all of the classes. Classes offered include: parent/child, preschool, and school-aged gymnastics classes. In addition the gym offers ninja/strength training classes, tumble and tramp classes, birthday parties, camps, open gym time, and parent survival nights! Mission: The Kid's gym of Chapel Hill is a positive and supportive space for children to develop physically, socially, and intellectually. The goal is to encourage children to challenge themselves and gain confidence by learning from their mistakes then having the courage to try again.
Sports Connection

Charlotte

Sports Connection offers a variety of entertainment and sports activities. For Home School families, we have a physical education program. The PE class meets once every week for 2 hours. Age range in the class is 6-16 years old. Our knowledge staff and coaches are able to keep the class fun and engaging for all ages. The typical season/semester is 10-14 weeks. Sports Connection also offers children's and youth soccer and volleyball.
Performance-360 Cross Country & Track

Charlotte

Performance-360 offers cross country and track to homeschool students in south Charlotte, NC. Coach Conrad Sherland has 25+ years experience in running and athletic training and coaches all levels, from beginners through advanced athletes. The Performance-360 cross country team competes in the fall and track competes in winter, spring, and summer. Meets against local schools and clubs are located in Mecklenburg and Union County with opportunity to compete nationally at the Jr Olympics and AAU National Championships.
South Charlotte Thunder Athletic Organization

Charlotte

A competitive basketball organization for homeschool students in the Charlotte, NC area. Levels include MS, JV, and Varsity for boys and girls. The mission of the South Charlotte Thunder Athletic Organization is to promote and provide healthy and competitive athletic programs for home educators in the Charlotte area. Our aim is to be God-centered, believing that Jesus is Savior and Lord. All activities will focus on the growth and development of student athletes in a Christian and encouraging manner.
Self Defense, Brazilian Jiu Jitsu, Muay Thai, MMA

Charlotte

Build self confidence, Self-Discipline and Self awareness by training martial arts in a high quality gym. Variety of sports/skills to learn from Brazilian Jiu Jitsu, Kickboxing, Wrestling, Muay Thai, and Mixed Martial Arts. All with a focus on what is most important Self-Defense
South Charlotte Thunder

Charlotte and surrounding area

The South Charlotte Thunder is an organization for homeschool students so they can participate in school sports. The Thunder currently has basketball teams for boys and girls that are in middle school and high school. Players can live in North Carolina or northern South Carolina.
Carolina Bearcats Varsity Football

Charlotte and surrounding area

The Carolina Bearcats is a tackle football team in Charlotte, NC, offering varsity tackle football for ages 14-18. They compete in the North Carolina Independent Athletic Association and focus on teaching principles of excellence, teamwork, and discipline. The team is open to all students, including those from homeschool, private, and public schools.
North Charlotte Lions

Charlotte Denver Huntersville

Free basketball open run for home schooler's in the NW Charlotte and NE Charlotte, Huntersville, Cornelius as well as Belmont, Mt Holly and Denver NC area. Looking to participate in High School and Middle school boys winter basketball season.
Kinematic Martial Arts Homeschool Classes

Cornelius

A perfect physical education credit for kids 5 to 13 years old! Our homeschool Brazilian Jiu Jitsu program focuses on beginner self-defense techniques helping students develop gross motor skills. Additionally, this program will break down advanced principles, concepts, and techniques and incorporate the sportive aspect of Jiu-Jitsu and Wrestling helping students develop fine motor skills by focusing on components like: • Balance & weight transfer • Muscle strength & endurance • Awareness & coordination • Breathing If a young child is unable to do these everyday tasks, it can affect their self-confidence, ability to develop self-care and independence skills, and also their academic performance. By encouraging your child to participate in martial arts activities, you are providing them with an opportunity to practice using their muscles which is particularly important for children who sit down often. The good news is gross and fine motor skills can be developed in lots of different and fun ways! Kinematic Martial Arts facilitates motor skills development by providing lots of encouragement and ensures the activities are the right challenge level and not too tricky!
Research Triangle Fencing

Durham

Get in touch with your inner Jedi, musketeer, ninja, or pirate, by trying fencing - the modern Olympic swordplay sport! Our homeschool programs emphasize problem-solving and sportsmanship while introducing kids to the techniques and tactics of the sport.
Bull City Brazilian Jiu Jitsu

Durham

Our kids and families class is a fun, safe environment for introducing kids to jiu-jitsu. Kids get the exercise they need while they learn skills to build their self-confidence, stand up to bullies, and develop situational awareness. Parents who want to train can do so alongside their kids! Kids who want to do so will have the chance to train for and compete in tournaments.
Middle and High School Athleticsat Bethesda Christian Academy

Durham

Bethesda Christian Academy in Durham is a small academy with a growing sports program. We have the following openings: Fall: MS Boys' Soccer MS Girls' Volleyball MS Coed Cross-Country HS Varsity Boys' Soccer Winter: MS Boys' Basketball MS Girls' Basketball MS/HS Cheer HS Varsity Soccer Spring: MS Girls' Soccer Bethesda is offering high school athletics for the first time and needs more participants to grow their program. This is a community of athletes who view sports as an opportunity for ministry. Student-athletes will need to submit some documentation, purchase some equipment, and pay a one-time $125 fee per season. Uniforms will be provided. Please reach out to the Athletic Director if interested: Zoe Kincheloe - Zoe.Kincheloe@bcacrusaders.org

Middle and High School Athleticsat Bethesda Christian Academy details
The Master's Academy

Forest City

The Master's Academy is a private Christian middle and high school based in Forest City, NC. The Master's Academy (TMA) welcomes homeschooled students to participate as part of the TMA Lions sports teams, which in recent years have included boys soccer, basketball and baseball, and girls volleyball and basketball, at both the varsity and junior varsity levels. TMA participates in the Western Piedmont Athletic Conference.
Forsyth Home Educators (FHE)

Forsyth

Forsyth Home Educators (FHE) is a Christian support group located in the heart of North Carolina representing more than 400 families that educate their children in the home.
Sword Circle-LLC

Garner, Wake county

Sword Circle-LLC, an educational program teaching the art and history of Medieval Combat, is owned by Alex Foster, a home school graduate of 2008. Archery, Sword fighting, Self-defense, Arts & Crafts, Horse back riding and more! Offering field trips, educational programs, co-op classes, demonstrations and much more!
GC Heat-Guilford County Home Educators Athletic Teams

Guilford County and surrounding area

The GC-HEAT association has been organized to provide homeschooled students in Guilford County with competitive athletic opportunities comparable to publicly and privately educated students. GC Heat values the development of character qualities and leadership skills within a team environment that will intentionally attempt to honor and glorify Christ. Participation is open to families of all races and religious backgrounds, but the GC-HEAT Association (and all teams and activities) will be governed by policies that will be based on traditional biblical values and principles. Therefore, it will be understood that all Members and participating families will agree to abide by and submit to these guidelines if they choose to be involved in the GC-HEAT program.

GC Heat-Guilford County Home Educators Athletic Teams details
Homeschool Open Swim at YWCA High Point

High Point

The YWCA High Point offers open swim for homeschool students. Homeschool students ages 5-13 may swim every Wednesday from 1:00-3:00. Students will be given a swim test the first time they attend. Students may use YWCA swim belts as needed. No swimming instruction is included. The cost is $15 per month. No membership is required. Please call or come in to register.
Homeschool Organized PE at YWCA High Point

High Point

The YWCA High Point is offering a 12-week, organized PE program for homeschool students ages 5-10. Our homeschool PE is the BOKS (REEBOK) program. BOKS is designed to keep participants moving continuously with moderate to vigorous intensity for at least 20 minutes. The activities focus on developing endurance, strength, and flexibility. Classes are on Thursday from 1:00-2:00. Please call or come in to register. Fall Session Sep 07 - Nov 30, 2023 (omitting Nov 23) Registration begins July 3. Spring Session March 7-May 23 Registration begins Nov 2.
Sonshine Gymnastics

Holly Springs

We are a Christian-owned, family-oriented gymnastics facility committed to providing a positive and safe environment for every child that comes to Sonshine Gymnastics. We are devoted through the medium of gymnastics to helping parents teach their children the positive life skills of discipline, fitness and self-confidence. We are located in Holly Springs, NC and we think our Daytime class schedules would be perfect for students who utilize the state's many non-traditional school schedules. We are currently offering Monday and Tuesday afternoons at 1:00pm and 2:00pm. Sign up for a free trial on our website or by giving us a call at (919) 557-9990
Martial Arts for all with Legacy Martial Arts & Fitness

Huntersville & Charlotte

Legacy Martial Arts is a martial arts school that assists student with their attention, focus and self confidence. We have the ability to assist all students (ages 4+) as well as students with identified disabilities. We are the exclusive Lotus Self Defense Center for the Greater Charlotte Metropolitan Area. Offering classes in (Lotus Style) Karate, Men/Women's Self Defense, Kick boxing and Personal Training. Visit us at https://legacycharlotte.com/ on Facebook at: www.facebook.com/legacycharlotte on Instagram: @legacyclt

Martial Arts for all with Legacy Martial Arts & Fitness details
Global Sports School Homeschool Gym Classes

Indian Trail

We offer PE classes for homeschool students in grades K-12. Our PE Classes are not your stereotypical "gym class"! Our classes give students the opportunity to participate in various recreational activities including a mix of camp-style games, sports, fitness, team building challenges, fun athletic competitions, and AWESOMENESS. Our classes are designed to allow students to be active, be engaged, experience healthy competition, and build relationships. These classes are a great option for anyone who simply wants to play and have A LOT of Fun!!! Our PE Classes meet throughout the school year, on various days, in various locations. Each class lasts 60-90 minutes. Go to www.gss.community for the schedule and info.
316 Sports

Indian Trail

316 Sports desires to spread the love of Christ through a variety of recreational sports opportunities. Our goal is to equip players physically, emotionally, intellectually and spiritually on and off the field. We offer flag football, tackle football, soccer, basketball, sand volleyball, run club, softball, cheer and baseball for ages 4 - 14.
FHE Boys High School Soccer Team

Piedmont

The FHE boys high school soccer team is a competitive team that plays against private, charter, and other homeschool programs in NC. Boys from all over the Piedmont come together to work hard and work together to accomplish a common goal. The season takes place from August to November but there are off-season opportunities as well. Contact coach BT at bt@kingscrossgso.com for more information.
Body & Brain Yoga Kids Classes

Raleigh

Can provide "power brain" yoga group classes for children ages 5-14 with or without moms/dads. These classes help children develop physically with yoga and tai chi training within an environment which places high value on character development and social-emotional wellness. The students will benefit by increasing their physical power and mental power, as well as, emotional regulation. Each class is designed to strengthen the body, balance brain function and awaken latent brain potential. The classes are fun, engaging and help foster a sense of cooperation between the students. Classes can be held at our facility in Raleigh or at your location depending on distance.
Tennisbloc Tennis-Centric Multi-Sport Camps

Raleigh

Changing the dynamic of tennis with Raleigh's only tennis-centric, multi-sport camps. The junior camps combine tennis, pickleball, group activities, team-building activities and a ton of fun, for a fun-filled week like never before! With locations across the RDU, our camps make tennis a more positive and meaningful experience. Camps are lead by passionate and experienced instructors that bring the perfect balance of fun and development to the camp. These week-long camps make the perfect track out or summer camp that students will love.
Horseback Riding Lessons

Raleigh

Horseback riding lessons offered to all age groups all year around. NO experience necessary. Flexible scheduling and affordable rates. Fun, family-oriented environment.
South Wake Crusaders

Raleigh

South Wake Crusaders Football. A team in the HFL. The HFL serves as an amazing opportunity for young men to grow their passion and skill set on the football field while being exposed to excellent examples of leadership in their coaches and mentors. The men that serve as coaches in the HFL are followers of Christ and they're dedicated to making sure that players prevail both on and off the football field. Since 2002, the HFL (previously known as the Homeschool Football League) has been providing young men in central North Carolina with the opportunity to experience competitive football in an accountable, Christ-centered, mentoring environment. Effective from the 2016 season forward, the HFL changed its eligibility requirements to allow players from any school program to participate. The program offers families and players an excellent ministry opportunity. Players who are actively enrolled students ages 8-18 years on August 1st are eligible to participate in the HFL. The HFL's South Wake Crusaders are more than just a tackle football team....we're a brotherhood! The young men learn solid football skills and the value of dedication, hard work, and sacrifice; values that will serve them well for the rest of their life. During every practice, we hold devotions designed to develop them into Godly men of character and conviction to impact their world for Christ. Founded in 2002, we assist parents in preparing their young men to face the challenges of life with confidence and conviction from a biblical worldview through the medium of football, we have graduated over 300 athletes, many are currently making a lasting impact in their families and communities around the state. If you are wanting to learn the skills needed to make an impact for Christ and enhance your athletic abilities, our football program will be an experience you will never forget!
Triangle Swim School - Cary

Raleigh

All of Triangle Swim School's classes are taught to the highest standard. Special pricing is available for daytime classes, perfect for the homeschool student. TSS classes are either private (1 student per class) or semi-private (2 students per class) to ensure all of our students can learn to swim correctly the first time. Triangle Swim School's 25% off Discount Daytime Classes.
MSR JV and Varsity Sports

Raleigh/Durham/Chapel Hill

The Montessori School of Raleigh looking to invite home school students to play on our 8th, 9th, 10th, and 11th grade sports teams for the 2018-2019 school year. Offering the following sports: co-ed cross country, girls' volleyball, boys' and girls' soccer, boys' and girls' basketball, co-ed swimming, co-ed golf, baseball, girls' and boys' tennis. Please contact Danielle Johnson-Webb at 919-848-1545 if you are interested.
Marlins Of Raleigh

Raleigh/North Raleigh

After having so much fun at summer swim league why stop there! A new resource has popped up for homeschoolers at Marlins Of Raleigh swim club! They are providing a fall swim league for homeschoolers that is fun and will help them master their strokes! This will be held at both North Raleigh and Raleigh swim sites! If wanting more information please email morcoachnaomi@gmail.com!
Triangle Swim School - Raleigh

Raliegh

All of Triangle Swim School's classes are taught to the highest standard. Special pricing is available for daytime classes, perfect for the homeschool student. TSS classes are either private (1 student per class) or semi-private (2 students per class) to ensure all of our students can learn to swim correctly the first time. Triangle Swim School's 25% off Discount Daytime Classes.
Next Level Wrestling Club Homeschool Wrestling

Valdese

Next Level Wrestling Club offer youth classes in the evenings! Coach Josh Webster will help kids learn the basics of wrestling and how to be successful in the sport. Wrestling is great for fitness, self defense, and it's as mentally challenging as chess. Wear athletic clothing, socks (if you don't have wrestling shoes), and bring a water bottle. Come wrestle with us! Contact Coach Josh Webster at 910-899-6482 or nextlevelwrestling2@gmail.com
Red Zone Razors Wrestling Club

Wake Forest

Wrestling club providing instruction and competition opportunities in Folkstyle, Freestyle, and Greco Roman styles of wrestling. ​Youths in grades K - 12th welcomed. Wrestling benefits children as it can help teach discipline, self-confidence and inner strength to overcome obstacles. Build lasting bonds with teammates and competitors alike.
Reed's Home School Karate & Activities

Waxhaw, Marvin, Weddington

Reed's Academy has over 8,000 Sq ft of Indoor & Outdoor space to allow Home Schoolers to feel like they have their own school. Reed's Home School Karate has individual classrooms for age separations, Activity Center, Art & Game Room, Indoor & Outdoor play area, Karate & Sports. Reed's Academy Home School program was created to offer extra curricular activities and social interactions.
Zen DO USA Tai chi Meditation Self-defense Qigong

Weaverville

Zen Do USA dedicated to improving the quality of life through the balancing of mind and body ( Tai chi, Self-defense, Meditation, Kenpo, and Qigong). The approach is light-hearted, humorous, and educational. With 40 years of experience and exceptional devotion to the Asian Arts including self-defense, meditation, Tai chi, Qi Gong, and Martial Arts.
Piedmont International University Cheerleading

Winston-Salem

Interested in continuing your education while still being able to cheer? Now's your chance! Piedmont International University will be hosting tryouts on March 30th, 10 am-12 pm. Conducted by current Wake Forest Cheer Coaches. General Requirements: Female Student-Athletes only / Minimum 2.0 GPA required / Tumbling and Stunting Skills required / Dress in appropriate attire (t-shirt, spandex/short, cheer & running shoes) If interested, please contact: Alexia Infante, infantea@piedmontu.edu
Catha's Taekwondo

Winston-Salem

Learn Taekwondo for Gym classes. On going classes available during the afternoon for Home school students only. Classes will be held Monday, Wednesday, Friday. Ages 6-11 12:00pm Ages 12-18 1:00pm We offer family and group prices