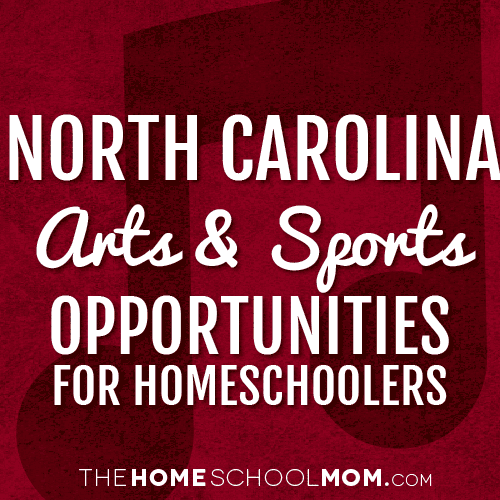 In addition to the opportunity to get out of the house and socialize, homeschool sports and arts programs can offer long-term benefits by developing characteristics like leadership, self-confidence, perserverance, and self-esteem. Many organizations and businesses have opportunities specifically for homeschoolers, while others invite homeschoolers to participate in their regular programs.
Not sure how to choose activity/activities for your children? Read how Rebecca narrows down the choice of extra-curricular activities.
Below is a list of homeschool sports and arts programs in North Carolina listed alphabetically by city, with arts resources in the first section and sports resources below. If you would like to submit a North Carolina arts or sports resource, you may do so using the red button above.
Use the secondary navigation menu above to quickly make your way to pages for North Carolina state organizations, local homeschool groups, classes, co-ops, field trips, and more.
Homeschool Arts Opportunities in North Carolina
Private Voice and Piano Lessons, Group Voice lessons with Holli MartinAdvance, Clemmons, Mocksville, Statesville, Salisbury, Winston Salem
This resource is for a weekly private lesson in Voice, Piano, Guitar, or Ukulele. Group classes for voice students are also available either weekly or bi-weekly as well. Holli Martin is a certified...
After-school Art RoomAngier
Art classes for youth ages 5-12 at the Angier Parks & Recreation building. Art classes provide students with the opportunity to explore and learn through paint, mixed-medium, oil pastel, watercolor...
Spanish and French classesApex
Spanish and French classes taught by an experienced professionals. Offering private, semi-private (2-3), small group (4-5), and medium group (6-7) classes. Class Levels: true beginner (no prior exp...
Beginning Knitting and Sewing ClassesApex
Beginning knitting for ages 8+ and sewing classes for ages 12+, as well as more advanced classes. Check the website for more information.
Bach to Rock Apex Music School Group Classes and CampsApex
Now offering home school music classes! Curriculum includes music history, theory, and of course instruction on instruments. Classes are grouped by age. This 10 week group class is being offered Tu...
Join the RnRHS Youth Orchestra! This program caters to string and woodwind players ages 10 and up. This class is taught and conducted by NCCU masters composition and double bass performance student...
Rock BandApex
Experience a Rock Band group class (best for ages 7+). NO experience necessary. We teach you everything you need to know! The group is broken off by preferred instrument, you rehearse your parts, t...
Glee ClubApex
oin us for a Karake experience (best for ages 6+)! During the field trip, students will work with a vocal instructor on learning a song, as well as receiving proper singing and breathing techniques...
DJ Field TripApex
DJ Field Trip (best for ages 10+) is a two-hour jam/recording session where the student becomes a DJ Superstar. Students pair up to create their own mashups using industry standard DJ gear and remi...
Drama Kids in Apex NC is a drama program for kids of all ability levels. It services students ages 5 to 17. Drama Kids highly trained teachers motivate and inspire the students to become articulat...
Art by Mommy Art ClassesApex, Cary, Raleigh, Wake County
Art by Mommy TM is a resource that provides supplemental instruction for students in Fine Arts subjects. The instructor is a mother with her degree in Fine Arts, hence the name and is interested in...
Odyssey Ceramic Arts Kids ClassesAsheville
Odyssey Center for the Ceramic Arts offers classes for kids.
Richmond's StudioAsheville
Fine art classes
Odyssey Center for Ceramic ArtsAsheville
Adventures in Clay, Kinder Klay, Captain Gabe's Clay Creations and Characters in Clay
Fun Piano Lessons!Asheville
One-on-one piano lessons
Asheville Community TheatreAsheville
Student Matinee performances of upcoming shows in the Fall of 2010.
Music Academy AshevilleAsheville
Homeschool families love the Asheville Music School for its diversity of offerings, fantastic instruction and ease of scheduling. Private lessons are taught on all instruments and voice. 35 Instr...
Asheville Music SchoolAsheville
Strengthening WNC communities through music education and outreach. Asheville Music School, located on Pack Square in downtown Asheville, is open 7 days a week and lessons can be scheduled any time...
H.I.S. Homeschool BandAsheville
H.I.S. Homeschool Band began in February 2013 and offers 3 levels of concert band: Beginner, Intermediate, and Advanced. Homeschooled students ages 8 and up learn how to play woodwind, brass, or ...
Voice Lessons with Claire L. Duffle (Boone)Boone, Watauga County
Voice lessons for ages 4 & up! Voice coaching for auditions and events. Healthy vocal technique to find your unique voice and help you reach your highest potential in a safe and fun environment!
Kinderdance ClassesCarolina Beach, NC
Kinderdance is a developmental ballet, tap and acrobatics program that incorporates pre-academic skills in each lesson plan. Children learn numbers, colors, shapes, letters and vocabulary while lea...
Live Spanish Classes OnlineCary
Live Spanish classes online, for beginners and intermediate students.
Private Piano, Theory or Composition Lessons at Charles Wolf StudioCary
Charles Wolf Studio is a professional, private music studio that provides high quality, technical instruction on the piano in a fun and safe learning environment with an expert instructor. This stu...
The smART Room Studio is a home art studio specifically for homeschooled students, ages 5 - 18 yrs. Classes are taught by a professional artist with a NC teacher's license for Art K-12th. Each clas...
ART of StemCary
Weekly Art of S.T.E.M. Classes = Focus on a large array of art projects chosen to specifically expose and interest children in science, technology, engineering, and math.*New camps are featured...
Chapel Hill School of Musical Arts Acting ProgramChapel Hill
The Acting Program (TAP) at Chapel Hill School of Musical Arts is a year-round actor training program for students of all ages. Students in TAP attend weekly technique classes where they develop es...
Balanced Music StudiosChapel Hill/Durham/Pittsboro
Looking for private voice or piano lessons for your homeschooled student? Balanced Music Studios offers professional one-on-one instruction in-home or in-studio for every level and age! Whether y...
Home school ceramics classesCharlotte
Students merge energy, creativity, imagination with studio equipment to produce FUNctional Seasonal, clay projects! Beginners learn! Advanced students encouraged to explore! Kids 6 years and up inv...
music4life – Music Classes & KindermusikCharlotte
Music4life presents an innovative approach to music education for all ages by integrating the most up-to-date research concerning music and human development to provide a well-planned, age appropri...
Charlotte Academy of Music Music ClassesCharlotte
Welcome to Charlotte Academy of Music, a privately owned music school providing music instruction for students of all ages in a fun and professional environment.We are proud to be a licensed Mus...
Rock UniversityCharlotte
Music Lessons- Performance Band LessonsIndividual Lessons Guitar Bass Drums Vocals Keyboards Performance based music lessons. Existing Band Improvement with Professional Artist. Band Rehearsal S...
Portfolio PrepCharlotte
Expert portfolio instruction for homeschool students who dream of attending Art, Fashion, or Design School. Lore Emelio Design Studio is the perfect place to get started. Providing step-by-step ins...
Clarkson Music StudiosCharlotte
Private Lessons in Drum Set, Piano, Voice and Songwriting as well as homeschool classes.
Dedicated Homeschool Ceramics ClassesCharlotte
The Matthews Community Center has collaborated with Arts Delivered to offer home school groups ceramics classes. Classes will be ongoing.
Arts Delivered Homeschool ClassesCharlotte
Offering ceramics and mixed media classes at McDowell Art center in Matthews. Classes are held Wednesdays in January.
Bold MusicCharlotte
Bold Music offers private, in-home music lessons for a variety of disciplines: everything from guitar to piano, voice, drums, music production, and more. Learn more at