Field trips are a great way to reboot a bad homeschooling week, get out of the house when everyone has cabin fever, and learn about your local area. Before heading out, check out Jeanne's tips for improving homeschool field trips.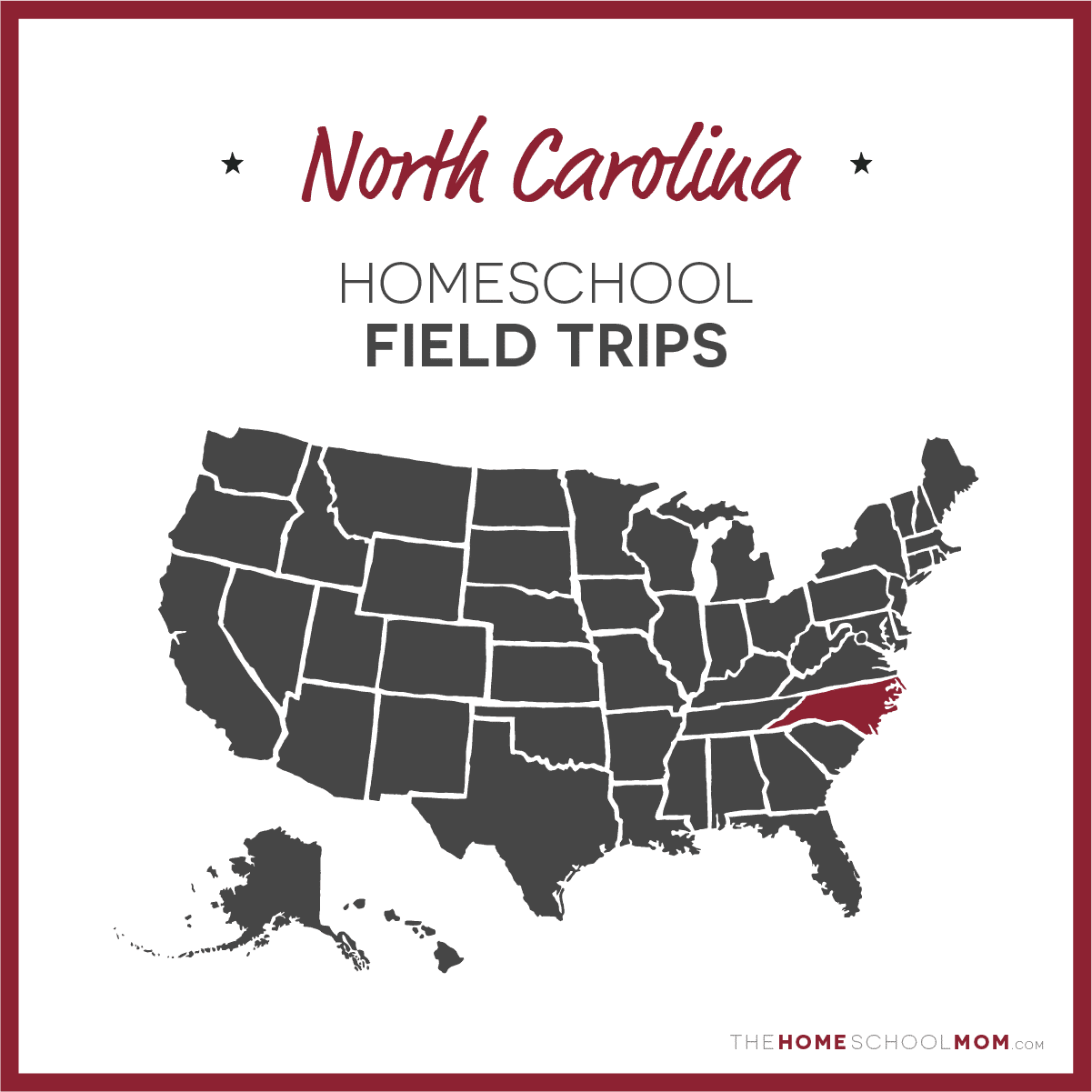 Submit a Field Trip Destination
Our listing of North Carolina field trips for homeschoolers is ordered alphabetically by city. If you would like to submit a North Carolina field trip destination, you may do so using the red button above.
An asterisk * after the title indicates that a virtual field trip is also available.
The Overmountain Victory National Historic Trail

It recognizes the Revolutionary War Overmountain Men, Patriots from what is now East Tennessee who crossed the Great Smoky Mountains and then fought in the Battle of Kings Mountain in South Carolina. The website offers historical information about the park for those who cannot visit in person.
Virginia Dare and the Lost Colony: Fact and legend

From NC pedia
Morrow Mountain State Park

Albemarle

Enjoy the gifts of nature surrounded by the remnants of a once mighty range of peaks. Recreation is plentiful in and around the waters of Lake Tillery and the Yadkin / Pee Dee River. Fishing and boating are popular pastimes. Nature lovers can pick from miles of trails to travel on foot or horseback. And for those who want to stay and take it all in, cabins and camping are available. There's really only one word to describe Morrow Mountain State Park: variety.
Jordan Lake State Recreation Area

Apex

Imagine relaxing in a cove, listening to the sounds of water rippling. Then, you feel a firm tug on your fishing line. It's going to be a big one! Picture the surface of the lake glistening, water spraying your face, the boat motor ahead roaring. Suddenly, your skis give way -- a splash landing! Hear the laughter of children, smell burgers roasting over a charcoal fire, feel a breeze blowing through the campground.
Appalachian National Scenic Trail

Appalachian Mountains

The People's Path and America's First National Scenic Trail. The Appalachian Trail (A.T.) is more than 2,175-mile long footpath stretching through 14 eastern states from Maine to Georgia. Conceived in 1921 and first completed in 1937, it traverses the wild, scenic, wooded, pastoral, and culturally significant lands of the Appalachian Mountains.
Asheville Art Museum

Asheville

The Asheville Art Museum annually presents an exciting, inviting and active schedule of exhibitions and public programs based on its permanent collection of 20th and 21st century American art. Any visit will also include experiences with works of significance to Western North Carolina's cultural heritage including Studio Craft, Black Mountain College and Cherokee artists. Special exhibitions feature renowned regional and national artists and explore issues of enduring interest. The Museum also offers a wide array of innovative, inspiring and entertaining educational programs for people of all ages.
Blue Ridge Parkway

Asheville

The Blue Ridge Parkway was designed as a recreational motor road, connecting Great Smoky Mountains and Shenandoah National Parks. It is also a cross-section of Appalachian mountain history. It encompasses some of the oldest settlements of both pre-historic and early European settlement.
City of Asheville Water Treatment Plants

Asheville

Put on your hiking boots, pack a picnic lunch, and spend a great day at the beautiful source of Asheville's water, the North Fork or the Mills River Water Treatment Plants. We give a tour of the treatment plant, describe the water treatment process, water distribution, and the causes and treatment of water pollution. There is so much to learn that your students may want to participate in the tour multiple times.
Fort Macon State Park

Atlantic Beach

Fort Macon offers public access to the surf, sun and sand of the Crystal Coast--as well as a historic landmark. Located at the eastern end of Bogue Banks, one of a series of barrier islands along the North Carolina coast, the park is surrounded on three sides by water--the Atlantic Ocean, Beaufort Inlet and Bogue Sound. This area of undisturbed natural beauty is the perfect place to explore salt marches and estuaries vital to the coastal ecosystem
Island Express Ferry Service

Beaufort

Island Express Ferry Service is the ONLY ferry service out of Beaufort and Harkers Island, NC that is authorized by the National Park Service to drop passengers off at Shackleford Banks and Cape Lookout. Shackleford Banks, famous for the wild banker horses that roam its shores, is a pristine island with one of the best shelling beaches in North Carolina. Enjoy the beauty and tranquility of Cape Lookout, famous for the Cape Lookout Lighthouse Station. While you are there, take time to bird watch, swim in the ocean, climb the lighthouse, or ride our famous Beach Shuttle.
Crystal Coast Lady Cruises

Beaufort

The M/V Crystal Coast Lady is a 100' All Aluminum Motor Yacht that is USCG Certified and inspected for up to 265 Passengers! The Lady has full ABC permits, a galley on each deck, and 4 restrooms on board. Tours run 7 days a week and include: 1/2 Day Family Fishing, Shackleford Banks Wild Pony and Dolphin Scenic Tours, Historic Beaufort Waterfront Cruises, Brunch, Lunch and Sunset Dinner Buffets, Wednesday Wine Tasting Cruises, and Dolphin Watches! The Lady also specializes in unique wedding packages, special events and private charters.
Blowing Rock Art & History Museum

Blowing Rock

BRAHM provides cultural enrichment to the High Country communities by promoting the Arts and Southern Appalachian heritage & history through educational programs, exhibitions, activities, and permanent collections. Our rotating exhibitions change three times a year, so there's always something new to discover. You can come to visit your favorite artworks and artifacts from the permanent collection. Free admission, open Tuesdays - Saturdays 11:00 am - 4:00 pm.
High Gravity Adventures

Blowing Rock

High Gravity Adventures is an exhilarating field trip combining outdoor adventure and hands-on learning in Blowing Rock, North Carolina. Ages 7+ can experience the High Altitude Zip Line Tour, our 4-story Blue Ridge Adventure Park, and the screaming three-person Giant Swing. Young adventurers ages 4+ can explore our kid-friendly Foothills Zip Line Park for age-appropriate adventure. Build confidence and promote problem-solving, healthy risk-taking, and personal achievement with an unforgettable and enriching day of active learning at High Gravity Adventures. Group discounts for 10 or more.
Battle of the Broad River

Boiling Springs

Come join us on the banks of the Broad River. Cavalry, Artillery and Infantry units welcome. Hosted by the Broad River Greenway and the 2nd North Carolina Mounted Infantry, we welcome all reenactors and their families to come. Check website for details of event held in April.
Transylvania Heritage Museum

Brevard

The Transylvania Heritage Museum shall explore, promote, preserve, and nurture the historical heritage of Transylvania County and its families through exhibits, educational programs, collections of artifacts, and heritage/cultural activities.
Animal Park at the Conservators Center

Burlington

Our trained tour guides will take your students on a one-hour guided tour, introducing them to over 20 species and connecting their characteristics and adaptations to your grade level-specific science concepts. Suitable for any grade level, tours are designed to meet North Carolina Standard Course of Study science goals and objectives. We'd love to work with you to design an experience to complement your classroom content! Wild Field Trips are for pre-k through 12 grade and require advanced noticed scheduling.
Tiger Safari Zoological Park

Burlington

Tiger Safari Zoological Park is located 30 minutes South of OKC. It is the only interactive zoo centrally located in Oklahoma. On a tour of our park, you'll walk the three-quarter-mile path with an experienced tour guide and gain an understanding of each species' ecological importance. You'll also get to know each animal's individual personality and story. We're all about reconnecting you to wildlife, so every tour is a conversation. Offering School and group field trips daily as well as overnight luxury African Safari Huts and Tree houses, Birthday parties, Zoo to you, Overlook deck for Parties, Tiger jeep encounter, and wedding venue and much much more.
Mount Mitchell State Park

Burnsville

In the crest of the timeworn Black Mountains lies the summit of Mount Mitchell, the highest point east of the Mississippi. For those who ascend this mighty peak, what looms in the horizon is a feast for the eyes--breathtaking views of the Blue Ridge Mountains, rolling ridges and fertile valleys. Forested and forever misty, 1,946-acre Mount Mitchell State Park will provide you with some of the most tranquil moments you'll ever experience.
Carolina Ocean Studies

Carolina Beach

Carolina Ocean Studies is located on the Cape Fear and Beaufort region and have been taking k-12 and homeschool students on field trips for over 28 years. Students are able go crabbing, fishing, explore the marshes, comb the beach for shells, and experience the wonder of the Carolina coast!
Carolina Beach State Park

Carolina Beach

With a marina providing access to some of North Carolina's best fishing spots, a secluded camping area beneath towering trees, and miles of hiking trails that traverse a variety of distinct habitats--not to mention the presence of the Venus flytrap, one of the world's most unique carnivorous plants--it's no wonder Carolina Beach State Park is a popular coastal attraction. Located in an area steeped in both history and natural diversity, the park includes a visitor's center with exhibits depicting the wonders of its environment. Visit Carolina Beach State Park to relax, enjoy nature or embark on an eye-opening adventure.
Acklund Art Museum

Chapel Hill

The Museum's collection consists of more than 15,000 works of art, featuring North Carolina's premier collections of Asian art and works of art on paper (drawings, prints, and photographs), plus significant collections of European masterworks, twentieth-century and contemporary art, African art, and North Carolina pottery. The Ackland organizes more than a dozen special exhibitions a year.
Levine Museum of the New South

Charlotte

An interactive museum housing the nation's most comprehensive interpretation of post-Civil War Southern history.
Mint Museum of Art

Charlotte

The Mint Museum Randolph initially served the region as the first branch of the United States Mint, coining $5 million in gold from 1836 to the outbreak of the Civil War. A grassroots community effort during the Depression saved the original Federal-style building designed by William Strickland from demolition and moved it to its present Randolph Road site. The museum formally opened to the public on October 22, 1936 as North Carolina's first art museum.
Billy Graham Library

Charlotte

Experience history and see your future in a new light at the Billy Graham Library in Charlotte, North Carolina. During a visit to the Library, you'll relive the remarkable ways God used an ordinary farm boy to change the world. Through state-of-the-art exhibits, audio and film displays, and personal memorabilia you will discover how God used Billy Graham to shape history through relationships with world leaders, his outreach efforts during times of war and peace, and his unfailing commitment to God's love.
Bounce U Matthews

Charlotte

Bounce U Matthews offers 100% Private Birthday Parties, Play Dates, Field Trips, Camps, and Open Bounce sessions for kids 12 years and under. Run, bounce, and play in two HUGE arenas filled with 18-foot-tall inflatable slides, obstacle courses, bounce houses, games, and dedicated toddler areas.
Darby Acres Farm & Safari

Charlotte

Darby Acres Farm & Safari offers the opportunity for children and adults of all ages to experience an educational tour of farm animals and life on a farm! Participants have the opportunity to feed and pet the animals as well as engage in some up close animal encounters. Basic biology and life cycles of certain species can be observed depending on what time of year your field trip is planned. Animals are a great way to practice/develop sensory skills, provide opportunity for discussion, learn fun facts, practice respect for all creatures, and much more!
Hubb's Farm

Clinton

Hubb's Farm is a working family owned and operated farm. Hubb's Farm tours and programs help grow an appreciation of where our food comes from and a knowledge of safe farming practices to all participants. Hubb's Educational Field Trips provide hands-on interactive agriculture exploration. On-site classes available concerning growing crops, how the maze is cut and designed and greenhouse hydroponic strawberries. Also, a hay ride to Animal Acres. Hubb's is open for field trips year round and includes a large picnic pavilion for picnics and large parking area for buses.
Charlotte Motor Speedway STEAM Program

Concord

The STEAM program at Charlotte Motor Speedway offers student groups a fun and educational experience like no other. Students will relate motorsports to core principles of Science, Technology, Engineering, Art and Mathematics. Force, motion, energy and engineering are some of the topics that come alive as kids navigate through hands-on stations. A ride on the NASCAR track is included in your visit! Grades 3-12 welcomed. Program runs M-F throughout the year.
Battle of Bost Grist Mill

Concord

Bost Grist Mill grinds corn into meal and grits with the same stones and techniques used during the 1800's as well as providing an opportunity for visitors to be a part of the mill's historic past.
iFLY Charlotte

Concord

Our vertical wind tunnel is a marvel of engineering and provides a one-of-a-kind laboratory for your students to get immersed in real world applications of STEM. Each iFLY STEM field trip provides an interactive presentation, live lab experiment, lab activity and flights for your participants! We offer programs with focus and objectives for Pre-K-College level physics and align with all state education standards. Minimum of 15 participants required. Please reach out for more details! Email: mmazzuca@iflyworld.com or Direct: 512.674.9208
Great Wolf Lodge

Concord-Charlotte

Great Wolf Lodge is North America's Largest Family of Indoor Waterpark resorts, and the ultimate destination for your next family getaway. Designed to capture the atmosphere of the Northwoods, our waterparks offer an amazing guest experience in a one-of-a-kind, rustically elegant setting. The perfect place for families to re-connect, and create lifelong memories. With one of our fully-themed resort suites as your family's base camp, you can set out on your Great Wolf adventure. You'll likely first discover our gigantic indoor waterpark, where it's always 84 degrees. And that's just the beginning. Besides our waterparks, don't miss our themed restaurants, interactive arcades, full service spas (and even a version for kids!), fitness centers, and so much more. And with more than 10 locations coast to coast, Great Wolf Lodge is the perfect, weatherproof, year-round destination for your busy family. So whether your family splashes the day away in the waterpark, enjoys a delicious family meal in our restaurant, or enjoys our nightly Storytime together before calling it a night, we think you'll agree, there's no time, like a Great Wolf time. 10175 Weddington Road Exn Concord, NC 28027
South Mountains State Park

Connelly Springs

Nestled deep in the woods, South Mountains State Park is the perfect place to enjoy nature. Here you can see a majestic mountain range peeking out from the gently rolling landscape of the Piedmont. The park includes elevations up to 3,000 feet, a waterfall dropping 80 feet and more than 40 miles of trails. From equestrian camping to trout fishing, mountain biking to picnicking, a number of activities are available at South Mountains State Park.
Pettigrew State Park

Creswell

Pettigrew State Park is an ideal blend of nature, history and recreation. Explore Lake Phelps and examine dugout canoes as ancient as the pyramids. Or cast your line into crystal-clear waters where largemouth bass reign. Take a trip back in time at the grave of a great Confederate general. Or hug a tree as wide as an elephant. Paddle down one of North Carolina's last undeveloped rivers.
Moores Creek National Battlefield

Currie

The Battle: "King George and Broadswords! shouted loyalists as they charged across partially dismantled Moores Creek Bridge on February 27, 1776. Just beyond the bridge nearly a 1,000 North Carolina patriots waited quietly with cannons and muskets poised to fire. This dramatic victory ended British rule in the colony forever.
Hanging Rock State Park

Danbury

There's another North Carolina to be discovered - sheer cliffs and peaks of bare rock, quiet forests and cascading waterfalls, views of the Piedmont plateau that stretch for miles. Hike the trails of Hanging Rock State Park and let nature put life's hectic pace in perspective. Rent a vacation cabin and fall asleep to the lullabies of spring peepers and chorus frogs. Join an interpretive program and discover something new about nature's bounty. Nestled in the hills is a cool mountain lake that beckons to swimmers and fishermen. Picnic areas and campgrounds lend themselves to time spent with family and friends. Hanging Rock State Park awaits you.
Equine Epiphany Farm

Denton

This low-cost field trip is a fun, safe, interactive learning experience with horses, at Equine Epiphany Farm in Denton NC, where Maggie works as a Certified Equine Assisted Learning professional. Maggie recently moved to NC recently from California, and has a strong desire to meet and serve the community here. Curricula are customized per group, and can include such topics as; How Horses Do What They Do, Why Horses Do What They Do, What is That Horse Saying, and What Do We Need? Ages 6 and up.
Nasher Museum of Art at Duke University

Durham

The Nasher Museum of Art at Duke University fosters the understanding and appreciation of the visual arts by providing direct experiences with original works of art supported by a range of exhibitions, programs and publications for the university and the broader community.
Piedmont Wildlife Center

Durham

In this engaging, hands-on experience, students will meet a variety of live animals such as turtles, snakes, a dove, an opossum and more. Explore animal adaptations and learn key conservation messages. Children will have a look at fur, teeth, skulls, and other animal treasures. Touching of the animals will be based on the group size and behavior of the students, and will be at the discretion of the instructor.
Duke Homestead State Historic Site

Durham

Duke Homestead provides school programming where students can experience the daily lives of 19th century farmers. Through hands-on activities, a film, and interactive exhibits, school children will discover and learn about the social and economic history of our state. Duke Homestead offers a variety of programs for Pre-K to 5th grade students, including a tour of the Duke family home, making butter, and an annual Christmas Traditions program. (Duke Homestead requests a $1 donation per participating child.)
Eno River State Park

Durham

Minutes from Durham, Hillsborough, and Chapel Hill the Eno River State Park offers secluded wilderness trails with the serenity of a clear river drifting and cascading over a rocky stream bed. The Eno River is a swift, shallow stream flowing from northwest Orange County into Durham County for 33 miles where it joins the Flat River to become the Neuse and flows into Falls Lake. Its waters roll through wilderness, passing historic mill sites, river bluffs covered with flowering shrubs, and fords used by early settlers.
Museum of the Albemarle

Elizabeth City

Museum of the Albemarle interprets the cultural history of Thirteen northeastern North Carolina counties: Bertie, Camden, Chowan, Currituck, Dare, Gates, Hertford, Hyde, Northampton, Perquimans, Pasquotank, Tyrrell, and Washington. This area, known as the Albemarle Region, surrounds one of the world's largest freshwater sounds.
Jones Lake State Park

Elizabethtown

Venture to Jones Lake State Park and view one of the greatest geological mysteries of the eastern United States--the phenomenon of the Carolina bays. Adjacent to the Bladen Lakes State Forest and home of two natural lakes, Jones and Salters lakes, the 2,208-acre park is a nature lover's delight. Peaceful surroundings and a variety of facilities, including a trail with several outlooks that circles Jones Lake, make this state park a favorite for hiking, picnicking, swimming, fishing and camping.
Carl Sandburg Home National Historic Site

Flat Rock

Carl Sandburg's Legacy Touches Our Lives - Carl Sandburg spent a lifetime exploring what it meant to be an American and asked the eternal questions, "Who am I, where am I going and where have I been?" He did this through poetry, song, lectures, writing and lasting friendships with kindred spirits. Explore Sandburg's legacy and Experience Your America.
Rock Solid Warrior Gym

Fuquay-Varina

Rock Solid Warrior is a ninja/rock climbing/obstacle gym where kids can play on obstacles that are from American Ninja Warrior the TV show. It provides coaches as well to give tips and ensure the safety of kids. Regular open gyms are $15, but daytime specials at certain times are only $10. There is also the option to do half days which are from 8am-12pm or 12pm-4pm which are $33-38 depending on how many kids/days you are participating.
Merchants Millpond State Park

Gatesville

An "enchanted forest," primitive species of fish relatively unchanged over millions of years, towering bald cypress trees with massive trunks, luxuriant growths of Spanish moss--this is Merchants Millpond State Park. Here, coastal pond and southern swamp forest mingle, creating one of North Carolina's rarest ecological communities. Together with upland forests, these environments create a haven for wildlife and humanity alike.
Great Smoky Mountains National Park

Gatlinburg

This is America's most visited national park. Famous for its diversity of plant and animal life, the beauty of its ancient mountains, and Southern Appalachian mountain culture.
Charlotte Hawkins Brown Museum

Gibsonville

Founded in 1902 by Dr. Charlotte Hawkins Brown, Palmer Memorial Institute transformed the lives of more than 2,000 African American students. Today, the campus provides the setting where visitors can explore this unique environment where boys and girls lived and learned during the greater part of the 20th century. The museum links Dr. Brown and Palmer Memorial Institute to the larger themes of African American history, women's history, social history, and education, emphasizing the contributions African Americans made in North Carolina. The museum provides Field Trips and Group Tours for all ages! Tours can be custom designed based on your needs. All tours include an orientation video, a campus tour, tour of Canary Cottage and tour of an exhibit. An add on can include a special program based on your theme. Examples are etiquette, women's history, African-American history, student life, music, and a STEAM related program. All programs are FREE.
International Civil Rights Musem

Greensboro

Showcases the nonviolent protest that occurred in Greensboro, NC, the sit in that sparked the civil rights movement. There are both audio and video elements.
Guilford Courthouse National Military Park

Greensboro

The Battle of Guilford Courthouse. Thursday, March 15, 1781. - The largest, most hotly-contested battle of the Revolutionary War's Southern Campaign was fought at the small North Carolina backcounty hamlet of Guilford Courthouse. The battle proved to be the highwater mark of British military operations in the Revolutionary War.
Wild Horses of Shackleford

Harkers Island

Shackleford Banks, off the coast of Atlantic Beach, NC, has a population of wild horses dating back to the 16th-17th century.
Cape Lookout National Seashore

Harkers Island

Ready for adventure? - Take a boat trip three miles off-shore to the islands of Cape Lookout National Seashore. Here you can enjoy remote beaches, watch wild horses and other wildlife, or visit one of the historic districts. Be sure to bring a picnic lunch for the day. Going camping takes a little more planning.
Core Sound Waterfowl Museum & Heritage Center

Harkers Island

Free admission. This museum teaches about the history, community, and lifestyle of those who were born and raised in the Outerbanks. Duck decoys handmade by local artisans and paintings/drawings by local artists are on display as well.
Kerr Lake State Recreation Area

Henderson

Set a course for Kerr Lake State Recreation Area to enjoy sailing, fishing, water skiing and camping.
Center for Art & Entertainment

Hendersonville

The Center for Art & Entertainment proudly serves as the artistic hub of historic downtown Hendersonville. Our intimate venue serves as the creative home in our community for theater, art, and musical performance. The Center's mission is as simple as it is essential - to bring people together in pursuit of original expression and celebration of the arts. ?
Historic Johnson Farm

Hendersonville

Historic Johnson Farm is an early 20th century farm and tourist retreat. Visitors learn about life over 100 years ago while touring the farm and visiting the animals. Group rate $5 for groups of 10 or more.
Millis Regional Health Education Center

High Point

The Millis Regional Health Education Center specializes in teaching kids all aspects of health in a fun, hands-on, interactive manner. Programs include dental health, nutrition and exercise, general human body systems, and many more. The Centers target audience is preschool through 5th grade. A visit would include an approximately 45 minute program and 45 minutes of exploring in wellness discover place, a hands on interactive play room. Cost is $5 per student. Groups of 10 or more are welcome.
Medoc Mountain State Park

Hollister

At Medoc Mountain, the urban refugee finds a welcome tranquility, a chance to embrace the outdoors. Trails beckon as light filters through branches overhead and falls on paths that hold the promise of new frontiers. The peacefulness gives the opportunity to refresh. The silence of the forest is broken only by bird songs and the occasional drumming of the pileated woodpecker. Grab your hiking boots. Load your camera. Spend some time at Medoc Mountain State Park and let nature renew your spirit.
Mount Jefferson State Natural Area

Jefferson

Mount Jefferson is best appreciated up close. On a clear day, you can see for miles from its peak. A great part of Ashe County spreads out below; fields, farms, forests and mountains mingle in kaleidoscopic patterns. On the horizon, the Blue Ridge Mountains form a striking backdrop. Yet what looms in the distance is no more spectacular than what is right before your eyes, for the forests of Mount Jefferson are a botanical paradise. The interesting and unusual plant life of the park rendered it worthy of designation as a national natural landmark.
New River State Park

Jefferson

Rugged hillsides, pastoral meadows and farmlands surround what is believed to be one of the oldest rivers in North America -- the New River. Its waters are slow and placid. Its banks are fertile and covered with wildflowers. Dedicated as a National Scenic River in 1976, this gentle river is the centerpiece of New River State Park.
Singletary Lake State Park

Kelly

Bring your group to Singletary Lake State Park and enjoy group camping in a land of mysterious origins. A portion of the unique Carolina bay ecosystem found nowhere else in the world, The park offers ample opportunities for nature study and recreation.
Korner's Folly

Kernersville

This resource is a Victorian-era historic house museum dating to 1880. Originally designed as a catalog home for artist and designer Jule Korner, the resource offers both self-guided and guided tours for small groups. Scavenger hunts are available digitally or in hard copies, and can be paired with downloadable activities for field trip extension.
Crowders Mountain State Park

Kings Mountain

Raptors soar gracefully in the wind; vegetation reaches to the sky; sheer vertical cliffs drop 150 feet. Enjoy the spectacle from a front-row seat. High atop Crowders Mountain, the highest point in Gaston County, views stretch for more than 20 miles.
CSS Neuse Museum

Kinston

The CSS Neuse Museum, located in downtown Kinston, houses the remains of the CSS Neuse, an ironclad gunboat from the Civil War, and exhibits that tell the story of life in Kinston and eastern North Carolina during the war. Children of all ages are welcome to the Museum, and we have a children's center as well as a cognitive corner with books and activities. September through April, homeschool field trips are offered on the second Thursday of the month for $1.00 per person. All programs have a STEM component. The Museum is Certified Sensory Inclusive through KultureCity.
Fort Fisher State Recreation Area

Kure Beach

Enjoy a leisurely day at the ocean shore. Comb the beach for sea stars, keyhole urchins and whelk shells. Or, simply lie back on the sand and enjoy the aerial acrobatics of seagulls, terns and brown pelicans as they soar above the waves. You may want to venture into the mud flats and marshes to watch sandpipers and other shorebirds as they search for food. Learn about endangered species. Loggerhead sea turtles, piping plovers and other rare species nest along this sandy shore. Explore the North Carolina coast; visit Fort Fisher State Recreation Area. This stretch of pristine shoreline offers many enjoyable activities.
Lake Waccamaw State Park

Lake Waccamaw

At Lake Waccamaw, you can view one of the greatest geological mysteries of the eastern United States--the phenomenon of Carolina bays. Limestone bluffs along the north shore neutralize Lake Waccamaw's water, making the lake different from any other Carolina Bay. Nearby, you can catch a glimpse of a botanical wonder--the Green Swamp. From its sandy shorelines to its tree-lined natural areas, Lake Waccamaw offers peaceful surroundings, an intriguing natural history and fun in the sun.
Raven Rock State Park

Lillington

Should the humdrum of the work week leave you with the urge to travel and explore, head to Raven Rock State Park. Here, the forest reigns as each year the timeless cycle of growth further heals age-old wounds inflicted by man. Nature triumphs as plants compete in the stages of forest succession and the woodlands are restored. High above the Cape Fear River stands Raven Rock, its austere beauty a testament to the forces that have shaped the land. As the river below rushes to join the sea, nature's elements continue to shape the surface of this natural monument.
The Civil War on the Outer Banks

Manteo

The barrier islands of the North Carolina coast are a gateway to the rest of the state. The Civil War battles on the Outer Banks were pivotal for control of North Carolina. A Freedmen's Colony on Roanoke Island became a symbol of hope for slaves seeking a new life.
Cape Hatteras National Seashore

Manteo

On these narrow barrier islands, things never stay the same. - A haven for recreation and reflection, the islands of Cape Hatteras are constantly changed by tide, storm, current and wind. The plants, wildlife and people who live here adapt continually. You see in their daily lives and hear it in the telling of their stories. And there are many story places - sandy beaches, salt marshes, maritime woods - explore them all!
Fort Raleigh National Historic Site

Manteo

England's First Home in the New World - Fort Raleigh National Historic Site protects and preserves known portions of England's first New World settlements from 1584 to 1590. This site also preserves the cultural heritage of the Native Americans, European Americans and African Americans who have lived on Roanoke Island.
Wright Brothers National Memorial

Manteo

They Taught the World to Fly! - Wind, sand, and a dream of flight brought Wilbur and Orville Wright to Kitty Hawk, North Carolina where, after four years of experimentation, they achieved the first successful airplane flights in 1903. With courage and perseverance, these self-taught engineers relied on teamwork and application of the scientific process. What they achieved changed our world forever.
Roanoke Island Festival Park

Manteo

Experience a new adventure in an old-world at Roanoke Island Festival Park. This 25-acre historic site allows guests of all ages to experience first hand what life was like for the first English settlers in 1585. Historic costumed interpreters are featured through Indian Town, the Settlement Site and the Elizabeth II ship to show and tell how the first settlers lived, worked and played on Roanoke Island. For a hands-on history lesson, visit the Adventure Museum that features interactive exhibits that all ages will enjoy.
Morehead City Ferry Service

Morehead City

Morehead City Ferry Service offers the Largest Ferry to Sand Dollar Island. Our Sand Dollar Island trip schedule vary with low tide times. The new Miss Morehead City is a 49-passenger Catamaran. We also offer Sea Life Encounter Cruises and Sunset Evening Cruises. Reservations are required. BOOK ONLINE! Free parking!
Kidz at Play Family Cafe

Morehead City

Kidz at Play Family Cafe is an indoor playground with a custom nautical themed two level soft-play area that provides play for kidz up to 10 years old. There are plenty of creative areas for the kidz to exercise both body and mind from climbing obstacles, monkey rings to a spinning pole and several slides - there's fun for all! A separate corral with a step slide, rocker and soft-play turtle among other features provides safe play time for those learning to crawl and walk. Call or reach out online for group rates!
Patterson Farm Market and Tours

Mount Ulla

Patterson Farm Market and Tours, Inc. is committed to educating children and adults about their food source, the importance of agriculture, and specifically about the crops we grow at Patterson Farm, Inc. We accomplish this by providing educational opportunities which are designed to be educational, hands-on, fun, and informative. We are also passionate about creating pick-your-own experiences, seasonal activities, and events where families can create memories.
What Happened To Virginia Dare?

Nags Head

From About.com
Jockey's Ridge State Park

Nags Head

There are many reasons why millions of people visit Jockey's Ridge State Park. Some come to see the tallest sand dune on the Atlantic coast; others come for the spectacular sunsets.
Lake James State Park

Nebo

Nature offers scenic vistas of the Appalachian Mountains and beckons to those with an appetite for recreation. Bring family and friends to one of North Carolina's newest state parks for a variety of activities. Try swimming and sunbathing or enjoy a picnic along the lakeshore. Boat, water ski or fish in cool mountain waters, or take a walk and enjoy an abundance of wildflowers and wildlife along park trails. Lake James offers a variety of ways to enjoy the outdoors.
Museum of Coastal Carolina

Ocean Isle Beach

Our Mission is to stimulate interest and understanding of the natural science, environment, and cultural history of the Coastal Carolinas.
Lumber River State Park

Orrum

Lumber River State Park contains natural and scenic waters, 81 miles of which are also designated national wild and scenic waters. The park's recreation activities are currently centered at two access areas, Princess Ann and Chalk Banks. Princess Ann overlooks a unique reverse flow area named Griffin's Whirl. At the access, a bend in the river opens to a long, straight vista that beckons paddlers to take a ride. Chalk Banks, near the town of Wagram on the upper end of the river, has an interesting mixture of plants, fish, and animals from the sandhills and coastal plains regions.
President James K. Polk State Historic Site

Pineville

The Polk Site offers an extensive tour program for student groups. The most popular tour package includes a guided tour of the site's historic structures (Main Cabin & Kitchen House), as well as a scavenger hunt of the museum. Any group may elect to have optional activities in lieu of their standard tour packages. These activities include: a Polk Family Cemetery tour, a musket firing demonstration, and a 19th century education program.
Pilot Mountain State Park

Pinnacle

Approach from any direction and see Pilot Mountain rising more than 1,400 feet above the rolling countryside of the upper Piedmont plateau. Dedicated as a National Natural Landmark in 1976, this solitary peak is the centerpiece of Pilot Mountain State Park.
Gregg Museum of Art & Design

Raleigh

A collecting museum which focus reflects the mission of North Carolina State University and supports its academic programs by providing research opportunities for NCSU students and the citizens of North Carolina and beyond. The collection includes, but is not limited to, textiles, ceramics, outsider/folk art, photography, architectural drawings & modern furniture. The Gregg Museum of Art & Design also puts on 6-8 exhibitions per year in its two galleries.
United Skates STEM Field Trip

Raleigh

An educational field trip program at United Skates, that immerses students in STEM (Science, Technology, Engineering and Math) education. The program relates STEM concepts to roller skating, where students will learn that STEM is in everything they do, even in fun experiences like skating! The students participate in one hour of hands on STEM activities taught by our dynamic STEM educator. After the lesson, the students will participate in one to two hours of roller skating, which promotes great health benefits!
Walnut Creek Wetland Park

Raleigh

Walnut Creek Wetland Park offers field trips on topics such as Discovering Wetlands, Birding, and a new field trip geared towards 3rd graders that touches or meets completely 19 standards in math, science and social studies. Individuals are welcome to borrow boots, aquatic nets and binoculars at no charge for self-exploration. Small-group drop-ins are welcome to come and explore our nature center, meet our ambassador animals, borrow an explorer backpack or do a scavenger hunt. Phone 919-996-2760.
William B. Umstead State Park

Raleigh

Highways fade in the distance as trees, flowers, birds and streams form a more natural community. William B. Umstead is a place to escape the pressures of everyday life, a place to picnic in the pines, to wait for a fish to bite, to take a hike or horseback ride on trails through the woods.
Stone Mountain State Park

Roaring Gap

Designated as a National Natural Landmark in 1975, Stone Mountain is bounded on the north by the Blue Ridge Parkway and on the west by the Thurmond Chatham Game Lands. More than 14,100 acres of mountain beauty offer opportunities for outdoor activities of all kinds.
Sky-Vue Skateland

Rocky Mount

Let's combine STEM concepts and physical fitness at the roller skating rink. An introductory skating lesson is included-experience STEM with us. Our three hour field trip includes a one hour STEM lesson engaging students through hands-on activities. We offer 10 STEM-focused lesson plans to choose from. Our time concludes with two hours of roller skating, including skating games and activities.
The Bechtler House Museum, Bechtler Mint Site and Historic Park

Rutherfordton

The Bechtler House is located in Rutherfordton NC. Known as the home to America's first one-dollar gold coin. The Bechtler house was home to Christopher Bechtler who is credited with minting the first U.S. $1.00 gold coin. The home showcases period artifacts and exhibits that transport visitors back to the 1830's and tell the Bechtler story. Tours can be scheduled for any day, Monday thru Saturday. The tours consist of a Bechtler tour guide narrating the story at the museum and a trip to the Bechtler Mint site where students bring their lunch to enjoy in view of the Blue Ridge Mountains.

The Bechtler House Museum, Bechtler Mint Site and Historic Park website
Gorges State Park

Sapphire

Plunging waterfalls, rugged river gorges, sheer rock walls and one of the greatest concentrations of rare and unique species in the eastern United States are found within Gorges State Park. An elevation that rises 2,000 feet in only four miles, combined with rainfall in excess of 80 inches per year, creates a temperate rain forest and supports a collection of waterfalls.
Sylvan Heights Bird Park

Scotland Neck

Sylvan Heights Bird Park is designed to give visitors an unforgettable up-close experience with over 2,000 waterfowl, parrots, toucans, flamingos, and other exotic birds from around the world. Open to the public since October 2006, the 18-acre facility features spacious, walk- through aviaries displaying birds from South America, North America, Europe, Africa, Asia and Australia. The aviaries are surrounded by tranquil gardens and lush natural areas, which enhance the beauty of the birds on exhibit and immerse visitors in native North Carolina wildlife habitat.
Cliffs of the Neuse State Park

Seven Springs

At the turn of the century visitors flocked to the area. They drank mineral water from local springs to cure their ills and they took riverboat excursions to the cliffs. Things have changed since then, however, the cliffs remain virtually unaltered, standing as a journal of the geological and biological history of the land. See this spectacular formation, now protected within the boundaries of Cliffs of the Neuse State Park.
Camp Dogwood at Dogwood on Lake Norman

Sherrills Ford

Since 1967, Camp Dogwood for the Blind and Visually Impaired has been a beacon of service to citizens from all over North Carolina. This destination provides a wonderful and therapeutic vacation retreat for persons with blindness and visual impairment and others in the community. Many guests enjoy fishing from our dock and swimming on our beach. Other on-site attractions include miniature golf, horseshoes, corn-hole, nature trail, leadership challenge course, soccer, volleyball, bocce and more. Dogwood offers overnight accommodations of attractive, comfortable guestrooms feature two double beds
Dismal Swamp State Park

South Mills

Feel your daily stresses melt away as you cross the historic Dismal Swamp Canal and walk along the 300-foot boardwalk into this geological wonder. Experience first hand the lush swamp forest and get up-close and personal with the wide variety of wildlife. Discover the uniqueness of a million year old habitat at the Dismal Swamp State Park. Learn why George Washington called the Dismal Swamp "a glorious paradise", how the swamp was important in the Underground Railroad and the ecological importance of wetlands in the visitor's center and exhibit hall. All of this and more can be found just 3 miles south of the NC/VA border on US Hwy 17.
Trail of Tears National Historic Trail

Southeastern US

The park commemorates the survival of the Cherokee people and their forced removal from their homelands in the Southeastern United States in the 1840s.
Weymouth Woods-Sandhills Nature Preserve

Southern Pines

A nature preserve, Weymouth Woods is different from traditional parks. This limited-use area serves to preserve and portray the natural features unique to its region. Weymouth Woods is a place where you can look at the longleaf pine forest and see how human actions have affected the environment, where you can learn about rare and endangered species--the red-cockaded woodpecker, the pine barrens tree frog and the bog spicebush.
N.C. Transportation Museum

Spencer

Ride a train, step inside a steam locomotive, learn how the Wright Brothers controlled their Flyer, and see 150 years of North Carolina's transportation history. Visit the 1905 Back Shop where steam locomotives were overhauled, to see horse-drawn vehicles, trucks, planes, and boats. Walk through the largest remaining roundhouse in North America for railroad exhibits and the Wright Flyer replica. Take a spin on the 100-foot roundhouse turntable. See automotive exhibits that detail the evolution of vehicles in North Carolina. Then take a 25-minute train ride around our historic 60-acre site!
STARworks

Star

STARworks provides wonderful learning opportunities for children and adults. Glass and clay studios are public access. Stop in and watch artists at work.
Allison Woods Outdoor Learning Center

Statesville

Allison Woods Outdoor Learning Center focuses on igniting curiosity, understanding, and respect for nature through education at our Classroom in the Forest!
The Wild Horse Preserve at Grayce Wynds Farm Farm

Supply

We are a wild horse preserve and educational non-profit. Hosting groups for a learning experience is our foremost goal. We offer plenty of "hands on" experiences and customize individual programs based upon a group's ages, interests, and needs. Our activities promote learning in Science, Social Studies, Language arts, Reading, Health and Physical Education. We currently have 27 'ambassador' horses & ponies from the coastal herds of NC for your group to meet. Sue Immen, owner/founder, is a former certified teacher and counselor (BS in PhysEd, MAEd in Counseling). 910-515-3743 for appointment.
Hammocks Beach State Park

Swansboro

Venture to Bear Island and reward yourself with vivid memories of one of the most unspoiled beaches on the Atlantic coast. Accessible only by passenger ferry or private boat, there's just one thing at Hammocks Beach that's crowded--the list of things to do. Secluded and tranquil, free from intruding commercialism, Hammocks Beach may not be for everyone, but the island is a retreat for people who welcome the challenges of relentless sun, sand, sea and sky.
Lake Norman State Park

Troutman

At Lake Norman State Park, fun is just a matter of scale. On one hand, there's the largest manmade lake in the state, Lake Norman. On another hand, the park boasts its own 33-acre lake where fishing and boating are enjoyed. And with hiking trails, picnic areas, interpretive programs and campgrounds, there's more to Lake Norman State Park than merely water.
Falls Lake State Recreation Area

Wake Forest

Hours of relaxation await you at Falls Lake State Recreation Area. Just moments away from the hustle and bustle of the city, Falls Lake is a great way to escape urban life. Fishing, boating and swimming are only a few of the activities awaiting you on the water. On land, you can enjoy walking, mountain biking or camping along a portion of the state's Mountains-to-Sea Trail. From recreation to environmental education, no matter what you are looking for, you are sure to discover it at Falls Lake.
Goose Creek State Park

Washington

Giant, old oaks draped in Spanish moss welcome you to this special world where broad, lazy Goose Creek joins the Pamlico River. A primitive camping area, picnic sites, swim beach and hiking and paddling trails offer a variety of ways to savor the tranquil surroundings at Goose Creek State Park. Goose Creek is conveniently located between historic Bath and the original Washington. Visit Goose Creek State Park. Unwind and soak up the peacefulness; a hectic pace is not permitted.
Battle of Wilson's Store

Waxhaws

Come join the annual Battle of Wilson's Store Reenactment to be held on the grounds of the Museum of the Waxhaws in Waxhaw, NC. The original battle was held March 1, 1865 as Sherman marched from Columbia, SC through NC. Hosted by the Museum of the Waxhaws and the 35th Regiment, NCT. All reenactors and their families are welcome. Check website for details of event held in May.
Cameron Art Museum

Wilmington

The Cameron Art Museum provides a cultural gathering place which enriches the lives of museum visitors and our community through high quality exhibitions, dynamic public programs, unique events and educational opportunities in the visual and performing arts.
Cape Fear Museum of History and Science

Wilmington

Cape Fear Museum of History and Science is the oldest history museum in North Carolina. Since its founding in 1898, the Museum has grown and changed. It began collecting confederate relics, and now collects images and artifacts that help us understand the history, science and cultures of the region. Today, Cape Fear Museum collects, preserves, and interprets objects relating to the history, science and cultures of the Lower Cape Fear, and makes those objects and their interpretation available to the public through educational exhibits and programs.
Reynolda House Museum of American Art

Winston Salem

Historic house museum filled with masterpieces of American art and surrounded by formal gardens, shops and restaurants.
Old Salem Museums & Gardens

Winston-Salem

Old Salem Museums & Gardens, in Winston-Salem, NC, encompasses 100 acres of restored and reclaimed landscapes that include eighty buildings, nationally acclaimed gardens, and five retail stores, including Winkler Bakery. The Historic Town of Salem and The Museum of Early Southern Decorative Arts (MESDA) - along with award-winning heirloom gardens, invite today's visitors to experience the complete story of those who lived and worked in the early South.