Our listing of North Carolina jobs and volunteer opportunities for homeschoolers is ordered alphabetically by city. If you would like to submit a North Carolina co-op or academic resource, you may do so using the red button above.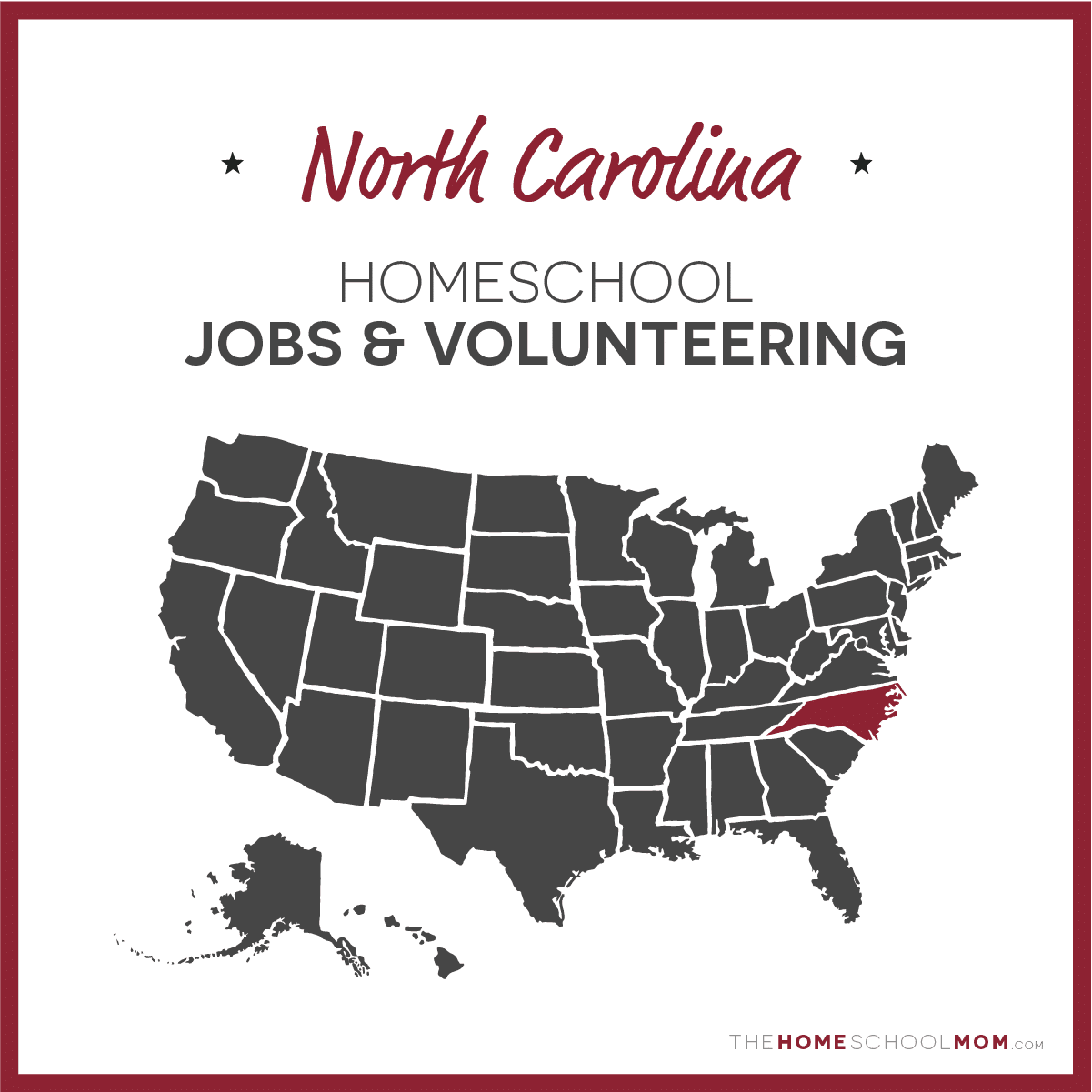 Submit a Local Resource
Bella Vista Gracious Retirement Living Full & Part-Time Servers Needed

Asheville

Bella Vista, the premier independent living retirement community for active seniors in Asheville, is now hiring part-time Servers (evening and weekend shifts). This is the perfect opportunity for students to gain work experience, as we provide letters of recommendation, and it's also a great entry into the workforce. This candidate will serve meals to residents following Hawthorn procedures in a courteous and friendly manner. This individual must have a friendly, professional, and energetic personality and have a passion for improving the lives of others. The successful candidate for this position will have the ability to present meals and meal alternatives to residents and guests. This individual will have a general knowledge of sanitation and safe food handling practices will meet state health-related and age-related requirements. This position requires the candidate to be able to communicate in a clear and concise manner with our residents. This individual will possess organizational skills as well as excellent customer service skills. In addition, it is imperative this candidate can work well under time constraints and be able to meet deadlines. Our residents deserve the best so we are seeking someone who understands hospitality, integrity and compassion. We offer competitive compensation and a great work environment so if you have a love for working with seniors, this may be the opportunity for which you have been looking. Please come by and complete an application, we would love to meet you! We do employment verification and reference checks. Carolina Estates is an Equal Opportunity Employer.

Bella Vista Gracious Retirement Living Full & Part-Time Servers Needed details
Equine Studies/ Breeding Internship

Bahama

Hidden Hill Farm working student program for homeschoolers is going into its 7th year. The program was originally started in 2001, and later converted to a homeschool program. This program provides hands on experience with a real equine breeding program including assisting with mare monitoring / foal watch, foaling, neonatal care and beyond.
Thrift 2 Gift Volunteering

Cary

Thrift 2 Gift is a branch of Seeds of Mustard Ministries and is a non-profit thrift store that is designed to give money away to children and families in need and to, most importantly, point people to Jesus Christ! Thrift 2 Gift is in need of volunteers to help sort and hang clothing. This is a great way to give back to the community!
Lifeguards needed

Cary

Lifeguards and swim instructors needed at Silverton pool. If you are a certified lifeguard and are looking for a job now or during the summer time then Silverton is the place for you. The center is open from 6:30am-9:00pm. Also If you are interested in lifeguarding but are not yet certified, Silverton also provides training for you to become a certified American Red Cross lifeguard.
Chick-fil-A of Crossroads Plaza-Cary

Cary

At Chick-fil-A, the team member role is more than just a job, it's an opportunity. In addition to working directly for an independent Operator, team members gain life experience that goes far beyond just serving a great product in a friendly environment. Chick-fil-A is a great opportunity for people of all ages and backgrounds, and no experience is necessary. We offer very flexible scheduling and are always closed on Sundays. We also offer college scholarships for those that qualify. To inquire please email us at: 00833@chick-fil-a.com
Chick-fil-A Parkside Town Commons, Cary/Durham, NC

Cary, NC & Durham, NC

Chick-fil-A Parkside Town Commons is looking for day-time team members to join our family! We are passionate about training and developing our team members, and love to hire high school students! We are looking for applicants who exhibit the following qualities: * Consistency and Reliability * Cheerful and Positive Attitude * Values Teamwork * Loves Serving and Helping Others Applicants must be able to: * Smile * Create and Maintain Eye Contact * Speak Enthusiastically * Make Emotional Connections with Guests Prior restaurant or work experience is not required.
Hiring Lifeguards for Mecklenburg County

Charlotte

Lifeguards and Swim Instructors wanted: Come work with Mecklenburg County as a lifeguard and/or swim instructor. Pay starts at $11.09. Contact us at 980-314-1159 or at lifeguardrecruiting@mecknc.gov Before registering for class you must pass the following swim test with any of our aquatic supervisors: -100 freestyle, 50 breast stroke, and 50 freestyle approach stroke(freestyle arms with head up looking forward( -Retrieve a 10 pound brick from the bottom of 13ft pool back to the surface. All classes are held at the Mecklenburg County Aquatic Center on 800 East MLK Blvd. Charlotte NC 28202 980-314-3483. Fees: $165 Lifeguard certification or FREE for lifeguards hired by Mecklenburg County. Register in person at any of the following locations to reserve your space: Mecklenburg County Aquatic Center 980-314-3483 Rays Splash Planet 980-314-4729 Marion Diehl Recreation Center 980-314-1300 or email lifeguardrecruiting@mecknc.gov
Chick-fil-A Cotswold

Charlotte

Our Restaurant Team Members are the face of our company and are the first step in providing quality service and hospitality to our guests. The Front of House Team Member's responsibility is to continually interface with guests to provide quick, friendly, and accurate service in the dining room, front counter or drive thru. Prior experience as customer service, cashier, associate, restaurant crew member, team member or other part time restaurant job experience is not required but is preferred. We offer competitive starting pay based on experience and availability, performance-based advancement, leadership skill development opportunities, college scholarships, flexible hours, free meals while working, and, of course, we are Always Closed on Sundays! We have a range of shifts available on this shift that range from: 6am-10:30am,11am-3pm, 4-8:30pm, 5-9:45pm and 6pm-10:30pm, as well as longer 8 hour shifts. Prior experience as a host, hostess, or restaurant crew member, team member is not required but is preferred.
Chick-fil-A Cotswold Team Member

Charlotte

Chick-fil-A Cotswold is hiring Team Members to serve at our restaurant! Team Members work in various positions, from taking orders to preparing food. We are looking for Team Members that want to serve others! We have day time and afternoon/evening positions available. Students can apply to work with us at zippyapp.com/biz/cfa-01231
Project Pray Internships Available

Charlotte

Project Pay is religious non-profit 501 (c)3 organization with a 30-year history. The organization serves around the world in offering training. Currently, the ministry is developing a robust on-line platform for content delivery and global training utilizing written materials, video/audio, and other mediums. Students desiring experience in the areas of interest below are invited to apply. Also, those considering a faith-based, church related, ministry career who want experience in a Christian context are welcome. Internships are available for Fall, Spring or Summer semesters as correlates with the applicants' school year. Interns are expected to be present in our offices located in northeast Charlotte. Our office hours are Monday-Thursday, 9am-4pm Areas of Interest •Administrative – Various administrative tasks including database entry, correspondence generation, donor relation support, event coordination, promotion, direct mail assistance, telemarketing. •Marketing and Public Relations – Develop a marketing plan to promote conference services, increase product sales, raise ministry awareness. Could include social media campaigns, advertising, connections with other ministries, obtain sponsorships. •Graphic Design and Publishing – Our publishing arm, Alive Publications, produces 3-5 books annually in-house. We also consider publishing assistance for Christian authors. Tasks include proofing, content assessment, design, layout, create press-ready files, etc. Other design projects include promotional materials for conferences and initiatives, digital graphics for emails and websites. •Audio and Video Production – We produce video and audio teachings, could include video recording, editing, producing training materials as companions to books and teaching guides. This could also include podcasts, producing content for WRPA, an internet-based radio station dedicated to prayer. We would love to work with your student. If you are interested in applying for this internship, please send an email with your student's information and interests to amy.crisp@projectpray.org or call the office at 704-938-9111, Monday - Thursday, 9 am to 4 pm.
AdventureEXP

Charlotte

We are a destination work program that offers paid jobs to offset the cost to travel to a cool, new location! We normally work with participants from the ages 18-25! We still have spots available for the Summer and we are looking towards our Fall/Winter locations! Our locations are all across the US and even abroad. I would love to reach out to all homeschoolers to share our program with them.
Seasonal Food Services Associate

Charlotte

Billy Graham Evangelistic Association is hiring seasonal associates gearing up for the Annual Christmas at the Library event. BGEA will be hiring teenagers and adults for roles in Food Services including our Dining Room services and the Graham Brother's Dairy Bar, as well as Guest Services, and Bookstore Associates. Come join the team to share the good news of Christ at Christmas. Hours available July through the first weeks into January 2024 with possibility of transitioning into a regular associate role as the season ends.
Providence Meadows Gracious Retirement Living

Charlotte/Providence

We have several server positions available for students 15 and up. The hours are short, so as not to interfere with studies, and safe, as they will not be working in public, but in a residential setting. Students will be serving meals to our residents, which also gives then the chance to meet and interact with seniors. The students get to learn from those with great life experience, and our residents love to get to know the young people who join our community
The Mindfull Mentor (Homeschool math and enrichment classes)

Greensboro

At The Mindfull Mentor, I offer in person homeschool math classes, in person ukulele workshops, and other fun enrichment workshops and events for homeschool students to explore their interests, learn fun new skills, and meet other local students! I have math classes available for grades 3-8, and my ukulele workshops are available for students age 6 and up. Classes are currently located in South Greensboro. I also offer volunteer opportunities throughout the year as well to allow homeschool students to get involved in the community.

The Mindfull Mentor (Homeschool math and enrichment classes) details
The American Cancer Society McConnell Raab Hope Lodge

Greenville

The American Cancer Society McConnell Raab Hope Lodge is a residential facility for out-of-town guests who are in active cancer treatment. We are looking for individuals and/or groups that would be interested in helping to support our guests through a variety of activities such as preparing a meal, supporting projects like making fleece blankets or conducting wish list drives. If your school would be interested in helping to support those going through cancer treatments please contact 252-695-6143.

The American Cancer Society McConnell Raab Hope Lodge details
Girl Scouts of the Colonial Coast

Hampton Roads and Northeast NC

Fun, friendship and new adventures are what Girl Scouts is all about. Making friends, testing her strengths, exploring new possibilities. It's all here for her. Whether teaming up with others or learning to shine on their own, Girl Scouts have the tools and community support they need to succeed. Homeschooling? You can "mix and match" Girl Scout badges with the curriculum you are using! The content of all Girl Scout national proficiency badges and journeys have been correlated by grade level to national Common Core Standards, 21st Century Skills Standards, Financial Literacy Education Standards, and curriculum and learning objectives for all 50 states and the District of Columbia. Girl Scouts have fun outside, too! Getting outdoors is a great way for girls to explore leadership, build skills, and develop a deep appreciation for nature. Girl Scouts of Colonial Coast operates several properties for troop camping and outdoor programming that includes summer day and resident camp options. Everything Girl Scouts do builds their curiosity, kindness, and can-do spirit. And as they earn badges, help their community, and deepen their friendships, they'll also have a blast along the way.
Camp Cale Summer Intern

Hertford

The summer staff at Camp Cale includes male and female college-aged interns (18-23 years old). Interns will be assigned to cabins to supervise campers, run programming, and ultimately help make summer camp a wonderful experience for our campers! This is a paid internship ($200 base pay per week) based on experience and certifications (certified Lifeguards receive more). Room and meals are also provided throughout the summer. If you are under 18, please visit the Alpha and Omega tab at the top of the page and apply there. The summer camp season is six weeks. One week of training and five weeks of camp. Interns are expected to work each week. A typical camp week begins at 2:00 pm Sunday afternoon with an intern briefing and ends after the campus is clean and cleared Friday afternoon. Interns may be scheduled on weekends to work programming for rental groups for additional pay. You will have Saturdays off. You can go home or stay on campus, but you will need to provide your own meals. Some Saturdays may offer work opportunities for which you will receive compensation for in addition to your regular camp compensation.
Lancaster's Barb B Que

Huntersville and Mooresville

Come join Lancaster's Barb B Que in Huntersville and Mooresville for a great environment to learn and grow. We have been serving the Lake Norman area since 1986. We are looking servers, bartenders, hosts and carryout positions. Come join our many long term Teammembers.
Patterson Farm Market & Tours, Inc

Mt Ulla

Patterson Farm Market & Tours, Inc is a family owned/operated farm looking for enthusiastic staffers motivated by serving and educating farm guests. The farm offers educational tours, seasonal pick-your-own fruit. The farm market offers seasonal farm fresh produce and goods and gifts, as well as an ice cream shop featuring homemade ice cream and treats.
Garden Volunteers

New Bern

Tryon Palace, North Carolina's first permanent capital, is looking for volunteer gardeners. The Palace grounds have over 16 acres of gardens that need to be planted, weeded and trimmed throughout the year. Volunteer duties may involve planting, weeding, clearing debris, cleaning pots, and raking. No prior experience or skills are required. You will be taught what you need to know! Volunteers are needed Monday – Friday from 8:30-11:30 or 1-4. If you are interested, please contact Margaret Schuetz, Student Volunteer Coordinator, at 252-639-3613 or Margaret.schuetz@ncdcr.gov.
Chick-fil-A Lake Boone Trail

Raleigh

At Chick-fil-A, the team member role is more than just a job, it's an opportunity. In addition to working directly for an independent Operator, team members gain life experience that goes far beyond just serving a great product in a friendly environment. Chick-fil-A is a great opportunity for people of all ages and backgrounds, and no experience is necessary. Please consider visiting your local Chick-fil-A restaurant if you'd like to learn more about the team member experience. 3770 Boone Lake Trail
The Cardinal at North Hills

Raleigh

A Senior Living Community located in North Hills. We are looking for responsible students (age 16+) to employ in our dining department as servers. We have a very nice formal dining venue as well as a bistro and cafe. Part time evening and weekend hours that end by 9:00 pm. Please apply via indeed or our website at www.kiscosl.com/cnh
Hampton Inn & Suites, Holly Springs

Raleigh

Join the team at the Hampton Inn & Suites located in Holly Springs, NC. The hotel is currently accepting applicants ages 17+ for multiple roles, including Front Desk and Housekeeping. This opportunity allows you to sharpen your customer service skills and also comes with excellent benefits such as the Hilton Team Member hotel stay program!
SAFE Haven for Cats

Raleigh

SAFE Haven for Cats is an all-feline shelter and clinic located in Raleigh, near Wake Forest. The organization adopts out over 1300 cats and kittens each year and has an adoption center that typically holds 30 to 40 cats. The adoption center requires daily cleaning from 9 am to 11 am; cleaning involves tidying up the cats' enclosures and spending time with the cats too.
West Bay Retrievers

Richfield, NC (Stanly County)

West Bay Retrievers in Stanly County is looking for a field assistant for retriever training. Ideal candidate enjoys being outdoors and being around dogs. This job is perfect for home schooled teens. Work days are Monday - Friday. See this link for a general understanding of this job. (This is not a link to our website but will give you an idea of what this position is.) https://lrcgb.org/wp-content/uploads/2019/03/bird_boy_notes_2013.pdf Text 704-578-2690 if you are interested and we can set up a time to talk further. Salary: $10.00 - $12.00 per hour