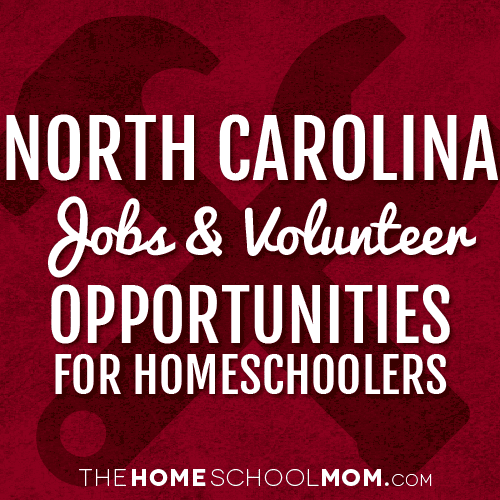 Our listing of North Carolina jobs and volunteer opportunities for homeschoolers is ordered alphabetically by city. If you would like to submit a North Carolina co-op or academic resource, you may do so using the red button above.
Use the secondary navigation menu above to quickly make your way to pages for North Carolina state organizations, local homeschool groups, classes, co-ops, field trips, and more.
North Carolina Homeschooling Jobs & Volunteer Opportunities
DeAnna's Steak Sundaes in the Carolina'sAtlanta, Charlotte, Columbia, Charleston
DeAnna's Steak Sundaes is a family run business that specializes in food concessions at county and state fairs and has been featured several times on the Food Network and the Cooking Channel....
Equine Studies/ Breeding InternshipBahama
Hidden Hill Farm working student program for homeschoolers is going into its 7th year. The program was originally started in 2001, and later converted to a homeschool program. This program provides...
Thrift 2 Gift VolunteeringCary
Thrift 2 Gift is a branch of Seeds of Mustard Ministries and is a non-profit thrift store that is designed to give money away to children and families in need and to, most importantly, point peop...
Lifeguards and swim instructors needed at Silverton pool. If you are a certified lifeguard and are looking for a job now or during the summer time then Silverton is the place for you. The center is...
Chick-fil-A Parkside Town Commons, Cary/Durham, NCCary, NC & Durham, NC
Chick-fil-A Parkside Town Commons is looking for day-time team members to join our family!We are passionate about training and developing our team members, and love to hire high school student...
Chick-fil-A CotswoldCharlotte
Chick-fil-A Cotswold offers employees flexible hours, leadership opportunities, and scholarships.
Hiring Lifeguards for Mecklenburg CountyCharlotte
Lifeguards and Swim Instructors wanted: Come work with Mecklenburg County as a lifeguard and/or swim instructor. Pay starts at $11.09. Contact us at 980-314-1159 or at lifeguardrecruiting@mecknc.g...
Chick-fil-A Roxboro Rd.Durham
Looking for friendly, enthusiastic people who enjoy serving customers. Chik-Fil-A will teach you everything else you need to know. People notice the Chick-fil-A difference, and are responding by ex...
Garden VolunteersNew Bern
Tryon Palace, North Carolina's first permanent capital, is looking for volunteer gardeners. The Palace grounds have over 16 acres of gardens that need to be planted, weeded and trimmed throughout t...
Chick-fil-A Lake Boone TrailRaleigh
At Chick-fil-A, the team member role is more than just a job, it's an opportunity. In addition to working directly for an independent Operator, team members gain life experience that goes far beyon...
Chick-fil-A Downtown Raleigh NOW HIRINGRaleigh
The Owner/Operator of the Chick-fil-A located in Downtown Raleigh wants to reach out and present an opportunity for homeschool youth to join the team with Chick-fil-A!The location is in downto...
Chick-fil-ARaleigh
Chick-fil-A's in the RDU area love having homeschoolers on their team!
Retail Construction Job OpportunitiesUnited States
Prime Retail Services, Inc. provides retail fixture installation and construction all over the United States and Canada. Owned and operated by families committed to homeschooling and the advancemen...