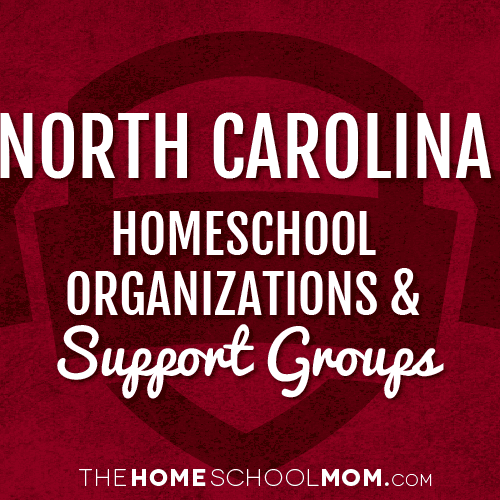 Since homeschooling is regulated at the state level, connecting with local homeschoolers is an important step to start homeschooling in North Carolina. State homeschool organizations and local homeschool groups are not just a good place to learn the specifics of legally homeschooling in North Carolina—they can also help you to get connected with the local homeschooling community. Many homeschool groups offer co-ops, classes, sports and arts opportunities, and social get-togethers.
Our listing of North Carolina state organizations and local homeschool groups is ordered alphabetically by city, with statewide organizations listed first. If you would like to submit a group, you may do so using the red button above.
Use the secondary navigation menu above to quickly make your way to pages for North Carolina state organizations, local homeschool groups, classes, co-ops, field trips, and more.
North Carolina Homeschool Organizations
North Carolinians for Home EducationNorth Carolina Statewide
NCHE is a private, volunteer organization active at the state level, serving North Carolina homeschoolers.
NC Homeschool-ologyNorth Carolina Statewide
Connecting North Carolina to local support groups, tutors, classes and co-ops and other resources they need to homeschool in NC. The website hosts online support forums for the North Carolina homes...
North Carolina Local Homeschool Groups
HOME – AshevilleAsheville
A forum for secular homeschooling families in and around Asheville, NC, loosely associated with the H.O.M.E. (Homeschooling Opens Minds Everyday) group.
NCHE Region 2 ConnectAvery, Buncombe, Henderson, Madison, McDowell, Mitchell, Rutherford, Polk, and Yancey counties
An inclusive, Christian-based, e-mail loop for ALL homeschoolers in the NCHE Region 2 area, which includes: Avery, Buncombe, Henderson, Madison, McDowell, Mitchell, Rutherford, Polk, and Yancey cou...
MD_DC_VA_EducatorsBaltimore-Washington Metropolitan area, Hampton Roads (Tidewater) Virginia, Delaware and Pennsylvania.
This groups exists to create an online forum to share resources, activities, ideas, and support among the homeschooling community to include the Baltimore-Washington Metropolitan area, Hampton Road...
Homeschool student run online newspaper for High Country Christian Homeschool Association
Cabarrus County HomeschoolersCabarrus County
A nondenominational Christian support group in North Carolina designed to provide information to families in the Cabarrus County area who are interested in homeschooling and to provide information ...
Carteret County, NC HomeschoolersCarteret County and surrounding areas
This is a group for people who homeschool in Carteret County, North Carolina or neighboring communities. Its main purpose is to allow homeschoolers to share information about activities and events ...
An all-inclusive, secular homeschool support group based in Cary, NC. Membership is open to all homeschooling families in and around the Cary area. We do not require or endorse adherence to any par...
Brave Schoolers Homeschool GroupCary
Brave Schoolers is a laid-back group of homeschool families, in and around Cary, designed to support and encourage each other along this courageous journey of homeschooling. This group's goal is to...
Ace Homeschool AssociationCatawba County
Ace Homeschool Association is a homeschool support group serving Catawba County, North Carolina, and surrounding areas. Our ideals - to represent the homeschool community; to provide a positive soc...
Chapel Hill HomeschoolersChapel Hill
A network of parents and children homeschooling in the Chapel Hill, North Carolina area. Our group was founded in 1990 to provide encouragement, support and enriching activities for our homeschooli...
Charlotte Mason eLEARNCharlotte
CMeLEARN is a homeschool group serving families in the Greater Charlotte area. We are Christian families who welcome anyone interested in learning about the Charlotte Mason philosophy of education...
ENRICHCharlotte
Enrich, Inc. is a home education support organization for current, new, and prospective home educators in the greater Charlotte, NC area. Enrich brings the knowledge and experience of 16 years of s...
Pathways for LearningCharlotte
Offers Homeschool Group Activities: Academic & Enrichment. Website coming soon!!!
The Homeschool RoomCharlotte
Educational consignment store created by and for homeschoolers since 2002. There are now two Charlotte area locations owned and operated by a local home school family.
WINGSCharlotte/Lake Norman
Welcome to the WINGS website! WINGS is a homeschooling support group serving the north Charlotte, Huntersville, Cornelius, and Davidson areas of North Carolina, both online and off.
Heart4HomeschoolingCleveland and Gaston Counties
This group provides support and fellowship for homeschooled children and their families. This group is dependent upon its members actively participating as a TEAM (Together Everyone Achieves More!)...
Heart and Home EducatorsCraven, Jones, and Pamlico counties
A homeschool support group in the Craven, Jones, and Pamlico county area of eastern NC. Members receive parental support meetings, a monthly newsletter, workshops, a curriculum advice and support ...
T.E.A.C.H.EDavie County
T.E.A.C.H. Homeschool Support Group of Davie County North Carolina - A group dedicated to Teaching Excellence, Achievement, and Character at Home! This is a group of Christian Home Educators who ha...
T.E.A.C.H. Homeschool Support GroupDavie County
T.E.A.C.H. Homeschool Support Group of Davie County North Carolina - We are Teaching Excellence, Achievement, and Character at Home! This is a group of Christian Home Educators who have decided to ...
Christian Home Educators Association of Greater DurhamDurham
CHEAGD is a Christian homeschool support group serving the Greater Durham area of North Carolina. CHEAGD is an ethnically diverse group, welcoming members of all races. CHEAGD is a Christian group ...
Honey of the Hive: A Sweet Charlotte Mason CommunityDurham
Honey of the Hive is a group of families offering the rich, nurturing education of the Charlotte Mason philosophy to both our children and ourselves as we learn and grow together. Supporting one an...
Great Endeavor HomeschoolersDurham
Great Endeavor Homeschoolers is a Christian homeschool group. This group offers field trips, seasonal parties, mom's night, co-op classes, Lunch Bunch gatherings, and much more.
Forsyth Home Educators (FHE)Forsyth
Forsyth Home Educators (FHE) is a Christian support group located in the heart of North Carolina representing more than 400 families that educate their children in the home.
FV HomeschoolersFuquay-Varina
An all-inclusive group based in Fuquay-Varina with events in town and in surrounding areas. Members respect all homeschool styles and differing personal beliefs. FV members run many events (field t...
CCHNet – Charlotte Christian Homeschool NetworkGreater Charlotte Area
The mission of CCHNet is to connect Christian homeschoolers in the greater Charlotte area while serving as an information portal for events, activities, and information.
Harnett County Homeschoolers of North CarolinaHarnett County and surrounding areas
This group is for homeschoolers in, or around, Harnett County in North Carolina. The creator of this group, did so in hopes of building a support group for other homeschoolers to share resources, p...
Greater Henderson County Home School ChessHenderson County
A USCF-affiliated Club, Meets Wednesdays 12:00 to 1:00 pm at East Flat Rock Park, North Carolina. Membership in Henderson County Homeschool Association optional
Wake Teen HomeschoolersHolly Springs, Cary, Apex, Raleigh, Morrisville
Wake Teen Homeschoolers is a secular support group for homeschooling parents of teens in the Raleigh/Durham/Triangle area. The group is open to homeschoolers 13 years old and up. If you have a matu...
East Coast Homeschool Organization (ECHO)Jacksonville/Camp Lejeune/MCAS New River area
ECHO is a Christian Homeschool Co-op that meets every Friday from 9:45a-12:45p in Jacksonville in the Camp Lejeune/Jacksonville/Onslow county area of eastern North Carolina. At the Co-op, middle a...
Johnston County Home Eduators of NCJohnston County
JCHE of NC is a Christian homeschool organization formed to strengthen and encourage homeschool families in Johnston County, NC. Membership is available to all area Johnston County homeschooling fa...
Homeschoolers of KnightdaleKnightdale
A free homeschool group geared towards children in the pre-k and elementary school age range. The group takes advantage of the great Knightdale resources and the rest of the triangle region for mus...
Lake Norman HomeschoolersLake Norman
Lake Norman Homeschoolers is an activity group that supports secular Social events, Educational field trips and Class offerings in the Lake Norman area. This is an all inclusive homeschooling group...
NC Adventurous Home EducatorsLexington
Membership offers the opportunity to participate in: Weekly Planned Field Trips, Monthly Moms Nights Out, Monthly Teen Nights, Play s/Concerts, Yearly Out of State Trips, Volunteer Opportunities, V...
Seeds of Promise FSGLincolnton
Seeds of Promise FSG is a non-profit, non-denominational parent cooperative homeschool family support group founded upon Biblical Judeo-Christian values. Our members participate in group field tri...
LCHE – Lincoln County Home EducatorsLincolnton
Lincoln County Home Educators, founded in 1988, is a growing local Christian support group in Lincoln County, NC of about 65 families. The purpose of this group is to offer help and encouragement t...
Joy Homeschool GroupMooresville, Statesville, Huntersville, Cornelius, Denver
Do you want more Joy?Joy Homeschool Group cannot guarantee you more joy, but we celebrate joy in our lives...joy in Christ, joy in homeschooling, joy in friends, joy in our families, and the li...
Kingdomway Homeschool GroupNew Bern & Eastern N.C.
Kingdomway Homeschool group membership includes Elective Classes once a week, Field Trips, Moms Night Out, Teen Night, Pre-Teen Night, Family Park Days, Prom, Student School Pictures, Graduation, T...
NCHENorth Carolina Statewide
Regional Support Groups
Carolina HomeschoolingNorth Carolina Statewide
This list is for those that are homeschooling in North Carolina or those that may be moving here and homeschooling. It is for us to get together and encourage each other, talk about homeschooling i...
North Wake Teen HomeschoolersNorthern Wake County
A secular support group for families with homeschoolers of middle and high school aged children (ages 11 and up) in Northern Wake County, North Carolina and the surrounding areas.
Carolina Christian EducatorsOnslow and Western Carteret County area
Active homeschool support group for Christian families, serving the areas of Onslow and Western Carteret Counties.
Piedmont HomeschoolersPiedmont
This group is offered as a means of disseminating news and information of interest among homeschool families residing in the Piedmont region of North Carolina. Please feel free to post notices of s...
ARCH Assoc of Roman Catholic HomeschoolersRaleigh
Social, Academic, and Spiritual Support for Catholic Homeschoolers in Raleigh and the Triangle area.
Generations Homeschool GroupRaleigh Area
Homeschool Support Group
TrianglemommiesRaleigh, Durham, Chapel Hill
Welcome to TriangleMommies! As part of The Mommies Network, TriangleMommies.com is a free community for moms in Durham, Wake and Eastern Orange counties, North Carolina. We realize that all moms ne...
Reidsville Home EducatorsRockingham County
Homeschool group
Richmond County Home EducatorsRockingham, Hamlet, Ellerbe, Eagle Springs,
A family based support group for families in the Richmond County, NC area. Members meet bi-monthly for educational and camaraderie based activities and field trips.
Homeschool Assoc. of Rutherford/Polk Counties (HARC)Rutherfordton
The Homeschool Assoc. of Rutherford/Polk counties, N.C. is a Christian support group for homeschooling families. This group meets on a monthly basis at various churches in Rutherford County. Organi...
Great Smokies Christian Home EducatorsSylva/ Jackson County
Association for home educators in Western North Carolina
Tri-County Area Home EducatorsTriad Area
Tri-County Home Educators is a Christian organization, the members of which are like-minded Christian home educators dedicated to observing the Biblical commands of Deuteronomy 6:4-10, Proverbs 22:...
Common Thread KidsTriangle Area-S.Wake & surrounding Counties
Home Schooling families in the Triangle area (S. Wake) & surrounding Counties, with a common goal of encouraging their children to build positive & lasting friendships among a similar peer ...
Tidewater Educators Association for Christian Homeschooling, IncVirginia Beach, Northeastern NC
T.E.A.C.H. (formerly BEACH) is a regional homeschool support group, serving southeastern Virginia and northeastern North Carolina. We are a tax-exempt, non-profit Virginia corporation. General info...
Triangle Teens Homeschool NetworkWake County
Triangle Teens Homeschool Network is a social group for families of homeschooled teens in the Cary/Apex/Raleigh NC area. Our focus is to provide teens with opportunities to meet, interact and build...
Spice-lineWake county
Spice-line is a christian based loop which provides information and encouragement to homeschooling families. If you have services that can benefit homeschoolers in the Wake county area of NC, pleas...
Homeschool Connections of NC (HCNC)Wake Forest
HCNC is a parent-led group of home educating families who are working together to build a supportive community. Members share information, resources, and educational opportunities. Parents strive t...
Dandelion Learning CollaborativeWake Forest
This collaborative school offers drop-off Montessori class meetings for students, collaboration sessions with parents, learning plans and materials, field trips, and connections with experienced ed...
Lighthouse Christian Homeschool AssociationWake Forest/Youngsville
Lighthouse is a Christian homeschool support group made up of close to 200 families in the Wake Forest, Youngsville and N.Raleigh area of North Carolina. Through Lighthouse, homeschooling families ...