Homeschooling is regulated at the state level, so connecting with local homeschoolers is an important step to start homeschooling in North Carolina. Find the North Carolina homeschool groups closest to you and get connected with your local homeschooling community, learn about the homeschool requirements in North Carolina, and discover the co-ops, classes, sports and arts opportunities, and social get-togethers in your area.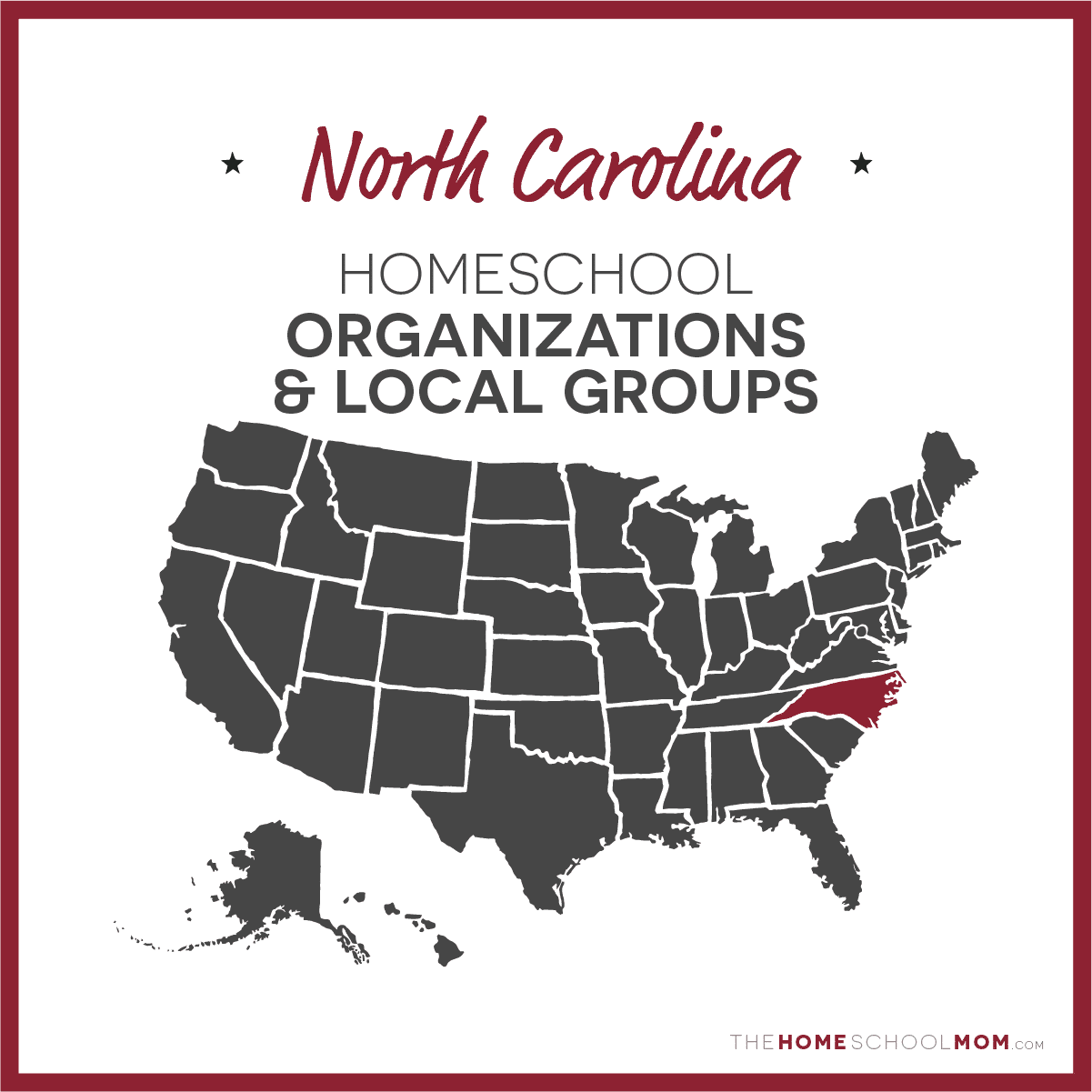 Submit a Local Resource
Jump to: State Organizations | Local Groups
Our listing of North Carolina state organizations and local homeschool groups is ordered alphabetically by city, with statewide organizations listed first. If you would like to submit a group, you may do so using the red button above.
North Carolina Homeschool Organizations (Statewide)
North Carolinians for Home Education

North Carolina Statewide

NCHE is a private, volunteer organization active at the state level, serving North Carolina homeschoolers.
NC Homeschool-ology

North Carolina Statewide

Connecting North Carolina to local support groups, tutors, classes and co-ops and other resources they need to homeschool in NC. The website hosts online support forums for the North Carolina homeschoolers in the Piedmont, the Mountains and the Coastal Areas of our State. Homeschoolers will find information about how to homeschool as well as activities and events for homeschoolers, discounts and special Homeschool Days throughout the state.
North Carolina Local Homeschool Groups
Homeschool KIDS Group

Apex

"Homeschool Knowledge • Inclusion • Diversity • Secularism (KIDS) Group is designed for families in and around Western Wake County. Our goal is to build a welcoming, fun and active homeschool community with an emphasis on friendship, knowledge sharing and support for both kids and parents. In this group you will find social activities, field trips, classes and other opportunities designed to spark interest in young minds. We do not have any attendance or hosting requirements and are not a co-op. We only ask that members participate as often as they can since participation is what makes many of our events possible!"
Pamilco Christian Homeschool Group

Arapahoe

Pamilco Christian Homeschool Group is a Christ-Centered support group that uses the Bible to provide the basis and standard of truth and values. We provide activities and support for homeschool families in Pamlico, Craven, Beaufort, and surrounding counties. We offer weekly activities on Fridays for Pre-K to teens.
Biltmore Church Homeschool Ministry

Asheville

A wonderful homeschool group thrives at Biltmore Church. Nearly 300 families are members of our home school ministry. Some families have many children and others have only one child; some have been home schooling for many years and others have only just started. Our ministry offers many opportunities throughout the year to help strengthen our bond with other homeschool families and our children. There is a small annual membership fee which enables families to receive email announcements and to participate in all of our activities, including field trips at least monthly (and often a couple are offered each month :)), monthly Moms' Night Out, Mugs-n-Muffins, and pizza days, etc. Hands-on mission opportunities are available as well. Some of the ministries have included helping at Manna Food Bank, checking boxes for Operation Christmas Child at the Boone distribution center, feeding the homeless at ABCCM and ministering to senior citizens at Deerfield Retirement Center. We also offer Enrichment Classes for Pre-School through 12th grade on Tuesday mornings for a portion of the school year for an additional fee. You do not have to participate in classes in order to be a part of our support group. Perhaps the greatest benefits from the group are the friendships, the times of encouragement and prayer between Moms, and seeing the Lord use the simple idea of a support group to help us all persevere in this wonderful, yet challenging adventure called homeschooling. May this group remind us of all the joy along the way!
NCHE Region 2 Connect

Avery, Buncombe, Henderson, Madison, McDowell, Mitchell, Rutherford, Polk, and Yancey counties

An inclusive, Christian-based, e-mail loop for ALL homeschoolers in the NCHE Region 2 area, which includes: Avery, Buncombe, Henderson, Madison, McDowell, Mitchell, Rutherford, Polk, and Yancey counties in NC.
Cabarrus County Homeschoolers

Cabarrus County

A nondenominational Christian support group in North Carolina designed to provide information to families in the Cabarrus County area who are interested in homeschooling and to provide information to our support group members.
Cary Homeschoolers

Cary

An all-inclusive, secular homeschool support group based in Cary, NC. Membership is open to all homeschooling families in and around the Cary area. We do not require or endorse adherence to any particular belief system, educational method or philosophy.
STEAM Enrichment Courses

Cary

STEAM Enrichment Programs are available as online or on site courses. It includes lessons such as Critical Reading, Languages, Coding, STEM Projects, Mathcounts, AMC 8, AMC 10/12, and more. Courses are offered as private or group lessons.
Ace Homeschool Association

Catawba County

Ace Homeschool Association is a homeschool support group serving Catawba County, North Carolina, and surrounding areas. Our ideals - to represent the homeschool community; to provide a positive socialization environment for homeschooled children; to support and encourage parents in the homeschooling process while providing an atmosphere for exchange of teaching techniques and curriculum information; to keep the group informed of any homeschool current events and information through yahoo group emails; and to provide public awareness of home education; diligence in moral and ethical instruction, educational excellence; and responsible citizenship.
Chapel Hill Homeschoolers

Chapel Hill

A network of parents and children homeschooling in the Chapel Hill, North Carolina area. Our group was founded in 1990 to provide encouragement, support and enriching activities for our homeschooling community.
Pathways for Learning

Charlotte

Offers Homeschool Group Activities: Academic & Enrichment. Website coming soon!!!
The Homeschool Room

Charlotte

Educational consignment store created by and for homeschoolers since 2002. There are now two Charlotte area locations owned and operated by a local home school family.
Heart and Home Educators

Craven, Jones, and Pamlico counties

A homeschool support group in the Craven, Jones, and Pamlico county area of eastern NC. Members receive parental support meetings, a monthly newsletter, workshops, a curriculum advice and support network, new homeschooler's packet, information on local educational opportunities, park days, and occasional field trips.
T.E.A.C.H.E

Davie County

T.E.A.C.H. Homeschool Support Group of Davie County North Carolina - A group dedicated to Teaching Excellence, Achievement, and Character at Home! This is a group of Christian Home Educators who have decided to work together to provide information for Home Educators in Davie County NC and the surrounding areas. Focus is on parent education, organizing enrichment and educational activities, field trips and fellowship opportunities for the Membership. Provide a Newsletter, Directory and a Yahoo Group as well as regular Monthly meetings for fellowship and learning!
T.E.A.C.H. Homeschool Support Group

Davie County

T.E.A.C.H. Homeschool Support Group of Davie County North Carolina - We are Teaching Excellence, Achievement, and Character at Home! This is a group of Christian Home Educators who have decided to work together to provide information for Home Educators in Davie County NC and the surrounding areas. Our focus is on parent education, organizing enrichment and educational activities, field trips and fellowship opportunities for our Membership. We provide a Newsletter, Directory and a Yahoo Group as well as regular Monthly meetings for fellowship and learning!
Honey of the Hive: A Sweet Charlotte Mason Community

Durham

Honey of the Hive is a group of families offering the rich, nurturing education of the Charlotte Mason philosophy to both our children and ourselves as we learn and grow together. Supporting one another as we each build strong homes centered on Jesus Christ — where the atmosphere, discipline, and life of a Charlotte Mason education thrive. Striving to nurture Christ-centered relationships that allow for accountability as we grow together in grace toward a fuller understanding and implementation of Mason's principles in our homeschools. There is room in the Hive for families already committed to using Mason's methods and for families committed to learning more. ​

Honey of the Hive: A Sweet Charlotte Mason Community details
Great Endeavor Homeschoolers

Durham

Great Endeavor Homeschoolers is a Christian homeschool group. This group offers field trips, seasonal parties, mom's night, co-op classes, Lunch Bunch gatherings, and much more.
NC Five in a Row

Durham

This is a support group of Christian families who use or have used the Five in a Row curriculum and live in the Triangle area of North Carolina.
Homeschool Learning Lab

Durham

Homeschool Learning Lab welcomes homeschoolers (and out of session public/private schoolers) of all backgrounds and abilities to an environment where students are able to express themselves and learn about the world around them, where families can find support for their homeschooling adventure, and together we strengthen the entire community. We meet at 10am every Thursday at the library (there is also an online option for those who would rather participate remotely during Covid). We have an email loop for families and an annual conference and resource fair. The entire program is at no cost to anyone. Please see our website for information on how to contact us and register for programs. Thanks!
Coastal Plains Homeschoolers

Eastern North Carolina

An open homeschool group for all ages and curriculums. The group meets once per week at public parks on a rotation and schedules other events such as: science fairs, historical nights, mom's meetings, poetry recitals, and community events. This group has members from as north as New Bern, as south as Wilmington, and as east as Jones county. Most events are currently held in the Duplin County area
Forsyth Home Educators (FHE)

Forsyth

Forsyth Home Educators (FHE) is a Christian support group located in the heart of North Carolina representing more than 400 families that educate their children in the home.
FV Homeschoolers

Fuquay-Varina

An all-inclusive group based in Fuquay-Varina with events in town and in surrounding areas. Members respect all homeschool styles and differing personal beliefs. FV members run many events (field trips, park meetups, farm tours, clubs, etc.) and share information on local resources via a facebook page and meetups. Families with ages 11+ and up can join the Middle and High School Connections sister group.
CCHNet - Charlotte Christian Homeschool Network

Greater Charlotte Area

The mission of CCHNet is to connect Christian homeschoolers in the greater Charlotte area while serving as an information portal for events, activities, and information.
HOME-educators Organized for Ministry and Encouragement - Pitt County

Greenville

HOME is a non-exclusive Christian homeschool support group. We have a vision for flourishing families and thriving generations in which people remain passionate, curious, and actively engaged in their faith and in their learning.

HOME-educators Organized for Ministry and Encouragement - Pitt County details
Harnett County Homeschoolers of North Carolina

Harnett County and surrounding areas

This group is for homeschoolers in, or around, Harnett County in North Carolina. The creator of this group, did so in hopes of building a support group for other homeschoolers to share resources, plan get-togethers and field trips, maybe even classes.
HCHA - Henderson County Homeschool Association

Henderson

HCHA is a community of Homeschool Families in Western North Carolina. We are in the business of debunking the myth that homeschoolers are "unsocialized." HCHA provides many, many opportunities for academic and social interaction for students and families.
High Point Home Educators

High Point

The purpose and mission of HPHE is to provide support, guidance, encouragement and educational opportunities according to Biblical principles and ideals for home educating families in the Triad area of North Carolina. Grounded in solid Christian principles, HPHE welcomes all High Point and Triad area home educators. More than field trips, more than park days, more than mom's nights out–HPHE is all of these things, plus the kind of support and encouragement that assists you in your family's unique home education journey.
Wake Teen Homeschoolers

Holly Springs, Cary, Apex, Raleigh, Morrisville

Wake Teen Homeschoolers is a secular support group for homeschooling parents of teens in the Raleigh/Durham/Triangle area. The group is open to homeschoolers 13 years old and up. If you have a mature 12 year old who prefers socializing with older kids, just let us know & we can accommodate. We get together for social events and everyone is welcomed to plan events.
Hillcrest Homeschool Enrichment

Kernersville

Hillcrest Homeschool Enrichment is a ministry of Hillcrest Baptist Church located in the south Kernersville area. The ministry of HHE offers support and encouragement to homeschooling families and is a family focused enrichment co-op offering a variety of elective and supplemental classes from preschool to high school.  HHE also provides opportunities for field trips, Moms' nights out and other social activities.
Lake Norman Homeschoolers

Lake Norman

Lake Norman Homeschoolers is an activity group that supports secular Social events, Educational field trips and Class offerings in the Lake Norman area. This is an all inclusive homeschooling group providing support for people who have chosen to educate their families at home.
NC Adventurous Home Educators

Lexington

Membership offers the opportunity to participate in: Weekly Planned Field Trips, Monthly Moms Nights Out, Monthly Teen Nights, Play s/Concerts, Yearly Out of State Trips, Volunteer Opportunities, Various Holiday Parties, Annual Prom, Group Exclusive Discounts on Martial Arts Classes and others, Speakers, Classes, Twice Annual Group Picnics, Annual Zoo Club, Field Days, School Pictures, and much, more more.
Seeds of Promise FSG

Lincolnton

Seeds of Promise FSG is a non-profit, non-denominational parent cooperative homeschool family support group founded upon Biblical Judeo-Christian values. Our members participate in group field trips, co-op courses, & some events such as monthly meetings, contests, yearbook, newsletter, community service, and great family fellowship opportunities! Please contact us for membership fee and more information.
LCHE - Lincoln County Home Educators

Lincolnton

Lincoln County Home Educators, founded in 1988, is a growing local Christian support group in Lincoln County, NC of about 65 families. The purpose of this group is to offer help and encouragement to area home schoolers and to provide educational, spiritual, and social activities for member families.
Welcome Homeschool Group

Mebane

Welcome Homeschool Group is dedicated to providing support to homeschooled families with children of all ages.  It serves families from Alamance County and neighboring counties in North Carolina.  The group is comprised primarily of Christian families and welcomes homeschool families of all religions. Welcome Homeschool strives to provide support and encouragement to families choosing to home educate their children.   With more than 100 families, we represent family of all sizes and backgrounds, and children of all ages, and we pride ourselves on our growing diversity, both in the wider group and on our leadership team, as being representative of the changing socio-cultural dynamics of the homeschooling movement.
Joy Homeschool Group

Mooresville, Statesville, Huntersville, Cornelius, Denver

Do you want more Joy? Joy Homeschool Group cannot guarantee you more joy, but we celebrate joy in our lives...joy in Christ, joy in homeschooling, joy in friends, joy in our families, and the list goes on and on. We hope that you will consider joining us. We are a supportive group of like-minded, Christian homeschoolers. Most of our members are from the Mooresville, Statesville, Huntersville, Cornelius, Denver, and Concord areas. We have no restrictions on location; however, most of our activities will be centered primarily in these areas.
Graceful Academic Purpose Homeschool Group

Murphy

Graceful Academic Purpose Homeschool Group Mission Statement: To encourage learning in a friendly social environment through group activities, classes, projects, challenges, clubs, play, field trips, and parties. Graceful Academic Purpose Homeschool Group welcomes any type of homeschooling families. We do not discriminate anyone for their thoughts/beliefs/religion or anything else. We are free to join. We offer support, friendship, and guidance. We are all here for the same reason and that is our children. We want to be the best 'teachers' that we can be. Our families have a kindred purpose, to foster a meaningful education together. We truly hope you'll join us.
Kingdomway Homeschool Group

New Bern

Kingdomway Homeschool Group meets every Tuesday for classes. Members enjoy many field trips, character visits, prom, yearbook, graduation ceremony, testing, etc. The Facebook page is for members only so please use karencaprio@ymail.com for more information. This group is in New Bern, N.C. All homeschoolers in eastern N.C. are welcomed.
NCHE

North Carolina Statewide

Regional Support Groups
Carolina Christian Educators

Onslow and Western Carteret County area

Active homeschool support group for Christian families, serving the areas of Onslow and Western Carteret Counties.
Piedmont Homeschoolers

Piedmont

This group is offered as a means of disseminating news and information of interest among homeschool families residing in the Piedmont region of North Carolina. Please feel free to post notices of support group events, curriculum for sale, yard sales, classes, activities, park days, library information etc.
Generations Homeschool Group

Raleigh

Generations Homeschool Group is a ministry of Crossroads Fellowship in Raleigh NC that exists in partnership with the local church to encourage and equip Christian families as they educate their children at home This is accomplished by offering academic enrichment programs, coordinating group activities, and fostering collaboration among members.
Generations Homeschool Group

Raleigh Area

Homeschool Support Group
Reidsville Home Educators

Rockingham County

Homeschool group
Tri-County Area Home Educators

Triad Area

Tri-County Home Educators is a Christian organization, the members of which are like-minded Christian home educators dedicated to observing the Biblical commands of Deuteronomy 6:4-10, Proverbs 22:6, and Ephesians 6:4. We promote home education as the Scriptural design for education whereas institutional education is an alternative to the home. TCHE supports and encourages families throughout the homeschool experience! One way TCHE supports heomschooling is through offering members only TCHE activities (graduations, prom, student council, etc.) and advertising selected activities that are not "sponsored" by TCHE, but are of interest to our family members.(state and local conferences, co-ops, boy scouts, etc.).
Common Thread Kids

Triangle Area-S.Wake & surrounding Counties

Home Schooling families in the Triangle area (S. Wake) & surrounding Counties, with a common goal of encouraging their children to build positive & lasting friendships among a similar peer group. We also provide a welcoming community of home schooling Moms (& Dads) for support & encouragement. Weekly activities are offered-some examples include: field trips, park days, & academic classes.
Tidewater Educators Association for Christian Homeschooling, Inc

Virginia Beach, Northeastern NC

T.E.A.C.H. (formerly BEACH) is a regional homeschool support group, serving southeastern Virginia and northeastern North Carolina. We are a tax-exempt, non-profit Virginia corporation. General information about our organization can be found below.

Tidewater Educators Association for Christian Homeschooling, Inc details
Homeschool Connections of NC (HCNC)

Wake Forest

HCNC is a parent-led group of home educating families who are working together to build a supportive community. Members share information, resources, and educational opportunities. Parents strive to be open-minded, tolerant, tactful, and to be aware of and responsive to the needs of others in the group. HCNC is an active group that encourages face-to-face activities. Organizers post a variety of events for high school, middle school and elementary aged children. There are repeating events like Park Days and Teen Fandom Socials for members to connect monthly. While special events, classes and field trips are posted throughout the year. To learn more, please go to the Meetup page: https://www.meetup.com/homeschoolconnectionsnc/
Dandelion Learning Collaborative

Wake Forest

This collaborative school offers drop-off Montessori class meetings for students, collaboration sessions with parents, learning plans and materials, field trips, and connections with experienced educators and specialists.
Northern Wake National Home School Honor Society

Wake Forest

Northern Wake National Home School Honor Society is the Xi Zeta chapter of Eta Sigma Alpha. Open to academically talented junior high and high school homeschoolers of all faiths, this chapter encourages students in the exchange of ideas and ideals, fosters scholarship, and promotes community service. Meetings are held 6:30-8:00 PM on the fourth Wednesday of the month at locations around the Wake Forest, NC area. Each meeting a speaker discusses a particular profession as well the preparation for that profession. Students also have the opportunity to participate in volunteer and service projects throughout the year. Membership criteria is set by ESA. A student must exceed the designated cutoff on a nationally-normed standardized test to be eligible. Please see the website for details.
Lighthouse Christian Homeschool Association

Wake Forest/Youngsville

Lighthouse is a Christian homeschool support group made up of close to 200 families in the Wake Forest, Youngsville and N.Raleigh area of North Carolina. Through Lighthouse, homeschooling families support and encourage one another, and work together to provide activities and events that enrich the education of our children.