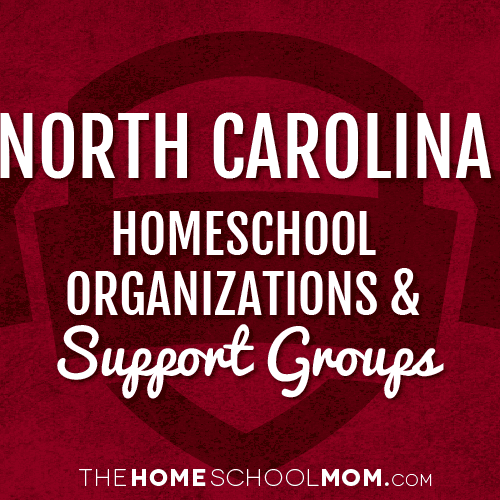 North Carolina Homeschool Organizations
North Carolinians for Home Education
NCHE is a private, volunteer organization active at the state level, serving North Carolina homeschoolers.
North Carolina Homeschool Support Groups
CHEFS - Carolina Home Educators Family Support Anson and Richmond counties
Carolina Home Educators Family Support is a home school support group connecting homeschooling families in Chesterfield, Marlboro, Anson, and Richmond counties of NC and SC. All homeschooling families are welcome.
HOME - Asheville Asheville
A forum for secular homeschooling families in and around Asheville, NC, loosely associated with the H.O.M.E. (Homeschooling Opens Minds Everyday) group.
NCHE Region 2 Connect Avery, Buncombe, Henderson, Madison, McDowell, Mitchell, Rutherford, Polk, and Yancey counties
An inclusive, Christian-based, e-mail loop for ALL homeschoolers in the NCHE Region 2 area, which includes: Avery, Buncombe, Henderson, Madison, McDowell, Mitchell, Rutherford, Polk, and Yancey counties in NC.
HCCHS Student Newspaper Boone
Homeschool student run online newspaper for High Country Christian Homeschool Association
Cabarrus County Homeschoolers Cabarrus County
A nondenominational Christian support group in North Carolina designed to provide information to families in the Cabarrus County area who are interested in homeschooling and to provide information to our support group members.
ENRICH Cabarrus County/University City
ENRICH is an inclusive homeschool support group, founded in April, 2001. Our purpose is to support one another in our homeschooling efforts.
Carteret County, NC Homeschoolers Carteret County and surrounding areas
This is a group for people who homeschool in Carteret County, North Carolina or neighboring communities. Its main purpose is to allow homeschoolers to share information about activities and events of interest in Morehead City, Beaufort, Newport, Cape Carteret, Atlantic Beach, Emerald Isle, and Havelock, North Carolina and the surrounding areas.
Cary Homeschoolers Cary
An all-inclusive, secular homeschool support group based in Cary, NC. Membership is open to all homeschooling families in and around the Cary area. We do not require or endorse adherence to any particular belief system, educational method or philosophy.
Ace Homeschool Association Catawba County
Ace Homeschool Association is a homeschool support group serving Catawba County, North Carolina, and surrounding areas. Our ideals - to represent the homeschool community; to provide a positive socialization environment for homeschooled children; to support and encourage parents in the homeschooling process while providing an atmosphere for exchange of teaching techniques and curriculum information; to keep the group informed of any homeschool current events and information through yahoo group emails; and to provide public awareness of home education; diligence in moral and ethical instruction, educational excellence; and responsible citizenship.
Chapel Hill Homeschoolers Chapel Hill
A network of parents and children homeschooling in the Chapel Hill, North Carolina area. Our group was founded in 1990 to provide encouragement, support and enriching activities for our homeschooling community.
Charlotte Mason eLEARN Charlotte
CMeLEARN is a homeschool group serving families in the Greater Charlotte area. We are Christian families who welcome anyone interested in learning about the Charlotte Mason philosophy of education. CMeLEARN offers an ongoing study of Charlotte Mason for teachers using various resources. Currently, Charlotte Mason Study Guide "A Simplified Approach to a 'Living' Education" by Penny Gardener is being discussed at monthly meetings and through the CMeLEARN yahoo group. CMeLEARN also hosts park days, field trips, botanical garden visits, concert visits, parent's night out, and other activities that are conducive to a Charlotte Mason education. Join this free Yahoo group to start receiving our monthly newsletter via email.
Home Instructors Need Team Support Charlotte
HINTS (Home Instructors Need Team Support) is a homeschool support group that serves the geographical area of south Charlotte and has been in existence since 1985. HINTS' goals are to support, educate and encourage homeschoolers. Activities include an annual book fair, an informational tea, library, standardized testing, and choirs. Many other activities are organized annually by members to meet the needs of our students.
Home Instructors Need Team Support Charlotte
HINTS - Online! If you are new to home schooling or need information on getting started.
Pathways for Learning Charlotte
Offers Homeschool Group Activities: Academic & Enrichment. Website coming soon!!!
The Homeschool Room Charlotte
Educational consignment store created by and for homeschoolers since 2002. There are now two Charlotte area locations owned and operated by a local home school family.
WINGS Charlotte/Lake Norman
Welcome to the WINGS website! WINGS is a homeschooling support group serving the north Charlotte, Huntersville, Cornelius, and Davidson areas of North Carolina, both online and off.
Heart4Homeschooling Cleveland and Gaston Counties
This group provides support and fellowship for homeschooled children and their families. This group is dependent upon its members actively participating as a TEAM (Together Everyone Achieves More!). There is a $5 membership fee. Support includes educational links, monthly event calendar, PE program, Co-op, 4H clubs, history and science fairs, end of the year awards banquet, box tops for education program, and more.
Heart and Home Educators Craven, Jones, and Pamlico counties
A homeschool support group in the Craven, Jones, and Pamlico county area of eastern NC. Members receive parental support meetings, a monthly newsletter, workshops, a curriculum advice and support network, new homeschooler's packet, information on local educational opportunities, park days, and occasional field trips.
T.E.A.C.H.E Davie County
T.E.A.C.H. Homeschool Support Group of Davie County North Carolina - A group dedicated to Teaching Excellence, Achievement, and Character at Home! This is a group of Christian Home Educators who have decided to work together to provide information for Home Educators in Davie County NC and the surrounding areas. Focus is on parent education, organizing enrichment and educational activities, field trips and fellowship opportunities for the Membership. Provide a Newsletter, Directory and a Yahoo Group as well as regular Monthly meetings for fellowship and learning!
T.E.A.C.H. Homeschool Support Group Davie County
T.E.A.C.H. Homeschool Support Group of Davie County North Carolina - We are Teaching Excellence, Achievement, and Character at Home! This is a group of Christian Home Educators who have decided to work together to provide information for Home Educators in Davie County NC and the surrounding areas. Our focus is on parent education, organizing enrichment and educational activities, field trips and fellowship opportunities for our Membership. We provide a Newsletter, Directory and a Yahoo Group as well as regular Monthly meetings for fellowship and learning!
Christian Home Educators Association of Greater Durham Durham
CHEAGD is a Christian homeschool support group serving the Greater Durham area of North Carolina. CHEAGD is an ethnically diverse group, welcoming members of all races. CHEAGD is a Christian group that is open to all homeschool families, regardless of denomination, who agree to honor the Christian principles in the Statement of Faith.
CCHNet - Charlotte Christian Homeschool Network Greater Charlotte Area
The mission of CCHNet is to connect Christian homeschoolers in the greater Charlotte area while serving as an information portal for events, activities, and information.
Harnett County Homeschoolers of North Carolina Harnett County and surrounding areas
This group is for homeschoolers in, or around, Harnett County in North Carolina. The creator of this group, did so in hopes of building a support group for other homeschoolers to share resources, plan get-togethers and field trips, maybe even classes.
Greater Henderson County Home School Chess Henderson County
A USCF-affiliated Club, Meets Wednesdays 12:00 to 1:00 pm at East Flat Rock Park, North Carolina. Membership in Henderson County Homeschool Association optional
Ace Homeschool Association Hickory
Largest group in the area. Lots of activities and events for homeschoolers
East Coast Homeschool Organization (ECHO) Jacksonville/Camp Lejeune/MCAS New River area
ECHO is a Christian Homeschool Co-op that meets every Friday from 9:45a-12:45p in Jacksonville in the Camp Lejeune/Jacksonville/Onslow county area of eastern North Carolina. At the Co-op, middle and high school students plan and produce an annual yearbook. The group also offers Scholastic Books Reading Clubs and participates in the Box Tops for Education program every year. NEW FOR 2014, ECHO will host a TEEN night for (6th-12th grades) once a month. Teen nights activities will vary each month.
Johnston County Home Eduators of NC Johnston County
JCHE of NC is a Christian homeschool organization formed to strengthen and encourage homeschool families in Johnston County, NC. Membership is available to all area Johnston County homeschooling families who are willing to uphold the ideals of JCHE of NC and comply with the NC homeschool law.
Lake Norman Homeschoolers Lake Norman
Lake Norman Homeschoolers is an activity group that supports secular Social events, Educational field trips and Class offerings in the Lake Norman area. This is an all inclusive homeschooling group providing support for people who have chosen to educate their families at home.
LIFE at Lake Norman Lake Norman and Mooresville
LIFE (Learning In Family Environments) at Lake Norman is a homeschool support group dedicated to serving homeschool families in the Lake Norman region around Mooresville, NC.
NC Adventurous Home Educators Lexington
Membership offers the opportunity to participate in: Weekly Planned Field Trips, Monthly Moms Nights Out, Monthly Teen Nights, Play s/Concerts, Yearly Out of State Trips, Volunteer Opportunities, Various Holiday Parties, Annual Prom, Group Exclusive Discounts on Martial Arts Classes and others, Speakers, Classes, Twice Annual Group Picnics, Annual Zoo Club, Field Days, School Pictures, and much, more more.
Seeds of Promise FSG Lincolnton
Seeds of Promise FSG is a non-profit, non-denominational parent cooperative homeschool family support group founded upon Biblical Judeo-Christian values. Our members participate in group field trips, co-op courses, & some events such as monthly meetings, contests, yearbook, newsletter, community service, and great family fellowship opportunities! Please contact us for membership fee and more information.
Macon G.E.M.S. Homeschool Co-op Macon County
A volunteer based weekly Co-op and Activity Group. Families meet Thursdays for classes and also have field trips, parties and activities together through the year. Space is limited, but all are welcome.
North Wake Teen Homeschoolers Northern Wake County
A secular support group for families with homeschoolers of middle and high school aged children (ages 11 and up) in Northern Wake County, North Carolina and the surrounding areas.
Carolina Christian Educators Onslow and Western Carteret County area
Active homeschool support group for Christian families, serving the areas of Onslow and Western Carteret Counties.
Piedmont Homeschoolers Piedmont
This group is offered as a means of disseminating news and information of interest among homeschool families residing in the Piedmont region of North Carolina. Please feel free to post notices of support group events, curriculum for sale, yard sales, classes, activities, park days, library information etc.
ARCH Assoc of Roman Catholic Homeschoolers Raleigh
Social, Academic, and Spiritual Support for Catholic Homeschoolers in Raleigh and the Triangle area.
Generations Homeschool Group Raleigh Area
Homeschool Support Group
Trianglemommies Raleigh, Durham, Chapel Hill
Welcome to TriangleMommies! As part of The Mommies Network, TriangleMommies.com is a free community for moms in Durham, Wake and Eastern Orange counties, North Carolina. We realize that all moms need local support -- and who can't use another friend? TriangleMommies.com offers a simple way to connect with local moms for friendship, support and fun. Members meet on our private discussion forums to share information on everything from where to get the best haircut to tips on transitioning to a "big kid" bed. Each month, we also offer many face-to-face events for our members, their children and their families. Register today to access our discussion forums, events calendar and more!
Little Minds for Christ Reidsville
A Homeschool group based out of Reidsville looking to meet new exciting people to learn about the Lord with and also help children socialize and mingle with kids their age!
Richmond County Home Educators Richmond County
The purpose of Richmond County Home Educators is to support families educating their children at home. Most members live in Richmond County, North Carolina and the surrounding area.
Reidsville Home Educators Rockingham County
Homeschool group
Homeschool Assoc. of Rutherford/Polk Counties (HARC) Rutherfordton
The Homeschool Assoc. of Rutherford/Polk counties, N.C. is a Christian support group for homeschooling families. This group meets on a monthly basis at various churches in Rutherford County. Organizes P.E. outings, field trips, a teen formal, chess clubs, co-ops, and more.
Snow Camp Outdoor Drama Snow Camp
Historical Dramas (The Sword of Peace & Pathway to Freedom), Joseph & the Amazing Technicolor Dreamcoat, The Little Mermaid and Jungle Book. Call 1/800-726-5115 for dates, times and cost. Special family pricing for historical dramas!
Southeast Triangle Area Resources and Support for Homeschoolers Southeast Triangle Area
STARS was founded in April, 2000 by homeschooling mothers who saw the need for a group that would provide regular activities and opportunities for homeschooled children in their area of east central NC. The group will function as a loosely structured provider of playdates, activities and field trips that will promote an atmosphere of kindness, respect and tolerance. There are no minimum participation requirements or fees. This YahooGroups list serves as a communication tool for planning activities and discussing homeschooling related topics among its members.
NCHE Statewide
Regional Support Groups
Carolina Homeschooling Statewide
This list is for those that are homeschooling in North Carolina or those that may be moving here and homeschooling. It is for us to get together and encourage each other, talk about homeschooling in NC, meet others near us, etc.
Great Smokies Christian Home Educators Sylva/ Jackson County
Association for home educators in Western North Carolina
Tri-County Area Home Educators Triad Area
Here you will find informational resources to help you with your day to day homeschooling needs. Everything from Art classes to the Zoo can be found on our website. Our objective is to provide the best Support and Information for you the homeschooler in the Triad Area of NC. We are a Christian based organization and because of that we do not exclude anyone based on age, race or religion.
East North Carolina Early Homeschoolers Triangle area
ENCEH is an inclusive homeschool support group for families in the Triangle area and surrounding communities. We strive to serve homeschool families with young children, who have at least one child under the age of 7. While we cater to the younger set, we are inclusive of older siblings. ENCEH's mission is to offer ideas, social activities and support!
Common Thread Kids Triangle Area-S.Wake & surrounding Counties
Home Schooling families in the Triangle area (S. Wake) & surrounding Counties, with a common goal of encouraging their children to build positive & lasting friendships among a similar peer group. We also provide a welcoming community of home schooling Moms (& Dads) for support & encouragement. Weekly activities are offered-some examples include: field trips, park days, & academic classes.
Triangle Teens Homeschool Network Wake County
Triangle Teens Homeschool Network is a social group for families of homeschooled teens in the Cary/Apex/Raleigh NC area. Our focus is to provide teens with opportunities to meet, interact and build friendships. We have regularly occurring activities and are always on the look out for new and interesting things to do.
Spice-line Wake county
Spice-line is a christian based loop which provides information and encouragement to homeschooling families. If you have services that can benefit homeschoolers in the Wake county area of NC, please feel free to post them. This list is for established, finished, and new homeschoolers or even those considering homeschooling.
Lighthouse Christian Homeschool Association Wake Forest/Youngsville
Lighthouse is a Christian homeschool support group made up of close to 200 families in the Wake Forest, Youngsville and N.Raleigh area of North Carolina. Through Lighthouse, homeschooling families support and encourage one another, and work together to provide activities and events that enrich the education of our children.
TheHomeSchoolMom lists local resources, including but not limited to classes, events, legal information, and support resources, to help homeschoolers find local support and resources. Although we believe that the information provided is reliable, we are not responsible for its accuracy or suitability for any purpose.