Jump to: Homeschool Co-ops | Homeschooling Classes & Academic Enrichment
Looking for someone to teach physics to your teen? Need a way to avoid teaching algebra? Want to enroll your Kindergartener in a co-op for social time? Homeschool classes and co-ops are a great way to spend time with other homeschoolers and skill-share with other homeschool parents.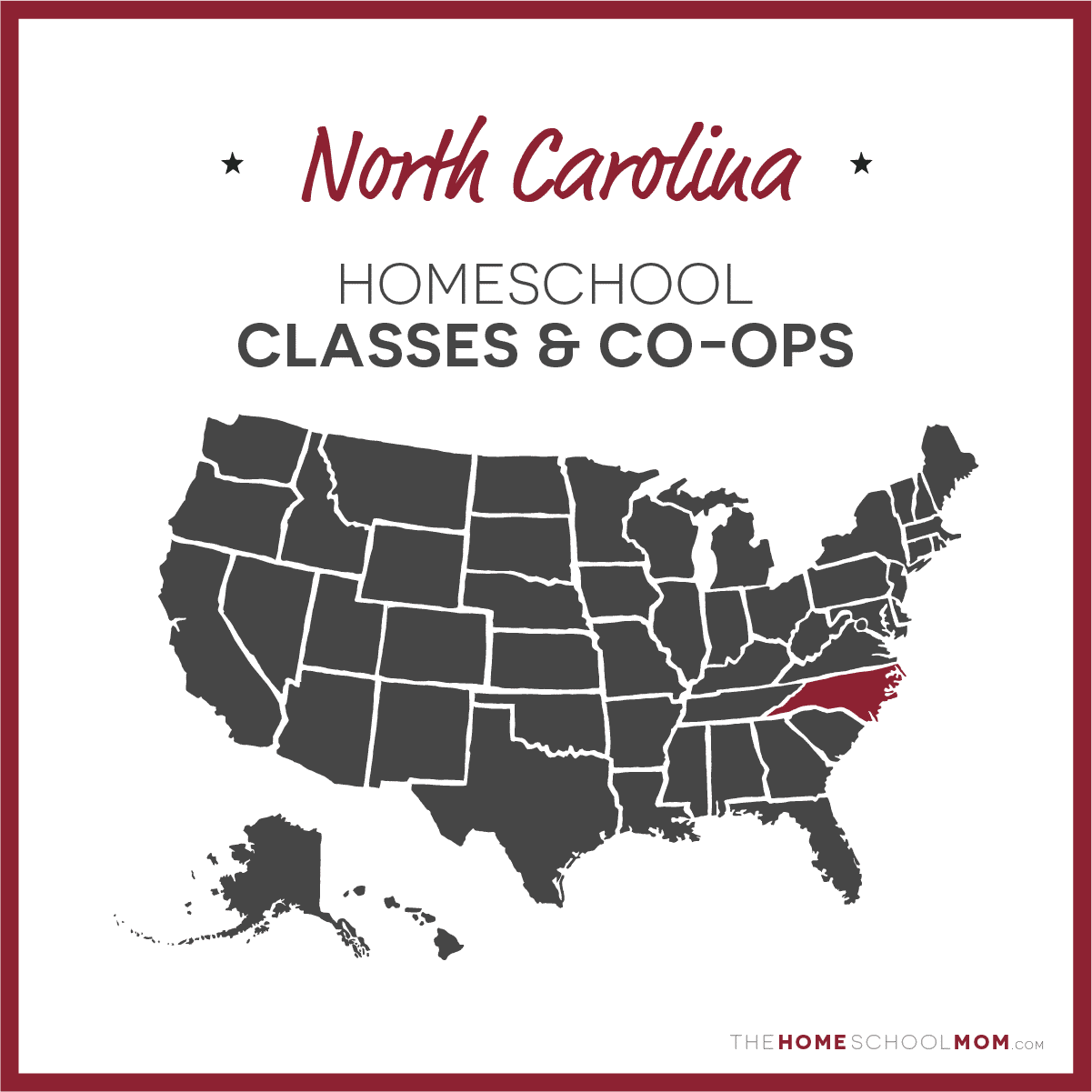 Submit a Local Resource
Our listing of North Carolina co-ops and academic classes for homeschoolers is ordered alphabetically by city, with co-ops in the first section and all other academic resources below. If you would like to submit a North Carolina co-op or academic resource, you may do so using the red button above.
North Carolina Homeschooling Co-ops
GRACE Life Co-op Greenville
GRACE Life Co-op is unapologetically a Christian organization. We do allow those of different beliefs to join our co-op, but prospective members need to understand that we will operate according to...
Asheville Homeschool Co-opAsheville
A well-established community group that meets to offer weekly enrichment classes for homeschool children. They also sponsor community-wide events regularly throughout the year.
Southern Brunswick Homeschool Co-opBrunswick county
Southern Brunswick co-op is a group dedicated to offering educational activities, field trips and social events for families of all ages that would like a resource closer to home than Wilmington.
Gastonia Freedom SchoolCharlotte
Gastonia Freedom School is a homeschool resource center in Gastonia, NC. We are an Agile Learning Center that does self-directed learning. We have a drop in program for local homeschoolers and co-o...
Thrive Day SchoolCharlotte, Ballantyne, Waxhaw
Thrive Home offers hands-on, theme based learning for grades K-8th. This co-op offers small class sizes and in-person instruction. Each class is designed to engage learners and encourage social ski...
Clayton Area Co-OpClayton
We are Christian homeschooling families in and around Clayton, NC. Our mission is to provide affordable, parent-led classes to our children while we encourage the development of a Christ-centered h...
Raising Arrows Co Op - North CarolinaConcord
We are a Christian homeschooling cooperative located in Concord, NC. We currently serve families preschool through high school.
Raising ArrowsFarmville
Raising Arrows Is a Homeschool Co-op located in Pitt Co. NC.  We offer virtual classes as well as in classroom ones.
Branch Christian AcademyForest Hill, Kannapolis, Lakeland
BRANCH, Building Relationships And Nurturing Children's Hearts, is a 501 (c) (3) organization based in Cabarrus County, NC, that seeks to educate families at home and in a community together, leadi...
Discovery Days Homeschool OrganizationHickory
Discovery Days Homeschool Organization meets typically on the first and third Friday from September through early May in the Hickory area to learn, socialize and support one another. The co-op is d...
Hillcrest Homeschool EnrichmentKernersville
Hillcrest Homeschool Enrichment is a ministry of Hillcrest Baptist Church located in the south Kernersville area. The ministry of HHE offers support and encouragement to homeschooling families and ...
ARCH RaleighRaleigh
ARCH Raleigh is a support group for Roman Catholic homeschoolers in the greater Raleigh, NC, area. As an organization, we host several events including co-ops, service projects, socials, an All Sai...
New Lebanon Homeschool GuildSummerfield
NLHG is a Christian homeschool co-op serving Rockingham County, North Carolina, and the surrounding counties. We have two semesters in our co-op year that are 14 weeks long each. We have classes fo...
North Carolina Homeschooling Classes & Academic Enrichment
Student Learning Recovery Tutoring & TherapyApex
Provides Reading/Dyslexia Tutoring and Learning Disability Therapy utilizing specialized reading and academic one on one tutoring programs combined with learning skills therapy. Tutoring designed f...[Read more...]
Emily Mora Tutoring offers one-on-one sessions using the Wilson Reading System. Wilson is an Orton-Gillingham based approach to reading, which is highly structured and multi-sensory, incorporating ...[Read more...]
Ms. Kelly's ClassroomAsheville
Located in Asheville, NC, Ms. Kelly's Classroom offers private tutoring as well as high quality educational enrichment classes for homeschoolers which supplement the core academic material taught a...[Read more...]
EverLearning Tutoring and Brain TrainingAsheville
EverLearning tutors will customize a learning experience tailored to your child's specific needs. Unique to EverLearning is the use of brain-based movement during tutoring sessions. Studies have sh...[Read more...]
App Camp 2021Asheville
Swift App School is offering an in-person app development camp experience for students interested in learning how to code apps for the iPhone and iPad. Students will spend the week learning Apple's...[Read more...]
IDEA Lab Kids - BallantyneBallantyne
IDEA Lab Kids is a S.T.E.A.M Enrichment Center that serves kids ages 4-14. We offer enrichment classes in the areas of Science, Culinary, Coding, Robotics, Visual Arts, Entrepreneurship, Movie Maki...[Read more...]
Earthshine Nature ProgramsBrevard
Earthshine Nature Programs was founded in 2010 by naturalist and environmental educator Steve O'Neil. Our mission is to provide live outreach, in-house, and virtual learning environments and opport...[Read more...]
Carteret Community CollegeCarteret County
Carteret Community College is providing free tuition, fees, and books for dual enrolled or Career and College Promise courses for summer and fall 2022. All North Carolina homeschool, public high sc...[Read more...]
Atlas International SchoolCary
This is a combination homeschool and private school. Offering services to parents to turn if they feel overwhelmed homeschooling by themselves![Read more...]
Step Ahead Gifted Academy is a non profit organization specializing in the education and advancement of intellectually and academically gifted students, ages 6 and up.[Read more...]
Sola Gratia Classical Academy Inc.Cary
A Schole' group of homeschooling families meeting two days a week for grades 4th and up. Sola Gratia Classical Academy Inc. is a homeschooling community that employs the c'ontent of a classical cur...[Read more...]
The Cape May Whale Watcher is excited to offer innovative marine science field trips on the largest boat in Cape May. Along with dolphin and whale watching we can also cover a broad range of marine...[Read more...]
ART of StemCary
Weekly Art of S.T.E.M. Classes = Focus on a large array of art projects chosen to specifically expose and interest children in science, technology, engineering, and math. *New camps are featured ea...[Read more...]
Empower TutoringCary
Empower Tutoring is a resource to families with children that are experiencing learning differences. Tutors seek to equip, strengthen and shepherd children from frustration to hope students by dete...[Read more...]
STEAM Enrichment Programs are available as online or on site courses. It includes lessons such as Critical Reading, Languages, Coding, STEM Projects, Mathcounts, AMC 8, AMC 10/12, and more. Courses...[Read more...]
Triangle Esports Academy in Cary, NC offers a fun, innovative, and educational approach to the gaming world. Our location serves as the premier Educational Video Gaming Center for the Triangle area...[Read more...]
Hackman AcademyChapel Hill
Kim Hackman, Founder of Hackman Academy, provides education classes to homeschoolers in Chapel Hill area. Registration is open for classes in English Language Arts (ELA): Middle Grade Book clubs, M...[Read more...]
Back Creek Christian Homeschool Academic CoursesCharlotte
Back Creek Christian Academy offers area homeschool families a menu of high quality academic and extracurricular classes. All courses are taught by certified teachers. Back Creek classes give stude...[Read more...]
Brain Balance Acheivement CenterCharlotte
Brain Balance Achievement Centers offer the Brain Balance Program in 34 nationwide locations. The Brain Balance Program is an individualized and comprehensive approach to helping children with neur...[Read more...]
Back Creek Christian Homeschool ClassesCharlotte
Back Creek Christian Academy is excited to partner with homeschooling parents to educate the next generation of Christian leaders. BCCA offers area homeschool families a menu of high quality academ...[Read more...]
Charlotte Chess CenterCharlotte
The Charlotte Chess Center & Scholastic Academy (CCCSA), founded in March of 2014, serves as a place where members of all ages and skill levels can congregate and enjoy the royal game of chess....[Read more...]
The Charlotte Museum of History Homeschool Educational ProgrammingCharlotte
The Hezekiah Alexander Home Site is a culturally significant and powerful setting for educational programs and brings to life important themes in our national history. Here students, residents, and...[Read more...]
Project Pray Discipleship Training ProgramCharlotte
Project Pray is launching their first ever Discipleship Training Program starting Fall 2018. This program is being especially tailored to include Home/Private Christian School Seniors interested in...[Read more...]
Gastonia Freedom SchoolCharlotte
Gastonia Freedom School is a homeschool resource center in Gastonia, NC. We are an Agile Learning Center that does self-directed learning. We have a drop in program for local homeschoolers and co-o...[Read more...]
iCodeCharlotte, Huntersville
iCode offers hands-on STEM education and coding classes for kids ages 5-18! In a tech oriented world, the jobs of tomorrow will be driven by technology. Preparing kids with critical STEM skills alo...[Read more...]
Carowinds Student and Youth ProgramCharlotte, NC
Whether it's for a reward, end-of-year celebration or educational experience, Carowinds provides the perfect adventure for your students. The Carolinas come together with our park residing in both ...[Read more...]
STEM at Charlotte Motor SpeedwayConcord
This STEM program is geared toward 4th through 7th grade levels and runs Monday to Friday throughout the year. Focus will be on the core principles of STEM as it relates to motorsports. Topics incl...[Read more...]
Code Ninjas in Concord and BallantyneConcord and Ballantyne
Kids love technology, games, and having fun with friends. Parents want to give their kids the best and brightest future possible. Everyone wins at Code Ninjas. Kids learn to code through our engagi...[Read more...]
Career and College PromiseCraven County
Career & College Promise (CCP) is a tuition-free opportunity that allows high school students to earn college and high school class credit from the same class while only paying for required tex...[Read more...]
Embrace therapeutic educational programDurham
Offering school programs, summer programs and social groups. Located in the Collaborative Autism Treatment Campus.[Read more...]
Providence TutorialsDurham
Providence Tutorials offers one day a week (Friday) tutorial for homeschooling families for a fee. Instruction works with your chosen curriculum. Whether using something similar to Charlotte Mason ...[Read more...]
Writing Intervention Study OpportunityDurham
"Do you have a child who struggles with reading or writing? If so, I may be able to help! WHO I AM: I am a PhD student from the School of Education at UNC Chapel Hill. I am interested in doing a co...[Read more...]
Outdoor STEM AdventuresDurham
Outdoor STEM Adventures (OSA) offers outdoor, hands on, immersive STEM programs in South Durham. Normally offered as in-school field trips for our local Durham schools, we have adapted our programs...[Read more...]
Homeschool Learning LabDurham
Homeschool Learning Lab welcomes homeschoolers (and out of session public/private schoolers) of all backgrounds and abilities to an environment where students are able to express themselves and lea...[Read more...]
Kim's Craft StudioFuquay-Varina
Crochet & sewing lessons[Read more...]
Spanish Classes with Solórzano SpanishFuquay-Varina
Solórzano Spanish offers Spanish classes to middle and high schoolers in the South Raleigh/Fuquay area. All classes this year take place on Tuesday. High school Spanish I is worth one credit and co...[Read more...]
Gaston County Civil Air Patrol Cadet ProgramGaston County
The Civil Air Patrol Cadet Program, for youth 12-18, develops young people into responsible citizens and leaders by focusing on character development, leadership, education, and physical fitness. T...[Read more...]
eSTEAM ClubGastonia
Designed to provide exposure to Science, Technology, Engineering, the Arts, and Math (STEAM), develop self-esteem, provide an outlet for creative expression, self-expression, and make meaningful co...[Read more...]
Gaston County STEM Education & Outreach CenterGastonia
Gaston County STEM Education & Outreach Center offers supplemental instruction in science and mathematics for homeschoolers. Classes are taught by a former college professor. The center also of...[Read more...]
The Mindfull Mentor (Homeschool math and enrichment classes)Greensboro
At The Mindfull Mentor, I offer in person homeschool math classes, in person ukulele workshops, and other fun enrichment workshops and events for homeschool students to explore their interests, lea...[Read more...]
Girl Scouts of the Colonial CoastHampton Roads and Northeast NC
Fun, friendship and new adventures are what Girl Scouts is all about. Making friends, testing her strengths, exploring new possibilities. It's all here for her. Whether teaming up with others or le...[Read more...]
Spanish and French Classes/Tutorial for those 9 years and upHarrisburg
Spanish and French Summer Classes for anyone 9 years of age and up including adults Sign up for Spanish or French sessions/tutoring and work with your own private, passionate, and experienced instr...[Read more...]
Catawba Science CenterHickory
Catawba Science Center offers hands-on learning and interactive exhibits that explore physical, natural, and earth sciences. Homeschool classes offer science opportunities for preschool through hig...[Read more...]
Boundless Achievement AcademyHolly Springs, NC
Boundless Achievement Academy is an accredited supplemental education provider offering homeschoolers classes and enrichment year round. Courses specifically address the need for challenge and rigo...[Read more...]
The Learning Habitat, LLCIndian Trail
The Learning Habitat is a group of caring, experienced, qualified and devoted tutors who love helping students grow intellectually, socially and emotionally through group lessons. This learner-cent...[Read more...]
Carolina English TutorLake Lure
Carolina English Tutor—led by a Harvard University graduate and English major—offers 26 years of experience as an English teacher, test prep instructor and college placement counselor to homeschool...[Read more...]
Robin Antoinette's Arts for AllLake Norman
Offering reasonably priced private music lessons, art classes, and drama classes. Arts for All is a local non-profit that uses all proceeds to serve local students and teachers with quality continu...[Read more...]
Chem Help ASAPLake Norman
Private, online tutoring in chemistry offering students extra one-on-one help and reinforcing the topics and techniques the student is learning in their specific chemistry class. Karin and Erland S...[Read more...]
Literacy Imagined, LLCMatthews
Literacy Imagined delivers online and In-Person Structured Literacy interventions to students struggling with reading, spelling and/or written expression. (In-person lessons for those within the So...[Read more...]
Carolina Speech ConnectionsMonroe
Carolina Speech Connections is a private speech therapy practice located in the heart of Monroe, NC allowing you to avoid the hassle of large hospitals and rehab centers. The main goal is to help y...[Read more...]
Patterson Farm Market and ToursMount Ulla
Patterson Farm Market and Tours, Inc. is committed to educating children and adults about their food source, the importance of agriculture, and specifically about the crops we grow at Patterson Far...[Read more...]
The Driving SchoolNew Bern
Drivers Education classes for students at least 14 1/2 years of age but under 18 years of age. Consists of 30 hours classroom & 6 hours in the vehicle. Homeschool student D.E. classes last 5 days (...[Read more...]
Craven Community CollegeNew Bern
A college education is valuable but it does not have to be a financial burden. At just $76 per credit hour, our tuition is about 40% less than public universities and 90% less than private universi...[Read more...]
Kingdomway Homeschool GroupNew Bern
Kingdomway Homeschool Group meets every Tuesday for classes. Members enjoy many field trips, character visits, prom, yearbook, graduation ceremony, testing, etc. The Facebook page is for members on...[Read more...]
Half-Day Kindergarten Nature School at Camp AlbemarleNewport
Half Day Kindergarten Curriculum for Homeschoolers Calling all Nature Lovers, ages 5 & 6 (child must be 5 by Aug 31). This Program will engage children in the wonders of nature while creating p...[Read more...]
North Carolina Classical ConversationsNorth Carolina Statewide
CC is a national homeschooling program that uses a Bible based curriculum taught in a christian, classical tradition. Classes are geared for age 4 through high school.[Read more...]
Endeavor Charter School Enrichment ClassesRaleigh
Endeavor supports the "Learn by Doing" philosophy of learning. Classes and camps provide an opportunity for students to participate in hands on educational experiences. Year-round educational enric...[Read more...]
Dr. Math TutoringRaleigh
Dr. Math Tutoring provides high school math instruction and tutoring for students in the Wake County area. Private, individualized tutoring as well as small group instruction by course are offered....[Read more...]
Backpack Labs Science CoursesRaleigh
Science courses developed with the homeschooler in mind! We offer science lab camps for rising 9th - 12th graders who are home or traditionally schooled in the Raleigh, NC area.[Read more...]
Learning Lab 360 Virtual Field TripsRaleigh
Curriculum-based media brought to the student through virtual reality headgear. Programs are presented through our mobile Learning Lab trailers that come to your site.  Current programs include Din...[Read more...]
The Homeschool ExperienceRaleigh
The Homeschool Experience offers secular & inclusive enrichment preK-12 classes, field trips, clubs, and excursions for homeschoolers in Raleigh, Cary, Apex, Holly Springs, Fuquay Varina and su...[Read more...]
Corey Lerch TutoringRaleigh
Corey Lerch is a professional tutor with Engineering and Business degrees from the University of Pennsylvania and over 10 years of teaching experience. He tutors high school, college, and even grad...[Read more...]
St. Augustine Homeschool EnrichmentRaleigh
Many families choose to start the day with Mass at 8am in the church and then join the parish for a potluck breakfast afterwards in the community room. The first period classes begin at 9:45am in t...[Read more...]
ARCH RaleighRaleigh
ARCH Raleigh is a support group for Roman Catholic homeschoolers in the greater Raleigh, NC, area. As an organization, we host several events including co-ops, service projects, socials, an All Sai...[Read more...]
English Classes with Mrs. MassieRaleigh
Kristy Massie offers in-person, full year English classes including grammar, literature, and composition for grades 8-12.[Read more...]
Civil Air Patrol Cadet Program - Shelby Composite SquadronShelby
The Civil Air Patrol Cadet Program is a non profit all volunteer program for youth ages 12-18 as well as adults. This program is an Auxiliary of the United States Air Force. This program helps deve...[Read more...]
JOCO ROBOS FIRST Robotics TeamSmithfield
JOCO ROBOS is a county wide high school robotics team proudly hosted by the new Associate in Engineering Program at Johnston Community College. These students make executive, technical, financial, ...[Read more...]
Pam's Orton Gillingham Reading TutorSouth Charlotte metro area
Orton Gillingham, including Structured Literacy, has been labeled the Gold Standard around the world for those whose.needs include beginning, at-risk, and struggling elementary readers, as well as,...[Read more...]
Charlotte Motor Speedway STEAM events and Homeschool DaysSouth Concord
From energy to speed, learn racing concepts through STEAM activities! Enjoy entertaining, educational STEAM program with one of our world-class events as a backdrop, including the FASTRAK Racing di...[Read more...]
Covenant Preparatory SchoolSouthern Pines
Covenant Preparatory School is a classical, Christian University Model School.[Read more...]
Pine Grove PressStatewide
Pine Grove Press is a resource to connect the homeschoolers of the Carolinas together using words, ideas and stories. Growing up as homeschoolers, one thing one never gets is a school newspaper, an...[Read more...]
SMART Testingstatewide North Carolina
SMART Testing serves homeschool families in the entire state of North Carolina as well as other states. We currently have opening for testing with the Woodcock Johnson IV, Iowa Complete, Iowa Core ...[Read more...]
Piedmont Education ServicesTriad (Winston-Salem, Greensboro, High Point)
Piedmont Education Services offers achievement testing, practice tests, educational consultations and custom curriculum development based on personal assessment and learning style. For over 30 year...[Read more...]
Scambusters® presented by Better Business Bureau Educational Foundation of Eastern NCTriangle and east
It is estimated that over $50 billion is lost to scams annually. Scambusters® teaches groups to recognize and avoid scams, employing a fun game format. Teams are presented offers - some legitimate ...[Read more...]
Piedmont Wildlife Center provides a variety of camps and educational experiences for kids and adults from all walks of life. We believe that conservation and connection to nature are a pivotal part...[Read more...]
Dual Enrollment at the College at SoutheasternWake Forest
The College at Southeastern (C@SE) is offering college credit to high school juniors and seniors through dual enrollment classes. C@SE offers many general education courses that are accredited, hel...[Read more...]
The Burke Learning Center Private TutoringWake/Johnson County
A biologist, tutor, homeschool mom and certified teacher offering private tutoring services for K-12. Also offering day/week camps services in math and science. The camps are designed to encourage ...[Read more...]
Smoky Mountain Academic Resources & Training (SMART) Testing ServicesWestern & Southern North Carolina
Yearly testing for homeschool families using the Woodcock Johnson IV, Iowa, and CogAT is available from SMART Testing. Contact Dr. Lynn Leckron: lynn@smarttesting.net to schedule a test date soon; ...[Read more...]
Nature Connect NCWilmington
The Nature Connect mission is to cultivate curiosity, compassion, and connection with the natural world. Programs include exploring outdoors, animal tracking, bird language, nature and sensory awar...[Read more...]
Peak Learning SolutionsWilmington
Peak Learning Solutions provides quality educational services, helping each student achieve his or her peak potential. PEAK offers a variety of services that support both traditional and home schoo...[Read more...]
APT To LearnWinterville
This business provides new and used curricula and other resources for home school parents. It also offers tutoring services and homeschool math classes in the mornings.[Read more...]
Wrightsville Beach Scenic Science Class ExcursionsWrightsville Beach
Wrightsville Beach Scenic Tours offers outdoor, hands-on science based activities for the whole family. Join us this fall for 3 different science activities exploring the coastal are around Masonbo...[Read more...]
Go to North Carolina...