Jump to: Homeschool Co-ops | Homeschooling Classes & Academic Enrichment
Looking for someone to teach physics to your teen? Need a way to avoid teaching algebra? Want to enroll your Kindergartener in a co-op for social time? Homeschool classes and co-ops are a great way to spend time with other homeschoolers and skill-share with other homeschool parents.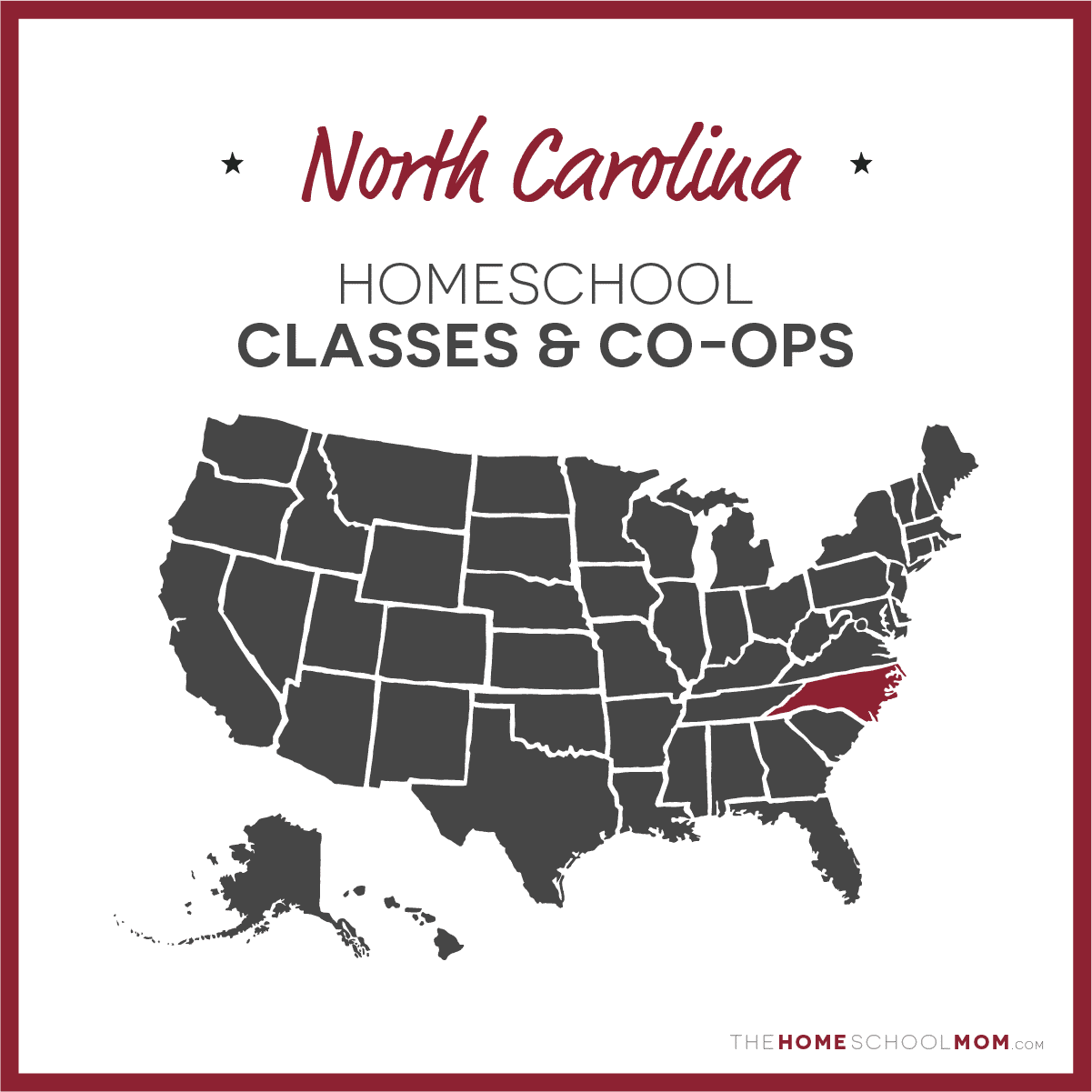 Submit a Local Resource
Our listing of North Carolina co-ops and academic classes for homeschoolers is ordered alphabetically by city, with co-ops in the first section and all other academic resources below. If you would like to submit a North Carolina co-op or academic resource, you may do so using the red button above.
North Carolina Homeschooling Co-ops
Asheville Homeschool Co-op

Asheville

A well-established community group that meets to offer weekly enrichment classes for homeschool children. They also sponsor community-wide events regularly throughout the year.
Gastonia Freedom School

Charlotte

Gastonia Freedom School is a homeschool resource center in Gastonia, NC. We are an Agile Learning Center that does self-directed learning. We have a drop in program for local homeschoolers and co-op day on Wednesdays. Our full time program serves children with disabilities such as autism and ADHD.
Thrive Day School

Charlotte, Ballantyne, Waxhaw

Thrive Home offers hands-on, theme based learning for grades K-8th. This co-op offers small class sizes and in-person instruction. Each class is designed to engage learners and encourage social skills, critical thinking skills in a positive setting. Science, Math, English and Social Studies lessons are provided daily. Special education available.
Clayton Area Co-Op

Clayton

We are Christian homeschooling families in and around Clayton, NC. Our mission is to provide affordable, parent-led classes to our children while we encourage the development of a Christ-centered homeschooling community where our children can grow and thrive in the knowledge of Him. Every family interested in joining must have at least one parent committed to volunteering within the co-op each week. Assigned roles include, but aren't limited to: Lead Teacher, Teacher's Assistant, Classroom Helper, Lead Nursery Worker, and Field Trip Coordinator. Every class we offer is dependent upon a parents' willingness to provide it.
Trinity Home Educators

Clemmons

Co-Op for 7th-12th grade in Clemmons, NC at Agape Faith Church on Wednesday and community day on Fridays. If you are looking for a community to join we have a place at the table for you!
Raising Arrows Co Op - North Carolina

Concord

We are a Christian homeschooling cooperative located in Concord, NC. We currently serve families preschool through high school.
Barefoot University

Eastern North Carolina

BU connects families to nature and each other. Our forest schools nourish the holistic health and education of children. Through child led learning, engaging STEM and science based activities, community service projects, creating communities, and equipping families to observe and explore our natural world, Barefooters thrive. Locations: Camden: Dismal Swamp, Mon 10am Goldsboro: Cliffs of the Neuse, Thur 1pm (NE)Jacksonville: NE Creek, Fri 11am Jacksonville: Onslow Pines, Tues 10am Richlands: Steed, Wed 10:30am Kitty Hawk: KH park, Wed 10am Onslow Co: Hammocks Beach, Wed 10:30
Branch Christian Academy

Forest Hill, Kannapolis, Lakeland

BRANCH, Building Relationships And Nurturing Children's Hearts, is a 501 (c) (3) organization based in Cabarrus County, NC, that seeks to educate families at home and in a community together, leading and guiding them in the way they should go. When you join our co-op, you are joining a family! We do life together, not only in the classroom, but at home also. We take field trips together, walk through tough times together, become friends together, pray for each other, serve together. It is our goal to give students every opportunity to leave our community having learned all that they can, to go out into the world ready to face it!
Wayne County Home Schoolers

Goldsboro

We host two semesters of weekly co-op classes (Tuesdays from 11am-2:30pm) along with at least monthly field trips and summer activities. We also share local information and resources with co-op members via our Facebook group. You can check out the public page at facebook.com/waynecountyhomeschoolers. We are a secular, all-inclusive group that welcomes members from Wayne County, NC and beyond.
GRACE Life Co-op

Greenville

GRACE Life Co-op is unapologetically a Christian organization. We do allow those of different beliefs to join our co-op, but prospective members need to understand that we will operate according to biblical values. The Grace Life Co-op leaders are a group of parents who give our time to organize this co-op in order to expand our own kids' homeschool experience as well as to bless the homeschool community in the Pitt County area. Unfortunately, we are not trained or equipped to deal with learning and/or behavioral disorders in our co-op classes. Each child who participates in our co-op needs to be able to function well in a classroom environment.
Discovery Days Homeschool Organization

Hickory

Discovery Days Homeschool Organization meets typically on the first and third Friday from September through early May in the Hickory area to learn, socialize and support one another. The co-op is designed for high school students all the way down to preschool age children, so the entire family can participate.
East Coast Homeschool Organization (ECHO)

Jacksonville

ECHO is a Christian Homeschool Co-op offering weekly supplemental and enrichment activities for homeschooling families in Jacksonville, Onslow County, and surrounding areas. ECHO Co-op offers weekly activities for students 4-18 years old (PreK-12th grade). ECHO offers a Prom for 8th-12th graders, a yearbook created by 6th-12th grade students, and a monthly teen event for 6th-12 grade members. ECHO also offers a graduation/promotion ceremony at the end of the school year. Community service events, field trips, and other events are offered whenever possible. ​
Hillcrest Homeschool Enrichment

Kernersville

Hillcrest Homeschool Enrichment is a ministry of Hillcrest Baptist Church located in the south Kernersville area. The ministry of HHE offers support and encouragement to homeschooling families and is a family focused enrichment co-op offering a variety of elective and supplemental classes from preschool to high school.  HHE also provides opportunities for field trips, Moms' nights out and other social activities.
ARCH Raleigh

Raleigh

ARCH Raleigh is a support group for Roman Catholic homeschoolers in the greater Raleigh, NC, area. As an organization, we host several events including co-ops, service projects, socials, an All Saints' Day Party, a May Crowning and a Father-Daughter Dance.
Heritage Homeschool Co-op of Selma

Selma

We are a small Christian co-op in Selma, NC with enrichment classes held twice a month from Sept - April that parents come together and teach. We have other activities throughout the year such as field trips, holiday events, field day, science fair, and an end of year promotion ceremony. At least one parent must volunteer and remain onsite with their children for each activity. This is not a drop off program. We ask that members bring their unique talents and interests to help teach classes in an affordable, relaxed environment. To provide our children with a distinctly Christian worldview and because we ask that members create and teach the classes, everyone is required to sign and indicate their agreement with a Christian statement of faith.
New Lebanon Homeschool Guild

Summerfield

NLHG is a Christian homeschool co-op serving Rockingham County, North Carolina, and the surrounding counties. We have two semesters in our co-op year that are 14 weeks long each. We have classes for elementary grades through high school. We also offer 6 social events (3 each semester) throughout the year for families to meet each other outside of a classroom setting. Our mission is to connect homeschoolers with opportunities for growth and enrichment within our community. We provide supplemental educational, social and spiritual experiences for homeschool families.
North Carolina Homeschooling Classes & Academic Enrichment
Student Learning Recovery Tutoring & Therapy

Apex

Provides Reading/Dyslexia Tutoring and Learning Disability Therapy utilizing specialized reading and academic one on one tutoring programs combined with learning skills therapy. Tutoring designed for students who struggle with reading and learning. Specializing in students with an IEP and/or at risk for retention. Low Cost Dyslexia/Reading Disorder Evaluations. Free phone consultations: Contact Leslie Rosenberg 919-303-3090
Emily Mora Tutoring

Apex

Emily Mora Tutoring offers one-on-one sessions using the Wilson Reading System. Wilson is an Orton-Gillingham based approach to reading, which is highly structured and multi-sensory, incorporating visual, auditory and kinesthetic learning. The Wilson program is divided into 12 steps, integrating reading (decoding), spelling, vocabulary, comprehension and fluency into each session. The program is designed for learners in elementary school through adulthood.
Ms. Kelly's Classroom

Asheville

Located in Asheville, NC, Ms. Kelly's Classroom offers private tutoring as well as high quality educational enrichment classes for homeschoolers which supplement the core academic material taught at home. Students can attend a variety of child-centered, collaborative learning workshops in a group setting that makes learning FUN!
App Camp 2021

Asheville

Swift App School is offering an in-person app development camp experience for students interested in learning how to code apps for the iPhone and iPad. Students will spend the week learning Apple's Swift programming language and how to make apps for Apple's App Store. Students will discover SwiftUI and learn to code Augmented Reality apps and games. Visit www.swiftappschool.com to learn more or call 828.423.0257.
IDEA Lab Kids - Ballantyne

Ballantyne

IDEA Lab Kids is a S.T.E.A.M Enrichment Center that serves kids ages 4-14. We offer enrichment classes in the areas of Science, Culinary, Coding, Robotics, Visual Arts, Entrepreneurship, Movie Making & Engineering. Our Enrichment Center runs year round programming including Summer Camp, Afterschool programs, Distance Learning & Homeschool Support, Day-Off Camps, Birthday Patties and Parents Night Out Events. We even provide transportation from local schools to our center. The IDEA Lab Kids facility boasts 5 state of the art classrooms: Art, Culinary, Maker Space, Science & Tech, and a Gym. We are located in South Charlotte, in Ballantyne in the Hunter's Crossing Shopping Center across from Elevation Church.
Earthshine Nature Programs

Brevard

Earthshine Nature Programs was founded in 2010 by naturalist and environmental educator Steve O'Neil. Our mission is to provide live outreach, in-house, and virtual learning environments and opportunities for students of all ages that will foster a lasting curiosity, interest, respect, love, and hopefully greater conservation of wildlife, wild places, and the fragile environment that supports us all.​ We work to provide exciting outreach programming taking our wildlife and nature conservation, science advocacy, and renewable energy messages to local, regional and worldwide communities via public, private, and home school classes and groups, libraries, camps, offices, churches, special events, festivals, and other public and private organizations and also online via our website, Youtube channel, blogs and Facebook page. We have created and maintain a one of a kind, solar-powered, nature, and science education classroom that is open to our students throughout the week and to the public by appointment.
Atlas International School

Cary

This is a combination homeschool and private school. Offering services to parents to turn if they feel overwhelmed homeschooling by themselves!
Step Ahead Gifted Academy

Cary

Step Ahead Gifted Academy is a non profit organization specializing in the education and advancement of intellectually and academically gifted students, ages 6 and up.
Sola Gratia Classical Academy Inc.

Cary

A Schole' group of homeschooling families meeting two days a week for grades 4th and up. Sola Gratia Classical Academy Inc. is a homeschooling community that employs the c'ontent of a classical curriculum and the pedagogy of restful learning embodied by the word scholé. The word scholé (pronounced skoh-LAY) comes from a Greek word that means "restful learning," with the connotation of "contemplation," "conversation," and "reflection." The mission of a Schole' is to pursue deep engagement that results in enjoyable, permanent learning—that is, to bring scholé to a homeschool co-op.
ART of Stem

Cary

Weekly Art of S.T.E.M. Classes = Focus on a large array of art projects chosen to specifically expose and interest children in science, technology, engineering, and math. *New camps are featured each week. *Highly qualified and specially trained teachers USE the Art disciplines to interest and engage kids in S.T.E.M. skills. *On-Site Camp Field Trip each week.(Magician, Puppet Show, ie)
Empower Tutoring

Cary

Empower Tutoring is a resource to families with children that are experiencing learning differences. Tutors seek to equip, strengthen and shepherd children from frustration to hope students by determining cognitive areas that need to be strengthened and equipping students with the tools toward academic confidence. Cognitive developmental screenings are used to help determine the cognitive areas that need to be strengthened. Academic screenings are used to help determine the academic gaps and what tools are helpful in filling in the gaps.
STEAM Enrichment Courses

Cary

STEAM Enrichment Programs are available as online or on site courses. It includes lessons such as Critical Reading, Languages, Coding, STEM Projects, Mathcounts, AMC 8, AMC 10/12, and more. Courses are offered as private or group lessons.
Triangle Esports Academy

Cary

Triangle Esports Academy in Cary, NC offers a fun, innovative, and educational approach to the gaming world. Our location serves as the premier Educational Video Gaming Center for the Triangle area of North Carolina (Raleigh, Durham, Chapel Hill and surrounding area).
Successful Steps Intervention Dyslexia Tutoring

Chapel Hill

Mrs. Lee is a Wilson Dyslexia Practitioner, certified Reading Specialist, and experienced educator. She provides in-person and online tutoring for students with language-based learning disabilities, such as dyslexia. Mrs. Lee uses the Wilson Reading System to work with students in grades 2-12.  She offers in-person tutoring for students living in the Chapel Hill/ Pittsboro area in NC. Mrs. Lee homeschooled her children when they were young and loves to support the homeschooling community. She also has a Master's Degree in Education and a Bachelor's Degree in Elementary Education. She has been an educator for 20 years. Mrs. Lee has taught as an elementary classroom teacher for 14 years and has been teaching in private practice for the past five years. Her tutoring business is called Successful Steps Intervention.
Back Creek Christian Homeschool Academic Courses

Charlotte

Back Creek Christian Academy offers area homeschool families a menu of high quality academic and extracurricular classes. All courses are taught by certified teachers. Back Creek classes give students a taste of group learning in a classroom on a campus setting with like-minded peers.
Brain Balance Acheivement Center

Charlotte

Brain Balance Achievement Centers offer the Brain Balance Program in 34 nationwide locations. The Brain Balance Program is an individualized and comprehensive approach to helping children with neuro-behavioral and learning difficulties surmount their unique challenges. The program works with children who suffer with ADD/ADHD, Dyslexia, Tourette's, Asperger's and Autism Spectrum Disorders.
Back Creek Christian Homeschool Classes

Charlotte

Back Creek Christian Academy is excited to partner with homeschooling parents to educate the next generation of Christian leaders. BCCA offers area homeschool families a menu of high quality academic and extracurricular classes. All courses are taught by certified teachers. Back Creek classes give students a taste of group learning in a classroom on a campus setting with like-minded peers.
The Charlotte Museum of History Homeschool Educational Programming

Charlotte

The Hezekiah Alexander Home Site is a culturally significant and powerful setting for educational programs and brings to life important themes in our national history. Here students, residents, and visitors can explore the three cultures that settled the Carolina Backcountry: the Catawba Indian Tribe, European Immigrants, and African Americans, as well as the ideas and events that led to the American Revolution and the influential Southern Campaign of the Revolutionary War.

The Charlotte Museum of History Homeschool Educational Programming details
Charlotte Chess Center

Charlotte

The Charlotte Chess Center & Scholastic Academy (CCCSA), founded in March of 2014, serves as a place where members of all ages and skill levels can congregate and enjoy the royal game of chess. The CCCSA also sells basic chess supplies and has an open library of over 700 books. The CCCSA serves as an educational hub for chess in the Charlotte area; offering camps, classes and lectures year round. The CCCSA runs weekly and monthly chess events such as weekly rated play, special events, lectures, classes, weekend tournaments. The CCCSA is constantly making efforts to create partnerships with local and national educational programs to further the expansion of chess not only locally but nationally.
Project Pray Discipleship Training Program

Charlotte

Project Pray is launching their first ever Discipleship Training Program starting Fall 2018. This program is being especially tailored to include Home/Private Christian School Seniors interested in practical training in the area of prayer.
Gastonia Freedom School

Charlotte

Gastonia Freedom School is a homeschool resource center in Gastonia, NC. We are an Agile Learning Center that does self-directed learning. We have a drop in program for local homeschoolers and co-op day on Wednesdays. Our full time program serves children with disabilities such as autism and ADHD.
The Home School Network

Charlotte

We are a resource for homeschool families. We offer virtual summer camps, full curriculums, group interaction, tutoring, end of the year testing, and live-taught teacher courses. We meet periodically throughout the year and daily during the school year.
Creation Acre

Charlotte

An academic enrichment center offering a microschool, summer camps, and enrichment classes
Pam's Orton Gillingham Reading Tutors

Charlotte Metro Area

Since 2005, Pam's Reading and Team of Orton Gillingham Reading Tutors have been the leading Orton Gillingham Tutors in Charlotte. We use In-Person Tutoring and online Zoom One-on-One Tutor sessions for Homeschooled and School-based children. Our tutors have over 30 years of experience and we have the unique experience of having children with Dyslexia ourselves. Pam has substituted at The Fletcher School in addition to her private practice. As members of the Academy of Orton-Gillingham Practitioners and Educators since 2010, we use fun and engaging techniques and applications that will assist your child with reading skills, working memory, cognitive skill building, and critical thinking skills to improve their reading, writing, and spelling to inspire Confidence. Our goal as Orton-Gillingham Reading Tutors is to improve your child's self-esteem using a fun, upbeat, and engaging tutoring style that encourages your child to be eager to learn. Using my "Never Give Up" motto and Canine Therapy Dogs, we are here to help! Please contact me at 704-906-6097 or pam@pamsreading.com.
iCode

Charlotte, Huntersville

iCode offers hands-on STEM education and coding classes for kids ages 5-18! In a tech oriented world, the jobs of tomorrow will be driven by technology. Preparing kids with critical STEM skills along with vital soft skills will better prepare them to compete in a digital and global workforce. This resource offers varied curriculum that involves hands-on, collaborative projects that teach students time management, team work, presentation and communication skills, strategic thinking, and so much more. Classes are structured in two parts: Instructor-led lessons followed by hands-on applications. Seeing the lessons in action gives students instant feedback and aids in comprehension and retention. iCode provides programming year-round through summer camps and STEM programming paths. Topics include robotics, website creation, application development, and game design. For more information, please contact iCode at (980) 281-2235 or email charlotte@icodeschool.com today!
Carowinds Student and Youth Program

Charlotte, NC

Whether it's for a reward, end-of-year celebration or educational experience, Carowinds provides the perfect adventure for your students. The Carolinas come together with our park residing in both North & South Carolina! Take your lesson plan on the road and show how your lessons apply to the world around us. Come enjoy a variety of Educational opportunities during our Spring programming days, splash and play in our Carolina Harbor waterpark and ride our new coaster, Copperhead Strike all summer, have a frightening good time during our Scarowinds event in October or visit us during Winterfest where we transform the park into a Winter Wonderland! Teachers are also welcome to download our online curriculum to create a corresponding lesson plan for their students. Tickets may be purchased by mail, email or fax. Confirmation of homeschooling is required for eligibility.
STEM at Charlotte Motor Speedway

Concord

This STEM program is geared toward 4th through 7th grade levels and runs Monday to Friday throughout the year. Focus will be on the core principles of STEM as it relates to motorsports. Topics include force and motion, traction/friction, weight and balance. Groups also have the option (no additional cost) to take a lap on the NASCAR track in our tour van! The cost is $20/student, the first 10 adults are free and each additional adult is $10.
Code Ninjas in Concord and Ballantyne

Concord and Ballantyne

Kids love technology, games, and having fun with friends. Parents want to give their kids the best and brightest future possible. Everyone wins at Code Ninjas. Kids learn to code through our engaging game-based curriculum that teaches teamwork, logic, math, and problem solving. The focus at Code Ninjas is to teach students between the ages of 7 and 14 the coding language of JavaScript. The cool thing about our drop-in program is that it is not based on class times – rather, you bring your child in two times a week, one hour each time, based on your schedule availability for your child to learn how to code in the language of Java Script through a self-paced curriculum. This gives your child a total of between 8 to 10 hours a month of training. Code Ninjas opens at 1P Monday through Friday to allow for homeschoolers to work in a quieter environment surrounded by similar minded students. Welcome co-ops as well.
Career and College Promise

Craven County

Career & College Promise (CCP) is a tuition-free opportunity that allows high school students to earn college and high school class credit from the same class while only paying for required textbooks and software. These credits can then be used to accelerate the completion of a college certificate, diploma, or associate degree after graduating from high school.
Providence Tutorials

Durham

Providence Tutorials offers one day a week (Friday) tutorial for homeschooling families for a fee. Instruction works with your chosen curriculum. Whether using something similar to Charlotte Mason or Konos, Classical or the Virtual Academy, Providence Tutorials has courses for students pre k through 12th grade to compliment what they are already doing. Providence Tutorials also offers a health class and CPR certification through the American Heart Association. Also offering mini sessions in the basics of financial planning for youth to middle school students. For homeschooling families looking for specific subjects that are planned and directed by a lead teacher for their students' core classes please check out the website.
Writing Intervention Study Opportunity

Durham

"Do you have a child who struggles with reading or writing? If so, I may be able to help! WHO I AM: I am a PhD student from the School of Education at UNC Chapel Hill. I am interested in doing a combined reading and writing intervention for students who are homeschooled. WHAT I DO: I will train homeschool parents in an evidence-based intervention, which has been shown to improve reading and writing performance. Parents will then use the strategy for instruction with their children. THE INTERVENTION: Using Self-Regulated Strategy Development (SRSD), students will be taught TWA+PLANS for reading and writing (Think before, While and After reading; Pick goals, List ways to meet goals, And, make Notes, Sequence notes). BENEFITS: Participating students will potentially improve their academic performance in reading comprehension and writing after receiving the intervention." If you are interested in learning more about this opportunity, please contact Abby at 919-749-5072 or ampujaabby@gmail.com.
Outdoor STEM Adventures

Durham

Outdoor STEM Adventures (OSA) offers outdoor, hands on, immersive STEM programs in South Durham. Normally offered as in-school field trips for our local Durham schools, we have adapted our programs for small learning pods. Programs are aligned to NC Science standards for 3rd, 4th and 5th grades however everyone is welcome! Programs are currently offered on Durham's "Wellness Wednesdays".
Homeschool Learning Lab

Durham

Homeschool Learning Lab welcomes homeschoolers (and out of session public/private schoolers) of all backgrounds and abilities to an environment where students are able to express themselves and learn about the world around them, where families can find support for their homeschooling adventure, and together we strengthen the entire community. We meet at 10am every Thursday at the library (there is also an online option for those who would rather participate remotely during Covid). We have an email loop for families and an annual conference and resource fair. The entire program is at no cost to anyone. Please see our website for information on how to contact us and register for programs. Thanks!
My Little Farmer

Durham

Take the class room outside...to the Farm! Whether you are an established homeschool group or wanting to meet other homeschoolers, we offer weekly classes just for you. A combination of farm education, natural science, history, art and more. Your child will learn something new each time! Coming as a group? We can help to pair our curriculum to match your current at-home lessons. We have offerings for Ages 3-6 & 7-10 https://www.hisawyer.com/my-little-farmer/schedules?schedule_id=&slug=my-little-farmer&activity_id%5B%5D=68714&activity_id%5B%5D=128154&schedule_id=
Kim's Craft Studio

Fuquay-Varina

Crochet & sewing lessons
Spanish Classes with Solórzano Spanish

Fuquay-Varina

Solórzano Spanish offers Spanish classes to middle and high schoolers in the South Raleigh/Fuquay area. All classes this year take place on Tuesday. High school Spanish I is worth one credit and costs $50 a month, while middle school Spanish costs $25 a month. High school Spanish is a rigorous course that will allow your students to become comfortable speaking and hearing the language. Middle school Spanish offers a great platform to have fun learning Spanish without getting into the grammar as much.
Gaston County Civil Air Patrol Cadet Program

Gaston County

The Civil Air Patrol Cadet Program, for youth 12-18, develops young people into responsible citizens and leaders by focusing on character development, leadership, education, and physical fitness. The core values of the Civil Air Patrol are integrity, volunteer service, excellence, and respect. The Gastonia Composite Squadron meets every Tuesday from 6:30-9:00 pm and visitors are always welcome. Civil Air Patrol is the U.S. Air Force Auxiliary.
Gaston County STEM Education & Outreach Center

Gastonia

Gaston County STEM Education & Outreach Center offers supplemental instruction in science and mathematics for homeschoolers. Classes are taught by a former college professor. The center also offers summer camps, weekend camps, and test prep courses.
The Mindfull Mentor (Homeschool math and enrichment classes)

Greensboro

At The Mindfull Mentor, I offer in person homeschool math classes, in person ukulele workshops, and other fun enrichment workshops and events for homeschool students to explore their interests, learn fun new skills, and meet other local students! I have math classes available for grades 3-8, and my ukulele workshops are available for students age 6 and up. Classes are currently located in South Greensboro. I also offer volunteer opportunities throughout the year as well to allow homeschool students to get involved in the community.

The Mindfull Mentor (Homeschool math and enrichment classes) details
iCode Greensboro

Greensboro

iCode offers hands-on STEM education and coding classes for kids ages 5-18! In a tech oriented world, the jobs of tomorrow will be driven by technology. Preparing kids with critical STEM skills along with vital soft skills will better prepare them to compete in a digital and global workforce. This resource offers varied curriculum that involves hands-on, collaborative projects that teach students time management, team work, presentation and communication skills, strategic thinking, and so much more. Classes are structured in two parts: Instructor-led lessons followed by hands-on applications. Seeing the lessons in action gives students instant feedback and aids in comprehension and retention. iCode provides programming year-round through summer camps and STEM programming paths. Topics include robotics, website creation, application development, and game design. For more information, please contact iCode at (336) 790-1882 or email greensboro@icodeschool.com today!
Girl Scouts of the Colonial Coast

Hampton Roads and Northeast NC

Fun, friendship and new adventures are what Girl Scouts is all about. Making friends, testing her strengths, exploring new possibilities. It's all here for her. Whether teaming up with others or learning to shine on their own, Girl Scouts have the tools and community support they need to succeed. Homeschooling? You can "mix and match" Girl Scout badges with the curriculum you are using! The content of all Girl Scout national proficiency badges and journeys have been correlated by grade level to national Common Core Standards, 21st Century Skills Standards, Financial Literacy Education Standards, and curriculum and learning objectives for all 50 states and the District of Columbia. Girl Scouts have fun outside, too! Getting outdoors is a great way for girls to explore leadership, build skills, and develop a deep appreciation for nature. Girl Scouts of Colonial Coast operates several properties for troop camping and outdoor programming that includes summer day and resident camp options. Everything Girl Scouts do builds their curiosity, kindness, and can-do spirit. And as they earn badges, help their community, and deepen their friendships, they'll also have a blast along the way.
Youth Toastmaster Public Speaking Workshops

Hendersonville

This workshop focuses on four main components of public speaking, with the concentration determined by class members: 1) The Point Story that develops personal storytelling and organization; 2) humorous speaking that aims to connect tastefully; 3) impromptu speaking that is "courage (and confidence) under fire"; 4) oral interpretation that expresses with vocal and visual emphasis. An "unspoken" component is listening as an audience member and taking on individual roles to provide feedback, from noting language and grammar use to counting "ah's" to giving encouraging evaluations that emphasize personal comments on "grows and glows." The Four Seasons Toastmaster Club in Hendersonville has focused on speaking, listening, and leadership skills for nearly 20 years, and now it has an in-person and online (Zoom) presence. Before the pandemic, it sponsored three similar workshops of 10-16 youth aged 10-17 years old meeting weekly for about an hour for a run of 8-10 weeks. The instructor then and now is Stan Coss, who is the incoming club president and wants to facilitate new workshops that have even more flexibility and impact. This is based on his increased Toastmaster experience and his four years of instruction of public speaking at BRCC.
Catawba Science Center

Hickory

Catawba Science Center offers hands-on learning and interactive exhibits that explore physical, natural, and earth sciences. Homeschool classes offer science opportunities for preschool through high school learners in geology, biology, astronomy, environmental science, and more! CSC offers science classes for students in grades pre-K through eighth, and high school.
Boundless Achievement Academy

Holly Springs, NC

Boundless Achievement Academy is an accredited supplemental education provider offering homeschoolers classes and enrichment year round. Courses specifically address the need for challenge and rigor while meeting the needs of those who learn differently, those students with a anxiety and those with ad/hd. Classes, one on one support and parent pave a way for personalized homeschooling, helping parents homeschool their smart but scattered, witty but worried, creative student, "their way".
The Learning Habitat, LLC

Indian Trail

The Learning Habitat is a group of caring, experienced, qualified and devoted tutors who love helping students grow intellectually, socially and emotionally through group lessons. This learner-centered education model includes hands-on learning and outdoor education. Group lessons include math, science, history, reading, Spanish, Language Arts, art, and Speech Pathology. Group lessons are offered five days a week for a minimum of two hours per session. Lessons run from September through May.
Robin Antoinette's Arts for All

Lake Norman

Offering reasonably priced private music lessons, art classes, and drama classes. Arts for All is a local non-profit that uses all proceeds to serve local students and teachers with quality continuing education and arts enrichment programs.
Chem Help ASAP

Lake Norman

Private, online tutoring in chemistry offering students extra one-on-one help and reinforcing the topics and techniques the student is learning in their specific chemistry class. https://www.youtube.com/watch?v=PKvNW0DcIio&feature=youtu.be Karin and Erland Stevens YouTube: Chem Help ASAP ChemHelpASAP1@gmail.com Twitter: Chem Help ASAP
Literacy Imagined, LLC

Matthews

Literacy Imagined delivers online and In-Person Structured Literacy interventions to students struggling with reading, spelling and/or written expression. (In-person lessons for those within the South Charlotte area.) With specialized, technical training, certification, and hundreds of hours of experience, we use proven Structured Literacy therapy to help students overcome deficits and regain confidence. We also empower parents with knowledge to become effective advocates for their child. Working together, we can help your child attain academic success, confidence, and renewed self-esteem. Learn more about Literacy Imagined and our tutoring services on this website or contact us now for a free consultation.
Carolina Speech Connections

Monroe

Carolina Speech Connections is a private speech therapy practice located in the heart of Monroe, NC allowing you to avoid the hassle of large hospitals and rehab centers. The main goal is to help you and your loved ones make a connection to: • The skills you wish to develop • Materials and resources that can help your journey to growth and improvement • Loved ones through meaningful and functional communication Therapy is available for all age ranges and a variety of disorders involving speech and language, feeding, memory and cognition, degenerative diseases, as well as many others.
Patterson Farm Market and Tours

Mount Ulla

Patterson Farm Market and Tours, Inc. is committed to educating children and adults about their food source, the importance of agriculture, and specifically about the crops we grow at Patterson Farm, Inc. We accomplish this by providing educational opportunities which are designed to be educational, hands-on, fun, and informative. We are also passionate about creating pick-your-own experiences, seasonal activities, and events where families can create memories
The Driving School

New Bern

Drivers Education classes for students at least 14 1/2 years of age but under 18 years of age. Consists of 30 hours classroom & 6 hours in the vehicle. Homeschool student D.E. classes last 5 days (Monday-Friday, 8:30am-4:30pm) and are offered once a month (requires at least 3 students to conduct class).
Craven Community College

New Bern

A college education is valuable but it does not have to be a financial burden. At just $76 per credit hour, our tuition is about 40% less than public universities and 90% less than private universities.* Many students also receive scholarship support from Federal grants and the Craven Community College Foundation.
Kingdomway Homeschool Group

New Bern

Kingdomway Homeschool Group meets every Tuesday for classes. Members enjoy many field trips, character visits, prom, yearbook, graduation ceremony, testing, etc. The Facebook page is for members only so please use karencaprio@ymail.com for more information. This group is in New Bern, N.C. All homeschoolers in eastern N.C. are welcomed.
Half-Day Kindergarten Nature School at Camp Albemarle

Newport

Half Day Kindergarten Curriculum for Homeschoolers Calling all Nature Lovers, ages 5 & 6 (child must be 5 by Aug 31). This Program will engage children in the wonders of nature while creating pathways for learning through outdoor play. Rooted in nature, students will spend 75% of their day outdoors, enjoying a new adventure every day with an emphasis on experiential learning with a 1:6 teacher to child ratio. Class size will be 12 students. Situated on 29 acres of beautifully wooded and sound side campus, students will follow a Kindergarten curriculum and will observe God's natural wonders through, gardening, hiking, sensory play, live creatures, nature and ecology lessons, and scientific discoveries. For more information, please email Heather Estep at heather@campalbemarle.org Class Time: M-F 8:15am to 12:15pm

Half-Day Kindergarten Nature School at Camp Albemarle details
North Carolina Classical Conversations

North Carolina Statewide

CC is a national homeschooling program that uses a Bible based curriculum taught in a christian, classical tradition. Classes are geared for age 4 through high school.
Endeavor Charter School Enrichment Classes

Raleigh

Endeavor supports the "Learn by Doing" philosophy of learning. Classes and camps provide an opportunity for students to participate in hands on educational experiences. Year-round educational enrichment opportunities for students in grades K-8.
Dr. Math Tutoring

Raleigh

Dr. Math Tutoring provides high school math instruction and tutoring for students in the Wake County area. Private, individualized tutoring as well as small group instruction by course are offered. Dr. Math is a retired former high school and college mathematics instructor with a doctorate in Mathematics Education from the University of Virginia, and he is a curriculum and technology expert, having taught every level of high school mathematics. Dr. Math believes that students can only learn mathematics when it makes sense to them, so he teaches and tutors in a way that ensures students learn with understanding, as opposed to memorizing rules or "tricks" that are here today and gone tomorrow. Homeschool courses form each fall, so if you have a small group of students who will be taking any high school level course this year, Dr. Math can work with you and provide the expert instruction you need. Contact Dr. Math at drmath@drmathtutoring.com for further information.
Backpack Labs Science Courses

Raleigh

Science courses developed with the homeschooler in mind! We offer science lab camps for rising 9th - 12th graders who are home or traditionally schooled in the Raleigh, NC area.
Learning Lab 360 Virtual Field Trips

Raleigh

Curriculum-based media brought to the student through virtual reality headgear. Programs are presented through our mobile Learning Lab trailers that come to your site.  Current programs include Dinos, Titanic, Rome, The Acropolis, and a Journey into the Human Brain.
St. Augustine Homeschool Enrichment

Raleigh

Many families choose to start the day with Mass at 8am in the church and then join the parish for a potluck breakfast afterwards in the community room. The first period classes begin at 9:45am in their various locations across the campus. Once the day has begun, some parents stay in common area or outside to talk or walk with other parents, bring a book to read, work on work projects, or visit the church to spend some time with Jesus.  When class periods change, children need to go to their next class or return to their parent promptly. The assigned lunch period is 12:45pm but some may be eating lunch earlier with their parent outside earlier, especially the younger crew.  Lunch is 30 mins. then the first afternoon class starts at 1:15pm.
The Homeschool Experience

Raleigh

The Homeschool Experience offers secular & inclusive enrichment preK-12 classes, field trips, clubs, and excursions for homeschoolers in Raleigh, Cary, Apex, Holly Springs, Fuquay Varina and surrounding areas. In-person classes are a-la-carte so you can pick what works with your schedule and budget.
Corey Lerch Tutoring

Raleigh

Corey Lerch is a professional tutor with Engineering and Business degrees from the University of Pennsylvania and over 10 years of teaching experience. He tutors high school, college, and even graduate-level science, math, engineering, business, and standardized testing subjects. All lessons are taught to develop deep understanding and build long-term learning skills, so that students can become confident, independent, and successful. Corey also offers group classes for more specialized subjects and group workshops for standardized test prep.
ARCH Raleigh

Raleigh

ARCH Raleigh is a support group for Roman Catholic homeschoolers in the greater Raleigh, NC, area. As an organization, we host several events including co-ops, service projects, socials, an All Saints' Day Party, a May Crowning and a Father-Daughter Dance.
English Classes with Mrs. Massie

Raleigh

Kristy Massie offers in-person, full year English classes including grammar, literature, and composition for grades 8-12.
The Empowered Learner

Raleigh

Dr. Abby Ampuja is an educator of 22 years and the owner of "The Empowered Learner" (TEL). TEL provides academic support/tutoring for students in grades K-12, SEL/Resiliency coaching, neurodivergence coaching, and support for parents of children with exceptional learning needs. Dr. Ampuja offers both 1-1 and group sessions, which can be provided in either an in-person or virtual format.
Math Foundations Tutoring

Raleigh

Tutor help is available from a prior teacher turned homeschool mom with a BA in Mathematics and an MS in Education. Allow me to come alongside you and your student in your homeschool journey to help you overcome any math class challenges you're facing. Visit my webpage for more information.
World History - Homeschool Class

Raleigh

"This course is a study of world history from prehistoric to contemporary times. Students will learn about the socio-economic, political, and ideological conditions of various time periods as they study historical events and cultural achievements of world regions. Using primary and secondary sources, students will use critical thinking and problem-solving skills to conduct inquiry-based research, participate in interactive discussions, and complete assignments establishing real-world connections.All of Ms. Beach's classes will provide all needed skills to earn transcript credit with grading of all homework, testing and projects. At the end of the program you will have a printable syllabus and description of all that was learned in that year. This is a graded class unless instructed otherwise. There will be homework to be completed weekly. All of Ms. Beach's classes follow the engineering model for science. This means every unit student will be assigned a project and over the course of the unit they will gain the skills and knowledge to complete each project." Instructor: Rachel Beach
Physical Science - Homeschool Class

Raleigh

In Active Physical Science, a combination of Physics, Chemistry , and Electricity will create 7 unit studies. Students develop a community of practice and a culture of collaboration and communication through the labs and activities. The presentations of each of the Chapter Challenges provide students with opportunities to engage in scientific arguments using evidence and science knowledge and promote a deeper understanding through real life applications. Students will need to have access to the canvas program. They will learn how to use it in class. No prior knowledge needed. NOTE: This class will meet twice a week for 30 weeks. It can be used on high school transcripts. Labs on Thursdays. Instructor: Rachel Beach
Economics - Homeschool Class

Raleigh

Students will learn and be able to use economic thinking, problem-solving, and logic in solving business problems and analyzing current topics. This course emphasizes the role of free markets in determining economic well-being. Students will learn the fundamentals of microeconomics including supply, demand, and pricing, along with the basics of macroeconomics: Monetary Policy, Fiscal Policy, Money, Supply, and the role of government in stabilizing and growing an economy. This course offers students the opportunity to apply what they learn through interactive projects and group assignments. As the world's economies become increasingly interdependent, it is essential that students become economic thinkers. Using micro and macro-economic tools and concepts, students in this course will build the foundation necessary for understanding real-world economic issues. Students will understand the allocation of scarce resources in societies through analysis of individual choice, market interaction, and public policy. Units of study include Economic Thinking, Market Capitalism, The Business Cycle, Monetary policy, Fiscal Policy, and Global Markets. The economic foundation built in this course will also enhance understanding of other social science disciplines, such as political science, geography, history, and sociology. All of Ms. Beach's classes will provide all the needed skills to earn transcript credit with the grading of all homework, testing, and projects. At the end of the program, you will have a printable syllabus and description of all that was learned in that year. This is a graded class unless instructed otherwise. There will be homework to be completed weekly. All of Ms. Beach's classes follow the engineering model for science. This means every unit student will be assigned a project and over the course of the unit they will gain the skills and knowledge to complete each project.
Civil Air Patrol Cadet Program - Shelby Composite Squadron

Shelby

The Civil Air Patrol Cadet Program is a non profit all volunteer program for youth ages 12-18 as well as adults. This program is an Auxiliary of the United States Air Force. This program helps develop young people into responsible citizens and leaders by focusing on character development, leadership, aerospace education, and physical fitness. The core values of the Civil Air Patrol are integrity, volunteer service, excellence, and respect. The Shelby Composite Squadron meets every Tuesday from 6:30-8:30 pm and visitors are always welcome.

Civil Air Patrol Cadet Program - Shelby Composite Squadron details
JOCO ROBOS FIRST Robotics Team

Smithfield

JOCO ROBOS is a county wide high school robotics team proudly hosted by the new Associate in Engineering Program at Johnston Community College. These students make executive, technical, financial, strategic and operational decisions that mirror those of successful engineering companies, priming them for careers in science, technology, engineering and mathematics. Using key skills, students will design and construct a robot in a six week period and compete in the NC Regional FIRST® Robotics Competition (FRC). The FIRST Robotics Competition (FRC) is the premier engineering challenge for high school students. Teams of students, working closely with teachers and volunteer mentors, have six weeks to conceptualize, design, build, program, modify and test a robot to participate in a competition that changes each year. Students work with hundreds of components, including engineering mainstays such as programmable radio controllers, motors, electrical circuitry and mechanical parts. Following the six-week design and build phase, teams enter one of 77 regional or district competitions.
Pam's Orton Gillingham Reading Tutor

South Charlotte metro area

Orton Gillingham, including Structured Literacy, has been labeled the Gold Standard around the world for those whose.needs include beginning, at-risk, and struggling elementary readers, as well as, students in Kindergarten through 12th grade identified as dyslexic and/or learning disabled in reading and spelling. As the OG Homeschooling Tutor in Charlotte for over 10 years, this resource can assist your students where parents may not feel experienced, nor able, to make marked progress in reading. Pam's experience includes being a parent of a daughter with dyslexia and other medical issues. Her Canine Therapy dogs are also a perfect compliment to the warm, non-smoking environment located in the Raintree Office Building close to the Arboretum Shopping Center. Contact Pam at (704) 906-6097 for additional information.
Charlotte Motor Speedway STEAM events and Homeschool Days

South Concord

From energy to speed, learn racing concepts through STEAM activities! Enjoy entertaining, educational STEAM program with one of our world-class events as a backdrop, including the FASTRAK Racing dirt late models, the Circle K Monster Truck Bash, and the NHRA Carolina Nationals. Homeschool Days are designed specifically to accommodate various grades in one day. Students will work through several interactive STEAM stations focusing on topics such as forces and motion, push and pull, physics and engineering as it relates to Motorsports. Your day includes a speedway track experience on the iconic 1.5-mile NASCAR oval.

Charlotte Motor Speedway STEAM events and Homeschool Days details
Covenant Preparatory School

Southern Pines

Covenant Preparatory School is a classical, Christian University Model School.
Pine Grove Press

Statewide

Pine Grove Press is a resource to connect the homeschoolers of the Carolinas together using words, ideas and stories. Growing up as homeschoolers, one thing one never gets is a school newspaper, and that is where Pine Grove Press comes in. While homeschoolers are many, they do not necessarily come as packaged groups who get to live close together. So, this newspaper is a way to share events and common experiences. Pine Grove Press hopes people will use the newspaper to tell stories and share ideas and talk about being homeschooled. In creating this newspaper, it is hoped that it will help forge a community among the homeschooled and their families. If your child is a writer or artist, this could be a great outlet for them to share their work, so encourage them to submit. You can also join this group and 'apply' to help this newspaper run! If you have a child who loves grammar, they are free to try and join as an editor.
SMART Testing

statewide North Carolina

SMART Testing serves homeschool families in the entire state of North Carolina as well as other states. We currently have opening for testing with the Woodcock Johnson IV, Iowa Complete, Iowa Core & CogAt, Brigance. Contact one of our qualified testers closest to your area at: www.smarttesting.net to be prepared to go successfully into the 2020-2021 academic year. --Dr. Lynn Leckron (tester in Western NC)
Piedmont Education Services

Triad (Winston-Salem, Greensboro, High Point)

Piedmont Education Services offers achievement testing, practice tests, educational consultations and custom curriculum development based on personal assessment and learning style. For over 30 years we've provided homeschooling families locally, across NC, and nationwide with professional, efficient, and friendly service year-round using the following nationally standardized educational assessments: • ADVANTAGE practice tests for ITBS, CAT, TN and SAT, for grades 1-12 • California Achievement Test (CAT/5) complete battery for grades K-12 • TerraNova Achievement Test (CAT/6) for grades K-12 • Woodcock-Johnson III Tests of Achievement, available for online or in-person (in the Triad) testing, grades K-12. Visit our website or call us at 336-924-2494 and we'll help you navigate the testing maze!
Piedmont Wildlife Center

Wake

Piedmont Wildlife Center provides a variety of camps and educational experiences for kids and adults from all walks of life. We believe that conservation and connection to nature are a pivotal part of any person's happiness and well being.

We are also committed to the conservation of wild animals, plants, and wild places throughout North Carolina. Our programs are designed to teach people how to contribute and communicate the need to preserve the natural world around us.
Dual Enrollment at the College at Southeastern

Wake Forest

The College at Southeastern (C@SE) is offering college credit to high school juniors and seniors through dual enrollment classes. C@SE offers many general education courses that are accredited, helping these classes to be transferrable to other colleges and universities. C@SE also offers dual enrollment credit for biblically-focused undergraduate degrees (also accredited). All of our classes are taught upon the foundation of a biblical worldview. C@SE's dual enrollment program helps students to save money and time by earning college credit while also earning high-school credit simultaneously.
The Burke Learning Center Private Tutoring

Wake/Johnson County

A biologist, tutor, homeschool mom and certified teacher offering private tutoring services for K-12. Also offering day/week camps services in math and science. The camps are designed to encourage students think to logically and critically. Classes are affordable and discounts are given for families with multiple students.
Smoky Mountain Academic Resources & Training (SMART) Testing Services

Western & Southern North Carolina

Yearly testing for homeschool families using the Woodcock Johnson IV, Iowa, and CogAT is available from SMART Testing. Contact Dr. Lynn Leckron: lynn@smarttesting.net to schedule a test date soon; dates fill up quickly. .Dr. Leckron also offers morning classes in the Henderson Country area for homeschool students. Subjects vary according to student's needs.Contact Dr. Leckron if interested at: lllteachermomnc@yahoo.com.

Smoky Mountain Academic Resources & Training (SMART) Testing Services details
Nature Connect NC

Wilmington

The Nature Connect mission is to cultivate curiosity, compassion, and connection with the natural world. Programs include exploring outdoors, animal tracking, bird language, nature and sensory awareness, storytelling, edible and medicinal plants, mentorship, empowerment, primitive skills and crafts, and lots of fun and play!
Peak Learning Solutions

Wilmington

Peak Learning Solutions provides quality educational services, helping each student achieve his or her peak potential. PEAK offers a variety of services that support both traditional and home school students including content tutoring/instruction for core subjects, academic skills coaching, test prep for standardized tests, and college admissions counseling. In addition, home school families can receive support with curriculum design and instruction as well as student progress assessment and evaluation. The key to PEAK's success with students is their commitment to tailoring their approach to meet each student's individual needs. Call today for a free initial consultation.
Thinking Cap College Prep Services

Winston Salem

Thinking Cap College Prep Services helps students in middle school, high school, and college master the reading, writing, and listening skills necessary for success in their classes and careers. Services include English tutoring, standardized test prep (verbal), academic writing, college essays, and college applications.
Minglewood Farm and Nature Preserve

Winston-Salem

Minglewood Preserve is a 65 acre outdoor education center located in the Foothills of Surry County, NC, about 35 miles north of Winston Salem. Minglewood's mission is to connect students of all ages to the natural world and inspire environmental stewardship through place-based learning in the Foothills and Piedmont of North Carolina. Minglewood Farm & Nature Preserve's brings lessons from the natural world that link students directly to their studies. Minglewood's list of lessons include Ecosystems, Plant Life Cycles, Habitats, Water Cycles and the Watershed, Sustainable Farming and many more. We create each lesson to fit the specific learning goals and needs of your students. Minglewood Preserve offers wonderful opportunities for homeschool group field trips, allowing student time for self discovery and experiential learning. Minglewood has a native forest with trails throughout, meadows, creek and a working farm, all available for lessons from the natural world. We would love to offer some of these learning opportunities to you and your homeschool students! You can visit our website or find us on facebook https://www.facebook.com/minglewoodpreserve and instagram https://www.instagram.com/minglewoodpreserve/ to find out more!
APT To Learn

Winterville

This business provides new and used curricula and other resources for home school parents. It also offers tutoring services and homeschool math classes in the mornings.
Wrightsville Beach Scenic Science Class Excursions

Wrightsville Beach

Wrightsville Beach Scenic Tours offers outdoor, hands-on science based activities for the whole family. Join us this fall for 3 different science activities exploring the coastal are around Masonboro Island and Wrightsville Beach. During the Fall and Winter months the Shamrock boat trips require a reservation and advance notice. WBST will be offering daily boat trips, but minimums may apply. The three excursions are: Barrier Island Ecology, Inshore Fishing, and Shorebird Ecology. Each excursion allows students to learn about wildlife ecology and identification while on our boat. All ages welcome and group discounts apply.