TheHomeSchoolMom's local resource listings are sponsored by Time4Learning, where you can find resources, support groups, test prep info, and more.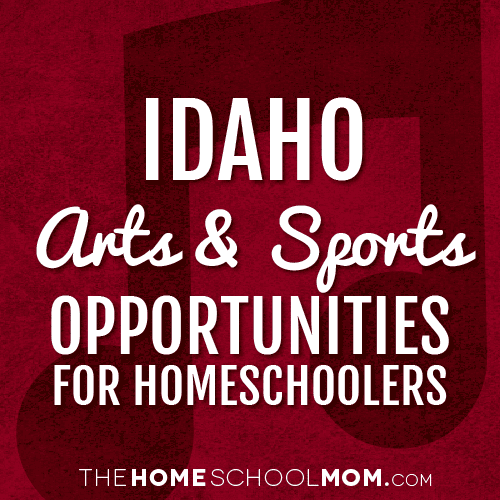 In addition to the opportunity to get out of the house and socialize, homeschool sports and arts programs can offer long-term benefits by developing characteristics like leadership, self-confidence, perserverance, and self-esteem. Many organizations and businesses have opportunities specifically for homeschoolers, while others invite homeschoolers to participate in their regular programs.
Not sure how to choose activity/activities for your children? Read how Rebecca narrows down the choice of extra-curricular activities.
Below is a list of homeschool sports and arts programs in Idaho listed alphabetically by city, with arts resources in the first section and sports resources below. If you would like to submit a Idaho arts or sports resource, you may do so using the red button above.
Homeschool Arts Opportunities in Idaho
Cello Lessons with Emily RodgersBoise
Cello Lesson for any age, at any level. Offered in private home setting.
Ballet Idaho AcademyBoise
The Ballet Idaho Academy offers classes for ages 3 and up in Ballet, Jazz, Contemporary, Hip Hop and Tap.
Acoustic Vibes-Music Classes/Orff-ApproachBoise
Acoustic Vibes Music Classes - Ages 8-14 - are designed to teach music fundamentals, and musicianship, through the Orff Schulwerk Approach. Offering partnerships and group ensembles in singing, gui...
Suzuki Piano LessonsBoise
Suzuki Piano Lessons available in Boise during day time hours for homeschoolers. Teacher, Mary Ann, is also willing to travel to your homeschool group if there are enough students in one group who...
Piano Harp & Voice Lessons with Jordan PaigeBoise
Private instruction with Jordan Paige for daytime music lessons conveniently located in downtown Boise for homeschool students. The instructor is also able to travel for lessons scheduled with mult...
Syringa Art StudioBoise Downtown
Syringa Art Studio offers art instruction to all ages. Classes include painting, drawing and oils. This resource offers full classes ranging from 5-20 students, or private lessons. All classes are ...
GSAA High School MusicCaldwell
Gem State Adventist Academy (GSAA) is a small private high school located off of Karcher Rd. in Caldwell, ID. The GSAA music department offers courses in Music History/Theory, Choir, Band, Advanced...
Melyssa's Piano StudioCoeur D Alene
This resource is for beginning/intermediate piano lessons. Private lessons are once a week for 30, 45, or 60 minutes. A group class is also offered two times per month where students get to meet ea...
Coeur d' Alene Musical ArtsCoeur d' Alene
Coeur d' Alene Musical Arts is a set of studios in downtown Coeur d' Alene at 208 N. 4th st. We offer piano (classical or jazz), percussion, guitar, bass and ukulele instruction as well as theory i...
Christian Youth Theater – North IdahoCoeur d'Alene
Christian Youth Theater (CYT) is an after-school theater arts training program for students ages 4 - 18. CYT is a non-profit 501(c)(3) educational organization funded primarily through its tuition...
CDA Piano LessonsCoeur d'Alene
Piano lessons for ages 7 and up. Beginning through intermediate. Classes in technic, improv, composition, sight reading, to read, write and play proficiently. Students can sign up for free mi...
School of Rock EagleEagle
School of Rock offers students of all skill levels age 7-18 a performance-based music curriculum in a fun environment. Weekly private lessons are combined with structured group rehearsals. Student...
Private or Group vocal lessons with Leslie MauldinMeridian
Trained professional opera singer who also sings and teaches jazz, musical theatre, and pop. This singer offers private or group vocal lessons, and can accommodate a daytime schedule. She is also a...
Private Piano by AshleyPost Falls
Instructor: Ashley Thurman Rate: $20 per half hour lesson, lessons are usually once a week (discounts for multiple students in one family available) Location: Taught out of her home in Post Falls...
American Red Cross of Greater Idaho Pillow case projectTreasure Valley
The American Red Cross Pillowcase Project is a free, interactive preparedness program designed for youth ages 8 to 11. The program aims to increase awareness and understanding of natural hazards an...
Homeschool Sports Opportunities in Idaho
Urban Air Adventure Park at 3876 E. Lanark St. offers an opportunity for home schoolers to participate at a discounted rate as well as a designated time. Every Wednesday and Friday from 12-3pm, Ur...
Gem State GymnasticsBoise
Gem State Gymnasts has offered ongoing reduced rate homeschool gymnastics lessons for more than 10 years. The lessons are offered for students 15 months - 17 years old, (4 and under must also have ...
UpCycle StudioBoise
The weather this winter is wild! it is going to take forever for those fields to dry! UpCycle is a studio for ages 14 and older to use top end cycle equipment and a top facility cardio space. We wo...
Adaptive Athlete by Timothy Health Training CampBoise and surrounding areas
Collegiate Athletes providing extra curricular activities for student athletes. Providing athletic and outdoor activities for the homeschool community. We offer parents an opportunity for one on ...
Peak Club SwimCouer D Alene
Swimming lessons during the day for homeschoolers. All ages and abilities welcome.
Northwest Wado-ryuMoscow
Northwest Wado-ryu Karate is offering home school physical education classes. Northwest Wado-ryu is a karate school, which, beyond learning karate, students will get to interact with other kids, a...
The Monroe Training CenterPocatello/ Southeast Idaho
The Monroe Training Center offers character building, great physical training, and self defense training through martial arts classes and/or our youth empowerment program. For martial arts trainin...