Jump to: Homeschool Co-ops | Homeschooling Classes & Academic Enrichment
Looking for someone to teach physics to your teen? Need a way to avoid teaching algebra? Want to enroll your Kindergartener in a co-op for social time? Homeschool classes and co-ops are a great way to spend time with other homeschoolers and skill-share with other homeschool parents.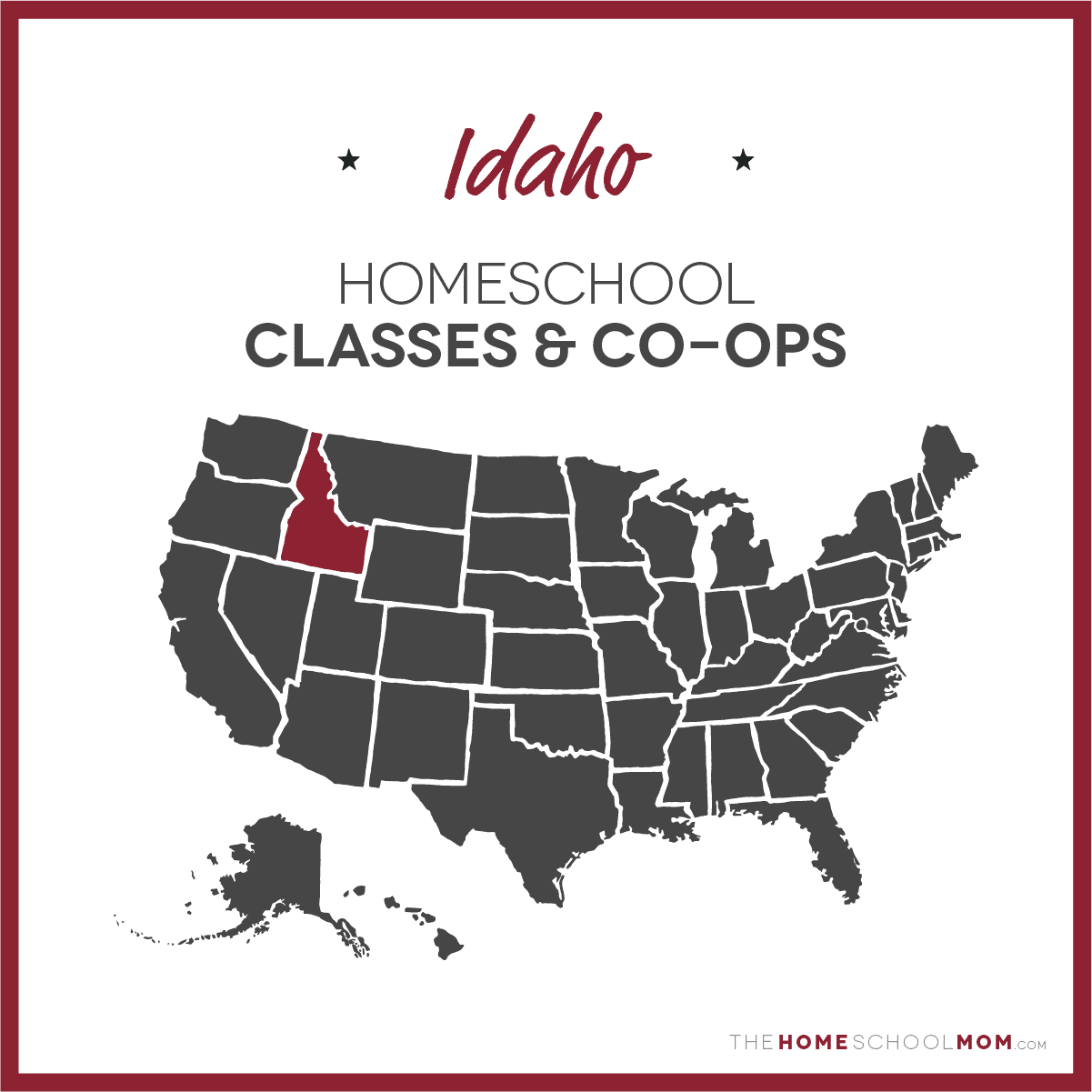 Submit a Local Resource
Our listing of Idaho co-ops and academic classes for homeschoolers is ordered alphabetically by city, with co-ops in the first section and all other academic resources below. If you would like to submit a Idaho co-op or academic resource, you may do so using the red button above.
Idaho Homeschooling Co-ops
Homescholars Academy

Blackfoot

Homescholars Academy is a co-op serving Southeast Idaho home school families. Members meet on Tuesday mornings for 3 hours for extracurricular instruction, games and friends. They hold 2 semesters a year, Spring from the 3rd week of January through the end of April, and Fall, from the first Tuesday after the State Fair until the first week of December. They are a faith based co-op, welcoming members of all denominations, and do not require a statement of faith.
Faith Hope and Love Homeschool Co-op

Boise

FHL offers academic and enrichment classes and is a member led cooperative. This group encourages learning through fun, hands on classes and events from 9:30-12:45, on Fridays in Meridian. You sign up and pay for classes by session. Parents are required to stay on campus and complete a background check. Parents teach two of the three periods and are encouraged to help in areas with their personal talents.
Revelations Homeschool Co-op

Caldwell

Revelations is a Christian homeschool co-op with a mission to encourage, support and build up a community of christian homeschool families. Revelations is located in Caldwell, ID with families coming as far out as Meridian to Wilder. The Co-op meets Mondays, September through May. There is a nice selection of classes both core and elective. Serving the entire family from babies in the nursery to 12th grade in high school.
St. Michael the Archangel Co-op

Coeur d'Alene

St. Michael the Archangel Homeschool Co-op is dedicated to the principle of excellence in Catholic homeschool instruction through the utilization of a co-op approach. Our co-op is blessed to have a talented group of both Parent Teachers and Professional Teachers with extensive knowledge of the subjects they teach. While most of our members are Catholics, we welcome all homeschool families who are respectful of Catholic teachings. Within the curriculum of our classes, we solely present ideas that are consistent with and not contrary to the teachings of the Church in regard to faith and morality. We often pray together in the community, and we learn facts and discuss matters related to the Catholic faith in culture and history.
Inland Northwest Christian Homeschoolers

Coeur d'Alene and Spokane Valley areas

INCH is a non-profit co-op and support group serving homeschoolers in Coeur d'Alene and surrounding areas. INCH is not a drop-off program or a school, but a co-op run solely by volunteer moms. We offer homeschool students from preschool through high school an assortment of academic and enrichment classes and social activities to supplement their homeschooling experience, as well as classes and workshops to encourage and support homeschooling moms.
Compass Family Cooperative

Idaho Falls

Compass Family Cooperative is a community of home educators linking arms and minds to offer our East Idaho community an opportunity to meet together and learn. The community meets once a week for parent/mentor led classes. As home educators, we believe every individual possesses the innate potential of discovering their own moral compass to use as a guide throughout life's journey. We embrace the value of being authentic, compassionate, and trustworthy with open arms, minds, and hearts. We seek to explore, discover, learn, and change the world for good. As an organization, we strive to provide shared learning opportunities through a free market system.
Foundations Homeschool Co-op

Meridian

The educational goal of the Foundations Homeschool Co-op is to assist families in raising God-honoring independent thinkers and life-long lovers of learning. We are more concerned with the process of learning over the actual product. It is the responsibility of the student to learn, while the responsibility of the parent lies in providing a suitable learning environment. We want to provide a safe place for the children to discover, explore, make choices, experiment, think, create, and identify the gifts that God has given them. We want to provide the children with opportunity to function in a group setting, practice their leadership and mentoring skills, and ignite the passion of discovery under adult leadership. We hope to provide educational experiences that are not easily created in a home setting and to provide an opportunity for families to fellowship and support each other in the Lord.
Cornerstone Cooperative - Moscow

Moscow

Cornerstone Educational Cooperative (CEC) exists to help encourage and support the homeschool experience for Christian families in the Palouse area. CEC is a one-day a week family learning environment that will meet on Fridays in Moscow, Idaho.
Arrow Homeschool Co-Op

Nampa

A Christian homeschool co-op serving families in Nampa, Idaho. We are a bit different than other co-ops in that you can customize us to fit your family by choosing morning or afternoon. We offer both enrichment and academic classes. Our classes range from toddlers to Seniors, and even some for moms. We have a high standard of excellence and a heart for your child. Classes meet the first three Thursday of the month September through May. We also offer optional field trips., mom's night, parties, park days, and other social events. We are board operated and member driven.
Excelsior! Homeschool Families

Nampa

Welcome to Excelsior! Homeschool Families! We are a Christ-centered group of families in Nampa, Idaho, who are working together to teach our children how to live godly, productive lives. Excelsior! Homeschool Co-op is a cooperative effort of families to enhance the home education of their children by participating together to provide classes for all ages, from nursery through high school. We meet on Mondays for 27 weeks during the year (see calendar for currently scheduled dates). Our current site is Bethel Church of the Nazarene. All students and family members begin the day together with Opening, where we have worship, announcements, flag salute, and prayer. Then, students participate in three class periods (see Classes Offered for current schedule). Parents teach or assist in two classes, with opportunity to fellowship or fill in as needed during the other period. We end our day with Closing, where all ages come together for announcements and prayer. Many families choose to bring a lunch and stay for a time of fellowship.
Freedom Scholars for America

Pocatello

Friday Homeschooling Classes serving Pocatello, Idaho. Course listings include: Frolicking with Friends in the Gym, 50 Nifty United States, Apples, Archaeology and Paleontology, Artists and Art, Automotive 101, Beginning Forensic Science, Canva 101: Unlocking, Creativity through Graphic Design, Cultivating Creativity, Current Events, Current Events for Junior School, Eclectic Science, Egypt and Hieroglyphs, Fabulous Fall, Great Artists, Horticulture, Idaho History, Insects, Spiders, and Crawlers, Let's Play a Game, Little Character Class, Littles Apple Fun, Littles Fun, Making Music, Math Counts, Middle Boys Character Class, Middle Girls' Character Class, Mistakes That Worked, Older Boys Character Class, Older Girls Character Class, Once Upon a Time..., One Act Play Class, P.E. Games, Pie Making, Scholar Study Hall, Scholar Volleyball Fundamentals, Shakespeare Scholar Project, Sim City, Transcendental Colloquial, Travel the World with a Book, Younger Boy Character Class, and Younger Girls Character Class.
Tater Tot Tutoring and homeschool co-op

Post Falls

This program is designed specifically for students with special needs. Grades 1-5. Face to face tutoring for one on one, small group, and homeschool co-op. Math, reading and comprehension, spelling, and writing.
Idaho Homeschooling Classes & Academic Enrichment
Vita Education

Caldwell

Welcome to Vita! Vita is the Latin word for LIFE! We invite you to join us to live outside the box as we homeschool, parent, and fellowship together. We are a group of homeschoolers with a vision of living life together. We believe in learning together, growing together, and reaching out to our community together. Classes meet Thursday 10am-3pm Location: Deer Flat Free Methodist Church 17703 Beet Rd. Caldwell, ID 83607
Emerge Learning & Enrichment

Coeur d'Alene

North Idaho Homeschool Support with a Certified Teacher. Emerge Learning & Enrichment offers K-8 students in North Idaho with the opportunity to get academic support from a teacher as well as work with a small group of peers in weekly classes. Taught by a certified teacher, the homeschool support program is designed to enhance what families are already doing with their homeschool program in an in-person, group learning format to support socialization, problem-solving, and academic growth.
Reading Ready - One-on-one intervention for students with dyslexia

Coeur d'Alene/Rathdrum/Hayden

This resource offers one-on-one, in-person, or online academic intervention for students and adults with dyslexia and other language processing challenges. Certified reading specialist, Michelle Conger, brings 30 years of primary and secondary curriculum development and instructional experience to her practice. Creative and supportive delivery of Orton-Gillingham and Wilson Reading System programs will academically and emotionally prepare students for Idaho Department of Education grade-level and subject-related reading and spelling curriculum. Available for in-person or online sessions within the Coeur d'Alene, Hayden, Rathdrum, and Sandpoint areas. For specific questions, call 208-703-9008

Reading Ready - One-on-one intervention for students with dyslexia details
Idaho Classical Conversations

Idaho Statewide

CC is a national homeschooling program that uses a Bible based curriculum taught in a christian, classical tradition. Classes are geared for age 4 through high school.
Idaho Distance Education Academy

Idaho Statewide

Idaho Distance Education Academy (I-DEA) is an Idaho free public charter school serving parents who want to school their children from home. Education through I-DEA is a partnership. Parents play a critical role in the education of their students and provide daily instructional support. Each student is partnered with a high-quality certified teacher who works with the parents to assist with the academic process from course selection, to assessments and academic support. The school provides families excellent online tools and technology support to ensure students have everything they need for success. The school offers a multitude of advanced curriculum with flexible daily schedules to fit Idaho's families and offers a unique opportunity for students to take college courses tuition-free while in high school. Eighty percent of I-DEA students complete at least one college course before graduation, with 20% of those completing their 2-year college degree. (I-DEA serves students in grades K-12.) This is a not-for-profit school— only serving Idaho families.
The Meridian Gathering and Resource Center

Meridian

After-school tutoring and educational support is offered FOR FREE every Thursday, 4-6 p.m., at the Meridian Gathering and Resource Center in downtown Meridian. We have a certified science teacher who runs the program and amazing supporting tutors who can help with Math, Engineering, History, and Science. If you are in need of support for your children academically, please come on by! For more info, go to www.meridiangrc.org
Olive Branch Learning Academy

Meridian

Two-day (drop-off) program that honors the blessings of both homeschooling and small group learning. Classes and instruction are aligned with each grade level and affirm the work that you do at home.  The mission is to support your homeschooling journey and provide your children with an opportunity to engage in Instructional and Hands-On-Learning in a community that nurtures their faith and learning!
Tater Tot Tutoring and homeschool co-op

Post Falls

This program is designed specifically for students with special needs. Grades 1-5. Face to face tutoring for one on one, small group, and homeschool co-op. Math, reading and comprehension, spelling, and writing.
Venture Upward

Statewide in Idaho

Venture Upward is a home-based public school option for families throughout the entire state of Idaho that value the freedom to teach their students at home. Families can choose to use any curriculum they choose and show progress and standards mastery using the IXL program -OR-families can choose courses from a selection offered through our online curriculum partners. Venture Upward values and supports families learning together, which is why we offer free field trips and service projects for the entire family. We also offer a once weekly on-site program where students can be dropped off and participate in four hours of structured, fun, engaging classes. We provide a supportive environment for homeschool families to connect, share, and lift one another. We also provide funding for families to use to support each student's learning experience. We would love to have you join us on your learning adventure! Let's Venture Upward together!