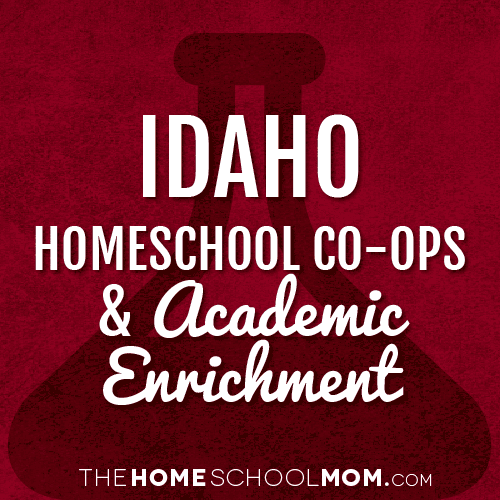 Our listing of Idaho co-ops and academic classes for homeschoolers is ordered alphabetically by city, with co-ops in the first section and all other academic resources below. If you would like to submit a Idaho co-op or academic resource, you may do so using the red button above.
Use the secondary navigation menu above to quickly make your way to pages for Idaho state organizations, local homeschool groups, classes, co-ops, field trips, and more.
Idaho Homeschooling Co-ops
Faith Hope and Love Homeschool Co-opBoise
FHL offers academic and enrichment classes and is a member led cooperative. This group encourages learning through fun, hands on classes and events from 9:30-12:45, on Fridays in Meridian. You sign...
Revelations Homeschool Co-opCaldwell
Revelations is a Christian homeschool co-op with a mission to encourage, support and build up a community of christian homeschool families. Revelations is located in Caldwell, ID with families comi...
Revelations Homeschool Co-opCaldwell
Revelations Homeschool Co-op mission is to encourage, support and build up a community of Christian homeschool families. This group is comprised of families from various denominations and backgroun...
Inland Northwest Christian HomeschoolersCoeur d'Alene and Spokane Valley areas
INCH is a non-profit co-op and support group serving homeschoolers in Coeur d'Alene and surrounding areas. INCH is not a drop-off program or a school, but a co-op run solely by volunteer moms. We o...
Idaho Homeschooling Classes & Academic Enrichment
NW Patriot AcademyBoise
Patriot Academy is a 3 day intensive leadership boot camp for ages 16 to 25, taking place June 26 - 28, 2019, in Boise, ID. Students are immersed into the life of a legislator, as they get to write...
Idaho Classical ConversationsIdaho Statewide
CC is a national homeschooling program that uses a Bible based curriculum taught in a christian, classical tradition. Classes are geared for age 4 through high school.
Idaho Distance Education AcademyIdaho Statewide
Idaho Distance Education Academy (I-DEA) is an Idaho free public charter school serving parents who want to school their children from home. Education through I-DEA is a partnership. Parents play a...
Thinking with Words Writing WorkshopMeridian Idaho
Thinking with Words is a once a week 90 minute writing class taught on Friday mornings in Meridian Idaho. The purpose of each class is to engage students' in the writing process while guiding them ...
Exploring FamiliesSpokane, Eastern Washington, Coeur d'Alene, North Idaho
Exploring Families offers members tours, field trips and special events helping homeschool students explore, discover, and learn outside of school time and beyond the books.