Field trips are a great way to reboot a bad homeschooling week, get out of the house when everyone has cabin fever, and learn about your local area. Before heading out, check out Jeanne's tips for improving homeschool field trips.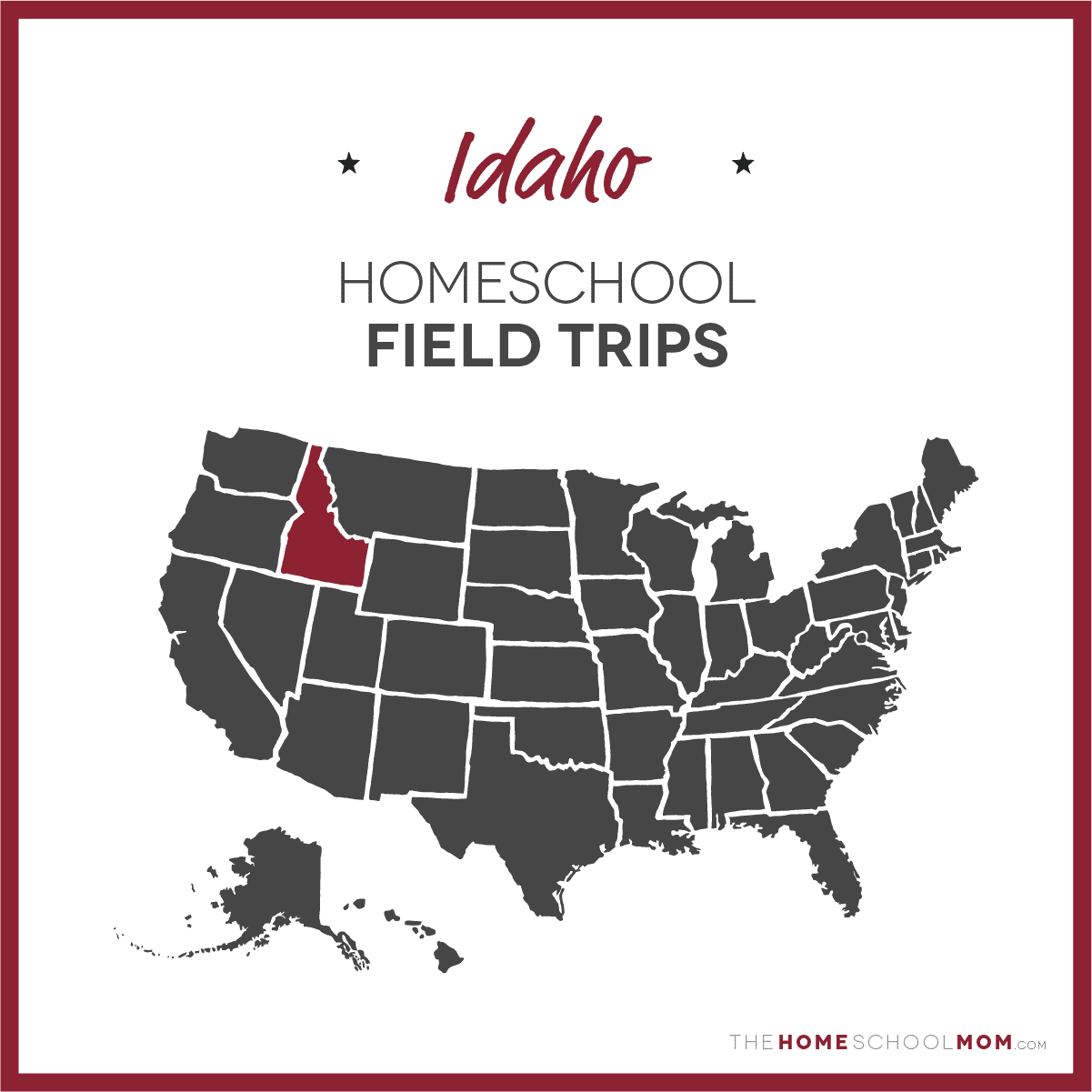 Submit a Field Trip Destination
Our listing of Idaho field trips for homeschoolers is ordered alphabetically by city. If you would like to submit a Idaho field trip destination, you may do so using the red button above.
An asterisk * after the title indicates that a virtual field trip is also available.
Nez Perce National Historic Trail

The Nez Perce (Nimiipuu or Nee-Me-Poo) National Historic Trail stretches from Wallowa Lake, Oregon, to the Bear Paw Battlefield near Chinook, Montana. It was added to the National Trails System by Congress as a National Historic Trail in 1986. The 1877 flight of the Nez Perce from their homelands while pursued by U.S. Army Generals Howard, Sturgis, and Miles, is one of the most fascinating and sorrowful events in Western U.S. history. Chief Joseph, Chief Looking Glass, Chief White Bird, Chief Ollokot, Chief Lean Elk, and others led nearly 750 Nez Perce men, women, and children and twice that many horses over 1,170 miles through the mountains, on a trip that lasted from June to October of 1877.
California National Historic Trail

More than 250,000 gold-seekers & farmers crossed into to the gold fields & rich farmlands of California during the 1840's and 1850's. 1,000 miles of trail ruts and traces can still be seen to remind us of early American travelers and settlers.
Lewis & Clark National Historic Trail

Lewis & Clark, in their quest for a water route to the Pacific Ocean, opened a window onto the west for the young United States.
Oregon National Historic Trail

The Oregon Trail was for fur traders, gold seekers, missionaries and others, the pathway to the Pacific. Wagon rutsw and landscape scars can still be seen from that time.
City of Rocks National Reserve

Almo

Granite columns, some reaching 60 stories tall, loom high above Circle Creek Basin and are popular with climbers. Known for its scenic, geologic and historic significance. Take a walk to see inscriptions on the spires written in axle grease by pioneers traveling through on the California Trail. There is a visitor center at Almo
Castle Rocks State Park

Almo

Castle Rocks State Park is Idaho's newest state park. Activities include rock climbing,photography, picnicking,wildflower viewing, hiking, horseback riding, snowshoeing, mountain biking, and birdwatching.
City of Rocks National Reserve

Almo

This unique geologic area became a landmark in 1843 for California-bound emigrants. They left wagon ruts across the landscape and their signatures in axle grease on Register Rock, Camp Rock and many others. A few granite pinnacles and monoliths are in excess of sixty stories tall and 2.5 billion years old. The smooth granite faces offer exceptional rock climbing. Today, over 500 climbing routes have been identified.
Massacre Rocks State Park

American Falls

regon Trail emigrants referred to the Massacre Rocks area as "Gate of Death" and "Devil's Gate", but modern day travelers use terms like beautiful, serene, and restful to describe the park. The park is rich in Oregon Trail, geological, and natural histories.
Craters of the Moon National Monument and Preserve

Arco

A vast ocean of lava flows with scattered islands of cinder cones and sagebrush. We invite you to explore this "weird and scenic landscape" where yesterday's volcanic events are likely to continue tomorrow...
Farragut State Park

Bayview

Farragut State Park is located on the shores of Lake Pend Oreille, Idaho's largest lake. Park activities include: picnicking, swimming, boating, hiking and camping; playing disc golf, visiting the Farragut Naval Training Center Museum, an orienteering course, model airplane flyer's field, playground, and using the horseshoe pits and sand volleyball courts.
Bear Lake State Park

Bear Lake

Bear Lake State Park offers a wide variety of both summer and winter recreation opportunities. Bear Lake itself is 20 miles long and 8 miles wide with half of the lake in Idaho and half in Utah. The lake offers water sports attracting boaters, water skiers, and beach lovers.
Idaho Potato Museum

Blackfoot

The Idaho Potato Museum is a unique museum which appropriately showcases Idaho's Famous Potatoes®. The rich graphics showcasing the history of the potato will lead you through the revolution of the potato industry. From the original potato planted in Idaho, to the largest potato chip made by the Pringle's Company in Jackson, TN. You'll be intrigued as you stroll through the Museum which was built in 1912. Once a bustling flurry of activity, the stone depot represents significant ties between the railroad and the potato industry.Potato Museum The Potato Museum provides information on potato history, the growing and harvesting process, nutrition, trivia and educational potato facts. Watch a short video presentation on how the potato industry has developed.
Eagle Island State Park

Boise

Eagle Island is a popular swimming beach, a grassy picnic area, and waterslide.
Lucky Peak State Park

Boise

Five distinct units can be found at this state park, three of which are located near Lucky Peak reservoir just 8 miles east of Boise. Discovery Park is a popular roadside park for picnics, walking your pet or fishing in the Boise River. Sandy Point, at the base of Lucky Peak Dam is most popular for its sandy beach and clear, cool water. Spring Shores offers lakeside access for water enthusiasts by providing two boat ramps, parking, a full-service marina, on-site watercraft rentals and convenience store. The backcountry yurts offer solitude, cozy accommodations, spectacular sunrises and sunsets with access to over 50 miles of multi-purpose trails. May and June is the time to tune-up your mountain bikes and get ready to ride the trails people ski on in the winter. For additional yurt information, click here. Enjoy Nordic skiing? The Idaho City park n ski area has great cross country ski areas. You can even ski to a yurt to extended your outdoor adventure.
The Basque Museum & Cultural Center

Boise

The Basque Museum & Cultural Center provides a look into the heritage of the Basque communities of Idaho and surrounding areas. Boise, Idaho has long been a central location where Basque immigrants first congregated after coming to the United States from the Spanish Basque Region. As immigrants established their lives here, Basques became well known for their hard work and perseverance. The Basque Museum & Cultural Center provides a look into the Basque heritage by exhibits, collections, and tours. As a cultural center, it's a gathering place for events and educational opportunities - in which people of all backgrounds can participate in Basque activities.
Boise Art Museum

Boise

BAM is the only nationally accredited, collecting art museum in the State of Idaho--accredited through the American Association of Museums (AAM). For over 70 years, Boise Art Museum has been providing access to the visual arts for people of all ages, incomes, and abilities.
Discovery Center of Idaho

Boise

The Discovery Center of Idaho's mission is to provide experiences and educational opportunities that inspire lifelong learning and interest in science, math and technology, and that supplement and enrich formal science education through interactive exhibits, educational programs and teacher resources.
Idaho Botanical Garden

Boise

The Garden is a living museum, dedicated to the advancement and appreciation of gardening, horticulture and conservation, through plant collections and education programs within an aesthetic landscape.
Idaho State Museum

Boise

The Idaho State Historical Museum, founded in 1907, is Idaho's largest and most visited museum. It has evolved from a simple collection of curios and relics sitting on shelves to the first museum in Idaho to be accredited by the American Association of Museums. Objects from the Museum's collection tell the story of Idaho from prehistoric times through the fur trade, the gold rush, and pioneer settlement to the present. Richly detailed interiors show how Idahoans in the late 19th and 20th centuries lived and conducted business.
Idaho Mining Association

Boise

The Idaho Mining Association (IMA) was set up in 1903 to support the interests of the state's mining and mineral production industry. The IMA is actively involved on environmental, land reclamation, water quality, transportation and tax issues. We also conduct an active education program with teacher training programs for K-12 teachers and are active in a variety of community involvement activites.
Old Idaho Penitentiary

Boise

Our interpreters will share stories of notorious prisoners, escapes, and prison life. Your students will hear how inmates quarried the stone and built the prison themselves, and they will gain an understanding of the Penitentiary's place in Idaho history.
The Peregrine Fund *

Boise

Virtual field trip onlineThe Peregrine Fund sponsors the Velma Morrison Interpretive Center at the World Center for Birds of Prey. The center's goal is to enhance the health, reproduction, and reintroduction efforts of endangered species and to collect information about raptors.
Zoo Boise

Boise

The Zoo Boise features giraffe encounters, a butterfly house, a Wallaby walkabout, sloth encounters, and a zoo farm for visitors.
Bruneau Dunes State Park

Bruneau

The tallest single-structured sand dune in North America. The state park includes desert, dune, prairie, lake and marsh habitat with opportunities to observe nocturnal species. Activities include fishing, birdwatching, camping, hiking, swimming and viewing the stars at one of only two public observatory's in Idaho.
Lake Cascade State Park

Cascade

Lake Cascade State Park is nestled in the majestic mountains of central Idaho approximately 75 miles north of Boise on State Highway 55. This large park provides diverse and exciting recreational opportunities throughout all four seasons.
Trail of the Coeur d'Alenes

Cataldo

The Trail of the Coeur d'Alenes is a 73-mile paved trail spanning the Idaho panhandle between Mullan and Plummer. It was created through a unique partnership between the Coeur d'Alene Tribe, Union Pacific Railroad, the U. S. Government and the State of Idaho. The trail begins in the historic Silver Valley, continues along the Coeur d'Alene River, past scenic Lake Coeur d'Alene and through rolling farmland to Plummer. Twenty developed trailheads provide entry points and there are seventeen scenic waysides along the route for picnicking.
Land of the Yankee Fork State Park

Challis

The Land of the Yankee Fork State Park brings to life Idaho's frontier mining history. This state park is part of the larger Land of the Yankee Fork Historic Area located in scenic central Idaho. Managed by the Idaho Department of Parks and Recreation, the Salmon-Challis National Forest and Bureau of Land Management this historic area provides unique historical interpretation and numerous recreational opportunities. At the Interpretive Center in Challis there are museum exhibits, a gold panning station, audiovisual programs, and friendly personnel to provide information on local mining history and area attractions. Also of interest are the ghost towns of Bonanza and Custer, the Yankee Fork Gold Dredge, the Custer Motorway and the Challis Bison Jump.
Coeur d'Alene Parkway State Park

Coeur d'Alene

Walkers, hikers and bikers love this linear park that follows the north shore of beautiful Lake Coeur d'Alene.
Museum of North Idaho

Coeur d'Alene

The Museum of North Idaho collects, preserves and interprets the history of the Coeur d'Alene Region. to foster appreciation of the area's heritage.
Historical Museum at St. Gertrude

Cottonwood

The place to rediscover the history of North Central Idaho.
Gem County Historical Society and Museum

Emmett

The Gem County Historical Society was started in 1972 and through dedications and efforts the Society was able to start the historical museum the following year. The Society today still oversees all aspects of the museum including the day to day operations. With the help of Memorials and other donations the museum has expanded to a Village which includes several other buildings all adjacent to one another.
McCroskey State Park

Farmington

This 5300-acre ridgeline park is dedicated to pioneer women. McCroskey State Park's highlight is an 18-mile skyline drive through the park on unimproved roads provides spectacular views of the rolling Palouse country and access to 32 miles of multi-purpose trails. Facilities include a group day use shelter, primitive camping areas and picnic areas along the road. The road is not recommended for RVs and may be too rough for your family car.
Tribal Museum

Fort Hall

Step into the past with a visit to the Shoshone-Bannock Tribal Museum located near the Tribal Enterprise businesses at exit 80, I-15. See the collection of old photographs dating back to from 1895, and artifacts from the site of the olf Fort Hall.
Westy's Garden Lanes

Garden City

Westy's is a 40 lane bowling center, Westy's is willing to offer a bowling rate for field's trips to our facility @ $2.00 a game plus tax (includes shoe rental).
Three Island Crossing State Park

Glenns Ferry

Three Island Crossing State Park is located on the Snake River at Glenns Ferry. It is home to The Oregon Trail History and Education Center where visitors can learn about pioneer emigrants and Native American history.
Glenns Ferry Historical Museum

Glenns Ferry

The museum tells the history if this area in Idaho with artifacts housed in a 1908 schoolhouse.
Thousand Springs State Park

Hagerman

Thousand Springs State Park, with its nine beautiful units, is a testament to why the area is called the Magic Valley. Visitors can view wagon ruts and bridge abutments at Kelton Trail, explore the magnificent Malad Gorge, access the riding arena at Billingsley Creek, get writing inspiration at Vardis Fisher, step back in time and tour historic structures at Ritter Island and Bonnieview, take in the scenery at Earl M. Hardy Box Canyon Springs Nature Preserve, view Niagara Springs, fish at Crystal Lake. Day use opportunities abound within the units of Thousand Springs State Park.
Hagerman Fossil Beds National Monument

Hagerman

Largest concentration of Hagerman Horse (Equus simplicidens) fossils in North America - 30 complete horse fossils and portions of 200 individual horses. Internationally significant Monument protects world's richest late Pliocene epoch (3 - 4 mya) fossil deposits: over 220 species of plants and animals! Glimpse life before the last Ice Age and view earliest appearance of modern flora and fauna.
Minidoka National Monument

Hagerman

A National Historic Site that commemorates the WWII Minidoka War Relocation Center in Idaho. The website offers historical information about the relocation center for those who cannot visit in person.
Blaine County Historical Museum

Hailey

At the Blaine County Historical Museum visitors can explore the Wood River Valley's pioneer past, research family histories, and view vignettes of mines, schools, ranches, famous literary personalities, period fashions, and political memorabilia. Each display shows aspects of the life that early inhabitants and pioneers experienced.
Tautphaus Park Zoo

Idaho Falls

Watch the flock of threatened African Penguins, experience a wallaby mob on the move, discover the gibbons aerobatic abilities or surround yourself with sights and sounds of South American birds in the walk-through aviary. Stop by the Children's Zoo and pat a donkey, feed a lamb or just relax on a bench and enjoy the beautifully landscaped grounds. Over 400 animals, the largest collection in Idaho, call Tautphaus Park Zoo home.
Harriman State Park

Island Park

Harriman State Parkoffers over 20 miles of trails for hiking, biking, horseback riding, and cross county skiing.
Henrys Lake State Park

Island Park

The state park opens the Thursday before Memorial Day and closes October 31st, weather permitting. The park offers campfire programs and a Junior Ranger program. It is a fisherman's dream come true.
Jerome County Historical Museum

Jerome

The museum's displays tell the story of the development of the North Side Irrigation project, one of the most successful Carey Irrigation Act projects in the nation, and its towns and people. A display of materials from the Minidoka Relocation Center at Hunt is also featured. A large research library is available that includes over one hundred bound volumes of newspapers and a large collection of detailed indexes.
Shoshone County Mining and Smelting Museum

Kellogg

Where the mountains meet the mining history.
Nez Perce National Historical Park *

Lapwai

Virtual field trip onlineSince time immemorial, the Nimiipuu or Nez Perce have lived among the rivers, canyons and prairies of the inland northwest. Despite the cataclysmic change of the past two centuries, the Nez Perce are still here. Join us in exploring the park's thirty-eight sites and experiencing the story of a people who are still part of this landscape.
South Bannock County Historical Center Museum

Lava Hot Springs

The South Bannock County Historical Museum, in operation for nearly 30 years, offers both permanent and rotating exhibits about the history of the Lava Hot Springs area and development of the surrounding rural communities of Arimo, Inkom, Downey, McCammon, Virginia and Swan Lake.
Hells Gate State Park

Lewiston

Hells Gate State Park is the gateway to both Idaho's Lewis and Clark country and to Hells Canyon, the deepest river gorge in North America.
Nez Perce County Historical Society and Museum

Lewiston

Nez Perce County Historical Society works to preserve the unique history of Nez Perce County and its environs and to share it with residents and visitors to the museum. Join us for a look at our history and heritage from the Nez Perce Indians and Lewis and Clark to the modern day.
Oneida County Pioneer Museum

Malad

History of the Malad Valley
Ponderosa State Park

McCall

Ponderosa State Park covers most of a 1,000-acre peninsula that juts into beautiful Payette Lake near McCall. The scenic overlook at Osprey Point offers a spectacular view of the lake. The park offers hiking and biking trails, guided walks with park naturalists and evening campfire programs. The North Beach Unit has a beach and picnic area. The topography ranges from arid sagebrush flats to dense forests. Wildlife that can be viewed at the park include Canada geese, osprey, bald eagles, wood ducks, mallards, songbirds, deer, moose, beaver, muskrats and even bear. Winter activities include Nordic skiing and snowshoeing on groomed trails.
Latah County Historical Society

Moscow

Our mission is to collect, preserve, interpret, disseminate, and celebrate the past and present history of Latah County. Our museum in the McConnell Mansion is a friendly place for children and families to visit with historic rooms, changing exhibits, and hands-on activities for young visitors. We offer tours of the museum, a variety of educational programs, special and annual events, and publications and gifts from the Museum Store. Our research library, across the street from the McConnell Mansion in the Centennial Annex, houses thousands of documents, photographs, and genealogical information.
Owyhee County Historical Society

Murphy

The purpose of the society is to investigate and reserve for future generations any kind of historical records, documents, sites building, articles, oral histories and artifacts pertaining to Owyhee County, to provide a library and museum complex, to promote interests in and a concern for Owyhee County history.
Canyon County Historical Society

Nampa

The purpose of this Society shall be to help investigate and preserve for future generations any kind of historical records, documents, sites, buildings, articles and artifacts, pertaining to Canyon County and to promote interest and concern for Canyon County history. To bring together those people interested in this history and promote better understanding of our state and nation, plus a better appreciation of our American heritage.
Warhawk Air Museum

Nampa

The mission of the museum is to teach and preserve World War II history from the home front to the war front and aviation history from the advent of flight through the space age. The Warhawk Air Museum encourages an educational experience about the technology, culture, and social changes that have occurred in North America since World War II.
Dworshak State Park

Orofino

Dworshak State Park is made up of three units - Freeman Creek, Three Meadows Group Camp, and Big Eddy Lodge and Marina.
Clearwater Historical Museum

Orofino

Clearwater Historical Museum invites folks to come see our collections that focus on the people and history of Clearwater River Country and its environs including Clearwater County and parts of Lewis, Nez Perce, Idaho and Shoshone counties. Our goal is to share the Clearwater River drainage rich legacy that started long before history was recorded. Our museum features artifacts relating to the Nez Perce People, the Lewis and Clark Expedition, gold mining, early homesteading, farming, logging and much more.
Heyburn State Park

Plummer

Heyburn State Park is the oldest park in the Pacific Northwest. The park includes three lakes; Chatcolet, Benewah, and Hidden Lakes, with the shadowy St. Joe River meandering along the eastern boundary of the park.
Idaho Museum of Natural History

Pocatello

Actively nurtures an understanding of and delight in Idaho's natural and cultural heritage. As the official state museum of natural history, it acquires, preserves, studies, interprets and displays natural and cultural objects for Idaho residents, visitors and the world's community of students and scholars. The Museum also supports and encourages Idaho's other natural history museums through mentoring and training in sound museological practices.
Priest Lake State Park

Priest Lake

Priest Lake State Park lies just 30 miles from the Canadian Border, nestled deep below the crest of the Selkirk Mountains. Surrounded by the natural beauty of Northern Idaho and mile-high mountains, Priest Lake State Park sits along the eastern shores of Priest Lake, a 19-mile long, over 300 foot deep lake.
Round Lake State Park

Sagle

Round Lake State Park is situated in 142 acres of forest surrounding a 58-acre lake at an elevation of 2,122 feet. The lake is the product of glacial activity dating back to the Pleistocene Epoch.
Lemhi County Historical Museum

Salmon

Welcome to the birthplace of Sacajawea, Lemhi County, Idaho. Here you will find our archives filled with interpretations and stories of the journeys of Lewis and Clark, specifically, we are devoted to historically correct information concerning Sacajawea and the valley she was born in, Lemhi County, Idaho.
Stanley Sawtooth

Stanley

Stanley is an unforgettable playground for all seasons. See it during a day of fishing, biking, rafting, hiking, climbing, skiing, or sledding. Feel it while soaking in a natural hotspring after a nature walk, visiting a ghost town or historic museum, reading a favorite book by the lake, or skiing through a quiet winter wonderland. Sense the wonder, watching Chinook salmon return home after swimming 900 miles to their birthplace beneath the peaks, or viewing wildlife in meadows full of wildflowers. See it on foot, on skis, on horseback, from your snowmobile, kayak, or car. But don't miss it!
Herrett Center for Arts and Science

Twin Falls

The Herrett Center is a non-profit support service of the College of Southern Idaho. Its purpose is primarily educational, offering programs to elementary and secondary school students, CSI students, and the adult community of south-central Idaho. The Center collects, preserves, interprets, and exhibits artifacts and natural history specimens with an emphasis on the prehistoric American continent.
Idaho Heritage Museum

Twin Falls

Has one of the largest private collections of Indian artifacts and indigenous wildlife species to be found in the western United States. The collection ranges from arrowheads, lance points, bone needles and awls, to the 15,000-year-old Bison skull which serves as the museum's logo.
The Idaho Heritage Trust

Weiser

Preserving the historic fabric of Idaho for our State's Bicentennial in 2090 through a program of grants and technical assistance.
Winchester Lake State Park

Winchester

Winchester Lake State Park surrounds a 103-acre lake, nestled in a forested area at the foot of the Craig Mountains, just off US 95 adjoining the town of Winchester. Winters at the park are long and cold with ample snowfall. Summers are short with warm days and cool, refreshing evenings. Ponderosa pine and Douglas fir are the predominant vegetation. Wildlife often seen in the park includes white-tailed deer, Canada geese, muskrats, Steller's jay, osprey, and Columbian ground squirrels. The Wolf Education and Research Center is located one mile from the entrance to the park.
Yellowstone National Park *

Yellowstone National Park

Virtual field trip onlineEstablished in 1872, Yellowstone National Park is America's first national park. Located in Wyoming, Montana, and Idaho, it is home to a large variety of wildlife including grizzly bears, wolves, bison, and elk. Preserved within Yellowstone National Park are Old Faithful and a collection of the world's most extraordinary geysers and hot springs, and the Grand Canyon of the Yellowstone. The website offers historical information about the park for those who cannot visit in person.