Jump to: Homeschool Co-ops | Homeschooling Classes & Academic Enrichment
Looking for someone to teach physics to your teen? Need a way to avoid teaching algebra? Want to enroll your Kindergartener in a co-op for social time? Homeschool classes and co-ops are a great way to spend time with other homeschoolers and skill-share with other homeschool parents.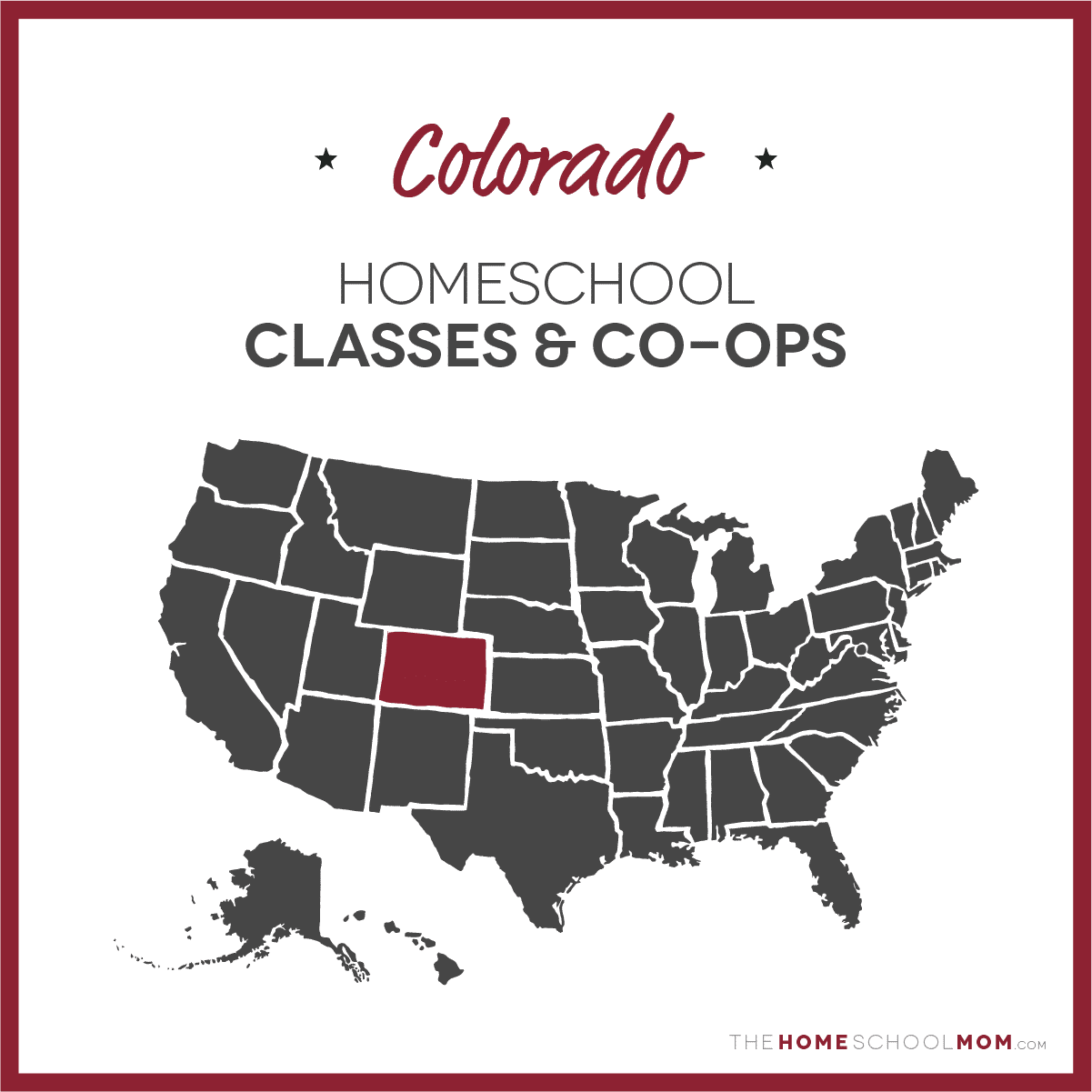 Submit a Local Resource
Our listing of Colorado co-ops and academic classes for homeschoolers is ordered alphabetically by city, with co-ops in the first section and all other academic resources below. If you would like to submit a Colorado co-op or academic resource, you may do so using the red button above.
Colorado Homeschooling Co-ops
Douglas County Catholic Home EducatorsDouglas County, Denver
DCCHE runs a weekly co-op in Castle Rock for preschoolers & grades K-3, as well as hosting gatherings and field trips for area homeschooling families.
Wildling CollectiveFront Range, Lakewood, Golden
Wildlings is a secular, social group for homeschoolers and their parent(s). Offering two groups; an Indian Hills location on Wednesdays, and one in the suburbs on Mondays. These groups stay small and familiar, with mi...
Petra Schole Classical Homeschool CommunityLongmont
The mission of Petra Schole is to create a Christian learning community seeking to nurture wisdom and virtue in its members, through a classical education, for God's glory. In order to create a vibrant, Christian Clas...
Highlands LovelandLoveland
Homeschool enrichment and academic classes with a Christian worldview. Families can augment what they are already doing at home or choose Highlands' hybrid program where students attend classes a couple days a week wi...
FACENorth Metro
A Private School Home-Study Program Pursuing excellence...by encouraging parents and students to discover the students unique learning style. Providing services to promote a stress free home schooling experience with ...
Colorado Homeschooling Classes & Academic Enrichment
Colorado STEAM AcademyAurora
Colorado STEAM Academy started offering ROBOTICS Classes, Piano Lessons to the Home-schooled students. Students build and program robots in Robotics classes and be prepared to the nationwide competitions. Private Pian...
Robots-4-U summer camps in DenverAurora, Northfield, Glendale, Westminster, Englewood, Thornton, Boulder, Lakewood, Wheatridge, Denver
Robots-4-U is new to Denver and offers STEM-focused after school, home school and summer camp experiences for elementary ages 7-14. The program is self-paced, inquiry-based, multi-leveled learning experience that nurt...
Engineering for KidsAurora, Parker
STEM oriented, fun and educational enrichmnet classes, clubs and field trips, and Spring and Summer Camps.
Centennial East Classical ConversationsAurora/Centennial
This is a community of Christian homeschool families who meet weekly to encourage one another, to grow in the classical model of education, and to share in Christ-centered fellowship. Community days consist of classes...
Integral StepsBoulder
Integral Steps provides integrative classes to families and kids of all ages! These classes combine music and movement with science, language and art, helping kids learn faster and more completely. Integrating music a...
1:1 Orton-Gillingham tutoringBoulder
This resource is for families with children who struggle with reading and writing. MultiSense Tutoring offers 1:1, multi-sensory reading and writing instruction to children grades K-8 using the Orton-Gillingham approa...
Multisensory Reading CenterCastle Rock, Castle Pines, Lone Tree, Monument, Colorado Springs
Dyslexia Support, Traditional Dyslexia Therapy, Online Dyslexia Therapy (Lexercise), and general Reading tutoring
Grand Mesa Statesmanship AcademyCedaredge, North Fork, Delta, Montrose, Olathe, Grand Junction
Grand Mesa Statesmanship Academy is a Commonwealth School and community-created Leadership Education vehicle that provides weekly, supplemental classes where homeschooled students are mentored by their peers' parents ...
Kids WonderCentennial
Unstructured child-driven play has been identified as an essential tool in developing a young person's confidence, building character, developing self-control and improving their ability to communicate and connect wit...
Credo AcademyCentennial
A group of Christian homeschool families committed to homeschooling their young people through high school. Parents are actively involved in their child's education at home and at Credo through volunteering. Teachers ...
Mindfulness ClassesColorado Springs
Mindfulness classes for youth ages 5-18. A supplement to any educational program, Mindfulness is recognized as a support for children to be in touch with what is going on in their bodies and minds so as to regulate th...
Peak Reading SolutionsColorado Springs
Peak Reading Solutions provides Dyslexia, Reading, Writing and Math intervention and tutoring in Colorado Springs and online. Using the best research-based, Orton-Gillingham programs, they help students with reading, ...
Falcon AeroLabColorado Springs
Falcon AeroLab is in its second year with students attending from throughout CO. Goal is to supplement Home School education with a STEM/Aerospace focus. All students get to fly airplanes, gliders, helicopters, hot ai...
STARBASE PetersonColorado Springs
STARBASE Peterson is a FREE STEM enrichment program funded by the Department of Defense (DoD). There are 69 sites located nationwide and STARBASE Peterson is the only site located in Colorado. STARBASE provides 25 hou...
elevate STEM Math TutoringColorado Springs/Central
These groups are for homeschool families who feel their students need additional help in math. Whether the subject is stressful for the parent or the student, these groups can help fill in the gaps, build confidence, ...
Classical Conversations in ColoradoColorado Statewide
Classical Conversations Who? Ages pre-K to graduation What? Classical Conversations is a #1 A Mission: to know God and to make Him known. #2 A Model: to combine a Christian worldview & classical tools. #3 A Method...
The Nature LinkConifer
The Nature Link offers nature and art-based programming for kids and adults of all ages. We are a nature-centered studio, gallery, education and community space located in the foothills of Colorado. Learners of all ag...
Parliament Tutors in DenverDenver
Parliament Tutors is a private tutoring and test preparation service covering all academic subjects, homeschool subjects, and standardized tests.
Silicon STEM AcademyDenver
Silicon STEM Academy is a technology workspace and training center for thinkers, tinkerers and technologists of all ages. The Academy utilize STEM principles (science, technology, engineering, and mathematics) in the ...
Colorado Association of Black Professional Engineers and ScientistsDenver
CABPES is a non-profit STEM organization dedicated to encouraging underrepresented youth to pursue science, technology, engineering, and math (STEM) careers. CABPES offers three programs: Math Enrichment Program (MEP)...
Amaryllis Therapy NetworkDenver
Amaryllis Therapy Network. . . Where superheroes come to train! Amaryllis Therapy Network is a pediatric clinic that offers occupational, physical and speech therapy for infants, children and adolescents, as well as c...
Denver Education RetreatDenver
A week of literacy instruction and critical thinking exercises for home school students at the DTC Doubletree in Greenwood Village. The teacher-to-student ratio is never higher than 1:6. Teachers use direct instructio...
Denver OptionsDenver
Denver Options offers homeschooling families support without taking control. They specialize in small classes in subject areas that are hard or impossible to do at home. Messy projects, group interaction, and things t...
Fusion Academy - DenverDenver
Fusion Academy believes there can be a better way. Specializing in one-to-one education, this accredited Middle and High School revolutionizes education. Not only do they accept full-time students, but students can al...
iFLY of Denver indoor skydivingDenver
Experience how flying accelerates learning with our STEM Program! We will explore the STEM principles behind our wind tunnel technology through exciting lectures, test flights and lab activities for grades K-12. Our S...
PEERS® DENVERDenver
PEERS® (Program for the Education and Enrichment of Relational Skills) was developed at the University of California Los Angeles. The group was created to be a parent assisted social skills training for youth and youn...
Free Red Cross Youth Preparedness PresentationsDenver
The Red Cross is offering FREE youth disaster preparedness presentations for elementary-aged students in your area! Students will receive a fun emergency preparedness item and an age appropriate presentation to help t...
Wings Aerospace PathwaysDenver
Wings Aerospace Pathways is a weekly aviation and space-focused enrichment program for students in grades 6-12. This unique program offers an exciting approach to education for middle and high school students interest...
Colorado Early Colleges ParkerDenver Metro Area
Colorado Early Colleges Parker (CECP) is a tuition-free charter high school that provides its students an opportunity to take college classes and earn a degree. Colorado Early Colleges Parker High School (CECP) provid...
Colorado Early Colleges InvernessDenver Metro Area
Colorado Early Colleges-Inverness (CECI), a tuition-free, public charter high school, offers three unique part-time homeschool programs that enable families to choose the type of program that best fits their lifestyle...
Colorado Early Colleges Castle RockDenver Metro Area
Colorado Early Colleges Castle Rock (CECCR) is a tuition-free charter high school that provides its students an opportunity to take college classes and earn a degree. Colorado Early Colleges Castle Rock is an open enr...
Platte River Classical Academy for HomeschoolersDouglas County, HIghlands Ranch, Littleton, Lone Tree, Castle Rock, Parker
Platte River Academy Classical Academy teaches K-8. Also, we offer a complete Language Arts program instead of just writing instruction. Lastly, we also provide an Engineering Through History Lab class for our middle ...
Academy Charter Homeschool Support ProgramDouglas County; Castle Rock, Highlands Ranch, Parker
A tuition-free program which provides outstanding K-8 science and K-4 Spanish instruction. Certified teachers have the necessary materials, equipment and knowledge to make science hands-on and exciting. Spanish teache...
The Home School ConnectionEvergreen, Lakewood, Westminster
Woodrow Wilson Academy offers a fine arts enrichment program through Jefferson County public schools. Home school students attend one day a week to take elective style classes that are not intended to replace the curr...
Academy of Arts & KnowledgeFort Collins
Serving Northern Colorado's Front Range, TPAAK is a public school offering personalized learning and supplementing homeschool programs by engaging students in the fine arts, world cultural studies and stem foundationa...
Highlands Latin Cottage School Fort Collins and LovelandFort Collins and Loveland
Highlands Latin Cottage School Fort Collins is a classical, Christian, homeschool support program that meets one day per week on Mondays. All instruction is provided in the classroom with parents providing homework an...
Ascent Classical Academy Northern Colorado Homeschool Enrichment ProgramFort Collins, Windsor
A once-a-week, public charter school enrichment program for grades K-8.(Options also available for 9th grade.) The program is designed to enrich a classical home-education with academic enrichment classes and provide ...
Talk to the CameraGrand County
In Talk to the Camera, students embrace their on camera personalities, boost self confidence and become more effective communicators as they create their own news broadcast, talk show or mini-movie. Talk to the Camera...
303 LearningGreenwood Village
303 Learning provides reading and math tutoring for students with dyslexia. The tutors at 303 Learning believe that with the right instruction all students can become fluent, independent, grade-level readers. All of t...
Wordsworth Speech-Language PathologyGreenwood Village
When children find learning to read and write more difficult than their peers, parents often struggle to find solutions. They strive to understand the problem, unlock learning and protect their child's self-esteem. Sp...
Arma Dei Collaborative Learning ProgramHighlands Ranch
The Homeschool Collaborative is a unique partnership in which classroom teachers co-labor with parent teachers in the education of their children at school and at home. Collaborative students benefit from a brick and ...
Colorado Code ClubHighlands Ranch, Parker, Littleton
Colorado Code Club provides excellent opportunities for kids to learn about technology and coding concepts while being creative, developing problem solving skills and having lots of fun through our after school coding...
Jefferson County (Colorado) Historical CommissionJefferson County
A volunteer group working to preserve and promote the history of Jefferson County, Colorado. Jefferson County (Colorado) Historical Commission has developed a program for elementary-aged students showcasing some of th...
Keystone Science SchoolKeystone
Keystone Science School offers a variety of field trip opportunities for schools and homeschool students. Keystone specializes in field based science programs which incorporate Science, Adventure, and FUN!
Colorado Adventure PointLakewood
With programs such as Monday Mad Scientist Camp and Open Adventure Day, Colorado Adventure Point (CAP) has a variety of exciting educational programs to engage and inspire your child! Start with a climb on our two-sto...
Inspiration Micro-Classroom Enrichment ProgramLakewood
Inspiration is a micro-classroom enrichment program for homeschool and remote learning students. Inspiration is an environment for your child to: explore their interests, research curiosities, gain personal and social...
Two Roads Home School EnrichmentLittleton
This program offers one and two day a week home school enrichment. Small class sizes with qualified and caring teachers. Academic planning, curriculum library and social outreach opportunities for the home schooling f...
American Heritage Girls - LovelandLoveland
Northern Colorado now has a new extra-curricular option for girls called American Heritage Girls. AHG is a faith-based character development program for girls 5-18 years of age (in our first year, we will host ages 5-...
Highlands LovelandLoveland
Homeschool enrichment and academic classes with a Christian worldview. Families can augment what they are already doing at home or choose Highlands' hybrid program where students attend classes a couple days a week wi...
Deer Hill ExpeditionsMancos
Deer Hill Expeditions is a fully accredited experiential education company with a mission to help students find authentic connection to themselves and others. They do that through expedition-style adventure throughout...
FACENorth Metro
A Private School Home-Study Program Pursuing excellence...by encouraging parents and students to discover the students unique learning style. Providing services to promote a stress free home schooling experience with ...
Everest Point Homeschool AcademyNorthglenn
Everest Point Homeschool Academy is an amazing TUITION FREE enrichment opportunity for homeschool families. At Everest Point (EP), students have access to a variety of classes taught by licensed or highly qualified st...
Leman Academy of ExcellenceParker, Denver
Leman Academy of Excellence is an independently operated, tuition-free public charter school with open-admission policies. Once a week, homeschoolers will gather to participate exclusively with other homeschoolers in ...
Pueblo School for Arts and Sciences - Homeschool Enrichment ProgramPueblo
At Pueblo School for Arts and Sciences - Homeschool Enrichment Program, we give your homeschooler every advantage possible. Our program offers arts, music, sciences/STEAM, and community partnerships at no cost to you ...
Two Roads Home School Enrichment ProgramSouth West Metro Area
Two Roads is a public charter school in Jefferson County. The school serves home schooling families by offering a one (1) and two (2) day a week in-person learning in an enriched, classroom environment. Two Roads part...
Lively Arts Homeschool Enrichment ProgramWheat Ridge
Lively Arts Homeschool is a one day per week program providing Waldorf-inspired arts enrichment and social interaction for homeschool students. Students experience classes in Spanish, Art, Orchestra, Band, Games, Hand...
Go to Colorado...