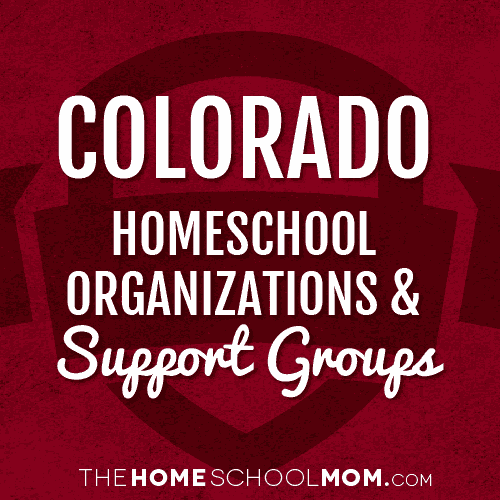 Since homeschooling is regulated at the state level, connecting with local homeschoolers is an important step to start homeschooling in Colorado. State homeschool organizations and local homeschool groups are not just a good place to learn the specifics of legally homeschooling in Colorado—they can also help you to get connected with the local homeschooling community. Many homeschool groups offer co-ops, classes, sports and arts opportunities, and social get-togethers.
Our listing of Colorado state organizations and local homeschool groups is ordered alphabetically by city, with statewide organizations listed first. If you would like to submit a group, you may do so using the red button above.
Use the secondary navigation menu above to quickly make your way to pages for Colorado state organizations, local homeschool groups, classes, co-ops, field trips, and more.
Colorado Homeschool Organizations
CHECColorado Statewide
Christian Home Educators of Colorado (CHEC) has served homeschoolers in Colorado since 1990 through conferences, seminars, resources, legal work, and more. They envision families honoring Jesus Chr...
Rocky Mountain Education ConnectionColorado Statewide
Colorado's premiere site for the most popular and in-depth FAQ on the law along with the casual, straight-from-the-hip and often funny "Rookie Workshop for New Homeschoolers", both provided by Cind...
Colorado Local Homeschool Groups
Parker Christian Home Educators (PCHE)Centennial, Parker and Douglas county areas
Offering wholesome, educational and social activities for our homeschooled children. We provide support, information, and encouraging fellowship for the homeschooling journey, and promote non-gover...
Nature's Classroom Homeschool GroupColorado Springs
Jean Piaget, among others, believed that nature was our ultimate classroom. This website is designed to introduce you to all nature has to offer, especially in a homeschooling situation
Trail LIfe USA Homeschool TroopColorado Springs
Trail Life USA is a Christian Outdoor Adventure, Character, and Leadership Program for boys and young men. This is a homeschool troop of Trail Life USA meeting near UCCS in Colorado Springs. Meetin...
CHECColorado Statewide
Christian Home Educators of Colorado (CHEC) has served homeschoolers in Colorado since 1990 through conferences, seminars, resources, legal work, and more. They envision families honoring Jesus Chr...
Christian Home Educators of Colorado Support GroupsColorado Statewide
Christian Homeschool Support Groups are comprised of homeschooling families who regularly meet for fellowship, encouragement, and to help each other along the path that the Lord has called them to ...
Colorado HomeschoolingColorado Statewide
Colorado Homeschooling supports families on their homeschool journeys through low stress, quality evaluations and testing, consulting services, pre-designed unit studies, and lesson plans. This gro...
Northwest Colorado Homeschool AssociationCraig
A Christian support group for homeschool families in the Moffat County area of Colorado. Providing a weekly COOP, field trips, events, and guest speakers. Anyone new or seasoned can join this grou...
Denver UnschoolersDenver
Denver Unschoolers a group in the Denver metro area for all homeschoolers regardless of their homeschooling philosophy or spiritual beliefs.
Douglas County Catholic Home EducatorsDouglas County, Denver
DCCHE runs a weekly co-op in Castle Rock for preschoolers & grades K-3, as well as hosting gatherings and field trips for area homeschooling families.
Rocky Mountain HomeschoolersFort Collins
Families Dedicated to Educational Alternatives Welcome! Rocky Mountain Homeschoolers is a support group for homeschooling families in or near Fort Collins. We offer field trips, get togethers and c...
Fort Collins Homeschool Gavel ClubFort Collins
As an affiliate of Toastmasters International, FC Homeschool Gavel Club provides a supportive and positive learning experience in public speaking for middle and high schoolers resulting in greater ...
OliveTree Homeschool SupportFt. Collins
OliveTree supports the homeschooling family by offering a quality K-12 program grounded in a Biblical worldview. We have been helping parents homeschool since 2003. We are committed to offering a...
Hearts at Home Homeschool Support GroupHighlands Ranch and Douglas county and surrounding communities
Hearts-at-Home seeks to encourage and support homeschooling families, particularly the "mom in the trenches." Our goal is that the children have the opportunity for contact on a weekly basis throu...
Foothills HomeschoolersLittleton
Foothills Homeschoolers is a group of approximately 50 Christian families who homeschool children in the Southwest Denver-metro area. The main focus of this group is mentoring and supporting homesc...
Foothills Bible Church Homeschool Support GroupLittleton and Jefferson county area
Christian group. mailto:johnhassler@aol.com or dnwhite@aol.com
Homeschool TreasuryLongmont
Homeschool Treasury is a collection of resources for those who live along the Colorado Front Range. There's a wealth of information for local field trips, enrichment programs, and classes. There's ...
Agape Family SchoolsLoveland and Larimer county area
Small group activities vary from a mom's night out, to field trips and park days. Agape Family Schools is a forthright Christian organization established for the purpose of providing support, enco...
Christian Homeschoolers of PuebloPueblo
This group exists to provide a place for Christian homeschool families to have fellowship and conversations about homeschooling as well as plan activities.