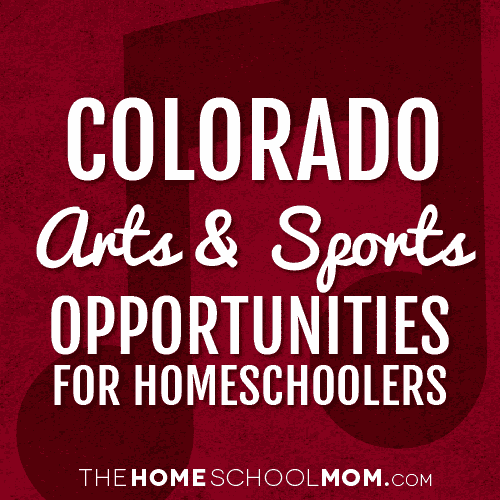 In addition to the opportunity to get out of the house and socialize, homeschool sports and arts programs can offer long-term benefits by developing characteristics like leadership, self-confidence, perserverance, and self-esteem. Many organizations and businesses have opportunities specifically for homeschoolers, while others invite homeschoolers to participate in their regular programs.
Not sure how to choose activity/activities for your children? Read how Rebecca narrows down the choice of extra-curricular activities.
Below is a list of homeschool sports and arts programs in Colorado listed alphabetically by city, with arts resources in the first section and sports resources below. If you would like to submit a Colorado arts or sports resource, you may do so using the red button above.
Use the secondary navigation menu above to quickly make your way to pages for Colorado state organizations, local homeschool groups, classes, co-ops, field trips, and more.
Homeschool Arts Opportunities in Colorado
Andrea Erskin Music In Home Piano and Voice LessonsArvada,Broomfield, Boulder, Lafayette, Louisville, Northglenn, Superior, Thornton, Westminster
In-Home private piano and voice lessons tailored to homeschool students. As a former homeschool student, Andrea knows the unique needs of homeschool families and will work with you to come up with ...
School of Rock AuroraAurora
School of Rock offers students of all skill levels age 7-18 a performance-based music curriculum in a fun environment. Weekly private lessons are combined with structured group rehearsals. Student...
Piano lessons by Mrs. HeidiAurora
Mrs. Heidi Martin has taught piano for 20 years mostly during the daytime hours and with home school children. Lessons are $20 per session and take place in Mrs. Heidi's home in the Wheatlands nei...
School of Rock BoulderBoulder
School of Rock offers students of all skill levels age 7-18 a performance-based music curriculum in a fun environment. Weekly private lessons are combined with structured group rehearsals. Student...
Ava Pacheco; Violin and Viola LessonsBoulder
Ava Pacheco is a violin and viola teacher in the Boulder area. She holds a Bachelor of Music from Truman State University, a Master of Music from University of Colorado-Boulder, and is currently pu...
Rhythm Kids™ by Music Together®Boulder
Rhythm Kids™ is for children 4-8 years old who are ready for richer musical experiences and musical activities with their peers. This developmental program is process, not performance, oriented and...
Brighton Options Homeschool k-12Brighton
Brighton Options (Homeschool k-12) is open to all students regardless of geographic boundaries and offers tuition free elective and academic classes which meet once a week, as well as a variety of ...
Bakke Music GroupBrighton
This resource provides quality musical instruction. As an entertainment/education company with over 80 years of combined experience that focuses on providing excellence in instruction. Documentati...
Everest Point Homeschool AcademyBrighton
Everest Point Homeschool Academy (Opening fall of 2019!) - Everest Point in partnership with Colorado Early Colleges offers K-12 tuition free enrichment and academic classes. Serving Brighton and ...
Voldman Music School for Violin and PianoBroomfield
Dr. Yakov Voldman and Mrs. Raisa Voldman - guiding experienced and beginner musicians to deeper understanding and musical ability. Piano and Violin lessons in Boulder, Denver and surrounding areas.
Broomfield Children's ChorusBroomfield
At Broomfield Children's Chorus, our mission is to provide music instruction and performance opportunities for all children in Broomfield and the surrounding communities. We live our mission each s...
Misti's Melodies Piano StudioCastle Rock
Piano classes in Castle Rock at instructor's home using the Simply Music method. Offering one hour lessons using a playing-based approach, which enables students to start playing great-sounding mus...
The Art BarnCherry Hills Village
The Art Barn offers art programs for children and adults in Cherry Hills Village, Colorado. Unique and inspiring classes are available year round. The Art Barn is looking to support the homeschooli...
Peak PercussionColorado Springs
Drumset, concert percussion, and marching percussion lessons.
Studio 101Colorado Springs
A fun and fantastic year-long science-through-art enrichment sequence. Students attend class once a week for 3 hours where they will produce incredible art work based on a science an fine art-based...
Pikes Peak Homeschool BandColorado Springs
The Pikes Peak Homeschool Band offers a great and unique opportunity for homeschool students ages 9 and up to master an instrument of their choice in a typical band setting. Practices are twice a w...
Broadmoor Academy of MusicColorado Springs
A prestigious music offering private lessons for all instruments and abilities. Also offering coached ensembles including pop, rock, and jazz to help your child experience the collaborative side of...
Ormao Dance SchoolColorado Springs
"Creative movement for your budding ballerina? Lyrical for your expressive teen? Ballet for yourself? Ormao Dance School offers all these and more for beginners to advanced dancers. " Ormao highly ...
Let's Play Music & Sound BeginningsColorado Springs
Welcome to the exciting world of Let's Play Music! where your child will learn advanced musical skills using age-appropriate methods! Music educators have long taught that the young child learns be...
Legends Music of Colorado SpringsColorado Springs
Legends Music of Colorado Springs (formerly Legacy Homeschool Band) provides music classes to the homeschooling community at Chapel Hills Mall, 80920 in the studio of Academy of Life and Leadership...
Explorers Creativity ClubColorado Springs
Explorers Creativity Club is a Christ-centered enrichment program that provides homeschool students ages 9-18 immersive education and social experiences. The club meets for classes on the 1st and 3...
Hopper Music WorksColorado Springs
Guitar and Bass instruction in the Colorado Springs area. Lessons take place out of Evan's residence, with the option to have us come to you. Contact Hopper Music Works for a free consultation.
Beginning Flute Group ClassColorado Springs
Kids ages 9-12 can learn to play flute in a fun, social environment with a rich curriculum at half the cost of private lessons! Registration is limited and due mid-June of each year. Class runs Aug...
D1 Training Colorado SpringsColorado Springs
Offering a homeschool special class taught by our staff of D1-Certified Coaches to keep students active in a unique way. D1 can help these students stay active by giving them a full body workout ev...
Guitar/Bass/Music Theory LessonsDel Norte, Monte Vista, Alamosa
Private in home music lessons for guitar/bass or music theory in classical/rock or jazz. Over 30 years experience. Call 660-822-6098 email:joseph@unseen.is
David Ross Piano Studio Now Offering Lessons for Daytime Students!Denver
Experienced professional piano teacher David Ross is offering piano lessons in the Denver area for students of all ages at a state-of-the-art teaching studio! David has 20 years teaching experience...
Wash Park Center for Music & ArtsDenver
The Wash Park Center for Music & Arts and Dolce Music Service have teamed up to help provide quality, creative, and engaging music lessons and classes for all ages in central Denver. Classes range...
Soul 2 SoleDenver
Soul 2 Sole is a Faith-Based Dance Ministry. Located centrally in the heart of Denver at Riverside Church. Dancers are trained with excellent instructors ranging from age 3 to adult; varying in sty...
Music and RhythmsDenver
Have fun learning amazing rhythms! Students learn all the basics to gain a great foundation in music on hand drums: playing rhythms, coordination, expression, inspiration, writing, listening, and s...
Center for Musical CreativityDenver
Located in south east Denver, CMC provides individual and partner piano lessons as well as theory and music literacy instruction for all levels, ages & styles. Both solo and partner piano lesso...
Neighborhood Music & Children's Theater Stapleton/AuroraDenver
Neighborhood Music provides private and group music lessons in 17 instruments (piano, voice, guitar, ukulele, harp, violin, viola, cello, drums, clarinet, flute, trumpet, trombone, saxophone, harmo...
The Robert and Judi Newman Center for the Performing ArtsDenver
The Newman Center is a multi-disciplinary arts venue at the University of Denver that provides innovative, diverse, and thought-provoking performance and education opportunities that enable the com...
Colorado Friends of Old Time Music and Dance (CFOOTMAD)Denver
Contra dancing is social, community dancing where everyone is welcome. It's easy to learn, everything is taught, and no dance experience is necessary. There's no need to bring a partner (typically ...
Little Hands Crafting CompanyDenver
The Little Hands Crafting Company, LLC is a mobile craft studio that engages children's imagination by providing fun and creative crafts for parties and group events at a desired location. There i...
Golden Music: Lessons & ClassesDenver
A music school that offers music lessons and classes to the metro-Denver community. Golden Music's goal is to help each student thrive creatively with new skills and knowledge through music!
Maestro Music InstituteDenver
Maestro Music Institute is accepting enrollment for children of every age and skill level. We offer music lessons in small group classes, as well as semi-private and private instruction.Our s...
New Cottage ArtsDenver
New Cottage Arts is proud to offer you the best in music & art group classes and private lessons. We offer classes and lessons in piano, guitar, ukulele, voice, violin, and visual arts (paint, ...
Young Voices of Colorado – AuditionsDenver Metro Area
Young Voices of Colorado is a comprehensive vocal music program for children ages 5-18.Young Voices of Colorado offers six performing choirs, where children can fulfill their needs to express m...
Dalcroze School of the RockiesDenver/Boulder/Lafayette
Dalcroze Education is a unique, exciting, and powerful way of knowing music through the body. The Dalcroze approach explores musical concepts through social and interactive methods that invite stu...
Cherry Creek Youth SymphonyEnglewood
Cherry Creek Youth Symphony (CCYS) is a community orchestra and ministry of Cherry Creek Presbyterian Church that offers a non-competitive, family friendly faith-based environment where students le...
The Home School ConnectionEvergreen, Lakewood, Westminster
Woodrow Wilson Academy offers a fine arts enrichment program through Jefferson County public schools. Home school students attend one day a week to take elective style classes that are not intended...
Cody's Violin and Fiddle StudioFort Collins
Violin and fiddle lessons in Southeast Fort Collins.
EnjoyableNoise Piano and Voice LessonsFrederick
EnjoyableNoise Piano and Voice lessons is a great resource for families who desire to focus on their music goals in a fun and playful way. They are experts at teaching piano to preschoolers, and v...
Notes and PaintbrushesGrand Junction
Notes and Paintbrushes provides private music and art lessons at affordable prices. This is available from newborn up to adults. This program offers music with babies, piano, guitar, drawing, paint...
Becky's Piano Studio: Piano LessonsGrand Junction, Fruita, Loma
Individualized piano study for all ages and levels. Comprehensive curriculum includes music theory, technique, music history and appreciation, ear training, and a wide repertoire of piano literature
Flourish Music AcademyGreeley/Northern Colorado
Flourish Music Academy offers private music lessons for all ages, levels and instruments, empowering students to flourish artistically and personally through quality instruction and diverse musical...
Piano Lessons in Highlands Ranch, COHighlands Ranch
Experienced teacher with a Masters in Piano Performance from the University of Miami offering piano lessons for all levels and ages. Daytime hours available to accommodate homeschooled students.
Denver Ballet TheatreHighlands Ranch, Centennial, Lone Tree
Denver Ballet Theatre has relocated in Highlands Ranch and has new offerings for homeschooled children. We will offer classes during the day for homeschoolers that maintain 8 children. DBT's creati...
Campbell StudioHighlands Ranch/ Littleton/ Centennial
Private violin, piano or theory lessons offered in a home studio by an experienced teacher that tailors curriculum teaching to help each students learn best. Kristin has Suzuki violin training as w...
Nicole Langford Violin and Viola LessonsLakewood
Nicole Langford offers quality private music lessons for all ages. You can reach out to find out more and set up a trial lesson on the contact page of her website.
MOVE!Lakewood, Golden, Applewood Valley, Wheatridge
MOVE! A Place with Space to Thrive...provides movement arts in a non-competive atmosphere. Creative movement, improvisation, choreography skills and specific dance technique classes offered (tap, j...
School of Rock LittletonLittleton
School of Rock offers students of all skill levels age 7-18 a performance-based music curriculum in a fun environment. Weekly private lessons are combined with structured group rehearsals. Student...
Joyful Soles Dance and Performing ArtsLittleton
Joyful Soles Dance and Performing Arts, Inc. offers excellent dance and theater instruction in a family friendly environment. Providing dance instruction to those planning to make dance a career an...
Andrea Coyle's Violin & Viola StudioLittleton
Accepting students ages 3 and up for violin or viola. Daytime and evening availability Mondays-Thursdays.Andrea Coyle's Violin & Viola Studio is committed to offering quality Suzuki viola and v...
Alexa's Dance Factory Home School ClassesLittleton
Alexa's Dance Factory LLC is the only studio in the area offering a home school dance program. Afternoon classes for home school and alternative education kids will be offered three times a week wi...
Audience of One Youth TheaterLittleton, Highlands Ranch, Englewood, Castle Rock, Parker
offering workshops, musical theater productions, summer camps, tour groups to churches or schools, and teen leadership training. Audience of One (Ao1) is a 501(3) support organization that offers ...
Richardson Violin/Viola StudioLittleton/Lone Tree/Highlands Ranch
Suzuki violin and viola lessons taught by Sarah Richardson, a teacher with more than 30 years experience. Weekly lessons are taught in a patient and caring environment. Beginning and transfer stude...
Music & Arts in Lone TreeLone Tree
Music & Arts just opened their newest location in Lone Tree, CO! Music & Arts is a full service shop that offers lessons, rentals, repairs, and sales. The Lone Tree location is promoting th...
CYT Front RangeLone Tree/Denver
Join CYT Front Range for Theater classes and improve your performance skills. Weekly classes last for two hours and run for nine weeks. A variety of classes are offered in drama, voice, dance, and...
Young ArtLonetree
YoungArt is a drop in art studio for children in Park Meadows mall. Young Art teaches students how to draw and use different techniques, and also allow for them to pick what they want to learn! At...
Loveland Academy of MusicLoveland
Offering quality, enjoyable lessons in piano, voice, drums, guitar, bass, banjo, mandolin, and ukulele for all ages. Loveland Academy of Music is Loveland's largest music school, with over 1,000 le...
Harrington Arts AllianceLoveland
Harrington Arts Alliance, a local non-profit, gives people of all ages the opportunity to explore their talents through many creative outlets: from acting classes to vocal lessons, from dance class...
Piano Lessons with LuisaLoveland
Luisa Knight is a home school graduate and has been teaching piano for over 17 years. She also teaches violin, and in the past, has taught after-school violin classes, music theory, viola and manag...
School of RockNorfolk
School of Rock offers students of all skill levels age 7-18 a performance-based music curriculum in a fun environment. Weekly private lessons are combined with structured group rehearsals. Student...
The Art GaragePark Hill, Denver
The Art Garage is a nonprofit arts community center that offers a variety of art based classes, camps, workshops, and events. Offering art classes for homeschool students that meet weekly for 6 to...
Five Little Fingers Piano StudioParker
Five Little Fingers Piano Studio is currently accepting registration for lessons. Students as young as 5 can apply. All ability levels are available. Lessons are taught at an in-home studio on a b...
Pueblo School for Arts and Sciences Homeschool Enrichment ProgramPueblo
PSAS Homeschool is a fun and interactive, one day a week "enrichment" program. The program is designed to supplement the independent homeschool parent's curriculum. The day starts at 8:15 AM and ru...
CYT Front Range Theater ClassesSouthwest Denver
Join CYT Front Range for Theater classes and improve your performance skills. Weekly classes last for two hours and run for nine consecutive weeks. A variety of classes are offered in drama, voice...
Stapleton Music LabStapleton
New as of January 2016, Stapleton Music Lab provides a safe, convenient, comfortable, and cool environment to learn and create music. Our consultative programs are designed to match musicians with ...
Silver Strings AcademyWestminster
Offering Suzuki violin and viola lessons, as well as traditional violin, viola, cello, and piano private lessons. Group lessons as well for students with previous playing experience. Contact Karen...
5280 GymnasticsWheat Ridge
5280 invites teachers to bring your class, school, pre-school, home school group or daycare program to experience the sport of gymnastics. We are proud to offer free gymnastics field trips that pro...
Homeschool Sports Opportunities in Colorado
Tanny Academy of Martial Arts Homeschool Martial Arts ProgramAurora/Denver
Tanny Academy of Martial Arts offers a Homeschool Martial Arts Program for kids in the Aurora/Denver area that will help them fill a P.E. credit while teaching invaluable life skills like goal sett...
Shredder Ski & SnowboardBoulder
Offering a really unique indoor ski and snowboard experience, teaching children and families the importance of community engagement, confidence and family. With aspirations to expand nationally, Sh...
ABC Kids Climbing – Homeschool ClassesBoulder
This hour and a half class is for homeschooled children. Climbers will work toward mastering fundamental climbing skills and knowledge, including the basics of top roping and bouldering. Children w...
Running Wolf Riding Center – Homeschool Field TripBroomfield
Horses are amazing animals and that they can help us to become better people. Through our relationship we can teach each other patience, consistency, understanding, and most important of all trust...
Faithfield EquestrianCastle Rock
Faithfield Equestrian offers private and group horseback riding lessons for beginners through advanced riders. Wonderful lesson horses available as well as show horses for lease. Positive coaching ...
Colorado HorsePowerCastle Rock
Colorado HorsePower is located outside of Castle Rock, CO. This resource helps kids to young adults that have ADHD/ADD, autism spectrum disorder, Down syndrome, cerebral palsy, depression and other...
Gracie Barra Centennial Jiu-JitsuCentennial
Gracie Barra is the one of the largest and most traditional Brazilian Jiu-Jitsu organizations in the world. The schools, instructors, and competitors are present not only in the United States and B...
CrossFit KidsCentennial/Aurora
"What is CrossFit Kids?Answer: CrossFit Kids is meant to be BIG fun for all ages. Broad-Inclusive-General fun. Fun means we provide an active alternative to sedentary pursuits, which means less...
Football at Pikes Peak Christian SchoolColorado Springs
Pikes Peak Christian School offers homeschooling students the opportunity to join their football program. Summer workouts begin in June for fall season. Contact: Kelvin Thorne for more information...
Front Range Fencing ClubColorado Springs
Learn the Olympic sport of Fencing. Classes for beginners ages 9 and up. Equipment use included. Beginning, intermediate and advanced classes and training. Certified and accredited instructors. Mo...
RedLine AthleticsColorado Springs
RedLine Athletics is a youth training facility focusing on age-specific strength and conditioning. RedLine offers the HIIT program (High Intensity Interval Training) for kids who want a great physi...
Soccer Buddies Classes Ages 15mo-12yrsColorado Springs
At Soccer Buddies, the goals for the program are simple but important...enable fitness, fun, skill building, and meaningful confidence in kids. Kids absolutely learn best while having fun. Soccer B...
Aqua Star Swim LessonsDenver
Aqua Star Swim Lessons offers swim lessons for kids 10 months old all the way up to adults. Lessons focus on water safety and then the basic skills to be successful in the water to then working on ...
Gymtegrity Gymnastics & CheerDenver
Gymtegrity is a gymnastics and cheerleading training center located in Northeast Denver. Offering recreational and competitive gymnastics and cheerleading, as well as many special events throughout...
Coors Fitness CenterDenver
Offers sports opportunities for moms, children and entire families. Chose from skating, basketball, swimming, gymnastics, volleyball, and hockey. While the kids are off doing their activities, Mo...
American Red Cross Lifeguard TrainingDenver
All classes are American Red Cross classes and upon successful completion of the class and written/practical exams you will be certified through the American Red Cross. Please contact www.coloradol...
Ski Colorado Ski Cross ClubDenver
Colorado year-round Ski Cross Club for the kids 8 y.o and up. Sign up to enjoy skiing on the slopes and in terrain parks, rollerblading and much more.
SkatestartDenver
Skatestart offers skateboard enrichment programs across the state of Colorado in numerous school districts. Contact Skatestart to find out how safe, fun, and awesome skateboarding is.
Dive VolleyballDenver
Dive Volleyball and Sports Center is opening its doors to youth home school programs. Centrally located in the heart of Denver, Dive Volleyball plans to start new home schooled volleyball leagues, ...
StriveFarDenver
StriveFar offers the opportunity for homeschooling students to connect with coaches for individual and group sports training. The objective is to have fun, get exercise, and learn a sport in a low ...
Evolve Action Sports ParkDenver
Evolve Action Sports Park provides a safe, structured environment for children aged 5-17 to learn or improve on their scooter or bike skills. Professional coaches work with each student's abilitie...
Complete EquestrianFort Collins
"The Complete Equestrian Home School Horse Program is for anyone who loves horses between the ages of 8 and 13. You don't have to have any prior horse experience. We are happy for you to learn with...
Junction Velocity Speed TeamGrand Junction
All skill levels welcome to learn about form, balance, control, proper skate track, passing, starting, stopping and speed.
SafeSplash Swim SchoolHighlands Ranch
SafeSplash Swim School offers swim lessons for kids six months old all the way to adults! Lessons focus on a competitive stroke and safety aspects as well as a great recreational swim team program....
CrossFit Kids Highlands Ranch at HRCAHighlands Ranch
CrossFit Kids Highlands Ranch at HRCA! (Ages 8-12). Want your kids to grow up healthy, strong and with a life long love of exercise? The HRCA CrossFit Kids program is not simply a scaled down vers...
SwimLabs Swim LessonsHighlands Ranch
SwimLabs Swim Schools offers lessons for kids. The small, warm water pools help children discover confidence and joy in the water without the fears and distractions that can come with large, crowde...
Waterworks Aquatics Highlands RanchHighlands Ranch
Waterworks Aquatics is a swim school in Highlands Ranch that teaches children (and adults) how to swim and provides recreational swimming opportunities. Offering two heated indoor pools which provi...
Peanut Butter & JellyfishLakewood/Westminster
Peanut Butter & Jellyfish offers year-round swim lessons for students ages 6 mo-Adult at all ability levels. We offer small group, and private lessons, as well as special needs lessons. Ask about...
TaekwondoLittleton
Family Martial Arts School established since 1993 working with the Littleton community and schools to promote fitness, respect, focus and self-defense training for all levels.
JET Kids GymnasticsLittleton
JETKIDS would like to offer gymnastics, tumbling and ninja classes at a reduced rate to homeschool families and groups during daytime hours
Incline GymnasticsLittleton
Incline Gymnastics Training Center is a family friendly, always safe environment, aimed at supporting success at all levels in the sport of gymnastics and surrounding functional physical fitness an...
Fencing Academy of DenverLittleton
Fencing is a sport involving quick thinking, agility, poise and speed. This unique sport develops self-discipline, respect, maturity and good sportsmanship, qualities that carry through to our eve...
Longmont YMCA Homeschool P.E. ProgramLongmont
The Longmont YMCA offers a land and water P.E. class designed for homeschooled students. Come and join your friends for fun, exercise and to complete your P.E. credit hours. The class will spend a...
High Altitude ArcheryLongmont
This activity is a great alternative physical education activity that helps students center their mind and body as they approach the sport of archery. High Altitude Archery focuses on target arche...
RedLine Athletics Youth Athletics Training CenterLongmont
RedLine Athletics is a locally owned and operated youth athletics training center in Longmont, CO, and we would like to offer your network of families and students a reduced rate program to complet...
EVO Rock + Fitness Summer CampsLouisville
Early Bird Summer Camp Sign Up Special: All EVO week-long indoor summer climbing camps 20% OFF before February 14--That's One FREE DAY of camp! Reserve your Outdoor Climbing Camp spots before Feb...
LBC VolleyballLouisville, Lafayette, Longmont, Boulder, Broomfield, Arvada, Westminster, Thornton, Golden, Lyon
LBC Volleyball is a local sports club that is dedicated to the physical, mental, and social development of young adults in Colorado through athletic competition, academic support, and giving back t...
Loveland Athletics Ninja ExperienceLoveland
Most kids have seen American Ninja Warriors on tv. Ninja obsticles are a great form of physical activity that are challenging and FUN. Instructors work with kids to utilize their core strength, bal...
Junkyard Training, Education and Recovery CenterParker
An opportunity to get out and exercise in a safe comfortable controlled environment. Will have scheduled activities for all level of fitness as well as programs for the more sports minded individua...
SkyzoneParker Co
Skyzone is an indoor trampoline park that provides a great outlet for kids run around and have a good time. The Skyzone family thrives to be supportive and super inclusive when it comes to our jump...
EquesTraining AdventuresSouth of Denver, Parker, Aurora, Centennial, Highlands Ranch, Castle Rock, Franktown, Kiowa
Horses can be the link for many children to creating a healthy and happy lifestyle. Equestrian group gymnastics, VAULTING, is super exercise and super fun! EquesTraining Adventures features this gr...
Velocity RecreationWestminster
Velocity is a nonprofit coed homeschool sports league dedicated to teaching children the joy of participating on a team. Children are taught not only how to play the game but also sportsmanship and...
Skate City Monday Open SkatingWestminster
This special daytime skating session is perfect for homeschool students and their families! Every Monday, Skate City Westminster has a 4-hour public skating session from 12-4pm. Admission is just $...