Jump to: Homeschool Arts | Homeschool Sports
In addition to the opportunity to get out of the house and socialize, homeschool sports and arts programs can offer long-term benefits by developing characteristics like leadership, self-confidence, perserverance, and self-esteem. Many organizations and businesses have opportunities specifically for homeschoolers, while others invite homeschoolers to participate in their regular programs.
Not sure how to choose activity/activities for your children? Read how Rebecca narrows down the choice of extra-curricular activities.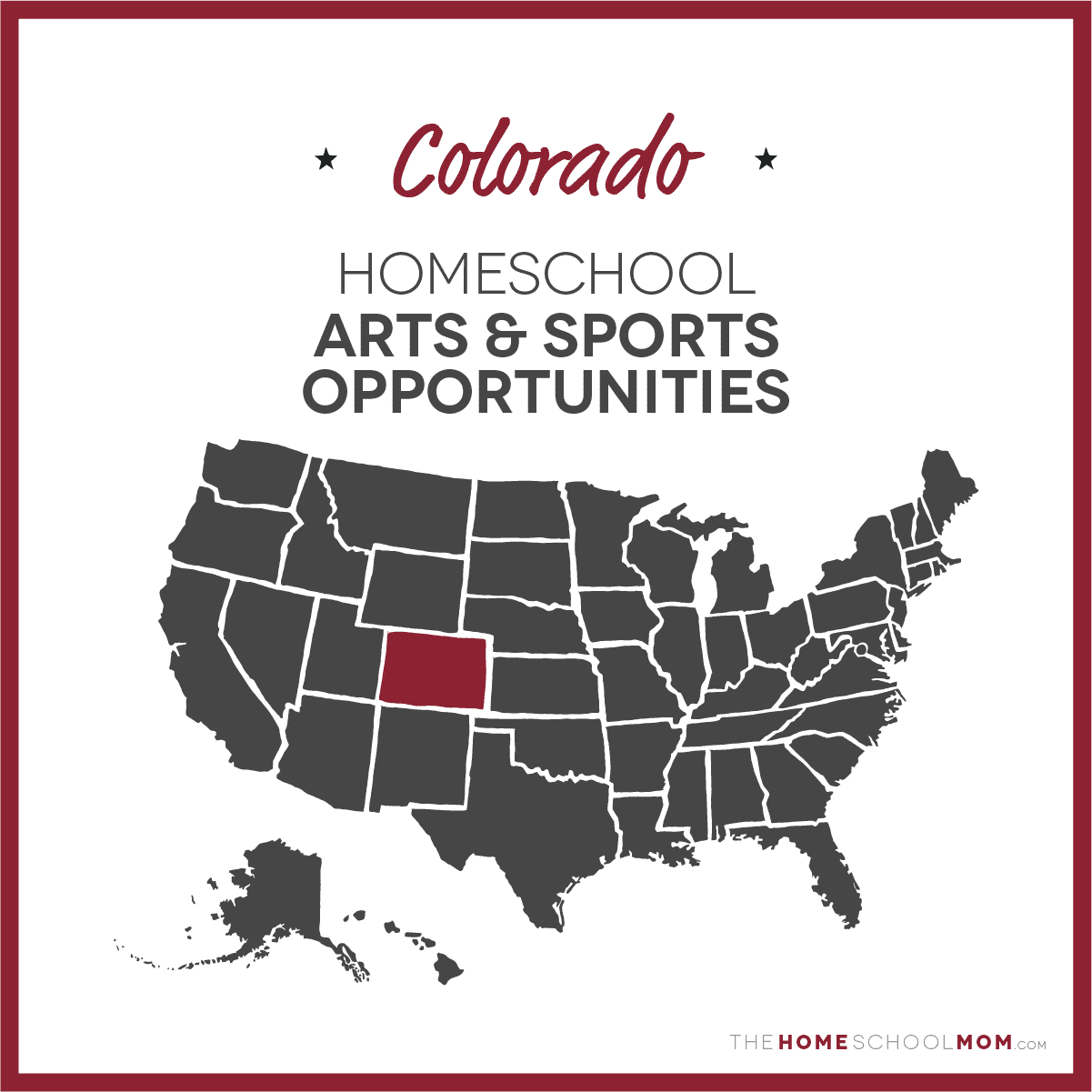 Submit a Local Resource
Our listing of Colorado list of homeschool arts and sports programs is ordered alphabetically by city, with arts in the first section and sports in the second section. If you would like to submit an Colorado arts or sports program, you may do so using the red button above.
Colorado Homeschool Arts Programs
The Art BarnArapahoe County
The Art Barn offers art programs for children and adults in Arapahoe County, Colorado. Unique and inspiring classes are available year round. The Art Barn is looking to support the homeschooling community in Colorado.
Andrea Erskin Music In Home Piano and Voice LessonsArvada,Broomfield, Boulder, Lafayette, Louisville, Northglenn, Superior, Thornton, Westminster
In-Home private piano and voice lessons tailored to homeschool students. As a former homeschool student, Andrea knows the unique needs of homeschool families and will work with you to come up with a customized plan to...
School of Rock AuroraAurora
School of Rock offers students of all skill levels age 7-18 a performance-based music curriculum in a fun environment. Weekly private lessons are combined with structured group rehearsals. Students prepare to perform ...
Piano lessons by Mrs. HeidiAurora
Mrs. Heidi Martin has taught piano for 20 years mostly during the daytime hours and with home school children. Lessons are $20 per session and take place in Mrs. Heidi's home in the Wheatlands neighborhood near Southl...
Centennial East Classical ConversationsAurora/Centennial
This is a community of Christian homeschool families who meet weekly to encourage one another, to grow in the classical model of education, and to share in Christ-centered fellowship. Community days consist of classes...
School of Rock BoulderBoulder
School of Rock offers students of all skill levels age 7-18 a performance-based music curriculum in a fun environment. Weekly private lessons are combined with structured group rehearsals. Students prepare to perform ...
Rhythm Kids™ by Music Together®Boulder
Rhythm Kids™ is for children 4-8 years old who are ready for richer musical experiences and musical activities with their peers. This developmental program is process, not performance, oriented and bridges the gap bet...
Violin/viola lessons by Laena BatchelderBoulder
Laena Batchelder is a violin and viola teacher in the Boulder/Denver metro area. She teaches students of any level privately at her home in Broomfield or online over Zoom. She is currently pursuing a Doctor of Musical...
CU Art MuseumBoulder
The University of Colorado Art Museum provides a forum for exchanging ideas, inspiring collaboration and fueling imagination through art. The museum's growing collection and diverse exhibitions and public programs pro...
Greater Boulder Youth OrchestrasBoulder
The Greater Boulder Youth Orchestras serve Colorado's young musicians with opportunities to connect with other like-minded youth while working alongside professional musicians. Musicians join from Boulder, Fort Collin...
Reel KidsBoulder Area
Reel Kids is a youth theater company offering performance opportunities and classes for children ages 8-18. We offer classes and/or private instruction in film, theater and voice lessons. There are 8 shows a year, in ...
Bakke Music GroupBrighton
This resource provides quality musical instruction. As an entertainment/education company with over 80 years of combined experience that focuses on providing excellence in instruction. Documentation of successful comp...
Voldman Music School for Violin and PianoBroomfield
Dr. Yakov Voldman and Mrs. Raisa Voldman - guiding experienced and beginner musicians to deeper understanding and musical ability. Piano and Violin lessons in Boulder, Denver and surrounding areas.
Globalsound Studio Music Academy - Complimentary Trial LessonBroomfield
Globalsound Studio is a Music Academy dedicated to offering quality, customized music instruction for every student. The studio offers free trial lessons and discounts for students taking lessons in the early afternoo...
Celebrate Dance & MusicBroomfield
Danse Etoile Ballet's 2022/2023 Season begins with Celebrate Dance & Music with two performances October 8th at 2 p.m. or 7:30 p.m. You won't want to miss this incredible performance with excerpts from the ballet ...
The Wizard of OzBroomfield, CO
Danse Etoile Ballet presents The Wizard of Oz, a family-friendly ballet retelling L. Frank Baum's classic story following Dorothy and the loveable characters of Oz along the yellow brick road to the Emerald City. Perf...
Misti's Melodies Piano StudioCastle Rock
Piano classes in Castle Rock at instructor's home using the Simply Music method. Offering one hour lessons using a playing-based approach, which enables students to start playing great-sounding music from their very f...
Violins con fuoco - Private Violin and Viola LessonsCastle Rock
Offering private violin and viola lessons in Castle Rock from a teacher who is also a homeschool parent! Ages 4 and up (to adult), beginner to advanced, any style of music! Teaching full time for 12+ years locally. St...
Let's Practice! Piano AcademyCastle Rock
Let's Practice! Piano Academy provides piano lessons for all ages (4+) and levels. Led by two concert pianists, the instruction is tailored to each student's needs: - play-based programs for younger students, - studyi...
Colorado Homeschool Music, Inc.Castle Rock & Colorado Springs
Colorado Homeschool Music connects homeschoolers with music teachers and directors across the state of Colorado. The aim of our instructors is to give the Colorado homeschooler a high quality music experience through ...
Studio RHG-private and group lessonsCentennial
Studio RHG is a private and small group lessons studio resource. Roberta Hamilton-Griggs teaches singing, acting, piano, music theory and ear training, public speaking, and audition preparation. Schedules and fees wil...
Studio RHG-Performing Arts private and small group lessonsCentennial
Studio RHG is the private studio of Roberta Hamilton-Griggs. With a Master's Degree in Vocal Performance and Pedagogy and a lifetime of experience, she teaches privately and in small groups. Choose from or combine les...
Pikes Peak Homeschool BandColorado Springs
The Pikes Peak Homeschool Band offers a great and unique opportunity for homeschool students ages 9 and up to master an instrument of their choice in a typical band setting. Practices are twice a week for 45 minutes, ...
Broadmoor Academy of MusicColorado Springs
A prestigious music offering private lessons for all instruments and abilities. Also offering coached ensembles including pop, rock, and jazz to help your child experience the collaborative side of music. (719) 576 3979
Ormao Dance SchoolColorado Springs
"Creative movement for your budding ballerina? Lyrical for your expressive teen? Ballet for yourself? Ormao Dance School offers all these and more for beginners to advanced dancers. " Ormao highly values creativity an...
Let's Play Music & Sound BeginningsColorado Springs
Welcome to the exciting world of Let's Play Music! where your child will learn advanced musical skills using age-appropriate methods! Music educators have long taught that the young child learns best through play, exp...
Hopper Music WorksColorado Springs
Guitar and Bass instruction in the Colorado Springs area. Lessons take place out of Evan's residence, with the option to have us come to you. Contact Hopper Music Works for a free consultation.
Beginning Flute Group ClassColorado Springs
Kids ages 9-12 can learn to play flute in a fun, social environment with a rich curriculum at half the cost of private lessons! Registration is limited and due mid-June of each year. Class runs August-May.
D1 Training Colorado SpringsColorado Springs
Offering a homeschool special class taught by our staff of D1-Certified Coaches to keep students active in a unique way. D1 can help these students stay active by giving them a full body workout every week as well as ...
The Nature LinkConifer
The Nature Link offers nature and art-based programming for kids and adults of all ages. We are a nature-centered studio, gallery, education and community space located in the foothills of Colorado. Learners of all ag...
Guitar/Bass/Music Theory LessonsDel Norte, Monte Vista, Alamosa
Private in home music lessons for guitar/bass or music theory in classical/rock or jazz. Over 30 years experience. Call 660-822-6098 email:joseph@unseen.is
David Ross Piano Studio Now Offering Lessons for Daytime Students!Denver
Experienced professional piano teacher David Ross is offering piano lessons in the Denver area for students of all ages at a state-of-the-art teaching studio! David has 20 years teaching experience and a BA in Music C...
Wash Park Center for Music & ArtsDenver
The Wash Park Center for Music & Arts and Dolce Music Service have teamed up to help provide quality, creative, and engaging music lessons and classes for all ages in central Denver. Classes range from pre-school grou...
Soul 2 SoleDenver
Soul 2 Sole is a Faith-Based Dance Ministry. Located centrally in the heart of Denver at Riverside Church. Dancers are trained with excellent instructors ranging from age 3 to adult; varying in styles such as ballet, ...
Neighborhood Music & Children's Theater Stapleton/AuroraDenver
Neighborhood Music provides private and group music lessons in 17 instruments (piano, voice, guitar, ukulele, harp, violin, viola, cello, drums, clarinet, flute, trumpet, trombone, saxophone, harmonica, dulcimer, and ...
The Robert and Judi Newman Center for the Performing ArtsDenver
The Newman Center is a multi-disciplinary arts venue at the University of Denver that provides innovative, diverse, and thought-provoking performance and education opportunities that enable the community to be engaged...
Center for Musical CreativityDenver
Forget everything you've heard about piano lessons being boring & isolating… Here at CMC, students learn to play piano & to read music in fun filled groups, with games, technology, activities and ensemble music! Sound...
Colorado Friends of Old Time Music and Dance (CFOOTMAD)Denver
Contra dancing is social, community dancing where everyone is welcome. It's easy to learn, everything is taught, and no dance experience is necessary. There's no need to bring a partner (typically change partners for ...
Golden Music: Lessons & ClassesDenver
A music school that offers music lessons and classes to the metro-Denver community. Golden Music's goal is to help each student thrive creatively with new skills and knowledge through music!
New Cottage ArtsDenver
New Cottage Arts is proud to offer you the best in music & art group classes and private lessons. We offer classes and lessons in piano, guitar, ukulele, voice, violin, and visual arts (paint, ink, mixed media cla...
Maestro Music InstituteDenver
Maestro Music Institute is accepting enrollment for children of every age and skill level. We offer music lessons in small group classes, as well as semi-private and private instruction. Our small group class is limit...
Iluminar Aerial Circus ArtsDenver
We are a Broomfield, Colorado based Aerial arts and dance program. We offer classes in aerial circus acrobatics, ground acrobatics, ground dance, and many more! We have a lot of availability during the day, and we are...
Pottery classes with Adventures in ArtDenver
Adventures in Art's pottery classes give students hands-on experience with real clay and glazes. The classes instruct traditional pottery making techniques, decorating and glazing while encouraging creativity and indi...
Exploration Kids! EnrichmentDenver
Exploration Kids! Enrichment is Colorado's Premiere Performing Arts Program for schools, home school groups, recreation and community centers. We provide 4 Primary Programs: Dance Exploration, Yoga Exploration, Cheer ...
Music with Maryann: Piano LessonsDenver
Let's Play Piano! Maryann has enjoyed playing piano for over 20 years, and teaching since 2014. She has a bachelor's degree in Piano Performance, and in addition to teaching, she plays piano with local choirs, churche...
Piano Denver Group Piano LessonsDenver
Small piano classes offered on an ongoing basis. Students learn & play together in piano bands! In-person sessions.
Colorado Youth Pipe BandDenver
The Colorado Youth Pipe Band is a non-profit music education organization. It teaches the traditions of Highland bagpipes, drums, and dance to youth between (about) 8 to 18 years. It fosters appreciation, skill, leade...
Charlie Bare Music Guitar lessonsDenver
Charlie Bare is a guitar instructor (and a homeschooler himself many years ago!) who serves the Denver metro area. He is available for lessons in-home and virtually if needed. His classes cover contemporary guitar (ro...
Denver Citywide Marching BandDenver
The Denver Citywide Marching Band can now accept students who are homeschooled and would like to participate in marching band events! The DCMB performs for events like Heart Walk, Light the Night, Denver Parade of Lig...
Young Voices of ColoradoDenver Metro Area
Do you have children who LOVE to SING? Young Voices of Colorado is the perfect place for them! Age and skill appropriate choir classes are offered for boys and girls in Kindergarten through 12th grade. Children learn ...
Colorado Early Colleges InvernessDenver Metro Area
Colorado Early Colleges-Inverness (CECI), a tuition-free, public charter high school, offers three unique part-time homeschool programs that enable families to choose the type of program that best fits their lifestyle...
Colorado Early Colleges Castle RockDenver Metro Area
Colorado Early Colleges Castle Rock (CECCR) is a tuition-free charter high school that provides its students an opportunity to take college classes and earn a degree. Colorado Early Colleges Castle Rock is an open enr...
Dance Exploration, LLCDenver, Castle Rock, Parker, Littleton, Highlands Ranch
Exploration Kids! Enrichment provides four primary programs for schools looking for quality enrichment programs that also offer a unique variety of classes that cater to multiple age groups. Programs include: Dance Ex...
Dalcroze School of the RockiesDenver/Boulder/Lafayette
Dalcroze Education is a unique, exciting, and powerful way of knowing music through the body. The Dalcroze approach explores musical concepts through social and interactive methods that invite students to trust their ...
Jess Webb ArtDenver/Evergreen
Natural Paint Making and Dye workshops. Art Tutoring
Cherry Creek Youth SymphonyEnglewood
Cherry Creek Youth Symphony (CCYS) is a community orchestra and ministry of Cherry Creek Presbyterian Church that offers a non-competitive, family friendly faith-based environment where students learn to love and play...
The Home School ConnectionEvergreen, Lakewood, Westminster
Woodrow Wilson Academy offers a fine arts enrichment program through Jefferson County public schools. Home school students attend one day a week to take elective style classes that are not intended to replace the curr...
Cody's Violin and Fiddle StudioFort Collins
Violin and fiddle lessons in Southeast Fort Collins.
Off the Hook Arts Chamber Music AcademyFort Collins
Off the Hook Arts' Chamber Music Academy is a collaborative music program that gives young musicians high level instruction in developing musical skills by playing with their peers and working with experienced profess...
EnjoyableNoise Piano and Voice LessonsFrederick
EnjoyableNoise Piano and Voice lessons is a great resource for families who desire to focus on their music goals in a fun and playful way. They are experts at teaching piano to preschoolers, and voice to teens. Music ...
Katie Cone Music LessonsGolden/Front Range
Katie has been singing and playing piano and violin along with other instruments since she was little, and has played all through her school years. She became first chair violinist in her schooling, has sung at differ...
Notes and PaintbrushesGrand Junction
Notes and Paintbrushes provides private music and art lessons at affordable prices. This is available from newborn up to adults. This program offers music with babies, piano, guitar, drawing, painting, etc... for kids...
Becky's Piano Studio: Piano LessonsGrand Junction, Fruita, Loma
Individualized piano study for all ages and levels. Comprehensive curriculum includes music theory, technique, music history and appreciation, ear training, and a wide repertoire of piano literature
Flourish Music AcademyGreeley/Northern Colorado
WE KNOW HOW HARD YOU WORK TO GIVE YOUR KIDS A QUALITY EDUCATION You understand the huge benefits a music education can give them, but worry you don't have the musical experience to give them what they need. We are her...
Piano Lessons in Highlands Ranch, COHighlands Ranch
Experienced teacher with a Masters in Piano Performance from the University of Miami offering piano lessons for all levels and ages. Daytime hours available to accommodate homeschooled students.
Denver Ballet TheatreHighlands Ranch, Centennial, Lone Tree
Denver Ballet Theatre has relocated in Highlands Ranch and has new offerings for homeschooled children. We will offer classes during the day for homeschoolers that maintain 8 children. DBT's creative dance program is ...
Campbell StudioHighlands Ranch/ Littleton/ Centennial
Private violin, piano or theory lessons offered in a home studio by an experienced teacher that tailors curriculum teaching to help each students learn best. Kristin has Suzuki violin training as well as violin perfor...
Taylor Piano Studio - Piano InstructionLafayette
This resource is an opportunity to learn piano for students of all levels and ages 5 plus. Private instruction includes ear training, sight reading, rhythm reading, note reading, and musicianship. Public performances ...
Nicole Langford Violin and Viola LessonsLakewood
Nicole Langford offers quality private music lessons for all ages. You can reach out to find out more and set up a trial lesson on the contact page of her website.
MOVE!Lakewood, Golden, Applewood Valley, Wheatridge
MOVE! A Place with Space to Thrive...provides movement arts in a non-competive atmosphere. Creative movement, improvisation, choreography skills and specific dance technique classes offered (tap, jazz, modern, ballet ...
School of Rock LittletonLittleton
School of Rock offers students of all skill levels age 7-18 a performance-based music curriculum in a fun environment. Weekly private lessons are combined with structured group rehearsals. Students prepare to perform ...
Joyful Soles Dance and Performing ArtsLittleton
Joyful Soles Dance and Performing Arts, Inc. offers excellent dance and theater instruction in a family friendly environment. Providing dance instruction to those planning to make dance a career and those dancing for ...
Alexa's Dance Factory Home School ClassesLittleton
Alexa's Dance Factory LLC is the only studio in the area offering a home school dance program. Afternoon classes for home school and alternative education kids will be offered three times a week with an affordable tui...
Andrea Coyle's Violin & Viola StudioLittleton
Accepting students ages 3 and up for violin or viola. Daytime and evening availability Mondays-Thursdays. Andrea Coyle's Violin & Viola Studio is committed to offering quality Suzuki viola and violin lessons in Denver...
Montessori Peaks HS Options and ConnectionsLittleton
Montessori Peaks Academy is a Jeffco public school offering 1 day a week enrichment programs for K-8th graders, in multi-age Montessori philosophy classrooms. Each school day is from 8:30-3:30, including themed unit l...
Audience of One Youth TheaterLittleton, Highlands Ranch, Englewood, Castle Rock, Parker
offering workshops, musical theater productions, summer camps, tour groups to churches or schools, and teen leadership training. Audience of One (Ao1) is a 501(3) support organization that offers after school and summ...
LTCC Dance-Little Theatre Culture CenterLittleton(Ken Caryl area)
LTCC dance - Little Theatre Culture Center is a local dance studio in the Littleton area. We offer dance to all ages and abilities from 2 through Adults. We teach Ballet, pointe, tap, Jazz, contemporary and hip hop. L...
Richardson Violin/Viola StudioLittleton/Lone Tree/Highlands Ranch
Suzuki violin and viola lessons taught by Sarah Richardson, a teacher with more than 30 years experience. Weekly lessons are taught in a patient and caring environment. Beginning and transfer students are welcome. Inc...
Music & Arts in Lone TreeLone Tree
Music & Arts in Lone Tree, CO! Music & Arts is a full service shop that offers lessons, rentals, repairs, and sales. Come by and take a tour of our lesson studio today. Our teachers are sure to impress and mak...
A Musician Is...Lone Tree
A Musician Is..., under the direction of Nicole Rafferty, provides one on one music instruction in a safe and supportive environment. Students take their music education to the next level by putting musical concepts i...
CYT Front RangeLone Tree/Denver
Join CYT Front Range for Theater classes and improve your performance skills. Weekly classes last for two hours and run for nine weeks. A variety of classes are offered in drama, voice, dance, and specialty classes th...
Young ArtLonetree
YoungArt is a drop in art studio for children in Park Meadows mall. Young Art teaches students how to draw and use different techniques, and also allow for them to pick what they want to learn! At YoungArt, child lear...
Mountain Time Music SchoolLongmont
Mountain Time Music School is located in Longmont, Colorado and it offers programs designed for homeschoolers. The mom's that have been with us are very appreciative of our approach and very supportive of our cause. W...
Loveland Academy of MusicLoveland
Offering quality, enjoyable lessons in piano, voice, drums, guitar, bass, banjo, mandolin, and ukulele for all ages. Loveland Academy of Music is Loveland's largest music school, with over 1,000 lessons taught each mo...
Harrington Arts AllianceLoveland
Harrington Arts Alliance, a local non-profit, gives people of all ages the opportunity to explore their talents through many creative outlets: from acting classes to vocal lessons, from dance classes to art workshops,...
Highlands LovelandLoveland
Homeschool enrichment and academic classes with a Christian worldview. Families can augment what they are already doing at home or choose Highlands' hybrid program where students attend classes a couple days a week wi...
Everest Point Homeschool AcademyNorthglenn
Everest Point Homeschool Academy is an amazing TUITION FREE enrichment opportunity for homeschool families. At Everest Point (EP), students have access to a variety of classes taught by licensed or highly qualified st...
The Art GaragePark Hill, Denver
The Art Garage is a nonprofit arts community center that offers a variety of art based classes, camps, workshops, and events. Offering art classes for homeschool students that meet weekly for 6 to 8 weeks with a struc...
Five Little Fingers Piano StudioParker
Five Little Fingers Piano Studio is currently accepting registration for lessons. Students as young as 5 can apply. All ability levels are available. Lessons are taught at an in-home studio on a beautiful grand piano....
CYT Front Range Theater ClassesSouthwest Denver
Join CYT Front Range for Theater classes and improve your performance skills. Weekly classes last for two hours and run for nine consecutive weeks. A variety of classes are offered in drama, voice, dance, and specialt...
Steele AthleticsWelby
Steele Athletics is a premiere cheerleading gym in the Denver area with three locations across the metro. We offer cheerleading classes as well as tumbling classes at all our locations. We offer tumbling, cheer and st...
Silver Strings AcademyWestminster
Offering Suzuki violin and viola lessons, as well as traditional violin, viola, cello, and piano private lessons. Group lessons as well for students with previous playing experience. Contact Karen for further informat...
5280 GymnasticsWheat Ridge
5280 invites teachers to bring your class, school, pre-school, home school group or daycare program to experience the sport of gymnastics. We are proud to offer free gymnastics field trips that provide one hour of ins...
Lively Arts Homeschool Enrichment ProgramWheat Ridge
Lively Arts Homeschool is a one day per week program providing Waldorf-inspired arts enrichment and social interaction for homeschool students. Students experience classes in Spanish, Art, Orchestra, Band, Games, Hand...
Colorado Homeschool Sports Programs
Archery Games DenverArvada
Archery Games offers a unique activity known as Archery Dodgeball. Played with bows and specially-engineered foam-tipped arrows, two teams battle it out in their indoor arena. Each session begins w... [Read more...]
Shoot 360 Basketball TrainingAurora
As the World's most advanced basketball training, Shoot 360 combines cutting-edge science and technology with actual hands-on, one-on-one coaching—in person, in real-time, in a real gym environment... [Read more...]
Colorado Martial Arts AcademyAurora/Centennial
Martial Arts Lessons in Aurora/Centennial with a strong focus on community, morals and values. We have ongoing Martial Arts Lessons for Homeschool kids on Monday and Wednesday afternoons. Kids 4-6 ... [Read more...]
ABC Kids Climbing - Homeschool ClassesBoulder
This hour and a half class is for homeschooled children. Climbers will work toward mastering fundamental climbing skills and knowledge, including the basics of top roping and bouldering. Children w... [Read more...]
Shredder Ski & SnowboardBoulder
Offering a really unique indoor ski and snowboard experience, teaching children and families the importance of community engagement, confidence and family. With aspirations to expand nationally, Sh... [Read more...]
Square State SkateBoulder
Square State Skate has been conducting skateboarding camps, lessons, PE programs and school enrichments in Colorado for nearly a decade. This new resource provides PE homeschooling enrichment progr... [Read more...]
Square State Skate - Skateboarding ProgramsBoulder
These skateboard programs are curriculum based and meet many of the PE standards set in school districts throughout Colorado. The homeschooling enrichment programs provide structured classes with a... [Read more...]
Running Wolf Riding Center - Homeschool Field TripBroomfield
Horses are amazing animals and that they can help us to become better people. Through our relationship we can teach each other patience, consistency, understanding, and most important of all trust.... [Read more...]
Full Circle Martial Arts-Colorado's Premier Kids SchoolBroomfield
This is an excellent resource for martial arts activity for homeschool kids. Weekly classes are held on Zoom. Instructor/owner homeschooled her child and is well-known in the north metro homeschool... [Read more...]
Faithfield EquestrianCastle Rock
Faithfield Equestrian offers private and group horseback riding lessons for beginners through advanced riders. Wonderful lesson horses available as well as show horses for lease. Positive coaching ... [Read more...]
Gracie Barra Centennial Jiu-JitsuCentennial
Gracie Barra is the one of the largest and most traditional Brazilian Jiu-Jitsu organizations in the world. The schools, instructors, and competitors are present not only in the United States and B... [Read more...]
Edge Movement Fitness for kidsCentennial
Edge Movement is a new fitness facility for kids that is located in Centennial, Colorado. We focus on adaptability training using functional movement exercises in a parkour / ninja environment. Our... [Read more...]
Sterling's Team SpeedCentennial
Sterling's Team Speed specializes in the development of athletes at all levels and is committed to assisting each individual in reaching their goals. Training is offered to teams, small groups, pri... [Read more...]
CrossFit KidsCentennial/Aurora
"What is CrossFit Kids? Answer: CrossFit Kids is meant to be BIG fun for all ages. Broad-Inclusive-General fun. Fun means we provide an active alternative to sedentary pursuits, which means less ch... [Read more...]
Football at Pikes Peak Christian SchoolColorado Springs
Pikes Peak Christian School offers homeschooling students the opportunity to join their football program. Summer workouts begin in June for fall season. Contact: Kelvin Thorne for more information.... [Read more...]
Front Range Fencing ClubColorado Springs
Learn the Olympic sport of Fencing. Classes for beginners ages 9 and up. Equipment use included. Beginning, intermediate and advanced classes and training. Certified and accredited instructors. Mon... [Read more...]
RedLine Athletics - ColoradoColorado Springs
RedLine Athletics is a youth training facility focusing on age-specific strength and conditioning. RedLine offers the HIIT program (High Intensity Interval Training) for kids who want a great physi... [Read more...]
Soccer Buddies Classes Ages 15mo-12yrsColorado Springs
At Soccer Buddies, the goals for the program are simple but important...enable fitness, fun, skill building, and meaningful confidence in kids. Kids absolutely learn best while having fun. Soccer B... [Read more...]
Lost Island Warrior GymColorado Springs
Lost Island Warrior Gym is a Ninja Warrior style Gym and obstacle course race training facility located in Colorado Springs. Homeschool programs are provided from ages Toddler to Highschool. Homesc... [Read more...]
Black Sheep Universe Martial Arts LessonsColorado Springs
We provide private or group martial arts lessons. We can provide lessons in Muay Thai, kickboxing, jiu jitsu, and MMA. You can book online or contact us for more information at theblacksheepunivers... [Read more...]
It's FUNdamental Weekday Homeschool SessionsCororado Springs
This resource is a multisport/physical education class for school-age kids (5-12). Sessions run 6 weeks at a time. During the session several sports are introduced (4 or 5 different sports i.e. bas... [Read more...]
Aqua Star Swim LessonsDenver
Aqua Star Swim Lessons offers swim lessons for kids 10 months old all the way up to adults. Lessons focus on water safety and then the basic skills to be successful in the water to then working on ... [Read more...]
Gymtegrity Gymnastics & CheerDenver
Gymtegrity is a gymnastics and cheerleading training center located in Northeast Denver. Offering recreational and competitive gymnastics and cheerleading, as well as many special events throughout... [Read more...]
Coors Fitness CenterDenver
Offers sports opportunities for moms, children and entire families. Chose from skating, basketball, swimming, gymnastics, volleyball, and hockey. While the kids are off doing their activities, Moms... [Read more...]
Ski Colorado Ski Cross ClubDenver
Colorado year-round Ski Cross Club for the kids 8 y.o and up. Sign up to enjoy skiing on the slopes and in terrain parks, rollerblading and much more. [Read more...]
SkatestartDenver
Skatestart offers skateboard enrichment programs across the state of Colorado in numerous school districts. Contact Skatestart to find out how safe, fun, and awesome skateboarding is. [Read more...]
Dive VolleyballDenver
Dive Volleyball and Sports Center is opening its doors to youth home school programs. Centrally located in the heart of Denver, Dive Volleyball plans to start new home schooled volleyball leagues, ... [Read more...]
High Altitude TennisDenver
High Altitude Tennis (HAT) is the highest rated junior tennis program in Colorado and has been providing players of every age, at every level and ability, fun, positive and supportive camps, group ... [Read more...]
iFLY of Denver indoor skydivingDenver
Experience how flying accelerates learning with our STEM Program! We will explore the STEM principles behind our wind tunnel technology through exciting lectures, test flights and lab activities fo... [Read more...]
Jim Ryun Running CampDenver
Launched in 1975 by three-time Olympian and five-time World Record holder, Jim Ryun (and a homeschool dad!!), the Jim Ryun Running Camps are more than just running Camps. They teach a way of life, ... [Read more...]
Hi-Five Sports ZoneDenver/Littleton
Hi-Five Sports Zone is a state-of-the-art indoor sports facility located next to Dillards in the Southwest Plaza Mall. Our facility occupies 5,400 square feet of basketball court and turf field spa... [Read more...]
Complete EquestrianFort Collins
"The Complete Equestrian Home School Horse Program is for anyone who loves horses between the ages of 8 and 13. You don't have to have any prior horse experience. We are happy for you to learn with... [Read more...]
Junction Velocity Speed TeamGrand Junction
All skill levels welcome to learn about form, balance, control, proper skate track, passing, starting, stopping and speed. [Read more...]
SafeSplash Swim SchoolHighlands Ranch
SafeSplash Swim School offers swim lessons for kids six months old all the way to adults! Lessons focus on a competitive stroke and safety aspects as well as a great recreational swim team program.... [Read more...]
CrossFit Kids Highlands Ranch at HRCAHighlands Ranch
CrossFit Kids Highlands Ranch at HRCA! (Ages 8-12). Want your kids to grow up healthy, strong and with a life long love of exercise? The HRCA CrossFit Kids program is not simply a scaled down versi... [Read more...]
SwimLabs Swim LessonsHighlands Ranch
SwimLabs Swim Schools offers lessons for kids. The small, warm water pools help children discover confidence and joy in the water without the fears and distractions that can come with large, crowde... [Read more...]
Waterworks Aquatics Highlands RanchHighlands Ranch
Waterworks Aquatics is a swim school in Highlands Ranch that teaches children (and adults) how to swim and provides recreational swimming opportunities. Offering two heated indoor pools which provi... [Read more...]
Peanut Butter & JellyfishLakewood/Westminster
Peanut Butter & Jellyfish offers year-round swim lessons for students ages 6 mo-Adult at all ability levels. We offer small group, and private lessons, as well as special needs lessons. Ask abo... [Read more...]
Littleton TaekwondoLittleton
Family Martial Arts School established since 1993 working with the Littleton community and schools to promote fitness, respect, focus and self-defense training for all levels. [Read more...]
JET Kids GymnasticsLittleton
JETKIDS would like to offer gymnastics, tumbling and ninja classes at a reduced rate to homeschool families and groups during daytime hours [Read more...]
Incline GymnasticsLittleton
Incline Gymnastics Training Center is a family friendly, always safe environment, aimed at supporting success at all levels in the sport of gymnastics and surrounding functional physical fitness an... [Read more...]
Fencing Academy of DenverLittleton
Fencing is a sport involving quick thinking, agility, poise and speed. This unique sport develops self-discipline, respect, maturity and good sportsmanship, qualities that carry through to our ever... [Read more...]
Longmont YMCA Homeschool P.E. ProgramLongmont
The Longmont YMCA offers a land and water P.E. class designed for homeschooled students. Come and join your friends for fun, exercise and to complete your P.E. credit hours. The class will spend an... [Read more...]
High Altitude ArcheryLongmont
This activity is a great alternative physical education activity that helps students center their mind and body as they approach the sport of archery. High Altitude Archery focuses on target archer... [Read more...]
RedLine Athletics Youth Athletics Training CenterLongmont
RedLine Athletics is a locally owned and operated youth athletics training center in Longmont, CO, and we would like to offer your network of families and students a reduced rate program to complet... [Read more...]
Climbing Classes at The SpotLouisville
Looking for a fun homeschool activity for your kids? This might be the right program for you! Our recurring 90-minute program focuses on meeting your child where they are and introducing them to th... [Read more...]
Loveland Athletics Ninja ExperienceLoveland
Most kids have seen American Ninja Warriors on tv. Ninja obsticles are a great form of physical activity that are challenging and FUN. Instructors work with kids to utilize their core strength, bal... [Read more...]
Junkyard Training, Education and Recovery CenterParker
An opportunity to get out and exercise in a safe comfortable controlled environment. Will have scheduled activities for all level of fitness as well as programs for the more sports minded individua... [Read more...]
Track and Field out of Lutheran High SchoolParker
Come run track at Lutheran High School. We offer year round training with a season in the winter and a main high school season in the spring. For more information email at mikec234@gmail.com or cal... [Read more...]
SkyzoneParker Co
Skyzone is an indoor trampoline park that provides a great outlet for kids run around and have a good time. The Skyzone family thrives to be supportive and super inclusive when it comes to our jump... [Read more...]
EquesTraining AdventuresSouth of Denver, Parker, Aurora, Centennial, Highlands Ranch, Castle Rock, Franktown, Kiowa
Horses can be the link for many children to creating a healthy and happy lifestyle. Equestrian group gymnastics, VAULTING, is super exercise and super fun! EquesTraining Adventures features this gr... [Read more...]
ProgreshThornton
Progresh is an 11,000+ SQFT indoor action sports training facility dedicated to SKI, SNOWBOARD, SKATE, BMX & TUMBLING progression in a safe and controlled environment. Action sports training of all... [Read more...]
Steele AthleticsWelby
Steele Athletics is a premiere cheerleading gym in the Denver area with three locations across the metro. We offer cheerleading classes as well as tumbling classes at all our locations. We offer tu... [Read more...]
Velocity RecreationWestminster
Velocity is a nonprofit coed homeschool sports league dedicated to teaching children the joy of participating on a team. Children are taught not only how to play the game but also sportsmanship and... [Read more...]
Skate City Monday Open SkatingWestminster
This special daytime skating session is perfect for homeschool students and their families! Every Monday, Skate City Westminster has a 4-hour public skating session from 12-4pm. Admission is just $... [Read more...]
Go to...