Field trips are a great way to reboot a bad homeschooling week, get out of the house when everyone has cabin fever, and learn about your local area. Before heading out, check out Jeanne's tips for improving homeschool field trips.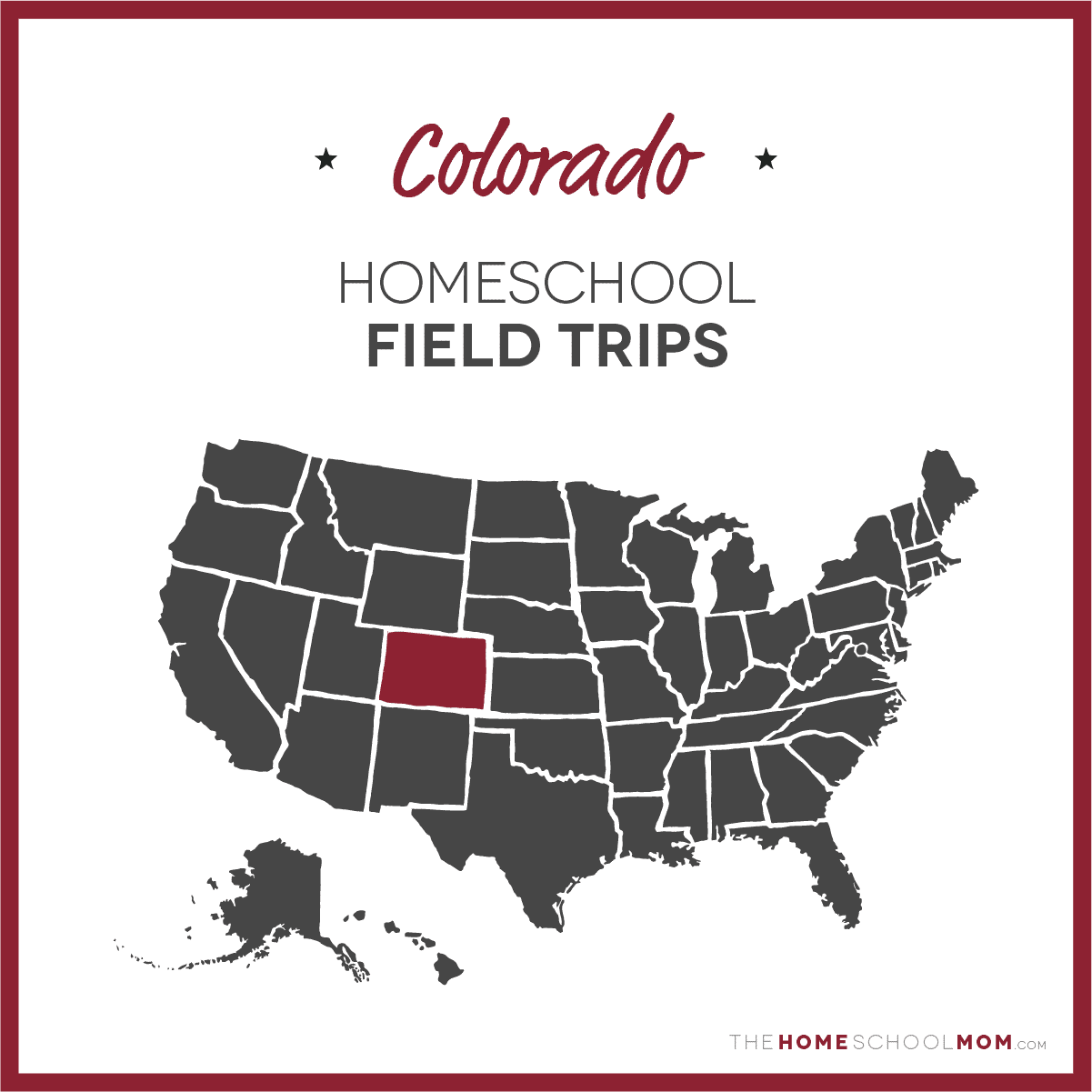 Submit a Field Trip Destination
Our listing of Colorado field trips for homeschoolers is ordered alphabetically by city. If you would like to submit a Colorado field trip destination, you may do so using the red button above.
An asterisk * after the title indicates that a virtual field trip is also available.
California National Historic Trail

More than 250,000 gold-seekers & farmers crossed into to the gold fields & rich farmlands of California during the 1840's and 1850's. 1,000 miles of trail ruts and traces can still be seen to remind us of early American travelers and settlers.
Pony Express National Historic Trail
Great Sand Dunes National Park and Preserve

Alamosa

Explore the tallest dunes in North America! Whether hiking, sliding, exploring in a dunes wheelchair - or simply playing - the Great Sand Dunes are a unique wilderness area protected for all to enjoy. Find out how these dunes were formed.
Navajo State Park

Arboles

Colorado's Answer to Lake Powell. Navajo Reservoir Extends for 20 miles South into New Mexico. Boaters and campers enjoy the park year-round. Houseboaters and other power boaters cruise some of the 15,000 surface-acres of the giant reservoir. Daily and seasonal slip and mooring ball rentals and gasoline for boats are available at the park's Two Rivers Marina.
Arvada Center for the Arts and Humanities

Arvada

Stage, Galleries and Education
Wheeler-Stallard Museum

Aspen

1888 Queen Anne style home
Independence Ghost Town

Aspen

Welcome to the Independence Ghost Town e-tour. Drag across and/or click on areas of the map or on the map's legend below to learn more about the town's features. Dotted outlines represent collapsed structures.
Aspen Historical Society Stallard House and Museum Annex

Aspen

Enriching the community through preserving and communicating our remarkable history!

Aspen Historical Society Stallard House and Museum Annex website
Aurora History Museum

Aurora

Visit the Aurora History Museum for exhibits and displays that tell the story of a surprising depth of history and culture to be found in Aurora. The tales of Aurora's past accompany learning experiences about the environment, diversity and the context of contemporary life in The American Suburb.
Dion's Tours

Aurora

Dion's offers an educational and fun opportunity for children Pre-K through 5th grade to take a behind-the-scenes look at our restaurants. The tours are conducted by a dedicated tour guide and occur prior to store openings at 9:30 am. During the tour, students learn about food groups, safety and teamwork. The children even get to help make some pizza. After the tour is complete, the students are fed pizza in our dining room. Children must be three years of age to participate in tour.
Centennial House (Blanche A. Wilson House)

Aurora

This Queen Anne Victorian home is the oldest of nine remaining houses Donald Fletcher built for his speculative community east of Denver. The name of this community later changed from Fletcher to Aurora. Like all Fletcher homes, it has indoor plumbing and an upstairs bathroom, a luxury considering both the time period and the arid surroundings. The City of Aurora purchased the house in 1990 and community members restored it for the City's Centennial year.
Melvin School

Aurora

This two-room schoolhouse originally served the outlying community of Melvin. In 1949, the structure was moved to make way for the Cherry Creek Reservoir. After 17 years of use as a tavern, the Cherry Creek Valley Historical Society moved the school to its current location on the grounds of Smoky Hill High School. The building is owned and maintained by the Cherry Creek School District.
William Smith House

Aurora

Aurora pioneer William Smith once raised sheep on the open land around this property. Smith was the founder of Aurora Public Schools and owner of the land donated for Del Mar Park. The home remained in the family until 1983 when Smith's daughter, Margaret, passed away. The house is now privately owned as a residence.
DeLaney Farm House

Aurora

This small house is the oldest surviving home in Aurora. The ranch, house, stables and corrals that made up the Gully family homestead were originally located at Mississippi and Chambers Roads, where this Irish immigrant family raised cattle and horses. The City of Aurora purchased the house and chicken coop, moving them to the current site and restoring the house in 1982. It is still owned by the City of Aurora.
Aurora Fox Arts Center

Aurora

Aurora residents had longed for a theater since motion pictures became popular, but the Great Depression and World War II made this type of construction impossible. As soon as the war was over, however, the Fox Inter-Mountain Amusement Corporation built this 650-seat theater. The building consists of a U.S. Army quonset hut fronted with an Art Modern entrance block, marquee, and neon sign. A fire forced the theater's closure in 1981, but the building has been restored and currently operates as a community cultural center.
H.M. Milliken House

Aurora

H.M. Milliken, the first mayor of Fletcher, hosted the first Town Trustee (City Council) meeting at this residence. The house was one of Donald Fletcher's original homes, constructed as part of the new speculative community east of Denver. The name of this community later changed from Fletcher to Aurora. Underneath the wrap around porch, added around 1910, is a typical Queen Anne style house built by Fletcher. The house is now privately owned as a residence.
DeLaney Round Barn

Aurora

riginally constructed as a grain silo, this round building was converted into a two-story cow barn around 1912. Perhaps the only surviving round barn in Colorado, its exceptional construction and engineering are believed to be the work of an itinerant carpenter. The John DeLaney family lived in a home across Toll Gate Creek and raised livestock. The barn has been restored and houses an exhibit on agriculture and dairy farming in the Aurora area. It is owned by the City of Aurora.
Thomas F. Gilligan House

Aurora

Westinghouse and General Electric cooperated to build this Spanish Mission style house as an electric show home. Bank and Chamber of Commerce president Thomas F. Gilligan had over 15,000 people visit his home for its grand opening gala. This event promoted not only modern homes complete with electrical appliances, but also Aurora as a desirable suburb. The house has served as a residence and is now a residential health care facility.
Lowry Building 880

Aurora

This H-shaped building was located in Lowry #2, a World War II extension of Lowry Field. The "temporary" structure was intended to last five to seven years and represents typical Army wartime construction. The building has served as office space, supply rooms, the interim headquarters for the U.S. Air Force Academy (1955 - 1958), and a museum. It is currently owned by the City of Aurora.
General's Pond - Water Fowl Preserve Fitzsimons General's Park

Aurora

Originally part of the Gutheil Park Nursery in 1901, this pond was developed during the 1920s as a wild fowl refuge after the commanding officer at Fitzsimons received a gift of two mallard ducks. The pond was stocked with fish for recreational fishing; its most famous fisherman was President Dwight D. Eisenhower, who spent time recovering from a heart attack at Fitzsimons.

General's Pond - Water Fowl Preserve Fitzsimons General's Park website
Coal Creek Schoolhouse

Aurora

The Coal Creek Schoolhouse is an excellent example of a one-room prairie school from the beginning of the twentieth century. The original Coal Creek School, located near the Edward Smith Farm, burned to the ground in either 1927 or 1928, and this replacement building was constructed on its foundation. The school offered grades one through eight for children from rural Aurora, and it also served as a place for public gatherings until 1960. The schoolhouse and associated buildings have been moved twice; the second move brought it to its current location at the Beck Recreation Center/Springhill Park in order to commemorate the state Centennial and national Bicentennial celebrations in 1976.
Cherry Creek State Park

Aurora

Welcome to Denver's natural and spacious backyard playground. There's so much to see and enjoy. Summers are busy and action packed while off-peak times are quiet and laid back. Hard-to-find and unique activities like model airplane flying, horseback riding and a family shooting range are available too.
Lory State Park

Bellvue

Hit the trail and enjoy mountain biking, hiking and horseback riding amid some fabulous foothills scenery just minutes from Fort Collins and adjacent to Horsetooth Reservoir.
Little Thompson Valley Pioneer Museum

Berthoud

A wide variety of exhibits that educate and enrich our visitors. Military Uniforms and Artifacts, Women's World clothing exhibit, Hildreth Photo Exhibit and the Foresman & McCarty Drug Store.
Broomfield Historical Depot Museum

Bloomfield

A beautiful old train depot station which was transported from its original site at 120th and Wadsworth to its present location by Broomfield Jaycees in 1976. It is surrounded by the Zang Spur Park, so named after the railroad's original name for Broomfield. One of nine depots built in the United States for housing the railroad agent and his family. Includes living quarters of kitchen, parlor, and two bedrooms upstairs as well as the agents office, waiting room and baggage area. The museum's collections include Broomfield newspapers, extensive collection of Broomfield photographs, large collection of railroad books, Broomfield City Directories, maps of Broomfield, Lakeview Cemetery records to 1920's, and vintage children's clothing.
Boulder: Just for Kids

Boulder

Fun Attractions and Activities for Kids in Boulder, Colorado
Gateway Park Fun Center

Boulder

Boulder County's only complete indoor/outdoor fun center.
Boulder History Museum

Boulder
Celestial Seasonings

Boulder

On this free tour, one can see a close-up example of the manufacturing process. Guides explain the different kinds of teas, where they get them, how they store them, etc. You get to go in the mint tea storage room and walk through the assembly line.
University of Colorado Museum of Natural History

Boulder

An academic unit of the Graduate School at the University of Colorado - Boulder with a mission to contribute to knowledge of the natural world and the humanities through research, teaching, and public education. The Museum's collections number more than four million objects in anthropology/archaeology, botany, entomology, paleontology/osteology, and zoology.
Leanin' Tree Museum of Western Art

Boulder

The Leanin' Tree Museum of Western Art in Boulder, CO exhibits over 300 original paintings and bronze sculptures from the private collection of Edward P. Trumble, chairman and founder of Leanin' Tree. Through the years, Trumble has traveled widely, meeting artists painting the great beauty and history of the American West, and collected their works. We invite you to come and view this magnificent private collection, unique in that it is the only major collection of privately held works of American Western art that is free and open to the public for viewing!
Adams County Historical Society & Museum

Brighton

Permanent Exhibits: Pre-historic, Earth Science, Fluorescent Room, Native American, up to 1850, Mountain Man, 1820-1840, Early Settlers, 1860-1900, Early Adams County, 1902-1930. Special Exhibits: Henderson 1887 House, Complete Blacksmith Shop, 1930 Replica Conoco Station, 1930 Replica One Room School, Howe Farm Scale, Adams County Sheriff's Department, Barber Shop, Beauty Shop, Paintings, Bronze Sculptures, Handmade Quilts, Household Scales for every use.
Barr Lake State Park

Brighton

There's something for every type of outdoors person --from the fishing enthusiast and boater to the naturalist. Bicyclists of all ages and abilities, nature hikers and horseback riders enjoy the level 8.8-mile multi-use trail that circles the lake, passing by several wildlife viewing stations and the park's wildlife refuge. More than 350 species of birds have been spotted in the park. Numerous bald eagles winter at Barr Lake and one pair stays to nest and raise its young every year. Barr Lake's Nature Center has displays about the park's wildlife and you can have your questions answered by a naturalist. Visit Division of Wildflife for more information.
Brush Area Museum and Cultural Center

Brush

The Brush Area Museum and Cultural Center will serve its diverse audience by promoting the study, preservation and enjlyement of nature and human culture, and preserve the history of the are for the present and future generation.
Old Town Museum

Burlington

Nestled in the heart of Colorado's Central Plains on the Colorado/Kansas border on I-70, rich in agriculture, history and heritage is the Old Town Museum, a 6 1/2 acre historical complex with 21 buildings restored with authentic artifacts from the turn-of-the-century. Old Town is "life in the past lane" by turning back the hands of time in rural America. While visiting Old Town, enjoy the trademarks of the Wild, Wild West. During the summer season we offer a soda fountain, hand dipped ice cream treats, and take a ride on the horse drawn wagon.
Royal Gorge Bridge & Park

Canon City

Goodbye Earth, Hello Sky. Welcome to Colorado's Natural Wonder. A place where looking down is even more breathtaking than looking up. A place that brings together the scenic beauty of the Grand Canyon and the human achievement of the Golden Gate Bridge.
Museum of Colorado Prisons

Canon City

A showcase of the atmosphere and exhibits of days, staff and inmates gone by.
Royal Gorge Regional Museum and History Center

Canon City
Fremont Center for the Arts

Canon City

Fosters and enriches the cultural and economic health of the Greater Fremont County Region through partnerships, presentations, education and preservation of the Arts for present and future generations.
North Pole, Santa's Workshop

Cascade

A Christmas Themed Family Amusement Park This enchanted family theme park has something for every member of the family. Meet Santa Claus and his elves.
Joyous Chinese Cultural Center

Centennial

Enjoy an Authentic Cultural Experience at the Joyous Chinese Cultural Center. We offers a one-of-a-kind field trip experience to meet the needs of any group, Kindergarten through High School! Field trips are scheduled on Wednesdays or Fridays, 10am-12:45 pm. Our trained staff of native Chinese speakers will help you experience the thrill of learning Mandarin, traditional arts and crafts, Chinese GongFu Fan Dance, and even learning to cook (and eat!) homemade Chinese cuisine! Prices are dependent on the number and age of the students, with a minimum of 30 students. Please call for more information.
Central City Opera

Central City

Works directly with educators, community leaders, students and parents to make Opera offerings relevant, educational and entertaining. Journey through the magic land of opera and experience the arts enriching lives.
Gilpin History Museum

Central City

Built in 1870, this two-story stone structure served as a school from 1870 to the 1960s. The museum houses collections relating to the glory days of Gilpin County, including a re-creation of a typical Main Street.
Thomas House

Central City

Built in 1874, this Greek Revival frame residence is built around the entrance to a mine. This unique house represents a typical middle class family. In fact, the house looks virtually the same as when Ben and Marsha Thomas moved to Denver in 1917. Ben was a local V.P. for a mercantile company. The house remained in the family until 1987. It was run as a private museum for three years then was purchased in 1990 by Gilpin Historical Society.
Coeur d' Alene Mine Shaft House

Central City

Developed during 1885, the Coeur d'Alene Mine serves as a constant reminder of Gilpin County's mining heritage. Perched on the brow of Academy Hill in Central City, the Shaft House produced ore between 1885 and 1940. Outdoor self-guided interpretive tours at this site are free!
Steamboat Lake State Park

Clark

The Scenery could be on a picture postcard; majestic peaks, lush green valleys and colorful wildflowers. Steamboat Lake State Park refreshes in summer, invigorates in winter and inspires in spring and fall.
Pearl Lake State Park

Clark

Pearls are a gift of nature and Pearl Lake State Park is just that. Just a few miles off the road, it feels like an escape into the backcountry of Colorado. Nestled in the mountains north of Steamboat Springs, this peaceful park sits in a quiet and thick forest setting. Surrounded by towering pines, visitors camp along the lake and up a gentle hill, deep in the cozy woods.
James M. Robb Colorado River State Park

Clifton

One park split into five sections. Enjoy five uniquely different river and lake based outdoor recreation opportunities. The sections, or "pearls" listed from east to west, each offer something different: 1. Island Acres Section 2. Corn Lake Section 3. Colorado River Wildlife Area Section 4. Connected Lakes Section 5. Fruita Section
Vega State Park

Collbran

At an elevation of 8,000 feet, Vega State Park's high-mountain lake sits in a beautiful sub-alpine meadow on the western edge of Grand Mesa National Forest in Western Colorado. The park is a haven for year-round recreation: fishing, boating, water skiing, hiking among the changing aspen, ice fishing and cross-county skiing. Snowmobilers and off-highway vehicle riders can access hundreds of miles of trails in Grand Mesa National Forest from Vega.
Gallery of Contemporary Art University of Colorado at Colorado Springs

Colorado Springs

The Gallery of Contemporary Art is a non-profit, non-collecting visual art center and educational institution within the University of Colorado at Colorado Springs. Its mission is to provide significant contemporary visual art exhibitions with an emphasis on emerging and mid-career artists while offering related programming to the University, the community and the Pikes Peak region.

Gallery of Contemporary Art University of Colorado at Colorado Springs website
May Natural History Museum

Colorado Springs

Visit the World's Largest Private Insect Collection
McAllister House Museum

Colorado Springs

Through careful research and restoration, the Colonial Dames, aided by generous gifts, have been able to return the Downing Gothic Cottage to the original charm and elegance which greeted our first community leaders. Today's visitors may tour this home which is in a neighborhood of historic Victorians, stands on its own. Knowledgeable guides and staff help recreate the city and family history making the house and its pioneering occupants live again.
Pikes Peak Kids

Colorado Springs

Colorado Springs Activities Attractions
Money Museum

Colorado Springs

Through the discovery of money, America's largest museum dedicated to numismatics brings culture to life. The museum explores art, history, science and much more to promote the diverse nature of money and related items. The museum includes exhibits in three main galleries, where visitors can find spectacular rarities and learn about the history of our nation and the world as seen through money.
Old Colorado City History Center

Colorado Springs

The Old Colorado City History Center is located at One South 24th Street in Old Colorado City. The History Center is open Tuesday through Saturday from 11:00 a.m. to 4:00 p.m. The admission is free. The History Center represents the interwoven stories of the life and personality of the many people who made Old Colorado City their home, their workplace and, most importantly, their community. The History Center will not only provide a physical place to view the many artifacts and photographs, but also provide a place to conduct research.
Rock Ledge Ranch Historic Site

Colorado Springs

An educational, non-profit living history farm and museum, which depicts life in the Pikes Peak region in four time periods: American Indian area in 1775; 1860's Galloway Homestead; 1880's Chambers Home and Ranch; 1907 Edwardian Country Estate.
Sangre de Cristo Arts Center

Colorado Springs

The mission of the Sangre de Cristo Arts & Conference Center is to make the arts an active part of everyone's lives by leading in managing, promoting and providing quality facilities, arts programs and services which educate, challenge and meet the needs of the people of Pueblo and southern Colorado.
Cheyenne Mountain Zoo

Colorado Springs

Vision: Every Kid. Every Time. Goosebumps! Every kid of any age will have the experience for a lifetime with every visit.
The ProRodeo Hall of Fame and Museum of the American Cowboy

Colorado Springs

The only museum in the world devoted exclusively to the sport of rodeo and its star, the rodeo cowboy.

The ProRodeo Hall of Fame and Museum of the American Cowboy website
Ghost Town Museum

Colorado Springs

As a true preservation of Colorado's western past, Ghost Town Museum is a fun and historic look back at kind of old west town that used to dot this region during the late1800's and early 1900's
Colorado Springs Pioneers Museum

Colorado Springs

The Museum has over 40,000 objects in its collection including nationally significant collections of quilts, Van Briggle art pottery, plus the finest regional art collection in the state of Colorado. The Native American collection includes hundreds of items representative of the Ute, Cheyenne, and Arapaho cultures. A portion of author Helen Hunt Jackson's house is reconstructed in the Museum, furnished with her original possessions. Other collections relate to the founding of the City, the area's mining and agricultural history, its early prominence as a health resort, and its more recent significance as a center for military training and operations.
Western Museum of Mining & Industry

Colorado Springs

Offering visitors a wide range of educational experiences. Dynamic guided tours and interactive exhibits, and a variety of educational events offer something for every age and interest!
Cheyenne Mountain State Parks

Colorado Springs

Colorado's newest state park is nestled in the landscape that inspired the song, "America the Beautiful." Enter this park and marvel at the mountains above and the Colorado Springs skyline below. An amazing 1600 acres of natural trails and scenic picnic sites are currently open for day-use only. Years of thoughtful planning will unfold as this park opens in stages--over the next several years. Visitors can enjoy recreational opportunities open now; environmental education, trail exploration and picnicking. Campsites, cabins, group and meeting facilities will be opening later.
Colorado Springs Fine Arts Center

Colorado Springs

Enrich your museum experience, at both the Fine Arts Center Main and the FAC MODERN, with tours led by dedicated volunteer Docents trained in the Fine Arts Center's history, architecture, permanent collection, current exhibitions and theatre.
Pikes Peak Children's Museum

Colorado Springs

The Pikes Peak Children's Museum will engage children's innate desire to explore, nurture their natural sense of wonder, and spark creativity with every visit!
Rocky Mountain Arsenal National Wildlife Refuge

Commerce City

The refuge is one of the largest urban national wildlife refuges in the United States. Refuges provide essential habitat for hundreds of threatened and endangered species of migratory birds, mammals, reptiles, amphibians, fish, invertebrates and plants.
Crow Canyon Archaeological Center

Cortez

row Canyon Archaeological Center in Cortez, Colorado, is a research and education facility dedicated to involving the public in archaeology and Native American cultures. Crow Canyon offers experiential education and hands-on archaeological experiences for people of all ages.
Notah Dineh Museum

Cortez

Notah Dineh's original museum collection was started over 50 years ago, when trading posts served as the commercial and social centers for the reservation. The largest known Two Grey Hills weaving is showcased in the museum. Relics of the Old West in the exhibit include antique bits and bridles, beaded leatherwear, fringed dresses and leggings, and historic firearms. The museum is free to the public.
Hovenweep National Monument

Cortez

Hovenweep National Monument protects six prehistoric, Puebloan-era villages spread over a twenty-mile expanse of mesa tops and canyons along the Utah-Colorado border. Multi-storied towers perched on canyon rims and balanced on boulders lead visitors to marvel at the skill and motivation of their builders. Hovenweep is noted for its solitude and undeveloped, natural character.
Yucca House National Monument

Cortez

A large, unexcavated Ancestral Puebloan surface site. Yucca House is located in Southwest Colorado between the towns of Towaoc and Cortez. Currently, there are no facilities or fees at Yucca House.
Museum of Northwest Colorado

Craig

The Cowboy and Gunfighter Museum housed within the Museum of Northwest Colorado showcases Mr. Bill Mackin's collection of nearly 1,000 "working cowboys" artifacts. This collection is a world renown accumulation of practically 50 years of effort and enjoyment by Bill.
Crawford State Park

Crawford

Crawford is great place to take a break and enjoy great recreation and stunning scenery. et skiing, motor boating and water skiing are very popular action-oriented activities at peak times like summer weekends. The park is quiet and restful during the week and lower peak times. A nice retreat for outdoor recreation, groups are welcome to gather and enjoy the group picnic facility.
The Trailhead Discovery Museum and Arts Center

Crested Butte

The Trailhead's purpose is to serve the needs of children living in or visiting Gunnison County, their families and educators as a place of learning and discovery through exhibits and programs in the arts, sciences and creative play. We believe children need a place to come play, be physically active and learn while doing it!
Crowley Heritage Center

Crowley County

Our Mission is to preserve Crowley Count History by the display and protective care of photographs, memorabilia and publications that pertain to the Crowley County area of Colorado. That we may inform and instill a desire and pride for those present and future generations. That they may learn from out past those things that will prepare and enhance their future.
Fort Uncompahgre Living History Museum

Delta

Fort Uncompahgre (un-come-paw-gray) was first established as a fur trading post around 1826 by Antoine Robidoux near the present sight of Delta, Colo. Fort Uncompahgre today is a living history museum that recreates the sight, the sound, the feeling and the experience of visiting the original post. Rated one of the top tours in "Best Places to Take Your Kids in Colorado," this living history museum is fun, educational and entertaining. You may choose to take part in activities or just listen and learn!
Sweitzer Lake State Park

Delta

This lake based retreat for the Western Slope provides day-use nature, picnic and water recreation. Visitors come for action-packed boating and water skiing on busy days and relaxed nature play on mellow days. Built solely for recreation, Sweitzer Lake fulfills its planned purpose well. Water-ski, swim, picnic, fish, boat, bird watch or just breathe-in the clean air. Sit on the grass, at a picnic site or on the sandy shore and enjoy the day.
Denver Zoo

Denver
History Colorado Center

Denver

The museum preserves a collection of historic and prehistoric artifacts and documents and is the Colorado Historical Society's headquarters. In addition to exhibits and educational programs.
Denver Firefighters Museum

Denver

Today the Denver Firefighters Museum is open to the public six days a week year round. Hands-on activities combined with the Museum's exhibits, provides information about fire safety and prevention as well as the history of the Denver Fire Department and historic Fire Station No. 1. Try on firefighting equipment, slide down a pole and ride on our fire truck designed just for kids as you pretend to put out fires. Or watch videos and play video games to find safe ways out of the house on fire.
Denver Museum of Miniatures, Dolls and Toys

Denver

The mission of the Denver Museum of Miniatures, Dolls and Toys is to provide educational and cultural services to the greater Rocky Mountain region through the preservation, exhibition, collection and interpretation of the visual arts using miniatures, dolls and toys.
Wings Over The Rockies Air and Space Museum

Denver

The massive B-52 Stratofortress greets you at the front door of our 1930's-era former Air Force hangar - home to over three dozen historic airplanes and space vehicles.
Lakeside Amusement Park

Denver

Lakeside Amusement Park is a large facility with excitement, history and charm. Located at I-70 & Sheridan, on a picturesque lake (with great mountain views), steam trains, roller coasters, a merry-go-round, a drop tower and more, Lakeside is the perfect site for family fun and large events. The Mini Skater Ride is a new addition to Kiddies' Playland, giving Lakeside 16 rides just for small children and a total of 40 rides.
University of Denver Museum of Anthropology

Denver

A teaching museum dedicated to educating students about the ethical practices of conservation, interpretation and administration of anthropological collections.
Four Mile Historic Park

Denver

A 12 acre oasis featuring Denver's oldest standing structure, pioneer exhibits, special events for all ages, and guided tours that transport visitors to Colorado's frontier past. Once a wayside inn and stage stop, Four Mile House and grounds are the setting for unique family, student, senior and rental activities that offer visitors a unique experience apart from the bustle of their busy lives.
Molly Brown House

Denver

Visit the Brown's opulent 1889 home, designed by architect William Lang with all the modern conveniences, including electricity, central heat and in-door plumbing. You'll also hear the fascinating tales of Molly Brown's incredible life, from instant mining-town wealth, to labor reform and the stages of New York.
Kirkland Museum

Denver

Kirkland Museum has a nationally important display of 20th-century decorative arts, with more than 3,300 works on view of Arts and Crafts, Art Nouveau, Gasgow Style, Wiener Werstatte, De Stijl, Bauhaus, Art Deco, Modern and Pop Art.
Elitch Gardens

Denver
Denver Museum of Nature & Science

Denver

The Denver Museum of Nature & Science is the Rocky Mountain region's leading resource for informal science education. A variety of exhibitions, programs, and activities help Museum visitors experience the natural wonders of Colorado, Earth, and the universe
Black American West Museum

Denver

Families will enjoy hands on experiences as they learn about African Americans and their unique role in the Westward Expansion. Explore the customs, traditions, and crafts of the African American pioneers that make the colors of the West come alive! Families will learn what life was like as a pioneer, cowboy, miner, mountain man, and homesteader as they learn and play as families did in the late 1800's.
Forney Transportation Museum

Denver

A one-of-a-kind collection of over 500 exhibits relating to historical transportation. It began with antique cars, but soon expanded to include vehicles of all kinds. Some of these are familiar, while others spark the imagination.
Buffalo Bill Museum and Grave

Denver

Visit the one, and the only, grave of William F. "Buffalo Bill" Cody. By his request, Buffalo Bill was buried on Lookout Mountain in 1917, overlooking the Great Plains and the Rockies. Feel the breezes from the high peaks of the Continental Divide, smell the Ponderosa Pines, and watch the mountain wildlife, all just thirty minutes from downtown Denver.
The Children's Museum of Denver

Denver

The Children's Museum of Denver offers 11 innovative and interactive Playscapes, educational daily programming and special events all year long for children newborn through age eight.
Denver Art Museum

Denver

Presents a variety of international art throughout the year including traveling exhibits and displays from the museum's permanent collection
The Molly Brown House Museum

Denver

The mission of Historic Denver's Molly Brown House Museum is to accurately portray the story of Margaret Tobin Brown within the context of her lifetime through ongoing research, artifact collection, preservation, and educational programming in order to inspire courage, conviction and proactive change in the spirit of Margaret Brown.
Museo De Las Americas

Denver

The Museo de las Americas educates our community about the diversity of Latino Americano art and culture from ancient to contemporary through innovative exhibitions and programs. With the Latino population growing exponentially in the Denver and wider communities, the Museo plays an important role in building pride in the Latino community's heritage and promoting understanding among cultures. Other history and art museums in Denver cannot focus on one segment of the community in a sustained or comprehensive manner. The Museo was organized to fill this important niche in the cultural milieu.
Denver Botanic Gardens

Denver

The mission of Denver Botanic Gardens is to connect people with plants, especially plants from the Rocky Mountain region and similar regions around the world, providing delight and enlightenment to everyone.
Downtown Aquarium - Denver

Denver

The entertaining and dining complex features a public aquarium boasting more than one million gallons of underwater exhibits that highlight fascinating ecosystems around the world and house over 500 species of animals. Remarkable education programs.
Steele Athletics

Denver

Steele Athletics would love to offer up our location to homeschool field trips. We have two full sized spring floors, trampoline, rod floor, and equipment. Students will learn the basics of tumbling and cheerleading in a state of the art facility. Steele Athletics is known in the Colorado community for being the premiere location for competitive cheerleading as well as tumbling training.
Dinosaur National Monument

Dinosaur

As you explore the craggy hills, discover fragments of a long ago world where the largest land creatures of all time once roamed and died. While the main exhibit wall of dinosaur fossils is closed, some fossils can be seen by hiking 1/2 mile from the Temporary Visitor Center. You can also view rock art and captivating scenery, explore homestead sites, and go whitewater rafting.
Colorado Wolf and Wildlife Center

Divide

Comfortably nestled behind Pikes Peak, Colorado Wolf and Wildlife Center provides natural, quiet and spacious sanctuary to rescued wolves, wolf dogs, foxes and coyotes. All of the animals were rescued from captive situations, and as a result they will never be allowed to live in the wild. This is why education is so important to the survival of these species. Personalized, one-hour walking tours through the sanctuary are fun and educational, and you'll always be with a small group of people so you can enjoy more focused attention in a quiet and relaxed atmosphere. We guarantee an up-close view of the beautiful, majestic and elusive wolf. We consider ourselves not only a sanctuary for animals but for people too!
Mueller State Park

Divide

A popular wildlife watching area, Mueller is home to elk, black bear, hawks. mule deer. Park visitors traverse the park's numerous trails on foot, snowshoes, cross-country skis , horseback and mountain bike, depending on the season.
Anasazi Heritage Center Museum

Dolores

The Anasazi Heritage Center is a federal museum, research center, and curation facility that introduces visitors to Four Corners prehistory. Approximately three million records, samples, and artifacts from public lands throughout southwestern Colorado form the Center's holdings. The Heritage Center is also the visitor center for the new Canyons of the Ancients National Monument.
Mild to Wild Rafting and Jeep Tours

Durango

At Mild to Wild we love sharing nature's playground and outdoor adventure with youth. Our mission is to enrich your life with a trip in the outdoors, creating a deeper connection with nature, family, and new friends. We offer youth-friendly rafting trips to promote communication, problem-solving, decision-making skills and working together. Youth are our future and we want to invest in them. Please call or reply to this email to let us know your needs and desires
The Animas Museum

Durango

The Mission of the La Plata County Historical Society is to collect, preserve, and interpret the history and culture of the San Juan Basin with a focus on La Plata County, Colorado. The Museum offers a variety of exhibits and programs for all ages, and is also home to our research library and photo archives.
Durango & Silverton Narrow Gauge Railroad Museum

Durango

This historic train has been in continuous operation between Durango and Silverton since 1882, carrying passengers behind vintage steam locomotives and rolling stock indigenous to the line. It is a family-friendly ride sure to create memories that will last a lifetime while offering a view of Colorado's mountain splendor inaccessible by highway. Relive the sights and sounds of yesteryear for a spectacular journey on board the Durango & Silverton Narrow Gauge Railroad.
Sylvan Lake State Park

Eagle

Sylvan provides serenity in an alpine park perfect for daydreaming. Non-motorized boating and non-electrical camping offer the opportunity for quiet recreation at this gateway to the White River National Forest and the Holy Cross Wilderness.
Eldorado Canyon State Park

Eldorado Springs

Eldorado Canyon is a hidden treasure right in Boulder's backyard! Whether it's hiking amidst the towering sandstone cliffs, picnicking along scenic South Boulder Creek or climbing Eldo's sheer golden walls, Eldorado Canyon State Park truly has something for everyone! Discover this hidden jewel and take home memories that will last a lifetime.
Lil' Buckaroo's Petting Zoo

Erie

During your visit to the farm, you will have the opportunity to meet and interact with all of our small, fun loving farm animals. Farm Staff will be available to answer any and all questions, as well as help direct you to the next animal you would like to visit. Our herd of animals currently consists of: Miniature Donkeys, Alpacas, Miniature Highland/White Park Cows, Nigerian Goats, Miniature Potbellied Pigs, Babydoll Sheep, Valais Blacknose sheep, Flemish Giant bunnies, Silkie chickens, and a Miniature Horse! Our goats, sheep, and alpacas LOVE to be hand fed!
Estes Park Museum

Estes Park

Its purpose is to collect, interpret and preserve local history, as well as present exhibits, programs and events, for the education and benefit of residents and visitors of all ages.
MacGregor Ranch

Estes Park

Self guided tours of the museum, milkhouse, smokehouse, blacksmith shop and horse-drawn machinery exhibits.
Enos Mills Cabin Museum and Gallery

Estes Park

Enos Mills is best known for being the "Father of Rocky Mountain National Park", after his six year struggle to educate the public and Congress of the importance of setting aside large land areas for preservation of scenery and the wild life inhabitants. He was also an author, photographer, nature guide, innkeeper, lecturer, and adventurer. The Enos Mills Cabin is an unconventional Museum that was placed on the National Register of Historic Places on July 3, 1973. Enos' son-in-law and daughter transformed the homestead cabin Enos built in 1885 into an informal dedication to Enos' many achievements that have impacted millions of people around the world.
Rocky Mountain National Park

Estes Park

From lush valleys to craggy peaks!!! This living showcase of the grandeur of the Rocky Mountains, with elevations ranging from 8,000 feet in the wet, grassy valleys to 14,259 feet at the weather-ravaged top of Longs Peak, provides visitors with opportunities for countless breathtaking experiences and adventures.
Hiwan Homestead Museum

Evergreen

This 17-room log lodge was placed on the National Register of Historic Places because of its unique construction. Hiwan's restored 1890-1930 era rooms illustrate a comfortable style of early mountain summer home living. As a local history museum, it maintains active craft and interpretive school programs as well as changing exhibitions, which are sponsored by the Jefferson County Historical Society.
Humphrey Memorial Park & Museum

Evergreen

The Humphrey museum will amaze you! It is filled with antiques, collectibles, art and artifacts from the family's transatlantic cruises and world travels dating back to the 1860's.
South Park City

Fairplay

The year was 1859. Gold was discovered in South Park and the rush was on! Hordes of gold-seekers spilled into the Park, and within a few short months the mountains were dotted with mining camps sporting names like Tarryall, Leavick, Eureka and Buckskin Joe. These camps grew to become boom towns, thriving communities on the edge of the frontier. Gradually the mining dried up and the people moved on, leaving their towns and camps to the elements, until all that remained were decaying ghost towns. An amazingly authentic restoration of a Colorado mining Boomtown.
Water World

Federal Heights

One of America's largest family waterparks, is located just 15 minutes north of downtown Denver, Colorado, on 64 beautifully landscaped acres.
St. Vrain State Park

Firestone

Cattails frame the ponds, Egrets stand tall, birds flock to the tall trees and toads sing for campers, picnickers and anglers. Visitors enjoy easy access to nature here, with great new facilities open and more under development. St. Vrain State Park is a family-friendly destination for visitors seeking a peaceful and simple outdoor break.
Fort Collins Museum and Discovery Science Center

Fort Collins
Avery House-Poudre Landmarks Foundation

Fort Collins

The house, gazebo, fountain and carriage house are part of the Avery House Historic District listed in the National Register of Historic Places.
Rocky Mountain Raptor Program

Fort Collins

RMRP is also fervently dedicated to rescuing and rehabilitating injured birds of prey, including Eagles, Owls, Hawks and Falcons. RMRP has admitted more than 3,500 raptors for treatment since the program started as a student club in 1979. More than 70% of treatable raptors are released.
Fort Morgan Museum

Fort Morgan

The Fort Morgan Museum tells the story of Fort Morgan and Morgan County through permanent and temporary exhibits that showcase the museum's collection. It also takes advantage of traveling exhibits from other institutions throughout the United States.
Castlewood Canyon State Park

Franktown

Nature lovers and groups enjoy environmental diversity on several hiking trails ranging from mild to moderate. All trails are less than two miles long and can be combined for longer journeys. The natural amphitheater and the Bridge Canyon Overlook gazebo perched on the edge of the canyon are unique places for weddings or other outdoor ceremonies. Casual groups and families enjoy the picnic areas at both entrances. Remnants of geologic and local history combine when the then Castlewood Dam burst in 1933, sending a 15-foot-high wave of water into Denver. Ruins of the original ill-fated dam and the historic homestead still exist for hikers to see.
Museum of Western Colorado

Fruita

Navajo Art, Rugs and Pottery One-of-a-kind prehistoric pottery from the Colorado Plateau, Navajo rugs, and rock art panels from the Fremont and Ute Indians. 19th Century Grand Junction Take a stroll down the boardwalk and step back into the early days of Grand Junction and experience the Pastime Saloon and the Park Opera House.
Dinosaur Journey Museum

Fruita

Come and enjoy the educational exhibits, realistic robotic dinosaurs and a working paleontological laboratory. Observe articulated dinosaur skeletons, including the fullsize Camarasaurus above you as you first enter, stand next to a Brachiosaurus arm bone, view a documentary on dinosaurs of North America, experience the sensation of a 5.3 earthquake, examine the Velociraptor. Did it really have feathers? Watch lab technicians prepare bones excavated from nearby quarries and uncover real bones in the kids' quarry.
The Museum of Western Colorado

Fruita

New exhibits that feature one-of-a-kind prehistoric pottery from the Colorado Plateau, Navajo rugs, and rock art panels from the Fremont and Ute Indians. Take a stroll down the boardwalk and step back into the early days of Grand Junction and experience the Pastime Saloon and the Park Opera House. Visit the Nelson and Post Saddle Shop with our collection of recently restored 19th Century saddles. Climb into a full-size stagecoach and take an interactive ride.
Colorado National Monument

Fruita

Colorado National Monument preserves one of the grand landscapes of the American West. Sheer-walled canyons, towering monoliths, colorful formations, desert bighorn sheep, soaring eagles, and a spectacular road reflect the environment and history of the plateau-and-canyon country.
Georgetown Energy Museum

Georgetown

located in a fully functioning and operational Hydroelectric generating plant in Georgetown, Colorado. The plant is owned and operated by Xcel Energy. It has been in operation since1900. GEM is a separate Colorado non-profit 501C3 organization which leases a portion of the hydroelectric plant from Xcel Energy, for the purposes of preservation and interpretation of this plant. It provides a general history of hydroelectric power. The museum includes exhibits and photographs and also household / consumer appliances relating the the early use of electricity.
Georgetown Loop Railroad

Georgetown

Come ride with us during the Georgetown Bighorn Sheep Festival on the 8th & 9th of November. The Colorado Division of Wildlife has supplied an interpretive discussion about the Colorado Bighorn Sheep that inhabit the mountains around Georgetown. These train trips will depart exclusively from the Georgetown Devil's Gate Depot. There will be no departures from the Silver Plume Depot and train will not go to Silver Plume Depot.
Hotel de Paris Museum

Georgetown

1875 Louis Dupuy rented the building that had housed the Delmonico Bakery and opened it as the Hotel de Paris. The entire first floor was taken up with restaurant and kitchen.
Glenwood Caverns Adventure Park

Glenwood Springs

You and your family will enjoy spectacular views while riding the Iron Mountain Tramway. Take a guided walking tour of the Glenwood Caverns where you will see amazing formations. Play on the new thrill rides - the Canyon Flyer, Alpine Rush, Swing Shot, and the 32-foot climbing wall - Doc's Rock.
Frontier Historical Society

Glenwood Springs

Serving as the Living Legacy of our Local Life. Our purpose is to collect and preserve artifacts and materials relating to the history of Glenwood Springs and Garfield county, Colorado. We make these materials available for research and interpret them through temporary and permanent exhibits at the museum, off-site exhibits, publications and educational programs.
Heritage Square

Golden

A unique amusement park, theater, and shopping village with delightful Victorian architecture -- a place to get away from the hustle and bustle of the city and enjoy great fun and beauty in the Golden foothills. Enjoy Colorado's best Alpine Slide, "Fish 'n Farm at Heritage Square" featuring 3 Go Kart Tracks, Bumper Boats, Paddle Boats, 36 holes of Adventure Miniature Golf, Amusement Rides, Ponies and Fishing, Heritage Rio Golden Train, old-time photos and more. Check out the Music Hall Dinner Theater and Children's Theatre. There are a variety of fun restaurant choices at Heritage Square. Come and visit Heritage Square for a fun and enchanting day!
American Mountaineering Center

Golden

The American Mountaineering Center is the premier building devoted to mountaineering and outdoor education in the United States and possibly the world.
Geology Museum at the Colorado School of Mines

Golden

The museum houses about 50,000 minerals, fossils, gemstones, and artifacts. Visitors come by the thousands each year to enjoy the exhibits and educational opportunities offered by the Geology Museum.
Golden History Center

Golden

The Golden History Center is new and old at the same time. As far back as 1938, citizens began collecting, exhibiting, and preserving Golden artifacts. Jefferson County Commissioners, with the aid of the Works Progress Administration, were instrumental in creating this collection as the basis of a museum that has had several homes over the years. Since 1996 its home has been 923 10th Street (when it was known as the Golden Pioneer Museum).
Astor House Museum & Clear Creek History Par

Golden

Explore how the people of Golden, Colorado settled a bustling town that served the developing West as a government center and mining supply town. Tour an 1800s boarding house and homestead where early Colorado pioneers worked and played. See what life was like on the frontier and hear stories of the people who called this place home.
Boettcher Mansion

Golden

The Mansion's interior is largely intact except for a 1986 lobby addition and a 2007 kitchen/storage remodel. Highlights include historically appropriate paint colors and wallpaper patterns, as well as an extensive collection of Craftsman-Style furnishings.
Colorado Railroad Museum

Golden

Recognized as one of the best privately supported rail museums in the United States. This "can't miss" site for railfans features over 100 historic narrow and standard gauge locomotives and cars exhibited on 15 acres at the foot of North Table Mountain, near Golden, Colorado.
Rocky Mountain Quilt Museum

Golden

The mission of the Rocky Mountain Quilt Museum is to enrich the lives of people of all ages, backgrounds, and cultures through the celebration of, education about, and preservation of the art and history of American quilts and quiltmaking, past and present.
Golden Gate State Park

Golden

More than 12,000 acres of dense forest, rocky peaks, and aspen-rimmed meadows laced with miles of trails await the hiker, horseback rider, mountain biker and winter sports enthusiast at Golden Gate State Park.
Western Colorado Botanical Gardens and Butterfly House

Grand Junction

The mission is promote responsible conservation of precious natural resources in Western Colorado by providing educational and recreational opportunities for visitors of all ages.

Western Colorado Botanical Gardens and Butterfly House website
Centennial Village Museum

Greeley

Centennial Village is the site of many festivals and special events, summer classes for children, and tours. The church and grounds may also be rented for weddings, receptions, family reunions, and other events. It was NOT the location for the filming of the TV mini-series "Centennial."
Greeley History Museum

Greeley

Step inside the historic entrance or new glass atrium doors and begin exploring Greeley's rich history. There are mini-exhibits and temporary exhibits (typically changed every six months). Utopia: Adaptation on the Great American Desert is the permanent exhibit of Greeley's history, ranging from fossils and the earliest human inhabitants through the Union Colony's beginnings in 1870 to the contributions of its "water buffaloes," mavericks and mentors.
Meeker Museum

Greeley

Meeker's graceful 1870 two-story adobe home is listed on both the National and Greeley Historic Registers. A costumed tour guide gives an overview of the early history of Greeley, as well as an intimate history of the family, including Nathan's untimely death in the white River Massacre and his family's struggle to survive without him. The home shows the comfortable lifestyle enjoyed by many colonists. The Meeker Home museum has been twice restored and is completely furnished.
Plumb Farm Learning Center

Greeley

The farm is a memorial to the foresight and determination of his Union Colony grandparents and serves as an agricultural learning center for educating the younger generations about Greeley's rich agricultural heritage. The Plumb Farm is listed on the national Register of Historic Places and is a Colorado Centennial Farm.
Black Canyon of the Gunnison

Gunnison

Unique and spectacular landscape was formed slowly by the action of water and rock scouring down through hard Proterozoic crystalline rock.
John Martin Reservoir State Park

Hasty

Sometimes called a sapphire on the plains, John Martin is a peaceful paradise in which people play, birds flock and wildlife roams. The park is close to historic landmarks, yet remote enough to attract year-round nature and recreation lovers to stay and explore.
Yampa River State Park

Hayden

Yampa River State Park, located in the beautiful Yampa valley west of Steamboat Springs, is actually three "parks" in one.
Argo Gold Mill and Museum

Idaho Springs

A National Historic Site
Southern Ute Tribe Education Center

Ignacio
Fort Sedgwick Historical Society

Julesburg

Celebrating and preserving the stories of Fort Sedgwick, the Historic Julesburgs, and the history of Northeastern Colorado. Honors and shares the history of Fort Sedgwick and the entire county. Artifacts and memorabilia from the Union Pacific Railroad, Pony Express, Native Americans and early pioneers are on display.
Elbert County Historical Society and Museum

Kiowa

Memorial Day weekend through Labor Day weekend.
Otero Museum

La Junta

The museum covers a time span of 1875 - 1945, and is dedicated to preserving the heritage of La Junta and the surrounding area. The artifacts at the museum are imaginatively displayed to portray life and business during the early years of the lower Arkansas Valley. We feature displays focusing on railroads, military, postal, agricultural, business, transportation, schools, and all other aspects of pioneer life. Our extensive collection is both educational and entertaining, and is definitely worth a visit.
Koshare Indian Museum

La Junta

The museum was built by a Boy Scout troop. The 1949 structure is a registered state historic site of the Colorado Historical Society. It houses a collection of Native American art and artifacts considered to be among the finest in the world.
Bent's Old Fort National Historic Site

La Junta

A reconstructed 1840's adobe fur trading post helps living historians recreate the past with guided tours, demonstrations, and special events.
Sand Creek Massacre National Historic Site

La Junta

On November 29, 1864, Colorado Territory militia attacked and destroyed a village of Cheyenne and Arapaho indians encamped on the eastern plains. An estimated 150 to 200 Indians were murdered, nearly all elderly men, women and children. The website offers historical information about the massacre for those who cannot visit in person.
Francisco Fort Museum

La Veta

Houses many fine artifacts from the 1700's through 1945 thanks to the generosity of county residents. These artifacts include a working Columbian Organette, a 1908 Edison cylinder player, a Chinese shawl traded to Charles Bent on the Santa Fe Trail, Pony Express mail bags, a letter written by Lincoln, a Lightning Horse baler, Penitente collection, and over 1000 projectile points. Trained docents also tell of Indian, pioneer, railroad, and mining history relative to the displays in our six buildings. We also offer a gift shop of historical books, jewelry, Minnetonka moccasins, and more.
Lafayette Miners Museum

Lafayette

In the "school room" of the museum, the town's educational heritage has been well preserved. Pictures, trophies and memorabilia are available for viewing. Current residents often enjoy searching for a "school days" picture of their parents or grandparents. A small bedroom also contains vintage clothing and accessories from the turn of the century.
WOW! Children's Museum

Lafayette

WOW! Children's Museum (World of Wonder) is a place for toddlers and school age children and their families, offering a variety of interactive and informative educational and creative exhibits and programs that stimulate learning and child development.
Eleven Mile State Park

Lake George

Anglers and writers consistently tout Eleven Mile's large reservoir for its outstanding fishing. When not reeling in a rainbow, brown, cutthroat, kokanee or pike, there are nearly five miles of scenic hiking and biking trails that await exploration.
Spinney Mountain State Park

Lake George

For gold medal fishing, it'd be hard to find any better than Spinney Mountain Reservoir. Anglers can find shoreline or fly fishing, belly boating or trolling opportunities in a peaceful and scenic setting. Check the Conditions page for current fishing conditions. This isolated retreat is ideal for visitors seeking beautiful views of the Collegiate Mountain Range or just a little solitude from busy city life. Birders have plenty to see between the ducks, waders and birds of prey.
Lakewood Heritage Center

Lakewood

Lakewood's Heritage Center showcases the history of Lakewood and the many changes, inventions and lifestyles of the 20th Century. Located in Belmar Park, the museum has over 10 historic structures, 30,000 artifacts, a festival area and an outdoor amphitheater.
Healy House Museum and Dexter Cabin

Leadville

Discover two of Leadville's earliest houses for a glimpse of western life in a booming silver-mining camp. Dexter's surprisingly plush 1879 log cabin was the Leadville residence of the mining investor and businessman. By that time he was already wealthy man and loved a wide variety of activities. Besides being an avid hunter, Dexter was a collector of coins, gems, etchings and paintings. August R. Meyer's 1878 Greek Revival clapboard house (now called Healy House) was built for his bride, Emma. The home features lavish Victorian furnishings collected in Leadville, including objects belonging to silver tycoon Horace and Augusta Tabor, along with other Leadville pioneers. You and your family can tour at your own pace and have all your Leadville questions of yesterday and today answered by knowledgeable staff. Ask for our children's tour, designed to make your family's visit a memorable experience.
National Mining Hall of Fame and Museum

Leadville

The Showcase of American Mining. A monument to the memory of the men and women who pioneered the discovery, development and processing of our nation's natural resources.
Tabor Opera House

Leadville

Built in 1879, the Tabor Opera House was acclaimed "the largest and best, West of the Mississippi!". Today, the Tabor Opera House proudly stands as one of Colorado's premiere historical locations in beautiful Leadville.
Limon Heritage Museum & Railroad Park

Limon

The Life and Legends of the Plains come to life at this extraordinary small town museum which features the Limon Depot, Exhibit Building, and Railroad Park. Together, these attractions comprise our Museum Complex, a free and open-to-the-public journey supported by the Limon Heritage Society.
Littleton Historical Museum

Littleton

For more than 30 years, the Littleton Historical Museum has served as the primary repository for the history, art, and culture of Littleton. Located on 39 acres, the museum consists of two living history farms (one from the 1860's and one from the 1890's), a small lake, a collections center, and a main exhibition and administration building.
SeaQuest Littleton

Littleton

SeaQuest welcomes all ages to our interactive aquarium/zoo. Students and parents will be able to learn about our animals through feeding and interacting with some of the animals, such as stingrays, geckos, and a wallaby. For individuals or families, we offer a guided tour on various days, found under the Home School Field Trips menu on the website. ($7.99 per person.) For groups of 15 or larger, we offer field trips ($7.99/person) on any weekday or combo tour + science labs ($12.99/person) where students are able to perform dissections. Please call 208-813-7272 ext. 205 to book.
Roxborough State Park

Littleton

A Colorado Natural Area and a National Natural Landmark, Roxborough is filled with dramatic red-rock formations, distinct plant communities, and a host of wildlife ranging from black bears to mule deer. Visitors can take in geological wonders via a series of trails for every level of hiker. Many visitors tote their cameras to capture one of the many beautiful views or animal sightings such as red fox from one of the park's overlooks.
Chatfield State Park

Littleton

Float your boat in the lake, bicycle or hike on a trail that provides scenic views of the neighboring foothills and Platte River valley, camp, ride a horse and even fly a model airplane - all at Chatfield State Park, nestled next to the foothills southwest of Denver.
Highline Lake State Park

Loma

An oasis in the desert, Highline Lake is the recreation epicenter for the Grand Valley with two lakes, lush grass, trails and trees. Birders have plenty to see here. The Audubon Society designated the park an important bird area; thousands migrate through the area every winter.
Longmont Museum & Cultural Center

Longmont

This striking facility features four exhibit galleries, three classrooms for special events and programs, and an outdoor courtyard, all in a beautiful building with public art, great views, and lots more to explore.
Longmont Museum

Longmont

The Longmont Museum, housed in a distinctive contemporary building, features changing exhibits in history, art, and science, as well as the award-winning Front Range Rising, a long-term exhibit on the history and culture of this region. The Museum recently opened an expansion, featuring the 250 seat Stewart Auditorium and Cone-Shortall stage, the Swan Atrium, and the Kaiser Permanente Education Center. The Museum also has hands-on education programs for all ages, indoor and outdoor concerts and performances, film series, lectures and a gift shop featuring local history books, souvenirs and exhibit related materials.
Louisville Historical Museum

Louisville

The Louisville Historical Museum is offering free, private tours of the three historic buildings on the Museum Campus. These tours cover Louisville history from the coal mining days to today! Looking for safe way to have an in-person educational experience? This is a great activity for families and students, and the Museum is taking all possible steps to lead tours in a safe way. All tours are customized to the visitors' interests and ages.
Loveland Museum/Gallery

Loveland

The Museum's local history exhibits include Life on Main Street, Loveland's Great Western Sugar Factory, Sweetheart Town, USA, Fireside Gallery and others.
Boyd Lake State Park

Loveland

Proud to be a premiere recreational facility of the Front Range area. From outdoor concerts, to some of Colorado's best fishing, it can all be found at Boyd Lake State Park.
Lyons Redstone Museum and Lyons Historical Society

Lyons

Founded in 1973, the Lyons Historical Society saved from the wrecker's ball the Depot, built in 1894, now the Lyons Depot-Library, and the 1881 schoolhouse, now the Lyons Redstone Museum. Open daily June thru September. The Museum displays the History of the Lyons area in photos and displays. Genealogy files, gift shop and book sale. Lyons Historic District comprised of 15 sandstone buildings in the Lyons area. Pick up a brochure at the Museum or Visitor's Center for a Historical Drive-by (or walking) Tour.
Mancos State Park

Mancos

A haven for the year-round outdoor enthusiast and traveler. In the spring, summer and fall, canoeists, kayakers and wakeless power boaters enjoy the calm waters of Jackson Gulch Reservoir. Fishing enthusiasts have pulled numerous species of fish, including yellow perch and rainbow trout, out of the reservoir.
Mesa Verde National Park

Mesa Verde

Spanish for green table, offers a spectacular look into the lives of the Ancestral Pueblo people who made it their home for over 700 years, from A.D. 600 to A.D. 1300. Today, the park protects over 4,000 known archeological sites, including 600 cliff dwellings. These sites are some of the most notable and best preserved in the United States.
Montrose County Historical Museum

Montrose

The Montrose County Historical Society was founded in 1968 and acquired the Denver & Rio Grande Depot in 1973. The permanently acquired collection of historical artifacts is due largely to the generosity of the people of the community. The Museum is staffed by volunteer hosts and hostesses. The Museum focuses on all facets of early-day pioneer life, highlighted by a walk-through of a Homesteader's Cabin. This cabin is equipped with furnishings and memorabilia of one family who owned the cabin. The Museum is noted as having one of the most extensive collections of Farm Machinery in the state. Horse-drawn reapers, planters, plows, and a hay baler are among the collection. The Museum's "County Store" exhibits wares and household objects needed for early-day living, along with a collection of tools. The Children's Corner contains exhibits of dolls, toys, and baby furniture that will delight both youngsters and adults. Some of the permanent displays of the Museum include musical instruments, clothing items, and mining, farming, and medical equipment. The Museum's Library contains a complete set of Montrose newspapers from 1896-1940, a photo collection of the Montrose area, historical publications, and oral histories.
Dinosaur Ridge Museum

Morrison

The Dinosaur Ridge area is one of the world's most famous dinosaur fossil localities. Here, in 1877, some of the best-known dinosaurs were first discovered. These include Apatosaurus, better known as Brontosaurus; Diplodocus; Stegosaurus, the Colorado State Fossil; and Allosaurus. These animals represented life 145 million years ago in the Late Jurassic Epoch, also known as the "Age of Brontosaurs." These discoveries sparked off a historic dinosaur "gold rush" that traced the bone-bearing strata, known as the Morrison Formation, across a large part of the Rocky Mountain region. This "Golden Age" of 19th century dinosaur exploration led to the discovery of many other important sites. The dozens of successful excavations at Dinosaur Ridge and these other locations stocked many of the world's museums and brought dinosaurs to public attention.
San Luis State Park and Wildlife Area

Mosca

Waterfowl, shorebirds, songbirds and raptors fill the sky over this unique desert ecosystem, making San Luis an outstanding watchable wildlife area most of the year.
Stagecoach State Park

Oak Creek

Stagecoach State Park sets the stage for great recreation in the lush Yampa Valley by Steamboat Springs. Vistas and views are backdrops to the 780-acre reservoir providing renown lake and river fishing. A year-round destination, the park also makes a great base to explore the variety of sports and attractions of the area. An array of activities await with boating, fishing, hiking, picnicking and camping.
Jackson Lake State Park

Orchard

This park is an "Oasis in the Plains," as novelist James Michener suggests. Jackson Lake is ranked one of the "Top 15 Park Beaches" by Reserve America. Anglers, boaters, or naturalists realizing there's too much fun for just one day enjoy the variety of water or land based recreational facilities found here. Birders and hunters flock here because of the parks location in the Central Flyway for migratory birds. Quiet winter months provide hearty wildlife viewers some excellent opportunities to spot the many animals that live here.
Ouray County Museum

Ouray

The Museum features mining, ranching and railroading, the three main means of employment in Ouray's early history. It houses many artifacts dating back to Ouray's earliest days which began in 1875. There are large displays of minerals and Indian artifacts in the building. The Museum also features a Research Center containing much written information, thousands of photographs and a large library titled "The W. Ross Moore Mining History Library of the American West".
San Juan Historical Society and History Museum

Pagosa Springs

Open Mid May through Mid September
Fort Vasquez Museum

Platteville

Fort Vasquez Museum, 35 miles northeast of downtown Denver on U.S. Highway 85, features displays that interpret the fur-trade era.
Lowry Pueblo

Pleasant View

Typical of the medium-sized pueblos that once dotted the Montezuma Valley.
Pueblo Zoo

Pueblo

The Zoo is home to over 400 animals of 130 species. You will enjoy strolling through beautifully landscaped grounds that lead you to Serengeti Safari, North American Grasslands, the Australian Outback, and on an Asian Adventure. Visit the tropical rain forest and the only underwater viewing of penguins in Colorado at the Ecocenter. Visiting the Islands of Life building will take you on a shipwreck journey around the world. Children meet friendly farm animals in the Pioneer Ranch and if you visit the northern river otter exhibit, you will be treated to the rare opportunity of observing the otters as they swim and frolic underwater.
Rosemount Museum

Pueblo

The grandeur of a bygone era! Built in 1893, this 37-room mansion was home to the John A. and Margaret Thatcher family and named for Mrs. Thatcher's favorite flower. Nearly all furnishings, accessories, decorative arts, paintings custom paneling, wall and window treatments are original to the home.
El Pueblo History Museum

Pueblo

The "Cultural Crossroads on the Arkansas," El Pueblo History Museum has always been a gathering place for diverse people and cultures. The site includes an 1840s-style adobe trading post and plaza, and the archaeological excavation for the original 1842 El Pueblo trading post. The museum building showcases the city's history and the various cultural and ethnic groups in Pueblo and the region. The site also features the Frontier Pathways Scenic and Historic Byways Information Center.
Steelworks Museum of Industry and Culture

Pueblo

The Steelworks Museum of Industry and Culture features exhibits related to all facets of the CF&I, including but not limited to history of mining, labor history, history of steel production, railroad history, and history of Pueblo and Colorado and the CF&I's impact on the region. The Main Exhibit Hall is sponsored by the Pueblo Rotary Club Number 43. Our new Kid's Gallery Guide features fun facts, games and information about the Steelworks Museum! Some of the activities are centered around visiting the Museum.
Pueblo Weisbrod Aircraft Museum

Pueblo

To preserve, restore, and display military aircraft and artifacts that are historically representative of America's finest hours, to educate the public and promote tourism.
Pueblo Railroad Museum

Pueblo
Lake Pueblo State Park

Pueblo

Rated a fishing "hot spot," Land recreation includes hiking, biking, picnicking and diverse nature exploration. Miles of trails make it easy to discover the beauty of the shady Arkansas River below the dam or the wonder of 200-year-old Juniper trees. Wet or dry activities culminate with camping options that encourage a day of play to become a mini-vacation. Views of the Greenhorn and Wet mountain ranges to the southwest and the magnificent Pikes Peak to the north are a splendid way to end the day. It is no wonder that Lake Pueblo State Park is a favorite destination.
Ridgway State Park

Ridgway

Ridgway's great outdoors; the "Switzerland of America," welcomes those from near and far. The park's popular campgrounds, beautiful reservoir, sandy swim beach, well-developed picnic and playground areas, extensive trails, and diverse wildlife offer year-round activities for all types of outdoor enthusiasts.
Rifle Gap State Park

Rifle

The clean, clear waters of Rifle Gap State Park's 350-acre reservoir provide some of the best boating, fishing, swimming, water-skiing and windsurfing in Colorado.
Rifle Falls State Park

Rifle

Rifle Falls State Park's lush vegetation and waterfalls have attracted photographers and movie crews from around the country who come to capture the area's unique scenery.
Arkansas Headwaters Recreation Area (AHRA)

Salida

The Arkansas Headwaters Recreation Area (AHRA) is unique in many ways: It is home to the Arkansas River, one of the world's most popular whitewater rivers for kayaking and rafting, while at the same time being recognized as Colorado's premier brown trout river. In addition, abundant opportunities for camping, picnicking, hiking, wildlife watching, mountain biking and OHV travel can be found throughout the recreation area.
Santa Fe National Historic Trail

Santa Fe Trail

The Santa Fe National Historic Trail connects western Missouri and Santa Fe. The website offers historical information about the trail for those who cannot visit in person.
Harvey Gap State Park

Silt

Harvey Gap State Park is a favorite spot for anglers in the winter and summer.
Paonia State Park

Somerset

Plunge deep into nature at this narrow lake park. Steep mountainsides, pristine water, alpine scenery and peaceful environment make Paonia a haven for water and nature lovers.
Old Spanish National Historic Trail

Southwestern US
Colorado Ghosttowns

St. Elmo, Hancock, Romley, Mary Murphy Mine, Vicksburg, and Winfield

There are a number of ghost town areas in the "Fourteener" region of Colorado. Some are accessible by passenger vehicle, while many are accessible only by four-wheel drive. When exploring ghost town areas, be sure to take only pictures and leave with only memories. Most areas are private property and rockhounding and souvenir hunting are strictly prohibited. If posted, please only view from afar. Travel & recreate responsibly, and always tread lightly.
Overland Trail Museum

Sterling

Located on Highway 6, east of the South Platte River, the Overland trail commemorates the historic westward migration of gold seekers and early pioneers.
North Sterling State Park

Sterling

This large, spacious reservoir on the high plains draws locals and tourists alike from May through September. North Sterling State Park is a gateway to fun and relaxation. Hunting follows the boating season, and camping in Elks Campground is year-round.
Telluride Historical Museum

Telluride

The Telluride Historical Museum offers far more than artifacts under glass. The history of this region is part of what gives Telluride its colorful character. Our mission is to preserve and promote the rich and colorful history of the region. We do this bringing it to life through interactive exhibits, programming and outreach..
Trinidad History Museum

Trinidad

The Trinidad History Museum is located in El Corazon de Trinidad National Historic District. Founded in 1861 on the Santa Fe Trail, Trinidad quickly became a bustling frontier town. With the arrival of the Atchison, Topeka and Santa Fe Railway in 1878, the town flourished as a commercial, agricultural, and coal-mining center.
Trinidad Lake State Park

Trinidad

Visitors keep coming back to Trinidad Lake State Park. Anglers are hooked, boaters lured, and geologists are intrigued by this park bordering the historic Santa Fe Trail and scenic Highway of Legends.
Colorado Snowsports Museum

Vail

This Museum has wonderful historical artifacts from Colorado's rich skiing and snowboard heritage. At the Museum, you can see great exhibits on the timeline of skiing and snowboarding.
State Forest State Park

Walden

Moose is our claim to fame. North Park is considered the moose viewing capital of Colorado, with over 600 moose to be observed year-round. The ultimate in rugged Colorado, State Forest State Park offers visitors 71,000 acres of forest, jagged peaks, alpine lakes, wildlife and miles of trails. The park stretches along the west side of the Medicine Bow Mountains and into the north end of the Never Summer Range.
Walsenburg Mining Museum

Walsenburg

A visit to the Walsenburg Mining Museum will bring you face to face with artifacts from this colorful era in history. You will see two part lunch buckets that were used to take water and food underground, numbered brass checks to keep track of who went in and out of the mine, mule feed bucket and whip, and many photos taken underground in the mines. A replica of a complete mining office with mining instruments, pay and insurance ledgers, and much more.
Lathrop State Park

Walsenburg

Colorado's first state park is 1,594 acres of recreational enjoyment nestled in the shadow of the Spanish Peaks in Southern Colorado. The park's two lakes offer a variety of boating and angling opportunities for all types of water recreation. Martin Lake offers water skiing, power and sail boating. Because Martin is a warm-water lake, it makes it great for swimmers. Horseshoe Lake is a peaceful haven for canoeists, kayakers, sailors and other boaters at wakeless speeds. Catfish, bass, walleye, trout and blue gill thrive in both lakes. Horseshoe Lake is known for its large tiger muskies.
Butterfly Pavilion

Westminster

The Butterfly Pavilion combines science education with hands-on fun to teach visitors about invertebrates, science and conservation. Our interactive exhibits are geared primarily towards families with kids ages 2 to 12 years old, but people of all ages embrace the beauty and wonder of our tropical conservatory filled with 1,200 free-flying butterflies imported from around the globe.
Windsor History Museum

Windsor

Windsor History Museum features historic buildings from around Windsor built between 1882 and the 1920s. Each building helps tell the story of Windsor's beginning with the completion of the Greeley, Salt Lake and Pacific Railroad through the sugar beet boom of the early 20th century. The Train Depot includes many exhibits and hands-on activities for all ages and is a great place to start your museum experience.
Amaze'n Mazes

Winter Park

An Amaze'n Maze isn't just about wandering around inside looking for the exit. Kids and adults sharpen their navigation skills while competing for the fastest times. When entering the maze, guests receive a passport with their start time. Maze runners must locate four checkpoints, each with a letter they punch on their passport. The object is to spell the word "MAZE" then exit as quickly as possible. Guests with the fastest times win prizes. People want to run the maze over and over, improving their times to win better prizes, and having lots of fun in the process.
Rocky Mountain Dinosaur Resource Center

Woodland Park

RMDRC is home to an awe-inspiring display of dinosaurs, prehistoric marine reptiles, pterosaurs and fish of North America's late Cretaceous. Visitors can enjoy a wide collection of fossilized animals, see a working fossil laboratory and enjoy life-restoration as well as skeletons of these fascinating animals.