TheHomeSchoolMom's local resource listings are sponsored by Time4Learning, where you can find resources, support groups, test prep info, and more.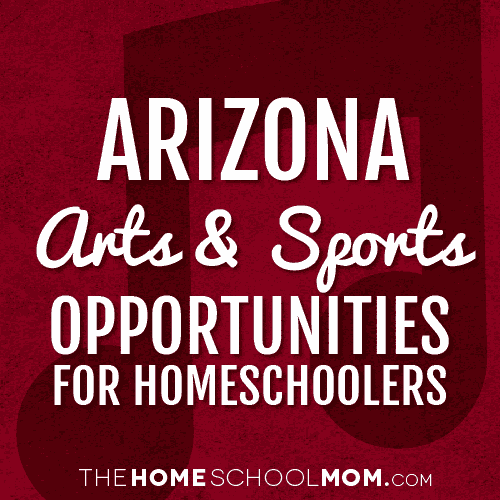 In addition to the opportunity to get out of the house and socialize, homeschool sports and arts programs can offer long-term benefits by developing characteristics like leadership, self-confidence, perserverance, and self-esteem. Many organizations and businesses have opportunities specifically for homeschoolers, while others invite homeschoolers to participate in their regular programs.
Not sure how to choose activity/activities for your children? Read how Rebecca narrows down the choice of extra-curricular activities.
Below is a list of homeschool sports and arts programs in Arizona listed alphabetically by city, with arts resources in the first section and sports resources below. If you would like to submit a Arizona arts or sports resource, you may do so using the red button above.
Homeschool Arts Opportunities in Arizona
MudPie Studios Art ProgramAnthem/North Phoenix
MudPie Studios in Phoenix is all about the FUN in Paint your own Pottery! We want you, your family, your friends, your employees... EVERYONE! to have a great time making works of art. No matter you...
Let's Play Music with Jenna PriceAvondale, Glendale, Litchfield Park, Peoria
Looking for a fun musical program for your 4-6 year old?! The piano preparatory program teaches rhythm, sight reading, accurate pitch, and musical intelligence all through PLAY! This program is de...
Colorful Clef Flute StudioChandler
The Colorful Clef Flute Studio offers flute lessons for students of all ages and levels in the Chandler, Mesa, Gilbert, and Tempe areas. Private lessons, group lessons, and small ensemble classes a...
Seedling MusicChandler, Gilbert, Mesa, Tempe
Offer private voice and piano lessons taught at state standards for ages 6 and up. All lessons include music theory, ear training, and other tools to help you grow to be a successful musician. Taug...
Hillmann Piano StudioEast Valley (Chandler)
Hillmann Piano Studio is now accepting new and continuing piano students! Studying music is proven to enhance all other academic endeavors, and the piano is one of the best instruments on which to ...
Summer Musical Theater WorkshopGilbert
Bring the magic of musical theater to life! Ages 8-18. Learn valuable singing, dancing & acting techniques! Learn show-stopping song and dance numbers, and act out scenes from your favorite Broadwa...
Performing Arts for PreschoolersGilbert
Studio 3 Performing Arts strives to provide students of all ages with the skills and experiences they need to enjoy music and dance for a lifetime. Students can take group and private lessons in d...
Kadi's Piano StudioGilbert
My studio has been in operation since 2008. I give piano lessons to students of all ages and various levels. Many of my students are currently enrolled in the Arizona Study Program. I also teach be...
Brelby Theatre CoGlendale
The Brelby Theatre Company is now offering classes for kids, teens and adults in all areas of theater from performance to playwriting to design, and directing . Brelby is an amazingly family orient...
Purely Dance ClassesGlendale
Conservative dance studio with family friendly costumes, music, and dance moves for ages 3+. Ballet, Tap, Jazz, and Contemporary classes weekday evenings as well as Wednesday and Saturday mornings.
Autumn's Treble MakersGoodyear and Surprise
"Autumn's Treble Makers" is a musical instruction company where students imagination and creation come to life through exploration on the stage. The program's goal is to create a safe environment w...
Beginner Stained Glass class
Ukuleles with Cathy provides group class instruction for beginning and intermediate ukulele students. Families are welcome to enroll at discounted prices. All genres of music are taught from Disn...
In-Home Private Piano Lessons in MesaMesa
Pam Walker Piano Studio is offering private piano lessons for ages 4-65 in her home during public school hours (Great for home school moms!). Come try a free lesson!
Christmas ChoirMesa
Christmas Festival of Lessons and Carols for K-12. Mrs. Stern has produced beautiful programs in a small Christian School for years and now will be hosting the program, this is exciting news, as it...
Revolution Dance and Academy of the ArtsMesa, 85207
Revolution Dance offers an academic and pre professional dance training program. Students receive a homeschool and a learning coach, 3 hours of dance training daily, as well as private lessons week...
Ukulele class and service opportunityMesa, Gilbert, Chandler
Ukulele group classes and service opportunity. Enroll your child(ren) in fun ukulele group classes--beginner and intermediate levels. In these 8 weeks classes your child will learn songs on the u...
Diamond Dance WorksNorth Phoenix
Diamond Dance Works is excited to offer classes for local home schooled community. For more information call 623-582-9858 or email DiamondDanceWorks@gmail.com
Northern Valley Musical ArtsPeoria
Offers classes in Homeschool band, choir and private lessons.
The Sewin' Asylum Sewing ClassesPeoria
The Sewin'Asylum has been offering sewing classes to children and adults since 1998. Owner Erica Doyle has her degree in Fashion Design and also taught elementary school. At The Sewin'Asylum, the...
School of Rock PhoenixPhoenix
School of Rock offers students of all skill levels age 7-18 a performance-based music curriculum in a fun environment. Weekly private lessons are combined with structured group rehearsals. Student...
Music by MelissaPhoenix
Music by Melissa is FANTASTIC for homeschooled kids and a wonderful opportunity! Visit my website for all info! I sing,teach and play ALL types of music by ear and specialize in rock,pop and count...
Christian Youth Theater – PhoenixPhoenix
Christian Youth Theater (CYT) is an after-school theater arts training program for students ages 4 - 18. CYT is a non-profit 501(c)(3) educational organization funded primarily through its tuition...
Doodlebug Club Art ClassesPhoenix
Homeschool Art Program in Phoenix Arizona. Offering Travel art classes, Private art classes, and Boy Scout Merit Badge classes in art.
MIMkids Musical Adventures class at the Musical Instrument MuseumPhoenix
Pick up your MIMkids Passport and embark on a musical journey with MIMkids Musical Adventures, an educational program designed for kids aged 6–10. Participants will discover new cultures by activel...
Handcrafted @ Heritage SquarePhoenix
Homeschool families are invited to go Indepth with Ink & Fiber at Handcrafted, a workshop full of antique machines. Experience the past by creating objects by hand. In the Ink Zone, make paper, ink...
Maricopa 4-H CloggersPhoenix
The Maricopa 4-H Cloggers is a volunteer-run family-friendly affordable dance group in Phoenix that meets weekly on Monday nights. It is open to all children ages 9-18 and teaches dance, leadership...
Phoenix Youth Circus Arts; Homeschool Circus ClassesPhoenix
Phoenix Youth Circus Arts will hold weekly circus arts classes for home-schooled children in Central Phoenix. Classes are open to all kids ages 7 – 15. Learn balancing, juggling, acrobatics. New s...
Novack Piano StudioPhoenix
Novack Piano Studio is now enrolling students in their North Phoenix studio. Mrs. Novack strives to integrate the qualities of a traditional piano lesson with the current technology and resources o...
Homeschool Art DayPhoenix/Ahwatukee/Chandler/Tempe
Home school aspiring artists, come on over to "Be an Artist" every Friday. Explore drawing and painting, using different mediums and techniques. Sessions last an hour and a half and you will come h...
Phoenix Music LessonsPhoenix/Scottsdale.Peoria
Music students do better in math, science and English, Phoenix Music Lessons provides professional degreed music educators for private lessons at their studio as well as some in home lessons.
Piano PatterScottsdale
Piano Patter is a new and innovative approach to music for tots and preschoolers with a focus on the piano. Private and semi-private lessons taught from a home studio in Scottsdale.
Youth Ballroom and Latin Dance Classes at EuroRhythmScottsdale
We will be offering a school-year long curriculum in Ballroom and Latin dancing for home-schooled youth starting the week of August 18th, 2009. Please call now for more information as enrollment is...
School of Rock ScottsdaleScottsdale
School of Rock offers students of all skill levels age 7-18 a performance-based music curriculum in a fun environment. Weekly private lessons are combined with structured group rehearsals. Student...
Scottsdale Artists' SchoolScottsdale
Ongoing art classes for age 6 through high school
Candy Welner Piano StudioScottsdale
Candy Welner Piano Studio offers piano lessons to beginning, intermediate and advanced students in Scottsdale, Arizona. Traditional piano instruction emphasizes note reading, essential music theory...
Create Sewing SchoolScottsdale
Create Sewing School is a collection of sewing classes designed to teach, inspire, and encourage creativity in the lifelong skill of sewing. There is a strong focus on empowering kids (and adults!)...
Guitar and Ukelele LessonsScottsdale/Phoenix, PV
Guitar & Ukelele Lessons taught by professional guitarist with 15 years teaching experience. Lessons are fun and easy to understand. Discount to home schooled kids who can take their lessons be...
Piano Lessons with Musek PlayerScottsdale/Phoenix/Glendale
Studio now accepting new and continuing piano students. Music is an essential part of a student's educational development. At its core, music is the most natural language that everyone understand...
Musical SurpriseSurprise
Private and Group Music Classes, Lessons and Music Therapy
Strings ClassesSurprise
Classes include group or private instruction on violin, viola, and cello.
Drama and theatre classes are available for kids of any experience level, starting with drama games for kids 4-6 or 7-10, and continuing on to learning vocal techniques with Readers Theatre, and pe...
Homeschool Elementary Art ClassesTempe
Classes are six weeks, with each week focusing on an element of art, an artist that focused on a specific artistic style, different examples of art, and a project based on the artistic style and el...
Let's Swing! AZTempe
This group promotes the use of swing dancing as a way to learn important life skills such as respect, social skills, and confidence. West Coast Swing is a modern partner dance that can be danced ...
Miss Stephanie's TheatreTempe, Mesa, Chandler
Miss Stephanie's Theatre offers classes in Tempe, Chandler, and Mesa, Arizona. Offering courses in Drama 1, Creative Drama ages 4-6, Creative Drama ages 7-10, School Kids in Drama (SKID) ages 8-12...
Daytime Piano Lessonstucson
Anne LeBauer's centrally located Piano Studio offers daytime lessons from 9 AM to 2 PM for adults and homeschoolers of all ages. She has over 25 years of piano teaching experience and has a Master'...
Christian Youth Theater – TusconTuscon
Christian Youth Theater (CYT) is an after-school theater arts training program for students ages 4 - 18. CYT is a non-profit 501(c)(3) educational organization funded primarily through its tuition...
MoezArt ProductionsValleywide-- North Phoenix, Glendale, Chandler, Surprise
MoezArt Productions, Inc. is a non-profit, Christian theatre arts education company servicing mainly the home-school community throughout the Phoenix area. Through our classes over the last 10 yea...
Suzuki PianoWest Mesa area
Suzuki piano is a sound educational way to learn to play the piano.
Homeschool Sports Opportunities in Arizona
Mountainside Martial Arts CenterAhwatukee
A traditional Martial Arts School serving Ahwatukee since 1979. The Japanese art of Wado-Ryu karate is the style of karate that is taught at this facility. Mountainside Martial Arts offers unparall...
Archery Headquarters AcademyChandler
Archery Headquarters Academy offers a comprehensive array of instructional courses for students at all levels of proficiency. Low-cost introductory courses are specifically designed to provide an o...
Fencers Club of ArizonaChandler
The Fencers Club of Arizona is one of the premiere fencing clubs in the nation. The club offers homeschool classes throughout the day with the option of joining competitive group classes in the eve...
Skateland ChandlerChandler
One of a kind field trip relates STEM concepts to roller skating, where students will learn that STEM is in everything they do, even in fun experiences like roller skating!
S.T.A.R.S. of HorsemanshipChandler/Gilbert
S.T.A.R.S. of Horsemanship offers horseback riding lessons to students of all ages. An instructor has become available in the mornings to support the homeschool students in Arizona to add in a fun,...
Chandler Preparatory Academy Athletics – Football and SoftballEast Valley
Chandler Preparatory Academy would like to extend opportunities to home school students to play middle school (8 man) and high school (11 man) tackle football, and middle school and high school gir...
Kajukenbo ArizonaEast Valley
Kaju AZ is currently enrolling new students ages 5 and up who want to get better grades, have improved concentration, learn leadership skills, be more confident and never be bullied. Kajukenbo ...
Arizona Fencing CenterEast Valley of Phoenix Metropolitan Area
Arizona Fencing Center is home to the first home school fencing program in the East Valley, serving home schooling parents for almost 10 years. Classes are run in six week sessions that progress fr...
Fencing For All FoundationEast Valley Phoenix Metropolitan Area
Fencing For All Foundation is a non-profit organization located in Mesa, Arizona offering an after-school fencing program known as The Zorro Project. The Zorro Project is open to under-served youth...
Gilbert Defense Arts Martial Arts Program for Home Schooled ChildrenGilbert
Gilbert Defense Arts offers a daytime martial arts program for home schooled children! The classes are offered on Tuesday and Thursday mornings from 11 am to noon. 30 day *FREE trial! (*offer for n...
At Home Martial ArtsGilbert
This resource is for busy homeschool families who are looking to give their kids a positive physical outlet, a support for values based character development and crucial self-defense skills includi...
Mesa Water PoloMesa
Mesa Water Polo is a non-profit club that was founded in 2012 to develop the water polo skills of young athletes. The focus of the program, in-water instruction on the fundamentals of the game. Fun...
Living Life Youth Sports Homeschool P.E. in the ParkMesa (East Valley)
Living Life Youth Sports center offers Homeschool P.E. classes in Mesa area. P.E. classes are curriculum based to introduce youth to a variety of sports, exercise movement, and healthy living. Ag...
Phoenix Falcons Fencing ClubPhoenix
Learn the art of fencing. An Olympic sport and sports that offers NCAA collegiate scholarships all over the country. Ages 7 years old and above. Call to set up a class.
Youn Wha UnitedPhoenix
Traditional Martial Arts meets Modern Cross-Training with Christian PrinciplesYoun Wha Ryu is a traditional and complex self-defense system that goes beyond "kicking and punching". Students lea...
Aqua-Tots Swim SchoolsPhoenix
Aqua-Tots Swim Schools' mission is to help prevent drownings in the community by providing quality swim lessons and water safety tips. Aqua-Tots extends a special invitation for homeschool groups ...
Phoenix Youth Circus Arts; Homeschool Circus ClassesPhoenix
Phoenix Youth Circus Arts will hold weekly circus arts classes for home-schooled children in Central Phoenix. Classes are open to all kids ages 7 – 15. Learn balancing, juggling, acrobatics. New s...
ACA boys basketballPhoenix 85042
Varsity School Basketball in the CAA conference. This is a try-out invitation for boys ages 13-18. The team will compete on campus and play at other schools. Practice commitment of 5 days per week....
Beginners Edge Sports TrainingPhoenix and Tucson
Weekday sports classes for kids 18 months to 13 years
North Valley Martial Arts; Martial Arts/Self Defense 4 KidsPhoenix/Scottsdale/Glendale/Tempe/Mesa
This class is for children of all ages and all skill levels. This class will introduce new students to the martial arts and give a basic foundation in the art of Kempo. Some of the things that will...
National Student Athletic AssociationScottsdale
The National Student Athletic Association teaches and models the importance of being a student (learning) athlete (putting into action) for life. NSAA hosts one of the only Ninja obstacle courses i...
Scottsdale Kempo ClubScottsdale
Martial Arts classes for kids, teens, and adults 5 days per week. The Kempo Program teaches students the basics of striking (punching, kicking, knees, and elbows), blocking, footwork, and avoidanc...
Burch's Karate "Homeschool Gym"Scottsdale
Every month we will cover different sports such as indoor soccer, dodgeball, squat floor hockey, presidential physical fitness,tumbling, parachute games and much much more. Classes will be held eve...
Scottsdale Gymnastics & ParkourScottsdale
The gym offers gymnastics, trampoline, tumbling, and parkour class for ages walking to adults. Classes are Monday through Friday 10:00am to 7:00pm and Saturday's 9:30 to 1:00pm. Scottsdale Gymnasti...
Golf @ GPS Academy (Sun City Country Club)Sun City
The GPS Academy at Sun City Country Club offers a number of different golf programs to kids aged 3-17. Field Trips for Home-school students are currently offered Mon, Tues, Thurs and Fri between 10...
GPS Academy; Introduction to golfSun City
The GPS golf Academy at Sun City Country Club offers field trips and lessons to home-school students, in an attempt to break those barriers which prevents a lot of youngsters from taking up the gam...
Pump It Up!Tucson
There's fun for all ages in the colorful, indoor, climate controlled arenas with gigantic inflatable slides, bounce houses, and obstacle courses! Pump It Up! specializes in private, stress-free par...