Jump to: Homeschool Arts | Homeschool Sports
In addition to the opportunity to get out of the house and socialize, homeschool sports and arts programs can offer long-term benefits by developing characteristics like leadership, self-confidence, perserverance, and self-esteem. Many organizations and businesses have opportunities specifically for homeschoolers, while others invite homeschoolers to participate in their regular programs.
Not sure how to choose activity/activities for your children? Read how Rebecca narrows down the choice of extra-curricular activities.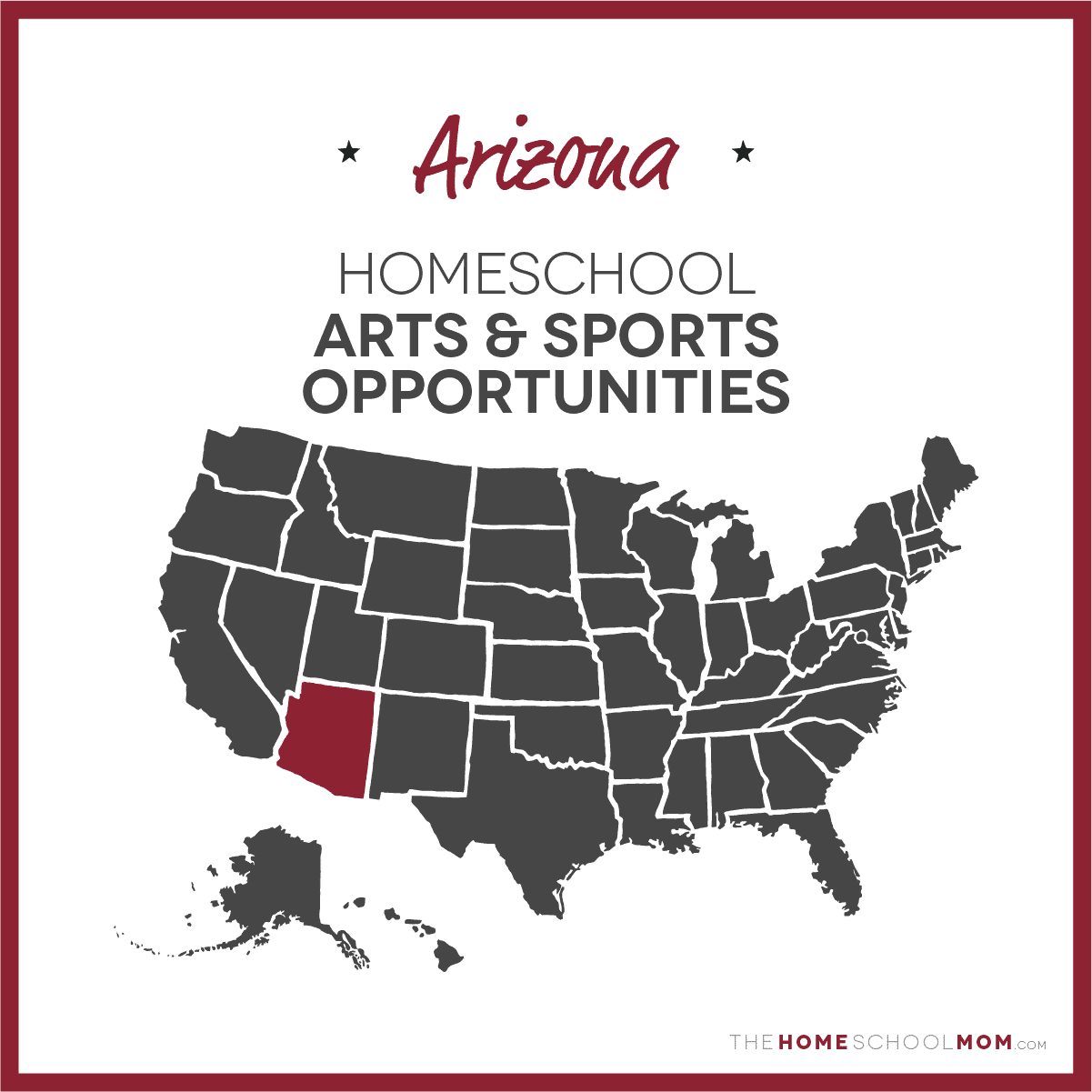 Submit a Local Resource
Our listing of Arizona list of homeschool arts and sports programs is ordered alphabetically by city, with arts in the first section and sports in the second section. If you would like to submit an Arizona arts or sports program, you may do so using the red button above.
Arizona Homeschool Arts Programs
Let's Play Music with Jenna PriceAvondale, Glendale, Litchfield Park, Peoria
Looking for a fun musical program for your 4-6 year old?! The piano preparatory program teaches rhythm, sight reading, accurate pitch, and musical intelligence all through PLAY! This program is designed to give your c...
SouthWest Ballet TheaterAvondale/ Goodyear/ Litchfield
Beginner Ballet classes in a positive and nurturing environment for ages 5-7 and 8-12. Learn coordination, strength building, ballet terminology, musicality rhythm, and grace. Performance opportunities available. Clas...
Southwest Ballet Theatre - Ballet and Adaptive DanceAvondale/Goodyear/Litchfield
Southwest Ballet Theatre, a non-profit classical ballet school in the West Valley, now offers ballet classes for homeschool students and an all-inclusive Adaptive Dance class modeled after the successful program at th...
Grace Notes Piano Lessons In Your Own HomeChandler
Private piano lessons in your own home. Sibling discounts offered
Hannah Gripp, Violin TeacherChandler, Gilbert, Mesa
An experienced instructor in both private and group lessons, Hannah seeks to inspire the joy of the gift of music in all her students, while facilitating a rich musical experience for them. Hannah holds two violin per...
Seedling MusicChandler, Gilbert, Mesa, Tempe
Offer private voice and piano lessons taught at state standards for ages 6 and up. All lessons include music theory, ear training, and other tools to help you grow to be a successful musician. Taught in a one-on-one n...
Places! ProductionsEast Valley
Places! Productions, a non-profit theatre company, is excited to announce a home school/school group program. WHAT? Weekly hour-long programs in theatre, musical theatre, voice, choir, show choir, dance, and/or music ...
Hillmann Piano StudioEast Valley (Chandler)
Hillmann Piano Studio is now accepting new and continuing piano students! Studying music is proven to enhance all other academic endeavors, and the piano is one of the best instruments on which to begin. The instructo...
MYS Homeschool Beginning Strings ClassesEast Valley / Metro Phoenix
Exciting opportunities are just ahead for your child in the wonderful world of orchestra. He or she will learn a new instrument, make lifelong music friends, and build new foundations for creativity and self-expressio...
Summer Musical Theater WorkshopGilbert
Bring the magic of musical theater to life! Ages 8-18. Learn valuable singing, dancing & acting techniques! Learn show-stopping song and dance numbers, and act out scenes from your favorite Broadway musicals! Part...
Performing Arts for PreschoolersGilbert
Studio 3 Performing Arts strives to provide students of all ages with the skills and experiences they need to enjoy music and dance for a lifetime. Students can take group and private lessons in dance, drama, voice, a...
Kadi's Piano StudioGilbert
My studio has been in operation since 2008. I give piano lessons to students of all ages and various levels. Many of my students are currently enrolled in the Arizona Study Program. I also teach beginning guitar and v...
Lisa Michelle Music StudioGilbert
I am a local piano teacher and offer in person and on line lessons to students of all ages using the ground-breaking Simply Music curriculum. I was homeschooled all the way up to 10th Grade. I am beyond thankful that ...
Vivace Music, LLCGilbert
Vivace Music offers an innovative music class that is designed for students that span from Kindergarten age to Grade 5 (ages 5-11). Age-appropriate activities/skill-based music will be paired together for an integrate...
Brelby Theatre CoGlendale
The Brelby Theatre Company is now offering classes for kids, teens and adults in all areas of theater from performance to playwriting to design, and directing . Brelby is an amazingly family oriented theater that enco...
Purely Dance ClassesGlendale
Conservative dance studio with family friendly costumes, music, and dance moves for ages 3+. Ballet, Tap, Jazz, and Contemporary classes weekday evenings as well as Wednesday and Saturday mornings.
The Note Room Academy of MusicGlendale
The Note Room Academy of Music is a private music studio that offers private piano, guitar, voice, violin, acting classes, and drum lessons in the cities of Peoria, Glendale, Anthem and the North Phoenix surrounding a...
Autumn's Treble MakersGoodyear and Surprise
"Autumn's Treble Makers" is a musical instruction company where students imagination and creation come to life through exploration on the stage. The program's goal is to create a safe environment where students feel c...
Beginner Stained Glass class
Ukuleles with Cathy provides group class instruction for beginning and intermediate ukulele students. Families are welcome to enroll at discounted prices. All genres of music are taught from Disney to Blue Grass. Perf...
Piano lessons with Arianne CostnerMesa
I have openings for piano lessons for homeschoolers. I teach from 9-11 am M-Th. Email me for more info!
Revolution Dance and Academy of the ArtsMesa, 85207
Revolution Dance offers an academic and pre professional dance training program. Students receive a homeschool and a learning coach, 3 hours of dance training daily, as well as private lessons weekly. Students are pro...
Diamond Dance WorksNorth Phoenix
Diamond Dance Works is excited to offer classes for local home schooled community. For more information call 623-582-9858 or email DiamondDanceWorks@gmail.com
Bern Music Studio FUN Piano LessonsNorth Phoenix, Scottsdale
Traditional beginning piano lessons can be boring and hard with no recognizable music. At the Bern Music Studio, the focus is on learning to play the piano with music that students know and enjoy. Through enjoyable pi...
The Sewin' Asylum Sewing ClassesPeoria
The Sewin'Asylum has been offering sewing classes to children and adults since 1998. Owner Erica Doyle has her degree in Fashion Design and also taught elementary school. At The Sewin'Asylum, the students will learn h...
Piano Beats StudioPeoria
Piano lessons during daytime hours for convenience of homeschool families. Students learn to read music, perform, music theory, and technique. Instructor has taught 15+ years and loves teaching children starting at ag...
Riverton Piano CompanyPeoria/West Valley
Riverton Piano Company is offering piano lessons during daytime hours. Teacher's experience - 15 years Times available 10am-2pm, every half hour, Tuesday's - Thursday's emilysetudes@gmail.com
School of Rock PhoenixPhoenix
School of Rock offers students of all skill levels age 7-18 a performance-based music curriculum in a fun environment. Weekly private lessons are combined with structured group rehearsals. Students prepare to perform ...
Music by MelissaPhoenix
Music by Melissa is FANTASTIC for homeschooled kids and a wonderful opportunity! Visit my website for all info! I sing,teach and play ALL types of music by ear and specialize in rock,pop and country music.
Christian Youth Theater - PhoenixPhoenix
Christian Youth Theater (CYT) is an after-school theater arts training program for students ages 4 - 18. CYT is a non-profit 501(c)(3) educational organization funded primarily through its tuition, ticket sales and ou...
MIMkids Musical Adventures class at the Musical Instrument MuseumPhoenix
Pick up your MIMkids Passport and embark on a musical journey with MIMkids Musical Adventures, an educational program designed for kids aged 6–10. Participants will discover new cultures by actively participating in m...
Handcrafted @ Heritage SquarePhoenix
Homeschool families are invited to go Indepth with Ink & Fiber at Handcrafted, a workshop full of antique machines. Experience the past by creating objects by hand. In the Ink Zone, make paper, ink and try out a d...
Maricopa 4-H CloggersPhoenix
The Maricopa 4-H Cloggers is a volunteer-run family-friendly affordable dance group in Phoenix that meets weekly on Monday nights. It is open to all children ages 9-18 and teaches dance, leadership, and community invo...
Phoenix Youth Circus Arts; Homeschool Circus ClassesPhoenix
Phoenix Youth Circus Arts will hold weekly circus arts classes for home-schooled children in Central Phoenix. Classes are open to all kids ages 7 – 15. Learn balancing, juggling, acrobatics. New students always welcom...
Herberger Theater Center LunchTime TheaterPhoenix
Enjoy an afternoon picnic and outdoor performance with LunchTime Theater at the Herberger Theater Center. Every month, LTT features new one-hour shows from varying theatre, music and dance companies. This is an ideal ...
Rising Youth TheatrePhoenix
Rising Youth Theatre is a youth leadership organization working at the intersection of art and social justice. We believe that theatre and the arts are powerful tools with which young people can stand up and advocate ...
Valley Youth Theatre - Sponge Bob the MusicalPhoenix
Valley Youth Theatre is SO excited to announce that reservation requests for our Summer Musical, SPONGEBOB THE MUSICAL, are available! At just $10/seat, inclusive of children and chaperones, this is a FUN field trip o...
The Walter HivePhoenix and Scottsdale AZ
Our workshops provide opportunities for sustainable skill set development and empowering outcomes for our participants. We also know that connecting people through compassion, art and creative expression is a way to w...
Phoenix Children's ChorusPhoenix area
Phoenix Children's Chorus offers multiple choral experiences to allow families to choose the best fit for their child. PCC Downtown is an auditioned premier program for children in grades 3-12 featuring touring ensemb...
Arizona GirlchoirPhoenix metro
Arizona Girlchoir provides not only classical vocal training but also music literacy, sight-singing, ear training, and stage etiquette through participation in rehearsals, formal concerts, community outreach performan...
Phoenix Music LessonsPhoenix/Scottsdale.Peoria
Music students do better in math, science and English, Phoenix Music Lessons provides professional degreed music educators for private lessons at their studio as well as some in home lessons.
Piano PatterScottsdale
Piano Patter is a new and innovative approach to music for tots and preschoolers with a focus on the piano. Private and semi-private lessons taught from a home studio in Scottsdale.
Youth Ballroom and Latin Dance Classes at EuroRhythmScottsdale
We will be offering a school-year long curriculum in Ballroom and Latin dancing for home-schooled youth starting the week of August 18th, 2009. Please call now for more information as enrollment is limited 480-443-0205
School of Rock ScottsdaleScottsdale
School of Rock offers students of all skill levels age 7-18 a performance-based music curriculum in a fun environment. Weekly private lessons are combined with structured group rehearsals. Students prepare to perform ...
Scottsdale Artists' SchoolScottsdale
Ongoing art classes for age 6 through high school
Candy Welner Piano StudioScottsdale
Candy Welner Piano Studio offers piano lessons to beginning, intermediate and advanced students in Scottsdale, Arizona. Traditional piano instruction emphasizes note reading, essential music theory, articulation and f...
Create Sewing SchoolScottsdale
Create Sewing School is a collection of sewing classes designed to teach, inspire, and encourage creativity in the lifelong skill of sewing. There is a strong focus on empowering kids (and adults!) to love sewing and ...
Charcado STEM Tutoring and Programming LessonsScottsdale
This resource offers a variety of services, including Math, Science, English, Computer Programming, SAT/ACT prep and Violin Lessons for kids of all ages (k - 12). They have qualified tutors with 5+ years of experience...
Guitar and Ukulele Lessons with Jeff LaufferScottsdale/Phoenix, PV
Guitar & Ukulele Lessons taught by professional guitarist with 15 years teaching experience. Lessons are fun and easy to understand. Discount to home schooled kids who can take their lessons before 2:30 pm on week...
Musical SurpriseSurprise
Private and Group Music Classes, Lessons and Music Therapy
Strings ClassesSurprise
Classes include group or private instruction on violin, viola, and cello.
Drama and theatre classes are available for kids of any experience level, starting with drama games for kids 4-6 or 7-10, and continuing on to learning vocal techniques with Readers Theatre, and performing a complete ...
Homeschool Elementary Art ClassesTempe
Classes are six weeks, with each week focusing on an element of art, an artist that focused on a specific artistic style, different examples of art, and a project based on the artistic style and element of the week.
Edna Vihel Art Center Homeschool Art ClassesTempe
Calling all Homeschoolers! We offer classes specifically for you!
Childsplay Theatre AcademyTempe
Learn the foundations, play characters, and create stories in our Homeschool Drama Club! This class will culminate to an in-class sharing where families will be invited to watch what the students worked on throughout ...
Edna Arts Homeschool ClassesTempe
During the school year, Edna Arts offers daytime classes geared especially for homeschool children. Students can spend their mornings learning from experienced artists and enjoy art, theatre and ceramic classes. The a...
Miss Stephanie's TheatreTempe, Mesa, Chandler
Miss Stephanie's Theatre offers classes in Tempe, Chandler, and Mesa, Arizona. Offering courses in Drama 1, Creative Drama ages 4-6, Creative Drama ages 7-10, School Kids in Drama (SKID) ages 8-12, Reader's Theatre ag...
Christian Youth Theater - TusconTuscon
Christian Youth Theater (CYT) is an after-school theater arts training program for students ages 4 - 18. CYT is a non-profit 501(c)(3) educational organization funded primarily through its tuition, ticket sales and ou...
MoezArt ProductionsValleywide-- North Phoenix, Glendale, Chandler, Surprise
MoezArt Productions, Inc. is a non-profit, Christian theatre arts education company servicing mainly the home-school community throughout the Phoenix area. Through our classes over the last 10 years, home-school stude...
Music for Tots Suzuki PianoWest Mesa area
Suzuki piano is a sound educational way to learn to play the piano.
Arizona Homeschool Sports Programs
Mountainside Martial Arts CenterAhwatukee
A traditional Martial Arts School serving Ahwatukee since 1979. The Japanese art of Wado-Ryu karate is the style of karate that is taught at this facility. Mountainside Martial Arts offers unparall... [Read more...]
Archery Headquarters AcademyChandler
Archery Headquarters Academy offers a comprehensive array of instructional courses for students at all levels of proficiency. Low-cost introductory courses are specifically designed to provide an o... [Read more...]
Skateland ChandlerChandler
One of a kind field trip relates STEM concepts to roller skating, where students will learn that STEM is in everything they do, even in fun experiences like roller skating! [Read more...]
Sports Opportunity: Vortex Elite Girls LacrosseChandler, Gilbert, Mesa, QC
Year-round girls K-12 lacrosse program designed to provide an opportunity for players of all skill levels including those brand new to the game to have fun and play one of the fastest growing games... [Read more...]
S.T.A.R.S. of HorsemanshipChandler/Gilbert
S.T.A.R.S. of Horsemanship offers horseback riding lessons to students of all ages. An instructor has become available in the mornings to support the homeschool students in Arizona to add in a fun,... [Read more...]
Kajukenbo ArizonaEast Valley
Kaju AZ is currently enrolling new students ages 5 and up who want to get better grades, have improved concentration, learn leadership skills, be more confident and never be bullied. Kajukenbo Ariz... [Read more...]
Girls on the RunFlagstaff
Girls on the Run of Northern Arizona is a empowerment program for 3rd - 8th grade girls. This outreach program strives to connect with girls at this pivotal age to help build up social-emotional sk... [Read more...]
Gilbert Defense Arts Martial Arts Program for Home Schooled ChildrenGilbert
Gilbert Defense Arts offers a daytime martial arts program for home schooled children! The classes are offered on Tuesday and Thursday mornings from 11 am to noon. 30 day *FREE trial! (*offer for n... [Read more...]
At Home Martial ArtsGilbert
This resource is for busy homeschool families who are looking to give their kids a positive physical outlet, a support for values based character development and crucial self-defense skills includi... [Read more...]
Conquer Ninja GymsGilbert
At Conquer Ninja Gyms we are dedicated to providing the best field trip of the year! We have 2 Arizona locations filled with warped walls, salmon ladders, zip lines, angled steps, and so much more!... [Read more...]
AquaSafe Swim Schools - GilbertGilbert
Teaching children to be safe in and around water is our number one priority – particularly in an area where almost every house has a swimming pool. Our swim school proudly provides year-round swimm... [Read more...]
Mesa Water PoloMesa
Mesa Water Polo is a non-profit club that was founded in 2012 to develop the water polo skills of young athletes. The focus of the program, in-water instruction on the fundamentals of the game. Fun... [Read more...]
Tao Martial ArtsMesa
Traditional Martial Arts school in East Mesa teaching Tang Soo Do, Hapkido, and Self-Defense classes. We focus on development of the student as a person through the learning of martial arts discipl... [Read more...]
Living Life Youth Sports Homeschool P.E. in the ParkMesa (East Valley)
Living Life Youth Sports center offers Homeschool P.E. classes in Mesa area. P.E. classes are curriculum based to introduce youth to a variety of sports, exercise movement, and healthy living. Ages... [Read more...]
Phoenix Falcons Fencing ClubPhoenix
Learn the art of fencing. An Olympic sport and sports that offers NCAA collegiate scholarships all over the country. Ages 7 years old and above. Call to set up a class. [Read more...]
Phoenix Youth Circus Arts; Homeschool Circus ClassesPhoenix
Phoenix Youth Circus Arts will hold weekly circus arts classes for home-schooled children in Central Phoenix. Classes are open to all kids ages 7 – 15. Learn balancing, juggling, acrobatics. New st... [Read more...]
Aqua-Tots Swim SchoolsPhoenix
Aqua-Tots Swim Schools' mission is to help prevent drownings in the community by providing quality swim lessons and water safety tips. Aqua-Tots extends a special invitation for homeschool groups t... [Read more...]
Phoenix Home Educated Archery TeamPhoenix
The Phoenix HEAT was established in 2008 and became a 501(c)3 organization in 2017. It was organized to be a part of and compete in the National Archery in the Schools Program (NASP) in which 18 mi... [Read more...]
ACA boys basketballPhoenix 85042
Varsity School Basketball in the CAA conference. This is a try-out invitation for boys ages 13-18. The team will compete on campus and play at other schools. Practice commitment of 5 days per week.... [Read more...]
Beginners Edge Sports TrainingPhoenix and Tucson
Weekday sports classes for kids 18 months to 13 years [Read more...]
Trinity Fitness PhoenixPhoenix, Glendale, Peoria
Trinity Fitness is a high-intensity, group fitness gym with a special emphasis on spiritual growth in one of the most positive atmospheres you'll ever experience. Offering group fitness for all age... [Read more...]
Burch's Karate "Homeschool Gym"Scottsdale
Every month we will cover different sports such as indoor soccer, dodgeball, squat floor hockey, presidential physical fitness,tumbling, parachute games and much much more. Classes will be held eve... [Read more...]
Scottsdale Gymnastics & ParkourScottsdale
The gym offers gymnastics, trampoline, tumbling, and parkour class for ages walking to adults. Classes are Monday through Friday 10:00am to 7:00pm and Saturday's 9:30 to 1:00pm. Scottsdale Gymnasti... [Read more...]
Post Grad SportsScottsdale
Post Grad Sports baseball program is for unsigned high school seniors, that allows players an extra year to develop, build muscle, and gain athleticism, without losing a year of college athletic el... [Read more...]
AquaSafe Swim School ScottsdaleScottsdale
Teaching children to be safe in and around water is our number one priority – particularly in an area where almost every house has a swimming pool. Our swim school proudly provides year-round swimm... [Read more...]
AZ RoyalsScottsdale/Cave Creek
We are located in North Scottsdale and have a new beautiful, state-of-the-art cheer, tumbling, and trampoline facility. We offer classes in the afternoons but are looking to offer classes to studen... [Read more...]
GPS Academy; Introduction to golfSun City
The GPS golf Academy at Sun City Country Club offers field trips and lessons to home-school students, in an attempt to break those barriers which prevents a lot of youngsters from taking up the gam... [Read more...]
Golf @ GPS Academy (Sun City Country Club)Sun City
The GPS Academy at Sun City Country Club offers a number of different golf programs to kids aged 3-17. Field Trips for Home-school students are currently offered Mon, Tues, Thurs and Fri between 10... [Read more...]
Tempe Shao-Lin KempoTempe
Tempe Shao-Lin Kempo is a newly opened, family-focused martial arts school offering Group and Private instruction for homeschool students. We use Self-Defense to guide your children's talents in th... [Read more...]
Go to...