Field trips are a great way to reboot a bad homeschooling week, get out of the house when everyone has cabin fever, and learn about your local area. Before heading out, check out Jeanne's tips for improving homeschool field trips.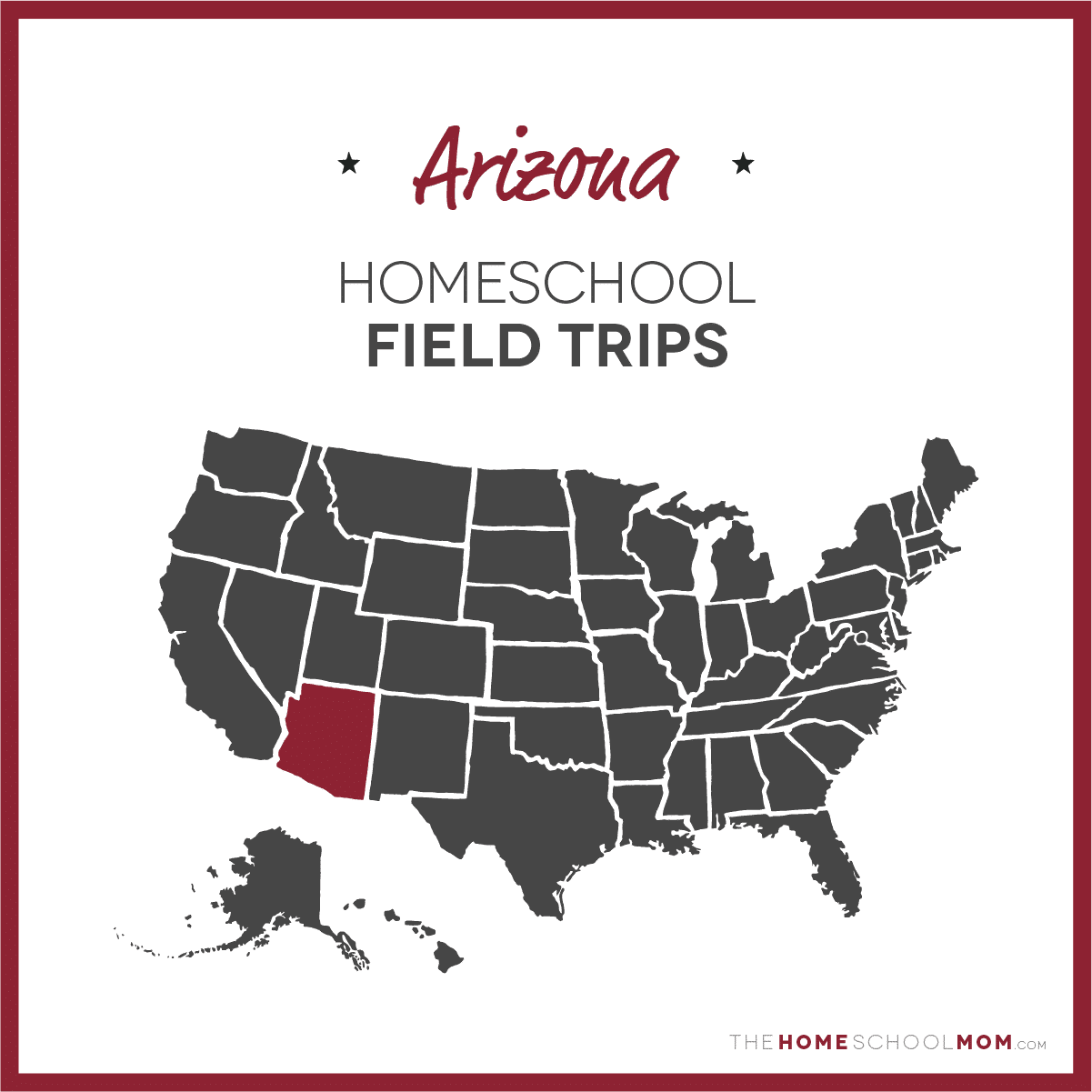 Submit a Field Trip Destination
Our listing of Arizona field trips for homeschoolers is ordered alphabetically by city. If you would like to submit a Arizona field trip destination, you may do so using the red button above.
An asterisk * after the title indicates that a virtual field trip is also available.
Organ Pipe Cactus National Monument

Ajo

In this desert wilderness, you may drive a lonely road, hike a backcountry trail, camp beneath a clear desert sky, marvel at magnificent cactus, or soak in the warmth and beauty of the Southwest. We welcome you into this desert wild. It is yours to discover.
Superstition Mountain Museum

Apache Junction

Collects, preserves and displays the artifacts, history and folklore of the Superstition Mountains, Apache Junction and the surrounding region.
Lost Dutchman State Park

Apache Junction

Named after the fabled lost gold mine, this park is located in the Sonoran Desert at an elevation of 2000 feet. The park offers a variety of hiking trails, nature trails, 70 regular campsites, picnic facilities, and special programs throughout the year.
Kartchner Caverns State Park *

Benson

Virtual field trip onlineGuided cave tours, Discovery Center, interactive displays, theater with video program, gifts shop, restrooms, telephones, food vending machines, lockers, amphitheater
Bisbee Mining & Historical Museums

Bisbee

Once known as "The Queen of the Copper Camps", Bisbee nestles among the Mule Mountains of southeast Arizona, world renowned for its diverse minerals and wealth of copper. Although its mines closed in the 1970s, the town's legacy has been preserved not only in its architecture and mining landscape, but in a museum that has welcomed, educated and entertained hundreds of thousands of visitors.
Southeastern Arizona Bird Observatory

Bisbee

(SABO) is a non-profit organization dedicated to the conservation of the birds and their habitats in southeastern Arizona.
Lake Mead National Recreation Area

Boulder City

Lake Mead National Recreation Area offers a wealth of things to do and places to go year-round. Its huge lakes cater to boaters, swimmers, sunbathers, and fishermen while its desert rewards hikers, wildlife photographers, and roadside sightseers. It is also home to thousands of desert plants and animals, adapted to survive in an extreme place where rain is scarce and temperatures soar.
Fort Bowie National Historic Site

Bowie

ort Bowie commemorates the bitter conflict between Chiricahua Apaches and the U.S. military - a lasting monument to the bravery and endurance of U.S. soldiers in paving the way for settlement and the taming of the western frontier. It provides insight into a "clash of cultures," a young nation in pursuit of "manifest destiny," and the hunter/gatherer society fighting to preserve its existence.
Buckeye Valley Museum

Buckeye

Prehistory and history of Buckeye Valley. Changing exhibits highlight portions of the museum's collection. Visit the museum and picnic in the surrounding park.
Fort Verde State Historic Park

Camp Verde

The park offers visitors a glimpse of life during the Indian Wars period in Arizona. The fort was home to officers, doctors, families, enlisted men, and scouts from 1865 to 1890. Today visitors experience three historic house museums; Commanding Officer's Quarters, Bachelors' Quarters and Doctor's Quarters on Officer's row. All are furnished in the 1880's period and listed on the National and State Register of Historic Places.
Tuzigoot National Monument

Camp Verde

Crowning a desert hilltop is an ancient pueblo. From a roof top a child scans the desert landscape for the arrival of traders, who are due any day now. What riches will they bring? What stories will they tell? Will all of them return? From the top of the Tuzigoot Pueblo it is easy to imagine such an important moment. Tuzigoot is an ancient village or pueblo built by a culture known as the Sinagua. The pueblo consisted of 110 rooms including second and third story structures. The first buildings were built around A.D. 1000. The Sinagua were agriculturalists with trade connections that spanned hundreds of miles. The people left the area around 1400. The site is currently comprised of 42 acres.
Montezuma Castle National Monument

Camp Verde

Gaze through the windows of the past into one of the best preserved cliff dwellings in North America. This 20 room high-rise apartment, nestled into a towering limestone cliff, tells a 1,000 year-old story of ingenuity and survival in an unforgiving desert landscape. Marveling at this enduring legacy of the Sinagua culture reveals a people surprisingly similar to ourselves.
The Museum of Casa Grande

Casa Grande

Come spend an hour, or an afternoon at the Historical Museum. Explore the rich heritage of rural Southern Arizona. The museum offers tours, lectures series, workshops and children's programs. Experience the 19th Century mining boom as you tour the exhibit. See the miniature agricultural display. Learn how irrigation turned sandy plains into lush cotton fields. See what Casa Grande looked like in 1879 when the railroad ended here and the city was named Terminus. Discover the people that come alive through our Research Facilities and Photographic Reproductions. Tour the historic Heritage Hall and the Rebecca Dallis School House.
J&R Reptile Wildlife Rescue/Relocation

Cave Creek

Helping Arizona save wildlife with education and relocation. So future generations can enjoy Arizonas beautiful creatures. As we move outward animals move in. All wildlife plays a important role in the eco system. Habitat destruction is the biggest killer of Arizona's wildlife. We can all play a part in co-existing together. Arizona's wildlife was here first, it is their land too.
Rawhide

Chandler

Explore the wild wild west. An 1880's western town. Rawhide at wild horse pass puts you in the middle of the action with cowboys, gunfights, stagecoach rides, retail shops and western attractions.
Huhugam Heritage Center

Chandler

Gila River Indian Community
Canyon de Chelly National Monument

Chinle

For 5,000 years, people have lived in the canyons. Navajo families today, make their homes, raise livestock, and farm the lands in the canyon. The park offers a Junior Ranger and Webranger programs.
Hohokam Pima National Monument

Coolidge

Hohokam Pima National Monument was authorized by Congress on October 21, 1972, to protect an ancient Hohokam village known today as "Snaketown." Excavations in the 1930's and again in the 1960's revealed the site was inhabited from about 300 BC to around 1200 AD and may have had up to 2,000 inhabitants. Following the last excavations, the site was completely recovered with earth, leaving nothing visible above ground.
Casa Grande Ruins National Monument

Coolidge

Casa Grande Ruins National Monument preserves an ancient Hohokam farming community and "Great House." Created as the nation's first archeological reserve in 1892, the site was declared a National Monument in 1918 "in order that better provision may be made for the protection, preservation and care of the ruins and the ancient buildings and other objects of prehistoric interest thereon."
Dead Horse Ranch

Cottonwood

Situated amidst an abundance of life along the Verde River. A six-mile reach of the river is known as the Verde River Greenway. Its unique ecosystem, the Cottonwood / Willow riparian gallery forest, is one of less than 20 such riparian zones in the world. Life along the river changes with the seasons, giving visitors a glimpse of the numerous species of raptors, neotropical migrants, resident songbirds, mammals, reptiles, amphibians, and fish.
A Museum of Native American Archaeology, Art, History, and Culture

Dragoon

The Amerind Foundation is a private, nonprofit 501(c)(3) anthropological and archaeological museum and research center dedicated to the preservation and interpretation of Native American cultures and their histories. Located in spectacular Texas Canyon in the Little Dragoon Mountains of southeastern Arizona, the Amerind houses one of the finest private collections of Native American art and artifacts in the country.

A Museum of Native American Archaeology, Art, History, and Culture website
Riordan Mansion State Historic Park

Flagstaff

Built in 1904 for two Riordan families, the Mansion is an impressive reminder of gracious living in a small, territorial logging town. The historic building is an Arizona treasure - a remarkable example of Arts and Crafts style architecture featuring a rustic exterior of log-slab siding, volcanic stone arches, and hand-split wooden shingles.
Wupatki National Monument

Flagstaff

Less than 800 years ago, Wupatki Pueblo was the largest pueblo around. It flourished for a time as a meeting place of different cultures. Yet this was one of the warmest and driest places on the Colorado Plateau, offering little obvious food, water, or comfort. How and why did people live here? The builders of Wupatki and nearby pueblos have moved on, but their legacy remains.
Walnut Canyon National Monument

Flagstaff

Walk in the footsteps of people who lived at Walnut Canyon more than 700 years ago. Peer into their homes, cliff dwellings built deep within canyon walls. The presence of water in a dry land made the canyon rare and valuable to its early human inhabitants. It remains valuable today as habitat for plants and animals. See for yourself on trails along the canyon rim and into the depths.
Sunset Crater Volcano National Monument

Flagstaff

Sunset Crater Volcano was born in a series of eruptions sometime between 1040 and 1100. Powerful explosions profoundly affected the lives of local people and forever changed the landscape and ecology of the area. Lava flows and cinders still look as fresh and rugged as the day they formed. But among dramatic geologic features, you'll find trees, wildflowers, and signs of wildlife -- life returns.
Lowell Observatory

Flagstaff

Located just one mile west of historic downtown Flagstaff, Arizona, Lowell's scenic Mars Hill campus is the site of our 6500-square foot Steele Visitor Center. We offer daytime guided tours at 15 minutes past the hour from 9:15 AM through 4:15 PM, and tours, exhibits and telescope viewing in the evenings. Experience outstanding views of the heavens and wide-screen, cinematic multimedia shows. Come to Lowell and discover your Universe!
The Arboretum at Flagstaff

Flagstaff

Visit The Arboretum at Flagstaff's collection of over 2,500 species of high country wildflowers.
Museum of Northern Arizona

Flagstaff

Land and Peoples of the Colorado Plateau
Arizona Historical Society

Flagstaff, Yuma, Tempe and Tucson,

The Arizona Historical Society has the world's largest collection of Arizona history artifacts, documents, and photographs. Feel free to ask us about research, educational programs, and tours.
Fort Huachuca Historical Museum

Fort Huachuca

Fort Huachuca Historical Museum endeavors to bring to the military community and general public a heightened awareness of, and an increased appreciation for, the colorful history of the Southwest and, especially, the prominent part played by the U.S. Army.
Pipe Spring National Monument

Fredonia

American Indians, Mormon pioneers, plants, animals, and others have depended on the life-giving water found at Pipe Spring. Learn about pioneer and Kaibab Paiute life: -at the Visitor Center and Museum -on guided tours of an historic fort -during living history demonstrations -on self-guided tours of the grounds (historic buildings, farm animals, an orchard, garden, and 1/4 mile trail).
Hubbell Trading Post National Historic Site

Ganado

Hubbell Trading Post is the oldest operating trading post on the Navajo Nation.
Gilbert Historical Museum

Gilbert

The Gilbert Historical Society was organized in early 1960 with the goal of "Preserving the Past for the Future." Collections of pictures, documents and artifacts relating to the history of the community were preserved with the hope that a history of the area would be written and a historical center would be developed. In 1977, the old elementary school at Gilbert and Elliot Roads was abandoned for classroom use. This seemed to be the ideal location for the Museum.
The Gilbert Rotary Centennial Observatory

Gilbert

The Gilbert Rotary Centennial Observatory (GRCO) is located at the Riparian Preserve at Water Ranch in Gilbert, Arizona, east of the Southeast Regional Library (southeast corner of Greenfield and Guadalupe Roads). The observatory is open every Friday and Saturday evening at nightfall. The GRCO is owned by the Town of Gilbert and operated by the Riparian Institute.
Natural Grocers Gilbert Val Vista

Gilbert

On sight demo kitchen for teaching educational classes and cooking demos to the public on topics such as Smart Food for Smart Kids, Make Your Next Plate Great, and more. Offering in store tours discussing how to eat, shop, and cook healthier for us as well as the environment. Available for any age group.
Grand Canyon National Park

Grand Canyon

A powerful and inspiring landscape, the Grand Canyon overwhelms our senses through its immense size. Unique combinations of geologic color and erosional forms decorate a canyon that is 277 river miles (446km) long, up to 18 miles (29km) wide, and a mile (1.6km) deep.
Butterfly Lodge Museum

Greer

Butterfly Lodge was built in Greer in 1914. The cabin's name ("Apuni Oyis" in Blackfoot) was inspired by the countless butterflies in the nearby meadows. It was the mountain residence and hunting lodge of James Willard Schultz (1859 - 1947) and his son, Hart Merriam Schultz, known as Lone Wolf (1882-1970). The lodge housed two colorful careers: the father's fashioned in words, the son's through painted images and sculptures of the West. They were two free spirits who found inspiration in this little cabin in the high mountains of Greer.
Coronado National Memorial

Hereford

It was a journey of exploration, filled with wonder and cruelty. Inspired by rumors of vast quantities of gold, 339 soldiers and over 1100 Indian allies embarked on an epic journey through arid deserts and rugged mountains. They brought rich traditions and new technology into the southwest, irrevocably changing the lives of the native peoples and continuing to influence the area today.
Mohave Museum of History and Arts

Kingman

The Mohave Museum of History and Arts is dedicated to the purposes of preserving the heritage of Northwestern Arizona and of presenting that history to the public.
Lake Havasu State Park

Lake Havasu

An ideal place to enjoy beautiful beaches, nature trails, boat ramps, and convenient campsites. This spot is truly a watersport haven located near the famous London Bridge of Lake Havasu City.
Cattail Cove State Park

Lake Havasu City

A broad spectrum of activities for all to enjoy. Whether you're interested in swimming, fishing or just lounging and relaxing, Lake Havasu was formed when the Colorado River was dammed near Parker. The 45-mile long lake creates a haven for all kinds of water sports. Fish for largemouth and striped bass, bluegill and crappie. Boat on the blue waters, sail into quiet coves, or water ski or jet ski out on the open lake. The area surrounding the park is also a rock hound's paradise. Volcanic rock, geodes, jaspers, obsidian, turquoise and agate can be found outside Lake Havasu City.
Wildlife World Zoo & Aquarium

Litchfield Park

Wildlife World Zoo has Arizona's largest collection of exotic animals with over 6000 individual animals representing more than 600 exotic and endangered species. The zoo specializes in African animals and has a 0.6 mile train.
Mesa Arts Center

Mesa

Mesa's International Award winning facility is the largest and most comprehensive performing, visual and educational arts center in the state of Arizona. Mesa Arts Center is an entity of the City of Mesa, and home to theaters, Museum, art studios and more.
Arizona Museum of Natural History

Mesa

Your place for dinosaurs that roar and much more. The valley's only natural history museum has the best dinosaurs in town, a history courtyard where visitors pan for gold, a native peoples' gallery includes a replica village and pottery. Where else can you enjoy a cool indoor waterfall? Three changing exhibition galleries offer a variety of interesting subjects.
Arizona "ING" Tours

Mesa

Learn how Phoenix went from the Wild West to a thriving metropolis. Enjoy stops, stories and entrance into the Wells Fargo Museum, the old Post Office, St. Mary's Basilica and relaxing outdoor spaces. Includes hands on activities and exciting stories of the Hohokam, settlers, modes of transportation, historic buildings & more! Children of all ages are welcome when accompanied by a responsible adult. Limit 4 children below age of 10 per adult. Cost: $10 per adult, $5.00 per child. Age 3 & under free. Group rates available!
Badger Springs Trail in Agua Fria National Monument; Geology, Archaeology, and History resource

Mesa

This is a free guide to the Geology, Archaeology, and History of Badger Springs Trail in Agua Fria National Monument. There are no advertisements. It was done by a group of geologists, archaeologists, and hikers to educate people on the wonders of the trail.

Badger Springs Trail in Agua Fria National Monument; Geology, Archaeology, and History resource website
Superstition Farm

Mesa

Come to Superstition Farm to see where the milk on your morning cereal originates before it ends up in the grocery cooler! Experience the process of how natural feeds and surplus bakery, pastas, grains and cotton turn into nature's most perfect food. Put on your work boots (or closed toed shoes) and join us for a tour of our family farm. Hands on fun!
Bullion Plaza Cultural Center and Museum

Miami

The Museum houses an interesting array of artifacts, photographs, and memorabilia depicting the economic and social life of the Globe-Miami-San Carlos region's early years.
Juan Bautista de Anza National Historic Trail

Nogales

"Everyone mount up!" This became a familiar call from Spanish Captain Juan Bautista de Anza. In 1776, as Americans fought for their independence in the East, Anza led almost 300 people over 1200 miles to settle Alta California. It was the first overland route established to connect New Spain with San Francisco. Walk in their footsteps from Nogales, Arizona to San Francisco, California.
Oracle State ParkCenter for Environmental Education

Oracle

The purpose of the park is to act as a wildlife refuge and environmental learning center. Educational programs are being developed to focus on basic ecologic principles, and to enhance public awareness of the importance of safeguarding natural resources.
John Wesley Powell Memorial Museum

Page

Within the museum, you can see sketches, photos and other memorabilia of Powell's epic Colorado River voyages in 1869 and 1871, along with a unique collection of Native American and pioneer artifacts. Exterior view of Powell Museum Other exhibits focus on the geology of the canyons cut by the Colorado and the history and development of Page. Films on Lake Powell, dam construction and other subjects are shown free upon request.
Glen Canyon National Recreation Area

Page

Encompassing over 1.2 million acres, Glen Canyon National Recreation Area (NRA) offers unparalleled opportunities for water-based & backcountry recreation. The recreation area stretches for hundreds of miles from Lees Ferry in Arizona to the Orange Cliffs of southern Utah, encompassing scenic vistas, geologic wonders, and a vast panorama of human history.
Buckskin Mountain State Park

Parker

One of the finest views along the Parker strip, an 18-mile stretch between Parker Dam and Headgate Dam. Mountains line the river on both the Arizona and California sides, and the wildlife is as varied as the recreational opportunities along the river. This picturesque park provides scenic respite, mountain hikes, a desert escape and fun-filled water adventure. The nearby River Island Unit, about one mile north, is ideal for tent campers. It offers a ramada with campfire ring, which may be reserved for group use (fee required) except on holiday weekends. A sandy beach, cove, and boat launch area are also located at the River Island Unit. Boating Safety Classes in Parker and Lake Havasu.
San Rafael Ranch Natural Area

Patagonia

The rolling short-grass prairie of the San Rafael Valley is one of the last places left in the West where the eye can roam free across vistas of lush land. Park is currently not open to the public, however, website offers educational information about the goal of land conservation easements that will protect the natural habitat with its rare native plants and animals.
Sonoita Creek State Natural Area

Patagonia

Sonoita Creek State Natural Area's mission is to preserve this fragile riparian area and its surrounding environment. The "Healthy Water" education program at Sonoita Creek State Natural Area is a field trip environmental education program designed for 3rd - 6th grades. Students test water to determine water quality, look at aquatic insects under microscopes and learn about the importance of protecting water dependent habitats in Arizona. Call the Sonoita Creek State Natural Area Visitor Center for more information. Registration must take place at least six weeks prior to your visit. (520) 287-2791
Patagonia Lake State Park

Patagonia

Popular for a variety of recreational activities, including water skiing, fishing, camping, picnicking, and hiking. Created by the damming of Sonoita Creek, the lake is habitat for bass, crappie, bluegill, and catfish, and is stocked with rainbow trout during the winter.
Tonto Natural Bridge State Park

Payson

Believed to be the largest natural travertine bridge in the world, Tonto Natural Bridge has been in the making for thousands of years.
West Valley Art Museum

Peoria

West Valley Art Museum Permanent Collections contains over 4000 items from more than 75 countries. Our permanent collections holds over 1000 pieces of Ethnic Dress and textiles. Currently, West Valley Art Museum has the largest collection of ethnic dress in the southwest. Due to the already strong representation, a special emphasis is given to Asia, Africa and Latin American cultures.
Petrified Forest National Park

Petrified Forest

With one of the world's largest and most colorful concentrations of petrified wood, multi-hued badlands of the Painted Desert, historic structures, archeological sites, and displays of 225 million year old fossils, this is a surprising land of scenic wonders and fascinating science.
Heard Museum

Phoenix

The mission of the Heard Museum of Native Cultures and Art is to educate the public about the heritage and living cultures and arts of Native peoples, with an emphasis on the peoples of the Southwest.
Hall of Flame Fire Museum

Phoenix

The Hall of Flame Fire Museum and the National Firefighting Hall of Heroes, located in Phoenix, Arizona, has almost an acre of fire history exhibits, with over 90 fully restored pieces of fire apparatus on display, dating from 1725 to 1969. Most of the exhibits are American, but we also have pieces from England, France, Austria, Germany, and Japan. The Hall of Flame sponsors the National Firefighting Hall of Heroes, which honors firefighters who have died in the line of duty or who have been decorated for heroism.
Pioneer Living History Village *

Phoenix

Virtual field trip onlineSee the Opera House where Lilly Langtry sang; look through a rifle port in the actual cabin that survived Arizona's bloodiest range war; laugh your way through a "melodrama"; or browse through an 1890's dress shop and much more! All of this, plus a blacksmith shop, sheriff's office and jail, complete ranch complex, and costumed interpreters including cowboys, lawmen, and lovely Victorian ladies - await you at Pioneer Living History Village, Arizona's most authentic Old West town.
Phoenix Zoo

Phoenix
History Of The Phoenix Police Museum

Phoenix

The Phoenix Police Museum is located at 17 South 2nd Avenue, on the 1st floor of the Historic Phoenix City Hall. The museum highlights the history of the Phoenix Police Department from 1881, when Henry Garfias, was elected the first city marshal to the present.
Shemer Art Center and Museum

Phoenix

A historical site operated since 1984 by the City of Phoenix Parks and Recreation Department. It is a family-oriented art education center and museum, offering artists and community members a unique and inviting atmosphere to enjoy and learn about the visual arts.
Rosson House Museum

Phoenix

A beautifully restored 1895 historic home open for public tours in downtown Phoenix,
Arizona Capitol Museum

Phoenix

Arizona Capitol Museum virtual field trip support Arizona Social Studies Standards with an emphasis on government and civics. The field trip is offered free of charge and consists of filmed recordings that follow?Arizona's journey from westward expansion through statehood, the Arizona legislative process, and more. Additional components of the field trip include pre- and post-tour activities and an opportunity to interact with a museum educator through a live Q&A or a digital question form.
Phoenix Art Museum

Phoenix

Our groundbreaking exhibitions, here only for a limited time, will fascinate, entertain, and educate. From the four corners of the world, from ancient to modern, from masters to rising stars, see what we have on display now.
Arizona Military Museum

Phoenix

The Arizona Military Museum is operated by the Arizona National Guard Historical Society, a private non-profit corporation. The officers and directors serve as docents, and they perform other necessary functions in conjunction with National Guard support to operate and maintain the museum. The museum building is a significant part of Arizona's military history. The raw adobe building was constructed in 1936 as a Depression-era public works project. It served as a National Guard arsenal until World War II, when it was converted into a maintenance shop for German prisoners of war confined at a nearby POW camp.
Earth & Space Expedition Center

Phoenix

We offer Homeschool days the first Monday of each month to families and their students that will engage and enrich their studies. Each month is a different topic, and includes lessons, activities, a planetarium show and a light and electricity demo. We also have a block room with large foam blocks that encourage team work and imagination. you may sign up on our website.
The Hall of Flame Museum of Firefighting

Phoenix

The Hall of Flame Museum, located in Phoenix, Arizona, is home to the National Firefighting Hall of Heroes and has almost an acre of fire history exhibits, over 100 fully restored pieces of fire apparatus on display (dating from 1725 to 2004), a children's area, and museum gift shop. While most of our collection focuses on the American firefighting experience, we also have fire apparatus and related artifacts from England, France, Austria, Germany, and Japan. The Hall of Flame Museum is sponsored by the National Historical Fire Foundation. School tours offer students historical firefighting curriculum related to the 13 colonies, the Industrial Revolution, and Industrialization and Urbanization in America.
Desert Botanical Garden

Phoenix

The Desert Botanical Garden's educational programming for children, adults and educators promote greater enjoyment, understanding and stewardship of the Sonoran Desert.
Arizona Science Center

Phoenix

Arizona Science Center provides exploration, education and entertainment for all ages. The Center contains four levels of exciting hands-on exhibits, a state-of-the-art planetarium and a five-story high IMAX® theater.
Pueblo Grande Museum

Phoenix

An archaeological site museum and repository. We collect, preserve, research, interpret, and exhibit cultural materials from the site of Pueblo Grande and the Greater Southwest. The Museum, part of the City of Phoenix Parks and Recreation Department since 1929, is dedicated to enhancing the knowledge of prehistory, history, and ethnology of inhabitants of the Southwest, and promoting a greater understanding of the diversity of cultures past and present, for our guests and the citizens of Phoenix
Arizona Mining and Mineral Museum

Phoenix

The Arizona Mining and Mineral Museum commemorates the mining industry that helped build Arizona. Arizona is the Nation's number one mining state with the largest value of non-fuel mineral production in the country.
Children's Museum of Phoenix

Phoenix

Acting on the principle that learning is a joy, the Children's Museum of Phoenix's mission is to engage the minds, muscles and imaginations of children and the grown-ups who care about them. With hands-on, interactive exhibits designed for children ages birth to 10, the Museum will focus on learning through play, with emphasis on early childhood education and school-readiness.
Deer Valley Rock Art Center

Phoenix

The mission of the Deer Valley Rock Art Center is to preserve and to provide public access to the Hedgpeth Hills petroglyph site, to interpret the cultural expressions found here, and to be a center for rock art studies
Picacho Peak State Park

Picacho

Home to the most significant Civil War battle in Arizona and Used as a landmark by early explorers, Picacho Peak is the perfect place to enjoy viewing exciting mock battles that took place in Arizona and New Mexico during the Civil War. Every March, "The Civil War in the Southwest" comes alive again as over two hundred re-enactors converge on Picacho Peak on foot and horseback. Due to construction of a new Visitor Center, Picacho Peak State Park will be closed to all public entry starting July 1, 2008. The park is scheduled to re-open in October 2008.
Rooster Cogburn Ostrich Ranch

Picacho

Rooser Cogburn Ostrich Ranch offers Fun, Outdoor, Fresh-Air Field Trip Opportunities. AZ State Standaed Curriculum Available For School Groups. Come FEED All the CRITTERS: Ostrich, Sting Rays, Miniature Donkeys, Deer, Goats, Bunnies, Sheep, Lorikeets, Parakeets, Giant Tortoises and MORE! Check out our website and email for special pricing for school groups!
Phippen Museum

Prescott

Art (Cowboy Capital) of the American West. The Phippen Museum offers history-based guided tours from trained docent leaders, studio art activities led by certified art teachers and trail hikes where students engage in an outdoor classroom exploring local geography, geology, and the ecology of the region. Museum educators work closely with classroom teachers to develop learning targets that correspond with STEM initiatives and Common Core curriculum standards.
Highlands Center for Natural History

Prescott

The Highlands Center works with local public, private, and charter schools through our year-round school programs. Highlands Center School Programs are a special point of pride, and are the longest running and most requested. The Highlands Center's field trips and Schoolyard Habitat Program are wonderful ways to help students have positive outdoor learning experiences
Smoki Museum of American Indian Art & Culture

Prescott

The mission of the Smoki Museum of American Indian Art & Culture is to instill an understanding and respect for the indigenous cultures of the Southwest.
Sharlot Hall Museum

Prescott

Sharlot Hall Museum's newest exhibit examines the history of water management in Arizona, and bring to life the story of this critical and ever-changing natural resource.
the spot... a Child's Museum

Prescott

the spot...a Child's Museum provides unique and meaningful programs and exhibits for all children that educate them in the concepts of their world and build a lifelong interest in learning. Offering a dynamic, constantly-evolving museum format that incorporates all of the day-to-day facets of life specifically related to science, technology, engineering, math, (STEM) and the fine arts with a strong focus on the history and culture of the local area.
Schnepf Farms

Queen Creek

"Educating the public about Arizona Agriculture is our number 1 priority at Schnepf Farms; everything you eat and wear comes from a farm. We are proud to continue the tradition." Mark Schnepf, owner. Seasonal Hours: October through May. Closed the months of January, February, June-September.
Queen Creek Botanical Gardens

Queen Creek

An elegant, edible oasis in the desert, the Queen Creek Botanical Gardens celebrates the farming heritage of the area across 10 acres of river, waterfalls, Mill ponds, and uniquely designed culinary demonstration gardens that inspire and delight the senses. Come grow with us and Taste The Beauty of the worlds 1st all-edible gardens surrounding the only working water mill in the American Southwest and more!
Tonto National Monument

Roosevelt

Situated within rugged terrain in the northeastern part of the Sonoran Desert, these well-preserved cliff dwellings were occupied during the 13th, 14th, and early 15th centuries.
Roper Lake State Park

Safford

A great place to spend a few days or just a few hours. Desert vegetation, a peaceful lake and a view of Mount Graham, picnic ramadas, an Indian Village and a playground all for families to enjoy!
Mount Graham International Observatory

Safford

An astrophysical research site...
Discovery Park Campus

Saffors

The EAC Discovery Park Campus hosts K-12 school students from local communities and surrounding areas. These science field trips give these children opportunities to learn and enjoy hands-on activities about astronomy and ecology. These activities are available at no cost to schools wishing to bring students to enjoy these wonderful educational experiences.
Titan Missile Museum

Sahuarita

The only remaining Titan II site open to the public, the Titan Missile Museum allows visitors a look at the threat of nuclear war between the U.S. and the former Soviet Union.
Taliesin West

Scottsdale

The Frank Lloyd Wright Foundation was established in 1940 as the repository of the life work of Frank Lloyd Wright. The Foundation maintains its international headquarters at Taliesin West in Scottsdale, Arizona. The Frank Lloyd Wright Foundation is committed to advancing the ideas and principles of organic architecture, organic education, and conservation of the natural environment. The Foundation also seeks to preserve and enhance the lifetime contributions and ideas of Frank Lloyd Wright, and make available to the public opportunities to study and experience organic architecture.
Sylvia Plotkin Judaica Museum

Scottsdale

Exhibit of Jewish life cycle and holiday archival material and artifacts as well as a composite Tunisian Synagogue.
McCormick-Stillman Railroad Park

Scottsdale

Great fun for all ages! Train Museum, train rides, and merry go round at low cost. For free a beautiful kids park done in the style of the old west with picnic areas and if you dont want to pack a lunch visit the train car diner! Free entrance.
Scottsdale Historical Museum

Scottsdale

History of the Old Red Brick Schoolhouse. The Museum has hosted thousands of visitors, civic groups and school children over the decades.
Scottsdale Arts

Scottsdale

Scottsdale center for the performing arts, Scottsdale Museum of Contemporary Arts, and Scottsdale public Arts.
Southwest Wildlife Conservation Center

Scottsdale

Tour our wildlife sanctuary with your students to learn how to safely coexist with native Arizona wildlife. Small groups get an up-close view of Southwest Wildlife as we share the compelling stories of our sanctuary residents. 90 minutes to 2 hours, takes place completely outdoors. Tours are led by experienced Trail Guides using standard based curriculum covering Mammal Habitats in grades K-4, Food Webs and Food Chains in grades 5-8, and Habitat Fragmentation in grades 9-12. Students make determinations as they see the sanctuary animals and hear their stories.
Southwest Wildlife Rehabilitation and Educational Foundation

Scottsdale

A non-profit organization specializing in rescuing and rehabilitating injured and orphaned wildlife native to the southwest. The website aims to educate today's youth on the importance of native wildlife and the environment.

Southwest Wildlife Rehabilitation and Educational Foundation website
Slide Rock State Park

Sedona

Slide Rock State Park, originally the Pendley Homestead, is a 43-acre historical apple farm located in Oak Creek Canyon. As one of the few homesteads left intact in the canyon today, Slide Rock State Park is a fine example of early agricultural development in Central Arizona.
Red Rock State Park

Sedona

The park's 286 acres were originally part of the Smoke Trail Ranch, owned by Jack and Helen Frye. Arizona's famous Oak Creek meanders through this scenic park, creating a diverse riparian habitat abounding with plants and wildlife. This riparian habitat, the land-based ecosystem closely associated with Oak Creek, provides the setting and the opportunity for Red Rock State Park to offer a center for environmental education.
Sedona Heritage Museum

Sedona

Our Museum is focused on the lifestyles and works of the people who pioneered this community, from 1876 to the present. The Sedona Historical Society's mission is to research, preserve and teach the history of the greater Sedona area.
Fool Hollow Lake Recreation Area

Show Low

A state of the art recreation area, located in the Apache - Sitgreaves National Forest.
Old Spanish National Historic Trail

Southwestern US
Casa Malpais Archaeological Park

Springerville

Situated on terraces of a fallen basalt cliff along the upper Little Colorado River, the site dates from late Pueblo III to early Pueblo IV (AD 1250-1325) times. Casa Malpais appears to incorporate features of both early and late Mogollon Culture settlement patterns. Site is accessible only via guided tours, which start at the Visitor's Center in Springerville.
Grand Canyon-Parashant National Monument

St. George

Grand Canyon Parashant's natural splendor provides a sense of solitude to those who venture into its isolated domain. Located on the edge of one of the most beautiful places on earth, the Grand Canyon, the Monument's expansive landscape encompasses a chronicle of natural and cultural history.
Apache County Historical Society Museum

St. Johns

First came the dinosaurs to the banks of the Little Colorado River, and then the Indians. In (1540) Coronado crossed the river near St. Johns and later descendants of the Conquistadors settled here. Pioneer families arrived from the East in the 1880's.
Shamrock Farms Tour

Stanfield

Our farm tour isn't just a tour. It's your chance to see where fresh ideas are made and open your mind to everything that milk makes possible. Exciting, entertaining and educational, you'll never look at milk the same way again.
Arizona Edventures

Statewide

Discover a wide variety of exciting field trip ideas & learning opportunities for students & families! Arizona is a wonderful state where past and present, nature and technology, newcomers and old-timers alike all meet amid spectacular scenery ranging from beautiful desert landscapes to breathtaking mountain peaks. This diversity makes it possible to experience a wide variety of educational adventures. The field trip opportunities in Arizona are virtually unlimited!
Boyce Thompson Arboretum State Park

Superior

The place to discover the intricate beauty and many faces of Arizona's oldest and largest botanical garden. Featured are plants from the world's deserts, towering trees, captivating cacti, sheer mountain cliffs, a streamside forest, panoramic vistas, many natural habitats with varied wildlife, a desert lake, a hidden canyon, specialty gardens and more.
Boyce Thompson Arboretum

Superior

"The Mission of Boyce Thompson Arboretum is to instill in people an appreciation of plants through the fostering of educational, recreational, research, and conservation opportunities associated with arid-land plants."
ASU 3D Astronomy Shows

Tempe

A fun way to take a field trip into space! The theater employs Definiti SkySkan Planetarium technology in which the viewer is taken out into space in real time. There are different shows scheduled for a variety of interests. All ages are accepted. Also there is a quaint museum in the lobby, and the second level is dedicated to real space rocks.
Petersen House Museum

Tempe
Tempe Historical Museum

Tempe

The Tempe History Museum is a center where the community comes together to explore Tempe's past, share its present and imagine its future. Admission is free.
ASU Art Museum

Tempe

Education programs at the ASU Art Museum are as varied and intellectually stimulating as the people who visit the museum. A myriad of educational activities engage audiences of all ages with captivating and provocative exhibitions and programs.
Boothill Graveyard

Tombstone

Many tourists visit the Boothill Graveyard in Tombstone Arizona on a daily basis. Many tourists stop by the counter and ask the sales clerk in the gift shop questions like which part of the cemetery are the Earps buried in? Where is Ike Clanton and Johnny Ringo buried? The answer they hear from the clerk amazes them most of the time. None of the Earps are buried in Tombstone, neither is Ike Clanton or even John Ringo.
O.K. Corral

Tombstone

Witness the dramatic events that made Tombstone famous: the silver boom, the great fire, the O.K. Corral® gunfight, the assassination of Morgan Earp, and more. Actor Vincent Price narrates this exciting multimedia history of Tombstone from Geronimo's Apaches to modern times.
Bird Cage Theater

Tombstone

In the 1880s it was not only a theater, but also served as a saloon, gambling hall and brothel. It was open 24 hours a day, 7 days a week - even on holidays. The New York Times called it, "the wildest, roughest, wickedest honky tonk between Basin Street and the Barbary Coast." That statement was well deserved, since the Bird Cage was the scene for twenty-six deaths during its eight years of business. Today the floor of the Bird Cage has been converted into a museum.
Tombstone Courthouse State Historic Park

Tombstone

A historical museum that features exhibits and thousands of artifacts which tell of Tombstone's colorful past.
Navajo National Monument

Tonalea

Navajo National Monument preserves three intact cliff dwellings of the Ancestral Puebloan people. A visitor center, museum, three short self-guided trails, two small campgrounds, and a picnic area are available for visitors.
Dolly Steamboat

Tortilla Flat

Sightseeing and Dinner Steamboat Cruises in Tortilla Flat, Arizona
Tubac Presidio State Historic Park

Tubac

The church and the military were the vanguards of Spanish frontier expansion throughout New Spain. The Jesuit, Eusebio Francisco Kino, established missions from 1687 to 1711 to Christianize and control Native Americans in the area. He established nearby Tumacacori in 1691, and Tubac, then a small Piman village, became a mission farm and ranch. Spanish Colonists began to settle here during the 1730s, irrigating and farming the lands along the river and raising cattle, sheep and goats on the northern frontier of Spain's New World empire.
The Center for Creative Photography

Tucson

The Center for Creative Photography is an archive and research center located on the University of Arizona campus. We retain the archives of Ansel Adams, Edward Weston, Garry Winogrand, Harry Callahan, and other great 20th century photographers--over fifty archives in all.
University of Arizona Mineral Museum

Tucson

The Museum is dedicated to providing public education and the preservation of minerals and meteorites while also serving the research needs of professionals, students and collectors. The collection is world-wide in scope, but with specific emphasis on minerals from Arizona and Mexico.
Tucson Museum of Art

Tucson

Features original and traveling exhibitions focusing on Art of the Americas, Art of the American West, and Modern and Contemporary Art as well as tours, education programs, Art School, and Museum Shop to delight and educate visitors.
Tohono Chul Park

Tucson

Listed as one of the Ten Great Botanical Gardens in the world.
Tohono Chul Park

Tucson

Listed Tohono Chul Park as one of the Ten Great Botanical Gardens in the world.
Kitt Peak National Observatory

Tucson

Kitt Peak National Observatory (KPNO), part of the National Optical Astronomy Observatory (NOAO), supports the most diverse collection of astronomical observatories on Earth for nighttime optical and infrared astronomy and daytime study of the Sun. Sharing the mountaintop site with the National Solar Observatory, KPNO, founded in 1958, operates three major nighttime telescopes and hosts the facilities of consortia which operate 19 optical telescopes and two radio telescopes. (See the Tenant Observatories list.) Kitt Peak is located 56 miles southwest of Tucson, AZ, in the Schuk Toak District on the Tohono O'odham Nation and has a Visitor Center open daily to the public.
Intercultural Center for the Study of Deserts and Oceans

Tucson

Integrating Science and Community for the Conservation of the Northern Gulf of California and Sonoran Desert

Intercultural Center for the Study of Deserts and Oceans website
University of Arizona Museum of Art

Tucson

Visit The Museum Neighborhood - four great museums in walking distance from each other. The University of Arizona Museum of Art + Center for Creative Photography + Arizona State Museum + Arizona Historical Society.
Tucson Children's Museum

Tucson

You have embarked on an adventure learning experience at Southern Arizona's only children's museum. A visit to TCM will find you enjoying the numerous interactive exhibits, the daily hands-on activities and the monthly special events.
Flandrau: The University of Arizona Science Center

Tucson

The Flandrau Planetarium and Science Center, constructed in 1971, is on the northeast corner of Cherry Avenue at University Boulevard. Made possible by a bequest of more than $1 million dollars from the estate of Grace H. Flandrau, the domed planetarium theater is surrounded by numerous exhibit halls. Flandrau is available to host special events and the theater produces shows and education programs that are open to the public. The Mineralogical Museum is housed in the Science Center.
Catalina State Park

Tucson

This scenic desert park offers camping, hiking, picnicking, bicycling, horseback riding, plant and wildlife viewing, and an archaeological site, all just a few minutes from Tucson. Bring along your curiosity and your sense of adventure as you take in the beautiful mountain backdrop, desert wildflowers, cacti and wildlife that call this area home.
Flandreau Observatory

Tucson

You can take your own tour of the heavens with the Observatory's 16-inch telescope (no reservations are needed or can be taken), available for free viewing Wednesday through Saturday after sunset, all year long (the only such telescope open on a regular basis, free to the public, in the state of Arizona). Flandrau's Cassegrain reflector is the same optical design as professional telescopes on Arizona mountaintops. An expert astronomer or telescope operator is available (weather permitting) to point you toward the sky's best sky show this month and visitors can request different objects to view.
390th Memorial Museum

Tucson

Our mission is to preserve the proud heritage of the original cadre, the ground support personnel, the aircrews, the staff, and the commanders of the 390th Bombardment Group (Heavy).
Tucson Botanical Gardens

Tucson

Located on the site of the historic Porter property, Reader's Digest named Tucson Botanical Gardens as the BEST Secret Garden in America. Among mature trees and expertly cultivated foliage, specialty gardens such as the Cactus and Succulent Garden, Barrio Garden and Herb Garden highlight the diversity of native plants while offering a lush oasis in the heart of Tucson. Tropical butterflies from around the world are featured in the Cox Butterfly and Orchid Pavilion Oct to May. Experience year-round tours, community events, classes, and art exhibits, as well as the creative, seasonal menu of Cafe Botanica.
Southern Arizona Transportation Museum

Tucson

The Southern Arizona Transportation Museum exists to interpret the history of transportation in Southern Arizona with a focus on the Tucson Historic Depot and Steam Locomotive #1673. Dedicated to education, research and preservation.
Sonoran Arthropod Studies Institute

Tucson

Here you can learn more about the fascinating arthropods and the resources SASI has to help you in your quest.
Reid Park Zoo

Tucson

Reid Park Zoo offers a variety of educational, hands-on programs for individuals, families, scouts and private groups. Kids can print out zoo activities to use on your next Zoo visit.
The Castaneda Museum

Tucson

For over 55 years, Ms. Morales has been creating dolls representing the Tarascan/Purepecha people of Michoacan engaged in their daily activities. Her dolls have been exhibited internationally as well as throughout Mexico.
Saguaro National Park

Tucson

Enormous cacti, silhouetted by the setting sun, for most of us the Giant Saguaro is the universal symbol of the American West. And yet, these majestic plants are only found in a small portion of the United States. Saguaro National Park protects some of the most impressive forests of these sub-tropical giants, on the edge of the modern City of Tucson.
Buckelew Farm

Tucson

Pumpkin Festival and Corn Maze - October
Tucson Audubon Society

Tucson

Tucson Audubon sponsors education programs for all ages.
Pima Air & Space Museum

Tucson

Pima Air & Space Museum, where history takes flight, is one of the largest air and space museums in the world, and the largest non-government funded aviation museum. You'll see more than 275 aircraft and spacecraft including many of the most historically significant and technically advanced craft ever produced, both from the United States and throughout the world.
The Arizona-Sonora Desert Museum

Tucson

A world-renowned zoo, natural history museum and botanical garden, all in one place!
Arizona State Museum

Tucson

ASM is the oldest and largest anthropology museum in the Southwest, established in 1893. An affiliate of the Smithsonian Institution it is the state's official archaeological repository and the largest non-federal archaeological repository in the country.
Old Pueblo Archaeology Center

Tucson

Research, education, history, excavation, preservation and protection, presentations, day trips, travel tours
International Wildlife Museum

Tucson

Dioramas depicting wild animals in their natural settings, videos, interactive computers, and hands-on exhibits promote wildlife appreciation and conservation. Your visit is an excellent opportunity to see animals up close and gain a better understanding of their adaptive characteristics, habitats and conservation issues.
Tumacacori National Historical Park

Tumacacori

Tumacacori NHP protects three Spanish colonial mission ruins in southern Arizona: Tumacacori, Guevavi, and Calabazas. The adobe structures are on three sites, with a visitor center at Tumacacori. These missions are among more than twenty established in the Pimeria Alta by Father Kino and other Jesuits, and later expanded upon by Franciscan missionaries.
Tucson Rodeo Parade - Committee and Museum

Tuscon

This colorful, exciting Parade is presented each year and keeps the spirit of the first Parade back in 1925. Now known to be the largest Non-Motorized Parade in the country, It still achieves its success through the community's participation and the dedicated work of its members and the many volunteers.
Colossal Cave Mountain Park

Vail

Explore the different sections of this site to experience the area's history, meet some of our abundant wildlife, learn about our educational resources and facilities and check out the FAQs section to answer some of the most commonly asked questions.
Alamo Lake State Park

Wenden

One of Arizona's best kept secrets. The stark desert beauty is reflected off the water. Cacti dot the mountainous landscape that surround the lake. Nestled in the Bill Williams River Valley away from the hustle and bustle of everyday life, Alamo Lake State Park offers outdoor fun, premier bass fishing, rest and relaxation. For nature lovers, spring rains bring an abundance of wild flowers and the lake environment attracts a variety of wildlife year round, including bald and golden eagles, waterfowl, foxes, coyotes, mule deer and wild burros. Stargazers are sure to enjoy the unbelievable view of the night sky with the nearest city lights some forty miles away!
Vulture City Ghost Town

Wickenburg

Home to Arizona's largest gold strike, Vulture City Ghost Town offers unique and exciting historical tours for classrooms and groups of all ages. Discovered in 1863 by Henry Wickenburg, this rare historic site now has 17 fully restored and curated 19th century buildings open for field trip tours 7 days a week. Groups of all sizes welcome and all tours are handicap accessible. For more information: https://www.vultureminetours.com/schools-education
Desert Caballeros Western Museum

Wickenburg

Arizona's Most Western Museum
Rex Allen Arizona Cowboy Museum and Willcox Cowboy Hall of Fame

Willcox

Rex was a real cowboy legend starring in western movies. His voice is still treasured in the narrations he did of Walt Disney's "Wonderful World of Color" nature shows and behind 150 different cartoon characters created for Walt Disney.

Rex Allen Arizona Cowboy Museum and Willcox Cowboy Hall of Fame website
Chiricahua National Monument

Willcox

A "Wonderland of Rocks" is waiting for you to explore at Chiricahua National Monument. This forest of rock spires was eroded from layers of ash deposited by the Turkey Creek Volcano eruption 27 million years ago. The 8 mile paved scenic drive and 18 miles of day-use hiking trails provide opportunities to discover the beauty, natural sounds, and inhabitants of this 11,985 acre site. Visit the Faraway Ranch Historic District to discover more about the people who have called this area home: Chiricahua Apaches, Buffalo Soldiers, Erickson and Stafford families.
Apple Annie's Orchard

Willcox

School field trips and group tours: Apple Field Trips and Pumpkin & Corn Maze Field Trips.
Grand Canyon Railway

Williams

All aboard to Grand Canyon National Park! Book your Grand Canyon Railway vacation online on one of four classes of service on our vintage train from Williams to Grand Canyon National Park. Or, select a hotel package that includes lodging at our own Grand Canyon Railway Hotel and in Grand Canyon National Park at select Grand Canyon hotels. Learn about the new Grand Canyon Railway RV Park, or experience the magic of the Polar Express.
Meteor Crater & Barringer Space Museum

Winslow

Meteor Crater is the breathtaking result of a collision between an asteroid traveling at 26,000 miles per hour and planet Earth over 50,000 years ago. What scientists have learned here has helped unlock secrets of the formation of our solar system and the universe! See where NASA astronauts train and learn about asteroids, meteors, and meteorites!
Yuma Quartermaster Depot State Historic Park

Yuma

Was used by the US Army to store and distribute supplies for all the military posts in Arizona, Nevada, Utah, New Mexico and Texas. A six month supply of clothing, food, ammunition, and other goods was kept at the depot at all times. The supplies were brought from California by ocean vessels traveling around the Baja Peninsula to Port Isabel near the mouth of the Colorado River. There, cargos were transferred to river steamers and brought upstream to Yuma. A few structures from the depot's active period are still standing. The commanding officer's quarters were acquired by the U.S. Customs Service. 1908. The Bureau of Reclamation, the Boundary Commission, the Yuma County Water Users Association, and the Assistance League of Yuma have also utilized portions of the old depot during the twentieth century.
Yuma Territorial Prison State Historic Park

Yuma

On July 1, 1876, the first seven inmates entered the Territorial Prison at Yuma, and were locked into the new cells they had built themselves. Schooling was available for convicts, and many learned to read and write in prison. The prison housed one of the first "public" libraries in the territory, and the fee charged to visitors for a tour of the institution was used to purchase books. The Yuma Union High School occupied the buildings from 1910 to 1914.
Yuma Crossing National Heritage Area

Yuma

Located in the southwestern corner of Arizona, Yuma served as a vital crossing of the Lower Colorado River in the 19th Century and an innovator of water management and desert agriculture in the 20th Century. The Heritage Area's mission is to conserve and enhance the Colorado River, the historic downtown, but most importantly, its sense of place in a rapidly changing community.
The Peanut Patch

Yuma

The Peanut Patch gives free tours of their facilities every Tuesday and Friday at 10 am, in the months of January, February, March and November. They are open Monday - Saturday from 9 am to 5 pm, October 1 - April 30th.