Our listing of Arizona jobs and volunteer opportunities for homeschoolers is ordered alphabetically by city. If you would like to submit a Arizona co-op or academic resource, you may do so using the red button above.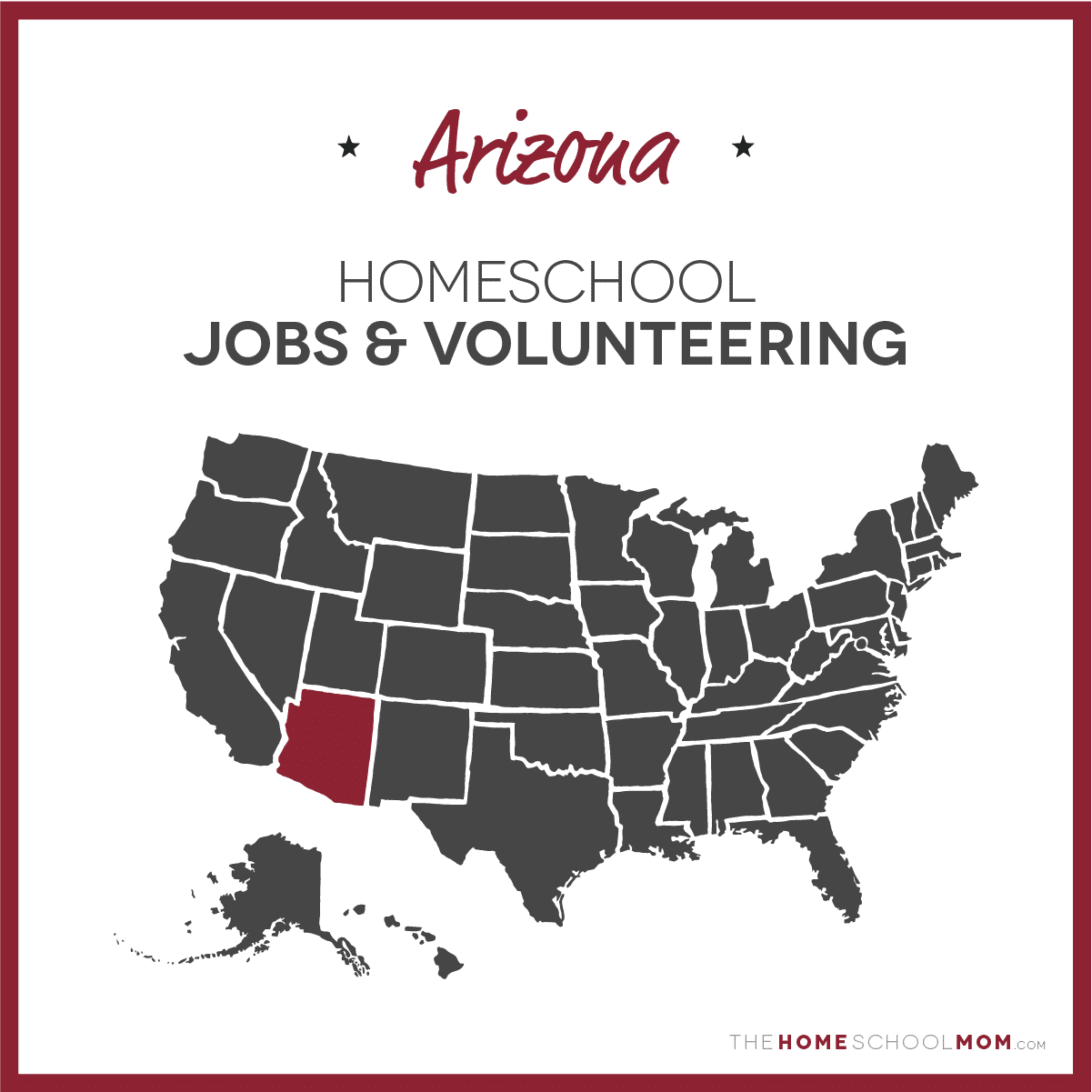 Submit a Local Resource
Home Instead Senior Care

Cottonwood

Home Instead Senior Care is looking to hire CNA's and CAREGivers in the Verde Valley and Tri Cities Area. You set your own flexible schedule. Full time/Part Time. We are looking for dependable candidates that have the passion to care for our seniors. Home Instead Senior Care recognizes that our CAREGivers are the core of our business and value them as such. We offer competitive wages and complete training in any area you are interested. Please visit our website HomeInstead.com/318 and complete an application or call the office at 928-708-9960 immediately to discuss. These positions will fill quickly so apply now!
Camp Civitan

Phoenix & Williams

Volunteers are essential to Camp Civitan – they foster enthusiasm, encourage participation, increase the efficiency of camp operations, and add to the campers' overall experience. They also become some of the campers' best friends and gain a greater understanding about individuals with disabilities. New and returning volunteers are needed throughout the summer months at Camp Civitan. Returning volunteers are also needed for weekend camps throughout the remainder of the year, September to April. Civitan is committed to fostering a positive learning environment for everyone.
KC Animal Hospital and Pet Resort

Scottsdale

Looking to hire Animal Care Specialist/Kennel Assistant. Must be at least 16 years old to apply. Must LOVE animals. Duties include: *Walks through kennel area checking each animal individually for any abnormal activity such as vomiting, diarrhea or blood in the cage or run. *Reports all abnormal activity to supervisors, doctors and nurses, makes a file so the animal can be examined. *Recognizes emergency situations, enlisting the aid of doctors and nurses. *Marks charts correctly for eating, drinking, fecal and urine production. *Feeds and waters animals according to schedules. *Cleans and disinfects cages, and runs as needed using hoses, power washer and spray bottles of disinfectant. *Cleans cat litter boxes and disinfects kitty condos. *Cleans and disinfects all food and water bowls. *Picks up soiled bedding and moves it to laundry area. *Places clean bedding in run with animals. *Performs baths on those animals that quality for a bath, the day before they go home. *Prepares "Boarding Report Cards" for animals going home so the owner can see how their pet boarded. *Checks in animals for boarding, speaks professionally with owners, writes specific feeding instructions, medication instructions, play times, walks, special services and records all of this information on boarding forms. *Provides tours of the kennel to potential new clients, giving them information on our facility, answers questions and conducts themselves in a professional manner. *Places correct ID collars on all animals. *Records and labels all belongings. *Ensures all belongings go home with the owner upon checkout. *Checks animals out for boarding, speaks with owners, brings up all belongings and goes over boarding report cards. *Operates washer and dryer to clean kennel bedding and hospital laundry. *Works outside all year round while walking dogs *Assists technicians in cleaning the treatment area. *Cleans the staff and client bathrooms. *Is proactive and asks for tasks when there is down time. *Other duties may be assigned. Please email resume to practicemanager@kcanimalhospital.com or apply on our website www.kcanimalhospital.com. Position is part time - full time depending on kennel popularity. Great starting position for anyone interested in working with animals
SpringBoard Healthcare

Scottsdale

SpringBoard is a passionate company. One of our prime passions is creating a great environment for our team. We also want to be involved with facilitating the growth of young people in our community. The Culture Kid is a combination of these two things. We want to bring a feel-good moment to our staff every week and expose young people to the world of entrepreneurship, and the workplace. Having to come in/out of a business every week, be responsible for delivering a service/product, and then be rewarded for that effort is something we think is pretty cool- and our team LOVES our Culture Kid. Our most recent Culture Kid was with us a year and she said "Thank you so much for the opportunity. You are like family to me." Expectations: -Be on Time - We'll look forward to seeing you in the office every Wednesday at 3:30pm. If you can't make it, call or email in advance. Do not text, leave a voicemail if you do not reach us by phone. Repeated absences will be evaluated on a case by case basis, but a lack of commitment to attendance shows a lack of interest in the position -Represent Yourself Responsibly - Wear a clean, collared shirt. If you wear shorts, they must be chino style, not athletic or cargo shorts. Jeans are okay, but no hats please. Your dress communicates your intent to be responsible -Be Friendly - You have a great smile! We want you to spread smiles and be polite to everyone you talk to. Your smile makes people feel good and gives them a quick break from their normal day to day routine -Be Creative - Bring different treats when you come; different types of cookies, brownies, bars etc. Don't serve the same items every week, rotate a few different kinds. Creativity is fun, and you are here to have fun and spread joy Details: The first week we will walk you around and introduce you to everyone. Your job is to SMILE and say hello! You're here to improve the day with your personality and your treats. It's ok to make small talk and get to know the office. You'll walk around and offer each person a treat and an option of lemonade or iced tea. If they accept, make sure to give them their choice with a napkin. If they decline, let them know you will be leaving extras in the kitchen if they change their mind. When you leave put the remaining treats on the table in the kitchen, clean and take the drink containers with you for use next time. Bring: 3 dozen treats (You can use premade mix, or make from scratch, but you must make them.) Container of sweetened lemonade Container of UN-sweetened Iced Tea Stipend: $225 per month