TheHomeSchoolMom's local resource listings are sponsored by Time4Learning, where you can find resources, support groups, test prep info, and more.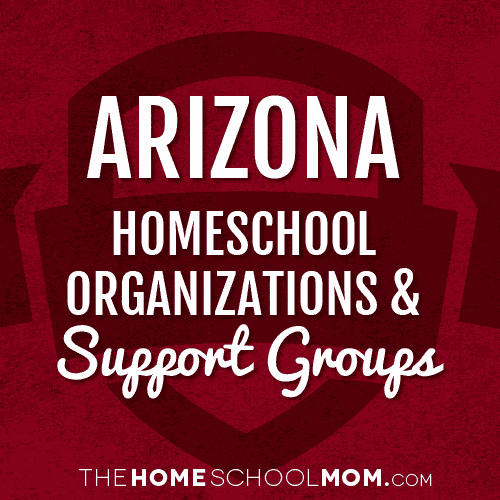 Since homeschooling is regulated at the state level, connecting with local homeschoolers is an important step to start homeschooling in Arizona. State homeschool organizations and local homeschool groups are not just a good place to learn the specifics of legally homeschooling in Arizona—they can also help you to get connected with the local homeschooling community. Many homeschool groups offer co-ops, classes, sports and arts opportunities, and social get-togethers.
Our listing of Arizona state organizations and local homeschool groups is ordered alphabetically by city, with statewide organizations listed first. If you would like to submit a group, you may do so using the red button above.
Arizona Homeschool Organizations
AFHEArizona Statewide
Arizona Families for Home Education (AFHE) is a statewide organization that serves the needs and protects the rights of Arizona's homeschooling families. AFHE is a non-profit educational corporat...
Arizona Local Homeschool Groups
Veritas HomeschoolersAhwatukee, Chandler and Tempe area
Providing monthly park days, field trips, physical education, teen groups and mom's night out.
Desert Hills Christian HomeschoolersAnthem, New River, Black Canyon City
Desert Hills Christian Homeschoolers (DHCH) is committed to supporting parent and child alike within a joyful atmosphere that brings honor and glory to God. One of the oldest support groups in Ariz...
Knowledge House Resource CenterArizona Statewide
Providing families with homeschool information and educational resources, including field trip opportunities in Maricopa County and around the state.
Arizona Families for Home Education Support GroupArizona Statewide
AFHE maintains a list of homeschool support groups from across the state.
Valley Secular HomeschoolingCentral Arizona area
Welcomes atheists, agnostics, secular humanists and families of all faith. Field trips and meetings, children of all ages are always welcome.
Northern Arizona HomeschoolersFlagstaff
A support group for home schoolers in Northern AZ (Flagstaff). Home schoolers of any and all ages, genders, and religious affiliations (or not) are welcome to be members of the group and post ho...
Flagstaff Home EducatorsFlagstaff
Flagstaff Home Educators (FHE) is a Christian support group for families who have chosen to home educate their children. Children benefit through various activities such as the Spelling Bee, Nation...
Christian Homeschoolers of Fountain HillsFountain Hills, Scottsdale, Mesa
The purpose of CHFH is to support and encourage Christian families who choose to educate their children at home. CHFH provides support, fellowship, social activities, field trips, and educational a...
Civil Air PatrolGlendale, Peoria, Goodyear, Buckeye, Phoenix
Civil Air Patrol builds strong citizens for the future by providing leadership training, technical education, scholarships and career education to young men and women, ages 12 to 21. Thousands of y...
Estrella Mountain HomeschoolersGoodyear/Southwest Valley
Providing support and information to homeschooling families through a variety of educational and relational opportunities and activities. Primarily located in the Estrella community, and have membe...
Learning ExpeditionNE Phoenix and in Scottsdale
Learning Expedition is a home schooling social support group serving metropolitan Phoenix, Arizona. Most members live in NE Phoenix and in Scottsdale, but all are welcome.
Palo Verde HomeschoolersPalo Verde
A free online secular community for Arizona parents with inquisitive and imaginative children. Share local event information, organize outings, and discuss gifted child issues.
CFHM – Christ Family Homeschool MinistryPeoria, Glendale, Phoenix, Surprise, Avondale
Christ's Family Homeschool Ministries develops Christ-centered relationships by providing support, resources, activities, and fellowship opportunities for families who independently educate their c...
Rainbow Explorers – The WellPhoenix
Serving African-American families in the Greater Phoenix area. Learning can be fun. Turn off the T.V., laugh and play, read real books, enjoy nature, serve others, explore and discover.
Phoenix Area Roots & ShootsPhoenix
Jane Goodall approach. Education and community service activities focusing on the environment, animals and others.
Greater Phoenix Area HomeschoolersPhoenix
GPHS offers support for Homeschooling Families in the Greater group is to offer support for Homeschooling Families in the Greater Phoenix Arizona Area. Through networking together homeschool famili...
Eastside ExplorersScottsdale
Eastside Explorers provides Arizona homeschooling families with educational, social, networking and support opportunities for parents and their children. We are a co-op supporting home schooling in...
Verde Valley Home School CenterSedona, Cottonwood, Camp Verde
A new home school center,opening March 2013, for K-12 families in the Verde Valley (Sedona, Cottonwood, Camp Verde)that provides curriculum, supplies,enrichment classes,and field trips FREE of charge.
Christian Home Educators of Tucson – SE (CHET)Tucson
Monthly newsletter, support meetings and weekly physical education classes.
Christian Home Educators of Tucson – NW (CHET)Tucson
Offering planned field trips, newsletter, educational forums, student council and mentoring for new homeschool families.
Holy Family Home EducatorsTucson
Holy Family Home Educators (HFHE) is a gathering of Catholic families who homeschool or who support the principles of homeschooling from Tucson and the surrounding communities. Offers park days, f...
Northwest Tucson HomeschoolersTucson/ Northwest
Northwest Tucson Homeschoolers (NTH) is an independent support group that serves to foster community among home educators and their children in Tucson. Activities include a year-round, weekly park ...