Homeschooling is regulated at the state level, so connecting with local homeschoolers is an important step to start homeschooling in Arizona. Find the Arizona homeschool groups closest to you and get connected with your local homeschooling community, learn about the homeschool requirements in Arizona, and discover the co-ops, classes, sports and arts opportunities, and social get-togethers in your area.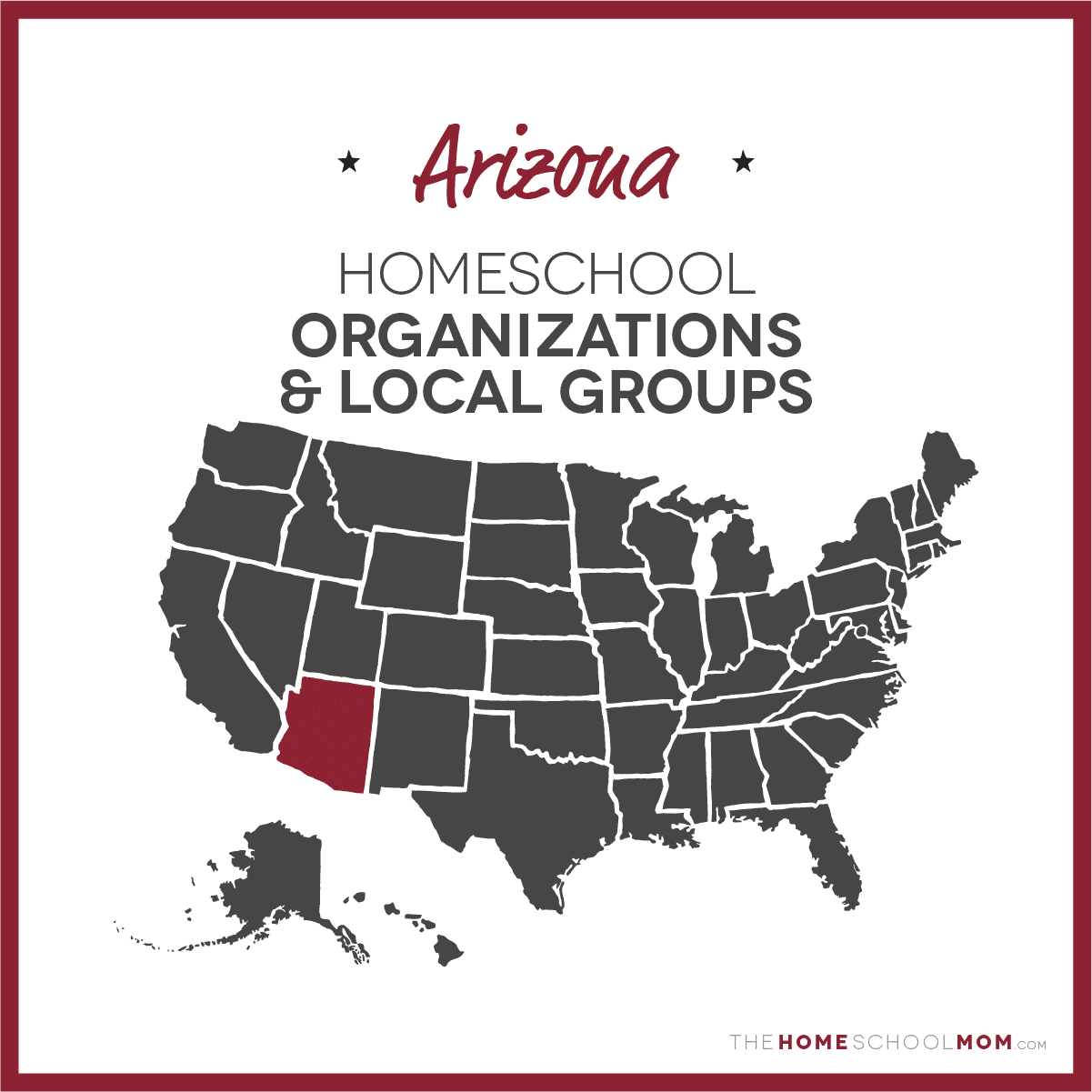 Submit a Local Resource
Jump to: State Organizations | Local Groups
Our listing of Arizona state organizations and local homeschool groups is ordered alphabetically by city, with statewide organizations listed first. If you would like to submit a group, you may do so using the red button above.
Arizona Homeschool Organizations (Statewide)
AFHE

Arizona Statewide

Arizona Families for Home Education (AFHE) is a statewide organization that serves the needs and protects the rights of Arizona's homeschooling families. AFHE is a non-profit educational corporation directed by a Christian Board. AFHE membership is open to all homeschooling parents in Arizona.
Arizona Local Homeschool Groups
Veritas Homeschoolers

Ahwatukee, Chandler and Tempe area

Providing monthly park days, field trips, physical education, teen groups and mom's night out.
Desert Hills Christian Homeschoolers

Anthem, New River, Black Canyon City

Desert Hills Christian Homeschoolers (DHCH) is committed to supporting parent and child alike within a joyful atmosphere that brings honor and glory to God. One of the oldest support groups in Arizona, dedicated to helping homeschool families for over 23 years!
Knowledge House Resource Center

Arizona Statewide

Providing families with homeschool information and educational resources, including field trip opportunities in Maricopa County and around the state.
Arizona Families for Home Education Support Group

Arizona Statewide

AFHE maintains a list of homeschool support groups from across the state.
Flagstaff Home Educators

Flagstaff

Flagstaff Home Educators (FHE) is a Christian support group for families who have chosen to home educate their children. Children benefit through various activities such as the Spelling Bee, National Geographic Geography Bee, Science Fair, Presentation Days, ice skating, bowling, social events, PE, Talent Show, field trips and much, much more. Parents benefit from fellowship, information and resource exchange, and of course, LOTS of encouragement. This group is unashamedly Christian in beliefs and teachings.
Northern Arizona Homeschoolers

Flagstaff

A support group for home schoolers in Northern AZ (Flagstaff). Home schoolers of any and all ages, genders, and religious affiliations (or not) are welcome to be members of the group and post home school events.
Fountain Hills Christian Home Educators (FHCHE)

Fountain Hills

Fountain Hills Christian Home Educators (FHCHE) is a local support group for Fountain Hills, Arizona homeschool families. Though families need not be Christian to join or participate in group activities, we are unquestionably Christian! We seek to honor Christ in all FHCHE sponsored events and activities.
Christian Homeschoolers of Fountain Hills

Fountain Hills, Scottsdale, Mesa

The purpose of CHFH is to support and encourage Christian families who choose to educate their children at home. CHFH provides support, fellowship, social activities, field trips, and educational and cultural activities for member families and is a nonprofit group. Come join us and have some fun.
Aletheia Christian Academy

Glendale

We are a group of Christian homeschooling families who want to encourage one another as we lead our children from wonder to wisdom. Currently, we offer classes for Kindergarten-8th grade once a week, and twice a week for high school. We are distinctly Christian with a Classical and Charlotte Mason Twist.
Civil Air Patrol

Glendale, Peoria, Goodyear, Buckeye, Phoenix

Civil Air Patrol builds strong citizens for the future by providing leadership training, technical education, scholarships and career education to young men and women, ages 12 to 21. Thousands of young people have their first orientation flights through the cadet program, and hundreds have soloed in gliders and powered aircraft. Tens of thousands have attended CAP encampments throughout the nation.
Estrella Mountain Homeschoolers

Goodyear/Southwest Valley

Providing support and information to homeschooling families through a variety of educational and relational opportunities and activities. Primarily located in the Estrella community, and have members in other Southwest Valley cities that participate as well.
Hualapai Hills Home Schoolers

Kingman

A Christian-based group offering encouragement and support to any homeschooling family in Mohave County. We provide educational resources, monthly field trips, workshops, service projects, educational group activities, a lending library and fresh ideas that will keep you motivated on your homeschooling journey. Attend our monthly meetings to help you gain new teaching tools and ideas to keep your child's education on the right track. Members participate by holding an office or planning an activity (i.e. literary club, chess club, Lego league, service club, field trips, sports club, spelling bee, geography bee, science fair, playgroup, science workshops, etc). Meeting: Our support group usually meets on the second Monday of each month at 7:00 p.m. at the Good Shepherd Lutheran Church, 3958 N. Bank, Kingman, AZ. Contact us before attending via the website.
Homeschoolers 4 Him

Litchfield Park

Homeschoolers 4 Him is a Christian homeschool support group serving the west Phoenix Metropolitan area. Park day events are Fridays from September through May in the Goodyear/Litchfield Park area. There are also regular events throughout the summer. There are co-ops, field trips, mom's night out, and teen nights throughout the year.
Coram Deo Lyceum Homeschool Support Group

Mesa

Coram Deo Lyceum, a Christian classical homeschool support group, partners with families in the East Valley by offering classes, tutoring help, and a sense of community for students from 1st Grade through 12th Grade. Learning is focused on the classical model which trains the mind for wisdom and cultivates virtue in the heart. Rooted in Biblical principles and the pursuit of excellence, the goal of Coram Deo Lyceum is for students to love learning, to see the world through a Biblical worldview, and to find meaning and value in all aspects of life. Students analyze original source documents and trace the great ideas of history, science, literature, and art, enabling them to consider what is true and good and beautiful. Classes meet at The Source Church on Mondays and Wednesdays from 8:00 am – 2:30 pm. The Source Church is located at 7205 E. Southern Avenue in Mesa, Arizona. Please pre-register for classes by going to coramdeolyceum.com.
CFHM - Christ Family Homeschool Ministry

Peoria, Glendale, Phoenix, Surprise, Avondale

Christ's Family Homeschool Ministries develops Christ-centered relationships by providing support, resources, activities, and fellowship opportunities for families who independently educate their children at home. Working to Win children and others for Christ, Train them to be disciples and stewards, and Send them into the world to have an impact for Christ.
Rainbow Explorers - The Well

Phoenix

Serving African-American families in the Greater Phoenix area. Learning can be fun. Turn off the T.V., laugh and play, read real books, enjoy nature, serve others, explore and discover.
Phoenix Area Roots & Shoots

Phoenix

Jane Goodall approach. Education and community service activities focusing on the environment, animals and others.
Home Educators of Central Phoenix

Phoenix

Home Educators of Central Phoenix is a non-denominational Christian group of active home educators (as defined by Arizona Law) who are joined together to support one another in the educational process.
Sacred Heart Home Educators

Phoenix

The Sacred Heart Home Educators (SHHE) is an association of Catholic families in the state of Arizona loyal to the Holy Father and the teaching authority of the Catholic Church.  It is dedicated to inspiring, guiding, and encouraging families striving to live authentic Catholic lives through home education. Sacred Heart Home Educators membership is open to all families currently homeschooling students Kindergarten thru 12th grade, or planning to begin homeschooling these grades in the next 6 months. Although the group is statewide, most of our members reside in the metropolitian Phoenix area.  We are an independent group of lay Catholics affiliated with the Diocese of Phoenix.
KaiPod Learning - Phoenix

Phoenix

KaiPod Learning provides in-person learning pods for online learners and homeschoolers. A KaiPod is a group of 8-10 online or homeschool learners who meet in person to work on their courses, collaborate, and socialize together with the support of a KaiPod Coach. Each child uses the curriculum that works best for them. KaiPod Learning is a supplement to your favorite self-paced online or homeschool curriculum! The KaiPod Learning Center is led by KaiPod Coaches, who are former teachers that love working one-on-one with students and small groups. Throughout the day, students participate in enrichment activities and socialization opportunities to nurture lifelong friendships with their peers. The KaiPod Learning program is fully flexible with 2 Day, 3 Day, and 5 Day plans available. Students can join their pod as much or as little as they'd like. There are no attendance requirements or tardy penalties.
Branches Central

Phoenix

Branches is a homeschool co-op community that offers academic and enrichment classes, sports activities and clubs, once a week to families in the metro Phoenix area.
Eastside Explorers

Scottsdale

Eastside Explorers is a nonprofit group that provides educational, social, networking and support opportunities for Arizona homeschooling families. We are completely volunteer-led and depend on our wonderful families working together to make each year successful!
Apex Homeschoolers Of Scottsdale & Fountain Hills

Scottsdale

Our group focus is providing an Apex homeschooling experience for our homeschooled kids and their families! Our group is not defined by religious beliefs but we do hold Patriotic and Traditional values and respect each family. We are a parent-volunteer led support group. We offer weekly/monthly events and activities and homeschooling support for homeschooling families all over the valley. Our main events are mostly in Scottsdale and Fountain Hills. We plan Field Trips all over the state. * Weekly Park Day * Monthly Activities * Field Trips * Co Op Classes * Holiday Parties * Parent Nights * Family Nights * End of Year Graduation Ceremony (kids in all grades)
CoYoTE

Scottsdale

CoYoTE stands for Christian Youth Together in Education. We are a group of families united by our mutual faith in Christ Jesus and our desire to educate our children in a way we believe He has called us. We envision co-op as a place where we can encourage and support each other in our homeschool endeavors. While CoYoTE classes usually include "core" subjects, they are meant to compliment education occurring within the home, not provide a "complete education".
Home Educators for Christ

Snowflake

HEFC is a Christ based Homeschool Group in the White Mountains of Arizona. Our purpose is: To support one another in our shared conviction to educate our children at home (this we believe to be our divine right through the teaching of our Lord Jesus Christ as proclaimed by Scripture) To edify and nurture relationships for our children and families through the sharing of current information and resources To be a voice and testimony in the community for homeschooling in a manner that honors Jesus Christ. To provide family socials, educational field trips, and group activities for our children.
Surprise Scholé Academy

Surprise

Scholé Groups are homeschooling co-ops that employ the content of a classical, Christian curriculum blended with restful learning or scholé
Home Educators of Surprise

Surprise/West Valley

We are a social homeschool group located in Surprise, Arizona. Our goal is to work together to offer a unique learning experience for homeschooling families in the Surprise area. HEofS is a Christian homeschool group; although, we're not affiliated with a particular denomination. We have been established since 1999 and provide many social events and activities including: weekly park day, field trips, family events, educational fairs, P.E., mom's night out, an active teen group and much more!
Christian Home Educators of Tucson - NW(CHET)

Tucson

CHET-NW is a Christian parent-directed, relationship-based homeschool support group. We're a social group designed to offer fellowship, to encourage and equip one another in effectively raising, developing, and teaching our children. We join together for park days, family picnics, family nights out, moms night out, individual set up play groups, teen events, and prayer and personal support. We are able to connect through our member forums which are used daily for  support, homeschool ideas, event planning, curriculum questions and ideas, CHET-NW  activities ,etc. Most of our homeschool activities are held in the Northwest Tucson, Marana and Oro Valley areas
Holy Family Home Educators - Arizona

Tucson

Holy Family Home Educators (HFHE) is a gathering of Catholic families who homeschool or who support the principles of homeschooling from Tucson and the surrounding communities. Offers park days, field trips, co-op, special Masses and more.
Christian Home Educators of Tucson - SE(CHET)

Tucson

Christian Home Educators of Tucson-Southeast (CHET-SE) is first and foremost an organization of Christians offering fellowship to encourage and equip one another in effectively training our children. Student Connections:

Fellowship Fridays - We offer a weekly opportunity for family fellowship time at the park.
P.E. - Our weekly program for ages 4 up through grade 12 at the park is run by parent volunteer coaches.
Elementary Playgroup - K-2nd graders & their families meet twice a month at alternating parks to show others the love of Jesus through learning, games, and free play
3rd-5th Grade Service Club - 3rd-5th graders and their families meet monthly to combine service projects with fun connecting time.
Field Trips - Educational field trips around Tucson and surrounding areas are coordinated through the year.
K-5th Holiday Parties - Special holiday parties are planned for Valentine's Day & Christmas.
Youth (grades 6-12) - Class representatives and elected officers plan activities for CHET-SE youth on a monthly basis. These activities include various parties, game nights, and service opportunities.
Middle School Girls "All God's Girls" (grades 6-8) - Monthly social activities  planned to foster relationships among girls ages 11-14.
Middle School Boys (grades 6-8) - Monthly social activities are planned to foster relationships among boys ages 11-14.
High School Girls "Forever God's Girls" (grades 9-12) - Monthly social activities  planned to foster relationships among high school age girls.
High School Boys (grades 9-12) - Monthly social activities are planned to foster relationships among high school age boys.

Facilitate Member Connections:

New Member Mentoring - Our Member Connections coordinator is available to help new members make connections.
Moms' Night Out - Moms meet once a month at different locations/restaurants for an evening of fun and fellowship.
Family Activities - CHET-SE offers a variety of activities for the whole family, including a Family Picnic, Old-Fashioned Family Social, Water Day, and PE Kick Off.
Member Care - This ministry provides an opportunity to bless our fellow CHET-SE families with a meal or other assistance during a significant life event such as illness or the birth of a baby.  Member Care Information
Renew & Refresh Tea - At this annual half day retreat, moms are treated to a time of tea, fellowship, and spiritual encouragement.
Secret Sister - Encourage your assigned secret sister through notes or small gifts, all the while keeping your identity hidden until the end-of-year reveal party.

Homeschooling Parent Services:

Library - A large assortment of homeschooling materials can be checked out at the park. A list of books can be found on the member portion of this website.
Used Curriculum & Craft Fair - CHET-SE organizes and hosts a one-day fair in June where members and non-members can sell and purchase used curriculum and other items.
God's World News Magazine - A CHET-SE member coordinates the distribution of GWN, a magazine that "delivers ready–made opportunities to practice critical thinking in the context of academic-real world-subjects."
Grand Canyon University Alpha Program for dual credit
Blessing Table - At this informal exchange under the park ramada on Fellowship Fridays, members bring any yard sale-type items they would like to get rid of and also take whatever they can use.
Standardized Testing - In the spring, there is an opportunity for your children grades 3 and up to participate in the Iowa Test of Basic Skills.
Discounts - Some businesses in Tucson offer discounts to homeschoolers who show a current CHET-SE membership card.

Academic Activities:

Spelling Bee - In January, CHET-SE hosts a city-wide homeschooling bee which funnels into the county, state, and national Scripps competition.
Geography Bee - A geography bee is held in November for children in the 8th grade or below.
Geography Fair - Families present and display what they have learned about various countries.
Youth Seminar - An annual career day held in March features guest speakers and demonstrations to give students exposure to a wide variety of career and future options.
Youth Community Service - Students plan monthly opportunities to assist various organizations and individuals.
Yearbook - A parent coordinator, with the assistance of student and parent photographers, creates a pictorial record of the CHET-SE year.
Graduations (Kindergarten, Jr. High, & Sr. High) - Academic milestones of completing Kindergarten, Jr. High, and Sr. High are marked with special graduation ceremonies.
Talent Show - Students are offered an opportunity to share their gifts & talents.
Homeschool Educators of Yuma (HEY)

Yuma

Homeschool Educators of Yuma (HEY) was founded for the benefit of Yuma's Christian homeschool community to inform of relevant laws and opportunities; to support in a more rounded education through organized group activities and events otherwise hard to provide in a single-family setting; and to encourage all in ways of fellowship, community, and prayer.