There are some times when some homeschooling parents should decide to quit homeschooling.
We're used to cheerleading for homeschooling and supporting homeschoolers through temporary hard times. We're accustomed to supporting people who have short-term or medium-term misgivings about homeschooling, but their kids are really doing fine, and they're really doing fine.
But if we're really going to be "Homeschoolers Helping Homeschoolers," then we also have to provide support for homeschoolers who are making the decision to quit.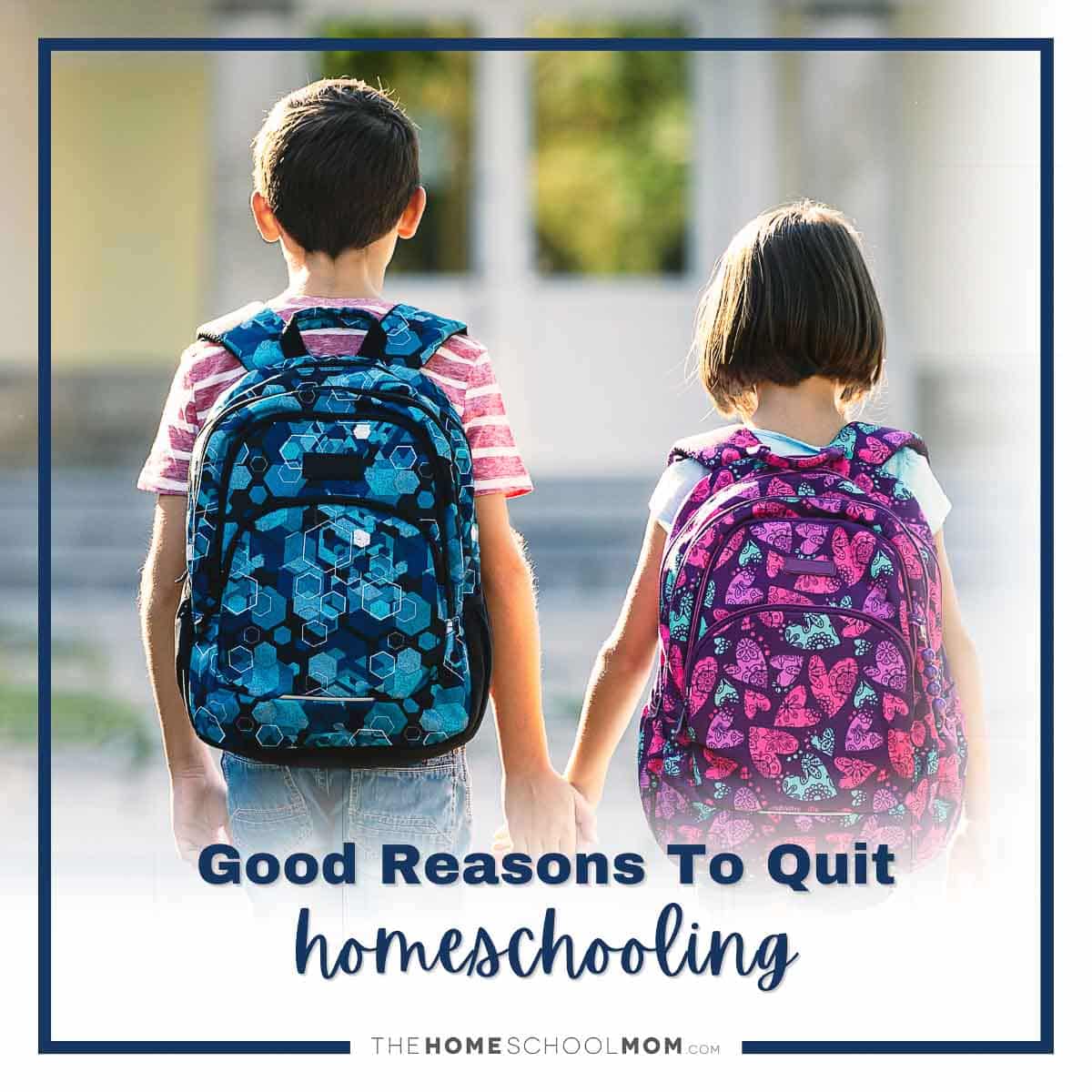 What are some good reasons to quit homeschooling?
The primary homeschooling parent has an untreated mental health problem, or a mental health problem that is not adequately responding to treatment.
The primary homeschooling parent abuses alcohol or drugs.
There is abuse or neglect of children in the home.
The primary homeschooling parent really doesn't want to do this any more.
The primary homeschooling parent feels the kids would truly be better off in school -- not just on a bad day (we all have those), but with a long view looking at the child's overall education and experiences.
The plan has always been for the kids to attend high school, and now it's time.
The family situation has changed due to a move, economic crisis, or relationship change, and homeschooling adds too much stress to the new dynamic.
Homeschoolers in these situations should be supported in making decisions not to homeschool. There can be exceptions—such as someone with a mental health problem who has incredible family support, oversight, and resources—or someone who doesn't want to do this any more—but who can make it work long enough to keep children out of a school situation that is even more negative.
But in general, sometimes the decision not to homeschool is something homeschoolers need to acknowledge as sometimes positive for a family.
What can you say?
"You feel your kids will be better off in school. Sounds like you have made a good decision for this situation."
"You're wiped out by homeschooling, and you feel you will be better off if the kids are in school. Sounds like you have made a good decision for this situation."
"Things have changed for you, and you don't feel homeschooling is best any more."
"Wow—high school is here already. You reached your goal to homeschool through middle school!"
Then, if you are close enough as a friend or family member, provide support during the time the homeschooling parent is enrolling the children and transitioning them from homeschooling to school. Families might need help understanding what it will be like when their kids return to public school after homeschooling, or how to transfer homeschool credits into public high school.
And of course, cases of child abuse or neglect, regardless of whether the abuse is of school children or homeschooled children, and regardless of whether it occurs in schools or homes, should be reported.
There are times to look past the general benefits of homeschooling and the reasons why most of us end up glad we didn't quit homeschooling. Homeschooling through high school is not every homeschooling family's goal.
And homeschooling does not prevent serious, real life problems that can occur in any families, regardless of how the children are educated.
Homeschoolers who are helping homeschoolers are wise to remember that the most important thing is to have the best possible situation for each family rather than assuming it's always best to homeschool no matter what.