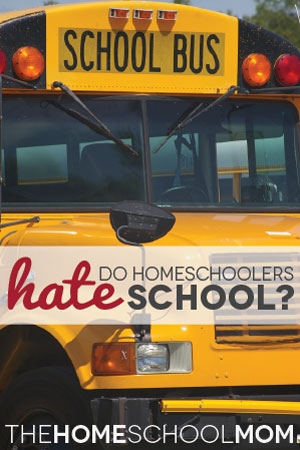 Do homeschooling parents hate public schools?
I run across this assumption on the internets here and there. Commenters or bloggers or journalists or politicians will respond to a homeschooling parent based on the assumption that all homeschoolers are anti-school.
Did you know that homeschoolers actually have a variety of opinions on this question?
Truthfully, some homeschoolers are anti-school.
And truthfully, some aren't.
There are the homeschooling parents who think school as we know it is a universally bad idea. They will never be convinced that having kids learn in the institutional environment of today's public schools is a good thing.
And then there are homeschooling parents who are educating one or more kids at home while at the same time one or more of their kids is enrolled in school.
And there are homeschooling parents who homeschool their kids K-8, while their teenagers go on to successfully attend public high school -- just as they planned all along.
And there are homeschooling parents where one parent is homeschooling their own children while the other works as a public school teacher in a job he or she loves and believes is vital.
And there are homeschooling parents whose children move in and out of school over the years as their personal needs and family needs change.
And these examples are just from among my own homeschooling friends and acquaintances.
Sure, some homeschoolers are ideologically opposed to public school. It might be compulsory attendance that bothers them, since it means the government is actually compelling children to spend most of their waking hours over more than twelve years in a government institution. It sounds much creepier when you put it that way.
Or it might be the results of the schools that creates opposition to public school among some homeschoolers. They aren't impressed with the level of education achieved among some students at some schools.
Or it might be some aspect of school reform that homeschooling parents are concerned about. Contrary to Secretary of Education Arne Duncan's tone deaf assertion that "white suburban moms" are angry that their kids "aren't as brilliant as they thought they were," these homeschooling parents are actually like many school children's parents: opposed to increasing standardization of  public education, as if kids are some kind of identical widgets who can be processed factory-style to become identical end products serving as "human capital" for the U.S.
But many homeschooling parents think that the ideal of school is a fine one, that our system of public education provides important opportunities in our democracy. They may support or oppose specific aspects of public schooling or education reforms, but they actually are quite supportive of the concept of public school.
Where does all this "support" and "opposition" for public education spring from within homeschoolers? In some cases, it's political or religious or economic in nature, just like among non-homeschoolers. Some people have opposed compulsory attendance since the day it was instituted, on the grounds that it violates parental rights, and some homeschoolers continue that line of thought today.
Some have had personal experiences with schools that have made them glad their mostly-homeschooled children will attend a public high school or have that special kindergarten teacher as part of their educational career.
Others have had experiences with public school -- either personally or with their children -- which have shaken their faith in the system. Many even worked as school teachers or volunteered extensively in the schools before feeling they could not justify continued support of things as they are.
But monolithically anti-school? Nope.
It's frankly hard to get homeschoolers to be monolithic about much. You think we are when you view us from outside, but from in here, we can't even pick a math curriculum that works for more than one child in our own family -- how are all of us going to have a single universal opinion about the whole of public school?
We are actually diverse in our reasons for homeschooling and in our opinions about the more predominant player at the education table -- public school. Some love it, some hate it, some think it is necessary even if it doesn't work as well as it might.
And some homeschoolers even think if communities could allow themselves to be influenced by the tenets of independent home education, society would find a truly new and effective type of public education -- available to all, not compulsory, but too valuable to pass up, and still in need of many great teachers and mentors to make it work.
I hear it described most commonly by homeschoolers as working "like a library," where people aren't told what to read or learn, but are provided with resources and skilled people who guide learning and bring expertise. There are a lot of homeschoolers who would support a public education along those lines, even as many non-homeschoolers are assuming they are all simply selfish or isolationist or not interested in helping children beyond their own doorstep.
True, most homeschoolers recognize the political unlikelihood -- okay, near impossibility -- of such a model in today's climate of accountability and testing craziness, which does leave those homeschoolers with difficult questions: Am I anti-school? Or do I just see such a different approach to education that I can no longer support school the way it is today, given what I have learned as a homeschooling parent?
One thing I'll say about the act of homeschooling. Once you've done it, you realize there are different ways of thinking about even the biggest "givens" you think you know. When basically mainstream folks homeschool, even they begin to look at their own default positions with a bit more skepticism.
Homeschoolers as knee-jerk anti-school zealots? Yes. No. Maybe. Sometimes. Of course not.
Homeschoolers come from all walks of life, all parts of political, economic, and religious spectrums, and their opinions on public education reflect that diversity.
I realize this doesn't fit into what people know about homeschoolers, but hey, learning to see beyond stereotypes is a big part of. . . becoming educated.