Why you need homeschool records
You may need homeschool records for:
Legal requirements. Find out your state requirements for homeschooling. You may need to keep specific records to show you are in compliance with the law.
School enrollment. If your child needs to transition from homeschool to public school (or private school), you may be asked for records to help with grade placement.
Educator discounts. "Homeschool paperwork" or your homeschool org's ID card might qualify you for a discount at a teacher supply store, bookstore, or the local science museum. As an educator, you might even qualify to borrow more than the usual number of library books or to renew books for an extra period of time.
Memory keeping. Homeschool record keeping may also satisfy a parent's future sentimentality. While flipping through old attendance logs (required in a few states) may not have much meaning (our homeschooled kids were always "present!"), looking through photos of field trips and viewing samples of completed lessons may some day stir good memories of time spent helping your children learn.
Assessments. Having homeschool records, especially those that portray what a child has read, learned and done, can help you reflect on the education you are providing for your children. "Have we done enough?" is a question that can often be answered by looking through a homeschool portfolio or tracking through homeschool records. Homeschoolers may need these same records to meet legal requirements.
High school credit transfer. Enrolling a homeschooled teen in public high school has special considerations. In lower grades, children are often placed in a grade with their age mates, but high school students transferring homeschool credits to public high school may find the process to be difficult or impossible. Records may help.
Drivers license requirement. You might be surprised to find that in some states, getting a drivers license before age 18 may require evidence of school attendance or legal homeschooling—and getting a discount on car insurance for a teen driver may require a school- or parent-generated report card!
Jobs, awards, and scholarship opportunities. When your child is applying for jobs, scholarships, or special opportunities, they may need information from your homeschool records, so they can complete forms or create a resume.
College admission. In some places, a teen who wants to dual enroll in community college classes during their high school years will need to submit paperwork showing they are legal homeschoolers. In some states, showing you are a legal homeschooler may make community college classes free or less expensive. Homeschool grads also need their high school transcripts to apply to four-year colleges and universities, even if they attended community college first.
Future proofing. At some point, our children will be living independently and making adult decisions. Every homeschooled graduate deserves a high school transcript—possibly the most important document in our homeschool records—to help them navigate through their life's decisions.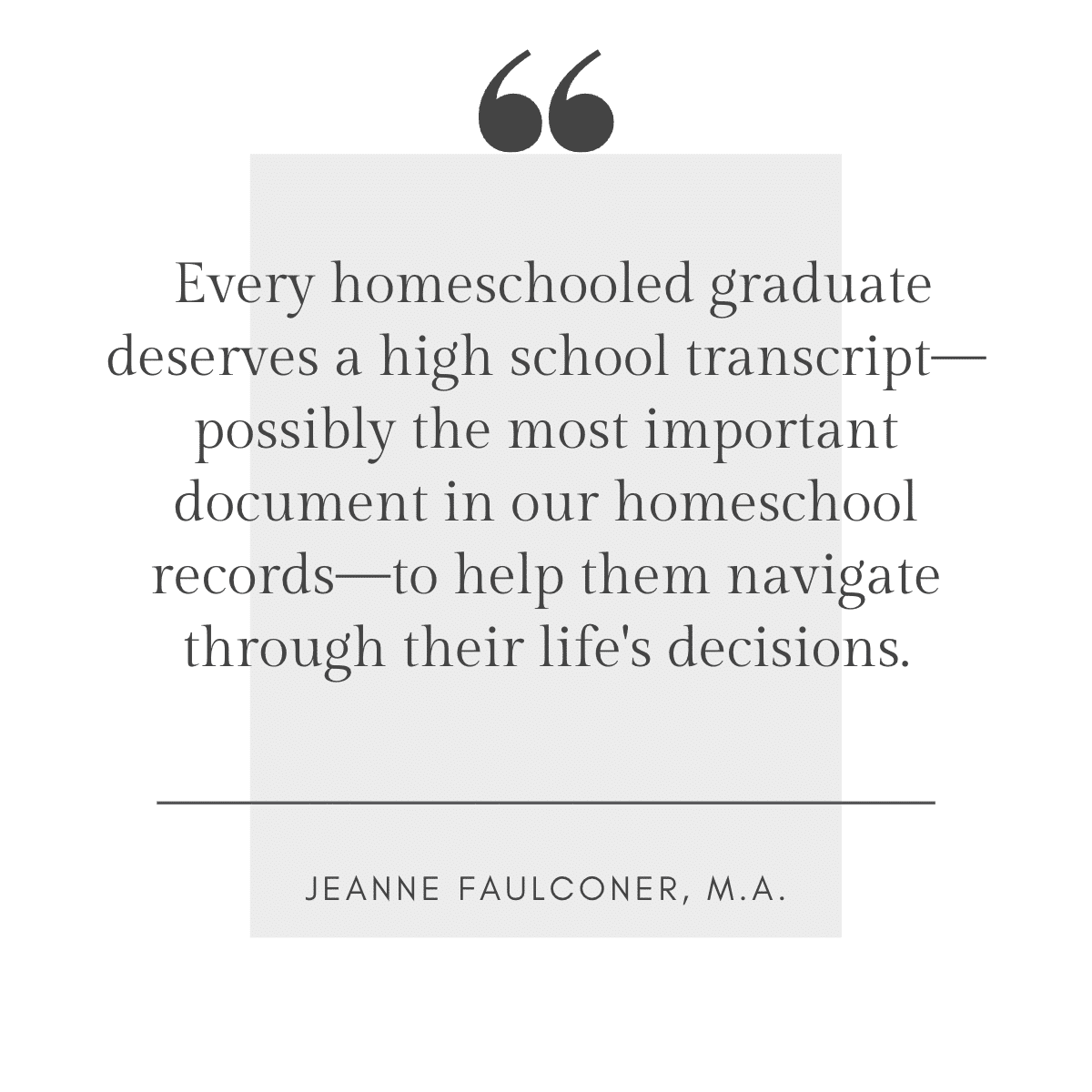 Although the idea of creating a transcript may seem intimidating, it's actually a simple process. We have answers to all of your homeschool transcript questions (and give you a free transcript spreadsheet template).
As homeschool parents, we think we'll remember details of our kids' learning, their curriculum, and their activities, but time has a way of dulling dates and details. Homeschool record keeping to the rescue!
What homeschool records you need
As we've explained, each state in the United States has unique requirements for homeschool records. Families who homeschool through a charter school or parent partnership—or who receive funding for homeschooling—may be subject to additional or different requirements. (See homeschool hybrids to learn more).
Depending on where you live and your specific approach, you may be required to submit and/or keep on file any of the following records:
copy of notice of intent to homeschool or other paperwork that initiates homeschooling
paperwork indicating withdrawal from public school
evidence of "umbrella school" enrollment
attendance record
homeschool hours log
names/titles of curricula; lessons completed
names/titles of supplementary resources
subjects/courses completed
grades
report cards
annual test scores
annual assessments such as evaluation letters, progress reports, or supervising teacher reports
Check the above list of possible requirements against your state's actual homeschool requirements.
In your files (paper, on your computer, or both), keep your own copy of any required homeschool records you submit to education administrators. In some states, homeschoolers also keep proof of submission of these records, such as delivery receipts or sent emails. That helps if your document goes astray in a busy school administrator's office.
(Some states require parents to submit paperwork to the school division where they live; some states require parents to submit paperwork to their state education department; some states do not have required paperwork).
Don't over-comply with homeschool requirements. If homeschoolers in your state don't need attendance records or hours logs, you don't need to track or create those homeschool records or submit them to anyone.
In fact, over-compliance with homeschool laws could create a problem if some homeschoolers submit "extra" and incidentally raise expectations for all homeschoolers.
As for awarding grades or creating report cards with A, B, C, D or F, in most states (but maybe not yours, so check!), those are among the school customs homeschoolers don't have to follow at least until high school.
Some homeschoolers in some states must participate in periodic assessment or evaluation meetings with a teacher, evaluator, or administrator. Ask the person you will meet with to provide guidelines for what they want to see or hear about during assessment meetings. Then you'll know what records to keep for those assessments.
What to keep for homeschool portfolios
A homeschool portfolio is just the fancy name for a collection of materials that show a child's or teen's learning and educational activities. Some homeschoolers create and share a physical or digital portfolio as part of their homeschool record keeping that is reviewed during homeschool assessments.
A physical portfolio might be arranged in a notebook, file folders, or a special box. A digital portfolio might consist of computer files or reside on an online app, platform or website.
Assessment meetings and homeschool portfolios may be enhanced by keeping:
a book list
a field trip list
a documentary & film list
a projects list
an experiments list
work samples
original product (writing, research, project documentation, art work, music recordings, etc.)
photos, screen shots, or videos of activities or original work
video or audio recordings of skills that have been mastered
Portfolios are useful in some college and job applications, too. For example, a student who wants to major in art may have an art portfolio to show their technique and the scope of their work.
Homeschooled students who are preparing portfolios for college admission should research best practices for submitting portfolios in their field.
Portfolios are especially good record keeping options for unschooling families and those using project-based learning. Portfolios capture learning that happened rather than counting up how a student completed planned lessons in a curriculum.
Families who don't use a "curriculum-and-assignments" approach to homeschooling may wonder how to meet certain requirements. Ask long-term unschoolers in your state or community how they keep records to show their homeschooling is legal while creating a rich education for their kids.
What to keep for high school homeschool records
Additional homeschool records are needed for the high school years. While this task can feel overwhelming, remember that you are simply trying to keep up with information that will tell the story of your child's high school years.
High schoolers who intend to go to college, apply for scholarships, start a business, or apply for jobs may need records of:
grades (most common) or narrative assessments (not accepted by most colleges and universities but welcome at some niche institutions)
GPA (a calculated Grade Point Average for high school credits)
PSAT, ACT, SAT, AP, or CLEP test results, if those tests are taken (not necessarily required; do your research)
notes about high school learning

to help parents generate course/credit descriptions (required by some colleges)
to help parents create high school transcripts

classes taken online, at homeschool co-ops and through community organizations
classes taken at community college
work with tutors, mentors and subject area experts
outside evidence of a homeschooler's college readiness

high school teachers' and mentors' contact information & letters of recommendation
volunteer records (organization, duties, hours, supervisor's name)
awards and achievements
sports and activities
employment and entrepreneurship experience

professional documentation of learning disabilities resulting in need for accommodations
high school transcripts, created by the homeschool parent

some states have specific high school credits required for homeschoolers
some states have no high school credits required for homeschoolers
universities, trade schools, and the military may have specific requirements for admission.
Keep notes of incidental learning that may be happening outside of any planned courses. Many parents find that over two or three high school years, a teen has learned enough in an area of interest to earn a credit even where there was no formal course. This often becomes obvious as a parent looks back over several years of notes.
Begin keeping notes (in a notebook! in a Google doc! thrown into a box!) about what your child is learning and the resources they are using, even if you have not decided on a specific or formal record keeping system or transcript template.
You'll thank us later!
Read more about how to homeschool high school.
Homeschool record keeping tools
Calendars
Don't overthink it. A paper calendar with checkmarks can record "attendance" (unless your state has specific forms you must use). You can also use hashmarks for each hour or a small numeral for the total number of educational hours each day. The events on your calendar provide a record of field trips. You can jot down mastery and content notes: "got long division!" "wrote good essay!" "discussed black holes."
Digital calendars can be used the same way.
THSM Free Record Keepers
TheHomeSchoolMom has two free planners that include homeschool record keeping features. Our Printable Homeschool Planner includes pages to record attendance, activities, and even unschooling records.
You can use our Digital Homeschool Planner to keep attendance records, track learning hours, create report cards, and calculate GPAs.