Jump to: Homeschool Co-ops | Homeschooling Classes & Academic Enrichment
Looking for someone to teach physics to your teen? Need a way to avoid teaching algebra? Want to enroll your Kindergartener in a co-op for social time? Homeschool classes and co-ops are a great way to spend time with other homeschoolers and skill-share with other homeschool parents.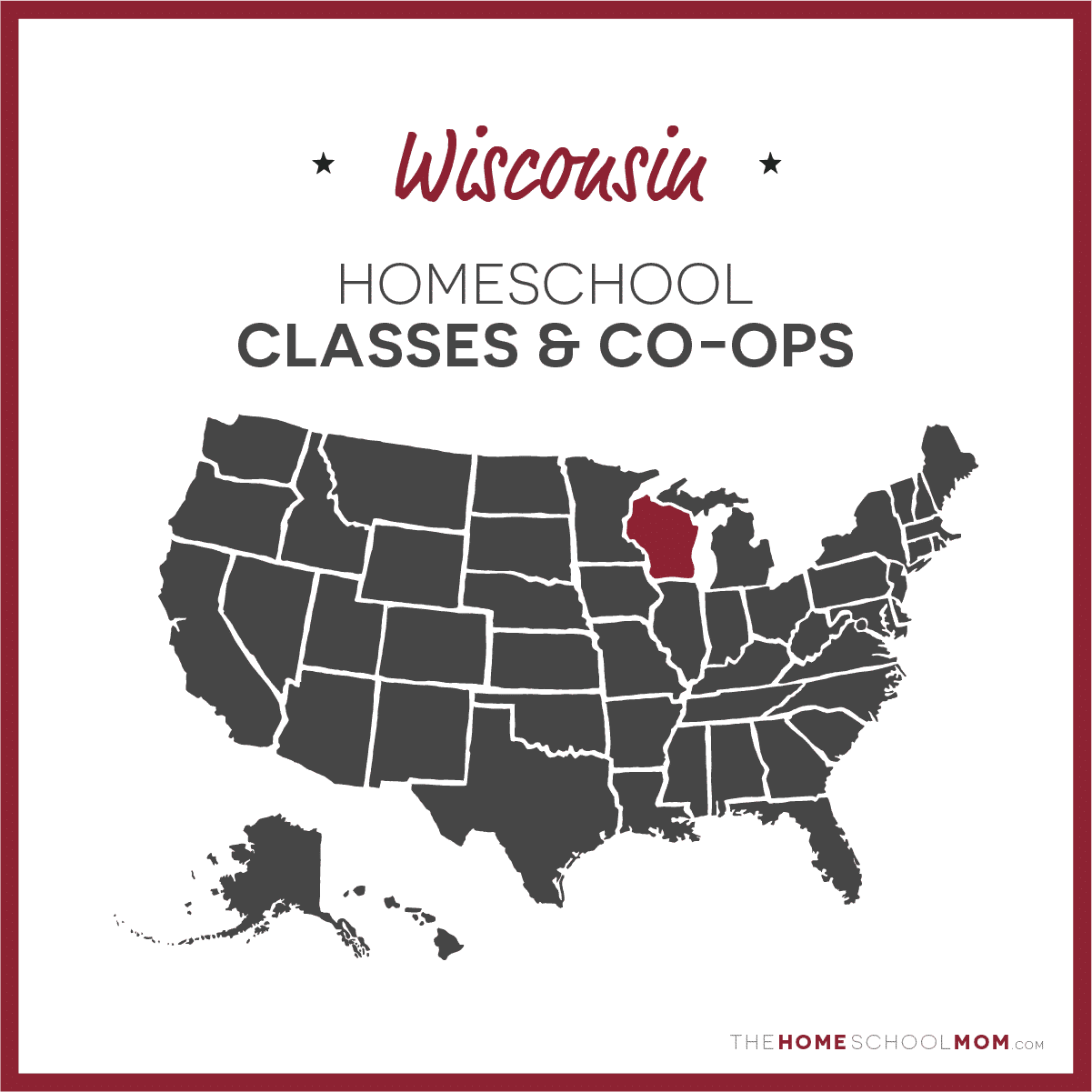 Submit a Local Resource
Our listing of Wisconsin co-ops and academic classes for homeschoolers is ordered alphabetically by city, with co-ops in the first section and all other academic resources below. If you would like to submit a Wisconsin co-op or academic resource, you may do so using the red button above.
Wisconsin Homeschooling Co-ops
Beyond the Books

Brookfield

Beyond the Books is a Christian Homeschool Enrichment program that provides supplemental classes to home educated students. We are located at Elmbrook Church, in Brookfield, Wisconsin. Classes are offered for children in Kindergarten through 12th-grades, vary by grade, and include Creative writing/Communications, Art, Gym, Literature studies, and book discussions. High School Classes include Literature/Composition, Leadership Skills, Debate, and Theater. Optional Afternoon classes for K-12th Grades include: French, Art, Gym, Science, and Algebra
Arise Shine Homeschool Community

Brown Deer

The mission of ASHC is to provide support for home schooling families in our church and the surrounding regional area. ASHC will provide educational opportunities and fellowship/encouragement/spiritual discipleship to families. Our classes are held on the second and fourth Friday of most months of the school year. We are operating on a 3 season schedule. (Fall, Winter, Spring) Each season of classes will be 5 weeks in duration. You can try us out for a season to see if you like what we have to offer or join us for the whole year!
SCOPE (St. Croix Valley Organization of Parent Educators)

Hudson

SCOPE is a Christian Homeschool Co-op for Grades 1-12 serving families throughout the St. Croix Valley and beyond. We are a group of homeschool families seeking to enhance our home education experience through the opportunities and support of a Christian cooperative. It is our desire to be a valuable asset to new and continuing home educators alike. Our weekly classes are on Mondays between 9:00 and 4:30 (the last set of classes run from 3:30-4:30).

SCOPE (St. Croix Valley Organization of Parent Educators) details
Lakes Area Christian Homeschool Co-op

Lake Geneva

Offering two 10-week, Thursday-only sessions, September-November (Dates TBA), and February-April (Dates TBA). All co-op days begin at 9 a.m. in the gym, with announcements, Pledge of Allegiance, worship, and devotions. Classes begin at 9:25 a.m. and end at 12 p.m. We close the day in the gym with final announcements and prayer. Optional lunch/fellowship time ends at 1:30 p.m.
Lodi Area Home School Organization

Lodi

The Lodi Area Home School Organization (LAHSO) started gathering in March of 1999, with just three families, who wanted to offer their children additional schooling experiences. Over the years, LAHSO has steadily grown and now serves families throughout the greater Madison area. LAHSO is a faith-based, non-denominational Co-op. We strive to honor God as we work together to enhance the at-home learning experience for our children. Our classes do not include Bible teaching; however we unapologetically love the Lord, and children will be exposed to Bible verses and stories. This may be from songs performed in music, learning history behind certain holidays or events, and/or prayer during meetings. The purpose of the Co-op is to offer support, encouragement, and resources to our members. Often times, we are blessed to see members form friendships that extend beyond our weekly Co-op meetings
FLAME Homeschool Co-op

Madison

Established in 1994, FLAME (Families Learning Art, Music, and Educational Skills, Inc.) is a family cooperative that offers classes and performance opportunities in art, music, and drama at four levels—early elementary, late elementary, middle school, and high school. Governed by a Parent Administrative Committee (PAC), FLAME is a faith-based, not-for-profit organization intended to enrich the home school or virtual school experience for participating families by helping students to develop their God-given gifts and talents in a God-honoring way.
S.T.E.P. Homeschool Cooperative

Shawano

Homeschooled 8th graders + high school level students gather once a week for academic core and elective classes as well as social opportunities that enrich the lives of our teens and families. Parents, students, and tutors work cooperatively to achieve a supportive learning environment to attain common goals.
STEP Homeschool Cooperative

Shawano

Bringing together homeschool families for the high school journey!
Wisconsin Homeschooling Classes & Academic Enrichment
Sylvan Learning of Brookfield Wisconsin

Brookfield

Offering classes to small groups of homeschoolers at your site or ours. Classes include Robotics, Coding, and Math Edge. Will tailor the day, time and location to fit your group's needs.
Beyond the Books

Brookfield

Beyond the Books is a Christian Homeschool Enrichment program that provides supplemental classes to home educated students. We are located at Elmbrook Church, in Brookfield, Wisconsin. Classes are offered for children in Kindergarten through 12th-grades, vary by grade, and include Creative writing/Communications, Art, Gym, Literature studies, and book discussions. High School Classes include Literature/Composition, Leadership Skills, Debate, and Theater. Optional Afternoon classes for K-12th Grades include: French, Art, Gym, Science, and Algebra
Old World Wisconsin Workshops

Eagle

Return to Wisconsin of the late 19th century, when waves of immigrants came to America's heartland in search of a better life. See 1870s craftsmen at Crossroads Village. Visit the working Historic Farms. Learn about Artisan Handicrafts. Observe traditional Food Preparation Methods. Attend the One-Room Schoolhouse. Engage in Hands-on Activities. View Historic Breeds of Animals. Stroll historically accurate Heirloom Gardens. Offers themes field trips and homeschool days.
Consumer Credit Counseling

Fond du La, LaCrosse, Sheboygan, and West Bend

A nonprofit agency that was founded in 1912. They are certified budget and credit Counselors and Educators certified by the National Foundation of Credit Counselors (NFCC), Health and Urban Development (HUD, and accredited by the Council of Accreditation (COA) Currently teaching Financial Education to DVR clients in Northeastern Wisconsin and the LaCrosse area. This resource also teaches in the SAIL program in the Sheboygan Area Schools.
Daytime Academic Enrichment at Field Workshop

Greendale

Field Workshop offers in-person, daytime academic enrichment for homeschoolers and virtual school students. All classes are geared towards the non-traditional learner with hands on, multi-sensory activities, exciting topics, small class sizes with experienced educators and real world applications.
The Journey Homeschool Group

Hudson/River Falls

We are a group of Christian homeschool parents seeking to enhance our home education through the opportunities and support of a local Christian Cooperative. The Journey Homeschool Group offers a variety of academic and enrichment classes from PreK - 12th Grade. We serve the Hudson/River Falls Wisconsin and St. Croix Valley area. We currently have 75 families/150 students and are growing. Elementary classes meet for in-person classes 3x/month, and Middles School and High School students meet 4x/mo. For more information please visit our website.
KAC Math Tutoring

Janesville/Madison Area/Skype

Professional math tutor, with over 15 years experience working with students of all levels. Offering private one-on-one or group math tutoring from grade school age to college. Tutor holds bachelor's degree in Mathematics and Psychology, has helped many students understand mathematical concepts, boost confidence and reach their academic goals. Schedule is flexible, reasonable rates, and offering summer tutoring.
Liberty Liberal Arts Academy

Lake Geneva

Providing a College Preparatory Liberal Arts Education which is Perfect for child Actors, Models, Musicians, Dancers & Athletes. Our curriculum is individually designed for your Student from 1st grade through 12th grade.
Kids' Connection Therapy Services

Madison

Workshops and Occupational Therapy support services for Home Schooling Families. Individualized treatment to coordinate with and enhance home educational goals and needs of physically, cognitively, or learning challenged students. Support for adoptive families as well.
The Philomathy School: Math, Rhythm, & Movement Classes

Madison

Philomathy is a real word! It means a Love of Learning, and instilling philomathy is central to what I want to do for kids and people. My specialty is in math education, dance, and skills of self-management, and my approach is philomathic and informed by studies of occupational therapy and neuroplasticity. When I work with students on any skills, students getting satisfaction out of the learning, while finding some easiness in it, is paramount to my goals. ​ So, is this a school or a tutoring service? ...It's both. And both have a modest home on Monona Drive or can be traveling services at this stage in the School's development. I offer a schedule of classes for homeschoolers and contract with local charters and organizations for onsite sessions. This model lends itself to some desirable flexibility, and we'll see where it takes us. Whether its branches always proliferate under a canopy of freelance teaching and learning or it becomes rooted in something more permanent is yet to be realized. Body-based mixed-age math, rhythm, and movement class for grades 1-6! Class limit of 6-8 students, depending on grade level. Materials/activities are customized to the group. Grades 1-6 courses typically includes math concepts: base-10 system, subitizing to 20, 100, or 1000, addition, subtraction, multiplication, division, mental math, order of operations, fractions, decimals, percents, integers. Students may enroll in multiple classes per week if desired. The classes are adapted from prior experiences as a math teacher, a dance teacher, and a trained Montessori assistant. They are also inspired by the growing evidence that movement, rhythm, and sensory integration are inexorably linked to learning, development, and interventions. Classes use sensory materials, music, clapping rhythms, simple dance moves, martial arts, yoga, balances, OT exercises, and fine-motor activities as warms-ups, brain-builders, and brain breaks for a dynamic math learning experience. For more information, see www.philomathyschool.org.

The Philomathy School: Math, Rhythm, & Movement Classes details
Schlitz Audubon Nature Center Homeschool Program

Milwaukee

The Homeschool Program at the Schlitz Audubon Nature Center is a science and project based education program designed for students grades 2 to 8 (aged 7 to 14 years). Each program combines indoor and outdoor activities with a take home project at the end of every session and students are encouraged to interact with their instructor on this work. At the beginning of the next session, students will share their previous class project. The program is divided into 3 age groups: Junior Elementary 2/3 grade (7 - 9 years old) Senior Elementary 4/5 grade (10 - 11 years old) Secondary 6/8 grade (12 - 14 years old) Both elementary programs are a 2 year curriculum, while the secondary program is a 3 year curriculum. Because of this, your child is guaranteed to learn different science topics no matter what year they are in the program.
Coppins' Corner Literacy Development

Milwaukee

Coppins' Corner Literacy Development LLC helps students acquire and retain reading and math skills that promote academic excellence, encourage self-confidence and introduce reading and math strategies that foster a desire to learn and improve. These one-on-one learning sessions address the specific needs of students based on formal and informal assessments. Coppins' Corner uses a multi-sensory, systematic structured teaching approach to learning. This approach includes research-based learning strategies that teach students a systematic process for reading and mathematics. From the acquisition of phonics and comprehension to math facts and basic computation, the instructors implement a rigorous yet fulfilling curriculum that addresses learning needs that cause students to struggle and underachieve. Coppins' Corner supplements homeschooling instruction to ensure consistency, minimize confusion and frustration and get the best outcomes. This resource provides a school year and summer program. Coppins' Corner, LLC based in Milwaukee, WI is open to all elementary and middle school learners in the surrounding areas.
Daytime Academic Enrichment

Milwaukee

Field Workshop offers daytime academic enrichment for non-traditional learners of all ages. Register for a single class or a full day! Our a-la-carte enrichment offerings make it easy to supplement your homeschool programming. All classes are geared towards the non-traditional learner with hands on, multi-sensory activities, small class sizes with experienced educators, real world applications and affordable pricing.
Challenge Island Greater Milwaukee

Milwaukee/Waukesha

Challenge Island is an internationally acclaimed enrichment program that provides Cross-Curricular STEAM experiences to kids ages 4 to 14+. Inspired by a popular reality TV show, Challenge Island has kids dividing into tribes and taking on exciting creative and critical thinking challenges set on a wide array of thematic island destinations (like Hollywood Island, Time Machine Island, and Rainforest Island). Challenge Island does not have a building in which it conducts its programs, it is a mobile business that goes to the homeschoolers.
Children Nature Classics

Mount Pleasant/ Racine

Creativity, problem solving, critical thinking, compassion-Nature creates a unique sense of wonder for kids that no other environment can provide. The phenomena that occur naturally in backyards and parks everyday make kids ask questions about the earth and the life that it supports. Each class will include: group discussion, short nature walks, art & music activity, and stories. Class located at Parks and Recreation Building – 7330 Old Spring Street, Mount Pleasant
Nature's Classroom Institute

Mukwonago

Nature's Classroom Institute is the nation's premier environmental education program. We offer a fully customized, highly engaging 1,3,4 or 5 day experience that has direct positive impacts on community and academic performance. Our multi-disciplined, degreed educators integrate lessons with the curriculum of visiting groups. With thousands of classes and activities to choose from, we create unique and individualized experiences for each and every student and group leader.
Classical Conversations

Multiple Cities

Classical Conversations is a classical, christian homeschool community organization that plants thriving communities all over the world. Communities meet once a week in community for classes, accountability and fellowship. CC is growing quickly in Wisconsin - check it out!
The Brigade

Neenah

The Brigade is a local non-profit organization that works with children from 5th grade to 12th grade. Teaching kids by bringing in guest speakers along with many workshops. Workshops include cooking, glass fusing, wood working, welding, and many more. Offering a rifle range to teach kids the proper way to shoot with trained instructors and an archery range, also with trained instructors. There is a large gym for great activities and a rock climbing wall. This organization has been around for over 119 years and typically runs these programs at night. The homeschool program is currently operating during the day (1pm to 3pm on Thursdays). Opportunities for really fun and exciting workshops along with some field trips to local businesses...Plexus and Bergstrom Automotive are two businesses that we will be touring.
Greenhouse Nature School

North Freedom

Offering enrichment nature programs for children ages 3-8. Greenhouse Nature School can currently provide full-day care for children ages 3-6 in two-day per week programs. We are located in Sauk County and offer nearly 4 acres of gardens, walking trails, woods, meadow, and a fenced play area. We encourage kids to help create and improve their environment, providing high-quality garden and building tools for whatever projects they might invent, offering opportunities for important STEM learning and social skills. We also provide indoor space for art projects, music, and healthy meals (often from the garden), and have a lovely quiet room for reading and circle time. Vanya, the teacher and director, has more than 15 years' experience in early childhood education and has embraced nature education for the last seven. She loves the creativity and ingenuity children bring to their day and fosters more whenever she can.
Natural Learning Solutions

Onalaska

This academic enrichment resource is to help children and adults reach their full potential intellectually, academically and professionally, by improving reading, cognitive and listening skills. Much more than an academic tutor: these are research-based brain training programs proven effective in improving reading, memory, attention, and learning skills.
The Journey: A Homeschool Co-Op

River Falls

This co-op provides academic enrichment classes for grades PreK - 12th Grade.
Rockford Art Museum Homeschool Art Classes

rockford

Each year RAM offers 16 homeschool classes that are structured into 4 themed units of 4 classes each, and run September through May. One session of each 90-minute class is held Wednesdays for grades K–4 (9am-10:30am) & 5–8 (11am-12:30pm) & 2 hour sessions for high school students 9am-11am Thursday mornings.
Riveredge Nature Center

Saukville

Homeschool Ed-ventures Science Education classes at Riveredge Nature Center provide hands-on education that incorporate systems thinking and student-directed learning. Class topics include elements of ecology, biology, chemistry, and earth sciences. All encourage inquiry, exploration and problem solving. Classes and dates vary according to age group and are designed to accommodate a variety of learning styles. Please see our website and brochure for details. www.riveredge.us
Homeschool Ed-ventures at Riveredge Nature Center

Southeastern Wisconsin

Homeschool Ed-ventures is a hands-on science education program for homeschooled students that encourages inquiry, exploration, and problem-solving. For program dates and topics, please visit the website and click on Programs & Homeschool Ed-ventures.
Futura Language Professionals - Spanish at Your Homeschool Group

Southern Wisconsin

Futura Language Professionals brings Spanish to YOU! With a minimum of 6 students, an experienced Spanish instructors will come to your home or church to provide long-term language instruction. *Preschool-Middle School *Interactive, engaging curriculum *Affordable tuition Contact: Kris: 262-719-9332

Futura Language Professionals - Spanish at Your Homeschool Group details
UW-Green Bay Dual Enrollment Access Academy

Statewide

UW-Green Bay is working hard to develop college credit options for students who will not be attending face to face high school this fall. As a state leader in college credit options for high school students, we have developed a new program focused specifically on providing high demand, online courses that are only open to high school students. The UW-Green Bay Dual Enrollment Access Academy offers courses that can be taken during high school and can be transferred to all UW System schools and most private or out of state schools. Program Features: • Online modality allows for maximum flexibility in your students' schedules • Reduced tuition is half of regular online tuition and fees • Courses are available in a range of disciplines • Taught by UW-Green Bay instructors, students can jumpstart their college degree by transferring credits to all UW System schools and most out of state and private schools Please visit the Dual Enrollment Access Academy site at www.uwgb.edu/theacademy for program details.
Halquist Stone Company

Waukesha County/Milwaukee County

Free one hour tours for any home school family working on a rock/mineral unit. The tour guide is a retired teacher, geologist, and an active member with the Kettle Moraine Geological Society. Tours are offered in the Fall and Spring, every year, Monday through Friday mornings.
Salt and Light Speech and Debate Club

Wauwatosa

Training students to address life issues in a manner that glorifies God and engage the culture for Christ. We do this by using competitive speech and debate as the venue through which students learn to think critically, articulate winsomely and communicate graciously in a manner that pleases God.
Wisconsin Classical Conversations

Wisconsin Statewide

Classical Conversations is a community of families drawn together by their desire to educate their children classically at home with a Biblical worldview. Classes are available for children ages 4-12th grade. Following the classical model, children will participate in weekly presentations, memorization, science projects and fine arts. As they grow, added classes in grammar and writing are built in to this wonderful core curriculum. A full curriculum is available for children ready for grades 7-12.