Jump to: Homeschool Co-ops | Homeschooling Classes & Academic Enrichment
Looking for someone to teach physics to your teen? Need a way to avoid teaching algebra? Want to enroll your Kindergartener in a co-op for social time? Homeschool classes and co-ops are a great way to spend time with other homeschoolers and skill-share with other homeschool parents.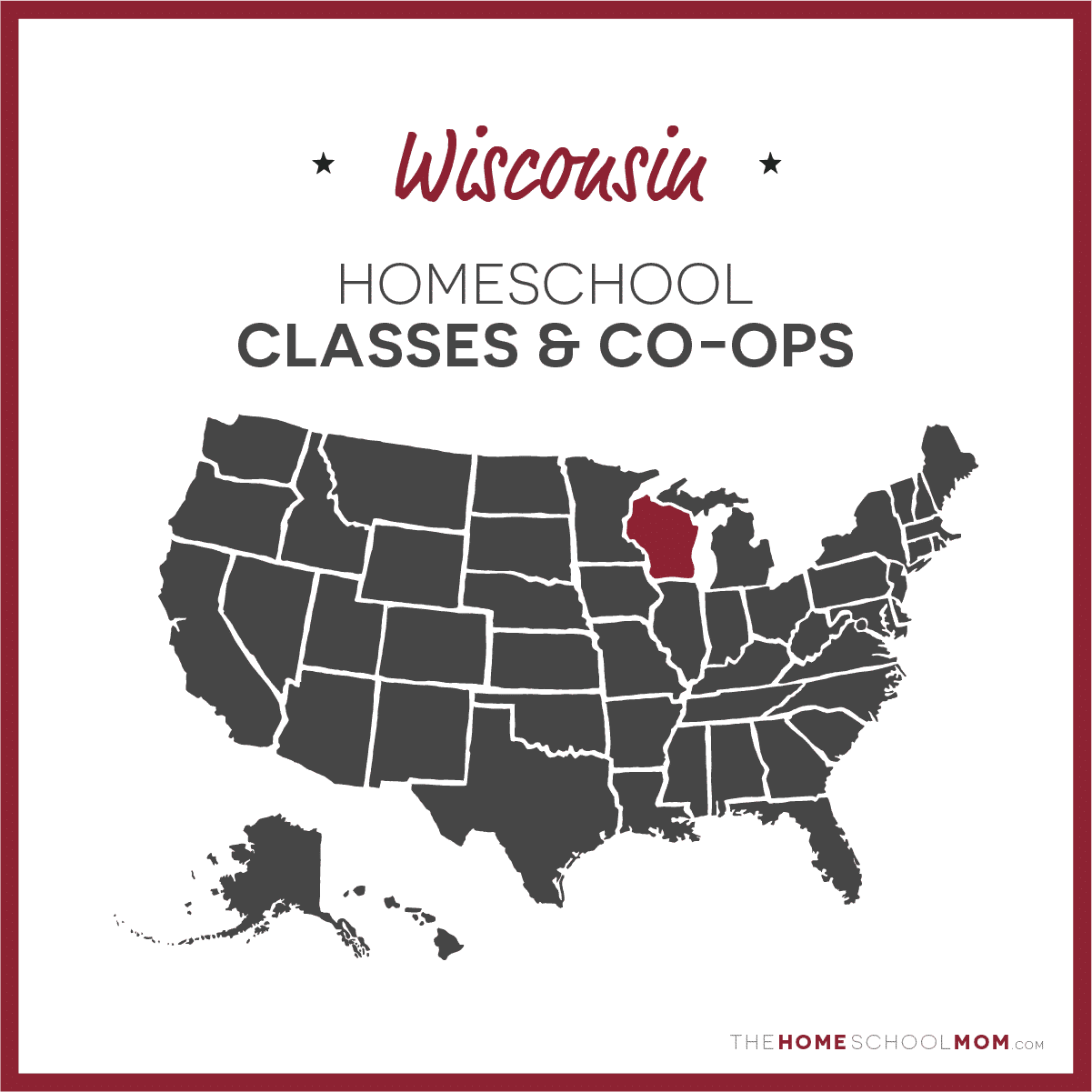 Submit a Local Resource
Our listing of Wisconsin co-ops and academic classes for homeschoolers is ordered alphabetically by city, with co-ops in the first section and all other academic resources below. If you would like to submit a Wisconsin co-op or academic resource, you may do so using the red button above.
Wisconsin Homeschooling Co-ops
Beyond the BooksBrookfield
Beyond the Books is a Christian Homeschool Enrichment program that provides supplemental classes to home educated students. We are located at Elmbrook Church, in Brookfield, Wisconsin. Classes are offered for children...
Brookfield Area Home EducatorsBrookfield
Brookfield Area Home Educators is a Christian homeschooling Co-op that meets weekly to provide classes for our kids and to encourage each other. We currently meet three Fridays a month during the school year from 9:30...
Arise Shine Homeschool CommunityBrown Deer
The mission of ASHC is to provide support for home schooling families in our church and the surrounding regional area. ASHC will provide educational opportunities and fellowship/encouragement/spiritual discipleship to...
SCOPE (St. Croix Valley Organization of Parent Educators)Hudson
SCOPE is a Christian Homeschool Co-op for Grades 1-12 serving families throughout the St. Croix Valley and beyond. We are a group of homeschool families seeking to enhance our home education experience through the opp...
Lakes Area Christian Homeschool Co-opLake Geneva
Offering two 10-week, Thursday-only sessions, September-November (Dates TBA), and February-April (Dates TBA). All co-op days begin at 9 a.m. in the gym, with announcements, Pledge of Allegiance, worship, and devotions...
FLAME Homeschool Co-opMadison
Established in 1994, FLAME (Families Learning Art, Music, and Educational Skills, Inc.) is a family cooperative that offers classes and performance opportunities in art, music, and drama at four levels—early elementar...
S.T.E.P. Homeschool CooperativeShawano
Homeschooled 8th graders + high school level students gather once a week for academic core and elective classes as well as social opportunities that enrich the lives of our teens and families. Parents, students, and t...
Wisconsin Homeschooling Classes & Academic Enrichment
Sylvan Learning of Brookfield WisconsinBrookfield
Offering classes to small groups of homeschoolers at your site or ours. Classes include Robotics, Coding, and Math Edge. Will tailor the day, time and location to fit your group's needs.
Beyond the BooksBrookfield
Beyond the Books is a Christian Homeschool Enrichment program that provides supplemental classes to home educated students. We are located at Elmbrook Church, in Brookfield, Wisconsin. Classes are offered for children...
Old World Wisconsin WorkshopsEagle
Return to Wisconsin of the late 19th century, when waves of immigrants came to America's heartland in search of a better life. See 1870s craftsmen at Crossroads Village. Visit the working Historic Farms. Learn about A...
Consumer Credit CounselingFond du La, LaCrosse, Sheboygan, and West Bend
A nonprofit agency that was founded in 1912. They are certified budget and credit Counselors and Educators certified by the National Foundation of Credit Counselors (NFCC), Health and Urban Development (HUD, and accre...
Science Classes for Middle and High SchoolGenesee Depot
This group meets in-person once a week for 27 weeks to help supplement a student's high school science learning at home. There are four different classes offered: physical science, biology, chemistry, and physics. Eac...
Daytime Academic Enrichment at Field WorkshopGreendale
Field Workshop offers in-person, daytime academic enrichment for homeschoolers and virtual school students. All classes are geared towards the non-traditional learner with hands on, multi-sensory activities, exciting ...
KAC Math TutoringJanesville/Madison Area/Skype
Professional math tutor, with over 15 years experience working with students of all levels. Offering private one-on-one or group math tutoring from grade school age to college. Tutor holds bachelor's degree in Mathema...
Liberty Liberal Arts AcademyLake Geneva
Providing a College Preparatory Liberal Arts Education which is Perfect for child Actors, Models, Musicians, Dancers & Athletes. Our curriculum is individually designed for your Student from 1st grade through 12th grade.
Auburn Reading CenterMadison
The goal of the center is to teach all students the skills they need to advance their reading abilities, give students the tools they need to be lifelong learners, and develop realistic solutions for families that are...
Kids' Connection Therapy ServicesMadison
Workshops and Occupational Therapy support services for Home Schooling Families. Individualized treatment to coordinate with and enhance home educational goals and needs of physically, cognitively, or learning challen...
The Philomathy School: Math, Rhythm, & Movement ClassesMadison
Philomathy is a real word! It means a Love of Learning, and instilling philomathy is central to what I want to do for kids and people. My specialty is in math education, dance, and skills of self-management, and my ap...
Schlitz Audubon Nature Center Homeschool ProgramMilwaukee
The Homeschool Program at the Schlitz Audubon Nature Center is a science and project based education program designed for students grades 2 to 8 (aged 7 to 14 years). Each program combines indoor and outdoor activitie...
Coppins' Corner Literacy DevelopmentMilwaukee
Coppins' Corner Literacy Development LLC helps students acquire and retain reading and math skills that promote academic excellence, encourage self-confidence and introduce reading and math strategies that foster a de...
Daytime Academic EnrichmentMilwaukee
Field Workshop offers daytime academic enrichment for non-traditional learners of all ages. Register for a single class or a full day! Our a-la-carte enrichment offerings make it easy to supplement your homeschool pro...
Challenge Island Greater MilwaukeeMilwaukee/Waukesha
Challenge Island is an internationally acclaimed enrichment program that provides Cross-Curricular STEAM experiences to kids ages 4 to 14+. Inspired by a popular reality TV show, Challenge Island has kids dividing int...
Children Nature ClassicsMount Pleasant/ Racine
Creativity, problem solving, critical thinking, compassion-Nature creates a unique sense of wonder for kids that no other environment can provide. The phenomena that occur naturally in backyards and parks everyday mak...
Nature's Classroom InstituteMukwonago
Nature's Classroom Institute is the nation's premier environmental education program. We offer a fully customized, highly engaging 1,3,4 or 5 day experience that has direct positive impacts on community and academic p...
The BrigadeNeenah
The Brigade is a local non-profit organization that works with children from 5th grade to 12th grade. Teaching kids by bringing in guest speakers along with many workshops. Workshops include cooking, glass fusing, woo...
Greenhouse Nature SchoolNorth Freedom
Offering enrichment nature programs for children ages 3-8. Greenhouse Nature School can currently provide full-day care for children ages 3-6 in two-day per week programs. We are located in Sauk County and offer nearl...
Natural Learning SolutionsOnalaska
This academic enrichment resource is to help children and adults reach their full potential intellectually, academically and professionally, by improving reading, cognitive and listening skills. Much more than an acad...
Rockford Art Museum Homeschool Art Classesrockford
Each year RAM offers 16 homeschool classes that are structured into 4 themed units of 4 classes each, and run September through May. One session of each 90-minute class is held Wednesdays for grades K–4 (9am-10:30am) ...
Riveredge Nature CenterSaukville
Homeschool Ed-ventures Science Education classes at Riveredge Nature Center provide hands-on education that incorporate systems thinking and student-directed learning. Class topics include elements of ecology, biology...
Homeschool Ed-ventures at Riveredge Nature CenterSoutheastern Wisconsin
Homeschool Ed-ventures is a hands-on science education program for homeschooled students that encourages inquiry, exploration, and problem-solving. For program dates and topics, please visit the website and click on P...
Futura Language Professionals - Spanish at Your Homeschool GroupSouthern Wisconsin
Futura Language Professionals brings Spanish to YOU! With a minimum of 6 students, an experienced Spanish instructors will come to your home or church to provide long-term language instruction. *Preschool-Middle Schoo...
UW-Green Bay Dual Enrollment Access AcademyStatewide
UW-Green Bay is working hard to develop college credit options for students who will not be attending face to face high school this fall. As a state leader in college credit options for high school students, we have d...
Halquist Stone CompanyWaukesha County/Milwaukee County
Free one hour tours for any home school family working on a rock/mineral unit. The tour guide is a retired teacher, geologist, and an active member with the Kettle Moraine Geological Society. Tours are offered in the ...
Salt and Light Speech and Debate ClubWauwatosa
Training students to address life issues in a manner that glorifies God and engage the culture for Christ. We do this by using competitive speech and debate as the venue through which students learn to think criticall...
Wisconsin Classical ConversationsWisconsin Statewide
Classical Conversations is a community of families drawn together by their desire to educate their children classically at home with a Biblical worldview. Classes are available for children ages 4-12th grade. Followin...
Go to...