Jump to: Homeschool Arts | Homeschool Sports
In addition to the opportunity to get out of the house and socialize, homeschool sports and arts programs can offer long-term benefits by developing characteristics like leadership, self-confidence, perserverance, and self-esteem. Many organizations and businesses have opportunities specifically for homeschoolers, while others invite homeschoolers to participate in their regular programs.
Not sure how to choose activity/activities for your children? Read how Rebecca narrows down the choice of extra-curricular activities.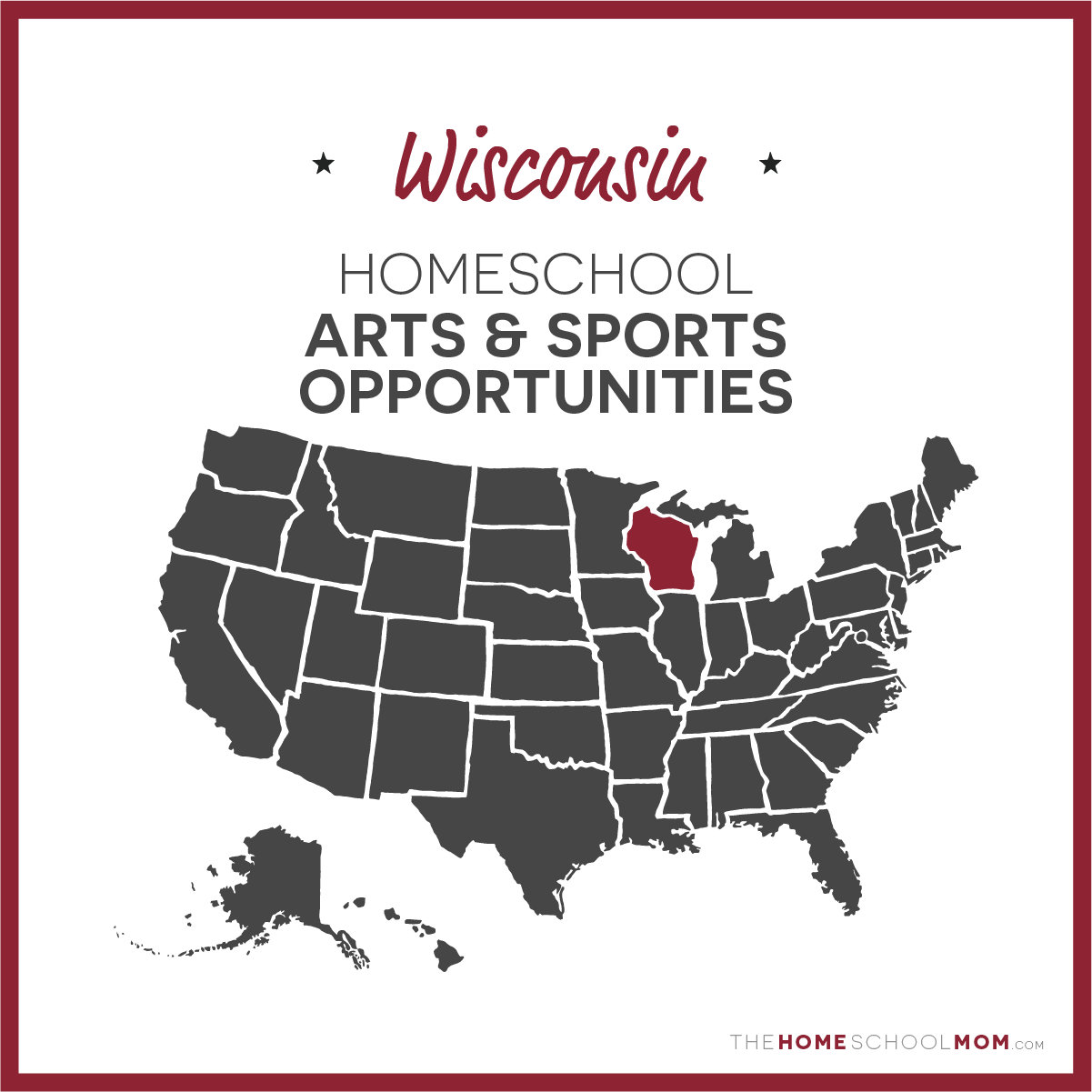 Submit a Local Resource
Our listing of Wisconsin list of homeschool arts and sports programs is ordered alphabetically by city, with arts in the first section and sports in the second section. If you would like to submit an Wisconsin arts or sports program, you may do so using the red button above.
Wisconsin Homeschool Arts Programs
Valley Troubadours Homeschool Music ProgramAppleton
Created for homeschool students to explore music in a welcoming instrumental or choral setting, at an affordable price. With 3 choirs, 3 bands, tin whistle and guitar classes, Valley Troubadours Homeschool Music Progr...
Art Classes at SLICES OF LIFE by G ButeynBrandon
A 30-year veteran Art Teacher offering group art classes to adults, children, and home school groups.
Hulbert PianoBrookfield
Hulbert Piano is seeking students of all ages who are ready to learn the piano and understand the benefits of playing music with help from instructors with music degrees and finely tuned pianos.
Brio Studios- Private Music LessonsBrookfield
Brio Studios Music Program offers private lessons in a wide variety of instruments, group classes, Brio Band, recording classes, and so much more! Brio Studios has lessons Monday-Saturday and gives students the opport...
Guitar Center - Guitar and Piano Lesson - BrookfieldBrookfield
Guitar Center, located at Bluemound Rd Suite A, Brookfield, is offering guitar and piano lessons. Please call (262) 797-6448 and ask for Austin, lessons lead, or Brandon (Store Manager) for music lessons with Dawn Fer...
CYT ChicagoChicago, Aurora, DuPage, Kane, Kenosha (WI), Lake, McHenry, Milwaukee (WI) Metro and Rockford Metro areas.
Christian Youth Theater (CYT) offers theater arts classes for children as an after-school activity. Each local program conducts three ten-week sessions throughout the school year, teaching drama, voice, dance and a br...
AR Workshop Chippewa FallsChippewa Falls
AR Workshop Chippewa Falls offers homeschoolers arts and crafts sessions to make personalized home decor items including wood signs, canvas wall hangings, aprons, pillow covers, etc. Classes can be arranged as a priva...
Christian Eggert Violins - Orchestra Instruments and RentalsDuluth
Violin, Viola, Cello and Bass: Established in Duluth MN in 1994 and Fargo ND in 2003. We are a full service shop serving the upper Midwest and across the country (Schools, Beginners and Professional Players). We proud...
Zunker Music StudioEau Claire
Lexi Zunker specializes in the early beginning through older adult piano students. She firmly believes in adapting her teaching skills to each student's specific learning style. Lexi's piano and flute lessons are fun ...
Friendship Art StudioFox Point
Friendship Art Studio offers a variety of opportunities from workshops/classes to open studio throughout the week. We are open to all ages and abilities. Artists will be guided by professional facilitators and have ac...
Piano Lessons with Christine WeegeGermantown / Menomonee Falls Area
Christine Weege, piano instructor is accepting new students at her home studio. Lessons are available in the morning and early afternoon, Monday through Thursday. She enjoys teaching students from 5-21 years of age, a...
The Dance Company's Education programsGreen Bay
The Dance Company strives to enlighten and engage both current and future audiences through educational programs and events. Offering a behind-the-scenes experience for scouting programs, home school groups and other ...
Artisan and Business Center Homeschool Art ProgramGreen Bay
The NWTC Artisan Center offers a semester-long Homeschool Art Program every fall and spring. The Program is built for students ages 5-18 in a variety of media.
The Schauer School of the ArtsHartford
The Schauer School of the Arts offers year-round classes in dance, music, theater, and visual arts, for students of all ages, levels, and visions.
Jason Busniewski, Violin, Viola, and Fiddle TeacherHartland
Jason brings a multicultural approach to string teaching, drawing on traditions from the USA and Ireland to Egypt and India and focusing on building musicianship through understanding acoustics, physiology, and music ...
Violin Academy:The Curry MethodKenosha, Wi
The Curry Method: Many years of teaching Vilin and violate children and adults have brought me a unique understanding of what I do. Simply put, I've learned that a special process evolves between my students an me. I ...
David Adler Arts CenterLibertyville
The Adler Arts Center is Libertyville's historic cultural hub. Serving the Northern Suburbs of Chicago for over 30 years, the Adler Center provides group art and music classes, private art and music instruction, famil...
Kite Suzuki Piano of MadisonMadison
Homeschool Classes: Thursday, 1:00-3:30pm: Group Piano Class 1:00-1:30 Private 1:30-2:00 Private 2:00-2:30 Group session (focuses on reading, theory, and rhythmic skills in the form of games and fun activities) 2:30-3...
Overture OnStage Field Trip PerformancesMadison
From classic books brought to life through puppets to an internationally-renowned Latin band and an interactive dance quartet to bi-lingual hip-hop performance and esteemed lecturers, OnStage field trip performance se...
Ina Strings Studio Violin & Viola LessonsMadison
Ina maintains a studio in Madison for violin and viola students of all ages and skill levels. Individual lessons and group classes are available weekly. Lessons are geared for each student's age, ability, and goals.
Private Acrylic & Watercolor Painting lessonsMadison
Rachel Christopoulos is a professional artist in the West Madison area. She has a passion for teaching painting and connecting with students who are creatively inclined! Learn how to compose and paint beautiful master...
La La SewMadison
Homeschool Beginner Sewing Series: In this three-part workshop your home learner will learn how to safely use a sewing machine, straight stitch, and turn corners. We'll build on those skills to make a complete project...
Jessica's Art StudioMadison
Jessica's Art Studio offers In-Home Art Sessions, On-site Home School Art Sessions, Group Art Sessions, Birthday Parties, and Seasonal Art Workshops. Always accepting new students of any age, or ability! Art is for ev...
The Philomathy School: Math, Rhythm, & Movement ClassesMadison
Philomathy is a real word! It means a Love of Learning, and instilling philomathy is central to what I want to do for kids and people. My specialty is in math education, dance, and skills of self-management, and my ap...
Cello Lessons with Ben TherrellMadison
Professional Cellist, Dr. Ben Therrell DMA, performs, teaches, and creates music in Madison WI with cello lessons to students aged 3-99! Creative and Exciting Techniques to Help You Learn Amazing Music. Start Your Les...
Music Academy of Greater MilwaukeeMadison, Milwaukee, & Waukesha Areas
More than 200 homeschool students are rehearsing and performing in our Orchestra, Band, Choir, Piano, Ukulele/Recorder/Drumming, and Early Childhood classes. Opportunities for students of all levels and ages (4 to 18)...
The Art School MilwaukeeMilwaukee
'The Art School, Inc' is an independent school of the visual arts, founded and operated by professional artists in Milwaukee's Bay View neighborhood. The unique approach to art instruction that sets this school apart ...
Sunset PlayhouseMilwaukee
Sunset Playhouse offers an exciting opportunity for high school aged students to learn more about and participate in the performing arts. Sunset is in the sixth year of offering the ACTletes program. Past home-schoole...
Ryan Fitzpatrick CelloMilwaukee
Cello lessons and instruction via the Suzuki Method for all ages. Detailed information can be found at www.ryanfitzcello.com.
Jennifer Rodriguez Flute StudioMilwaukee, Greenfield, Shorewood, Brookfield, Wauwatosa, Brown Deer, Bay View, Hales Corner, West Allis, Whitefish Bay
Jennifer Rodriguez teaches private flute lessons, traveling to student's homes to provide weekly 30-60 minute lessons. Jennifer has taught beginners (as young as 5) through adult students, and non-traditional students...
The BrigadeNeenah
The Brigade is a local non-profit organization that works with children from 5th grade to 12th grade. Teaching kids by bringing in guest speakers along with many workshops. Workshops include cooking, glass fusing, woo...
Courtney Hinder Art EducatorOzaukee, Milwaukee, Shorewood, Whitefish Bay, Grafton, Cedarburg, Mequon, Fox Point, Baysie, Cedarburg, Waukesha, North Shore, Port Washington, Belgium, Cedar Grove, Saukville, Fredonia
Would your child like to receive customized art lessons designed to enrich their learning, creativity, self-expression and learning style? Please contact Courtney to discuss the needs of your child! Lessons may includ...
Mike's Music StudioPlymouth
Mike's Music Studio provides quality one-on-one instruction for guitar, bass guitar, piano and drums. Contact Mike at 920.449.5433, email at mikes.guitarstudio@yahoo.com or message the Facebook page: Mike's Music Studio.
Rockford Art Museum Homeschool Art Classesrockford
Each year RAM offers 16 homeschool classes that are structured into 4 themed units of 4 classes each, and run September through May. One session of each 90-minute class is held Wednesdays for grades K–4 (9am-10:30am) ...
Jill Hollander Vocal and Piano StudioSouth Milwaukee, Oak Creek, Brookfield
This resource is for piano and voice lessons intended for homeschooled students during the school day. Students can come to teacher's home or teacher can also travel to students home depending on location for lessons....
Jill Hollander Vocal and Piano studioSt. Francis, Bayview, Glendale, Brookfield, Milwaukee
Jill Hollander teaches voice and piano in students homes or they can come to Jill. Strong supporter of each child learning in his or her own way. Incorporating music theory, practice techniques, dance, and theater in ...
Prairie Music & ArtsSun Prairie
Music lessons in strings, guitar, piano and voice. Group classes in voice, piano, and early childhood music. Drama and art programs as well. Daytime hours also available. Welcoming students of all ages.
Rachel's Shoppe Private Art LessonsWest Madison
Private Art Lessons in the West Madison area. Rachel Christopoulos has taught a variety of group and private art lessons out of her home. She specializes in one-on-one art lessons in acrylic and developing a unique, a...
Dragon Fire CeramicsWrenshall
This resource offers pottery classes that run for six weeks. Students will learn the skills necessary to make mugs with handles, bowls, vases, and lidded canisters. Glazing techniques will also be taught. The class wi...
Wisconsin Homeschool Sports Programs
Wildcard GymnasticsBrookfield, Milwaukee, Wauwatosa
Wildcard Gymnastics offers open play times, as well as private or small group instruction. Flexible hours and a willingness to work around homeschooling schedules. Great for learning basic tumbling... [Read more...]
Flex Gymnastics ClassesDresser
At Flex Gymnastics, we teach character, strength, and flexibility not only as it relates to the sport of gymnastics, but also as it relates to life skills. We have classes for all ages and skill le... [Read more...]
EXA Sports GymnasticsEau Claire
Where Kids Have Fun, Build Confidence, and Make Friends The 9,000 sq foot facility offers a fun, safe, indoor environment for kids of all ages. Our gymnastics facility is a great way for kids to ge... [Read more...]
Chippewa Valley Lightning BoltsEau Claire
The Chippewa Valley Lightning Bolts serve homeschooling athletes in the Eau Claire, WI area and the surrounding communities with an opportunity to train, run, compete and enjoy the lifetime sport o... [Read more...]
Swim West: Homeschool Swimming LessonsFitchburg
We will offer swimming lessons (beginner through swim team) at a discounted rate to all local homeschool students. Its a great way to get in those physical education requirements, as well as learn ... [Read more...]
Fond du Lac Rugby IncFond du Lac, Wisconsin
Fond du Lac Rugby Inc is a Sport club that promote Rugby in the Fond du Lac, Wisconsin Area. There are 3 youth teams that Homeschooled children can register for: Fond du Lac Boomers: for Boys and G... [Read more...]
Williams TaeKwonDoGreen Bay
Williams TaeKwonDo is a Martial Arts school with over 30 years of experience teaching Self Defense and JiDoKwan style TaeKwonDo (empty hand self defense). Master Dan Williams is a 5th Degree Master... [Read more...]
Northeast Wisconsin Christian Homeschool Athletic AssociationGreen Bay
Northeast Wisconsin Christian Homeschool Athletic Association ("NEWCHAA") exists to provide support to athletic programs for the Northeast Wisconsin homeschool community. NEWCHAA currently offers t... [Read more...]
HRK EaglesGurnee
HRK Eagles Mission Statement: To provide competitive sports for students who seek to honor God through athletics. Sports Offered: Fall (August - October): Boys Flag Football (Ages 7-18); Girls Voll... [Read more...]
Home School Ice Skating at the Mullett Ice CenterHartland
The Mullett Ice Center located in Hartland Wisconsin has ice skating for Home School only times. The cost is $4 which includes skating and ice rental at a beautiful facility. It is offered currentl... [Read more...]
Toca StrikersMadison
For ages 18 months to 12 years, TOCA Strikers is designed to introduce your little one to the beautiful game of Soccer. We tailor our classes to be age-appropriate, engaging, and fun. Our programs ... [Read more...]
LaFleur StablesMadison, Verona, Middleton
LaFleur Stables specializes in training American Saddlebreds and saddle seat riders, providing full-service show or competition preparation for horse and rider. English-style saddle seat riding les... [Read more...]
Cracovia Olympic Sport Foil FencingMadison, Wisconsin
Cracovia is dedicated to promoting the wonderful sport of foil fencing. Fencing can be looked at as a life-long recreation skill that provides an individual with relaxation, fellowship, enjoyment a... [Read more...]
Keva Sports Center Homeschool Sports ClassesMadison/Middleton
Classes for homeschool children ages 5 to 14 at Keva Sports Center in Madison, WI. Each week, a KEVA coach leads a new sport for those children that are homeschooled! Class runs on a different date... [Read more...]
YMCA of Metropolitan Milwaukee Gymnastics CenterMequon
Open gym at the gymnastics center located in Mequon WI. Friday mornings from September through June 11am to 1pm. $5/child per visit. [Read more...]
Chinese Kung Fu CenterMilwaukee
The Chinese Kung Fu Center teaches the Northern Style Shao Lin Kung Fu. This style of Kung Fu is particularly attractive to middle and high school aged youngsters. In addition, it is not merely a f... [Read more...]
Mukwonago YMCA Homeschool gym classMukwonago
The Mukwonago YMCA is a 58,000 square foot facility located in the Village of Mukwonago, serving families, seniors, adults and youth in Waukesha, Walworth and Racine counties. This state of the art... [Read more...]
Family Tae Kwon Do ChampionsNew Berlin
FTKD Champions is unlike any other martial arts school in the area. FTKD prides themselves on creating a family-friendly atmosphere where adults and children can take classes together as a family. ... [Read more...]
CrossFit Rohkeus- CrossFit KidsOconomowoc, WI
CrossFit Kids is a method for teaching Greg Glassman's CrossFit to children ages 3-18. Based on the principle of Mechanics, Consistency and then Intensity, CrossFit Kids emphasizes good movement th... [Read more...]
EquitateOconomowoc, WI
Equitate offers riding lessons on American Saddlebreds and Morgans to all levels of riders. From the beginner rider to the most advanced, our program's horses create valuable learning lessons and m... [Read more...]
Main Stay Therapeutic FarmRichmond/McHenry
Love horses and animals? Main Stay Therapeutic Farm offers a holistic environment for a diverse range of learners. Our wide variety of programs includes 6 week horsemanship sessions where kids lear... [Read more...]
Rides & Reins Therapeutic Equestrian CenterWashington County
Horse Birthday Parties, Horse Camp, Special Needs Lessons, Riding Lessons. Rides & Reins TEC provides healing alternatives through horseback riding for riders with special needs.The children we... [Read more...]
Sky Zone Indoor Trampoline ParkWaukesha
An indoor trampoline park and have special hours and pricing for homeschoolers. [Read more...]
Go NinjaWaunakee
Go Ninja is an obstacle course gym based off of the show "American Ninja Warrior". It was built specifically for kids ages 6 to 13. It allows kids to be active, have fun and practice both physical ... [Read more...]
Go to...