Jump to: Homeschool Arts | Homeschool Sports
In addition to the opportunity to get out of the house and socialize, homeschool sports and arts programs can offer long-term benefits by developing characteristics like leadership, self-confidence, perserverance, and self-esteem. Many organizations and businesses have opportunities specifically for homeschoolers, while others invite homeschoolers to participate in their regular programs.
Not sure how to choose activity/activities for your children? Read how Rebecca narrows down the choice of extra-curricular activities.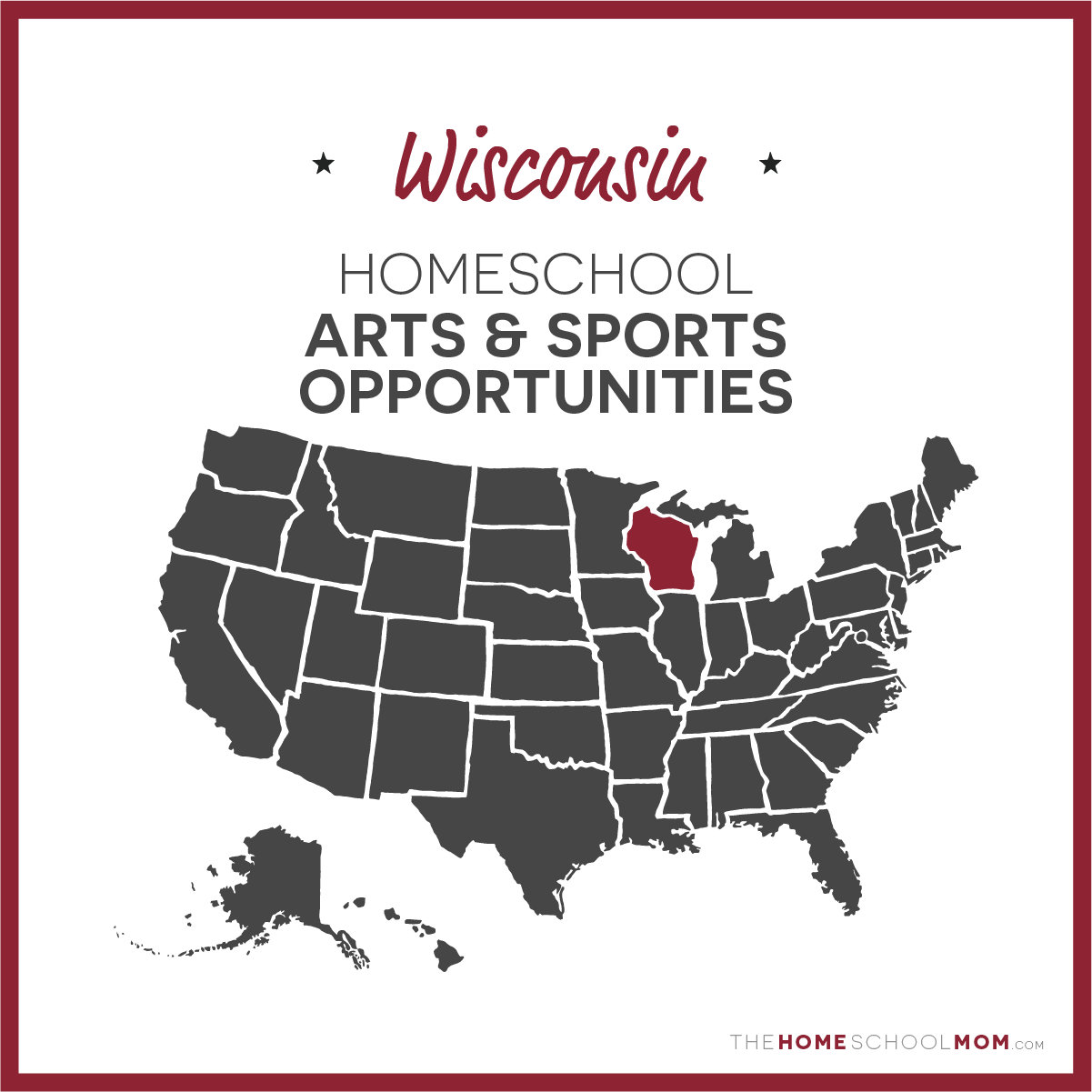 Submit a Local Resource
Our listing of Wisconsin list of homeschool arts and sports programs is ordered alphabetically by city, with arts in the first section and sports in the second section. If you would like to submit an Wisconsin arts or sports program, you may do so using the red button above.
Wisconsin Homeschool Arts Programs
Valley Troubadours Homeschool Music & Theater Program

Appleton

Created for homeschool students to explore music & theater in a welcoming setting at an affordable price. With 7 choirs, 4 bands, drama, strings, tin whistle and guitar/ukulele classes, Valley Troubadours Music & Theater Program offers instruction for K-12 students at all levels of ability. Join almost 500 Fox Valley homeschool students in fostering a lifelong relationship with music and expression!

Valley Troubadours Homeschool Music & Theater Program details
Art Classes at SLICES OF LIFE by G Buteyn

Brandon

A 30-year veteran Art Teacher offering group art classes to adults, children, and home school groups.
Hulbert Piano

Brookfield

Hulbert Piano is seeking students of all ages who are ready to learn the piano and understand the benefits of playing music with help from instructors with music degrees and finely tuned pianos.
Brio Studios- Private Music Lessons

Brookfield

Brio Studios Music Program offers private lessons in a wide variety of instruments, group classes, Brio Band, recording classes, and so much more! Brio Studios has lessons Monday-Saturday and gives students the opportunity to grow as independent musicians and perform in multiple recitals as well as community events!
Guitar Center - Guitar and Piano Lesson - Brookfield

Brookfield

Guitar Center, located at Bluemound Rd Suite A, Brookfield, is offering guitar and piano lessons. Please call (262) 797-6448 and ask for Austin, lessons lead, or Brandon (Store Manager) for music lessons with Dawn Fernandez. They will expand my hours to fit yours. I teach lessons in a an effective sequential order with students and hold a Masters in Teaching and Learning.

Guitar Center - Guitar and Piano Lesson - Brookfield details
CYT Chicago

Chicago, Aurora, DuPage, Kane, Kenosha (WI), Lake, McHenry, Milwaukee (WI) Metro and Rockford Metro areas.

Christian Youth Theater (CYT) offers theater arts classes for children as an after-school activity. Each local program conducts three ten-week sessions throughout the school year, teaching drama, voice, dance and a broad spectrum of specialty theatrical workshops at weekly two-hour classes. Enrolled students have the opportunity to work behind the scenes, or audition and perform on stage in a Broadway-style musical performed for the community. Homeschool groups receive discounted tickets to our weekday matinee shows. Ticket prices only $6-$10! Literature from the classroom comes to life on stage in quality productions with colorful costumes, professional staging, energetic choreography, and singing, paired with optional curriculum guides to help tie into the state educational standards. Call us to book today! 847-516-2298
AR Workshop Chippewa Falls

Chippewa Falls

AR Workshop Chippewa Falls offers homeschoolers arts and crafts sessions to make personalized home decor items including wood signs, canvas wall hangings, aprons, pillow covers, etc. Classes can be arranged as a private session any day of the week to allow students to interact with other home schooled students. We have space for 30 students at a time but host groups as small as 6. We also can arrange team building or holiday/birthday parties. Groups are led by our assistants with college level design experience. Students will learn skills of project design, color blending, stenciling and painting. Wood projects teach sanding, surface prep, color techniques and use of handheld power tools. Each participate chooses a project that matches their individual interests.
Christian Eggert Violins - Orchestra Instruments and Rentals

Duluth

Violin, Viola, Cello and Bass: Established in Duluth MN in 1994 and Fargo ND in 2003. We are a full service shop serving the upper Midwest and across the country (Schools, Beginners and Professional Players). We proudly provide rental outfits, sales, repair, restoration and appraisals. We proudly display our "Distinguished Service Award" from the String Teachers Association. We look forward to serving you. CEViolins@aol.com Toll Free 1-877-800-6568 We also welcome students of all ages to tour our shop and they can play the instruments. Many schools bring their classes in for a field trip. Our Duluth, MN Shop is in the beautiful Historic DeWitt-Seitz Building in Duluth's Canal Park, always fun

Christian Eggert Violins - Orchestra Instruments and Rentals details
Zunker Music Studio

Eau Claire

Lexi Zunker specializes in the early beginning through older adult piano students. She firmly believes in adapting her teaching skills to each student's specific learning style. Lexi's piano and flute lessons are fun and filled with games, activities and easily recognizable songs along with standard repertoire to solidify students note reading, musicality, technical ability and love for music. Lessons are also held in the comfort of your home, making music lessons very convenient! Over 25 years of musical experience including 5+ years of teaching ranging from ages 4 to 70+ years old. Lesson payment for each month must be paid at the first lesson of that month, but your first trial lesson is FREE! Please do not hesitate to contact Lexi for more information on pricing and her teaching techniques. Thank you!
Friendship Art Studio

Fox Point

Friendship Art Studio offers a variety of opportunities from workshops/classes to open studio throughout the week. We are open to all ages and abilities. Artists will be guided by professional facilitators and have access to a number of different mediums, allowing them to explore the full spectrum of their creativity. Open Studio: Monday – Thursday: 11:30am – 5:30 pm and Sundays from 9:30am - 4pm. We offer monthly projects such as Acrylic Pour Painting, Mixed Media, Upcycling Projects and much more. Our project rates start at $12 per project and open studio rate of $12/hr. For more information, contact The Friendship Art Studio at (414) 755-5854 or check out our website https://www.fcwi.org/studio or on Facebook at: https://www.facebook.com/fcwistudio/
Piano Lessons with Christine Weege

Germantown / Menomonee Falls Area

Christine Weege, piano instructor is accepting new students at her home studio. Lessons are available in the morning and early afternoon, Monday through Thursday. She enjoys teaching students from 5-21 years of age, and is experienced teaching at all abilities and skill levels. Christine is a member of MMTA (Milwaukee Music Teachers Association), MAPTA (Milwaukee Area Piano Teachers Association), and MTNA (Music Teachers National Association).
The Dance Company's Education programs

Green Bay

The Dance Company strives to enlighten and engage both current and future audiences through educational programs and events. Offering a behind-the-scenes experience for scouting programs, home school groups and other organizations. The tour covers what it takes to stage a production and highlights careers in the arts. Guests will see the sound and light boards, backstage area, green room, make-up room and more. Groups will be announced prior to the start of the performance. After enjoying the performance, guests can meet the dancers, get autographs and take pictures. If you would like to schedule a tour or have any questions, please contact Jodi Lipsh at jodi@gbdanceco.org
Artisan and Business Center Homeschool Art Program

Green Bay

The NWTC Artisan Center offers a semester-long Homeschool Art Program every fall and spring. The Program is built for students ages 5-18 in a variety of media.
The Schauer School of the Arts

Hartford

The Schauer School of the Arts offers year-round classes in dance, music, theater, and visual arts, for students of all ages, levels, and visions.
Jason Busniewski, Violin, Viola, and Fiddle Teacher

Hartland

Jason brings a multicultural approach to string teaching, drawing on traditions from the USA and Ireland to Egypt and India and focusing on building musicianship through understanding acoustics, physiology, and music history.
Violin Academy:The Curry Method

Kenosha, Wi

The Curry Method: Many years of teaching Vilin and violate children and adults have brought me a unique understanding of what I do. Simply put, I've learned that a special process evolves between my students an me. I call the process The Curry Method. The Curry Method enables me to build a consistent musical foundation in my students that they carryon their musical travels. The consistent musical foundation is a co-created, highly individualized experience for each student. It inculcates a life-long love of music. Come learn from Donna Curry, Master Teacher to begin or continue you or your child's joyful journey to making beautiful music.
David Adler Arts Center

Libertyville

The Adler Arts Center is Libertyville's historic cultural hub. Serving the Northern Suburbs of Chicago for over 30 years, the Adler Center provides group art and music classes, private art and music instruction, family workshops, birthday parties, and a popular summer day camp for creative kids ages 5 - 15. Private music lessons are available in piano, voice, violin, viola, cello, guitar (classical and electric) and ukulele. Daytime, evening, and weekend lessons available.
Kite Suzuki Piano of Madison

Madison

Homeschool Classes: Thursday, 1:00-3:30pm: Group Piano Class 1:00-1:30 Private 1:30-2:00 Private 2:00-2:30 Group session (focuses on reading, theory, and rhythmic skills in the form of games and fun activities) 2:30-3:00 Private 3:00-3:30 Private All group piano students are eligible to play in the recitals held in the private lesson studio Tuesday, 12-1:45pm, General Music Class 12:00pm: 4-6 yr old class. New class. 12:45-1pm: Transition period 1:00pm-1:45pm: 7-9 yr old class. Using an Orff-based curriculum. Older students play together on xylophones as well as drums and other percussion instruments. Younger students learn to keep a beat and learn how to use all the instruments in the course of their games and songs. Times are subject to change.
Overture OnStage Field Trip Performances

Madison

From classic books brought to life through puppets to an internationally-renowned Latin band and an interactive dance quartet to bi-lingual hip-hop performance and esteemed lecturers, OnStage field trip performance series for students has it all. Each year, the series designed for schools and homeschool students, connects to content across the curriculum while offering a diverse range of performing art forms and various cultural perspectives. To deepen the student experience, Resource Guides are provided for each show filled with curricular-focused lesson ideas.
Ina Strings Studio Violin & Viola Lessons

Madison

Ina maintains a studio in Madison for violin and viola students of all ages and skill levels. Individual lessons and group classes are available weekly. Lessons are geared for each student's age, ability, and goals.
Private Acrylic & Watercolor Painting lessons

Madison

Rachel Christopoulos is a professional artist in the West Madison area. She has a passion for teaching painting and connecting with students who are creatively inclined! Learn how to compose and paint beautiful masterpieces every class while working one-on-one with a talented artist. Choose between 30, 45, and 1 hour painting lessons.
La La Sew

Madison

Homeschool Beginner Sewing Series: In this three-part workshop your home learner will learn how to safely use a sewing machine, straight stitch, and turn corners. We'll build on those skills to make a complete project at every lesson. All materials and equipment included. At La La Sew, we teach kids how to sew. Sewing is a traditional craft with modern appeal. Kids LOVE designing and making their own unique clothes, accessories, stuffed animals, gifts, and bedroom decor. Our classes are special because they are... very small - no more than five kids at a time; fun - we laugh a lot; productive - you'll make a unique project in every class; relaxed - perfection is over-rated. Our classes promote... creativity - everyone picks their own fabrics and embellishments; problem solving - because sometimes things get tangled or backwards; resourcefulness - making things from scraps is fun; community - sometimes we make things for local charities; recycling - we often use old wool sweaters or other secondhand materials; happiness - making things feels good.
Jessica's Art Studio

Madison

Jessica's Art Studio offers In-Home Art Sessions, On-site Home School Art Sessions, Group Art Sessions, Birthday Parties, and Seasonal Art Workshops. Always accepting new students of any age, or ability! Art is for everyone and it can provide a creative, beneficial expressive outlet for any student. Virtual classes are available as well.
The Philomathy School: Math, Rhythm, & Movement Classes

Madison

Philomathy is a real word! It means a Love of Learning, and instilling philomathy is central to what I want to do for kids and people. My specialty is in math education, dance, and skills of self-management, and my approach is philomathic and informed by studies of occupational therapy and neuroplasticity. When I work with students on any skills, students getting satisfaction out of the learning, while finding some easiness in it, is paramount to my goals. ​ So, is this a school or a tutoring service? ...It's both. And both have a modest home on Monona Drive or can be traveling services at this stage in the School's development. I offer a schedule of classes for homeschoolers and contract with local charters and organizations for onsite sessions. This model lends itself to some desirable flexibility, and we'll see where it takes us. Whether its branches always proliferate under a canopy of freelance teaching and learning or it becomes rooted in something more permanent is yet to be realized. Body-based mixed-age math, rhythm, and movement class for grades 1-6! Class limit of 6-8 students, depending on grade level. Materials/activities are customized to the group. Grades 1-6 courses typically includes math concepts: base-10 system, subitizing to 20, 100, or 1000, addition, subtraction, multiplication, division, mental math, order of operations, fractions, decimals, percents, integers. Students may enroll in multiple classes per week if desired. The classes are adapted from prior experiences as a math teacher, a dance teacher, and a trained Montessori assistant. They are also inspired by the growing evidence that movement, rhythm, and sensory integration are inexorably linked to learning, development, and interventions. Classes use sensory materials, music, clapping rhythms, simple dance moves, martial arts, yoga, balances, OT exercises, and fine-motor activities as warms-ups, brain-builders, and brain breaks for a dynamic math learning experience. For more information, see www.philomathyschool.org.

The Philomathy School: Math, Rhythm, & Movement Classes details
Cello Lessons with Ben Therrell

Madison

Professional Cellist, Dr. Ben Therrell DMA, performs, teaches, and creates music in Madison WI with cello lessons to students aged 3-99! Creative and Exciting Techniques to Help You Learn Amazing Music. Start Your Lessons Now. Suzuki Certified. Doctoral Level Expertise.
Music Academy of Greater Milwaukee

Madison, Milwaukee, & Waukesha Areas

More than 200 homeschool students are rehearsing and performing in our Orchestra, Band, Choir, Piano, Ukulele/Recorder/Drumming, and Early Childhood classes. Opportunities for students of all levels and ages (4 to 18). Classes meet on weekday mornings and afternoons. Locations in Grafton, Madison, Beloit, Pewaukee, and Greenfield. Low tuition, and no fundraising required. "Free Trial Day" each year in September!
The Art School Milwaukee

Milwaukee

'The Art School, Inc' is an independent school of the visual arts, founded and operated by professional artists in Milwaukee's Bay View neighborhood. The unique approach to art instruction that sets this school apart from most educational institutions focuses on the specific goals and skill level of each student, allowing for limitless development and exploration of ideas and materials. Art classes are offered on an ongoing basis to students aged 8 and older in drawing, painting and multimedia sculpture. The class structure allows for experimentation with numerous artistic mediums, and students are encouraged to utilize various materials and techniques while pursuing their concepts of interest. There is no specific enrollment period and students are welcome to begin classes at any time throughout the year. Interested students are encouraged to visit the school for a tour, yet need to schedule an appointment by contacting Lisa at: Lisa.artschool@yahoo.com
Sunset Playhouse

Milwaukee

Sunset Playhouse offers an exciting opportunity for high school aged students to learn more about and participate in the performing arts. Sunset is in the sixth year of offering the ACTletes program. Past home-schooled students who have participated in the ACTletes program have appreciated the opportunity to participate in an outside arts education program. This unique program provides the opportunity to home-schooled students to perform in a play and/or musical and/or learn about the technical and management aspects of the theater. The ACTletes program is a unique, empowering opportunity that provides high school students the opportunity to explore all aspects of producing theater. Students can choose one of two tracks: performance or technical. Students who choose the performance track will rehearse and perform in our Winter Musical. Performance students will also work on a production team: costumes or props. Students who choose the technical track will participate as stage manager or lead light, sound, and set design.
Ryan Fitzpatrick Cello

Milwaukee

Cello lessons and instruction via the Suzuki Method for all ages. Detailed information can be found at www.ryanfitzcello.com.
Jennifer Rodriguez Flute Studio

Milwaukee, Greenfield, Shorewood, Brookfield, Wauwatosa, Brown Deer, Bay View, Hales Corner, West Allis, Whitefish Bay

Jennifer Rodriguez teaches private flute lessons, traveling to student's homes to provide weekly 30-60 minute lessons. Jennifer has taught beginners (as young as 5) through adult students, and non-traditional students (ex: beginner adults). Contact Jennifer Rodriguez at jar9413@gmail.com to discuss pricing and scheduling lesson times. Visit https://jrflutestudio.weebly.com to learn more information about Jennifer's flute studio.
The Brigade

Neenah

The Brigade is a local non-profit organization that works with children from 5th grade to 12th grade. Teaching kids by bringing in guest speakers along with many workshops. Workshops include cooking, glass fusing, wood working, welding, and many more. Offering a rifle range to teach kids the proper way to shoot with trained instructors and an archery range, also with trained instructors. There is a large gym for great activities and a rock climbing wall. This organization has been around for over 119 years and typically runs these programs at night. The homeschool program is currently operating during the day (1pm to 3pm on Thursdays). Opportunities for really fun and exciting workshops along with some field trips to local businesses...Plexus and Bergstrom Automotive are two businesses that we will be touring.
Courtney Hinder Art Educator

Ozaukee, Milwaukee, Shorewood, Whitefish Bay, Grafton, Cedarburg, Mequon, Fox Point, Baysie, Cedarburg, Waukesha, North Shore, Port Washington, Belgium, Cedar Grove, Saukville, Fredonia

Would your child like to receive customized art lessons designed to enrich their learning, creativity, self-expression and learning style? Please contact Courtney to discuss the needs of your child! Lessons may include, but are not limited to: drawing, painting, sculpture, collage, modeling, outdoor exploration/land art, fibers, and more! Dependable and caring art educator with experience working in a variety of educational settings. Possesses an effective, positive and flexible teaching style with attention to integration, self-expression and collaboration. Dedicated to inspiring children to become lifelong creative learners.
Mike's Music Studio

Plymouth

Mike's Music Studio provides quality one-on-one instruction for guitar, bass guitar, piano and drums. Contact Mike at 920.449.5433, email at mikes.guitarstudio@yahoo.com or message the Facebook page: Mike's Music Studio.
Wisconsin Theater Arts

Racine County

Wisconsin Theater Arts provides theater classes for homeschool students of all ages that are cross-curricular. We offer classes for children, teens, and adults in all aspects of the theater arts. Theater classes include acting, dance for theater, vocal lessons (group), costuming, set design, lighting, makeup to name a few. Most classes include a showcase.
Rockford Art Museum Homeschool Art Classes

rockford

Each year RAM offers 16 homeschool classes that are structured into 4 themed units of 4 classes each, and run September through May. One session of each 90-minute class is held Wednesdays for grades K–4 (9am-10:30am) & 5–8 (11am-12:30pm) & 2 hour sessions for high school students 9am-11am Thursday mornings.
Jill Hollander Vocal and Piano Studio

South Milwaukee, Oak Creek, Brookfield

This resource is for piano and voice lessons intended for homeschooled students during the school day. Students can come to teacher's home or teacher can also travel to students home depending on location for lessons. Lessons range from beginner to advanced students ages 6 and up. Piano lessons focus on notes reading, music theory, and interpretation. Voice lessons focus on breathing techniques, learning musical theater techniques, and other vocal techniques to project and use students best voice. Two (2) fun recitals are offered each year in Oak Creek followed by reception and are optional for students enjoyment and experience. Lessons are meant to be fun and the teacher focuses on students specific goals and needs.
Jill Hollander Vocal and Piano studio

St. Francis, Bayview, Glendale, Brookfield, Milwaukee

Jill Hollander teaches voice and piano in students homes or they can come to Jill. Strong supporter of each child learning in his or her own way. Incorporating music theory, practice techniques, dance, and theater in lessons and recitals,
Prairie Music & Arts

Sun Prairie

Music lessons in strings, guitar, piano and voice. Group classes in voice, piano, and early childhood music. Drama and art programs as well. Daytime hours also available. Welcoming students of all ages.
Rachel's Shoppe Private Art Lessons

West Madison

Private Art Lessons in the West Madison area. Rachel Christopoulos has taught a variety of group and private art lessons out of her home. She specializes in one-on-one art lessons in acrylic and developing a unique, and individual artistic style in children. Classes are unique to each student and what they are looking to learn. Students must be 10+
Dragon Fire Ceramics

Wrenshall

This resource offers pottery classes that run for six weeks. Students will learn the skills necessary to make mugs with handles, bowls, vases, and lidded canisters. Glazing techniques will also be taught. The class will end with a specialized firing developed by the Japanese and modified in the United States. All pieces made will be the property of the students. 5 is the maximum number of participants in each class.
Wisconsin Homeschool Sports Programs
Wildcard Gymnastics

Brookfield, Milwaukee, Wauwatosa

Wildcard Gymnastics offers open play times, as well as private or small group instruction. Flexible hours and a willingness to work around homeschooling schedules. Great for learning basic tumbling, but also locomotor skills, socialization, discipline, and fun.
608 jiu jitsu

Cross Plains

Jiu jitsu is a dynamic martial art that empowers kids both physically and mentally! It fosters discipline, builds confidence, and teaches valuable self-defense skills, all while promoting fitness and teamwork. Jiu jitsu isn't just about self-defense; it's a journey that instills respect for others and helps kids develop problem-solving abilities.
Flex Gymnastics Classes

Dresser

At Flex Gymnastics, we teach character, strength, and flexibility not only as it relates to the sport of gymnastics, but also as it relates to life skills. We have classes for all ages and skill levels.
EXA Sports Gymnastics

Eau Claire

Where Kids Have Fun, Build Confidence, and Make Friends The 9,000 sq foot facility offers a fun, safe, indoor environment for kids of all ages. Our gymnastics facility is a great way for kids to get exercise and burn off steam. We offer private group options as well as public open play.
Chippewa Valley Lightning Bolts

Eau Claire

The Chippewa Valley Lightning Bolts serve homeschooling athletes in the Eau Claire, WI area and the surrounding communities with an opportunity to train, run, compete and enjoy the lifetime sport of running. This team is offered to provide mutual encouragement in pursuing your running goals. Our philosophy is based on recognizing God as our Creator with an emphasis on the fact that we were created by Him to bring Him glory. We do this by yielding our running talents and abilities to be used by God for His honor and glory.
Swim West: Homeschool Swimming Lessons

Fitchburg

We will offer swimming lessons (beginner through swim team) at a discounted rate to all local homeschool students. Its a great way to get in those physical education requirements, as well as learn to swim! We have a 89* warm water pool, small classes, certified instructors, and a friendly staff. Please contact us at (608) 276-7946 if you would like to register for these classes.
Fond du Lac Rugby Inc

Fond du Lac, Wisconsin

Fond du Lac Rugby Inc is a Sport club that promote Rugby in the Fond du Lac, Wisconsin Area. There are 3 youth teams that Homeschooled children can register for: Fond du Lac Boomers: for Boys and Girls Grades 1 to 8 : Spring and Summer Fond du Lac Sirens: for High School Girls: Fall and Spring Fond du Lac Stoutmen: for High School Boys: Summer and Spring
Williams TaeKwonDo

Green Bay

Williams TaeKwonDo is a Martial Arts school with over 30 years of experience teaching Self Defense and JiDoKwan style TaeKwonDo (empty hand self defense). Master Dan Williams is a 5th Degree Master Instructor and is certified through the Kukkiwon (Headquarters of TaeKwonDo, Seoul Korea). We are also licensed and insured and continually are re-certified through SafeSport, with the U.S. Taekwondo Olympic Center in Colorado Springs. We focus on kids from 3-93 years of age. I offer day classes as well as evening classes, which are meant to teach not only self defense, but such qualities as, Discipline, Focus, Concentration, and Integrity, just to name a few. Classes are meant to be taught in a group setting, however I do individual lessons as well. We have family classes as well.
Northeast Wisconsin Christian Homeschool Athletic Association

Green Bay

Northeast Wisconsin Christian Homeschool Athletic Association ("NEWCHAA") exists to provide support to athletic programs for the Northeast Wisconsin homeschool community. NEWCHAA currently offers the following sports opportunities at the Varsity level: Men's Basketball Women's Basketball Women's Volleyball Men's and Women's Cross Country. NEWCHAA also offers middle school opportunities for both boys and girls in: Cross Country Basketball Track & Field NEWCHAA has recently added grade school: Boys Basketball (3rd/4th grade)

Northeast Wisconsin Christian Homeschool Athletic Association details
HRK Eagles

Gurnee

HRK Eagles Mission Statement: To provide competitive sports for students who seek to honor God through athletics. Sports Offered: Fall (August - October): Boys Flag Football (Ages 7-18); Girls Volleyball (Ages 10-18); Boys and Girls Cross Country (Ages 10-18) Winter (October - March): Boys and Girls Basketball (Ages 10-18) Spring (Feb/March - May): Boys and Girls Track (Ages 10-18); Boys Volleyball (12-18)
Home School Ice Skating at the Mullett Ice Center

Hartland

The Mullett Ice Center located in Hartland Wisconsin has ice skating for Home School only times. The cost is $4 which includes skating and ice rental at a beautiful facility. It is offered currently once a week. The hours are available on the website at www.mulletticecenter.com
Toca Strikers

Madison

For ages 18 months to 12 years, TOCA Strikers is designed to introduce your little one to the beautiful game of Soccer. We tailor our classes to be age-appropriate, engaging, and fun. Our programs help build confidence at an early age, so your kids can excel on and off the pitch. Classes run all year long on a rolling admission basis.
LaFleur Stables

Madison, Verona, Middleton

LaFleur Stables specializes in training American Saddlebreds and saddle seat riders, providing full-service show or competition preparation for horse and rider. English-style saddle seat riding lessons are offered for people of all ages and riding levels. Through the summer and holiday camps, riders are able to bond with the horses and gain a better understanding of the dedication needed to make riding a lifelong activity. If you are interested in buying a horse of your own, the stables has horses for sale for every type of rider. Teaching/Instructing all levels of riding for ages 4 yrs - Adults. LaFleur Stables/Madison Riding Academy also offers day outings for groups, such as : birthday parties, book clubs, corporate outing, school field trips, troops scouts, 4-H groups, and even tours for daycare children. On Sundays in the spring and fall, we are able to enjoy a long ride outside. Visitors and families are always welcome at Stables; however, Contact us for a free tour of the stables.
Cracovia Olympic Sport Foil Fencing

Madison, Wisconsin

Cracovia is dedicated to promoting the wonderful sport of foil fencing. Fencing can be looked at as a life-long recreation skill that provides an individual with relaxation, fellowship, enjoyment and a refreshment of body, mind and spirit. We offer group instruction, club, private lessons and summer programs for ages 12 and up. We have offered summer programs since the founding of the school in 1997 and plan to continue that fine tradition.
Keva Sports Center Homeschool Sports Classes

Madison/Middleton

Classes for homeschool children ages 5 to 14 at Keva Sports Center in Madison, WI. Each week, a KEVA coach leads a new sport for those children that are homeschooled! Class runs on a different date schedule than the standard session, ask for more information.
YMCA of Metropolitan Milwaukee Gymnastics Center

Mequon

Open gym at the gymnastics center located in Mequon WI. Friday mornings from September through June 11am to 1pm. $5/child per visit.
Chinese Kung Fu Center

Milwaukee

The Chinese Kung Fu Center teaches the Northern Style Shao Lin Kung Fu. This style of Kung Fu is particularly attractive to middle and high school aged youngsters. In addition, it is not merely a form of physical exercise and conditioning, but a means by which students develop greater self-awareness, discipline and respect for themselves and others. Students receive individual attention and advance at their own pace. Instructors stress individual growth rather than competition and work together in a positive, encouraging atmosphere. No special uniforms or belts are required and students may begin at any time.
Mukwonago YMCA Homeschool gym class

Mukwonago

The Mukwonago YMCA is a 58,000 square foot facility located in the Village of Mukwonago, serving families, seniors, adults and youth in Waukesha, Walworth and Racine counties. This state of the art facility offer innovative programming to serve the homeschooling community. Programs are for children ages 5-14. Check website for class schedules.
CrossFit Rohkeus- CrossFit Kids

Oconomowoc, WI

CrossFit Kids is a method for teaching Greg Glassman's CrossFit to children ages 3-18. Based on the principle of Mechanics, Consistency and then Intensity, CrossFit Kids emphasizes good movement throughout childhood and adolescence. Consistently good mechanics translates to physical literacy, enhanced sports performance and fewer sports injuries for kids. Not only that, a vast body of research indicates that exercise is beneficial to cognitive function, which means consistent adherence to the program can have a positive impact on children's academic achievement. CrossFit Kids is meant to be BIG fun for all ages. Broad-Inclusive-General fun. Fun means providing an active alternative to sedentary pursuits, which means less childhood obesity and all-around better health for children. CrossFit Kids is designed to be minimalist; it is inexpensive and often requires little or no equipment, allowing a wide array of socioeconomic groups an opportunity to be physically fit and physically active throughout their lives. CrossFit Rohkeus offers CrossFit Kids ages 5-12 and CrossFit Teens.
Equitate

Oconomowoc, WI

Equitate offers riding lessons on American Saddlebreds and Morgans to all levels of riders. From the beginner rider to the most advanced, our program's horses create valuable learning lessons and memorable moments. For those who desire to own, our years of experience within the industry and connections with trainers and farms nationwide are invaluable in creating a successful rider-horse team. Our facility is heated and we have a flexible riding schedule with lessons on 5 days of the week. We also offer camps, parties, group visits, and more!
Main Stay Therapeutic Farm

Richmond/McHenry

Love horses and animals? Main Stay Therapeutic Farm offers a holistic environment for a diverse range of learners. Our wide variety of programs includes 6 week horsemanship sessions where kids learn about horses and themselves, therapeutic riding lessons and short and long-term animal assisted learning programs, which have more of a social/emotional focus. Individual and group programming is available with variable session lengths. Our horses and herd of rescued barnyard livestock are great partners and teachers! Sessions are taught by certified therapeutic riding instructors or educators.
Rides & Reins Therapeutic Equestrian Center

Washington County

Horse Birthday Parties, Horse Camp, Special Needs Lessons, Riding Lessons. Rides & Reins TEC provides healing alternatives through horseback riding for riders with special needs.The children we work with need help working on their balance and strengthening their core muscles. Volunteers are needed for a few hours during riding lessons on Wednesday and Thursday between 12:00 pm - 5:30 pm and Saturday from 8 am to 1:00 pm. Volunteers assist children with their therapy sessions by side walking next to the horse & rider in the arena, leading the horse or brushing & grooming the horses before saddling & tacking the horse before each ride. An adult instructor is always present. Volunteers must be 13 years old or older. Knowledge of horses or riding experience is not required, but a love of children and animals is! Potential volunteers are welcome to visit beforehand to see what we do.
Sky Zone Indoor Trampoline Park

Waukesha

An indoor trampoline park and have special hours and pricing for homeschoolers.
Go Ninja

Waunakee

Go Ninja is an obstacle course gym based off of the show "American Ninja Warrior". It was built specifically for kids ages 6 to 13. It allows kids to be active, have fun and practice both physical and life skills such as balance, agility, perseverance and confidence. They have an open play time in the afternoon for homeschool students.