Field trips are a great way to reboot a bad homeschooling week, get out of the house when everyone has cabin fever, and learn about your local area. Before heading out, check out Jeanne's tips for improving homeschool field trips.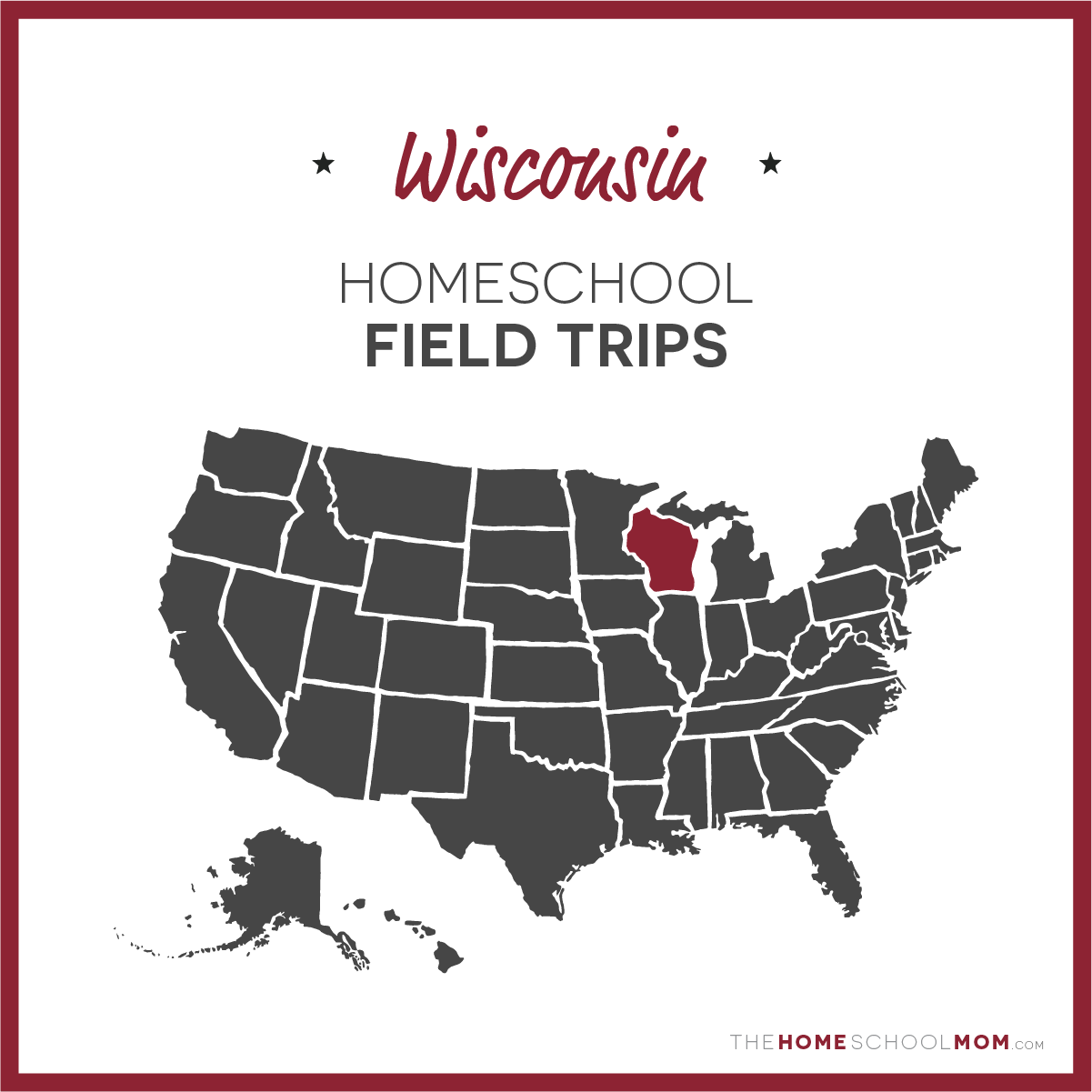 Submit a Field Trip Destination
Our listing of Wisconsin field trips for homeschoolers is ordered alphabetically by city. If you would like to submit a Wisconsin field trip destination, you may do so using the red button above.
An asterisk * after the title indicates that a virtual field trip is also available.
North Country National Scenic Trail

The North Country National Scenic Trail is the longest continuous hiking trail winding its way through seven states.
Roche-A-Cri State Park

Adams-Friendship

Roche-A-Cri State Park, established in 1948, includes a 605-acre park area. Roche-A-Cri comes from French words meaning "crevice in the rock." The park has a 300-foot-high rock outcropping with a wooden stairway to the top. There are Native American petroglyphs and pictographs. The park has 41 rustic campsites within a forest of large oaks and pines. Carter Creek within the park offers fishing opportunities.
Wyalusing State Park

Bagley

At Wyalusing State Park, you can camp 500 feet above the confluence of the Wisconsin and Mississippi Rivers. One of Wisconsin's oldest parks, Wyalusing features Indian burial mounds, canoe trail, bird watching. It's a place to go for fishing, boating, bicycling, picnicking, and enjoying nature. There are an interpretive center and four historical markers within the park. Wyalusing's 2,628 acres include hardwood forests, pine plantations, bluffs, springs, waterfalls, wetlands, and backwaters. The park is home to deer, beavers, fox, and many other animals. More than 90 bird species live here during the summer and 100 more can be observed during spring and fall migration. They include wild turkeys, bald eagles, turkey vultures, hawks, owls, waterfowl, woodpeckers, and a colorful variety of songbirds.
Devil's Lake State Park

Baraboo

Spectacular scenery, a full range of recreational activities, and a full-time naturalist make this a very popular park. The nearly-10,000-acre state park is 2 miles south of Baraboo and about 40 miles northwest of downtown Madison. More people visit Devil's Lake State Park annually--1.2 to 1.4 million--than any other state park in Wisconsin. Peak visitation is during the late spring, summer and fall, when visitors can swim in or boat on the clear, 360-acre spring-fed lake.
Baraboo Children's Museum

Baraboo

The Baraboo Children's Museum is 11,000 square feet of hands on education and fun! Learn how food goes from farm to table, become a conductor on the train, fine tune your music skills, create art, and so much more. Groups of 20 or more can call ahead for a discounted rate. Kids not tired after the museum? Check out Devil's Lake State Park, Circus World Museum, Parfrey's Glen, Pewitt's Nest, or any of the other amazing activities that Baraboo has to offer.
Circus World

Baraboo

Circus World is a thrill for all ages -- a chance to see how the circus has entertained people for generations.
Apostle Islands National Lakeshore

Bayfield

Jewels of Lake Superior - Along windswept beaches and cliffs, visitors experience where water meets land and sky, culture meets culture, and past meets present. The 21 islands and 12 miles of mainland host a unique blend of cultural and natural resources. Lighthouses shine over Lake Superior and the new wilderness areas. Visitors can hike, paddle, sail, or cruise to experience these Jewels of Lake Superior.
Harrington Beach State Park

Belgium

On hot summer days the prime attraction of Harrington Beach State Park is its mile of Lake Michigan shore. You can enjoy the refreshing lake breezes while strolling and sunbathing on the beach and picnicking on the groves of trees overlooking the lake. The park also offers swimming, scuba diving, surf fishing, hiking, nature programs and trails, the Junior Ranger and Wisconsin Explorer program, bicycling,
Luxembourg American Cultural Society

Belgium

The Luxembourg American Cultural Center's Roots and Leaves Museum is the showpiece of the Cultural Center. The Museum is housed in the rebuilt Mamer-Hansen Luxembourgian stone barn originally built in 1872 by Jacob Mamer, an immigrant from Septfontaines, Luxembourg. Mamer immigrated to Ozaukee County, Wisconsin in 1854. The Roots and Leaves Museum tells the story of the Grand Duchy of Luxembourg, past and present, as well as the impact of Luxembourg immigrants and their descendants on life in the United States.
First Capitol

Belmont

Discover the rugged origins of the first capitol of Wisconsin Territory, where legislators built the framework of law and order that evolved into our current state government.
Black River State Forest

Black River

The area's geology helps make the Black River State Forest unique among the state forests. The property lies at the edge of the glaciated central plains, east of the "driftless" area of Wisconsin. Hiking to the top of Castle Mound provides views of the former bed of glacial Lake Wisconsin, as well as the unglaciated buttes, sandstone hills and castellated bluffs that dot the vast forest landscape. The Black River State Forest offers many recreational opportunities, including camping, hiking, skiing and ATV riding. But the Department of Natural Resources also manages this property to meet a host of other objectives, including maintenance of wildlife habitat, native biological diversity, soil and water quality, aesthetics and timber production.
Yellowstone Lake State Park

Blanchardville

Yellowstone Lake State Park lacks mosquitoes. This is due to a glossy-eyed mammal with wings. The 968-acre park is the summer home to more than 4,000 little brown bats. The bats roost in 31 bat houses throughout the park. The houses serve as nurseries, where the bats raise their pups.
Blue Mound State Park

Blue Mound

Blue Mound State Park is on the tallest hill in southern Wisconsin, about 25 miles west of Madison. The 1,153-acre park is a popular place for swimming, hiking, camping, cross-country skiing and mountain biking (both double and single track) and finding peace and solitude.
Northern Highland American Legion State Forest

Boulder Junction

Established in 1925 to protect the headwaters of the Wisconsin, Flambeau and Manitowish rivers, the Northern Highland-American Legion (NH-AL) State Forest occupies more than 225,000 acres in Vilas, Oneida and Iron counties. The NH-AL State Forest is important to many people because it has the unique ability to meet many different needs. The NH-AL State Forest provides employment and supports the economic well-being of rural and urban communities alike through the production of forest products we use daily, and recreation and tourism generated by the property's fantastic forests and lakes. The forest also offers a diverse array of recreational opportunities, such as camping, canoeing, hiking, bird watching, snowmobiling, biking and hunting, as well as the chance to simply sit quietly and enjoy its natural beauty. In addition, the forest cleans our air and water, provides habitat for a wide range of plant and animal species, and helps us sustain our quality of life.
Rockin' Jump

Brown Deer

Now open in Milwaukee's North Shore! Rockin' Jump-The Ultimate Trampoline Park includes trampolines, x-beam jousting pit, rock climbing tower, dodge ball arena, basketball dunk lanes, air track mats and a 10,000sq ft area specifically reserved for kids 6 and under only and much more! Plus a cafe, free Wi-Fi and private party rooms. Offering Rockin' Home Schoolers every Wednesday from noon-2pm for $10 per jumper.
Brule River State Forest

Brule

The Brule River State Forest offers exceptional recreational opportunities, including wildlife viewing, five State Natural Areas, a 16-mile stretch of the North Country National Scenic Trail, eight miles of frontage on Lake Superior, the Bois Brule State Fish Hatchery, and much more.
Spinning Top & Yo-Yo Museum

Burlington

The Spinning Top Museum, Burlington, Wisconsin, USA; a famous attraction, is a unique and lively visit/tour with 35+ hands-on spinning tops and top games, an exhibit of 2,000 tops/yo-yos/ gyroscopes; top spinning videos, an I spy hunt, and a live presentation by the celebrity, The Top Lady, Judith Schulz. Here everyone is a kid again! Meet the Tops Expert from an MGM movie, spin top toys, see unusual spinner tops in the presentation, and afterwards visit the gift shop with hundreds of spinning things, both modern and antique. You will see toy tops, trompos, trottoles, toupies, kreisels, komas, gyroscopes, yo-yos, and more from around the world: plus actually try a number of different tops. The live presentation is a unique feature included in the fast 2.5 hour visit/tour/program!
Logic Puzzle Museum

Burlington

Hands-on mechanical & brain puzzles for thinking fun, exhibit,plus make a puzzle to keep! A unique hands-on museum to experience
Mill Bluff State Park

Camp Douglas

Travelers passing through the Mill Bluff State Park area are intrigued by the unusual, tall bluffs rising abruptly from the flat plain. Straddling the Monroe-Juneau county line near Camp Douglas, Wisconsin, Mill Bluff State Park offers popular swimming, camping, hiking, or relaxing opportunities.
Kettle Moraine State Forest Northern Unit

Campbellsport

You can explore and enjoy almost 30,000 acres of rolling hills, lakes, forests, and grasslands. The forest is internationally known for its unique glacial features. Pets are welcome. A great start to exploring the forest is the Henry S. Reuss Ice Age Visitor Center.
Nelson Dewey State Park

Cassville

Wisconsin's Nelson Dewey State Park, overlooking the Mississippi River, is a park with a fascinating past. It offers rich fare to visitors, whether they are interested in history or Mississippi River scenery. Nelson Dewey State Park invites you to combine your interest in history with your enjoyment of the outdoors. Walk in the hidden valleys or view the Mississippi River from the bluff tops. Come to camping, picnic, and hike. Fishing is excellent. Boats may be rented in Cassville, or wet your line from the banks of the mighty Mississippi.
Stonefield

Cassville

Stonefield celebrates Wisconsin's rich agricultural heritage. Learn about the rise of turn-of-the-century dairy farming and the development of modern farm implements, including tractors, reapers and threshing machines. Experience the sights and sounds of the railroad -- the era's most important transportation. Discover the grand summer estate of Wisconsin's first governor, Nelson Dewey. Explore Stonefield today to see what made the state become "America's Dairyland."
Lake Wissota State Park

Chippewa Falls

This park northeast of Chippewa Falls has 1,062 acres of primarily young, rich forests and open prairie on a 6,300-acre manmade lake. The park offers secluded campsites, hiking trails, and a 285-foot swimming beach. The lake was created in 1918 when the Wisconsin-Minnesota Power and Light Company built a dam on the Chippewa River. The region's early history goes back more than 150 years to 1836, when Frenchman Jean Brunet built the region's first sawmill at the falls of the Chippewa River. Within a year it was ranked as one of the world's largest sawmills. The Chippewa long since has been harnessed to provide electrical power. Pine forests, mixed hardwood timbers, prairie, and marshes are found in the park. The park has a permanent fishing pier especially designed to provide easy access for anglers with disabilities.
Brunet Island State Park

Cornell

Brunet Island State Park, on the Chippewa and Fisher rivers, contains more than 1,200 acres of scenic beauty, wildlife, and recreational opportunities. Each summer, thousands of visitors come to camp, fish, boat, canoe, hike, swim, and picnic. During the winter they can ski, snowshoe, and ice fish. Quiet lagoons and channels are excellent for canoeing and wildlife watching. The landscape here in Chippewa County is a product of the most recent Ice Age (the Pliestocene Epoch). The rolling terrain carries a wide variety of forest types and is home to a multitude of wildlife.
Governor Thompson State Park

Crivitz

The 2,800-acre Governor Thompson State Park is 15 miles northwest of Crivitz in Marinette County. The site protects 5,300 feet of shoreline on Wood and Huber Lakes and protects Handsaw Creek and Woods Lake Outlet. The main parcel creating the park is the former 1,987-acre Paust Woods Lake Resort and about 200 acres of wild-looking lakefront bought from Wisconsin Public Service Corporation on Caldron Falls Reservoir. The park includes about 6.5 miles of undeveloped shoreline on Caldron Falls Flowage, backed up by forested uplands, and frontage on Woods Lake and Huber Lake, as well as several streams. Visitors will find an atmosphere that is perfect for solitude, reflection, recreation, and education.
Peshtigo River State Forest

Crivitz

Established in 2001, the property is Wisconsin's newest state forest. It was purchased from the Wisconsin Public Service Corporation (WPS) and includes the Potato Rapids Flowage, located 20 miles southeast of the main forest. This long, linear state forest borders some of the most beautiful and exciting sections of the Peshtigo River. Anglers know the river's free-flowing portion for its excellent fly-fishing; paddlers brave the Midwest's longest continuous whitewater rapids; and boaters can access more than 3,000 acres of flowage from 15 boat landings.
Kettle Moraine State Forest Lapham Peak Unit

Delafield

Climb a 45-foot observation tower atop the highest point in Waukesha County (1,233 feet above sea level). Lapham Peak Unit's glaciated topography provides excellent hiking, backpacking, and cross-country skiing on lighted trails. The Kettle Moraine and Lapham Peak were formed 10,000 years ago when a glacier covered much of Wisconsin. More than 1,000 acres of this hilly terrain are within the Lapham Peak boundaries.
Governor Dodge State Park

Dodgeville

Governor Dodge, in southwestern Wisconsin, is one of the state's largest state parks, with 5,270 scenic acres of steep hills, bluffs, and deep valleys plus two lakes and a waterfall.
Kettle Moraine State Forest Southern Unit

Eagle

More than 20,000 acres of glacial hills, kettles, lakes, prairie restoration sites, pine woods and hardwood forests can be found in the Southern Unit, making this a popular area for a wide variety of visitors. The 3,500-acre Scuppernong River Habitat Area is the largest wet prairie east of the Mississippi River.
Old World Wisconsin

Eagle

Old World Wisconsin takes visitors back to a time of working farmsteads and settlements established by European immigrants. Replica of an 1870's village with working blacksmith, shoemaker and general store. Handicrafts done in the time of the homesteaders. Visit the one room school house called the Raspberry School.
Children's Museum of Eau Claire

Eau Claire

The interactive environment for children and their grown-ups in the Chippewa Valley that inspires imagination, discovery, creativity, and the love of learning. With so much to see and do, the Children's Museum of Eau Claire is a great place for family and group visits! Everything in the museum is designed with our "learning through play" philosophy. When children take part in the activities of the museum, they are entering a world created just for them.
Newport State Park

Ellison Bay

Newport, northeast of Ellison Bay, is Wisconsin's only formally designated wilderness park. With 2,373 acres and 11 miles of Lake Michigan shoreline it offers quiet alternatives to bustling Door County. There are evergreen and hardwood forests, wetlands, and upland meadows. The park has an interpretive center and naturalist program.
Peninsula State Park

Fish Creek

Rocky bluffs ascend over 150 feet while deer graze contentedly in abandoned farm fields. Considered Wisconsin's most complete park, Peninsula is also its most popular camping destination, with 468 campsites. The park's mission is to protect the natural and scenic resources of the park and to provide compatible forms of outdoor recreation and education. Recreational opportunities are boundless. Visitors can picnic, hike, bike, boat, fish, golf and swim during spring, summer and fall. Picnic shelters can be rented for group events. Winter offers cross country skiing, snowshoeing, sledding and snowmobiling. Camping, nature programs, and sightseeing are offered year-round. Special attractions include the historic Eagle Bluff lighthouse,an 18-hole golf course, musical theater in the park.
Children's Museum of Fond du Lac

Fond du Lac

A place where discovery and curiosity are brought to life through a touchable learn-by-doing atmosphere designed to foster creativity and a passion for lifelong learning. Children and adults play, learn and have fun together.
Merrick State Park

Fountain City

Located along the lazy Mississippi River north of Fountain City, the 322-acre Merrick State Park is popular with anglers and boaters. The marshy backwaters are home for egrets, herons, muskrats and otters.
Governor Knowles State Forest

Grantsburg

The Governor Knowles State Forest acts as a resource protection zone for the St. Croix National Scenic Riverway. The forest is 55 miles long and up to two miles wide. It encompasses 32,500 acres, of which 19,343 acres are currently state-owned. More than 100,000 acres of county forests and two large wildlife areas, the Fish Lake Wildlife Area and Crex Meadow Wildlife Area, border the forest. The St. Croix River winds the canoeist through a wild and scenic countryside. This is an excellent way to view geologic formations left by two ice ages.
Straight Lake State Park

Grantsburg

"Straight Lake is one of Wisconsin's best places-- a pristine natural area with beauty that is second to none," Governor Doyle said. "For years, this lake and the surrounding ponds have been special destinations for swimmers and fishermen, and at one time the lake even was the site of a Boy Scout camp."
Heritage Hill State Historical Park

Green Bay

Heritage Hill State Historical Park is a 50 acre living history museum in Green Bay, Wisconsin. Beautifully nestled on the banks of the Fox River, Heritage Hill brings history to life for thousands of visitors annually. Offering monthly history programs specifically for home schoolers. Families can also visit during the summer season to stroll through the park.
National Railroad Museum

Green Bay

The Museum has operates as a privately funded 501 (c) (3) educational organization with a mission to foster an understanding of railroading and its significance to American Life. What began as an effort to acquire a single steam locomotive for a city park has grown into one of the largest rail museums in the nation.
Green Bay Sail and Paddle

Green Bay

We offer a variety of sailing classes/lessons, kayaking classes/lessons, STEM Camps and adaptive programming. Many students have enjoyed our five-day STEM Camp where we discuss the math and science of sails, propulsion, water bouyancy, importance of clean water and so much more. These camps encompass ten (10) modules from the US Sailing REACH program and our quick-start method in learning how to sail on a Hobie Wave catamaran. Each student will have the opportunity to learn STEM through sailing by participating in on-shore activities, and on-the-water sailing.
Wade House

Greenbush

Return to the time of stagecoach travel and see a community where Yankee refinement met the Wisconsin wilderness. Vintage base ball players. Learn the terminology and rules of 1860s style vintage base ball played by the Greenbush Dead Citys at Wade House.
Kettle Moraine State Forest Pike Lake Unit

Hartford

The Pike Lake Unit of the Kettle Moraine State Forest is in the middle of the Kettle Moraine, a strip of glacial landforms which extends through southeastern Wisconsin to Lake Winnebago. This provides for a beautiful glacial remnant landscape of kames, kettles, and eskers. The forest is named after the 446-acre, spring-fed kettle: Pike Lake. Powder Hill, a large glacial kame, provides the opportunity for a great hike and view. Visitors can enjoy camping, swimming, hiking, fishing, picnicking, and much more within the forest.
Willow River State Park

Hudson

With 2,891 acres of prairie, forests, and panoramic river scenery, Willow River State Park offers year-round recreational and scenic attractions in western Wisconsin. Located 5 miles northeast of Hudson on County Road A, the park has a campground, a boat launch, and a 400-foot beach and picnic area centered on 172-acre Little Falls Lake. Willow River State Park draws more than 300,000 visitors each year.
Aztalan State Park *

Jefferson

Virtual field trip onlineThis park contains one of Wisconsin's most important archaeological sites. It showcases an ancient Middle-Mississippian village and ceremonial complex that thrived between A.D. 1000 and 1300. Archaeologists think the occupants have cultural traditions in common with Cahokia, a large Middle-Mississippian settlement near East St. Louis, Illinois. The people who settled Aztalan built large, flat-topped pyramidal mounds and a stockade around their village. They hunted, fished, and farmed on the floodplain of the Crawfish River. Portions of the stockade and two mounds have been reconstructed in the park.
Richard Bong State Recreation Area

Kansasville

Once designated to be a jet fighter base, Richard Bong State Recreation Area is fittingly named after Major Richard I. Bong, a Poplar, Wisconsin, native who was America's leading air ace during World War II. The project was abandoned three days before concrete was to be poured for a 12,500-foot runway. Local citizens had the foresight to protect this open space for future generations. In 1974 the state bought the land and it became the state's first recreation area. A recreation area differs from a state park or forest in that it offers additional activities not traditionally found in state parks. Appropriate to its name, Richard Bong SRA offers an area where visitors may fly fly model airplanes, rockets, hang gliders, and hot air ballons. Richard Bong also has space to train both hunting and sled dogs, train falcons, ride all-terrain vehicles (ATVs) and horses on trails, and hunt in season. All such activities take place in the special use zone or managed hunt areas.
Madeline Island Museum

La Pointe

Discover the magic that has drawn people to Madeline Island's legendary shores for centuries. The Madeline Island Museum comprises the original museum and a modern expansion. The original museum is four historic log structures that have been relocated and connected together. It includes the only remaining building of the American Fur Company complex built at La Pointe in 1835, making it the oldest structure on Madeline Island. Come explore the storied past of Madeline Island and one of the richest collections of Wisconsin history.
Mirror Lake State Park

Lake Delton

This park is named for its centerpiece, a lake which often is so calm that not a ripple marks its surface. The lake reflects a wooded shoreline with cliffs up to 50 feet high, a swimming beach, and wetlands that are home to a variety of wildlife. Just three miles from Wisconsin Dells, Mirror Lake State Park also has three picnic areas (one with a shelter and all with grills); wooded campsites; bike, boat, canoe, and kayak rentals; a cabin for people with disabilities; and a cottage designed by Frank Lloyd Wright. Only slow, no-wake boating is allowed.
Big Foot Beach State Park

Lake Geneva

This 271-acre park on the shore of Geneva Lake offers wooded campsites, a sand beach, and picnic areas. No alcoholic beverages are allowed anywhere in the park. The park has 5.5 miles of hiking trails through forest and open meadow. Most of the trails are relatively short and none are very strenuous. There is also a self-guided nature trail with interpretive signs about interesting natural phenomena along the trail.
Lumberjack Steam Train

Laona

Take a trip back in time with on the Lumberjack Steam Train vintage train from the 1800's. You can sit in a rare cupola caboose as you travel into an actual site of a Northwoods logging camp. The camp site contains some of the old buildings which were part of the farm such as the old Hog Barn which now serves as a Petting oral, the Blacksmith Shop which is now a part of the Museum and the old Slaughter House. In the distance is the old Boarding house and several original barns, as well as the "Woods Boss's House". Your ticket is not only for the train ride but also into the logging camp where you can wander around and get the feel of what it was like for the loggers that spent so much of their lives living here.
Big Bay State Park

Madeline Island

Big Bay State Park is on Madeline Island, the largest of Lake Superior's 22 Apostle Islands. The park, established in 1963, has picnic areas with tables, grills, water and toilets; a campground with drinking water, showers and toilets; an indoor camp for nonprofit groups; an outdoor group camp; and more than nine miles of trails, including interesting nature trails. The 2,350-acre park is open daily from 6 a.m. to 11 p.m. Admission stickers are required for all motor vehicles.
Capital Springs State Recreation Area

Madison

The new Capital Springs Centennial State Recreation Area just south of Madison encompasses about 3,000 acres stretching from Fish Hatchery Road east to Lake Waubesa, including most of the Nine Springs E-way. The project also includes the Capital City State Trail. When completed, the new Capital Springs State Park will seamlessly join Dane County's Lake Farm Park and newly acquired state land into a cooperatively operated and managed park. It includes familiar wildlife and recreation areas like the Monona Conservancy Wetlands, MMSD Wildlife Observation Area, Nine Springs E-way, Nevin Fish Hatchery, Jenni and Kyle Preserve, and Lussier Family Heritage Center.
Madison Children's Museum

Madison

Madison Children's Museum, an award-winning destination for fun family activities and hands-on learning.
Wisconsin Historical Museum

Madison

The Wisconsin Historical Museum is located on Madison's Capitol Square and is full of wonderful information about the state's rich history. Explore Wisconsin's distinctive heritage and a variety of other American history topics through artifacts, photographs, full-scale dioramas, audio-visual presentations, and interactive multimedia programs.
Olbrich Botanical Gardens

Madison

Olbrich Botanical Gardens' Explorer School Program offers field trips for homeschool groups. Childre ages 5-11 are invited to experience the extraordinary world of plants through hands-on, inquiry-based activities that support learning about the natural world and foster curiosity. Three different programs are offered throughout the year. Ecology Explorer is offered in the fall, Tropical Explorer is offered in the winter, and Botany Explorer is offered in the spring. Each program is 90 minutes and includes indoor learning stations and a guided tour through the gardens or tropical conservatory.
Ice Age National Scenic Trail

Madison

A Mammoth Walk - A mere 15,000 years ago during the Ice Age, much of North America lay under a huge glacier. Mammoths, saber tooth cats and cave lions roamed the earth! Some of the best evidence of this glacier is found in Wisconsin such as the state's many lakes, river valleys, gently rolling hills, and ridges. The nearly 1,200 mile Ice Age National Scenic Trail, established in 1980, traces the glacier's edge. Come, explore, and enjoy!
Copper Falls State Park

Mellen

Ancient lava flows, deep gorges, and spectacular waterfalls make Copper Falls one of Wisconsin's most scenic parks. Log buildings built by the Civilian Conservation Corps in the 1930s add to the park's charm. There are many things to do--hiking, picnicking, fishing, and swimming. The park is one of the highlights of the North Country National Scenic Trail in Wisconsin. For overnight stays, there are 54 regular campsites, a group camping area big enough for 40 people, a backpack campsite, and, for people with disabilities, a rustic cabin. Average season snowfall of more than 100 inches enables the park to maintain 12 kilometers (8 miles) of cross-country ski trails.
Hoffman Hills State Recreation Area

Menomonie

Hoffman Hills State Recreation Area offers 707 acres of preserved and restored wooded hills, wetlands, and prairie traversed with hiking and cross-country ski trails. It's an excellent bird watching area. A 60-foot-high observation tower crowns one of the highest points in Dunn County, offering spectacular views of the surrounding countryside, especially in autumn.
Turtle-Flambeau Scenic Waters Area

Mercer

Slip your boat into the water, take it out far enough to lose sight of the landing and look around, you're treated to a view of nature - of wild beauty and all its splendor. Tall stands of pine and birch crowd the shoreline, a pair of loons dive in a quiet bay, and high overhead, a bald eagle circles. This view will remain. The rugged Turtle-Flambeau Flowage will not fall victim to fragmented development along its shores. The scenic beauty and wild character will be preserved for future generations to enjoy.
Council Grounds State Park

Merrill

Council Grounds is a park with something for almost everyone. This 508-acre park along the Wisconsin River in north-central Wisconsin hosts a variety of activities and sights year round.
Havenwoods State Forest

Milwaukee

Havenwoods State Forest is a 237-acre open, green space in the City of Milwaukee. We provide environmental education and recreation opportunities and maintain natural habitat in the urban environment. The land includes grasslands, forest, wetland, Lincoln Creek, an urban arboretum, and yard care and garden areas. You can get bird and wildflower lists at the Environmental Awareness Center, which also has an auditorium, classrooms, displays, and a resource center. There are trails for nature study, hiking, biking, and cross-country skiing.
Lakeshore State Park

Milwaukee

In the heart of downtown Milwaukee, Lakeshore State Park provides a unique urban oasis with recreational opportunities and amenities geared to the urban population. It is open to the public from 6 a.m. to 10 p.m.; anglers, people going through the park on designated trails, and registered guests at the marina leaving or returning to their boats may be in the park at other times.
Haggerty Museum of Art

Milwaukee

The Haggerty Museum's primary focus is education. Successfully integrating Haggerty Museum exhibitions and events into the Marquette curriculum is a primary concern of the museum. Educational programs can be tailored to the needs of professors from all disciplines and can focus on current exhibitions or works from the museum's permanent collection. The Haggerty provides a variety of educational services for school children and adults, including free docent-led tours, teacher packets, hands-on workshops, exhibition-related lectures and gallery talks, performances, and concerts. Gallery guides are available for most exhibitions, and catalogs are published for major exhibitions.
Jewish Museum Milwaukee

Milwaukee

Jewish Museum Milwaukee is dedicated to cultivating awareness of the past and preserving our Jewish heritage for future generations.
Harley-Davidson Museum

Milwaukee

Learning how design, history, engineering and culture roar to life at the Harley-Davidson Museum. Specially designed educational activities and tours deliver a fun learning experience while meeting Wisconsin and Illinois state learning standards. Groups of 12 or more, K-12 level homeschools receive discounted admission of $5 per student. 1 complimentary chaperone ticket provided for ea 10 paid student admissions. Additional chaperone tickets are $14 ea.Schedule your visit or for more information: call 1-414-287-2799, email groups@h-dmuseum.com
Pendarvis

Mineral Point

A settlement of highly-skilled Cornish miners unearthed an ore that led to a mining frenzy. Discover the rush before the Gold Rush,at Pendarvis.
Ripley's Believe It Or Not Museum

Multiple Locations

Offers museums and attractions in multiple countries focusing on odd and amazing things. Provides videos, details about exhibits, and their history.
Buckhorn State Park

Necedah

Buckhorn State Park, established in 1971, includes a 4,500-acre park and wildlife area, a peninsula in the Castle Rock Flowage of the Wisconsin River, and land along the Yellow River--a paradise for water recreationists, hunters, hikers and nature lovers. The park has an outdoor group camp, 45 cart-in campsites, 11 drive-in sites, two-level accessible wildlife blind, accessible cabin, accessible fishing pier and waterfowl hunting blinds.
Bergstrom-Mahler Museum of Glass

Neenah

Bergstrom-Mahler Museum originated more that a century ago, in the imagination of a young girl in upstate New York. Born in 1872, Evangeline Hoystradt Bergstrom grew up in comfortable surroundings in the college town of Ithaca. It was as a young girl that her now legendary love affair with paperweights began. Today, with nearly 3,000 pieces, Bergstrom-Mahler Museum is known worldwide for its Permanent Collections of paperweights and Germanic glass.
Chippewa Moraine Ice Age State Recreation Area

New Auburn

Situated along the Ice Age National Scenic Trail, the Chippewa Moraine Ice Age State Recreation Area offers unspoiled beauty with kettle lakes and many glacial features. It is part of the Ice Age National Scientific Reserve. You're likely to see and hear birds and maybe a deer, fox, or beaver. You might see birds' eggs, such as this one from a robin.
Copper Culture State Park

New Auburn

Situated in an area of unspoiled beauty with kettle lakes and glacial features. The interpretive center sits atop a hill that was once a glacial lake bottom. The tranquil Ice Age Trail traverses through hilly, heavily forested terrain where a multitude of bird life abound. A visitor center generally is open from 8:30 to 4:30 daily.
Browntown Cadiz Springs State Recreation Area

New Glarus

Southwest Wisconsin's driftless area is uniquely different from the rest of the state. Here the bogs, marshes and many lakes so characteristic of most of the state are replaced by rolling hills and spring fed valleys streams. The impoundment of one of these streams in Green County has formed two small lakes. The recreational demand that developed around the lakes led in 1970 to the establishment of Cadiz Springs State Park. In 1980, the Browntown Wildlife Area and Cadiz Springs Park were merged into a state recreation area. Fishing is very popular with both warm and cold water species of fish available. Other water-based activities include canoeing, kayaking and sailing.
New Glarus Woods State Park

New Glarus

New Glarus Woods is a 411-acre state park offering camping, hiking, picnicking and snowshoeing. The park also offers direct access to The Sugar River State Trail, a 23-mile, 265-acre, State Park trail surfaced with compressed limestone screenings, for bicycling, hiking, snowmobiling and, in some areas, hunting. Take advantage of the many opportunities for recreation or relaxation in the area.
Wildcat Mountain State Park

Ontario

On a steep ridge overlooking the scenic Kickapoo River Valley, Wildcat Mountain State Park offers hiking trails with spectacular views and camping for families, groups, and horseback riders. Canoe the Kickapoo River in your own canoe or rent one in Ontario.
Military Veterans Museum and Education Center

Oshkosh

The Military Veterans Museum and Education Center offers an interesting learning experience about US History/US Wars. The museum boasts the largest military vehicle collection in Wisconsin along with numerous military artifacts. When you visit you may request a tour/information based on what you are studying; soldiers gear display, Soldiers' letters, US flag folding experience, Speakers from WWII though the present, Speakers about the civil war, Recruiting posters, and personalized dog tags per request ($8 each). Recommended ages; grades 5-12. We do ask for a $2 donation per student, teachers are free. Join the other home school groups who have visited.
Cascade Mountain

Portage

Cascade Mountain Field Trips are available Monday through Friday from open to close. Field trip pricing is $20.00 per person and this includes an all day and night ticket, ski or snowboard rental, a helmet, and a 90 minute beginner lesson. Cascade Mountain has 36 beautifully groomed trails from beginner to expert as well as 4 terrain parks to practice tricks and jumps. Not a skier or snowboarder? Cascade Mountain also has group rates for snow tubing. There are 10 lanes of snow tubing with a moving sidewalk to take you to the top. All fun and no work! Cascade Mountain also has retail shops, repair shops, and food available for your convenience. Cascade Mountain is open from November through mid-March (weather dependent). Field trip pricing is not available from Dec.24-Jan.2. Rates apply to groups of 15 people or more. Please call Cascade Mountain Group Sales Department for more details or to make a reservation at 608-742-5588 ext 1316.
MacKenzie Environmental Education Center

Poynette

The MacKenzie Environmental Education Center is one of the most diverse environmental education centers anywhere in Wisconsin. The Center is situated on 280 acres of rolling fields and forest land. MacKenzie is a wonderful place for family outings, picnics and out of the classroom adventures. Whether on your own, with your family and friends, or as an organized group, come enjoy and learn about resource management in Wisconsin. You are also invited to volunteer for the maple syrup program, developing and maintaining exhibits, teaching, monitoring bluebird houses and more.
Villa Louis

Prairie du Chien

Experience Victorian life during the 19th century as you visit the estate of one of Wisconsin's most prosperous families.
Kinnickinnic State Park

River Falls

In one of the Midwest's most beautiful areas, the St. Croix River Valley, Kinnickinnic State Park offers experiences in two types of worlds. Enjoy the quiet and solitude of the Kinnickinnic River Valley and the surrounding countryside and enjoy the many popular water-based recreational pursuits on the St. Croix River. The park includes a beautiful sand delta alive with boats and people enjoying the St. Croix River. Swimming, water skiing, sunbathing, and wind surfing are very popular. Boaters wishing to moor overnight are charged a nominal fee and typically spend star-lit evenings around a campfire on the beach.
St. Croix National Scenic Riverway

Saint Croix Falls

A River to Explore - The St. Croix and Namekagon Rivers offer 252 miles of clean water gliding past a lush green landscape, with glimpses of a human presence. Choose to canoe and camp amid the northwoods, or boat and fish surrounded by wooded bluffs and historic towns. This river corridor provides a wealth of scenic views and a haven for wildlife near a major metropolitan area.
Hunt Hill Audubon Sanctuary

Sarona

Hunt Hill Audubon Sanctuary is a nature sanctuary and learning center dedicated to fostering understanding, appreciation, and protection of the environment. Hunt Hill is open to the public year-round, protects nearly 600 acres of diverse habitats, and has over 13 miles of trails. Visitors get to float on the bog, hike through old growth forests, and explore the prairie. Home school groups are welcome to visit the sanctuary and explore the trails independently or schedule a day of naturalist-led programs that are aligned to Wisconsin state standards in science and environmental literacy.
Kohler-Andrae State Park

Sheboygan

Kohler-Andrae State Park in Sheboygan, Wisconsin, is the home of majestic sand dunes, miles of golden beach, shimmering blue Lake Michigan water, whispering pines, an abundance of wildlife, and recreational activities for everyone. Kohler-Andrae State Park is one of the last natural preserves along the Lake Michigan shore, and is open for everyone to explore and enjoy.
Great Wolf Lodge

Sheboygan

Great Wolf Lodge is North America's Largest Family of Indoor Waterpark resorts, and the ultimate destination for your next family getaway. Designed to capture the atmosphere of the Northwoods, our waterparks offer an amazing guest experience in a one-of-a-kind, rustically elegant setting. The perfect place for families to re-connect, and create lifelong memories. With one of our fully-themed resort suites as your family's base camp, you can set out on your Great Wolf adventure. You'll likely first discover our gigantic indoor waterpark, where it's always 84 degrees. And that's just the beginning. Besides our waterparks, don't miss our themed restaurants, interactive arcades, full service spas (and even a version for kids!), fitness centers, and so much more. And with more than 10 locations coast to coast, Great Wolf Lodge is the perfect, weatherproof, year-round destination for your busy family. So whether your family splashes the day away in the waterpark, enjoys a delicious family meal in our restaurant, or enjoys our nightly Storytime together before calling it a night, we think you'll agree, there's no time, like a Great Wolf time.
John Michael Kohler Arts Center

Sheboygan

A 40-year-old, nationally acclaimed visual and performing arts complex in downtown Sheboygan, the Arts Center is devoted to innovative explorations in contemporary American art. Its exhibitions focus on a wide range of art forms, with particular emphasis on sculpture, photography, crafts, new genres, installation art, ongoing folk traditions, and the work of self-taught artists. The performing arts emphasize dance, music, and theatre performances from around the world. Programming also includes a renowned Arts/Industry residency program, classes, and special events.
Kettle Moraine Scenic Drive

Sheboygan County to Walworth County

Visitors can enjoy the beauty, variety and geology of the Kettle Moraine State Forest in southeast Wisconsin by driving the Kettle Moraine Scenic Drive. The 115-mile drive traverses six Wisconsin counties. Its northern end is near Elkhart Lake in northern Sheboygan County and its southern end is at Whitewater Lake in southeastern Walworth County. There are numerous places to picnic, hike, camp, bike, swim, fish,visit historical sites, shop and find lodging along the way. Explore and enjoy the forest!
High Cliff State Park

Sherwood

High Cliff is the only state-owned recreational area on Lake Winnebago, Wisconsin's largest lake. High Cliff gets its name from the limestone cliff of the Niagara Escarpment, which parallels the eastern shore of Lake Winnebago. This ledge extends northeasterly to the Door County. A 125-acre area within the 1,187-acre park is designated as a state natural area, recognizing its excellent cliff environments, an undisturbed wet-mesic forest, and more than a mile of Lake Winnebago shoreline. Effigy mounds are important archaeological features. peninsula and on to Niagara Falls, New York
Interstate State Park

St. Croix Falls

Whatever outdoor activities you enjoy, you'll find that a variety of recreational opportunities await you at Interstate State Park. It's Wisconsin's oldest state park, established in 1900.
Ice Age National Scientific Reserve

Statewide

The Ice Age National Scientific Reserve was established in 1964 to protect the glacial landforms and landscapes in Wisconsin. The reserve is an affiliated area of the National Park System and consists of nine units across Wisconsin. Most of these units are connected by the Ice Age Trail. The units protect different areas of scenic and scientific value and provide all kinds of opportunities, from studying Wisconsin's natural history at one of the interpretive centers, to hiking, camping, sightseeing and wildlife viewing.
Central Wisconsin Children's Museum

Stevens Point

The mission of the Central Wisconsin Children's Museum is to provide a family-based discovery place where children and adults can play and explore together to strengthen confidence, capabilities and creativity through hands-on investigation.
Lake Kegonsa State Park

Stoughton

Lake Kegonsa State Park, south of Wisconsin's state capital, Madison, offers a natural, peaceful atmosphere beside a glacier-hewed lake. Selecting one of the 80 beautiful campsites nestled among the oaks can be a difficult task. After setting up camp, visitors can hike a trail, enjoy the beach, launch their boat, or have a picnic in the park. Lake Kegonsa offers swimming, fishing, water-skiing, sailing, and motor boating. The lake covers 3,209 acres and is more than 30 feet deep. Park visitors enjoy the lake's excellent fishing.
Potawatomi State Park

Sturgeon Bay

Potawatomi, on the shore of Sturgeon Bay just northwest of the city of Sturgeon Bay in Door County, has gently rolling upland terrain bordered by steep slopes and rugged limestone cliffs. A 75-foot observation tower rises above the forest canopy giving a panoramic view.
Whitefish Dunes State Park

Sturgeon Bay

Whitefish Dunes State Park, established in 1967, is an 865-acre day use park on Wisconsin's Door County Peninsula. Set aside to protect the fragile dune environment, Whitefish Dunes has more visitors than any other day use park in Wisconsin. Enjoy strolling along Lake Michigan, watching waterfowl at Clark Lake, using the boardwalk to discover the wetlands or relaxing on one of the many trails throughout the forested sand dunes and beech forest. Trails are open year round and 8 miles are groomed for skiing in winter. The park features programs, exhibits and brochures on archeology, highlighting the importance of eight significant Native American villages, which are listed on the National Register of Historic Places. In addition, the nature center offers displays on ecology, geology and human history of the park. Programs for all ages are presented year round at the park.
Amnicon Falls State Park

Superior

Amnicon Falls State Park features a series of delightful waterfalls and rapids along the Amnicon River. You can view them from a covered foot bridge or trails along the river, or--if you're sure-footed--from the rocky shore of the river. The park is a place to picnic, camp, walk in the woods, and learn about the Douglas Fault, the geological formation that created the falls.
Pattison State Park

Superior

Pattison State Park features the highest waterfalls in Wisconsin and the fourth highest waterfall east of the Rocky Mountains. Big Manitou Falls is 165 high, and Little Manitou Falls is 31 feet high. The 1,436-acre park also has a lake with a beach, nature programs and guided hikes, a nature center, camping, 9 miles of hiking trails, and abundant wildlife.
Richard I. Bong Veterans Historical Center

Superior

A visit to the Richard I. Bong Veterans Historical Center is an exciting and educational experience for students and teachers alike. The Veterans Historical Center cordially welcomes student groups and is a regular destination for schools throughout Wisconsin. The center offers 22,000 square feet of military artifacts honoring service men and women throughout the various war eras. Named for America's Ace of Aces and Congressional Medal of Honor recipient Major Richard I. Bong the center offers several field trip packages and programs presented by service veterans. Home School rates available
Free Educational Tours at Halquist Stone Company

Sussex

Free tours to students at the stone facility focusing on rocks and minerals. Tours last one hour with 30 minutes in the old school house rock museum and the other 30 minutes outside collecting 12 rock specimen samples that children take with them. Tour is aimed towards 3rd to 5th grade students. Call for a minimum number of students for homeschool groups.
Perrot State Park

Trempealeau

Perrot State Park, where the Trempealeau River meets the Mississippi River, has 1,270 acres of diverse ecosystems. The river bank and surrounding wetlands provide wonderful habitat for the many migratory birds that travel through this area twice a year. Hardwood forests with mature black walnut, oak, and hickory are home to many animals, birds, and woodland wildflowers. Unique to southwestern Wisconsin and Perrot are the goat prairies perched high on the bluffs.
Point Beach State Forest

Two Rivers

Point Beach offers 6 miles of Lake Michigan shoreline, with dunes, a lighthouse, camping, and hiking, biking, skiing, nature, and snowmobile trails.
Rock Island State Park

Washington Island

Take the ferry (Memorial Day weekend through Columbus Day) to this primitive island off the tip of the Door County peninsula in Lake Michigan. Stone buildings, built by a wealthy inventor who owned the island between 1910 and 1945, house exhibits. Cars and even bikes are not allowed on the 912-acre island, making for an experience unlike any other Wisconsin state park. There are 10 miles of hiking trails, including a one-mile interpretive trail, a naturalist program, and 5,000 feet of beach.
Governor Nelson State Park

Waunakee

Governor Nelson is a 422-acre day use facility. It has a 500-foot sand beach, bathhouses with solar-heated showers, a four-stall boat launch, a fish cleaning facility, picnic areas, barrier free playground equipment, prairie restorations, 8.4 miles of hiking/cross country ski trails, and a scenic overlook of Lake Mendota.
Hartman Creek State Park

Waupaca

Canoeists and kayakers looking for quiet lakes and hikers, off-road bikers, and horseback riders looking for a variety of trails should consider a visit to Hartman Creek State Park, in the center of Wisconsin near Waupaca.
Rib Mountain State Park

Wausau

This billion-year-old hill is one of the oldest geological formations on earth.
Museum of Wisconsin Art

West Bend

The Museum of Wisconsin Art is the state's primary venue for the exhibition of historic and contemporary Wisconsin art. It also includes the unequaled Wisconsin Art Archive which contains over 8000 files on Wisconsin art, artists and a significant library of research material on state art and history.
Flambeau River State Forest

Winter

The Flambeau River State Forest was officially established in 1930. Beginning with 3,600 acres in public ownership, the forest has since grown to include 90,000 acres. Northern hardwood species such as sugar maple, red maple, yellow birch and white ash dominate the forest, which creates a spectacular fall display. The North and South Forks of the Flambeau River combine within the forest to provide over 75 miles of nearly uninterrupted natural beauty and whitewater excitement. The river is a major life force of the forest and along its tree-lined shores one can see deer, wolves, raccoon, black bear, otter, bald eagles and ospreys.
Riverside & Great Northern Railway

Wisconsin Dells

The Riverside & Great Northern Railway is a 15" gauge railway and living museum located in Wisconsin Dells. Our train travels on a 1-1/2 mile historic railroad right-of-way dating back to 1857 that goes through scenic canyons and majestic rock cuts beside the Dells of the Wisconsin River. As an educational preservation society, staff will talk about the way a steam locomotive works and involve students in turning the locomotive on the turntable. Tours of the shops are available. After the train trip, there is a picnic area for snacks or lunch. Group rates are $2 off the regular ticket prices.
Rocky Arbor State Park

Wisconsin Dells

The 244-acre Rocky Arbor State Park is within 1.5 miles of the popular Wisconsin Dells vacation community. Eighty-nine wooded campsites offer seclusion, while pine trees and sandstone bluffs offer a cool escape to the picnicker or hiker in this summer park. The park has a 1-mile self-guided nature trail. Walk quietly, stop often, listen, and watch for wildlife. You may see deer, raccoons, squirrels, bats, and chipmunks. The campground has showers, flush toilets, and electricity.
Great Wolf Lodge

Wisconsin Dells

Great Wolf Lodge is North America's Largest Family of Indoor Waterpark resorts, and the ultimate destination for your next family getaway. Designed to capture the atmosphere of the Northwoods, our waterparks offer an amazing guest experience in a one-of-a-kind, rustically elegant setting. The perfect place for families to re-connect, and create lifelong memories. With one of our fully-themed resort suites as your family's base camp, you can set out on your Great Wolf adventure. You'll likely first discover our gigantic indoor waterpark, where it's always 84 degrees. And that's just the beginning. Besides our waterparks, don't miss our themed restaurants, interactive arcades, full service spas (and even a version for kids!), fitness centers, and so much more. And with more than 10 locations coast to coast, Great Wolf Lodge is the perfect, weatherproof, year-round destination for your busy family. So whether your family splashes the day away in the waterpark, enjoys a delicious family meal in our restaurant, or enjoys our nightly Storytime together before calling it a night, we think you'll agree, there's no time, like a Great Wolf time.
H.H. Bennett Studio

Wisconsin Dells

Combining advancements in technology with a love for natural landscapes, photographer H.H. Bennett captured the images that made Wisconsin Dells famous. Photography historians consider Bennett one of the best landscape photographers of the 19th century, considered the "Golden Age of Landscape Photography." Today the studio continues to house many of Bennett's original photographs, glass plate negatives, photography inventions, cameras and equipment.