Our listing of Wisconsin jobs and volunteer opportunities for homeschoolers is ordered alphabetically by city. If you would like to submit a Wisconsin co-op or academic resource, you may do so using the red button above.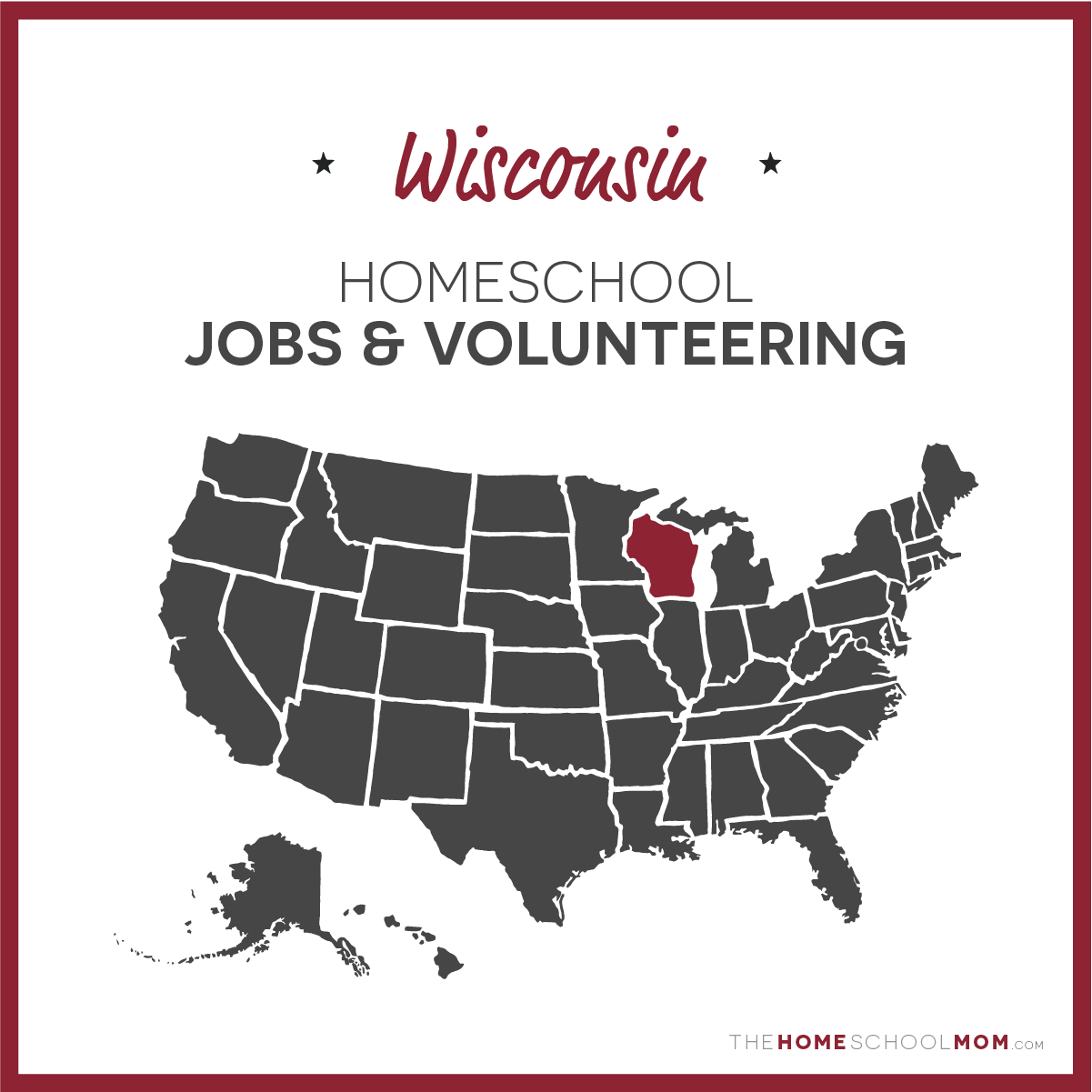 Submit a Local Resource
BeeHive Homes of Eau Clarie- Assistive Living and Memory Care

eau claire

We are looking for a small group of children to come and visit some of the residents here at BeeHive. We are open to doing crafts, playing BINGO or baking. The residents love having younger children come in and see their smiling faces.

BeeHive Homes of Eau Clarie- Assistive Living and Memory Care details
Urban Air Adventure Park - Now hiring!

Madison

If you're looking for the best year-round indoor amusements in the Madison area, Urban Air Trampoline and Adventure park will be the perfect place. With new adventures behind every corner, we are the ultimate indoor playground for your entire family. Take your kids' birthday party to the next level or spend a day of fun with the family and you'll see why we're more than just a trampoline park. Urban Air Trampoline Park has been voted BEST Gym In America for Kids by Shape Magazine, BEST Place To Take Energetic Kids and BEST Trampoline Parks. Urban Air Madison is currently hiring for court monitor, front desk, concessions, party host and manager. To apply please go to: www.urbanairmadison.com
Phantom Ranch Bible Camp

Mukwonago

Phantom Ranch Bible Camp is located in Mukwonago WI, 30 minutest south of Milwaukee. This camp is always looking for volunteers to help out over weekends or just day events. PRBC is in need of hard working high-school students who want to give their time and efforts for the purpose of having a hand in making sure a weekend retreat goes smoothly and that others can have a better encounter with Jesus. This organization values the volunteers that serve, not just as a "worker" but as a person. Social skills, leadership skills and overall fun will be learned and had while volunteering with Phantom Ranch Bible Camp. The aim of our organization with the volunteers is to give them a good work environment experience and tools to learn as they continue into the next phase of life.
Meijer

Multiple Locations

Meijer stores looking for hardworking team members that would like a career with a growing company. Careers are not just in the stores, but across the company; in the corporate office, distribution facilities, dairies and bakeries, there is something for everyone! Meijer operates in all major markets in Michigan, Kentucky, Indiana, Illinois and Ohio, with stores opening in Cleveland in 2019. New stores are opening every year in our newest markets in Wisconsin. Get your foot in the door today to work toward a brighter future. Visit the Career site for a constantly updating list of open positions.
ThedaCare Regional Medical Center-Neenah

Neenah/ Fox Cities

There are volunteer opportunities available to those ages 16 and older at ThedaCare Regional Medical Center-Neenah. The volunteer program offers a wide range of volunteer opportunities that are both fun and fulfilling. This is a great way to develop skills, knowledge, and experience in a learn-by-doing program. To request a volunteer application or for more information, contact Brooke Techlin, volunteer coordinator, at brooke.techlin@thedacare.org or 920-729-2207.
Shorehaven - Receptionists wanted

Oconomowoc

This is a great weekend opportunity for high school students! Shorehaven is currently seeking a part-time weekend receptionist in our beautiful independent living apartments. The receptionist is responsible for answering phones and the performance of general office duties. The schedule for this position would be every other weekend 8:00am - 3:00pm. You must be 16 years of age to apply!
Shorehaven

Oconomowoc

Our Homemaker/Companion position would be a great fit for students! Responsibilities include light cooking, serving meals and cleaning for the residents. The Homemaker/Companion will have the choice of hours of either 6:30am – 2:30pm or 7:00am – 3:00pm. There will be one to four shifts per week. Positions of at least four shifts per week are eligible for our full benefit program. In order to be successful in this role, the Homemaker/Companion will need the knowledge acquired in two years of high school or its equivalent and the ability to push, pull, lift and carry objects up to 25 pounds is frequently for serving food and food service functions, and up to 35 pounds for cleaning related tasks.
Shepherds College

Union Grove

Make a difference in the lives of students with intellectual and developmental disabilities! Shepherds College, located in Union Grove, Wisconsin, is a faith-based, non-profit, post-secondary school for young adults with intellectual and developmental disabilities. Student Life staff members work hands-on with our students to develop the necessary skills for life after graduation. We train, motivate, and challenge our students to reach their highest potential, and we have fun doing it. Whether it is teaching students how to prepare a meal or taking them to a movie, Student Life staff create a positive and lasting impact on the lives of our students. This position is perfect for aspiring educators, future social workers, those interested in working in special education, and anyone with a passion for ministry. *Part Time, Full Time, Weekend-Only, and flexible on-call opportunities are available!* *Shift Times can range 12 pm-9 pm weekdays and 7 am-9 pm weekends* *Full-time roles have PAID seasonal time off (summer, Christmas, spring break)* Visit our website at www.shepherdscollege.edu and take a virtual tour of our campus and learn more about the ministry and the mission. If interested, visit our employment page to see all available positions and to fill out an application.