Jump to: Homeschool Arts | Homeschool Sports
In addition to the opportunity to get out of the house and socialize, homeschool sports and arts programs can offer long-term benefits by developing characteristics like leadership, self-confidence, perserverance, and self-esteem. Many organizations and businesses have opportunities specifically for homeschoolers, while others invite homeschoolers to participate in their regular programs.
Not sure how to choose activity/activities for your children? Read how Rebecca narrows down the choice of extra-curricular activities.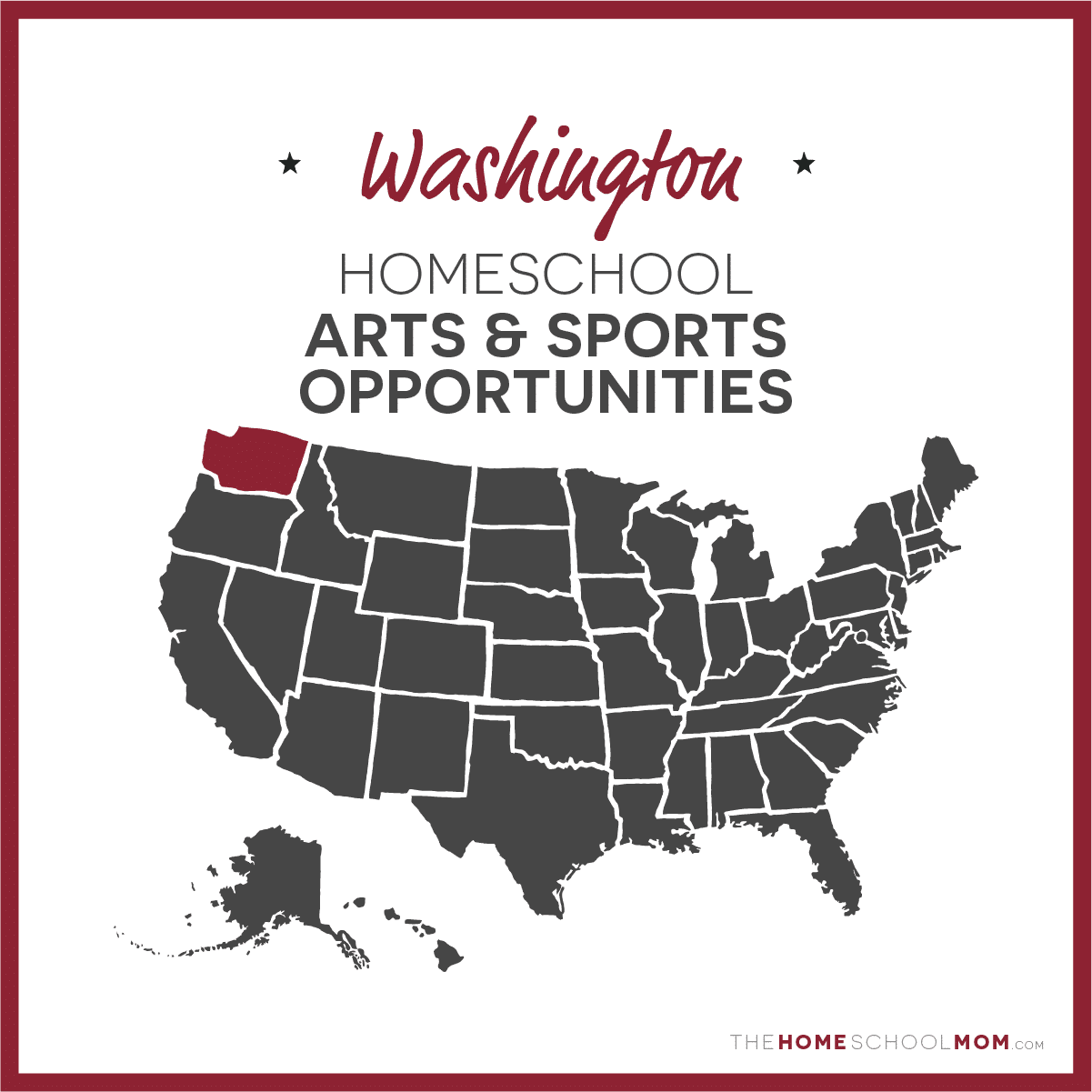 Submit a Local Resource
Our listing of Washington list of homeschool arts and sports programs is ordered alphabetically by city, with arts in the first section and sports in the second section. If you would like to submit an Washington arts or sports program, you may do so using the red button above.
Washington Homeschool Arts Programs
EHPTSABellevue
Eastside Homeschool PTSA is an inclusive community offering academic enrichment and social support to homeschooling families on the eastern side of Lake Washington. Member families represent the full spectrum of homes...
Bellevue Youth ChoirsBellevue
Bellevue Youth Choirs is comprised of a variety of choir levels serving youth ages 4 - 18 from the greater Bellevue area. Our choristers engage in comprehensive musicianship training, learn vocal techniques, performan...
Joyous Noise Studio Kindermusik ProgramCarnation
In every Kindermusik class, your child is welcomed into a playful and nurturing environment where they will sing, move, play instruments, and hear stories—all while developing social skills, problem-solving skills, pr...
Northwest Art CenterDuvall
The Northwest Art Center is dedicated to providing a range of art classes, workshops, and community events designed to engage the Snoqualmie Valley community in visual art as well as the creative process. Providing a ...
Spotlight Repertory NWEastside Seattle Area
A premier community music and performing arts company featuring live vocals, a jazz orchestra, theater productions, and classes.
Enumclaw Music - Homeschool StringsEnumclaw, King County & Pierce County
For three years now, Enumclaw Music has been providing music classes for homeschoolers. The 'Homeschool Strings' program offers classes for beginner and intermediate orchestral string players. Group guitar and ukulele...
AFAN - Art For All NationsLongview
Art for all Nations is a non-denominational Christian art school adhering to conservative values. We aim to be above reproach in both curriculum and theory. AFAN Foundational Studies strongly support the classical art...
Fiddle and Violin LessonsOlympia
Olyfiddle music studio offers private violin lessons during home school hours for students ages eight and older. No experience necessary. Basic violin technique and music theory will be established, through exploring ...
Summit Homeschool CommunityOlympia
Join our weekly homeschool programs for ages 4-18 years old! ​Subjects include art, lab science, writing, English grammar, theater, engineering, Latin, apologetics, speech and debate and more!
Tacoma Area Homeschool BandPierce County
Tacoma Area Homeschool Band (TAHB) offers beginning and intermediate band for students ages 9 and up. Also operate a choir, guitar classes and general music for younger students age 4-8. Program meets Thursdays in Lak...
Explorations: Grades 7-9Port Townsend
Change your child's life with an exploration in creativity. Professional artists instruct students in sculpture, theater, music, poetry and break dancing at beautiful Fort Worden State Park. Sign up in groups of 4-6 w...
Seattle Shakespeare Company Student MatineesSeattle
Live theater is an exceptional way to make literature and the arts immediate for your students, and classical plays bring the past to life before their eyes. Our productions can satisfy Washington State EALRs in Readi...
Seattle Shakespeare CompanySeattle
Seattle Shakespeare Company offers special 1-day intensive workshops to accompany our matinees, geared specifically toward home school families who want their students to have a richer experience with Shakespeare.
Youth in FocusSeattle
Youth in Focus is an after-school and summer youth development photography program located in Seattle, WA. Classes offered include curriculum in both darkroom and digital photography with an emphasis on empowerment, c...
Seattle Children's TheatreSeattle
During the school year, make the arts an intentional part of your child's education and join a thriving arts-based community to meet your student's social and emotional learning needs. Theatre education builds valuabl...
Mode Music and Performing ArtsSeattle
Get Creative with Mode Music and Performing Arts! Mode Music and Performing Arts (MMPA) is a non-profit arts organization with a goal to provide exciting and innovative performing arts classes to students throughout t...
Michelle Huang Piano StudioSeattle
Michelle Huang Piano Studio is accepting new piano students of all ages in the Seattle area. Michelle has a doctoral degree in piano performance and has been teaching for over 20 years. Students will learn a balanced ...
Shayla Nelson Studio - Music LessonsSeattle
Lessons in: voice, piano, history, and music theory Offered online or in-person I offer individually prepared lesson plans for each students needs, goals, learning styles, and skill set. Students gain musical knowledg...
Caitlin Kelley Violin StudioSeattle
Violinist Caitlin Kelley is a versatile performing artist, equally at home with traditional classical and contemporary repertoire. A graduate of the Juilliard and Colburn Schools, she enjoys a diverse career as a solo...
Voice and Piano Lessons with Shayla Nelson DemmersSeattle
Teaching both groups and private lessons in voice and piano. Specializine in vocal technique and teaching genres such as opera, musical theatre, and contemporary. Piano is also important in my studio in which I focus ...
Quality Violin and Viola Lessons with Evan UebelackerSeattle - Eastside
Professional Violist and Private Teacher, Evan Uebelacker, is based in the Seattle area and offering quality violin and viola lessons for all ages in your home. Mr. Uebelacker's teaching philosophy revolves heavily ar...
Guitar and Voice Instruction with Mike EsparzaSeattle, Bellevue, Redmond, Issiquah, Olympia, Yelm and surrounding areas
Guitar Voice Instruction is like a private school of music in your own home! Mike Esparza has been a private music instructor since 1991 and provides high-end in home lessons for guitar, voice, bass, ukulele and mando...
META Performing ArtsSkagit Valley
Field trip opportunities for homeschool groups to see live theatre shows. Opportunities to learn about the performing arts and to act, sing and dance on stage. Audition for upcoming shows in large theatres with live o...
Art 4 Fun StudioSnohomish
Art 4 Fun is an art studio located in the Clearview area of Snohomish County, Washington, serving families and adults alike. Offering a wide variety of art and craft activities in a studio setting. Programs are design...
Olympia Youth ChorusSouth Puget Sound area
Olympia Youth Chorus, established in 1995, is a non-profit choral music education program for school aged youth, 5-18 years old. Five choirs rehearse weekly during the school year and perform locally, regionally, nati...
Spokane Children's TheatreSpokane
Share the love of theater with students of all ages. Spokane Children's Theatre offers school day field trip performances for each show of our season at a reduced rate. (Show dates are not open to the general public, ...
Christian Youth Theater - SpokaneSpokane
Christian Youth Theater (CYT) is an after-school theater arts training program for students ages 4 - 18. CYT is a non-profit 501(c)(3) educational organization funded primarily through its tuition, ticket sales and ou...
Spokane Art School/Painting To The Jazz MastersSpokane
Learn to capture the spirit of the jazz masters in watercolor with local artist and jazz vocalist, Kathleen Cavender. You will not only learn more about the music of jazz and the art of watercolor painting, but, becau...
Spokane Art School/Jazz Greats CaricaturesSpokane
The drawing workshop will introduce you to the basics of cartooning and caricature with a series of exercises leading up to portraits of some of the jazz greats, including Mildred Bailey and Bing Crosby. Lean how to t...
Private Harp and Piano Lessons with Susan HaasTacoma
Susan Haas teaches harp lessons and piano lessons, from beginners to advanced, in her home studio in Central Tacoma near Snake Lake Nature Center. She can also travel to your home depending on schedule and location. W...
Learn the Cello in TacomaTacoma
Offering private cello lessons for homeschool students in Tacoma from ages 7+. Younger students will begin on the piano in preparation for cello. Daytime hours only. No evenings or weekends.
Open Arts StudioTacoma
Open Arts Studio is a school of the arts where traditional and modern techniques of fine art are taught in a safe and non-competitive environment, giving students the tools and freedom to express their growing creativ...
Quality Sound Voice Lessons for HomeachoolersTacoma
This music company provides resources for homeschool families to access quality education in music, vocal performance, and theory. Homeschool families can get up to 15% off private voice lessons. And additional discou...
Junior Symphony of VancouverVancouver
The Junior Symphony of Vancouver accepts intermediate to advanced musicians of chamber music instruments (flute, oboe, clarinet, bassoon, all strings). Participation is by application and appointment only. Check out o...
Journey Theater Arts GroupVancouver/Portland
Journey Theater Arts Group encourages and inspires youth to grow into and embrace who God designed them to be. This group is an after-school theater arts training program. JTAC offers more than 80 classes from drama t...
Pedersen ViolinWoodinville
This resource provides private lessons for violin and viola students from ages 4 and up. Topics covered include mechanics of string playing, music theory and music reading, and musical expression. The curriculum is de...
Washington Homeschool Sports Programs
Orion Indoor Archery Range, Inc.Auburn
Orion Indoor Archery Range is a family oriented sports venue. There are 22 lanes that students from 7 up can learn archery. Children under 7 will be considered on an individual basis or they are fr... [Read more...]
Bellevue Family YMCABellevue
Homeschool PE; Kids, Teen, and Tween extracurricular ProgramsWZ [Read more...]
Silver Buckle Ranch Home School Riding SchoolBrush Prairie
Skilled instructors and trained volunteers work with youth during our instructional horsemanship classes, ranch experiences, and mentoring programs. For more information or to sign up contact Silve... [Read more...]
Riverstone Climbing GymBurlington
RCG is the first, fully equipped, indoor rock climbing gym in Skagit County offering: • 5,000 square feet of climbing terrain including top-out and to the rim bouldering, top-rope, auto belay, and ... [Read more...]
Midnight Mountain Farm Riding SchoolEnumclaw
Midnight Mountain Farm offers riding instruction for all ages from beginner to advanced in a relaxed professional atmosphere. Students ride Western and English and also learn to care for a horse by... [Read more...]
UWTA Taekwondo CenterLynnwood
The UWTA Taekwondo Center in Lynnwood, WA offers an opportunity for children of ages 3 and up, and all experience levels, to engage in a physical activity that enriches the mind, body, and spirit a... [Read more...]
Vertical World NorthLynnwood
Homeschool Day Ages 6-9 | Ages 9-12 Pick up a new recreational activity through rock climbing. Homeschool Days will focus on climbing technique, technical skills, and self-confidence through age ap... [Read more...]
Northwest Wado-ryuMoscow
Northwest Wado-ryu Karate is offering home school physical education classes. Northwest Wado-ryu is a karate school, which, beyond learning karate, students will get to interact with other kids, an... [Read more...]
Boomshaka - Extreme Air SportsOlympia
Over 10,000 square feet of connected, world-class trampolines in a 23,000 sq. ft facility. The trampoline grid features over 60 trampolines, including angled wall trampolines, launching decks and a... [Read more...]
Vertical World; Indoor Rock Climbing ClassesRedmond
Offer Homeschool Rock Climbing classes for 6-9 Year Olds and 10 and up at Vertical World which is an Indoor Climbing Gym. Classses will focus mainly on Top Roping, which is climbing using ropes, ha... [Read more...]
Acuo YouthRedmond
This resource provides CrossFit workouts to kids ages 4 to 18 in a youth only gym. Classes are fast, fun and emphasize safe, correct movement. Once a week or unlimited options are available. [Read more...]
National Youth Football OrganizationSeattle
The National Youth Football Organization (NYFO) is a non-contact, skills-based youth league aimed at developing the minds and bodies of students. Organized and back by former NFL players, and coach... [Read more...]
Go Time AthleticsSeattle
Conveniently located in the Georgetown neighborhood, we offer a great indoor alternative to meet your kids' needs for fun and safe physical activity! Parents are welcome to sit in the loft or on th... [Read more...]
Kids Capoeira Group PackagesSeattle
Kids capoeira group packages for homeschool groups. Capoeira is an African-Brazilian art and culture movement incorporating dance, music, and martial arts. Lessons will be taught exclusively by the... [Read more...]
"PE for EveryBody" and "Adapted PE for EveryBody"Seattle-Tacoma
Homeschool and Adapted Needs Physical Education classes provided by 13 Generations Educational Mission, LLC, at Starfire Sports Complex, training home of the Seattle Sounders. Classes meet MW, TR, ... [Read more...]
NW Football MinistriesTacoma
NW Football Ministries is a non-profit Christian soccer ministry that operates in the greater Puget Sound area. NWFM offers a number of different youth programs that combine soccer and Bible lesson... [Read more...]
Freedom Martial Arts Academy, LLC Martial Arts & Self DefenseTacoma
Freedom Martial Arts Academy in Edgewood is offering discounted classes to homeschoolers during their regular schedule for your PE credit. The school can also accommodate Homeschool Co-Op Group eve... [Read more...]
Sensory Fitness - TacomaTacoma
Sensory Fitness offers personal sessions and group classes and provides an opportunity to for kids that struggle with movement and sensory issues to enjoy games, sports, and activities individually... [Read more...]
Aspire KarateTumwater
Sensei Trance holds a 4th degree black belt or yondan and devotes his time to teaching others the beautiful art of traditional Shotokan Karate – Do. With 45 years of experience in the martial arts ... [Read more...]
Sensory Fitness - University PlaceUniversity Place
Sensory Fitness is a fitness program for everyone and is an opportunity for homeschool PE. However, it is unique in that it specializes in working with individuals with ASD, SPD, ADHD, learning dis... [Read more...]
Northpointe GymnasticsVancouver
Northpointe is a USA Gymnastics Member gym. We offer classes from 18 mos to 18 yrs, Team, Arial Silks, Birthdays, Camps, and More! [Read more...]
Go to...