Jump to: Homeschool Arts | Homeschool Sports
In addition to the opportunity to get out of the house and socialize, homeschool sports and arts programs can offer long-term benefits by developing characteristics like leadership, self-confidence, perserverance, and self-esteem. Many organizations and businesses have opportunities specifically for homeschoolers, while others invite homeschoolers to participate in their regular programs.
Not sure how to choose activity/activities for your children? Read how Rebecca narrows down the choice of extra-curricular activities.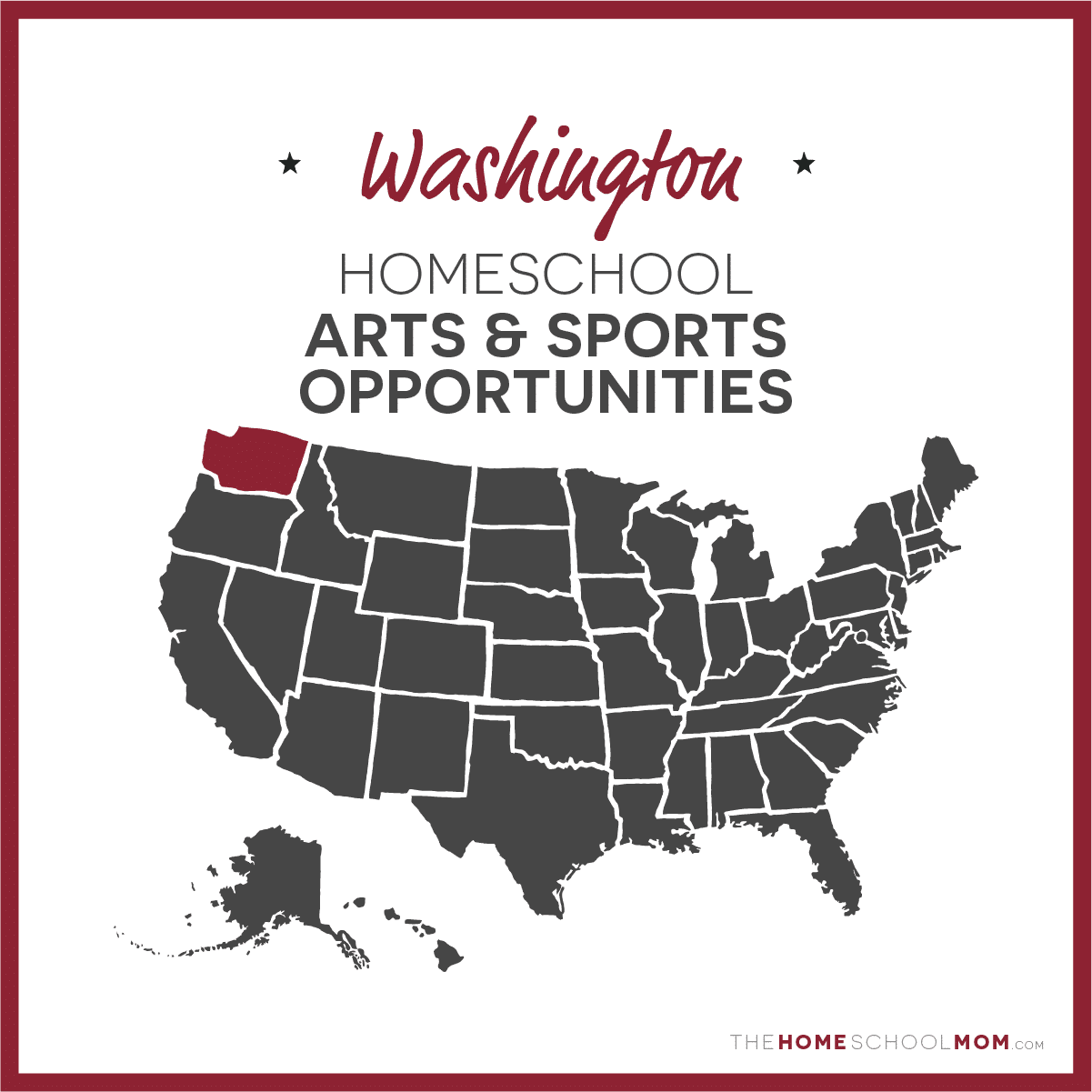 Submit a Local Resource
Our listing of Washington list of homeschool arts and sports programs is ordered alphabetically by city, with arts in the first section and sports in the second section. If you would like to submit an Washington arts or sports program, you may do so using the red button above.
Washington Homeschool Arts Programs
EHPTSA

Bellevue

Eastside Homeschool PTSA is an inclusive community offering academic enrichment and social support to homeschooling families on the eastern side of Lake Washington. Member families represent the full spectrum of homeschooling philosophies and practices, from unschooling to participation in school district ALE programs. We welcome families from all cultural and religious backgrounds and we strive to maintain an environment where all students can feel comfortable sharing their unique ideas, beliefs, traditions, interests and talents. Providing a wide array of courses including art, science, nature classes, electronics, drama, Arduino programming, French and many more. Classes are designed to support whatever educational efforts you choose to make outside EHPTSA. Students participate in community outreach efforts through individual classes and ESUC in an effort to leave a positive impact on the world our children are growing into.
Bellevue Youth Choirs

Bellevue

Bellevue Youth Choirs is comprised of a variety of choir levels serving youth ages 4 - 18 from the greater Bellevue area. Our choristers engage in comprehensive musicianship training, learn vocal techniques, performance skills, participate in memorable concerts, outreach and community events, and collaborations with other local musicians and choral groups. BYC is a non-profit organization that embraces diversity, welcomes youth of all races, ethnicities, religions, sexual orientations, gender identities, and socioeconomic backgrounds. Our program serves our community through music.
Joyous Noise Studio Kindermusik Program

Carnation

In every Kindermusik class, your child is welcomed into a playful and nurturing environment where they will sing, move, play instruments, and hear stories—all while developing social skills, problem-solving skills, pre-math skills, and a foundation for reading. Our research-based curriculum focuses on whole-child development and helps you understand how your child is developing musically, cognitively, and socially. We offer Kindermusik classes for ages newborn through elementary age, 6 days a week in 3 locations - Bellevue-Kirkland, Redmond, and Woodinville. This is an ongoing class and enrollment is accepted at any time. Free preview classes available.
Northwest Art Center

Duvall

The Northwest Art Center is dedicated to providing a range of art classes, workshops, and community events designed to engage the Snoqualmie Valley community in visual art as well as the creative process. Providing a space where students, artists, and art supporters can connect and create. The Homeschool offerings give local homeschoolers a spot to increase their artistic skills and digital art skills. We also offer volunteer opportunities for homeschoolers https://northwestartcenter.org/volunteer/
Spotlight Repertory NW

Eastside Seattle Area

A premier community music and performing arts company featuring live vocals, a jazz orchestra, theater productions, and classes.
Enumclaw Music - Homeschool Strings

Enumclaw, King County & Pierce County

For three years now, Enumclaw Music has been providing music classes for homeschoolers. The 'Homeschool Strings' program offers classes for beginner and intermediate orchestral string players. Group guitar and ukulele classes follow a similar format. The 'Rockschool' program is an opportunity for young musicians to form a band, recording and performing their own original songs as well as material from the standard repertoire. All classes are available daytimes, evenings and weekends, by arrangement and subject to enrollment.
AFAN - Art For All Nations

Longview

Art for all Nations is a non-denominational Christian art school adhering to conservative values. We aim to be above reproach in both curriculum and theory. AFAN Foundational Studies strongly support the classical arts. Our goal is to teach the secrets of the old masters, bringing back the craft of the Renaissance. Foundational to the visual arts program is representational drawing, the mastery of which opens the door to versatility in subject and medium. We aspire to create a school where different disciplines of the arts (drawing, painting, graphics, multimedia, music, dance, drama, film, etc.) work hand in hand, supporting and strengthening one another, and our goal is to use the arts to minister to churches, the community, and the world. AFAN meets once a week on Wednesday's throughout the school year. Tuition covers overhead and teachers salaries. A non-profit organization , we do art school, overseas missions for art camps and offer internships to art students.
Maple Valley Youth Symphony Orchestra

Maple Valley

The Maple Valley Youth Symphony Orchestra is a unique place where students can excel musically, connect socially, and grow personally. MVYSO offers a novice string orchestra and full symphony orchestras for intermediate to advanced student musicians. Most students will perform in 3 to 4 concerts each year, while more advanced musicians will also perform at holiday and community events. Beginning and intermediate percussion classes are also offered to prepare students for participation in the orchestra groups.
Fiddle and Violin Lessons

Olympia

Olyfiddle music studio offers private violin lessons during home school hours for students ages eight and older. No experience necessary. Basic violin technique and music theory will be established, through exploring folk music for violin or "fiddle". Orchestra tutoring is also offered to homeschoolers playing in area-youth symphonies, or students wishing to improve music-reading skills for violin. The studio is located in West Olympia, and serves students from the Southsound and Tacoma areas. Internet lessons are also available for students who have at least one year of playing experience.
Summit Homeschool Community

Olympia

Join our weekly homeschool programs for ages 4-18 years old! ​Subjects include art, lab science, writing, English grammar, theater, engineering, Latin, apologetics, speech and debate and more!
Tacoma Area Homeschool Band

Pierce County

Tacoma Area Homeschool Band (TAHB) offers beginning and intermediate band for students ages 9 and up. Also operate a choir, guitar classes and general music for younger students age 4-8. Program meets Thursdays in Lakewood. Tuition is $25/mo for the first student and $20/mo for each child after the first.
Explorations: Grades 7-9

Port Townsend

Change your child's life with an exploration in creativity. Professional artists instruct students in sculpture, theater, music, poetry and break dancing at beautiful Fort Worden State Park. Sign up in groups of 4-6 with an adult chaperone. (Chaperones receive room and board free of charge). Some scholarships available. This 40-year-old program run by the arts nonprofit, Centrum Foundation, continues to be a success with students year after year.
Seattle Shakespeare Company Student Matinees

Seattle

Live theater is an exceptional way to make literature and the arts immediate for your students, and classical plays bring the past to life before their eyes. Our productions can satisfy Washington State EALRs in Reading, Writing, Communications, Social Studies, and Arts. Student matinees begin at 10:30 a.m. at either the Intiman Playhouse or Center Theatre.
Seattle Shakespeare Company

Seattle

Seattle Shakespeare Company offers special 1-day intensive workshops to accompany our matinees, geared specifically toward home school families who want their students to have a richer experience with Shakespeare.
Youth in Focus

Seattle

Youth in Focus is an after-school and summer youth development photography program located in Seattle, WA. Classes offered include curriculum in both darkroom and digital photography with an emphasis on empowerment, creativity and inclusion. Youth are encouraged to use visual images as a way to share their unique voices and perspectives. Students also receive public speaking skills, critique opportunities and writing exercises. Youth in Focus is an approved Seattle Public Schools Service Learning Program.
Seattle Children's Theatre

Seattle

During the school year, make the arts an intentional part of your child's education and join a thriving arts-based community to meet your student's social and emotional learning needs. Theatre education builds valuable skills that children will take with them throughout their lives in everything they do. From developing empathy to improving memory, to building self-confidence and enhancing communication skills, the benefits of arts education are many. With classes for ages 4-14 meeting weekly on Tuesdays and Thursdays for 2.5-4 hours, you're sure to find the perfect fit for your student at SCT.
Mode Music and Performing Arts

Seattle

Mode Music and Performing Arts (MMPA) is a non-profit arts organization with a goal to provide exciting and innovative performing arts classes to students throughout the Seattle metro area. We are delighted to offer a full roster of in-person classes and workshops. Here are some examples of what you could learn with MMPA this year: - Intro to Rock Guitar - Ballet 101 - Hamilton Play Creation - Harry Potter Scene Study - Broadway Dance Party! - Yoga 101 - ...and SO much more! To see a full list of both live scheduled classes, please visit modemusicandperformingarts.org/classes. You can register for classes on our website. Scholarship opportunities available upon request. If you or someone you know would like to partner with MMPA to bring our enrichment classes to your school, please email us via education@modemusicandperfprmingarts.org.
Michelle Huang Piano Studio

Seattle

Michelle Huang Piano Studio is accepting new piano students of all ages in the Seattle area. Michelle has a doctoral degree in piano performance and has been teaching for over 20 years. Students will learn a balanced and comprehensive piano curriculum of technique, repertoire, sight-reading, and theory that develops the students' piano skills over time. Many of her students advance musically through monthly performance classes, studio recitals, festivals and competitions. She specializes in students of intermediate and advanced levels. Adult students are welcome! For more information, please refer to her website: https://www.michellehuangpiano.com/
Caitlin Kelley Violin Studio

Seattle

Violinist Caitlin Kelley is a versatile performing artist, equally at home with traditional classical and contemporary repertoire. A graduate of the Juilliard and Colburn Schools, she enjoys a diverse career as a soloist, chamber musician, orchestral player, and teaching artist. Caitlin works with aspiring violinists of all ages, and enjoys helping students to reach their goals, achieve technical excellence, and discover their innate artistry in a positive and supportive environment. A limited number of in-person lessons are available to students in the greater Seattle area. All prospective students are welcome to sign up for a free trial lesson!
Voice and Piano Lessons with Shayla Nelson Demmers

Seattle

Teaching both groups and private lessons in voice and piano. Specializine in vocal technique and teaching genres such as opera, musical theatre, and contemporary. Piano is also important in my studio in which I focus on technique and musicality. Music theory, ear training, and history are also woven into each lesson. Each student will have individualized lesson plans to support their needs and goals.
Quality Violin and Viola Lessons with Evan Uebelacker

Seattle - Eastside

Professional Violist and Private Teacher, Evan Uebelacker, is based in the Seattle area and offering quality violin and viola lessons for all ages in your home. Mr. Uebelacker's teaching philosophy revolves heavily around instilling a strong foundation of proper technique, intonation, and quality of sound. He understands the importance of balance between holding my students to a high standard and making sure they are having fun and developing the love for music that so many of us share. Primarily Suzuki method that is supplemented with many other materials designed to target technique and musicality. Aside from maintaining a studio of private students, Mr. Uebelacker is a certified and frequent volunteer for the middle school orchestras in the Lake Washington School District as well as the Bellevue School District. Additional details such as rates, artistic resume, and inquiry submission form are available at the website: www.evanuebelacker.com

Quality Violin and Viola Lessons with Evan Uebelacker details
Guitar and Voice Instruction with Mike Esparza

Seattle, Bellevue, Redmond, Issiquah, Olympia, Yelm and surrounding areas

Guitar Voice Instruction is like a private school of music in your own home! Mike Esparza has been a private music instructor since 1991 and provides high-end in home lessons for guitar, voice, bass, ukulele and mandolin to children ages 6 and up . He makes sure every lesson is both fun and enriching by providing a clear lesson plan complete with goals, achievement levels and performances. His song based teaching system makes every student feel like a rock star, they will be learning songs they love and experience the joy of music while receiving the academic benefits of music education.
Laura Luca Violinist-Violin Teacher

Seattle/Redmond/Kirkland

Laura Luca is a professional violinist and violin teacher based in Seattle. Laura´s goal is primarily to teach her students, but also to make sure they experience the love of music in a professional, fun, pressure-free and judgement-free educational environment. Each student receives the individualized attention they need, using Suzuki, American and European methods. She designs each lesson according to her students' abilities and make the necessary changes once she become more familiar with their needs.
META Performing Arts

Skagit Valley

Field trip opportunities for homeschool groups to see live theatre shows. Opportunities to learn about the performing arts and to act, sing and dance on stage. Audition for upcoming shows in large theatres with live orchestras. Three weeks of summer camp provide fun, friends and education in performing arts in July each year.
Art 4 Fun Studio

Snohomish

Art 4 Fun is an art studio located in the Clearview area of Snohomish County, Washington, serving families and adults alike. Offering a wide variety of art and craft activities in a studio setting. Programs are designed to provide a unique and creative art experience for your party or group. Offering art classes for after-school and homeschool enrichment.
Olympia Youth Chorus

South Puget Sound area

Olympia Youth Chorus, established in 1995, is a non-profit choral music education program for school aged youth, 5-18 years old. Five choirs rehearse weekly during the school year and perform locally, regionally, nationally and internationally. Faculty are WA certificated teachers and are members of the American Choral Directors Association. Admission is by private audition. Monthly tuition ranges from $65-80. Need based scholarships are available.
Spokane Children's Theatre

Spokane

Share the love of theater with students of all ages. Spokane Children's Theatre offers school day field trip performances for each show of our season at a reduced rate. (Show dates are not open to the general public, reservations must be made in advanced.)
Christian Youth Theater - Spokane

Spokane

Christian Youth Theater (CYT) is an after-school theater arts training program for students ages 4 - 18. CYT is a non-profit 501(c)(3) educational organization funded primarily through its tuition, ticket sales and outside contributions. Every session (fall, winter and spring) CYT offers theater arts classes for children as an after-school activity. Each local program conducts three ten-week sessions throughout the school year, teaching drama, voice, dance and a broad spectrum of specialty theatrical workshops at weekly two-hour classes. Enrolled students have the opportunity to work behind the scenes, or audition and perform on stage in a Broadway-style musical performed for the community.
Spokane Art School/Painting To The Jazz Masters

Spokane

Learn to capture the spirit of the jazz masters in watercolor with local artist and jazz vocalist, Kathleen Cavender. You will not only learn more about the music of jazz and the art of watercolor painting, but, because of the natural connection between music and paint you will find that expressing the colors, shapes and contrasts found in the voicing of jazz will come easily to you. This class is designed for high school ages students.
Spokane Art School/Jazz Greats Caricatures

Spokane

The drawing workshop will introduce you to the basics of cartooning and caricature with a series of exercises leading up to portraits of some of the jazz greats, including Mildred Bailey and Bing Crosby. Lean how to turn distinguishing features peculiarities, and gestures into a comic representation.
Private Harp and Piano Lessons with Susan Haas

Tacoma

Susan Haas teaches harp lessons and piano lessons, from beginners to advanced, in her home studio in Central Tacoma near Snake Lake Nature Center. She can also travel to your home depending on schedule and location. With over 25 years of experience, she tailors the lesson to your needs and goals.
Learn the Cello in Tacoma

Tacoma

Offering private cello lessons for homeschool students in Tacoma from ages 7+. Younger students will begin on the piano in preparation for cello. Daytime hours only. No evenings or weekends.
Open Arts Studio

Tacoma

Open Arts Studio is a school of the arts where traditional and modern techniques of fine art are taught in a safe and non-competitive environment, giving students the tools and freedom to express their growing creativity. Our approach in learning combines three fundamental elements: technique, creativity and fun. These three elements are vital in developing confidence and self-expression. Classes are offered for homeschooler in the following areas of study: Draw and Paint, Pottery/Ceramics, Music Lessons, Cooking and Baking, Sewing.
Quality Sound Voice Lessons for Homeachoolers

Tacoma

This music company provides resources for homeschool families to access quality education in music, vocal performance, and theory. Homeschool families can get up to 15% off private voice lessons. And additional discounts for group lessons.
Junior Symphony of Vancouver

Vancouver

The Junior Symphony of Vancouver accepts intermediate to advanced musicians of chamber music instruments (flute, oboe, clarinet, bassoon, all strings). Participation is by application and appointment only. Check out our website for audition notices and concerts!
Journey Theater Arts Group

Vancouver/Portland

Journey Theater Arts Group encourages and inspires youth to grow into and embrace who God designed them to be. This group is an after-school theater arts training program. JTAC offers more than 80 classes from drama to dance to improv, 12 school-year shows in four locations and summer community theater. Journey's professional-quality school-year musicals are exclusively cast with kids ages 8-18. Supports Portland, Beaverton, and Vancouver.
Pedersen Violin

Woodinville

This resource provides private lessons for violin and viola students from ages 4 and up. Topics covered include mechanics of string playing, music theory and music reading, and musical expression. The curriculum is designed to fit each student specifically. Teacher training has included Suzuki method (units 1-6), Paul Rolland Pedagogy, and Mimi Zweig pedagogy. Diverse students are welcome, including ASD, LGBTQ, and any culture or family of origin.
Washington Homeschool Sports Programs
Orion Indoor Archery Range, Inc.

Auburn

Orion Indoor Archery Range is a family oriented sports venue. There are 22 lanes that students from 7 up can learn archery. Children under 7 will be considered on an individual basis or they are free to watch. There is comfortable seating. Equipment can be rented or purchased. Professional coaches are available for private or group lessons. They are open Wednesday through Monday. Archery can be a PE or historical activity. Often children bring three generations of their families to have fun together. Facilities are ADA ready and adaptive archery can be arranged for.
Bellevue Family YMCA

Bellevue

Homeschool PE; Kids, Teen, and Tween extracurricular ProgramsWZ
Silver Buckle Ranch Home School Riding School

Brush Prairie

Skilled instructors and trained volunteers work with youth during our instructional horsemanship classes, ranch experiences, and mentoring programs. For more information or to sign up contact Silver Buckle Ranch at 360-260-8932 or e-mail info@silverbuckleranch.org
Riverstone Climbing Gym

Burlington

RCG is the first, fully equipped, indoor rock climbing gym in Skagit County offering: • 5,000 square feet of climbing terrain including top-out and to the rim bouldering, top-rope, auto belay, and lead climbing • Hundreds of routes that are on a constant re-setting cycle so that there is always something new to do • Instructional courses for adults and youths with beginning and intermediate levels available • Youth Climbing Team • Pro shop with all the rental gear you will need to climb in the gym and retail gear suited for indoor and outdoor climbing • Coffee lounge area in the mezzanine
Midnight Mountain Farm Riding School

Enumclaw

Midnight Mountain Farm offers riding instruction for all ages from beginner to advanced in a relaxed professional atmosphere. Students ride Western and English and also learn to care for a horse by feeding, grooming and doing ground work.
Grand Farms Riding Academy

Gig Harbor

Grand Farms is a full service riding center offering a wide range of services over two properties in the Vaughn and Key Peninsula area of Gig Harbor. Grand Farms is home to our competitive team, Team Chaos! And Hamilton Hill Farm is home to our Academy. Both properties have lease and boarding services. Hamilton Hill Farm(HHF) is led by Jessica who trains every age and ability through our Grand Farms Riding Academy(GFRA). Our program develops horsemanship through mounted and unmounted lessons to instill every Rider with the skills needed to confidently ride and care for their horse. Beginning Competition available in all English Riding Disciplines: Dressage, Jumper/Hunter, and Cross Country. Services provided by the Grand Farms Riding Centers include: Academy Lessons, Private Lessons, Competition Training, Boarding, Leasing, Sales, Clinics and Camps.
UWTA Taekwondo Center

Lynnwood

The UWTA Taekwondo Center in Lynnwood, WA offers an opportunity for children of ages 3 and up, and all experience levels, to engage in a physical activity that enriches the mind, body, and spirit as one. Owned and operated by Master Sean Dalton, a 6th degree black belt (Yuk Dan), all classes are designed to challenge the student physically, while also developing skills in memory, hand/foot-eye coordination, discipline, self-defense, self-confidence, and self-esteem, all while instilling the foundational tenets of Traditional Taekwondo: Courtesy, Integrity, Perseverance, Self-Control, and Indomitable Spirit. With one of the best teacher-to-student ratios in the state, the instructors of the UWTA Taekwondo Center bring a combined total of over 70 years of experience in training and teaching, which is used to provide the highest quality Taekwondo education to its students.
Vertical World North

Lynnwood

Homeschool Day Ages 6-9 | Ages 9-12 Pick up a new recreational activity through rock climbing. Homeschool Days will focus on climbing technique, technical skills, and self-confidence through age appropriate activities. Participants will gain valuable hands on experience! • Improve confidence and self-esteem • Foster teamwork and problem-solving • Build endurance and strength • Discover a new lifelong sport! Class Offered: Ages 6-9 Tuesday | 11:30 AM - 1:00 PM Class Offered:Ages 9-12 Tuesday | 1:00 AM - 3:00 PM * Includes shoes, harness, access to belayers, gym orientation. Unanswered questions? Please email us at anique@verticalworld.com
Northwest Wado-ryu

Moscow

Northwest Wado-ryu Karate is offering home school physical education classes. Northwest Wado-ryu is a karate school, which, beyond learning karate, students will get to interact with other kids, and also learn valuable life lessons.
Boomshaka - Extreme Air Sports

Olympia

Over 10,000 square feet of connected, world-class trampolines in a 23,000 sq. ft facility. The trampoline grid features over 60 trampolines, including angled wall trampolines, launching decks and a few surprises up in the ceiling to test jumpers vertically. Home school jump hours are from 12:00-2:00 pm Monday, Tuesday, Wednesday, and Friday. Huge discount to home schoolers of only $5 per hour to jump.
Vertical World; Indoor Rock Climbing Classes

Redmond

Offer Homeschool Rock Climbing classes for 6-9 Year Olds and 10 and up at Vertical World which is an Indoor Climbing Gym. Classses will focus mainly on Top Roping, which is climbing using ropes, harnesses, and a belayer to protect the climber. With the security of a top rope, climbers can climb as high as they like on the roped walls. The class may sometimes include Bouldering, which is a form of rock climbing performed on shorter walls without the use of harnesses or ropes and emphasizes tricky, shorter sequences requiring power and strength. Class Offered: Ages 6-9 Thursday | 11:00 AM - 12:30 PM Class Offered: Ages 10 and up Thursday | 1:00 AM - 3:00 PM
Acuo Youth

Redmond

This resource provides CrossFit workouts to kids ages 4 to 18 in a youth only gym. Classes are fast, fun and emphasize safe, correct movement. Once a week or unlimited options are available.
National Youth Football Organization

Seattle

The National Youth Football Organization (NYFO) is a non-contact, skills-based youth league aimed at developing the minds and bodies of students. Organized and back by former NFL players, and coaches, NYFO provides the highest quality athletic experience with safety in mind. NYFO believes in providing youth an opportunity to learn the fundamentals of football and have fun. This is a great alternative to full contact football and equally open to girls and boys.
Go Time Athletics

Seattle

Conveniently located in the Georgetown neighborhood, we offer a great indoor alternative to meet your kids' needs for fun and safe physical activity! Parents are welcome to sit in the loft or on the sidelines while their kids play. Free WiFi, free parking, and friendly staff! We will be expanding our offerings to serve the homeschooling community soon. Go Time Athletics has brought together top baseball and softball coaches to provide lessons and to lead our clinics. We will provide clinics on a weekly basis and all of our coaches are available for private lessons. Visit our website at www.gotimeathletics.com to see our coaching staff, clinic/camp info and prices. The facility has 6 batting cages (15′ x 45') or 3 full length tunnels (15′ x 90') for pitching and long toss throwing that are available for individual or team workouts. The cages will have retractable dividers when all pulled back the area can be used for team infield work. For Individual cages can be reserved for $35.00 plus tax an hour.
Kids Capoeira Group Packages

Seattle

Kids capoeira group packages for homeschool groups. Capoeira is an African-Brazilian art and culture movement incorporating dance, music, and martial arts. Lessons will be taught exclusively by the founder of The Seattle Capoeira Center, Syed Taqi (Mestre Mangangá). Syed has been teaching capoeira to kids and adults for over 15 years. His teaching style is exceptionally approachable and enriching, while delivering capoeira to kids through lessons of focus, discipline, and respect.
"PE for EveryBody" and "Adapted PE for EveryBody"

Seattle-Tacoma

Homeschool and Adapted Needs Physical Education classes provided by 13 Generations Educational Mission, LLC, at Starfire Sports Complex, training home of the Seattle Sounders. Classes meet MW, TR, or Fridays for 90 minutes per session over eight weeks. Locomotor and Spatial Mapping is the developmentally appropriate class provided for students ages 5 - 9. Flag Football, Ultimate Frisbee, Flickerball, Lacrosse, and Yoga/Tai Chi are the classes offered for students ages 10 - 18. Taught by a certified Physical Education Specialist that graduated from the University of Georgia in 2007. Please visit www.13gem.org for much more information.
NW Football Ministries

Tacoma

NW Football Ministries is a non-profit Christian soccer ministry that operates in the greater Puget Sound area. NWFM offers a number of different youth programs that combine soccer and Bible lessons. Programs include a variety of different soccer camps and even a year round soccer league.
Freedom Martial Arts Academy, LLC Martial Arts & Self Defense

Tacoma

Freedom Martial Arts Academy in Edgewood is offering discounted classes to homeschoolers during their regular schedule for your PE credit. The school can also accommodate Homeschool Co-Op Group events or private classes. The Little Ninja Club, for the 3.5 - 5/6 yr olds, has an introductory special for all homeschool families: 1 month free of classes! Check the schedule at http://www.fmaatkd.com/schedule for times.

Freedom Martial Arts Academy, LLC Martial Arts & Self Defense details
Sensory Fitness - Tacoma

Tacoma

Sensory Fitness offers personal sessions and group classes and provides an opportunity to for kids that struggle with movement and sensory issues to enjoy games, sports, and activities individually or with friends. I cater activities to meet the needs of all kids and the dynamic of the group. It is a great opportunity for home school kids as a PE resource as well as sensory and behavior strategies if needed. I rent out space in local gymnasium, gymnastic gyms, as well as utilize parks, homes, and other settings in the Tacoma area.
Aspire Karate

Tumwater

Sensei Trance holds a 4th degree black belt or yondan and devotes his time to teaching others the beautiful art of traditional Shotokan Karate – Do. With 45 years of experience in the martial arts (38 years of teaching) Sensei Trance feels he is more than qualified to help others reach personal, physical and mental goals through karate. The focus of Aspire Karate is to bring families together, character development, and self-confidence, focus, discipline and concentration. Aspire Karate provides a warm family environment and is community oriented. Ages 6-8: Time Tuesday: 4:45 pm-5:15 On Thursday 4:30 pm-5:00 pm Ages 9-and above Time Wednesday and Friday: 5:00 pm to 5:30 pm Once you pass your white belt test classes become unlimited Monday-Sunday You can start at anytime. Location: 5739 Littlerock Rd SW suite 103 Tumwater, WA 98512 Phone: 360-214-2990 Cost: $85.00 a month, Gi and gear not included in this price. This offer is for new students only. Parents are welcome also.
Sensory Fitness - University Place

University Place

Sensory Fitness is a fitness program for everyone and is an opportunity for homeschool PE. However, it is unique in that it specializes in working with individuals with ASD, SPD, ADHD, learning disabilities, and other neuro-diversities! We use games, exercises, and challenges to improve postural stability, whole body coordination, and motor planning while promoting socialization, problem solving, and team work. Sensory Fitness uses a sensory integrative approach to improve sensorimotor development to improve sensory perception and complex thinking needed for everyday life.
Northpointe Gymnastics

Vancouver

Northpointe is a USA Gymnastics Member gym. We offer classes from 18 mos to 18 yrs, Team, Arial Silks, Birthdays, Camps, and More!