Jump to: Homeschool Co-ops | Homeschooling Classes & Academic Enrichment
Looking for someone to teach physics to your teen? Need a way to avoid teaching algebra? Want to enroll your Kindergartener in a co-op for social time? Homeschool classes and co-ops are a great way to spend time with other homeschoolers and skill-share with other homeschool parents.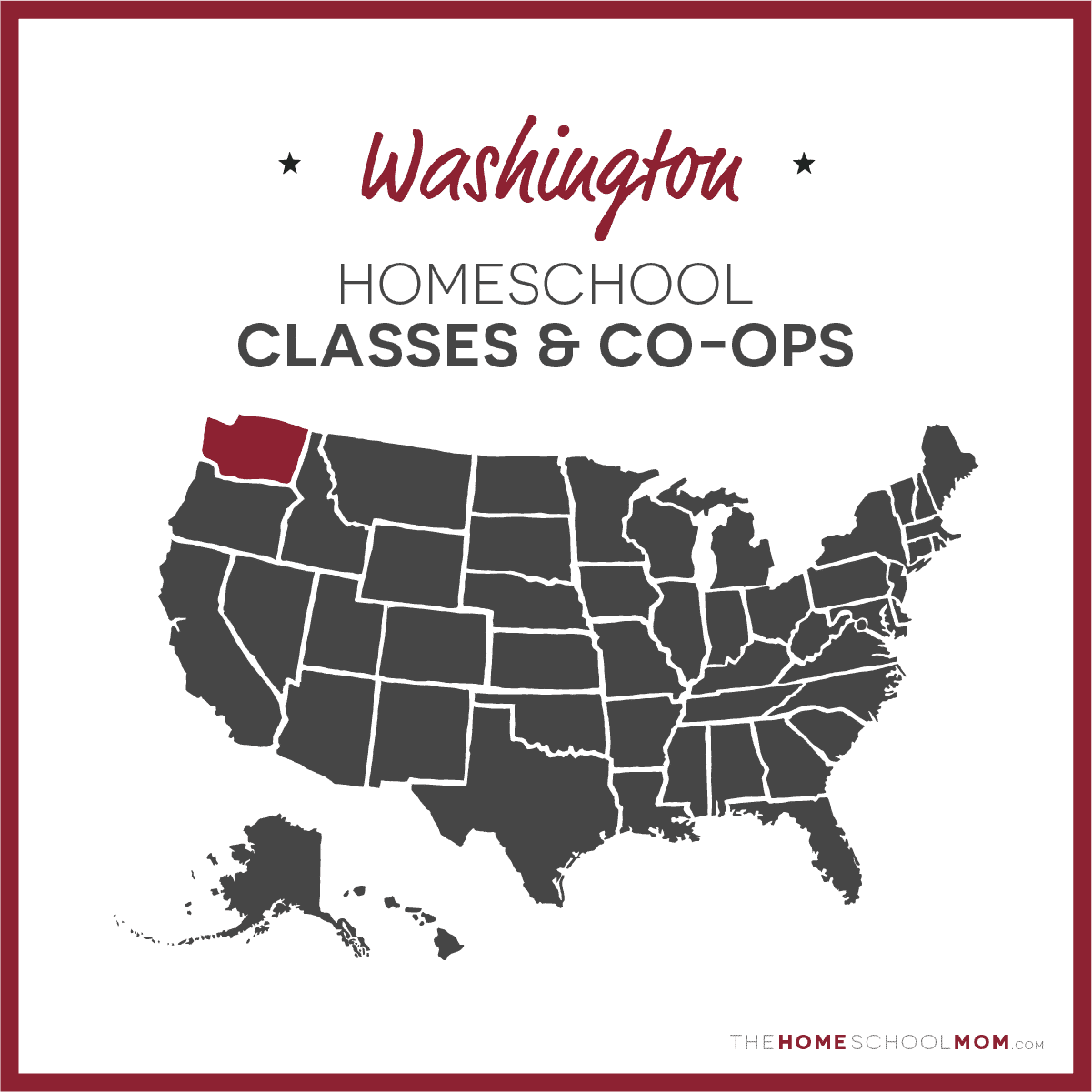 Submit a Local Resource
Our listing of Washington co-ops and academic classes for homeschoolers is ordered alphabetically by city, with co-ops in the first section and all other academic resources below. If you would like to submit a Washington co-op or academic resource, you may do so using the red button above.
Washington Homeschooling Co-ops
Rainier Homeschool Group

Auburn

Rainier Homeschool Group is a group of homeschool families who will come together to participate in classes, field trips, parties, and other activities. We will hold weekly classes during the school year for homeschooled students ages 5-18, with a commitment to offer academic and elective classes. Younger siblings (ages 0-4) can also enjoy their day at co-op in classes designed to give them a positive experience in a classroom setting or in the nursery/toddler area.
West Sound Homeschool Community

Bainbridge

West Sound Homeschool Community is a faith based homeschool co-op. West Sound Homeschool Community meets once a week on Thursday afternoons. We offer classes for grades K-12. These classes are broken up into 4 blocks of time. Co-op begins at 12:30 pm and ends at 3:30pm. All families are required to stay and help clean-up (see Family Assignments). Thursday Co-op is a great opportunity for you to bless your children and other children by teaching a class on a subject or topic that you are passionate about. You will have the opportunity in March to request classes and to sign up to teach a class. While parents who enroll their children are not required to teach, we are dependent on their willingness to do so in order to offer a variety of classes for students.
Heritage Homeschool Co-op - Washington

Bellevue

Christian homeschool cooperative which meets in Bellevue, Washington at Westminster Chapel. Heritage provides a wide variety of K-12 classes each Monday, enriching the learning experience for around 160 homeschool families.
EHPTSA

Bellevue

Eastside Homeschool PTSA is an inclusive community offering academic enrichment and social support to homeschooling families on the eastern side of Lake Washington. Member families represent the full spectrum of homeschooling philosophies and practices, from unschooling to participation in school district ALE programs. We welcome families from all cultural and religious backgrounds and we strive to maintain an environment where all students can feel comfortable sharing their unique ideas, beliefs, traditions, interests and talents. Providing a wide array of courses including art, science, nature classes, electronics, drama, Arduino programming, French and many more. Classes are designed to support whatever educational efforts you choose to make outside EHPTSA. Students participate in community outreach efforts through individual classes and ESUC in an effort to leave a positive impact on the world our children are growing into.
Legacy Homeschool Center

Bellevue

Legacy Homeschool Center is a Christian homeschool cooperative which exists to further equip parents, who are ultimately accountable for the teaching of their children, with learning opportunities which enhance their effort to provide excellent academic instruction from a Biblical Christian worldview, inspire a love for learning, and equip their children to think clearly, concisely, and critically with character reflecting that of our Lord, Jesus Christ. Legacy is not a school, and does not employ teachers. They are under the employ of the families who have students attending their classes. Teachers determine the course content, materials, and cost of each class. All teachers are required to sign and be in agreement with our Statement of Faith and Mission Statement. The heart of Legacy Homeschool Center is homeschooling, which necessitates parents' involvement in their children's education, classes, and day-to-day experiences to achieve maximum effectiveness. In order to get the most benefit from classes, parents are highly encouraged to attend their child(ren)'s classes. Parents remain on-site the entire time their children are at Legacy, and all participants fulfill assigned jobs.
Anchored Homeschool Network

Cheney

Anchored Homeschool Network is a Christian Homeschooling Co-op located in Cheney, Washington.
Inland Northwest Christian Homeschoolers

Coeur d'Alene and Spokane Valley areas

INCH is a non-profit co-op and support group serving homeschoolers in Coeur d'Alene and surrounding areas. INCH is not a drop-off program or a school, but a co-op run solely by volunteer moms. We offer homeschool students from preschool through high school an assortment of academic and enrichment classes and social activities to supplement their homeschooling experience, as well as classes and workshops to encourage and support homeschooling moms.
Homeschoolers of the Land of Colfax

Colfax, Whitman County

With the occasional field trips and park outings, classes are offered to develop a love of learning. Subjects offered by enthusiastic moms include American revolutionary history, Spanish, Greek and Latin, creative writing, and microbiology (by a microbiologist).  Parents enjoy brainstorming homeschooling strategies and providing moral support, wanting to maximize the blessings of teaching their children.
Homeschool Alliance of SW Washington (HSALL)

Cowlitz County

Homeschool Alliance of SW Washington is comprised of a variety of homeschool co-ops, parents and advocates. The goal of HSALL is to bring together the homeschool community in Cowlitz and surrounding counties. HSALL speaks to the heart of homeschooling by providing local event information, approaches to homeschooling, co-op information and mentoring to homeschool parents.
Cowlitz Wild and Free Secular Nature Co-Op

Cowlitz County

This nature co-op is for those who love to spend time outside, learning and growing, playing and socializing, really getting to know each other. We strongly believe in a homeschool community, united yet so diverse, that is open and inclusive of all religious and non-religious individuals. Our co-op doesn't promote any political or religious ideology, but is not anti religion in any way. In fact, we have so many beautiful families of faith that are here with us now, and we honor and support them fully. Join our group Facebook page to learn what we are all about, have access to our monthly field trips and events, and other resources!
Ellensburg Christian Homeschoolers

Ellensburg

Newborn-8th grade. Once per week, about 3.5 hours. Similar style to a co-op. Parents in the group take turns teaching enrichment classes and assisting other parent-teachers. This is a non-denominational Christian group and is meant to give enrichment to homeschool families.
Connections Homeschool Co-Op

Everett, Woodinville

Founded in 1994, Connections is a non-profit organization that seeks to empower homeschooling families to educate their children. Our mission is to partner with parents to educate and equip students by providing arts and academic classes from preschool through highschool in a supportive, Christ-centered community. Experts in their fields, our instructors are passionate about their subjects. They are deeply committed to the support and care of their students. As one parent voiced, "They are still smiling at the end of the day!" Hand-picked by homeschooling parents, they are the teachers we want for our own children. Everything we do at Connections seeks to fulfill our vision of a world of well-prepared young adults who pursue Christ and courageously impact their world. We meet on Mondays in Everett and Wednesdays in Woodinville, and offer over 125 classes for students age 3 through high school.
First Class Cowlitz County

Kelso

First Class Cowlitz County is a one-day a week, homeschool cooperative with a solid Christian foundation. FCCC is a ministry of New Life Fellowship Church to homeschooling families in Longview and surrounding areas.
Rooted Christian Homeschool Co-op

Kent/Covington

Rooted Christian Co-op is an enrichment based cooperative located on the Kent/Covington border. They meet on Monday mornings during the traditional school year from 9-12. Rooted offers families the opportunity to supplement their homeschooling with academic enrichment classes and events. Joining this group also means becoming a member of a Christian community where families work together and are willing to serve with a spirit of unity, mutual respect, and cooperation.
Perseid Collective - Waldorf Homeschool Community

King County

This Waldorf homeschool community meets weekly for parent-led classes taught on a rotating basis. There are classes for preschool + kindergarten, elementary, and middle school. Festivals are celebrated in and out of class from a wide variety of traditions.
SOAR Homeschoolers

Lake Stevens

SOAR is a parent led co-op that offers social opportunities, academics, and recreation to homeschoolers in the greater Lake Stevens, WA area. We meet in class once a week and regularly for field trips and outdoor activities.
GEO Homeschool Group

Lakewood

Grace Enrichment Opportunity - GEO Homeschool Group exists to glorify God by providing support, encouragement and opportunities to homeschooling families.
IMPACT Academy

Maple Valley/ Kent/ Auburn

IMPACT is a Christian co-op, offering classes for children ages birth through high school, with a particular goal of maintaining a high standard of academics in upper grades. This resource prepares students for whatever challenges they may encounter beyond high school. Spiritually, the goal is to provide an environment that fosters growth in faith through Christian-based teaching, weekly chapel time, and encouragement of a servant heart toward one another. Socially, the co-op includes activities such as outings, a few group class projects, plus additional special activities for high school, including an annual graduation ceremony, with the goal that students develop lasting friendships with one another. IMPACT Academy meets in the Maple Valley area on Mondays throughout the school year. Registration is open through April for the following school year.
Christian Homeschoolers of Marysville

Marysville

Christian Homeschoolers of Marysville is a parent-run homeschool co-op that meets weekly in the fall and spring to provide friendship, fellowship, and learning opportunities for homeschool families!
First Class Christian Homeschool Co-op

Mount Vernon

A group of homeschooling families in the Skagit Valley of northwest Washington who have gathered together to support one another. This Christian homeschool co-op meets on Fridays - affectionately called Friday School.  Co-op happens at Emmanuel Baptist Church in Mt. Vernon, WA.  We provide engaging classes for kids (Nursery -12th) and fellowship for moms!!
PATH Co-op

Pacific

PATH Co-op is designed to offer students an assortment of enrichment and academic classes to supplement their home school experience. We want to provide a Christian community where families can encourage and serve each other. Our teachers are encouraged to teach a subject they are passionate about in order to pass their enthusiasm on to the students.
PATCH Co-op (Pierce and Thurston County Homeschoolers)

Pierce and Thurston Counties

PATCH is an inclusive, secular, volunteer-run homeschool co-op in which each member's beliefs, racial, and cultural backgrounds are respected and valued. We are open to both civilian and military families, and happily accept families mid-session as space allows. We offer weekly enrichment classes, monthly field trips, and occasional parent-only activities, with the goal of creating enduring and supportive relationships.

PATCH Co-op (Pierce and Thurston County Homeschoolers) details
H.O.P.E. Homeschool Co-op

Pierce County

HOPE IS an opportunity for homeschool children to develop accountability and academic enrichment, as well as experience healthy competition, teamwork, and the challenges of interpersonal relationships, in a "traditional" school environment. Classes convene for two semesters at Puyallup Community Baptist Church at 1318 9th Ave SW, Puyallup, WA 98371 from September through April. Children rotate through up to four, 55 minute classes each Friday, with a 45 minute lunch period in the middle of the day. HOPE IS a supplement to your own home school program.
Solid Rock Christian Homeschool Co-op

Port Orchard

Working together with parents to provide enrichment courses for preschool through highs school. We are not a substitute for school and do not follow any set curriculum.  Thee co-op day runs from 9:00 am to 12:30 pm on Thursday mornings. There is a break for family chapel time at 10:10 am. Classes vary in cost, depending on curriculum and materials. We are an "all hands on deck" organization. A parent or guardian is required to be on campus while his/her children are attending co-op and is assigned duties during a portion of that time. Our co-op is great because of the amazing parents that are pouring their time and talents into it!
Immanuel Homeschool Co-op

Puyallup
HOPE Homeschool Co-op

Puyallup

We are Christian homeschool families that have joined together to share in the education of our children.  HOPE expects all members to uphold biblical and moral lifestyle standards as outlined in the Bible.  HOPE provides an opportunity for homeschool children to experience learning in a group atmosphere. HOPE is a supplement to your own homeschool program, it is not meant to be the only curriculum you use.
LIFT New Commonwealth School

Puyallup

A once a week school that is owned and operated by the families that run it. It is a model of a homeschool co-op that is designed to last 20 or more years. The school is eventually run by an elected board that governs based on written documents that protect the founder's original vision of educational philosophy and the vision and mission of the school. An NCS is run on a volunteer system. Each family that participates gets to put their "Parent Power" into the school and see it run effectively and efficiently thanks to systems, roles, and stewardship. ​A New Commonwealth School is all of this, but it is most importantly a place where the homeschool family feels supported and strengthened and everyone (youth and adults alike) is increasing their educational capacities while interacting with amazing peers. It is a positive educational culture!
ECHO of Tri-Cities

Richland

The largest and longest running Christian homeschool cooperative in the Tri-Cities area.
Seattle Christian Homeschool Co-op

Shoreline

Seattle Christian Homeschool Co-op is a Christian-based organization that offers academic and elective classes for homeschoolers from preschool through high school. Classes meet on Fridays from September through mid-May at City Calvary Chapel in Shoreline, WA.
Community Homeschool Co-op

Shoreline

Community Homeschool Co-op, an independent non-profit and 501c3. We operate on the CRISTA Ministries Campus in Shoreline, WA (north King County). We are a Christian hybrid homeschool co-op, with core classes 2 days a week and optional elective classes on Fridays.
First Class Kitsap County

Silverdale

Our goal is to provide a Christian educational experience in small group settings, working in a cooperative manner, with parents fulfilling many different roles with in the co-op. We are here to support each other, and help instill a lifetime love of learning in each other's children.  We look forward to serving alongside you, and ministering to your family in a way that will encourage and inspire you.
Sky Valley Educational Center

Snohomish County

Sky Valley Education Center (SVEC) is a parent partnership program through the Monroe School District. Offering three courses for the older child : Environment Science Studies (ESS), STEM and Adolescent Montessori. These are each 3 day/week programs running through 10th grade. The program is funded through the Monroe school district, so there are no tuition costs. Entrance into the programs is based on an application and interview process. STEM opens to student in the 6th grade and up and ESS and Adolescent Montessori in the 7th grade. For info SVEC (360) 804-2700
Connections

Snohomish County

Connections is a non-profit, homeschool organization that seeks to empower homeschooling families by providing arts and academic classes in a large, supportive, and welcoming community. Connections is a Christ-centered school with a Christian worldview underpinning everything they do. Connections offers over 100 classes from preschool through 12th grade. Classes are held on Mondays (in Everett) and Wednesdays (in Woodinville). With a wide range of subjects, students may enroll in as few as one or as many as ten courses over the two days. Instructors at Connections are experts in their fields and are passionate about their subjects. They are deeply committed to the support and care of their students and to partnering with you as primary educators. We look forward to welcoming you into the Connections family!
Sovereign Scholars Academy

Tacoma

Sovereign Scholars Academy is homeschool co-op for older students.
Thurston Learning Community - TLC

Thurston County

Thurston Learning Community is a resource for families who choose to educate their children at home. We function with participation from both caregiver and child. It is not a drop-off co-op or a resource for a preschool only program. We strive to offer quality educational and social opportunities to the Thurston County and surrounding homeschool communities. We are an inclusive, secular community and are neutral on matters of politics, religion, lifestyle and education philosophy. All homeschooling families are welcome. We include, respect, and value the needs of all people.
First Class Clark County East

Vancouver

First Class Clark County East (FC3E) is a Christian homeschool co-op that exists to support discipleship of the homeschooling family. We focus on our ever evolving community, providing opportunities to connect thru co-op classes, forums, special events, field trips, and educational clubs.
Sonrise Homeschool Co-op

Vancouver

At Sonrise, we LOVE to support families in their homeschooling journey. We are a diverse community with a couple of common goals: to honor Jesus in our families and to cheerlead one another down the road of home education.
Pathway Homeschool Co-op

Vancouver

Pathway Homeschool Co-op is a Christ centered group of families who desire to lead, love and train our children by offering a variety of enrichment classes, with the goal to connect, support and grow our local community. We meet on Fridays at Northwest Gospel Church in Vancouver, WA. Our Fall Semester runs weekly (Oct-Dec) and our Spring Semester runs weekly (March-May).
Prairie Community Co-Op

Yelm, Thurston County

Community Co-Op is located in Yelm, WA, Thurston County. Prairie community co-op is a great way for homeschoolers in our area to make friends and have experience with teachers outside of home. The idea of classes is educational fun. Teachers are volunteer parents. Co-op classes all meet in one building so you child's class room will never be more than a short trip across the hall. Financial obligations are minimal. Fridays at 10:30. Offering two 45 min classes, Lunch and recess.
Washington Homeschooling Classes & Academic Enrichment
Rainier Homeschool Group

Auburn

Rainier Homeschool Group is a group of homeschool families who will come together to participate in classes, field trips, parties, and other activities. We will hold weekly classes during the school year for homeschooled students ages 5-18, with a commitment to offer academic and elective classes. Younger siblings (ages 0-4) can also enjoy their day at co-op in classes designed to give them a positive experience in a classroom setting or in the nursery/toddler area.
Homeschoolers on the Farm

Bellevue

Kelsey Creek Farm Winter-Spring Programs and Activities for 8-11 year-olds. Open 365 days a year, Kelsey Creek Community Park features 150 acres of forest, meadows and wetlands in the heart of Bellevue, offering a glimpse of this city's rural past. The farm's two historic barns sit prominently on the crest of a hill, overlooking the shallow valleys to each side. These barns, listed in the Washington State Heritage Barn Register, were once home to the Twin Valley Dairy. Kelsey Creek Community Park features hiking and jogging trails, picnic areas, a playground, wetlands, open grassy areas, creeks and forests. The historic Fraser Cabin sits on the hill adjacent to the park's historic dairy barns. The Eastside Heritage Center hosts drop-in programs for visitors, and the city offers a number of log cabin programs. Kelsey's farm animals function as educational animals and are used in classes, programs, special events. Learn more about Kelsey Creek Farm's resident animals.
EHPTSA

Bellevue

Eastside Homeschool PTSA is an inclusive community offering academic enrichment and social support to homeschooling families on the eastern side of Lake Washington. Member families represent the full spectrum of homeschooling philosophies and practices, from unschooling to participation in school district ALE programs. We welcome families from all cultural and religious backgrounds and we strive to maintain an environment where all students can feel comfortable sharing their unique ideas, beliefs, traditions, interests and talents. Providing a wide array of courses including art, science, nature classes, electronics, drama, Arduino programming, French and many more. Classes are designed to support whatever educational efforts you choose to make outside EHPTSA. Students participate in community outreach efforts through individual classes and ESUC in an effort to leave a positive impact on the world our children are growing into.
Solomon Education Center

Bellevue and surrounding areas

Solomon Education Center offers high school credit courses in nearly every subject. Students can take just one class or enroll full-time for as many classes as they'd like to take. After completion, students receive high school credit that can be used for college admissions. Most importantly, these classes are offered in a one-to-one, two-to-one, or small group setting, so every student is comfortable and learning in the way that best suits them.
Joyous Noise Studio Kindermusik Program

Carnation

In every Kindermusik class, your child is welcomed into a playful and nurturing environment where they will sing, move, play instruments, and hear stories—all while developing social skills, problem-solving skills, pre-math skills, and a foundation for reading. Our research-based curriculum focuses on whole-child development and helps you understand how your child is developing musically, cognitively, and socially. We offer Kindermusik classes for ages newborn through elementary age, 6 days a week in 3 locations - Bellevue-Kirkland, Redmond, and Woodinville. This is an ongoing class and enrollment is accepted at any time. Free preview classes available.
Homeschool Christian Community of Everett

Everett

HCCE is intended for families with homeschool students who are at least Kindergarten age (minimum 5 years old as of September 1st). Babies, toddlers, and preschoolers are welcome to attend provided an older sibling in K-12th is enrolled as well. This rule exists to make sure homeschooling families who have older and younger kids are able to register their entire family. HCCE is not designed to function as a nursery or preschool option. Classes for those ages are provided as a courtesy so that families with school age children and young children can more easily attend.
Wilderness Awareness School

King County

Non-profit nature education organization that offers classes for homeschooled youth ages 4-18, 1 or 2 days a week from September to June. We strive to foster young people's understanding and appreciation of nature, community and self. Through creative play and exploration, children work together in small groups gaining nature awareness and knowledge of plants, mammals, tracking, birds and survival.
The Whole Cat and Kaboodle

Kirkland

The Whole Cat is a grooming and boarding facility in Kirkland that also specializes in adoptions, behavior, and nutrition. The Whole cat is offering a special class called, "No Bad Cats". All ages welcome.
Kirkland Mastery Math

Kirkland

Confidence and competence come from mastery of fundamental math operations. Helping students achieve math mastery through tutoring and co-op math classes.
Heartwood Nature Programs

Kirkland

Heartwood offers 100% outside classes for homeschooled kids ages 5-14. Our classes learn through hands-on experiences while hiking, playing, and exploring the forest, water, and field habitats. Mindfulness, Stewardship and Connection are our core values and our classes connect participants to the natural world through learning activities that are authentic, meaningful, relevant, and engaging; mindfulness practices that develop place-awareness, self-awareness, reduce stress and build personal resilience, confidence, independence, teamwork, communication, and leadership skills; stewardship activities focused on developing a deep understanding of the impacts and outcomes of spending time in nature for the space itself and for our own selves; outdoor skill-based learning such as knife work, fire building, foraging, and animal tracking that instills in children a sense of place, independence, self-sufficiency, and ease while being outdoors and in a natural and wild environment.
Triple Moon Equestrian

Monroe

The Science of the Horse - This 10 week long class is designed for the homeschooled student interested in the complex biology and behavior of the horse. Just some of the things we will learn in this science based class are; *The history of the horse and it's impact on the world as we know it. *How the equine brain works. *How they communicate with each other and other species. *Why domestic horses would not survive in the wild. *How different classes of horses came about and what they are used for. *How the equine's complex digestive system works. This class welcomes students with zero horse experience as well as the seasoned equestrian.
Hill Creek Christian School

Mount Vernon, Skagit County

Hill Creek Christian is a Christian private school for home school students with a student body of approximately 70 students located in Mount Vernon, WA (Skagit County). The school is a blend of private school, home school/independent study and a home school support program. Hill Creek offers challenging classes two days a week in grades 2-12 in the areas of Written Expression, English Grammar, Literature, Classical Studies, History, Math and Science.
Peniel Ranch

Okanogan

We are non-profit (non-denominational) Christian ministry. We enjoy supporting and providing an inexpensive place for homeschool groups or families to learn more about God and His exciting creation. We encourage individuals, families, churches and groups of all ages to join us for any scheduled program throughout the year. We host retreats for home-schoolers.
Summit Homeschool Community

Olympia

Join our weekly homeschool programs for ages 4-18 years old! ​Subjects include art, lab science, writing, English grammar, theater, engineering, Latin, apologetics, speech and debate and more!
Greenways Academy of Oregon

Oregon and Southwest Washington

Greenways Academy was founded as an alternative for students whose needs are not being met at traditional schools. Some of these students have difficulty excelling in a traditional school setting because of medical conditions, learning disabilities, psychological issues, or unique scheduling needs. Other students enroll to supplement their school's curriculum with courses they may not be able to take at their current school. The program is for students in grades K-12 offering core subjects as well as foreign languages, fine arts, computer science, career planning, and other electives. With one-on-one teaching for every course, teachers get to know students and utilize the strengths of their personalities and learning styles to ensure their success. The flexibility of this program sets us apart from traditional schools, which often try to make all students conform to a pre-set teaching style, regardless of their learning strengths, weaknesses, or personalities.
Classical Conversations South Puyallup

Puyallup
Blaze Education

Redmond

Blaze Spaces is an educational enrichment facility that provides the following services: Project Based Learning classes, Tutoring, College Planning, College Testing Prep Courses. and English Language Learning Courses. Project Based Learning classes are offered during the day to accommodate home school students and including the following:3-D printing, Digital Media, WonderWorshop Robotics, and Social Innovation.
DigiPen Homeschool

Redmond

DigiPen Homeschool provides students in grades K-12 with opportunities to study video game programming, art and animation, game design, engineering, and music and sound design. In response to feedback and demand from homeschooling families, DigiPen will have NEW courses that teach general science, applied math, and even basic reading and writing! Beyond the specific content covered in each course, students will also develop age appropriate study skills in each course including research, note-taking, organizational skills, and writing.
Redmond Steamoji

Redmond

Steamoji Redmond is a STEM/STEAM maker academy which compliments your child's school studies by exposing them to new technologies in the subject pathways of fabrication, physical computing, engineering, digital arts and applied design. Our 400-hour, expert-designed, Build to Solve™ curriculum sets us apart. This curriculum includes coding and robotics, while using fabrication tools such as 3D printers and laser cutters.
Frog Hollow Home School Program

Seattle

Frog Hollow School is a one day a week writing program for homeschoolers. Frog Hollow offers two separate classes for ages seven through twelve: Wednesdays in Carnation and Fridays in Seattle.
Medical Science High School Girls Club

Seattle

Iatrix21 is a medical science health care club for high school girls in Seattle. This club is a platform for girls interested in the medical science field to get together, go on field/lab trips, and take advantage of Medical/Research professionals who are willing to present a lecture or two to the club. If you are interested in joining the club, please contact iatrix21@gmail.com
Seattle Symphony at Benaroya Hall

Seattle

The Seattle Symphony offers a variety of concert including classical music, film concerts like Harry Potter and The Order of the Phoenix and Family Programing like The Snowman appropriate for ages 6 - 12. Benaroya Hall also presents National Geographic Live events which include a lecture and slides or film to go with the topic. Please contact Gerry at gerry.kunkel@seattlesymphony.org for a 15% discount with Promo Code for homeschoolers.
Frog Hollow School

Seattle and Carnation

Frog Hollow School is a language arts program focused on helping young writers thrive. They seek to spark a love of writing in children and to give them the skills they need to express themselves. Creative writing is at the core of Frog Hollow's curriculum, making writing meaningful and fun, even as students practice writing mechanics. Frog Hollow offers the Core Class, an immersive, year-long language arts program geared towards homeschoolers, with in person classes in Carnation and Seattle, as well as an online option. They also offer an Outdoor Class, which mixes active games and outdoor adventures with fun writing projects, as well as a Teen Creative Writing Workshop.
Traffic Safety Education

Seattle and Puget Sound areas

Driving-School.com offers a 5-week Defensive Driving Traffic Safety Education class that fits with your schedule. Twenty-five (25) locations in King, Snohomish, and Kitsap counties. Students must be age 15 to start. Offer DOL Written Tests and Drive Tests.
The Farm at Swan's Trail

Snohomish

We are host to the thousands of school children who come to learn about Washington through our educational Washington State Corn Maze. Offer classes to homeschoolers throughout the open season.
YMCA - Southeast Branch

Snohomish county

Home School P.E.
Quiet Heart Wilderness School

South Snohomish/North King

Quiet Heart Wilderness School provides naturalist and wilderness skills education for students ages 4 to teenager, with additional workshops for adults and families. Our students work together to build a community of confident, self-reliant stewards of the land. Our all day Friday programs in the Woodinville/Monroe area provide an opportunity for homeschooling students to work both independently and with others to learn about and connect with place, as well as develop knowledge and skills to feel comfortable outdoors. We also have Saturday programs in the Edmonds area for students of all educational backgrounds. Quiet Heart is a small organization focused on creating a community of intentional, thoughtful individuals rooted in respect for each other and the natural world.
Family Learning Organization

Spokane

FLO has since established a long history of serving the homeschool community beginning in Spokane, Washington extending nationally through its advocacy and testing services. The organization's purposes are to advocate for home-based education, to facilitate the encouragement of homeschooling families, to help preserve the freedom of parents to educate their children, and to serve as a means of communication and networking. Through the organization, homeschooling families can network with other more experienced parents.
Education NW Resources

Spokane

Education NW Resources provides tutoring and homeschool testing all year. Group homeschool testing is available in May and June for a discounted rate. More information about homeschool testing or our tutoring services can be found on the website at: tutoringspokane.com or please call (509) 323-4950.
Valley Christian Home School Program

Spokane Valley

Students from K-12 attend classes one day a week, Valley Christian School (VCS) teachers for 6th-12th grades prepare lesson plans and assign homework. Parents grade homework and VCS teachers keep track of the grades so report cards are generated each quarter. This unique program has the best of both worlds, an opportunity for students to socialize and learn from certified teachers, yet the flexibility of home schooling at each student's individual pace throughout the week. Parents receive support from curriculum for upper grades being selected by VCS to monthly meetings with a certified teacher.
Skagit Defenders - Stoa Speech & Debate

Stanwood

Skagit Defenders is a speech & debate club for homeschool students ages 12 - 18, with a juniors program for younger siblings. They are a part of Stoa, a National Speech & Debate league for Christian Homeschoolers.
Superior Driving School of Tacoma

Tacoma

Superior Driving School (located in Tacoma Stadium Business District near Stadium High School, 23-B Tacoma Avenue North, Tacoma, WA 98403) is offering a driving course to homeschoolers. Call 253-272-0774 for information regarding cost and registration.
Time to Sign

Tacoma

Time to Sign, founded in 2017, operates in Tacoma, Washington and is privately owned. The mission of Time to Sign is to offer different classes and products to children, ages 0-5, and their parents to teach baby sign language using curriculum from the Signing Time series. Babies who sign make it easier to communicate, reduces frustration, increases bonding and children who signed as babies scored 12 points higher on IQ tests given at age 8. These courses and products quickly and effectively teaches you and your child signs.
Online Wildlife Academy- Northwest Trek Wildlife Park

Tacoma

Online Wildlife Academy offers parents, educators and group leaders an easy way to connect kids K-8 with native Northwest wildlife.  Students learn exciting facts and get their wildlife questions answered through live interaction with an educator, videos, props and more! A mixture of live educator presentations, animal photos and videos, keeper chats, science facts, activities and Q&A, Online Wildlife Academy hits exactly the right note between informative and fun. Nine different lesson programs hit multiple Next Generation Science Standards across grades K-8. In "Northwest Wildlife Investigators," kids learn about animal adaptations and survival strategies, as well as scientific observation, by examining clues and solving a mystery. "So You Want to Work in a Zoo?" looks at the skills you need for a wide variety of zoo jobs from animal care to graphic design. Various animal species are covered by "Northwest Raptors," "Peek In the Pond," "The Wonders of Wolverines" and "Are You Bear Aware?" In all programs, Moore balances talking with animal videos and photos, hands-on activities and student questions.

Online Wildlife Academy- Northwest Trek Wildlife Park details
Youth Classes at Humane Society for Southwest Washington

Vancouver, WA / Portland, Or

Teaching kids about compassion for animals is important. At HSSW, we're inspiring a humane generation with programs and projects to get kids involved. School Year Programs are your kid's ticket to a year of learning. They're a fun and educational deep dive into the world of HSSW for kids grades 3-8.

Youth Classes at Humane Society for Southwest Washington details
Washington Classical Conversations

Washington Statewide

CC is a national homeschooling program that uses a Bible based curriculum taught in a christian, classical tradition. Classes are geared for age 4 through high school.