Jump to: Homeschool Co-ops | Homeschooling Classes & Academic Enrichment
Looking for someone to teach physics to your teen? Need a way to avoid teaching algebra? Want to enroll your Kindergartener in a co-op for social time? Homeschool classes and co-ops are a great way to spend time with other homeschoolers and skill-share with other homeschool parents.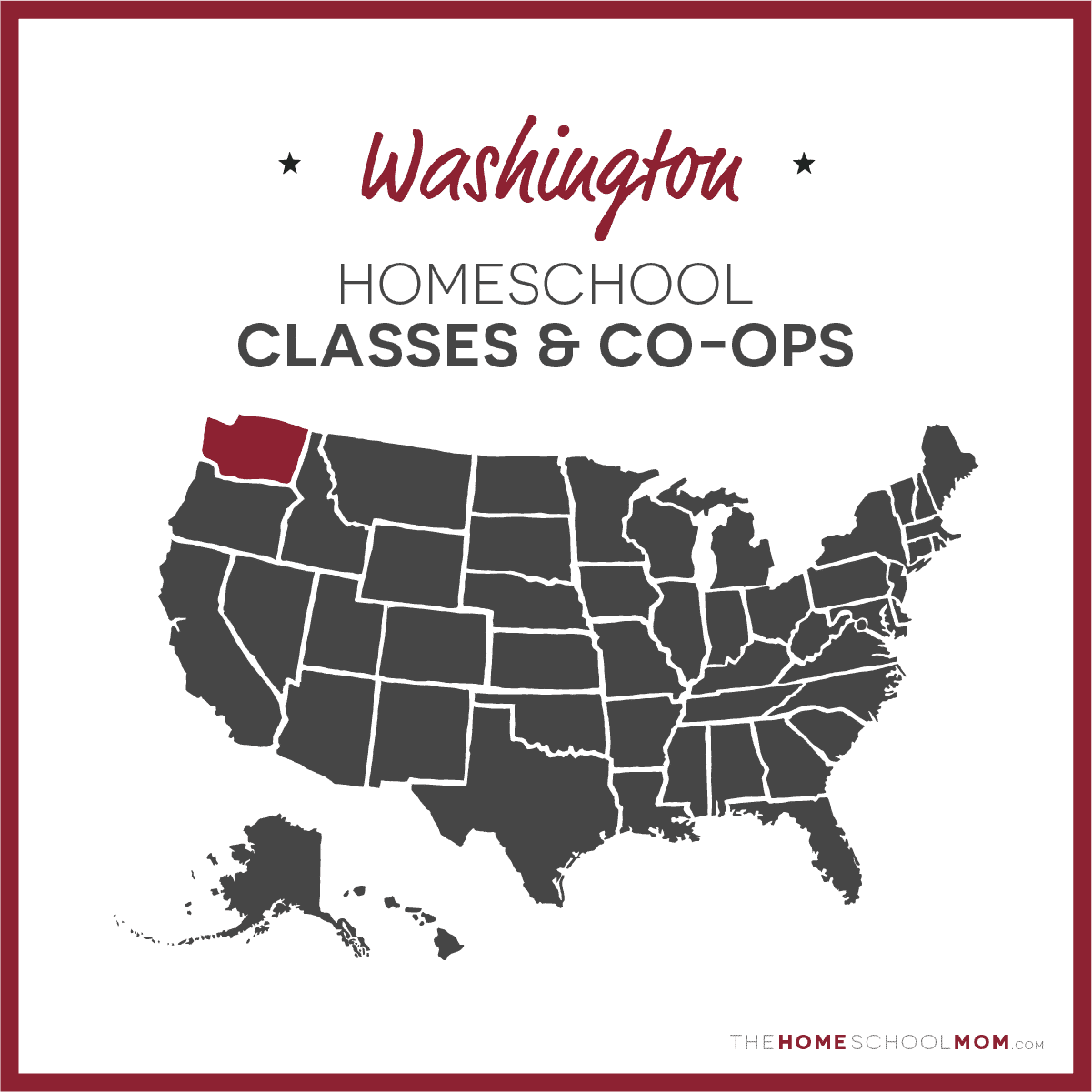 Submit a Local Resource
Our listing of Washington co-ops and academic classes for homeschoolers is ordered alphabetically by city, with co-ops in the first section and all other academic resources below. If you would like to submit a Washington co-op or academic resource, you may do so using the red button above.
Washington Homeschooling Co-ops
Rainier Homeschool GroupAuburn
Rainier Homeschool Group is a group of homeschool families who will come together to participate in classes, field trips, parties, and other activities. We will hold weekly classes during the school year for homeschoo...
West Sound Homeschool CommunityBainbridge
West Sound Homeschool Community is a faith based homeschool co-op. West Sound Homeschool Community meets once a week on Thursday afternoons. We offer classes for grades K-12. These classes are broken up into 4 blocks ...
Heritage Homeschool Co-op - WashingtonBellevue
Christian homeschool cooperative which meets in Bellevue, Washington at Westminster Chapel. Heritage provides a wide variety of K-12 classes each Monday, enriching the learning experience for around 160 homeschool fam...
EHPTSABellevue
Eastside Homeschool PTSA is an inclusive community offering academic enrichment and social support to homeschooling families on the eastern side of Lake Washington. Member families represent the full spectrum of homes...
Legacy Homeschool CenterBellevue
Legacy Homeschool Center is a Christian homeschool cooperative which exists to further equip parents, who are ultimately accountable for the teaching of their children, with learning opportunities which enhance their ...
Anchored Homeschool NetworkCheney
Anchored Homeschool Network is a Christian Homeschooling Co-op located in Cheney, Washington.
Inland Northwest Christian HomeschoolersCoeur d'Alene and Spokane Valley areas
INCH is a non-profit co-op and support group serving homeschoolers in Coeur d'Alene and surrounding areas. INCH is not a drop-off program or a school, but a co-op run solely by volunteer moms. We offer homeschool stud...
Homeschoolers of the Land of ColfaxColfax, Whitman County
With the occasional field trips and park outings, classes are offered to develop a love of learning. Subjects offered by enthusiastic moms include American revolutionary history, Spanish, Greek and Latin, creative wri...
Homeschool Alliance of SW Washington (HSALL)Cowlitz County
Homeschool Alliance of SW Washington is comprised of a variety of homeschool co-ops, parents and advocates. The goal of HSALL is to bring together the homeschool community in Cowlitz and surrounding counties. HSALL sp...
Cowlitz Wild and Free Secular Nature Co-OpCowlitz County
This nature co-op is for those who love to spend time outside, learning and growing, playing and socializing, really getting to know each other. We strongly believe in a homeschool community, united yet so diverse, th...
Ellensburg Christian HomeschoolersEllensburg
Newborn-8th grade. Once per week, about 3.5 hours. Similar style to a co-op. Parents in the group take turns teaching enrichment classes and assisting other parent-teachers. This is a non-denominational Christian grou...
Connections Homeschool Co-OpEverett, Woodinville
Founded in 1994, Connections is a non-profit organization that seeks to empower homeschooling families to educate their children. Our mission is to partner with parents to educate and equip students by providing arts ...
First Class Cowlitz CountyKelso
First Class Cowlitz County is a one-day a week, homeschool cooperative with a solid Christian foundation. FCCC is a ministry of New Life Fellowship Church to homeschooling families in Longview and surrounding areas.
Rooted Christian Homeschool Co-opKent/Covington
Rooted Christian Co-op is an enrichment based cooperative located on the Kent/Covington border. They meet on Monday mornings during the traditional school year from 9-12. Rooted offers families the opportunity to supp...
GEO Homeschool GroupLakewood
Grace Enrichment Opportunity - GEO Homeschool Group exists to glorify God by providing support, encouragement and opportunities to homeschooling families.
IMPACT AcademyMaple Valley/ Kent/ Auburn
IMPACT is a Christian co-op, offering classes for children ages birth through high school, with a particular goal of maintaining a high standard of academics in upper grades. This resource prepares students for whatev...
Christian Homeschoolers of MarysvilleMarysville
Christian Homeschoolers of Marysville is a parent-run homeschool co-op that meets weekly in the fall and spring to provide friendship, fellowship, and learning opportunities for homeschool families!
First Class Christian Homeschool Co-opMount Vernon
A group of homeschooling families in the Skagit Valley of northwest Washington who have gathered together to support one another. This Christian homeschool co-op meets on Fridays - affectionately called Friday School....
PATH Co-opPacific
PATH Co-op is designed to offer students an assortment of enrichment and academic classes to supplement their home school experience. We want to provide a Christian community where families can encourage and serve eac...
PATCH Co-op (Pierce and Thurston County Homeschoolers)Pierce and Thurston Counties
PATCH is an inclusive, secular, volunteer-run homeschool co-op in which each member's beliefs, racial, and cultural backgrounds are respected and valued. We are open to both civilian and military families, and happily...
H.O.P.E. Homeschool Co-opPierce County
HOPE IS an opportunity for homeschool children to develop accountability and academic enrichment, as well as experience healthy competition, teamwork, and the challenges of interpersonal relationships, in a "tradition...
Solid Rock Christian Homeschool Co-opPort Orchard
Working together with parents to provide enrichment courses for preschool through highs school. We are not a substitute for school and do not follow any set curriculum.  Thee co-op day runs from 9:00 am to 12:30 pm on...
Immanuel Homeschool Co-opPuyallup
HOPE Homeschool Co-opPuyallup
We are Christian homeschool families that have joined together to share in the education of our children.  HOPE expects all members to uphold biblical and moral lifestyle standards as outlined in the Bible.  HOPE pr...
LIFT New Commonwealth SchoolPuyallup
A once a week school that is owned and operated by the families that run it. It is a model of a homeschool co-op that is designed to last 20 or more years. The school is eventually run by an elected board that governs...
ECHO of Tri-CitiesRichland
The largest and longest running Christian homeschool cooperative in the Tri-Cities area.
Seattle Christian Homeschool Co-opShoreline
Seattle Christian Homeschool Co-op is a Christian-based organization that offers academic and elective classes for homeschoolers from preschool through high school. Classes meet on Fridays from September through mid-M...
First Class Kitsap CountySilverdale
Our goal is to provide a Christian educational experience in small group settings, working in a cooperative manner, with parents fulfilling many different roles with in the co-op. We are here to support each other, an...
Sky Valley Educational CenterSnohomish County
Sky Valley Education Center (SVEC) is a parent partnership program through the Monroe School District. Offering three courses for the older child : Environment Science Studies (ESS), STEM and Adolescent Montessori. Th...
ConnectionsSnohomish County
Connections is a non-profit, homeschool organization that seeks to empower homeschooling families by providing arts and academic classes in a large, supportive, and welcoming community. Connections is a Christ-centere...
Sovereign Scholars AcademyTacoma
Sovereign Scholars Academy is homeschool co-op for older students.
Thurston Learning Community - TLCThurston County
Thurston Learning Community is a resource for families who choose to educate their children at home. We function with participation from both caregiver and child. It is not a drop-off co-op or a resource for a prescho...
First Class Clark County EastVancouver
First Class Clark County East (FC3E) is a Christian homeschool co-op that exists to support discipleship of the homeschooling family. We focus on our ever evolving community, providing opportunities to connect thru co...
Sonrise Homeschool Co-opVancouver
At Sonrise, we LOVE to support families in their homeschooling journey. We are a diverse community with a couple of common goals: to honor Jesus in our families and to cheerlead one another down the road of home educa...
Pathway Homeschool Co-opVancouver
Pathway Homeschool Co-op is a Christ centered group of families who desire to lead, love and train our children by offering a variety of enrichment classes, with the goal to connect, support and grow our local communi...
Prairie Community Co-OpYelm, Thurston County
Community Co-Op is located in Yelm, WA, Thurston County. Prairie community co-op is a great way for homeschoolers in our area to make friends and have experience with teachers outside of home. The idea of classes is e...
Washington Homeschooling Classes & Academic Enrichment
Rainier Homeschool GroupAuburn
Rainier Homeschool Group is a group of homeschool families who will come together to participate in classes, field trips, parties, and other activities. We will hold weekly classes during the school year for homeschoo...
Homeschoolers on the FarmBellevue
Kelsey Creek Farm Winter-Spring Programs and Activities for 8-11 year-olds. Open 365 days a year, Kelsey Creek Community Park features 150 acres of forest, meadows and wetlands in the heart of Bellevue, offering a gli...
EHPTSABellevue
Eastside Homeschool PTSA is an inclusive community offering academic enrichment and social support to homeschooling families on the eastern side of Lake Washington. Member families represent the full spectrum of homes...
Solomon Education CenterBellevue and surrounding areas
Solomon Education Center offers high school credit courses in nearly every subject. Students can take just one class or enroll full-time for as many classes as they'd like to take. After completion, students receive h...
Joyous Noise Studio Kindermusik ProgramCarnation
In every Kindermusik class, your child is welcomed into a playful and nurturing environment where they will sing, move, play instruments, and hear stories—all while developing social skills, problem-solving skills, pr...
Westgate Homeschool AcademyEdmonds
Westgate Homeschool Academy is designed to serve independent homeschooling families of Westgate Chapel and the surrounding community. The goal of WHA is to provide a safe and nurturing community for children and young...
Homeschool Christian Community of EverettEverett
HCCE is intended for families with homeschool students who are at least Kindergarten age (minimum 5 years old as of September 1st). Babies, toddlers, and preschoolers are welcome to attend provided an older sibling in...
GGHF Curious By Nature SchoolGig Harbor / Ollala
GGHF Curious By Nature School offers a one-of-a-kind, nature-based early-childhood program that helps children ages 2-10 develop key critical thinking skills to support the success of the whole child. Our students go ...
Wilderness Awareness SchoolKing County
Non-profit nature education organization that offers classes for homeschooled youth ages 4-18, 1 or 2 days a week from September to June. We strive to foster young people's understanding and appreciation of nature, co...
The Whole Cat and KaboodleKirkland
The Whole Cat is a grooming and boarding facility in Kirkland that also specializes in adoptions, behavior, and nutrition. The Whole cat is offering a special class called, "No Bad Cats". All ages welcome.
Kirkland Mastery MathKirkland
Confidence and competence come from mastery of fundamental math operations. Helping students achieve math mastery through tutoring and co-op math classes.
Heartwood Nature ProgramsKirkland
Heartwood offers 100% outside classes for homeschooled kids ages 5-14. Our classes learn through hands-on experiences while hiking, playing, and exploring the forest, water, and field habitats. Mindfulness, Stewardshi...
Triple Moon EquestrianMonroe
The Science of the Horse - This 10 week long class is designed for the homeschooled student interested in the complex biology and behavior of the horse. Just some of the things we will learn in this science based clas...
Hill Creek Christian SchoolMount Vernon, Skagit County
Hill Creek Christian is a Christian private school for home school students with a student body of approximately 70 students located in Mount Vernon, WA (Skagit County). The school is a blend of private school, home s...
Peniel RanchOkanogan
We are non-profit (non-denominational) Christian ministry. We enjoy supporting and providing an inexpensive place for homeschool groups or families to learn more about God and His exciting creation. We encourage indiv...
Summit Homeschool CommunityOlympia
Join our weekly homeschool programs for ages 4-18 years old! ​Subjects include art, lab science, writing, English grammar, theater, engineering, Latin, apologetics, speech and debate and more!
Greenways Academy of OregonOregon and Southwest Washington
Greenways Academy was founded as an alternative for students whose needs are not being met at traditional schools. Some of these students have difficulty excelling in a traditional school setting because of medical co...
Classical Conversations South PuyallupPuyallup
Blaze EducationRedmond
Blaze Spaces is an educational enrichment facility that provides the following services: Project Based Learning classes, Tutoring, College Planning, College Testing Prep Courses. and English Language Learning Courses....
DigiPen HomeschoolRedmond
DigiPen Homeschool provides students in grades K-12 with opportunities to study video game programming, art and animation, game design, engineering, and music and sound design. In response to feedback and demand from ...
Frog Hollow Home School ProgramSeattle
Frog Hollow School is a one day a week writing program for homeschoolers. Frog Hollow offers two separate classes for ages seven through twelve: Wednesdays in Carnation and Fridays in Seattle.
Medical Science High School Girls ClubSeattle
Iatrix21 is a medical science health care club for high school girls in Seattle. This club is a platform for girls interested in the medical science field to get together, go on field/lab trips, and take advantage of ...
Seattle Symphony at Benaroya HallSeattle
The Seattle Symphony offers a variety of concert including classical music, film concerts like Harry Potter and The Order of the Phoenix and Family Programing like The Snowman appropriate for ages 6 - 12. Benaroya Hal...
Frog Hollow SchoolSeattle and Carnation
Frog Hollow School is a language arts program focused on helping young writers thrive. They seek to spark a love of writing in children and to give them the skills they need to express themselves. Creative writing is ...
Traffic Safety EducationSeattle and Puget Sound areas
Driving-School.com offers a 5-week Defensive Driving Traffic Safety Education class that fits with your schedule. Twenty-five (25) locations in King, Snohomish, and Kitsap counties. Students must be age 15 to start. O...
The Farm at Swan's TrailSnohomish
We are host to the thousands of school children who come to learn about Washington through our educational Washington State Corn Maze. Offer classes to homeschoolers throughout the open season.
YMCA - Southeast BranchSnohomish county
Home School P.E.
Quiet Heart Wilderness SchoolSouth Snohomish/North King
Quiet Heart Wilderness School provides naturalist and wilderness skills education for students ages 4 to teenager, with additional workshops for adults and families. Our students work together to build a community of ...
Family Learning OrganizationSpokane
FLO has since established a long history of serving the homeschool community beginning in Spokane, Washington extending nationally through its advocacy and testing services. The organization's purposes are to advocate...
Education NW ResourcesSpokane
Education NW Resources provides tutoring and homeschool testing all year. Group homeschool testing is available in May and June for a discounted rate. More information about homeschool testing or our tutoring services...
Valley Christian Home School ProgramSpokane Valley
Students from K-12 attend classes one day a week, Valley Christian School (VCS) teachers for 6th-12th grades prepare lesson plans and assign homework. Parents grade homework and VCS teachers keep track of the grades s...
Skagit Defenders - Stoa Speech & DebateStanwood
Skagit Defenders is a speech & debate club for homeschool students ages 12 - 18, with a juniors program for younger siblings. They are a part of Stoa, a National Speech & Debate league for Christian Homeschool...
Superior Driving School of TacomaTacoma
Superior Driving School (located in Tacoma Stadium Business District near Stadium High School, 23-B Tacoma Avenue North, Tacoma, WA 98403) is offering a driving course to homeschoolers. Call 253-272-0774 for informati...
Time to SignTacoma
Time to Sign, founded in 2017, operates in Tacoma, Washington and is privately owned. The mission of Time to Sign is to offer different classes and products to children, ages 0-5, and their parents to teach baby sign ...
Online Wildlife Academy- Northwest Trek Wildlife ParkTacoma
Online Wildlife Academy offers parents, educators and group leaders an easy way to connect kids K-8 with native Northwest wildlife.  Students learn exciting facts and get their wildlife questions answered through live...
Youth Classes at Humane Society for Southwest WashingtonVancouver, WA / Portland, Or
Teaching kids about compassion for animals is important. At HSSW, we're inspiring a humane generation with programs and projects to get kids involved. School Year Programs are your kid's ticket to a year of learning. ...
Washington Classical ConversationsWashington Statewide
CC is a national homeschooling program that uses a Bible based curriculum taught in a christian, classical tradition. Classes are geared for age 4 through high school.
Go to...