Homeschooling is regulated at the state level, so connecting with local homeschoolers is an important step to start homeschooling in Washington. Find the Washington homeschool groups closest to you and get connected with your local homeschooling community, learn about the homeschool requirements in Washington, and discover the co-ops, classes, sports and arts opportunities, and social get-togethers in your area.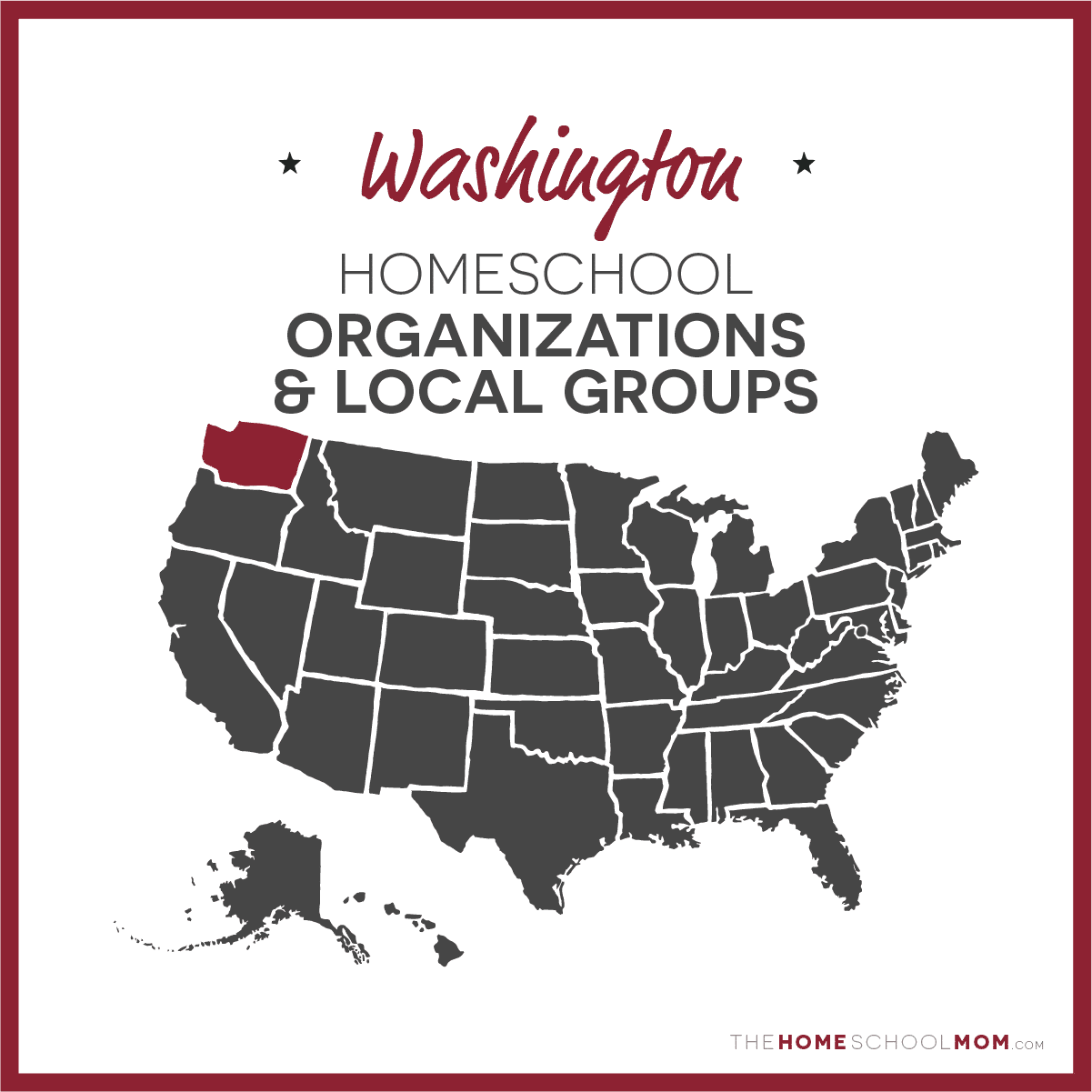 Submit a Local Resource
Jump to: State Organizations | Local Groups
Our listing of Washington state organizations and local homeschool groups is ordered alphabetically by city, with statewide organizations listed first. If you would like to submit a group, you may do so using the red button above.
Washington Homeschool Organizations (Statewide)
Washington Homeschool Organization

Washington Statewide

The Washington Homeschool Organization (WHO) is a statewide, non-profit membership organization. Its mission is to serve the diverse interests of home-based education in Washington State. WHO is nonpartisan, nonsectarian, and nondiscriminating in its views of homeschooling and participation in its activities
Christian Heritage

Washington Statewide

An organization committed to serving the needs of Christian homeschoolers in Washington State, equipping you to "train up your children in the way they should go,"and inspiring you to pass on a Godly Heritage to future generations.
Washington Local Homeschool Groups
Alger Learning Center & Independence High School

Bellingham

Providing creative educational alternatives, along with assistance for, and the enthusiastic support of Homeschoolers, Unschoolers, and other independent learners, since 1981. A state approved and nationally accredited private school serving grades K-12. Supporting homeschool and unschool families by designing custom curriculum and classes based on the students interests and abilities. For each class required to graduate, the student and teacher together create learning objectives, goals and compile educational resources. The students document their work and time spent in order to earn credits. Students are encouraged to learn what is interesting to them and to spend time learning outside the classroom.
Clark County Home Educators

Clark County

CCHE membership is open to all interested persons in sympathy with the purpose of CCHE. It includes parents, grandparents, teachers, etc. and is not limited to those with school age children. As an organization, CCHE will be consistently and forthrightly Christian in all of its activities and publications, although members are not required to agree to the Statement of Faith. Members are admitted upon the receipt of a written application form and approval by the Board of Directors, or a committee appointed by the board. Membership units include the parents and children of the same family.
Inland Northwest Christian Homeschoolers

Coeur d'Alene and Spokane Valley areas

INCH is a non-profit co-op and support group serving homeschoolers in Coeur d'Alene and surrounding areas. INCH is not a drop-off program or a school, but a co-op run solely by volunteer moms. We offer homeschool students from preschool through high school an assortment of academic and enrichment classes and social activities to supplement their homeschooling experience, as well as classes and workshops to encourage and support homeschooling moms.
Homeschool Alliance of SW Washington (HSALL)

Cowlitz County

Homeschool Alliance of SW Washington is comprised of a variety of homeschool co-ops, parents and advocates. The goal of HSALL is to bring together the homeschool community in Cowlitz and surrounding counties. HSALL speaks to the heart of homeschooling by providing local event information, approaches to homeschooling, co-op information and mentoring to homeschool parents.
North Kitsap Homeschool Community

Kitsap

The North Kitsap Homeschool Community (NKHC) is a secular (non-religious) Homeschool Community in Kitsap County, Washington. We meet once a week, on Tuesdays, in Poulsbo and together we explore the world with our kids through engaging and unique classes designed to foster the creative and adventurous spirit in us all.
Eclectic Kitsap Homeschoolers' Organization

Kitsap County

E.K.H.O is an inclusive group providing homeschool support and encouragement to a diverse, eclectic group of families seeking to educate their children at home.
KitCat Homeschoolers

Kitsap County

Kitsap County's Catholic Homeschooling connection. Includes meeting information, local resources and current events.
Families Inspiring Leadership Academy

Lakewood

Our school is a community of families which supports agency-based, liberal arts education and helps parents and students explore their potential in a nurturing and inspiring atmosphere. We follow the philosophy of Thomas Jefferson Education (TJEd) promoting the Five Pillars of Statesmanship (Classics, Mentors, Simulations, Field Experience, and God). We are a Christ-centered school that respects each family's core beliefs. FILA honors each individual as the steward of their own education and seeks to support, not replace, the family as the center of learning.
The Local Homeschool Home Page

Longview, Kelso, Castle Rock, Kalama, Woodland, LaCenter, Vancouver, Yacolt, Amboy

Southwest Washington Areas of Longview, Kelso, and Castle Rock.
First Class Christian Homeschool Co-op

Mount Vernon

A group of homeschooling families in the Skagit Valley of northwest Washington who have gathered together to support one another. This Christian homeschool co-op meets on Fridays - affectionately called Friday School.  Co-op happens at Emmanuel Baptist Church in Mt. Vernon, WA.  We provide engaging classes for kids (Nursery -12th) and fellowship for moms!!
Home Oriented Meaningful Education

North King and South Snohomish counties

H.O.M.E. is a Christian support group in the North King and South Snohomish county area of Washington State. While the activities and publications of this group are inherently Christian in nature, everyone, regardless of belief or creed, is welcome to attend parent meetings and apply for membership. H.O.M.E. is a Washington State nonprofit corporation.
Homeschool Meetup of Pierce and Thurston County

Pierce/Thurston County

We are a group of families, mostly all represented by mothers but we do not discriminate, dads are educators too! We support all types of homeschoolers in this area no matter what your chosen path, your faith, your curricula, your needs, we support it all.
Sow Big

Seattle/West Seattle

Sow Big is a faith-based support group focused on play, exploration, support, and "doing life together." Run by families for families, Sow Big uses geographic location to create pockets within communities where homeschoolers can meet up on a consistent basis. Sow Big groups enjoy regularly scheduled park days, holiday parties, field trips, community service projects, teacher support nights, and events.
Trestle Homeschool Association

Snohomish County

THA is one of the oldest homeschool support groups in the Everett, Washington area and its surrounding communities.
Spokane Christian Homeschooling Families Meetup and Support Group

Spokane

Spokane Christian Homeschooling Families Meetup and Support Group. Educational field trips, classes, moms nights out, museum visits, community events meet ups, etc. Fieldtrips are geared towards ELEMENTARY and MIDDLE SCHOOL students. Older and younger siblings are welcome to attend. This group is for those interested in homeschooling and meeting fellow homeschooling moms and children to build friendships. Members are here to build each other up, help those who are new to homeschooling and learn what it is about, and assist fellow homeschoolers on their journey.

Spokane Christian Homeschooling Families Meetup and Support Group details
Washington Homeschool Organization Regional Support Groups

Washington Statewide

Washington Homeschool Organization Regional Support Groups details
North County Christian Homeschool Group

Whatcom County

North County Christian Homeschool Group is a free group that offers social gatherings for local Whatcom County homeschool families and provides a place for online connection as well as in-person. This group will offer park days, local field trips, and local hobby classes for all age groups.