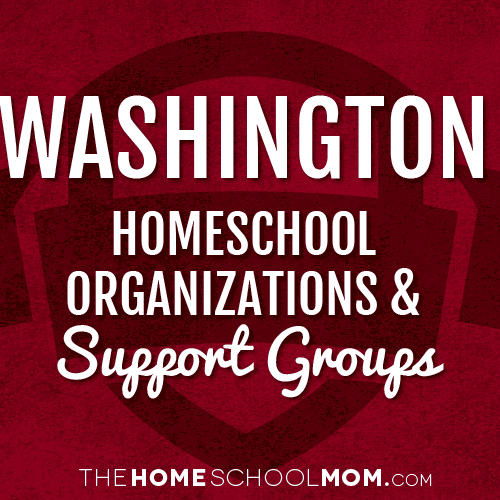 Since homeschooling is regulated at the state level, connecting with local homeschoolers is an important step to start homeschooling in Washington. State homeschool organizations and local homeschool groups are not just a good place to learn the specifics of legally homeschooling in Washington—they can also help you to get connected with the local homeschooling community. Many homeschool groups offer co-ops, classes, sports and arts opportunities, and social get-togethers.
Our listing of Washington state organizations and local homeschool groups is ordered alphabetically by city, with statewide organizations listed first. If you would like to submit a group, you may do so using the red button above.
Use the secondary navigation menu above to quickly make your way to pages for Washington state organizations, local homeschool groups, classes, co-ops, field trips, and more.
Washington Homeschool Organizations
Washington Homeschool OrganizationWashington Statewide
The Washington Homeschool Organization (WHO) is a statewide, non-profit membership organization. Its mission is to serve the diverse interests of home-based education in Washington State. WHO is no...
Christian HeritageWashington Statewide
An organization committed to serving the needs of Christian homeschoolers in Washington State, equipping you to "train up your children in the way they should go,"and inspiring you to pass on a God...
Washington Local Homeschool Groups
Alger Learning Center & Independence High SchoolBellingham
Providing creative educational alternatives, along with assistance for, and the enthusiastic support of Homeschoolers, Unschoolers, and other independent learners, since 1981. A state approved and ...
Clark County Home EducatorsClark County
CCHE membership is open to all interested persons in sympathy with the purpose of CCHE. It includes parents, grandparents, teachers, etc. and is not limited to those with school age children. As an...
Inland Northwest Christian HomeschoolersCoeur d'Alene and Spokane Valley areas
INCH is a non-profit co-op and support group serving homeschoolers in Coeur d'Alene and surrounding areas. INCH is not a drop-off program or a school, but a co-op run solely by volunteer moms. We o...
Eclectic Kitsap Homeschoolers' OrganizationKitsap County
E.K.H.O is an inclusive group providing homeschool support and encouragement to a diverse, eclectic group of families seeking to educate their children at home.
KitCat HomeschoolersKitsap County
Kitsap County's Catholic Homeschooling connection. Includes meeting information, local resources and current events.
The Local Homeschool Home PageLongview, Kelso, Castle Rock, Kalama, Woodland, LaCenter, Vancouver, Yacolt, Amboy
Southwest Washington Area
First Class Christian Homeschool Co-opMount Vernon
We are a group of homeschooling families in the Skagit Valley of northwest Washington who have gathered together to support one another. Our major activity is Friday School--an 10-week session eac...
Home Oriented Meaningful EducationNorth King and South Snohomish counties
H.O.M.E. is a Christian support group in the North King and South Snohomish county area of Washington State. While the activities and publications of this group are inherently Christian in nature,...
Homeschool Meetup of Pierce and Thurston CountyPierce/Thurston County
We are a group of families, mostly all represented by mothers but we do not discriminate, dads are educators too! We support all types of homeschoolers in this area no matter what your chosen path,...
Peninsula Homeschool Exchange NetPort Townsend
Peninsula Homeschool Exchange (PHE) is an inclusive homeschooling network based in Port Townsend, Washington. The purpose of the PHEnet mailing list is to share information pertinent to homeschoole...
Sow BigSeattle/West Seattle
Sow Big is a faith-based support group focused on play, exploration, support, and "doing life together." Run by families for families, Sow Big uses geographic location to create pockets within comm...
Trestle Homeschool AssociationSnohomish County
THA is one of the oldest homeschool support groups in the Everett, Washington area and its surrounding communities.
CHSNSpokane
CHSN - Christian Homeschool Support Network of North Spokane is a support group whose goals are to encourage and help homeschool families in the Spokane area by being a source of information and a ...
Spokane Christian Homeschooling Families Meetup and Support GroupSpokane
Spokane Christian Homeschooling Families Meetup and Support Group.Educational field trips, classes, moms nights out, museum visits, community events meet ups, etc. Fieldtrips are geared towards...
Science Olympiad Home School TeamTacoma/Puyallup
The Science Olympiad is a national science competition for Middle School and High School students. Teams of up to 15 students compete in 23 different events from all areas of science. For each even...
Home Educator's Cooperative of the Mid-ColumbiaTri-Cities
The purpose of the HECMC is to create a cooperative and supportive community of homeschooling families without regard to educational, political or religious philosophy.
Tri-Cities Homeschool Support GroupTri-Cities
This is a Christian homeschool support group focused on providing information, support and fellowship to local families in their homeschooling journey. TCHSG supports "homeschoolers" as defined und...
Washington Homeschool Organization Regional Support GroupsWashington Statewide
Whatcom HomeschoolWhatcom County
Homeschooling families exchanging ideas, considering questions, sharing resources and staying informed.