Jump to: Homeschool Arts | Homeschool Sports
In addition to the opportunity to get out of the house and socialize, homeschool sports and arts programs can offer long-term benefits by developing characteristics like leadership, self-confidence, perserverance, and self-esteem. Many organizations and businesses have opportunities specifically for homeschoolers, while others invite homeschoolers to participate in their regular programs.
Not sure how to choose activity/activities for your children? Read how Rebecca narrows down the choice of extra-curricular activities.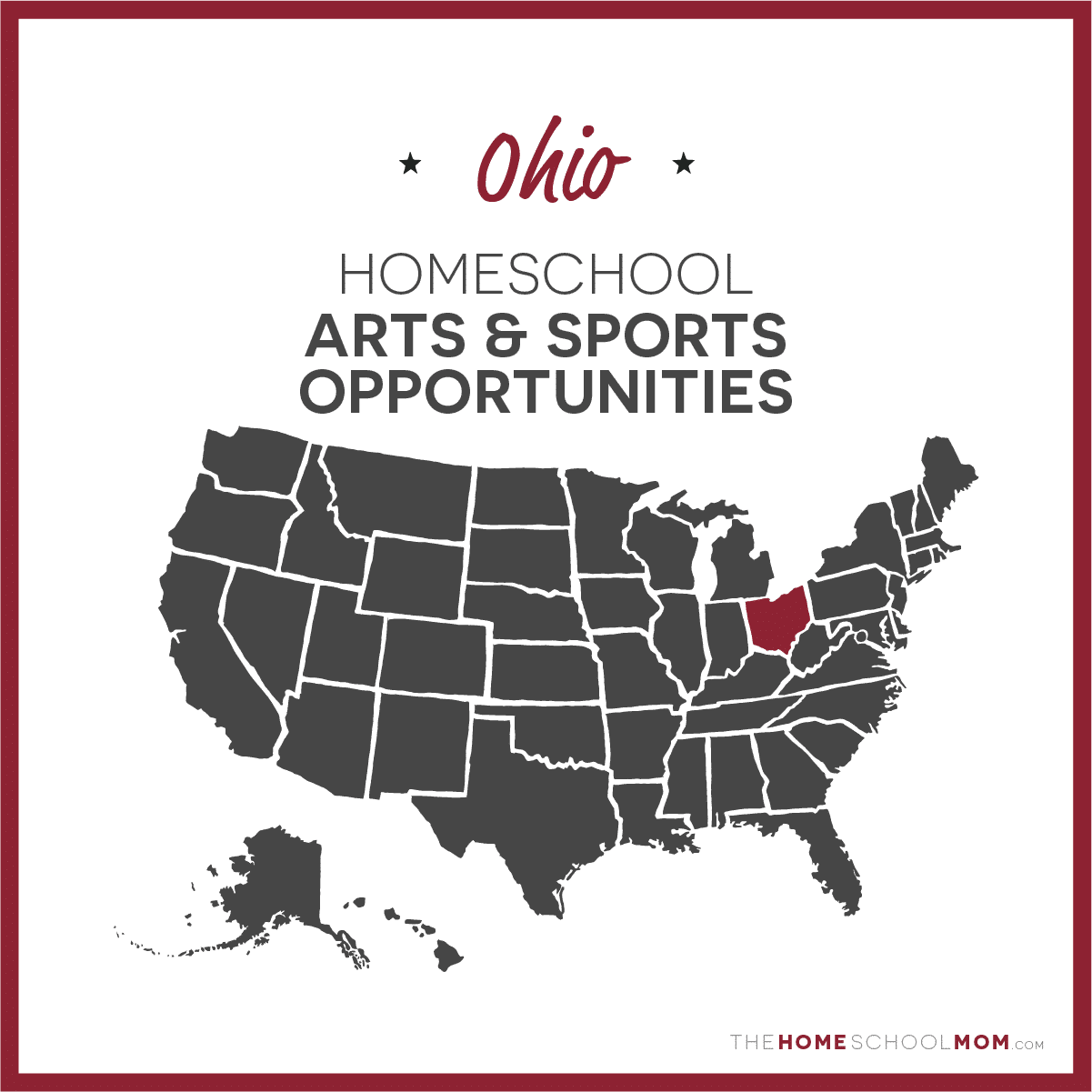 Submit a Local Resource
Our listing of Ohio list of homeschool arts and sports programs is ordered alphabetically by city, with arts in the first section and sports in the second section. If you would like to submit an Ohio arts or sports program, you may do so using the red button above.
Ohio Homeschool Arts Programs
Learn Fine Art: Screenprinting, Painting, Drawing, Digital Art Mediums, Etc.

Akron

Rubber City Prints is an Akron based local non-profit printshop that provides fine art workshops, field trips, visiting artists, and one-on-one fine art or digital media lessons and tutoring to interested students. Knowledgable instructors have BFA/MFA qualifications and are educated in teaching through the studio. Offering the following topics: Painting, Drawing, Printmaking, Sculpture, and Crafting. We also provide digital media instruction in the Adobe Suite including but not limited to the following: Creative cloud, Adobe, Photoshop, Illustrator, InDesign, Dreamweaver, Lightroom, Premiere Video, Spark, PowerPoint Presentation, etc. Workshops may include Anime Drawing, Fashion Design, Creating a Masterpiece, Intro-Advanced Printmaking, Drawing, Painting, 3-D Animation, Bookmaking, Comics Workshop, Zines Workshop, 3-D Printing, DryPoint CD, Monotype Printing, Figure Painting, Still Life Drawing, 3-D Drawing, 2-D Drawing, Creative Writing, Steam Workshops, Jewelry Making, Ceramics, Screenprinting, CMYK and more… Our facilities provide Letterpress, Etching Press, Screenprinting, Darkroom, and Studio space for fine art and digital media workshops.. Please contact us at info@rubbercityprints.org or call 330-269-9837 to schedule your best options for students. At Rubber City Prints we believe in instructing students by following Ohio Education guidelines for age specific groups and are open to teaching all levels of experience in the arts.

Learn Fine Art: Screenprinting, Painting, Drawing, Digital Art Mediums, Etc. details
ETC Heid's School of Musical Arts

Akron

ETC Heid's School of Musical Arts competitive community-based show choir organization that serves students in the greater Northeastern Ohio area. We give students the opportunity to be in a competitive show choir and get experiences singing and dancing with people that they normally would not get the opportunity to meet. A little background on us. We are in our 43rd year, have four distinct groups, which serves the populations of Elementary, Middle School, and High School. We rehearse once a week, and most of our groups rehearse on the weekends. The one exception is our high school all girls group, which currently practices on Tuesday nights. Our middle school group, the Main Street Singers, practices Saturday mornings from 9:00am-12:00pm. Our mixed high school group, the All Americans, practices Sunday afternoons from 1:30pm-5:30pm. Our all girls high school group, Rouge, practices Tuesday nights from 5:30pm-9:00pm. We perform all around the greater Akron area as well as compete throughout the Midwest in the months of January - March.
JoAnn Fabric & Crafts: Art classes in Hudson Ohio

Akron, Ohio

Offering a variety of instructor led classes for all ages, starting at $15 per student. Project classes include sewing, quilting, jewelry making, cake decorating, painting, Cricut classes, and more. Homeschool groups and scouting troops may use classroom space free of charge for meetings or other special events. Contact the Creative Studio Coordinator for more information.
Aurora School of Music

Aurora

The Aurora School of Music, in business since 2003, provides music instruction to children and secondary students in the Aurora and Cleveland areas of Ohio. Students learn piano, voice, drums, guitar, violin, trumpet, and other instruments, and they participate in group classes and ensembles as well. The Aurora School of Music promotes excellence by hiring only experienced teachers will advanced music degrees, and furthermore, each interested family may sign up for a free trial lesson to see how they like the school. Classical, jazz, rock, and pop music instruction is available.
BAYarts: Homeschool Art Classes (all ages)

Bay Village

BAYarts provides classes to help enrich your child's current homeschool curriculum. Art classes are offered in all ages, with an emphasis on specific homeschool art classes for ages 6-8 and 9-12. A variety of techniques and projects will be introduced to bring creativity into your homeschool program. Please visit bayarts.net classes page for more details or e-mail kate@bayarts.com
Field Lily Music

Bowling Green

Field Lily Music is a music studio that offers 30 or 60-minute piano, saxophone, flute, and clarinet lessons for ages 5 and above. Through lessons at Field Lily Music, you can expect to gain knowledge of: reading, writing, and performing music; Baroque, Classical, Romantic, Contemporary, and other musical styles and genres; fundamental theory and analysis, history, listening, and music appreciation.
The Studio Connection

Bowling Green

The Studio Connection is a multi-teacher, multi-instrument music studio offering a wide range of music classes and private lessons to students of all ages. Early-childhood Musikgarten classes for babies, toddlers, pre-school ages prepare the way with sound pedagogy for K-12 students to learn an instrument. Piano Express is a gamified, goal-oriented musical experience utilizing technology & teacher instruction that propels students to advance quickly in learning to play the piano. Private lessons include piano, guitar, voice, violin, woodwinds and brass instruments. Morning, afternoon, and evening classes or lessons are conveniently scheduled for homeschool families.
Square Canvas Art Studio

Canal Winchester

Square Canvas is an art studio in Canal Winchester, Ohio. Run by a Pre-K-12 licensed art teacher and administrator. We are happy to design a program to fit the needs of your school. We have seating for 36 students as well as a splatter paint and pour paint studio. We are hoping to build continuous programs with schools throughout the school year and culminating with an art show in the spring for those students participating.
Art Academy Of Dayton

Centerville/Dayton

Welcome to the Art Academy Of Dayton. Giving the finest art education in the world. Here you will master the fundamental which will give you consistent professional level art. Talent has nothing to do with it, anyone who can write their name can learn. With this program and diligent work, your artwork can look like this, every time. We have Youth classes (7-12 years old) and Teen/Adult classes.
Baldwin Music Education Center

Cincinnati

The Baldwin Music Education Center has developed a comprehensive curriculum that is designed to fully nurture the skills your child needs in music and life. Preschool music classes for ages 6-months to 4-years and piano classes for ages 5 and up. Family Discount, Convenience location and lots of options.
Homeschool Craft Program

Cincinnati

Sarah Center offers a weekly Art and Craft program on Friday's from 10 AM-12:30 PM for homeschoolers. Cost is $4 per child per session all supplies included. Sign up now: space is limited! Week 1 is FREE while supplies last; attend 7 weeks and get a week free. Parents or guardian must remain on premises. Learn more at www.sfsministries.org/our-ministries/sarah-center/
"Gallery on the Go" - mobile painting on canvas

Cincinnati

Offering painting on canvas sessions to children ages 8 and up. "Gallery on the Go" comes to people's homes or businesses and leads painting on canvas parties. One person chooses the artwork from www.galleryonthego.com/gallery which everyone will paint. Each session takes about 2 hours and we supply everything: canvas, easels, paintbrushes, aprons, table cloths, acrylic paint, etc and walk through the instructions of the chosen painting. There is a minimum of 10 painters, maximum 24. Contact us for pricing and more information.
Arthur Menezes Brum Art and Art History Classes

Cincinnati

Art, Studio Art, and Art History tutoring and classes for grades 4-12. By appointment. Best for ages 5-12. Museum Visits and Tours for small groups.
Clifton Cultural Arts Center: Arts & Culture Classes

Cincinnati

Clifton Cultural Arts Center (CCAC) is a non-profit community arts center located in the Uptown area of Cincinnati, OH. CCAC offers a wide variety of hands-on, engaging classes for kids ages 3 and up. Course lineup changes quarterly, with a rotation of visual arts, dance, and music classes for children and families. CCAC provides tuition assistance in the form of a scholarship program, designed to give all children the opportunity to take classes at the center. Scholarships are offered quarterly, with funding based on availability and student need. Visit the website for current course offerings, scholarship information, and to register for classes.

Clifton Cultural Arts Center: Arts & Culture Classes details
Riley School of Irish Music

Cincinnati

Founded in 1996 by Susan Cross Gilligan, the Riley School is a community of children, teens, and adults learning and playing Irish traditional music together. The Riley School offers three quarters of classes starting in September, January, and March as well as bands, workshops, ceili dances, and other opportunities to listen and perform. Small class sizes provide a rewarding and effective way for students to experience the history, camaraderie and joy of playing traditional Irish music. Tunes are taught by ear, with the whole school learning a shared set of tunes each quarter. Classes are currently available in whistle, flute, harp, fiddle, traditional singing, banjo, mandolin, concertina, uillean pipes, accordion, melodion, bodhran, and guitar. Classes are offered Saturday mornings at Grace United Methodist Church in Norwood. Please contact the school for placement of new students under 8 years of age. The Riley School is supported by the Ohio and Kentucky Arts Councils, and is a participating ACE provider for the Ohio Afterschool Child Enrichment Educational Savings Account Program.
Baldwin Wallace University Community Arts School

Cleveland

Baldwin Wallace Community Arts School's homeschool program is designed to expose area homeschool students to a broad offering of arts instruction throughout the academic year. Our classes engage students' creativity, problem-solving, and critical thinking skills through high-quality visual and performing arts education. Meeting on the first Wednesday of each month, CAS faculty lead students in a different art form covering topics in the area of theatre, dance, music and visual art instruction.
The Singing Angels

Cleveland

The Singing Angels is a registered non-profit 501(C)3 youth chorus whose mission is to engage youth from all communities in quality music and performing arts education that teaches teamwork, builds confidence, and provides a foundation for life. Since it's debut in 1964, the organization has performed in 34 countries, sung for three popes, four presidents, performed several times at the White House tree-lighting ceremony, and has been on national and international television, often accompanying the biggest stars of the day. Most importantly, The Singing Angels organization has equipped thousands of children with life changing experiences that make them exceptional citizens for a lifetime.
Work It Wednesdays

Cleveland/Fairview Park

Work It Wednesdays are fun for all ages. The materials are deliberately simple. Each participant will use their experiences and imagination to manipulate the supplies and work the challenges to come up with a solution that works (or not) for them. YAC works with pre-K all the way through high school. All of the activities are created with S.T.E.A.M. prospectus in mind. Most activities can flex over multiple age levels with just a few modifications. Whether you register for one Work It Wednesday or several you can be sure that the activities you find are engaging, challenging and fun.
Morning at the Ballet

Columbus

These engaging in-theatre performances are designed to introduce students to dance as a theatre art and enhance interdisciplinary learning. All programs have opportunities for audience participation.
Ann Dunnington: Flute and Clarinet Private Lessons

Columbus

Offering 30, 45 or 60 minute private music lessons on flute or clarinet in Gahanna, OH. Daytime, evening, and weekend times available. Music theory, history, pedagogy, and musicianship taught within the lessons. http://www.anndunningtonflute.com
Music Lessons In Your Home

Columbus

A private music lesson company that has been teaching students of various backgrounds, skill levels and interests in the Columbus area since 1996. Offering over 20 qualified, experienced teachers ready to teach your child piano, voice, guitar, and other various music lessons. For more information, call Christie Chiles-Twillie at 614-847-1212 or email at columbus@pianolessonsinyourhome.com
The Orchestra School of Central Ohio

Columbus

An All ages community orchestra geared towards home school students and families. We teach the art of playing in an orchestra. Rehearse weekly, September - May, on Wednesdays from noon - 2 pm. Located in Clintonville. Membership includes students, parents, working professionals, mentor musicians and retirees. Orchestra School is taught by a former symphony musician and orchestra teacher, and we focus on classical music and centuries-old playing traditions. Give free symphony concerts that are family-friendly and great for listeners of all ages.
Ohio Designer Craftsmen

Columbus

The Ohio Craft Museum offers education classes and workshops throughout the year to provide something for everyone, from children spending time with their parents while making art, to adults who would like to try a new media or project. The Ohio Craft Museum offers an art program for home schoolers that incorporates the foundations of art history in an interesting, fun, hands-on approach for young artists. Each month, students will travel back in time and learn about art from a different point in history through various art projects. Please register in advance for all classes by calling 614-486-4402 or email education education@ohiocraft.org
Columbus Saints

Columbus

The Columbus Saints, are a community focused arts education and performance 501c3 non-profit located in Central Ohio. The Saints were founded in 2003 by Marshall Cheatham; experienced social worker who wanted to provide an opportunity for young people in the community who had limited access to these programs in their schools. Since 2014, the Saints have sponsored a competitive drum & bugle corps competing in Drum Corps International's SoundSport Division winning Silver in 2015 and Gold in 2016. The corps is seeking applicants age 12 and up, to participate in the summer program led by world class music educators, and staff traveling and competing on weekends throughout the summer.
The Columbus Music and Art Academy

Columbus

CMAA Art classes offer drawing and painting classes aimed to develop and learn correct drawing and painting techniques, line movement, shading, proportions, composition, and color concepts. CMAA also offers courses in Music Theory, Harmony and Ear Training, and Sight Singing. Most students choose to participate in the Royal Conservatory Certificate Program by taking the theory exam following the class. Our Music Theory students have consistently performed exceptionally well on these exams. On average, we do 20% better than the national average as given by the Royal Conservatory website. Classes are on Saturdays throughout the school year.
Columbus International Children's Choir

Columbus

The Columbus International Children's Choir, Winner of the 8th World Choir Games, offers premier children's and youth choirs and singing and voice lessons for kids ages 4-18 in the Columbus area. Each member of the choir receives personal attention from conductors. When necessary, the conductors and a voice teacher work with choir members individually or in small groups. Inviting all children, who love music and want to become better singers, to join the Columbus International Children's Choir. Classes are on Saturdays during the school year and we accept new enrollments throughout the year.
Kindermusik

Columbus

In every Kindermusik class, children sing, move, play instruments, and hear stories—all while developing social skills, problem-solving skills, pre-math skills, and a foundation for reading. Activities are designed to help develop confidence and coordination, improve attention skills, enhance rhythm and creativity as well as foster expressiveness while boosting pre-literacy skills.The research-based curriculum focuses on whole-child development and includes parents in understanding how your child is developing musically, cognitively, and socially. Classes offered are parent participatory and designed for babies, toddlers, and preschoolers.
Cello Lessons with Maria Di Meglio

Columbus

Maria Di Meglio is offering private cello lessons as well as general music lessons from in-home studio in Clintonville (Columbus, OH). She is available for house visits for lessons too. Maria Di Meglio has years of teaching experience and received her undergraduate and master's degrees in cello performance from the Jacobs School of Music at Indiana University, where she was also a graduate teaching assistant. Her website is www.mariadimeglio.com, please feel free to reach out for a complimentary first lesson!
The Sewing Hive

Columbus

This facility offers sewing classes for grades 6-12, has structured 10 week sessions to teach basic home sewing skills for groups and individuals within the months of September through May. Their program includes, hand stitching and mending, sewing machine operation, planning and construction of garments. Essential life skills include applied math, dexterity and creative thinking.
Encore Music Studios

Columbus

We have been Growing Musical Legacies One Heart at a Time™ and providing Excellence, Enthusiasm, and Enrichment in Music Lessons since 1980 at our Westerville and Dublin locations. Over these 40+ years, we have served 2900+ families and provided 150,000+ music lessons in the greater Columbus area. We are comprised of University Music Professors, Professional Musicians, Music Education Teachers, Radio Personalities, and College Graduates. Owners Bradley and Helen Allen have 5 music degrees from The Ohio State University and are a longtime homeschooling family in the Learning Tree Co-op in Reynoldsburg with 3 student children and 1 graduate. Our website is www.encoremusicstudios.com and our phone number is 614-882-6681.
FHS Steel Band

Columbus

This Steel Band class is available to any students in Franklin County as part of a 21st Century Community learning grant. Steel Band classes focus on the development of musical skills through scales, selected music literature, and solos. The goal of this class is to make every student more aware of how to play an instrument and how to appreciate/understand music. Through problem-solving, critical thinking, and reflection, students develop the physical and cognitive skills to be more disciplined performers. Public performances may serve as a culmination of specific instructional goals. Students may be required to attend and/or participate in rehearsals and performances outside the school day to support, extend, and assess learning in the classroom. The class runs the entire school year and can be joined during the year if approved.
Kids Create Collective

Columbus

Kids Create Collective offers 6-8 week sessions for creative writing classes and knitting and crochet clubs to grades 3-8. Group members focus on learning about their craft and creating their own original art works. A sense of community is fostered through sharing their creations and discussions.
Miranda Kibler - piano, voice, choir

Columbus

Musician Miranda Kibler is bringing musical experience to homeschoolers in the Columbus area. Offering piano, voice, and choir opportunities at her in-home studio during the day. Tailoring opportunities to learn a musical instrument one-on-one or to sing together in a group. Miranda Kibler has been a public school music teacher for 12 years, and operated a private music studio for 15 years. Specializing in piano, voice, and brass instruments. She also plays in the 122d Ohio Army Band, and performs all over the state for community concerts and various government functions. If you are interested in coming to her in-home studio for music instruction to add to your homeschool experience or co-op, please reach out. Mirandaks616@gmail.com
Blossom Performing Arts

Columbus

Blossom Performing Arts is an educational theater company dedicated to cultivating curiosity, creativity, and confidence in everyone through classes, workshops and private coaching.
Jody Hepp Music Studio

Columbus

Jody Hepp is a retired music teacher offering piano and voice lessons in her Westerville/New Albany area home.
Suzuki Music Columbus

Columbus and Lewis Center

Children as young as 3 years old join a program of study on violin, viola or cello. Following Shin'ichi Suzuki's philosophy of talent education, we believe every child can learn and talent can be developed in every child if one creates the right environment. Students have many performing opportunities and are part of a musical community. Instruction consists of one private lesson and one group class per week.
Life Skills: Sewing

Columbus, Ohio

This resource provides sewing skills with curriculums for all ages and skill levels. Life Skills Sewing for Homeschoolers is specifically designed for Homeschoolers, but classes can be tailored to any size group or age. Programs begin every ten weeks, according to school calendar for Fall, Winter and Spring Quarters
Columbus Children's Theatre

Columbus; Central Ohio; Franklin, Licking, Delaware, Fiarfied Counties

Columbus Children's Theatre's mission is to inspire, enrich and empower the imaginations of children and their families through live theatre and theatre education. CCT offers daytime and weekday performances with literary tie-ins, enrichment activities, and low ticket prices. CCT Academy offers classes in art and drama. The CCT Touring Company can travel to perform for students anywhere in the state! Sensory Friendly performances are inexpensive and geared toward patrons with sensitivities to light or sound or who may be on the autism spectrum.
Sona Dulce Studio of Music

Conneaut/Kingsville

This resource is designed to inspire local students grades K-12 to pursue their own musical abilities by taking private or group lessons in the areas of piano, voice and guitar. It is also to give the local students an opportunity to participate in youth choir (elementary or secondary) in a fun and inclusive atmosphere, with performance opportunities in the form of studio recitals.
Rosewood Arts Centre

Dayton

Classes are taught by a professional art teacher, and students receive instruction in drawing, painting, clay, art history and more. Tuesday sessions are for kids ages 5 - 9. Thursday sessions are for kids ages 8 - 14.
Piano and Voice Lessons with J.Y. How-VanderMeer

Dayton

JY is a Piano and Voice teacher with 7 years of experience (and counting). She holds a Bachelor of Music from the University of Evansville, and also certifications from ABRSM (UK). Check website for more details.
Manuel Music Studio

Dayton

Manuel Music Studio offers high quality music instruction for all ages in a safe and caring environment. All of the instructors at Manuel Music Studio are highly trained musicians; collectively with over two decades of collegiate music education and nearly a century of musical experience; each with a passion for the empowerment, education, and musical progress of others. Offering instruction in Guitar, Piano, Strings, Voice, and Woodwinds.
Manuel Creative Arts Academy

Dayton

Manuel Creative Arts Academy is located in Dayton, OH. Offering high quality creative arts instruction for all ages in a safe and caring environment. All of the instructors at Manuel Creative Arts Academy are highly trained professionals; collectively with over two decades of collegiate education and over a century of experience in their art; each with a passion for the empowerment, education, and progress of others. At Manuel Creative Arts Academy music was our first love. Music has been a key part of humanity as far back as human records and has an amazing ability to affect ones self and other around them. At Manuel Creative Arts Academy students can enjoy twelve different instruments in solo and group lessons and ensembles; there truly is something for everyone.
Athletic Proving Ground Daytime Art Classes

Dayton

Each 45 minute art class will have a focused technique or skill that is being developed. Individual and group projects will be designed around these techniques, and students will be able to bring home their portions of the projects once completed.Creativity, experimentation, and expression are encouraged within the guidelines of using the medium and techniques being studied. Throughout the year, students will learn about using colored pencil, pastel, charcoal, watercolor, acrylic, conventional and unconventional materials such as canvas, marker, paper sculpture (such as quilling), and clay. Using these materials, students will be exposed to portraiture, landscapes, various styles of illustrations, combining materials, and much more!
Museaic Guitar Lessons

Delaware

Bob Claymier is a retired 6th grade math and science teacher in Delaware, OH. He has played acoustic and electric guitar for over 55 years and is proficient in a variety of genres (folk, pop, rock, country) and styles (strumming chords, fingerpicking, playing musical notation and tabulature, improvisation). He has played in bands for over 20 years and is currently with two bands, a classic pop and classic country trio, 3 of a Kind (https://www.facebook.com/3ofakindbobdonbarb/) and a flute and guitar instrumental duet, Museaic. (https://www.facebook.com/Museaic/). He has taught guitar to dozens of people from 8 to 70 for the past 5 years in the Delaware area. Bob is very positive, friendly and personable and develops an individualized lesson plan for each student based upon age, experience and interest. Lessons would be 1/2 hour in length once a week, would cost $15 per lesson and would take place in your home. Lessons would be available Mondays, Tuesdays, and Fridays from 8 AM to 12 noon. References and reviews from current students are available.
Guitar Lessons with Bob Claymier

Delaware

Bob Claymier, retired 6th grade teacher in Delaware, OH. currently teaches guitar at the Delaware Cultural Arts Center and is in his 4th year there. He has also given lessons at the Sourcepoint Senior Enrichment Center in Delaware County for the past 3 years. He has taught everyone from ages 8 to over 70, including a blind student. He has played guitar for 55 years and can play and teach a variety of genres, including folk, pop, rock, country and standards. Instruction can include basic chords and strumming patterns, fingerpicking styles, reading and playing both musical notation and tabulature, and improvisation / soloing. Bob teaches in an informal, personable, friendly style. Each lesson is tailored to the student's abilities, preferred genre and style. Bob has successfully taught dozens of people the joy and personal satisfaction of making their own music! The fee is a very reasonable $15 a half hour and the lessons can be taught in your house or venue in Delaware County or northern Franklin County. Group rates can be applied. For references, please contact Diane Hodges, director of the Cultural Arts Center, at 740-369-2787 or dhodges@artscastle.org and Marilyn Clark at SourcePoint, 740-363-6677 or Marilyn@mysourcepoint.org. Please contact Bob through a phone call, text or email. Thank you for your interest in guitar lessons. Bob Claymier 248 N. Franklin St Delaware OH 43015 bobclaymier@gmail.com C: 740-816-9627
Miami Valley Dance Center

Fairborn

Monthly weekly workshops for 7-months of the school year for different types of dance styles. Styles include, but are not limited to: Irish, Hip Hop, Jazz and Lyrical/Contemporary. Aerobic classes such as Zumba and Kick Boxing may be included. This will help with PE credit as we will submit a certification of completion with detailed hours. This will be a fun and new way to get your credits to move and release energy!
Young's Art Center

Fairview Park

We are an art, education, and event space. Serving artists, youth, families and the community. YAC helps budding artists of all ages discover their creativity and imagination through art. Home schooler art programs are available. You are sure to find an event, class or program that feeds your creative soul.
Middletown Christian Schools Homeschool

Franklin

A homeschool group that has options for grades 1-12. Our Enrichment Day program offers a twice a month class for grades 1-5 along with field trips. Course offerings include Hands on Science, Art/Music, Creative Writing, American Sign Language, PE and more. Sports opportunities are available where age appropriate. Grades 6-12 can join a partnership with the school and enroll in classes (Math, Science, English, History, Art, Music, etc) along with participating in special events and sports.
Mouth of the Wolf Productions childrens acting classes

Grove City

This acting program provides learning opportunities for ages 5-11 in group 1, and ages 12-18 in group 2. It meets on Thursdays and provides performance opportunities locally, and at the Shakespeare Festival in Cincinnati, as part of the end of term production. It is amazing!

Mouth of the Wolf Productions childrens acting classes details
Stumpf Music Studio

Hamilton/Butler County

Private Music lessons - piano, voice, handbell, organ and music theory lessons taught in the teacher's home studio. High School music theory curriculum also taught. Request daytime and evening lessons at https://pamstumpf.wixsite.com/studio. Group lessons for 3 or more students are also available.
Hilliard Music Academy

Hilliard, Ohio

The Hilliard Music Academy offers music lessons and classes to students of all ages. Offering instruction on piano, guitar, drums, violin, viola, cello, trumpet, trombone, flute, clarinet, saxophone, voice and classes for early childhood education.
MusicAlliance Homeschool Band Information Meetings

Kirtland/Mentor and Parma Heights Ohio

MusicAlliance offers beginning and advanced small group band instrument lessons and group band ensembles for homeschooled students ages 9-18. There are two homeschool band programs, one on the east side and one on the west side. The Eastside Homeschool Band program classes are held on Fridays in the band room at Lakeland Community College in Kirtland, and the Westside Homeschool Band program classes are on Fridays at Divinity Lutheran Church in Parma Heights. The classes run from September through May.
Academy for Strings and Piano at Four Oaks

Lake County

Private and Group Instruction in violin, viola, cello, piano, recorder, music theory, string ensembles
Weaving Supply and Studio

Lakewood

A children's Art Studio in Lakewood Oh. Teaching ceramics and weaving, I also bring in teachers for paint, charcole, ect. I serve children from toddler age to High School and in the evening I hold classes and groups for moms. I teach VBS (no charge for that program) in the summer and have had great results. Please take a peek on Facebook to see some of the art projects. Or stop by for a visit if you are nearby.
Lemon Seeds Music

Lakewood

Lemon Seeds offers homeschool music classes that cover all the basics of a general music education, including note reading, music history and appreciation, instrument exploration, and more. Additionally, private and small group lessons in voice, piano, and guitar, as well as early childhood music classes, are available.
Decorative Arts Center of Ohio Homeschool art classes

Lancaster

Art Classes for homeschool students.

Decorative Arts Center of Ohio Homeschool art classes details
Richland Academy of the Arts

Mansfield

The Richland Academy of the Arts (RAA) in Mansfield, Ohio, is piloting a visual arts course in drawing during spring 2023. We are hoping to grow homeschool offerings in music, theatre, dance, visual arts, and martial arts (Kenpo).
The Dance Factory

Marion

The dance factory introduces different styles of dance to all ages and abilities. The use of movement, music, coordination, and socialization create an experience of creative learning and exercise. 45 minute sessions, 1 time per week, and offered weekdays.
Creative Haven Art Studio

Marysville

Art, crafts, and stem classes for children and adults. Classes can be taken in public or scheduled for private groups. Our studio is also available for rent for homeschool groups.
Yera Lee Violin Lesson

Mason, Liberty, and West Chester

Yera Lee, DMA (Doctor of Musical Arts) is a professional violinist and teacher. She is available from morning to afternoon for violin lessons. Perfect for homeschool students.
Private Cello Lessons with Rebecca Landell Reed

Medina

Rebecca Reed was homeschooled in Vermont and studied cello and historical performance at Oberlin Conservatory and Rice University. She provides an individualized education dedicated to holistic musical understanding. Ms. Reed provides historical context and training in how music is written and heard, she creates a supportive learning environment where students take risks, make mistakes, and learn from each other, and she encourages preexisting musical interests by incorporating musical taste into students' repertory. A weekly lesson includes creative lesson plans, individualized attention, parental involvement, group learning, an introduction to theory and composition, and listening assignments designed to introduce students to a wide variety of world music.
Art classes with Dixie

Medina

Private or group art lessons for all ages in Medina County. Focused on nature and imagination. Instructor has 30 years of art and design experience. Background checked. Please call for more information. 330-331-7649
T.C. Biggs Piano Studio

Medina County

T.C. Biggs Piano Studio in Medina is now accepting new students. T.C. has been teaching in Medina since 1997
Stage Door Studios

North Canton

We offer theater classes for all ages and a community choir this fall that will perform with a larger Adult Choir in Akron and Canton for the holidays. We also offer private lessons in voice(singing), piano, guitar, violin and theater. Children's Musical Theater Workshop Ages 7 – 13 $225 - Saturdays 3:00-6:00pm - Sept 9th - Nov 4th - Wed Nov 1st - Tech Rehearsal 6:00-8:00 - Fri Nov 3rd (Dress Rehearsal) 4:00-6:00 - Sat Nov 4th (2 Performances) Roald Dahl's timeless story of the world-famous candy man and his quest to find an heir is a golden ticket to adventure.. includes scripts, music, most costume pieces and show t-shirts. Children's Choir – MajesticKids Voice - Sundays. Sep 10th - Dec 2nd $25 per semester (Sep – Dec) o 2:00-3:15pm Ages 7-12 o 3:30-5:00pm Grades 7-12 o Learn Christmas music along with some music theory and perform at Christmas at the Canton Cultural along with the adult MajesticVoice Chorus. Mini Vox – Group Class - Ages 5-7 o (Six ) Weeks, 6 (Six) People, $60 (Sixty) Sep 15th – Oct 20th o Ages 5-7 Fridays 5:00-5:45 o Learn a song and explore vocal technique and learn to perform a solo section and blend your voice in a group. The 6th week of each class, there will be a short performance.
Olga's Music Piano/Voice Private Lessons

North Royalton

Lesson in Piano and Voice. All ages and levels. Technique, interpretation, theory, performance. Students evaluate with NFMC and AMPT Guild certificational auditions. Training /coaching for the competitions: WPC (2009 2 Gold medal winners), NEOMTA and other. Small group lessons with MYC program. Individual goal set. Affordable prices. Parents presence at the lessons. Studio equipped with the grand piano, keyboard, videorecording , library. 440-237-4713.mob 440 4768 038
The Musical Schoolhouse

North Royalton

Lessons in Piano, Guitar, Violin and most band instruments. Ages 5-18. Also offering a PreK music enrichment class on Thursdays (morning and evening sessions). Music Theory classes for high school and College prep on Saturday mornings. Small group piano lessons with pre-registration as needed. Parents waiting area inside the studio as well as in the hallway just outside our door. Future beginning band program for homeschool students to perform locally in the early summer 2018.
Lindsey Goodman: Flute and Piccolo Private Lessons

Pickerington

Goodman Flute Studios offers 30, 45, and 60 minute lessons for flutists from age 10 to 18 in Pickerington, Ohio. Experience working with homeschool families. Daytime and evening weekday hours available to help reach your musical goals!
Brilliante Strings Homeschool Orchestra

Plain City

Brilliante Strings is an orchestra program for Homeschooled students in Central Ohio. This program meets weekly from September through May, and offers three leveled ensembles, from beginner (no previous study) to advanced for violin, viola, cello and bass. Private lessons are not required; students may also benefit from an added Small Group lesson. Students will have performance opportunitites, with concerts in December and May, as well as fun, community performances in the area. For more information, Contact Mrs. Jacquie Stevanus at hilliardsuzukistrings@gmail.com To Register: https://forms.gle/euFvfpchSQY99eKb6
Powell Academy of Music

Powell

A full service music school that offers music lessons and classes for students of all ages. Powell Academy of Music has morning and afternoon lesson and classes times to better serve home school clients. There are also have several group classes that incorporate teamwork and develop social skills. Offering private music lessons on piano, guitar, violin, viola, cello, drums, voice, flute, clarinet, saxophone, trumpet, trombone and much more. Kindermusik classes for young children and a children's choir for students between the ages of 6 and 10 are available.
Anna's Suzuki Violin Studio

Seven Hills

Suzuki Violin Lessons for children ages 4 and up. The program includes both private and group lessons by a fully certified Suzuki Method Violin Teacher. Classes are in Seven Hills, Ohio.
Piano Lessons by Massie Inegr

Springfield

Homeschooling Mom, Massie Inegr, offers weekly piano lessons to all ages, all levels. Ms. Inegr holds a Master of Arts in Church Music with Piano Concentration, 25 years of tutoring/teaching, and absolutely LOVES teaching! Also, Fluent in English, Portuguese, and speaks, reads and writes some Spanish.
Sherre's Heartstrings General Music Classes

Toledo

Sherre Turner offers a General Music Class for Homeschoolers, but it is open to all children 6 to 12 years old. Small class size of 8 students on Saturdays. Phone: 419-704-6195 Email: Violin92855@aol.com
Ballet Theatre of Toledo

Toledo

Ballet Theatre of Toledo is excited to announce daytime classes specifically designed for homeschool students. These classes will introduce the art of ballet, with students learning at both barre and in the center. They will also explore ballet's history and traditions, famous ballets, and the collaborative role a variety of artists play to bring a ballet story to life, all within a fun and supportive creative space. BTT is offering two levels: Teens and Tweens (ages 10-18) and Primary (ages 6-9). BTT is a non-profit community arts organization whose mission is to inspire a life-long passion for ballet and the performing arts. A family discount is available! For more information, please contact BTT at 419-861-0895 or info@ballettheatreoftoledo.org. Class times and registration forms are available at https://ballettheatreoftoledo.org
Genoa 88 Keys Studio

Westerville/Galena/Lewis Center

Offering both private piano lessons and group Music for Young Children piano classes. Special homeschoolers rate available.
Family Ties Home School Program at the Willoughby Fine Arts Assocation

Willoughby

The Family Ties Home School Program provides enriching, hands-on art experiences designed specifically for home schooled students ages 5-13. Students are divided into two groups: lower school (ages 5-9) and upper school (ages 10-13). Caring experienced faculty guide students through hands-on experiences in visual arts, theatre, music, and dance. This program's curriculum is aligned with the Ohio Department of Education's Academic Content in Standards in Fine Arts.

Family Ties Home School Program at the Willoughby Fine Arts Assocation details
Ohio Homeschool Sports Programs
Home School Tennis Clinic at Towpath Tennis Center

Akron

Towpath Tennis Center is providing a unique opportunity for home school students, and their families, to learn the game of tennis! Daytime clinics offer more flexibility, and are a perfect solution to physical education requirements. No membership or tennis experience is required. A racquet will be provided if you need one. Parents are encouraged to participate. Clinics run monthly. Please see the website under junior programs for class times and fees.
i9 Sports

Akron, Cuyahoga Falls, Sagamore Hills, Tallmadge, Summit County

The goal is simple: To put the fun back into youth sports. i9 Sports® offers an alternative to the hyper-competitive, win-at-all-cost culture that pervades most kid's sports leagues today. Through the i9 Sports Experience, we offer families an experience that focuses on fun, safety and convenience. i9 Sports offers youth sports leagues, camps and clinics for boys and girls ages 3-14 in today's most popular sports such as flag football, soccer, basketball and baseball. Age - appropriate instruction emphasizing sportsmanship and healthy competition. All skill levels welcome – No tryouts. No drafts. Everyone plays – every game. No fundraisers. One day per week – practice is conveniently scheduled prior to the game. Trained officials at every game. "When in Doubt Sit Out" Concussion Safety Policy and education for parents and coaches system - wide.
The Pond Ice Arena

Auburn Township

Homeschool Ice Skating ... Public skate or Physical Education Learn To Skate Program
Columbus Gymnastics Academy Homeschool Gymnastic Classes

Canal Winchester

Columbus Gymnastics Academy specializes in giving your young gymnast a great start,or competitive experience in a fun, positive, encouraging environment. Boys Ninja Zone Class: Wednesdays from 1:00-2:00pm ages 5-12. Girls Gymnastics: Wednesdays from 2:00-3:00pm ages 5-12. Call for dates and rates. 614-575-9557

Columbus Gymnastics Academy Homeschool Gymnastic Classes details
Central Ohio Rowing

Central Ohio

Central Ohio Rowing is the oldest rowing club in central Ohio, we welcome prospective rowers and coxswains from any school in Columbus and Central Ohio (public, private, or home-schooled), 7th - 12th grade. We compete at the local, regional, and national levels. No experience is required.
Blue Ash YMCA Home School Swim & Gym

Cincinnati

Looking for physical education opportunities for your home-schooler? Look no further! The Blue Ash YMCA offers a Home School Swim & Gym program for children ages 5 - 12. This physical education program will be held in the gym and the pool, emphasizing skill development for lifelong physical activities, while having fun and using skills to play games. This program runs in seven-week sessions during the school year. Classes are held on Wednesdays, from 1:00 - 3:00 pm. For more information, contact the Blue Ash YMCA at 513-791-5000.
Cincinnati Trailblazers

Cincinnati

The Cincinnati Trailblazers is a homeschool basketball program dedicated to excellence in athletics to the Glory of God. The Trailblazers program provides competitive basketball for players looking to improve their skills and compete at a high level. We play against great competition including homeschool teams, OHSAA teams, and public and private schools in Ohio, Kentucky, and Indiana. The varsity girls are part of the Great Lakes Conference and participate in the NCHBC Regional and National tournaments. The varsity boys are a part of the Midwest Conference and participate in the NCHBC tournaments as well. The Trailblazers also offer teams for younger boys and girls. Currently, there are teams at the Varsity, Junior Varsity, Freshman, and Junior High levels. For more information about the Cincinnati Trailblazer basketball program visit: www.cincytb.com or contact the Athletic Director; Julie Strasser at: strasser6864@gmail.com
Goldfish Swim School Anderson

Cincinnati

Goldfish Swim School believes that your child deserves to have an incredible swimming experience in the safest and most fun environment possible. Goldfish swimming lessons are specially designed to make learning fun through guided play for beginners from 4 months to 12 years old, including infant swim lessons, toddler swim lessons, and more. They're committed to helping children make waves in life through award-winning swim lessons that offer experienced guidance in swim techniques as well as important information about water safety.
Goldfish Swim School West Chester

Cincinnati

Goldfish Swim School believes that your child deserves to have an incredible swimming experience in the safest and most fun environment possible. Goldfish swimming lessons are specially designed to make learning fun through guided play for beginners from 4 months to 12 years old, including infant swim lessons, toddler swim lessons, and more. They're committed to helping children make waves in life through award-winning swim lessons that offer experienced guidance in swim techniques as well as important information about water safety.
Landmark Soccer

Cincinnati

Landmark Soccer is a homeschool soccer program dedicated to teaching and playing excellent soccer all to the Glory of God. The Landmark soccer program provides competitive soccer (JV and Varsity) for players looking to improve their skills and compete at a high level and build lifelong friendships. We compete against other homeschool teams, OHSAA teams, and public and private schools in Ohio, Kentucky, and Indiana. The varsity boys also take part in the National Home School Tournament held in Murfeesburough, TN every year towards the end of October.
I9 sports

Cleveland and Lorain county

I9 sports focuses on teaching the importance of good sportsmanship on the field and in life. i9 Sports is a unique youth sports concept that truly puts kids first and prioritizes learning life skills through athletics, and we're thrilled to be bringing this one-of-a-kind experience to families in our community. I9 sports looks to enrich the lives of local children by creating a safe and fun environment where they can learn the value of healthy competition and the importance of being physically active. It's the way youth sports should be.
Columbus Crusaders

Columbus

The Columbus Crusaders football and cheerleading program is focused on teaching Commitment, Honor, Responsibility, Initiative, Service, and Truth. The program is open to home school kids in the 5th to 12th grades.
Stars Indoor Sports

Columbus

A large indoor sports facility housing 3 fields and an outdoor pool. Stars Indoor Sports runs playground games, arts and crafts, sports camps and more. Ages 2-up are welcome. Summer Camp starting in June held weekly are available for both full and half day campers. Little Stars Instructional classes and field trips are also available.
Integrity Gym -Ju jitsu

Columbus

Integrity Athletics offers two types of recreational Martial Arts; Tae Kwon Do and Jujitsu. Both classes focus on discipline, respect, leadership, goal setting, anti-bullying, situational awareness, and fitness. Our classes are split so that you can choose a 1, 2, or 3 day option for classes, and tuition is paid monthly. If you would like to give Martial Arts a try Integrity offers one free trial class. JuJitsu classes focus on self defense, stand-up sparring, grappling, throwing and submission. All age groups and experience levels welcome.
Amazing Athletes of Columbus

Columbus

Amazing Athletes is the premier year-round developmental physical fitness program empowering children aged 2 ½ to 6 years old to reach developmental milestones at an individual pace. The action-packed curriculum is endorsed by Early Childhood Expert, Bonnie Bruce who reviews each element of the program to ensure Amazing Athletes get every possible advantage. And the programs show kids just how much fun fitness can be! During the 30-35 minute weekly classes, children learn the importance of patience, teamwork, and self-confidence in a non-competitive, learning-based environment that fosters a love of healthy living. Their excitement for structured physical activity promotes advancements and advantages that keep children on the path to personal well-being.
Valemee Fitness

Columbus

Obtain PE credit by participating in fitness classes taught by certified personal trainers and a certified physical education teacher at Valemee Fitness, a unique facility designed to promote lifelong health and fitness. We use a visual system to teach students to access fitness as Independently as possible. Offering Yoga, boxing, strength training, walk/run. We are a specialized center willing to rent space or offer courses for students to obtain PE credit in an atmosphere focusing on adapting to each individual's ability level and promoting independence. We also have volunteer opportunities to work with clients who have special needs. Our goal is to use our gym to serve as many people as possible to live the healthiest life possible. Our gym is a perfect place to rent space or sign up for classes in a small, studio gym. Peggy Mills is the founder and taught adapted physical education for 27 years prior to opening Valemee. Visit Valemee.com
Monthly Home School Ice Skating at The Chillers!

Columbus, OH

Utilize discounted skating times as a way to get together with friends and family. Ice Skating at the Ohio Health Chiller is also a great way to get physical education credit! Admission (includes skate rental) is $3 for current class members and $5 for guests. Program runs September through May
SafeSplash Swim School - Dublin

Columbus/Dublin

SafeSplash swim school offers swim lessons for ages 6 months through adult learners in a group, semi-private or private class structure. This learn to swim program emphasizes proper technique and safety all while having fun!
Dayton Gem City Jumpers

Dayton

A Jump Rope team of youth starting at age 9. Formal program supports exercise and fundamental value of a strong work ethic, teamwork and good sportsmanship. The cost is $200.00 per year, plus a rope cost of $4.00. Jumpers practice on Monday, Wednesday and Friday from 6pm to 8pm. Please contact Coach Clay if you have questions. 937-258-2041, cell 684-1038
Athletic Proving Grounds Physical Education

Dayton

Daytime Physical Education Classes are implemented by Zach Vargo, a 12 year public school educator with a teaching license in prek-12th grade physical education and 7th-12th grade health education. The classes are driven by state standard in Ohio physical education. Classes are designed to meet age appropriate benchmarks by the end of each grade band. There are 4 separate grade bands identified in the state of Ohio with goals students should be meeting physically at the end of each grade band. Those grade bands are (k-2), (3-5), (6-8), (9-12). Classes are held in a space larger than the average elementary school gym at The Athletic Proving Grounds in Tipp City. It is also across from Kyle Park that has over 250 acres that we utilize including sand volleyball courts, basketball courts, over a dozen soccer fields, softball fields, baseball fields, a skate park, bike path, outdoor fitness equipment, and playground equipment. Classes are Monday through Thursdays. K-2nd grades (8:30-9:15am) 3rd-6th grades (9:15-10:00am) 7th-12th grades (10:00-10:45am) Classes are $150 per month for access to all grade level specific times for the month. There are discounts if your student would also like to join the art or creative writing classes or have multiple siblings that would like to join the classes.
Dayton Academy of Gymnastics Homeschool Classes

Dayton

This facility offers private 45 minute classes, 1 time per week gymnastics, for physical fitness, or combination classes for homeschool groups/pods/families. Classes can be run for one month at a time with a minimum of 10 students. Homeschool classes get the standard school group discount. Times currently available are Thursday afternoons. This facility follows all Responsible Restart Covid - 19 procedures as set by the State of Ohio and Montgomery County Health Department.
Hamilton-Fairfield Taekwondo Homeschooler's Class

Fairfield, Ohio

We have a Homeschooler's only Taekwondo Class that meets every Monday and Thursday at 2:00 pm
Gym Skills

Gahanna

Here at Gym Skills, we prioritize the safety, fun, and education of our athletes. Through our motto "Get Active. Be Healthy.", we work to carry out our mission of teaching children how to live a healthy and active lifestyle in both body and mind. Our vision is to leave a legacy and positively shape future generations in our communities. We value the dedication and passion our team has for the classes they lead, the students they teach, and the futures they are shaping. We offer TODDLER CLASSES, PRESCHOOL CLASSES, GYMNASTICS CLASSES, TUMBLING CLASSES, NINJA CLASSES, SOCCER CLASSES, ADULT GYMNASTICS and PRIVATE LESSONS.
Lewis Ski Club

Greater Northeast Ohio

Lewis ski club is a non-profit corporation for skiers and snowboarders of any skill level and age, from the young to the young at heart. Founded in 1980 by NASA Mathematician Annie Easley, LSC is a contributing member of Cleveland Metro Ski Council. Monthly meetings are held on the first Tuesday of the Month (except May and July) and refreshments are provided. Club members enjoy social activities year-round like biking, hiking, canoeing, camping, winery tours, happy hour socials and more! Offering affordable annual memberships and family rates. The Lewis Ski Club sponsors year-round recreation for winter snow sports and socializing. Trips and activities include Alpine and Nordic skiing (cross-country), snowboarding, snowshoeing, hiking, bicycling, canoeing, rafting, and all-around socializing events. Trip durations range from week-long/over-night, to single day, to a few hours. $15 Individual Membership $20 Family Membership
Victori Equine Horsemanship Classes

Huber Heights

If you are looking to learn more horsemanship, riding skills in both English and western, horse behavior, and care, sessions in our program would be perfect for you! These sessions are geared to enhance confidence, responsibility, and leadership. Receive an hour-long session for ages 3 and up! You're never too old to start working with these magnificent animals. Lessons are available Sundays and weekdays 9:00 AM - 6:00 PM. Slots are filling up so reserve your lesson today! We are located in Huber Heights, OH at Painted Sky Stables.
Goldfish Swim School Hudson

Hudson

At Goldfish Swim School, we believe that your child's full potential is there. Sometimes you just need to add water. Our premier swim school in Hudson offers year-round programs that are meant to engage our infant, toddler, and child students in a fun learning environment where they can grow and achieve.
City of Mentor Home School Thursday

Mentor

The Mentor Civic Arena offers Homeschool Thursday's. Every Thursday from 10:30 AM - 12:00 PM, October through April. The cost is $5.00 per skater.
Goldfish Swim School North Canton

North Canton

At Goldfish Swim School, we've found a way to encourage kids' cognitive growth through swimming, mixing a safe environment with guided play. Using this combination, your child will be able to unlock their full potential and develop life skills they can use in and out of the water Created for parents, by parents, our North Canton swimming instructors encourage kids to overcome their fears, respect their surroundings, and learn everything there is to know about swimming while doing it. And, with an award-winning tropical environment and pools that stay warm year-round, your kids are guaranteed to have fun every step of the way.
i9Sports

North Canton, Copley-Fairlawn, Cuyahoga Falls, Stow, Tallmadge, Uniontown, Green, Akron

The i9 Sports Summit County program includes: soccer, basketball, flag-football, cheerleading, volleyball and t-ball for boys & girls ages 3-14. Their goal is to provide programs that are inclusive, educational, teach good sportsmanship and are organized for parents. Their program provides the convenience of same-day practice and game schedules.
Neely Equestrian Center

Powell

Homeschooling friendly riding stable, offering private or group horseback riding lessons, as well as the chance to learn about horse care. Also offers camps, and homeschooling specific days, with the opportunity to come meet the horses and bring younger siblings for a pony ride.
Buckeye Gymnastics

Powell

We offer fitness and gymnastics classes specifically for those families that home school.
Rose City Gymnastics

Springfield

Rose City Gymnastics conducts introductory gymnastics classes for students ages 2+.
Tallmadge Recreation Center Home School Open Gym

Tallmadge

Home School Open Gym at the Tallmadge Recreation Center has been going strong for the last 15 years. Every Thursday from 1-2:30pm, home school kids get to stretch, exercise, play various sports and games with friends and coaches. Classes are held on the indoor soccer field as well as the running track and basketball courts. Come have a blast at Home School Open Gym!