Jump to: Homeschool Arts | Homeschool Sports
In addition to the opportunity to get out of the house and socialize, homeschool sports and arts programs can offer long-term benefits by developing characteristics like leadership, self-confidence, perserverance, and self-esteem. Many organizations and businesses have opportunities specifically for homeschoolers, while others invite homeschoolers to participate in their regular programs.
Not sure how to choose activity/activities for your children? Read how Rebecca narrows down the choice of extra-curricular activities.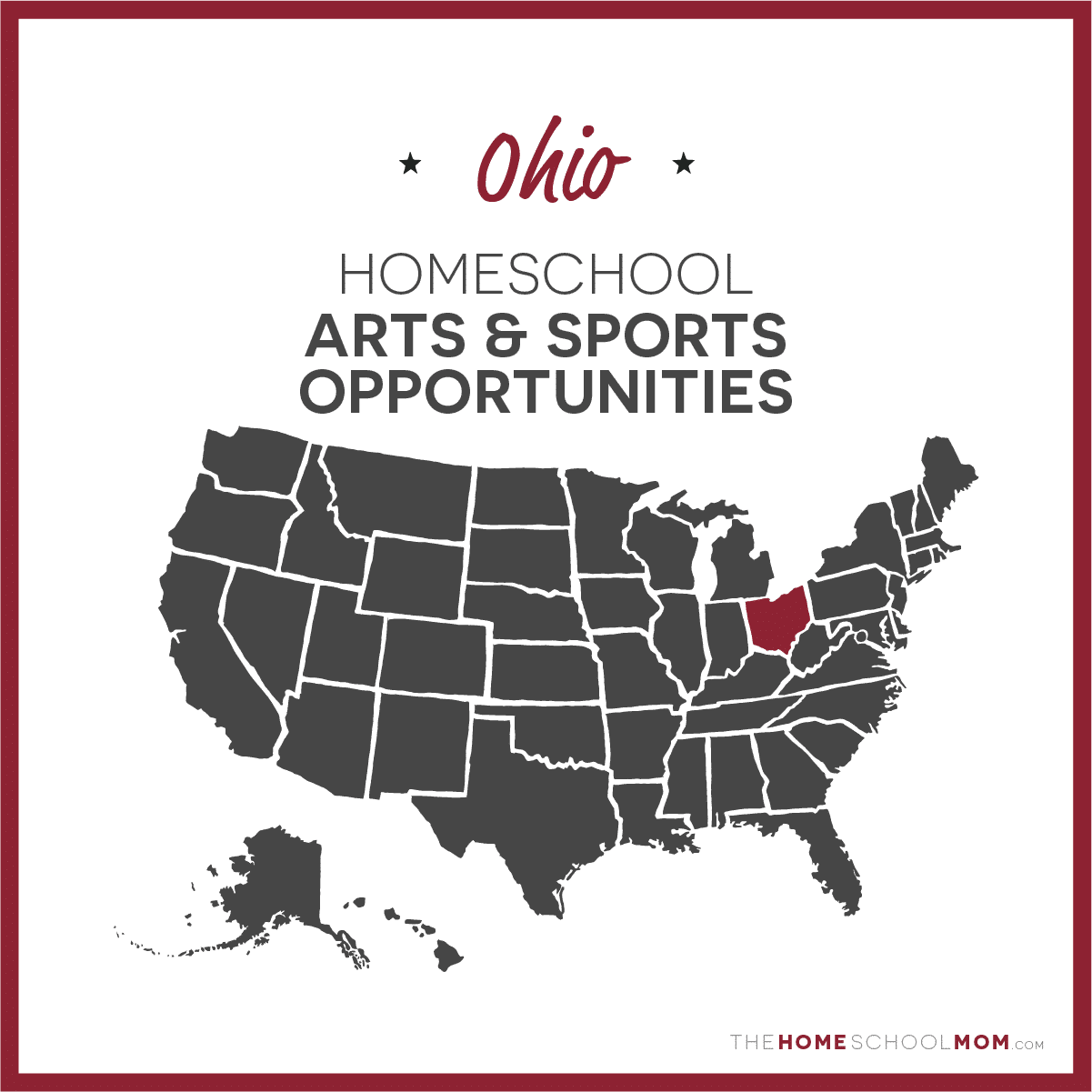 Submit a Local Resource
Our listing of Ohio list of homeschool arts and sports programs is ordered alphabetically by city, with arts in the first section and sports in the second section. If you would like to submit an Ohio arts or sports program, you may do so using the red button above.
Ohio Homeschool Arts Programs
Learn Fine Art: Screenprinting, Painting, Drawing, Digital Art Mediums, Etc.Akron
Rubber City Prints is an Akron based local non-profit printshop that provides fine art workshops, field trips, visiting artists, and one-on-one fine art or digital media lessons and tutoring to int... [Read more...]
ETC Heid's School of Musical ArtsAkron
ETC Heid's School of Musical Arts competitive community-based show choir organization that serves students in the greater Northeastern Ohio area. We give students the opportunity to be in a competi... [Read more...]
JoAnn Fabric & Crafts: Art classes in Hudson OhioAkron, Ohio
Offering a variety of instructor led classes for all ages, starting at $15 per student. Project classes include sewing, quilting, jewelry making, cake decorating, painting, Cricut classes, and more... [Read more...]
Aurora School of MusicAurora
The Aurora School of Music, in business since 2003, provides music instruction to children and secondary students in the Aurora and Cleveland areas of Ohio. Students learn piano, voice, drums, guit... [Read more...]
BAYarts: Homeschool Art Classes (all ages)Bay Village
BAYarts provides classes to help enrich your child's current homeschool curriculum. Art classes are offered in all ages, with an emphasis on specific homeschool art classes for ages 6-8 and 9-12. A... [Read more...]
Field Lily MusicBowling Green
Field Lily Music is a music studio that offers 30 or 60-minute piano, saxophone, flute, and clarinet lessons for ages 5 and above. Through lessons at Field Lily Music, you can expect to gain knowle... [Read more...]
Art Academy Of DaytonCenterville/Dayton
Welcome to the Art Academy Of Dayton. Giving the finest art education in the world. Here you will master the fundamental which will give you consistent professional level art. Talent has nothing to... [Read more...]
Buckeye Band and String instrument instruction for homeschooled childrenCentral Ohio
Buckeye Band and Strings is a traditional instrumental music education class designed specifically for homeschooled children who are looking for a fun, educational band or string class in which to ... [Read more...]
Baldwin Music Education CenterCincinnati
The Baldwin Music Education Center has developed a comprehensive curriculum that is designed to fully nurture the skills your child needs in music and life. Preschool music classes for ages 6-month... [Read more...]
Homeschool Craft ProgramCincinnati
Sarah Center offers a weekly Art and Craft program on Friday's from 10 AM-12:30 PM for homeschoolers. Cost is $4 per child per session all supplies included. Sign up now: space is limited! Week 1 i... [Read more...]
"Gallery on the Go" - mobile painting on canvasCincinnati
Offering painting on canvas sessions to children ages 8 and up. "Gallery on the Go" comes to people's homes or businesses and leads painting on canvas parties. One person chooses the artwork from w... [Read more...]
Arthur Menezes Brum Art and Art History ClassesCincinnati
Art, Studio Art, and Art History tutoring and classes for grades 4-12. By appointment. Best for ages 5-12. Museum Visits and Tours for small groups. [Read more...]
Clifton Cultural Arts Center: Arts & Culture ClassesCincinnati
Clifton Cultural Arts Center (CCAC) is a non-profit community arts center located in the Uptown area of Cincinnati, OH. CCAC offers a wide variety of hands-on, engaging classes for kids ages 3 and ... [Read more...]
Baldwin Wallace University Community Arts SchoolCleveland
Baldwin Wallace Community Arts School's homeschool program is designed to expose area homeschool students to a broad offering of arts instruction throughout the academic year. Our classes engage st... [Read more...]
Sewing Using S.T.E.A.MCleveland
Our mission at Sewing Using S.T.E.A.M is to provide sewing lessons and confidence building to all who desire to learn sewing as a life skill, hobby, or career. The goal is to encourage and share th... [Read more...]
Out Of This World Community Art ShowCleveland
Out Of This World Community Art Show Aug 13- Sept 10 Point of view is everything In space, on earth, on the moon… Real or imagined, you decide. What does this mean to you? You are the master of you... [Read more...]
Morning at the BalletColumbus
These engaging in-theatre performances are designed to introduce students to dance as a theatre art and enhance interdisciplinary learning. All programs have opportunities for audience participation. [Read more...]
Ann Dunnington: Flute and Clarinet Private LessonsColumbus
Offering 30, 45 or 60 minute private music lessons on flute or clarinet in Gahanna, OH. Daytime, evening, and weekend times available. Music theory, history, pedagogy, and musicianship taught withi... [Read more...]
Music Lessons In Your HomeColumbus
A private music lesson company that has been teaching students of various backgrounds, skill levels and interests in the Columbus area since 1996. Offering over 20 qualified, experienced teachers r... [Read more...]
The Orchestra School of Central OhioColumbus
An All ages community orchestra geared towards home school students and families. We teach the art of playing in an orchestra. Rehearse weekly, September - May, on Wednesdays from noon - 2 pm. Loca... [Read more...]
Ohio Designer CraftsmenColumbus
The Ohio Craft Museum offers education classes and workshops throughout the year to provide something for everyone, from children spending time with their parents while making art, to adults who wo... [Read more...]
Columbus SaintsColumbus
The Columbus Saints, are a community focused arts education and performance 501c3 non-profit located in Central Ohio. The Saints were founded in 2003 by Marshall Cheatham; experienced social worker... [Read more...]
The Columbus Music and Art AcademyColumbus
CMAA Art classes offer drawing and painting classes aimed to develop and learn correct drawing and painting techniques, line movement, shading, proportions, composition, and color concepts. CMAA al... [Read more...]
Columbus International Children's ChoirColumbus
The Columbus International Children's Choir, Winner of the 8th World Choir Games, offers premier children's and youth choirs and singing and voice lessons for kids ages 4-18 in the Columbus area. E... [Read more...]
Cello Lessons with Maria Di MeglioColumbus
Maria Di Meglio is offering private cello lessons as well as general music lessons from in-home studio in Clintonville (Columbus, OH). She is available for house visits for lessons too. Maria Di Me... [Read more...]
KindermusikColumbus
In every Kindermusik class, children sing, move, play instruments, and hear stories—all while developing social skills, problem-solving skills, pre-math skills, and a foundation for reading. Activi... [Read more...]
Sound Aloud, Inc.Columbus
Sound Aloud is a faith based nonprofit that uses the Creative Arts, holistic health, and unique mentoring/outreach programs as tools to make a powerful difference in this generation and communities... [Read more...]
Encore Music StudiosColumbus
We have been Growing Musical Legacies One Heart at a Time™ and providing Excellence, Enthusiasm, and Enrichment in Music Lessons since 1980 at our Westerville and Dublin locations. Over these 40+ y... [Read more...]
The Sewing HiveColumbus
This facility offers sewing classes for grades 6-12, has structured 10 week sessions to teach basic home sewing skills for groups and individuals within the months of September through May. Their p... [Read more...]
FHS Steel BandColumbus
This Steel Band class is available to any students in Franklin County as part of a 21st Century Community learning grant. Steel Band classes focus on the development of musical skills through scale... [Read more...]
Kids Create CollectiveColumbus
Kids Create Collective offers 6-8 week sessions for creative writing classes and knitting and crochet clubs to grades 3-8. Group members focus on learning about their craft and creating their own o... [Read more...]
Suzuki Music ColumbusColumbus and Lewis Center
Children as young as 3 years old join a program of study on violin, viola or cello. Following Shin'ichi Suzuki's philosophy of talent education, we believe every child can learn and talent can be d... [Read more...]
Life Skills: SewingColumbus, Ohio
This resource provides sewing skills with curriculums for all ages and skill levels. Life Skills Sewing for Homeschoolers is specifically designed for Homeschoolers, but classes can be tailored to ... [Read more...]
Columbus Children's TheatreColumbus; Central Ohio; Franklin, Licking, Delaware, Fiarfied Counties
Columbus Children's Theatre's mission is to inspire, enrich and empower the imaginations of children and their families through live theatre and theatre education. CCT offers daytime and weekday pe... [Read more...]
Rosewood Arts CentreDayton
Classes are taught by a professional art teacher, and students receive instruction in drawing, painting, clay, art history and more. Tuesday sessions are for kids ages 5 - 9. Thursday sessions are ... [Read more...]
Piano and Voice Lessons with J.Y. How-VanderMeerDayton
JY is a Piano and Voice teacher with 7 years of experience (and counting). She holds a Bachelor of Music from the University of Evansville, and also certifications from ABRSM (UK). Check website fo... [Read more...]
Manuel Music StudioDayton
Manuel Music Studio offers high quality music instruction for all ages in a safe and caring environment. All of the instructors at Manuel Music Studio are highly trained musicians; collectively wit... [Read more...]
Manuel Creative Arts AcademyDayton
Manuel Creative Arts Academy is located in Dayton, OH. Offering high quality creative arts instruction for all ages in a safe and caring environment. All of the instructors at Manuel Creative Arts ... [Read more...]
Athletic Proving Ground Daytime Art ClassesDayton
Each 45 minute art class will have a focused technique or skill that is being developed. Individual and group projects will be designed around these techniques, and students will be able to bring h... [Read more...]
Museaic Guitar LessonsDelaware
Bob Claymier is a retired 6th grade math and science teacher in Delaware, OH. He has played acoustic and electric guitar for over 55 years and is proficient in a variety of genres (folk, pop, rock,... [Read more...]
Guitar Lessons with Bob ClaymierDelaware
Bob Claymier, retired 6th grade teacher in Delaware, OH. currently teaches guitar at the Delaware Cultural Arts Center and is in his 4th year there. He has also given lessons at the Sourcepoint Sen... [Read more...]
Miami Valley Dance CenterFairborn
Monthly weekly workshops for 7-months of the school year for different types of dance styles. Styles include, but are not limited to: Irish, Hip Hop, Jazz and Lyrical/Contemporary. Aerobic classes ... [Read more...]
Young's Art CenterFairview Park
YAC'S Summer STEAM Wednesday's this summer starting June 15th Challenges for ages 7 and up. Participants choose from cards designated for age groups, family group or individual challenges. There ar... [Read more...]
Middletown Christian Schools HomeschoolFranklin
A homeschool group that has options for grades 1-12. Our Enrichment Day program offers a twice a month class for grades 1-5 along with field trips. Course offerings include Hands on Science, Art/Mu... [Read more...]
Blossoming ArtistsGahanna
Art School classes taught by a licensed art teacher with 8 years experience. Classes are for PK through 8th grade students. Each project is based upon art history, with various artists, vocabulary,... [Read more...]
Mouth of the Wolf Productions childrens acting classesGrove City
This acting program provides learning opportunities for ages 5-11 in group 1, and ages 12-18 in group 2. It meets on Thursdays and provides performance opportunities locally, and at the Shakespeare... [Read more...]
Stumpf Music StudioHamilton/Butler County
Private Music lessons - piano, voice, handbell, organ and music theory lessons taught in the teacher's home studio. High School music theory curriculum also taught. Request daytime and evening less... [Read more...]
Hilliard Music AcademyHilliard, Ohio
The Hilliard Music Academy offers music lessons and classes to students of all ages. Offering instruction on piano, guitar, drums, violin, viola, cello, trumpet, trombone, flute, clarinet, saxophon... [Read more...]
MusicAlliance Homeschool Band Information MeetingsKirtland/Mentor and Parma Heights Ohio
MusicAlliance offers beginning and advanced small group band instrument lessons and group band ensembles for homeschooled students ages 9-18. There are two homeschool band programs, one on the east... [Read more...]
Academy for Strings and Piano at Four OaksLake County
Private and Group Instruction in violin, viola, cello, piano, recorder, music theory, string ensembles [Read more...]
Weaving Supply and StudioLakewood
A children's Art Studio in Lakewood Oh. Teaching ceramics and weaving, I also bring in teachers for paint, charcole, ect. I serve children from toddler age to High School and in the evening I hold ... [Read more...]
Lemon Seeds MusicLakewood
Lemon Seeds offers homeschool music classes that cover all the basics of a general music education, including note reading, music history and appreciation, instrument exploration, and more. Additio... [Read more...]
Decorative Arts Center of Ohio Homeschool art classesLancaster
Art Classes for homeschool students. [Read more...]
The Dance FactoryMarion
The dance factory introduces different styles of dance to all ages and abilities. The use of movement, music, coordination, and socialization create an experience of creative learning and exercise.... [Read more...]
Yera Lee Violin LessonMason, Liberty, and West Chester
Yera Lee, DMA (Doctor of Musical Arts) is a professional violinist and teacher. She is available from morning to afternoon for violin lessons. Perfect for homeschool students. [Read more...]
Art classes with DixieMedina
Private or group art lessons for all ages in Medina County. Focused on nature and imagination. Instructor has 30 years of art and design experience. Background checked. Please call for more informa... [Read more...]
Private Cello Lessons with Rebecca Landell ReedMedina
Rebecca Reed was homeschooled in Vermont and studied cello and historical performance at Oberlin Conservatory and Rice University. She provides an individualized education dedicated to holistic mus... [Read more...]
T.C. Biggs Piano StudioMedina County
T.C. Biggs Piano Studio in Medina is now accepting new students. T.C. has been teaching in Medina since 1997 [Read more...]
Olga's Music Piano/Voice Private LessonsNorth Royalton
Lesson in Piano and Voice. All ages and levels. Technique, interpretation, theory, performance. Students evaluate with NFMC and AMPT Guild certificational auditions. Training /coaching for the comp... [Read more...]
The Musical SchoolhouseNorth Royalton
Lessons in Piano, Guitar, Violin and most band instruments. Ages 5-18. Also offering a PreK music enrichment class on Thursdays (morning and evening sessions). Music Theory classes for high school ... [Read more...]
Live Online Piano LessonsOhio Statewide
Ms. Cashin has been playing and studying the piano since age 7, beginning with traditional classical studies, and later adding jazz and chord theory. She completed her degree at Berklee College of ... [Read more...]
Lindsey Goodman: Flute and Piccolo Private LessonsPickerington
Goodman Flute Studios offers 30, 45, and 60 minute lessons for flutists from age 10 to 18 in Pickerington, Ohio and online with experience working with homeschool families. Daytime and evening week... [Read more...]
Powell Academy of MusicPowell
A full service music school that offers music lessons and classes for students of all ages. Powell Academy of Music has morning and afternoon lesson and classes times to better serve home school cl... [Read more...]
Piano Lessons by Massie InegrSpringfield
Homeschooling Mom, Massie Inegr, offers weekly piano lessons to all ages, all levels. Ms. Inegr holds a Master of Arts in Church Music with Piano Concentration, 25 years of tutoring/teaching, and a... [Read more...]
Sherre's Heartstrings General Music ClassesToledo
Sherre Turner offers a General Music Class for Homeschoolers, but it is open to all children 6 to 12 years old. Small class size of 8 students on Saturdays. Phone: 419-704-6195 Email: Violin92855@a... [Read more...]
Buckeye Band and StringsWesterville
Buckeye Band and Strings is an instrumental music education class designed specifically for home-schooled children who are looking for a fun, educational band or string class in which to play. We m... [Read more...]
Genoa 88 Keys StudioWesterville/Galena/Lewis Center
Offering both private piano lessons and group Music for Young Children piano classes. Special homeschoolers rate available. [Read more...]
Ohio Homeschool Sports Programs
Home School Tennis Clinic at Towpath Tennis CenterAkron
Towpath Tennis Center is providing a unique opportunity for home school students, and their families, to learn the game of tennis! Daytime clinics offer more flexibility, and are a perfect solution... [Read more...]
i9 SportsAkron, Cuyahoga Falls, Sagamore Hills, Tallmadge, Summit County
The goal is simple: To put the fun back into youth sports. i9 Sports® offers an alternative to the hyper-competitive, win-at-all-cost culture that pervades most kid's sports leagues today. Through ... [Read more...]
The Pond Ice ArenaAuburn Township
Homeschool Ice Skating ... Public skate or Physical Education Learn To Skate Program [Read more...]
Urbana Christian Crusaders sports programBellefontaine
Urbana Christian Crusaders is a homeschool sports program for boys and girls grades 4th-12th. Crusaders play other homeschool and christian school teams. There is a sports banquet at the end of the... [Read more...]
Columbus Gymnastics Academy Homeschool Gymnastic ClassesCanal Winchester
Columbus Gymnastics Academy specializes in giving your young gymnast a great start,or competitive experience in a fun, positive, encouraging environment. Boys Ninja Zone Class: Wednesdays from 1:00... [Read more...]
Central Ohio RowingCentral Ohio
Central Ohio Rowing is the oldest rowing club in central Ohio, we welcome prospective rowers and coxswains from any school in Columbus and Central Ohio (public, private, or home-schooled), 7th - 12... [Read more...]
Conni Lawrence Horse Riding LessonsChesterland
This resource will offer horseback riding lessons as well As ground lessons working around the horse and around the barn. This gives students a well-rounded opportunity to learn as much about horse... [Read more...]
Blue Ash YMCA Home School Swim & GymCincinnati
Looking for physical education opportunities for your home-schooler? Look no further! The Blue Ash YMCA offers a Home School Swim & Gym program for children ages 5 - 12. This physical education... [Read more...]
Cincinnati TrailblazersCincinnati
The Cincinnati Trailblazers is a homeschool basketball program dedicated to excellence in athletics to the Glory of God. The Trailblazers program provides competitive basketball for players looking... [Read more...]
Goldfish Swim School AndersonCincinnati
Goldfish Swim School believes that your child deserves to have an incredible swimming experience in the safest and most fun environment possible. Goldfish swimming lessons are specially designed to... [Read more...]
Goldfish Swim School West ChesterCincinnati
Goldfish Swim School believes that your child deserves to have an incredible swimming experience in the safest and most fun environment possible. Goldfish swimming lessons are specially designed to... [Read more...]
Columbus CrusadersColumbus
The Columbus Crusaders football and cheerleading program is focused on teaching Commitment, Honor, Responsibility, Initiative, Service, and Truth. The program is open to home school kids in the 5th... [Read more...]
Stars Indoor SportsColumbus
A large indoor sports facility housing 3 fields and an outdoor pool. Stars Indoor Sports runs playground games, arts and crafts, sports camps and more. Ages 2-up are welcome. Summer Camp starting i... [Read more...]
Integrity Gym -Ju jitsuColumbus
Integrity Athletics offers two types of recreational Martial Arts; Tae Kwon Do and Jujitsu. Both classes focus on discipline, respect, leadership, goal setting, anti-bullying, situational awareness... [Read more...]
Amazing Athletes of ColumbusColumbus
Amazing Athletes is the premier year-round developmental physical fitness program empowering children aged 2 ½ to 6 years old to reach developmental milestones at an individual pace. The action-pac... [Read more...]
Valemee FitnessColumbus
Obtain PE credit by participating in fitness classes taught by certified personal trainers and a certified physical education teacher at Valemee Fitness, a unique facility designed to promote lifel... [Read more...]
Monthly Home School Ice Skating at The Chillers!Columbus, OH
Utilize discounted skating times as a way to get together with friends and family. Ice Skating at the Ohio Health Chiller is also a great way to get physical education credit! Admission (includes s... [Read more...]
Dayton Gem City JumpersDayton
A Jump Rope team of youth starting at age 9. Formal program supports exercise and fundamental value of a strong work ethic, teamwork and good sportsmanship. The cost is $200.00 per year, plus a rop... [Read more...]
Athletic Proving Grounds Physical EducationDayton
Daytime Physical Education Classes are implemented by Zach Vargo, a 12 year public school educator with a teaching license in prek-12th grade physical education and 7th-12th grade health education.... [Read more...]
Dayton Academy of Gymnastics Homeschool ClassesDayton
This facility offers private 45 minute classes, 1 time per week gymnastics, for physical fitness, or combination classes for homeschool groups/pods/families. Classes can be run for one month at a t... [Read more...]
Hamilton-Fairfield Taekwondo Homeschooler's ClassFairfield, Ohio
We have a Homeschooler's only Taekwondo Class that meets every Monday and Thursday at 2:00 pm [Read more...]
Gym SkillsGahanna
Here at Gym Skills, we prioritize the safety, fun, and education of our athletes. Through our motto "Get Active. Be Healthy.", we work to carry out our mission of teaching children how to live a he... [Read more...]
Lewis Ski ClubGreater Northeast Ohio
Lewis ski club is a non-profit corporation for skiers and snowboarders of any skill level and age, from the young to the young at heart. Founded in 1980 by NASA Mathematician Annie Easley, LSC is a... [Read more...]
Victori Equine Horsemanship ClassesHuber Heights
If you are looking to learn more horsemanship, riding skills in both English and western, horse behavior, and care, sessions in our program would be perfect for you! These sessions are geared to en... [Read more...]
Goldfish Swim School HudsonHudson
At Goldfish Swim School, we believe that your child's full potential is there. Sometimes you just need to add water. Our premier swim school in Hudson offers year-round programs that are meant to e... [Read more...]
City of Mentor Home School ThursdayMentor
The Mentor Civic Arena offers Homeschool Thursday's. Every Thursday from 10:30 AM - 12:00 PM, October through April. The cost is $5.00 per skater. [Read more...]
Goldfish Swim School North CantonNorth Canton
At Goldfish Swim School, we've found a way to encourage kids' cognitive growth through swimming, mixing a safe environment with guided play. Using this combination, your child will be able to unloc... [Read more...]
i9SportsNorth Canton, Copley-Fairlawn, Cuyahoga Falls, Stow, Tallmadge, Uniontown, Green, Akron
The i9 Sports Summit County program includes: soccer, basketball, flag-football, cheerleading, volleyball and t-ball for boys & girls ages 3-14. Their goal is to provide programs that are inclu... [Read more...]
Neely Equestrian CenterPowell
Homeschooling friendly riding stable, offering private or group horseback riding lessons, as well as the chance to learn about horse care. Also offers camps, and homeschooling specific days, with t... [Read more...]
Buckeye GymnasticsPowell
We offer fitness and gymnastics classes specifically for those families that home school. [Read more...]
Tallmadge Recreation Center Home School Open GymTallmadge
Home School Open Gym at the Tallmadge Recreation Center has been going strong for the last 15 years. Every Thursday from 1-2:30pm, home school kids get to stretch, exercise, play various sports and... [Read more...]
Go to Ohio...