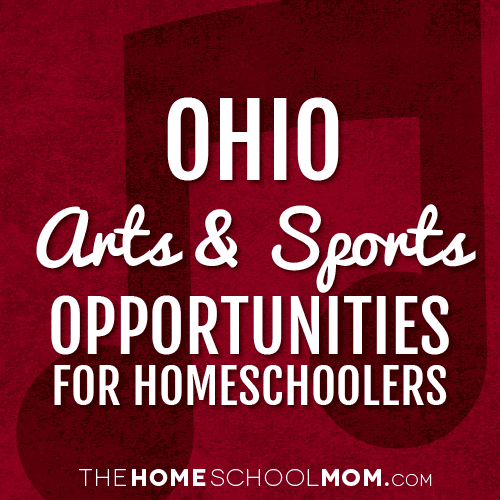 In addition to the opportunity to get out of the house and socialize, homeschool sports and arts programs can offer long-term benefits by developing characteristics like leadership, self-confidence, perserverance, and self-esteem. Many organizations and businesses have opportunities specifically for homeschoolers, while others invite homeschoolers to participate in their regular programs.
Not sure how to choose activity/activities for your children? Read how Rebecca narrows down the choice of extra-curricular activities.
Below is a list of homeschool sports and arts programs in Ohio listed alphabetically by city, with arts resources in the first section and sports resources below. If you would like to submit a Ohio arts or sports resource, you may do so using the red button above.
Use the secondary navigation menu above to quickly make your way to pages for Ohio state organizations, local homeschool groups, classes, co-ops, field trips, and more.
Homeschool Arts Opportunities in Ohio
Learn Fine Art: Screenprinting, Painting, Drawing, Digital Art Mediums, Etc.Akron
Rubber City Prints is an Akron based local non-profit printshop that provides fine art workshops, field trips, visiting artists, and one-on-one fine art or digital media lessons and tutoring to int...
JoAnn Fabric & Crafts: Art classes in Hudson OhioAkron, Ohio
Offering a variety of instructor led classes for all ages, starting at $15 per student. Project classes include sewing, quilting, jewelry making, cake decorating, painting, Cricut classes, and mor...
BAYarts: Homeschool Art Classes (all ages)Bay Village
BAYarts provides classes to help enrich your child's current homeschool curriculum. Art classes are offered in all ages, with an emphasis on specific homeschool art classes for ages 6-8 and 9-12. A...
Buckeye Band and String instrument instruction for homeschooled childrenCentral Ohio
Buckeye Band and Strings is a traditional instrumental music education class designed specifically for homeschooled children who are looking for a fun, educational band or string class in which to ...
Cincinnati Fine Arts AcademyCincinnati
Cincinnati Fine Arts Academy (CFAA) is an inter-disciplinary performing and fine arts program designed to provide fine arts education at a high level for motivated students. Serves home schooled s...
Baldwin Music Education CenterCincinnati
The Baldwin Music Education Center has developed a comprehensive curriculum that is designed to fully nurture the skills your child needs in music and life. Preschool music classes for ages 6-month...
Homeschool Craft ProgramCincinnati
Sarah Center offers a weekly Art and Craft program on Friday's from 10 AM-12:30 PM for homeschoolers.Cost is $4 per child per session all supplies included. Sign up now: space is limited! We...
"Gallery on the Go" – mobile painting on canvasCincinnati
Offering painting on canvas sessions to children ages 8 and up. "Gallery on the Go" comes to people's homes or businesses and leads painting on canvas parties. One person chooses the artwork from w...
Baldwin Wallace University Community Arts SchoolCleveland
BW Community Arts School Homeschool Program includes Music, Gymnastics, Dance, and Theater. At the end of the session the students will perform a production on stage, showcasing what they have lear...
Morning at the BalletColumbus
These engaging in-theatre performances are designed to introduce students to dance as a theatre art and enhance interdisciplinary learning. All programs have opportunities for audience participation.
Flute and Clarinet Private LessonsColumbus
Offering 30, 45 or 60 minute private music lessons on flute or clarinet in Gahanna, OH. Daytime, evening, and weekend times available. Music theory, history, pedagogy, and musicianship taught wit...
Music Lessons In Your HomeColumbus
A private music lesson company that has been teaching students of various backgrounds, skill levels and interests in the Columbus area since 1996. Offering over 20 qualified, experienced teachers r...
The Orchestra School of Central OhioColumbus
An All ages community orchestra geared towards home school students and families. We teach the art of playing in an orchestra. Rehearse weekly, September - May, on Wednesdays from noon - 2 pm. Loca...
Ohio Designer CraftsmenColumbus
The Ohio Craft Museum offers education classes and workshops throughout the year to provide something for everyone, from children spending time with their parents while making art, to adults who wo...
Columbus SaintsColumbus
The Columbus Saints, are a community focused arts education and performance 501c3 non-profit located in Central Ohio. The Saints were founded in 2003 by Marshall Cheatham; experienced social worker...
The Columbus Music and Art AcademyColumbus
CMAA Art classes offer drawing and painting classes aimed to develop and learn correct drawing and painting techniques, line movement, shading, proportions, composition, and color concepts. CMAA al...
Columbus International Children's ChoirColumbus
The Columbus International Children's Choir, Winner of the 8th World Choir Games, offers premier children's and youth choirs and singing and voice lessons for kids ages 4-18 in the Columbus area. E...
KindermusikColumbus
In every Kindermusik class, children sing, move, play instruments, and hear stories—all while developing social skills, problem-solving skills, pre-math skills, and a foundation for reading. Activi...
Sound Aloud, Inc.Columbus
Sound Aloud is a faith based nonprofit that uses the Creative Arts, holistic health, and unique mentoring/outreach programs as tools to make a powerful difference in this generation and communities...
Cello Lessons with Maria Di MeglioColumbus
Maria Di Meglio is offering private cello lessons as well as general music lessons from in-home studio in Clintonville (Columbus, OH). She is available for house visits for lessons too. Maria Di Me...
Encore Music StudiosColumbus
Private music instruction has been available through this studio for over 38 years. Encore is owned by a homeschooling family, and is staffed by qualified & experienced musicians who love teach...
The Sewing HiveColumbus
This facility offers sewing classes for grades 6-12, has structured 10 week sessions to teach basic home sewing skills for groups and individuals within the months of September through May.The...
Suzuki Music ColumbusColumbus and Lewis Center
Children as young as 3 years old join a program of study on violin, viola or cello. Following Shin'ichi Suzuki's philosophy of talent education, we believe every child can learn and talent can be d...
Life Skills: SewingColumbus, Ohio
This resource provides sewing skills with curriculums for all ages and skill levels. Life Skills Sewing for Homeschoolers is specifically designed for Homeschoolers, but classes can be tailored to...
Columbus Children's TheatreColumbus; Central Ohio; Franklin, Licking, Delaware, Fiarfied Counties
Columbus Children's Theatre's mission is to inspire, enrich and empower the imaginations of children and their families through live theatre and theatre education. CCT offers daytime and weekday pe...
Rosewood Arts CentreDayton
Classes are taught by a professional art teacher, and students receive instruction in drawing, painting, clay, art history and more. Tuesday sessions are for kids ages 5 - 9. Thursday sessions are ...
Piano and Voice Lessons with J.Y. How-VanderMeerDayton
JY is a Piano and Voice teacher with 7 years of experience (and counting). She holds a Bachelor of Music from the University of Evansville, and also certifications from ABRSM (UK). Check website fo...
Manuel Music StudioDayton
Manuel Music Studio offers high quality music instruction for all ages in a safe and caring environment. All of the instructors at Manuel Music Studio are highly trained musicians; collectively wit...
Manuel Creative Arts AcademyDayton
Manuel Creative Arts Academy is an extracurricular academy providing instruction in Music, Art, Dance, and Drama in group and/or individual sessions. Participation in the arts will help your studen...
Museaic Guitar LessonsDelaware
Bob Claymier is a retired 6th grade math and science teacher in Delaware, OH. He has played acoustic and electric guitar for over 55 years and is proficient in a variety of genres (folk, pop, rock,...
Guitar Lessons with Bob ClaymierDelaware
Bob Claymier, retired 6th grade teacher in Delaware, OH. currently teaches guitar at the Delaware Cultural Arts Center and is in his 4th year there. He has also given lessons at the Sourcepoint Se...
Home school Dance classesFairborn
Daytime dance workshops for home school kids. Monthly weekly workshops for 7-months of the school year for different types of dance styles. Styles include, but are not limited to: Irish, Hip Hop, ...
Blossoming ArtistsGahanna
Art School classes taught by a licensed art teacher with 8 years experience. Classes are for PK through 8th grade students. Each project is based upon art history, with various artists, vocabulary...
Mouth of the Wolf Productions childrens acting classesGrove City
This acting program provides learning opportunities for ages 5-11 in group 1, and ages 12-18 in group 2. It meets on Thursdays and provides performance opportunities locally, and at the Shakespeare...
MusicAlliance Homeschool Band Information MeetingsKirtland/Mentor and Parma Heights Ohio
MusicAlliance offers beginning and advanced small group band instrument lessons and group band ensembles for homeschooled students ages 9-18. There are two homeschool band programs, one on the ea...
Academy for Strings and Piano at Four OaksLake County
Private and Group Instruction in violin, viola, cello, piano, recorder, music theory, string ensembles
Decorative Arts Center of Ohio Homeschool art classesLancaster
Art Classes for homeschool students.
The Dance FactoryMarion
The dance factory introduces different styles of dance to all ages and abilities. The use of movement, music, coordination, and socialization create an experience of creative learning and exercise...
Yera Lee Violin LessonMason, Liberty, and West Chester
Yera Lee, DMA (Doctor of Musical Arts) is a professional violinist and teacher. She is available from morning to afternoon for violin lessons. Perfect for homeschool students.
Private Cello Lessons with Rebecca Landell ReedMedina
Rebecca Reed was homeschooled in Vermont and studied cello and historical performance at Oberlin Conservatory and Rice University. She provides an individualized education dedicated to holistic mus...
Art classes with DixieMedina
Private or group art lessons for all ages in Medina County. Focused on nature and imagination. Instructor has 30 years of art and design experience. Background checked. Please call for more informa...
T.C. Biggs Piano StudioMedina County
T.C. Biggs Piano Studio in Medina is now accepting new students. T.C. has been teaching in Medina since 1997
School of RockNorfolk
School of Rock offers students of all skill levels age 7-18 a performance-based music curriculum in a fun environment. Weekly private lessons are combined with structured group rehearsals. Student...
Piano/Voice Private LessonsNorth Royalton
Lesson in Piano and Voice. All ages and levels. Technique, interpretation, theory, performance. Students evaluate with NFMC and AMPT Guild certificational auditions. Training /coaching for the comp...
The Musical SchoolhouseNorth Royalton
Lessons in Piano, Guitar, Violin and most band instruments. Ages 5-18. Also offering a PreK music enrichment class on Thursdays (morning and evening sessions). Music Theory classes for high school ...
Austinburg Music AcademyNorthern Kentucky/ Cincinnati
This resource is a newly opened music studio, offering piano and saxophone lessons to the Northern Kentucky and Cincinnati areas! Austinburg teachers love working with all learning levels and style...
Spark Art StudioOak wood, Dayton, Kettering, Beavercreek, Fairborn, Bellbrook, and surrounding areas
Spark Art Studio is an art enrichment program in Kettering, Ohio. They offer a wide variety of classes and workshops for kids of all ages. Classes are centered around experimenting with art materia...
Live Online Piano LessonsOhio Statewide
Ms. Cashin has been playing and studying the piano since age 7, beginning with traditional classical studies, and later adding jazz and chord theory. She completed her degree at Berklee College of...
Phillips Piano StudioPainesville, Lake County
Lake County Ohio Studio currently seeking new students for private piano lessons in our studio or at your home. Flexible daytime hours available for home school students. Affordable tuition and f...
Studio J/Art & Music StudioPowell
Art & Music classes for homeschool students.
Powell Academy of MusicPowell
A full service music school that offers music lessons and classes for students of all ages. Powell Academy of Music has morning and afternoon lesson and classes times to better serve home school cl...
Piano Lessons by Massie InegrSpringfield
Homeschooling Mom, Massie Inegr, offers weekly piano lessons to all ages, all levels. Ms. Inegr holds a Master of Arts in Church Music with Piano Concentration, 25 years of tutoring/teaching, and a...
General Music Classes for Homeschoolers, 2017-2018Toledo
Sherre Turner offers a General Music Class for Homeschoolers, but it is open to all children 6 to 12 years old. Small class size of 8 students on Saturdays. The 2017 - 2018 school year begins this ...
Buckeye Band and StringsWesterville
Buckeye Band and Strings is an instrumental music education class designed specifically for home-schooled children who are looking for a fun, educational band or string class in which to play. We m...
Genoa 88 Keys StudioWesterville/Galena/Lewis Center
Offering both private piano lessons and group Music for Young Children piano classes. Special homeschoolers rate available.
Homeschool Sports Opportunities in Ohio
Home School Tennis Clinic at Towpath Tennis CenterAkron
Towpath Tennis Center is providing a unique opportunity for home school students, and their families, to learn the game of tennis! Daytime clinics offer more flexibility, and are a perfect solution...
i9 SportsAkron, Cuyahoga Falls, Sagamore Hills, Tallmadge, Summit County
The goal is simple: To put the fun back into youth sports.i9 Sports® offers an alternative to the hyper-competitive, win-at-all-cost culture that pervades most kid's sports leagues today. Throu...
The Pond Ice ArenaAuburn Township
Homeschool Ice Skating ... Public skate or Physical Education Learn To Skate Program
Urbana Christian Crusaders sports programBellefontaine
Urbana Christian Crusaders is a homeschool sports program for boys and girls grades 4th-12th. Crusaders play other homeschool and christian school teams. There is a sports banquet at the end of th...
Columbus Gymnastics Academy Homeschool Gymnastic ClassesCanal Winchester
Columbus Gymnastics Academy specializes in giving your young gymnast a great start,or competitive experience in a fun, positive, encouraging environment. Boys Ninja Zone Class: Wednesdays from 1:0...
Central Ohio RowingCentral Ohio
Central Ohio Rowing is the oldest rowing club in central Ohio, we welcome prospective rowers and coxswains from any school in Columbus and Central Ohio (public, private, or home-schooled), 7th - 12...
Conni Lawrence Horse Riding LessonsChesterland
This resource will offer horseback riding lessons as well As ground lessons working around the horse and around the barn. This gives students a well-rounded opportunity to learn as much about horse...
Blue Ash YMCA Home School Swim & GymCincinnati
Looking for physical education opportunities for your home-schooler? Look no further! The Blue Ash YMCA offers a Home School Swim & Gym program for children ages 5 - 12. This physical education pro...
Fun Team TennisCincinnati
Fun team tennis for grades k-5. Players have weekly instructional and character themes and play real matches. A racquet and shirt is included for a very low cost.
Cincinnati TrailblazersCincinnati
The Cincinnati Trailblazers is a homeschool basketball program dedicated to excellence in athletics to the Glory of God. The Trailblazers program provides competitive basketball for players looking...
Red Cross Learn To Swim Group Swim LessonsColumbus
My name is Rachel Lewand and I am the Aquatics Director for Premier at Sawmill Athletic Club. I am looking to start up a group swim lesson program for home schooled children in the Columbus area. ...
Columbus CrusadersColumbus
The Columbus Crusaders football and cheerleading program is focused on teaching Commitment, Honor, Responsibility, Initiative, Service, and Truth. The program is open to home school kids in the 5th...
Stars Indoor SportsColumbus
A large indoor sports facility housing 3 fields and an outdoor pool. Stars Indoor Sports runs playground games, arts and crafts, sports camps and more. Ages 2-up are welcome. Summer Camp starting i...
Integrity Gym -Ju jitsuColumbus
Integrity Athletics offers two types of recreational Martial Arts; Tae Kwon Do and Jujitsu. Both classes focus on discipline, respect, leadership, goal setting, anti-bullying, situational awareness...
Monthly Home School Ice Skating at The Chillers!Columbus, OH
Utilize discounted skating times as a way to get together with friends and family. Ice Skating at the Ohio Health Chiller is also a great way to get physical education credit! Admission (includes s...
Dayton Gem City JumpersDayton
A Jump Rope team of youth starting at age 9. Formal program supports exercise and fundamental value of a strong work ethic, teamwork and good sportsmanship. The cost is $200.00 per year, plus a r...
Lewis Ski ClubGreater Northeast Ohio
Lewis ski club is a non-profit corporation for skiers and snowboarders of any skill level and age, from the young to the young at heart. Founded in 1980 by NASA Mathematician Annie Easley, LSC is...
City of Mentor Home School ThursdayMentor
The Mentor Civic Arena offers Homeschool Thursday's. Every Thursday from 10:30 AM - 12:00 PM, October through April. The cost is $5.00 per skater.
Neely Equestrian CenterPowell
Homeschooling friendly riding stable, offering private or group horseback riding lessons, as well as the chance to learn about horse care. Also offers camps, and homeschooling specific days, with t...
Buckeye GymnasticsPowell
We offer fitness and gymnastics classes specifically for those families that home school.