Homeschooling is regulated at the state level, so connecting with local homeschoolers is an important step to start homeschooling in Ohio. Find the Ohio homeschool groups closest to you and get connected with your local homeschooling community, learn about the homeschool requirements in Ohio, and discover the co-ops, classes, sports and arts opportunities, and social get-togethers in your area.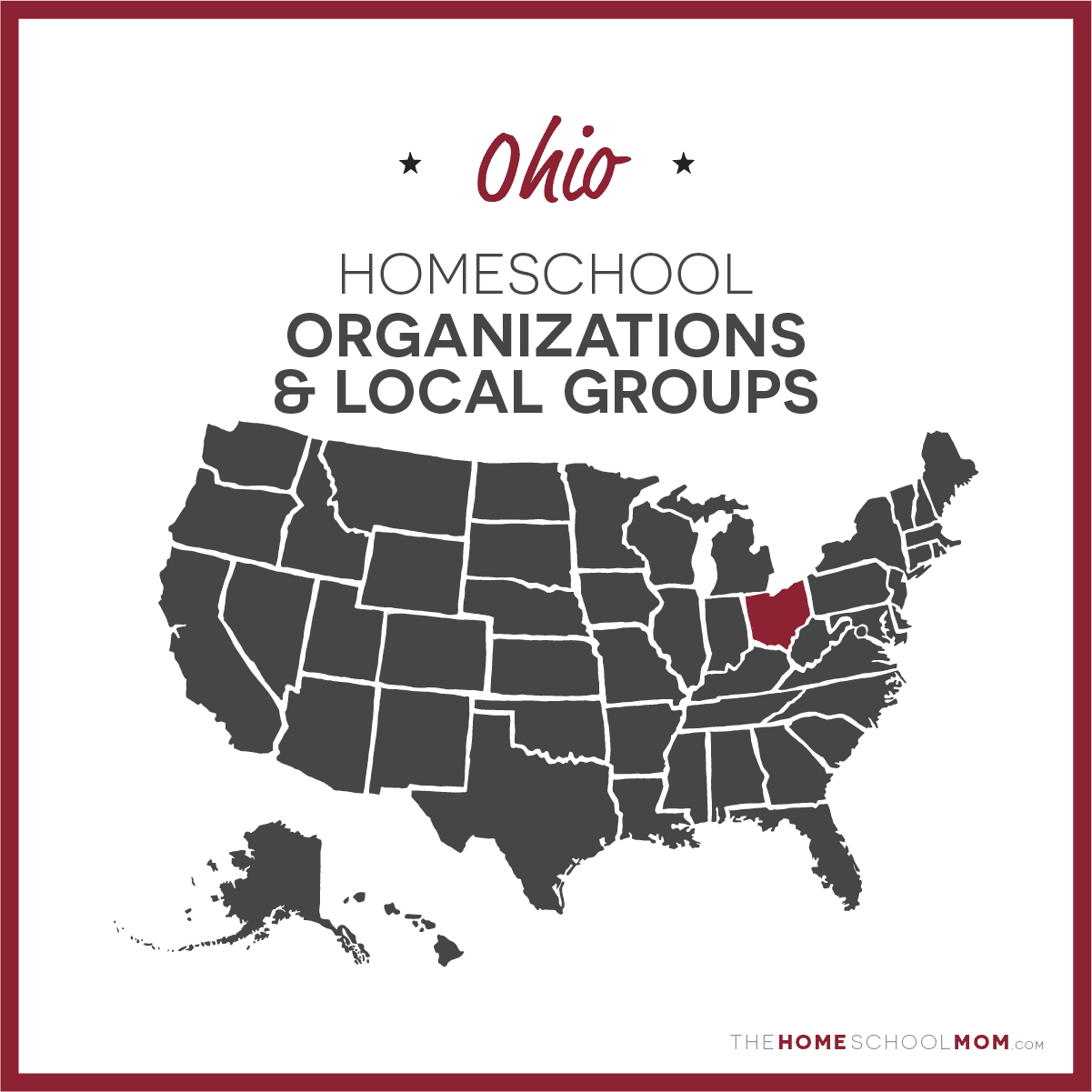 Submit a Local Resource
Jump to: State Organizations | Local Groups
Our listing of Ohio state organizations and local homeschool groups is ordered alphabetically by city, with statewide organizations listed first. If you would like to submit a group, you may do so using the red button above.
Ohio Homeschool Organizations (Statewide)
Christian Home Educators of Ohio

Ohio Statewide

CHEO is a non-profit state organization founded to serve the home school families of Ohio and to provide them with the tools to succeed.
HiO

Ohio Statewide

H-i-O is a comprehensive index to Ohio homeschooling organizations, local support groups, mailing lists and people.
Ohio Local Homeschool Groups
Allen County Christian Homeschoolers Enrichment Day

Allen County and the surrounding areas

Offering Enrichment Day class on Tuesdays during the school year as well as field trips, monthly get togethers, and special events.
Ashland Richland Christian Home Educators

Ashland

A.R.C.H.E. is a Christian homeschool support organization offering group swimming, field trips, monthly mom's meetings, bi-monthly newsletters, e-mail announcements and more.
Our Lady of Perpetual Help Homeschool Group

Ashtabula

Catholic Homeschooling Support Group with monthly meetings and activities
Athens Homeschool Community

Athens

This an unofficial group of homeschoolers within Athens County and surrounding areas. Many in the group meet weekly for a fun, Park day get together. There are also at least 1-2 field trips each month. Information about area co-ops and other resources can also be obtained here. https://www.facebook.com/groups/AthensHomeSchoolers/
Canton Bridges Homeschool Organization

Canton

Offering high quality classes, taught by experienced and qualified teachers, on a weekly basis, in a safe and friendly environment. Bridges is a Christian homeschool collaborative for upper elementary school, middle school and high school students designed to complement your homeschool education plan. Providing weekly classes in a variety of disciplines, including science, literature and writing, foreign language and electives in art, dance and physical education. Classes meet on Mondays from 8:30am-2:45pm from September to May each year.
Christian Home Educators of Cincinnati

Cincinnati

CHEC was founded in 1987 through the joining together of east and westside groups to create a citywide organization. These pioneering home-educating families responded to God's call to assist and encourage all families who desired to incorporate their children's academic and spiritual education directly into their family life.
Clermont Homeschool CO-NNECTIONS

Cincinnati

Unique, secular, inclusive and affordable Enrichment and Social program for homeschooled families in Cincinnati.
West Branch Learning Tree Co-op

Cincinnati

A learning cooperative Mondays from 9:00-2:30 PM. Our day is broken up into 5 hours. Our first hour classes meet from 9:00 AM - 10:00 AM. Our second hour classes meet from 10:00 AM - 11:00 AM. Our third hour classes meet from 11:00 AM - 12:00 PM. From 12:00 - 12:30, all students eat lunch in the gymnasium. Our fourth hour classes meet from 12:30 PM - 1:30 PM. Our fifth hour classes meet from 1:30 PM - 2:30 PM. A family may choose to attend the hours that suits their family. Our tuition is a flat fee and is not prorated if you do not attend a full day.
Holy Family Catholic Home Educators

Cincinnati, Northern KY, Southeast IN

Holy Family Catholic Home Educators is a group of Catholic families supporting parents who educate their children at home. We welcome families from across the Cincinnati Tri-State area.
Holy Family Catholic Homeschoolers

Cleveland

Our group's purpose is to give support and encouragement to all who are homeschooling and want to give their children a truly Catholic education. We want to nurture the family (the domestic church) and give our children the opportunity to make friends and socialize with other Catholic children, providing them with positive peer pressure. Our group consists of Catholics who are faithful to the Holy Father and to all the Church's teachings.
Linworth Homeschool Ministry

Columbus

Formerly known as Linworth Road Academy, Linworth Homeschool Ministry (LHM) is a Christian cooperative homeschool support group in Columbus, Ohio. As a ministry of Linworth Road Church, LHM is rich with enthusiastic leaders, with groups geared for students who are in kindergarten (and five years old as of September 1st of that school year) through 8th grade. Growth opportunities abound through field trips, special events, and so much more! LHM meets from 8:45 am to noon on the first two Fridays of the month, during the school year. Feel free to pack a lunch and eat with others from 12:00 to 12:30! Our mission at Linworth Homeschool Ministry is to support member families who home educate as they raise their elementary and middle school-age children to their full potential as devoted followers of Jesus Christ. (Matthew 28:19, 20) LHM exists to provide supplemental education, extra-curricular, social, and ministry opportunities for LHM students as well as provide support and encouragement to homeschool families.
Acton Academy Columbus

Columbus

Acton Academy Columbus is a private, project-based learner-driven elementary school. Acton is a microschool that is structured like a homeschool. The Acton Academy model is popular with parents interested in alternative education including homeschooling, unschooling, and project-based learning. The mission of Acton is to inspire each child to find a calling that will change the world. Guides at Acton focus on creating a positive, growth mindset environment in order to develop curious, independent students who find great joy in creating, learning, and collaborating in a tight knit community while discovering their own personal gifts and talents.
Foxfire Homeschool Academy

Columbus

We are a secular group that places a high value on diversity. We require COVID-19 vaccinations and indoor masking. This is not optional. In order to attend any of our events, you will be required to show proof of vaccination status and will be required to wear a KN95 mask inside. Our mask policies are fluid to follow scientific data; this is subject to change as the information in the science community updates. We strive to provide an opportunity for learning, fun, and community without discrimination based on race, color, religion, gender, sexual orientation, physical ability/ disability or neurotype, familial status, homeschooling style or national origin.
John Paul the Great Home Educators

Dayton

John Paul the Great Home Educators (JPGHE) is a Catholic Home School Group serving Dayton, Ohio and surrounding areas. Our members belong to Catholic parishes all across the Miami Valley. We are a group of families who have chosen to educate all, some, or none of our children at home. JPGHE is diverse in their schooling approaches but united in the desire to raise all children to be followers of Christ.
Christian Home Educators Enjoying Fellowship - C.H.E.E.F.

Erie, Huron, and Sandusky counties

CHEEF ia a cooperative group promoting home education through support to families who are currently educating or preparing to educate their children at home. Functions include; enrichment activities, spiritual and emotional support to parents, and positive healthy peer contact of children taught at home.

Christian Home Educators Enjoying Fellowship - C.H.E.E.F. details
POLE Homeschool Support Group & Resource Center

Lawrence County

Support for Lawrence and surrounding counties of KY & WV. We are a homeschool support group who assist in social activities and resources for curriculum and record keeping. We supply support and tutoring if needed. Membership is FREE!
Licking County Homeschoolers

Licking County

Licking County Homeschoolers is a nonprofit providing a rich homeschooling experience to the homeschooling families in our county. Licking County Homeschoolers (LCH) consists of a multifaceted organization developed to come alongside home school families to offer children of all ages with exceptional learning opportunities, comprehensive support, enrichment programs, and community events. At LCH, our programs aim to provide the highest quality of educational support, and seek to aid children from diverse backgrounds the opportunity to participate in the community. LCH fosters an environment that enables children the ability to stimulate their imaginations and creativity, while building self-esteem and confidence to produce future community leaders. We have YouSchool which is our co-op that meets on Tuesdays and Thursdays, Hump Day Happenings which is our PE activities that take place at various businesses ie roller skating, trampoline park, ice skating, etc., Field Day, Family Vacations, monthly Movie Day, and so much more. Our Facebook group consists of roughly 900 local homeschooling families. https://www.facebook.com/groups/1913092118945527/
ACC Homeschoolers

Lima

Allen County Christian Homeschoolers ia a group of homeschooling families that have come together to support and encourage homeschooling in a Godly manner. Member opportunities include field trips and Enrichment Days.
Homeschooling In Marysville (HIM)

Marysville

Homeschooling In Marysville (HIM) is a Christian homeschool support group and co-op located in Marysville, Ohio serving families in Union County and surrounding areas. HIM is currently made up of approximately 75 member families and welcomes all homeschool families for encouragement, support, learning, and fun. The HIM co-op is divided into two sessions each year (fall and spring) and each session runs for approximately 10 weeks. Classes vary by year/session and meet on Wednesday mornings in Marysville. Most co-op classes include a supply list and require a fee to participate, and there is also a per family registration fee for each session. In order to register and participate in co-op, families must be current HIM members and have at least one student in kindergarten or above. The co-op is not a drop-off program and at least one parent/legal guardian is required to stay and help/volunteer during the co-op day. (Note that co-op classes may fill to capacity at which point families will be placed on a waitlist.)
ARCHERS Homeschool Group

Middleburg Heights

Accomplishing Rich Christian Home Education through Relationships & Support (ARCHERS) is a group of Christian homeschooling families whose aim is to encourage and support each other as we impart to our children a love and respect for the Lord Jesus Christ. ARCHERS is not a drop-off program. As part of our mission, we support one another through our classes and events. We encourage enrichment opportunities and ultimately strive to make an eternal difference through serving those around us. To help make ARCHERS as successful as it can be, we depend upon our members to fulfill commitments to our group. This includes teaching classes and/or coordinating events. Most activities occur at Grace C&MA Church in Middleburg Heights, OH
North Dayton Christian Home Educators

North Dayton

NDCHEA is a Christian homeschool support group for families in the North Dayton, Ohio area. Our group has an emphasis on field trips and monthly meetings. We also plan social activities and provide monthly newsletters for our members.
Christ The Divine Teacher Catholic Home Educators

Northeast Cuyahoga, Geauga, Lake counties

This is a group of Catholic homeschooling families located in Northeast Ohio, serving Cuyahoga, Geauga, and Lake counties. Their purpose encompasses the following: To pray together and for one another. To provide support and encouragement to our members in homeschooling. To grow in our Catholic faith together with Faith, Hope, and Charity, in union with the Holy Father, and the Magisterium of the Catholic Church, and to assist our member families in developing an authentic Catholic culture. To provide opportunities for enrichment, which will supplement the homeschool curriculum. To provide opportunities and activities for socialization and fellowship for both homeschooled students and parents. Christ the Divine Teacher Catholic Home Educators group (CTDT) is welcoming new members for the upcoming school year. This Catholic homeschool group offers social engagements, group learning opportunities, physical education sessions, swim lessons, field trips, and parent/educator support.
CHEO Support Groups

Ohio Statewide

From Christian Home Educators of Ohio
Homeschooling Organizations

Ohio Statewide

From HIO
Sunbury Home Educators

Radnor

The Sunbury Home Educators (SHE) is a Christ-centered home school group which welcomes all home-schooling families for encouragement and support
The Learning Tree Homeschool Group

Reynoldsburg

The Learning Tree Homeschool Group provides homeschooling families with Christian based enrichment and supplemental classes in a group setting. All home schooling families are welcome. The Learning Tree Homeschool Group offers a variety of classes for children in preschool through high school. The classes are divided by age groups. As a general guideline, the maximum class size is set at 12 students for the younger grades and 15-20 for the older grades.
OVCHE

S. Clairsville

The Mission Statement of Ohio Valley Christian Home Educators is to support and encourage families who are striving to educate their children in a manner pleasing to our Savior Jesus Christ. OVCHE is a volunteer-led support group and co-op providing resources for educational activities, encouragement, fellowship, and information to homeschool families and to those considering homeschooling in the Ohio Valley. OVCHE endeavors to keep events Christ-honoring, often including prayer, without reservation or apology. We encourage people who are not comfortable with our guidelines to seek like-minded homeschooling families in other support groups
Future Leaders of Ohio

Sandusky, Erie, Seneca, and Huron Counties

The purpose of the group is to help the students receive hands on experience and training toward becoming the leaders of tomorrow while encouraging a rich social life through a variety of activities. With the advice and guidance of a parent advisory board the students plan and organize field trips, family nights, teen nights, co-op classes, community service projects, and much more. Membership is open to any homeschooler whether you homeschool traditionally or through an online school. There is no fee to join.
Bright Star Homeschool Community

Steubenville

Bright Star Homeschool Community is dedicated to providing affordable, fun, educational experiences for our children, while supporting the diginity of their individual persons. We believe that all children are born persons, and we want to foster their creativity, education, and personhood. We are a Christian co-op that follows a statement of faith. All members are required to sign it to participate, but non-believing members may join as long as they agree to the statement. Bright Star Homeschool Community meets on Tuesdays from 9 AM to 2 PM. We also have a second extracurricular day on Thursdays from 1 PM to 3 PM. We meet at the Wintersville United Methodist Church. Joining a co-op has many benefits for homeschool families. Not only does this provide educational instruction and enrichment for children, but parents and children alike develop long-lasting friendships. Parents find much needed encouragement and support through their journey. BSHC plans family nights, field trips, talent shows, and mom-only events to foster a true community.
Akron Roman Catholic Home Educators

Summit County

ARCHE: Serving the Roman Catholic homeschooling community in Summit County and surrounding areas since 1991.
Akron Roman Catholic Home Educators (ARCHE)

Summit County

Large support group serving Roman Catholic homeschoolers and friends of other faiths in Summit County, OH, and surrounding areas.
TEACH: Trumbull Education Association of Christian Homeshoolers

Trumbull County

TEACH is a Christian organization of homeschooling families endeavoring to live Christ centered lives by the strength and enabling of the Holy Spirit. Activities include cooperative classes, field trips, sports programs, and fellowship opportunities with like-minded people.

TEACH: Trumbull Education Association of Christian Homeshoolers details
P.A.T.H

Wakeman

Parents Advocating Teaching @ Home is a Christian homeschool support group based in Lorain County, OH. We are a group of families who volunteer our time to make the homeschooling of all our children a better experience. We have something for every grade (K-12) . Here are some of the things we offer: Field Trips Weekly High School Classes Bi-weekly Elementary Classes Intramural sports Opportunities for growing friendships
Veritas Christian Homeschool Group

West Chester Township

A Christ-centered, evangelical community of home educated families dedicated to collectively providing our children with an excellent academic experience that will prepare them for advancement in life after high school by offering a variety of educational and enrichment classes in a safe and loving environment.
West-Central Ohio Homeschool Support Group

West-Central

This is a Facebook homeschooling support group for homeschooling parents and families in (or around) West-Cental Ohio, including, but not limited to, the following counties: Allen, Auglaize, Shelby, Mercer, Van Wert, Hardin, Logan, Darke, or Hancock. This group is intended to share helpful information between homeschoolers and get connected in our local homeschool community. Local groups may advertise their information here, and on occasion, events or field trips may be organized with the group.
Homeschooling with Grace

Winchester

Homeschooling with Grace exists to provide support for home educating families of Grace Bible Church through Christ-centered and God-honoring social, spiritual and educational events as we encourage and challenge one another to pursue excellence in godliness, relationships, service, and education.
TEACH Homeschool Group

Wooster, Wayne County Ohio and the surrounding counties

A free Christian homeschool group for the Tri-County area of Wayne, Holmes & Medina Counties in Ohio. Offers Fall and Spring Co-op/ Enrichment classes, field trips, family gatherings, Mom's Nights Out, curriculum night, end of the year recognition night, outings and other events.