Jump to: Homeschool Co-ops | Homeschooling Classes & Academic Enrichment
Looking for someone to teach physics to your teen? Need a way to avoid teaching algebra? Want to enroll your Kindergartener in a co-op for social time? Homeschool classes and co-ops are a great way to spend time with other homeschoolers and skill-share with other homeschool parents.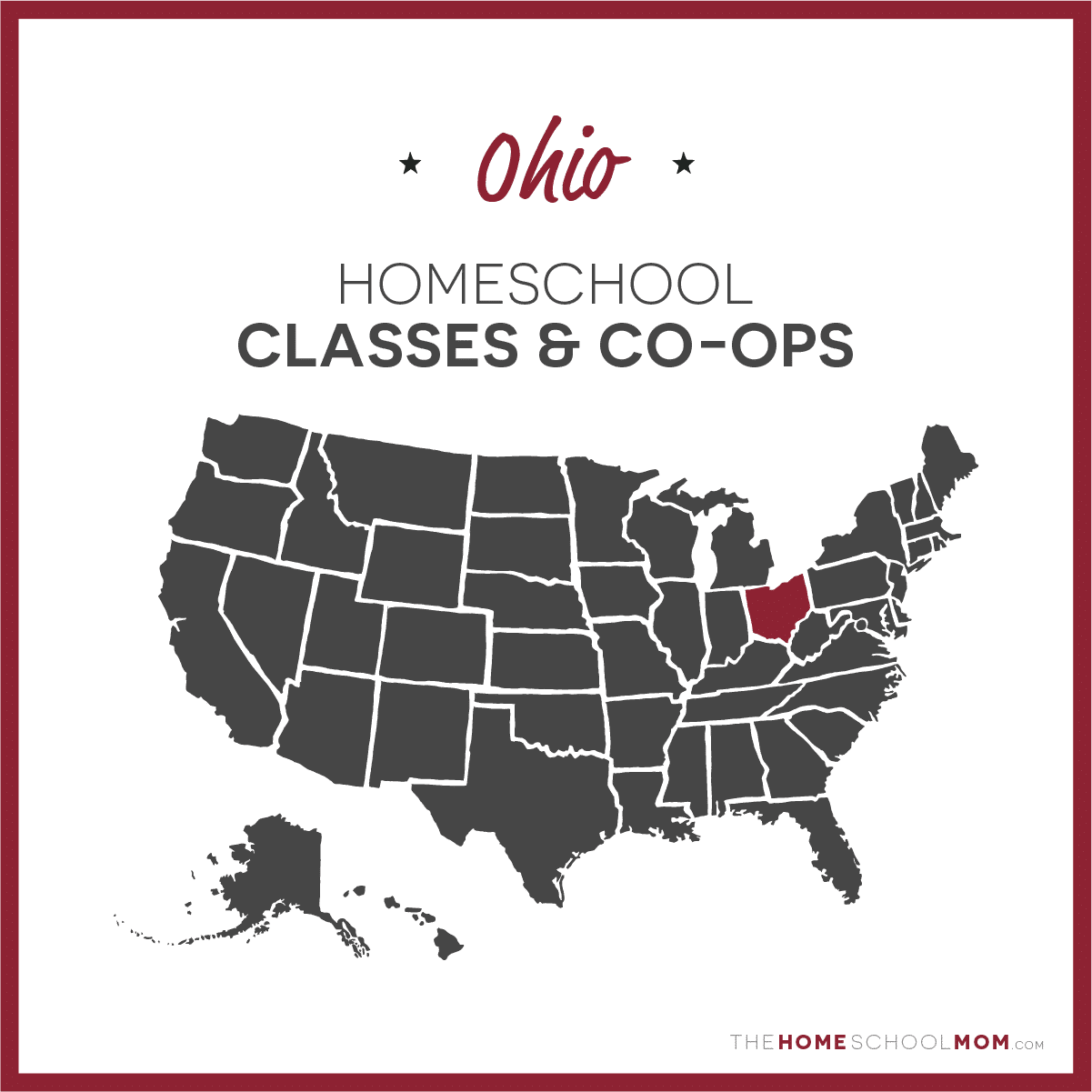 Submit a Local Resource
Our listing of Ohio co-ops and academic classes for homeschoolers is ordered alphabetically by city, with co-ops in the first section and all other academic resources below. If you would like to submit a Ohio co-op or academic resource, you may do so using the red button above.
Ohio Homeschooling Co-ops
Quiver and Quill Homeschool Co op Alexandria
Quiver & Quill Homeschool Co-op (Q&Q) is a secular group that is inclusive of all belief systems. Our homeschooling families are committed to providing group learning opportunities for our ...
An inclusive and diverse group coming together in a family oriented setting of support and social engagement. Providing an atmosphere of respect, honesty, and kindness, regardless of gender, race, ...
Oaks of righteousness is a homeschool co-op in Akron, Ohio.
Salt and Light Homeschool Co-opBeaver County
Salt and Light is a non-denominational Christian cooperative, which is located in Beaver County, Pennsylvania. We are comprised of approximately forty-five families that meet together during the sc...
Clermont Homeschool CO-NNECTIONSCincinnati
Unique, secular, inclusive and affordable Enrichment and Social program for homeschooled families in Cincinnati.
Learning Tree Co-OpCincinnati
A Christ-centered community that provides a variety of educational and enrichment classes for home-schooling families in a safe and loving environment. We co-labor with each other and God to achiev...
Divine Mercy Co-opCinncinati
Divine Mercy Co-op understands the need for selective courses outside the home that round out your homeschool offerings. We have experienced and inspiring teachers who can teach the courses you can...
Christian Home Educators of Clark County (CHECC)Clark County
Christian Home Educators of Clark County (CHECC) is a homeschool cooperative group that exists to nurture fellowship and community for traditional homeschooling families from infancy through gradua...
Chagrin Valley Learning Collective CoopCleveland
Chagrin Valley Learning Collective is a nonprofit organization that provides a self-directed learning program for youth ages 5-17 and balances freedom, respect, trust, and responsibility in a democ...
Upper Arlington Christian HomeschoolersColumbus
Upper Arlington Christian Homeschoolers (UACH) was formed in the mid-1990s. The purpose of the UACH co-op is to support and encourage parents in their homeschooling effort as they endeavor to disci...
Jugar Juntos, Aprender JuntosColumbus
A Spanish Immersion Enrichment Co-op for kids in Columbus, Ohio. A group of parents who work together to provide fun opportunities for our children to explore and learn together. The goal is to fos...
Linworth Homeschool MinistryColumbus
Formerly known as Linworth Road Academy, Linworth Homeschool Ministry (LHM) is a Christian cooperative homeschool support group in Columbus, Ohio. As a ministry of Linworth Road Church, LHM is rich...
Tapestry of West ColumbusColumbus
Tapestry of West Columbus is a classical Christian home-school co-op for K-12 students. The co-op includes history and literature classes taught by parent-teachers using Tapestry of Grace, a classi...
My World Better Homeschool EnrichmentFairport Harbor
Enhance what you are already doing at home. Enjoy co-op's, classes and events that will inspire and motivate your child to live their passion sooner. Increase family time, peer interactions and cre...
Lighthouse Homeschool AcademyFairview Park/Northeast
Lighthouse Homeschool Academy offers the best of both the homeschooling and traditional worlds. We are a hybrid homeschooling model that offers 2 days on campus and 3 days at home. On-site days are...
WellspringFindlay
A classical homeschool community that brings families together for the sake of working cooperatively in the teaching of our children through a classical education model. Wellspring is not a school....
CASA Homeschool GroupGibsonburg
Welcome to CASA Homeschool Group! Our mission is to love and honor Christ as we encourage, educate, and engage with the local community of homeschool families. We are a 501(c)(3) private organizati...
Family Christian Homeschool Co-opHamilton
Family Christian Homeschool Co-op provides opportunities for Christian families to partner together for classes, field trips and for fellowship. We are an enrichment co-op focusing on the 1st – 12t...
Journey Homeschool Co-opHancock, Findlay
Journey Homeschool Co-op of Hancock county, Oh and surrounding areas meet the 1st and 3rd Thursday's of each month from Sept. to May. There is no charge to attend. The classes are parent taught and...
Grow in Grace Homeschool Co-OpHartville
Serving Christian families from varied backgrounds, coming together with the shared purpose of providing a quality, Christ-centered education for their children. The Co-op meets one day per week (W...
Upper Arlington Christian Homeschoolers Co-opHilliard
UACH offers classes on the first and third Thursday of each month during the school year. Classes will be running from September thru November and January thru May. Students meet at Upper Arlington...
CHOICE Home School CooperativeHolland
CHOICE stands for Cooperative Home-schooling Opportunities In a Christ-centered Environment. We are unabashedly a Christian co-op which includes families from many branches of the Christian faith. ...
TEACH Co-op - OhioHolland
T.E.A.C.H. (Toledo Educators Assisting Christian Homeschoolers) is a homeschool cooperative offering both parent-led and teacher-taught courses for families with children 1st grade and up. Although...
Toledo Classical HomeschoolersHolland and Toledo
We are a faith-loving Classical Homeschool Cooperative located in Toledo, Ohio that has a focus on building lasting friendships through parent support and encouragement. We offer affordable, qualit...
TLC Homeschool Group (Training Leaders for Christ)Lancaster
TLC is a Christ-centered, parent-run home school group. We exist for the purpose of supporting one-another as we teach our children according to the word of God. Our mission is to provide Christian...
Christian Family SchoolMacedonia
A Homeschool Alternative. CFS is a daily classroom homeschool co-op, meeting in Macedonia, Ohio.
Promise Homeschool GroupMantua
Promise Homeschool Group meets for two sessions per school year; Fall & Spring. Sessions are 13 weeks each. Co-op days are Tuesdays from 9 am to 1:30 pm. Promise Homeschool Group does not offer dro...
Homeschooling In Marysville (HIM)Marysville
Homeschooling In Marysville (HIM) is a Christian homeschool support group and co-op located in Marysville, Ohio serving families in Union County and surrounding areas. HIM is currently made up of a...
HELP Homeschool CooperativeMilford
HELP Homeschool offers enrichment and academic classes taught from a biblical perspective. HELP partners with the parent for the purpose of equipping families in the God-given task of educating chi...
The Elective CollectiveNew Albany
The Elective Collective (TEC) is a Christian, performing arts-focused home education co-op that meets in the New Albany area. It is open to all families whose oldest child has reached the age of re...
Excellence in Learning Community Co-opNewark, Licking County
This community, founded in 2009, is a 501c3 cooperative and serves families in Newark, Licking County, and Central Ohio, providing co-op class experiences ranging from fun little kids PE classes to...
The Learning Tree Homeschool GroupReynoldsburg
The Learning Tree Homeschool Group provides homeschooling families with Christian based enrichment and supplemental classes in a group setting. All home schooling families are welcome. The Learning...
OVCHES. Clairsville
The Mission Statement of Ohio Valley Christian Home Educators is to support and encourage families who are striving to educate their children in a manner pleasing to our Savior Jesus Christ. OVCHE ...
Bright Star Homeschool CommunitySteubenville
Bright Star Homeschool Community is dedicated to providing affordable, fun, educational experiences for our children, while supporting the diginity of their individual persons. We believe that all ...
Stow-Falls Homeschool CooperativeStow
This co-op is intended for Christian families that live in Stow, Munroe Falls, Cuyahoga Falls and surrounding areas. The hope is to enrich the participating families lives both educationally and sp...
H.O.P.E. Christian Homeschool Co-opStow/Falls
H.O.P.E. (Helping Other People Educate) Christian Homeschool Co-op strives to be a Christian homeschool cooperative that meets the enrichment needs of families living in Stow, Cuyahoga Falls, Munro...
Heritage Homeschool Co-op - OhioWadsworth
Heritage Homeschool Co-op is an independently run Christian education group in Wadsworth, Ohio, but is open to all for membership. We love to have new families join us and all types of homeschooler...
High Point Christian AcademyWadsworth
High Point Christian Academy (formally Heritage Homeschool Group) is an independently run Christian homeschool co-op for students in K4-12th grade. We meet at the NOW Church in Wadsworth, Ohio 2 da...
Wapakoneta Christian Homeschool Co-opWapakoneta
The Wapak Christian Homeschool Co-op started in 2018. The co-op meets on Thursday mornings at Harvest Baptist Church in Wapakoneta, OH. This is a Christ-centered homeschool group that seeks to give...
BraveTree EducatorsWilliamsburg
BraveTree Educators is a christian co-op that meets on the east-side of Cincinnati just minutes from the Jungle Jim's. BraveTree classes are taught by parent volunteers and meet on Fridays from 10:...
Ohio Homeschooling Classes & Academic Enrichment
Kid Center Akron Home School Support ProgramAkron
New Home School Service. Offering a supervised learning environment from 9am to 1pm daily. Students can come into the center and log-on and complete their online assignments. They will receive snac...[Read more...]
Learn Fine Art: Screenprinting, Painting, Drawing, Digital Art Mediums, Etc.Akron
Rubber City Prints is an Akron based local non-profit printshop that provides fine art workshops, field trips, visiting artists, and one-on-one fine art or digital media lessons and tutoring to int...[Read more...]
Allen County Christian Homeschoolers Enrichment DayAllen County and the surrounding areas
Offering Enrichment Day class on Tuesdays during the school year as well as field trips, monthly get togethers, and special events.[Read more...]
Play Academy at Main EventAvon
Play Academy offers an exciting new program here at Main Event, combining the fun of everything Main Event has to offer with the educational value of all things STEAM (Science, Technology, Engineer...[Read more...]
Learn With JoyBoardman
Learn With Joy was founded by twelve year veteran teacher and preschool program director. Learn With Joy educational classes are based on research-driven methods and best teaching practices.The Lea...[Read more...]
Sylvan Learning of Bowling GreenBowling Green and Fremont
This organization is here to help students not performing at grade level and need that extra help getting caught up to where they need to be. This organization utilizes an insight assessment prior ...[Read more...]
Huntington Learning Center Tutoring ServicesCincinnati
Huntington Learning Center is the nation's leading provider of tutoring and exam prep services. The Anderson center has been serving Anderson, Ohio and the surrounding area for over 16 years. Hunti...[Read more...]
Arthur Menezes Brum Art and Art History ClassesCincinnati
Art, Studio Art, and Art History tutoring and classes for grades 4-12. By appointment. Best for ages 5-12. Museum Visits and Tours for small groups.[Read more...]
PATH Milford - Partners in Academic Training of HomeschoolersCincinnati
A Christ-centered group of volunteer home school parents, partnering together with Christian teachers to provide high quality courses for 7th – 12th grade home school students. The goal is to have ...[Read more...]
Providence Extension Program (PEP)Cincinnati West
PEP provides an academically rigorous education combining the best of classical and biblical worldview education that meets two days a week at campuses in Ohio. There are currently three campuses i...[Read more...]
Pediatric Behavioral and Psychological Services, LLCCleveland
Pediatric Behavioral and Psychological Services, LLC strives to provide unparalleled therapy and counseling to every client that they work with. Their priority is to improve the quality of life of ...[Read more...]
German Language School ClevelandCleveland
The German Language School Cleveland offers German Language classes on Cleveland's west side in Olmsted Falls and on the east side in Novelty, OH. Classes are offered Monday evening (Novelty) and W...[Read more...]
Bloom Learning CommunityCleveland
Bloom Learning Community is a learner-centered microschool in Cleveland with the mantra: space to grow, freedom to flourish, body + heart + mind. Bloom supports children and families through a hybr...[Read more...]
Veritas AcademyColumbus
Veritas Academy is the only private, classical, Christian school in Columbus that utilizes the university model and provides homeschooling families the opportunity to give their children a distinct...[Read more...]
Valor Preparatory Academy of OhioColumbus
Valor is founded by trailblazers with nearly two decades experience in online and blended community school leadership. Offering a superior education in a blended learning environment, students at V...[Read more...]
Maximum Success Business and Leadership ClubColumbus
This is a community based, business and leadership club designed to align individuals with achievement driven peers in a collaborative way. The goal is to develop and inspire financially literate, ...[Read more...]
Columbus Area Speech TherapyColumbus
Speech Therapist, Jen Ujcich, offers speech therapy with the knowledge of effective strategies to help your child's communication FLY through home visits or clinic appointments. Ms. Ujcich accepts ...[Read more...]
Ohio Chess AcademyColumbus
Depending on the needs of the home-school group a chess class can be held for one or more hours. During class, students will receive equal parts instruction and structured play time. It is importan...[Read more...]
The Sewing HiveColumbus
This facility offers sewing classes for grades 6-12, has structured 10 week sessions to teach basic home sewing skills for groups and individuals within the months of September through May. Their p...[Read more...]
the Coder School - WestervilleColumbus
A local school that offers after school computer programming lessons for children ages 7 to 18. Primary offering is a low student to instructor ratio session (2 to 1) that runs every week for an hour.[Read more...]
Rocket Kid Tutoring, LLCColumbus
Rocket Kid Tutoring,LLC is offering small group sessions (4 students MAX) for students struggling with reading. Sessions are online via zoom and take place twice a week for 6 weeks. Wendy is a form...[Read more...]
Columbus Christian Academy of ScienceColumbus
Columbus Christian Academy of Science is offering a variety of middle and high school science courses for the 2021 – 22 school year. Courses are specifically designed for the homeschooled student, ...[Read more...]
Terrific Teaching ToolsColumbus/Gahanna
Providing supplemental material for homeschool parents - elementary, middle school and high school[Read more...]
Two Birds Artwork Daytime Creative Writing ClassesDayton
Creative writing classes will have focused projects throughout the year that students will work towards as groups and independently depending on the project. Our projects are meant to be meaningful...[Read more...]
New Heights Educational Group, IncDefiance
The New Heights Educational Group, Inc. promotes literacy for children and adults by offering a range of educational support services. Such services include: assisting families in the selection of ...[Read more...]
My World Better Homeschool EnrichmentFairport Harbor
Enhance what you are already doing at home. Enjoy co-op's, classes and events that will inspire and motivate your child to live their passion sooner. Increase family time, peer interactions and cre...[Read more...]
GradePower Learning Fairview ParkFairview Park
Tutors at GradePower Learning® learn about your child and develop a plan for his or her success. GradePower Learning® goes beyond tutoring, to help ignite your child's interest in learning, not jus...[Read more...]
Middletown Christian Schools HomeschoolFranklin
A homeschool group that has options for grades 1-12. Our Enrichment Day program offers a twice a month class for grades 1-5 along with field trips. Course offerings include Hands on Science, Art/Mu...[Read more...]
Licking Park District Homeschool HappeningsGranville
Homeschool Happenings is a homeschool program designed for students ages 7 – 10. Homeschool Happenings is scheduled for the third Thursday of the month unless otherwise noted. The typical program i...[Read more...]
Engineering For Kids of Akron OhioGreen, OH
Contact your local Engineering For Kids to learn more about our special events, after-school programs, workshops, and more[Read more...]
Boy Scouts of America in OhioGreene County, Champaign County, Logan County, Clark County & Clinton County
Youth programming, boys ages 7-21, girls ages 14-21[Read more...]
Boy Scouts of America, Troop 53, Loveland, OHHamilton Township & Goshen, OH
Troop 53 meets every Tuesday night from 7-8:30 pm during the school year at: Bethel Murdoch Presbyterian Church Fellowship Hall, 9602 Murdoch-Goshen Rd, Loveland, OH 45140. Boy Scouts are 11 to 18 ...[Read more...]
Victori Equine Horsemanship ClassesHuber Heights
If you are looking to learn more horsemanship, riding skills in both English and western, horse behavior, and care, sessions in our program would be perfect for you! These sessions are geared to en...[Read more...]
Bienvenue French Language SchoolHudson
French One for Homeschoolers - This online course covers French I in 30 classes (and 30 hours of homework) French I for Homeschoolers is a program specifically designed to turn learning French into...[Read more...]
Sylvan LearningLewis Center
Sylvan Learning is a supplemental education resource for students to catch up, keep up, or get ahead, and is a provider for both the Jon Peterson and Autism Scholarships. Sylvan starts by pinpointi...[Read more...]
Sylvan Learning of Lewis CenterLewis Center
Sylvan Learning is a resource for families wanting some additional support in their child's education. Sylvan provides personalized programs for reading, writing, math, study skills, ACT/SAT Prep, ...[Read more...]
YouSchoolLicking County
YouSchool provides classes for homeschooling families offered by teachers of various expertise without a membership or fundraising requirements. This allows families to pick and choose what they wa...[Read more...]
Mansfield Christian School, Independent StudiesMansfield
The Independent Studies department at Mansfield Christian School (MCS) has brought together the best of Christian and home education for over 30 years. MCS supports a parent's choice in education a...[Read more...]
Bramble Farm Cottage SchoolMedina
Bramble Farms is a cottage school offering tutoring, workshops and homeschool coaching.[Read more...]
Simply Teaching Spanish: Online & Onsite Homeschool ClassesMedina
Clara Stacko, a native speaker from Puerto Rico, offers live online and in-person Spanish classes for homeschoolers. Classes are fun & effective. Your student will be speaking in full sentences aft...[Read more...]
Greenacres Water Quality Education CenterMilford
Greenacres offers a variety of two hour afternoon homeschool programs designed for students ages 10 and up, offered by Ohio certified teachers. Programs include Geoscience, Physical and Chemical Pr...[Read more...]
Liberty Classical Christian AcademyMount Orab
Classical Christian micro school in Mount Orab serving grades 6-12 in humanities, science, and math instruction. Willing to travel for classes of 5-6 students. Founder is a 20 year teaching veteran...[Read more...]
Homeschool Investigations @ The Dawes ArboretumNewark
Supplement your science curriculum by joining other home school students in hands-on science study. Home School Investigations introduce students to basic principles of ecology and biology while nu...[Read more...]
Civil Air Patrol Cadet Program for Homeschooled Boys and Girls Ages 12-18Northeast Ohio
The Civil Air Patrol's (CAP) Cadet Program offers homeschoolers many opportunities to help meet or exceed Ohio's Learning Standards. CAP's weekly cadet meetings and monthly special activities offer...[Read more...]
The Etiquette FactoryNortheast Ohio
Providing etiquette classes to open doors for your child. These etiquette classes are fun, interactive and educational.[Read more...]
Heritage Classical Academy Study CenterNortheast Ohio
The Study Center partners with homeschool families to support their efforts to educate classically by providing a proven curriculum, passionate teachers, and a Christ-centered environment. This par...[Read more...]
Children's Etiquette and Manners ProgramsNortheast Ohio.
Offering Children's Etiquette and Manners programs, all ages. Please visit www.theetiquettefactory.com/misskim or call 3330-888-2308.[Read more...]
Ohio Classical ConversationsOhio Statewide
CC is a national homeschooling program that uses a Bible based curriculum taught in a christian, classical tradition. Classes are geared for age 4 through high school.[Read more...]
Talk Play GrowParma
Talk Play Grow is a therapy and enrichment center that offers speech, occupational and physical therapy in the center or in home. The center also offers enrichment classes to provide social skills ...[Read more...]
Flying Trees AcademyPoland/Youngstown
Flying Trees Academy is an innovative hybrid homeschool program that prioritizes socio-emotional development so elementary school children can become capable and confident learners. We help childre...[Read more...]
Portage Learning CentersPortage County -Ohio
Portage Learning Centers is a Federally funded preschool program serving Portage County Ohio. We provide a home-based program that can be done in conjunction with home school programs. It focuses o...[Read more...]
Ohio Sea Grant Stone LabPut in Bay/Port Clinton
Offering science field trips and college-credit courses for advanced high school sophomores, juniors, and seniors. Students each year will have the opportunity to pull a fish trawl/net off of a lar...[Read more...]
The Learning Tree Homeschool GroupReynoldsburg
The Learning Tree Homeschool Group provides homeschooling families with Christian based enrichment and supplemental classes in a group setting. All home schooling families are welcome. The Learning...[Read more...]
Imagination Station Virtual Homeschool WorkshopsToledo
Imagination Station is your resource to help bring science to life. Our monthly homeschool program is created for students in grades K - 8. Our all NEW virtual program offers the support you need t...[Read more...]
Snapology STEAM Based Evening & Weekend Enrichment ClassesWest Chester Twp
Snapology is offering themed and core STEAM Enrichment Classes at The WEB Extreme Entertainment in West Chester Twp, Ohio. The classes involve hands-on building activities using LEGO bricks, techno...[Read more...]
Stemtree Learning CenterWesterville
Stemtree's focus on science, technology, and engineering aligns with today's nationwide emphasis on STEM (Science, Technology, Engineering, and Mathematics). We nurture your child's inner scientist...[Read more...]
Go to Ohio...