Jump to: Homeschool Co-ops | Homeschooling Classes & Academic Enrichment
Looking for someone to teach physics to your teen? Need a way to avoid teaching algebra? Want to enroll your Kindergartener in a co-op for social time? Homeschool classes and co-ops are a great way to spend time with other homeschoolers and skill-share with other homeschool parents.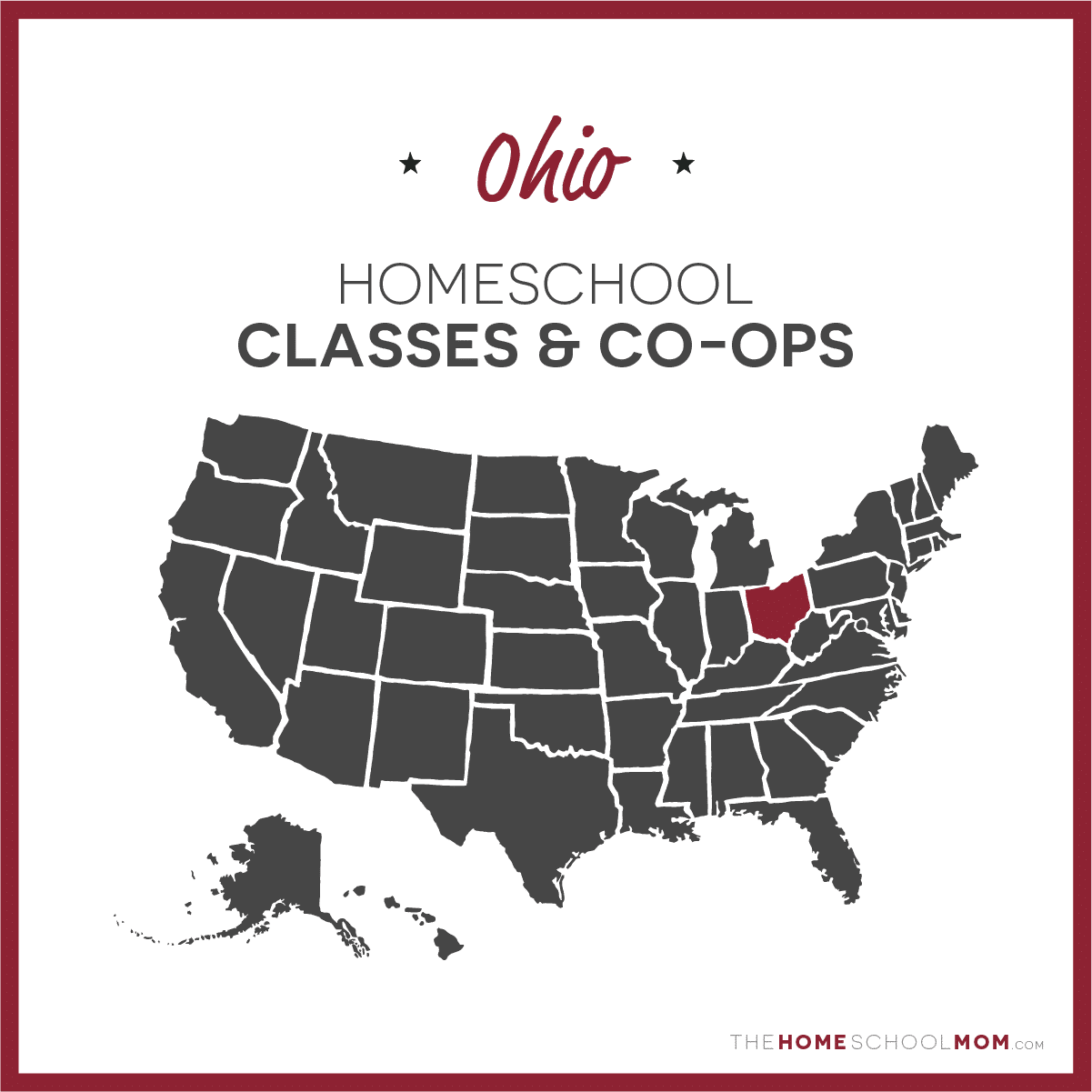 Submit a Local Resource
Our listing of Ohio co-ops and academic classes for homeschoolers is ordered alphabetically by city, with co-ops in the first section and all other academic resources below. If you would like to submit a Ohio co-op or academic resource, you may do so using the red button above.
Ohio Homeschooling Co-ops
Quiver and Quill Homeschool Co op

Alexandria

Quiver & Quill Homeschool Co-op (Q&Q) is a secular group that is inclusive of all belief systems. Our homeschooling families are committed to providing group learning opportunities for our children and fostering a community of support for one another. Parents remain on premise for the duration of the co-op day and contribute to the group by teaching, assisting, leading committees, cleaning, monitoring recess and helping wherever the need may arise.
ExCEL Homeschool Co-Op

Akron

An inclusive and diverse group coming together in a family oriented setting of support and social engagement. Providing an atmosphere of respect, honesty, and kindness, regardless of gender, race, national or ethnic origin, religion, sexual orientation, educational philosophy, or ability level. The focus is to support each other, to build and maintain friendships, and to help our children learn.
Oaks of righteousness

Akron

Oaks of righteousness is a homeschool co-op in Akron, Ohio.
Salt and Light Homeschool Co-op

Beaver County

Salt and Light is a non-denominational Christian cooperative, which is located in Beaver County, Pennsylvania. We are comprised of approximately forty-five families that meet together during the school year to share and enhance our children's homeschooling experience. Our class selection differs each year, with classes being offered for preschool through high school levels. Parents and children alike take an active role in making Salt and Light an atmosphere where learning is encouraged.
Clermont Homeschool CO-NNECTIONS

Cincinnati

Unique, secular, inclusive and affordable Enrichment and Social program for homeschooled families in Cincinnati.
Learning Tree Co-Op

Cincinnati

A Christ-centered community that provides a variety of educational and enrichment classes for home-schooling families in a safe and loving environment. We co-labor with each other and God to achieve creative excellence by serving each other through our strengths. We are not a drop-off program. The adult must remain on the premises. Our classes are intended for Kindergarten through 12th grade. We do provide preschool for younger siblings of K-12 students participating in our co-op. Our preschool is not a complete program, but meant to be an enrichment environment for these younger siblings. We typically do not admit families with preschoolers until at least the oldest child is in kindergarten. Our teachers agree to present materials in accordance with a Christian worldview. Many of our classes incorporate prayer, scripture, and Christian theology in their curriculum. Classes meet 30 Mondays starting the first Monday after Labor Day and ending before Memorial Day. Students have off a month during mid-December to mid-January and also the Monday after Easter. The Co-op meets Mondays from 10am-2:30pm. (A limited 9am hour is offered for high schoolers and their younger siblings.) Classes are located in the Children's Ministry area of Vineyard Community Church in Tri-County in the Cincinnati area.
Divine Mercy Co-op

Cinncinati

Divine Mercy Co-op understands the need for selective courses outside the home that round out your homeschool offerings. We have experienced and inspiring teachers who can teach the courses you can't. Families will find a clear path forward with Divine Mercy Co-op, a bright opportunity for new friendships, experienced teachers, educational progress, real community, and peace of mind, so that you feel supported doing what you do best: loving and teaching your children.
Christian Home Educators of Clark County (CHECC)

Clark County

Christian Home Educators of Clark County (CHECC) is a homeschool cooperative group that exists to nurture fellowship and community for traditional homeschooling families from infancy through graduation. Our mission is to support, encourage, and provide non-traditional classes for our children, along with developing long-lasting relationships with families who share the same beliefs and understand the joys and struggles of homeschooling.
Chagrin Valley Learning Collective Coop

Cleveland

Chagrin Valley Learning Collective is a nonprofit organization that provides a self-directed learning program for youth ages 5-17 and balances freedom, respect, trust, and responsibility in a democratic community.
High Point Christian Academy

Clinton

High Point Christian Academy (formally Heritage Homeschool Group) is an independently run Christian homeschool co-op for students in K4-12th grade. We meet at the Meeting at High Point Christian Church in Clinton, Ohio 2 days a week, Mondays and Wednesdays from 8:45-2:30pm.
Upper Arlington Christian Homeschoolers

Columbus

Upper Arlington Christian Homeschoolers (UACH) was formed in the mid-1990s. The purpose of the UACH co-op is to support and encourage parents in their homeschooling effort as they endeavor to disciple their children to the glory of God. The group offers twice-monthly classes or optional weekly classes that emphasize group activities to complement our home schooling endeavors. UACH offers classes on the first and third Thursday of each month during the school year. UACH is a volunteer-run ministry. Through the involvement and effort of all of its member families, UACH can provide encouragement, support, resource exchanges and curriculum ideas for families, assist new homeschoolers, form field trips, arrange academic events/competitions, and provide academic and social interaction with other parents and children with similar concerns and educational goals.
Jugar Juntos, Aprender Juntos

Columbus

A Spanish Immersion Enrichment Co-op for kids in Columbus, Ohio. A group of parents who work together to provide fun opportunities for our children to explore and learn together. The goal is to foster bilingualism in children through immersion in a variety of learning experiences in Spanish.
Linworth Homeschool Ministry

Columbus

Formerly known as Linworth Road Academy, Linworth Homeschool Ministry (LHM) is a Christian cooperative homeschool support group in Columbus, Ohio. As a ministry of Linworth Road Church, LHM is rich with enthusiastic leaders, with groups geared for students who are in kindergarten (and five years old as of September 1st of that school year) through 8th grade. Growth opportunities abound through field trips, special events, and so much more! LHM meets from 8:45 am to noon on the first two Fridays of the month, during the school year. Feel free to pack a lunch and eat with others from 12:00 to 12:30! Our mission at Linworth Homeschool Ministry is to support member families who home educate as they raise their elementary and middle school-age children to their full potential as devoted followers of Jesus Christ. (Matthew 28:19, 20) LHM exists to provide supplemental education, extra-curricular, social, and ministry opportunities for LHM students as well as provide support and encouragement to homeschool families.
Tapestry of West Columbus

Columbus

Tapestry of West Columbus is a classical Christian home-school co-op for K-12 students. The co-op includes history and literature classes taught by parent-teachers using Tapestry of Grace, a classical, Christian curriculum, They also have paid expert teachers for classes in Apologia sciences, IEW writing, Spanish, music, and other creative electives. All the subjects are taught with a Biblical worldview and include accountability, creativity, Socratic discussions, presentations, and hands-on learning. Tapestry of West Columbus is also known for Unit Celebrations that involve dressing up in time period clothes and enjoying time-period food. https://www.facebook.com/tapestryofwestcolumbus
My World Better Homeschool Enrichment

Fairport Harbor

Enhance what you are already doing at home. Enjoy co-op's, classes and events that will inspire and motivate your child to live their passion sooner. Increase family time, peer interactions and create lasting bonds. Activities are available year round and will help you alleviate some of the stresses of homeschooling.
Lighthouse Homeschool Academy

Fairview Park/Northeast

Lighthouse Homeschool Academy offers the best of both the homeschooling and traditional worlds. We are a hybrid homeschooling model that offers 2 days on campus and 3 days at home. On-site days are a drop-off model, where students are taught by teachers the core subjects; math, language arts, science, and history. On-site days feel similar to a traditional private Christian model, except with additional recess time and a stronger emphasis on becoming a Christian community together. Our program meets in Fairview Park, Ohio twice a week for six hours a day.
Wellspring

Findlay

A classical homeschool community that brings families together for the sake of working cooperatively in the teaching of our children through a classical education model. Wellspring is not a school. Wellspring exists as a community of families that each contribute in some way toward the education, socialization, safety, and well-being of our children. Because our program relies on parental involvement, Wellspring is not a drop-off program.
CASA Homeschool Group

Gibsonburg

Welcome to CASA Homeschool Group! Our mission is to love and honor Christ as we encourage, educate, and engage with the local community of homeschool families. We are a 501(c)(3) private organization happily located in Gibsonburg, Ohio. We meet on Fridays from 9am-3pm and our class schedules try to balance academics as well as enrichment opportunities for our preschool - grade 12 students. Our classes are largely parent-led and our operations are entirely powered by parents
Darke County Christian Homeschool Co-op

Greenville

DCCHC exists to strengthen our homeschooling community with activities for parents and students. We meet weekly during the months September through March for enrichment and academic classes, and also for field trips and gatherings throughout the year. We value the gifts and talents of each parent and student to make our co-op experience fun and rewarding. We love that our students and parents have an opportunity both to learn and make life-long friendships in the body of Christ!
Family Christian Homeschool Co-op

Hamilton

Family Christian Homeschool Co-op provides opportunities for Christian families to partner together for classes, field trips and for fellowship. We are an enrichment co-op focusing on the 1st – 12th grades which meets during the school year to provide various classes to our children. The classes we schedule are based on interest and also a parent willing to teach the class. At the high school level, we offer classes in core subjects which are graded by the teacher for high school credit, however, the final grade is the responsibility of the parent. The Co-op meets once a week on Friday mornings at North Fairfield Baptist Church, located in Fairfield Township of Butler County, Ohio.
Journey Homeschool Co-op

Hancock, Findlay

Journey Homeschool Co-op of Hancock county, Oh and surrounding areas meet the 1st and 3rd Thursday's of each month from Sept. to May. There is no charge to attend. The classes are parent taught and are extra-curricular classes. Journey is for K-8th grade. There is a nursery available. High schoolers are welcome to join the older class or help with other classes.
Grow in Grace Homeschool Co-Op

Hartville

Serving Christian families from varied backgrounds, coming together with the shared purpose of providing a quality, Christ-centered education for their children. The Co-op meets one day per week (Wednesday) during the school year at Bethany Mennonite Church in Hartville, OH. There is a winter break between first and second semesters. Offering pre-K through high school co-op classes. Class participation is on a first-come basis and limited to the maximum number of students set for each class. Due to safety concerns and a desire to make the classes personable, most classes have a maximum of 12 students. Larger areas such as the gym can accommodate more students. Parents are required to serve each week in various capacities, including as teachers, teacher assistants, hall monitors, and cleaning assistants. At least one parent from each family must accompany their children to co-op each week. It is not a drop-of program.
Upper Arlington Christian Homeschoolers Co-op

Hilliard

UACH offers classes on the first and third Thursday of each month during the school year. Classes will be running from September thru November and January thru May. Students meet at Upper Arlington Lutheran Church – The Church at Mill Run.
CHOICE Home School Cooperative

Holland

CHOICE stands for Cooperative Home-schooling Opportunities In a Christ-centered Environment. We are unabashedly a Christian co-op which includes families from many branches of the Christian faith. We do ask the member parents to sign a statement of faith to uphold the basic tenants of our beliefs while attending CHOICE. There are around 30 families and 80 kids ages 3-18 involved with the co-op. Co-op classes meet for 12 weeks in the fall and 12 weeks in the winter/spring, with a 6-8 week break for Thanksgiving, Christmas, and New Year. All courses meet on Fridays from 9:30 a.m. – 3:30 p.m. in the fall. For those who are involved in CHOICE's musical, practice goes until 4:00 the second semester. There is a lunch break and recess built into the schedule. The Co-op meets at the Christian Fellowship Church on Pilliod Rd. in Holland.
TEACH Co-op - Ohio

Holland

T.E.A.C.H. (Toledo Educators Assisting Christian Homeschoolers) is a homeschool cooperative offering both parent-led and teacher-taught courses for families with children 1st grade and up. Although unapologetically Christian in worldview, the co-op is open to all homeschoolers in Toledo and the surrounding areas. The Co-op meets on Tuesdays during the academic year. Christian Fellowship Church, 6711 Pilliod Road, Holland, OH 43528
Toledo Classical Homeschoolers

Holland and Toledo

We are a faith-loving Classical Homeschool Cooperative located in Toledo, Ohio that has a focus on building lasting friendships through parent support and encouragement. We offer affordable, quality programs for Kindergarten through High School. Nursery and Preschool is offered to siblings of enrolled students. We utilize Claritas Publishing for elementary curriculum and various classical publishers for junior high and high school. Kindergarden through 12th grade Times & Location Mondays 9am - 3:30pm Emmanuel Baptist Church 4207 Laskey Rd., Toledo, OH Thursdays 1pm - 3:30pm Holland Free Methodist 6605 Angola Rd., Holland, OH 43528
Christian Family School

Macedonia

A Homeschool Alternative. CFS is a daily classroom homeschool co-op, meeting in Macedonia, Ohio.
Promise Homeschool Group

Mantua

Promise Homeschool Group meets for two sessions per school year; Fall & Spring. Sessions are 13 weeks each. Co-op days are Tuesdays from 9 am to 1:30 pm. Promise Homeschool Group does not offer drop off services for co-op members. As we are a parent led co-op, parents are expected to participate and volunteer as well.
Homeschooling In Marysville (HIM)

Marysville

Homeschooling In Marysville (HIM) is a Christian homeschool support group and co-op located in Marysville, Ohio serving families in Union County and surrounding areas. HIM is currently made up of approximately 75 member families and welcomes all homeschool families for encouragement, support, learning, and fun. The HIM co-op is divided into two sessions each year (fall and spring) and each session runs for approximately 10 weeks. Classes vary by year/session and meet on Wednesday mornings in Marysville. Most co-op classes include a supply list and require a fee to participate, and there is also a per family registration fee for each session. In order to register and participate in co-op, families must be current HIM members and have at least one student in kindergarten or above. The co-op is not a drop-off program and at least one parent/legal guardian is required to stay and help/volunteer during the co-op day. (Note that co-op classes may fill to capacity at which point families will be placed on a waitlist.)
Psalm 91 Homeschool Co-op

Mayfield Heights

A Christian co-op which includes families from many branches of the Christian faith. We do ask the member parents to sign a Statement of Faith to uphold the basic tenets of our beliefs while attending Psalm 91 Homeschool Co-op. Ps91 Co-op exists to provide support and friendship for parents and their children. We meet for 10-11 weeks in the Fall and 10-11 weeks in the Winter/Spring, with a 6-8 week break for Thanksgiving, Christmas, and New Year. Co-op classes have included math, PE, biology, logic, history, speech, art, Spanish, lego engineering (both elementary and middle school), music, home ec, journalism, personal finance, etc. Classes are supplemental to your homeschooling, which means you don't have to change your curriculum to participate. Some classes last one semester, while other classes continue throughout the entire school year.
HELP Homeschool Cooperative

Milford

HELP Homeschool offers enrichment and academic classes taught from a biblical perspective. HELP partners with the parent for the purpose of equipping families in the God-given task of educating children. Parents are given the flexibility to select the classes best suited to each students need and family budget. Classes are held once a week so families experience minimal disruption to everyday life. HELP homeschool continues to grow and adapt as the needs of our families change. When a particular course is desired, qualified instructors are sought to step in and fill the need. HELP Homeschool meets at Milford Christian Church, 844 State Route 131, Milford OH 45150.
JOY Homeschool Co-op

Napoleon

The vision of JOY Homeschool Co-op is to provide support for Christian homeschool families on their education journey. This vision manifests as a vibrant Christian community growing, learning, and serving together. We meet each Friday from September to May at Christ Community Church in Ridgeville Corners, Ohio. Through four departments, JOY Academics, JOY Music, JOY Musical Theatre, and JOY Serve, we offer academic and music classes for students in grades 1-12, a musical theatre program for high school students, and opportunities for parental involvement.
The Elective Collective

New Albany

The Elective Collective (TEC) is a Christian, performing arts-focused home education co-op that meets in the New Albany area. It is open to all families whose oldest child has reached the age of required notification (six years old by Sept. 30). Preference is given to teens and older children, since there is a deep need for wholesome offerings for that age group in our community. The Elective Collective meets Tuesdays for 12 weeks in the fall and 12 weeks in the spring. We arrive by 9:15 a.m. for quick announcements and prayer, then begin classes at 9:30 a.m. There are five one-hour class sessions during the day, plus a one-hour lunch. At 3:30 p.m., we pitch in to quickly leave the building nicer than we found it. Our students lead the clean-up process with the assistance of their parents. This is an excellent way for our kids to contribute and to become an integral part of the process. We meet in a welcoming, modern building in the New Albany area that offers ample room and plenty of outdoor space. For the privacy of our families and the convenience of our host organization, the specific location is only shared with member families.
Excellence in Learning Community Co-op

Newark, Licking County

This community, founded in 2009, is a 501c3 cooperative and serves families in Newark, Licking County, and Central Ohio, providing co-op class experiences ranging from fun little kids PE classes to high school science labs. K-12th are welcome. Includes support network, curriculum library, field trips, milestone events and much more. $25 annual membership cost, classes are 14 weeks and most cost $20 or less (for an entire 14 week class)
Growing Wild Nature Co-Op

Oxford, Ohio

Growing Wild is a secular and inclusive homeschooling co-op that offers an immersive nature-based learning experience for children and families. Through hands-on activities and outdoor exploration, children of all ages can learn about ecology and conservation while connecting with the natural world around them. The co-op is open to families of all values, beliefs, abilities, and backgrounds, creating a supportive community that fosters a love for nature and learning.
Christian Friendship Group

Ravenna

We are a parent-led socialization group with fun extracurricular classes for ages 0-18. We meet twice a month for classes and twice a month for optional park days and field trips.
The Learning Tree Homeschool Group

Reynoldsburg

The Learning Tree Homeschool Group provides homeschooling families with Christian based enrichment and supplemental classes in a group setting. All home schooling families are welcome. The Learning Tree Homeschool Group offers a variety of classes for children in preschool through high school. The classes are divided by age groups. As a general guideline, the maximum class size is set at 12 students for the younger grades and 15-20 for the older grades.
OVCHE

S. Clairsville

The Mission Statement of Ohio Valley Christian Home Educators is to support and encourage families who are striving to educate their children in a manner pleasing to our Savior Jesus Christ. OVCHE is a volunteer-led support group and co-op providing resources for educational activities, encouragement, fellowship, and information to homeschool families and to those considering homeschooling in the Ohio Valley. OVCHE endeavors to keep events Christ-honoring, often including prayer, without reservation or apology. We encourage people who are not comfortable with our guidelines to seek like-minded homeschooling families in other support groups
Joy of the Lord Homeschool Co-op

Sandusky

Our mission is to be a Christ-centered cooperative that works toward igniting the creativity, passions, and gifts of each child within our community. We aim to offer a variety of academics, faith-filled fellowship, positive socialization, and outreach opportunities. Our mission is rooted in finding JOY in our homeschool journey.
Bright Star Homeschool Community

Steubenville

Bright Star Homeschool Community is dedicated to providing affordable, fun, educational experiences for our children, while supporting the diginity of their individual persons. We believe that all children are born persons, and we want to foster their creativity, education, and personhood. We are a Christian co-op that follows a statement of faith. All members are required to sign it to participate, but non-believing members may join as long as they agree to the statement. Bright Star Homeschool Community meets on Tuesdays from 9 AM to 2 PM. We also have a second extracurricular day on Thursdays from 1 PM to 3 PM. We meet at the Wintersville United Methodist Church. Joining a co-op has many benefits for homeschool families. Not only does this provide educational instruction and enrichment for children, but parents and children alike develop long-lasting friendships. Parents find much needed encouragement and support through their journey. BSHC plans family nights, field trips, talent shows, and mom-only events to foster a true community.
H.O.P.E. Christian Homeschool Co-op

Stow/Falls

H.O.P.E. (Helping Other People Educate) Christian Homeschool Co-op strives to be a Christian homeschool cooperative that meets the enrichment needs of families living in Stow, Cuyahoga Falls, Munroe Falls, and surrounding areas. We want to not only enrich the families' lives educationally, but also spiritually. We want this to be a fun and safe environment for families to grow together and support each other in the homeschool community.
Heritage Homeschool Co-op - Ohio

Wadsworth

Heritage Homeschool Co-op is an independently run Christian education group in Wadsworth, Ohio, but is open to all for membership. We love to have new families join us and all types of homeschoolers, unschoolers or e-schoolers are welcome. We meet at a church in Wadsworth, Ohio. We meet for 30 weeks between August and May with several breaks in-between.
Wapakoneta Christian Homeschool Co-op

Wapakoneta

The Wapak Christian Homeschool Co-op started in 2018. The co-op meets on Thursday mornings at the Wapak Church in Wapakoneta, OH. This is a Christ-centered homeschool group that seeks to give its members fellowship and support through weekly co-op classes and extra activities, like field trips, Christmas Program, Daddy/Daughter Dance, Mother/Son Date Night, etc. The classes offered are things that add enrichment to your current homeschool routine – like art, music, phys ed, apologetics, science experiments or labs, current events, etc. Classes are taught by parents, and sometimes by volunteers. There are classes for ages 3-18, and we have nursery available for infants and toddlers. Registration for the following school year typically opens in April and ends in May or when we are full.
BraveTree Educators

Williamsburg

BraveTree Educators is a christian co-op that meets on the east-side of Cincinnati just minutes from the Jungle Jim's. BraveTree classes are taught by parent volunteers and meet on Fridays from 10:00 am - 2:30 pm. BraveTree does not offer a drop off program. At least one parent/legal guardian must remain on campus at all times. BraveTree members are not required to teach. However, all members are required to assist if they are not teaching. BraveTree has two semesters. Fall semester is 10 weeks and Winter semester is 12 weeks long.
Ohio Homeschooling Classes & Academic Enrichment
Kid Center Akron Home School Support Program

Akron

New Home School Service. Offering a supervised learning environment from 9am to 1pm daily. Students can come into the center and log-on and complete their online assignments. They will receive snacks and a well balanced lunch, along with assistance and direction to complete their school work.
Learn Fine Art: Screenprinting, Painting, Drawing, Digital Art Mediums, Etc.

Akron

Rubber City Prints is an Akron based local non-profit printshop that provides fine art workshops, field trips, visiting artists, and one-on-one fine art or digital media lessons and tutoring to interested students. Knowledgable instructors have BFA/MFA qualifications and are educated in teaching through the studio. Offering the following topics: Painting, Drawing, Printmaking, Sculpture, and Crafting. We also provide digital media instruction in the Adobe Suite including but not limited to the following: Creative cloud, Adobe, Photoshop, Illustrator, InDesign, Dreamweaver, Lightroom, Premiere Video, Spark, PowerPoint Presentation, etc. Workshops may include Anime Drawing, Fashion Design, Creating a Masterpiece, Intro-Advanced Printmaking, Drawing, Painting, 3-D Animation, Bookmaking, Comics Workshop, Zines Workshop, 3-D Printing, DryPoint CD, Monotype Printing, Figure Painting, Still Life Drawing, 3-D Drawing, 2-D Drawing, Creative Writing, Steam Workshops, Jewelry Making, Ceramics, Screenprinting, CMYK and more… Our facilities provide Letterpress, Etching Press, Screenprinting, Darkroom, and Studio space for fine art and digital media workshops.. Please contact us at info@rubbercityprints.org or call 330-269-9837 to schedule your best options for students. At Rubber City Prints we believe in instructing students by following Ohio Education guidelines for age specific groups and are open to teaching all levels of experience in the arts.

Learn Fine Art: Screenprinting, Painting, Drawing, Digital Art Mediums, Etc. details
Allen County Christian Homeschoolers Enrichment Day

Allen County and the surrounding areas

Offering Enrichment Day class on Tuesdays during the school year as well as field trips, monthly get togethers, and special events.
Play Academy at Main Event

Avon

Play Academy offers an exciting new program here at Main Event, combining the fun of everything Main Event has to offer with the educational value of all things STEAM (Science, Technology, Engineering, Arts and Math)! Play Academy at Main Event is an accredited, STEAM-based curriculum that combines real lessons with real fun to show students that the more they learn, the better they play
Learn With Joy

Boardman

Learn With Joy was founded by twelve year veteran teacher and preschool program director. Learn With Joy educational classes are based on research-driven methods and best teaching practices.The Learn With Joy program offers 6-8 week sessions of enrichment classes including Spanish, Learn to Read and various STEM classes. These classes are (mostly) geared towards children preschool age through grade 3.
Sylvan Learning of Bowling Green

Bowling Green and Fremont

This organization is here to help students not performing at grade level and need that extra help getting caught up to where they need to be. This organization utilizes an insight assessment prior to beginning tutoring to determine academically where your student falls. Once the assessment is complete, this organization develops a personalized learning plan for each student individually. All students have one-on-one guidance with a certified instructor. Please call or email for additional information. 419-353-7608 or sylvan@dacor.net.
Canton Bridges Homeschool Organization

Canton

Canton Bridges is a Christian homeschool organization that meets on Mondays during the school year. Our classes are taught by certified teachers or instructors who are degreed in the subject matter which they teach. Canton Bridges offers classes for 5th-12th graders, including but not limited to, science, writing and language arts, literature, history, speech, debate, and many others. Our goal is to assist parents in providing a rigorous and excellent education during their homeschool journey.
Huntington Learning Center Tutoring Services

Cincinnati

Huntington Learning Center is the nation's leading provider of tutoring and exam prep services. The Anderson center has been serving Anderson, Ohio and the surrounding area for over 16 years. Huntington's proven process and highly trained teachers helps students realize their true potential. Huntington begins by deeply understanding each student's situation and skill-gaps, followed by addressing the student's individual needs, while also building their confidence and motivation to succeed. In addition, Huntington helps students prepare for the ACT and other critical exams, delivering among the highest point increases in the nation through individualized, one-on-one instruction. Over the years, it has been an honor to work with many homeschool students and their parents, making a lasting difference in student's future potential and outlook. You can learn more by contacting the Anderson Huntington Learning Center at 513-528-7417.
Arthur Menezes Brum Art and Art History Classes

Cincinnati

Art, Studio Art, and Art History tutoring and classes for grades 4-12. By appointment. Best for ages 5-12. Museum Visits and Tours for small groups.
PATH Milford - Partners in Academic Training of Homeschoolers

Cincinnati

A Christ-centered group of volunteer home school parents, partnering together with Christian teachers to provide high quality courses for 7th – 12th grade home school students. The goal is to have all courses taught from a Biblical perspective at an academic level to prepare students for higher education. Meets Mondays and Wednesdays. Choose what classes you want. All classes meet once a week, except for math classes, which meet twice a week. Parents retain responsibility and control, but receive help and accountability.

PATH Milford - Partners in Academic Training of Homeschoolers details
My High Impact Tutoring

Cincinnati

This service tutors children and coaches parents to help their child level up in reading fluency. Appointments available through the website at the Deer Park Cincinnati Public Library.
Providence Extension Program (PEP)

Cincinnati West

PEP provides an academically rigorous education combining the best of classical and biblical worldview education that meets two days a week at campuses in Ohio. There are currently three campuses in the Ohio area, Mason, Milford and Dayton. Please check out the website for more info.
Clark State College for Kids and Teens

Clark/Green/Champaign County

Clark State College in Springfield, Ohio is hosting our annual summer camps, which are week-long, ungraded, immersive STEAM camps. CKT is open to any K-12 students in Clark and surrounding counties and will include breakfast, a tee shirt, and lunch catered by Fresh Abilities. We also have Scholarships available thanks to our partnership with the Braxton Miller Foundation!
Pediatric Behavioral and Psychological Services, LLC

Cleveland

Pediatric Behavioral and Psychological Services, LLC strives to provide unparalleled therapy and counseling to every client that they work with. Their priority is to improve the quality of life of individuals with developmental disabilities through ethical, individualized and practical treatment and intervention in the following areas: academic performance/achievement, behavior, independence/daily living, vocational work, communication and social interaction. They offer home and school services that include the following: -Academic Tutoring -Behavior Management and Treatment -Classroom and Staff Training -Play Therapy -Program Modification -Recreational/Sport based therapy -School Visits/Observations Please contact them for more in-depth information about their services. Program Methodology: Applied Behavior Analysis (ABA) Therapy Community Programming and Instruction (Scheduled with parents and care providers) Daily Living Activities/Programming Individualized Instruction Approach (1:1; Small Group) and Treatment Plans IEP based programs and implementation Independent and Group (Structured) Leisure Activities Intensive Intervention and Instruction

Pediatric Behavioral and Psychological Services, LLC details
German Language School Cleveland

Cleveland

The German Language School Cleveland offers German Language classes on Cleveland's west side in Olmsted Falls and on the east side in Novelty, OH. Classes are offered Monday evening (Novelty) and Wednesday evening (Olmsted Falls) for kids ages pre-K through 8th grade. We also offer standardized AATG tests and DSD exams for high school age children.
Bloom Learning Community

Cleveland

Bloom Learning Community is a learner-centered microschool in Cleveland with the mantra: space to grow, freedom to flourish, body + heart + mind. Bloom supports children and families through a hybrid model of flexible and personalized learning opportunities. Bloom applies an organic approach to holistic education based on natural motivation and the creative process.
Veritas Academy

Columbus

Veritas Academy is the only private, classical, Christian school in Columbus that utilizes the university model and provides homeschooling families the opportunity to give their children a distinctive education. At Veritas, teachers and parents immerse students grades 5-12 in exceptional and challenging educational experiences that allow them to grow in knowledge, character, and faith. The private school environment allows for these experiences through a shared philosophy, smaller class sizes, committed teachers, enrichment opportunities, and extracurricular activities. As an education partner, Veritas offers to serve as either a primary or a supplementary educational experience to families. Visit the website for more details.
Valor Preparatory Academy of Ohio

Columbus

Valor is founded by trailblazers with nearly two decades experience in online and blended community school leadership. Offering a superior education in a blended learning environment, students at Valor receive unparalleled curriculum, flexibility and personal support. The school is different and ideal for children being home schooled. Valor serves grades 6 through 9 and students will come 5, 3 or 2 days per week depending on their performance skill levels. School will start at 8AM and end at 12 noon. The afternoon will be used for students to complete work assignments via computer which can be done from any location they desire. For more information, call Dr. Bob Jennings, Principal at 614-610-4544, ext 504.
Maximum Success Business and Leadership Club

Columbus

This is a community based, business and leadership club designed to align individuals with achievement driven peers in a collaborative way. The goal is to develop and inspire financially literate, creative thinkers, and equip them with business and financial acumen, leadership skills, and effective communication skills necessary to help them maximize their potential and achieve success. This program is for students ages 14 to 18.
Columbus Area Speech Therapy

Columbus

Speech Therapist, Jen Ujcich, offers speech therapy with the knowledge of effective strategies to help your child's communication FLY through home visits or clinic appointments. Ms. Ujcich accepts Delaware County Board of DD funding, payments from Health Savings Accounts (HSA), Flexible Spending Accounts (FSA) as well as check, cash or credit card. We are also an approved provider of The Jon Peterson Scholarship. This is a generous, non-income based program through The Ohio Department of Education which provides funding for therapy to children who attend non-public schools or who are home schooled. Contact via email, phone or text, Columbus Area Speech Therapy: Jen@ColumbusAreaSpeech.com or (614) 657-5673. We can also be reached through the company's Facebook page.
Ohio Chess Academy

Columbus

Depending on the needs of the home-school group a chess class can be held for one or more hours. During class, students will receive equal parts instruction and structured play time. It is important to both challenge students in learning new skills while also reaping the benefits of play and social interaction. All equipment (Chess Sets, Clocks, Handouts) will be provided by Ohio Chess Academy. A high priority is placed on creating a structured learning environment by combining solid classroom management skills with a well organized and engaging presentation. The Ohio Chess Academy goal is to create a chess enrichment experience that is affordable, instructive and fun.
The Sewing Hive

Columbus

This facility offers sewing classes for grades 6-12, has structured 10 week sessions to teach basic home sewing skills for groups and individuals within the months of September through May. Their program includes, hand stitching and mending, sewing machine operation, planning and construction of garments. Essential life skills include applied math, dexterity and creative thinking.
the Coder School - Westerville

Columbus

A local school that offers after school computer programming lessons for children ages 7 to 18. Primary offering is a low student to instructor ratio session (2 to 1) that runs every week for an hour.
Terrific Teaching Tools

Columbus/Gahanna

Providing supplemental material for homeschool parents - elementary, middle school and high school
Treehouse Berea

Cuyahoga County

We are a local family-owned business providing STEM-based enrichment experiences for ages 6 to 14, in Berea and surrounding suburbs. We provide in-person clubs, camps and events for 6 to 12 year olds. Subjects covered include: art, robotics, coding, engineering and game design.
Two Birds Artwork Daytime Creative Writing Classes

Dayton

Creative writing classes will have focused projects throughout the year that students will work towards as groups and independently depending on the project. Our projects are meant to be meaningful and "real", giving students a creative outlet for their wild ideas, and a voice for their feelings and topics of concern in their lives. Our editing and revising process supports writers though workshop-style meetings while helping them self-reflect and further develop sentence complexity, vocabulary, structure, and conventions. Throughout the year, students will write children's books, magazine articles, comics, short stories, poems, scripts, and ads. These projects will often be in collaboration with our art classes.
The T.U.L.S.A. Learning Center

Dayton

The T.U.L.S.A. Learning Center is a revolutionary, child-centered, developmentally appropriate, culturally responsive, educational learning center. We offer full, part-time, and extension classes, taught by experienced and qualified teachers as well as a remote learning lab for students attending virtual schools.
New Heights Educational Group, Inc

Defiance

The New Heights Educational Group, Inc. promotes literacy for children and adults by offering a range of educational support services. Such services include: assisting families in the selection of schools; organization of educational activities; and acquisition of materials. New Heights promotes a healthy learning environment and enrichment programs for families of preschool and school-age children, including children with special needs. NHEG provides fill-in-the-gap, individual tutoring for children and adults. Offers leadership and internship opportunities via Student Advisory Group and Student Leadership Council and much more.
My World Better Homeschool Enrichment

Fairport Harbor

Enhance what you are already doing at home. Enjoy co-op's, classes and events that will inspire and motivate your child to live their passion sooner. Increase family time, peer interactions and create lasting bonds. Activities are available year round and will help you alleviate some of the stresses of homeschooling.
GradePower Learning Fairview Park

Fairview Park

Tutors at GradePower Learning® learn about your child and develop a plan for his or her success. GradePower Learning® goes beyond tutoring, to help ignite your child's interest in learning, not just for one school year, but for a lifetime. Daytime Homeschool options available.
Middletown Christian Schools Homeschool

Franklin

A homeschool group that has options for grades 1-12. Our Enrichment Day program offers a twice a month class for grades 1-5 along with field trips. Course offerings include Hands on Science, Art/Music, Creative Writing, American Sign Language, PE and more. Sports opportunities are available where age appropriate. Grades 6-12 can join a partnership with the school and enroll in classes (Math, Science, English, History, Art, Music, etc) along with participating in special events and sports.
Licking Park District Homeschool Happenings

Granville

Homeschool Happenings is a homeschool program designed for students ages 7 – 10. Homeschool Happenings is scheduled for the third Thursday of the month unless otherwise noted. The typical program includes interactive and outdoor activities (weather permitting), crafts, and games. Programs integrate scientific inquiry with STEAM (Science, Technology, Engineering, Art and Math). Because of the need to prepare materials in advance, this is not a drop in program. Students may reserve a spot by visiting the Licking Park District website calendar or by calling 740-587-2535.
Engineering For Kids of Akron Ohio

Green, OH

Contact your local Engineering For Kids to learn more about our special events, after-school programs, workshops, and more
Boy Scouts of America in Ohio

Greene County, Champaign County, Logan County, Clark County & Clinton County

Youth programming, boys ages 7-21, girls ages 14-21
Boy Scouts of America, Troop 53, Loveland, OH

Hamilton Township & Goshen, OH

Troop 53 meets every Tuesday night from 7-8:30 pm during the school year at: Bethel Murdoch Presbyterian Church Fellowship Hall, 9602 Murdoch-Goshen Rd, Loveland, OH 45140. Boy Scouts are 11 to 18 years old. Troop 53 covers Warren and Clermont counties.
Victori Equine Horsemanship Classes

Huber Heights

If you are looking to learn more horsemanship, riding skills in both English and western, horse behavior, and care, sessions in our program would be perfect for you! These sessions are geared to enhance confidence, responsibility, and leadership. Receive an hour-long session for ages 3 and up! You're never too old to start working with these magnificent animals. Lessons are available Sundays and weekdays 9:00 AM - 6:00 PM. Slots are filling up so reserve your lesson today! We are located in Huber Heights, OH at Painted Sky Stables.
Bienvenue French Language School

Hudson

French One for Homeschoolers - This online course covers French I in 30 classes (and 30 hours of homework) French I for Homeschoolers is a program specifically designed to turn learning French into an adventure in language. With a focus on conversation, communication and culture, this class provides a solid foundation to build on.
Sylvan Learning

Lewis Center

Sylvan Learning is a supplemental education resource for students to catch up, keep up, or get ahead, and is a provider for both the Jon Peterson and Autism Scholarships. Sylvan starts by pinpointing a child's academic strengths and weaknesses through an academic assessment. Then, a very personalized learning plan is implemented, to work on what each child needs most. Sylvan offers personalized programs for reading, math, writing, and study skills. Students receive personalized instruction from certified teachers. Through both guided and independent practice, students are able to work their way to mastery on all skills needed. Programs at Sylvan are ongoing throughout the year, so call or email for more details or to set up an initial assessment or consultation.
Sylvan Learning of Lewis Center

Lewis Center

Sylvan Learning is a resource for families wanting some additional support in their child's education. Sylvan provides personalized programs for reading, writing, math, study skills, ACT/SAT Prep, and more! This resource is also a provider for the Jon Peterson and Autism Scholarships. They offer flexible scheduling and will keep you up to date on your child's progress as often as you'd like!
YouSchool

Licking County

YouSchool provides classes for homeschooling families offered by teachers of various expertise without a membership or fundraising requirements. This allows families to pick and choose what they want to participate in with no additional commitments associated with a membership.
Mansfield Christian School, Independent Studies

Mansfield

The Independent Studies department at Mansfield Christian School (MCS) has brought together the best of Christian and home education for over 30 years. MCS supports a parent's choice in education and offers assistance in the form of curriculum, guidance, testing, athletics, transcripts, arts, STEM, music, and core academic classes. We invite to visit our website to learn more!
Bramble Farm Cottage School

Medina

Bramble Farms is a cottage school offering tutoring, workshops and homeschool coaching.
Simply Teaching Spanish: Online & Onsite Homeschool Classes

Medina

Clara Stacko, a native speaker from Puerto Rico, offers live online and in-person Spanish classes for homeschoolers. Classes are fun & effective. Your student will be speaking in full sentences after only a few classes. In-person classes meet in Medina, OH. For middle and high school students. Clara has been teaching Spanish to homeschoolers for over 10 years. New classes begin every fall. Visit her website at https://www.simplyteachingspanish.com/ to learn more.

Simply Teaching Spanish: Online & Onsite Homeschool Classes details
Greenacres Water Quality Education Center

Milford

Greenacres offers a variety of two hour afternoon homeschool programs designed for students ages 10 and up, offered by Ohio certified teachers. Programs include Geoscience, Physical and Chemical Properties of Water, Microscopes and Cells, Mapping, Food Chains and Food Webs, and Stream Health. Contact us for a detailed flyer.
Academic Summer Camps at Mount Vernon Nazarene University

Mount Vernon

Mount Vernon Nazarene University (MVNU) will host Academic Summer Camps for high school students this summer! These will be week-long, overnight camps that will give students a chance to explore a future major and gain real world, hands-on experiences within different fields of study within a Christian environment. We will offer ten different camps that include: criminal investigations, film production, environmental science, pre-law, education, art and design, exercise science, emergency preparedness, nursing, and engineering. Research has shown that students benefit greatly from participation in such camps in that they assist the students in discerning their future major, they build students' self-confidence, and they increase the likelihood that students will attend college. What is more, they increase students' subsequent engagement in their high school classes. We are offering these camps at cost, but we recognize that the registration cost ($485) may be prohibitive for some of them. Because of that, we have secured some scholarship funding for students with a financial need. To register, students can got to https://www.mvnu.edu/undergraduate/summer-camp-2023 Registration closes on June 16, 2023.

Academic Summer Camps at Mount Vernon Nazarene University details
Homeschool Investigations @ The Dawes Arboretum

Newark

Supplement your science curriculum by joining other home school students in hands-on science study. Home School Investigations introduce students to basic principles of ecology and biology while nurturing an appreciation for and understanding of the natural world. The education staff leads programs for elementary age students (6 to 10 years) on the 2nd Tuesday (1:30 – 3pm) and Friday (10 – 11:30am) of each month (September – April). Each program consists of a 90-minute session that includes background information and hands-on study of a topic, followed by field experience outdoors. One non-member, adult admission to The Arboretum is included per registered child. For a full schedule of programs check out the calendar at www.dawesarb.org
Civil Air Patrol Cadet Program for Homeschooled Boys and Girls Ages 12-18

Northeast Ohio

The Civil Air Patrol's (CAP) Cadet Program offers homeschoolers many opportunities to help meet or exceed Ohio's Learning Standards. CAP's weekly cadet meetings and monthly special activities offer hands-on aerospace educational activities, field trips to science and technology-related venues, character development and also physical fitness opportunities. Volunteering in the community is also at the heart of CAP, with cadets offering time at veteran and community events. If your child excels in the CAP cadet program, he/she could earn scholarships, obtain leadership-building roles and attend national or even international special activities. More information about the Medina County squadron can be found at http://www.medinaskyhawks.org.

Civil Air Patrol Cadet Program for Homeschooled Boys and Girls Ages 12-18 details
The Etiquette Factory

Northeast Ohio

Providing etiquette classes to open doors for your child. These etiquette classes are fun, interactive and educational.
Heritage Classical Academy Study Center

Northeast Ohio

The Study Center partners with homeschool families to support their efforts to educate classically by providing a proven curriculum, passionate teachers, and a Christ-centered environment. This part-time program offers a 2-day homeschooling option in which students come to school Monday and Wednesday to receive instruction from their teachers. The teachers then send home a detailed assignment sheet of what the students are to do at home with their parents on Tuesday, Thursday, and Friday. The Study Center is available to students in Kindergarten through fifth grade and offers a classical, Christian education. This program provides students with the benefits of being homeschooled as well as being involved in a school community.
Children's Etiquette and Manners Programs

Northeast Ohio.

Offering Children's Etiquette and Manners programs, all ages. Please visit www.theetiquettefactory.com/misskim or call 3330-888-2308.
Ohio Classical Conversations

Ohio Statewide

CC is a national homeschooling program that uses a Bible based curriculum taught in a christian, classical tradition. Classes are geared for age 4 through high school.
Talk Play Grow

Parma

Talk Play Grow is a therapy and enrichment center that offers speech, occupational and physical therapy in the center or in home. The center also offers enrichment classes to provide social skills development, speech and language development and fine/ gross motor skills development. Talk Play Grow is a Jon Peterson provider. Tutoring is also available.
Flying Trees Academy

Poland/Youngstown

Flying Trees Academy is an innovative hybrid homeschool program that prioritizes socio-emotional development so elementary school children can become capable and confident learners. We help children develop into well-adjusted little humans so their brains are able to learn to their fullest potential. We also support parents in creating homeschool environments that support children's development and learning.
Portage Learning Centers

Portage County -Ohio

Portage Learning Centers is a Federally funded preschool program serving Portage County Ohio. We provide a home-based program that can be done in conjunction with home school programs. It focuses on the parent as the primary teacher and provides the Head Start Curriculum and the Parents As Teachers Program in the home. A Home Visitor comes to your home 1 time per week for 1.5 hours to provide instruction with the parent and child. We also have two socializations per month scheduled on Friday mornings. These allow children and families to network and to engage with other children. Lunch is provided. This program can be done with any other preschool program or home schooling program. It is free of charge (based on income). Please contact 330-297-7795 to schedule an enrollment or to get further information. We currently have openings !
Ohio Sea Grant Stone Lab

Put in Bay/Port Clinton

Offering science field trips and college-credit courses for advanced high school sophomores, juniors, and seniors. Students each year will have the opportunity to pull a fish trawl/net off of a large research vessel, pull a seine/net in Lake Erie waters, and examine Lake Erie plankton under a microscope. Teachers can choose from eight specialized activities to customize their trip and reinforce curriculum, as all field trips align with Ohio's Science Academic Content Standards. Also offering high school students a chance to take summer classes. One-week, entry-level classes such as aquatic biology, oceanography, and insect field biology get students out in the field to learn science first-hand.
The Learning Tree Homeschool Group

Reynoldsburg

The Learning Tree Homeschool Group provides homeschooling families with Christian based enrichment and supplemental classes in a group setting. All home schooling families are welcome. The Learning Tree Homeschool Group offers a variety of classes for children in preschool through high school. The classes are divided by age groups. As a general guideline, the maximum class size is set at 12 students for the younger grades and 15-20 for the older grades.
Imagination Station Virtual Homeschool Workshops

Toledo

Imagination Station is your resource to help bring science to life. Our monthly homeschool program is created for students in grades K - 8. Our all NEW virtual program offers the support you need to keep your child on track during this challenging school year. Each session will cover a variety of topics that will encourage exploration and discovery, with a little bit of messy science along the way!
Heatherdowns Branch Library Chess Club

Toledo

The Heatherdowns Branch Library of the Toledo Lucas County Public Library hosts a Chess Club for all ages and skill levels every Wednesday at 6 p.m.
Snapology STEAM Based Evening & Weekend Enrichment Classes

West Chester Twp

Snapology is offering themed and core STEAM Enrichment Classes at The WEB Extreme Entertainment in West Chester Twp, Ohio. The classes involve hands-on building activities using LEGO bricks, technology, craft supplies and other.

Snapology STEAM Based Evening & Weekend Enrichment Classes details
Stemtree Learning Center

Westerville

Stemtree's focus on science, technology, and engineering aligns with today's nationwide emphasis on STEM (Science, Technology, Engineering, and Mathematics). We nurture your child's inner scientist through fun, hands on learning built upon a core scientific curriculum that will give the edge he or she needs to succeed in science and engineering- whether that means a better grade in class, a future science and engineering related career, or just having fun.