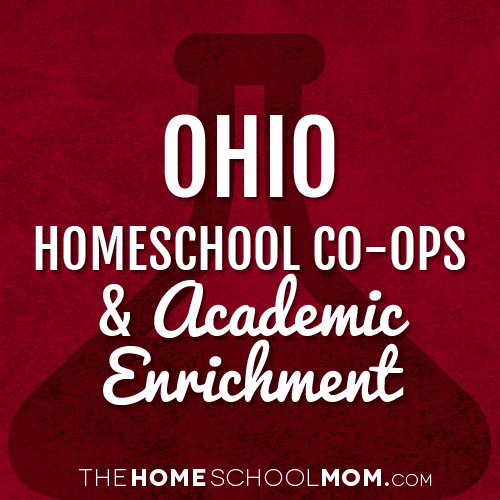 Looking for someone to teach physics to your teen? Need a way to avoid teaching algebra? Want to enroll your Kindergartener in a co-op for social time? Homeschool classes and co-ops are a great way to spend time with other homeschoolers and skill-share with other homeschool parents.
Our listing of Ohio co-ops and academic classes for homeschoolers is ordered alphabetically by city, with co-ops in the first section and all other academic resources below. If you would like to submit a Ohio co-op or academic resource, you may do so using the red button above.
Use the secondary navigation menu above to quickly make your way to pages for Ohio state organizations, local homeschool groups, classes, co-ops, field trips, and more.
Ohio Homeschooling Co-ops
An inclusive and diverse group coming together in a family oriented setting of support and social engagement. Providing an atmosphere of respect, honesty, and kindness, regardless of gender, race, ...
Quiver and Quill Homeschool Co opCentral Ohio
Quiver & Quill Homeschool Co-op (Q&Q) is a secular group that is inclusive of all belief systems. Our homeschooling families are committed to providing group learning opportunities for our ...
Clermont Homeschool CO-NNECTIONSCincinnati
Unique, secular, inclusive and affordable Enrichment and Social program for homeschooled families in Cincinnati.
Upper Arlington Christian HomeschoolersColumbus
Upper Arlington Christian Homeschoolers (UACH) was formed in the mid-1990s. The purpose of the UACH co-op is to support and encourage parents in their homeschooling effort as they endeavor to disc...
Jugar Juntos, Aprender JuntosColumbus
A Spanish Immersion Enrichment Co-op for kids in Columbus, Ohio. A group of parents who work together to provide fun opportunities for our children to explore and learn together. The goal is to fos...
Linworth Road AcademyColumbus
LRA is a Columbus Ohio Christian cooperative homeschool support group. As a ministry of Linworth Road Church, LRA is rich with inspired and enthusiastic teachers leading ideal-sized group classes f...
Columbus Learning Cooperative (CLC)Columbus
Empowering kids and teens to become self-educated life-long learners able to navigate the ever changing landscape of the 21st Century. More important than memorizing specific facts is the ability t...
Tapestry of West ColumbusColumbus
Tapestry of West Columbus is a classical Christian home-school co-op for K-12 students. The co-op includes history and literature classes taught by parent-teachers using Tapestry of Grace, a clas...
Greater Miami Homeschool Co-OpDayton / Tipp City / Vandalia / Troy
This homeschool group meets at Ginghamsburg Church in The Avenue on Mondays from 11:30-2:00. For ages 6-15 yrs. Co-op classes in art, gym, science and writing. The Co-op uses 7 classrooms, a full s...
Journey Homeschool Co-opHancock, Findlay
Journey Homeschool Co-op of Hancock county, Oh and surrounding areas meet the 1st and 3rd Thursday's of each month from Sept. to May. There is no charge to attend. The classes are parent taught an...
Christian Family SchoolMacedonia
A Homeschool Alternative. CFS is a daily classroom homeschool co-op, meeting in Macedonia, Ohio.
Village Christian Co-opMedina County
Village Christian Co-op (VCC) meets on Tuesdays for three 8-week quarters from late September to early May. We seek to enrich what homeschooled children are learning at home through age-appropriate...
HELP Homeschool CooperativeMilford
HELP Homeschool offers enrichment and academic classes taught from a biblical perspective. HELP partners with the parent for the purpose of equipping families in the God-given task of educating chi...
Excellence in Learning Community Co-opNewark, Licking County
This community, founded in 2009, is a 501c3 cooperative and serves families in Newark, Licking County, and Central Ohio, providing co-op class experiences ranging from fun little kids PE classes to...
Wapakoneta Christian Homeschool Co-opWapakoneta
The Wapak Christian Homeschool Co-op started in 2018. The co-op meets on Thursday mornings at Harvest Baptist Church in Wapakoneta, OH. This is a Christ-centered homeschool group that seeks to give...
Ohio Homeschooling Classes & Academic Enrichment
Kid Center Akron Home School Support ProgramAkron
New Home School Service. Offering a supervised learning environment from 9am to 1pm daily. Students can come into the center and log-on and complete their online assignments. They will receive snac...
Learn Fine Art: Screenprinting, Painting, Drawing, Digital Art Mediums, Etc.Akron
Rubber City Prints is an Akron based local non-profit printshop that provides fine art workshops, field trips, visiting artists, and one-on-one fine art or digital media lessons and tutoring to int...
Allen County Christian Homeschoolers Enrichment DayAllen County and the surraounding areas
Offering Enrichment Day class on Tuesdays during the school year as well as field trips, monthly get togethers, and special events.
Education A La CarteBeavercreek
Education A La Carte is a collection of educators who are providing quality homeschool classes at a central location in the Miami Valley.
Learn With JoyBoardman
Learn With Joy was founded by twelve year veteran teacher and preschool program director. Learn With Joy educational classes are based on research-driven methods and best teaching practices.The Lea...
Sylvan Learning of Bowling GreenBowling Green and Fremont
This organization is here to help students not performing at grade level and need that extra help getting caught up to where they need to be. This organization utilizes an insight assessment prior ...
Huntington Learning Center Tutoring ServicesCincinnati
Huntington Learning Center is the nation's leading provider of tutoring and exam prep services. The Anderson center has been serving Anderson, Ohio and the surrounding area for over 16 years. Hunt...
Providence Extension Program (PEP)Cincinnati West
PEP is a two day a week classical Christian support program for middle/high school age students. There are currently three campuses in the Cincinnati area, Mason, Milford and Cincinnati West. Ple...
Academic TutoringCincinnati/Montgomery
Providing educational services in the Greater Cincinnati area for over 20 years. Certified educators work with students in a 1:1 environment, teaching reading, writing, math, and study skills. ACT...
Pediatric Behavioral and Psychological Services, LLCCleveland
Pediatric Behavioral and Psychological Services, LLC strives to provide unparalleled therapy and counseling to every client that they work with. Their priority is to improve the quality of life of ...
German Language School ClevelandCleveland
The German Language School Cleveland offers German Language classes on Cleveland's west side in Olmsted Falls and on the east side in Novelty, OH. Classes are offered Monday evening (Novelty) and W...
The Education Capital GroupCleveland and Columbus Ohio
The Education Capital Group is excited to offer services to Homeschooling Families throughout the great state of Ohio. Services include: Academic Tutoring K-12, ACT/SAT Preparation, Test Preparatio...
College ColleaguesCleveland, Columbus, Akron
College Colleagues offers seminars and workshops to help prepare homeschooled men and women to matriculate to university life. The new College Preparedness Seminars are focused on helping young men...
Veritas AcademyColumbus
Veritas Academy is the only private, classical, Christian school in Columbus that utilizes the university model and provides homeschooling families the opportunity to give their children a distinct...
Valor Preparatory Academy of OhioColumbus
Valor is founded by trailblazers with nearly two decades experience in online and blended community school leadership. Offering a superior education in a blended learning environment, students at V...
Columbus Learning CooperativeColumbus
The Columbus Learning Cooperative is a community alternative to school for learners ages 10-18. Students register as homeschoolers and then come to the CLC 1-5 days a week to take classes or work o...
Columbus Area Speech TherapyColumbus
Speech Therapist, Jen Ujcich, offers speech therapy with the knowledge of effective strategies to help your child's communication FLY through home visits or clinic appointments. Ms. Ujcich accepts ...
Maximum Success Business and Leadership ClubColumbus
This is a community based, business and leadership club designed to align individuals with achievement driven peers in a collaborative way. The goal is to develop and inspire financially literate,...
Ohio Chess AcademyColumbus
Depending on the needs of the home-school group a chess class can be held for one or more hours. During class, students will receive equal parts instruction and structured play time. It is importa...
The Sewing HiveColumbus
This facility offers sewing classes for grades 6-12, has structured 10 week sessions to teach basic home sewing skills for groups and individuals within the months of September through May.The...
Terrific Teaching ToolsColumbus/Gahanna
Providing supplemental material for homeschool parents - elementary, middle school and high school
Miami Valley Homeschool ClassesDayton
This is a collection of homeschool classes for a variety of ages that meet in one location on one day. Classes offered include LEGO Stem, Art, Drums Alive, Apologia Science, IEW, Civil War, Film M...
New Heights Educational Group, IncDefiance
The New Heights Educational Group, Inc. promotes literacy for children and adults by offering a range of educational support services. Such services include: assisting families in the selection of ...
GradePower Learning Fairview ParkFairview Park
Tutors at GradePower Learning® learn about your child and develop a plan for his or her success. GradePower Learning® goes beyond tutoring, to help ignite your child's interest in learning, not jus...
Licking Park District Homeschool HappeningsGranville
Homeschool Happenings is a homeschool program designed for students ages 7 – 10. Homeschool Happenings is scheduled for the third Thursday of the month unless otherwise noted. The typical program i...
Engineering For Kids of Akron OhioGreen, OH
Contact your local Engineering For Kids to learn more about our special events, after-school programs, workshops, and more
Boy Scouts of America in OhioGreene County, Champaign County, Logan County, Clark County & Clinton County
Youth programming, boys ages 7-21, girls ages 14-21
Boy Scouts of America, Troop 53, Loveland, OHHamilton Township & Goshen, OH
Troop 53 meets every Tuesday night from 7-8:30 pm during the school year at: Bethel Murdoch Presbyterian Church Fellowship Hall, 9602 Murdoch-Goshen Rd, Loveland, OH 45140. Boy Scouts are 11 to 18...
FavorYourChild Educational ServicesHamilton, Butler & Warren Counties
"Favor Your Child" Educational Service is a learning support company that provides intervention, remediation, and enrichment to students in grades (1-8) who may have IEPs or ISPs or are experiencin...
Sylvan LearningLewis Center
Sylvan Learning is a supplemental education resource for students to catch up, keep up, or get ahead, and is a provider for both the Jon Peterson and Autism Scholarships. Sylvan starts by pinpoint...
Sylvan Learning of Lewis CenterLewis Center
Sylvan Learning is a resource for families wanting some additional support in their child's education. Sylvan provides personalized programs for reading, writing, math, study skills, ACT/SAT Prep,...
YouSchoolLicking County
YouSchool provides classes for homeschooling families offered by teachers of various expertise without a membership or fundraising requirements. This allows families to pick and choose what they wa...
Bramble Farm Cottage SchoolMedina
Bramble Farms is a cottage school offering tutoring, workshops and homeschool coaching.
Greenacres Water Quality Education CenterMilford
Greenacres offers a variety of two hour afternoon homeschool programs designed for students ages 10 and up, offered by Ohio certified teachers. Programs include Geoscience, Physical and Chemical Pr...
Homeschool Investigations @ The Dawes ArboretumNewark
Supplement your science curriculum by joining other home school students in hands-on science study. Home School Investigations introduce students to basic principles of ecology and biology while nu...
Civil Air Patrol Cadet Program for Homeschooled Boys and Girls Ages 12-18Northeast Ohio
The Civil Air Patrol's (CAP) Cadet Program offers homeschoolers many opportunities to help meet or exceed Ohio's Learning Standards. CAP's weekly cadet meetings and monthly special activities offer...
The Etiquette FactoryNortheast Ohio
Providing etiquette classes to open doors for your child. These etiquette classes are fun, interactive and educational.
Heritage Classical Academy Study CenterNortheast Ohio
The Study Center partners with homeschool families to support their efforts to educate classically by providing a proven curriculum, passionate teachers, and a Christ-centered environment. This par...
Children's Etiquette and Manners ProgramsNortheast Ohio.
Offering Children's Etiquette and Manners programs, all ages. Please visit www.theetiquettefactory.com/misskim or call 3330-888-2308.
Ohio Classical ConversationsOhio Statewide
CC is a national homeschooling program that uses a Bible based curriculum taught in a christian, classical tradition. Classes are geared for age 4 through high school.
Ohio Sea Grant Stone LabPut in Bay/Port Clinton
Offering science field trips and college-credit courses for advanced high school sophomores, juniors, and seniors. Students each year will have the opportunity to pull a fish trawl/net off of a lar...