Jump to: Homeschool Co-ops | Homeschooling Classes & Academic Enrichment
Looking for someone to teach physics to your teen? Need a way to avoid teaching algebra? Want to enroll your Kindergartener in a co-op for social time? Homeschool classes and co-ops are a great way to spend time with other homeschoolers and skill-share with other homeschool parents.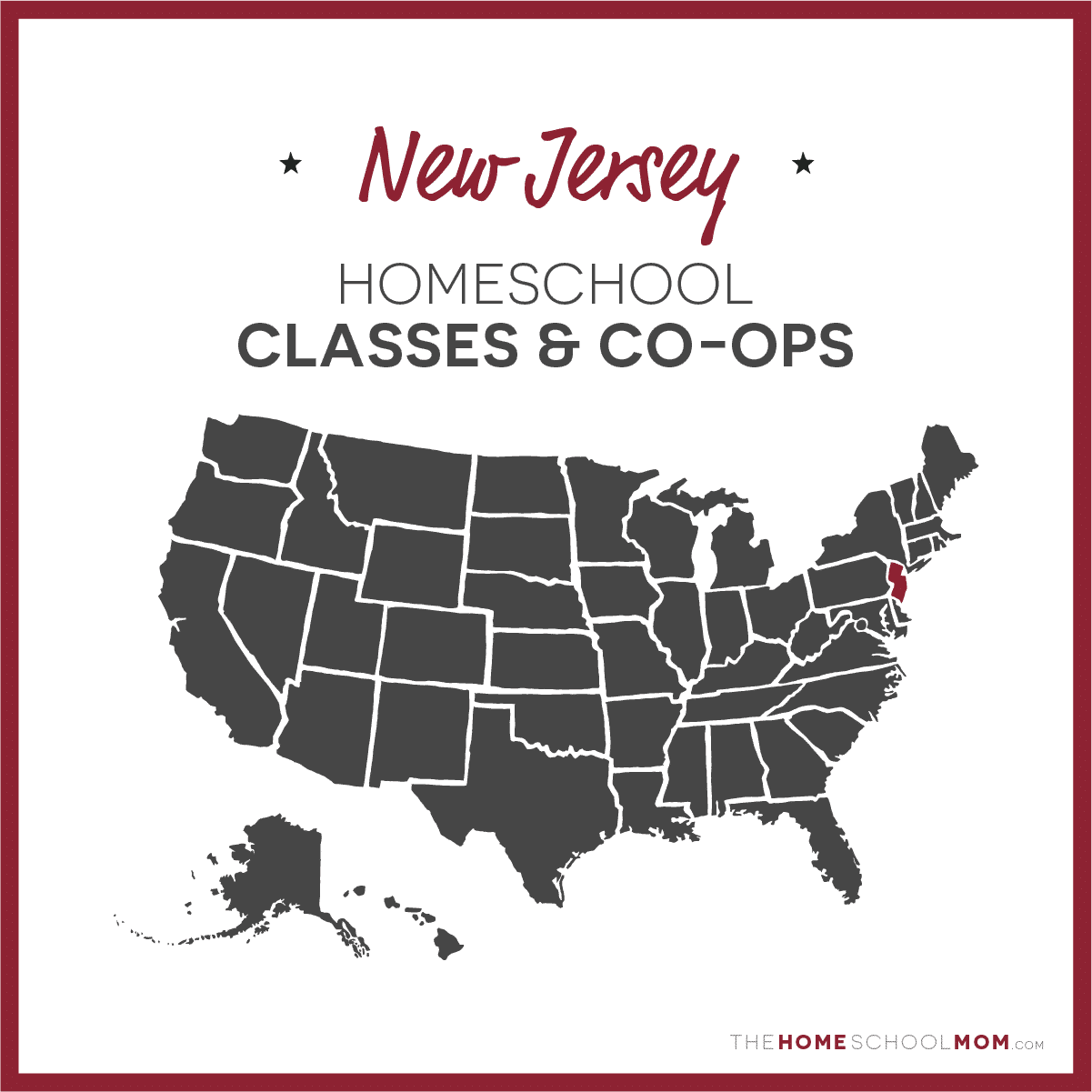 Submit a Local Resource
Our listing of New Jersey co-ops and academic classes for homeschoolers is ordered alphabetically by city, with co-ops in the first section and all other academic resources below. If you would like to submit a New Jersey co-op or academic resource, you may do so using the red button above.
New Jersey Homeschooling Co-ops
Seat of Wisdom Homeschool Cooperative

Allentown

SOWers consists of Catholic families whose primary purpose is to provide: - an academic environment to supplement our homeschool curricula - aid in the salvation of our souls - be faithful to the Magisterium of the Holy Roman Catholic Church.
Knowlton Fine Arts Homeschool Co-op

Blairstown/Columbia

Knowlton Fine Arts is a Christian non-denominational homeschool group drawing participating families from across Northern New Jersey and Northeast Pennsylvania. We exist to develop excellence in arts and music in our children, and to be a vibrant community for children and parents alike in friendship, encouragement, and sharing in the important and rewarding job of homeschooling.  During the school year we meet at 3 Knowlton Rd, Columbia, NJ 07832.
Tree of Life Coop

Bound Brook

Tree of Life Co-op is a homeschool parent led group meeting on Fridays from 9:45-3:00pm with learners from ages 3-14 years old. We are devoted to our children's education while creating a fun hands-on learning environment.
Tree of Life Co-op

Boundbrook

Tree of Life Co-op is a homeschool parent led group meeting on Fridays from 9:45-3:00 pm with learners from ages 3-14 years old. We are devoted to our children's education while creating a fun hands-on learning environment.
L.E.A.R.N - Liberty Education and Resource Network

Elmer

LEARN is a ministry of Faith Orthodox Presbyterian Church in Pole Tavern, NJ, and is run by a volunteer Board that is overseen by the Elder Session of Faith OP Church. The mission of LEARN is to assist and support parents in the training of their children by providing classes to supplement and enrich their education. LEARN is not to be seen as a replacement for parental instruction, but as a supplement to and an extension of Christian education and nurture in the home. LEARN is a cooperative learning opportunity for children pre-K through 12th grade.  LEARN is a cooperative effort in every sense. There will be a pooling of our skills and resources. Everyone must contribute to our success. One parent must be present every hour one of their children is attending classes. This is not a profit-making venture, but a ministry by families to families. Prices of classes are determined by the costs of supplies alone. Teachers will be giving of their time. All LEARN Classes are classified by specific age brackets. A student's age for Class Registration is determined by his/her age on the first day of the current semester (fall or spring) in which you are registering. A student may only register for classes in which he/she meets the age requirement. Although we offer pre-school classes, all LEARN families must have at least one child participating in the classes who is at least five years old by the first day of the current LEARN semester.
The Learning Connection Homeschool Co-op

Hackettstown

The co-op runs on Thursdays from 9:30-2:15 PM weekly for 31 weeks (September to May). There is a 2 hour minimum registration. Click the link below to view the class grid. It is financially reasonable as most of the classes are supply fees only. The public home page is www.mytlcnj.com Academic classes offered for Pre-K through high school. New this year is a dual credit class through Pillar College with an adjunct professor. The class is for 11th-12th graders. Taking this class will allow your student to put this on their transcript and will not need to take it in college. If you have any questions, please do not hesitate to contact us at info@mytlcnj.com. 2017/2018 list of classes offered at https://www.homeschool-life.com/809/class/?public=1&private=
The Learning Connection (TLC)

Hackettstown

The Learning Connection is a Christ-centered home educating support group ministering to families in Northwest Jersey. TLC is here to encourage you on this journey of home schooling through many facets. TLC's co-op is the most attended event with low cost, member teachers, specialized outside teachers, core and elective classes and great fellowship.
Agape FaithWorks

Howell Township

Agape FaithWorks is part of Agape Bible Church Ministries
Greystone Academy - Hamilton

Mercer County

Greystone Academy is a Christian hybrid school offering the flexibility of homeschooling with the benefits of a private school. For the 2023-2024 school year, we will be offering classes at two locations: Hamilton, New Jersey where we opened for the first time in Fall 2022, and Newtown, Pennsylvania, where we offered classes from the Fall of 2013 to the Spring of 2022. For days, tuition, and class descriptions, see our Classes page. Our mission is to provide a community for home-schooled students, to offer an accommodating atmosphere where students of all academic levels are welcome, to design adaptive classroom styles that nurture accelerated learners and those who need extra attention. Families of all faiths are welcome, we teach from a firmly Christian worldview, and our teachers use the Nicene Creed as our statement of faith. Email: Greystoneacademypa@gmail.com
Living Water Home Educators

Mount Laurel

Living Water Home Educators is a homeschool support group. The $35 annual membership fee provides full access to the Living Water members only website. This includes access to calendar events (including social activities for students and parents), business and member directories, informational forums, and support meetings.

Membership also includes Living Water Enrichment (LWE), our group's homeschool co-op classes. We offer both core and electives classes. Please note, participation in LWE requires an additional per semester fee that covers facility rental expenses and costs associated with co-op classes. Individual classes may have minor class supply and/or lab fees. LWE classes are held for children in kindergarten through high school. In addition, we offer nursery and toddler rooms for younger, non-school aged siblings. Parents who have children attending co-op are required to serve in some capacity.
Redeemer Academics & Collaborative Education

Mount Olive

Redeemer is a unique home-based learning initiative designed to enhance a student's academic journey through collaborative education. It is a fast-paced group which relies heavily on students who are actively engaged, willing to contribute, read during class, and participate in discussions. It is designed for self-motivated students who enjoy group dynamics and interaction. Collaboration Groups meet weekly at a fraction of the cost of online classes or private school tuition. The current academic schedule has been designed for grades seven through twelve. Students have the choice of enrolling in single or multiple classes and attending single or multiple days depending on their academic needs. Some classes have the added benefit of being possible via Zoom meetings: please review the class descriptions for recommendations. Classes focus on higher level sciences, history, and language arts along with engaging electives to enrich the student's high school transcript. Daily homework assignments, essays, projects, and tests are assigned weekly and reviewed during Collaboration Group sessions. Some classes have the added benefit of being possible via Zoom meetings. Redeemer also offers a support group only option which allows participation in field trips, game nights, holiday parties, and academic workshops. Private tutoring, homeschool curriculum development, and college planning are also available.
BRIGHT (Believers Rooted in God Homeschooling Together)

Netcong

We are Believer's Rooted In God Homeschooling Together. Our goal is to be bright; radiant for Christ, full of his wisdom and knowledge as we work together to educate our children. BRIGHT Co-op meets on Fridays beginning the first Friday after Labor Day in September and ending the last Friday in May.

BRIGHT (Believers Rooted in God Homeschooling Together) details
Walnut Grove Coop

Newark

Walnut Grove Coop is a nonprofit educational organization serving Delaware, Maryland, New Jersey, and Pennsylvania. This group provides opportunities for children to learn in a respectful, inclusive, secular community through fun classes and meaningful experiences. Walnut Grove Coop offers both instructor and child-led homeschool enrichment programs.
Freedom Homeschool Co-op

Oak Ridge

Freedom Homeschool Co-op is a brand new co-op beginning in September 2021. We are open to all Christian families homeschooling students 1st-12th grades. Our goal is to provide parent-taught classes for 1st -8th grade, while building a high school program focused on 4 core subjects taught by compensated teachers with knowledge and expertise in a particular subject (Math, Science, History, Literature). All grades meet once per week for 5 class periods. High Schoolers have a second day of class during the week intended to keep students on track and ensure they are understanding the lessons, as well as to offer extra help for those who need it. Both days are mandatory for registered members.
Aquinas Learning Center

Oldwick

The Aquinas Learning curriculum was established in 2009 by a handful of families looking for a form of education that better fit their philosophy of education and life. A curriculum that is Catholic at its core, classical in its approach, family-friendly in its presentation, with subjects that are integrated in the pursuit of Truth, Goodness, and Beauty. The program is flexible because it can be used at home independently at own pace, or a family can join a center licensed to use the Aquinas Learning curriculum in a hybrid-school model, where the community of learners meets once a week to learn materials that are further studied at home during the rest of the week.
BRIGHT Co-op (Believers Rallied in Groups Homeschooling Together)

Zarephath

A homeschool cooperative located in New Jersey's Somerset County, organized to provide home education families an opportunity to enrich or supplement their children's academic curriculum and social experience within the context of a Christian-based group. Classes meet each Wednesday at 9:00am at the Zarephath Children's Ministry Center on Weston Canal Road off Route 287, Exit 12. BRIGHT's classes are parent-initiated and parent-led.

BRIGHT Co-op (Believers Rallied in Groups Homeschooling Together) details
New Jersey Homeschooling Classes & Academic Enrichment
Brain Balance Achievement Center

Allendale

The Brain Balance Program is a non-medical and drug-free approach to overcoming the challenges of ADHD, learning disabilities, processing disorders, Asperger's syndrome, and a host of other related childhood learning and developmental issues. Our integrated approach combines physical and sensory motor exercises with academic skill training and healthy nutrition.
Bergen Educational Consultants

Bergen County

Bergen Educational Consultants use a Christian approach offering enrichment classes in Math, the sciences, and Language Arts, as well as general tutoring in all subject areas for grades 2-12. Also provides an SAT/ACT prep program and private college guidance. Locations are open six days a week, and offer a summer program from June through the beginning of September.
Pediatric Occupational Therapy Services

Bergen County

Since 1991 our team of therapists has helped hundreds of children move, play and grow. The most cutting edge techniques are a cornerstone of our approach to therapy. Each POTS therapist is committed to empowering your child to maximize his/her potential. Parent-friendly hours, sensory gym, school or in-home sessions, workshops and curated reading materials for parents. 3 sensory gyms, fine motor areas, a Medek room, kitchen, hallways designed for action and a pool in the neighborhood.
Dinosaurs Rock & Other Science Fun

Bergen, Essex, Middlesex, and Monmout Counties

We Bring The Museum To You! Dinosaur Rock offers the most authentic learning experience with our expansive exhibits of museum quality specimens. Offering 4 science themes: Dinosaurs, Gems, Oceans & Sharks, and Insects. Each theme contains an interactive presentation and hands-on activity options like a fossil dig, panning for gemstones, geode opening, shark tooth neck-lace making and more where students keep real fossils, minerals, seashells... Events are customized for your group to cover curriculum requirements and a multi-session course can be created. At your location! Celebrating our 23rd year. We also offer hands-on DIY activity supplies.
Brooklyn Creative Learning Lab

Brooklyn

Based in the heart of Dumbo, Brooklyn, the Brooklyn Creative Learning Lab offers vibrant online and in-person Creative Lab Courses for students in middle school, high school, and early college. Our Labs foster collaboration and design thinking; they culminate in digital portfolio projects that showcase students' personal passions and community engagement. Final projects depend on student choice and have ranged from podcasts to interactive blog postings to short-form videos to reinvented items of recycled clothing. We encourage student engagement with the U.N. Sustainable Development Goals and social entrepreneurship at every stage of the project-based learning cycle. Our Labs prepare students to develop robust digital portfolios of projects ready to attach to the leading online high school and college applications. Each Lab is support by a committed instructional team of experienced educators, student teachers, experts in each field, and celebrated guest speakers. See student projects here:https://www.meshedco.org/student-voice-and-projects
Animal Academy

Camden County

Animal Academy utilizes Animal Welfare Association's state-of-the-art Adoption Center and Clinic to teach about various Animal Science topics ranging from safe animal handling to careers in the industry. Classes are monthly with the option to book private classes for groups of 10+. The Animal Academy program is a chance for homeschoolers ages 8-17 to engage in experiences unlike any found in a traditional school environment or home classroom. Each 90-minute session is taught by trained instructors from Animal Welfare Association's Education department. They include hands-on lessons where students will be given the tools, materials and detailed instruction to learn about unique areas of animal sciences, welfare, conservation and more. The curriculum includes lessons on: Veterinary medicine Animal shelters Animal handling ecosystems, food chains and symbiotic relationships Careers working with animals and much more! Activities will be STEAM-focused and designed to fit into any homeschool curriculum. Our holistic approach to education sees students work both independently and in group environments, with a focus on promoting active engagement in their learning to deepen their understanding of subject matter.
Cape May Whale Watcher

Cape May

The Cape May Whale Watcher is excited to offer innovative marine science field trips on the largest boat in Cape May. Along with dolphin and whale watching we can also cover a broad range of marine science topics from habitats and ecosystems, water quality, and much more! These unique, fun, and educational field trips are taught by our educated staff and focus on hands on experience in this unique learning environment. We are committed to our goal in furthering education on the marine environment and providing a safe and fun learning environment on the water for groups of all ages.
Kim's Critter Classes

Central Jersey

Offering hands-on learning opportunities in environmental science topics. Topics include: Arthropods-spiders and bugs, Bones & Skulls, Tracks & Scat, Predator vs Prey and many other programs that can include a game and craft project. Reasonably priced and will travel to you. Please contact for additional details or to book a class.
Mosaic Freeschool

Chatham

Mosaic Freeschool is a learning community that provides homeschool families the freedom to choose educational experiences. We offer classes for middle school and high school aged students. Our goal is to meet individual needs, not arbitrary standards, while fostering inspiration in children. Mosaic Freeschool is not a homeschool co-operative where parents are expected to remain on site or facilitate a class. All classes are drop-off, and offered one day per week. Using the university model, most classes are ninety-minutes in length, and students may sign up for one or more classes. Our academic year is divided into two fifteen-week sessions, fall and spring
STEM Field Trip Program at ISC Cherry Hill

Cherry Hill

Using curriculum based off other successful roller skating rinks, students will walk away with a new understanding of core STEM values. The program's curriculum will be taught by a certified teacher that includes real life examples of how skating centers use science, technology, engineering and math in everyday activities. This program includes lesson plans for 1st through 8th graders and meets New Jersey core curriculum content standards.
Busy Bee Homeschool Academy

East Brunswick

Busy Bee offers classes during the day for homeschooled children and teenagers. Classes range from sewing and fashion design to academics such as German language and social studies. Classes are taught by passionate individuals with practical skill in the field. The director and primary teacher has a M.Ed in Adolescent Social Studies Education. In the past, Busy Bees have done some really cool things, like sew Masquerade Gowns for the East Brunswick Gala! The program runs on Tuesdays and Thursdays and has a 9-12 & a 12+ cohort (12 year olds may decide which to be with). Kids will learn the same skill: a set of vocabulary words in German, theme in ELA, or the context for a historical event- then break into age/skill groups to further dive into the topic with discussion and activities. Kids can choose their classes, but it is possible to stay from 9:30am to 2:50pm.
Zuckerman Tutorial Services

Essex and Union Counties

In home homeschooling support and tutoring in mathematics with a certified teacher. Services include but are not limited to 1-on-1 tutoring in mathematics for homeschooling students. Convenient daytime hours are available.
Maker Depot Academy

Essex County, Morris County

We are a 501c3 with a focus on STEAM Education. We are a mobile makerspace. We have a 15 ft trailer equipped with a laser cutter, CNC, 3d printers and more. We offer age appropriate classes for children ages 5 and up. With our trailer, we can bring the classes directly to you.
Electronics at Home (online)

Fairhope

This resource is designed for those who pose "The Edison Trait" so all kids will love the Hands-On learning of Electronic Engineering Technology. Only $65 a quarter and lab equipment that will be used for over two years of instruction, if you chose. Age 8 to 108.
Lorrimer Sanctuary

Franklin Lakes

Lorrimer Sanctuary is located in Bergen County NJ. It is a New Jersey Audubon environmental education facility and wildlife sanctuary offering a variety of programs, classes, summer camps, and volunteer opportunities for kids and adults. Interested families or groups can reach out to mary.birrer@njaudubon.org for more information.
Scotland Run Park

Gloucester County/ Clayton

Scotland Run Park is a 1200 acre nature park, complete with a newly renovated Nature Center with live animals. We offer outreach, nature programing, visiting school groups, and Summer camp. Wilson Lake is open to fishing and boating, year round, and our pavilion can be used year round and rented for special events. We also have a playground, trails, and bluebird boxes for citizen science. Learn how you can train to be a bluebird monitor!
Yogi Berra Museum & Learning Center

Little Falls

The extraordinary life of Yogi Berra is rich with educational opportunities for young people. The Museum's education focus is to promote the values that made Yogi a national treasure -- respect, excellence, perseverance and teamwork -- through interdisciplinary programs that weave together such content areas as: • STEM: Science, Technology, Engineering & Math • Literacy: Spoken Word & Theater • Character Building: Civil Rights, History & Debate For more info: Education Director, Jenny Pollack, pollackj@montclair.edu
NJ Meadowlands Environment Center

Lyndhurst

The Meadowlands Environment Center has hands on educational programs for grades K-12. Our experienced team of educators will introduce your students to a variety of topics while satisfying the NJCCCS. Through inquiry learning and cross-curricular activites, you and your students will experience the best of these unique wetlands.
Plum Crazy Robotics & Labs

Marlboro

Plum Crazy Robotics offers classes in Robotics, Coding, Electronics, Bluetooth, IOT, GPS, 3D printing, CNC machining, 3D Game Building, Gaming and tournaments. Augmented Reality (AR), Virtual Realty (VR) projects. Plum Crazy Robotics and Labs has a goal to spark imagination which fuels the fire for lifelong learning Plum Crazy Robotics teaches ongoing monthly technology classes. The student comes once per week for 90 minutes (4 times monthly and a monthly registration is required). Classes are taught by project-based learning where students gain fun and exciting experiences creating new projects constantly. Because technology is changing daily, the projects that Plum Crazy Robotics offers are constantly changing. rs.
LearningRx Marlboro

Monmouth County

LearningRx is a brain training program designed to improve cognitive skills has help kids improve attention, focus and concentration, as well as reading, math and comprehension. LearningRx offera a one hour comprehensive cognitive skills assessment to identify an individual's strengths and weaknesses. LearningRx Marlboro would like to extend an offer of 50% off an assessment to anyone who is referred to our center through TheHomeSchoolMom.com
Teaching the Dyslexic Mind

Monmouth County, Ocean County

The purpose of our mission at JSLC is to not only teach our home-schooling parents how the dyslexic mind learns but to also foster a love of learning in each child so they have a foundation on which to build a fulfilling life of their own. We want to enable them to find what will make them prosper spiritually and for their livelihood by helping them to become a life-long reader. (Reading is a basic tool in the living of a good life." – Joseph Addison). We want to create strong citizens who have knowledge of the world they live in through the gift of reading. We want to show them that learning is a life-long endeavor and that knowledge and experience are steppingstones to wisdom. Parent can register for  FREE resources in the online "Shop" section of the website.
Ms. Ally's Music Lessons

Montclair

My name is Allyson Latini also known as "Ms. Ally". I am a private music teacher in Montclair NJ. I provide piano, voice, and songwriting lessons. I have students ages 4-adults. I also teach enrichment courses in Montclair Elementary school, as-well as Hoboken Charter School (Middle School & High School). I am looking to expand my services to the home schooling community. All my lessons are interactive and offer a positive learning environment. I truly work hand in hand with my students to meet their unique goals. My lessons implement the core value of music appreciation as well as music theory.
Religious Education at the Unitarian Universalist Congregation at Montclair

Montclair

The purpose of the Religious Education Program is to guide our children, youth and adults in: Nurturing the individual spirit within our loving community; Understanding that we are part of Unitarian Universalist heritage; past, present and future; Cultivating curiosity about, appreciation for, and engagement with, all faith traditions; Developing a lifelong practice of service; Encouraging mindfulness and a sense of wonder. Student Course Offerings Coming of Age (9th & 10th Grades): A year-long curriculum helping teenagers to learn more about Unitarian Universalism and articulate their own theology. Creative Edge: Best for Kindergarten through 6th Grades and New to the U kids. Multifaceted creative exploration of foundational UU values. Dungeons and Dragons: For 4th through 12th grades. Explores CORE UU VALUES and TRADITIONS through D&D fantasy role-playing adventures. Living Into Social Justice: ONLY for Trimester 1 pre-8th grade OWL - formerly called Heeding The Call. Minecraft: An Introduction to the Neighboring Faiths curriculum. Best for 3rd-5th grades, and children with previous Minecraft and tablet experience. Our Whole Lives (OWL): Heeding the Call encourages youth to reflect on their own lives while also making connections to the lives lived by others. 8th Grade Students

Religious Education at the Unitarian Universalist Congregation at Montclair details
North Jersey Homeschool Science

Morris County

NJHS offers hands-on science and STEM enrichment programs for homeschoolers. They offer options designed to meet the needs of the homeschool community, ​with multi-child and multi-class discounts, morning and early afternoon scheduling, and drop-off workshops.
Keep It Simple – Keep It Real with Marty Ford

Morris County

Marty Ford is a Certified Teacher with twenty years background, history and experience working with Special Education and Regular Education students in grades 8-12. Marty is also a Certified Life Skills Trainer who has worked with those who desired to enhance, enrich, enlighten, educate and empower their academic and personal standings. During regular school hours I am available to meet with the students and staff to facilitate a group lesson at a setting of your choice. You can suggest topics for which I am capable of delivering a presentation. All topics must be approved by your school prior to presentation.
All Jersey Driving School

Mount Laurel

All Jersey works with each child to help them be as prepared as they can be when they become New Jersey drivers; whether that is the basic 6 hours that New Jersey requires or just a few hours more.
Redeemer Academics & Collaborative Education

Mount Olive

Redeemer is a unique home-based learning initiative designed to enhance a student's academic journey through collaborative education. It is a fast-paced group which relies heavily on students who are actively engaged, willing to contribute, read during class, and participate in discussions. It is designed for self-motivated students who enjoy group dynamics and interaction. Collaboration Groups meet weekly at a fraction of the cost of online classes or private school tuition. The current academic schedule has been designed for grades seven through twelve. Students have the choice of enrolling in single or multiple classes and attending single or multiple days depending on their academic needs. Some classes have the added benefit of being possible via Zoom meetings: please review the class descriptions for recommendations. Classes focus on higher level sciences, history, and language arts along with engaging electives to enrich the student's high school transcript. Daily homework assignments, essays, projects, and tests are assigned weekly and reviewed during Collaboration Group sessions. Some classes have the added benefit of being possible via Zoom meetings. Redeemer also offers a support group only option which allows participation in field trips, game nights, holiday parties, and academic workshops. Private tutoring, homeschool curriculum development, and college planning are also available.
The Hobby Quest

New Jersey Statewide

Aviation Club after school enrichment for kids who are interested in the FUN and EXCITING world of aviation, hobbies and model building. Each young aviator masters craftsmanship skills, learns about the physics and dynamics behind flight, gains respect for their creations and the goals that they will achieve as well as enhancing their intellectual and social abilities. Our entire program is written and approved by the Federal Aviation Administration (FAA). We offer our aviators a wide variety of models to build. We also build various aviation related science experiments from scratch. The Hobby Quest Clubs are designed for children to take home great flying model airplanes and experiments. Most importantly each aviator will take home skills to last a lifetime through our gateway into the wonderful world of craftsmanship, hobbies and sciences.
New Jersey Classical Conversations

New Jersey Statewide

CC is a national homeschooling program that uses a Bible based curriculum taught in a christian, classical tradition. Classes are geared for age 4 through high school.
Pillar College

Newark

Located in the heart of Newark, NJ, Pillar College Prep offers a quality, private high school educational experience, from a Christian worldview for students in grades 11 and 12. Students can earn up to 30 transferable college credits through the DEED (Dual Enrollment EDucation) program, while completing the requirements for a NJ state issued high school diploma. Pillar College helps homeschooled students earn a NJ High School Diploma and up to 30 college credits during their junior and senior years of high school. Tuition is affordable and competitive, representing a significant savings for the first year of college Low student-to-teacher ratios while maintaining a rigorous and robust academic experience led by college faculty. With 10 students for every one faculty member, Pillar College ranks among the best colleges when compared to the national average of 15:1. Easy access and close to transportation, located within the Military Park Building (near NJPAC)
The Village Electric

Newark

The Village Electric is a colearning center in Mountainside, NJ that provides a learner-driven environment for PreK - 5th grade homeschoolers catalyzing natural curiosity and nurturing a lifelong passion for learning. A small group of learners come together to work on their coursework, participate in tailored enrichment activities, and collaborate with their peers — all supported by an experienced Guide. Families can use any curriculum and schedule that works best for their children. Fill out this form to learn more: https://www.thevillageelectric.com/contact
Montclair Learning Center Home School STEAM days

Northern NJ

The Montclair Learning Center offers small group STEM classes for Home School students on Tuesday and Thursday morning. Students and their families provide input and the instructors put together fun and engaging classes based on the groups unique needs. Example classes include; building robots, intro level coding, math, "making blood" and examining finger prints in CSI lab, growing crystals, and of course lots of slime. No commitment required. Classes are drop in style and sold as 1 class for $22, 4 classes for $80, 8 classes for $150, and 12 classes for $225.
Meet The Pharaohs Exhibition and Workshops program for school children

PA, DE, NJ

An educational program on ancient Egypt that teaches children through creative, hands-on on various topics of this amazing culture. Topics include: *Kings of Egypt *Queens of Egypt *Jewelry and Fashion *Lifestyle *Architecture *Communication * Family *The magic of symbols *Ancient Egypt and Africa *Ancient Egypt animal deity *Mummification and Afterlife...etc. Workshops and lectures can be done in your space or on-line

Meet The Pharaohs Exhibition and Workshops program for school children details
GEZ: Girls Empowerment Zone

Philadelphia area

GEZ is a 501(c)3 PA nonprofit program for ages 7-14. The President of this organization homeschools her children and knows that the program impact on today's young ladies. The GEZ program offers the following to girls and engagements for Moms * Customized 5 week Summer Experience/Camp (both overnight & day camp options available)-June 24-August 2,2018. Registration opens Dec 1, 2018 * Mother-Daughter Weekend Retreat-May 31 - June 2,2019. Registration opens January 2019 (5th-8th grade girls) * Particpation In academic enrichment(Math, Reading & Language)-email us for details *Saturday Program: September 2019-May 2019 - Are you & your Powerful girl ready to join us? Spend 2 Saturdays a month exploring different genres of Music, Art, Science and Culture. Includes surprise guests and field trips. Registration opens September 1, 2019 GEZ@TheWomensEmpowermentSeries.org
Steam Works Studio - Princeton

Princeton

Hands-on educational STEAM programs for children from ages 4-16 years. These include Robotics, Electronics, DIY, Raspberry PI, Arduino, Animation programs, Coding in Python, JAVA, iPHONE game development, 3D Printing and CAD, Rocketry and flight programs and numerous such hands on applied project based learning. We conduct weekend, weekday classes as well as SUMMER and WINTER Camps.
Stone Hill Learning Center

Princeton

Stone Hill Learning Center is Central New Jersey and Western Pennsylvania's hybrid homeschooling partner! This homeschooling enrichment program is available one, two, or even three days a week for your homeschooled child to have a more traditional "classroom" experience. Our staff of qualified educators provide collaborative and enriching learning opportunities for children in preschool, elementary, middle and high school. Courses and club subjects include: math, writing, languages, art, music, history, science, chess, photography, and more! Please visit our website or Instagram page (@stonehilllearningcenter) to learn more and find the link to register.
STEAM Works Studio

Princeton

Our facility at 135 Village Blvd. Princeton, NJ is a large Maker-space for K-12 students with a cutting edge set of tools in various types of 3D printers, Laser Cutting, Wood Workshop tools, Robotics arena. We highly encourage students to come and join our customizable programs in Robotics, Coding, AI & Machine Learning, Physical Computing with Arduino, Raspberry Pi, Soldering and DIY Electronics, Chess, Math, CAD, Puppetry, Pottery, Music and Art programs. Weekday and Weekend classes, B'Parties and Camps. Come and visit us with your friends and explore the variety of programs we offer or join our Competition teams. 844 265-9880 or email us at info@steamworksstudio.com
Fusion Academy - Princeton

Princeton, Englewood, and Morristown

Fusion Academy offers one-on-one classes as well as academic mentoring and enrichment. Home school students can take advantage of science labs, recording arts studio, yoga room, or any of the over 400 courses offered.
Farrington's Music

Princeton, Skillman, Mercer Co

Qualified instructors are waiting to help you enjoy the pleasures that come from making music. Lessons are one-on-one, 1/2 hour lesson once a week for $32 each for an optimal learning experience. We provide lessons on ALL instruments: Piano, Guitar, Bass Guitar, Sax, Trumpet, Flute, Clarinet, Violin, Viola, and More...
scienceSeeds

Princeton/Mercer County

scienceSeeds is a science enrichment program that seeks to engage children and their parents in discovering the mysteries of the world we live in. scienceSeeds offers after-school classes, camps and science-themed parties in an inviting, nurturing, family-friendly environment.
S. A. L. T. Speech, Accent & Language Training Institute

Princeton/Mercer County

Tutoring services addresses the needs of children who have expressive or receptive language delays, articulation errors, stuttering, voice disorders, auditory processing disorders, presentation skills, difficulties with reading or listening comprehension, memory deficits, and social skills deficits. Tutoring services include in-person evaluations prior to tutoring and a written report is completed and reviewed with parents.

S. A. L. T. Speech, Accent & Language Training Institute details
Creative Learning Experiences

Ramsey

This resource offers on-going classes all year round that are both creative and enriching. Each class curriculum is designed by a certified teacher to meet state and national standards but made with a twist of creativity. Some of their classes include Kidz in Buziness, You be the Jury, Book Worm, Math Bootcamp and more!
The Mindful Cafe & Learning Center

Ramsey, Chestnut Ridge, Nyack

The Mindful cafe & Learning center fosters holistic, student centered learning for homeschoolers in the 7-9th grade. MC hosts individual academic and elective class opportunities with experienced teachers. Small group classes will begin via Zoom due to the covid-19 pandemic. Classes include all levels of Math, English, Science, Social Studies as well as Yoga, Zumba, Photography, jewelry making & more
Classical Conversations Sewell NJ

Sewell

Classical Conversations Sewell was started in 2013 with 6 families, totalling 12 children, dedicated to homeschooling their children. Today the Community has over 45 families and 70+ children. CC Sewell offers Foundations, Essentials, Challenge A, B, I, II and IV. Every summer they hold a three-day Parent Practicum, including camps for the kids, for any homeschooling family in need of refreshment and encouragement or anyone interested in knowing more about homeschooling & CC, as well as for CC families.
Sigma Academy

Skillman

Sigma Academy is a small tutoring institution located in Skillman, NJ. It offers excellent personalized tutoring in Math, Physics, Chemistry, Biology, Statistics, Computer Science, APUSH, SAT, SAT-2 Subject Tests, PSAT, ACT, and several college-level courses, and MCAT. For the past 7 years, its students are scoring high in SAT/PSAT, SAT2 Subject Tests, and AP tests. The class sizes are small (max. 5), timings are flexible and rates are very reasonable. They are open in the evenings and weekends too round the year. They have summer crash courses, classes around the academic year, AP-test targeted classes from March to May, on-demand SAT2 subject test tutoring, Test-date targeted SAT classes (usually for August/December/March tests) with expert teachers striving to make learning fun.
Robotics Free trials, Age 4 years and above

Somerset

RobotiX Institute is a specialized education institution which is based out of Somerset NJ, concentrating on teaching Robotics. There are several different programs which are suitable for ages 4 and above and are tailored to fit individual needs of students depending upon their skill levels. Offering course in Pre-elementary, Kindergarten - 1st grade "Lego We Do", Lego Robotics, Lego Advanced, VEX EDR, and Computer Programming
Duke Farms

Somerset County

Duke Farms offers biking and hiking trails through a variety of habitats, nature and horticulture programs, organic gardening class, geocaching adventures, and a child friendly Family Wonder Walk. Duke Farms serves as a leader in environmental stewardship and sustainability while inspiring visitors to become informed stewards of the land. Duke Farms offers nearly 300 programs per year, all pertaining to the environment, sustainability, gardening, etc.
Code Ninjas Kendall Park

South Brunswick

Code Ninjas teaches kids how to code through a games based curriculum. Students use a 9 belt proprietary curriculum which is based on Game Building Platform. Within each belt is a set of skills and at the end of each belt students have to show those learned skills by building a game. The Code Ninjas curriculum is made up of little wins throughout the 2/3 year curriculum. Programs are self paced, but not self taught (Sensies are instructors), system that allow kids to come in up to 2 times a week for up to an hour each time. Mentors teach kids: Concepts, Robotics, Critical Thinking, Problem Solving, Leadership and Collaboration. The objective is to make kids 'Build Video Games' in a fun environment. Whether or not students pursue coding, computer engineering, or STEM as a career, Code Ninjas wanst to provide kids with skills that will help them pursue their dreams.
HousePaws Vets In Training

South Jersey

This unique program provides students with hands-on education about animals and veterinary medicine. Integrating our animal friends, veterinarians, and experienced veterinary educators to get children excited about learning.
ADDvantages Learning

South Jersey

ADDvantages Learning Center is a South Jersey based tutoring center for children with learning disabilities including ADD, ADHD, Math Struggles, Reading Struggles, Writing Struggles and a host of other learning disabilities and diagnosis. Board Certified Cognitive Specialists work with children and parents of all ages. Specialists assist parents to set up homeschool programs for children with ADHD, learning disabilities, and on the spectrum. Work with students on-site, online, and face to face using the Zoom platform which is convenient for parents wherever they are located.
National CSI Camp

South Jersey

This company was formed to educate junior high and high school aged students about Crime Scene Investigations. Some may aspire to pursue a post high school education or Law Enforcement. The discipline of Forensics marries both disciplines together. After a brief introduction during a history lesson of both Science and Law Enforcement Pioneers, students will learn and actually work a mock Crime Scene Investigation from the beginning of the investigation/crime scene, all the way through the investigation's entirety. The students will learn the importance of the most recent, State of the Art Technologies including procedures in collecting and processing many different types of evidence. They will also learn the importance of documentation and processing evidence. Many topics and practicals that are covered in each class include crime scene reconstruction, fingerprint classification, lifting fingerprints, classifying those prints and comparing them to a suspect(s). The class will also examine and have hands-on labs in shoe print patterns and casting, blood splatter analysis, DNA, basic chemistry, fingerprinting and so much more.
Kindergarten, First, and Second Grade Tutoring

South Orange

This is a small, happy, and creative group in a fun and relaxed setting where children can go at their own pace. This is a great place for children with special learning needs and ESL students. One-on-one tutoring is available for kindergarten, 1st, and 2nd grade. The staff consists of an MSW, a seasoned homeschooler, and a graduate student of English. Monday-Friday 2:30-6:00 p.m.
Wild West City

Stanhope

Step back in time to the American Wild West in the 1800's! Wild West City is a western theme park, a replica of Dodge City, Kansas located in scenic North Western New Jersey less than an hour from NYC. Wild West City reenacts twenty-two different live action shows with audience participation, cowboys, cowgirls and horses. Fun for all ages! Learn survival skills from the mountain man take a school lesson in our one room school house or head on over to the Chuck Wagon to see what's cookin'! Visit the barnyard critters or pan for gold. Browse our shops and museums along Main Street. Hop aboard the Old 97 narrow gauge train ride to Outlaw Territory or mosey on over to the Wells Fargo Stage Coach and take a ride around the entire town!
Brain Balance Achievement Center of Summit

Summit

Brain Balance is a integrated program which combines physical and sensory-motor skill building with cognitive training and healthy nutrition to optimize function in kids with various learning difficulties. The program identifies the root cause of learning, social and behavioral challenges and customizes a resolution plan to get children back on track. This non-medical program helps kids aged 4-17 who are struggling with focus, impulsiveness, tantrums, family/social relationships and learning challenges as well. Brain Balance focuses on the whole child and works on bringing confidence, good health, sensory-motor skills and stronger academic skills in sync. Brain Balance of Summit hosts monthly Open Houses and Parent Discovery Nights which are great ways to learn more about the program, meet and speak with the center director, meet the staff and tour the facility.
Summit Area YMCA

Summit, Springfield, Millburn, Short Hills, New Providence, Berkeley Heights, Gilette and Stirling

Fun classes at the Summit YMCA! Homeschool Indoor Playground, ages 5+, Thursday's 10:15 am - 11:00 am Mindful Coloring and Yoga, ages 6+, Thursday, 4:00 pm - 4:45 pm Chess Masters, all ages, Friday, 5:00 pm - 5:45 pm Summit Chess Club and Lessons, ages 7+, Sunday, 4:00 pm - 5:00 pm Escape Room & Mind Challenges, Ages 7+, Thursday, 5:15 pm - 6:00 pm Summit Area YMCA is also running two parent's nights out. Saturday, January 13 from 5:00 pm - 9:00 pm Saturday, February 17, 5:00 pm - 8:00 pm. Financial Assistance is available to ensure that everyone regardless of age, income or background has the opportunity to grow, learn and thrive.
The Bullock Garden Project, Inc.

Swedesboro

This resource can assist in building and maintaining a learning garden (outdoor classroom). Educators can also provide literature-based garden education activities for children. Through this resource's website a contact form can be submitted to gain additional information.
Chemistry Lab for High School

Union, Union County

Hands on chemistry activities and experiments for homeschool high school students are offered in Union, NJ. For info contact ctwiz@msn.com
Programs For Home Schoolers At The Gagsphere

Waldwick

The Gagasphere has great options for homeschool groups and coops. Custom PE classes, scheduled weekly PE classes or field trips. The Gagsphere can customize any program to meet your needs in a clean, safe and private facility in Waldwick. Field trips at The Gagasphere integrate STEM learning with fun hands-on activities that will focus on engineering and how physics is found in every day amusements and activities - such as ball play, bike riding, and roller coasters! They complete small group hands on project - our most popular is a marble rollercoaster! Students then take their brain power into the Gaga Pit where they play gaga ball - using the concepts of energy that they just learned about! They exercise their bodies and their minds. Content can be tailored for 1st-6th grade. 2-3 hours total trip time.
MAAC - Mindful Awareness Academy for Children (Signature Tutoring Group)

West Orange/Montclair/South Orange/Maplewood

Mindful Awareness Academy for Children (Signature Tutoring Group) is a non-profit company that provides academic, social, and emotional support for high school students. The Academy works in conjunction with local high schools to address the achievement gap. All programs are based on a mindful approach to learning. Practicing mindfulness enables us to examine our responses to information. There is a growing need to support children of color, not only academically but emotionally and socially. According to the article, "Promoting student behavior and learning through multi-tiered systems of support, " by Barbara Bole Williams, Ph.D, a muti-tiered system of support (MTSS) is critical for student learning. MTSS is an evidence-based, multi-tiered framework for effectively integrating multiple systems and services to simultaneously address student academic achievement, behavior and social-emotional well-being.

MAAC - Mindful Awareness Academy for Children (Signature Tutoring Group) details
Back to the Basics and Beyond

Williamstown-Glouceter County

This is a "Montessori Style" private educational learning environment featuring small classes, big ideas, and a mastery and love for learning. Students in grades 1st through 4th use an advanced educational curriculum designed to expand their mind and teach to mastery. Classes meet 3 days a week on Tuesdays, Thursdays, and Fridays from 9:30 am - 2:30pm. Our small size will be an advantage to learn and grow. We provide a well rounded academic experience which includes experiential and project-based learning, hands on learning, field trips, and play. Families and educators come from a variety of religious and spiritual beliefs. We live outside the box, but inside a thriving educational community. We would love for you to join us.
Brain Balance of Wilmington

Wilmington

Brain Balance helps children struggling with social, academic or behavioral issues. The program is designed for children with ADHD, Asperger Syndrome (ASD), High Functioning Autism, PDD-NOS, Dyslexia, Processing Disorders and other spectrum disorders. The program establishes a unique plan for each child that includes sensory motor work, eye tracking, core exercises, academic skill training, healthy nutrition, confidence building and many other activities that work to bolster a child's developmental deficits. What is unique is that Brain Balance brings all these activities together in one program, including monitoring and reporting on a child's progress. It's is ideal for home school parents of children who are struggling.