Jump to: Homeschool Co-ops | Homeschooling Classes & Academic Enrichment
Looking for someone to teach physics to your teen? Need a way to avoid teaching algebra? Want to enroll your Kindergartener in a co-op for social time? Homeschool classes and co-ops are a great way to spend time with other homeschoolers and skill-share with other homeschool parents.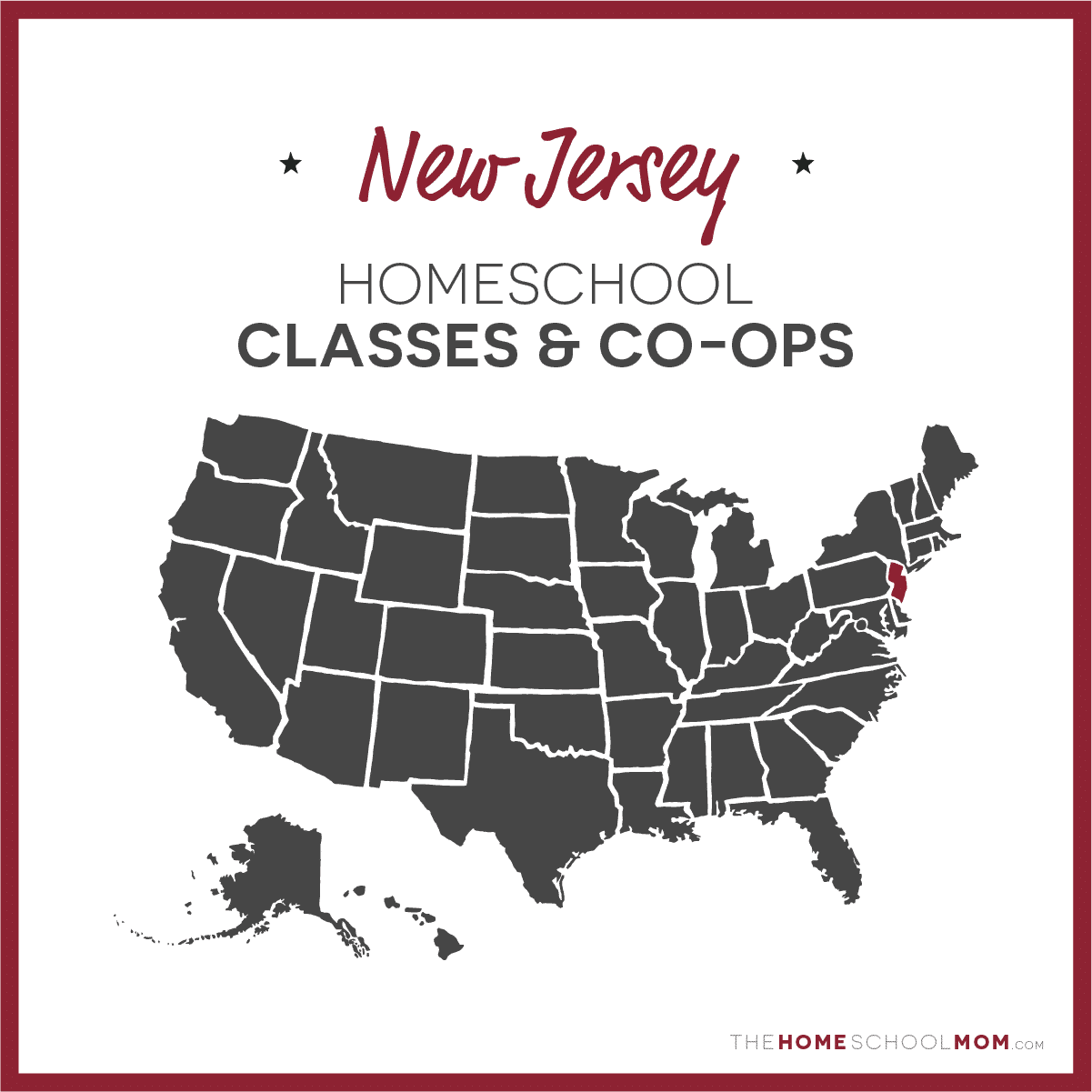 Submit a Local Resource
Our listing of New Jersey co-ops and academic classes for homeschoolers is ordered alphabetically by city, with co-ops in the first section and all other academic resources below. If you would like to submit a New Jersey co-op or academic resource, you may do so using the red button above.
New Jersey Homeschooling Co-ops
Seat of Wisdom Homeschool CooperativeAllentown
SOWers consists of Catholic families whose primary purpose is to provide: - an academic environment to supplement our homeschool curricula - aid in the salvation of our souls - be faithful to the M...
New Beginnings Co-Op & Learning CenterBayville / Ocean County
New Beginnings Co-Op & Learning Center offerings for homeschooling families: ~ A Co-Op for children in Kindergarten to 8th-grade. We ask parents to stay, engage, and play an active role in our week...
Knowlton Fine Arts Homeschool Co-opBlairstown/Columbia
Knowlton Fine Arts is a Christian non-denominational homeschool group drawing participating families from across Northern New Jersey and Northeast Pennsylvania. We exist to develop excellence in ar...
L.E.A.R.N - Liberty Education and Resource NetworkElmer
LEARN is a ministry of Faith Orthodox Presbyterian Church in Pole Tavern, NJ, and is run by a volunteer Board that is overseen by the Elder Session of Faith OP Church. The mission of LEARN is to as...
The Learning Connection Homeschool Co-opHackettstown
The co-op runs on Thursdays from 9:30-2:15 PM weekly for 31 weeks (September to May). There is a 2 hour minimum registration. Click the link below to view the class grid. It is financially reasonab...
The Learning Connection (TLC)Hackettstown
The Learning Connection is a Christ-centered home educating support group ministering to families in Northwest Jersey. TLC is here to encourage you on this journey of home schooling through many fa...
Agape FaithWorksHowell Township
Agape FaithWorks is part of Agape Bible Church Ministries
Living Water Home EducatorsMount Laurel
Living Water Home Educators is a homeschool support group. The $35 annual membership fee provides full access to the Living Water members only website. This includes access to calendar events (incl...
BRIGHT (Believers Rooted in God Homeschooling Together)Netcong
We are Believer's Rooted In God Homeschooling Together. Our goal is to be bright; radiant for Christ, full of his wisdom and knowledge as we work together to educate our children. BRIGHT Co-op meet...
Walnut Grove CoopNewark
Walnut Grove Coop is a nonprofit educational organization serving Delaware, Maryland, New Jersey, and Pennsylvania. This group provides opportunities for children to learn in a respectful, inclusiv...
Freedom Homeschool Co-opOak Ridge
Freedom Homeschool Co-op is a brand new co-op beginning in September 2021. We are open to all Christian families homeschooling students 1st-12th grades. Our goal is to provide parent-taught classes...
Aquinas Learning CenterOldwick
The Aquinas Learning curriculum was established in 2009 by a handful of families looking for a form of education that better fit their philosophy of education and life. A curriculum that is Catholi...
Exploration Kids Co-opSouth Jersey
Secular homeschool co-op located in Blackwood NJ. Open to grades k-7 with a siblings class for younger kids. Academic classes are 10 week sessions in the fall and spring. Classes meet at the Mainst...
SALT - Serving And Learning TogetherToms River
SALT Homeschool Co-op is organized by homeschooling parents for their children ages first grade and up. Classes meet weekly on Tuesdays
BRIGHT Co-op (Believers Rallied in Groups Homeschooling Together)Zarephath
A homeschool cooperative located in New Jersey's Somerset County, organized to provide home education families an opportunity to enrich or supplement their children's academic curriculum and social...
New Jersey Homeschooling Classes & Academic Enrichment
Brain Balance Achievement CenterAllendale
The Brain Balance Program is a non-medical and drug-free approach to overcoming the challenges of ADHD, learning disabilities, processing disorders, Asperger's syndrome, and a host of other related...[Read more...]
New Beginnings Co-Op & Learning CenterBayville / Ocean County
New Beginnings Co-Op & Learning Center offerings for homeschooling families: ~ A Co-Op for children in Kindergarten to 8th-grade. We ask parents to stay, engage, and play an active role in our week...[Read more...]
Bergen Educational ConsultantsBergen County
Bergen Educational Consultants use a Christian approach offering enrichment classes in Math, the sciences, and Language Arts, as well as general tutoring in all subject areas for grades 2-12. Also ...[Read more...]
Pediatric Occupational Therapy ServicesBergen County
Since 1991 our team of therapists has helped hundreds of children move, play and grow. The most cutting edge techniques are a cornerstone of our approach to therapy. Each POTS therapist is committe...[Read more...]
Mayflower TutoringBoston
Mayflower Tutoring is a reputable Plymouth, MA-based tutoring service. It proudly offers online and in-person tutoring sessions for elementary through high school students. Its founder, Matthew Row...[Read more...]
Brooklyn Creative Learning LabBrooklyn
Based in the heart of Dumbo, Brooklyn, the Brooklyn Creative Learning Lab offers vibrant online and in-person Creative Lab Courses for students in middle school, high school, and early college. Our...[Read more...]
Kim's Critter ClassesCentral Jersey
Offering hands-on learning opportunities in environmental science topics. Topics include: Arthropods-spiders and bugs, Bones & Skulls, Tracks & Scat, Predator vs Prey and many other program...[Read more...]
Mosaic FreeschoolChatham
Mosaic Freeschool is a learning community that provides homeschool families the freedom to choose educational experiences. We offer classes for middle school and high school aged students. Our goal...[Read more...]
STEM Field Trip Program at ISC Cherry HillCherry Hill
Using curriculum based off other successful roller skating rinks, students will walk away with a new understanding of core STEM values. The program's curriculum will be taught by a certified teache...[Read more...]
Zuckerman Tutorial ServicesEssex and Union Counties
In home homeschooling support and tutoring in mathematics with a certified teacher. Services include but are not limited to 1-on-1 tutoring in mathematics for homeschooling students. Convenient day...[Read more...]
Maker Depot AcademyEssex County, Morris County
We are a 501c3 with a focus on STEAM Education. We are a mobile makerspace. We have a 15 ft trailer equipped with a laser cutter, CNC, 3d printers and more. We offer age appropriate classes for chi...[Read more...]
Electronics at Home (online)Fairhope
This resource is designed for those who pose "The Edison Trait" so all kids will love the Hands-On learning of Electronic Engineering Technology. Only $65 a quarter and lab equipment that will be u...[Read more...]
Lorrimer SanctuaryFranklin Lakes
Lorrimer Sanctuary is located in Bergen County NJ. It is a New Jersey Audubon environmental education facility and wildlife sanctuary offering a variety of programs, classes, summer camps, and volu...[Read more...]
Scotland Run ParkGloucester County/ Clayton
Scotland Run Park is a 1200 acre nature park, complete with a newly renovated Nature Center with live animals. We offer outreach, nature programing, visiting school groups, and Summer camp. Wilson ...[Read more...]
Game-UHunterdon County
GAME-U offers home school classes for families looking to supplement their computer science curriculum. Programs are designed to nurture valuable learning and life skills by teaching kids how to de...[Read more...]
Yogi Berra Museum & Learning CenterLittle Falls
The extraordinary life of Yogi Berra is rich with educational opportunities for young people. The Museum's education focus is to promote the values that made Yogi a national treasure -- respect, ex...[Read more...]
NJ Meadowlands Environment CenterLyndhurst
The Meadowlands Environment Center has hands on educational programs for grades K-12. Our experienced team of educators will introduce your students to a variety of topics while satisfying the NJCC...[Read more...]
Plum Crazy Robotics & LabsMarlboro
Plum Crazy Robotics offers classes in Robotics, Coding, Electronics, Bluetooth, IOT, GPS, 3D printing, CNC machining, 3D Game Building, Gaming and tournaments. Augmented Reality (AR), Virtual Realt...[Read more...]
LearningRx MarlboroMonmouth County
LearningRx is a brain training program designed to improve cognitive skills has help kids improve attention, focus and concentration, as well as reading, math and comprehension. LearningRx offera a...[Read more...]
Teaching the Dyslexic MindMonmouth County, Ocean County
The purpose of our mission at JSLC is to not only teach our home-schooling parents how the dyslexic mind learns but to also foster a love of learning in each child so they have a foundation on whic...[Read more...]
New Perspectives In Learning- Solutions for Dyslexia, ADD, and ADHDMontclair
This resource provides one-on-one, hands-on programs that tap into the learning strengths of the visual/spatial learner. Dyslexia is a learning difference, not a "disability." The thinking style of...[Read more...]
North Jersey Homeschool ScienceMorris County
NJHS offers hands-on science and STEM enrichment programs for homeschoolers. They offer options designed to meet the needs of the homeschool community, ​with multi-child and multi-class discounts, ...[Read more...]
Reading SpecialistMorris County
This service provides reading assessments and instruction for struggling readers, or students who need more practice with skills. Students can be tested using formal and informal assessments to hel...[Read more...]
Keep It Simple – Keep It Real with Marty FordMorris County
Marty Ford is a Certified Teacher with twenty years background, history and experience working with Special Education and Regular Education students in grades 8-12. Marty is also a Certified Life S...[Read more...]
All Jersey Driving SchoolMount Laurel
All Jersey works with each child to help them be as prepared as they can be when they become New Jersey drivers; whether that is the basic 6 hours that New Jersey requires or just a few hours more.[Read more...]
The Hobby QuestNew Jersey Statewide
Aviation Club after school enrichment for kids who are interested in the FUN and EXCITING world of aviation, hobbies and model building. Each young aviator masters craftsmanship skills, learns abou...[Read more...]
New Jersey Classical ConversationsNew Jersey Statewide
CC is a national homeschooling program that uses a Bible based curriculum taught in a christian, classical tradition. Classes are geared for age 4 through high school.[Read more...]
Lou A. TutoringNewark, Maplewood, Irvington, East Orange, South Orange, Orange, West Orange
Lou A. is available in the Essex county area to help students at a reasonable price in Pre-Algebra, Algebra, Pre-Calculus, Calculus, Trigonometry, General Chemistry, Organic Chemistry, and Biology.[Read more...]
Brainy Robots LEGO Robotics ClassesNorthern New Jersey
Brainy Robots offers LEGO Robotics classes for homeschooling groups. Students work in cooperative groups to build and program a new project each week. Laptops computers are provided. Science and ma...[Read more...]
Montclair Learning Center Home School STEAM daysNorthern NJ
The Montclair Learning Center offers small group STEM classes for Home School students on Tuesday and Thursday morning. Students and their families provide input and the instructors put together fu...[Read more...]
Meet The Pharaohs Exhibition and Workshops program for school childrenPA, DE, NJ
An educational program on ancient Egypt that teaches children through creative, hands-on on various topics of this amazing culture. Topics include: *Kings of Egypt *Queens of Egypt *Jewelry and Fas...[Read more...]
Pioneering Kids IncPennsville
Welcome Aboard! Pioneering Kids Inc is a non-profit homeschool enrichment program for all ages and abilities. Parents are required to remain with their children through classes and events. We striv...[Read more...]
GEZ: Girls Empowerment ZonePhiladelphia area
GEZ is a 501(c)3 PA nonprofit program for ages 7-14. The President of this organization homeschools her children and knows that the program impact on today's young ladies. The GEZ program offers th...[Read more...]
Steam Works Studio - PrincetonPrinceton
Hands-on educational STEAM programs for children from ages 4-16 years. These include Robotics, Electronics, DIY, Raspberry PI, Arduino, Animation programs, Coding in Python, JAVA, iPHONE game devel...[Read more...]
Stone Hill Learning CenterPrinceton
Stone Hill Learning Center is Central New Jersey and Western Pennsylvania's hybrid homeschooling partner! This homeschooling enrichment program is available one, two, or even three days a week for ...[Read more...]
STEAM Works StudioPrinceton
Our facility at 135 Village Blvd. Princeton, NJ is a large Maker-space for K-12 students with a cutting edge set of tools in various types of 3D printers, Laser Cutting, Wood Workshop tools, Roboti...[Read more...]
Fusion Academy - PrincetonPrinceton, Englewood, and Morristown
Fusion Academy offers one-on-one classes as well as academic mentoring and enrichment. Home school students can take advantage of science labs, recording arts studio, yoga room, or any of the over ...[Read more...]
scienceSeedsPrinceton/Mercer County
scienceSeeds is a science enrichment program that seeks to engage children and their parents in discovering the mysteries of the world we live in. scienceSeeds offers after-school classes, camps an...[Read more...]
The Mindful Cafe & Learning CenterRamsey, Chestnut Ridge, Nyack
The Mindful cafe & Learning center fosters holistic, student centered learning for homeschoolers in the 7-9th grade. MC hosts individual academic and elective class opportunities with experienc...[Read more...]
Classical Conversations Sewell NJSewell
Classical Conversations Sewell was started in 2013 with 6 families, totalling 12 children, dedicated to homeschooling their children. Today the Community has over 45 families and 70+ children. CC S...[Read more...]
Sigma AcademySkillman
Sigma Academy is a small tutoring institution located in Skillman, NJ. It offers excellent personalized tutoring in Math, Physics, Chemistry, Biology, Statistics, Computer Science, APUSH, SAT, SAT-...[Read more...]
Robotics Free trials, Age 4 years and aboveSomerset
RobotiX Institute is a specialized education institution which is based out of Somerset NJ, concentrating on teaching Robotics. There are several different programs which are suitable for ages 4 an...[Read more...]
Duke FarmsSomerset County
Duke Farms offers biking and hiking trails through a variety of habitats, nature and horticulture programs, organic gardening class, geocaching adventures, and a child friendly Family Wonder Walk. ...[Read more...]
Code Ninjas Kendall ParkSouth Brunswick
Code Ninjas teaches kids how to code through a games based curriculum. Students use a 9 belt proprietary curriculum which is based on Game Building Platform. Within each belt is a set of skills and...[Read more...]
HousePaws Vets In TrainingSouth Jersey
This unique program provides students with hands-on education about animals and veterinary medicine. Integrating our animal friends, veterinarians, and experienced veterinary educators to get child...[Read more...]
ADDvantages LearningSouth Jersey
ADDvantages Learning Center is a South Jersey based tutoring center for children with learning disabilities including ADD, ADHD, Math Struggles, Reading Struggles, Writing Struggles and a host of o...[Read more...]
National CSI CampSouth Jersey
This company was formed to educate junior high and high school aged students about Crime Scene Investigations. Some may aspire to pursue a post high school education or Law Enforcement. The discipl...[Read more...]
Kindergarten, First, and Second Grade TutoringSouth Orange
This is a small, happy, and creative group in a fun and relaxed setting where children can go at their own pace. This is a great place for children with special learning needs and ESL students. One...[Read more...]
Wild West CityStanhope
Step back in time to the American Wild West in the 1800's! Wild West City is a western theme park, a replica of Dodge City, Kansas located in scenic North Western New Jersey less than an hour from ...[Read more...]
Brain Balance Achievement Center of SummitSummit
Brain Balance is a integrated program which combines physical and sensory-motor skill building with cognitive training and healthy nutrition to optimize function in kids with various learning diffi...[Read more...]
Summit Area YMCASummit, Springfield, Millburn, Short Hills, New Providence, Berkeley Heights, Gilette and Stirling
Fun classes at the Summit YMCA! Homeschool Indoor Playground, ages 5+, Thursday's 10:15 am - 11:00 am Mindful Coloring and Yoga, ages 6+, Thursday, 4:00 pm - 4:45 pm Chess Masters, all ages, Friday...[Read more...]
The Bullock Garden Project, Inc.Swedesboro
This resource can assist in building and maintaining a learning garden (outdoor classroom). Educators can also provide literature-based garden education activities for children. Through this resour...[Read more...]
Programs For Home Schoolers At The GagsphereWaldwick
The Gagasphere has great options for homeschool groups and coops. Custom PE classes, scheduled weekly PE classes or field trips. The Gagsphere can customize any program to meet your needs in a clea...[Read more...]
MAAC - Mindful Awareness Academy for Children (Signature Tutoring Group)West Orange/Montclair/South Orange/Maplewood
Mindful Awareness Academy for Children (Signature Tutoring Group) is a non-profit company that provides academic, social, and emotional support for high school students. The Academy works in conjun...[Read more...]
Brain Balance of WilmingtonWilmington
Brain Balance helps children struggling with social, academic or behavioral issues. The program is designed for children with ADHD, Asperger Syndrome (ASD), High Functioning Autism, PDD-NOS, Dyslex...[Read more...]
Go to New Jersey...