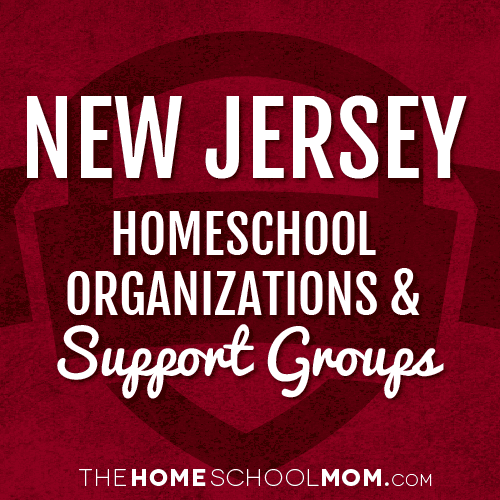 Since homeschooling is regulated at the state level, connecting with local homeschoolers is an important step to start homeschooling in New Jersey. State homeschool organizations and local homeschool groups are not just a good place to learn the specifics of legally homeschooling in New Jersey—they can also help you to get connected with the local homeschooling community. Many homeschool groups offer co-ops, classes, sports and arts opportunities, and social get-togethers.
Our listing of New Jersey state organizations and local homeschool groups is ordered alphabetically by city, with statewide organizations listed first. If you would like to submit a group, you may do so using the red button above.
Use the secondary navigation menu above to quickly make your way to pages for New Jersey state organizations, local homeschool groups, classes, co-ops, field trips, and more.
New Jersey Homeschool Organizations
ENOCH of NJNew Jersey Statewide
Education Network of Christian Home-schoolers of New Jersey is dedicated to individual homeschoolers and the local support groups throughout the State of New Jersey.
New Jersey Homeschool AssociationNew Jersey Statewide
NJHA - A fully inclusive advocacy group dedicated to preserving our freedom to home educate our children.
New Jersey Local Homeschool Groups
North Jersey Home Schoolers Association, Inc (NJHSA)Bergen, Essex, Morris, Passaic, and Hudson Counties
North Jersey Home Schoolers Association, Inc (NJHSA) is a Christian organization of local home school support groups (LSGs). The group is currently organized into 8 Local Support Groups (LSGs). The...
Living Water Home EducatorsBurlington County
A Christian homeschool support group serving families in the Burlington County area of New Jersey.
Catholic Homeschool Association with Papal Loyalty Educating TogetherCamden and Burlington counties
CHAPLET is a Roman Catholic support group for homeschoolers in Camden and Burlington counties in New Jersey. We are open to any family currently homeschooling or intending to homeschool.
Homeschoolers Central NJCentral Area
This group meets once a week to offer support to homeschooling families in Central New Jersey. We are not affiliated with any religious denomination. We are open to all homeschoolers.
Greater Essex County Homeschoolers–NJEssex County
We are a diverse group of homeschooling families who live in or near Essex County New Jersey. Our aim is to provide a way for homeschoolers to connect with other local families; and to share resour...
Hunterdon County Christian HomeschoolersFlemington
HCCH exists to provide support and encouragement to Christian home education families. Member participation and contribution is essential to the ongoing success of HCCH. Member families receive co...
Cornerstone Home Educators (CHE)Gloucester County
A Christian support group consisting of approximately 40 families.We are based in Gloucester County, NJ, but open to all of South Jersey homeschoolers. We offer monthly meetings(CCUMC), monthly new...
Northern New Jersey Home Schoolers Support NetworkHackettstown
NJHSN-This page and the group are set up by a homeschooling teen in Hackettstown, NJ.
Hammonton Home EducatorsHammonton
We all want the best for our children. May Hammonton Home Educators help you and your children on the road to a better education.
Academic Cooperative CommunityMantua, NJ
Academic Cooperative Community is a group of families committed to working together to provide educational and social opportunities for children. Committed to providing a safe, secular, inclusive c...
Believers' Home Education Co-operativeMetuchen
We are a Christian group, whose main purpose is to encourage current and potential homeschooling parents in their homeschooling endeavors
Sovereign Hill Stables; Horse back riding lessonsMullica Hill
Sovereign Hill Stables offers lessons in all disciplines beginner through advanced. With a qualified and experienced trainer to help any rider reach their goals. Beginner lessons feature emphasis o...
New Egypt Homeschooler Support GroupNew Egypt and surrounding areas
A support group for New Egypt, NJ and surrounding areas such as Jackson, Millstone, Wrightstown, Hamilton, North Hanover, Columbus, Browns Mills and other areas. This group is for all homeschool fa...
ENOCH of NJ Support GroupsNew Jersey Statewide
Support groups listed by county.
New Jersey Homeschool Association – Support GroupsNew Jersey Statewide
A partial list of support groups available for home educating families throughout NJ.
Homeschool New YorkNew York /Hudson Valley/Tri-State
Homeschool New York is for families who are *currently* homeschooling in the New York City, Tri-State, and Hudson Valley areas or who are *seriously* considering homeschooling in the future.HSN...
NJ Homeschool HangoutNorthern NJ
Homeschool Support Group
Calvary Chapel Old Bridge Home Education GroupOld Bridge
Calvary Chapel Old Bridge Home Education Group believes that God has given to parents the primary responsibility to raise and educate their children. Therefore, HEG seeks to encourage and assist t...
Somerset County Christian Homeschoolers (SCCH)Somerset County
(SCCH) membership is open to families who are home educating children in the state of New Jersey and who are in agreement with the statement of faith, statement of purpose, and by-laws of this orga...
Christian Homeschool of Union County (CHUC)Springfield
Christian homeshool families in the Union County NJ area. Members benefit from informative emails, support, discounts, field trips, lessons, and other events offered by C.H.U.C., fondly known as "C...
New Jersey Educational Excellence – School at Home (EE-SAH)Summit
We are mainstream homeschooling families from and surrounding NJ towns and counties. A fun group for well behaved kids. Email: HomeschoolSummit@aol.com
Sussex County Christian Home Schoolers, Inc.Sussex County
Christian Home Schoolers who live in Sussex County, New Jersey and surrounding areas. Regular monthly support meetings. All of activities and interactions are consistent with Biblical principles.
Homeschoolers Support NetworkTrenton and Princeton areas
HSN-We are simply a group of people in the Trenton / Princeton metropolitan area who are teaching our children at home. We network together for field trips, ideas, support, activities, curriculum, ...
Skylands Homeschooling Community (SHC)Warren, Morris, Hunterdon, Sussex counties
SHC is a support/play/early-learning group for parents and homeschoolers in the NJ Skylands area (Warren, Morris, Hunterdon, Sussex counties). Children are primarily preschool through 1st grade age...