Field trips are a great way to reboot a bad homeschooling week, get out of the house when everyone has cabin fever, and learn about your local area. Before heading out, check out Jeanne's tips for improving homeschool field trips.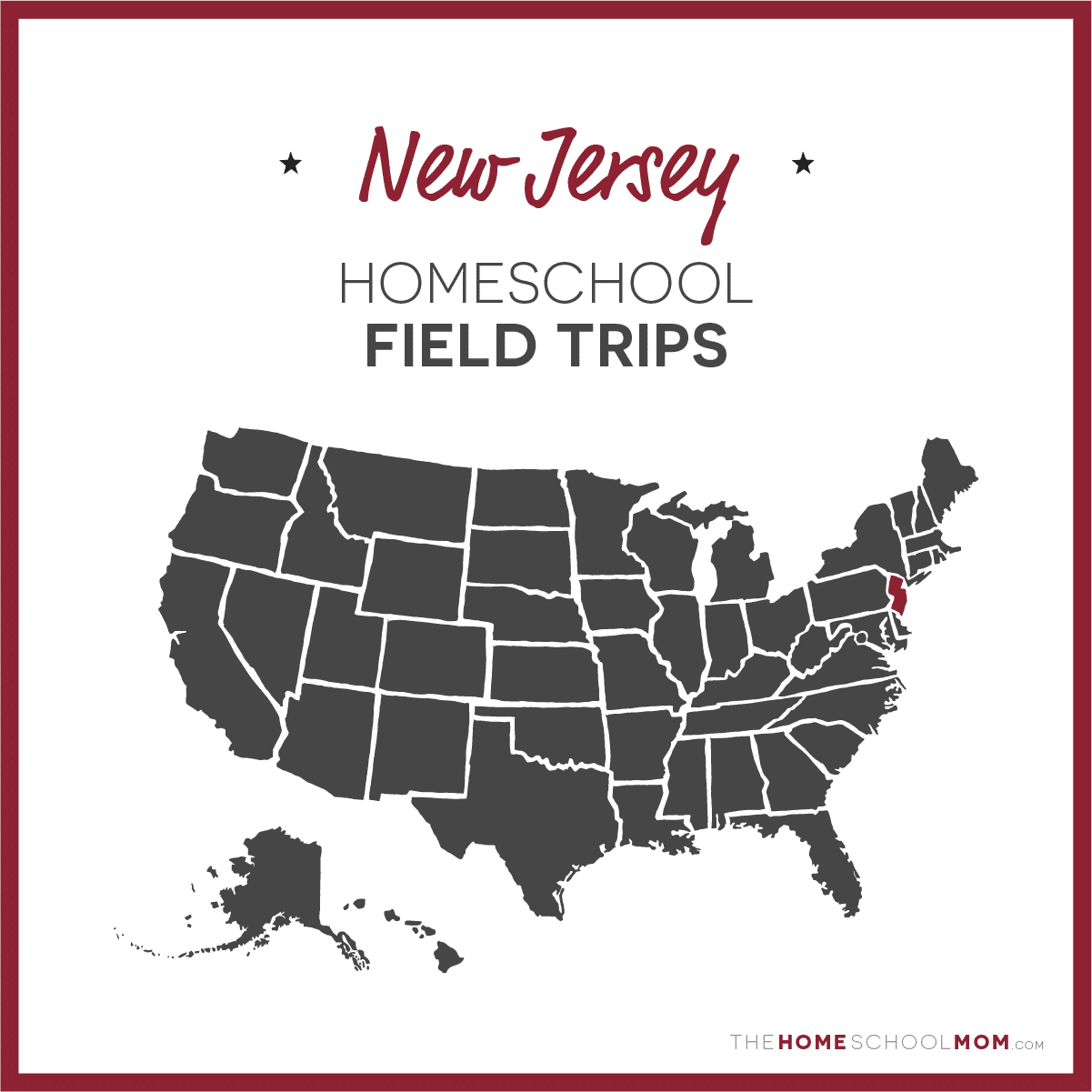 Submit a Field Trip Destination
Our listing of New Jersey field trips for homeschoolers is ordered alphabetically by city. If you would like to submit a New Jersey field trip destination, you may do so using the red button above.
An asterisk * after the title indicates that a virtual field trip is also available.
Appalachian National Scenic Trail

Appalachian Mountains

The People's Path and America's First National Scenic Trail. The Appalachian Trail (A.T.) is more than 2,175-mile long footpath stretching through 14 eastern states from Maine to Georgia. Conceived in 1921 and first completed in 1937, it traverses the wild, scenic, wooded, pastoral, and culturally significant lands of the Appalachian Mountains.
The Lucky Snake Arcade

Atlantic City

The Lucky Snake Arcade, located in the Showboat Hotel in Atlantic City, New Jersey is the largest arcade along the east coast. With all games including Connect 4 and basketball goals all the way to pin ball machines. Our arcade also features two exclusive party Glow Golf and a bowling ball alley to add to the fun. In addition to that we also are in the process of opening the latest and greatest Go-Kart track in May of 2022 and the best water park along the Atlantic Ocean in the Summer of 2023. Showboat Hotel is the best new spot for family fun of all ages!
Barnegat Lighthouse State Park

Barnegat Light

The site of Barnegat Lighthouse on the northern tip of Long Beach Island in Ocean County was regarded as one of the most crucial "change of course" points for coastal vessels. Vessels bound to and from New York along the New Jersey coastline depended on Barnegat Lighthouse to avoid the shoals extending from the shoreline. The swift currents, shifting sandbars, and the offshore shoals challenged the skills of even the most experienced sailor. The park is included as a maritime site on the New Jersey Coastal Heritage Trail.
Double Trouble State Park

Bayville

Double Trouble State Park offers an outstanding example of the Pine Barrens ecosystem and a window into the Pine Barrens history. The park provides the protection and interpretation of over 8000 acres of significant natural, cultural, and recreational resources representative of the Pinelands National Reserve.
Jacobus Vanderveer House

Bedminster

The Jacobus Vanderveer House and Museum was the headquarters of General Henry Knox during the winter of 1778-79 and the only surviving building associated with the Pluckemin Artillery Cantonment, America's first military academy.
Great Egg Harbor National Wild & Scenic & Recreational River

Berlin

Starting as a trickle near Berlin, NJ, the River gradually widens as it picks up the waters of 17 tributaries on its way to Great Egg Harbor and the Atlantic Ocean. Established by Congress in 1992, nearly all of this 129-mile river system rests within the Pinelands National Reserve. This National Park Service unit is unusual in that local jurisdictions continue to administer the lands.

Great Egg Harbor National Wild & Scenic & Recreational River website
Branchburg Sports Complex

Branchburg

Field trip packages can include field activities, laser tag, arcade, playmaze, and food packages. Fun is weather proof.
Delaware Water Gap National Recreation Area

Bushkill

A River and its Valley - For 40 miles the Middle Delaware River passes between low forested mountains with barely a house in sight. Then the river cuts through the mountain ridge to form the famed "Water Gap." Exiting the park, the river will run 200 miles more to Delaware Bay and the Atlantic Ocean at Wilmington, Delaware.
Cape May Point State Park

Cape May Point

Although Cape May Lighthouse is a major attraction for many visitors to the area, the park's constantly changing shoreline, dunes, freshwater coastal marsh and ponds, forested islands and varied uplands make it a well-known location for viewing the fall bird migration. Located on the southern tip of New Jersey, Cape May Point State Park is a key site on the NJ Coastal Heritage Trail, with an environmental center that houses a classroom for interpretive programs and a museum on the area's natural and historic features.
Big SNOW American Dream

East Rutherford

Try something new and take a break from the school day to Big SNOW American Dream, North America's first and only year-round indoor snow dome, where it is always winter, located in East Rutherford, NJ, in the American Dream Mall. We cater to Home Educators and students Monday thru Thursday and think that our SNOW Play and Sledding product will be a great way to get out of the classroom to have some fun. SNOW Play is an experience geared toward ages 3 to 10 where kids climb, slide, and sled on real snow in a controlled weather environment, with 20% off for groups of 20 or more.
Statue of Liberty National Monument & Ellis Island

Ellis Island

Opened on January 1, 1892, Ellis Island became the nation's premier federal immigration station. In operation until 1954, the station processed over 12 million immigrant steamship passengers. The main building was restored after 30 years of abandonment and opened as a museum on September 10, 1990. Today, over 40 percent of America's population can trace their ancestry through Ellis Island.
Allaire State Park

Farmingdale

Allaire State Park is probably best known for its historic 19th-century ironmaking town, Allaire Village, and its antique steam trains on the Pine Creek Railroad. The Manasquan River, which winds through the park, attracts canoeists and fishermen. The river's floodplain provides habitat for over 200 species of wildflowers, trees and plants as well as habitat for birds and other wildlife. Hikers, mountain bikers and horseback riders enjoy the many trails in the park.
The Historic Village at Allaire

Farmingdale

School is in session in our chapel and students will learn firsthand what it was like to be a student in the year 1836. They will learn in the Lancastrian method always being mindful of the schoolmaster's rules so as to avoid any unusual punishments of inconvenience. After their lesson have been learned they will head into the village to visit with the Blacksmith and Carpenter. In the Manager's House they will see how an upper middle class family lived and they will have an opportunity to visit the General Store. Alternate village tours available.
Monmouth County Historical Association Museum & Library

Freehold

Since 1898, the Monmouth County Historical Association has collected over 30,000 objects relating to Monmouth County life. The collections span over three centuries of the lives of Monmouth County residents of virtually every social and economic background. Many of the objects are on view at the Association's four historic houses open to the public, and the Association incorporates many of its objects into its changing exhibitions.

Monmouth County Historical Association Museum & Library website
iPlay America

Freehold

iPlay America in Freehold, NJ, is a 4 acres indoor amusement park and entertainment venue. With rides for all ages, arcade games, and food and beverage options, iPlay America is the perfect destination for families, teens, and adults of all ages.
Voorhees State Park

Glen Gardner

Voorhees, like Parvin State Park, served as a camp for the Civilian Conservation Corps (CCC) - Franklin Roosevelt's program to get people back to work during the Depression. The CCC planted trees and constructed shelters, picnic sites and trails throughout the park. Two overlooks provide scenic views of Round Valley Reservoir and Spruce Run Reservoir.
Washington Rock State Park

Green Brook Township

The strategic location of Washington Rock made it a valuable lookout point during the American Revolution for General George Washington in June of 1777 when the British army under General William Howe was moving toward Westfield. From the vantage point of this natural rock outcropping, General Washington had a thirty-mile panoramic view of the valley and was able to instruct his troops to circle behind Howe's troops and cut off their retreat.
Allamuchy Mountain State Park

Hackettstown

The Musconetcong River, with some of the best trout fishing in the state, winds through Allamuchy Mountain State Park. Several miles of trails crisscross through the forests and marshlands of the park. Waterloo Village, which is located on the banks of the Morris Canal, is well known for its historic buildings and diverse cultural programs of classical and popular music as well as dance and opera.
Stephens State Park

Hackettstown

The Musconetcong River, an excellent freshwater fishing spot, flows over and around boulders through Stephens State Park. An easy walking, but rocky path follows the river with places for picnicking in shaded areas.
Wawayanda State Park

Hewitt

The quiet charm of Wawayanda appeals to hikers, campers, swimmers and boaters. Forested hills surround Lake Wawayanda creating a restful backdrop for canoeists, boaters and fisherman, while steep mountains challenge casual as well as serious hikers. A twenty-mile stretch of the Appalachian Trail runs through the park, while the top of Wawayanda Mountain offers sensational views. More than sixty miles of trails are marked in the park.
Long Pond Ironworks State Park

Hewitt

The old stone walls, furnaces and other remnants of the once industrious ironworking community now sit tranquilly next to the swiftly flowing Wanaque River. The village is undergoing research and restoration and one waterwheel has been reconstructed. Future plans call for additional restoration work.
Manasquan Reservoir Environmental Center

Howell

The Manasquan Reservoir Environmental Center is dedicated to providing experiences of learning and discovery related to wetlands ecology and wildlife and habitat protection. Through interactive exhibits, multimedia presentations, educational activities for schools and community groups, and wildlife observation areas, visitors gain an understanding of the importance of water in our world. Explore Manasquan Reservoir with your family and friends. Each backpack contains all you need to make your self-guided nature walk filled with adventure and exploration. Use of the backpack is free.
Liberty State Park

Jersey City

Liberty State Park offers miles of walkways for walking, jogging, biking, or rollerblading. All within site of the Manhattan skyline, the Statue of Liberty and Ellis Island.
Liberty Science Center

Jersey City

Liberty Science Center is a New Jersey nonprofit corporation dedicated to offering exceptional science learning experiences onsite, offsite and online. Located in Liberty State Park, Jersey City, NJ, we engage learners of all ages in science excitement, provide professional development for teachers, and actively connect people of all backgrounds to pivotal science and society issues.
Hopatcong State Park

Landing

Nine miles in length and covered by 2,500 acres of freshwater, Lake Hopatcong is the focal point of the park. Hopatcong State Park is at the southwest end of the lake and is a popular spot for fishing, boating, and swimming.
Monmouth Museum

Lincroft

At the Monmouth Museum, groups will find themselves in a Museum of Ideas featuring exhibits that focus on art, science, nature, and history. Established in 1963, the museum's Nature Area, Main Gallery & Nilson Gallery contain art of various mediums such as sculpture, paintings, and mixed media. Group tours are available on weekday mornings for groups of more than 10 people. Young learners will enjoy the interactive exhibits in the Becker Children's Wing and WonderWing, which will spark their curiosity with problem solving activities, and more. All grades.
Hacklebarney State Park

Long Valley

The freshwater Black River briskly cuts its way through rocky Hacklebarney State Park, cascading around boulders in the hemlock-lined ravine. Two tributaries, Rinehart and Trout Brooks, also course their way through this glacial valley, feeding the Black River. Even in the heat of midsummer, the temperature of Black River gorge is cool and refreshing.
Museum of Early Trades & Crafts

Madison

The Museum of Early Trades & Crafts is a history museum that tells the story of how people lived and worked in the 18th and 19th centuries. Since its inception in 1969, the Museum has been dedicated to educating young people about this aspect of New Jersey history. Through interactive programs, scouts take part in a lesson and make a craft to take home with them.
Campgaw Ski Area

Mahwah

Family-friendly Ski, Snowboard, and Snow Tubing facility in Mahway, NJ in Bergen County. Built in 1969, Campgaw has a lodge with a large firepit to keep you warm, a snack bar and cafeteria serving hamburgers, hot dogs, hot pretzels, soft drinks, a large tent for your event, and rental equipment available. We teach skiing and snowboarding to almost all ages and have snow tubing available to anyone over 48" tall. We have a Group Sales Department (and discounts) who will help set up for your visit if your group is larger than 20. Great fun for the children and adults alike!
Monmouth Battlefield State Park

Manalapan

One of the largest battles of the American Revolution took place in the fields and forests that now make up Monmouth Battlefield State Park. The park preserves a splendid rural 18th-century landscape of hilly farmland and hedgerows that encompasses miles of hiking and horseback riding trails, picnic areas, a restored Revolutionary War farmhouse and a visitors center.
Cheesequake State Park

Matawan

Cheesequake State Park's uniqueness lies in its geographical location. Not only is it situated in the middle of the urban north and the suburban south, it lies in a transitional zone between two different ecosystems. Open fields, saltwater and freshwater marshes, a white cedar swamp, Pine Barrens, and a northeastern hardwood forest are the main characteristics of the park.
Pinsetter Bar & Bowl

Merchantville

Pinsetter is now offering Homeschool Pod Bowling Field Trips! Package includes 1.5 hours of unlimited bowling, shoe rental, meal choice and bottle of water. Offer is available Monday thru Friday from 11am-3pm! Call Brianna at 856.665.3377 to find out more and mix up your daily learning routine!
Tamerlaine Sanctuary & Preserve

Montague

Tamerlaine Sanctuary & Preserve, located on 336 acres of rolling farmland, is home to over 275 rescued animal residents. Our tours are fun for people of all ages! During the week, you can plan a tour that focuses on humane education, or plan a private tour just for fun. On weekends, we hold public tours at 10 AM and noon. Come get to know our residents! Our tours are super interactive, and who doesn't need to hug a cow? Groups are welcome to spend the day on our grounds. Plan a picnic (vegan food only) on the lawn near our historic 1774 farmhouse, or hike our many lovely trails.
Montclair Art Museum

Montclair

The Montclair Art Museum (MAM) collects, preserves, and presents American and Native American art. Its innovative exhibitions and educational programs interpret and explore relationships between these two evolving artistic traditions. The Museum's exhibitions offer groundbreaking scholarship, fresh thematic approaches, first-time presentations of under-recognized artists, examinations of little-known aspects of major artists' careers, and an ongoing commitment to the artists and culture of New Jersey.
Craftsman Farms

Morris Plains

Craftsman Farms, located in and owned by the Township of Parsippany-Troy Hills, is the former home of noted turn-of-the-century designer Gustav Stickley, a major proponent of the "Arts and Crafts" home building and furnishing. The log house, built in 1911, is one of the most significant landmarks of the American Arts and Crafts movement, and the site, which consists of 30 acres of the original 650-acre tract, has been designated a National Historic Landmark. Craftsman Farms is also an Official Project of Save America's Treasures, a public-private partnership between the White House Millennium Council and the National Trust for Historic Preservation dedicated to the preservation of our nation's irreplaceable historic and cultural treasures for future generations.
Morristown National Historical Park

Morristown

"The monster hunger still attended us. Here was the army starved and naked and there their country sitting still and expecting the army to do notable things." Such was the winter encampment at Morristown, New Jersey as seen by Private Joseph Plumb Martin. The village served as quarters for the Continental Army on two occasions; the winter of 1777 and again during the Hard Winter of 1779-1780.
Macculloch Hall Historical Museum

Morristown

Macculloch Hall Historical Museum is the cornerstone of Morristown's National Historic District. George Macculloch, a Scotsman born in Bombay, immigrated to America from London with his wife and two children in 1806. Settling in Morristown in 1810, Macculloch began building his Federal-style brick mansion on his new 26-acre gentleman's farm. A businessman, scholar, and visionary, Macculloch is best known as the "Father" of the Morris Canal, an international engineering marvel.
Grow It Green Morristown's The Urban Farm

Morristown

The Urban Farm is New Jersey's largest public school garden and the perfect site for your next scout group or class outing! This agricultural teaching garden, located on land owned by the Morris School District, allows us to bring high-quality, agriculture education to the Morristown Area Community in an urban setting, where vacant land is difficult to come by.
Rowan University's Virtual Reality Center

Mullica Hill

The Virtual Reality Center provides cutting edge research performed by students and staff at Rowan University in the area of 3D graphics, visualization, simulation and virtual reality. The Center features multiple immersive VR systems, including a new 7-foot-high by 40-foot-wide curved wall of screens that provides a 3D, immersive environment for collaborative projects. The center also includes a research and development lab, a data wall for programming and design development, Oculus Rift, a 3D printer and prototyping capabilities. The Virtual Reality Center is home to extensive research for government, business and non-profit organizations. During your field trip, you will tour the facility, speak with staff and Rowan students, learn about virtual reality, see whats done in the lab and experience simulations.
Ripley's Believe It Or Not Museum

Multiple Locations

Offers museums and attractions in multiple countries focusing on odd and amazing things. Provides videos, details about exhibits, and their history.
Medieval Times

Multiple locations

Exciting, family friendly dinner theater featuring an authentic medieval tournament and feast with jousting knights, and live horses.
Jane Voorhees Zimmerli Art Museum

New Brunswick

The Education Department of the Zimmerli Art Museum conceives and implements programs in arts education, art history, literature, dance and music for visitors of all ages, from pre-school to senior citizens. These programs, such as lectures, studio classes, tours and concerts, are designed to empower the general public with knowledge that will make the museum's exhibitions and permanent collections more accessible and rewarding.
Pinelands National Reserve

New Lisbon

This is truly a special place. It's classified as a United States Biosphere Reserve and in 1978 was established by Congress as the country's first National Reserve. It includes portions of seven southern New Jersey counties, and encompasses over one-million acres of farms, forests and wetlands. It contains 56 communities, from hamlets to suburbs, with over 700,000 permanent residents.
Rancocas State Park

New Lisbon

The Rancocas Creek is the idyllic setting for hiking and nature observation in this rustic park. The Audubon Society operates a nature center within the park and sponsors wildlife programs. A portion of the park is leased to the Powhatan Indians. A replica of the Indian village of the 1600s has been constructed on this site. The annual Powhatan Indian event is a festival of music, performances and crafts.
Newark Museum

Newark

The Newark Museum is the largest New Jersey museum. Take an inspirational journey through 80 galleries of world-class collections including American, Asian, African and Classical. Experience another era in the Victorian Ballantine House, National Historic Landmark. Collections include live animals in the Mini Zoom, space travel at the planetarium, and beautiful sculpture garden.
New Jersey Coastal Heritage Trade Route

Newport

Take the time, explore this Trail of discovery. - The Trail will show you roads less traveled where you can find historic villages, migrating eagles, and boardwalks on miles of sandy beaches. This auto-trail stretches nearly 300 miles along 's shore and bays. Explore the Trail's five regions and you'll find the nation's oldest operating lighthouse; the town where revolutionaries burned British tea; and the state's official tall ship.
Kittatinny Valley State Park

Newton

Glacial lakes, limestone outcroppings, former railroads, and a small airport are features of Kittatinny Valley State Park. Lake Aeroflex and Gardner's Pond form part of the headwaters of the Pequest River and are excellent for fishing and boating. This scenic property is home to a variety of wildlife such as whitetail deer, wild turkey, a variety of songbirds, beaver, muskrats, and squirrels.
High Exposure Rock Climbing

Northvale

High Exposure is a multi-purpose facility for self driven sports; climbing, parkour and ninja warrior obstacles training-with a twist. Climbers can scale a 40-foot puzzle cube or jump across the towering pole walk, or race on speed and art walls and leap from obstacles. Offering programming for preschoolers through adult, cross training for outdoor races and more. The S.O.A.R.program (Success in trying, Overcome fear, Advance beyond doubt and Recognize the power of doing) is a great compliment to a home school education. Builds self-esteem, strength, enhance mental focus and courage.
Corson's Inlet State Park

Ocean City

Corson's Inlet State Park was established in 1969 to help protect and preserve one of the last undeveloped tracts of land along the state's oceanfront. The area's natural habitats are rich in the diversity of its wildlife with primary and secondary sand dune systems, shoreline overwash, marine estuaries and upland areas in which hundreds of wildlife species live and breed. The park offers outstanding scenic beauty and endless opportunities for observing a multitude of migratory and residential wildlife species. Corson's Inlet is extremely popular for hiking, fishing, crabbing, boating and sunbathing.
Mane Stream

Oldwick

Offer field trip programs for students with special needs, Scouts, and school groups. While at the farm, students learn about responsibility, teamwork, social skills and horses in a safe and relaxed environment. The visit allows students to build on their in-school curriculum. All programs feature age-appropriate activities. Our instructors ensure activities are tailored to the ability level and ages of participants. Activities may include feeding, grooming and tacking, leading a horse through an obstacle course, a quick riding experience and treat time!
Arena STEM

Paramus

Join us at Arena STEM for a fun-filled day of activities and learning for kids of all ages. Arena STEM offers an unforgettable and unique experience, as well as interactive STEM workshops to educate and entertain. We offer various packages custom-made to your needs and requirements. Arena STEM's friendly and professional staff are able to work with all types of groups, and we're inclusive of all children.
Buehler Challenger & Science Center

Paramus

Buehler Challenger & Science Center provides an unforgettable experience for both children and adults. Fly a variety of different space missions in our simulator and enjoy our unique hands on experience to learn more about science and space exploration. We look forward to flying with you!
Fort Mott State Park

Pennsville

Fort Mott was part of a coastal defense system designed for the Delaware River in the late 1800s. The fortifications seen today at Fort Mott were erected in 1896 in anticipation of the Spanish-American War. Today, visitors can wander through the old batteries following interpretive signs with detailed descriptions of the fort. Just beyond the fortifications is the Delaware River. The shoreline offers good spots for walking and picnicking. The NJ Coastal Heritage Trail Welcome Center accommodates displays defining Fort Mott's place in history and the environment.
Parvin State Park

Pittsgrove

Hidden in the southwestern part of the state is Parvin State Park, a park whose history is as varied as its wildlife. Situated on the edge of the Pine Barrens, the park not only has pine forests typical to the area but also a swamp hardwood forest. Spring bursts out in bright colors and rich fragrances with blossoming dogwood, laurel, holly, magnolia, wild azalea and over 200 kinds of flowering plants. Thundergust Lake, Parvin Lake and Muddy Run are popular for fishing and boating. Swimming is allowed in Parvin Lake only.
Delaware & Raritan Canal State Park

Princeton

The Delaware and Raritan Canal State Park is one of central New Jersey's most popular recreational corridors for canoeing, jogging, hiking, bicycling, fishing and horseback riding. The canal and towpath are part of the National Recreational Trail System. The 70-mile linear park is a valuable wildlife corridor connecting fields and forests.
Princeton Battlefield State Park

Princeton

On January 3, 1777, the peaceful winter fields and woods of Princeton Battlefield were transformed into the site of what is considered to be the fiercest fight of its size during the American Revolution. During this desperate battle, American troops under General George Washington surprised and defeated a force of British Regulars. Coming at the end of "The Ten Crucial Days" which saw the well-known night crossing of the Delaware River and two battles in Trenton, the Battle of Princeton gave Washington his first victory against the British Regulars on the field. The battle extended over a mile away to the College of New Jersey (now Princeton University).
Terhune Orchards

Princeton

Terhune Orchards welcomes any age group interested in learning about a working farm, how crops go from seed to plant to harvest, sustainability and more. Throughout the seasons, the focus shifts depending on what is in season. In the fall guests can pick apples and pumpkins. For young visitors, programs allows exploring the farm through books and activities, with a visit to relevant farm areas. Tours can be tailored to a group's needs, whether it is adjusting the content to reflect students' interest, or make the tour more accessible for those with special needs.
Princeton University Art Museum

Princeton

The primary mission of the Princeton University Art Museum is to effectively support and enhance the university's goals of teaching, research, and service. The Museum does this through the study, preservation, conservation, exhibition, and development of its collections.
Morven Museum & Garden

Princeton

A National Historic Landmark, Morven is situated on five pristine acres in the heart of Princeton, NJ. This former NJ Governor's Mansion showcases the rich cultural heritage of the Garden State through regular exhibitions, educational programs, and special events. Home to one of the signers of the Declaration of Independence and to five New Jersey governors, Morven has played a role in the history of New Jersey and the nation for more than 250 years. Offering enrichment courses and tours for homeschoolers. Email dlampertrudman@morven.org for details
Farny State Park

Ringwood

This forested wilderness connects watershed lands and is crossed by an old logging road. Streams, mixed oak-hardwood forest and swamps comprise the park. Trail entry is through the Farny Natural Area. Split Rock Reservoir is adjacent to the park
Ringwood State Park

Ringwood

Facilities & Activities:Visitors center, Formal gardens, Ringwood Manor, Skylands Manor, Shepherd Lake Rec. Area, Trails, Fishing, Hunting, Picnicking, Boating/canoeing, electric motors, trailer launch, cartop launch, boat rentals, canoe rentals, Swimming, Winter sports: cross-country skiing, snowmobiling, ice fishing, sledding St. Luke's Chapel, Skeet Range, Trails: Hiking, Nature trails, Horseback riding, Biking, and Mountain biking.
Skylands, the New Jersey Botanical Garden

Ringwood

You're about to discover the Garden State's hidden jewel. From the delicate shades of a tiny wildflower to the vibrant colors of massed annual plantings, Skylands is a place of beauty in any season. Here you can wander amid the elegance of formal gardens, or along gentle paths winding through the woods. Skylands is also a safe haven for unusual plant species from around the world. The garden protects and preserves these plants as their natural habitats are changed forever by progress.
Roebling Museum

Roebling

Welcome to the Roebling Museum! Located in the historic village of Roebling,New Jersey, the museum presents the story of the engineering genius of John A. Roebling, the Roebling family, the company town of Roebling and the technological innovations and products produced by the company that shaped the industrialized world.
Island Beach State Park

Seaside Park

Shaped by storm and tides, Island Beach State Park is a narrow barrier island stretching for 10 miles between the restless Atlantic Ocean and the historic Barnegat Bay. Island Beach is one of New Jersey's last significant remnants of a barrier island ecosystem that once existed along much of the coast and is also one of the few remaining undeveloped barrier beaches on the north Atlantic coast. Over 3,000 acres and 10 miles of coastal dunes remain almost untouched since Henry Hudson first described New Jersey's coast from the ship, the Half Moon, in 1609.
Legends Ballpark

Sewell

Children ages 5 and up can choose to play in our indoor, air conditioned facility for sports and foam dart battles (note kids ages 3-5 can choose sports only). Sports options include: flag football, kickball, dodgeball, whiffle ball and soccer. A second field is set-up with huge blow-up walls, tanks, bunkers, barricades, camouflage etc. for foam dart battles (we supply the nerf blasters, ammo and safety glasses). 2 hour field trip for sports/foam dart battles is $10/child. Play, food and drinks are available for $15/child. Large groups welcome!
Gateway National Recreation Area

Staten Island

A Special Place - Gateway provides abundant recreational and learning opportunities, from swimming, boating and fishing to team sports, bicycling and nature study. The nation's oldest operating lighthouse, forts that defended America, and sites that trace aviation's early days tell significant stories. The living world can be explored in a wildlife refuge, holly forest, ocean dunes and coastal uplands.
Haxton Homestead

Stockton

Haxton Homestead is a small family farm that focuses on pasture raised livestock. We can teach children of all ages about the animals we have (horses, cows, pigs, goats, chickens, turkeys, and ducks) and about regenerative agriculture. We have farm tours and do homeschool classes/programming. Call ahead to make an appointment.
Reeves-Reed Arboretum

Summit

Reeves-Reed Arboretum's grounds, which include the Stackhouse Education Center, Roehm Greenhouse, 13 acres of gardens and woodland trails, our historic Wisner House, and of course, our spectacular trees, allow us to offer engaging and unique programs. Our field trips provide students with an inspiring, interactive educational experience that will perfectly complement their classroom instruction. Topics mainly focus on environmental science and are best suited for children ages 4-12.
Swartswood State Park

Swartswood

Established in 1914 as New Jersey's first state park, Swartswood is well known for its great fishing and tranquil surroundings. Little Swartswood and Swartswood Lake were formed by glaciers thousands of years ago and are now home to a variety of fish. Both lakes have been the focus of water quality improvement efforts including invasive aquatic weed control and watershed protection.
The Nature Center at Washington Crossing State Park

Titusville

The Nature Center and its 140-acre natural area are located within the 3,500 acres of the park. This preserved area consisting of hiking trails through a mosaic of mature hardwood forests, young successional forests, fields, and streams. The Nature Center contains exhibits, live and preserved specimens and field guides. Visitors may schedule a field trip that meets the New Jersey Core Curriculum Standards, attend a public program, or simply enjoy the facility and trails. The park also contains the Visitor Center Museum with artifacts from the Revolutionary War and the Johnson Ferry House.
Washington Crossing State Park

Titusville

On December 25, 1776, the icy waters of the Delaware River provided the setting for one of the pivotal events of the American Revolution. The Continental Army had little to celebrate that Christmas and seemed beat by hunger and cold. After crossing the rough winter river at night, General George Washington and the Continental Army landed at Johnson's Ferry, at the site now known as Washington Crossing State Park. At 4 am, they began their march to Trenton where they defeated the Hessian troops in an unexpected attack. This battle was quickly followed by the Second Battle of Trenton on January 2, 1777, and the Battle of Princeton on January 3, 1777.
Ocean County Historical Society

Toms River

The Ocean County Historical Society Museum and Research Center was built in several stages, beginning in 1820. The final phase of construction was our Research Center, completed in 1990.
New Jersey State Museum

Trenton

Exhibits that tell the story of New Jersey and beyond, the state's largest Planetarium, a paleontology research lab on view to the public, live theater, it's all there! Groups of 15 or more may sign up for a varieyy of hands-on learning labs, tours or Planetarium shows. Thursday Theater is open to groups of any size. New Jersey State Museum is part of the Capitol Complex next to the State House and the Old Barracks.
Tulpehaking Nature Cente

Trenton

Tulpehaking Nature Center is the gateway to exploring the Abbott Marshlands, with rotating exhibits and public programs that feature the nature and archaeology of this wonderful place, coordinated with hands-on activities, live turtles and snakes, artifacts on display, and the work of local artists inspired by nature. Open Wednesday-Saturdays 10am-4pm and Sundays 1-4pm. Admission to the nature center is free.
Old Barracks Museum

Trenton

The Old Barracks serves as an educational center for Colonial and American history, and stands as the last remaining structure of its kind. The Old Barracks staff provides daily tours and interpretations of American colonial life. The building offers a museum of artifacts and weapons, as well as a gift shop. Nearly 20,000 school children and thousands more people from all over the world visit the Old Barracks every year, making it one of the most visited sites in New Jersey and one of the most important historic sites in the United States.
The Gagasphere

Waldwick

Field trips at The Gagasphere integrate STEM learning with fun hands-on activities that will focus on science/engineering and math concepts. Students then take their energy and brain power into the Gaga Pit! The Gagasphere partners with TeamMakers NJ to provide 3 or 4 stations of life-sized problem solving STEM activities coupled with Gaga game play. It's brain and body fun all in one place. STEM and Gaga Field Trip 1.5 or 3 Hour Trip (3 hour trip includes bagged lunchtime) Ages prek-8th grade
High Point State Park

Wantage

The view from High Point Monument, at 1,803 feet above sea level, is a spectacular panorama of rich farmland and forest, soft hills and lush valleys in three states. The blue line of the Delaware River divides the verdant ridges of New Jersey from those of Pennsylvania. High Point offers superb trails for hikers and skiers and quiet spots for campers and anglers.
Edison National Historic Site

West Orange

Imagine your day ending at sunset. Life without music, motion pictures, radio. Life without light itself. Our modern lives began at the turn of the century in West Orange, New Jersey. The Laboratory and home of Thomas Edison, stopped in time, continue to teach a new generation.
National Society of The Colonial Dames of America (NSCDA)

Westampton and Mount Holly

An organization devoted to furthering an appreciation of our national heritage through historic preservation, patriotic service and educational projects. Committed to the stewardship of its museum properties, Peachfield and the Old Schoolhouse. The Colonial Dames desire to preserve the building, lands and collections to enrich and enlighten a diverse public. The story of change at these properties will be told to encourage the understanding of architectural, agricultural and educational values through time.

National Society of The Colonial Dames of America (NSCDA) website
Seaquest Interactive Aquarium

Woodbridge

SeaQuest is your ultimate land and sea adventure. At SeaQuest, we understand the importance of hands-on learning. We offer interactive field trips that are age-specific. Your students will learn about diets, habitats, and conservation on an educational quest through the aquarium. Your Animal Whisperer will provide fun and educational information while your students feed and touch animals from around the planet. On the first and third Monday of each month we host home-school Field Trips for small groups, any co-op or group of 15 or more students can book a Field Trip on a date of their choice.