Jump to: Homeschool Arts | Homeschool Sports
In addition to the opportunity to get out of the house and socialize, homeschool sports and arts programs can offer long-term benefits by developing characteristics like leadership, self-confidence, perserverance, and self-esteem. Many organizations and businesses have opportunities specifically for homeschoolers, while others invite homeschoolers to participate in their regular programs.
Not sure how to choose activity/activities for your children? Read how Rebecca narrows down the choice of extra-curricular activities.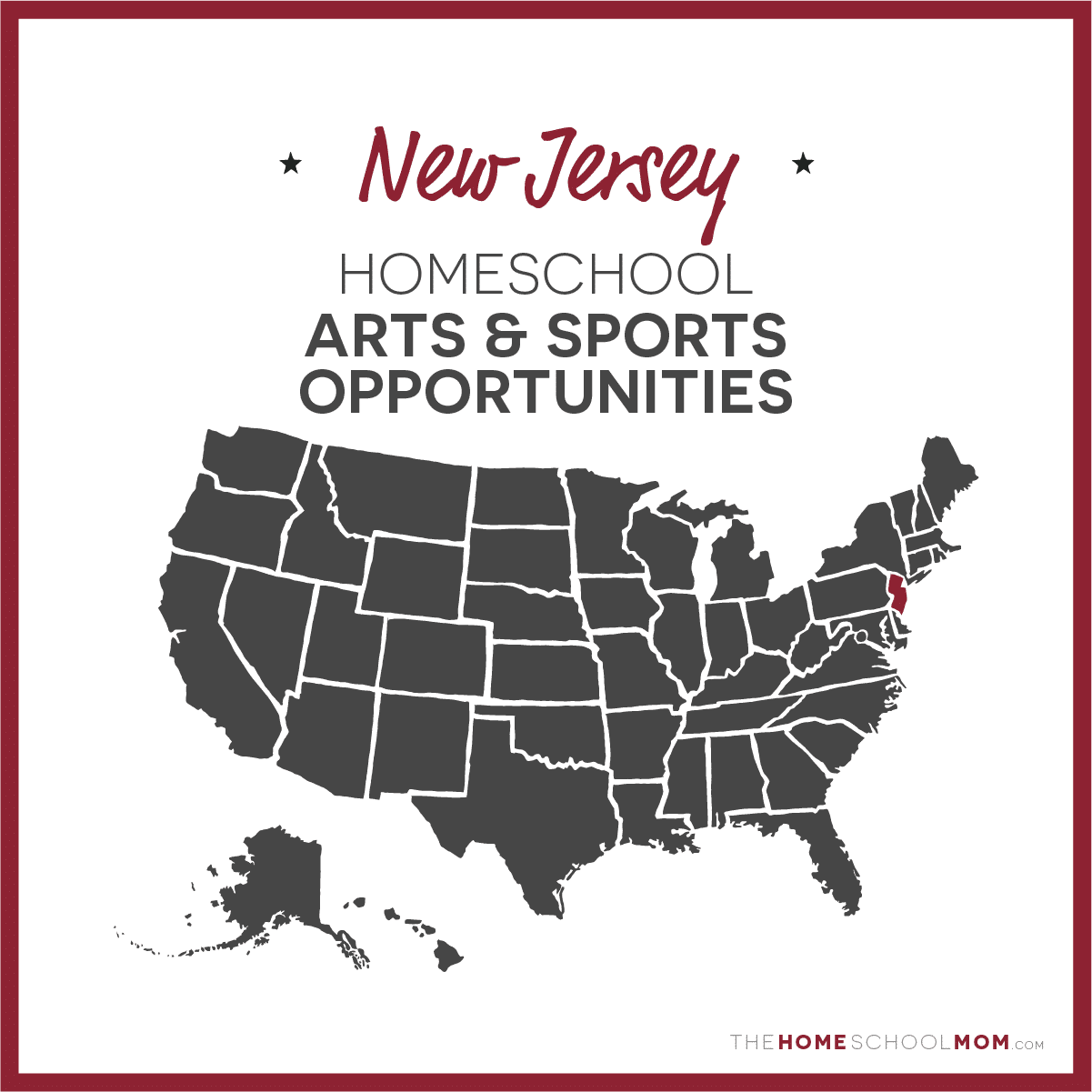 Submit a Local Resource
Our listing of New Jersey list of homeschool arts and sports programs is ordered alphabetically by city, with arts in the first section and sports in the second section. If you would like to submit an New Jersey arts or sports program, you may do so using the red button above.
New Jersey Homeschool Arts Programs
LM Guitar StudioBergen County
LM Guitar Studio provides private guitar lessons in Bergen County, NJ and beyond. Guitar instruction is personalized for each unique individual with a stress-free, highly enjoyable process, helping you cultivate your ...
Violin lessons with ElanaBergen County
Fun and engaging violin lessons with a world-class trained violinist. With a music degree from Rutgers and over 20 years' experience teaching students of all ages and levels, lessons can be catered for each student. E...
Center for Modern Dance EducationBergen County New Jersey
This resource is a nonprofit dance school that offers dance classes for all ages and abilities. The first class is free at this dance school. The school is also offering BOGO for the Fall.
Wharton Institute for the Performing ArtsBerkeley Heights
The Wharton Institute for the Performing Arts offers group classes and private lessons that can be tailored to Homeschoolers needs. Wharton is New Jersey's largest independent non-profit community performing arts educ...
The Theatre at RVCCBranchburg
The Theatre at RVCC in Branchburg, NJ offers a full range of professional theatrical performances for school time audiences from all over the world. The shows range in age from pre-k through 8th grade, and offer curri...
Kids Arise Music AcademyBridgeton/South Jersey
Kids Arise Music Academy is a faith based organization that desires to see children use their musical talents to glorify God. Instruction is given on a variety of woodwind, brass, percussion, and string instruments, a...
ArteVino StudioCentral and Northern
ArteVino Studio is a NJ-based art studio offering private or semi-private events for children ages 5+. Offering on-site or in-studio art instruction, with a focus on acrylic painting. Contact info@artevinostudio.com f...
Expressions and ReflectionsCentral New Jersey
Expressions and Reflections offers private music instruction in studio or your home. All ages welcome. Lessons include mainly the study of piano, organ, guitar and voice.
Guitar Lessons In Home with Christopher SchwartzCentral New Jersey
Private one on one guitar lessons in home or studio. Instructor has a music degree from Mason Gross School of the Arts at Rutgers and over a decade of teaching experience. Offering lesson plans for a variety of ages, ...
Cornerstone Music StudiosCentral New Jersey
Cornerstone Music Studios at Millstone provides quality music instruction in a professional, friendly and nurturing environment. The signature "Homeschool Hub" curriculum consists of Core Music Education classes; incl...
The Theatre at Raritan Valley Community College (RVCCARTS)Central New Jersey
The Theatre at Raritan Valley Community College (RVCCARTS) this season offers top quality educational field trips for grades Pre-K through 12 through "School-Time", "Tuesdays With Stories", "Club28", and "Youth & ...
Alma Dance Academy of New JerseyCliffside Park
Alma Dance Academy offers classes for kids ages 4-18 in Ballet, Tap, Jazz, Hip Hop, Pointe, Contemporary, Acrobatics and Flamenco. Ballet students participate in annual Ballet Examinations and every student has an opp...
Art Classes for Kids with Kimberly CheiferClinton
Art Journey Studio offers art classes with artist and NJ certified art teacher, Kimberly Cheifer. Ages 3 and up can explore drawing, painting, sculpture, printmaking, and mixed media, including fun art materials like ...
Susan Graham, Flute StudioFanwood, Union County
Private flute lessons in instructors home, located in Union County. Susan Graham has over 25 years of experience teaching the classical flute repertoire to students, beginner through adult. Have fun learning the flute...
Ballroom and Latin Dance Class for KidsHackettstown
Children will learn the basics of ballroom and Latin dances and develop posture, coordination, rhythm, and social skills in a group class setting at Classic Ballroom Dance Studio in Hackettstown, NJ.
The Artist AcademyHaddon Township, NJ
The Artist Academy is an art school for ages 4-18 located at 225 Haddon Ave Haddon Township, NJ (In the Fish Tank's Conference room). All of our staff have NJ Art Teaching Certifications for grades K-12. We are open T...
School of Rock PrincetonHamilton
School of Rock offers students of all skill levels age 7-18 a performance-based music curriculum in a fun environment. Weekly private lessons are combined with structured group rehearsals. Students prepare to perform ...
Jennifer Fischer's Piano/Voice lessonsHamilton
Jennifer Fischer is an elementary music teacher who has her bachelors degree in music education. She has been playing piano for 18 years and studied classical voice for 10 years with opera singer, Era Tognoli.
The Circus PlaceHillsborough
Discover the exciting world of circus arts in the Circus Place Homeschool Classes. Students will learn trapeze, tight wire, aerial silks, acrobatics, juggling, stilt walking and so much more. Circus is a great physica...
Lessons By NicoleHowell
Private or group voice and piano lessons for students of all ages!
Pianorama Piano LessonsJackson, New Egypt, Manchester
Piano lessons for children in a nurturing environment with an experienced and patient teacher. The curriculum offers both fun and structure for a complete musical education!
The Makers WorkshopLaurel Springs
Classes (4 weeks) and Workshops (1 day) in Clay, Painting, Woodworking and Crafts all taught by professional artisans at a location in Laurel Springs. Mornings, afternoons or evenings.
DoItBig ProductionsMickleton
A community theatre company dedicated to providing quality productions, as well as being a theatrical education prep forum for children and young adults.
One River SchoolMillburn
One River School of Art + Design has embarked on a mission to transform art education in America. We have developed a unique method for teaching art and digital design classes to people of all ages. Very simply, our s...
Homeschool Core Music Curriculum ClassMillstone Township
Cornerstone Music Studios offers a weekly music class specifically for homeschoolers to learn music theory, literacy, and explore world stylings in a warm and encouraging community by our highly trained and talented s...
Crescendo Suzuki Studio: Violin and Viola lessonsMine Hill
Aimee Morrill Briant offers a warm and nurturing studio based on Dr. Shinichi Suzuki's philosophy that children learn music the way they learn to speak their native language and that any child can develop musical abil...
Bass Arts StudioMontclair
Bass arts Studio offers classes in painting, drawing, sculpture, fashion design and sewing to kids ages 7-17.
Edward's Violin Studio - LessonsMorris Plains
Edward's Violin Studio provides private and group violin instruction in the Suzuki method for ages 3 and up. This resource is a holistic pedagogy that emphasizes the parent-student-teacher triangle of engagement and a...
Mayo Performing Arts CenterMorristown
Mayo Performing Arts Center (MPAC) is a 501(c)(3) non-profit performing arts center in Morristown, New Jersey, presenting a variety of school-time shows for all grade levels. Tickets range from $8 - $10 with discounts...
Jammin' in Mr. Jim's StudioMount Holly
Jammin' in Mr. Jim's Studio provides a fun and educational space for little ones to explore melody and rhythm. Mr. Jim encourages you to bring your own instrument to play along, sing and dance while you sing some song...
John Gray Homeschool Music AcademyNew York City
John Gray is an experienced music educator, serving the homeschool and remote learning communities, offering weekday, daytime private virtual music lessons and music ensemble classes. John teaches online guitar and pi...
Anselmo Academy of Music & The ArtsNew York Metropolitan Area
Anselmo Academy of Music & the Arts (formerly known as The Piano School of NYC) is a non profit organization serving thousands of students since 2001. We are offering lessons in Piano, Violin, Guitar, Voice, Theat...
Dan Radzikowski Vocal StudioNew York, Westchester County, Fairfield County
Dan Radzikowski provides in-person and online voice lessons for families with homeschoolers. He will meet at his studio in Manhattan or via your iPad, iPhone or desktop computer from the comfort of your own home. Dan ...
NJPAC Arts EducationNewark
Every year, NJPAC's live performances, school residency programs and Saturday & Summer arts training classes reach thousands. Whether you're an educator, a parent or a student, explore our programs and find out wh...
The Newton Theatre Arts AcademyNewton
The Newton Theatre Arts Academy provides courses that cover a wide range of artistic interests. The Academy offers programs for children K - 12th grade in Acting, Musical Theatre, Dance, and Fine Arts. They are able t...
Rutgers Promenaders; Modern Family Square DancingNorth Brunswick Township
Modern family square dancing is open to all ages and genders. No partner needed as you learn to dance, make new friends and get great exercise. Also benefits social interaction skills and etiquette skills. An afternoo...
Artsy SmartsyNorthern Region
Artsy Smartsy partnered with Artistic Impressions Studio of Boonton, NJ brings area homeschoolers an outstanding program of arts based courses featuring artful history, biographical, multicultural, and art for art's s...
Karen Olson Enriching Violin and Viola LessonsNorthwest NJ, Allamuchy
This resource provides violin and viola lessons for all ages and levels by Dr. Karen Olson. Previous teaching experience includes: Rutgers, Montclair State and Rowan Universities and more, as well as at private studio...
Bodies In Motion Dance CentreOld Bridge, Sayreville,Middleton
Bodies In Motion Dance Center in Parlin and Middletown, NJ is now offering dance classes to fit within your homeschooling day. The staff's passion and commitment to teaching the art of dance make BIM a special place f...
Megan Hofreiter PianoPennington
Piano lessons with Megan Hofreiter are individually tailored to each student's style of learning in an encouraging environment. Students learn practical piano skills and practice habits that enable them to become inde...
Muddy Finger Studio Pottery classesPhillipsburg
A small studio where we explore the world of mud with our fingers! Learn basic techniques, vocabulary, and tooling of pottery. Children will enjoy fun educational classes where they are able to get their hands dirty! ...
Gloucester County Children's ChoirPitman
The Gloucester County Children's Choir's mission is to provide an opportunity for young performers between the ages 10 and 16 to participate in a fine performing arts organization of the highest quality, to provide tr...
Rhino TheatrePompton Lakes
Rhino Theatre offers three sessions of acting classes and musical theatre classes each season, as well as summer camps and youth/teen productions! They can even produce a show for your group!
Hummingbird ArtsPrinceton
Small art studio in Hamilton NJ, run by teaching artist April Zay. Offering private and small group art classes, focused on traditional drawing and painting techniques. Ages range from 3 years- adult.
New School for Music StudyPrinceton
The New School for Music Study offers a curriculum of group and private musicianship instruction at the piano that has been developed over sixty years. Homeschooling families are encouraged to take advantage of the da...
Karen Dalley Piano StudioPrinceton
The Karen Dalley Piano Studio based in Cranbury New Jersey offers specialized classes for home schoolers, as well as private, semi private, or small group lessons in music or piano for students of all ages in Mercer a...
Princeton Music LessonsPrinceton
Guitar lessons can be taken in-person at our recording studio near Littlebrook School in Princeton (subject to change). If you live in the greater Princeton area, we will come to you for drum lessons.
The Mindful Cafe & Learning CenterRamsey, Chestnut Ridge, Nyack
The Mindful cafe & Learning center fosters holistic, student centered learning for homeschoolers in the 7-9th grade. MC hosts individual academic and elective class opportunities with experienced teachers. Small g...
Music Lessons with Ruth PasquarielloRiverdale
Instruction in Music Theory, Ear Training, Keyboard Technique, Sight Reading, Music History, Varied Repertoire, Composition, Arranging, and Improvisation. Ages pre-school through adult. General Music curriculum also a...
Drama Kids of Greater MorristownSomerset & Morris County
Drama Kids is a developmental drama program and after school enrichment program for kids. It develops lifelong skills for success in life. This program provides remarkable creative drama education for children and you...
Abrakadoodle of Somerset County, NJSomerset County
Art classes, art camps, workshops, parties and one-time classes. Abrakadoodle art classes for kids are all about creativity! Kids use their imaginations while using a wide variety of materials, such as paints, wire, c...
Spectrum Music Studio (In-Home Lessons)Somerset, Morris, and Essex Counties
Learn to play piano, clarinet, flute, or saxophone with Nicole in your own home! Armed with a decade of teaching experience, degrees in music education and performance from Montclair State, and NJ teacher certificatio...
Perkins Center for the Arts Back to TopSouthern New Jersey, Moorestown and Collingswood
Perkins Center for the Arts has been making creativity and inspiration happen since 1977. Classes are led by teaching artists who deepen the educational and artistic experiences of our students. Weekly classes and one...
Waterloo Village Traveling Art cartStanhope
Learn why Lenape pottery was so important to the Lenape, NJ's Original People and how they used it for cooking and storage. Create and decorate your own pot to keep. Our art cart can come to you or you can visit us at...
Children's Choir of New JerseySummit
The Children's Choir of New Jersey is the premiere ensemble for outstanding young voices ages 6-12.  Strong vocal technique, exemplary pedagogy and diverse repertoire comprise the musical foundation upon which Childre...
BOLD ArtsUnion county
We come to you. We are a dance based arts program and can bring energetic dance experiences to your communities, or support your curriculum with movement classes as a part of the learning day.
Marie-france MacDonald Piano & Voice LessonsWaldwick
Marie-france MacDonald is an experienced piano and voice teacher who believes every child is extraordinary -- and therefore deserves extraordinary instruction. She loves to discover the way her students learn, then ca...
Jemini Music StudioWarren County
Located in Warren County, NJ, Jemini Music has been offering private piano lessons to children, teens and adults for almost 20 years. We are dedicated to cultivate and nurture each student's unique creative potential ...
Nadja Brown Ramsay Piano Studio: Piano and VoiceWarren/Hunterdon Counties
Nadja Brown Ramsay is a highly qualified music teacher (private piano & voice) with years of experience. Having been a homeschooler herself, Nadja realizes the importance of following the child's lead and honoring...
Play It Forward School of MusicWayne
Play It Forward School of Music offers in-person or virtual music classes for all ages. Our music lessons include violin, piano, voice, guitar, or percussion as taught by our highly-skilled teachers and lessons start ...
NJ Workshop for the ArtsWestfield
NJ Workshop for the Arts is a non-profit music school in Westfield (Union County). Since 1972 NJWA has been providing the finest musical education to all in our community. Various homeschool related musical programmin...
New Jersey Homeschool Sports Programs
Pickleball group activityAtlantic City
Performance Pickleball offers introduction, beginner and on going training in the sport of pickleball. These sessions are offered 10-11 am on Thursdays. Call to confirm class. [Read more...]
The GagasphereBergen County
The Gagasphere is the only indoor facility in NJ dedicated to the game of Gaga Ball. Have you heard of Gaga? What is it? It's an extremely popular fast-moving ball game played inside a "gaga pit". ... [Read more...]
Arena Fencing AcademyBergen County /NJ
At Arena Fencing Academy our goal is to develop successful fencers for all ages and all levels. Exercise, have fun and learn how to fence! Fencing games, Footwork, Bladework, and Bouting [Read more...]
North Stars Gymnastics Academy, Boonton, NJBoonton, Morris County
Gymnastics Classes for homeschoolers from preschool thru high schoolers. [Read more...]
Life Center Academy Girls High School BasketballBurlington
Life Center Academy is a private Christian school in Florence Twp., NJ. Our girls basketball program plays a competitive independent schedule during the high school season from November through Feb... [Read more...]
Salvation Army Camden Kroc CenterCamden/Burlington Counties
Looking to start daytime group swimming lessons at the Camden Kroc Center. American Red Cross classes will be taught in both the indoor water park and the 8 lane competition pool during weekday mor... [Read more...]
Sofive Soccer Center MeadowlandsCarlstadt
Sofive Soccer Center is a unique venue that offers our groups the chance to play in a soccer specific facility to create memorable experiences among their friends and family. We offer 5-a-side matc... [Read more...]
Aqua-Tots Swim Schools in ClarkClark/Union County
Offering swim lessons for children starting at four months of age, Aqua-Tots Swim Schools is the industry leader in swimming instruction because of its world-class curriculum, highly trained swim i... [Read more...]
British Swim School - Clifton NJClifton, Essex and Passaic County
British Swim School could be a fantastic opportunity for your children to leave home, stay physical and learn a critical life skill. We teach essential water survival skills and swimming to kids of... [Read more...]
Goldfish Swim School DenvilleDenville
Goldfish Swim School – Denville is a state-of-the art swimming facility dedicated to teaching children as early as 4 months how to swim. Goldfish is much more than a swim school. Goldfish prides it... [Read more...]
Budo Kin Kai Karate and FitnessEast Orange
Budo Kin Kai Karate with Master Karrin is a fun, non-contact karate program specifically designed for students grades K-12. Each class provides developmentally appropriate and engaging activities t... [Read more...]
Budo Kin Kai Karate and FitnessEast Orange
Budo Kin Kai Karate with Master Karrin is a fun, non-contact karate program specifically designed for children ages 4 and up. Each class provides developmentally appropriate and engaging activities... [Read more...]
New Jersey Fencing AllianceEssex, Union and Morris county
New Jersey Fencing Alliance (NJFA) A 501(C)(3) is proud to be one of the country's largest fully equipped fencing facilities and New Jerseys oldest established fencing clubs (18 years). NJFA contin... [Read more...]
Gymnastics UnlimitedFlemington/Central Jersey
Gymnastics Unlimited is a safe, fun place to learn. Offering opportunities in:gymnastics, Ninja Zone, cheer, summer camp, and tumbling, preschool classes. Children learn the long-term benefits of a... [Read more...]
Kraus Karate AcademyHainesport
The Kraus Karate Academy has been providing quality martial arts training to the community for 16 years. Kraus Karate uses martial arts to help children and adults improve their focus, self discipl... [Read more...]
The Circus PlaceHillsborough
Discover the exciting world of circus arts in the Circus Place Homeschool Classes. Students will learn trapeze, tight wire, aerial silks, acrobatics, juggling, stilt walking and so much more. Circu... [Read more...]
Mane Stream adaptive riding programHunterdon County and Somerset County
Mane Stream's mission is to improve the quality of life for individuals with physical, developmental, emotional and medical challenges through a diverse program of equine assisted activities, equin... [Read more...]
Goldfish Swim School ManalapanManalapan
Goldfish Swim School – Manalapan is a state-of-the art swimming facility dedicated to teaching children as early as 4 months how to swim. Goldfish is much more than a swim school. Goldfish prides i... [Read more...]
Making Waves Swim SchoolMercer/ Middlesex/ Somerset/ Burlington County
Making Waves Swim School specializes in teaching private swim lessons for any age all year round. All instructors are certified lifeguards and are trained to meet the needs of each student. Whether... [Read more...]
Gravity VaultMiddletown
Gravity Vault is a chain of indoor rock climbing gyms offering a range of classes that can be a good physical and educational extracurricular activity. Rock climbing is a full body workout that str... [Read more...]
Middletown Skating AcademyMiddletown
The Middletown Skating Academy offers classes for all ages and levels of skaters. Want to be a better hockey player, figure skater, or just have fun skating, we have programs that are just right fo... [Read more...]
Goldfish Swim School MiddletownMiddletown
Goldfish Swim School – Middletown is a state-of-the art swimming facility dedicated to teaching children as early as 4 months how to swim. Goldfish is much more than a swim school. Goldfish prides ... [Read more...]
Homeschool On-Ice Fitness SocialMiddletown
The service offered at this facility is an option for a weekly fitness and socialization for homeschoolers. Each week students have a 30 minute on ice lesson followed by a public skate to practice ... [Read more...]
MCCHE BasketballMorris County
A Morris County Homeschool Group with Boys Basketball for JV and Varsity Teams. Currently have one Girls Team with players in the age range of 13-17. Practices begin in Oct and continue into the be... [Read more...]
Sovereign Hill Stables; Horse back riding lessonsMullica Hill
Sovereign Hill Stables offers lessons in all disciplines beginner through advanced. With a qualified and experienced trainer to help any rider reach their goals. Beginner lessons feature emphasis o... [Read more...]
NJ Homeschool Sports AssociationNew Jersey Statewide
The NJ Homeschool Sports Association is a free voluntary networking service for the NJ homeschool community. By using a tier organizational structure, we provide ALL the tools needed for parents an... [Read more...]
British Swim School HWFNewark
The British Swim School is a nationwide premier swim school, offering lessons for all ages - including their signature Parent & Me classes starting at 3 months. [Read more...]
Rutgers Promenaders; Modern Family Square DancingNorth Brunswick Township
Modern family square dancing is open to all ages and genders. No partner needed as you learn to dance, make new friends and get great exercise. Also benefits social interaction skills and etiquette... [Read more...]
PowerZone Homeschool AthleticsNorthern Jersey
PowerZone Volleyball located in Denville, New Jersey, Morris County is launching a new program for homeschooled individuals. They will be offering two different sub categories under the Homeschool ... [Read more...]
Princeton Pong Table Tennis CenterPrinceton Junction
Princeton Pong is an elite table tennis Facility in Princeton Junction, NJ. The facility has 14 Professional Ping Pong Tables and a Player's Lounge perfect for use as a classroom, a lunchroom, or a... [Read more...]
i9 Sports Union CountyRahway
Hosting recreation classes & sports through a Multi-Discovery program. Grades Pre-K 4 through 7th grade. Kids will play different sports each week with a standard physical fitness component for 2 m... [Read more...]
Home School Multi-Sports Training ProgramRandolph
ARTES is an inclusive and innovative sports training facility that gives players the means to reach their highest level of performance and master the art of play. Everyday, from Monday to Friday an... [Read more...]
PowerTrain Sports & FitnessSouth Jersey
This resource provides active fitness/sports classes for the home school community. Classes also include a brief educational piece on health and nutrition at the end of each session. [Read more...]
Programs For Home Schoolers At The GagsphereWaldwick
The Gagasphere has great options for homeschool groups and coops. Custom PE classes, scheduled weekly PE classes or field trips. The Gagsphere can customize any program to meet your needs in a clea... [Read more...]
Essex Skating ClubWest Orange
Essex Skating Club This professional level skating rink offers lessons, ice time, a competitive theatrical skating troupe, and Synchronized Skating Organization with teams on several levels. US Oly... [Read more...]
Westfield Area YMCAWestfield
The Y is starting a Physical Education program for home schooled children. The program will be under the supervision of a certified Physical Education teacher. It will be an hour long once a week. [Read more...]
Durkan Fencing AcademyWood Ridge
Offering youth beginner fencing classes 7-days a week. Coaches can also customize a home school Fencing curriculum with classes during the day if there is enough interest for a day-time class. Durk... [Read more...]
Go to...