Jump to: Homeschool Arts | Homeschool Sports
In addition to the opportunity to get out of the house and socialize, homeschool sports and arts programs can offer long-term benefits by developing characteristics like leadership, self-confidence, perserverance, and self-esteem. Many organizations and businesses have opportunities specifically for homeschoolers, while others invite homeschoolers to participate in their regular programs.
Not sure how to choose activity/activities for your children? Read how Rebecca narrows down the choice of extra-curricular activities.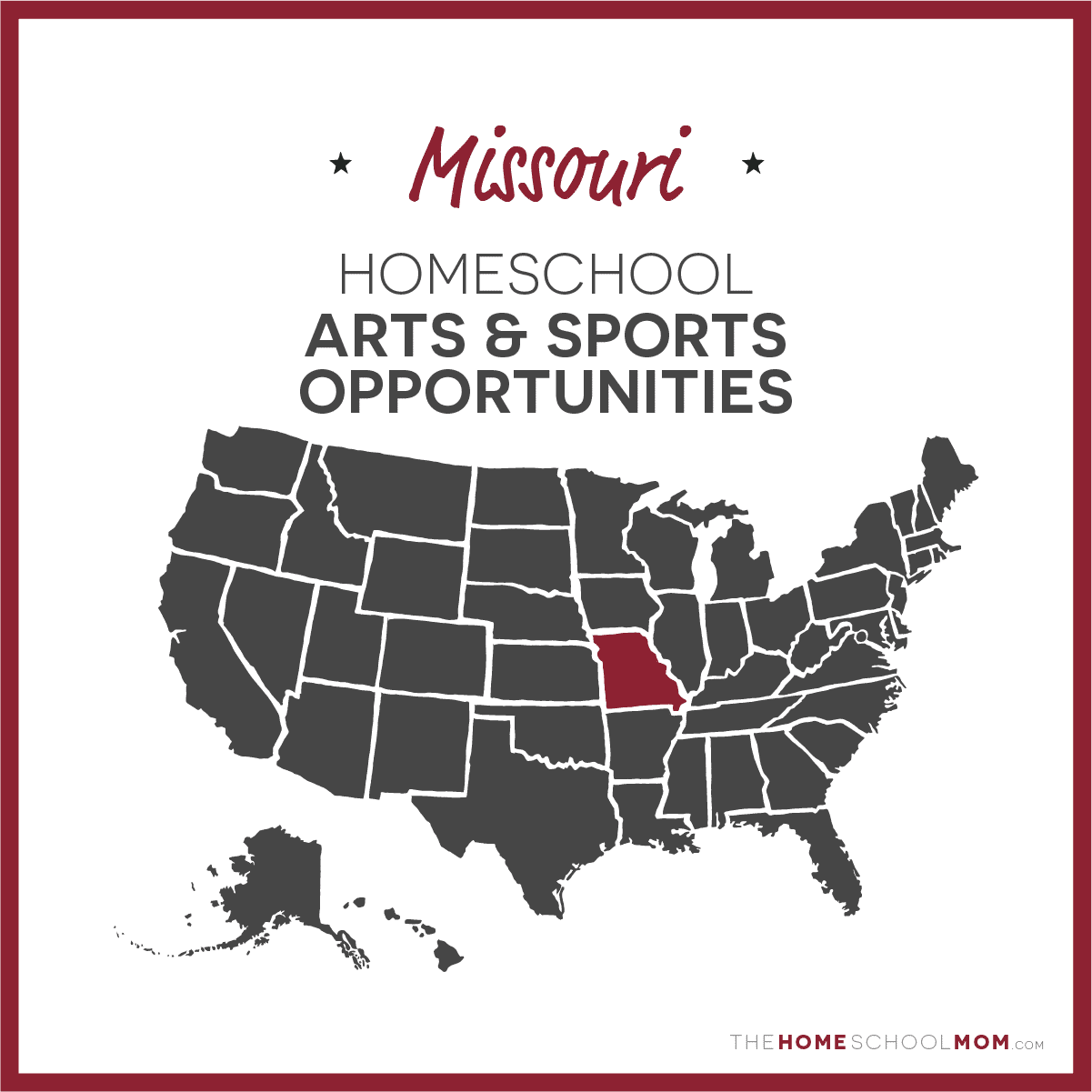 Submit a Local Resource
Our listing of Missouri list of homeschool arts and sports programs is ordered alphabetically by city, with arts in the first section and sports in the second section. If you would like to submit an Missouri arts or sports program, you may do so using the red button above.
Missouri Homeschool Arts Programs
A Janice Martin Cirque Show

Branson

Janice Martin is the WORLD'S ONLY aerial acrobatic Juilliard graduate violinist! You may recognize her name as she was the headlining act on the Showboat Branson Belle for 6 years. She gained such popularity that in 2017 she opened "The Janice Martin Cirque Show." This award-winning show (2017 Best Matinee Show, 2017 Best New Show and 2017 Female Entertainer of the year), is a cross between Cirque and Carnegie Hall and a "must see" while visiting Branson. Groups of all ages will be inspired by her touching rendition of "The Touch of the Master's Hand," her book "How I Learned to Fly" and her life's work. She offers Masters Workshop classes for Student Groups along with an opportunity for them to perform in front of a live audience and open for her show.
Columbia Music Lessons

Columbia

Mrs. Wampler has been teaching music lessons for 15+ years. Starting out as primarily a piano instructor, she has opened up her studio to vocal coaching, beginning and intermediate guitar students, aspiring songwriters, future music producers, and those in need of music theory tutoring. She caters to each individual student's needs and is open to teaching all types of music. Lisa is a founding teacher for the Royal Conservatory Music Development Program.
Music With Mary J

Columbia

Music With Mary J is a piano and voice studio for every age. Drawing on 45 years of experience, each student has an approach and curriculum designed just for them. Studio is located at East Broadway and US 63 in Columbia. For more information, visit www.musicwithmaryj.com
Boone County History & Culture Center, Montminy Art Gallery

Columbia

This resource includes two Boone County History galleries with a scavenger hunt and Montminy Art Gallery. Both are free and open Wednesday-Saturday, 10 am -5 pm. Tours of the five additional buildings can be arranged by calling (573) 443-8936. The history galleries can be found at https:www.boonehistory.org. Family events are listed on the website.

Boone County History & Culture Center, Montminy Art Gallery details
St. Charles Community College-Young Artist Training

Cottleville

The Young Artist Training Program (YATP) provides elevated, high-quality theatre, music, and musical theatre education to students ages 8-18. The coursework allows for sequential training to continue developing your skills as you grow through the program and is designed to complement the theatre and music education taught in middle schools and high schools. The YATP also offers unique workshops, summer camps, and intensives as a means of continuing to develop your skills with guest faculty. Participation in a comprehensive training program prepares students for auditions, expands their knowledge beyond a singular production, and creates a network for artistic youth in our community. Participation in workshops, camps, and intensives gives the students a chance to challenge themselves and learn from a variety of performing arts professionals. Training opportunities are held during regular school semesters and over the summer.
The Green Room

Edwardsville, IL/ St. Louis Metro area

The Green Room is a private piano, guitar, trumpet, and voice studio specializing in one-on-one music education. At The Green Room, students are inspired to love music and are encouraged to pursue excellence in every area of their musical studies. We are located in Edwardsville, IL just across the river from St. Louis. Nestled into a peaceful corner of Springer Woods in Edwardsville, IL, The Green Room provides dedicated musicians with individualized training in piano, voice, guitar, trumpet, and music theory/sightreading and gives students the tools necessary to be educated music consumers for their entire lives. Homeschoolers, traditionally-schooled, and adult students of all ages and backgrounds from all around the world are welcome and encouraged to make music in The Green Room virtually or in-person!
Little Notes Music Class

Greater St. Louis Area

Fun-filled music class introduces them to singing, dancing, movement, and instrument play designed to stimulate musical and cognitive development for children ages 6 months - Kindergarten with a parent or caregiver. We bring excitement and fun singing, dancing and playing age appropriate instruments in our classes. Our goal is to enhance a child's lifelong understanding and enjoyment of music with excitement. Every session you will receive 1 music book, 1 CD and music app to download approximately 30 songs. Classes run in Winter, Spring, Summer and Fall sessions times please visit our website www.littlenotesmo.com or contact us at 314-440-3336/ becky@littlenotesmusicclass.com for more information.
Pure Dance Studio--Daytime Dance Program

Independence

Pure Dance Studio strives to give students the opportunity to develop their gifts to use for God's purposes in their lives! This studio has a flexible program that allows students to grow and progress at their own pace in a personal, welcoming environment. Daytime and evening classes are available for all ages. They offer private and group classes in ballet, jazz, pointe, clogging, musical theatre, line dancing and ballroom dance.
South Side Striders Homeschool Band

Kansas City

South Side Striders Band is a program for students age 10-21. Offering beginning band, intermediate band, symphonic band and marching band. The concert bands perform at least twice a year. Marching band performs in parades in the south Kansas City area. The program is directed by Jennifer Meyer, a homeschooling mother of six. Mrs. Meyer holds a B.S. Instrumental Ed. from NWMSU. The percussion instructor is David Sager. Mr. Sager holds a Bachelor's in Music Ed. and a Masters in Percussion Performance from UMKC. The group is based in Raymore, MO.
Starlight Theatre Education Programs

Kansas City

Offering a variety of classes for theatre enthusiasts.
KCViolinist Homeschool Private and Group Music Lessons

Kansas City

KCViolinist provides homeschool students the opportunity to explore the arts, and learn how to collaborate with other like-minded students their own age through music and community. Private and group lessons are offered in Violin, Viola, Fiddle, Music Theory, Composition, Music Appreciation, and more.

KCViolinist Homeschool Private and Group Music Lessons details
The Language Project

Kansas City

The Language Project offers Spanish Language Adventure classes to students ages 18months-11 years old. Classes available in multiple locations throughout the KC Metro and surrounding areas. Also available, group programs and private tutoring.
First Act Theatre Arts

Kansas City

First Act Theatre Arts is a Kansas City-area nonprofit organization that encourages excellence in the theatrical arts, fostering character and community building through training, performance, and fellowship in a faith-based environment.
Homestead Montessori Farm School

Kansas City

Homeschool Enrichment at Homestead Montessori Homeschool enrichment is an extension of Homestead Montessori Farm School. The intent of this program is to offer extra-curricular activities to the homeschooled student as well as allow the non-Montessorian a peek into the world of a Montessori student. Each day will have an instruction period where the student will be given a lesson for the day and then the student will be allowed to further investigate the topic independently. The student will bring their own snacks and sack lunch for the day and will have time for independent or group activity at recess. Each Subject is $100 a month. There is a registration Fee of $50 and a materials fee of $50 per class. There will be an appointment set for the student to come tour the environment before school begins. There are a limited number of spaces available. Classes run for a semester and renew in January for the next semester. Music – Tuesday A History of Music – Students will learn about famous Composers, different genres of music – musical instruments, reading notes on a scale, rhythm and time signatures. Students will learn vocal techniques and learn songs for a musical program. Art – Thursday Art history and techniques – Students will learn about famous Artists and the techniques they use to create those artworks. Students will learn in a working art studio with materials to complete their own works of art. The rest of the day will be studying the geography and history of the different famous artists. STEAM DAY – Friday This is a day where the student will be either learning a science principle, learning about technology, engineering, art or woodworking. Students will learn about the different professions that are available and necessary in our society. A professional will come in at least once a month and share about their profession.
Violin lessons with Rebeca Baquerizo

Kansas City

Experienced violinist is offering violin lessons to the homeschooling community in Kansas City. With eight years of teaching experience and a master's degree in violin performance from Boston, Ms. Baquerizo is offering organized, engaging, and fun private violin lessons to children of all ages. Besides one-on-one instruction, she can also offer group classes to homeschooling groups and coops. This past year she helped launch an after school program at St. Mary's Academy in St. Mary's, Kansas that has been quite successful. She is also teaching with Harmony Project KC in a pilot music program with inner city schools. She can offer the classes virtually or in-person at your home, with proper precautions. The violin is a wonderful way to help children grow, have fun, and improve academics, discipline, and a variety of skills. Group classes also promote teamwork and communication. During these difficult times of the pandemic, it is a great way to help children occupy their time. A former homeschooler herself, Ms. Baquerizo is excited to share her love of music with the local homeschooling community.
My Music Room Guitar Lessons and Classes

Kirkwood

Singer/guitarist Robin Lopate offering private and group lessons in the Kirkwood area. Group classes offered are; "Woman to Woman" (ages 11 and up), and "Guitar For Teens". Discount for any private or group student that schedules between 9am-3pm. For more information, call 314-313-6094.
Good Shepherd Pottery

Marshfield/Springfield region

Good Shepherd Pottery offers clay education for children, teens and adults. The spacious studio has 6 pottery wheels and all the equipment needed to create to your heart's content. The studio is located on a beautiful farm that raises sheep and cows.
AP Studio Art

North Kansas City

Visual Manna offering AP Studio Art at Faith Christian Academy in Kansas City, MO.  Also be offering other art classes and mission projects. If you have a student gifted in art and would like more information email visualmanna@gmail.com or call 573-453-6363.
Marco Music Studios

Osage Beach

Marco Music Studios provides a private, in home setting of piano and voice lessons to all ages. Dates and times are flexible and tailored to each individual needs to achieve the best possible skill level for each student. Homeschool discount available.
Heartland Irish Dancers

Peculiar

Irish Dance Classes - Homeschoolers, all ages Mondays 12:10-1:10pm $29/mo
Orange Easel School of Art

Platte Woods

Offering multi-session, grade-level classes. In these weekly classes, we build community. We learn to brainstorm, design, plan, and execute our artistic vision. When it goes wrong, we problem-solve together. We critique each other kindly and learn to take criticism gracefully. We grow as artists. Our classes are academic in-style and follow the school year calendar...we're going to teach you skills and challenge you to try something new. The end goal is the learning that happens, not the product we get at the end.
Blacksher Studios

Riverside

Private music lessons in guitar, bass, piano, drum set, and studio engineering (recording/mixing/mastering) lessons from my home studio in Riverside, MO. I have daytime availability to serve the homeschool community. I myself was homeschooled growing up and have a passion for teaching music!
Abra-Kid-Abra

Saint Louis

This organization offers educational classes, camps, field trips, and assemblies centered around magic, comedy, and circus activities. Performances are age-appropriate and interactive, with the main goal being to help children learn and improve communication, presentation skills, and overall self-confidence. Classes and shows are offered year round
Class Act Homeschool Performing Arts (Choirs)

Springfield

Equipping homeschool students to pursue excellence for life and be a class act for Christ. Through the performing arts we will provide a Christ-centered, encouraging, and safe environment for our students to glorify God. Offering music classes for homeschool students ages 6-19. All students will be taught how to read music, sing with correct vocal technique, perform with confidence and integrity, work together in an ensemble, learn self-discipline, and achieve a lifetime of musical success.
Creava Studio

Springfield

Creava offers classes for children and adults alike. New classes start weekly in several different mediums including ceramics, painting, watercolor, and drawing. We add new classes and mediums all the time. Creava also offers workshops with visiting artists.
Ohana Performing Arts

Springfield

We provide leadership and performing arts classes for homeschooled students ages 5-18.
The New Premier Dance Academy

Springfield/Branson

Specially designed instruction for homeschoolers in: World Famous Russian Style Classical Ballet, Jazz, Tap, Ballroom Dance, Tumbling, Folk/Ethnic Character Dance, Clogging, Acrobatic Rock-n-Roll,"My Mom and Me", Art of Ballet class, a unique program for children ages 2-3). Email to:pda4u@aol.com All classes are taught by Vadim and Elena Serykh, award winning husband and wife adagio team formerly performing on the Showboat Branson Belle. World class instruction in the performing arts now available right here in the Ozarks!
St. Charles Christian Home Educators

St. Charles County

Homeschool group offering a Learning Center (7th-12th) with university-style classes, HeartStrong (prek-6th) with enrichment and university-style classes, choir, band, help for struggling learners, cluster groups, and more.
DaySpring Centre for Arts and Education

St. Louis

DaySpring School of the Arts in St. Louis, Missouri is a unique and creative environment where students can be well equipped in the disciplines of the performing and fine arts -- classical ballet, tap, jazz, modern dance, musical theater, drama, technical theater, fine art, music lessons and classes--and through creative academic programs for home schoolers.
The St. Louis Artists' Guild

St. Louis

The St. Louis Artists' Guild is a nationally known Arts Center recognized for exhibitions and programs that educate and enlighten, bring art to all segments of the community, and serve as a resource and network for community artists of all ages and interests. We offer a variety of art classes in drawing, painting, printmaking, and mix-media for children ages 6-14. Classes take place daytime, after-school, and Saturday afternoons. Taught by experienced instructors, these classes are a great opportunity for children interested in seriously improving their skills or who enjoy getting creative!
Berea Academy Saint Louis

St. Louis

Berea Academy Saint Louis is a hybrid learning center located in central St. Louis, near the highway 270 and 44 intersection. Berea provides a traditional class experience for the homeschooling student. Classes include core subjects as well as enrichment.
My Music Box - Unwrap your Talent

St. Louis

Offering private music lessons on piano, voice, recorder, clarinet, beginner uke, or beginner guitar in south St. Louis county. Also, offering tutoring and instruction in music theory, and history. 30+ years of private instruction experience. More information is on the website.
Katydid Fiddle

St. Louis

Abby Flanagan is a Fiddle teacher in St. Louis, MO. Abby began playing fiddle in the third grade when she was introduced to French Canadian tunes and the local fiddle traditions of Maine. The adjacent tradition known as Old Time has been the focus of her playing as an adult. Her appreciation for fiddle tunes and regional styles is matched by her preoccupation with sound itself, and the phenomenon of the fiddle bow sounding the strings. A few notes about Abby's teaching: she love's introducing people to the world of fiddle, showing them old tunes that are new to them. She teaches by ear and works on ear-training techniques to help students develop the skills to ultimately learn tunes on their own. Her approach to beginner fiddlers is broad and applicable to a variety of student interests, focusing on bowing technique, melodic ear-training, and intonation. Her approach to intermediate or advanced lessons is geared towards the Appalachian old time tradition and honing an individual sound.
Melanie's Musical Arts

St. Peters, St. Charles

State-Certified music teacher with years of experience is offering music lessons in the St. Charles and St. Peters area. Piano, Voice, and Guitar lessons are available!
Steve Leslie Music

Washington

Guitar lessons for every age and level. Daytime appointments available.
Present Moment Yoga Family Yoga Classes

Washington

This resource offers an on-going Family Yoga class every Monday evening from 5-5:45 for school-aged children and their special adult/s. Family Yoga is a healthy, fun activity that parents and children can do together. Mindfulness and meditation are a part of each class, flexibility, strength and balance are developed, and families practice teamwork and communication skills while practicing partner poses at different times throughout the class. The cost for this on-going class is $10/child, one adult is free with each paying child.
Voice Studio of Elizabeth Ducey Moss

West St. Louis County

With more than 15 years of teaching experience students of Elizabeth Ducey Moss develop vocal skills including breathing techniques, register blending, vowel formation, diction and phrasing. Musical skills such as ear training, sight singing, rhythmic skills, scales and technical exercises are also addressed. Students are exposed to a wide variety of age-appropriate repertoire that may include musical theater, Disney, pop, folk, art songs in foreign languages or opera. Private and group lessons available for ages 7 and up.
Missouri Homeschool Sports Programs
Elite Dragon Martial Arts

Blue Springs

The mission at Elite Dragon Martial Arts is to "Build Leaders for a Better Tomorrow." Elite Dragon will now be offering a home school class during the day. This is a 1 hour class a week which will be held on Monday or Thursday from 10:30 am - 11:30 am. With this class your child will learn self control, self discipline, respect, responsibility, flexibility, coordination, confidence and honesty in a family friendly environment. Martial Arts is here to inspire children to become leaders and to have the confidence to do the right thing for themselves and for others who may not be able to. If you are interested in more details please email elitedragonmartialarts@gmail.com. If you would like to enroll call GAGE Center at 816-229-7775.
Big Air Trampoline Park Branson

Branson

Big Air is an indoor trampoline park with 57 various attractions. We offer special home-school group times twice a week: Wednesday and Thursday from 1pm-3pm. The cost of admission during that time is $10 per jumper. We have a concession stand area with food and drinks.
Olympiad Gymnastics in Chesterfield

Chesterfield

Gymnastics classes
Central Missouri Home School Baseball

Columbia, Jefferson City areas

Central Missouri Home School Baseball is established to help young men grow and learn to play and enjoy baseball through Christian principles. We strive to win, but focus on teaching young men to honor Christ in everything, including baseball. Any young man in grades 7 to 12 who desires to play baseball is welcome if he is a home school student or attends a school without a baseball program. We welcome any young man interested in playing baseball. We have players with no prior baseball experience to players with extensive experience.
Mid-Missouri Mavericks Basketball

Columbia/Jefferson City

Mid-Missouri Mavericks is a competitive, Christ-centered, homeschool basketball program covering the mid-Missouri area from grades 6-12 for both boys and girls at all skill levels. Players join from Vichy and Jefferson City to Sturgeon and Midway. Coaches emphasize godliness and Christ-like character on and off the court.
Kemper Horse Farm LLC; Horse Safety and Grooming Basics Clinic

Fair Grove

Intro to Horses (best for ages 5 & under): $10 per lesson, this is a pre-beginner's course. Learn the basics on how to groom and saddle a horse and riding basics on a lunge-line in a very controlled environment. 15-30min. Riding Lessons (options for half or full hour): $15 per half hour lesson or $25 per one hour lesson. The first lesson will be an evaluation if you have not had prior lessons with me. Learn beginner to more advanced riding movements horsemanship, obstacles, patterns and more. http://kemperhorsefarms.webs.com/ for additional details.

Kemper Horse Farm LLC; Horse Safety and Grooming Basics Clinic details
Olympiad Gymnastics

Festus

Olympiad Gymnastics in Festus, Mo invites your students to enroll in our daytime homeschool classes! Please call our office at 636-933-0044 to inquire about times available. We are located at 215 N. Mill St. in down town Festus if you would like to come by and take a tour of facility. We also offer a variety of programs including preschool & progressive gymnastics, tumbling, dance, competitive gymnastics, and cheerleading.
JRMA Family Martial Arts

Independence/Lee's Summit/Blue Springs area

JRMA is a family based martial arts program offing a Thursday 1pm homeschool class every week starting January 3rd 2019. Students will focus on the basic martial arts tenants of Respect, Self Control, Integrity, Perseverance, and Indomitable Spirit. While learning martial arts drills and skills. JRMA is offering a special rate for home school family's. Your 1st class is free!!
Melanie's Natural Horsemanship

Jefferson City, MO

Offering beginner riding lessons for ages 6 through adult on my horses or yours, horses available for on farm lease, also re-schooling, problem solving and/or training. Gentle methods using horse psychology rather than fear or intimidation.
Metro Mavericks

Kansas City

Metro Mavericks provides an opportunity for competitive sports in a Christian atmosphere for home educated athletes in the Kansas City metro area. The KC Metro Academy Mavericks provide athletic competition against public schools, private schools, and home-educated groups in and around the Kansas City Metro area. We have an Approved status with the Kansas State High School Activities Association and are a tax-exempt organization under Code Section 501 (c)(3). The organization is entirely run by parent volunteers and primarily supported through player registration fees.
Vahid Assadpour Soccer Training

Kansas City

Vahid Assadpour Soccer Training (VAST) is a soccer training facility and organization. VAST offers daytime, evening and weekend sessions year round. There are sessions for all levels and ages. Offering Small Group Training and Individual Training. Special rates available for groups of 6 or more children. Soccer sessions are for ages 2- 18. Players are divided into groups based upon their skill level. For more information and to register go to our website at vasoccertraining.com. There are 3 locations throughout the KC metro area. All locations have turfed space that is great for events during the days, evening or weekends! VAST North Facility 8100 NW 101st Terrace Kansas City, MO 64153 VAST South Facility 6226 Merriam Drive Merriam, KS 66203 VAST Liberty Facility - Coming Spring 2019 TBA
Xtreme Gymnastics and Trampoline

Lee's Summit

Our homeschool competitive teams are designed to offer a broad-based, affordable competitive experience outside the traditional Jr. Olympic Program to attract and retain a diverse group of athletes. Our teams offer students a safe place to compete in meets and develop confidence, the ability to receive constructive criticism, and evolve their teamwork skills. Our team athletes will participate in 3 to 6 competitions every year and will have a leotard and warm-ups as part of the team. To learn more about costs and joining the team, call (816) 600-0195 today!
417 Athletics

Mt. Vernon

417 Athletics is a 55,000 sq. ft. multi-sport facility with 4 basketball, 8 volleyball & 8 pickleball courts located in Mt. Vernon, MO. During P.E., 417 staff will lead your kids through physical activities to teach them the basics of health, fitness & team sports.
Grappling Concepts Nixa Fitness Program

Nixa/Springfield/Ozark/Clever

We offer a 1 hour strength and conditioning workout from 4:30-5:30 p.m. for ages 14 and under. We also offer Martial arts classes in Brazilian Jiu-jitsu and Wresting Mon-Thursday from 6:00 to 7:30 p.m. for ages 14 and under. We have later classes for Teens and adults. Please see website for full schedule.
Cheer St. Louis

O'Fallon

Cheer St. Louis builds character, class and physical fitness in its athletes. We offer events, classes, teams and field trips for children ages 3-18 years old. At Cheer St. Louis we can build the Field Trip that fits your students best. In our gym we offer activities such as trampolines, parachutes, a bounce house, 4 spring floors and mats to create an experience that your children will love!
Fluid Motion Dance Academy

O'Fallon

Fluid Motion Dance Academy provides the highest quality dance training, located in O'Fallon MO, and serving the surrounding St. Charles County area. FMDA is a studio focused on dance development and offers dance classes for youth and adults. Most importantly, we offer a well-rounded curriculum for students in a fun and safe environment, while also giving students an outlet to express themselves. We have recreational and competitive openings available.
Heartland Soccer Association

Olathe

Heartland Soccer Association is managing the Garmin Olathe Soccer Complex, and we are looking to rent our fields to home school events that could take place in the Olathe, KS and larger Kansas City metropolitan area. We would like to partner with home school organizations in the area to provide an area for them to utilize for recreational and athletic events.
RedLine Athletics Youth Athletic Training Center

Springfield

Offering an Introduction to PE course Monday, Wednesday and Friday from 11 am to noon for homeschool children. We also offer an Introduction to Sports class for ages 3-6 on Monday, Wednesday and Friday from 10 am to 10:45 am. Families can sign up each child on a monthly membership for $40 for the first child 10% discount for each additional child or pay $10 per visit per child when they arrive. RedLine Athletics also offers a free trial for each family.
Springfield Homeschool Knights Track and Field

Springfield

Providing competitive track and field experience for the homeschooling community in Southwest Missouri.
RedLine Athletics-James River Expressway

Springfield

RedLine Athletics is a youth semi-private athletic training center for ages 8-18. Our main focus is to increase the all-around athleticism of each athlete and to improve their movement efficiency. Our training sessions start on the hour, every hour. NO APPOINTMENT NECESSARY. We are open Monday through Thursday 1PM-9PM, Friday 1PM-7PM and Saturday 9AM-1PM. Our last workout starts one hour before we close. So plenty of time for homeschool athletes to come learn how to prevent injuries, increase stability, mobility, explosiveness, balance, coordination and strength development. Our 90 minute training session consist of: -10 min of Injury Prevention (mobility, stability, muscle activation, preparation) -10 min of Dynamic Warm Up -20 min of Speed and Agility -20 min of Sport Specific Skill Work -30 min of Strength and Core Development
Lighthouse Christian Athletics

Springfield

Lighthouse Christian Athletics has sports for homeschoolers in the Springfield, Missouri region. List of sports include: Football (boys. flag & 11-man tackle) see Football Website https://www.lcachargersfootball.com/ Baseball (boys) Basketball (boys & girls) Track & Field (co-ed) Cross Country (co-ed) Soccer (boys & girls) Cheer (girls) Volleyball (girls)
Kokoro Training Academy

Springfield

This resource offers a Family Jiu-Jitsu class, as well as private training for physical development to local youth ages. They have 3 classes a week involving kids and parents. The instructors teach the parents how to participate with their children through each lesson. Any child 10 to 13 is able to attend class on their own. The class has an organized structure to stimulate general physical fitness, teach self defense, and provide an inclusive atmosphere.
Zenith Climbing Center

Springfield

Zenith Climbing Center is an indoor climbing facility located in Springfield, Missouri. We work with various homeschool co-ops and groups to fill physical education requirements within homeschool curriculums through indoor rock climbing instruction and participation. Groups or families interested can contact the group coordinator: Jessa@ZenithClimbing.com for questions, or simply call the front desk at (417) 986-3869.
Martial Arts for Home School Kids

St. Charles

Ohana Martial Arts offers a self-defense class just for homeschool kids, ages 4 - 13! Classes will be on Monday afternoons from 3:00 - 3:45. Students will learn great self-defense as well as gain better balance, perseverance, self-confidence and self-respect! Contact to sign up or to come and check out a class for FREE! Classes are $75/Month.  Check out the facebook page: https://www.facebook.com/OhanaMartialArts
Goldfish Swim School—Warson Woods

St. Louis

Goldfish Swim School is the premier learn-to-swim facility for kids ages 4 months to 12 years. The holistic philosophy, The Science of SwimPlay, builds life skills both in and out of the water using play-based learning in a fun and safe environment. Flexible schedule available! Call 314-717-0888 today for more details.
Stacey's Gymnastics

Wentzville

Stacey's Gymnastics offers daytime classes for homeschool students. Special rates available for groups of 8 or more children. Classes for preschool and progressive gymnastics, tumbling, cheerleading, boys gym-fit, dance, plus competitive gymnastics and cheerleading. Call to find out more information and to register (636) 327-JUMP (5867)
Hidden Valley Ski. Tube. Ride.

Wildwood

Hidden Valley's field trip program offers students of all ages the opportunity to learn downhill skiing and snowboarding from professional, certified ski school staff. The Home School Mondays sessions begin in January and runs through March (weather permitting) - Excluding 2/19. Your session includes lift ticket, rental and a beginner lesson! Home School rates are now offered on Mondays. Join other Home School groups at Hidden Valley this winter to enjoy the wonderful sport of skiing and snowboarding! Offering both group and individual rates. Group must have at least 15 paying participants. Available Mondays* from 1PM - 9:30PM starting January 22nd excluding 2/19 Check-in from 12:30PM One form of payment - cash, credit card, and organization check accepted. Reservations required at least 2 days in advance. Get Started Today! Call 636-938-5373 or email groups@skihv.com