Jump to: Homeschool Arts | Homeschool Sports
In addition to the opportunity to get out of the house and socialize, homeschool sports and arts programs can offer long-term benefits by developing characteristics like leadership, self-confidence, perserverance, and self-esteem. Many organizations and businesses have opportunities specifically for homeschoolers, while others invite homeschoolers to participate in their regular programs.
Not sure how to choose activity/activities for your children? Read how Rebecca narrows down the choice of extra-curricular activities.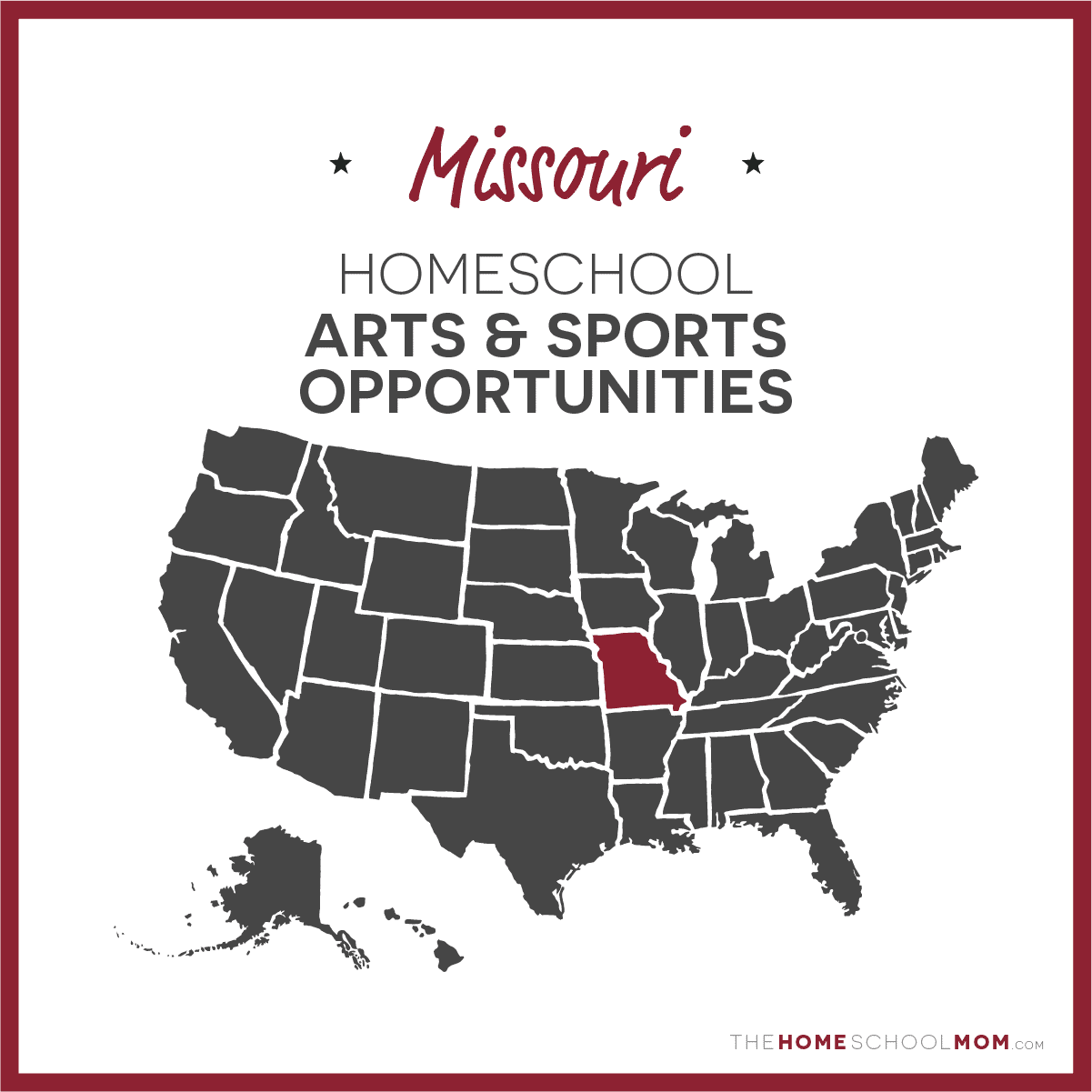 Submit a Local Resource
Our listing of Missouri list of homeschool arts and sports programs is ordered alphabetically by city, with arts in the first section and sports in the second section. If you would like to submit an Missouri arts or sports program, you may do so using the red button above.
Missouri Homeschool Arts Programs
A Janice Martin Cirque ShowBranson
Janice Martin is the WORLD'S ONLY aerial acrobatic Juilliard graduate violinist! You may recognize her name as she was the headlining act on the Showboat Branson Belle for 6 years. She gained such ... [Read more...]
Studio Art Workshop- Funtastic FridaysClayton
I am a veteran homeschooler to my four children, artist, and art teacher. I am offering workshop classes that meet on Fridays in the art studio where I teach at Central Christian School in Clayton.... [Read more...]
Columbia Music LessonsColumbia
Providing quality music education to students of all ages, and especially to connect with local homeschooling network to promote the musical arts; prepare and recommended students to universities d... [Read more...]
Music With Mary JColumbia
Music With Mary J is a piano and voice studio for every age. Drawing on 45 years of experience, each student has an approach and curriculum designed just for them. Studio is located at East Broadwa... [Read more...]
St. Charles Community College-Young Artist TrainingCottleville
The Young Artist Training Program (YATP) provides elevated, high-quality theatre, music, and musical theatre education to students ages 8-18. The coursework allows for sequential training to contin... [Read more...]
Providence Fine Arts Center Inc.Ferguson
Providence Fine Arts Center has been providing quality fine arts instruction to homeschool students in the St. Louis and St. Charles area since 1989. Our classes include a Young at Art program for ... [Read more...]
Little Notes Music ClassGreater St. Louis Area
Fun-filled music class introduces them to singing, dancing, movement, and instrument play designed to stimulate musical and cognitive development for children ages 6 months - Kindergarten with a pa... [Read more...]
Pure Dance Studio--Daytime Dance ProgramIndependence
Pure Dance Studio strives to give students the opportunity to develop their gifts to use for God's purposes in their lives! This studio has a flexible program that allows students to grow and progr... [Read more...]
South Side Striders Homeschool BandKansas City
South Side Striders Band is a program for students age 10-21. Offering beginning band, intermediate band, symphonic band and marching band. The concert bands perform at least twice a year. Marching... [Read more...]
Starlight Theatre Education ProgramsKansas City
Offering a variety of classes for theatre enthusiasts. [Read more...]
KCViolinist Homeschool Private and Group Music LessonsKansas City
KCViolinist provides homeschool students the opportunity to explore the arts, and learn how to collaborate with other like-minded students their own age through music and community. Private and gro... [Read more...]
The Language ProjectKansas City
The Language Project offers Spanish Language Adventure classes to students ages 18months-11 years old. Classes available in multiple locations throughout the KC Metro and surrounding areas. Also av... [Read more...]
Shutterbug Day Camp for KidsKansas City
ShutterBug Day Camps are a great beginners class for children who are creative and show an interest in photography (ages 8-12)! A disposable camera will be provided and children are encouraged to b... [Read more...]
Homestead Montessori Farm SchoolKansas City
Homeschool Enrichment at Homestead Montessori Homeschool enrichment is an extension of Homestead Montessori Farm School. The intent of this program is to offer extra-curricular activities to the ho... [Read more...]
Violin lessons with Rebeca BaquerizoKansas City
Experienced violinist is offering violin lessons to the homeschooling community in Kansas City. With eight years of teaching experience and a master's degree in violin performance from Boston, Ms. ... [Read more...]
First Act Theatre ArtsKansas City
First Act Theatre Arts is a Kansas City-area nonprofit organization that encourages excellence in the theatrical arts, fostering character and community building through training, performance, and ... [Read more...]
My Music Room Guitar Lessons and ClassesKirkwood
Singer/guitarist Robin Lopate offering private and group lessons in the Kirkwood area. Group classes offered are; "Woman to Woman" (ages 11 and up), and "Guitar For Teens". Discount for any private... [Read more...]
Good Shepherd PotteryMarshfield/Springfield region
Good Shepherd Pottery offers clay education for children, teens and adults. The spacious studio has 6 pottery wheels and all the equipment needed to create to your heart's content. The studio is lo... [Read more...]
AP Studio ArtNorth Kansas City
Visual Manna offering AP Studio Art at Faith Christian Academy in Kansas City, MO.  Also be offering other art classes and mission projects. If you have a student gifted in art and would like more ... [Read more...]
Heartland Irish DancersPeculiar
Irish Dance Classes - Homeschoolers, all ages Mondays 12:10-1:10pm $29/mo [Read more...]
Orange Easel School of ArtPlatte Woods
Offering multi-session, grade-level classes. In these weekly classes, we build community. We learn to brainstorm, design, plan, and execute our artistic vision. When it goes wrong, we problem-solve... [Read more...]
Blacksher StudiosRiverside
Private music lessons in guitar, bass, piano, drum set, and studio engineering (recording/mixing/mastering) lessons from my home studio in Riverside, MO. I have daytime availability to serve the ho... [Read more...]
Abra-Kid-AbraSaint Louis
This organization offers educational classes, camps, field trips, and assemblies centered around magic, comedy, and circus activities. Performances are age-appropriate and interactive, with the mai... [Read more...]
Class Act Homeschool Performing Arts (Choirs)Springfield
Equipping homeschool students to pursue excellence for life and be a class act for Christ. Through the performing arts we will provide a Christ-centered, encouraging, and safe environment for our s... [Read more...]
Creava StudioSpringfield
Creava offers classes for children and adults alike. New classes start weekly in several different mediums including ceramics, painting, watercolor, and drawing. We add new classes and mediums all ... [Read more...]
The New Premier Dance AcademySpringfield/Branson
Specially designed instruction for homeschoolers in: World Famous Russian Style Classical Ballet, Jazz, Tap, Ballroom Dance, Tumbling, Folk/Ethnic Character Dance, Clogging, Acrobatic Rock-n-Roll,"... [Read more...]
St. Charles Christian Home EducatorsSt. Charles County
Homeschool group offering a Learning Center (7th-12th) with university-style classes, HeartStrong (prek-6th) with enrichment and university-style classes, choir, band, help for struggling learners,... [Read more...]
DaySpring Centre for Arts and EducationSt. Louis
DaySpring School of the Arts in St. Louis, Missouri is a unique and creative environment where students can be well equipped in the disciplines of the performing and fine arts -- classical ballet, ... [Read more...]
The St. Louis Artists' GuildSt. Louis
The St. Louis Artists' Guild is a nationally known Arts Center recognized for exhibitions and programs that educate and enlighten, bring art to all segments of the community, and serve as a resourc... [Read more...]
Berea Academy Saint LouisSt. Louis
Berea Academy Saint Louis is a hybrid learning center located in central St. Louis, near the highway 270 and 44 intersection. Berea provides a traditional class experience for the homeschooling stu... [Read more...]
Steve Leslie MusicWashington
Guitar lessons for every age and level. Daytime appointments available. [Read more...]
Present Moment Yoga Family Yoga ClassesWashington
This resource offers an on-going Family Yoga class every Monday evening from 5-5:45 for school-aged children and their special adult/s. Family Yoga is a healthy, fun activity that parents and child... [Read more...]
Voice Studio of Elizabeth Ducey MossWest St. Louis County
With more than 15 years of teaching experience students of Elizabeth Ducey Moss develop vocal skills including breathing techniques, register blending, vowel formation, diction and phrasing. Musica... [Read more...]
Missouri Homeschool Sports Programs
Northeast Missouri Girls BasketballAdair County and Surrounding Area
We have a Girls High School Basketball Team for Home School players. Should be at least 13 years old. We do travel to different places within 3 hours. We are located in Kirksville, Missouri and wel... [Read more...]
Elite Dragon Martial ArtsBlue Springs
The mission at Elite Dragon Martial Arts is to "Build Leaders for a Better Tomorrow." Elite Dragon will now be offering a home school class during the day. This is a 1 hour class a week which will ... [Read more...]
Big Air Trampoline Park BransonBranson
Big Air is an indoor trampoline park with 57 various attractions. We offer special home-school group times twice a week: Wednesday and Thursday from 1pm-3pm. The cost of admission during that time ... [Read more...]
Yung Yea Martial Arts Homeschool ClassesBranson West, Kimberling City, Reeds Spring
Yung Yea Martial Arts, Inc. offers special Homeschool Classes at 3 pm, Monday, Wednesday and Thursdays. This is a great time for parents to network and watch their children on a closed circuit came... [Read more...]
Olympiad Gymnastics in ChesterfieldChesterfield
Gymnastics classes [Read more...]
Central Missouri Home School BaseballColumbia, Jefferson City areas
Central Missouri Home School Baseball is established to help young men grow and learn to play and enjoy baseball through Christian principles. We strive to win, but focus on teaching young men to h... [Read more...]
Mid-Missouri Mavericks BasketballColumbia/Jefferson City
Mid-Missouri Mavericks is a competitive, Christ-centered, homeschool basketball program covering the mid-Missouri area from grades 6-12 for both boys and girls at all skill levels. Players join fro... [Read more...]
Kemper Horse Farm LLC; Horse Safety and Grooming Basics ClinicFair Grove
Intro to Horses (best for ages 5 & under): $10 per lesson, this is a pre-beginner's course. Learn the basics on how to groom and saddle a horse and riding basics on a lunge-line in a very contr... [Read more...]
Olympiad GymnasticsFestus
Olympiad Gymnastics in Festus, Mo invites your students to enroll in our daytime homeschool classes! Please call our office at 636-933-0044 to inquire about times available. We are located at 215 N... [Read more...]
JRMA Family Martial ArtsIndependence/Lee's Summit/Blue Springs area
JRMA is a family based martial arts program offing a Thursday 1pm homeschool class every week starting January 3rd 2019. Students will focus on the basic martial arts tenants of Respect, Self Contr... [Read more...]
Melanie's Natural HorsemanshipJefferson City, MO
Offering beginner riding lessons for ages 6 through adult on my horses or yours, horses available for on farm lease, also re-schooling, problem solving and/or training. Gentle methods using horse p... [Read more...]
Vahid Assadpour Soccer TrainingKansas City
Vahid Assadpour Soccer Training (VAST) is a soccer training facility and organization. VAST offers daytime, evening and weekend sessions year round. There are sessions for all levels and ages. Offe... [Read more...]
Metro MavericksKansas City
Metro Mavericks provides an opportunity for competitive sports in a Christian atmosphere for home educated athletes in the Kansas City metro area. The KC Metro Academy Mavericks provide athletic co... [Read more...]
Xtreme Gymnastics and TrampolineLee's Summit
Our homeschool competitive teams are designed to offer a broad-based, affordable competitive experience outside the traditional Jr. Olympic Program to attract and retain a diverse group of athletes... [Read more...]
417 AthleticsMt. Vernon
417 Athletics is a 55,000 sq. ft. multi-sport facility with 4 basketball, 8 volleyball & 8 pickleball courts located in Mt. Vernon, MO. During P.E., 417 staff will lead your kids through physic... [Read more...]
417 Athletics--Intro to SportsMt. Vernon
417 staff will lead your kids through physical activities to teach them the basics of various team sports including but not limited to volleyball, basketball, pickleball, soccer & more. Class w... [Read more...]
Grappling Concepts Nixa Fitness ProgramNixa/Springfield/Ozark/Clever
We offer a 1 hour strength and conditioning workout from 4:30-5:30 p.m. for ages 14 and under. We also offer Martial arts classes in Brazilian Jiu-jitsu and Wresting Mon-Thursday from 6:00 to 7:30 ... [Read more...]
Cheer St. LouisO'Fallon
Cheer St. Louis builds character, class and physical fitness in its athletes. We offer events, classes, teams and field trips for children ages 3-18 years old. At Cheer St. Louis we can build the F... [Read more...]
Fluid Motion Dance AcademyO'Fallon
Fluid Motion Dance Academy provides the highest quality dance training, located in O'Fallon MO, and serving the surrounding St. Charles County area. FMDA is a studio focused on dance development an... [Read more...]
Heartland Soccer AssociationOlathe
Heartland Soccer Association is managing the Garmin Olathe Soccer Complex, and we are looking to rent our fields to home school events that could take place in the Olathe, KS and larger Kansas City... [Read more...]
RedLine Athletics Youth Athletic Training CenterSpringfield
Offering an Introduction to PE course Monday, Wednesday and Friday from 11 am to noon for homeschool children. We also offer an Introduction to Sports class for ages 3-6 on Monday, Wednesday and Fr... [Read more...]
Springfield Homeschool Knights Track and FieldSpringfield
Providing competitive track and field experience for the homeschooling community in Southwest Missouri. [Read more...]
RedLine Athletics-James River ExpresswaySpringfield
RedLine Athletics is a youth semi-private athletic training center for ages 8-18. Our main focus is to increase the all-around athleticism of each athlete and to improve their movement efficiency. ... [Read more...]
Lighthouse Christian AthleticsSpringfield
Lighthouse Christian Athletics has sports for homeschoolers in the Springfield, Missouri region. We have football, volleyball, cheerleading, basketball, track & field, and baseball. [Read more...]
Kokoro Training AcademySpringfield
This resource offers a Family Jiu-Jitsu class, as well as private training for physical development to local youth ages. They have 3 classes a week involving kids and parents. The instructors teach... [Read more...]
Zenith Climbing CenterSpringfield
Zenith Climbing Center is an indoor climbing facility located in Springfield, Missouri. We work with various homeschool co-ops and groups to fill physical education requirements within homeschool c... [Read more...]
Martial Arts for Home School KidsSt. Charles
Ohana Martial Arts offers a self-defense class just for homeschool kids, ages 4 - 13! Classes will be on Monday afternoons from 3:00 - 3:45. Students will learn great self-defense as well as gain b... [Read more...]
Goldfish Swim School—Warson WoodsSt. Louis
Goldfish Swim School is the premier learn-to-swim facility for kids ages 4 months to 12 years. The holistic philosophy, The Science of SwimPlay, builds life skills both in and out of the water usin... [Read more...]
Stacey's GymnasticsWentzville
Stacey's Gymnastics offers daytime classes for homeschool students. Special rates available for groups of 8 or more children. Classes for preschool and progressive gymnastics, tumbling, cheerleadin... [Read more...]
Hidden Valley Ski. Tube. Ride.Wildwood
Hidden Valley's field trip program offers students of all ages the opportunity to learn downhill skiing and snowboarding from professional, certified ski school staff. The Home School Mondays sessi... [Read more...]
Go to Missouri...