Field trips are a great way to reboot a bad homeschooling week, get out of the house when everyone has cabin fever, and learn about your local area. Before heading out, check out Jeanne's tips for improving homeschool field trips.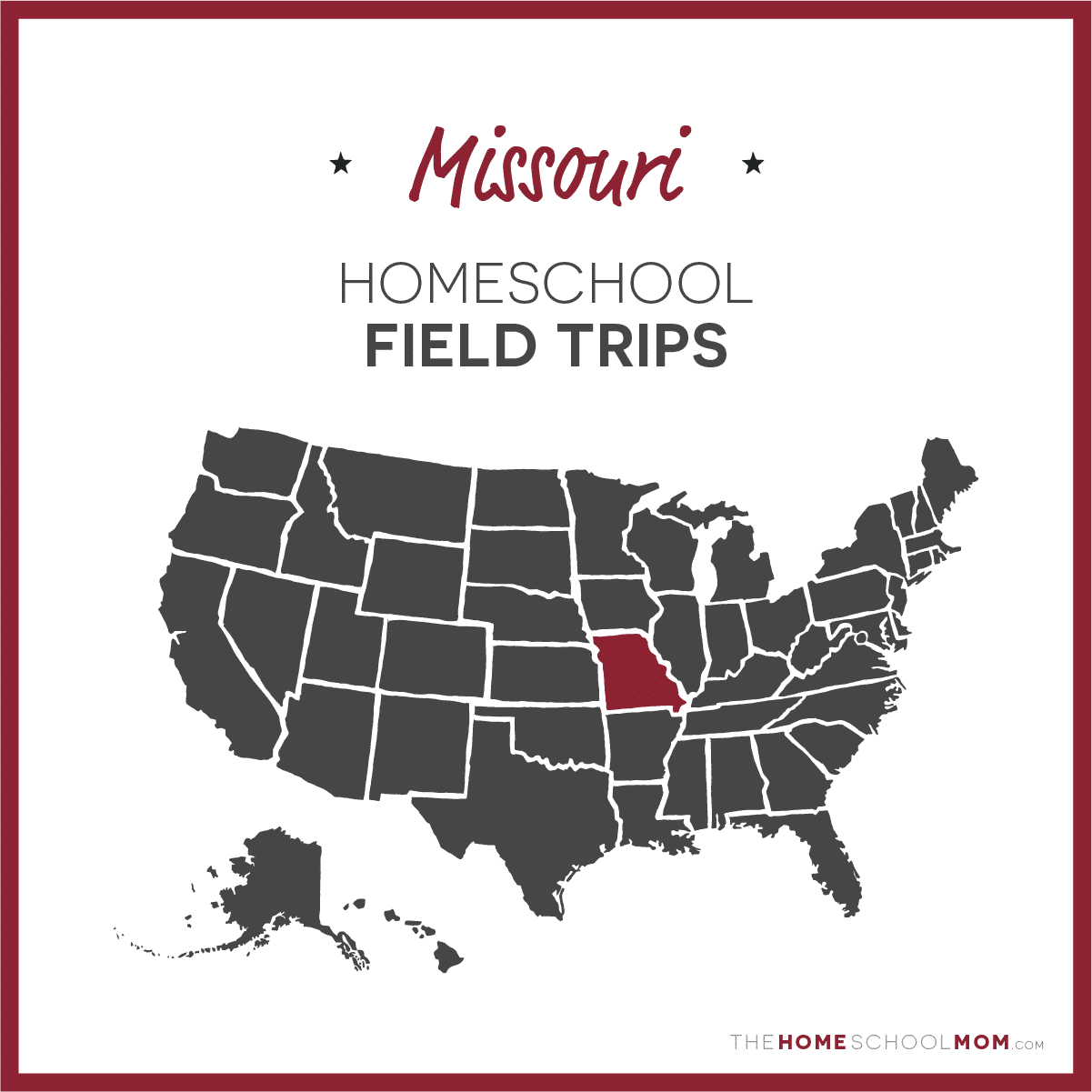 Submit a Field Trip Destination
Our listing of Missouri field trips for homeschoolers is ordered alphabetically by city. If you would like to submit a Missouri field trip destination, you may do so using the red button above.
California National Historic Trail
More than 250,000 gold-seekers & farmers crossed into to the gold fields & rich farmlands of California during the 1840's and 1850's. 1,000 miles of trail ruts and traces can still be seen to remind us of early American travelers and settlers.
Pony Express National Historic Trail
Lewis & Clark National Historic Trail
Lewis & Clark, in their quest for a water route to the Pacific Ocean, opened a window onto the west for the young United States.
Oregon National Historic Trail
The Oregon Trail was for fur traders, gold seekers, missionaries and others, the pathway to the Pacific. Wagon rutsw and landscape scars can still be seen from that time.
Arrow Rock State Historic SiteArrow Rock
If you enjoy the easygoing serenity of a quiet village, then Arrow Rock is the place for you. Once a thriving riverport, the town is dotted with architectural treasures from the past. Limestone gutters of carefully carved blocks line the main street, marking the toil of earlier generations. Wooden sidewalks and overhead canopies still line store fronts, recalling the grace and aura of times long past. The entire town of Arrow Rock was designated a National Historic Landmark in 1964. Activities: camping, dining, fishing, hiking, picnicking, tours
Nathan Boone Homestead State Historic SiteAsh Grove
Early Missourians knew Nathan Boone as a hunter, soldier, surveyor and entrepreneur. They also knew him as his father's son. Boone, youngest child of the famous Daniel Boone, carried his family's legacy deep into the Missouri Ozarks and the American West. Activities: picnicking, tours, hiking - interpretive trails
Castlewood State ParkBallwin
A trip to Castlewood State Park gives visitors a first-hand look at the area's glorious past. At the same time, the natural beauty of the Meramec River and the surrounding open spaces offer a serene escape from urban life. Activities: fishing, picnicking, hiking - equestrian - mountain biking trails
Elephant Rocks State ParkBelleview
The Braille Trail is the first of its kind in Missouri's state parks. Photo courtesy of Missouri Division of Tourism. Imagine giant granite rocks standing end-to-end like a train of circus elephants. That's what you'll see at Elephant Rocks State Park. About 1.5 billion years ago, hot magma cooled forming coarsely crystalline red granite, which later weathered into huge, rounded boulders. Standing atop a granite outcrop, one of the largest elephant rocks, Dumbo, tops the scales at a whopping 680 tons! Activities: picnicking, interpretive trails
Belton Missouri Historical Society & MuseumBelton
Quarterly Revolving Displays and the Carriage House next door which contains a horse-drawn hearse.
Blue Springs Historical SocietyBlue Springs
The Blue Springs Historical Society is a non-profit organization formed in 1976. The Society is concerned with the preservation and enhancement of the artifacts and records of Blue Springs history.
St. Francois State ParkBonne Terre
Just as outlaws sought refuge from the law during the Civil War, visitors today can seek refuge from everyday life in the beauty of the Pike Run Hills at St. Francois State Park. The forested ridges and hollows of these hills offer visitors a chance for unconfined solitude in a wilderness setting. Activities: camping, fishing, picnicking, swimming, hiking - equestrian - backpacking trails
Boone's Lick State Historic SiteBoonsboro
In 1804, Lewis and Clark reported the presence of many saltwater springs in the area that now comprises Howard, Cooper and Saline counties. The largest of these salt springs was the Boone's Lick. The area around this spring was ideal for settlement and for many years "Boone's Lick Country" was a primary destination for pioneers moving west. Activities: picnicking, interpretive trail
Boonville's River, Rails & Trails Museum Boonville
This city museum features items about the transportation used through Boonville and the Boonslick area's history. Starting with a 1/2 scale Lewis and Clark Keelboat and information about their journey, steamboat history, a full wagon and information about the early pioneers to the area, as well as railroad history and a model railroad display. The museum continually brings in traveling exhibits and has activities for children of all ages to find information using clues to find their answers to the questions. Offering other community programs such as Super Sleuth, Artifact Days, and Night and at the Museum.
BoxCar Willie TheatreBranson
BoxCar Willie Theatre features Boxcar Willie, the 60th Member of the Grand Old Opry and a multiple Gold and Platinum recording artist.
Hollywood Wax MuseumBranson
Hollywood Wax Museum is a landmark on Highway 76 in Branson, Missouri, the live entertainment capital of the Midwest and the only wax museum in the country devoted entirely to celebrity figures. A recent multi-million dollar renovation has brought more star power and dynamic style to the attraction, located in the Hollywood Entertainment Center on the strip. Branson visitors can now get close to some of the most famous people in show business and step right into the spotlight with icons of the silver screen, recreated so faithfully that you'd swear they are were alive. Hollywood Wax Museum houses tons of uncanny replicas, from Hollywood stars to television personalities to characters from your favorite movies.
World's Largest Toy Museum/The Beck Museums of BransonBranson
The World's Largest Toy Museum, The Beck Museums of Branson, consists of 8 museums in 2 buildings. There are more than 900 Barbies, farm toys, trains, mechanical banks, Pez dispensers, doll houses, vintage dolls, Disney toys, Star Wars and Star Trek items, G.I. Joe action figures, Hot Wheels and so much more. As a bonus, the Roark Valley Modular Railroad club has their running trains on display. Experience this one of a kind museum complex where your family can create a building with Lincoln Logs, develop strategy skills playing a game of checkers or design something with tinker toys.
Table Rock State ParkBranson
Located adjacent to Table Rock Lake and near Branson, Mo., one of the hottest tourism spots in the United States, Table Rock State Park offers easy lake access and is a short drive to area attractions and entertainment. Activities: boating, camping, canoeing, fishing, marina, picnicking, swimming, hiking - bicycling trails
Silver Dollar CityBranson
Inspire your students with truly interactive activities! Silver Dollar City blends the function of educational elements you demand with the fun of rides, shows and attractions your students crave! It's a living history lesson, an education in earth science, the thrill of applied physics, the drama of performance, and an opportunity to meet the masters of American Craftsmanship. Our wide variety of Lesson Plans will help you create unique and interactive educational experiences that meet specific objectives.
Amazing Acrobats of ShanghaiBranson
Amazing Acrobats of Shanghai takes audiences on an enchanting journey through the Orient with beautiful costumes, scenery, and the unbelievable art of acrobatics at the Grand Shanghai Theatre. Each performer brings to the stage their own unique training and talent; from chair balancing to foot juggling, aerial acrobatics to mask changing. All ages will be delighted by the breathtaking performances, edge of your seat thrills, and lighthearted laughter. Amazing Acrobats of Shanghai is a treat for both the mind and soul. The excitement of Shanghai comes to life before your very eyes.
Butterfly PalaceBranson
Nestled high up on a hill sits The Butterfly Palace and Rainforest Adventure in Branson, MO. Walk among thousands of live tropical butterflies imported from exotic rainforests all over the world, fluttering right before your very eyes!
Bollinger Mill State Historic SiteBurfordville
If you are intrigued by the mystique and lore of simpler times, then relive the days of yesteryear by a visit to Bollinger Mill State Historic Site. The 19th-century mill and its neighboring covered bridge offer a glimpse of now-rare Americana that once might have been expected around many turns in a Missouri road. Activities: picnicking, tours
Ha Ha Tonka State ParkCamdenton
From dark caves to back-country hiking trails to castle ruins perched on a cliff, Ha Ha Tonka State Park is the ideal place for the adventurous. Ha Ha Tonka is a geological wonderland: sinkholes, caves, a huge natural bridge, soaring bluffs, and Missouri's twelfth largest spring. Activities: fishing, picnicking, swimming, hiking - interpretive - backpacking trails
Wallace State ParkCameron
The feature attraction at Wallace State Park is peace and quiet! Located amid the rolling farmland of northwest Missouri, and less than an hour from Kansas City, this 501-acre, wooded park offers recreation and relaxation. For recreation, visitors can fish or swim in the park's six-acre lake or exercise by hiking one of the park's four scenic trails. Benches along the trails allow visitors to sit and absorb the sights, sounds and slow pace of nature. Scattered picnic sites provide a peaceful place to enjoy lunch. For larger groups, an open picnic shelter that overlooks the lake and an enclosed shelter with a range, refrigerator and hot water are available for reservation.
Morris State ParkCampbell
A very distinctive phenomenon in southeast Missouri known as Crowley's Ridge is the predominant feature of Morris State Park. The ridge, which extends well beyond the park boundaries, stands on average about 200 feet above the Mississippi River delta floodplain and consists of a strip of low hills from about one-half to five or more miles wide. Crowley's Ridge consists of unusual soil types and rare plant species. Morris State Park was donated to the state by Jim D. Morris to assist in the preservation of this unique natural and geologic feature. Activities: hiking - intepretive trail
Battle of Carthage State Historic SiteCarthage
Preceding the Battle of Bull Run by 11 days, the Battle of Carthage, fought on July 5, 1861, was one of the earliest engagements in the Civil War. Battle of Carthage State Historic Site is the location of one of the last skirmishes of the battle, and the campsite for both armies -- the Union troops the night before the battle and the Confederate troops the night following the battle. The site interprets this historic battle through an informational kiosk.
Roaring River State ParkCassville
With its narrow valley, rugged, mountainlike terrain and deep blue spring, Roaring River State Park is breathtaking. Activities: camping, dining, lodging, picnicking, swimming, trout fishing, hiking - interpretive trails
Butterfly SchoolChesterfield
From the Butterfly House at the Missouri Botanical Gardens. We raised butterflies one year and the children thoroughly enjoyed it. In addition to step-by-step instructions for raising butterflies, this site has enough background information for a mini unit study.
Grand River Historical Society MuseumChillicothe
The museum dedicates a portion of its facility to military remembrances. - On display are personal war-time stories written by individuals with connections to the Grand River area. - Other exhibits include the Chillicothe Business College exhibit and the black history display. - The museum also has an extensive Indian display with arrowheads dating back 20,000 years. The oldest artifact at the museum is a mammoth tooth, estimated to be one million years old. The tooth was found when a man was dredging in the riverbed for gravel.
Enns Entomology MuseumColumbia
The Enns Entomology Museum at the University of Missouri was founded on 1 July 1874 with C. V. Riley as the first curator. The Museum currently holds approximately 5.75 million specimens of insects, arachnids, and fossils and is particularly strong in its holdings of aquatic insects of Ozark streams, as well as the pinned collection of Hemiptera, Coleoptera, Lepidoptera, and slide-mounted Acarina.
Rock Bridge Memorial State ParkColumbia
Get away from the bustle of everyday life by seeing some of Missouri's finest karst features such as the rock bridge or by exploring the forests, streams and restored grasslands of Rock Bridge Memorial State Park. Activities: cave tours, fishing, picnicking, hiking - equestrian - mountain biking - interpretive trails
Katy Trail State ParkColumbia
The Katy Trail State Park is a recreation rail trail that runs 225 miles (362 km) in the right-of-way of the former Missouri-Kansas-Texas Railroad. The trail often known as the Katy Trail is a Missouri state park and one of the longest Rails-to-Trails trails in the United States. Sections of the Katy are part of the Lewis and Clark National Historic Trail and the American Discovery Trail. Most of the trail follows the northern bank of the Missouri River. The trail is open for use by hikers, joggers, and cyclists year-round, from sunrise to sunset. The trail is made up of "limestone pug" creating a hard flat surface.
Jewell Cemetery State Historic SiteColumbia
Jewell Cemetery State Historic Site, Columbia, contains the grave of Missouri's 22nd governor (1875-1877), Charles Hardin, along with descendents of George Jewell. The most well known member of the Jewell family buried in the cemetery, William Jewell, died while establishing a college in Liberty, Mo. that bears his name.
Finger Lakes State ParkColumbia
While enjoying a day at Finger Lakes State Park, visitors may hear more than just the sounds of nature. The steady humming and ever-changing pitch of off-road motor vehicles may linger in the background, as off-road riding is the most popular activity at the park. Activities: camping, fishing, picnicking, swimming, mountain biking - all-terrain vehicle trails
Museum of AnthropologyColumbia
The museum features Native American life in Missouri from thousands of years ago and Missouri's pioneer and rural history. The world's most comprehensive archery collection is here.
Museum of Art and ArchaeologyColumbia
Education is central to the Museum's mission. We are committed to presenting the Museum's collections to a wide variety of audiences using different perspectives. The personal, voluntary learning that occurs in a Museum differs by individual and group. Greater understanding, engagement and enjoyment are promoted at our Museum through the use of interpretive techniques used by tour leaders such as docents, labels, self-tour brochures, or materials found on our website, such as "Learning to Look." Programming, including lectures, talks, children's events, films and special tours serves to further enhance learning experiences at the Museum.
Big Lake State ParkCraig
Boating, fishing and abundant waterfowl have made Big Lake State Park one of northwest Missouri's most popular outdoor recreation areas. Visitors to the 407-acre park can enjoy picnic areas, a swimming pool, boat launch, fishing, bird watching, dining in the park's restaurant, and facilities for lodging and camping. The park also has a large marsh that preserves an example of an early-day Missouri landscape. With the park's location on Big Lake, and Squaw Creek National Wildlife Refuge nearby, the area is a major feeding and resting place for birds and migratory waterfowl.
Stockton State ParkDadeville
Sail away on the clear waters of Stockton Lake. Fish, water ski, scuba dive, swim or just relax. Whatever your preference, Stockton State Park can satisfy your craving for water recreation. Activities: boating, camping, dining, fishing, hiking, lodging, marina, picnicking, swimming
Graham Cave State ParkDanville
Nestled in the hills above the Loutre River in Montgomery County, Graham Cave State Park features an unusual sandstone cave that contained evidence that rewrote history books. Once used for shelter, Graham Cave became historically significant when archaeologists discovered how long ago human occupancy had occurred. Activities: camping, fishing, picnicking, hiking - interpretive trails
Dillard Mill State Historic SiteDavisville
A barn-red mill nestled among green trees beside blue waters rolling over a rock dam create the colorful setting of one of Missouri's most picturesque historic sites. Dillard Mill State Historic Site interprets one of Missouri's best-preserved, water-powered gristmills. Activities: fishing, hiking, picnicking, tours
Washington State ParkDe Soto
A visit to Washington State Park is sure to be a memorable experience for anyone. A favorite attraction here are the Indian rock carvings found in the park. These carvings, or petroglyphs, are believed to have been made around A.D. 1,000 and give clues to the lives of the prehistoric Indians who once inhabited this part of Missouri. Activities: camping, canoeing, fishing, lodging, picnicking, rafting, swimming, hiking - backpacking trails
George Washington Carver National MonumentDiamond
The young boy known as the "Plant Doctor," tended his secret garden while observing the day to day operations of a successful 19th century farm. Nature and nurture ultimately influenced George on his journey to becoming a renowned scientist of agriculture. Includes the Carver Science Discovery Center, the Carver Museum, and the Carver Nature Trail
Towosahgy State Historic SiteEast Prairie
At one time, between A.D. 1000 and 1400, the site was a Mississippian civil-ceremonial center and fortified village. Within this village, a full gamut of ceremonial and domestic activities took place that served the inhabitants needs from "cradle to grave. Visitors to the 64-acre tract of land can see remnants of past activities in the form of earthen mounds constructed for ceremonial, residential and religious purposes. Less obvious, but more telling, is the evidence of past occupancy that has been found through professional archaeological research in the soils of the site.
Big Oak Tree State ParkEast Prairie
Driving along the rural highways in southeast Missouri, travelers may notice an abundance of farmland. Amid this farmland though, near East Prairie, 1,029 acres of the area's original landscape has been preserved and stands out above the rest. This island of trees in a sea of agriculture is known as Big Oak Tree State Park. Activities: fishing, picnicking, hiking - interpretive trails
Stark CavernsEldon
A Show Cave located outside Eldon, Missouri, Stark Caverns is dedicated to preserving the geology and history of Missouri, with a focus on education and community. We offer special home school rates where students can explore amazing geological formations, Native American artifacts, and ancient bear beds.
Roger Pryor Pioneer BackcountryEminence
Experience the wildness and solitude of the Missouri park system's largest undeveloped area in the Roger Pryor Pioneer Backcountry. Located in a remote area of the Ozarks, the backcountry is a 61,000-acre tract unit that is a portion of the Pioneer Forest, the state's largest privately owned forest. Hikers and backpackers can experience this solitude on 27 miles of trail.
Brookdale FarmsEureka
An Experience Students Will Not Forget! Field trips cost just $6 per child, which includes a hayride, seasonally appropriate farm activities, and a visit with one of the farm's draft horses. A presentation on Missouri agriculture is part of the activities included. Parents and guardians attending with their child must pay $5 per parent.
Route 66 State ParkEureka
Route 66 State Park showcases the history and mystique of a highway that has been called "The Main Street of America." The historic Route 66 has come to represent American mobility, independence and spirit of adventure, and the park has captured the essence of the highway in its displays and array of recreation options. Activities: fishing, picnicking, hiking - equestrian - bicycling trails
Ashby-Hodge Gallery of American ArtFayette
The Ashby-Hodge gallery of American Art officially opened its doors on the campus of Central Methodist College on October 29, 1993. - The Ashby Collection of oil paintings, lithographs, drawings, and acrylics, mainly represents the work of American Regionalist artists. Although the Ashby Collection is the principal focus of the gallery, special exhibits are scheduled throughout the year.
Fenton History MuseumFenton
Fenton Historical Society is a not-for-profit organization dedicated to the collection and retention of information pertaining to the Fenton Missouri area. The museum contains artifacts and written information about the Fenton Missouri area. We also have the beginnings of information for Genealogical information
Mark Twain Birthplace State Historic SiteFlorida
The rented cabin Mark Twain (Samuel Clemens) was born in is now preserved inside the museum at Mark Twain Birthplace State Historic Site. Activities include: fishing, hiking, and tours.
Florissant Valley Historical SocietyFlorissant
The Florissant Valley Historical Society is housed in the elegant Taille de Noyer House. Taille de Noyer is an historic antebellum home with stately pillars across the front veranda and is believed to be one of the oldest remaining homes in St. Louis County. The oldest section, a two-room log cabin used as a fur trading post, dates back to 1790
Mahaffey Army MuseumFort Leonard Wood
A museum operated by the Engineer, MP and Chemical Corps of the US Army. A replica of a World War II camp, with barracks, chapel and mess hall, supply office, as well as building displays that discuss segregation in early military life and the German Prisoners that lived at Fort Leonard Wood during WWII. The Indoor Museum Complex offers; Army Engineer Museum, with maps and tools dating to the Revolutionary War; the Military Police Museum, housing items from U.S. frontier army-post life to the Iraq wars and the Chemical Corps Museum which documents the effects of chemical warfare, covering the last nine centuries.
Kingdom of Callaway Historical SocietyFulton
The Kingdom of Callaway Historical Society continues to be the repository to archive the history of Callaway County.
Louis Bolduc House (1785)Genevieve
The Bolduc House was constructed about 1785, incorporating in the structure a smaller house built in Ste. Genevieve in 1770. It was built by Louis Bolduc, a prosperous French Canadian miner, merchant, and planter. It is the first instance of an authentic and complete restoration of a French colonial house of the Mississippi Valley. The house is built with "posts on a sill," the heavy oak timbers set about six inches apart and infilled with plaster made from mud, Spanish moss, and animal hair. The steep roof, supported by heavy tresses held together by mortises and tenons, spreads out on all four sides to cover the gallery.
Sandy Creek Covered Bridge State Historic SiteGoldman
Sandy Creek Covered Bridge boasts the picture-perfect appearance of an old red barn. It was one of six bridges built in 1872 to allow passage from the Jefferson County seat of Hillsboro to St. Louis. Activities: picnicking
Mark Twain Boyhood Home & MuseumHannibal
Find out how a small boy from Hannibal, Missouri became one of America's greatest writers.
Mark Twain's CaveHannibal
The Mark Twain Cave Complex boasts America's Oldest and Newest Show Caves. Mark Twain Cave is Missouri's first Show Cave.
Gov. Daniel Dunklin's Grave State Historic SiteHerculaneum
Gov. Daniel Dunklin's Grave State Historic Site, Herculaneum, houses the grave of Missouri's fifth governor (1832-1836). The site interprets Dunklin's role as the Father of Public Schools, and provides a scenic overlook of the Mississippi River.
Historic HermannHermann
Historic Hermann is committed to preserving and interpreting the collective heritage of Hermann, Missouri and its environs. Through its collections, educational programs, collaborations with other organizations and restoration of its historic German School Museum, Historic Hermann is dedicated to preserving the past and cultivates an appreciation for Hermann area history.
Deutschheim State Historic SiteHermann
Deutschheim State Historic Site captures the culture and heritage of the German people who migrated to Missouri in the mid- to late-19th century. Their home interiors, tools, implements, garden plantings and architecture quickly became a reflection of Missouri's diverse culture. Activities: tours
Confederate Memorial State Historic SiteHigginsville
The Civil War may have ended in 1865, but vivid memories of the "Lost Cause" lived on for decades at the Confederate Soldiers Home of Missouri. Opened in 1891, the Confederate Home provided refuge to more than 1,600 veterans and their families for nearly 60 years. These veterans hailed from points throughout the South and served in every major battle of the Civil War. Foot soldiers, artillery and cavalrymen, marines, guerilla fighters and even spies found a place of rest here in their old age. The very last of these former rebel soldiers, John T. Graves, died at the home in 1950 at the age of 108, thus bringing an end to an amazing era in Missouri history. Today, visitors to the Confederate Memorial State Historic Site can venture to the locations of the former home buildings and stroll through the restored 106-year-old chapel and historic cemetery. Three other historic buildings can be viewed from outside. Interpretive exhibits tell the story of the state's Confederate Soldiers Home.
Mastodon State Historic SiteImperial
Mastodon State Historic Site contains an important archaeological and paleontological site - the Kimmswick Bone Bed. Bones of mastodons and other now-extinct animals were first found here in the early 1800s. The area gained fame as one of the most extensive Pleistocene ice age deposits in the country and attracted scientific interest worldwide. Activities: picnicking, hiking - interpretive trails
Harry S Truman NHSIndependence
Home to a People's President - Harry Truman's story is one of hope & frustration, choice & chance. As President, he took the US from its traditional isolationism into the age of international involvement. Visitors experience the surroundings Harry Truman knew from his formative years as a 22-year-old youth of modest ambition through his retirement and death at age 88 as a former president of the United States.
National Frontier Trails MuseumIndependence
The National Frontier Trails Museum is a museum, interpretive center, and research library dedicated to telling the rich history of America's principle western trails.
Jackson County 1859 Jail, Marshal's Home & MuseumIndependence
The two-story 1859 Jackson County Jail, with its barred windows and double iron doors, gives us a chilling look at the rigors of frontier justice. It is thought to be the only such building standing in the Midwest today.
Harry S. Truman Library and MuseumIndependence
Celebrating the Civil Rights legacy of President Harry S. Truman
George Owens Nature ParkIndependence
George Owens Nature Park has given families the opportunity to reconnect with their natural environment since 1977. The park is open year round and provides 86 acres of beautiful forest, lakes, hiking trails and wildlife. Explore the DeWitt Center and experience rotating exhibits, a pond display and 4 large aquariums and educational programs centered around the natural world. The possibilities for adventure are endless.
Trail of Tears State ParkJackson
The tragic history that gives Trail of Tears State Park its name provides a sharp contrast to the peaceful, serene setting and the abundance of recreational opportunities enjoyed by visitors today. The 3,415-acre park is a memorial to the Cherokee Indians that lost their lives in a forced relocation, as well as a place for visitors to participate in a variety of outdoor adventures. Activities: camping, fishing, picnicking, swimming, hiking - equestrian - backpacking trails
Cole County Historical SocietyJefferson City
Encounter the roots of Missouri government and discover the charm and culture of the early political society at the Cole County Historical Museum. The building stands as a historical site, built by Governor B. Grantz Brown in 1871, and today it draws visitors as a tourist attraction. The Museum's collection of artifacts, antiques and historical documents add distinction to our county and state, thanks to the support of those who wish to preserve its historical and educational value.
Missouri State Capitol ComplexJefferson City
Jefferson Landing State Historic Site, Missouri State Museum and the Missouri State Capitol.
Jefferson Landing State Historic SiteJefferson City
Jefferson Landing State Historic Site is significant as a rare surviving Missouri River landing. The Lohman Building, built in 1839, is a sturdy stone structure that served as a tavern and hotel, and in its heyday also housed one of the city's largest warehouse and mercantile businesses. Today, the main floor contains a visitor center with exhibits on transportation. Activities: tours
Missouri State MuseumJefferson City
The Missouri State Museum is responsible for a large collection of artifacts that consists of approximately 93,000 artifacts and objects from all aspects of Missouri history, natural history, and resources history that have been collected since the museum's inception. One of the highlights of the collection is the collection of over 125 Missouri Civil War battle flags. Thirty-three of the flags have been conserved and eleven have been framed.
Missouri State CapitolJefferson City
All four floors of Missouri's Capitol are open to the public. A 30-minute guided tour is the best way to experience the historic and decorative features of the building. A walk around the Capitol grounds highlights more of Missouri's history, including Karl Bitter's bronze relief of the signing of the Louisiana Purchase Treaty, which sits on the terrace overlooking the Missouri River. Whether viewing the interior or exterior, the Missouri state Capitol provides visitors a rewarding glimpse of the cultural and natural legacy of our state.
Journey Through Slime Event StudioJoplin
We are a sensory focused event studio and Scoop Shoppe. We offer slime making, fidget toys and hand dipped ice cream. Our field trips consist of each student getting a slime kit with all of the ingredients to make slime. Our employees host the field trip and help make slime. All ages are welcome (the younger, 5 and below, will need extra assistance). We offer week day field trips on Wednesdays, Thursdays and Fridays. Our regular price to make slime is $18 but we do a discount for field trips at $12 per slime. Field trips are in two hours increments. We can host 30 slime makers at one time.
Joplin History & Mineral Museum Joplin
Boasts one of the world's most exceptional collections of lead and zinc ores as well as other minerals found in the Tri-State District. This museum interprets the geology and geochemistry of the area and illustrates mining processes and methods used from the 1870s through the 1960s.
Albrecht-Kemper Museum of ArtJoseph
The Albrecht-Kemper Museum of Art has one of the finest collections of 18th-, 19th-, 20th and 21st-century American art in the Midwest region. The mission of the Albrecht-Kemper Museum of Art is to bring excitement, awareness, and appreciation of American visual arts to all within the region through education, the permanent collection, temporary exhibitions, and the nurturing of regional artists.
Lake of the Ozarks State Park - Cave ToursKaiser
Visit Ozark Caverns in Lake of the Ozarks State Park and discover what lies beneath the surface! Caves are common geologic features in areas like the Ozarks, which is underlain by thick layers of soluble carbonate rocks such as limestone and dolomite. Water, seeping through subterranean cracks in these rock formations, begins to enlarge some of the fractures. As the dissolving action of the water continues, the cracks eventually become large, water-filled conduits that form parts of extensive underground drainage systems. As these water-filled systems gradually are drained by deepening surface valleys, they become the air-filled passageways we know as caves. A walk through Ozark Caverns is a journey through one of these large, drained conduits. It is a walk into an environment where geologic processes can proceed unhindered by many of the erratic, erosive forces that shape the surface landscape. In the protected cave environment, dripping and seeping water can redeposit carbonate materials in the form of soda straws, helictites, stalagmites and a host of other geologic wonders that can be seen in Ozark Caverns.
Lake of the Ozarks State ParkKaiser
Enjoy the solitude of an undeveloped cove, hidden along the shorelines of one of Missouri's largest lakes, Lake of the Ozarks. The 17,626-acre Lake of the Ozarks State Park offers this opportunity, along with a variety of recreational activities on the lake or on shore. Activities: boating, camping, cave tours, fishing, horseback riding, lodging, marina, picnicking, swimming, hiking - equestrian - mountain biking - backpacking - interpretive trails
Thomas Hart Benton Home and Studio State Historic SiteKansas City
Reflections of Thomas Hart Benton's life are present in both his home and his paintings. A renowned painter, sculptor, lecturer and writer, Benton had a gift for interpreting everyday life. Virtually untouched since his death in 1975, the two-and-a-half story, late Victorian-style house that Benton called home was constructed of native, quarried limestone and contains simple furnishings in neutral tones that contrast Benton's vibrant paintings. Benton converted half of the carriage house into his art studio, which remains as he left it, with coffee cans full of paintbrushes, numerous paints and a stretched canvas waiting to be transformed into another of his masterpieces. Thomas Hart Benton died in his studio on Jan. 19, 1975, doing what he liked best - painting the American scene.
Airline History MuseumKansas City
Recently one of the largest hangar facilities on the airport was obtained to become the new AHM headquarters, hangar, and maintenance facility. There are staff offices, shops, a large museum, a well stocked gift shop, artifact storage, and a heated hangar large enough for indoor storage and maintenance of all three AHM aircraft. Museum and aircraft tours, as well as aircraft maintenance, can now be conducted in shirt-sleeve comfort regardless of the weather. A second website: www.ahmhangar.com The Official Media and Blog site of the Airline History Museum has been added for "up to the minute" blogs, photos and videos.
Alexander Majors - Missouri Society - Sons of the American RevolutionKansas City
Celebrate your family's American heritage. Capture the spirit of America through the preservation, history, and genealogy of the American Revolution. Discover the principles of our forefathers. Honor the sacrifices that they made to give us the Constitution, a Bill of Rights, and a free Republic.
American Royal Museum & Visitors CenterKansas City
Arabia Steamboat MuseumKansas City
Unbelievable treasures and fascinating history await. Explore our museum and learn how the handsome steamer Arabia prospered on the rivers, perished in 1856 and was finally rediscovered 132 years later, precious cargo intact. This exhibit, in Kansas City, Mo, is many things: history, ingenuity, tragedy, adventure, perseverance, preservation and a tribute to the pioneer spirit.
Cave Spring Interpretive CenterKansas City
Cave Spring is a 36-acre nature center and historic area located in eastern Kansas City, Missouri. The area includes an interpretive center building, picnic area, and scenic walking trails.
John Wornall House MuseumKansas City
The Wornalls were representative of the southern migration to western Missouri, but they were not the "average" farm family. The average farmer at this time had between 80 and 100 acres of land. John Wornall met with almost unfailing success in western Missouri.
Kansas City MuseumKansas City
The Kansas City Museum is Kansas City's first, and most important, museum of local and regional history. The museum is housed at the former urban estate of lumber baron and civic leader Robert A. Long and his family. The 3 acre plot is located atop a bluff overlooking the Missouri River Valley, adjacent to historic Kessler Park and Cliff Drive, a state Scenic By-way. The site features five of the six original structures. These include Corinthian Hall, the 70-room four-story Beaux Arts limestone residence; the Carriage House, in which Long's famed equestrienne daughter, Loula Long Combs, housed her horses and many trophies; the StoryTarium in the former Conservatory, and the Museum Visitor Center
Kansas City Fire MuseumKansas City
The K.C. Fire Historical Society's mission is to preserve and relate the history and artifacts of the Kansas City Fire Department and the evolution of firefighting technology; provide effective fire safety and prevention education for both children and adults; and inspire in all an appreciation for firefighters as a helpful community resource.
Kansas City ZooKansas City
the zoo offers Science Attacks homeschool classes. Each class will include a small tour, activities, possibly an animal encounter, and a take home activity, and opportunities to engage with professional Zoo Educators on a variety of topics. Designed for kids K-8th grade.
LEGOLAND® Discovery Center Kansas CityKansas City
The ideal place to let your students experience a world of fun, creativity and imagination.
Bricks 4 Kidz Early Engineers With LEGOSKansas City
Bricks 4 Kidz offers on-site field trips using custom LEGO kits and model plans. This is an excellent hands-on STEM enhancement activity that kids truly love. Each kits include gears, motors, axles etc. Most children do not have the opportunity to work with the type of model plans and parts that are provided. Each instructor is trained to provide a lesson plan on the current LEGO build as well as helping the children accomplish success in completing their project.
American Jazz MuseumKansas City
The American Jazz Museum showcases the sights and sounds of jazz through interactive exhibits and films, the Changing Gallery exhibit space, Horace M. Peterson III Visitors Center, Blue Room jazz club and Gem Theater. Since its inception in 1997, the Museum has hosted thousands of students, scholars, musicians fans for over 200 performances, education programs, special exhibitions, community events and more each year, providing an opportunity to learn about the legends, honor their legacy, or simply enjoy the sounds of Kansas City jazz. Our mission is to celebrate and exhibit the experience of jazz as an original American art form through research, exhibition, education and performance at one of the country's greatest jazz crossroads - 18th & Vine.
Kemper Museum of Contemporary ArtKansas City
As part of a collaborative program between the Kemper Museum and the Center for Child Health and Development at the University of Kansas Medical Center, the Kemper Museum offers free workshops for children with and without developmental disabilities who work side-by-side in a collaborative and supportive environment. The objectives of ArtReach are to provide opportunities for self-expression and communication through the visual arts, exposure to original works of art from the Kemper Museum's permanent collection, background on a specific artist's technique and inspiration, and the opportunity to create a work of art that will be on view at KU Medical Center's ArtSynergy space for the ongoing Side-by-Side exhibition
Negro Leagues Baseball MuseumKansas City
Through educational programming and exhibitions, the Negro Leagues Baseball Museum will strengthen and expand its mission to preserve the history of African American baseball by: Crafting innovative and thought provoking activities that appeal to the broadest of audiences, building exhibitions grounded in sound research and creativity and establishing itself as a national center that broadens the study of race and sports in American history.
Worlds of Fun & Oceans of FunKansas City
Your senses come alive as you enter the gate, the sights and sounds take over, and the little ones in your family take your hand. Breathtaking views from towering coasters, hair-raising thrill rides, and a kids area that is the playground for new memories. Just like when you were a kid and visited Worlds of Fun, where the enchantment begins and fun never ends.
Worlds of FunKansas City
With Worlds of Fun and Oceans of Fun covering more than 235 acres with all kinds of rides and slides, you're sure to find a world full of fun for just about anyone. Whether it's for a reward, end-of-year celebration or educational experience, Worlds of Fun provides the perfect adventure for your students. Take your lesson plan on the road and show how your lessons apply to the world around us.
Friends of the James FarmKearney
The FOTJF Board exists to promote research & an understanding of History of the 1800s in general, the Civil War & the part that it played in the lives of everyone who lived through those tough times. They also want you to know more about Jesse James, his family & associates, & perhaps understand why the man was who he was.
Thousand Hills State ParkKirksville
As the population of Kirksville expanded in the 1950s, the city sought to increase its supply of fresh water. Thousand Hills State Park was created following the construction of the 573-acre Forest Lake to serve as the city's reservoir. Today, the 3,215-acre park offers visitors a unique opportunity to explore the best of northern Missouri.Activities: boating, camping, canoeing, dining, fishing, lodging, marina, picnicking, swimming, hiking - bicycling - mountain biking - backpacking trails
Knob Noster State ParkKnob Noster
An often overlooked gem of the Missouri state park system. Knob Noster State Park is an ideal spot for relaxing and forgetting the cares of the world - even if just for a few hours. The park is an interesting mixture of prairie, savanna and forest, with 3,934 acres lying along both sides of a meandering creek. Several small lakes in the park cater to the fisherman, and non-motorized boats may be used. Picnic sites dot the lakeshore and three open picnic shelters make an ideal place for group get-togethers in a tranquil setting.
Grand Gulf State ParkKoshkonong
Often referred to as Missouri's "Little Grand Canyon," Grand Gulf State Park offers visitors a chance to view a variety of natural wonders. From a canyon to a cave to a natural bridge -- this state park has plenty to see and much to do. The 322-acre park presents the most spectacular collapsed cave system in the Ozarks. Part of the cave's roof forms one of the largest natural bridges in the state, spanning 200 feet with an opening 75 feet high and 50 feet wide. Activities: picnicking, hiking - interpretive trail
Wakonda State ParkLa Grange
Nestled in northeast Missouri, Wakonda State Park, composed of land that once was mined of gravel used to surface Missouri's secondary highways, has been transformed into a recreation area featuring six lakes, hiking and bicycling trails, and a rare sand prairie. Activities: boating, camping, canoeing, fishing, lodging, picnicking, swimming, hiking - mountain biking trails
Pershing State ParkLaclede
The outstanding features of what is now Pershing State Park attracted Gen. John J. Pershing during his boyhood years and continue to attract visitors to the park today. Activities: camping, fishing, picnicking, swimming, hiking - backpacking - interpretive trails
Gen. John J. Pershing Boyhood Home State Historic SiteLaclede
One of America's highest ranked military officers, Gen. John J. "Black Jack" Pershing, spent most of his childhood years in the small town of Laclede. There is little in Pershing's boyhood history to suggest that one day he would become a national war hero. Activities: picnicking, tours
Locust Creek Covered Bridge State Historic SiteLaclede
Locust Creek Covered Bridge, built in 1868, once housed the nation's first transcontinental road, Route 8. Today, it is the longest of the four remaining bridges measuring 151 feet.
Harry S Truman Birthplace State Historic SiteLamar
Visit the birthplace home of the only Missourian ever elected President of the United States - Harry S Truman. Born May 8, 1884, in a downstairs bedroom of a small frame house in Lamar, Harry Truman was the son of John Anderson and Martha Ellen (Young) Truman. Activities: tours
Watkins Woolen Mill State Park and State Historic SiteLawson
It took Waltus Watkins nearly half a century to build his home estate and small community. Included in the 3,600 acres was an elegant home, three-story woolen mill, fruit-drying shed, smokehouse, brick kiln, sawmill, gristmill and acres of well tended orchards and croplands. A brick schoolhouse and church are also in the vicinity. Many of the original buildings have been restored, and livestock and plants re-introduced to create an 1870s farm. During summer months, the site's Living History Farm Program offers visitors the chance to watch an 1870s family live, work and play. Tours are given of the Watkins home and Watkins Woolen Mill. The mill is a National Historic Landmark and is the only 19th century textile mill in the county with its original machinery still intact. The visitor center offers an introduction to the Watkins family and their many business ventures.
Onondaga Cave State Park - Cave ToursLeasburg
Trained guides lead visitors over electrically lighted paved walkways and provide information about geologic wonders such as the King's Canopy, the Twins, and other unusual speleothems. With an interesting history and a river flowing through the cave, Onondaga Cave is a spectacular registered National Natural Landmark.
Onondaga Cave State ParkLeasburg
Missouri, the Cave State, has more than 5,500 caves, and some of the state's most scenic natural wonders lie beneath the surface -- in caves. One Missouri cave stands out above the rest -- Onondaga Cave in Onondaga Cave State Park. Activities: camping, cave tours, fishing, hiking, picnicking, swimming
Bennett Spring State ParkLebanon
In the mid-19th century, settlers found Bennett Spring to be an ideal spot for grist and flour mills. Today, most people come to Bennett Spring State Park to struggle with the rainbow trout, or just to marvel at the 100,000,000 gallons of clear, cool water that gush from the spring each day. Amenities: camping, canoeing, dining, hiking, lodging, picnicking, rafting, swimming, trout fishing
Battle of Lexington State Historic SiteLexington
It was once called "the largest and best arranged dwelling house west of St. Louis." Today Oliver Anderson's mansion is best known for the three bloody days in 1861 when it was a fiercely contested prize in a Civil War battle between the Union army and the Missouri State Guard. Today, it is restored and furnished in the mid-19th century fashion, but it still displays damage from the shot and shell that hammered it during the Battle of Lexington. The house changed hands three times, and soldiers met their death in the downstairs hallway. The battlefield is quiet now, and restored gardens and orchards dot the landscape. But the remnants of the trenches can still be seen, and the graves of unknown Union dead echo a time less peaceful. In addition to tours of the 1853 Anderson House, you may explore the 100 acres of the battlefield preserved at the historic site. A visitor center with exhibits and audio-visual programs explains the stirring events of Sept. 18-20, 1861, and why the "Battle of the Hemp Bales" lifted Southern spirits and furthur dampened Northern hopes of an easy victory in the struggle for Missouri.
Lexington Historical MuseumLexington
Founded in 1822, Lexington, Missouri, sits high atop the bluffs overlooking the Missouri River; the artery which brought life and commerce to Lexington, and around which much of our rich history is based. Lexington still possesses a distinctly 'Gracious Southern Heritage,' and is known for the dramatic three-day War Between the States 'Battle of Lexington' (aka: 'The Battle of the Hemp Bales').
Lone Jack Civil War Battlefield, Museum & Soldier's CemeteryLexington
The Lone Jack Civil War Battlefield, Museum & Soldier's Cemetery is the only Civil War Museum in Jackson County, Missouri and one of the few battlefields where the soldiers, who perished during the battle, are still buried on the battlefield and it has not been designated as a National Cemetery. The Lone Jack Civil War Museum is a unique round native stone building built in 1963. It houses a variety of displays including artifacts from the Battle of Lone Jack,items of local history, photos of the men who fought at Lone Jack, and battle dioramas.
Clay County Archives and Historical LibraryLiberty
To procure, preserve, restore, maintain, study, and promote manuscripts, instruments, records, charters, evidence, and documents of a public or private nature which may have statistical, legal or historical significance to Clay County, Missouri.
Situated on the banks of Long Branch Lake, Long Branch State Park is an ideal recreation destination for water enthusiasts as well as nature lovers. Visitors can take advantage of all the recreation options the lake has to offer, or hike through a restored prairie. Activities: boating, camping, fishing, hiking, picnicking, swimming
Bootheel Youth MuseumMalden
The Bootheel Youth Museum in Malden, Missouri, offers children exciting, inventive (and educational) fun! Where else can you stand inside a bubble, "freeze" your shadow on a wall, write a check at the bank or make music on sewer pipes? Thousands of visitors have experienced the museum's many exhibits exploring the worlds of math, science, human relations, natural resources and the arts. This Island Mars features over 20 interactive exhibits and an innovative visit to the Red Planet. Visit the construction zone, which encourages creative building skills.
Malden Historical MuseumMalden
Home to displays that not only reflect the history of Malden, but also such treasures as the Dennis Collection of Egyptian Antiquities with items that date back thousands of years. There is no admission charge to tour the Malden Historical Museum and the public is welcome during normal visiting hours (Wednesdays and Saturdays from 1:30 until 4:30).
Laura Ingalls Wilder Historic Home & MuseumMansfield
Great information about Laura, the Wilder family and the Laura Ingalls Wilder Home and Museum here in Mansfield Missouri.
Downing House MuseumMemphis
This stately 14 room brick museum, designed by Thomas Broadwater of Virginia, denotes a Greek Revival Style, with its three story tower it conveys a strong Italianate character. - One of the most interesting exhibits at the Downing House is the life size model of Ella Ewing, the Missouri Giantess. Ella, born in 1872 in Scotland County, died at age 40 in 1913. She was 8 feet 4 inches tall and weighed 277 pounds and in her youth was an attraction in the P.T. Barnum Circus.
Van Meter State ParkMiami
The state of Missouri and its principal river were both named after a tribe of Native Americans, known by the French explorers as the "Oumessourit" or Missouri Indians, that once lived in the area of Van Meter State Park. Today, the park provides outdoor recreational opportunities and interprets the area landscape and the Native Americans who found it to be bountiful. Van Meter State Park features remnants of this early village site. A hand-dug earthwork, known as the Old Fort, and several burial mounds lie within park boundaries. The area's Native American history is also interpreted inside the park's cultural center through exhibits and a large mural depicting the life of the Missouri Indians. Activities: camping, fishing, picnicking, hiking - interpretive trails
Taum Sauk Mountain State ParkMiddlebrook
Make the great escape to Missouri's wilderness - Taum Sauk Mountain State Park. The park provides 7,448 acres of solitude amid unspoiled land with a wilderness quality hard to find in today's world. Activities: camping, picnicking, hiking - backpacking trails
Johnson's Shut-Ins State ParkMiddlebrook
Johnson's Shut-Ins State Park was damaged by flooding following the failure of the Taum Sauk Reservoir in December 2005. The park has closed for redevelopment but progress is being made. The department hopes to have the park open in 2009.
Prairie State ParkMindenmines
Experience a walk through prairie grasses that tower above your head with a chance to view bison and elk. Tallgrass prairie once covered more than a third of Missouri's landscape. Today less than 1 percent remains. Prairie State Park, at nearly 4,000 acres, preserves Missouri's largest remaining tallgrass prairie. Activities: camping, picnicking, hiking - backpacking trails
Squaw Creek National Wildlife RefugeMound City
Squaw Creek was established in 1935 as a resting, feeding, and breeding ground for snow geese, other waterfowl, and bald eagles. The refuge is a primary stop-over for waterfowl using the Mississippi Flyway.
Ripley's Believe It Or Not MuseumMultiple Locations
Offers museums and attractions in multiple countries focusing on odd and amazing things. Provides videos, details about exhibits, and their history.
Sappington Cemetery State Historic SiteNelson
Sappington Cemetery State Historic Site, near Arrow Rock, houses the grave of a prominent area doctor, Dr. John Sappington, along with two Missouri governors. Gov. Meredith Miles Marmaduke became Missouri's eighth governor for nine months in 1844 after the death of Gov. Thomas Reynolds. Claiborne Fox Jackson, a strong supporter of the Confederacy, was beginning his term as Missouri's 15th governor (1861) when the Civil War began and he was driven from Jefferson City.
Bushwhacker MuseumNevada
The Bushwhacker Museum takes great pride in preserving the memories of Vernon County, Missouri. It is widely regarded as one of the premier small town museums in the Midwest. The Bushwhacker Museum is designed to appeal to all ages, with an informal atmosphere and many interactive exhibits. Children seem to be especially fascinated by the Native American exhibits, and enjoy playing "school" in the old child-sized classroom. The Bushwhacker Jail . . . is a rare example of prison facilities in the late nineteenth century. It is the oldest structure in Nevada, and one of the few buildings spared when Federal Militia burned Nevada to the ground in 1863. You can tour the beautifully restored jailer's family quarters, step inside a grim, dark jail cell, or marvel at the graffiti in the old drunk tank.
Hunter-Dawson State Historic SiteNew Madrid
In southeast Missouri's Bootheel sits a majestic mansion. This mansion, Hunter-Dawson State Historic Site, illustrates the grand lifestyle once enjoyed by one of southeast Missouri's wealthy families during the late 1800s. Activities: tours
Chicken N PickleNorth Kansas City
Chicken N Pickle is an outstanding field trip destination, hosting P.E. classes throughout the year. Pickleball the fastest growing sport in America because it is so much fun, and great for all ages and abilities! There is also a gameyard at no cost with cornholes, life size battleship, giant jenga, and a big connect 4. The restaurant offers a great selection of food for kids as well. Offering pickleball courts, paddles, and balls at a discount rate.
City of O'Fallon Zumwalt Fort & Darius Heald HomeO'Fallon
Historical homesteads located in O'Fallon, MO Ft. Zumwalt Park. Jacob Zumwalt's Fort was a large log home built in 1798. The home became a refuge to protect families during the war of 1812. Nathan Heald, Army Captain purchased the fort and surrounding areas during the war and between the years of 1884-1886, their son Darius Heald built the 2-story brick home called Stoney Point. Groups of 10 or more receive a discount. Reservations required two weeks in advance. Call Alyssa Holyfield at 636-379-5502 for additional information.
Clark's Hill/Norton State Historic SiteOsage City
High above the Missouri and Osage rivers, visitors to Clark's Hill/Norton State Historic Site can absorb the intriguing history of the hill, which will take them back to the epic journey of captains Meriwether Lewis and William Clark. On June 1-3, 1804, they camped at the base of what is now known as Clark's Hill. Activities: hiking - interpretive trail
Christian County Historical Society and MuseumOzark
Committed to preserving, maintaining and sharing the rich heritage of Christian County Missouri
QuestledgeOzark
Quest for Knowledge Adventure center is a hands on, interactive adventure center. Kids wonder through a forest, a school room, the old west and a pirate ship on their search for answers to riddles, clues and questions. There are 4 different levels of quests. Quests for our youngest participants are picture based, and are geared toward pre-readers. The other 3 levels are reading or activity based, many
Smallin Civil War Cave is a beautiful Field Trip destination in Ozark, Missouri, about 6 miles south of Springfield. This cave offers affordable field trip rates for groups of 20 and over. Smallin Civil War Cave is rich in human history, geology, rare wildlife, and more. The breath-taking ten story arch entrance of Smallin Civil War Cave will be a memory your children will carry for a lifetime.
Union Covered Bridge State Historic SiteParis
Union Covered Bridge, built in 1871, is the only one of the four that represents the Burr-arch truss design. It served travelers in Monroe County for 99 years and remains an important structure in the area's history.
St. Joe State ParkPark Hills
St. Joe State Park is located in the heart of the old "Lead Belt" of southeast Missouri where much of the nation's lead ore was extracted for more than a century. In 1972, the St. Joe Minerals Corp. ceased operations and subsequently donated the land to the state in 1976. Activities: camping, fishing, swimming, picnicking, hiking - equestrian - mountain biking - backpacking - bicycling - all-terrain vehicle trails
Missouri Mines State Historic SitePark Hills
The 19,000 square-foot mine-mill powerhouse has been developed into a large museum that interprets Missouri's mining history and displays old mining machinery and an outstanding mineral collection. Related books, minerals and mineral jewelry are sold in the museum shop.
Sam A. Baker State ParkPatterson
With the ancient St. Francois Mountains, the unspoiled natural landscape and the cool waters of the St. Francois River and Big Creek, Sam A. Baker State Park has something for everyone. Whether getting away for a day of relaxation or spending considerably more time exploring the region, it's certainly worth the trip. Activities: camping, canoeing, dining, lodging, fishing, picnicking, swimming, backpacking - bicycling - equestrian - hiking trails
Fort Davidson State Historic SitePilot Knob
Fort Davidson State Historic Site preserves Fort Davidson and the Pilot Knob battlefield where so many Confederate and Union soldiers lost their lives. A visitor center interprets the battle and Maj. Gen. Price's raid. It features exhibits, a research library, an audiovisual presentation and a fiber optics diorama of the battle. Nearby, a playground and picnic area make Fort Davidson State Historic Site an ideal place to get away with the family. Activities: picnicking, tours
Big Sugar Creek State ParkPineville
Heavily forested hillsides, clear-flowing streams and solitude are all features to be found within Big Sugar Creek State Park. Nestled deep within southwest Missouri, Big Sugar Creek State Park preserves a portion of the Elk River Section of Missouri's Ozarks. Activities: hiking
Pomme de Terre State ParkPittsburg
Pomme de terre, French for "potato," can be translated "apple of the earth," which is a fitting interpretation when referring to Pomme de Terre State Park. Located on both the Hermitage and Pittsburg sides of Pomme de Terre Lake, the park offers a vast array of recreational opportunities. Activities: boating, camping, fishing, hiking, marina, picnicking, swimming
Margaret Harwell Art Museum Poplar Bluff
The Margaret Harwell Art Museum in Poplar Bluff, Missouri, owes its existence to the generosity of its namesake and benefactor, the late Margaret Harwell - an amateur artist, businesswoman and civic leader. MHAM has nearly 10,000 visitors each year. Its exhibitions change monthly. Its growing permanent collection includes 'Parisian Trousseau for a Missouri Bride,' the 1898-era clothing of Ann Trotter West.
Wilson's Creek National BattlefieldRepublic
Wilson's Creek was the second major battle of the Civil War, and the scene of the death of Nathaniel Lyon, the first Union general killed in combat. The website offers historical information about the battle for those who cannot visit in person.
Battle of Athens State Historic SiteRevere
Battle of Athens State Historic Site interprets the northernmost Civil War battle fought west of the Mississippi River along with providing recreational opportunities. Activities: camping, fishing, hiking, picnicking, tours
Robertsville State ParkRobertsville
Edward James Roberts once owned the land that is now Robertsville State Park. As one of the largest landowners in Franklin County at the time, the surrounding area became known as Robertsville. The Roberts family took advantage of the area's rich bottomland soils and its proximity to water to establish a very successful farm. Activities: camping, fishing, hiking, picnicking
Lewis and Clark State ParkRushville
Meriwether Lewis and William Clark, on their epic journey westward, encountered a lake, which Clark described as containing "great quantities of fish and Gees & Goslings." The lake they described that Fourth of July in 1804 is known today as Lewis and Clark Lake. Lewis and Clark State Park borders this lake and is dedicated to these early explorers who opened the door to westward expansion. Just as in Lewis and Clark's day, waterfowl still flock to this oxbow lake. Geese, great blue herons, snowy egrets and many types of ducks often make an appearance at Lewis and Clark Lake.
Jefferson Barracks Telephone MuseumSaint Louis
Housed in a beautifully restored 1896 building, the museum features an extensive collection of telephones manufactured from the early 1900s through the 2000s, hundreds of pieces of telephone-related equipment and memorabilia and military telephones from WWII through the Vietnam War. It is located in the historic Jefferson Barracks Park, a 15 minute drive south of downtown St. Louis. The self-guided, accessible museum has many hands-on, how-things-work displays. The displays were created to inspire an interest in engineering and history. Open Wednesday through Sunday from 9 AM to 2 PM.
The Missouri Department of Natural Resources has acquired a new state park along the Current River and off of Hwy. 19, north of Eminence in Shannon County. Current River State Park will be developed on property known as the historic Alton Club/Jerry J. Presley Conservation Education Center, previously owned by the Missouri Department of Conservation. In early 2008, the Alton Club complex and surrounding acreage was transferred to the Department of Natural Resources for development as a new state park.
Montauk State ParkSalem
Offering some of the finest trout fishing in the Midwest, Montauk State Park is located at the headwaters of the famed Current River. The park's springs combine with tiny Pigeon Creek to supply 43 million gallons of water to the river each day. The cool, clear stream is an ideal home for rainbow trout, and the scenic valley is the perfect setting for camping, hiking and other outdoor pursuits. Activities: camping, dining, hiking, lodging, picnicking, trout fishing
Chariton County Historical Society & MuseumSalisbury
Historical Museum and Genealogy Library
Santa Fe National Historic TrailSanta Fe Trail
The Santa Fe National Historic Trail connects western Missouri and Santa Fe. The website offers historical information about the trail for those who cannot visit in person.
Andrew County Museum and Historical SocietySavannah
Daum Museum of Contemporary ArtSedalia
The Contemporary Art Museum on the campus of State Fair Community College collects, preserves, interprets and exhibits modern and contemporary works of art and design for the educational enrichment of students, faculty and the general public. The core of the Museum is the permanent collection comprised of abstract paintings, drawings, prints, works in clay and sculpture created since the mid-20th century. The permanent collection also includes those significant precursors that are a vital link to refining the scope of the collection and to enhancing the Museum's educational importance.
Katy DepotSedalia
The Sedalia Katy Depot Sedalia is a product of the railroad. For more than a century, Sedalia?s history and fortunes were tied to railroads. Railroads brought prosperity. Railroads also brought urban industrial culture to Sedalia and rural central Missouri. The Katy Depot is both a symbol and an artifact of this story.
Bothwell Lodge State Historic SiteSedalia
Sitting atop a 120-foot bluff, Bothwell Lodge State Historic Site can't be missed by travelers heading north on Highway 65 from Sedalia. This castlelike building was constructed between 1897 and 1928 for a prominent Sedalia lawyer, John Homer Bothwell. Bothwell was active in local politics, represented Pettis County for eight years in the Missouri General Assembly, and unsuccessfully ran for governor in 1904. His influence helped to make Sedalia the permanent home for the Missouri State Fair. Activities: picnicking, tours, hiking - mountain biking - interpretive trails
Trail of Tears National Historic TrailSoutheastern US
The park commemorates the survival of the Cherokee people and their forced removal from their homelands in the Southeastern United States in the 1840s.
Dickerson Park ZooSpringfield
Take a walk on the wild side at Dickerson Park Zoo. The zoo, located in Springfield, Missouri, is home to 450 animals representing 160 species.
Discovery CenterSpringfield
Discovery Center of Springfield is an interactive, hands-on museum committed to inspiring people of all ages with a life-long love of learning and an appreciation of the world.
History Museum for Springfield-Green CountySpringfield
The History Museum for Springfield-Greene County is a private, not-for-profit organization that began in 1975 as a Bicentennial project. - Tells the local story from the coming of the first people to southwest Missouri 12,000 years ago up to 1957, when Springfield was voted an All-American City.
Red Oak 11Springfield
Red Oak 2 is a quaint little village and open air museum featuring original homes and businesses from the 1930s. Local artist Lowell Davis grew up in the original town of Red Oak and as he saw the life of the town declining, he bought the houses and businesses and moved them 23 miles to the land where Red Oak 2 now sits. There is a cafe, general store, blacksmith, church, and more.
Rutledge-Wilson Farm ParkSpringfield
Fun and engaging educational field trips are available for preschool through 5th grade classes. Designed to assist teachers by aligning with Missouri State Standards. Classes are 30 minutes. Classes in the temperature-controlled barn classroom. Some schools qualify for discounts.
Air and Military Museum of the OzarksSpringfield6
At the Air and Military Museum of the Ozarks, the mission is the restoration, preservation and display of military history and memorabilia for the education of patrons. The museum is dedicated to all of the brave men and women who fought and died in the Armed Forces to preserve America's freedoms.
Lewis and Clark Boat House and Nature CenterSt. Charles
The Lewis & Clark Boat House and Nature Center is the Discovery Expedition's permanent home. Situated beside the Missouri River at Bishop's Landing in charming historic St. Charles, Missouri, the educational facility features exhibits relating to the Lewis and Clark expedition as well as the Missouri River ecosystem.
First Missouri State Capitol State Historic SiteSt. Charles
Missouri's first legislators met in the buildings of the First Missouri State Capitol State Historic Site to undertake the task of reorganizing Missouri's territorial government into a progressive state system. From June 4,1821, to Oct. 1,1826, heated debates of state's rights and slavery filled the rooms of the temporary Capitol. Activities: tours
Jefferson National Expansion MemorialSt. Louis
The Gateway Arch symbolizes St. Louis' role in the Westward Expansion of the United States during the 19th century. The park is a memorial to Thomas Jefferson's role in opening the West, to the pioneers who helped shape its history, and to Dred Scott who sued for his freedom in the Old Courthouse. Check website for educational information.
AKC Museum of the DogSt. Louis
Ulysses S. Grant National Historic SiteSt. Louis
Ulysses S. Grant is known as the victorious Civil War general who saved the Union and the 18th President of the United States.
The Griot MuseumSt. Louis
The Griot Museum of Black History and Culture interprets stories and features life-size likenesses of African Americans with a Regional connection whose life activities influenced the state, region, and sometimes the entire country. Visitors can "meet" and learn about Carter G. Woodson, Josephine Baker, Dred and Harriet Scott, Elizabeth Keckley, William Wells Brown, James Milton Turner, Clark Terry, Dr. Martin Luther King Jr., the Rev. Earl. E. Nance Sr., Miles Davis, Madame C.J. Walker, York, Percy Green, and others.
Campbell House Museum St. Louis
This museum stands as one of the most accurately restored 19th Century buildings in America, reflecting the high-Victorian opulence of the 1880s.
City MuseumSt. Louis
St. Louis's City Museum offers art from recycled materials, artists at work, circus shows, hands-on activities, and caves and tunnels to explore.
Historic Aircraft Restoration MuseumSt. Louis
The Historic Aircraft Restoration Museum is a non-profit organization located at Creve Coeur Airport (1H0). The museum has on display one of the largest collections of flying antique, classic and sport aircraft in the country. The museum conducts guided tours from 10:00 am to 4:00 pm (Central), Saturdays, Sundays, or by appointment during the week. There are usually 30 to 40 aircraft hangared in the three main museum buildings, with at least that many scattered throughout the airport.
St. Louis Kaplan Feldman Holocaust MuseumSt. Louis
Using the history and lessons of the Holocaust, the Holocaust Museum and Learning Center envisions a world where hatred and indifference are transformed into understanding and compassion, where all people are treated with dignitiy and respect.
Missouri Civil War MuseumSt. Louis
The facility is located within the Jefferson Barracks Historic Site in St. Louis, Missouri, which is recognized as the oldest active military installation west of the Mississippi River. The Jefferson Barracks National Cemetery was established during the American Civil War (1863) and is the final resting place for some 16,000 Civil War soldiers from both the Union and the Confederacy. Many people believe that Jefferson Barracks is without question, one of the most sacred and historically significant sites in all of Missouri regarding the American Civil War.
The Magic House, St. Louis Children's MuseumSt. Louis
The Magic House will engage all children in hands-on learning experiences that encourage experimentation, creativity and the development of problem solving skills within a place of beauty, wonder, joy and magic.
Scott Joplin House State Historic SiteSt. Louis
In a modest walk-up flat at 2658A Delmar Boulevard, Scott Joplin and his new bride Belle began their life in St. Louis. It was then called Morgan Street, a busy, densely populated, blue-collar district of African-Americans and German immigrants. Located nearby were the honky-tonks and dives of the notorious Chestnut Valley. This black musical genius, buoyed by his success with the Maple Leaf Rag, was making his move toward the national arena. He would soon be known as the "King of Ragtime." Activities: tours
Jefferson Barracks Telephone MuseumSt. Louis
Housed in a beautifully restored 1896 building, the museum features an extensive collection of telephones manufactured from the 1900s through the 2000s, hundreds of pieces of telephone-related equipment and memorabilia and military telephones from WWII through the Vietnam War. It is located in the historic Jefferson Barracks Park, a 15 minute drive south of downtown St. Louis. The accessible museum has many hands-on, how-things-work displays. The displays were created to inspire an interest in engineering and history. The museum is open Wed through Sun 9 AM to 2 PM. (314) 416-8004.
Miniature MuseumSt. Louis
Virtual field trip onlineThe museum opened June 27, 2001 and features dollhouse miniatures in all scales. The museum has a gift shop and a library devoted to miniatures.
Miniature MuseumSt. Louis
The museum opened June 27, 2001 and features dollhouse miniatures in all scales. The museum has a gift shop and a library devoted to miniatures.
Inside the Economy Museum at the Federal Reserve Bank of St. LouisSt. Louis
The award-winning Inside the Economy Museum inside the historic Federal Reserve Bank of St. Louis will immerse you in a one-of-a-kind experience that explains the economy, and your role in it, in a fun and interactive way. Engage in a hands-on journey through nearly 100 exhibits that are brought to life through interactive displays, games, sculptures and videos. Located in downtown St. Louis, the museum is open to walk-in visitors, school field trips and other groups. The museum is free to all visitors.
The Griot Museum of Black History and CultureSt. Louis
The Griot Museum of Black History is one of only two black history museums in the country with life-size wax figures. The museum also features an authentic Missouri slave cabin and many unique artifacts. The Griot tells the inspiring stories of great black women and men with ties to Missouri and Illinois. The Griot invites you and your students to schedule a tour and come to explore the place where our region's African American history lives!
Contemporary Art Museum St. LouisSt. Louis
The Contemporary Art Museum St. Louis is one of the leading voices in the world of contemporary art. The Contemporary is dedicated to exhibiting the visual arts and artists of our time and to producing nationally recognized education programs. As a non-collecting institution, the Contemporary focuses its efforts on featuring local, national and international, well-known and newly established artists from diverse backgrounds, working in all types of media.
Eugene Field House and St. Louis Toy Museum St. Louis
The Field House was designated a National Historic Landmark in 2007. It was opened December 18,1936 as the first historic house museum in St. Louis. The Museum has also been named a City of St. Louis Landmark and is listed on the National Register of Historic Places.
Saint Louis Art MuseumSt. Louis
The Saint Louis Art Museum collects, presents interprets, and conserves works of art of the highest quality across time and cultures; educates, inspires discovery, and elevates the human spirit; and preserves a legacy of artistic achievement for the people of St. Louis and the world.
Felix Valle House State Historic SiteSte. Genevieve
Settled by French-Canadian habitants in the late 1740s, the village of Ste. Genevieve has been inviting visitors to enjoy the charm of its narrow streets, shops, museums and historic homes for decades. Located amid Ste. Genevieve's National Historic Landmark District, the Felix Valle House State Historic Site offers visitors a rare glimpse of Missouri's French colonial past. Activities: tours
Hawn State ParkSte. Genevieve
Many visitors believe that Hawn State Park is the loveliest of Missouri's state parks, with forests of pine and oak, sandstone bluffs and canyons, and clear sand-bottom streams. The park's many trails, picnic areas and campground are well suited for visitors wishing to enjoy the splendor of nature; it is truly a nature lover's paradise. Activities: camping, picnicking, hiking - interpretive - backpacking trails
Meramec State Park - Cave ToursSullivan
Fisher Cave is truly one of the park's most spectacular natural wonders. Naturalist-led tours, offered on a seasonal basis, provide an interesting adventure for park visitors. From the low, narrow streamside passages to the huge rooms filled with calcite deposits, Fisher Cave offers one outstanding cave scene after another. Inside these rooms and passages are well-preserved bear claw marks, cave wildlife and a vast array of calcite deposits ranging from intricate hellectites to massive columns 30 feet tall.
Meramec State ParkSullivan
The beauty of the Meramec River and its surrounding bluffs, caves and forests have pleased visitors since the park opened in 1927. In 1933, the craftsmen of the Civilian Conservation Corps began blending a variety of visitor facilities into the park's rugged landscape. Activities: camping, canoeing, cave tours, fishing, lodging, picnicking, swimming, hiking - backpacking trails
Grundy County MuseumTrenton
The Grundy County Museum is composed of three physical facilities, the Main Museum Building, the Baker School Building, and the Annex Building remodeled in 2007. The three-level Main Museum Building was built in 1895 by William McVay where several businesses sold feed, seed, hardware, buggies, and farm equipment. The building was donated to the Grundy County Historical Society in 1974 by Bert and Rose Hoover, dedicated as a museum in 1976, and remodeled in 1981-85. The Main Museum building features three floors of items and displays reflecting the history and heritage of Grundy County and the activities and achievements of the county's citizens.
Crowder State ParkTrenton
The rolling green hills and deep ravines of Crowder State Park provide 1,912 user-friendly acres where visitors can camp, picnic, hike - or just take it easy. The camping area includes modern restrooms and showers, a dumping station and a laundromat. Picnic sites are located throughout the park and swimming, boating and fishing are offered in the 18-acre Crowder Lake in the center of the park. Activities: camping, fishing, picnicking, swimming, hiking - equestrian - mountain biking trails
Cuivre River State Park lends a wilder, Ozarkian flavor to the otherwise predominately agricultural landscape of northern Missouri. Although not far from St. Louis, the park is a nature lover's paradise. A stroll through the park in the spring when many woodland wildflowers are in bloom or in the fall when the prairie grasses tower over your head is an outdoor delight. Activities: camping, fishing, picnicking, swimming, hiking - equestrian - backpacking trails
Ozark National Scenic RiverwaysVan Buren
A River to Enjoy - Two of America's clearest and most beautiful spring-fed rivers make up the Ozark National Scenic Riverways, the first national park area to protect a wild river system. The Current and Jacks Fork Rivers wind through a landscape of rugged hills and towering bluffs. includes Alley Mill, the famous "Old Red Mill", caves and springs, and Ranger programs.
Osage Village State Historic SiteWalker
The Osage Indians were first recorded in 1673 by explorers Louis Joliet and Jacques Marquette. The territory claimed by the Osage at its greatest influence was vast and consisted of what is now southern Missouri, Arkansas, eastern Kansas and Oklahoma. Between 1700 and 1775, a group of the Osage lived on a high, open hilltop near the Osage River valley that today has been preserved as Osage Village State Historic Site. Today, Osage Village State Historic Site features a walking trail and outdoor exhibits that help visitors visualize the village and the everyday bustle of this once powerful Indian tribe.
Harry S Truman State ParkWarsaw
Plan a trip to Harry S Truman State Park and fulfill your vacation expectations. This 1,440-acre park offers a wide range of activities that are sure to please. Located on a peninsula nearly surrounded by the 55,600-acre Truman Lake, the park features many opportunities for fishing, boating, swimming and water skiing. For swimmers and waders, the beautiful sand beach is conveniently located with a changehouse and modern restrooms. Anglers of all skill levels will be challenged to hook a variety of fish in the lake's cool, clear waters. Activities: boating, camping, fishing, hiking, marina, picnicking, swimming
Iliniwek Village State Historic SiteWayland
On a high sand terrace above the Des Moines River floodplain in northeast Missouri sets Iliniwek Village State Historic Site, the largest and best preserved remnant known of any Illinois Indian village. This site was occupied from ca. A.D. 1640-1683, when Europeans were just contacting Native Americans in this region. Activities: interpretive trail, picnicking
Edward "Ted" and Pat Jones-Confluence Point State ParkWest Alton
In 1804, Meriwether Lewis and William Clark began their journey up the Missouri River at the confluence of the two great rivers of North America, the Missouri and Mississippi. Today, visitors can watch as the Big Muddy and Mighty Mississippi merge into one at Edward "Ted" and Pat Jones - Confluence Point State Park.
Weston Bend State ParkWeston
Catch a glimpse of the Missouri River and enjoy nature's sites and sounds just minutes from the hustle and bustle of the Kansas City metropolitan area at Weston Bend State Park. Located on the Missouri River, the once-thriving town of Weston can credit its early success to tobacco growing and trade. Today, tobacco production still plays a part in the area's economy. Five tobacco barns, one of which has been converted into a reservable enclosed shelter, remain in Weston Bend State Park to interpret the important role this industry played in the area's history.
Dr. Edmund A. Babler Memorial State ParkWildwood
A massive stone gateway greets visitors to Dr. Edmund A. Babler Memorial State Park, framing the broad avenue that leads up the hill to the large bronze statue of Dr. Edmund A. Babler, the park's namesake. Jacob L. Babler's love of nature and his desire to commemorate his brother, a prominent St. Louis surgeon, came together to create this unique gift to the people of Missouri. Activities: camping, picnicking, bicycling - equestrian - hiking trails
Lake Wappapello State ParkWilliamsville
Nestled in the southeast region of Missouri, Lake Wappapello State Park offers a variety of recreation opportunities ranging from an exciting day on Lake Wappapello to a quiet stroll through the Ozark forest. Activities: camping, fishing, lodging, picnicking, swimming, hiking - equestrian - mountain biking - backpacking trails
Fire Museum of MissouriWillow Springs
The museum has antique Fire Engines and one hose cart. Thirteen are restored and the others are in various stages of restoration. - The museum also has a large collection of antiques fire engines pictures. Some of these pictures were used in the restoration of the units in the museum.
Go to...