Homeschooling is regulated at the state level, so connecting with local homeschoolers is an important step to start homeschooling in Missouri. Find the Missouri homeschool groups closest to you and get connected with your local homeschooling community, learn about the homeschool requirements in Missouri, and discover the co-ops, classes, sports and arts opportunities, and social get-togethers in your area.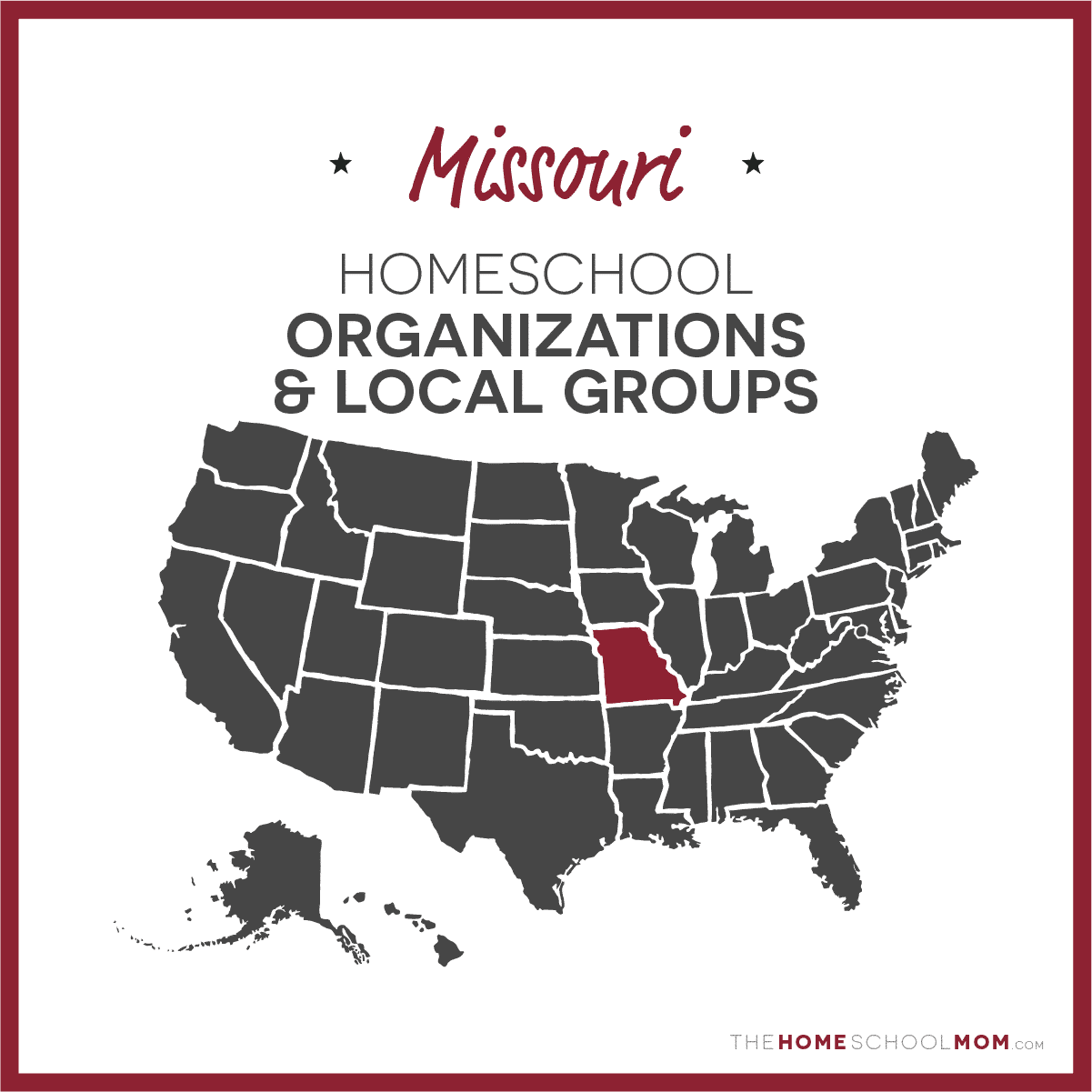 Submit a Local Resource
Jump to: State Organizations | Local Groups
Our listing of Missouri state organizations and local homeschool groups is ordered alphabetically by city, with statewide organizations listed first. If you would like to submit a group, you may do so using the red button above.
Missouri Homeschool Organizations (Statewide)
Families for Home Education (FHE)

Missouri Statewide

The purpose of FHE is to protect the inalienable right of parents in Missouri to teach their own children without state regulation and control.
Missouri Association of Teaching Christian Homes, Inc.

Missouri Statewide

MATCH is the state wide Christian Homeschool Organization in MO organized for the purpose of providing service and support to home educators and support groups and co-ops within Missouri. Our membership is $25 for the first year and renewable for $15/yr. We publish a monthly online newsletter for our members and have a Members Only site. We host an annual spring, fall and Christmas Homeschool Weekend in Branson. We get discounts for our members across the state and nation. We can also find us on facebook https://www.facebook.com/MATCH.state/. We have a 2 week course to help new homeschoolers and those that have been homeschooling understand each step of the way https://match-inc.org/startstrongmo.html.

Missouri Association of Teaching Christian Homes, Inc. details
Missouri Local Homeschool Groups
ARCHE Inc.

Arnold

Welcome to the ARCHE, Inc. website. We represent families from Jefferson County, South County, and the surrounding areas. The purpose of ARCHE is to support Christian parents who are, or will be, educating their children at home. Our membership calendar year is from July 1 - June 30.
For the Kingdom Homeschool Co-op

Belton

We are a group of homeschooling families that meet once a week on Mondays to share in the education of our children and to encourage one another on this crazy homeschooling journey. We offer core & elective classes for PreK-12th grade as well as holiday class parties, field trips, and yearly pictures, and parent support.
Heartland Homeschool Association

Cape Girardeau

We are a homeschool group serving Southeast Missouri and all of the Missouri Heartland. Serving the counties of Cape Girardeau, Perry, Bollinger, Scott, Mississippi, Madison, and more!
Clinton Home Educators

Clinton Home Educators

A local homeschool group serving Clinton, MO and surrounding areas. Although we come from different backgrounds and faiths, we take a general Christian worldview, focusing not on the doctrine of any particular Christian church, but on high moral character, principles and values Jesus taught, such as honesty, respect, prayer, gratitude and kindness. We meet often for co-op classes and field trips.
Mid Missouri Co Op of Home Educators

Columbia

Conservative Columbia and Central Missouri Home Schooling parents find support in a community of fellow parent teachers and friends.
HUUGS Homeschool Group

Eldon Versailles Lake Ozark

HUUGS Homeschool Group is a small Christian organization that seeks to encourage and equip local homeschoolers in the central Missouri area. The group is Biblically based, operates under a shared Articles of Faith document, and seeks to serve Jesus Christ as Lord. The group has three main branches: Bear HUUGS Meetings, which are a primarily social, once per month gathering for all members; HUUGS Happenings, which includes various parent and student-led clubs and classes, field trips, parties, events, and much more; and Tapestry of Grace Co-op, a cooperative of families that use the classical Tapestry of Grace curriculum in their individual homeschools and also together in a class setting of shared teaching responsibilities and student interactions.
Midwest Parent Educators (MPE)

Greater Kansas City metro area

Midwest Parent Educators (MPE) has served the Kansas City homeschool community for over 20 years. Members of MPE receive 10 issues of a newsletter, The Parent Educator, each year. MPE features several events, including an annual conference, used curriculum sale, Women's Encouragement Day, homeschool workshops, and more. The conference has an average attendance of over 2,500 people and about 200 vendor booths at the curriculum fair.
Jefferson City Home Educators

Jefferson City

JCHE is a Christian group composed of families who have chosen to home educate their families. Membership is open to any family who home educates their children. Annual dues are determined on a year-by-year basis based on anticipated expenses from the group. Effective 2019, the JCHE membership year coincides with the State of Missouri's homeschool year, which runs from July 1st to June 30th, and the set annual dues remain the same regardless of which month a family joins; however if first-time-member families join within the last quarter of JCHE's fiscal year (April - June), the membership will roll over to the next school year.
LEARN - let education always remain natural

Kansas City

Supporting secular homeschoolers in and around Kansas City
Clay-Platte Home Educators (CPHE)

Kansas City

Clay-Platte Home Educators exists to provide information, training and support to local home schooling parents in an effort to assist them in their God-given responsibility to direct the education and training of their children, to the Glory of God.
KC Homeschoolers On The Go

Kansas City

Welcome to KC Homeschoolers On The Go! We are a Kansas City (& surrounding areas) Christian homeschool community! The purpose of KC Homeschoolers on the Go is to BUILD relationships with Christ as our foundation. We have various learning opportunities, workshops, field trips, volunteering opportunities, and more. With Christ as our foundation, we want it all to point to Him so we also have Jesus in the Park and days of worship. Our community is for all ages and you are welcome to use your gifts where you feel led. It takes a village to raise our children in Christ.
Northlanders Homeschool Group

Kansas City North

This is a social, activity based homeschool group with the sole purpose of getting together and building a community. There are at least two meet ups every week including but not limited to: park days, hikes, roller skating, ice skating, game days, field trips, moms nights out, and much more. This group is a good resource for those looking for socialization for their homeschooled children and themselves in the Kansas City North area.
St Margaret of Scotland Homeschool Group

Kansas City Northland

A group for Catholic homeschool families in the Northland to support one another in living the liturgical life through field trips, activities, saints celebrations and parent educator meetings.
Lebanon Area Homeschoolers

Lebanon

A Christian based, non-for-profit organization. LAH provides information of available options of the area's many homeschool activities. Area Homeschoolers are invited to choose and participate in the events, activities, and organizations that best meet their needs.
FHE support Groups

Missouri Statewide

Regional support groups listed.
Cass County Home Educators

Raymore

Cass County Home Educators (CCHE) is a support group for homeschooling families. CCHE provides opportunities for parents and their children to form relationships within the home school community by way of field trips, social events, and group activities. In addition, CCHE provides an atmosphere for the exchange of teaching techniques and curriculum information, pertinent home school current events, and information regarding seminars and conferences. In all of these activities, Cass County Home Educators represents the homeschool community in a manner that honors Jesus Christ.
Lee's Summit Home Educators (LSHE)

Raytown

The Lee's Summit Home Educators (LSHE) is a Christian-based homeschool support group for families who choose to educate their pre-K through high school students. Our group is based on families who desire to have a strong home school community in the Lee's Summit and surrounding areas by serving & spending time together.
Tri-County Christian Home Educators

St Charles, Lincoln, and Pike Counties

TCCHE is a Christ-centered organization whose primary goal is connecting families with kindred friends, community and other resources needed to support successful home education. We provide support and activities that draw parents and students together to build lifelong friendships and accountability. St Charles, Lincoln, and Pike Counties and are based in Troy.
St. Charles Christian Home Educators

St. Charles County

Homeschool group offering a Learning Center (7th-12th) with university-style classes, HeartStrong (prek-6th) with enrichment and university-style classes, choir, band, help for struggling learners, cluster groups, and more.
Crossroads Christian Connection

St. Charles County, Lake St. Louis, and Wentzville area

Crossroads Christian Connection (CCC) provides an opportunity for both parents and children to form friendships with other home schooling families. Our group can service the St. Charles County, Lake St. Louis, and Wentzville area. We are a non-political, non-denominational group who adheres to Biblical values. We believe the Bible to be inspired of God, infallible and the supreme and final authority for all faith and life; and that there is one God, eternally existent in three persons: Father, Son and Holy Spirit.
The Connected Homeschool

St. Joseph

Our focus is to publish resources and information, and to provide connections from professional relationships within the Northwest Missouri community and on the internet for the benefit of all home education families in the local and regional area.
St. Louis Catholic Homeschool Association

St. Louis

This association exists to support and connect Catholic families who have made the decision to homeschool, as well as those families who may be contemplating homeschooling.
West County Christian Home Educators (WCCHE)

St. Louis

Exists for the purpose of supporting, encouraging, and equipping families in the performance of their God-given responsibilities to train and educate their children in the instruction of the Lord." WCCHE seeks to unite its members for the purpose of: providing information regarding legal and social issues affecting homeschooling families, offering enriching educational activities, providing wholesome fellowship opportunities with like-minded homeschooling families, fostering communication between homeschooling groups, and supporting any member family regardless of religion, race or denominational affiliation
ARCH Co-op of St. Louis

St. Louis

A Roman Catholic homeschool co-op. located at St. Raymond-St. Elizabeth Church in Crestwood, MIssouri and serve the homeschooling families in and around the metro St. Louis area. ARCH offers classes for children from preschool to high school ages on Wednesdays, from the months of September - December and February - April. Also offering Holy Mass on a monthly basis, field trips, feast day celebrations, service opportunities, and social gatherings.
SHARE (St. Louis Homeschooling Activities, Resources, and Encouragement)

St. Louis City and County

S.H.A.R.E. (St. Louis Homeschooling Activities, Resources and Encouragement) is a large independent support group founded and operated by volunteer parents who home educate their children in the Greater St. Louis Area. Families from all over the St. Louis region and nearby Illinois counties are members of SHARE, although it is based in the South City, South County and Mid County areas. The majority of members are Christians but people of all faiths are welcome in S.H.A.R.E. The main goal is to inform, equip and encourage families in their homeschooling journey.

SHARE (St. Louis Homeschooling Activities, Resources, and Encouragement) details
Catholic Schoolhouse

St. Louis/ MetroEast

More than an academic co-op, Catholic Schoolhouse is a structured program meeting weekly for homeschoolers that includes chorus, two hours of classroom instruction, hands-on science, art projects, and opportunities for socializing after class. Catholic Schoolhouse utilizes a classical education curriculum which educates from preschool to the senior year of highschool.
Classical Conversations Christian Communities

Statewide in Missouri

A Nationwide classical, Christian community providing academic programs, events, and services to home school communities, parents, and educators. We believe that education finds its purpose and culmination in knowing God and making Him known. We believe that parents are the primary educators of their children; therefore, we invest heavily in equipping parents & educators with the "tools of learning" based on a Biblical worldview in order to impact the world for God's glory.
Heartland Home Educators (HHE)

Warrensburg

Heartland Home Educators, Inc. is a non-political, volunteer organization which supports homeschooled families and the surrounging community. The Heartland Home Educators meet for co-op classes on Thursdays for eight consecutive weeks in the fall and for another eight consecutive weeks in the spring. Other events include:field trips, moms's night out, teen activities, special events, and educational fairs. A highlight of the year is a spring drama production.
Homeschooler Link

Wentzville

Homeschooler Link is an inclusive organization supporting homeschoolers in St. Charles County and surrounding areas. We are a diverse group with various religious, political, social, economic, racial, and ethnic backgrounds. We come together to help enrich our children's education and to provide social support for our families. We provide field trips, holiday parties, park days, dances, enrichment classes, age group hangouts, and more.